Looking out for signs of Iris is an enjoyable pastime for many people.
You see, Iris is the Greek Goddess of the Rainbow, and everyone loves spotting a rainbow in the sky.
Iris is also a Messenger of the Greek Gods, just like the more popular Hermes (Mercury).
The only reason I say this is because you can find an enormous number of statues dedicated to Hermes around the world.
In contrast, Iris seems to be almost invisible. I suppose it has to do with the limited number of Iris myths.
One place where you can find Iris is in Homer's ancient Greek epic poem The Illiad, where the Goddess frequently appears as a divine messenger.
The strange thing is that Iris doesn't appear in Homer's sequel known as The Odyssey. Instead, Hermes is the divine messenger.
For those of you who don't know, Iris doesn't seem to like me very much.
Or maybe it's one or several of the Greek Gods who are angry at me for some reason. I can't say for sure.
If you aren't aware of this fact already, you can understand why by reading about a memorable episode of mine while climbing Mount Olympus in Greece. Then you'll understand why.
In any case, I think this post dedicated to Iris, the Greek Goddess of the rainbow, could prove my point.
How so, well, the Goddess of the rainbow destroyed my favorite pair of white shorts.
Yep! You will even see the damage done for yourself a bit later on.
Inspired by Iris, Goddess of the Rainbow
The Iris myth and signs of Iris on display shown here came to fruition after my Polaroid post about the Lost City of Atlantis.
After that bizarre experience, I started thinking about my next series of eight Polaroid SX-70 photos and what pictures I wanted to take.
I also had to pick which Polaroid SX-70 camera I would use since I have two of them.
In the end, I chose to go with the sonar model again, the same one used for the Atlantis post.
Being a newbie when using Polaroid cameras meant that I still hadn't tested any of my Polaroid cameras properly, especially regarding how well the SX-70 film could perform.
One of the biggest things I was interested in finding out was how different colors would look on Polaroid film.
The more I thought about it, the more I wanted to photograph various scenes with various colors to see how they would appear on Polaroid film.
This led me to think about rainbows since rainbows consist of seven colors, the classic ROYGBIV.
Photographing a rainbow would have been great, but that's no easy feat, so I had to improvise.
One thing led me onto another, and it set the course for my next series of Polaroids.
I would take photographs of all of the colors of a rainbow, which are signs of Iris, the Goddess of the Rainbow. So you could say that these are my signs of Iris.
Signs of Iris – Red
One day I decided to visit a beautiful garden to get a picture with red in it.
Just so you know, this picture wasn't my first photo, as I'm following the color order of a rainbow, rather than the order of photos taken, when showing you pictures.
In the garden, I came across a rose bush with many red roses flowering on it that attracted my attention. I knew they were roses because I could see sharp thorns on the stems.
It made me think that a photo of the red roses would be interesting because I could also see a chain next to the flowers.
It symbolizes a link, just as Iris is a link between Mount Olympus and Earth.
The green leaves didn't turn out as green as I would have liked, but the red roses look pretty decent.
Signs of Iris – Orange
I found myself struggling to think of something that I could photograph with an orange color.
At one point, I even considered buying an orange to take a picture of it. The added bonus was that I could eat it later.
However, it didn't seem to be worth the $5 film price, so I had to come up with something else.
Then it came to me. I would go out and take a picture of an orange sunset. So one evening I went to the beach to take a sunset photograph.
I wasn't sure at what point I'd like to take the photo. Did I want the sun to be totally visible, half visible, or what?
My indecision nearly made me miss the sunset altogether because the sun went down faster than I imagined it would.
At the time when I took the photo, only about a third of the sun was visible. The rest of the sun had disappeared over the horizon.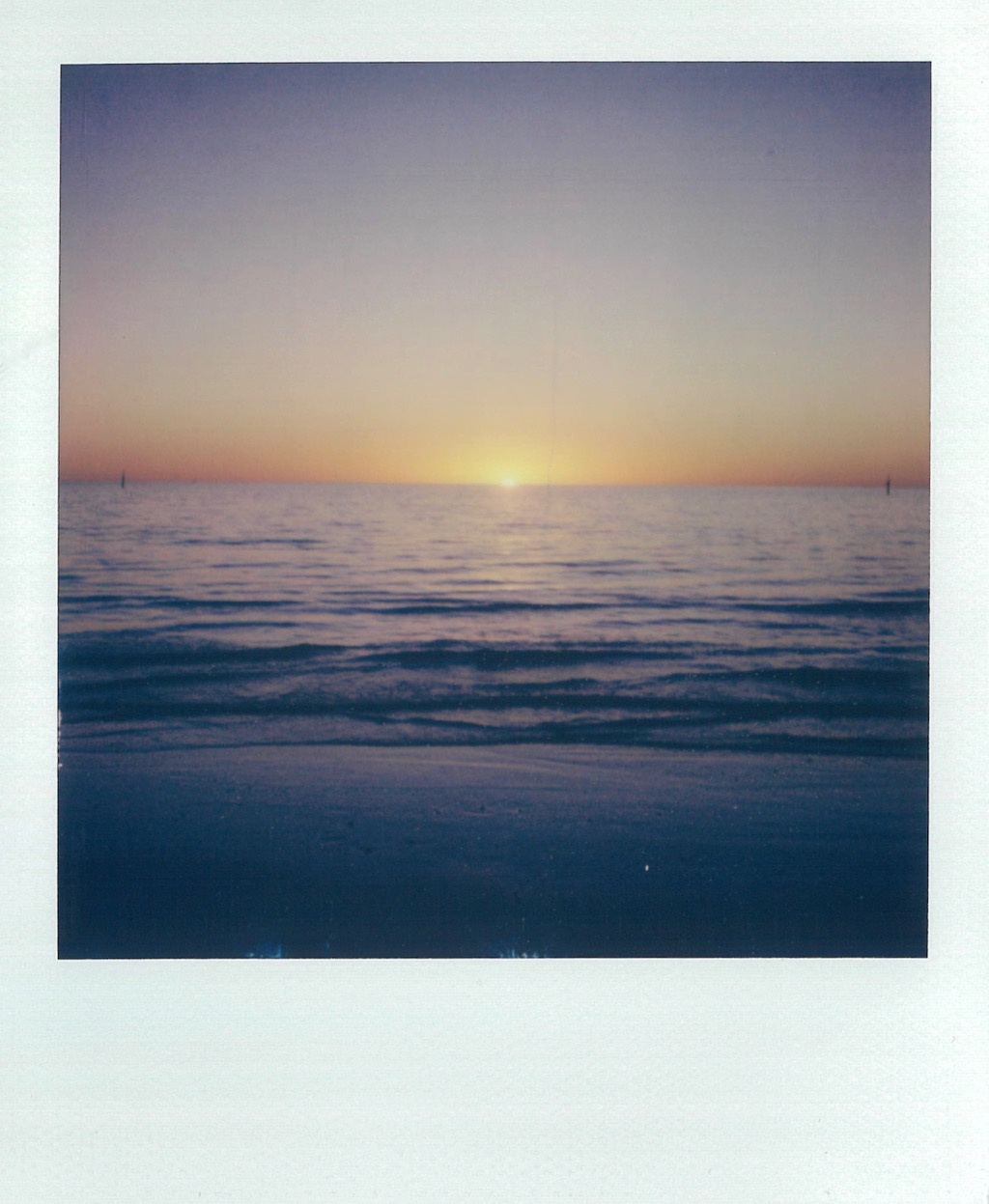 The sun was an intense orange color, like the color of an orange fruit.
You can't see it represented in the pic. Even so, I'm still happy that an orange color came through in the photo.
Yellow Iris
Iris flowers take their name from Iris, the Greek Goddess of the Rainbow.
These beautiful flowers come in many different varieties. The beauty of Iris flowers is that they also come in a wide variety of colors.
I knew of a garden filled with Iris flowers, so off I went to photograph the mythical Blue Iris.
My main aim was to photograph a Blue Iris, but that never happened.
That's because I couldn't find a great-looking Blue Iris flower. It seemed as though I had arrived a bit too late in the season for the blue ones. None of them seemed to be at their peak.
It didn't matter because this lone Yellow Iris captured my attention.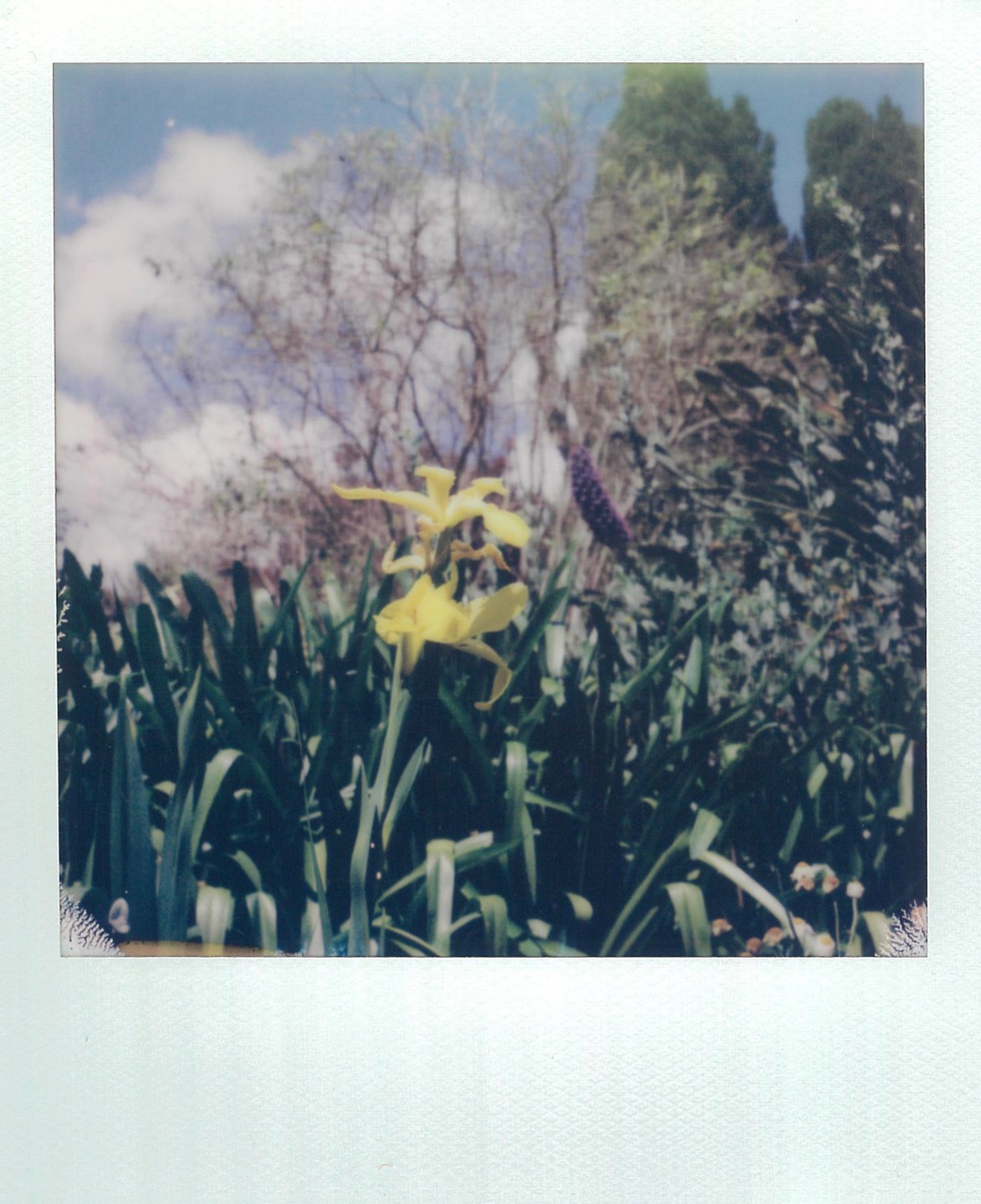 I only took a pic of this Yellow Iris after another picture of mine based on yellow turned out like total crap. Something went seriously wrong with the film development.
At the time, I wanted to take a picture of an archway filled with tiny yellow flowers, but you can't tell by looking at the pic.
You can see the weird pic below, where I show every photo taken in this Polaroid series.
Also, I skipped the color green.
This photo of a Yellow Iris shows you green as well, so it doesn't matter.
I did take a photo of three pine trees by the beach with some green grass in the foreground, but I was not fond of it that much. It was a much better-looking scene than it looks in the photo.
Blue Iris
I wanted to take a picture of a Blue Iris, but like I already said, I couldn't find one I appreciated enough.
The next best thing I could think of was going to the beach. So I went to one of my favorite beaches, where you can find the Star of Greece.
Here's a shot of the beach from the clifftop path that leads down to the beach. It is taken about halfway down the pathway running along the side of a cliff.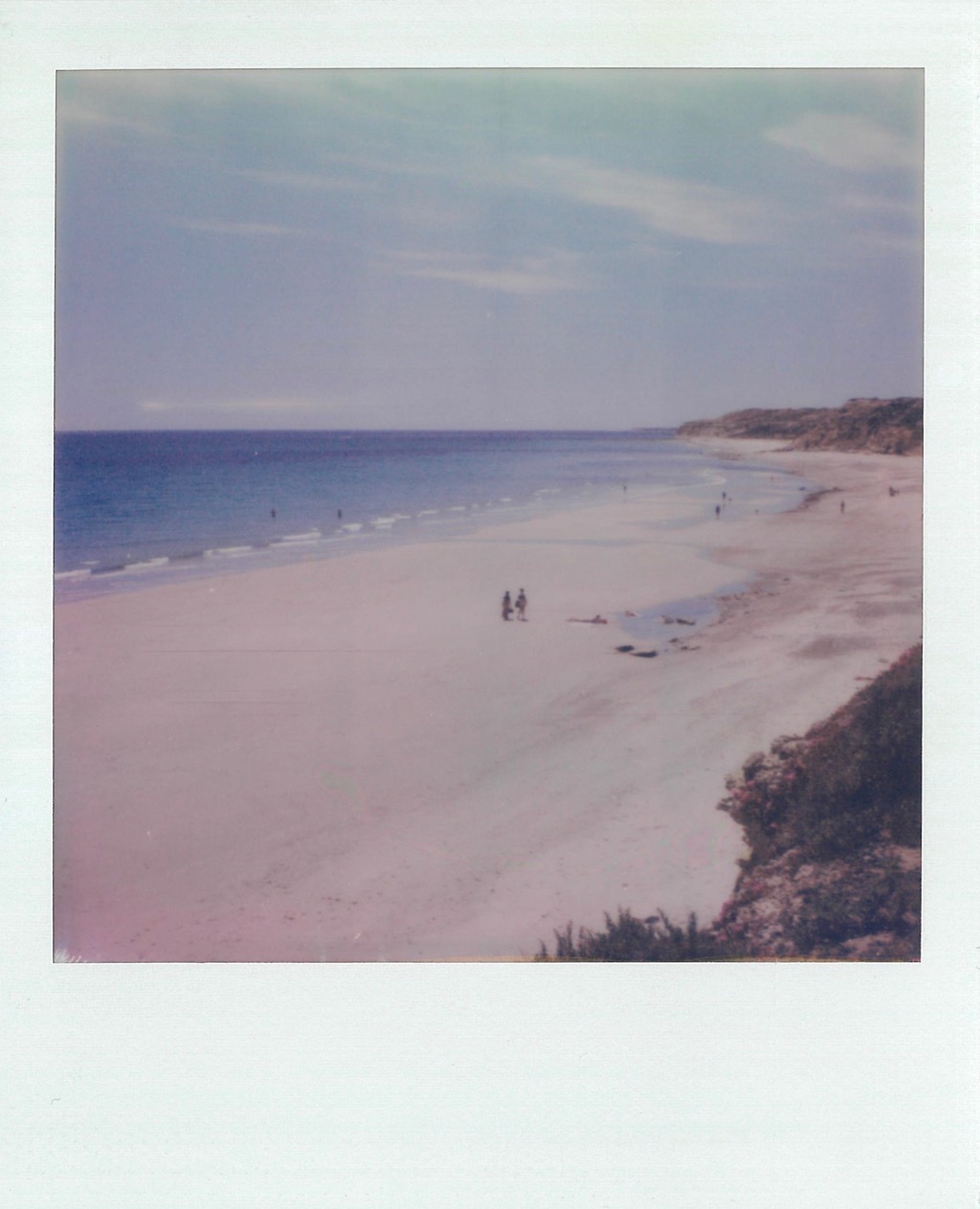 I like how the photo turned out, and I think it looks pretty good.
After that pic, I went inside one of the beach caves to take a photo from inside the cave.
This one didn't turn out the best, mainly due to one-third of the picture turning out slightly darker.
It seems to happen on occasion, which is irritating. Maybe the fault occurred due to the cave wall on one side making the picture darker. On the positive side, it does give it a slight rainbow look.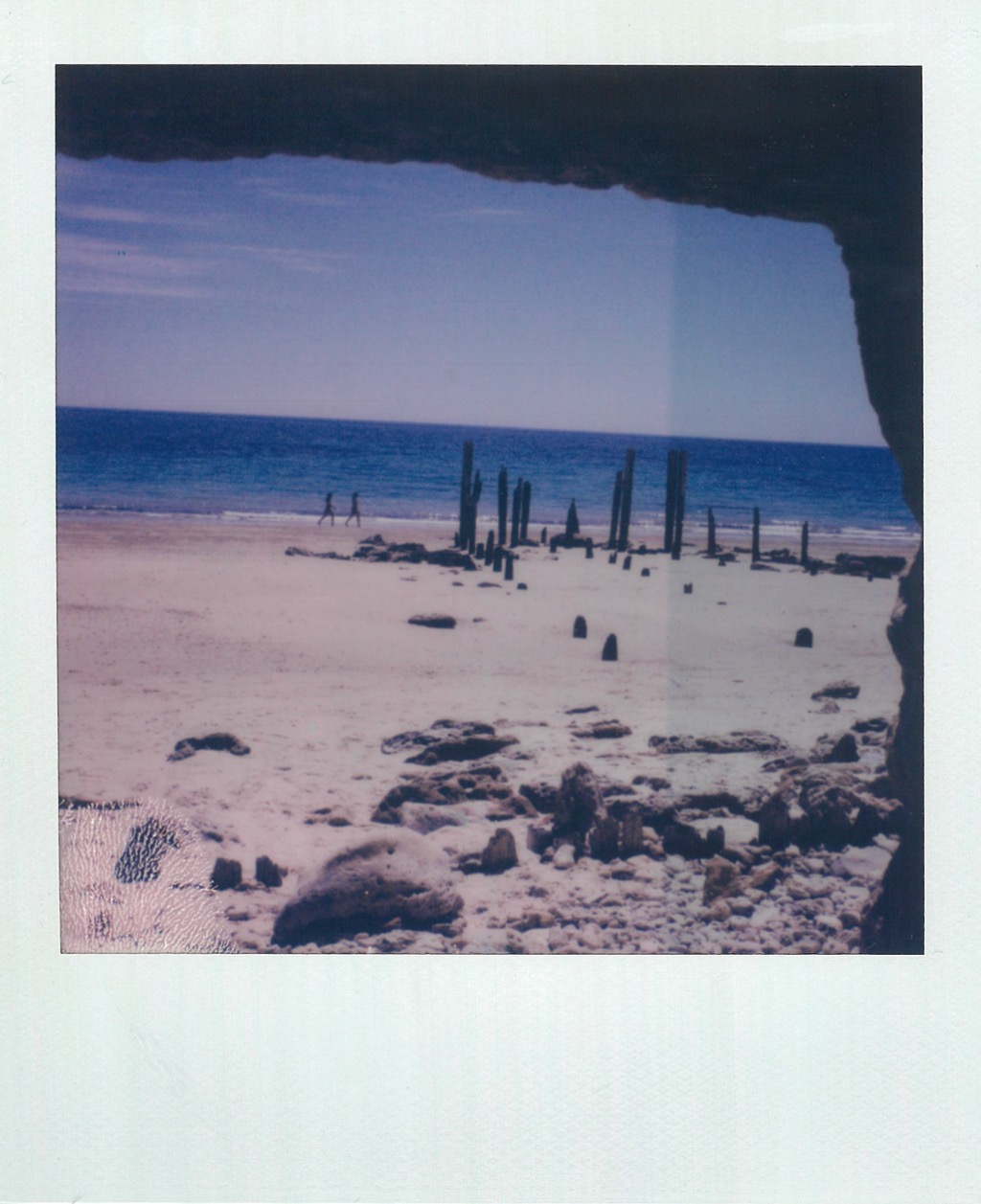 Bearded Iris Flower
For indigo and violet, I ended up taking a photo of a Bearded Iris. I'm not showing you the Bearded Iris pic right here because it didn't turn out that great.
You can see a few Bearded Iris flowers together in one of the Polaroid photographs in the series overview below.
The Bearded Iris I saw had a white flower surrounded by beautiful purple petals.
It looked fantastic in the garden, but the Polaroid picture didn't do it justice.
Signs of Iris
Now, here's why I think that the Goddess of the rainbow doesn't like me.
Iris split my shorts to shreds.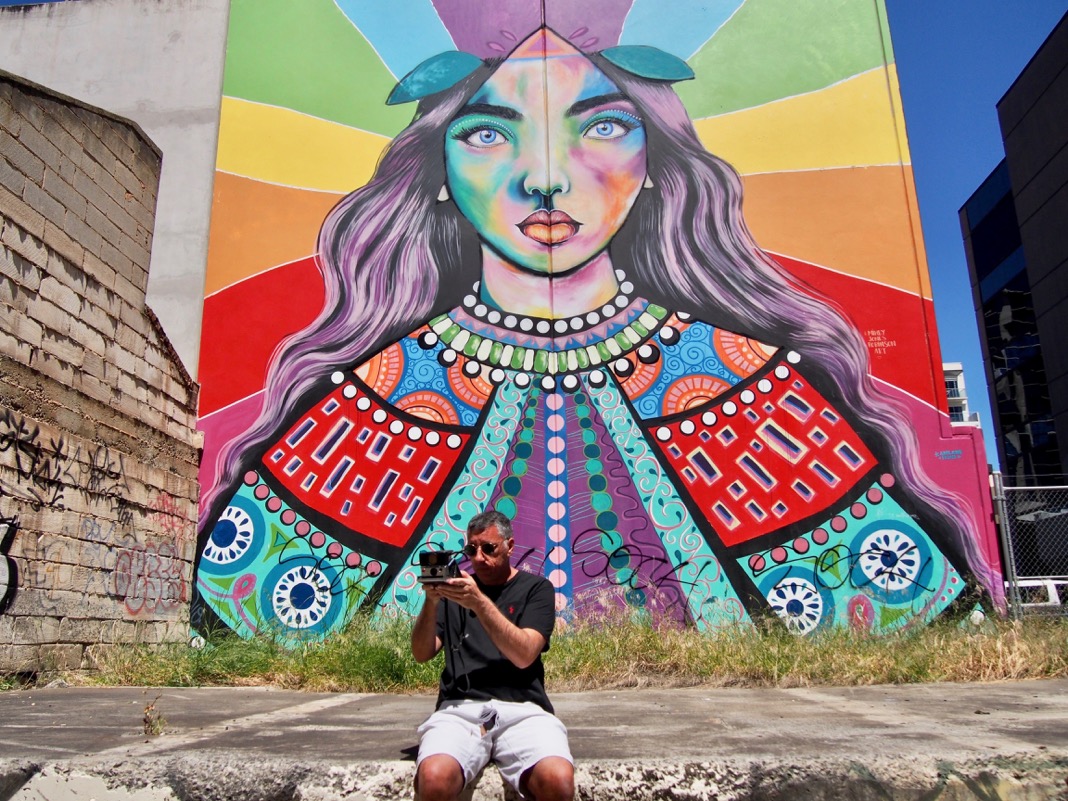 These were my favorite shorts, and Iris ruined them.
It happened after I stretched to climb over a giant step leading to a higher platform, where you can see me sitting.
There were two steps to reach the top of the platform. For some reason, the first step was standard, but the second step was a big stretch.
The hole you see in my shorts was the outcome of me leaping up.
Blogging can be dangerous, and you never know what bad things could happen to you on the street, but if I had known that Iris would do this to me, I would have stayed at home.
Then again, maybe it was all due to George from Letters to Barbara, since he's the one that got me into Polaroid photography in the first place.
I suppose it could also be due to me taking a picture of Iris on Halloween. I had forgotten about it until later in the day. Maybe it was a bad omen or something.
Iris Mural – Street Art
The thing is, I never considered this mural of the rainbow Goddess at the start of my Polaroid adventure.
I had a vague recollection of the Iris mural, though it only popped into my head when thinking more deeply about what I wanted to do for my feature image.
By then, I had already taken eight Polaroid film shots, so all of the films had been used.
Thus, I didn't plan to take a Polaroid of the rainbow Goddess mainly because I didn't want to open another new film packet.
As you probably already know, Polaroid film is pretty expensive.
However, after I ripped my shorts, I seriously thought about going back with a new packet of Polaroid film.
How could I not?
Here is the result — a pretty decent Polaroid pic of Iris.
It's not as bright and colorful as the Iris mural in real life, but I still consider it a good pic. Iris looks great.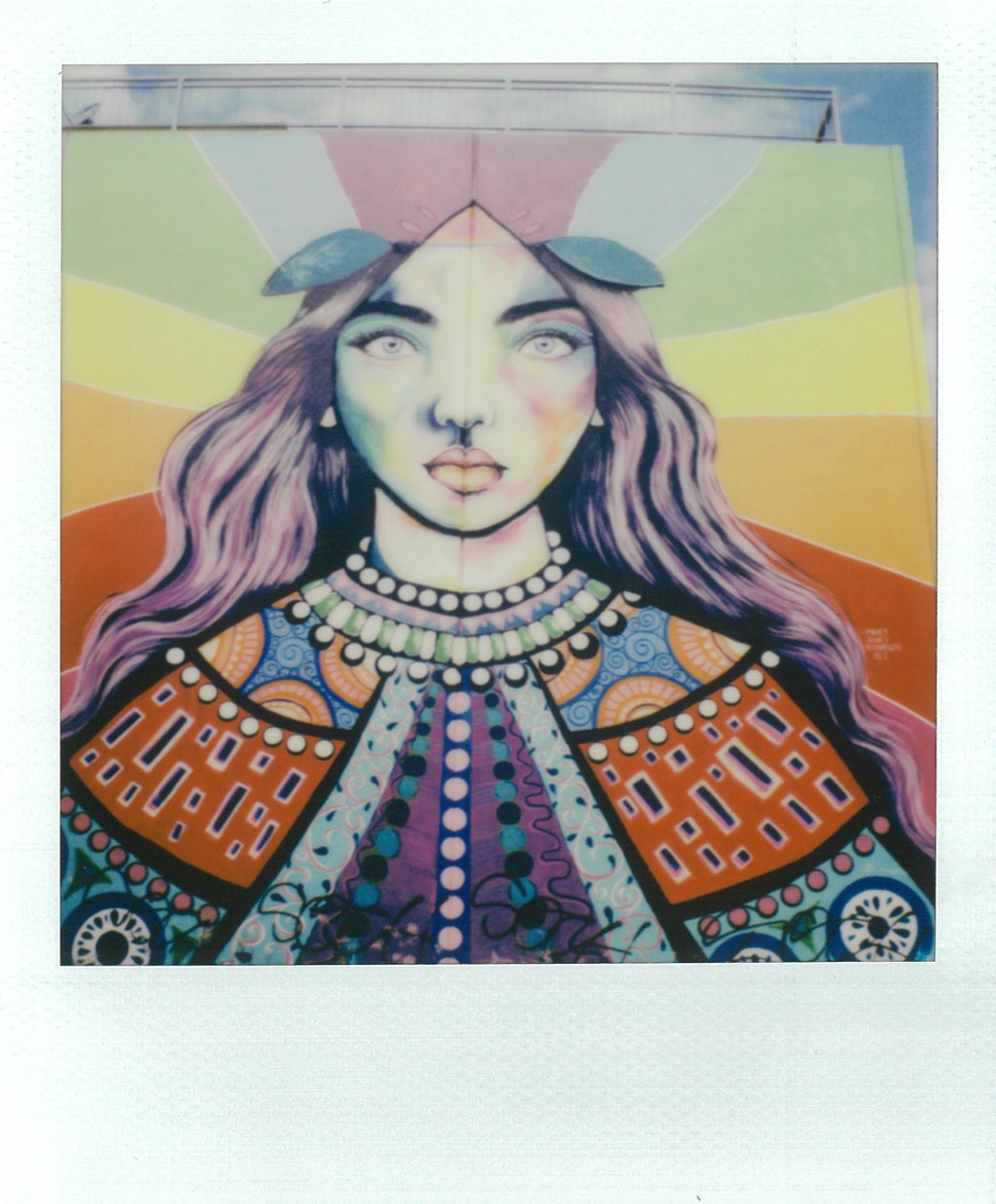 To get this pic of Iris, I had the exposure dial on the SX-70 camera centered (normal position), mainly to see the result.
Lessons from Iris
So what did I learn from this Iris myth Polaroid photoshoot?
Firstly, the exposure dial on the SX-70 camera has to be darkened on occasion, even if conditions look perfect.
Secondly, Iris either hates me or considers me to be her friend. It's hard to tell.
The message on the dark slide on the new packet of film used to take a picture of Iris stated: Keep your friends close, …
Then again, the Goddess of the rainbow could still have cold feelings towards me.
Here are all of the signs of Iris pictures taken in this third series of Polaroids.
Keep in mind that you will see some reflection on the photos, as I took the photo near a window. Numbers on the individual images indicate the order I took the pictures.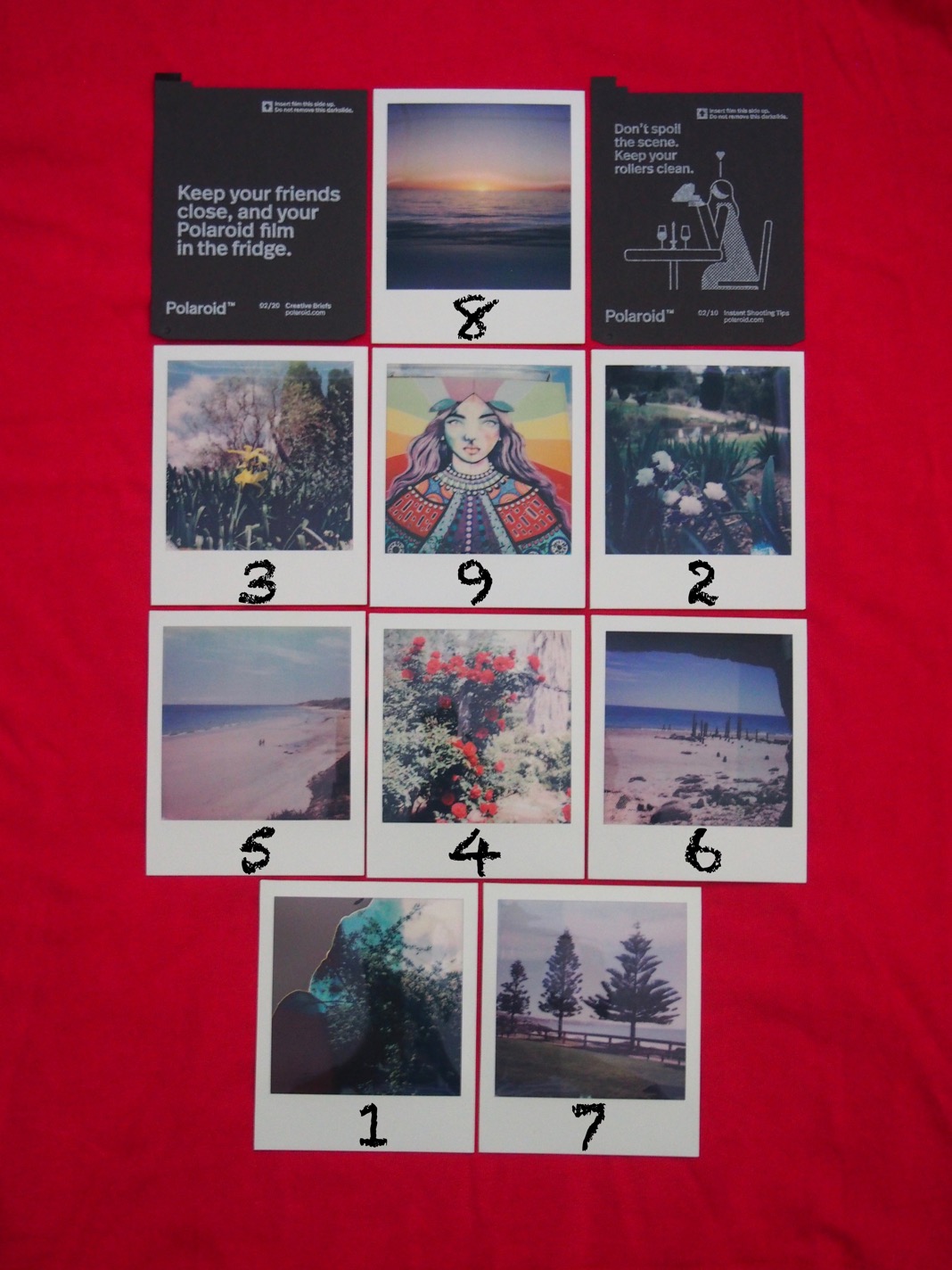 Hopefully, Iris is on my side now. After all, I did go out of my way to take a Polaroid pic of the Greek Goddess.
I'm hoping so anyway.
Pin it … Share it