Many of us would love to give travel advice to our younger self if we could have access to a time machine since each of us would do a few things differently.
By giving travel advice to our younger selves we would improve our travel memories and experiences immensely, plus it would also do wonders in helping to avoid mistakes.
So here are 12 Pieces of Travel Advice You Wish Your Younger Self Knew:
Travel advice to my younger self about Greece
I would give plenty of travel advice to my younger self related to Greece, but it doesn't just relate to Greece.
Use this travel advice for any place you are interested in visiting, be it Italy, Thailand, or other countries.
The key is to have a plan. Don't just go somewhere without knowing where you'd like to visit and what you'd like to do.
Otherwise, you will miss out on plenty of good sights and experiences.
Please do this before booking any accommodation because it could affect how long you want to stay.
If you are going to Athens, read about the best things to do in Athens.
Learn about the best day trips from Athens, the best beaches in Athens, the best tourist attractions in Athens, and so on.
All I'm saying is for you to visit your destination well informed.
Now let's begin with the number 1 travel advice you wish your younger self knew:
1. For your first overseas adventure, visit Greece!
Visit Greece for your very first overseas trip (when you are over the age of 18).
This nugget of wisdom would have to be right up there when giving travel advice to my younger self.
Why so? Because Greece is awesome!
There is no point in finding a better destination anywhere else in the world since Greece has it all. The beaches, the food, the stunning scenery, so go there first.
Here is what I suggest doing. Arrive in Athens first and stay there for three nights.
You will want to visit the famous Parthenon, which is situated high up on the rocky Acropolis overlooking the city of Athens.
A couple of things do after that include visiting the Acropolis museum and the Temple of Zeus.
And don't forget to walk through the National Garden of Athens, directly behind the Greek Parliament building.
Make sure you squeeze in a visit to the ancient Temple of Poseidon at Cape Sounion.
If you have some spare time, make your way to the very top of Mount Lycabettus. Use the funicular railway on the way up so you can save some time. But, of course, you can always walk down the hill when it's time to come down.
While you're in Athens, head off to Delphi for at least a day. Delphi was once considered the center of the Earth, and it is where you will find the Temple of Apollo.
Here are some of the best things to do in Delphi. I highly recommend spending at least one or two nights in Delphi town. Try and stay for two nights if you can.
Since this is your first time in Greece, visiting Mount Olympus in northern Greece would also be awesome.
My guide to climbing Mount Olympus will help you and don't forget to visit the ancient city of Dion, since it is pretty close by.
While you're in Athens, enjoy a day trip to one of the Saronic islands.
Visit either Hydra, Spetses, or Aegina. I suggest Hydra for your first Greek island visit.
All of these wonderful travel experiences can be had by spending eight nights in Greece.
You can spend three nights in Athens, one night in Delphi, and one night in Hydra (or another Saronic Island).
Then you can stay for one night at Litochoro, a charming town situated at the base of Mount Olympus, followed by two nights on Mount Olympus.
You definitely won't regret taking this travel advice onboard.
2. Go to the Best Greek Party Islands when Young
The best time to party on a Greek Island is when you are young. By that, I mean when you are over 18, but under the age of 25.
At least you can have a few alcoholic drinks when you are over 18. A couple of things, don't get drunk and keep your senses at all times.
Here are the best Greek Party Islands to consider:
If I were to visit Greece to party when I was young, I would consider the Greek island of Ios as a top choice.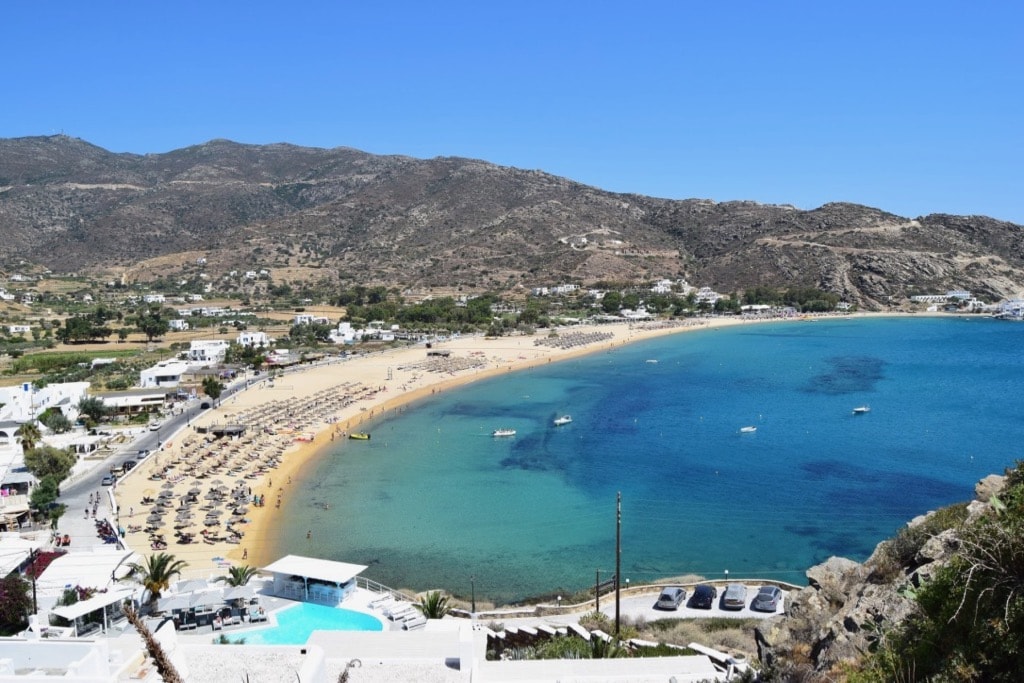 The island of Ios in the Cyclades group in the Aegean Sea is an excellent option for young party-goers.
You can also party on Corfu, Zakynthos (Zante), Skiathos, Mykonos, and Crete.
If you visit Mykonos, try and have a bit more money to spend. Of course, you can always party on Mykonos when you are older, but it is still a great choice when you are young.
Another option to consider is visiting Ibiza in Spain. However, visit this place after you have partied in Greece.
3. Stay on one Greek Island for a minimum of 2 weeks
It would be best to go Greek island hopping at some stage, but I highly recommend staying on one Greek island for at least two weeks.
Tip: If you go Greek island hopping, use the ferries to get around.
I want you to know one Greek island exceptionally well. Two weeks will give you enough time to visit most of the best beaches and places of interest on a Greek island of your choice.
It will also give you enough time to visit places that most tourists won't get to see.
The main thing is to get to know the Greek island of your choice as best as possible.
Here are a few of the best Greek islands perfect for a two-week visit:
Corfu, Skiathos, Santorini, Mykonos, Thasos, and Crete are excellent Greek islands to consider for a two-week trip.
Crete will require longer than two weeks to explore fully, but spending a couple of weeks in Crete is a great start.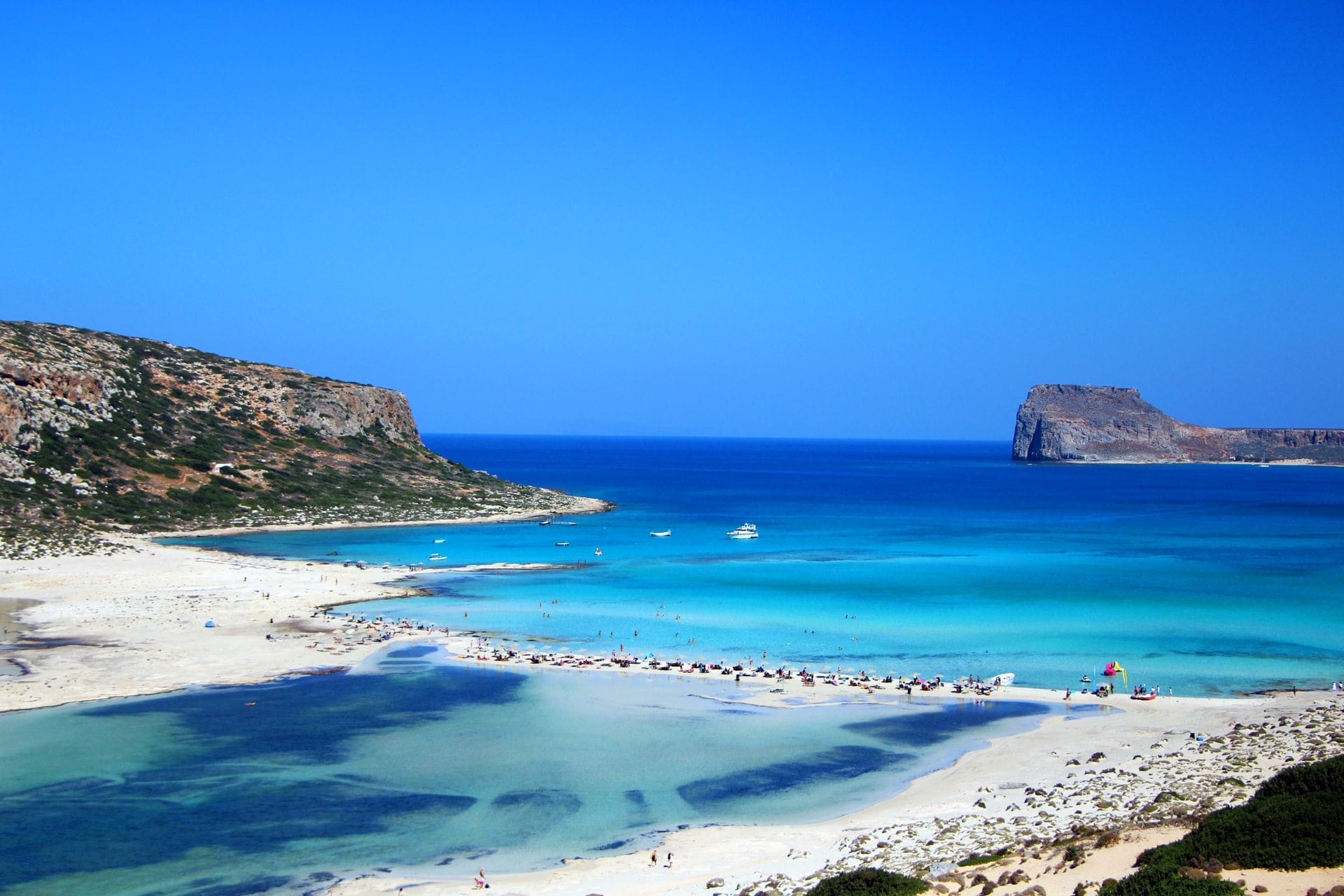 Try and visit all of the best beaches in Crete if you choose this incredible Greek island.
4. Book Cheap (Highly Recommended) Accommodation
The key here is to find budget accommodation that has great recommendations and is very highly rated.
Make sure you secure great accommodation providers as early as you can because the best accommodation books out early, especially if it offers excellent value for money.
Sometimes this could mean that you have to make a booking 12 months in advance.
Use accommodation reviews to find the best places to stay in Greece and other countries.
You can find cheap and excellent accommodation, but always remember to book early, since rooms at these premises get snapped up fast.
Remember, spending more nights in Greece is better than staying at expensive places with fewer nights to enjoy yourself, especially when you are young.
The only thing that you may miss out on is having access to a fantastic pool.
Some of the infinity pools in Greece are incredible but save that experience for when you have more disposable income.
5. Know your Travel Destination well before you go
I can't stress this enough. Don't just go somewhere without doing some research about the place. Read blogs, guide books, and study google maps.
If you are going to visit Mykonos, find out as much as you can about all of the best beaches on Mykonos.
Are there any museums of interest? What are the best day trips from Mykonos? The best tours in Mykonos and so on.
Otherwise, you may miss out on great day trips, like visiting Delos when in Mykonos.
If you do good research before you go, you should know most places where you want to visit before you get there.
6. Take plenty of Photos & Videos during your Travels
The amount photo opportunities I have missed out on is incredible.
I was never a photo person because I believed that it took away from my experience at that moment, but as I got older, I changed my mind.
Top Advice: Take plenty of photos and videos when exploring new countries.
7. Taste lots of Local Food and Drinks when Traveling
You have to taste baklava, a layered pastry treat filled with chopped nuts and sweetened with honey if you visit Greece.
And you have a Greek coffee at some stage. Also, what's the point of going to Greece if you don't have at least one delicious souvlaki?
The message I'm trying to get across to you is that you need to find out about the best food and drinks a country offers before you visit the place.
For instance, if you are in Italy, you have to taste some of the best Italian desserts.
Every country has its tasty treats and drinks, so learn about them before you get there.
The great thing about it is that it won't cost you that much money at all to try a wide range of great food and drinks from another country.
8. Go on a Guided Group Tour for over a week before the age of 25
I have done a few group tours in my time, but I have never done a group tour in the best age bracket.
The best age to go on a group tour of a country or countries is between 18 to 25. Do it then.
9. Learn how to Snowboard at a young age
You will likely pick up snowboarding a lot faster when you are younger.
I tried to learn how to snowboard when I was older, but I failed. So I feel as if I should have first attempted snowboarding when I was a lot younger.
It will give you plenty of options for trips during the winter months.
Learning how to snowboard in New Zealand or another top ski resort destination is the way to go. Just don't leave it as late in life as I did.
10. Become a Certified Scuba Diver in a tropical ocean as soon as you can
The sooner you learn to scuba dive, the better. Make sure you do all of the theoretical stuff and pass the required tests before doing the practical stuff.
You don't want to worry about the need to study and pass tests while on vacation.
After getting the theory out of the way, you can then learn how to scuba dive overseas, which will be so much more fun.
Choose a tropical destination when learning how to scuba dive. Thailand seems like a great place to learn. It's the place to go in my opinion.
11. Go on more flights without Checked Baggage
Picking up your luggage after the plane lands is a hassle, so don't underestimate the problem of checked baggage.
You will also worry about your luggage getting lost, possibly stolen, or not arriving in time, especially when you have connecting flights.
It happened to me once in New Zealand, though luckily, it arrived the next day at my hotel. Whew!
It also nearly happened to me when visiting Lord Howe Island. However, I got lucky, and my luggage arrived. Unfortunately, many other passengers weren't as fortunate.
Their luggage didn't arrive for the whole duration of their trip. If this happens, it can ruin your vacation.
So the wiser thing to do is to try and only take carry-on luggage on the plane.
The bonus is that you'll also be able to save money on plane flight tickets.
12. Don't forget to visit PARADISE
Some places in the world conjure up images of paradise, such as beautiful places like French Polynesia and the Maldives.
You don't have to spend a fortune to visit many of these places. However, having a bag load of money would help.
What you need to do is find cheaper ways to visit. Where can you save money? Where are the most affordable places to stay?
Often you can also find paradise hidden in a small area of a particular country.
Places like Plitvice Lakes National Park, a UNESCO World Heritage Centre in Croatia.
Here you'll be able to see some of the best waterfalls in the world.
If a place looks like a paradise, then prioritize it as a destination you have to see.
There you go, this is the best travel advice I would give to my younger self.
Pin it … Share it