Warlords of Atlantis (1978) is one of those movies that stuck with me as a kid. However, I never knew the film's name until I saw it again just recently.
It is one of those Atlantis movies you have to see at least once because the film has everything in it. It has action, adventure, betrayal, beings from another world, and incredible monsters. What else do you want?
The action of Warlords of Atlantis begins with a memorable scene where two explorers get lowered into the Bermuda sea while inside a spherical metal diving bell.
As a kid, I was fascinated by this scene since no seawater could enter the diving bell due to pressure differences from inside the capsule compared to the undersea pressure outside.
The diving bell had a completely open round hole at the bottom of the diving bell, but even so, no seawater could enter the diving bell, which amazed me!
It seemed unbelievable! Even today, I'm still unsure whether the diving bell with an opening at the bottom is just some kind of fantasy or if it is indeed natural science at work.
The other awesome thing about Warlords of Atlantis has to be the fierce monsters in the film. I'm sure you will get shocked at least once if you watch the movie.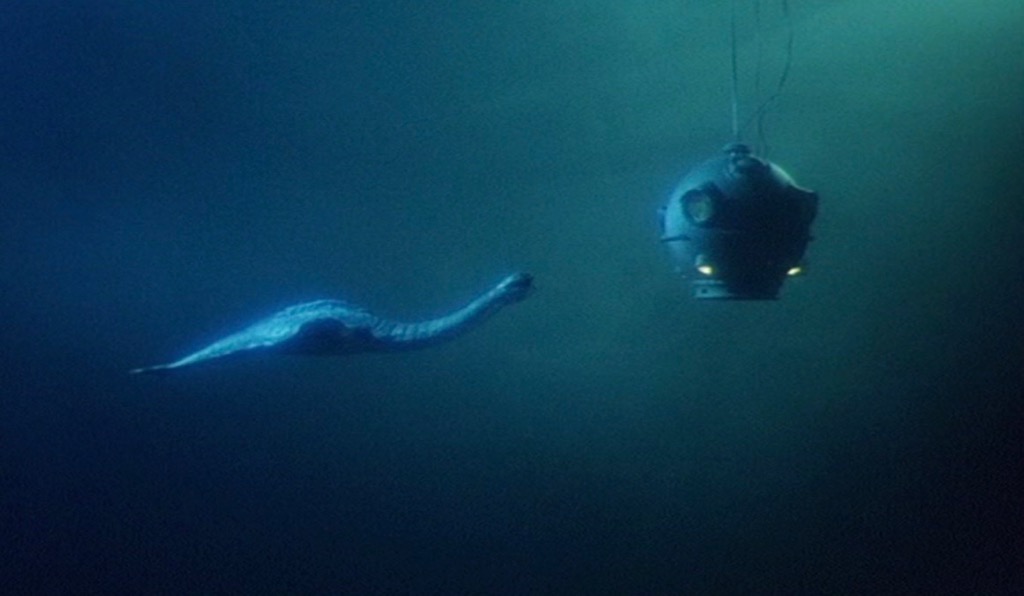 Quite a few monsters appear in the Warlords of Atlantis movie that would no doubt frighten younger audiences. One of these ferocious sea monsters can be seen in the picture above.
A very memorable film scene in Warlords of Atlantis is when a giant octopus the size of a ship attacks the vessel from where the diving bell was lowered.
So it's easy to understand why this movie would appeal to younger audiences.
In this article, I'm going to take a deep look at the Warlords of Atlantis movie to see if I can discover anything interesting about this almost-forgotten classic adventure film.
Warlords of Atlantis 1978 Cast
The movie's main star was Doug McClure, who played a character in Warlords of Atlantis similar in style to Indiana Jones as he's the central heroic figure in the movie.
Doug isn't the only person in the film, so let's take a look at the most memorable Warlords of Atlantis cast members. That said, let's begin by looking at Doug McClure.
Doug McClure – Greg
You can see Doug McClure on the right. He plays Greg Collinson in Warlords of Atlantis.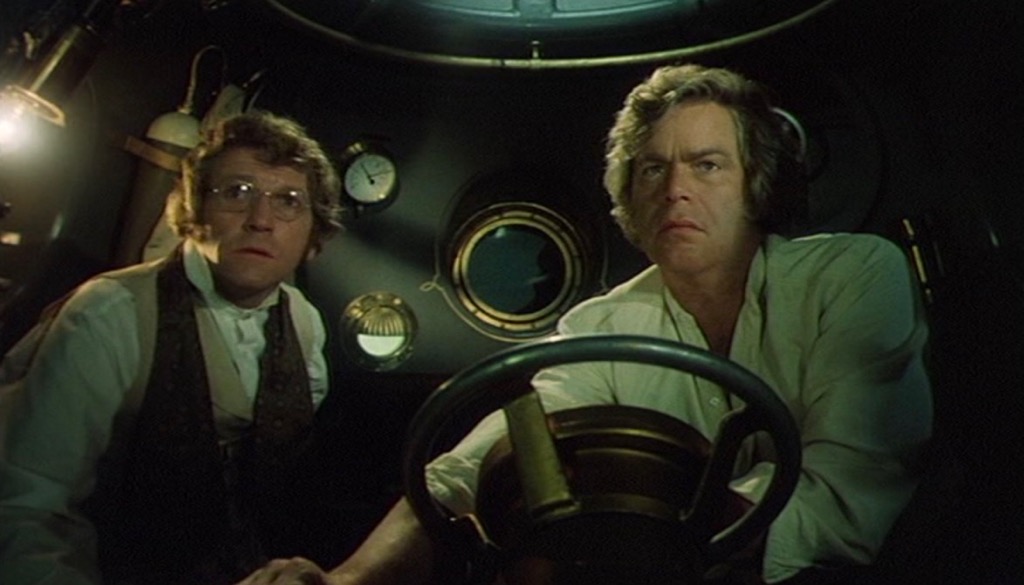 Doug McClure plays the main hero in the movie. In this film scene, he's inside the small diving bell as they explore the ocean depths of the Bermuda sea.
Doug McClure starred in some interesting adventure movies. Some of his most well-known films include The Land That Time Forgot (1974), At The Earth's Core (1976), and The People That Time Forgot (1977).
The Land That Forgot Time is a great movie. My mind had long forgotten seeing this film, but some of it came back to me when I saw it again around the same time I watched Warlords of Atlantis. The movie with a prehistoric theme even has Nazis in it. I highly recommend watching this film.
Doug McClure starred in Warlords of Atlantis (1978) after he had done these three movies, the fourth movie in what some would say is a series.
Doug also appeared in Cannonball Run II (1984) as Slapper. I wouldn't call Doug McClure a great actor, but he's watchable, though I'm sure any tough guy actor could have done a similar performance.
Peter Gilmore – Charles
Peter Gilmore is another central guy in the film who has many scenes. He plays Charles Aitken in Warlords of Atlantis. In the film scene below, he's the guy with the long white sleeves holding a rifle on the left.
Peter can also be seen in the above picture on the left, next to Doug McClure, while inside the diving bell.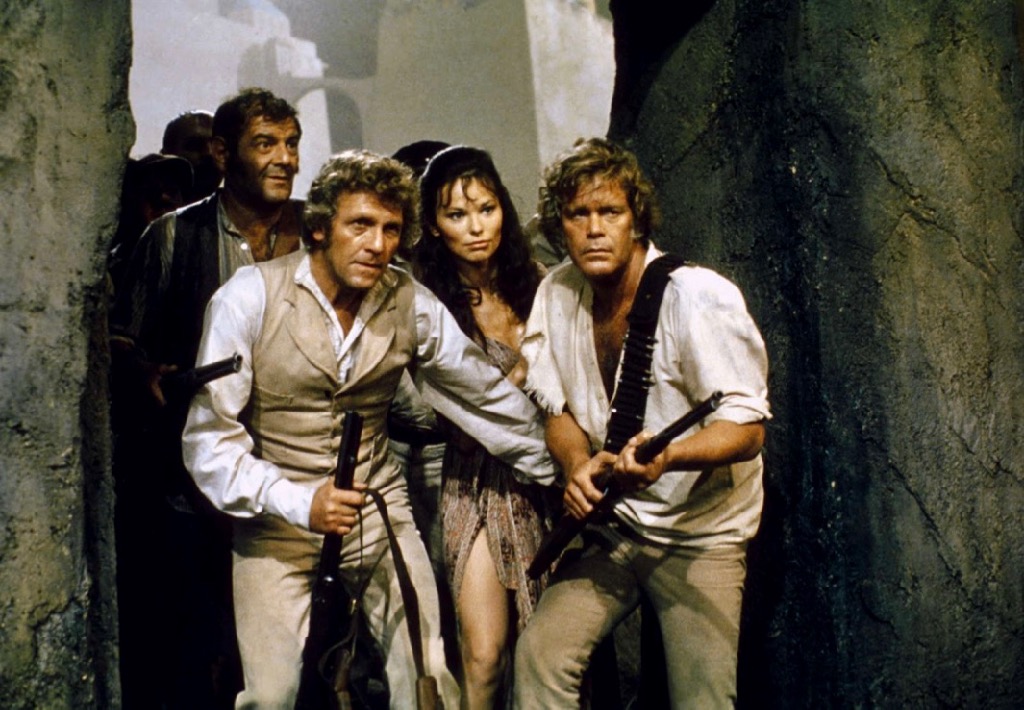 Peter Gilmore (1931-2013) appeared in eleven Carry On films and many other movies.
The actor is also remembered for playing Captain James Onedin in 91 episodes of the BBC period drama The Onedin Line (1971-1980).
He's the most intelligent guy in Warlords of Atlantis, and the Atlanteans are aware of it, which leads to a few unexpected scenes.
Michael Gothard – Atmir
Atmir is the leader of the Atlantis race in Warlords of Atlantis, who are really aliens from another planet.
It follows a similar theme to the Atlantis II video game, which bases itself on the premise that Atlanteans are from another world.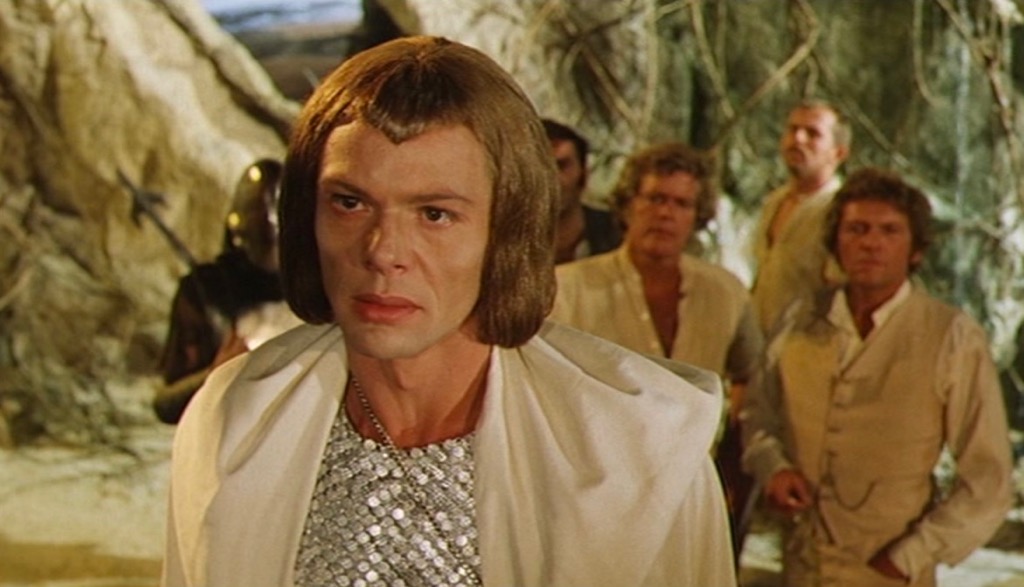 His first film role was in Herostratus (1967) as Max. The film's name came from an ancient man who tried to gain fame by destroying the second Temple of Artemis in Ephesus, one of the Seven Wonders of the World.
Another interesting fact about Michael Gothard (1939-1992) is that he played the villain in the James Bond film For Your Eyes Only (1981). This has to be one of the best movies filmed in Greece. I'll have to watch the film again now that I know.
In Warlords of Atlantis, Michael Gothard was perfectly cast as Atmir. His presence in certain Warlords of Atlantis film scenes makes you feel as if you truly are seeing a superior being from another world, which is precisely what thinking about Atlantis should do.
Tragically Michale Gothard ended up committing suicide at the age of 53. One reason why could be that he lived with severe depression for much of his life.
Lea Brodie – Delphine
Lea Brodie plays Delphine in Warlords of Atlantis. She's a heroine in the movie.
The name Delphine seems to be purposely derived from Delphi in Greece, where Apollo ruled. Delphine is a slave girl in Warlords of Atlantis.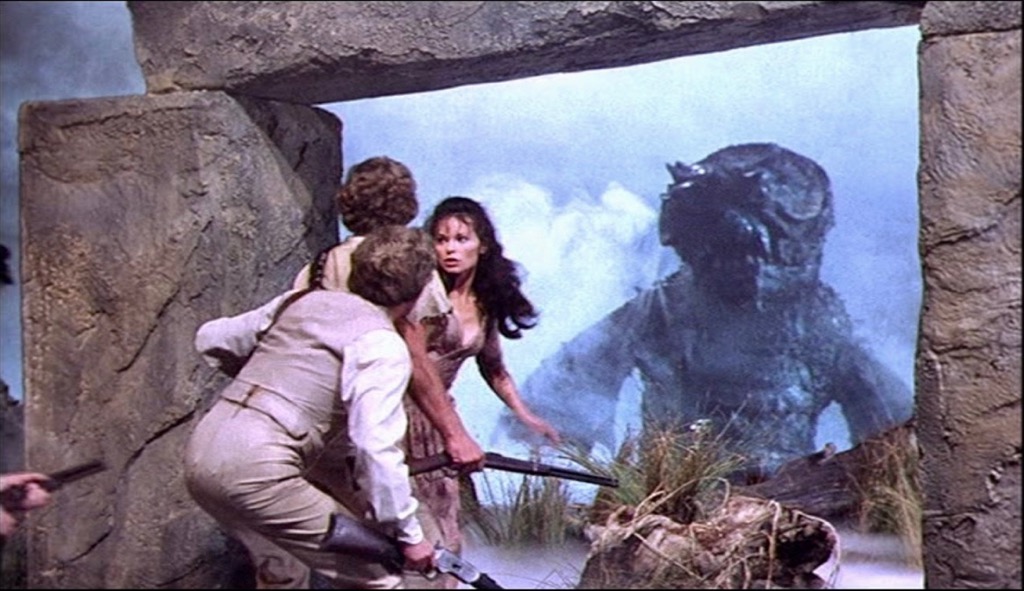 In this scene, they see a terrifying monster through an ancient gateway. It reminds me of the Temple of Apollo (the Gateway) on the Greek island of Naxos.
Cyd Charisse – Atsil
Atsil: I'm Inquisitor for the Council of the Elite.
The city of Atlantis is a futuristic city based on leisure, more so than work, for the elite anyway.
You can also see Cyd Charisse in Singin' in the Rain (1952).
John Ratzenberger – Fenn
John Ratzenberger is the guy who starred in the TV series Cheers and sat at the bar for most of the show.
I thought I recognized his face when watching the movie, but I couldn't remember where I knew him. He's the second guy on the right at the back.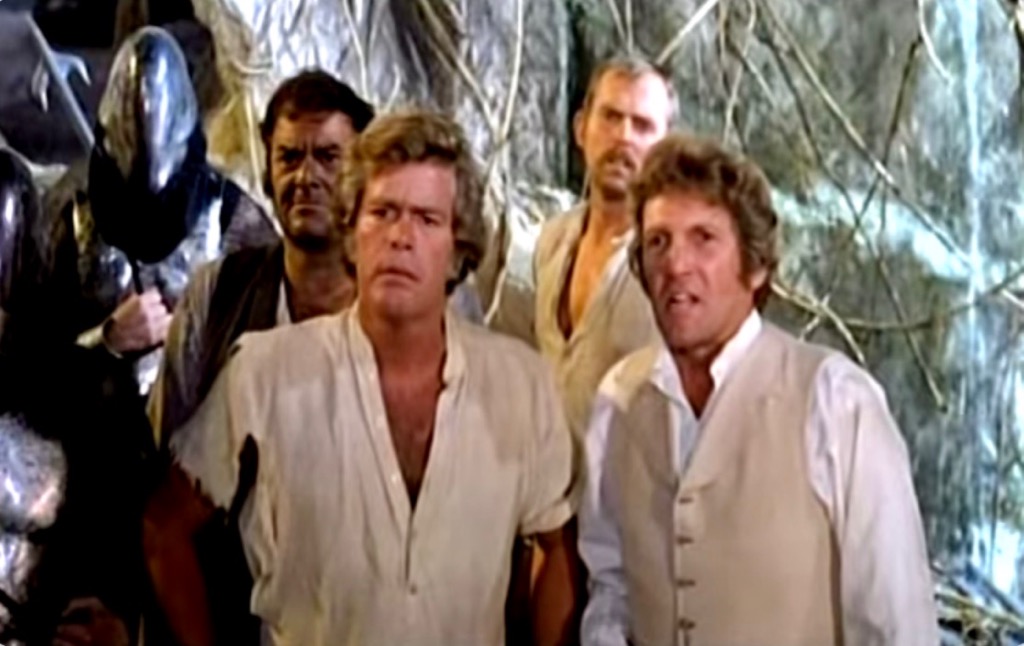 John Ratzenberger has a limited background role in Warlords of Atlantis. I was surprised to learn that he has been in quite a few movies, many of which have been bit parts.
For instance, he appeared in Superman (1978) as a missile controller and in Superman II (1980) as Controller number 1.
Captain Daniels and Grogan
Shane Rimmer played Captain Daniels (in the middle). He also appeared in Superman II (1980) as Controller number 2.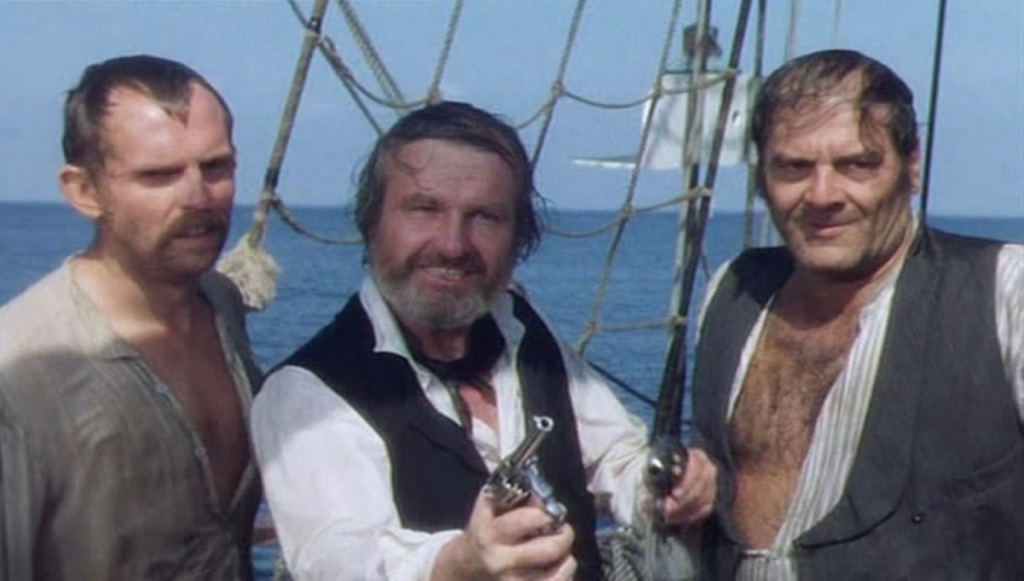 Hal Galili played Grogan (on the right). He's another guy who appeared in Superman II (Man in Diner). So all three of these guys were in Superman II.
That's an awesome thing to know about Warlord of Atlantis!
Atlantis in Warlords of Atlantis
At one stage, the Warlords of Atlantis movie name was going to be 7 Cities of Atlantis.
That's probably why one of the cities in the film was named Troy, which sounded very bizarre when I first heard it.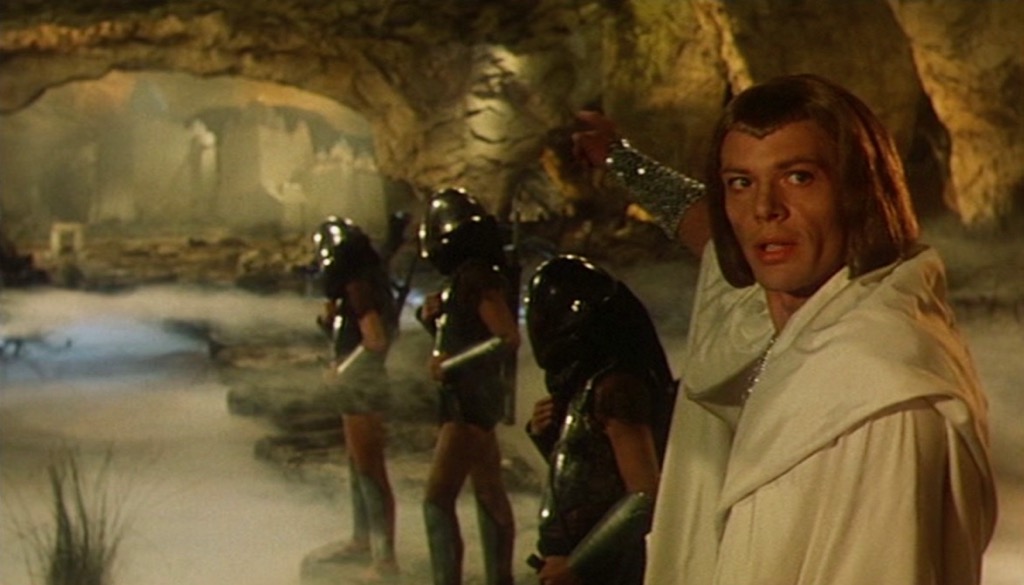 Then you had a city of Atlantis that looked as if it had been drawn by hand.
But it doesn't matter because there is enough to see in Warlords of Atlantis to make watching the film worthwhile.
At the very least, this Atlantis movie is "So Bad It's Good." So give it a go and see what you think.
Warlords of Atlantis Movie Review
Now I'll give you my opinion of the movie rating for Warlords of Atlantis. Through the eyes of my child self, I'll give Warlords of Atlantis a 7/10 movie rating.
As an adult, my movie rating does drop, but I'd still say Warlords of Atlantis is a solid 5.5/10, possibly even a six.
So I highly recommend watching Warlords of Atlantis if you haven't seen the movie before and if you have, check it out again. I'm sure you'll feel some nostalgia regarding the lost city of Atlantis if you do.
Finally, I'll leave you with one more awesome thing about Warlords of Atlantis. The movie must have inspired the first episode of the Atlantis TV series.
Both Warlords of Atlantis (1978) and the Atlantis TV series (2013-2015) initiate the adventure and entry into Atlantis via a diving bell. That's awesome!
Also, if you're curious to know what happened to Atlantis, you may want to read this.
Pin it … Share it