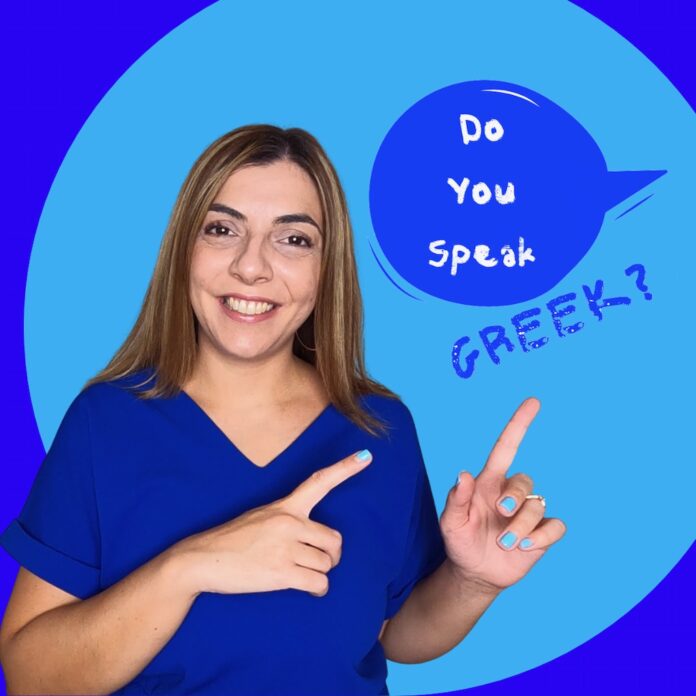 My interview with Alexandra from "Do You Speak Greek?" came about after watching many of her Greek lessons on YouTube that teach people how to speak Greek.
Greek Gods Paradise offers basic Greek lessons to assist tourists in Greece speak a little bit of Greek, which meant I had to do some research.
Alexandra's Greek lessons have been extremely helpful and I have to say, she is my favorite online Greek teacher.
Alexandra offers plenty of free Greek language content and you can even become a paid member to receive more benefits from Do You Speak Greek?
In this interview with Alexandra, we will get to know her as a Greek teacher and traveler who has visited a number of special destinations in Greece like Mount Olympus and Pelion. As a bonus, we will even get a free Greek lesson!
I am sure everyone here will benefit in some way from reading this interview with Alexandra. I know I did, so let's see what Alexandra has to say.
Interview with Alexandra from Do You Speak Greek?
Alexandra, thank you very much for agreeing to do this interview. I know it takes precious time so I really appreciate it.
Can you begin by telling us about yourself and your life so far? Also, be sure to let us know some things you enjoy doing when you're not teaching Greek.
First of all, I would like to thank you for the invitation, John. It's a pleasure for me to be in your blog.
I was born in a village near Thessaloniki and have been living in the city for 17 years. I came here for studies, met my husband, and decided to stay.
I'm a Greek language teacher. I studied Linguistics, Greek Language, and Literature at Aristotle University, fulfilling a lifelong dream of mine.
After years of teaching ancient Greek to high school students, I founded "Do you speak Greek?" I started my channel during a period in my life when I was seeking a fresh start.
During the week, I create engaging and entertaining lessons and meet with my students. In my free time, I enjoy going for walks by the sea or watching movies while sipping on a glass of wine. When possible, I love visiting different places in Greece, as you may have seen on my YouTube channel.
Can you explain the main ways you help people to speak Greek? What type of teaching method do you think is the best for people wanting to learn Greek?
I would say that my teaching style aligns with my own learning style. At "Do you speak Greek?" we strive to create a fun and innovative learning environment for the Greek language. After years of attempting to learn languages through memorizing grammar rules and vocabulary lists, I came to the realization that this approach is not effective.
To truly learn a foreign language, it needs to become a part of your daily life and a deeper understanding of the culture and reality behind it must be gained. To achieve this, we have found a way to blend traditional language learning elements with contemporary methods of communication and interaction.
The most important thing for me is to ensure my students have fun while they are learning, even if they don't realize they are doing so.
My teaching philosophy is composed of five main components: simulation, real-life scenarios, participation, discovery, and stimulation. It is important for us to find engaging and entertaining concepts for our students and to create an enjoyable virtual tour of Greece and Greek culture.
Thessaloniki – Alexandra's Hometown 
It would be great to know more about Thessaloniki, the city where you live. What do you like about the place?
In my opinion, Thessaloniki is a beautiful city located in northern Greece. It's affectionately referred to as "νύφη του Βορρά" (nifi tu vora), which means the bride of the North.
What I love most about Thessaloniki is its proximity to the sea, which is reflected in the large promenade called "paralia" (beach) by the Greeks. Living close to the sea makes me feel lucky.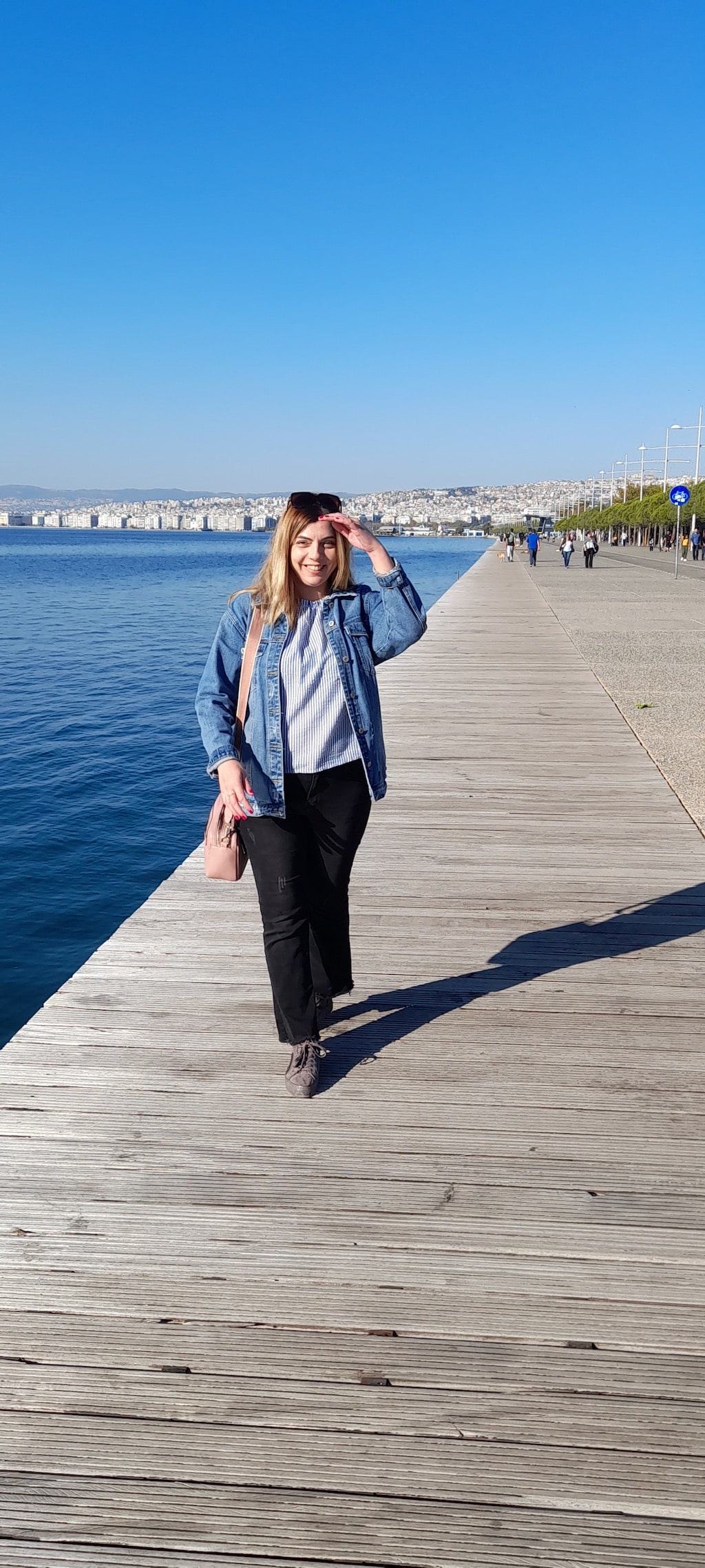 Thessaloniki holds a special place in my heart, as it is my hometown. Whenever I visit other places, I find myself comparing them to Thessaloniki. For instance, when I visited Budapest with my husband, I thought to myself, "What a beautiful city! I like this river. It's reminiscent of Thessaloniki. I could see myself living here."
Greeks have a deep connection with their hometowns, and Thessaloniki will always be dear to my heart.
When you feel like going out on a day trip from Thessaloniki, where do you think of going? It would be great to know about some of the best day trips from Thessaloniki and how to get there.
During the summer, nobody who lives in Thessaloniki escapes a trip to Halkidiki. Just a 30-minute drive from the city will take you to some lovely beaches, but if you really want to experience paradise, it takes about 1-2 hours. Our usual destination is Sithonia, which I consider the best part of Halkidiki, where we spend the whole day at the beach. In the evening, we usually visit Nikiti, a highly touristic town with plenty of bars, restaurants, and cafes.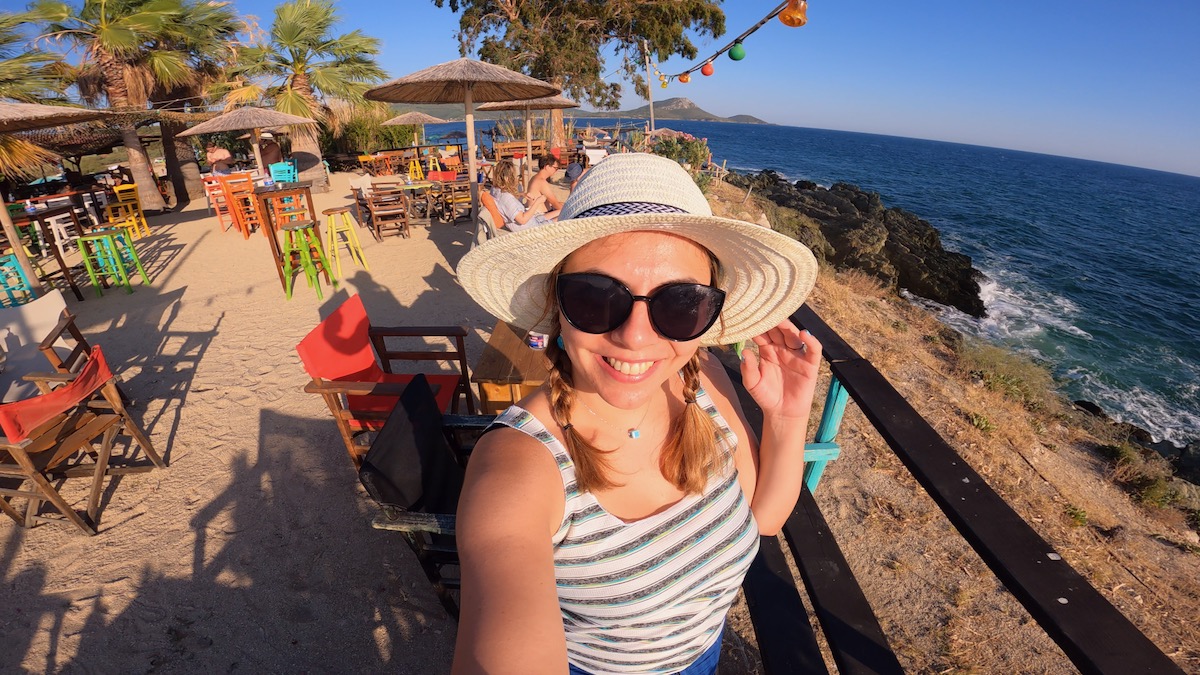 If you're visiting Thessaloniki in the summer, you must visit Halkidiki. Renting a car is the best way to get there, but if that's not an option, you can also take the bus.
For those moments when you just want to get away from the city without having to travel far, I recommend visiting Peraia or Aghia Triada. These areas attract many tourists during the summer, but swimming may not be the best activity there. However, it's the perfect place to witness a beautiful summer sunset while sipping on a glass of wine.
You can reach Peraia or Aghia Triada by car in 30 minutes or by bus, but I wouldn't recommend the last one. During the summer, there is also a boat from the port of Thessaloniki in the city center to Peraia.
Alexandra, I watched this video of yours taken in Halkidiki. The place looks amazing!
Teaching Greek with Do You Speak Greek?
You have taught many people to speak Greek over the years. Can you talk about some of your most memorable students who knew very little Greek in the beginning and how they progressed with the Greek language?
I consider myself a lucky person, as during my years of teaching, I've had the opportunity to meet people from all over the world and have many memorable students. Through teaching them my language, I've also had the chance to learn more about their cultures and mentalities. That has been a gift to me. Most of these people are not only students  but have become friends as well.
My students are those who see the learning process as the most enjoyable part of their day or week, eagerly awaiting their Greek lesson. They make the Greek language a part of their lives and aren't afraid to expose themselves to a completely different environment. Shy and frustrated, in the beginning, they used to tell me "Greeks speak too fast, I can't understand them" or "I don't think I'll ever be able to speak Greek in Greece." But as a teacher, the most important and challenging part for me is to help my students build confidence, support them, and make them understand that mistakes are a part of the learning process. Those who overcome their fears are my heroes, and I have many examples of them.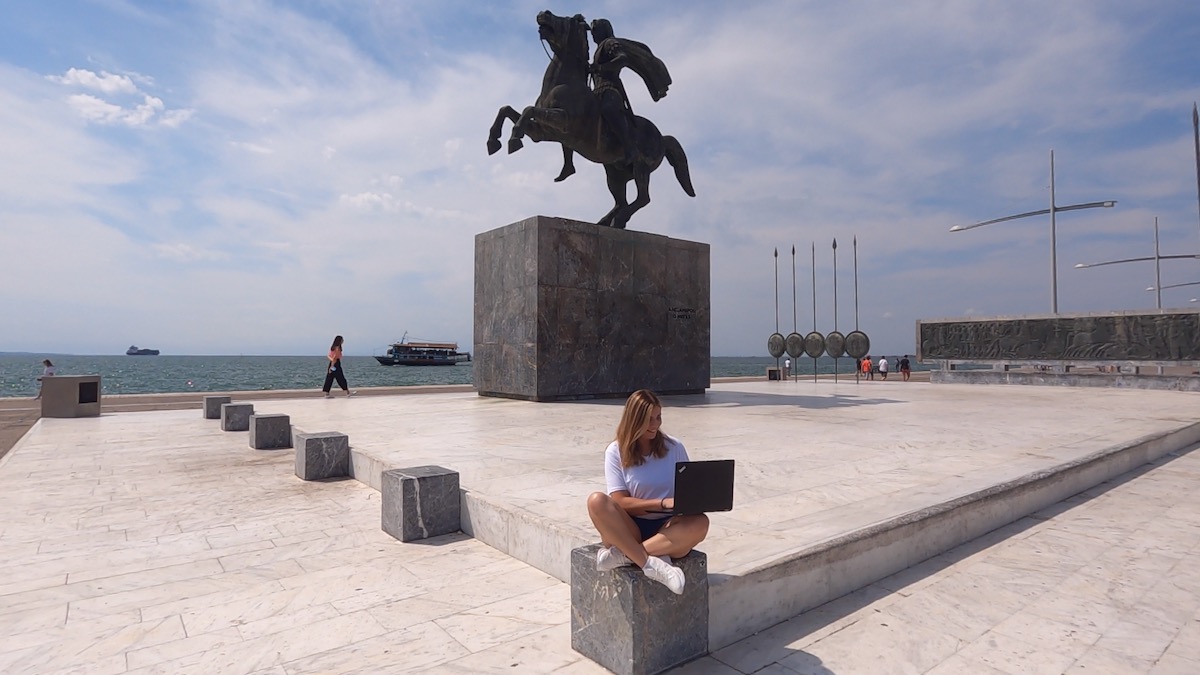 How long does it normally take for an average person to reach a reasonable level of being able to speak and understand Greek? 
In my opinion, language learning never stops. I can attest to this from my own experience. I have been learning English for my entire life and will continue to do so. To learn a language, commitment is key.
I always advise my students to dedicate at least 15 minutes a day to their language learning. Making the language part of their daily lives is crucial to success, which is why I created an online learning program that includes four weekly sessions with students. Commitment and immersion are vital for quick learning, as I have found in my own language learning journey and now apply in my teaching methods.
When potential students ask me about the best way to learn Greek, I ask them what their goal is and how much time they are willing to dedicate to study each day. Of course, the difficulty of learning may vary depending on the student's native language. For example, I have seen English speakers struggle a bit more, but consistency is the key to success for everyone.
So, if you're considering learning Greek, my advice is to focus on the process, not just the result. Embrace the learning journey ψυχή τε και σώματι (with your whole soul and body), as the ancient Greeks used to say, and enjoy the process.
Alexandra, I would like some more details. You mentioned 15 minutes a day, but what should a Greek learner focus on in that time? Should learners just randomly go through your YouTube channel watching any Greek language video of interest? What about reading and writing? Is this something you need to learn as well in conjunction with learning to speak Greek? Should everyone learn the Greek alphabet first? There just seems to be so much to learn. Is there any kind of structure to learning Greek that you recommend? In school, they don't just stick everyone in the same class because everyone has different levels of understanding. What kind of training do you recommend for a novice to give them the best opportunity to learn Greek? Which "Do You Speak Greek?" membership plan would you recommend for a beginner? 🙂
As a beginner in the Greek language, you should start with the basics, including the Greek alphabet, basic vocabulary, and grammar. If you have only 15 minutes to study, you can focus on memorizing some key vocabulary words, practicing pronunciation, and familiarizing yourself with the Greek alphabet.
It's also a good idea to learn both reading and writing in conjunction with speaking Greek, as they are all important components of the language. Learning the Greek alphabet first is a good starting point as it will make reading and writing much easier as you progress in your studies.
I recommend following a structured course or language learning program that provides a comprehensive and organized approach to learning Greek. This could include textbooks, online resources, language classes or recorded video lessons. Alternatively, you can use resources such as YouTube videos to supplement your studies. Visit these playlists on my website and start with basic vocabulary, phrases and grammar:
But it's important to have a structured approach to make the most of your time and ensure that you're learning the most important aspects of the language.
In "Do you speak Greek?" for now we don't have any memberships for very beginners but we are about to launch one next month, combining synchronous and asynchronous teaching models and a community, which is very important for us! I'm so excited for that and I'm looking forward to the launching date.
Thessaloniki versus Athens
Thessaloniki is the second largest city in Greece after Athens. What are some of the main differences between the two cities in your opinion?
To be honest, I haven't traveled to Athens many times. The last time was just a month ago for Christmas, but I'm happy to answer this question. Both Athens and Thessaloniki are beautiful, but they're different, and I think this is what Greece needs. I perceive Athens as a big city, while in Thessaloniki, it feels like we're living in a big village! 😁
Both cities have something to offer depending on your preferences. If you enjoy big cities, Athens is the place for you. But in Thessaloniki, you'll find a cozy atmosphere.
The biggest difference you'll notice is in the way souvlaki is ordered 😂.
In terms of language, there aren't major differences, unlike in English or Spanish. There are some words that you can only hear in the north, but it's nothing significant. I believe it has to do with Greek dialects, as you can hear more diverse words in villages and islands than in cities.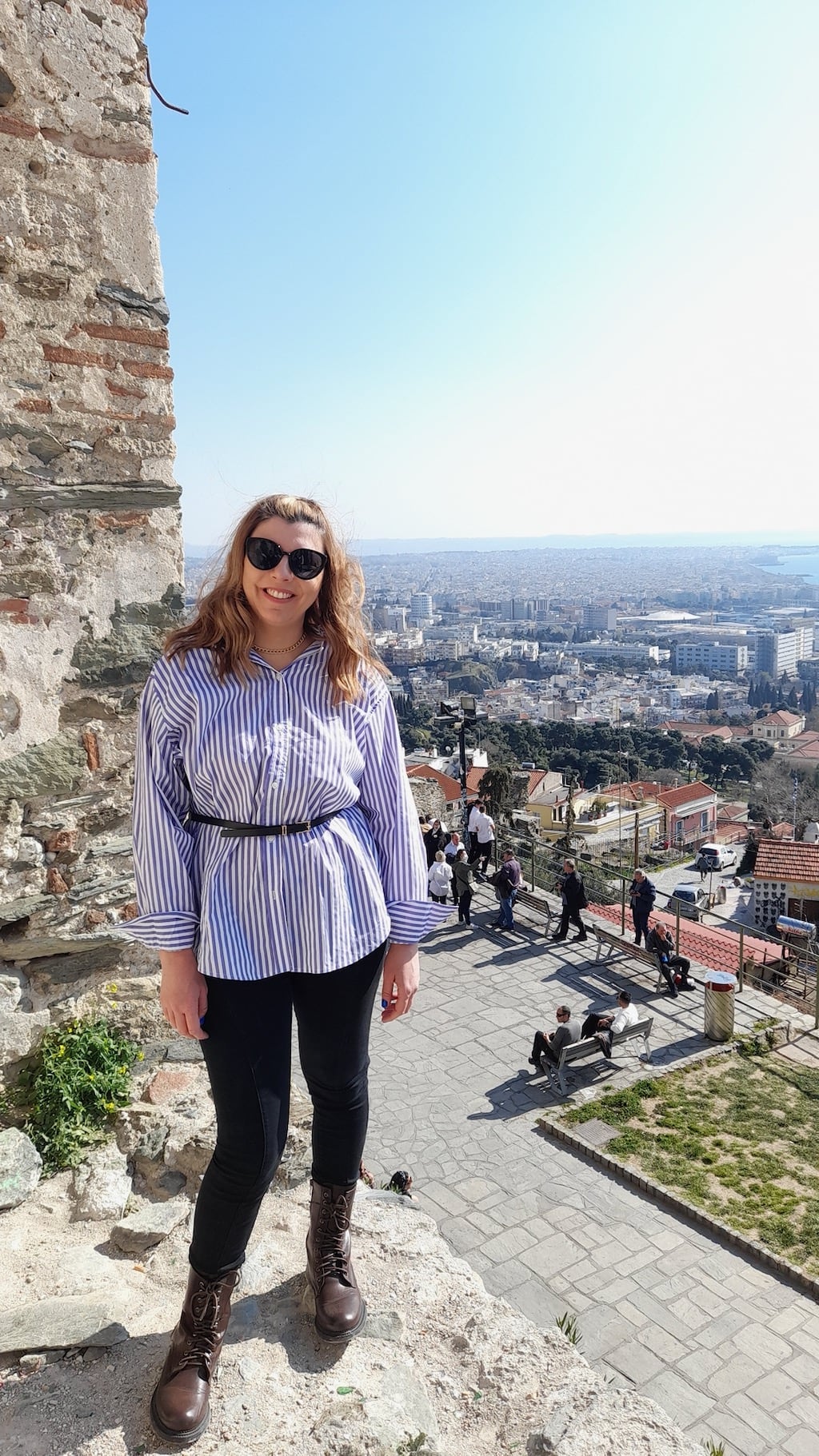 Learning English in Greece
Alexandra, I'm curious to know about the school system in Greece and how the English language is taught in Greek classrooms. Can you tell us about your experience of learning English in Greece?
My journey in learning English is a long one, but it has taught me a lot and helped shape my teaching methods. I started learning English when I was 9 years old in school, as it's mandatory to learn English as a foreign language in Greek schools. However, you could soon realize that relying solely on the school curriculum was not enough to become proficient in the language. So, my mother enrolled me in a private language school, where I was introduced to the language. I still remember my first day and I was only 9!
It was a disaster. We bought a big grammar book (it was a monster in my mind, and still is😁) and we had to do some exercises about the present progressive tense.
My parents couldn't help me either, as they didn't speak English.
Despite the struggles, I continued to learn grammar, but I still couldn't speak English after 6 years of studying at the language school. The focus was mostly on preparing us for exams and getting a certificate in English, rather than speaking the language in real-life situations. I believe the education system has improved over the years, with teachers now taking a more interactive approach to teaching.
After finishing my studies at the language school, I started consuming English media, such as movies, YouTube videos, and songs, to improve my listening skills. However, my speaking skills remained limited.
It wasn't until I came up with the idea for my "Do you speak Greek?" channel that I realized I needed to improve my English if I wanted to teach Greek effectively. I started preparing myself in 2016 and in 2018, I launched my channel, despite my poor pronunciation and mistakes. Writing down what I wanted to say and recording myself helped me improve, and now, after years of practice, I'm proud to say that I can speak English at a good level and switch between both languages with ease.
Mount Olympus in Greece
I know you have visited Mount Olympus in Greece after watching a video shown on your YouTube channel. Have you ever tried to hike to the very top of Mount Olympus? How many times have you visited the place? What would you recommend doing when visiting the Mount Olympus region?
Mount Olympus is a must-visit destination if you're in North Greece, especially if you enjoy hiking or climbing. Located just 1 hour from Thessaloniki, the mountain offers an amazing experience. I suggest visiting it during the spring or early fall for the best experience. I have been there twice and filmed a video during my second visit.
In addition to Mount Olympus, the surrounding region of Pieria is also worth exploring. Every year, many tourists visit this area to enjoy its nice beaches and villages, such as Litochoro, Skotina, and Platamon. Don't forget to visit the castle of Platamon and take a walk through the forest. Although I have not yet climbed to the top of the mountain, I am considering it for this year. I would love to do it and will definitely film the experience!
Alexandra, if you want some great tips to help you reach the top of the highest peak I highly recommend reading Climbing Mount Olympus (Experience, Tips, and Advice). It will also assist you in planning an awesome trip.
Ordering Gyros and Souvlaki in Greece
Alexandra, when you feel like eating a delicious gyros (yee-ros) or souvlaki, where do you go? How often would you say that you eat gyros or souvlaki?
I have heard about some gyros and souvlaki differences when comparing Thessaloniki to Athens, but I'm still a bit confused. Can you explain things? 
In Greece, you can find gyros and souvlaki everywhere, and that's what I like the most when I visit different places in Greece. Gyros or souvlaki are the cheapest way to eat in Greece as a tourist, and they're also delicious. In Thessaloniki, you can find many places to try gyros. When I was a student, I used to eat them at least once a week because it was the cheapest way to eat. Nowadays, I don't eat them as often, but when I want some, I prefer specific places around my neighborhood like "To Nisi tis Afroditis" or Food Plaza. I can also suggest two more places I love: "O Gyros tis Aristotelous" in Aristotle's Square or "O Gyros tis Elladas," which is a little further from the center, on Vasilisis Olgas street.
If you want to order a gyro with pita in Thessaloniki, you need to say "Ena yeero pita me ap'ola," which means that your pita will include gyros, of course, and tomato, onion, mustard, ketchup, and potatoes. If you want extra sauce like tzatziki, you need to ask for it. In Athens, gyros usually include tzatziki and lettuce.
If you don't like gyros and want to eat souvlaki in Thessaloniki, you need to say "Ena sandwich me souvlaki kai ap'ola" or "Ena pita souvlaki me ap'ola," if you prefer pita instead of bread.
In Athens, to order souvlaki, you need to say "Ena souvlaki, kalamaki, apola." For me, kalamaki is a straw!! So, sorry my Athenian friends, but for me it's very weird to order souvlaki kalamaki hahaha!
Top Greek Islands
Are there any Greek islands that immediately spring into your mind as being fantastic? Is there a Greek island that is very special to you?
Greece is full of magical islands that are just waiting to be explored! Although I haven't been able to visit as many as I would like, I've had the chance to check out some of the northern islands like Corfu, Paxoi, Skiathos, and my personal favorite, Thassos. I have the fondest memories from Thassos because I used to visit it as a child with my parents.
When I think of Greek islands, I think of endless sunshine, breathtaking beaches, cool ouzo, and mouth-watering fresh fish. This year, I'm hoping to add another island to my list – Amorgos. I hear it's a breathtakingly beautiful place that's just waiting for me to visit. Can't wait to soak up some more island vibes!"
Pelion Travel Guide
You have visited Pelion, a beautiful destination in Greece, where it is believed the Greek Gods and Goddesses loved to visit. How many times have you visited Pelion and how long were your stays there for? In your opinion, what are some of the best things to do in Pelion?
Pelion is one of my favorite places in Greece. It's a unique combination of mountains and sea. I've visited twice, staying 3 to 4 days each time.
In Pelion, you'll find charming, authentic Greek villages like Makrinitsa, which is my favorite. The center of the village has a church, a big plane tree, and many lovely cafes and taverns.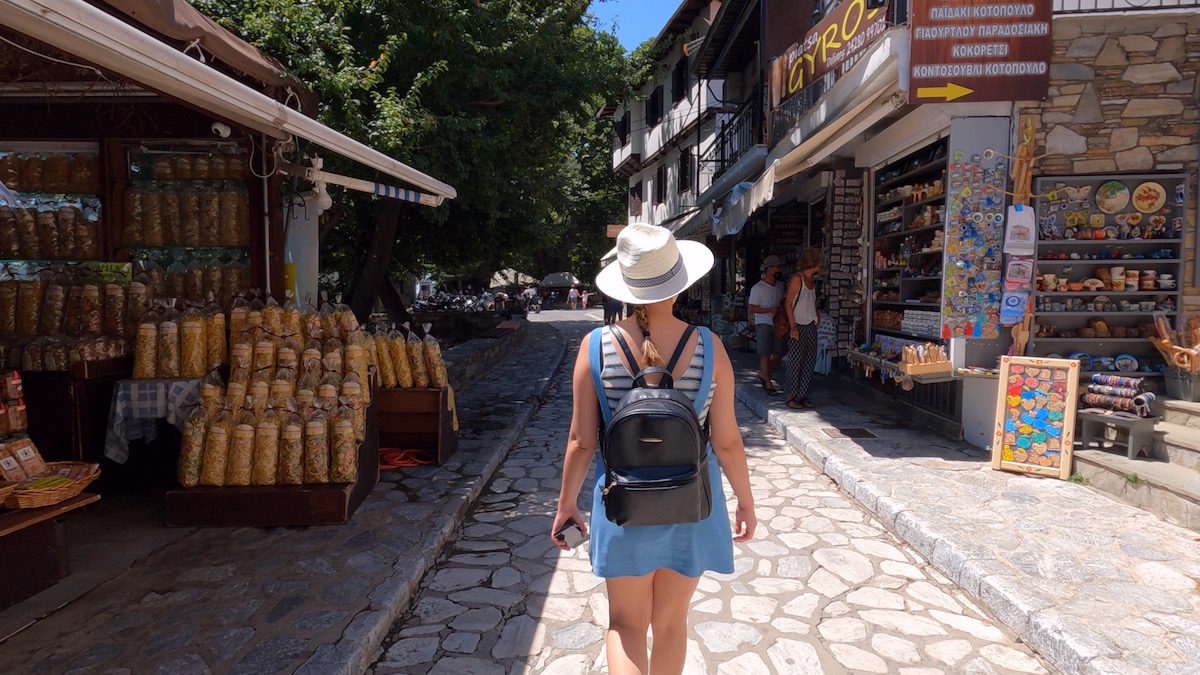 You can buy traditional Greek products like mountain tea, "spoon sweets," oregano, trahanas, and hilopites (traditional pasta). Take a break by sitting under the plane tree and enjoying a drink.
For a delicious meal, head over to Portaria, a village only 5 minutes away by car. It has charming taverns with traditional Pelion food. Try the spetzofai and homemade tzatziki.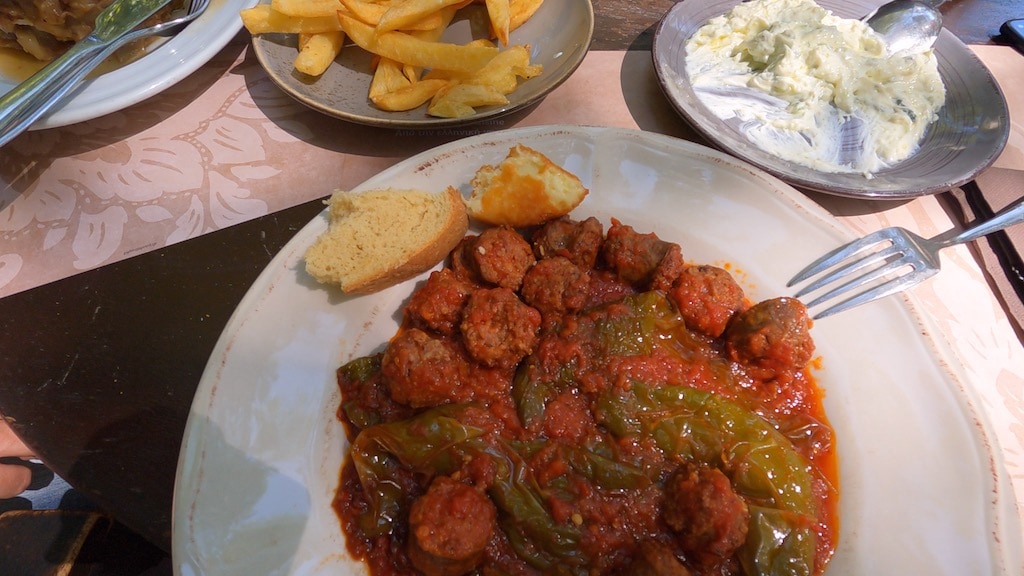 Many Greeks visit Pelion during the winter for a cozy traditional small house with a fireplace and spa. I've never been there in winter but prefer summer when the whole mountain is green and full of trees. You can also visit beautiful beaches like Mylopotamos, though it can be crowded during peak season.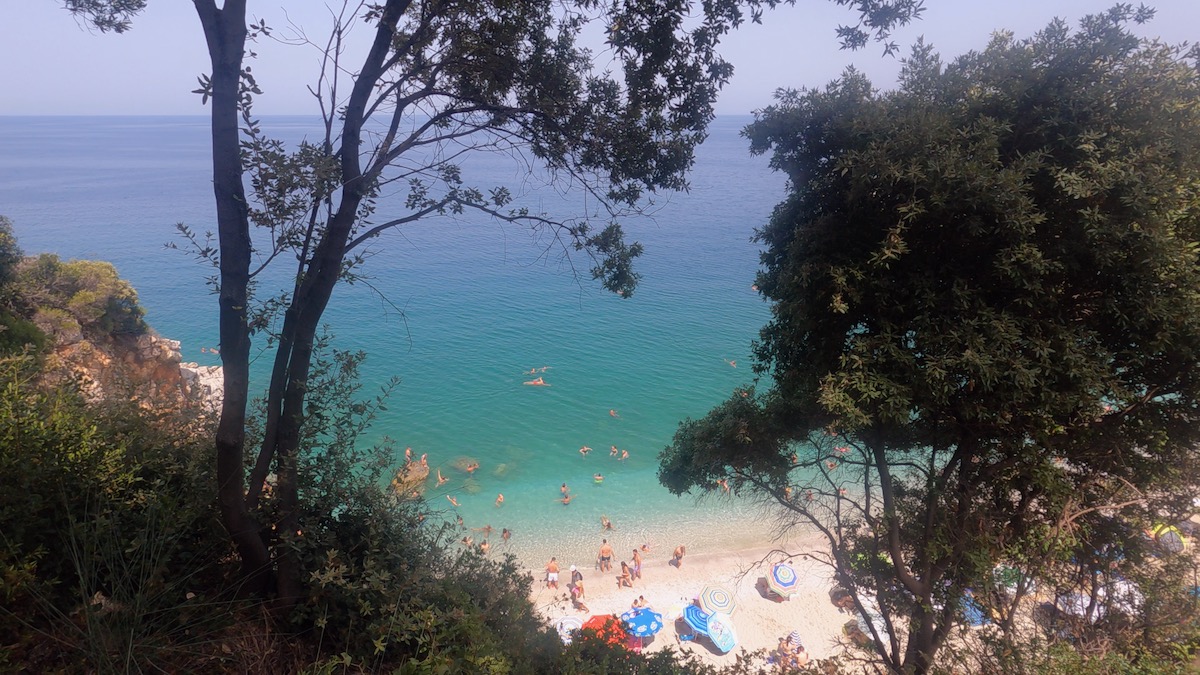 Best Places to Live in Greece
If for some reason you couldn't live in Thessaloniki or Athens, where else in Greece would you be happy to live?
I would love to live in Ioannina! It's a charming small city that offers everything you need without feeling crowded like Athens and Thessaloniki. Plus, I am drawn to the lake in the city. I can't imagine living somewhere without access to water. And let's not forget the delicious food!
Another place I'd consider living would be Volos. It's a city located in the center of the mainland and is about 3 and a half hours away from Athens and Thessaloniki. Volos is situated at the foot of Pelion and across from Skiathos, Skopelos, and Alonissos.
The city is small and beautiful, just like my hometown, so I'd definitely consider it a plus.
Free Greek Lessons with Do You Speak Greek?
Alexandra, now that I have you here I have to get some free Greek lessons from you 😁 as I'm still a bit unsure of a few basic things.
1) Ya or Yasou? Is one of these two greetings more appropriate than the other in any situation? For example, if you want to sound extra cool, is it better to just say "Ya" or is "Yasou" always the better alternative? Which of these two words do you mostly use to greet your friends?
2) If you only had a choice of saying Ya, Yasou, or Yasas (formal hello), to a taxi driver who seems to be around the same age as you, what would you say? If the driver was twenty years older than you, would you change the greeting to something else?
Thank you, John, for giving me the opportunity to teach you some basics. Actually, I believe that before visiting a country, it's very nice to learn how to say some words in the language of the country. You'll feel like you're adapting to the culture and you'll feel less like a tourist.
Try small words such as "ευχαριστώ" /efharisto/, which means "thank you". Or "Γεια" /Ya/ which means "hello".
"Ya" is considered cooler, yes. It's a word that's usually used by younger people. Don't forget to keep the "a" for a while. Like "Yaaaa!" It's cooler, hahaha. I would say "Ya" to my friends or to a group of people I know well.
"Ya sou" is more personal. This "sou" refers to someone specifically, a person. That's why we often use the name of this person, as well. For example, "Γεια σου, Μαρία! Ya sou, Maria."
"Ya sas" is formal, and we use it when saying "hello" to a group of people. I would say "ya sas" when entering a shop, a supermarket, or any place to buy something, unless I know the person I'm talking to personally. In small villages, you can find little shops, and the people who live there know the owners. So, if Mrs. Maria is the owner, I would say, "Ya sou, kiria Maria." I could also say "Ya sas, kiria Maria," if Mrs. Maria is older than me.
I would say "Ya sas" in a bank, post office, or taxi, even if the driver is the same age or younger than me. However, not all Greeks do this. Especially men. I've heard some men say "Ya" to the taxi driver, or older people would say "Ya sou, paidi mou" (Hello, my child) or "Ya sou, palikari mou" (Hello, my lad).
It always depends on the person or context.
Regarding "Kalispera" (Good evening), I don't think it has to do with gender. Both men and women use it equally. We usually say it between 4:30 pm to 7-7:30 pm, but there is no specific rule. We always use it when meeting someone, but never when leaving a place. In that case, we would say "Καλό απόγευμα" (Kalo apoyevma), meaning "Good afternoon," or "Καλό βράδυ" (Kalo vradi), meaning "Good evening."
Thank you, dear John, so much for this interview. I hope you visit Thessaloniki soon!
Ευχαριστώ!
Do You Speak Greek? – Interview Conclusion 
Alexandra, you have done a great interview and I am now an even bigger admirer of yours than I was before.
One day I will hopefully visit Thessaloniki and if I do, I am going to contact you to see if we can meet for a coffee. Hopefully by then my Greek speaking ability with be good enough so I can have some kind of conversation with you. If not, I am certain I will at least be able to say "Yaaaa" to you in Greek with confidence!
All the best with your Greek lessons and everything you do. I am seriously going to consider signing up for one of your membership plans in the future, so don't be too surprised if you see me as a member of "Do You Speak Greek?" down the track.
Thanks again and all the best!
Do You Speak Greek? (Online Platforms)
Web pages to visit if you would like to learn more about Do You Speak Greek?
YouTube channel: Do You Speak Greek?
Website: Do You Speak Greek?
Instagram: @doyouspeakgreek
TikTok: Do You Speak Greek? (@doyouspeakgreek)
Pin it … Share it