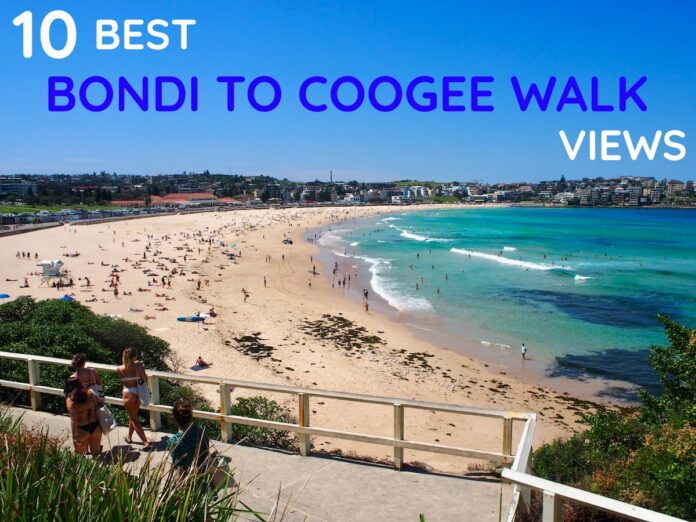 One of the best things to do in Sydney is the Bondi to Coogee walk, which will give you fantastic views of five beautiful bays.
Another excellent option is to do the shorter Bondi to Bronte walk if you don't want to walk all the way to Coogee. It really depends on how far you'd like to walk.
Walking from Bondi to Bronte and then onto Coogee beach, where the walk finishes, offers plenty of stunning views along a great stretch of Sydney's coastline.
You will see golden sandy beaches, inviting swimming baths, stunning rock pools, and jaw-dropping views from towering cliffs when walking from Bondi to Coogee.
This has to be the most famous walk in Sydney! The Bondi to Coogee walk attracts tourists galore, and every visitor in Sydney should do the walk at least once.
On my 50th birthday, I wanted to walk this magical part of Sydney's coastline.
So I walked from Bondi to Coogee after visiting the Apollo fountain in Hyde Park and the statue of Athena in Sydney CBD. A few weird things happened to me there. I'll let you know what happened in my next post. To give you an idea, I received a clear sign from Apollo and Athena. Wow!!!!
On this special day of mine, the weather gods were kind to me. It was perfect beach weather. So the plan involved spending the entire afternoon doing the Bondi to Coogee walk at a relaxing pace admiring the incredible views along the way with my mum.
The other thing I wanted to do was go swimming in the iceberg pool overlooking Bondi beach. Of course, I also planned to swim at other great beaches, which drew me in along the way. I made it pretty easy for myself, as I wore my bathers on the walk, so I could easily swim anywhere I liked.
We arrived at Bondi at about 1 pm and crossed the road to Bondi beach soon after.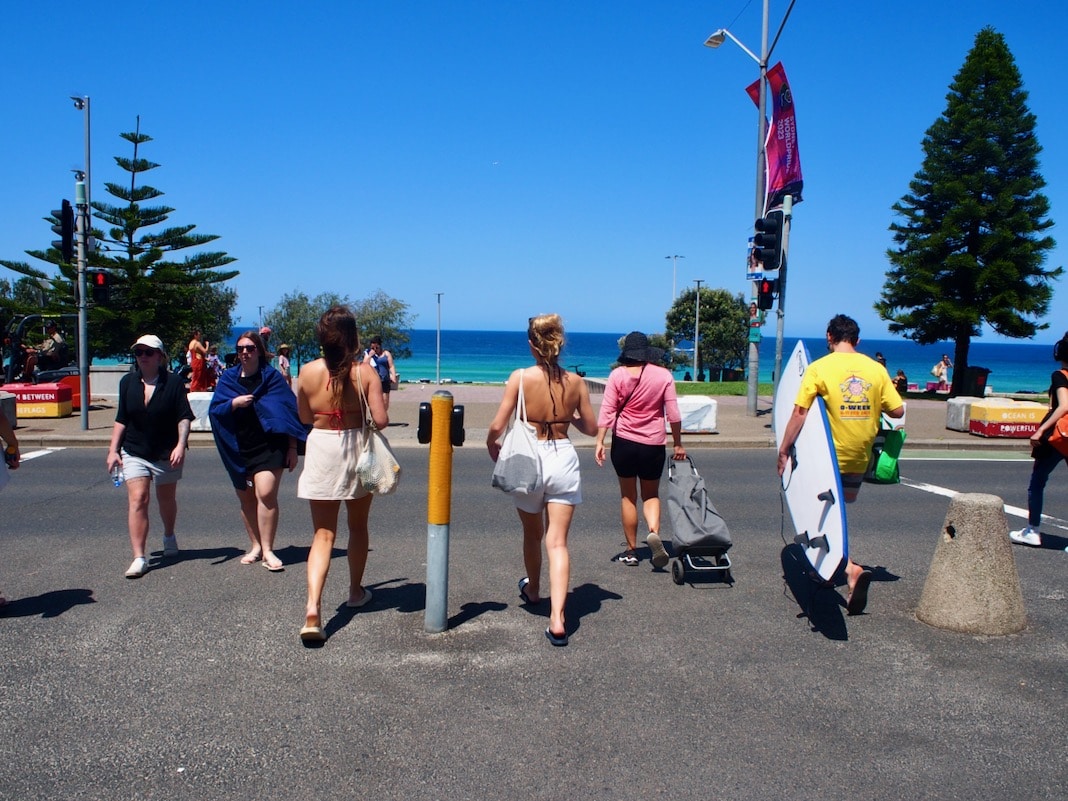 Bondi to Coogee walk is a 6 km hike that takes you past five beautiful bays, including Bondi beach, Tamarama beach, Bronte beach, Clovelly beach, and Coogee beach.
You can do the walk in either direction, but since it is known as the Bondi to Coogee walk, I decided to walk it in the classic direction starting at Bondi beach. Beginning at Bondi beach also allowed us to have lunch in Bondi before we went on the walk.
Bondi to Coogee walk: 10 Best Views to See
I highly recommend doing the entire 6 km Bondi to Coogee walk. That way, you can take a few rest stops along the way. It will also give you time to swim or relax at great beaches.
Some people may prefer to go on the shorter walk from Bondi to Bronte (1.5 km/1 mile), which will take about 1 – 1.5 hours. In my opinion, the best views are between Bondi and Bronte, so the Bondi to Bronte walk would be as memorable and enjoyable.
Here I show you the best Bondi to Coogee walk views that stood out to me. You can also see a Bondi to Coogee walk map to help you get your bearings. The map is a photo of a sign taken at Bondi, which shows all of the main attractions and facilities along the way.
In this Bondi to Coogee walk guide, you will see the most fabulous views along this stretch of coastline. I also tell you some valuable tips such as public transport options.
One of the best views to take in when doing the Bondi to Coogee walk is Bondi beach.
1. Bondi Beach
Bondi beach is a mecca for tourists in Sydney. I was here on a Monday, and there were people everywhere, so on the weekend, it must be crazy!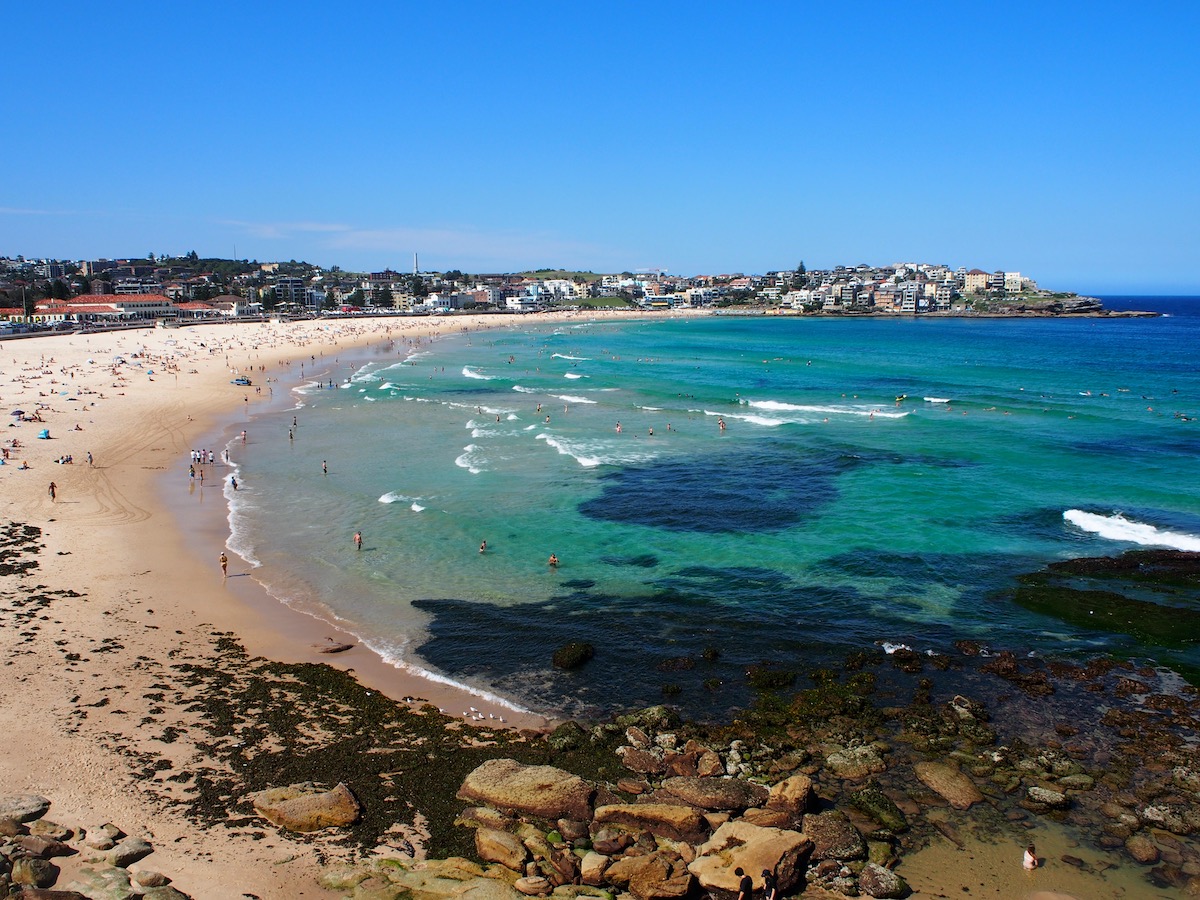 When you arrive at Bondi beach, you'll want to go swimming if you're a beach bum, especially if the ocean looks as good as this. So that's what I did. I went for a quick dip, then walked along the sand to the other side of the beach.
I had to return after because it is on this side of the beach where the Bondi to Coogee walk starts.
2. Bondi Icebergs Club
Looking out over Iceberg's pool at Bondi on a glorious day is incredibly beautiful. I always wanted to swim in the Icebergs pool, and it didn't disappoint. I paid a reasonable $9 fee to enter the pool area, which was totally worth it.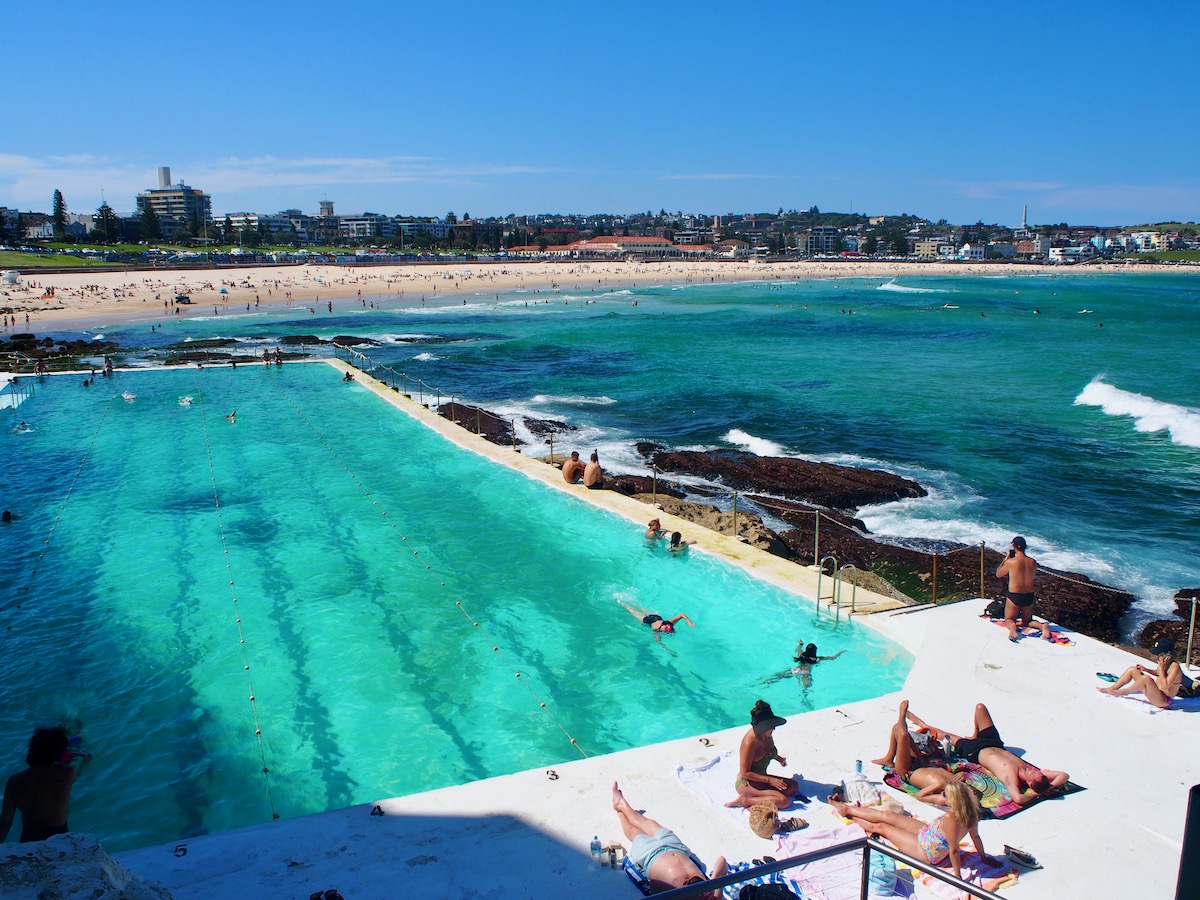 You could easily spend the whole day at Bondi Icebergs, but even staying for half an hour or so will leave you feeling content.
I had lunch with my mum at Icebergs sitting out on the terrace with a great view of Bondi beach. Both of us ordered the chicken schnitzel, and we both enjoyed the delicious meal.
After we finished eating, I went for a swim in the Bondi Icebergs pool, and it was fantastic!
3. Mackenzies Bay
I personally believe the best Bondi to Coogee walk views are between Bondi and Bronte.
Mackenzies Bay is the first view around the corner from Bondi beach that impressed me greatly.
The spectacular view of Mackenzies Bay (the closest bay in this picture) is where things got very interesting. I could see some rock pools jutting from the coastline and couldn't wait to get closer.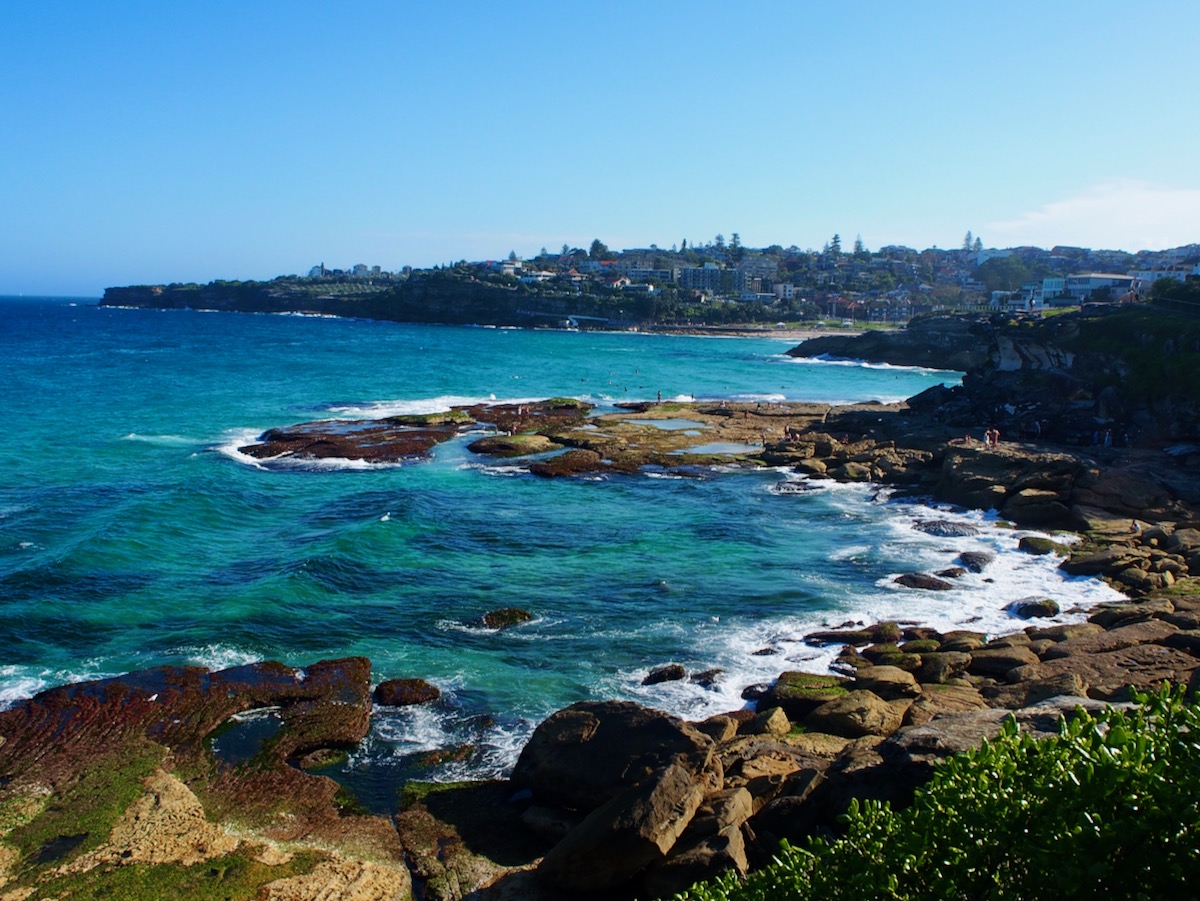 Fascinating Fact: The mythical Mackenzies Bay beach appears approximately every seven years. In the photo above, you can't see a sandy beach in Mackenzies Bay. The sand only occurs every few years, which is unpredictable, so if you ever see the secret beach in Mackenzies Bay — count yourself extremely lucky!
4. Tamarama Rock Pools
Seeing the rock pools at Tamarama Point was amazing! These great-looking rock pools were one of the biggest highlights when doing the Bondi to Coogee walk.
People were sunbathing on the rocks, lying in the rock pools, and enjoying the place.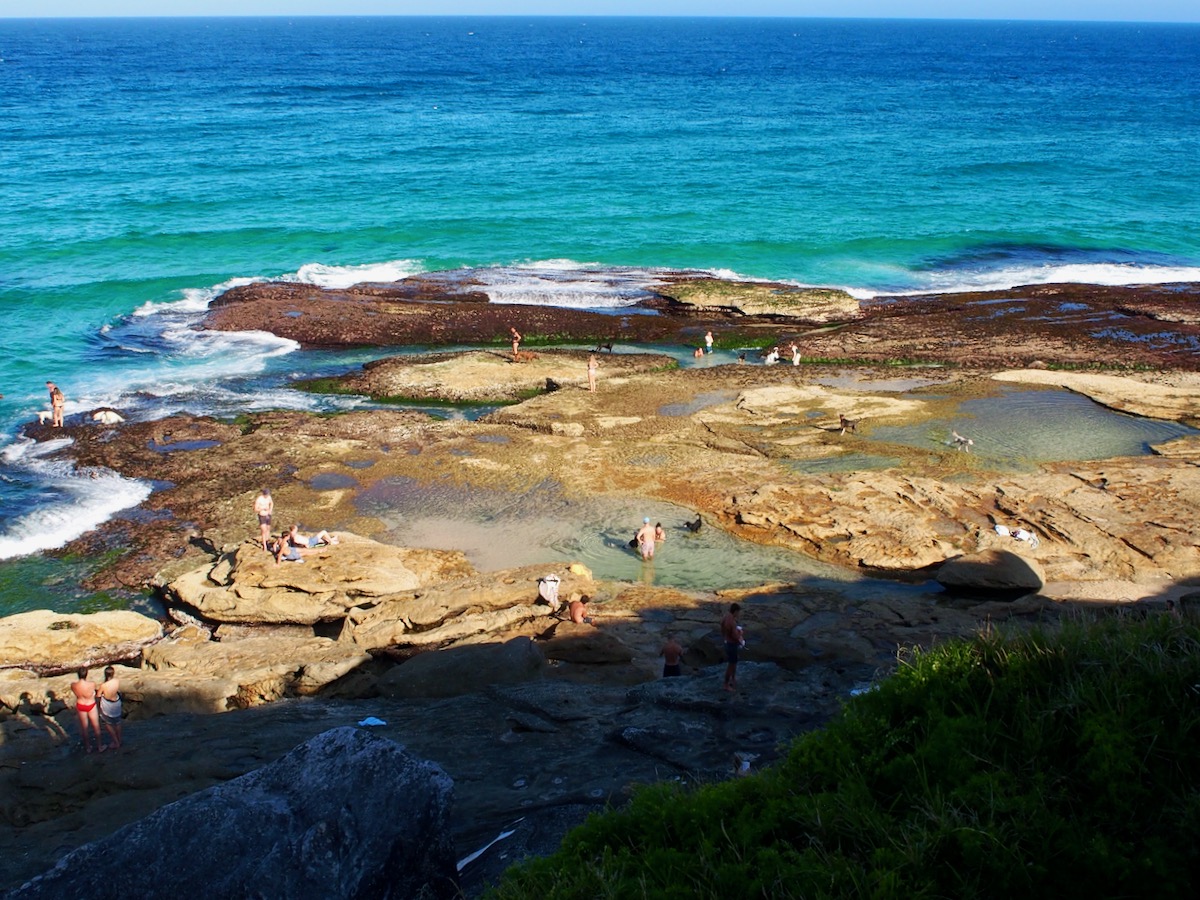 You will see many dogs in the area, even though a sign states no dogs are allowed. But going by the number of dogs I saw, the rule can't be enforced. I did see one little dog fight between two dogs. See if you can count how many dogs are in the picture above.
I walked around these rock pools after swimming at Tamarama beach. Most rock pools were very shallow and seemed to be very popular with young kids.
5. Tamarama Beach
I felt like I wanted to swim at Tamarama beach as soon as I saw it.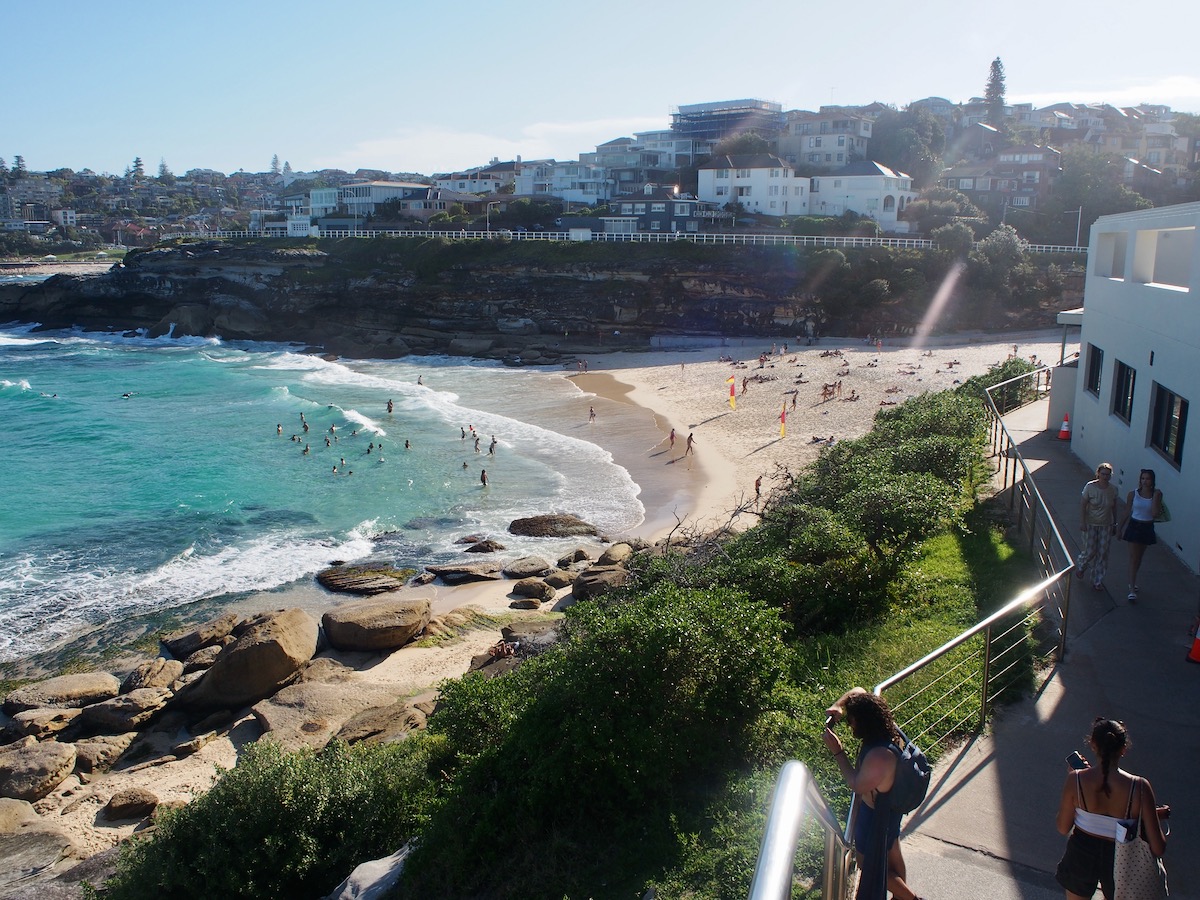 Tamarama beach is fantastic and, in my opinion, probably even beats Bondi beach.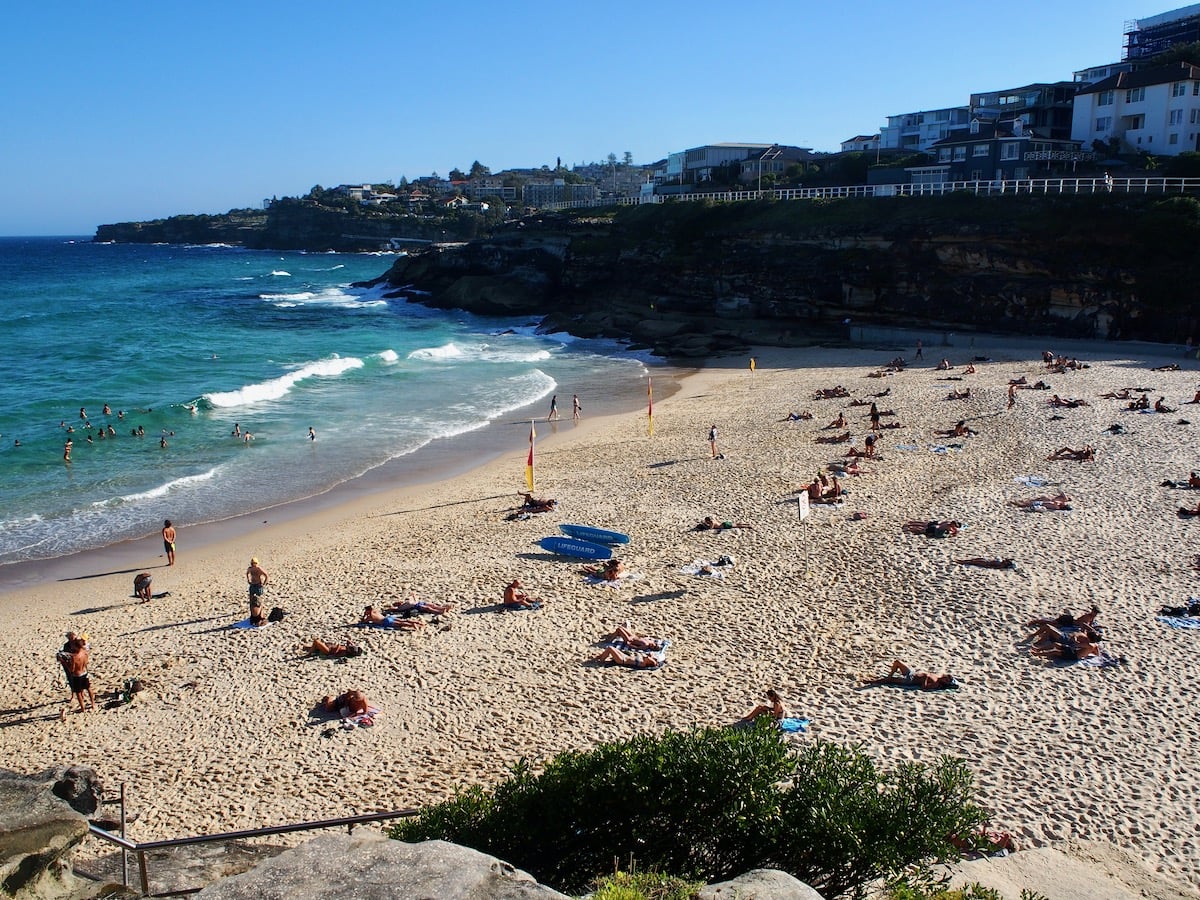 If I had to spend the whole day at one beach, then Tamarama beach is probably the one I'd choose to spend it on.
There is also a coffee shop and a park at the back of the beach. Shower facilities and a changing room can also be found near the beach, making it very beach friendly.
6. Bronte Beach
Bronte beach is another great beach on the way to Coogee. Some of you may want to stop walking any further by stopping at Bronte. If you turn around from Bronte, it will make walking back to Bondi beach a whole lot easier.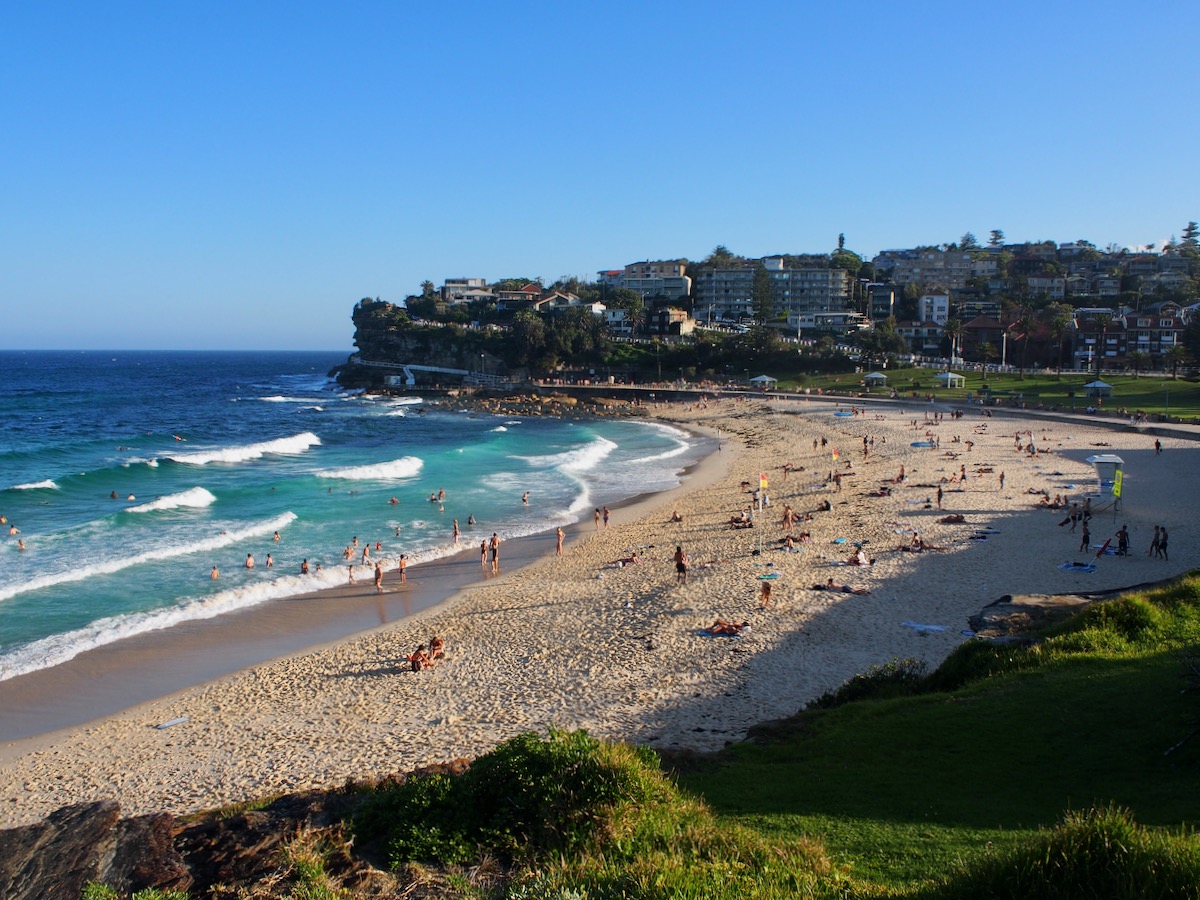 On the side closest to Coogee (the southern side of Bronte beach), you will see a few rocks in the water, giving this section of Bronte beach a natural rock pool look.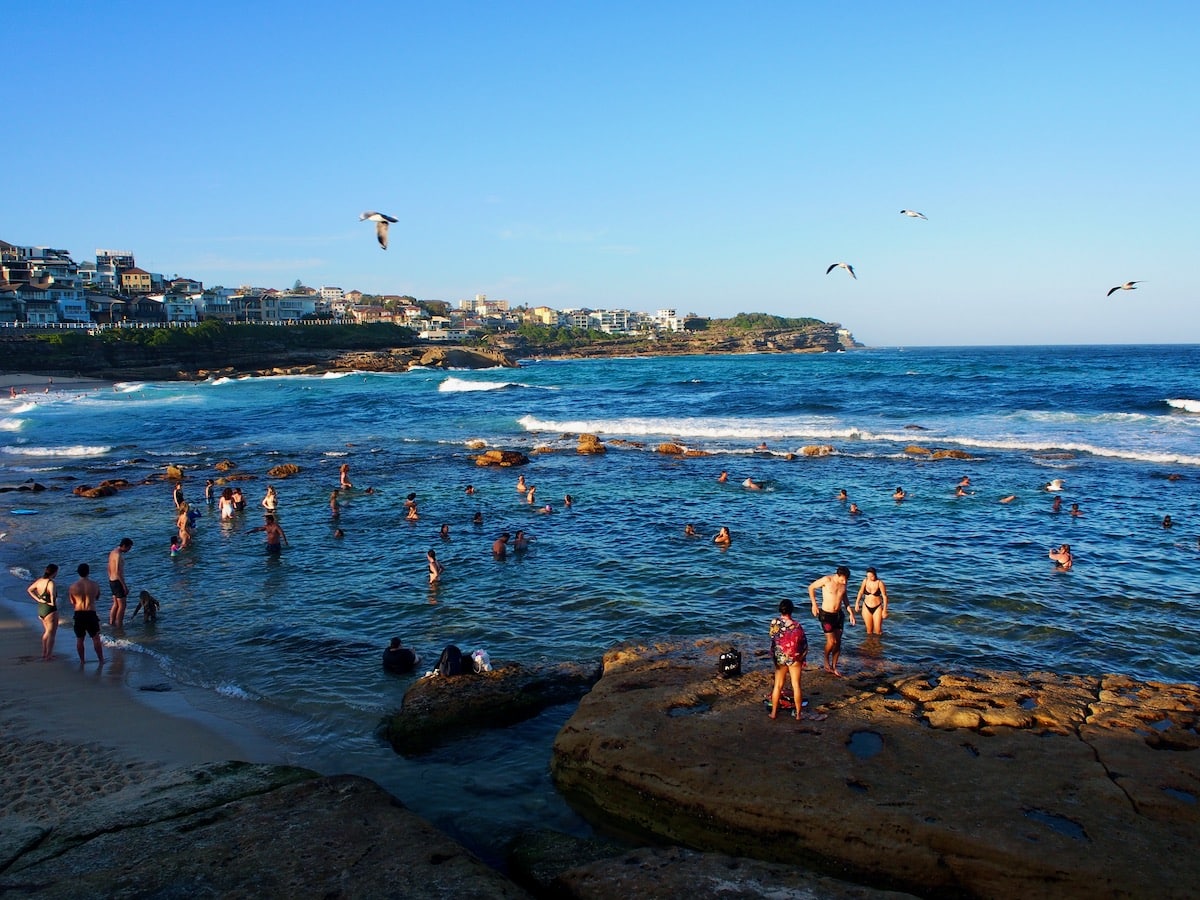 Many people were bathing in the ocean in this natural rock pool zone. I went for a dip in the water but found this part of the beach a bit uncomfortable due to having to walk on a few rocks while trying to find some sandy spots to stand on.
Bronte also has a great park with picnic and BBQ facilities, so it is another excellent place to spend several hours if you have the time.
7. Bronte Baths – Bronte Ocean Pool
Bronte Baths, as they are known, is a fantastic place to go for a swim. It is free to enter the ocean pool, so you won't want to miss it. I took a dip in the Bronte ocean pool for a few minutes. It wasn't as great as the Icebergs pool, but remember, this one is free!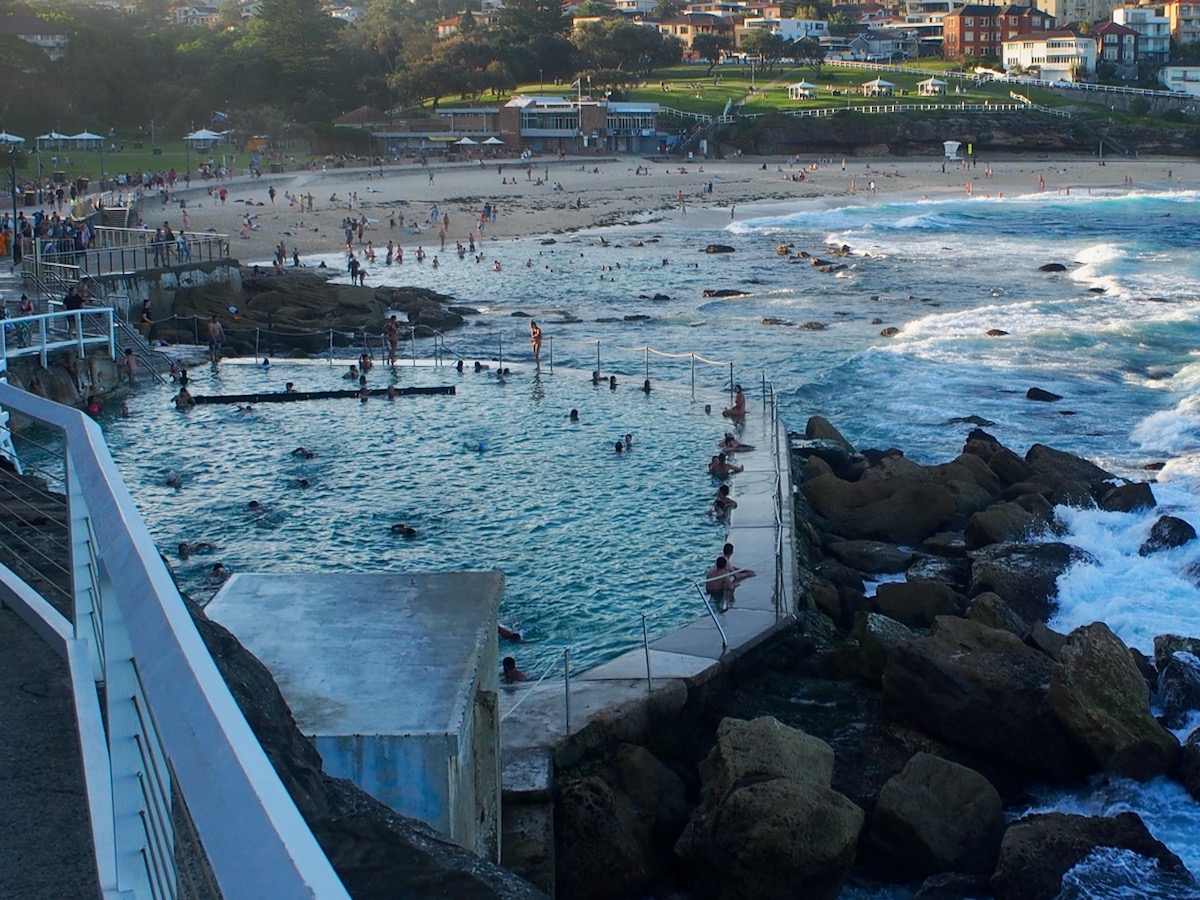 At the time of day when I was there, the sun was going down, so the water was a bit chilly for my liking. It probably didn't help due to the shade cast over the pool area.
Bronte beach is excellent! You could easily spend the whole day here.
8. Waverley Cemetery
This could be a bit controversial, but the views from this heritage-listed cemetery are unbelievable for the dead.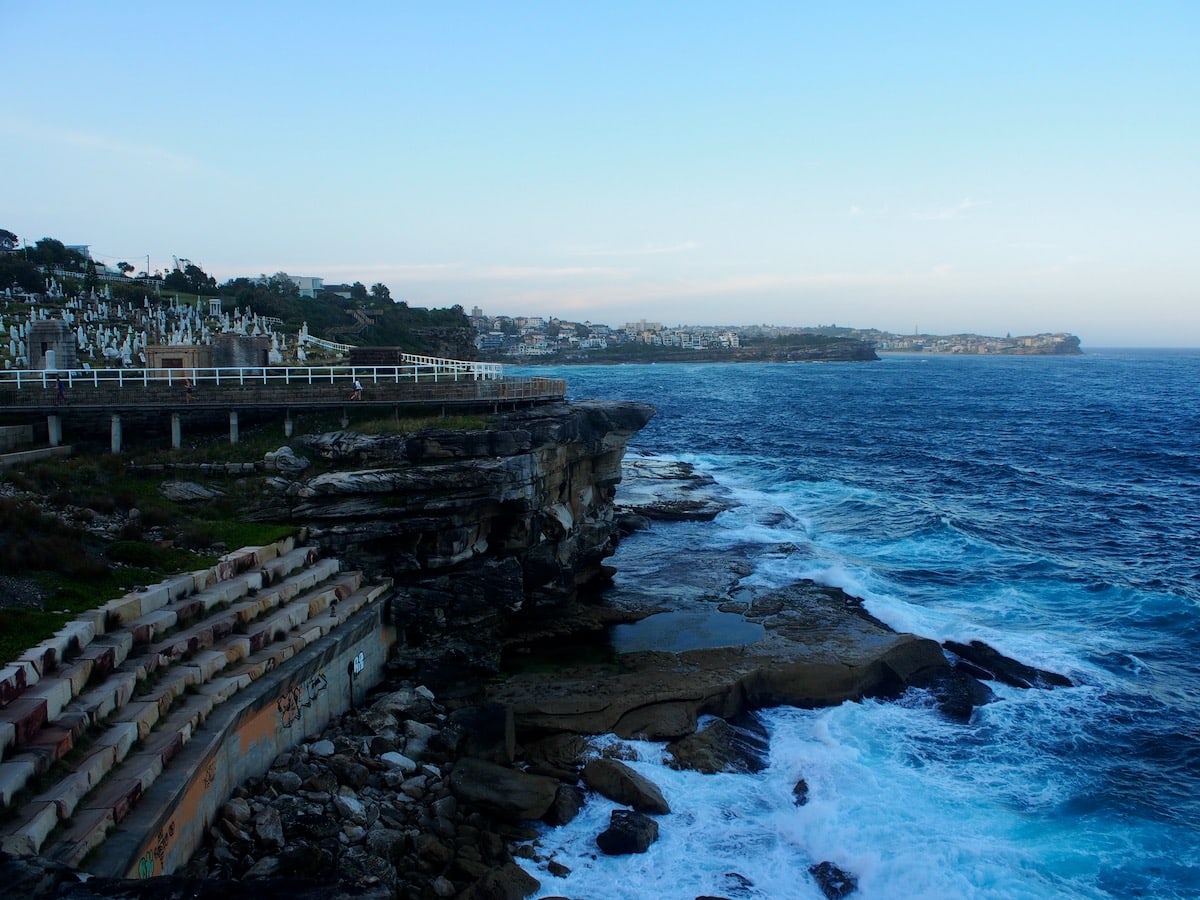 As I walked past the graveyard, things got gloomier as daylight was starting to disappear. And it did make you think about your own mortality.
Interesting Fact: One famous Australian buried here at Waverley cemetery includes the benefactor of the Apollo fountain in Hyde Park, AJ Archibald.
9. Clovelly Beach
The Clovelly beach inlet is a narrow water channel with a beach at its end. You will probably also notice that the beach is way calmer than many other beaches in Sydney.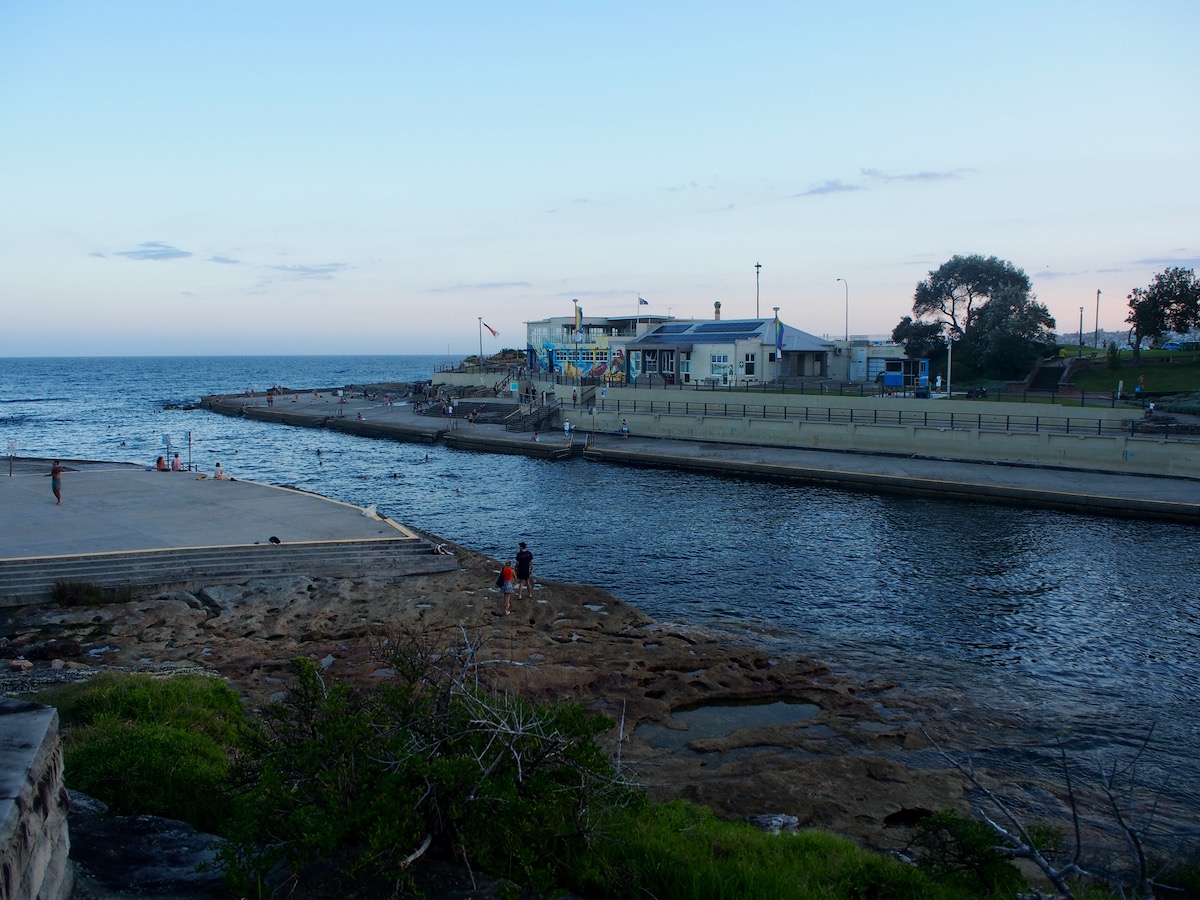 Here are some volleyball players practicing at Clovelly beach. I'd like to see what Clovelly beach looks like in the afternoon on the weekend during a sunny day. Maybe it's a volleyball hotspot.
Gordons Bay
I never took a photo of Gordons Bay because I didn't think I could do it justice at the time.
Gordons Bay has no sand, so it's less crowded than other places between Bondi and Coogee. You will also notice some boats lined up on the shore.
One thing to remember is that Gordons Bay is an excellent place to go snorkeling. The Gordans Bay underwater trail even has plaques to help you spot interesting things.
10. Coogee Beach
The Bondi to Coogee walk finishes at Coogee beach. Daylight was fading away by the time we reached Coogee beach. It was almost dark, and I have to say, we were pretty tired by the end of the walk.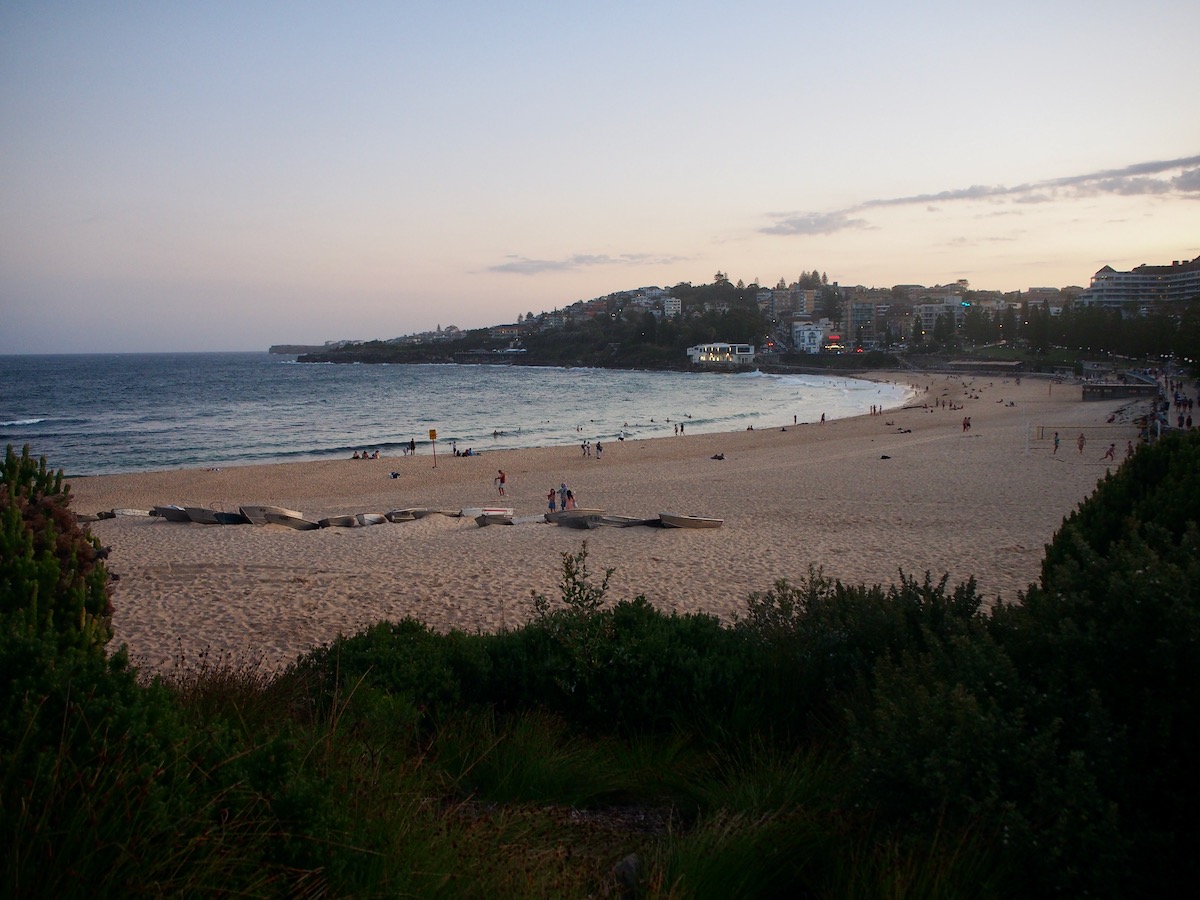 The walk from Bondi to Coogee was fantastic! I would definitely do it again. The only thing I'd change is that I would start the hike earlier in the day. I'd probably want to start the trek by 1 pm at the latest. Then, hopefully, I'd have plenty of sun to enjoy the whole afternoon.
Bondi to Coogee walk: Starting Point
Bondi beach is a great starting point for the Bondi to Coogee walk. The official starting point for the Bondi to Coogee walk is at Notts Avenue, next to Bondi Icebergs Club. You can't miss it. Just walk past the entrance door to Bondi Icebergs, where they serve meals.
Bondi to Coogee Walk Route (Map)
Here is an informative Bondi to Coogee walk map, which is very useful.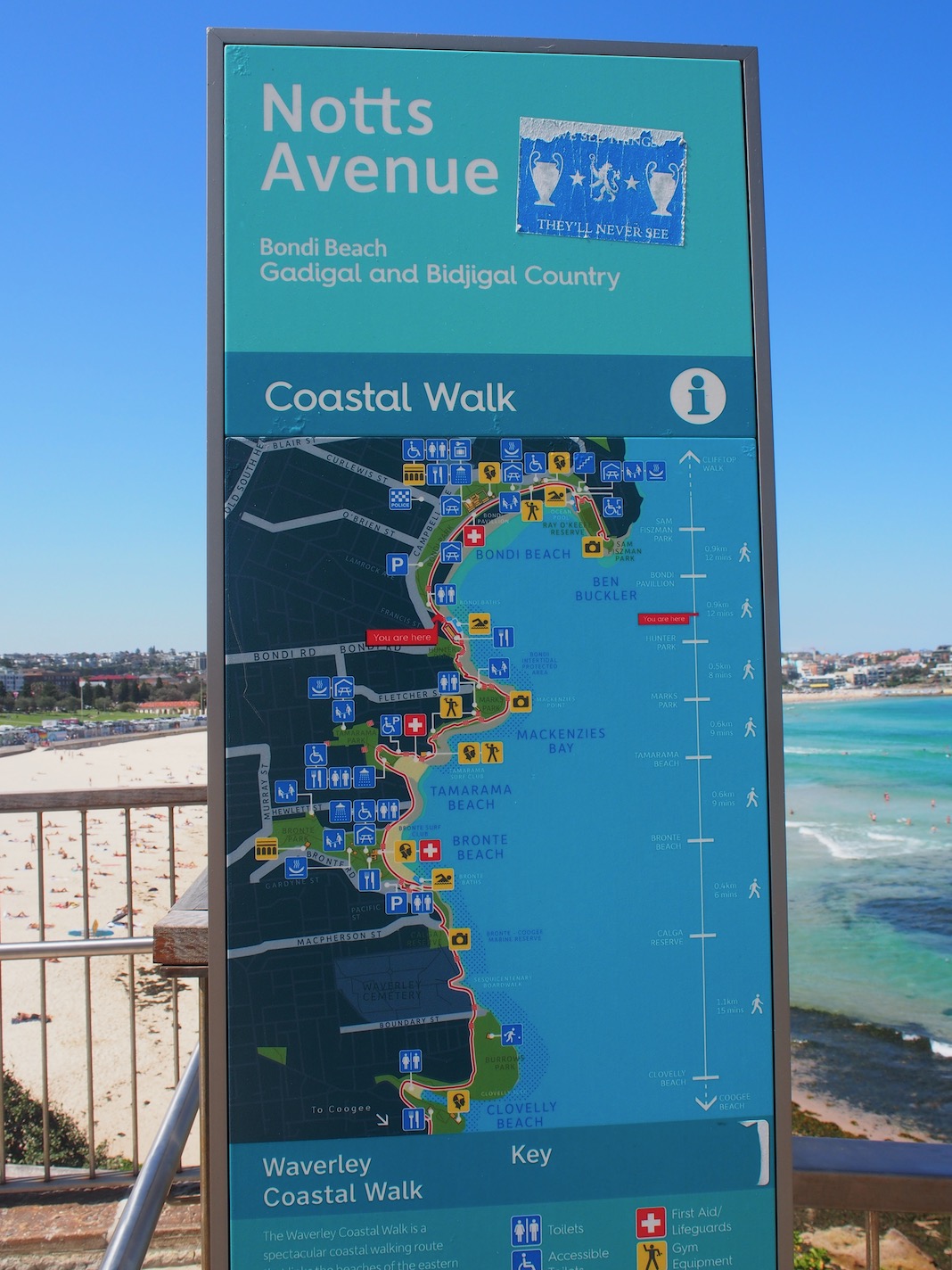 How long is the Bondi to Coogee walk?
The Bondi to Coogee walk distance is 6 km (3.8 miles).
Bondi to Coogee walk time: How much time do you need?
The walk can be done within 1 – 1.5 hours if you don't stop much, but for many, the walk from Bondi to Coogee will take 2 – 3 hours if you want to walk it at a leisurely pace. I recommend stopping for a while at some of the most scenic places to enjoy incredible views.
Remember, if you would like to swim at a few beaches along the way, it could easily add another one or two hours to your walk.
Is it better to walk Bondi to Coogee or Coogee to Bondi?
It is called the Bondi to Coogee walk, so I suggest doing it in this direction if it is your first time. However, if you prefer to arrive in Bondi at the end of the walk so you can stay there for the rest of the day, doing the walk from Coogee to Bondi is something to think about.
There are more cafes and restaurants in Bondi, so if you do the walk from Coogee to Bondi, you can also time your arrival in Bondi for lunch or dinner.
Bondi to Coogee walk: Tips
Here are some tips and information to help you plan your Bondi to Coogee walk.
How hard is the Bondi to Coogee walk?
The Bondi to Coogee walk is a Grade 2 track suitable for most ages and fitness levels. You will see women pushing prams along certain sections, young kids, and older people doing the Bondi to Coogee coastal walk.
You won't find much shade along the trail, so you may want to avoid the midday sun.
Getting lost won't happen because the concrete trail sticks to the coastline. It is generally relatively flat. However, there are some steep steps you need to walk up at certain spots.
My mum found the walk pretty exhausting, but she did it.
If you still have some energy left, you can continue the walk from Coogee to Maroubra, adding 3 km (1.9 miles) to your walk.
Is the Bondi to Bronte walk the best section of the walk?
The best coastline is between Bondi and Bronte, and Tamarama beach stands out.
Bondi to Bronte Walk Time
Walking from Bondi to Bronte will take about 1 – 1.5 hours. The distance is approximately 2.5 km (1.5 miles) one way.
Where is the best place to eat when doing Bondi to Coogee walk?
Bondi Icebergs Club.
Things to bring with you on Bondi to Coogee walk
Ensure you bring a hat on a sunny day and a water bottle, even though they have drinking taps at every beach along the way.
Bring a mask and snorkel if you want to go snorkeling at Gordons Bay Underwater Nature Trail. Also, don't forget to slap on some sunscreen on a hot day.
Sculptures by the Sea
If you find yourself in Sydney between mid-October and mid-November, check when the Sculptures by the Sea exhibit is on. It is Australia's largest annual outdoor art exhibition.
When can you see whales?
If you walk from Bondi to Coogee at the right time of year (between May and October), you may even be lucky enough to see humpback whales. Also, watch out for dolphins, which you can see year-round.
How to get to Bondi beach?
If you are in the Sydney CBD area, go to Circular Quay. Outside on the road is a bus stop at the furthest end of the street. Catch bus 333. Ensure you don't stop at Bondi Junction because it is 3 km from Bondi beach. Instead, get off when you see Bondi beach, which you will quickly realize when you get there. It won't take long after Bondi Junction.
Public transport from Coogee Beach
When you arrive at Coogee beach, the last thing most people will want to do is walk back to Bondi. The good news is there are plenty of buses at Coogee.
You can easily catch a bus back into the Sydney CBD.
To return to Bondi beach from Coogee, you must catch two buses. The first bus will take you to Bondi Junction. Then, from Bondi Junction, you can catch another bus to take you to Bondi beach. It will probably take around 40 minutes to get you there.
More things to do in Sydney
Want to know what else to do in Sydney in one day? Then, check out The BEST One Day in Sydney (GUIDE) for Greek Admirers.
Another great thing in Sydney is going on a Blue Mountains day trip by train.
Pin it … Share it