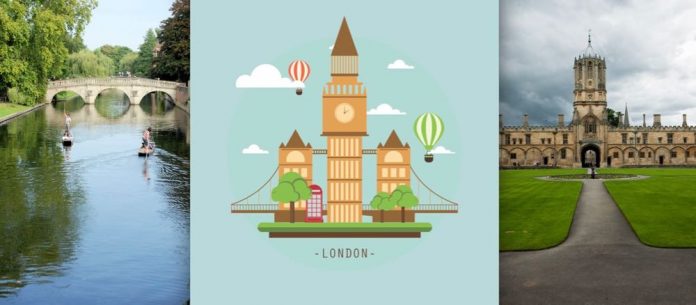 I have only been to London once and that was many years ago. My overall impression wasn't that great, most probably because I didn't plan a thing. I wonder why I never bothered to find out about the best day trips from London when I was there?
Some of my biggest memories during my stopover in London included a train ride, a black cab ride, observing some weird people on the streets and the miserable rainy weather. Everything seemed so grey!
One thing that really surprised me were the freaks walking around the streets with insane tattoos, weird piercings and spiked heads. I think I may have even seen a lizard or leopard man, so it scared the hell out of me.
The biggest memory I took home though was asking a couple of people in a food caravan if they knew where I could play some snooker. They totally ignored me. I didn't get one word from them even after numerous attempts to get some sort of answer. Sadly, my memory of London and the rest of the country took a battering after that and it has never recovered.
If only I'd known about some of the best day trips from London when I was there. I may have stayed in London for an extra day or two. Who knows, my opinion of London and the UK may have turned out to be entirely different after seeing one or two of these interesting places.
If you're in London give yourself an extra day, so you can go on at least one day trip outside of the city to see one or two of these attractions.
If I had known about it at the time I probably would have visited Stonehenge and Bath on a day trip. I think these two attractions would make for a great day out. I would hire a car for the day, since that would provide a bit more flexibility. Hiring cars in England is supposed to be pretty easy.
Sometimes you want to stay somewhere slightly longer (15 minutes even) or shorter. I'd probably look at Stonehenge for 10 minutes and want to leave. Then again I may want to spend half an hour there. This is where having your own transport really pays off.
Going on an organised tour can often feel super rushed and sometimes it can feel as if you're trapped at certain spots wasting valuable time.
There are organised tours for instance that combine Stonehenge, Bath and Oxford together in one day. That is way too much in my opinion for a one day excursion. Many tourists recommend staying in Bath for a couple of days, so you can imagine how rushed you'll feel if you try and cram too much in one day. It would be one big blur.
All of these 12 best day trips from London look as if they'd be great experiences, so I haven't made it easy for you to pick the best day trip. I would like to do all of them, as I'm sure many of you would as well.
To see them all at a leisurely pace would pretty much require 12 days, which is out of the question for many tourists, unless you're living in London or the UK.
This is where being a local can pay huge dividends. You can see and experience all of these tourist attractions one weekend at a time. For the rest of us, pick wisely.
1. Oxford – Mercury Fountain
Oxford University is the oldest university in the English speaking world, dating back to the 11th century, and it is the world's most famous college town.
Tourists should know that Mercury (Hermes), the God of travel and commerce, can be seen in Oxford. Maybe this should be your first stop.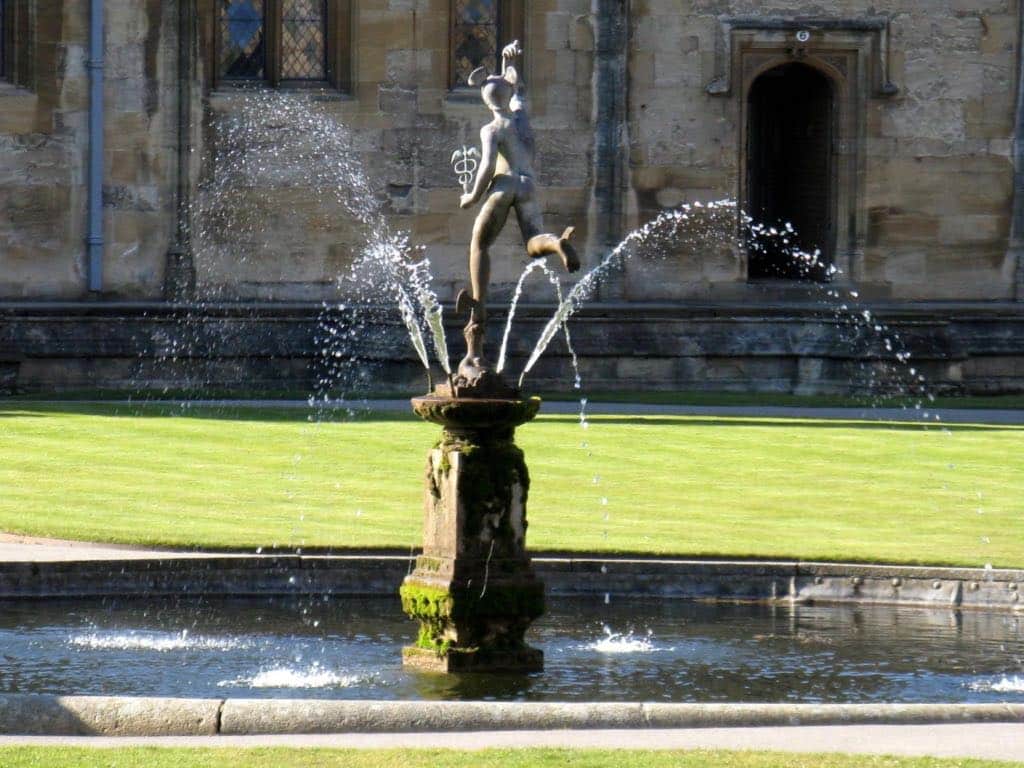 Mercury is located in Christ Church College (Tom Quad).
University colleges in Oxford usually occupy large areas with several buildings and courts, referred to as 'quads' in Oxford.
The Tom Quad, where the Mercury fountain is located, is the largest of its kind in Oxford. The surrounding pond is home to Koi carp, a gift from The Empress of Japan. Visiting Mercury should be a right of passage in Oxford. It can't be missed.
Most of the colleges are accessible to visitors during certain times of the day. Some apparently charge a small fee for access while others are free.
A few of the awe-inspiring buildings have featured as the set for Hogwarts in the Harry Potter films. If you're a big Harry Potter fan you will probably do a double take when you come across them. The Great Hall at Christchurch College was where they filmed scenes for the dining hall at Hogwarts.
A great way to explore the place is from the comfort of an open top bus with Oxford City Sightseeing. You can also discover the intricate buildings of Christ Church College at your own pace with the Oxford MP3 Walking Tour.
If all the buildings and architecture get too much for you, then visit the Botanical Gardens and arboretum, which are the oldest in the UK. There are many parklands around Oxford to chill out in.
How to Get to Oxford:
By train: Express trains to Oxford from Paddington Station take about an hour.
By car: 1 hour 30 mins
By bus: The Oxford Tube is a very popular way to get to Oxford by bus. You can catch a bus every ten minutes, 24 hours a day, with pickups from multiple stops in London and in Oxford. I suppose with all the students at Oxford, they need regular transport.
Blenheim Palace and Formal Gardens in Oxfordshire
Blenheim Palace is the birthplace of Winston Churchill, and is the residence of the Dukes of Marlborough, Oxfordshire, England.
The magnificent eighteenth century palace is a UNESCO World Heritage Site.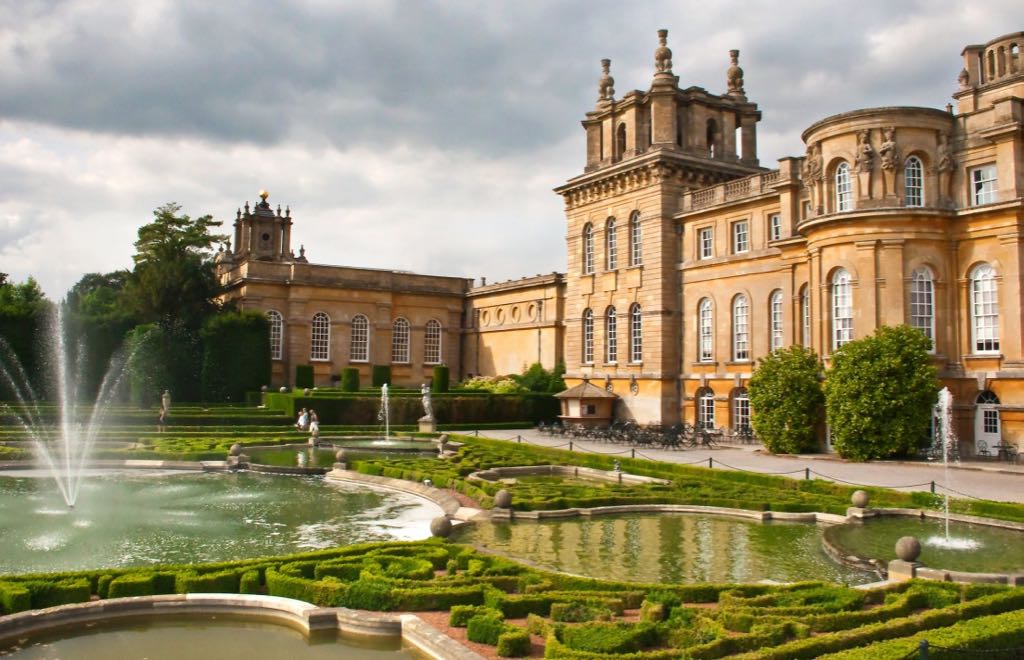 It is located on the outskirts of Oxford, by the village of Woodstock.
Spending a full day exploring both the palace and the 2000 acres of parkland and formal gardens. This is the dilemma you face. So much to do and so little time.
This palace is a 20 minute drive out of Oxford so you will probably have to allow 1 hour all up to get there and back to Oxford. Say you spend a couple of hours here. This means you need three hours all up, which is a big chunk of your day. I'm sure it would be worth it though.
I think you should just pop in for a relatively short stay, say two hours at the most. Visit as early as possible in the morning so that you can then spend the entire afternoon in Oxford.
Visitors can go inside the palace and if anyone has kids, you should know that there is a miniature train that can take them to a large play area, a maze and miniature village. You can even visit a butterfly house in summer.
The beautiful grounds around the house have several walking trails through acres of grandly designed gardens and parkland, so Blenheim Palace could easily be a day visit in itself.
How to get to Blenheim Palace:
If you don't have a car, you can take the train to Oxford and then a special bus to Blenheim Palace. These depart every 30 minutes. The bus journey should be included in the price of your train ticket.
2. Stonehenge and Bath
No one can really be sure why these mysterious huge stones were placed at this specific location.
Stonehenge is around 8 miles (13 km) from the centre of Salisbury (Wiltshire).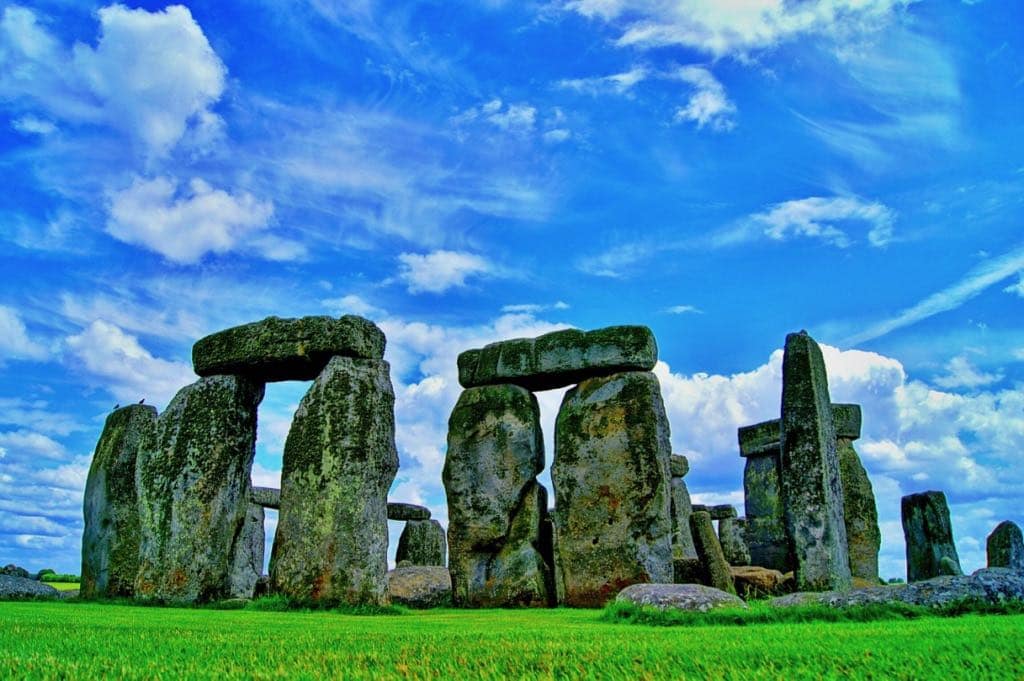 This is one of the most iconic sites in the UK. Stonehenge can get very busy during the day, so you may want to time your visit as early or as late in the day as possible to avoid the crowds.
Built around the year of 2500 BC, the temple is made up of stones aligned according to the movements of the sun. That's one theory anyway.
Questions regarding who built them and for what reason are still being asked today. The site is still a very big mystery. There are many differing opinions regarding its true function.
Who knows how long you will feel like staying at Stonehenge?
You may be disappointed to learn that the stones are no longer able to be touched by your average day trip tourist. That being you and me! What, who came up with that stupid rule? Talk about stupid graffiti writers spoiling it for everyone.
There is a museum and a reconstructed Neolithic village close by, so this may also be of interest to some of you.
Stonehenge is generally open from 9.30am to 7pm during the summer, and 9.30am to 5pm in the winter. Last entry is 2 hours before the site closes.
Many tourist operators recommend combining Stonehenge with another tourist attraction.
In this case I recommend combining a visit to Stonehenge with a visit to the ancient Roman city of Bath.
Bath is 34 miles (55km) away from Stonehenge, and will take about 50 minutes to get there by car. Many organised day trip tour operators combine both of these very touristy places in the same day trip as well.
One more thing, you have to buy tickets in advance to guarantee entry to Stonehenge and they come with a half hour timed entry slot.
Getting to Stonehenge from London
By car: 2 hours. Going by car will allow you to drive onto Bath at your own pace.
By train: Approx. 1.5 hours. When you arrive at the train station in Salisbury, you'll need to take a bus or taxi to get to the actual site. The Stonehenge Bus Tour will drop you off at the Visitor Centre. You can combine the cost of the bus ticket with site entry.
Bath
The beautiful city of Bath has two main attractions:
The Romans baths (no paddling allowed)
Thermae Bath Spa (where you can go for a spa, yes!)
You will want to bring your swimwear to experience the delight of the Thermae Bath Spa. This place has a spectacular rooftop pool and offers stunning views of the city.
The World Heritage Site of Bath is the only place in Britain where you can bathe in naturally hot spa water in original Roman style baths.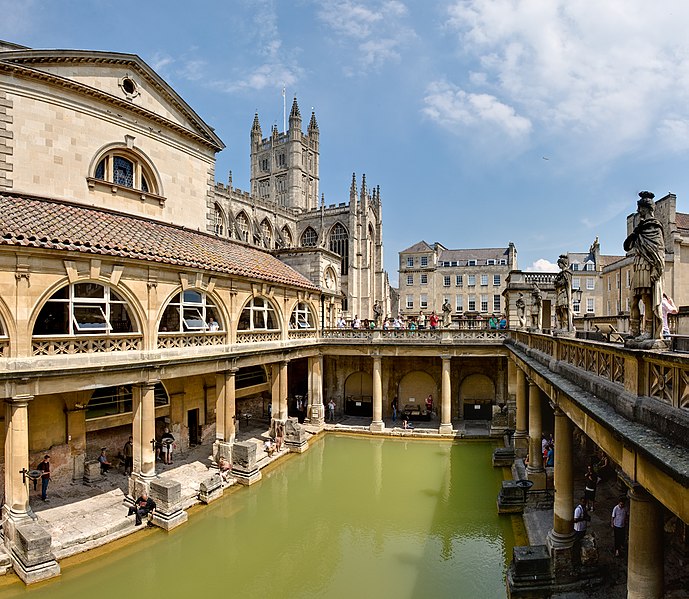 In Roman times an enormous public bathing complex was built to take advantage of the few hot springs in the area, including a temple to the Goddess Minerva (Athena).
Wandering through the ancient city's cobbled streets while admiring the beautiful Georgian architecture will also delight.
The Botanical Gardens, the Jane Austen Centre, Bath Abbey and the Roman Baths may all be places of interest. You can even take a boat trip on the river.
Bath has five theatres that often host eminent production companies and world-famous directors. An evening being entertained at one of these establishments would be like icing on the cake.
How to get to Bath:
By train:  1 hour 30 mins by train from London Paddington
By bus: 2-3 hours
By car: Two hours 30 minutes
Top Tip – Free Guided Walking Tours:
Sunday to Friday at 10.30am, 2pm
Saturday: 10.30am
The walking tours last about 2 hours from the meeting point at Abbey Church Yard.
This ancient Roman town is surrounded by rolling picturesque countryside.
Maybe you should skip Stonehenge and spend the whole day in Bath instead. Wait, that would be crazy. At least get a glimpse of Stonehenge.
3. Warner Bros. Studios Tour London – The Making of Harry Potter
Warner Bros. Studio Tour London offers the chance to take a glimpse into the magical world of the Harry Potter films – the most successful film series of all time.
This unique walking tour will take you behind-the-scenes of the Harry Potter world where many of the incredible sets, costumes and props in all of the eight Potter films are on display.
Some of the sights include the cupboard under the stairs, the Great Hall, Gryffindor Common Room and Dormitory, Dumbledore's office, Potions Classroom, Diagon Alley, Hagrid's Hut, the Ministry of Magic and Gringotts Wizarding Bank.
A big highlight is a walk through the Forbidden Forest where Aragog and his eight-legged friends are waiting for their lunch.
The famous Platform 9 ¾ is a great place for taking photos in front of the Hogwarts Express.
Iconic props you will surely want to see include Harry's Nimbus 2000 and Hagrid's motorcycle.
This amazing tour is one of the most highly rated tourist attractions in the UK and one of the best day trips from London for Harry Potter fans anyway.
The tour starts with a Great Hall walkthrough which takes you into the rest of the exhibition.
Once inside, there is no time limit so it's probably good idea to get an early spot. This way you can spend as much time as you want in the studios. The average tour lasts about 3.5 hours, and the bare minimum time you would want to stay is probably about two hours. I guess it all depends on how big a fan you are.
I'm sure almost every Harry Potter fan would love to go on this incredible tour.
Keep an eye out for any Greek mythology connections. I wonder if Fluffy, the three-headed is hiding anywhere. Fluffy is actually a cute version of Cerberus from Greek Mythology, who guards the gates of the Underworld.
The Making of Harry Potter studio tour, covers an incredible 150,000 square feet, over two soundstages.
With all that walking around, you will want to keep your energy levels up at some point, so make sure you take a break and try some of the delicious Butterbeer or Butterbeer ice-cream. You don't want to miss out on this treat.
At the end of the tour you exit via the Gift Shop, where I'm sure you'll find at least one Harry Potter souvenir worth buying.
Train time from London: 20 minutes. Take the direct (express) connection train to Watford Junction from London Euston.
Buying tickets: Tickets must be booked before you go to the studios. They can sell out fast, like several months in advance. It might be better to purchase a tour which includes transport to the studios.
Here's where you can find out more about the Warner Bros. Studio Tour.
4. Perseus and Andromeda fountain – Witley Court
Perseus is the son of Zeus and Danae. He is the famous hero who beheaded the fearsome snake haired monster Medusa.
Witley Court was built by Lord Dudley with the wealth he generated from his industrial enterprises. This estate was once one of the great country houses. Unfortunately it was destroyed by fire in 1937. The house was then stripped and left to become a ruin.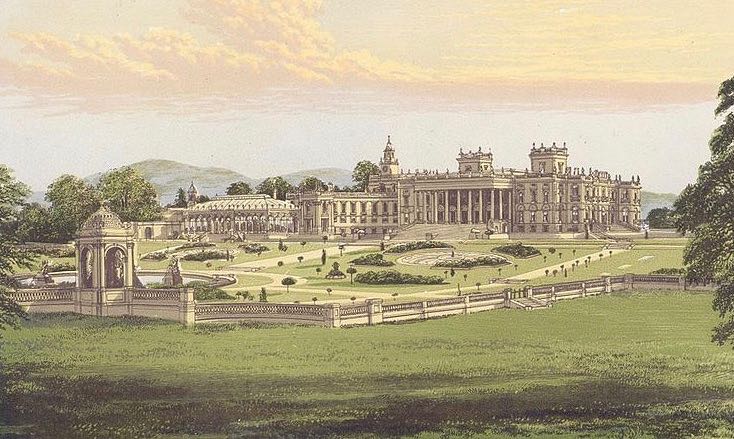 The amazing fountain on the property shows Perseus riding Pegasus as he defeats the sea monster and saves Andromeda.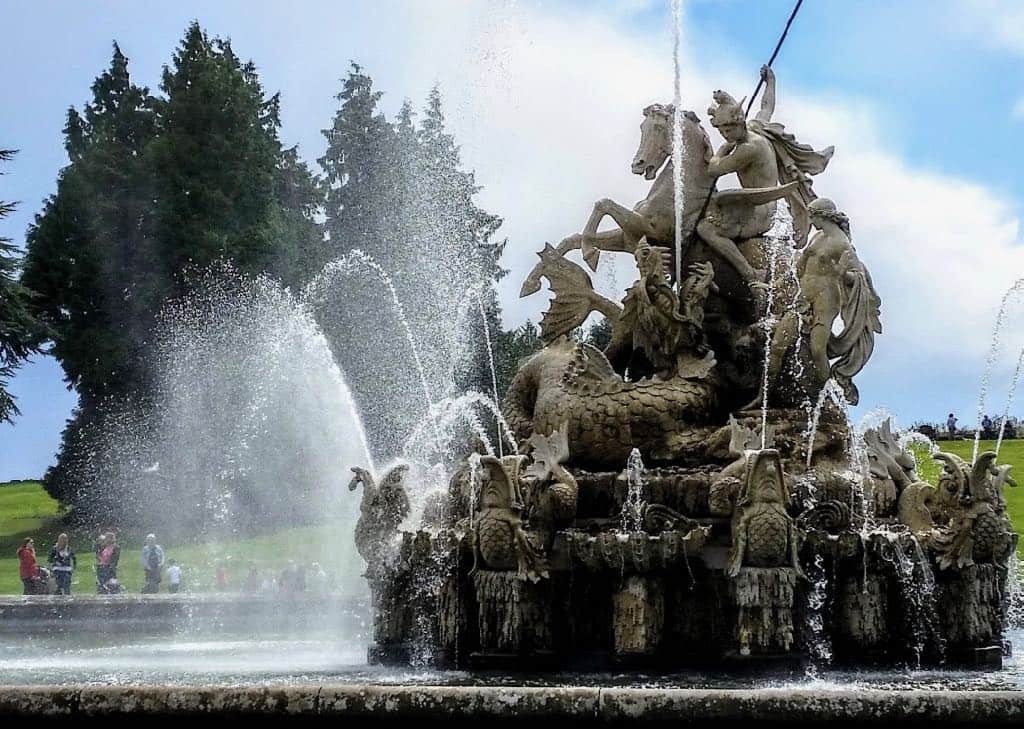 Visiting by Car: 2 hours 30 mins from London
The fountain underwent extents repairs and reopened in 2017 to its full glory.
5. Hever Castle Water Maze, Kent
Daedalus, the designer of the ancient labyrinth in Crete where the monstrous Minotaur lived, would be intrigued by this very imaginative water maze at Hever Castle.
This is truly a maze with a difference and kids will love it. The fiendish water maze is located on Sixteen Acre Island. It is made up of a series of concentric stepping stone walkways that hover over water. When certain stones are stepped on, they tilt enabling jets of water to spray out onto maze-goers.
Hardly anyone succeeds in reaching the stone grotto in the centre without receiving a good dousing, so this trip is probably best saved for a warm or hot day.
Hever Castle has an impressive Italian garden in the Heart of the Kentish Countryside. The castle and grounds have something for everyone.
Hever Castle is a double-moated castle with a drawbridge that was once the home of Henry VIII's second wife, Anne Bolelyn.
The Castle is set in 125 acres of gardens, with a lake, and 3 mazes to get lost in. There is also a yew tree maze and a kid's tower maze.
During summer events include jousting tournaments and archery displays. There is also an annual patchwork and quilting exhibition in September.
In summer, you can walk around the lake and hire boats or pedaloes.
An especially beautiful time to visit Hever Castle is when the roses are in full bloom.
Opening times and tickets for Hever Castle can be obtained on their website.
Location of Hever Castle: 30 miles (48 km) south-east of London, England.
By Car: 1 hour
By train: 40-60 minutes
6. Cambridge
England's other top university city is Cambridge. Many consider Cambridge to be more charming than Oxford. It's smaller and arguably more beautiful, a great place to visit any time of the year.
The number 1 traditional activity to do in Cambridge is punting on the River Cam. This is the best way of seeing the college buildings.
Punting is done on a flat-bottomed square wooden boat, designed to be used on small rivers or other shallow waters.
You can hire a boat chauffeur to do all of the hard work for you, or you can try and do it yourself. It's supposed to be harder than it looks, especially with a few people on board.
Trinity College is one of the most important colleges of Cambridge University and most tours will take you there. Numerous Nobel Prize winners have been educated here.
Make sure you visit the Bridge of Sighs which is accessed through the courtyard of St. John's College. This is considered to be the most beautiful bridge in the city.
Other tourist attractions include King's College, The Eagle Pub and Isaac Newton's famous apple tree. The Botanical Gardens are supposed to be very beautiful. The best and largest museum in Cambridge is the Fitzwilliam Museum, making this place also worth a quick visit.
By train: 50 minutes. Cambridge train station is about a 15 minute walk to the centre of town.
7. Paris is one the best day trips from London
I can think of many reasons why a day trip to Paris deserves to be on this list of best day trips from London. Here are a few reasons why you should go from London:
The weather in London on a particular day is supposed to be miserable, while the weather on the same day in Paris is forecasted to be blue sky fine.
You may be in London for a short work trip or family visit and you have never been to Paris before. This is your chance. Go for it! Seriously, visiting Paris should be your number 1 day trip outside of London.
For a special occasion. Lucky you!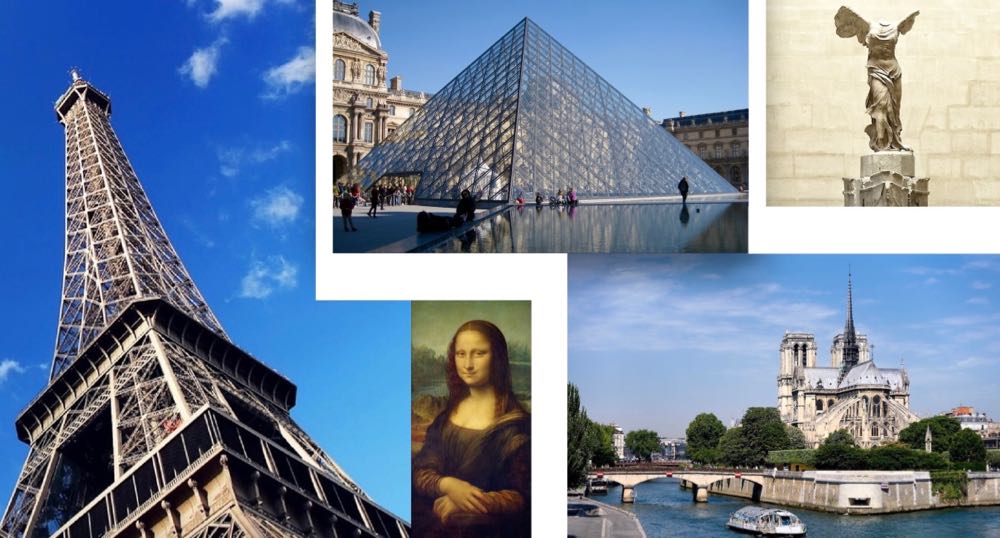 My recommendation for first-time visitors to Paris with only one day to play:
Go up the Eiffel tower and take in those spectacular views. This alone would make a trip to Paris worth it. Make sure you have a priority pass to avoid the queues.
Spend an hour at the Louvre and make your way to the famous Mona Lisa painting to see what the fuss is all about. Take a photo of all the heads you will see taking their own photo of the masterpiece. Also, make sure you see Nike, the Goddess of Victory.
Walk, walk, walk everywhere. The gardens surrounding the Notre-Dame Cathedral are especially beautiful. The Luxembourg Gardens are also exquisite.
Go for a stroll down the Avenue des Champs-Élysées, a famous avenue in Paris that is 1.9 km (1.2 miles) long and 70 metres wide. It runs between the Place de la Concorde and the Place Charles de Gaulle, where the Arc de Triomphe is located. The name is French for the Elysian Fields, the paradise where dead heroes in Greek mythology ended up.
Find a great cafe, relax and enjoy a drink.
Here's a great view of the Golden gates of Jardin Tuileries looking out into Place de la Concorde. The Eiffel Tower can be seen in the distance on the left side.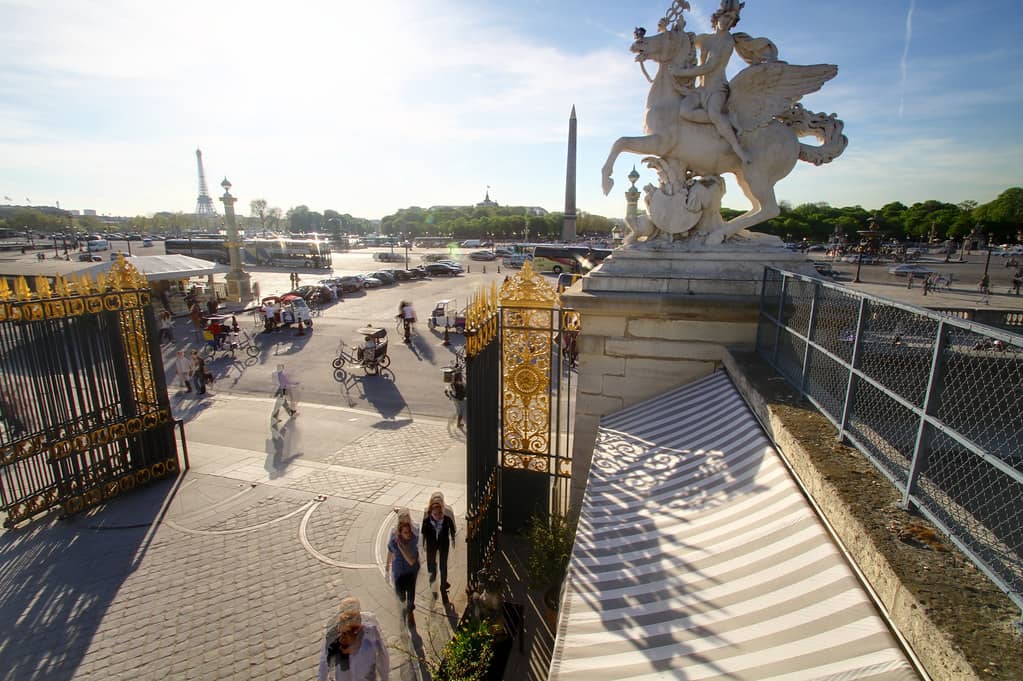 Getting to Paris from London
The Eurostar takes 2 hours 30 mins. Make sure you factor in a bit of time to go through passport control before boarding the train, which is like going through airport-style security. Give yourself about 45 minutes so you don't stress.
Off season ticket prices can be as especially low, so keep an eye out for bargains.
8. Windsor Castle
Royal faces are constantly in your face on television, so you might as well return the favour by showing up at their home at Windsor Castle, the oldest and largest inhabited castle in the world.
Even though it remains a working royal palace and is an official residence the Queen, visitors are permitted to tour the castle grounds and head inside.
Attractions include The State Apartments, Queen Mary's dolls' house and even the private apartments of George IV. You can also take a tour of the famous Eton College.
Some rooms are only open during certain times of the year, so plan carefully if you want to see it all. For instance the semi-state rooms may only be open between September and March.
Windsor Castle tours are conducted by multimedia. This means you will be given a headset to guide you around and give historical information along the way. It keeps things a bit quieter. If you listen to everything, it could take a few hours to complete.
Keep an eye out for the changing of the guard. This is a popular sight during summer and spring.
A great way to admire the castle is by boat along the Thames on a boat trip. A 40-minute return trip offers views of Windsor Castle, Eton College, Mill House, Windsor Racecourse and Brocas Meadows. Boat tours departs from the Windsor Promenade. There is also the option of combining a boat tour with a hop-on hop-off bus tour.
The free option is to walk The Heritage Walking Trail (about 1 mile or 1.5 km), that goes through the heart of Windsor and Eton.
Windsor town has many quaint shops, so spending the whole day here is easily doable.
If you get bored there is a Legoland Windsor theme park close by. Legoland is about 2 miles from the Windsor town center. This would be a great fun afternoon for anyone with kids. Then again considering the high prices of admission tickets, it may be better to save Legoland for another full day outing, so you can get the best value for your money.
The Long Walk is an avenue flanked by elm trees that extends for three miles from in front of the castle. Walk along High Street and enter Windsor Great Park through the Cambridge Gate, located next to Windsor Castle.
You may be surprised to see some red deer in the park. Three gardens are also nearby: The Savill Garden, The Valley Gardens and Virginia Water.
By train: 40-60 minutes. Trains leave from Paddington Station or from Waterloo Station.
Tip: Book your tickets online so you can avoid standing in lines. If you're buying a London Pass for your visit to London then entry to Windsor Castle is included.
For more information on visiting Windsor Castle and for tickets.
9. Enjoy a day out at a Theme Park
Visiting a Theme Park can be expensive, especially when the whole family visits, so try and get there when the park opens.
Alton Towers is probably the best Theme Park in England. This is England's largest theme park and spans more than 500 acres.
Checkout the Nemesis rollercoaster. As if a normal roller coaster wasn't scary enough, someone had to come up with the crazy idea for an upside down rollercoaster. I wonder if Nemesis, the Greek Goddess of retribution knows about this ride.
Nemesis Rollercoaster – Alton Towers, Staffordshire
Yes, there is a Legoland near Windsor Palace. I wonder which place draws more tourists.
Legoland is especially suited for kids aged between 3 and 12 years old, though you should keep in mind that there are height restrictions for many of the rides.
The Atlantis Submarine Voyage ride looks extremely interesting. Keep an eye out for the King Neptune (Poseidon) Lego figure.
Atlantis Submarine Voyage – Legoland
The English Legoland has more of a focus on rides compared to the more famous Legoland in Denmark. You will still get to see some amazing constructions from the 55 million or so LEGO bricks in the park, which keeps on growing. The animals look incredible.
Ten other Theme Parks in the UK worth checking out:
Tip – Get a season pass if you're staying in London for a longer time.
10. Brighton
You're in London and it's summer. You wake up in the morning and it's a sunny day. You feel like fish and chips for lunch. Where do you go? Brighton, that's where!
Brighton is an epic coastal city. Attractions include the Brighton Palace Pier filled with rides, arcade game and attractions for the whole family.
The 1,722-foot Victorian pier opened in 1899 and is one of the best examples of a pleasure pier anywhere in the world.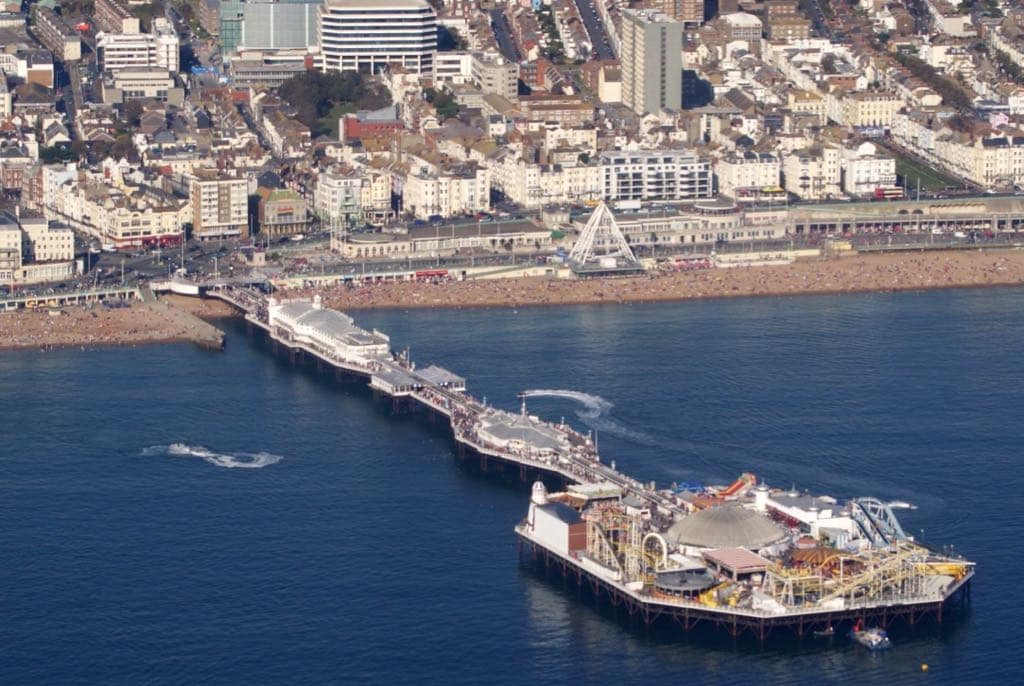 Don't forget to take a dip in the ocean even if the water is cold. The beach has pebbles instead of sand, but it is still comfortable to lie on. You will find the beach packed with sunbathers during summer.
The walkway along the beach is buzzing in the summer months with live music and DJs.
You will find plenty of bars and restaurants to enjoy.
Make sure you visit the North Lanes to experience the many bohemian shops and pubs.
By car: 2 hours
By train: 1.5 hours
11. The Mermaid Inn, Rye, East Sussex
This quaint little medieval town is located on a hill near the coast of East Sussex.
Drop by the Mermaid Inn in Mermaid Street.
Getting to Rye by car: 1.5 hours
Getting to Rye by public transport: 2 hours
12. Castle Howard – The Atlas Fountain
Castle Howard has a collection of fascinating objects inspired by the myths and legends of the ancient world.
The Atlas Fountain stands out as the most magnificent of the lot.
Atlas was one of the Titans, a group of ancient Greek deities who were overthrown by the Olympian Gods. After losing the battle for supremacy, Atlas was condemned to hold up the sky for the rest of eternity.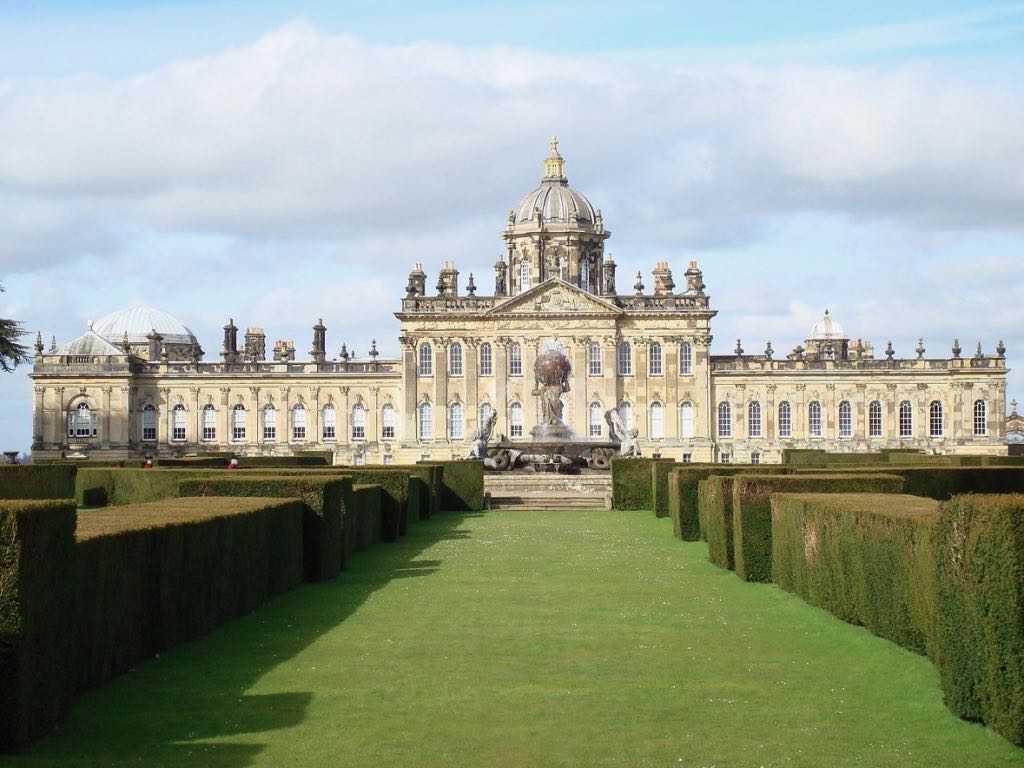 It all leads to Atlas in the centre of this fountain on the South Parterre. He is surrounded by four Tritons, who are blowing water through their long conch shells.
You can also find a statue of Minerva (Athena) in the Museum Room.
Minerva (Athena) is the ancient Goddess of war. On Minerva's chest you will see her aegis with the head of the Gorgon Medusa in the centre.
Silenus was a companion and tutor Bacchus, the ancient God of wine.
In one myth he ended up getting lost while drunk and was rescued by peasants who took him to the court of King Midas. Bacchus (Dionysus) offered Midas one wish for his assistance. Midas asked for the power to turn everything he touched into gold without taking into account the disastrous consequences. This blessing soon turned into a curse for the greedy king when he discovered that his food and drink also turned into gold.
Meleager and The Calydonian Boar is another myth remembered at Castle Howard.
Meleager was a hero from Greek mythology, best known for being the leader of the legendary Calydonian boarhunt. When his father King Oeneus forgot to sacrifice to Artemis, the angry Goddess sent a huge wild boar to ravage the country.
Meleager gathered a band of heroes to hunt the boar down. A statue of Meleager can be found on the Temple Terrace, with a hound at the hero's feet. The head of the boar is on the tree stump at his side. A statue of the monstrous boar that Meleager defeated is also on the castle grounds.
Getting to Castle Howard from London
By car: Requires a 4 hours 30 minute drive to get there. This is Atlas everyone. Put some effort in. If you leave at 7am in the morning you can get there by 11:30am. Stay for a couple of hours and then go home.
There you have it, 12 of the best day trips from London. I'm sure all of these places would add to your appreciation of London and the UK.
Tip: By booking train tickets 4-12 weeks in advance you can possibly save a significant sum of money, around 80 percent in some cases. Purchasing a railcard can also be a good investment. Remember you may be able to gain entry to certain attractions by purchasing other general passes.
Pin it … Share it