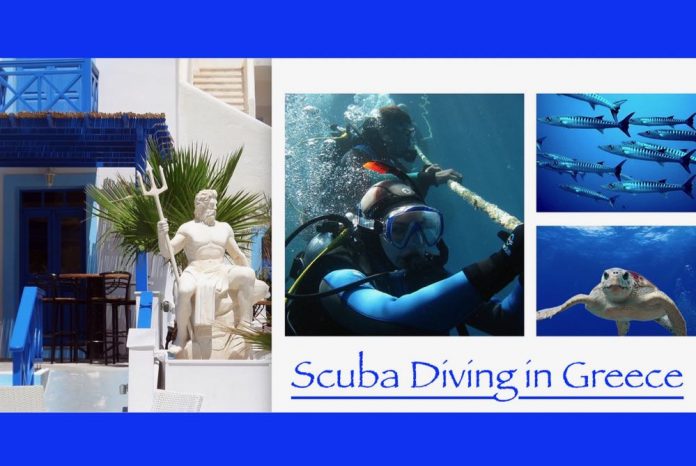 The best dive sites in the Greek Islands shown here will give scuba divers an insight into the excellent wall, cavern, wreck and reef diving opportunities in Greece.
If you're a cave diver you will be in Greek heaven at some of these dive sites.
Recreational divers will also find some great dives here to enjoy.
Peak tourist season: June to September
Best Dive Sites in Kefalonia
1. HMS Perseus
This is one of the top dive sites off Kefalonia's coastline.
HMS Perseus (N36), built in 1929 sank during WWII on December 6 in 1941, after striking an Italian mine in the Ionian Sea.
The wreck of the British submarine lies virtually intact on the sandy bottom, about a mile off the south coast of Kefalonia, and 7 miles (11 km) north of Zakynthos Island in the Ionian Sea.
John Capes was the the submarine's stoker (engine man). The lucky guy was the sole eyewitness and survivor to the tragedy.
When he attempted to escape from the submarine he took a swig of rum from a bottle upon entering the escape chamber.
John opened the rear hatch and escaped the sunken submarine with three other men, however the other men weren't so lucky and died during the 50 meter ascent, or at some other point in the sea before they could safely make it to land. In total, 60 lives were lost.
After surfacing, 31 year old John Capes saw some cliffs in the distance and swam towards them. He made it to the island of Kefalonia and was found there on the beach by Islanders.
The local Resistance took care of him for 18 months by moving him around from house to house so he could avoid detection from the occupied forces.
His escape and survival story in enemy occupied Greece wasn't fully believed by everyone until Greek divers led by Thoktaridis found the submarine wreckage in 1996.
They could see the open hatch and even found the rum bottle inside. The damage the mine bomb caused could be seen by the two-meter crater at the bow, just as John capes had stated.
What you can see at the HMS Perseus dive site:
the large conning tower (offers a great photo opportunity).
the ship's gun.
the rear hatch (It is still open and indicates the escape route of John Capes).
the interior (though penetration is not advised since it is a final resting place, and due to possible dangerous hazards such as loose wiring).
the torpedo tubes.
the ship's propellers and rudder.
fish including sea bass, barracuda, snapper, amberjack, wrasse, parrotfish and groupers.
Ship dimensions: (Length: 88 m, Width 4 m, Height 9 m)
Dive Site Access starts at: 34 m (112 ft)
Dive Site Max depth: 52 m (171 ft) – For experienced divers only
This video will give you some more details about the incredible but true story.
Other top dive sites in the Greek Islands – Kefalonia:
Dias Rock (Dias Island) – A giant rock off the coast once dedicated to Zeus, the supreme Olympian God. The average depth of the dive is 12 meters and the max depth is 22 meters, making it appropriate for divers of all levels.
Melissani, Karavomilos Lake-Cave, and Zervati (suitable for newbies) – A great place to go cave/cavern diving.
Best Dive Sites in Naxos
2. Beaufighter WW II Aircraft
The RAF Bristol Beaufighter was shot down in 1943 during WW II.
The sunken aircraft is remarkably intact and rests on the sandy bottom as if someone had parked it there on purpose.
On closer inspection there are some bullet holes in the side of the Beaufighter suffered by anti-aircraft fire, which obviously forced the pilot to ditch the aircraft out at sea.
This aircraft was only one of five to six such models that went down in the area during WW II. The crew on board survived the crash and were rescued by islanders who witnessed it, so don't expect to see any skeletons inside the cockpit.
Location: Approximately half a mile off Cape Kouroupas in Naxos.
Depth: 34 meters
Discovered: 2007
Other top dive sites in the Greek Islands – Naxos:
Marianna Wreck – A cargo ship that sank in 1981 when it crashed into a reef between Naxos and Paros, called "Amaras". Max depth is 25 meters.
Best Dive Sites in Santorini
3. Sea Caves at Akrotiri
Great for beginners. Average depth is around 10 meters.
Other great dive sites in Santorini:
Palea Kameni (Volcano)/Hot Springs Shallow Wreck 
- A 40 meter long steam ship wreck located between Palaia Kameni and Nea Kameni. The ship went down during the Second World War after an explosion caused it to sink. You will be able to see the damage caused by the explosion. An interesting reef is also part of the dive. This is a relatively shallow dive at only 13 meters.
Memorial plaque of Jacques-Yves Cousteau – A plaque was placed inside a special cave off the coast of Santorini in 2011 honouring the diving legend, in part for the time he spent in Santorini searching for the lost Atlantis.
Best Dive Sites in Mykonos
4. Dragonisi Island Caverns
Dragonisi or Tragonisi is a small, rocky, uninhabited island just east of the island of Mykonos. No ferries access this protected nature reserve, only small private boats.
Diving the Dragonisi island cavern/cave system is very popular.
Diving at "Seal Cave" is available only for experienced divers and normally only upon request. Its a unique dive that allows you to see rare Monk seals if you're lucky, since they mainly swim around "Seal Cave".
Other top dive sites in the Greek Islands – Mykonos:
Anna II – A 62 m long cargo ship that sank in 1995. At the time it was transporting cement. The ship wreckage is found at a depth of 18-36 metres and remains in excellent condition. It is possible to enter in a small part of it. Suitable for all divers.
Paradise Reef
Peloponisos Wreck – The 1930's shipwreck is broken into two parts. This outstanding dive site is accessible during favorable weather conditions. It is only for advanced and experienced divers or higher. Depth from 15 m to 55 m.
Best Dive Sites in Corfu
5. Colovri
Colvri is the name of an rocky islet with a labyrinth of huge boulders and crevices. It has a cave and the area is teeming with fish and sea life.
Max depth: 40 meters
Scuba diving centres in Corfu named after Greek Gods to consider:
Apollo Dive Center
Poseidonia Dive Center
Another top dive site in Corfu for experienced divers:
Hole in Ha – The only issue is that you will have to certified to dive with covering over the top of you. Hole of Ha and Colovri are both standout dive sites in Corfu.
Best Dive Sites in Chios
6. The Great Wall
The Greek island of Chios has been voted among the best dive sites in Greece and Europe.
I guess the only way to know for sure is to dive it for yourself.
The Great Wall itself is an eye-widening 30-metre underwater cliff filled with corals. This dive site is like a sea food platter where you will get a bit of everything, with hopefully one or two surprises showing up as well.
Best Dive Sites in Zakynthos
7. Marathonisi, Turtle Island
Marathonisi is a small uninhabited island off the coast of Zakynthos. The cool thing about this island is its shape. It looks like a turtle!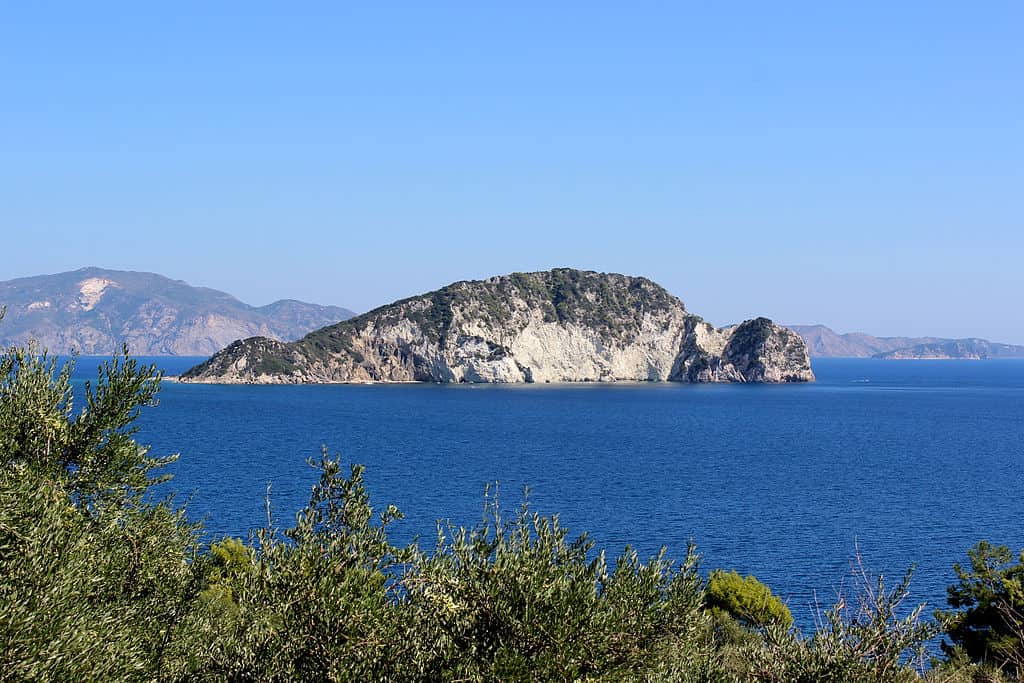 Diving in these waters is where you can spot giant loggerhead turtles (also known as Caretta-caretta) peacefully swimming along. You may also get to see flying fish, eels, and parrotfish.
This amazing island is where turtles swim for thousands of miles so that they can lay their eggs on one of the two main beaches.
Best Dive Sites in Crete
8. Elephant's Cave
The incredible thing about this mysterious cave are the ancient animal remains of elephants. I was thinking it was a huge cave, but no, it has links to elephants!
Can you imagine how long ago it must have been when elephants roamed around in Crete?
Another top dive site in Crete for scuba divers:
El Greco Cave offers a wide channel to swim through, and even has contained air pockets where you can surface from time to time. The 30-metre long cave is home to schools of fish and even offers an air chamber to resurface from time to time.
Best Dive Sites in Kea
9. HMHS Britannic
The HMHS Britannic Wreck is a sister ship to the famous Titanic. That alone should peak your interest.
The Olympic-class ocean liner was a WWI hospital ship that sank off the coast of the little island of Kea after it was struck by a torpedo in 1916.
The dive site was discovered by marine legend Jacques Cousteau in 1975.
OK, so you're a diver and now you could be thinking that this is the where you want to dive.
The only issue is that this wreck is situated in about 400 feet (122 m) of water and it has a degree of complexity making it only suitable for very experienced technical divers. If you're someone like Jacques Cousteau, then this could be for you. The other thing is that you will need to obtain special permission from the Greek Government to dive it.
The Koundouros Reef is great for all levels.
Best Dive Sites in Alonissos
10. Peristera shipwreck
The cargo ship was laden with thousands of amphoras (or vases), probably containing wine, when it sank in the late 5th century BC.
Today, the dive site is an underwater museum.
Guided tours of the wreck take you down to a depth of around 22-28 meters.
Diving Inspiration: The Greek Island of Amorgos
Hopefully you have already seen the film Le Grand Bleu (The Big Blue) by Luc Besson.
If a movie as good as this one has chosen the Greek Island of Amorgos as one of its film locations, then it must have something going for it. The crystal clear waters of Amorgos must be absolutely incredible. I guess the only way to know for sure is to dive the blue waters of Amorgos and check it out for yourself.
When you dive remember not to take any artefacts. If you do find something that looks to be a new artefact, you have to report it.
Imagine finding some artefacts or Greek sculptures underwater. That sounds very unlikely, but you are in Greek waters so who knows what you might find.
Pin it … Share it