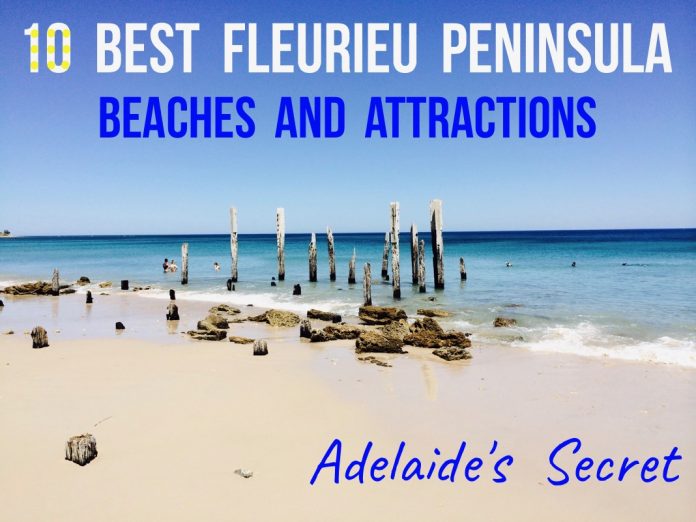 Find out about the best Fleurieu Peninsula Beaches and Attractions, and discover Adelaide's secret holiday destination.
The Fleurieu Peninsula is a peninsula in the Australian state of South Australia. It will only take a 45 minute drive from town for you to start enjoying this spectacular region filled with great beaches, top wineries and tasty eateries.
All of these places in the Fleurieu Peninsula can be reached within around 90 minutes at most, so you can visit all of these fabulous destinations with only a couple of day trips, though you may want to stay longer so you can enjoy it all the more.
If you're limited by time then I highly recommend a day trip to the Fleurieu Peninsula by choosing your favourite places in this list of best Fleurieu Peninsula Beaches and Attractions.
You can visit 4 or 5 places in a day quite easily but any more than that and it will feel too rushed.
After reading about these top places in the south of Adelaide, you may desire to stay somewhere in the Fleurieu Peninsula for a night or two which is a great idea. Slow down and enjoy your stay.
At the tip of the Fleurieu Peninsula is Cape Jervis, where the ferry leaves to go to Kangaroo Island, which is famous for its unusual rock formations such as Remarkable Rocks, Admirals Arch with its stalactites, and Seal Bay where you can walk among the seals!
If you're a keen traveller you'll definitely want to add this incredible island to your itinerary as well when visiting Adelaide.
The Fleurieu Peninsula has some fantastic sights and places to visit so lets get started and take a look at what's on offer. Adelaide's secret won't be a secret for much longer.
1. Port Noarlunga Jetty and Beach
Port Noarlunga is only about 45 minutes from the city in the City of Onkaparinga.
This should be your first point of call. Go for a walk along the long jetty and at the end you will see a reef that is exposed. On a hot day you will even see people walking on the reef.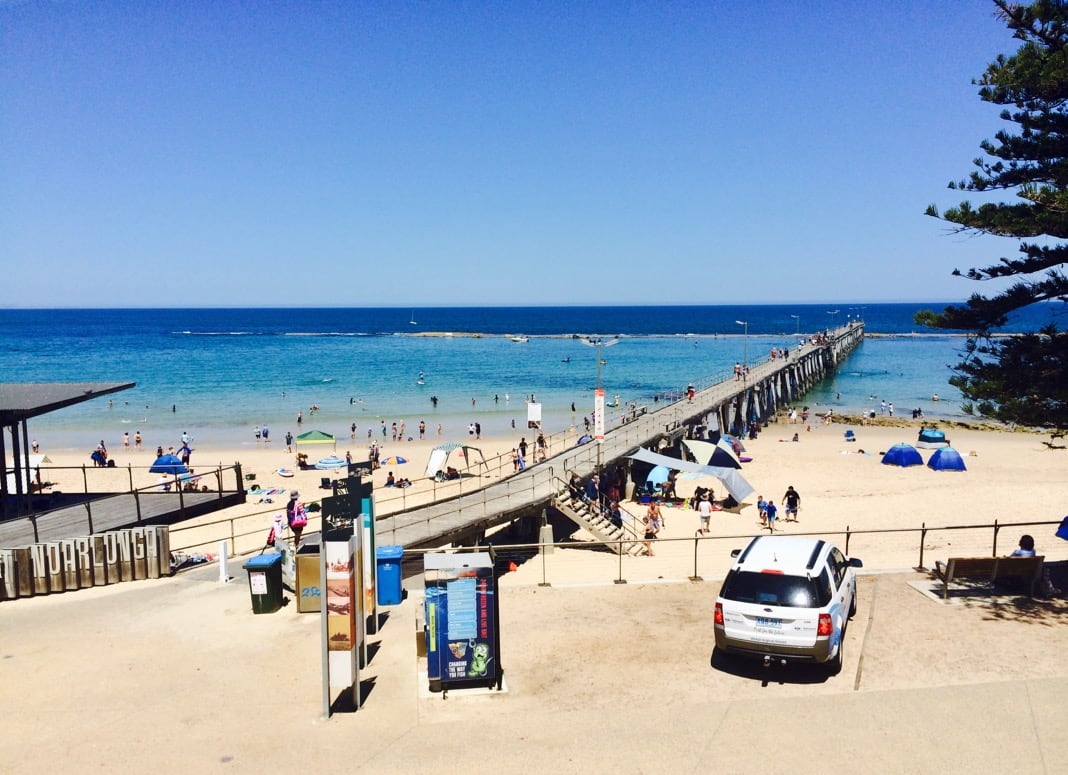 The reef and aquatic reserve make Port Noarlunga very popular with snorkelers and divers.
2. Southport Beach (Port Noarlunga)
This should be your second stop when visiting the Fleurieu Peninsula, just so you can admire the awesome views from the top.
Walk down the staircase to the bottom where the Onkaparinga river mouth meets the sea.
Kids love taking there boogie board and going for a body surf in these small wave producing waters.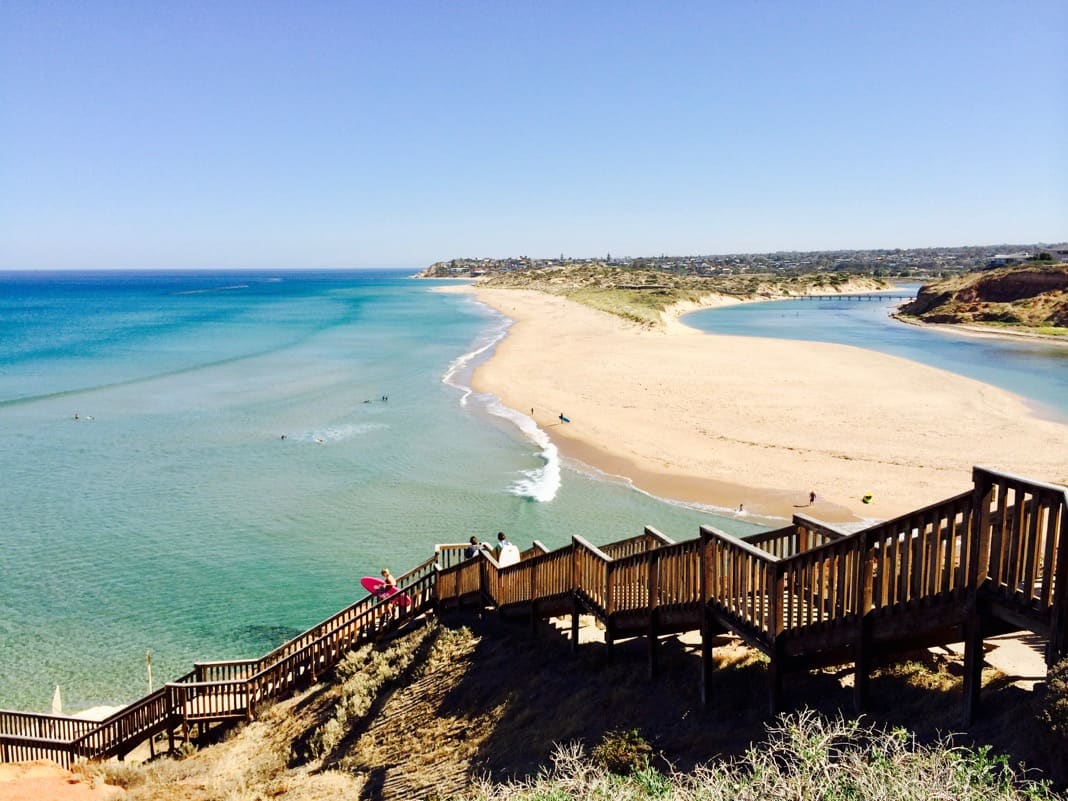 If you want to get to the other side you will either have to swim over, walk through the river mouth if the tide is low, or walk over the bridge you can see in the distance.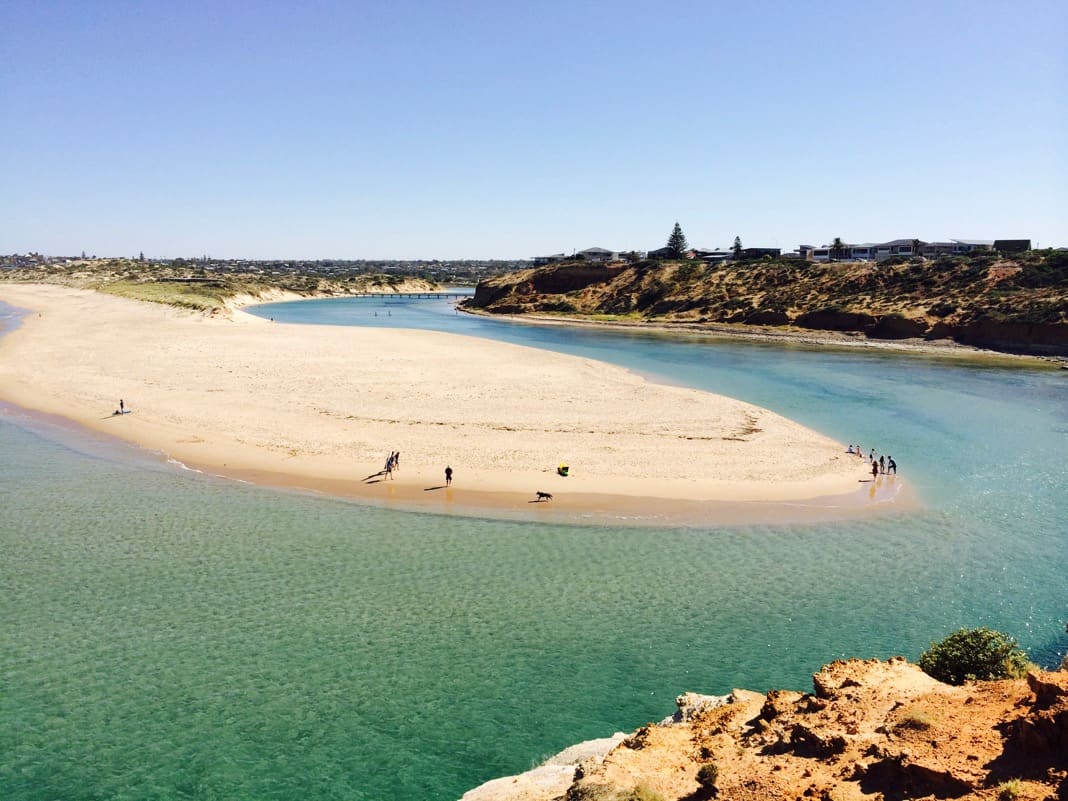 Here I am about halfway down the stairs.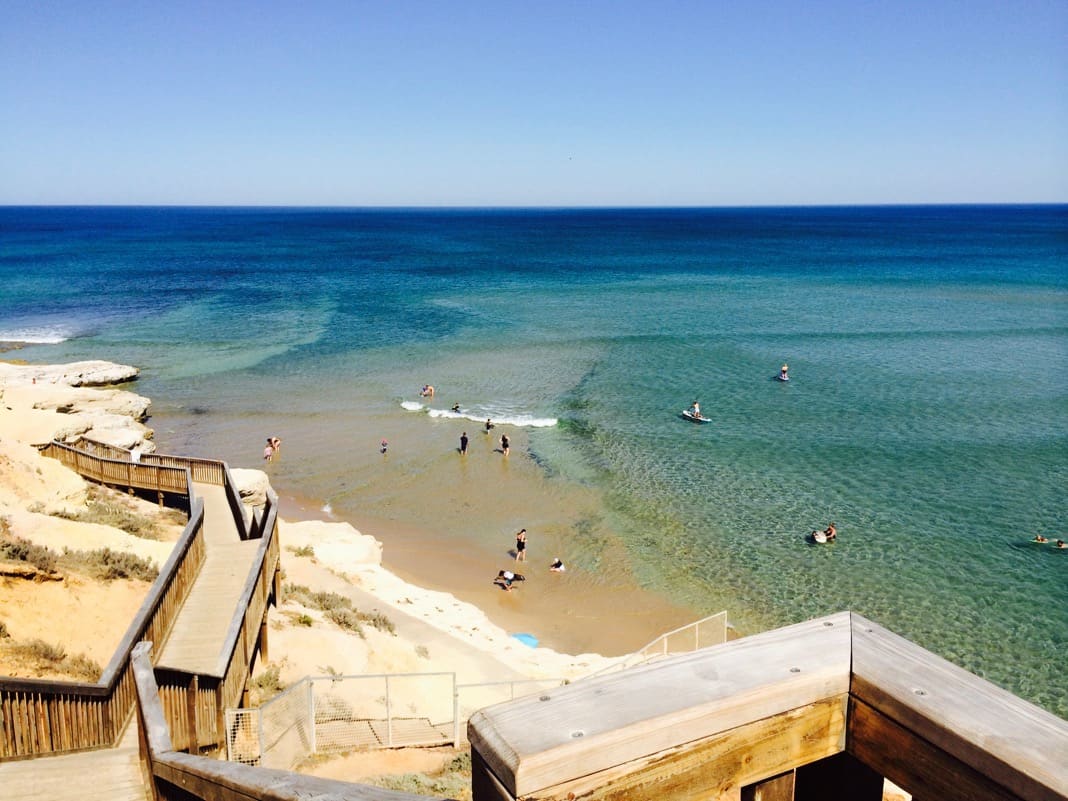 The other option is to walk from Port Noarlunga jetty along the sandy beach which will take about 15 minutes, though it is better to drive there so you're on the staircase side.
3. Moana Beach
Have you ever driven on a sandy beach? Well here's your chance. On the southern side of the beach is a ramp where you can drive down to the sand. Turn left and park where many other cars will no doubt be.
You can drive along the beach in any type of car as the sand is quite firm. Give it a go.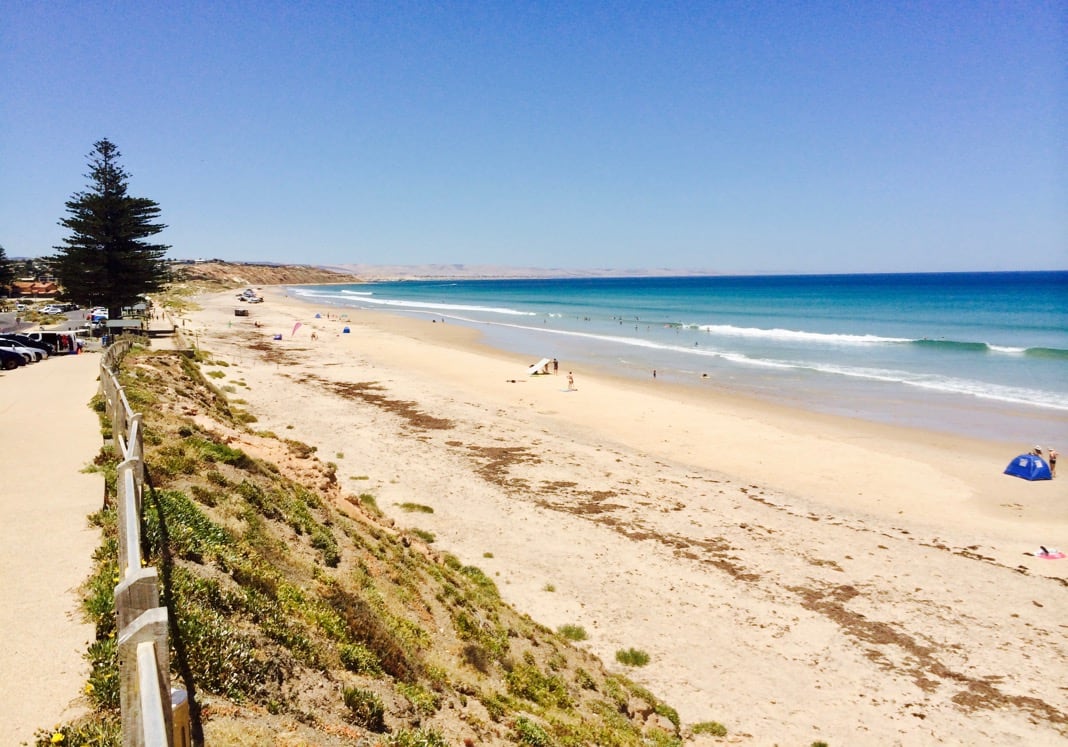 Moana beach is a great beach to go swimming and body surfing in. The small waves are consistent and the water and beach is in pristine condition.
There are a few other beaches in the south of Adelaide where you can also drive your car onto the sand including Aldinga Beach and Sellicks Beach.
4. Star of Greece, Port Willunga
This is my favourite destination in the Fleurieu Peninsula. The beach is magical and it has a feel as if you're visiting a Greek beach in Greece.
If there was one beach in Australia that feels more Greek than any other then this would have to be right up there.
The bonus is that this is one of the best Fleurieu Peninsula beaches, if not the best.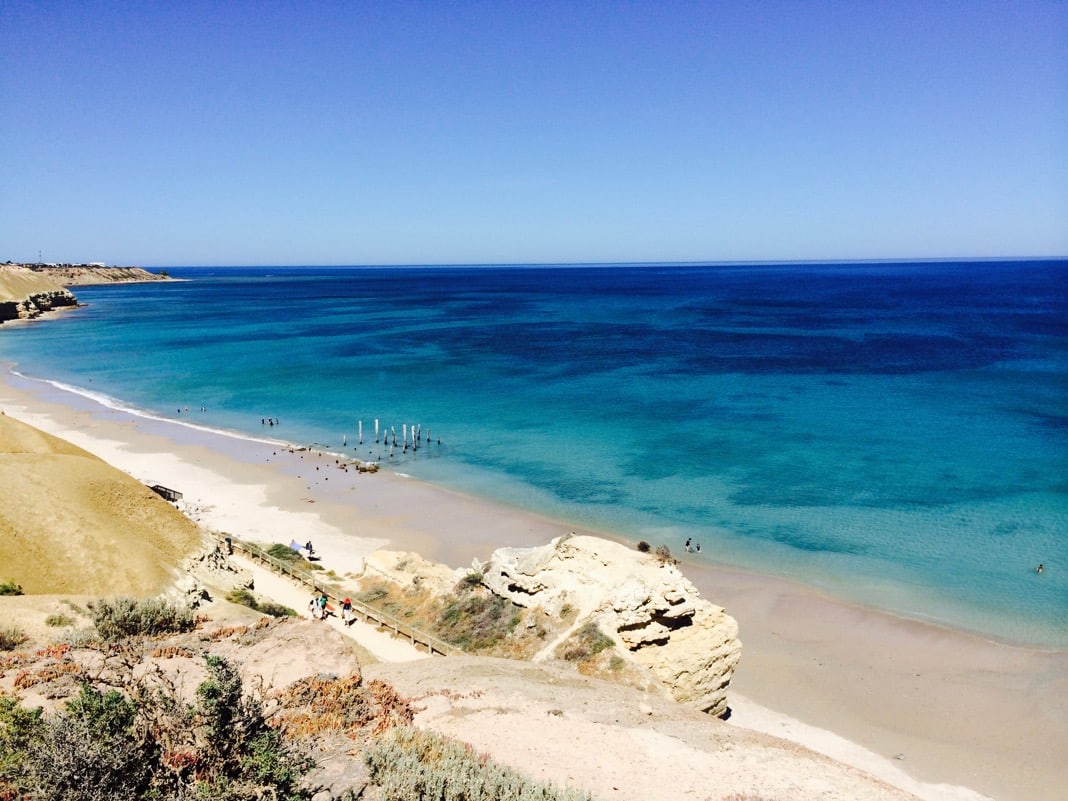 Port Willunga beach with its association to the Star of Greece is incredible and it really requires a post all to itself.
I'm sure you won't want to miss out on this stunning beach after you have read about the Star of Greece tragedy, cafe and restaurant, especially if you're visiting the Fleurieu Peninsula.
5. Buddha Goddess – Nan Hai Pu Tuo Temple, Sellicks Hill
Yes, we have a Goddess in the Fleurieu Peninsula. Ok, she's not a Greek Goddess but at least she's a Goddess.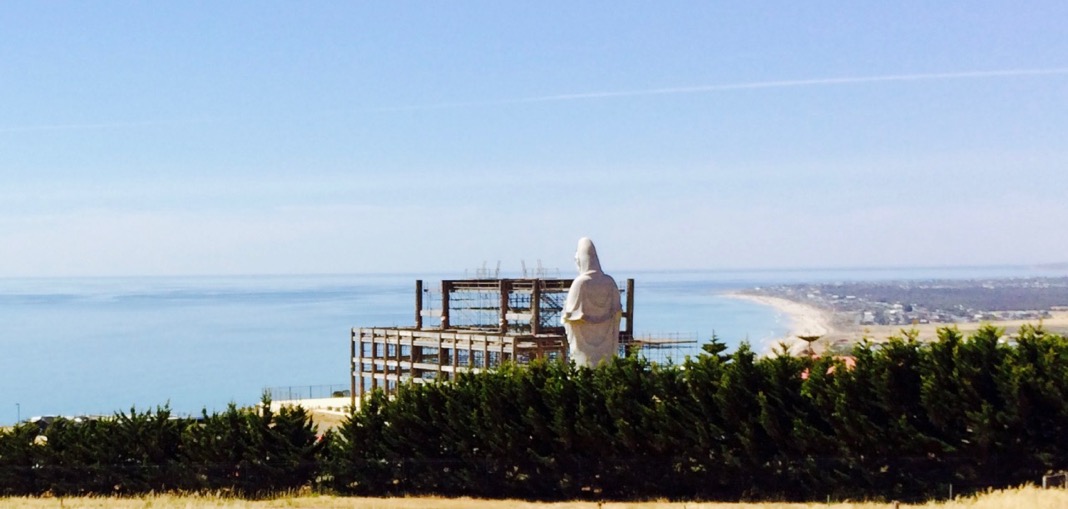 Whether the temple will ever be completed is one of those great mysteries in life. The temple building has been left unfinished for years.
6. Carrickalinga Beach
Haycock Point separates North Carrickalinga and South Carrickalinga beaches. Here's a photo of North Carrickalinga beach taken from the top of the pyramid like hill.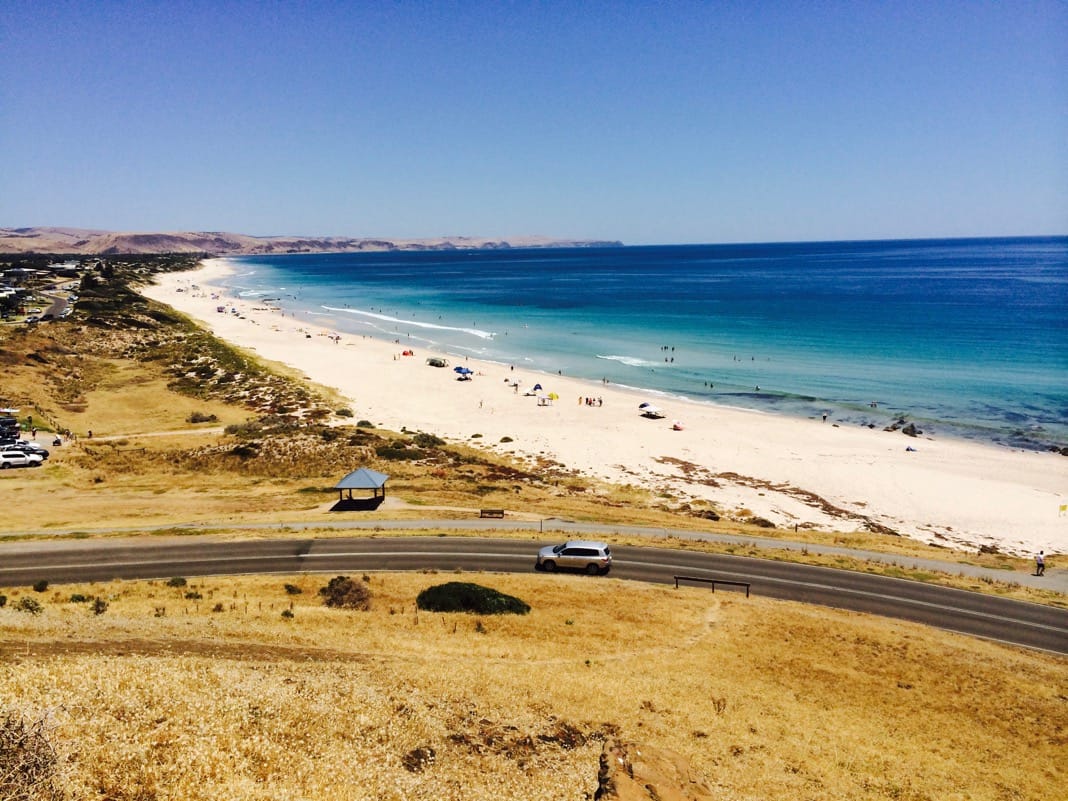 Below is a photo of South Carrickalinga beach as seen closer to the shore.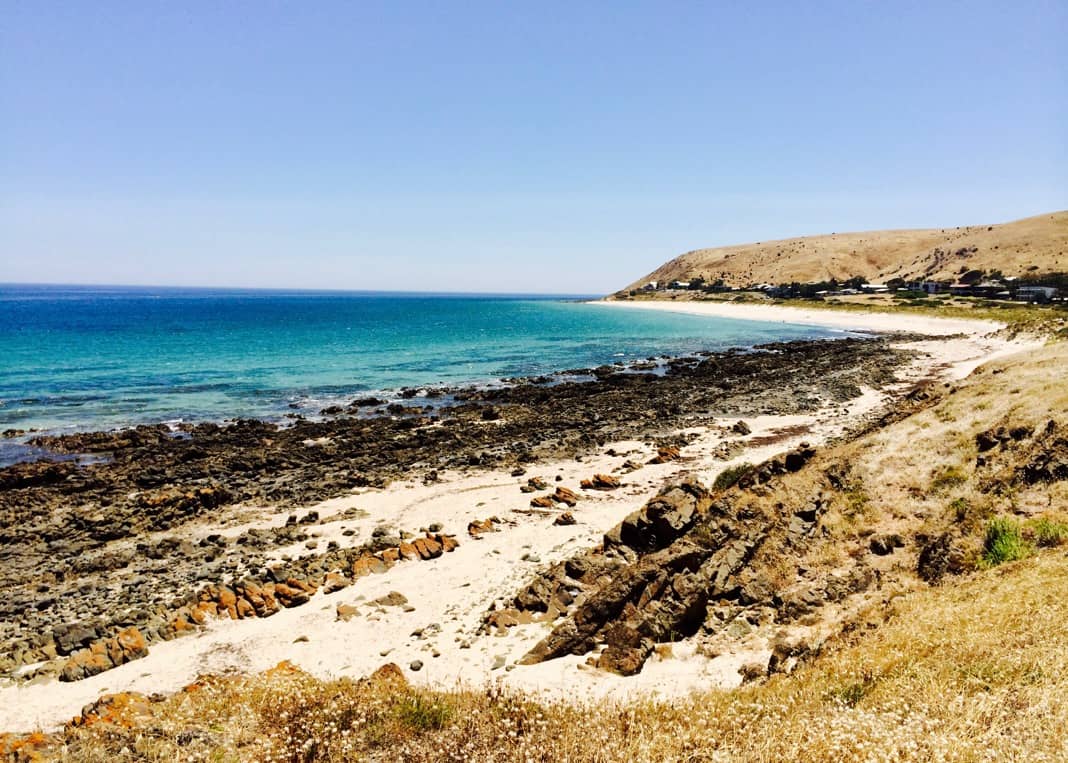 The beach has a rocky section which creates shallow ocean pools when the tide is right. It's supposed to be a favoured Instagram spot.
Top Tip: On the way to Carrickalinga Beach make sure you take the scenic drive over Myponga Reservoir.
7. Second Valley Beach
Second Valley has it all for beach lovers. There's a great sandy beach, as well as a jetty and cliffs for diving.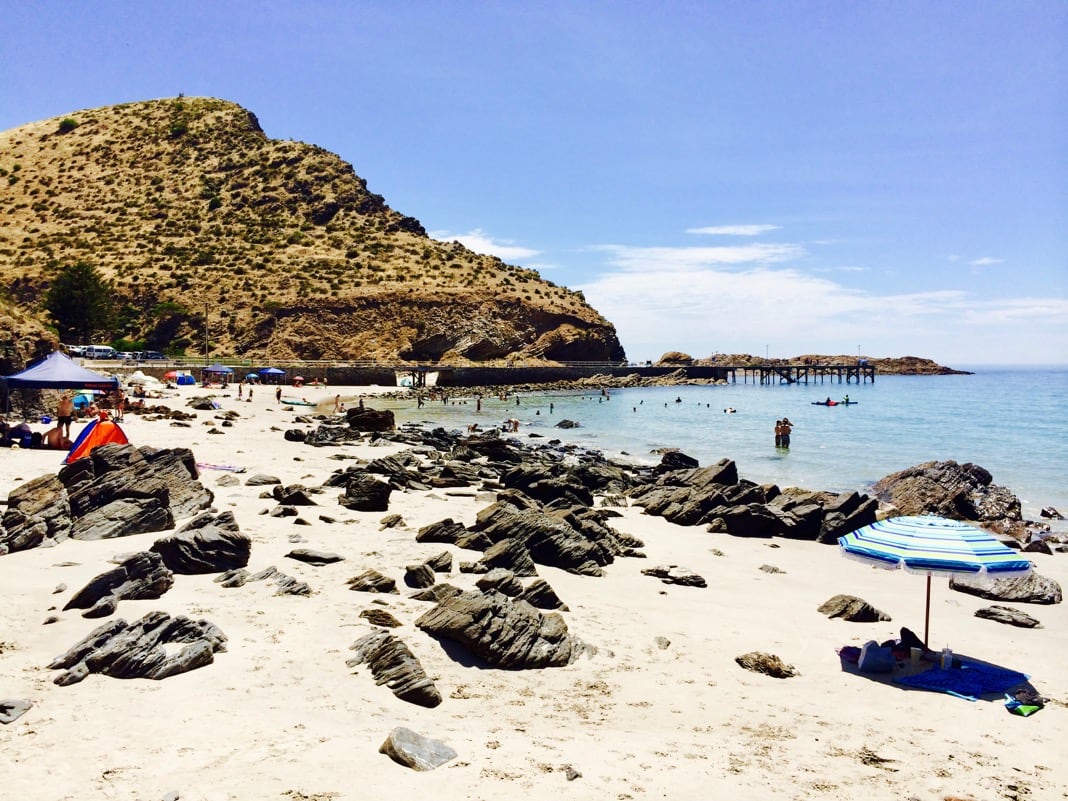 Below is a view of the beach from the entrance carpark area.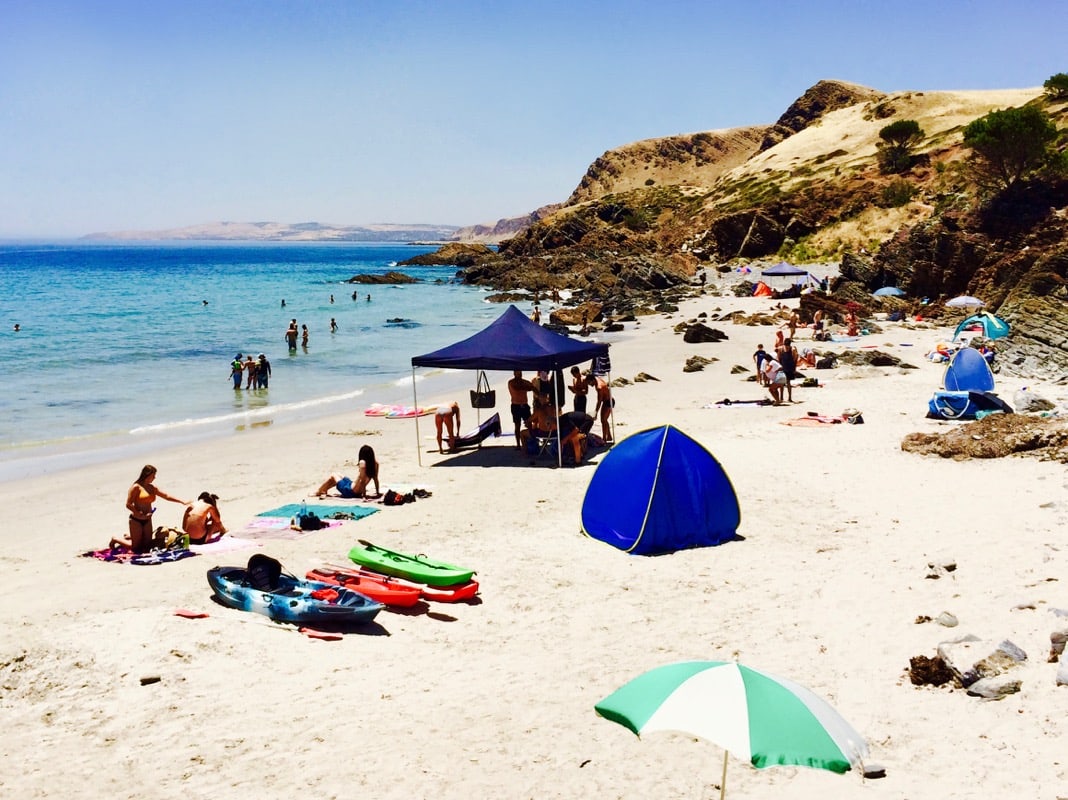 If you walk towards the jetty on the left hand side there is a pathway that takes you around the cliffs.
Walking around the cliffs will take you to a secret spot where you will be able to either jump from the cliffs or from rocks into the water, or watch brave others doing it.
Don't worry you don't have to jump this high up.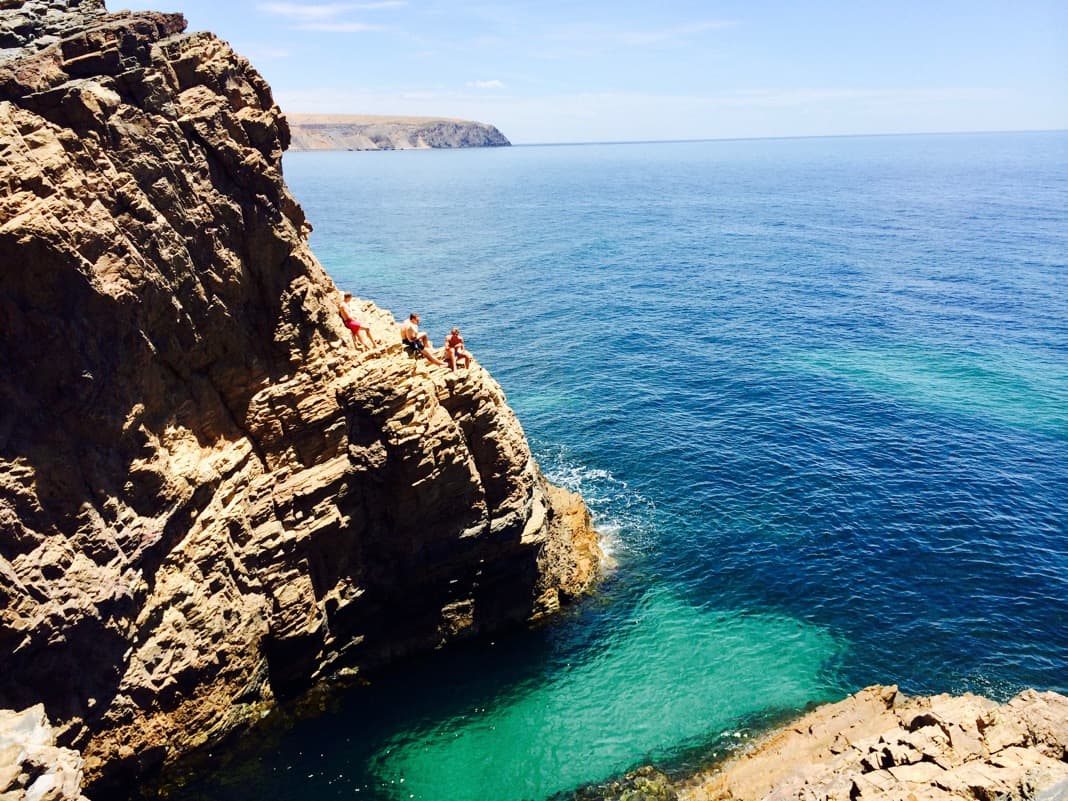 You can jump from the rocks much closer to the water.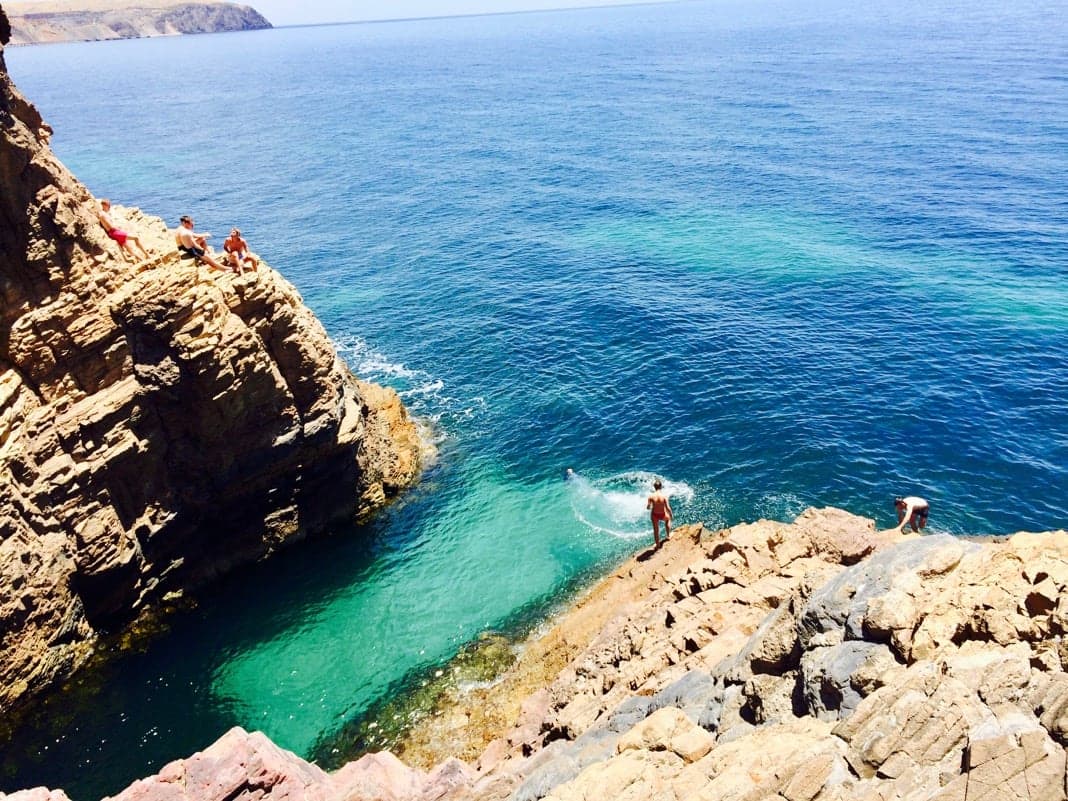 Here I am heading back towards the jetty after watching some cliff-diving.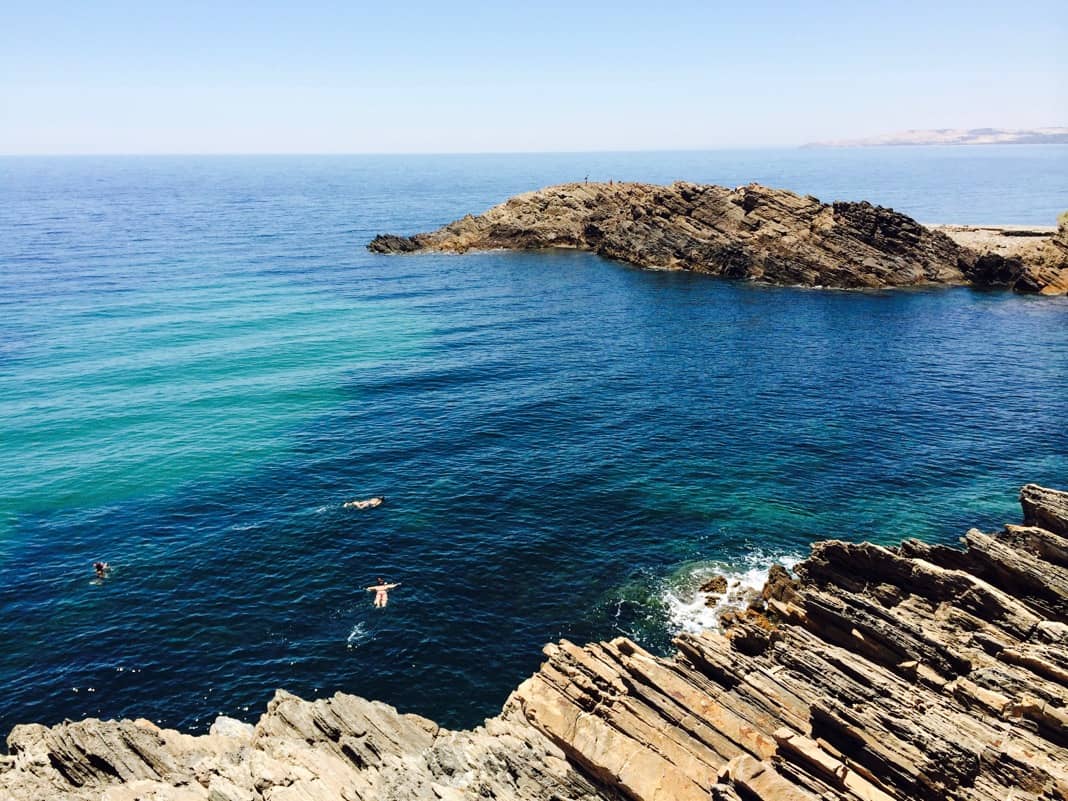 The jetty is also a popular spot to jump off on a hot day.
The best Fleurieu Peninsula beaches and attractions don't get much better than Second Valley.
There is a popular caravan park in Second Valley so if you're doing a road trip this is a great place to stay.
8. Granite Island, Victor Harbour
Visiting Granite Island in the seaside town of Victor Harbour is a very popular day trip from Adelaide.
Adelaide locals visit Victor Harbour all the time as it is only about 83 km south of Adelaide so it makes for a great drive.
Once there you can take a ride on a horse drawn tram to get to the Granite Island via the historic 630-metre wooden causeway or you can walk there.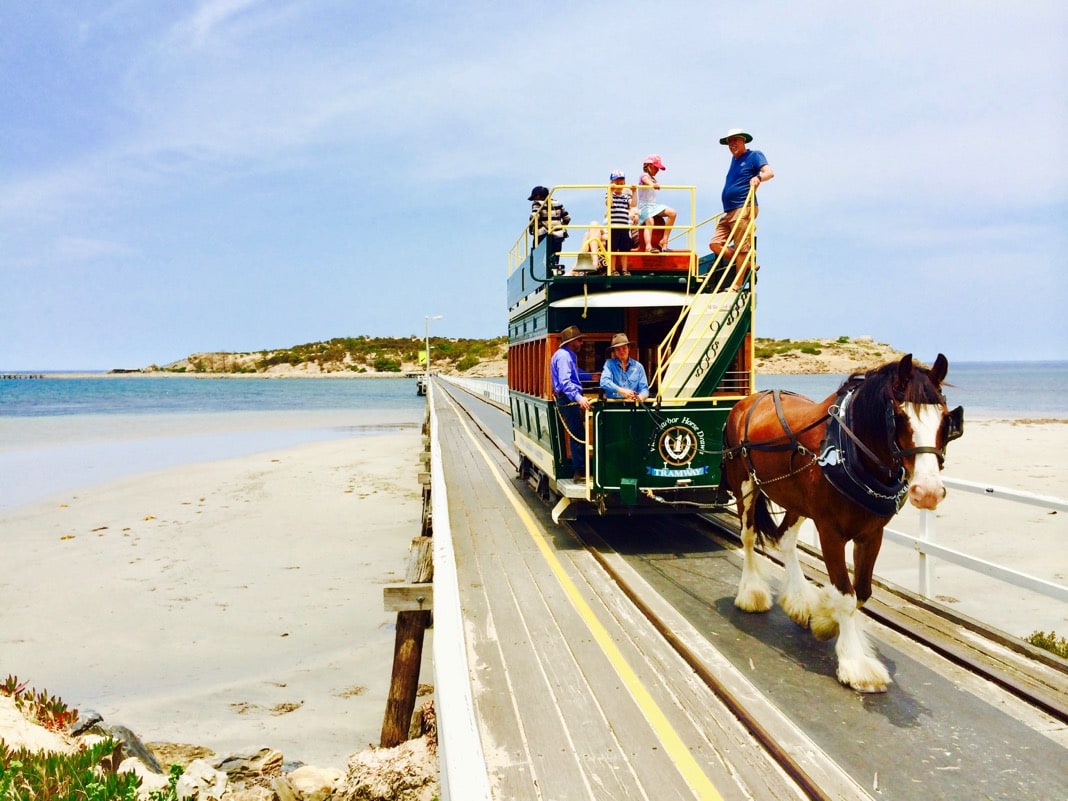 You will have to pay if you go with the horse and tram but little kids and big kids will love it.
Top Tip: Hike up to The Bluff for some awesome views of Victor Harbour's coastline. You will get sweeping 360-degree views across the town, Encounter Bay and Granite Island.
9. Horseshoe Bay, Port Elliot
Horseshoe Bay in Port Elliot is a sheltered beach often patrolled by lifesavers and is very family friendly. As you can probably guess it is in the shape of a horseshoe.
Head towards the small jetty so that you're looking over it by taking a pathway that leads above it.
You can then walk along a paved pathway around the cove and cliffs past Ladies Beach.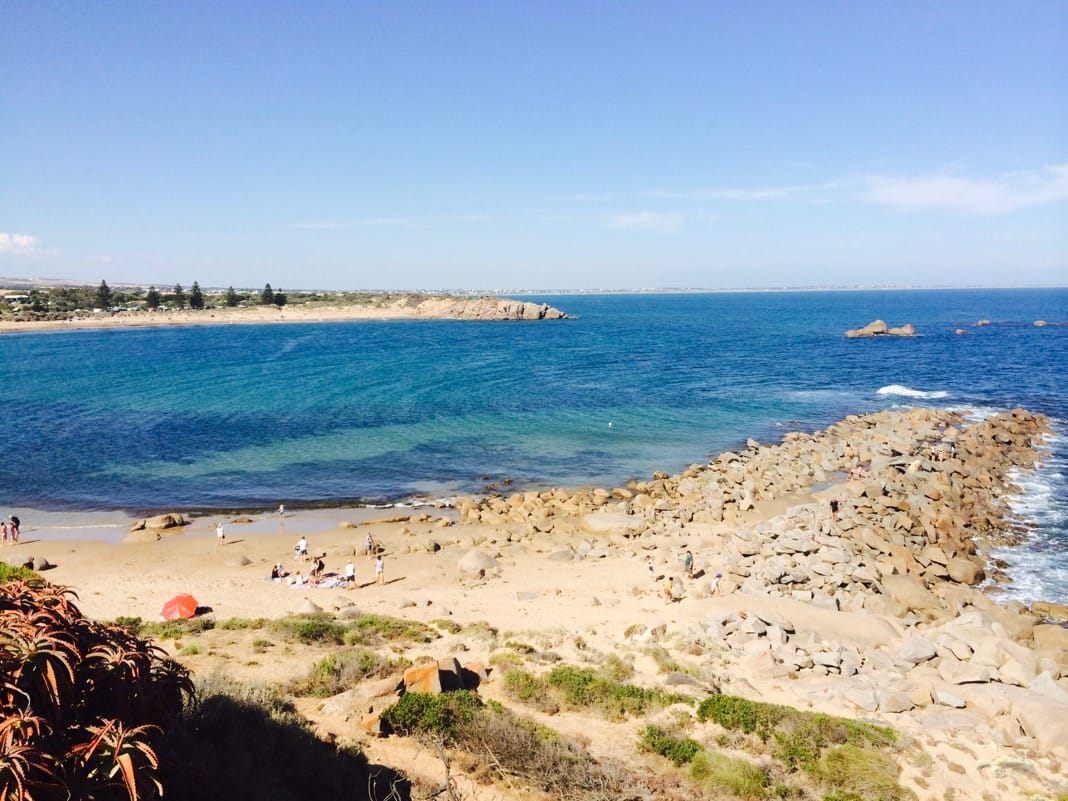 The Flying Fish Restaurant & Cafe is located in the building close to the small jetty.
Another good option for food is to go to the iconic Port Elliot Bakery which is highly rated and very popular.
10. d'Arenberg, McLaren Vale Wine Region
d'Arenberg Cube is a five-storey Rubik's Cube inspired building situated within the d'Arenberg vineyards in the locality of McLaren Vale in South Australia.
This is a great way to finish your trip to the Fleurieu Peninsula with a visit to the world class McLaren Vale wine region.
d'Arenberg is an Australian wine company founded in 1912 with the most wondrous building in the McLaren Vale wine region. How can you top this weird and wonderful building?
Visiting the d'Arenberg Cube restaurant is a must, even if it's only to take a quick photo of the outside.
This photo was taken when a Salvador Dalí exhibition was on. Salvador Dalí, the famous Spanish surrealist artist was a great admirer of Greek Mythology.
I'm not sure what this is supposed to mean but it will get you thinking.
Luxury accommodation in the McLaren Vale wine region: Mulberry Lodge
What else is there to do in Adelaide's Fleurieu Peninsula?
Visit Kangaroo Island. The ferry departs regularly for the 45 minute journey from Cape Jervis at the western-most tip of the Fleurieu Peninsula to Kangaroo Island.
Get some cockles at Goolwa with your feet by doing the cockle foot shuffle.
Take the Cockle heritage steam train from Victor Harbour to Goolwa and back. Keep in mind that hey only use a the steam train every so often mainly around school holidays. Normal trains are used when the steam train is not in use, which will give you the same awesome views.
Play a round of golf in one of the many golf courses in the region.
Hopefully some of the Best Fleurieu Peninsula Beaches and Attractions shown here will get you thinking about spending a few days in Adelaide if you're ever Down Under.
Adelaide is often missed out when touring around Australia especially by overseas tourists, but there are some great things to do in Adelaide.
I'm pretty sure you won't get bored if you stay in Adelaide for a few days especially in summer.
This post may also be of interest to you: 10 Best Things to Do in Adelaide