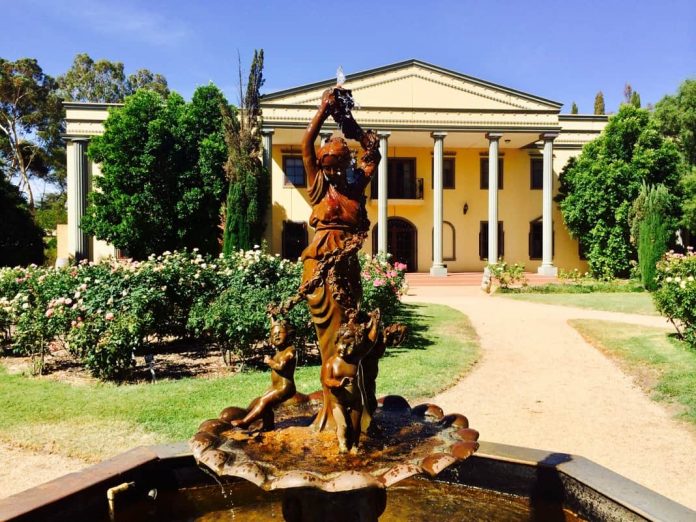 The Barossa Valley is a famous wine region in South Australia. Here I show you the best things to do in Barossa Valley and the most beautiful attractions in the area.
It all came about after taking my mother to the Barossa Valley for her birthday. At the time, I wanted the best one-day itinerary to show her the most beautiful Barossa Valley attractions.
To do that, I needed to visit a couple of times beforehand to scout around for some of the most beautiful places in the Barossa Valley.
I ended up finding plenty of things to do in Barossa Valley and many beautiful attractions, but you really do need to know where to go.
Otherwise, many of the Barossa Valley attractions listed here are easily missed. Believe me; you won't stumble upon all of these Barossa attractions by driving around all day.
You don't have to anyway, because now you have this Barossa Valley travel guide to refer to.
The trip to the Barossa Valley with my mum was pleasant enough, but it could have been even better if I had known about all of these Barossa attractions when we were there.
One thing I never expected in my wildest dreams was being responsible for taking down the Greek flag after one particular visit to the Barossa Valley (predominately German territory).
However, I'm sure that is what inadvertently happened during one of my visits to the Barossa. It sounds crazy, but I'm convinced of it. I'll tell you more about it in one of the 30 things to do in Barossa Valley.
Greek Gods in the Barossa Valley
What surprised me most about visiting the Barossa Valley in South Australia was finding out that the Greek Gods had secret worshippers there.
Bacchus (Dionysus), the God of wine, is a favored God in the Barossa Valley since his name keeps popping up throughout this supreme wine region.
I even found Zeus honored with his own extra virgin olive oil bottle, which I ended up buying. You can see the bottle of Zeus extra virgin olive oil in the list below.
I did a few Barossa Valley wine tastings while out and about and even bought a bottle of Zephyrus, a wine named after the God of the west wind in Greek mythology.
On another occasion at Two Hands Wines, I tasted Ares wine, named after the Greek God of war.
Sadly they didn't let me taste Aphrodite, Goddess of love, as part of a wine tasting, which was a bit of a disappointment. Never mind, you can't taste them all.
Things to do in Barossa Valley
I have purposely created an easy-to-follow guide that shows you the best Barossa Valley attractions and the most beautiful wineries to visit.
This really is the ultimate guide to the Barossa Valley.
The Barossa is a beautiful place to visit, but as I've already said, some of the best Barossa attractions are easily missed if you don't know where to go.
For instance, make sure you don't miss out on driving down Seppeltsfield Road to Seppeltsfield winery.
The beauty of this road is that there are palm trees on either side of the road, and it is amazing!
Your guide to the best Barossa Valley attractions
The Barossa Valley's beautiful attractions await if you follow this travel guide.
I highly recommend doing things in the order as they appear on this list and skipping over anything that doesn't excite you. That way, you will maximize your time in the Barossa.
I have included quite a few free things to do in Barossa Valley, which is great for non-wine drinkers.
However, the biggest Barossa Valley attractions are definitely the beautiful wineries for wine tastings.
There are over 150 wineries and 80 cellar doors in this wine region, so my tips and advice will help you devise a suitable plan.
Many of the cellar doors will charge you a small fee to go wine tasting. However, the tasting cost is often redeemable if you purchase a bottle of wine.
If only I had this list of things to do in Barossa Valley as a reference when I visited. I could have taken my mum to a few more places.
For instance, I missed out on taking her to the Barossa Valley Chocolate Company.
I only found out about the place after I went back to the Barossa to get some more pics for this travel guide revealing the best things to do in Barossa Valley.
This Barossa Valley guide showcases what I consider to be the best things to do in Barossa Valley. I'm sure there are plenty of other great places to visit as well.
1. Barossa Chateau 
In my opinion, a great way to start your trip to the Barossa Valley is to visit the Barossa Chateau as soon as you arrive.
Here you'll find a beautiful fountain and a fabulous rose garden to admire. The best time to be there is when the roses are in full bloom.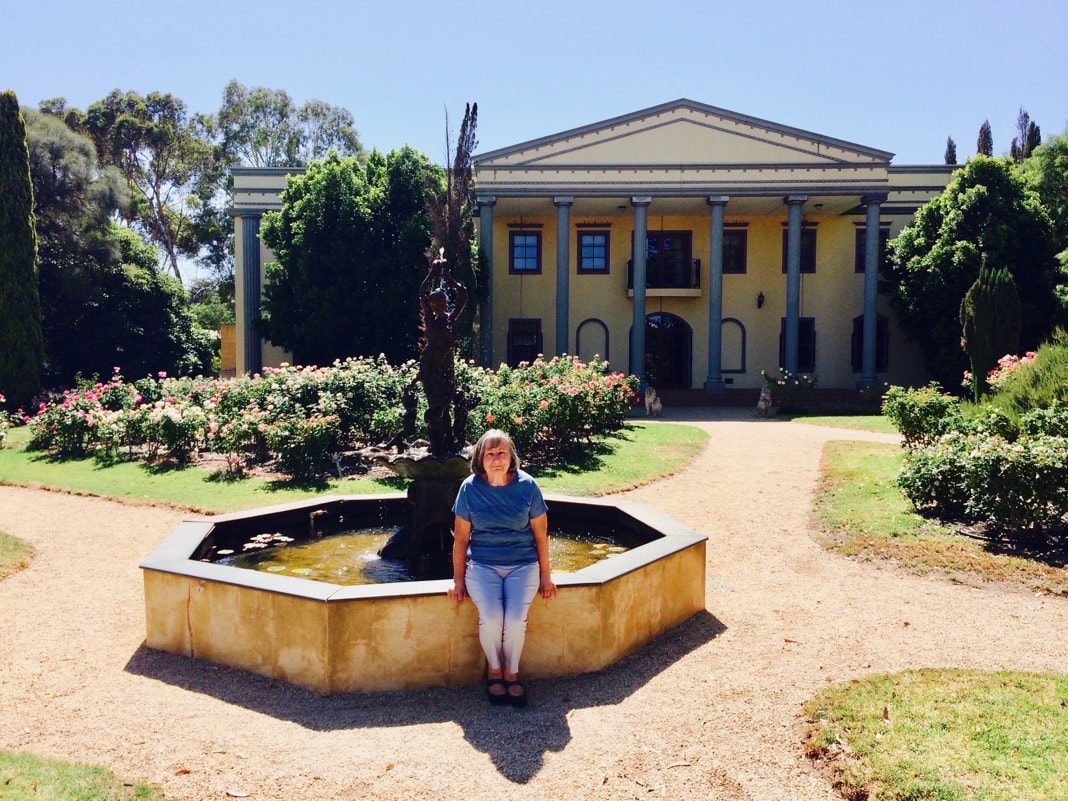 This is no ordinary rose garden because Queen Elizabeth II opened it in 2002. Over 22 acres are dedicated to the rose garden, and it really is a beautiful serene place to visit.
The Barossa Chateau is located on Lyndoch Hill and is one of the Barossa Valley's most beautiful places. Seeing the beautiful octagonal fountain is definitely a big highlight.
You can enter through the side entrance, so you don't need to enter the Barossa Chateau to see the fountain.
There are also pathways around at the back of the chateau where you can go for a stroll. It's like a little bit of Tuscany in South Australia.
You can even see the beautiful Hermann Thumm Porcelain Collection inside the Barossa Chateau. Tours start at 11 am, or by private appointment.
There are over 1,500 items in the Art and Antique Gallery at the Barossa Chateau.
Interestingly, Hermann Thumm's pride and joy was a porcelain piece based on Greek mythology, showing Helios the Sun God, by artist Kaendler.
If you like, there's also the opportunity to visit for high tea. It is quite pricy, but it may interest a few of you. It's something like $49 per person the last time I looked.
The chateau also provides accommodation options on Lyndoch Hill, so this could be a good option for accommodation if you plan on staying the night in the Barossa Valley.
2. Chateau Yaldara 1847 Wines
Chateau Yaldara 1847 is located near Lyndoch and was founded in 1947 by Hermann Thumm.
This would have to be one of the most beautiful buildings in the Barossa Valley.
Mum and I have been inside for a wine tasting, even though my mother isn't a wine drinker. The building just seems to draw you in.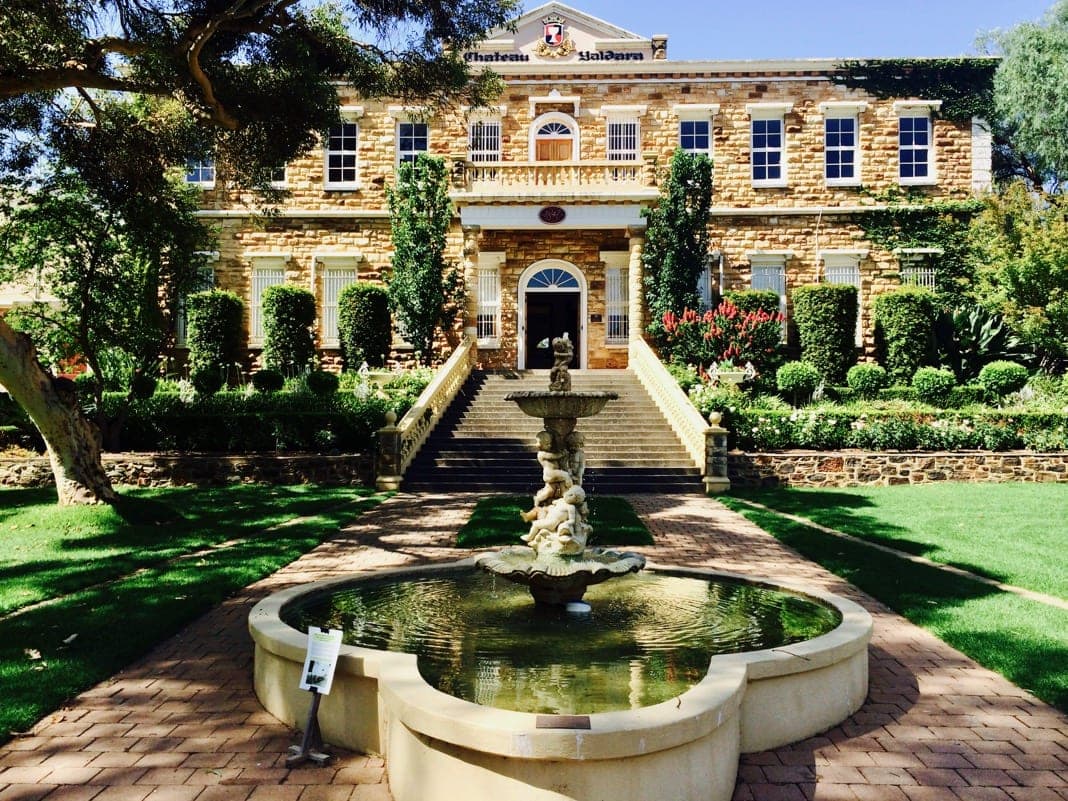 It's only a short drive straight down the road from Barossa Chateau. All you need to do is turn left when you exit from Barossa Chateau.
The distance between Chateau Yaldara 1847 and Barossa Chateau is about 1.7 km.
Chateau Yaldara 1847 is a perfect place to relax the time away with a glass of wine in hand.
As you can see, there's a nice shady spot under a tree and also a few umbrellas to relax under. The grounds are nice and lush, so you won't want to leave.
If you want to see one of the most beautiful wineries in the Barossa Valley, make sure you visit Chateau Yaldara 1847.
3. Tanunda Tin Man
Is that the Tin Man from the Wizard of Oz? That was my first thought when I saw the metal man cutting away at a power pole by the side of the road.
The Tin Man greets you as you enter the town of Tanunda. It is located on the righthand side of the road as you're driving into town.
Remember, you drive on the lefthand side of the road in Australia. Maybe it's the other way round. Maybe the Tin Man is saying goodbye as you leave the Barossa Valley. Either way, you won't miss him because he stands out.
The first time I took a photo of it, a vicious looking dog approached me from the house across the road behind the Tin Man.
I didn't notice the dog until I heard furious screaming from the dog's owner ordering the dog to come back. It was about halfway up the road. I'm not sure what would have happened otherwise.
That was on an overcast day, but I stopped again to take another photo of the Tin Man on a brighter day. The words on the power line pole read Fun & Laughter.
You need to stop at this spot and take a photo for yourself.
4. Barossa Sculpture Park and Mengler Hill Lookout
This is a great place to stop for 15 minutes or so when you first drive into Tanunda. It is 5.5 km away from Tanunda (about a 7-minute drive).
Barossa Sculpture Park has around 17 large sculptures to check out, but the main attraction would have to be the awesome views.
One of the more interesting attractions at Barossa Sculpture Park is Persephone's chair.
Yes, it is the Greek Goddess of spring. It is described as follows:
Persephone by Australian artist Kevin Free: 2008 The Greek goddess of spring inviting visitors to sit and rest.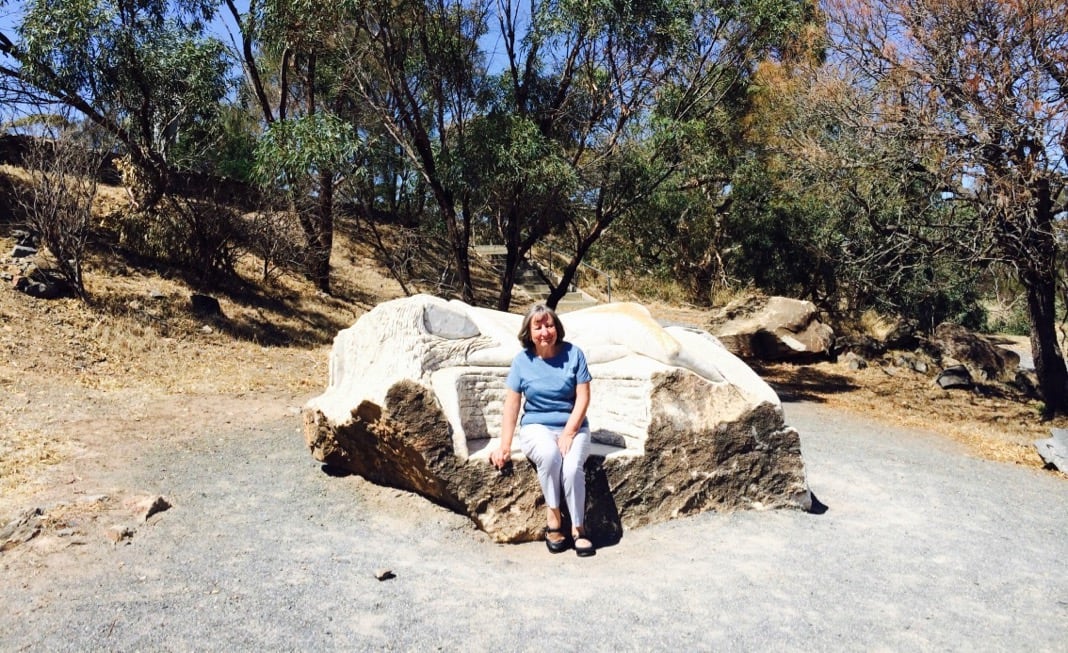 I told my mum about it when she sat on the chair for a photo. After I told her, she asked me if the photo had turned out alright, so I ended up taking another photo to be sure.
Here's another sculpture called: Dreaming by Australian artist Cliff Axelson (1988). It is supposed to reflect when eagles soared around the hills of the Barossa.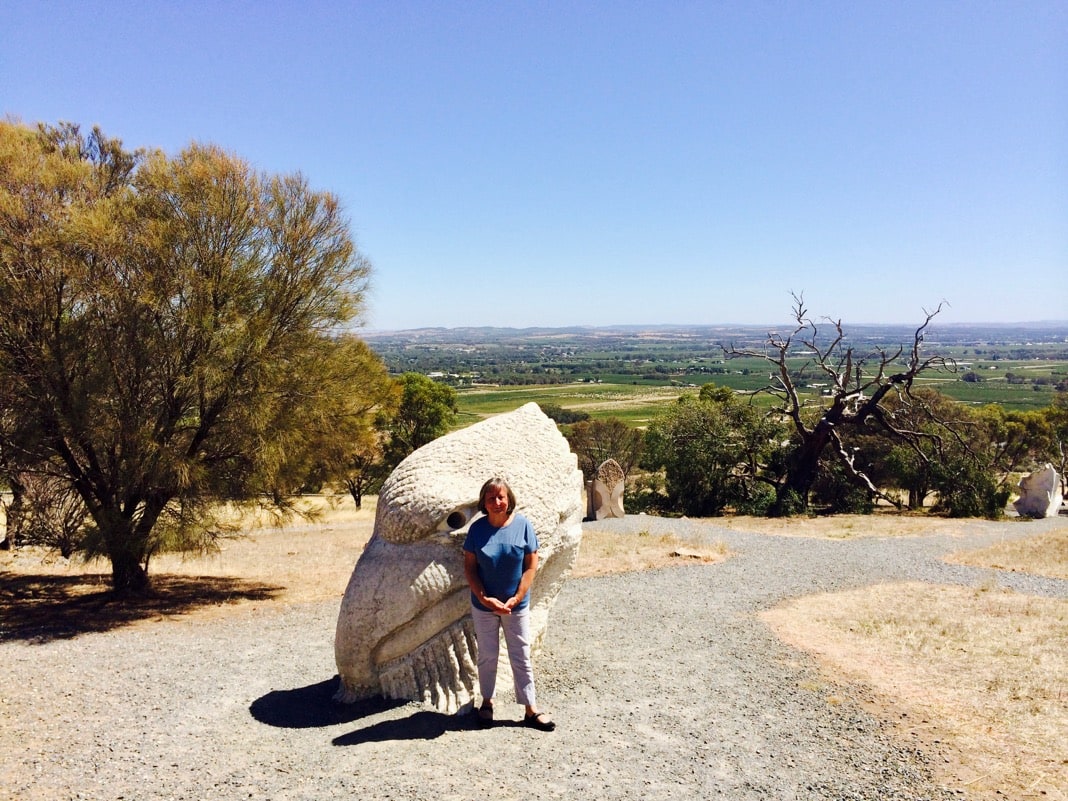 On another day, I stopped to take a photo of this scarecrow when returning to Tanunda after a visit to Barossa Sculpture Park.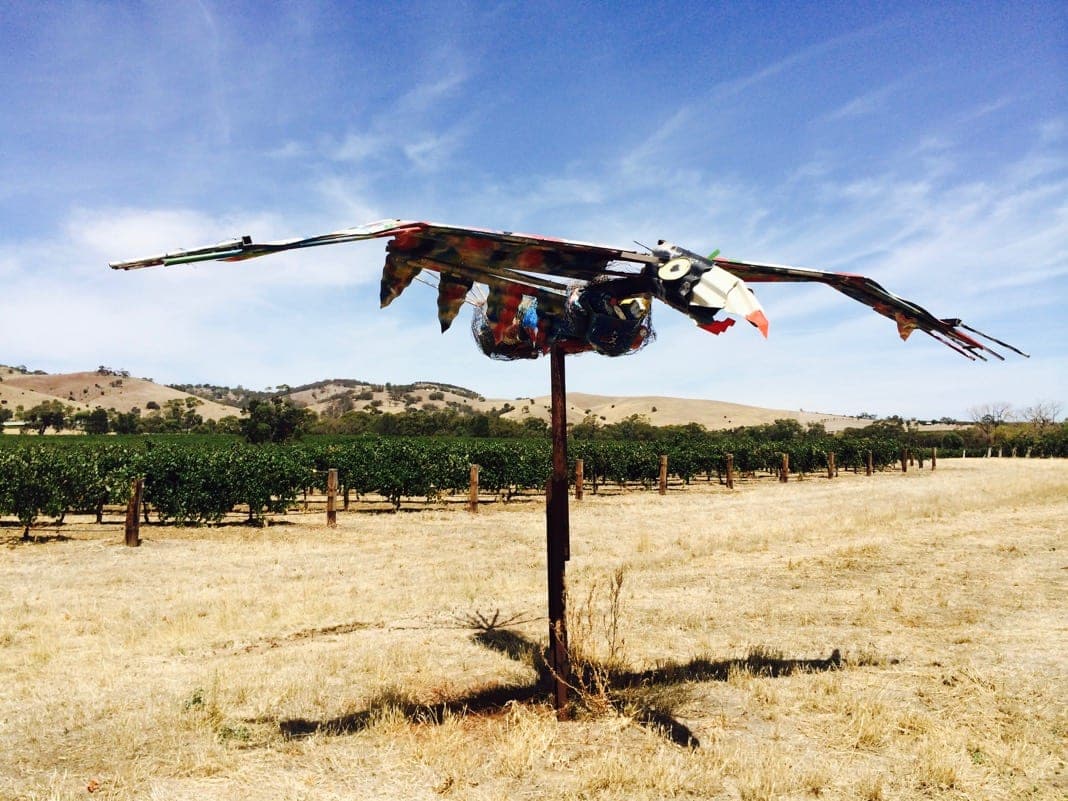 5. Chateau Tanunda
Chateau Tanunda is an icon in the Barossa Valley. When you arrive, you'll notice a huge reddish building that you might expect to find in France.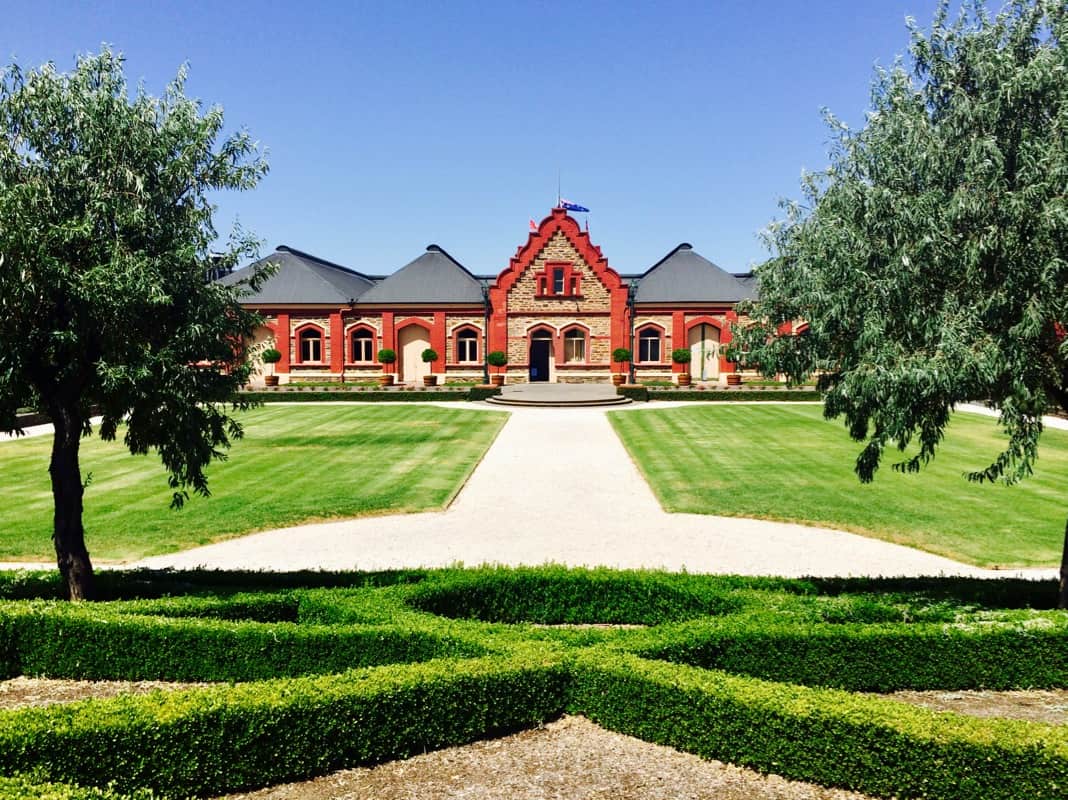 When it was built in 1890, Chateau Tanunda was South Australia's second-largest building and the largest winery in the Southern Hemisphere.
In South Australia, it was second in size to Elder Smith's Port Adelaide wool store.
Believe it or not, but by 1998 it was pretty much derelict with only pigeons as inhabitants. The building was even under the threat of demolition.
It was saved by a guy named John Geber, who noticed the rundown building while riding a bicycle in the Barossa Valley. Today, the chateau has been renovated and is one of the most impressive wineries in the Barossa Valley.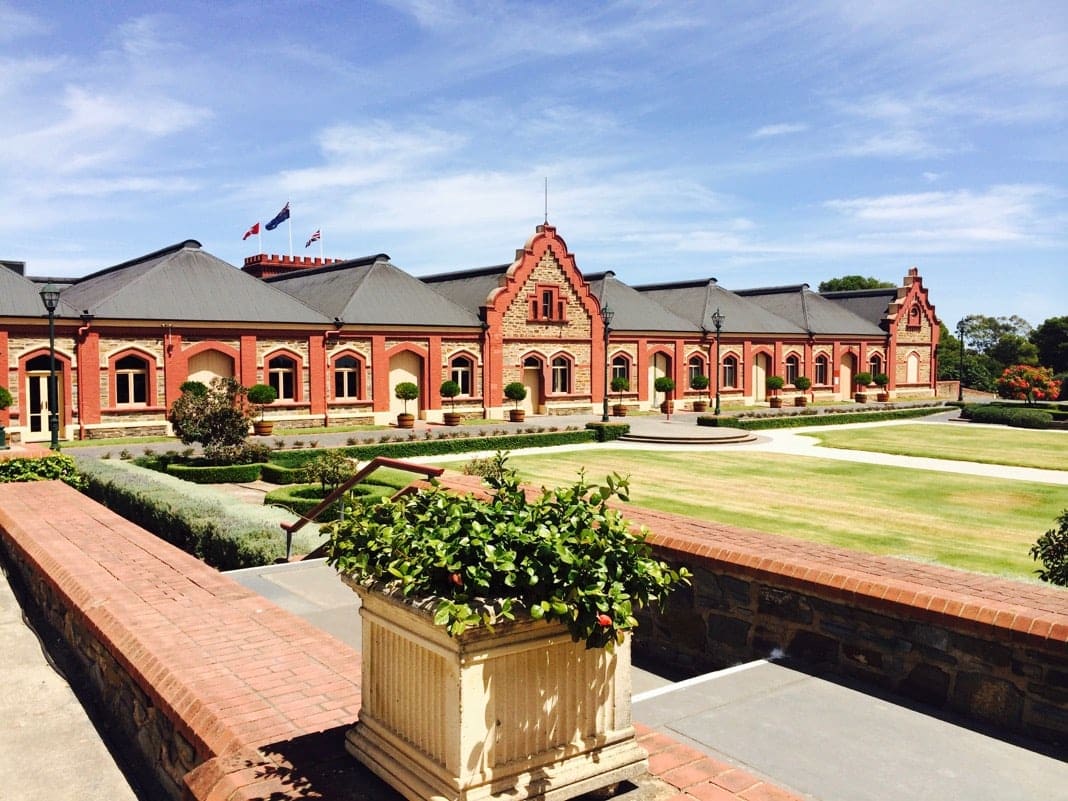 It's a spectacular sight to behold, and it is located quite close to Tanunda's main street.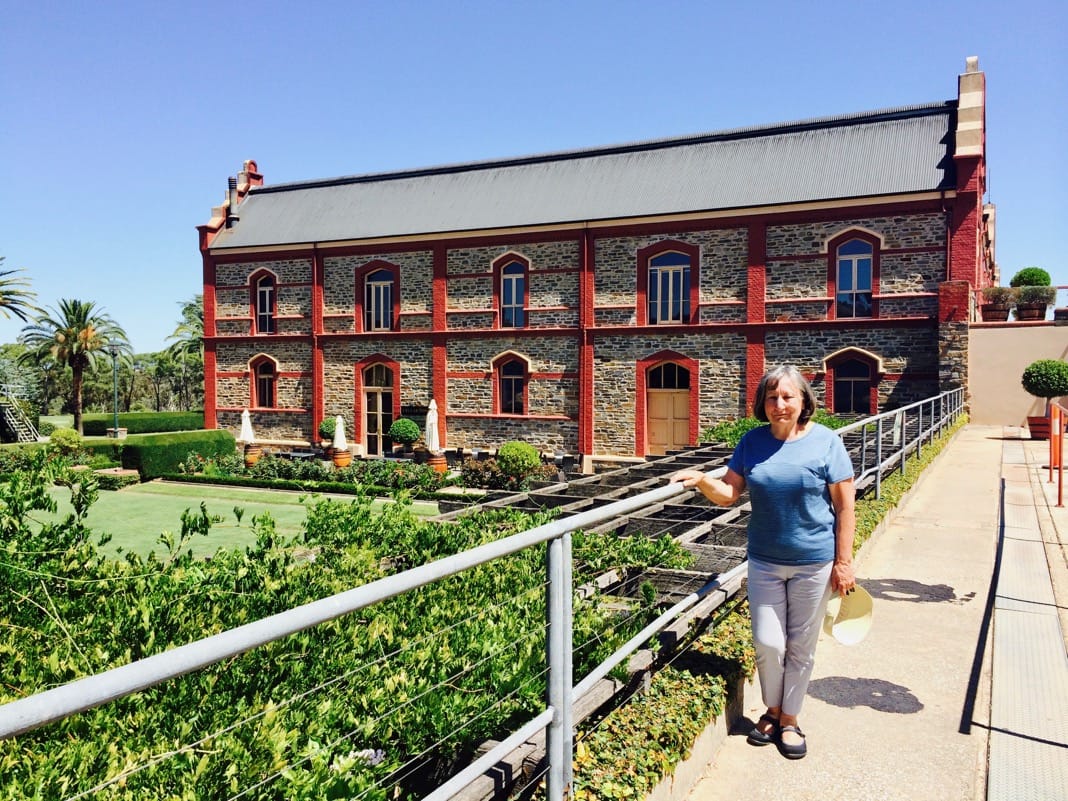 You enter the cellar door where wine tastings take place at the side of the building, so you need to walk down a staircase and under a verandah, supported by a row of sandstone columns.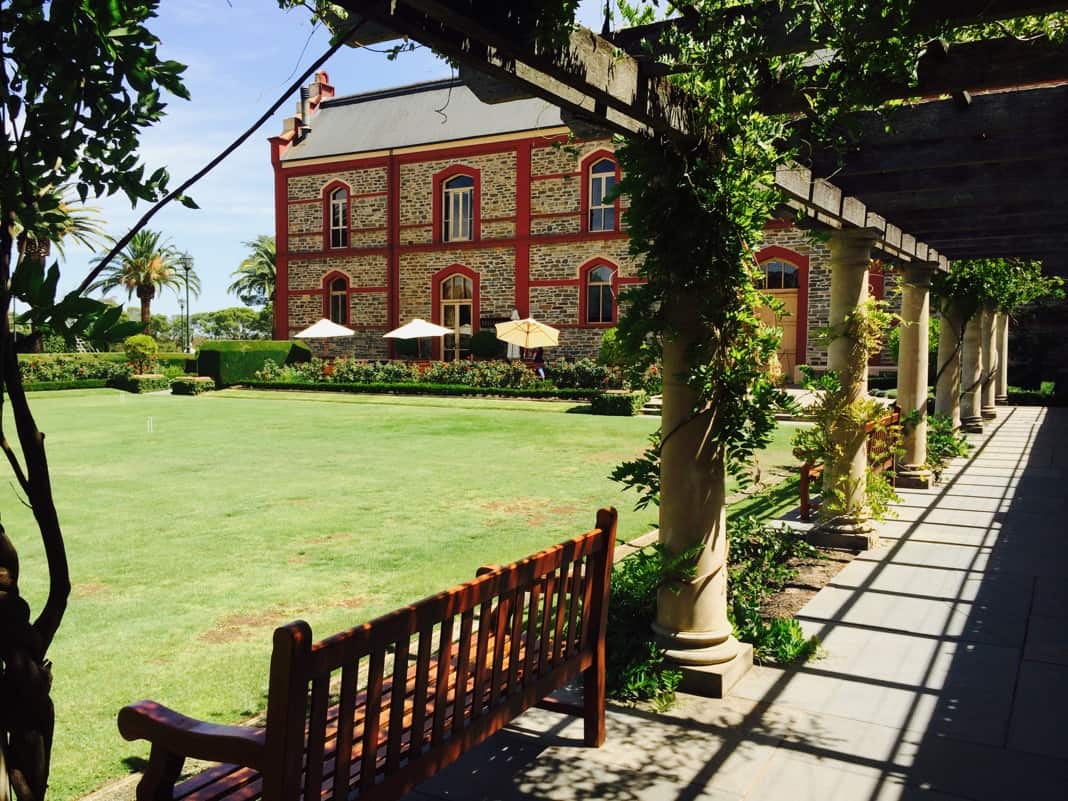 You can even play a game of croquet here. This game involves hitting wooden or plastic balls with a mallet through hoops staked into a grass playing court.
Chateau Tanunda's brick chimney is seen in the pic below.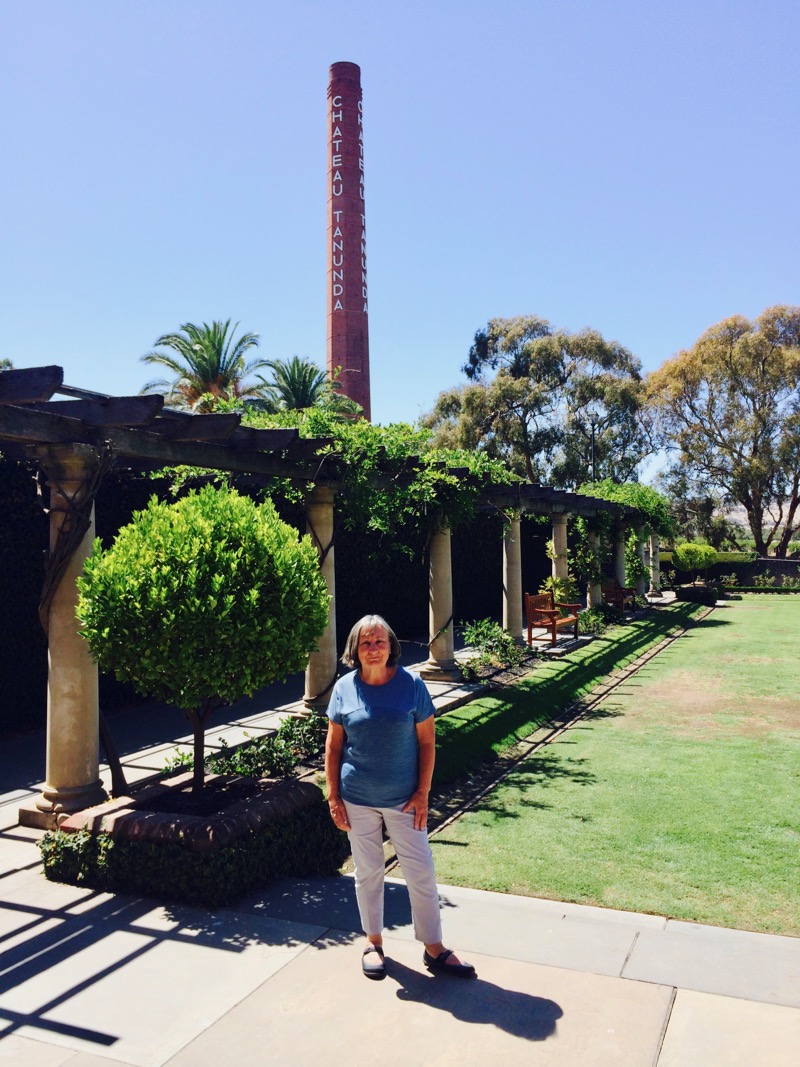 The building is huge, yet the tasting area is quite cozy. It is tucked in a side corner of a large open room like a warehouse, which also happens to be the storage area for many wine barrels.
To me, it looked like a great place to go wine tasting.
6. Walk down Tanunda's main street
The town of Tanunda is the heart of the Barossa Valley. Tanunda's main street is called Murray street. Find this water feature on the main street and go for a bit of a walk.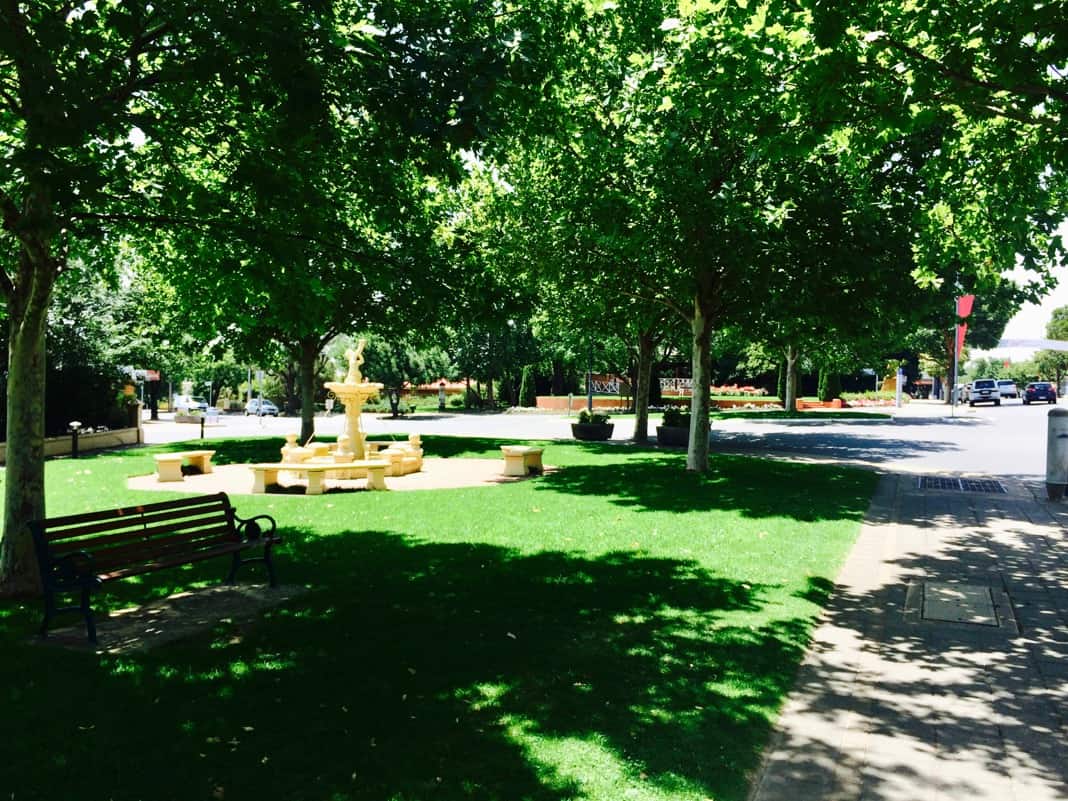 7. Artisans of Barossa
I wanted to do a wine tasting at Artisans of Barossa because of one wine in particular.
The wine I was interested in was called Zephyrus, named after the god of the west wind.
Zephyrus is the wine bottle in the center. I tried all of the 5 wines shown below.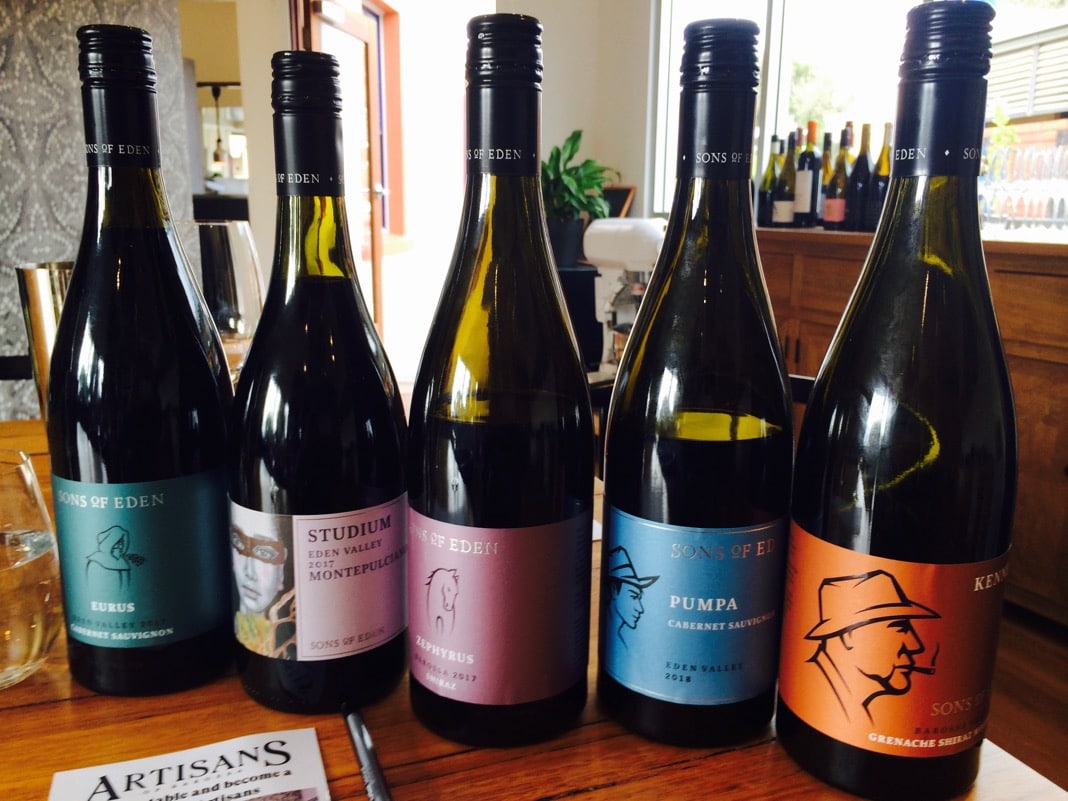 Sons of Eden produce the Zephyrus Shiraz, but the only way to taste the wine was through Artisans of Barossa.
I thought you could go to the Sons of Eden winery for a tasting, but they directed me to Artisans of Barossa.
It was easy enough because Artisans of Barossa has a place on Tanunda's main street (Murray St).
It's an immaculate and modern establishment, making it an excellent place to go for a wine tasting, especially if you want to do something in Tanunda.
Artisans of Barossa was established so that a group of Barossa Valley wineries could showcase their wines, which is obviously a bit of a money saver.
The bonus with this setup is that you can taste a selection of wines from different wineries and vineyards if that's your preference.
I ended up buying a bottle of Zephyrus Shiraz after the tasting. One thing that surprised me was that I never knew the horse was symbolic of Zephyrus. It's due to the swiftness of horses, just as the wind is swift.
They also have a Tempranillo wine named after Selene, goddess of the moon. Selene is the daughter of the Titans Hyperion and Theia, and the sister of the sun god Helios and Eos, goddess of the dawn. I missed out on that one.
8. Tanunda Bakery
A visit to the Tanunda bakery for a buttered Pretzel is worth the drive to the Barossa Valley alone, in my opinion. They also have a range of pies and cakes to choose from.
It is located on the main street (181 Murray Street) of Tanunda. Don't confuse it with another bakery called the Apex Bakery, which is just off the main street. This one would have to be the most popular.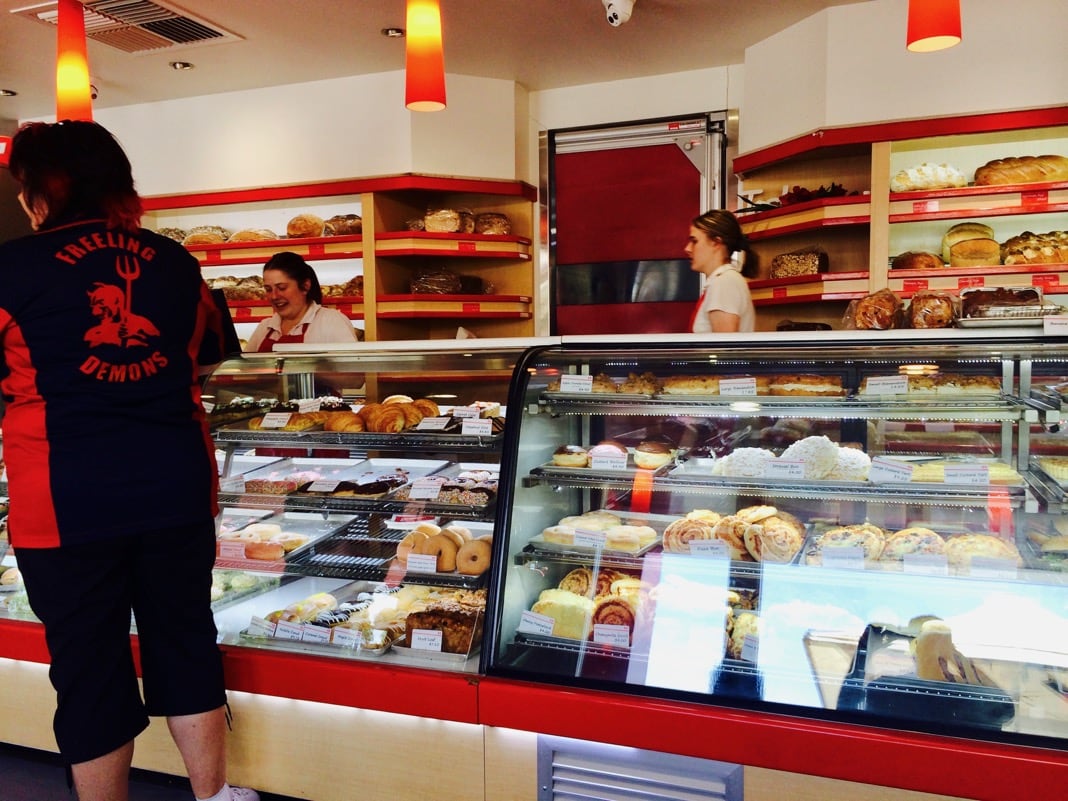 I somehow found myself inside the Tanunda Bakery on one particular day in the presence of the Freeling Demons. The Freeling Demons are a bowling club and a member club of the Barossa & Light Bowls Association.
The club's patch includes a trident, a symbol of Poseidon, God of the sea. For some reason, the trident is also linked to demons. Or is this just another way of secretly supporting the Greek Gods?
9. Barossa Valley Chocolate Company
The Barossa Valley Chocolate Company is a great place to visit if you have a sweet tooth.
They also have a cafe where you can sit outside under a veranda that overlooks the small lake.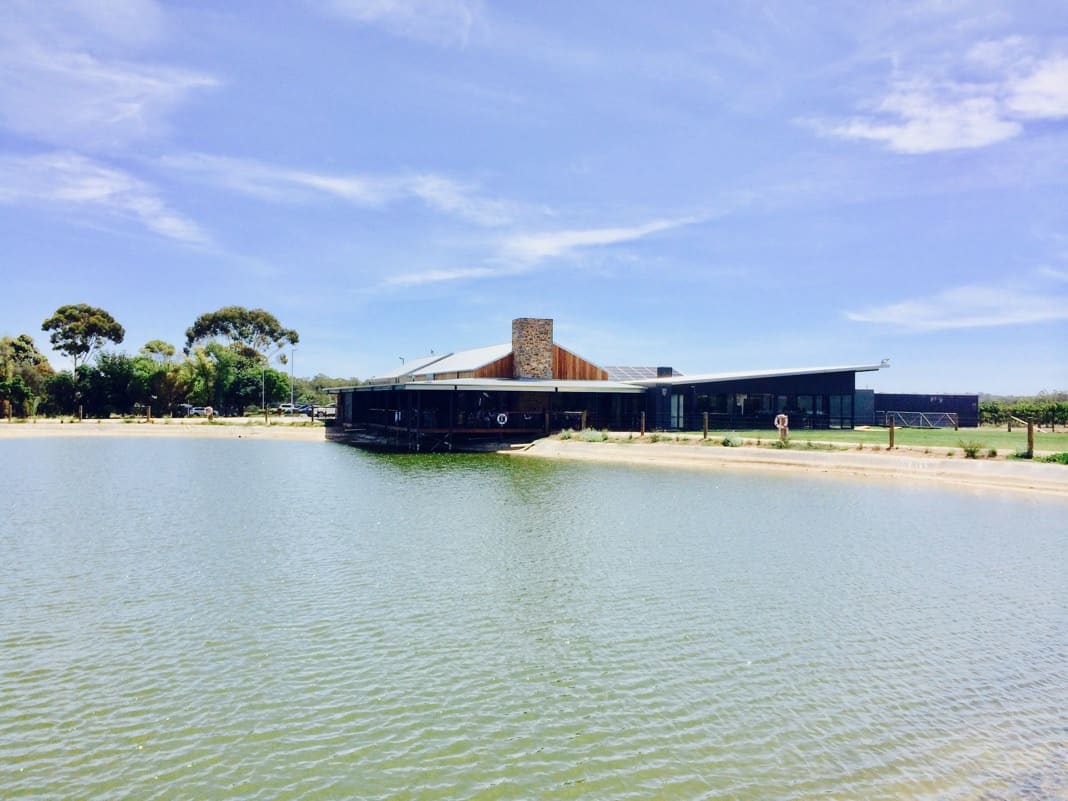 Inside, you can buy chocolate by the piece or from a wide selection of pre-packaged chocolates. The great thing is that all of the chocolate is handmade at the premises.
It's a hard decision to make.
10. Spot the Greek Flag
When I saw a Greek flag in the middle of the Barossa, it came as a big surprise. I had to stop to find out what it was all about.
The flag was located at the front of a driveway leading to a large bungalow (house).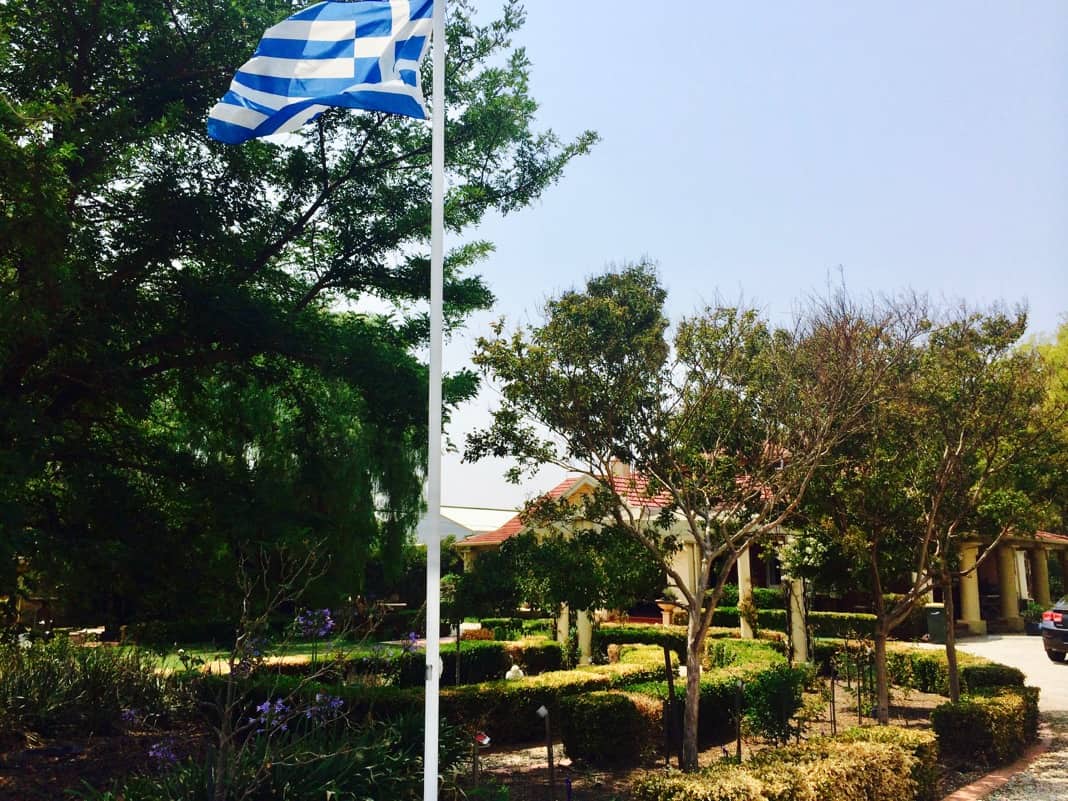 Above the front door of the large house were the words Barossa House, so I was intrigued to find out more.
After I parked the car, I approached the Greek flag to read a sign next to it by the main road's side. Only then did I realize that Barossa House was a boutique guest house.
I took a couple of photos of the Greek flag and also of Barossa House. I was going to leave after that but decided to go to the door to see if anyone was there.
At the time, I never considered that a Greek person would be running Barossa House. It seemed so foreign.
My first thought was that it was someone with German ancestry who loved Greece for some reason.
At the door, I was greeted by a cheerful lady who came outside to talk with me.
Sophia was a Greek Australian lady who moved to the Barossa with her family to run the bed and breakfast, Barossa House.
I asked her about the Greek flag, and she told me the reason why it was there.
After a while, I told her that I had a blog without revealing it was Greek Gods Paradise and told her I would probably write about the place.
I wanted to take a photo of her, but she laughed it off, saying that she wasn't dressed properly and wasn't wearing any makeup. I let her off the hook.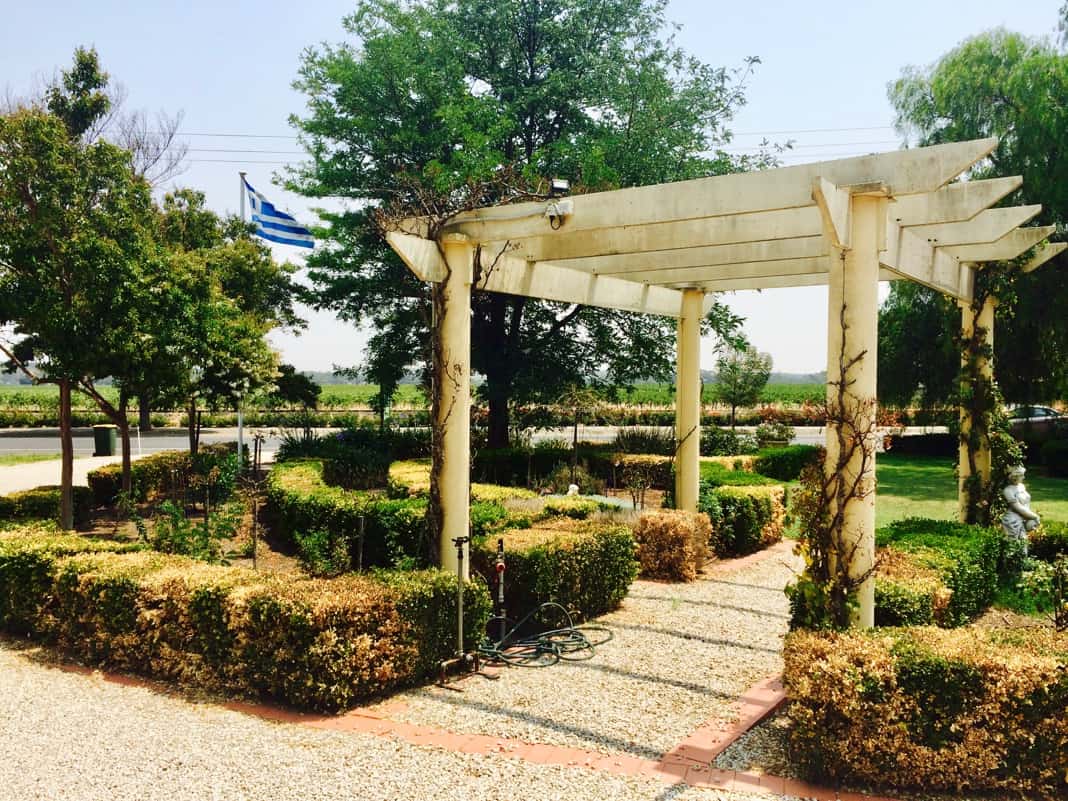 Taking down the Greek flag
So how was I responsible for lowering the Greek flag in the Barossa Valley?
Well, she obviously couldn't be sure what I was going to say about the Greek flag after reflecting on our meeting. She must have been a bit nervous.
Sophia never knew that my travel blog was called Greek Gods Paradise, as I never revealed it at the time. Maybe that would have changed things, who knows.
I never saw the Greek flag raised again after that day. At least I have the proof that it was once there.
11. Seppeltsfield Road
Seppeltsfield Road would have to be one of the most beautiful roads in the whole of South Australia. No trip to the Barossa Valley is complete without driving down this stunning road.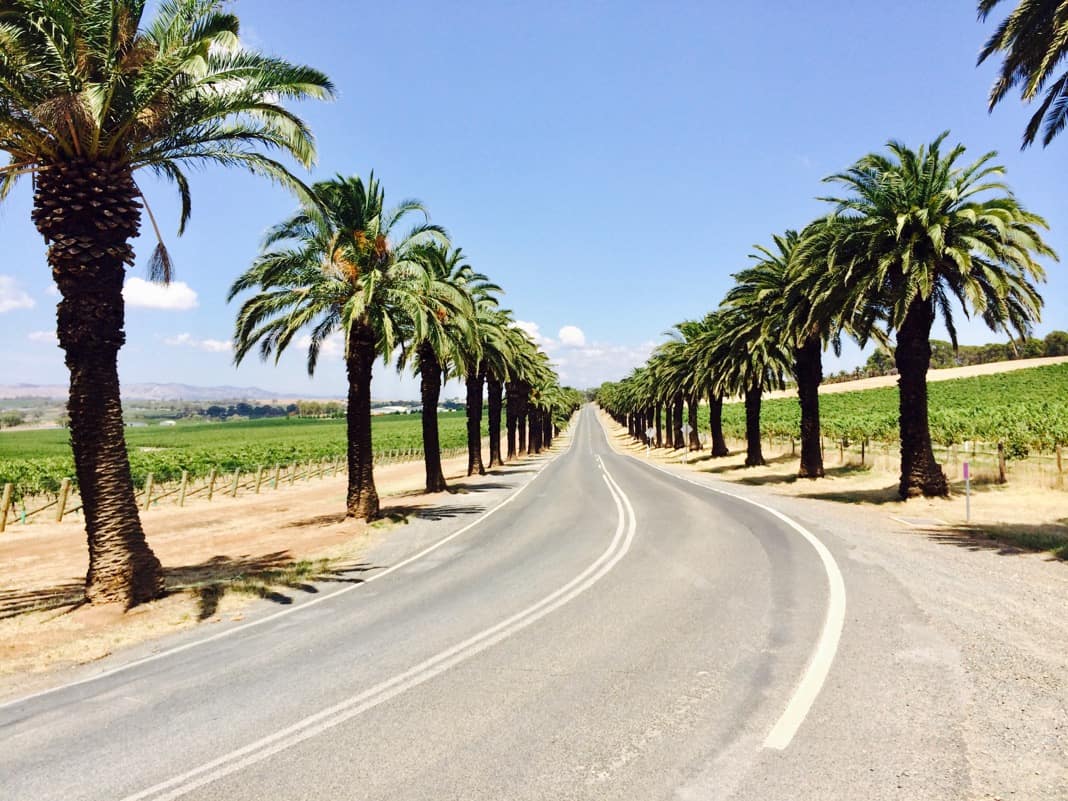 As you drive down Seppeltsfield Road, you will eventually enter a 5 km section of the road with Canary Island Date Palms on either side of the road.
These palm trees were planted during the Great Depression to keep workers employed.
Driving down Seppeltsfield Road will eventually take you to Seppeltsfield Winery, one of the most iconic wineries in the Barossa Valley.
If you didn't know about this road or Seppeltsfield Winery, the odds of driving on it by chance are very slim. Now that you do, you won't want to miss it.
12. Two Hands Winery
I came here for Aphrodite, Goddess of love, but ended up with Ares, God of war. Not sure how on earth that happened.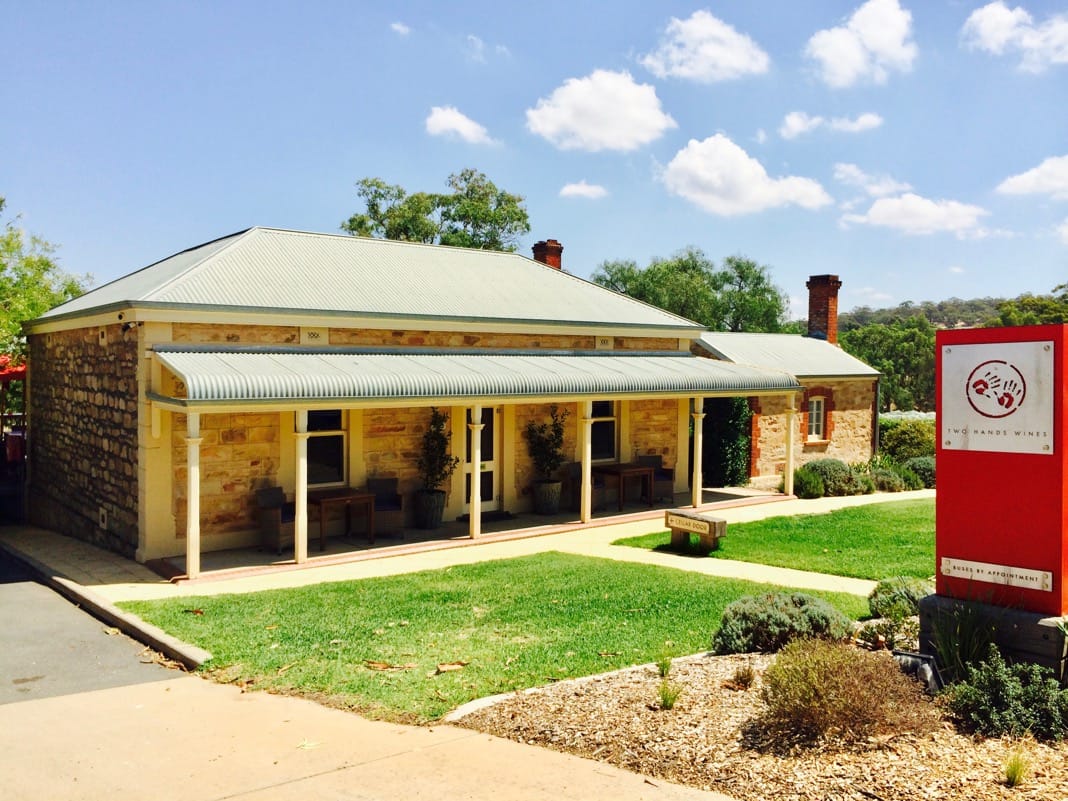 I have circled some of the wines of interest to me at Two Hands. You can see their names in the pic below.
Yes, all of these four wine bottles are related to Greek Gods, Goddesses, and Greek mythology.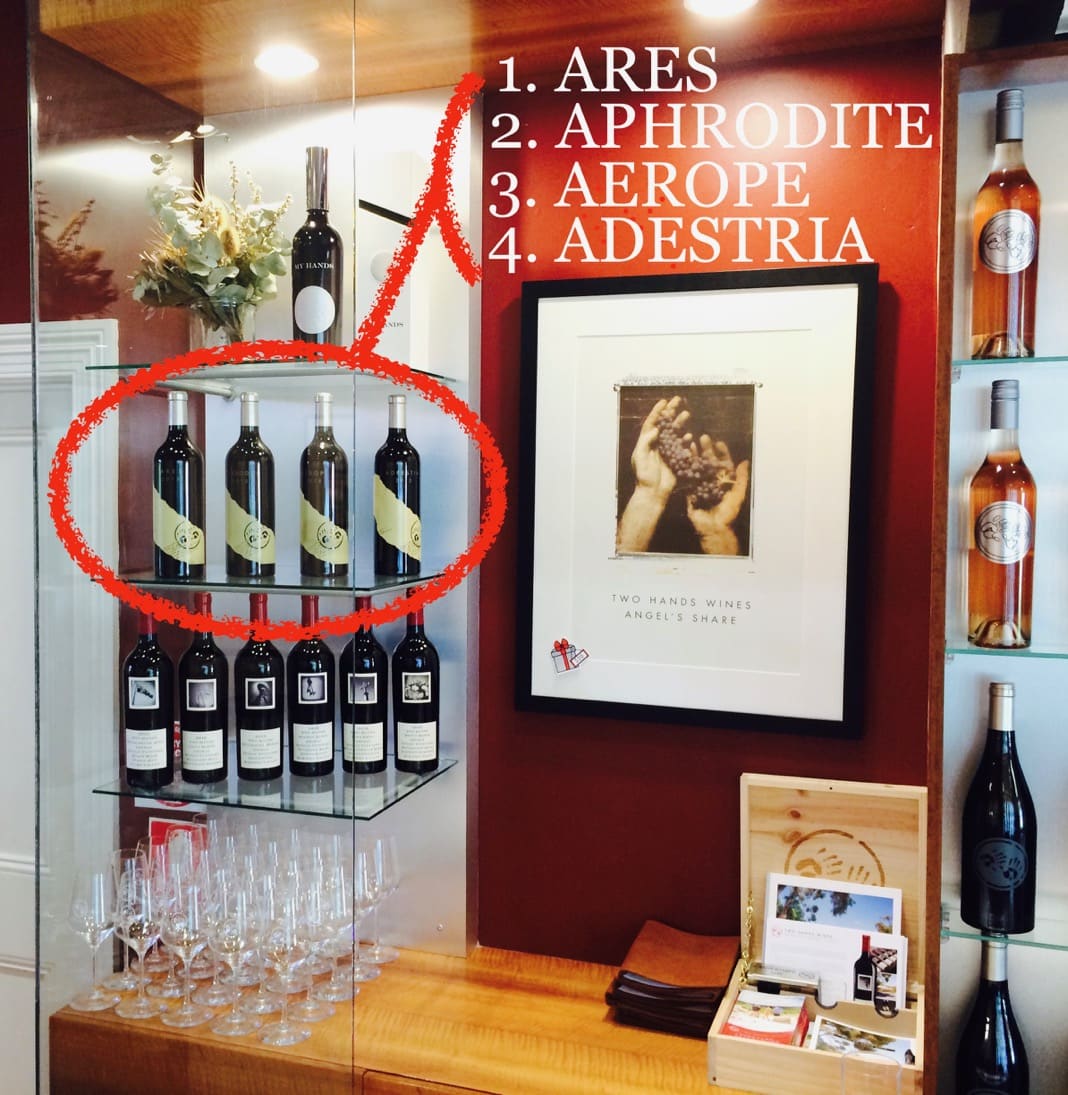 The reason for the wine names is actually more to do with the letter 'A' than their Greek associations.
I read about it somewhere that someone wanted the wine bottles to start with the first letter of the alphabet, and these were the wine names they settled on.
The Asian lady who greeted me offered a free tasting if I only tasted a couple of wines and a paid tasting for around 5-7 wines. I chose the free tasting because Aphrodite wasn't an option for either tasting.
I asked to taste Aphrodite, but my request was politely declined. I had to settle for Ares in the Greek myth range as that was the bottle for the day. The wine was top-notch. I'll say that.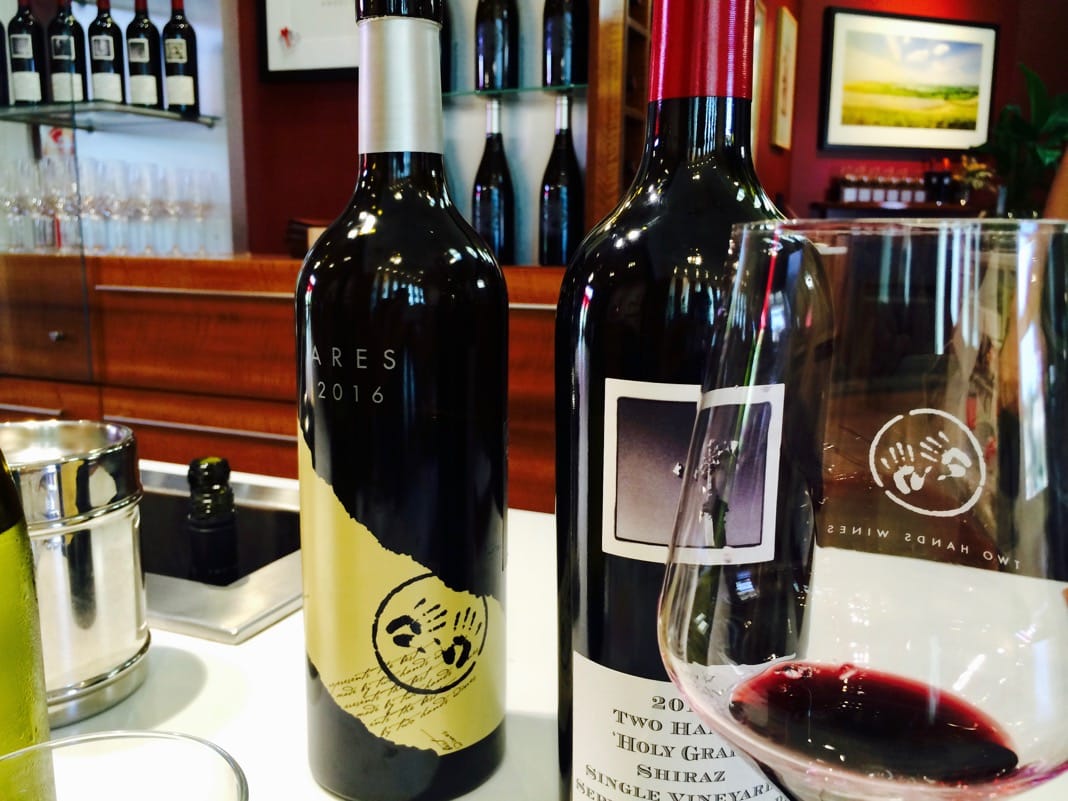 I also tasted the Holy Grail Shiraz, which I found extremely smooth with a very nice taste. Both of the wines were excellent, as you'd expect for two very high-quality wines.
Each bottle was around the $100 mark, so you'd hope that they would be superb, and they were. It was a bit too expensive for me, though.
I couldn't support Ares, so I didn't buy a bottle, though the Holy Grail was very tempting. Out of the two wines, I think I actually preferred the Holy Grail!
13. Zeus Oil and Wine Tasting at Paulmara Estates
One day I discovered that Paulmara Estates produced a bottle of Zeus extra virgin olive oil.
I contacted them and scheduled a time for a visit since it was by appointment only.
At the time, I wanted to pick up a bottle of Zeus oil and was also interested in doing a wine tasting.
It was a family business and Mara Georgiadis – married to a Greek guy – is how Zeus oil obviously started.
The thing was that they changed the Zeus label to their family name, so I had to request an old label on the olive oil bottle specially.
Before I arrived, I also requested to try a few wines between the $20-$30 price range.
During the wine tasting, one of the wines I ended up tasting was a mystery wine, labeled 'X.'
I asked about it, but Mara only said that if she told me anything about it, she'd have to kill me!
I ended up choosing a bottle of X and quickly departed with my Zeus oil.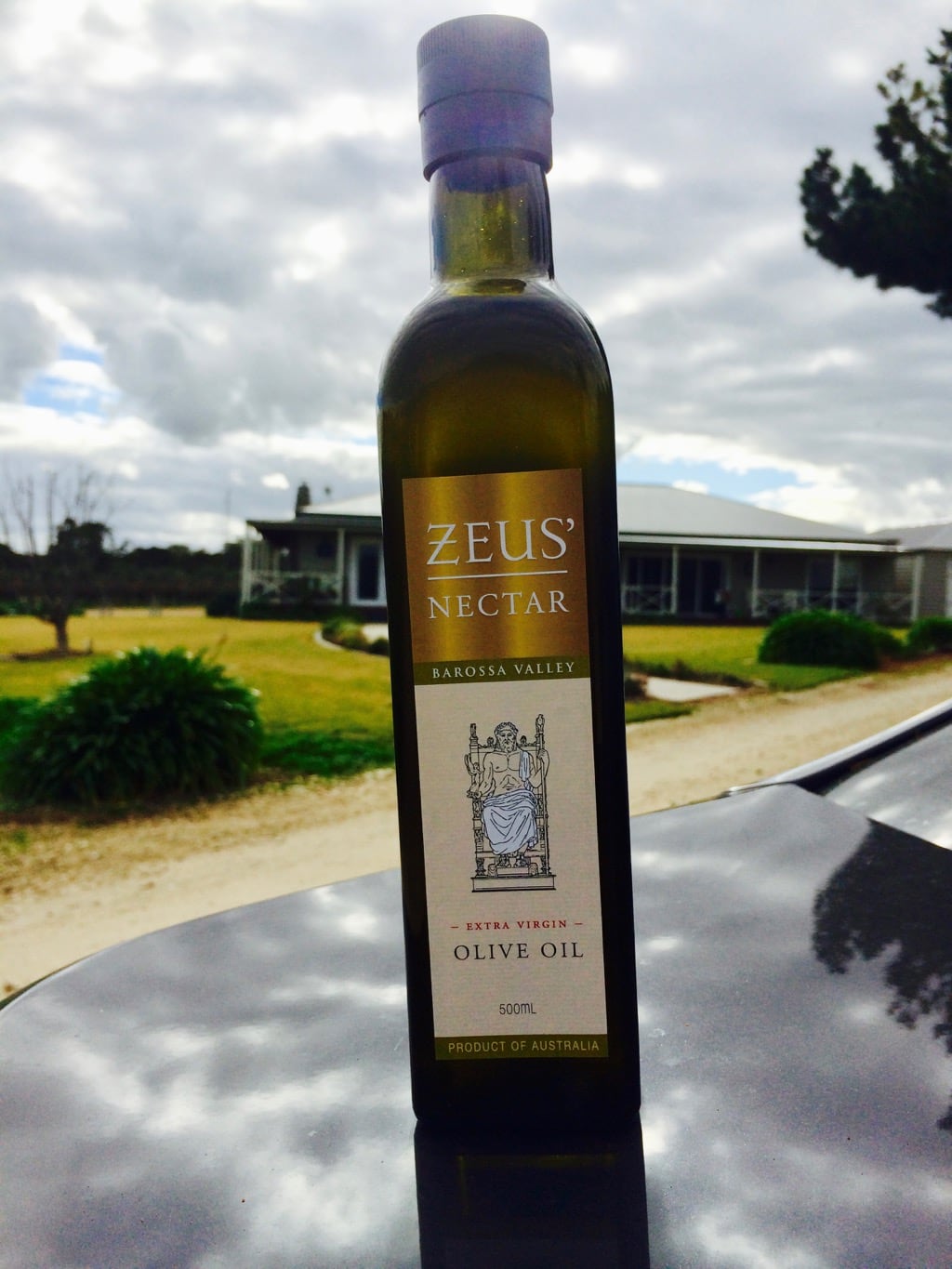 I'm probably one of the last people to have bought a bottle of Zeus extra virgin olive oil with this Zeus label.
I told her that I would probably be the last person to buy it, but she insisted that I wouldn't be the last, as I'd let everyone know about it.
Little did she know that I have a website called Greek Gods Paradise.
14. Barossa Valley Estate
Barossa Valley Estate is on the way to Seppeltsfield Winery on Seppeltsfield Road.
It's a hidden gem, and it has to be one of the most beautiful wineries in the Barossa Valley. The place is so serene.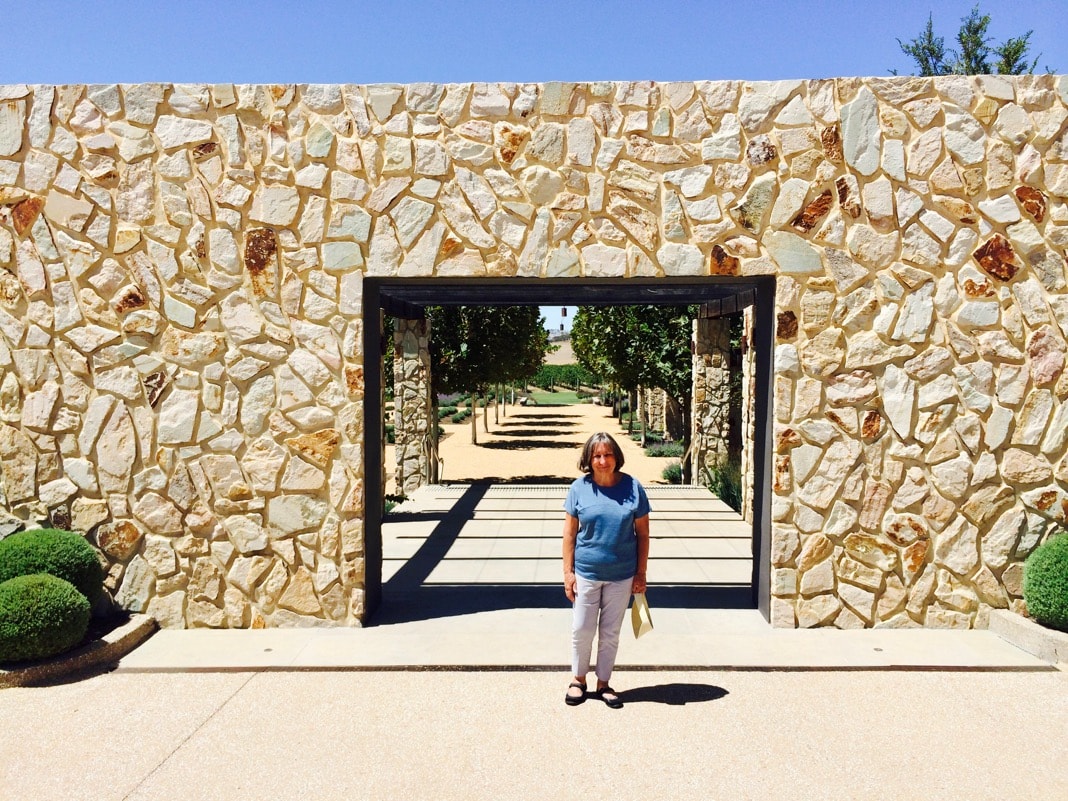 When my mum and I walked around the grounds, we saw bees galore buzzing around the flowers and shrubs.
Another thing that really stood out was seeing a silent driverless lawnmower cutting the grass.
It was the first time I had seen one, and it was incredible! The grounds are stunning at Barossa Valley Estate, and the grass is like carpet.
15. Seppeltsfield Mausoleum
As you leave Barossa Valley Estate and continue down Seppeltsfield Road, you'll soon see what looks to be a Greek temple high on a hill.
This is the Seppeltsfield Mausoleum, which houses the remains of numerous members of the Seppeltsfield family.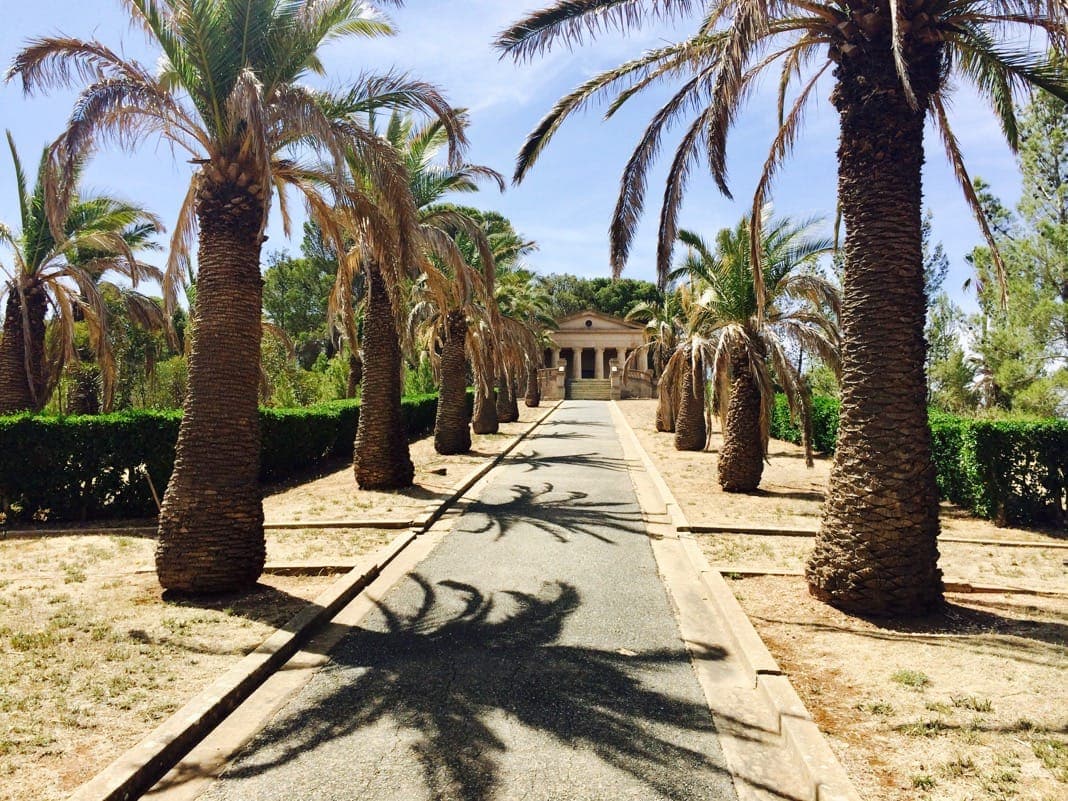 You can walk to the top for some great views of the surrounding area. It's a steep walk to the top, but it's worth the effort.
Mum was ok walking to the top but told me that her calves felt the strain. It's much steeper than the photo looks.
16. Seppeltsfield Winery
Seppeltsfield Winery is definitely one of the best wineries in the Barossa Valley. It's like finding an oasis in the desert.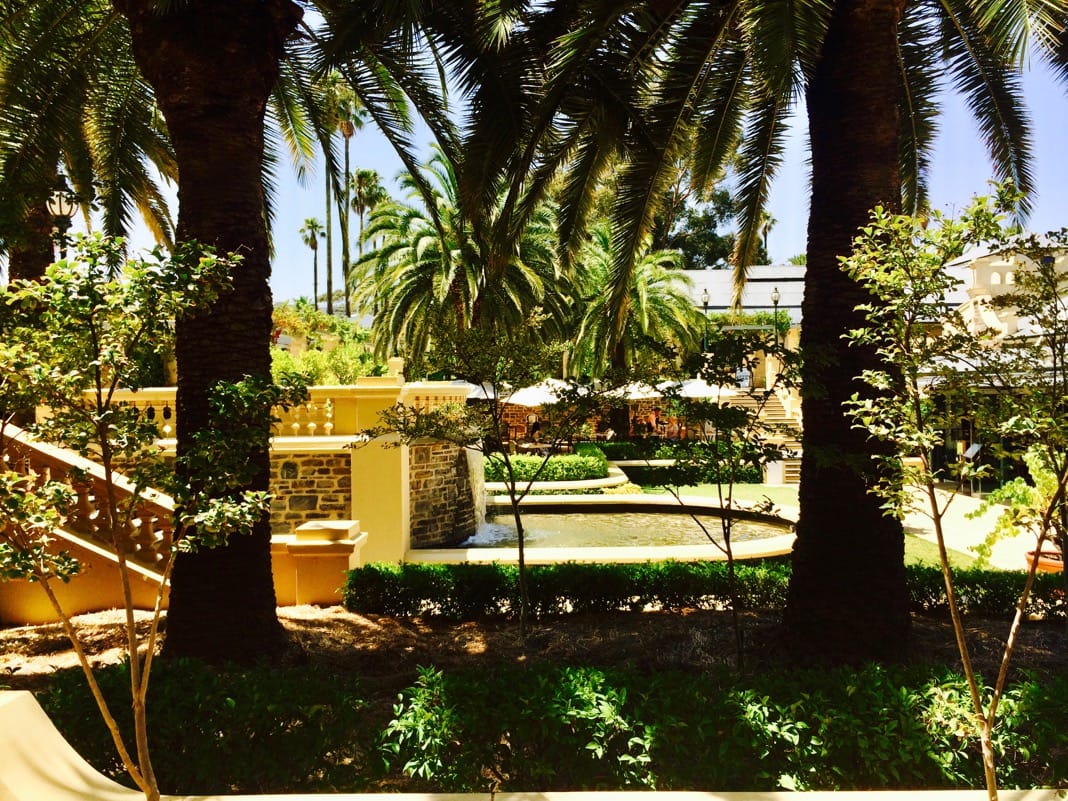 One of the most tempting taste offerings at Seppeltsfield is to have a taste of Vintage Tawny from the barrel of your birth year. To me, it seems incredibly expensive, at around $100 per person. Whoa!
Seppeltsfield also has the JamFactory to wander through if you'd like to look at some arts and crafts from the Barossa for sale.
Fino Seppeltsfield is a fine dining restaurant and provides customers a progressive regional dining experience.
The other thing I saw that looked like it would be fun was a Segway (Smart Moped-Style Electric Bike) tour, which operates on the winery grounds. I once saw a whole group of people enjoying themselves on Segways.
17. Tscharke's Place – Tscharke Wines
After leaving Seppeltsfield Winery, make your way to Tscharke's Place.
You won't see this building from the side of the road, so you'll need to look for the sign and turn in. For some reason, it is situated behind an ugly shed.
Once you make your way around, you'll be stunned by a lovely building. For some reason, I think of the Hansel and Gretel German fairy tale when I look at this building.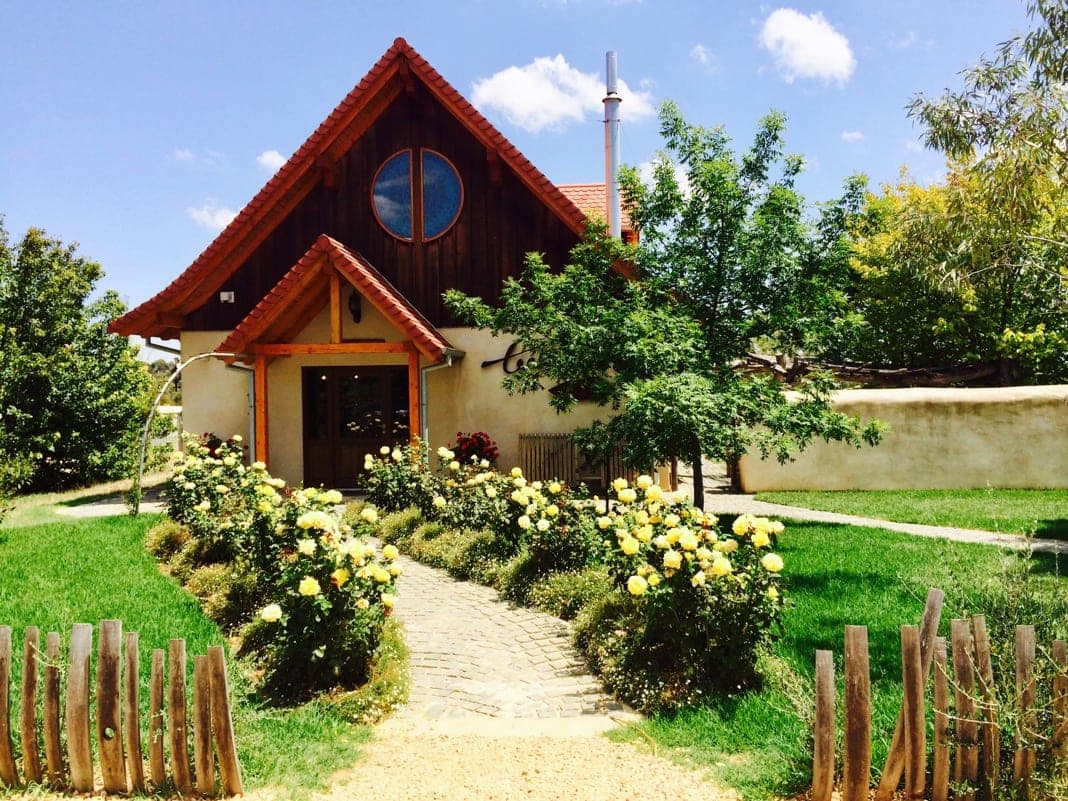 Tscharke's Place has a great reputation for offering great value for money wine.
18. Maggie Beer's Farm Shop & Cafe
Foodies shouldn't miss out on visiting Maggie Beer's farm shop and restaurant.
For those of you who don't know, Maggie Beer is one of Australia's best-known chefs. She has numerous cookbooks to her name and has been a regular guest on MasterChef Australia.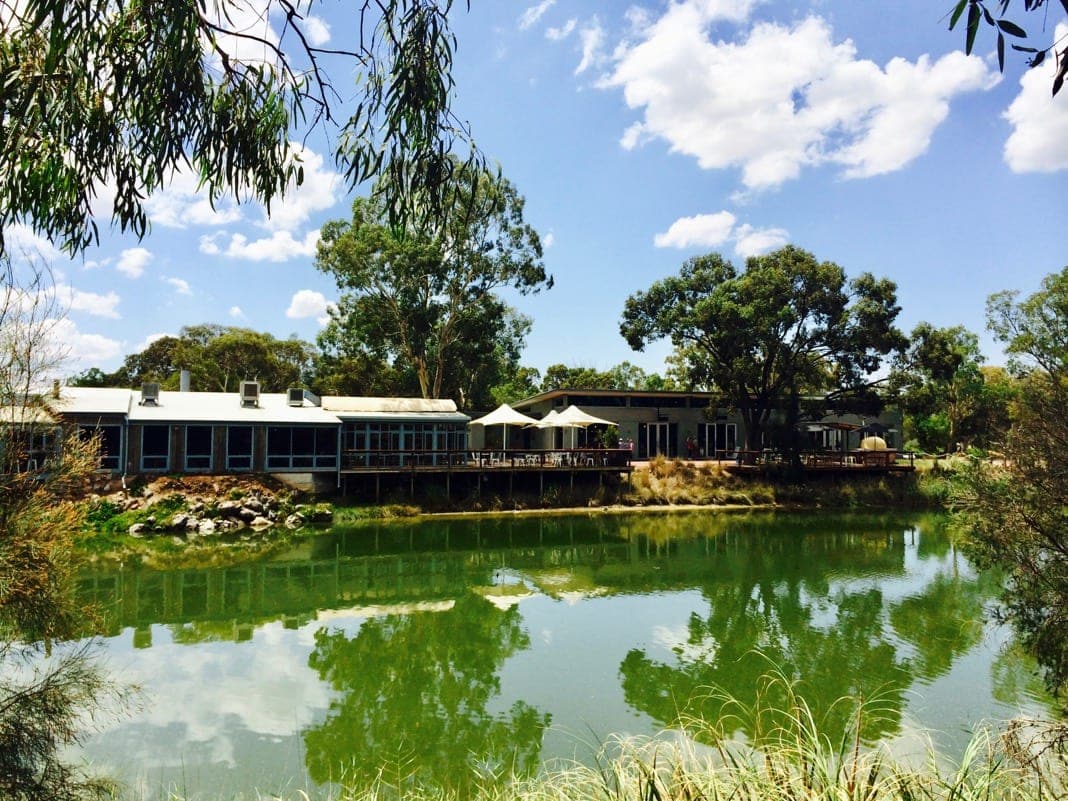 Inside the shop, you can expect to find all kinds of products associated with the Maggie Beer brand, from pantry staples to gift hampers and books.
The beauty of this place is that it is situated next to a dam. You can even go for a walk around it on a path that circles the water.
19. Angaston
The town of Angaston has a Bacchus Mural at the Angaston Pub. I found this out when I read the sign below. Need I say more?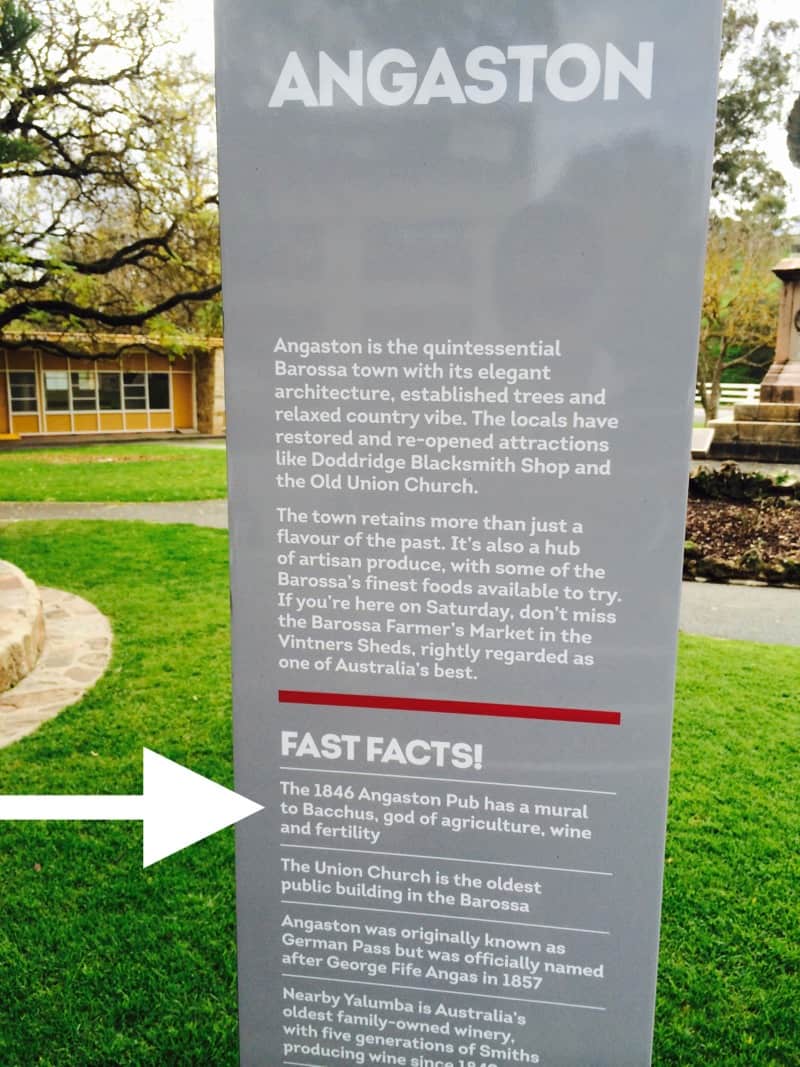 I like how they put a Greek and Roman God above the Church. It's obviously the most important fact in the town.
One of the most well-known wineries in Angaston is Yalumba. You will have to check it out if you go to Angaston.
If you only have a day trip to the Barossa Valley to play with, you can't do all of these things on this list as it will be too rushed.
I'd probably skip Angaston on a one day trip to the Barossa Valley. That way, you can focus more of your time elsewhere.
Then again, a quick drive to Angaston and Yalumba is doable. I'd allow 1 hour at most, including drive time.
20. Jacob's Creek
I'd probably prefer to visit Jacob's Creek because the winery setting is more beautiful, and the views over the vineyards are stunning. It feels like you're in wine country when you visit Jacob's Creek, much more so than Yalumba in Angaston.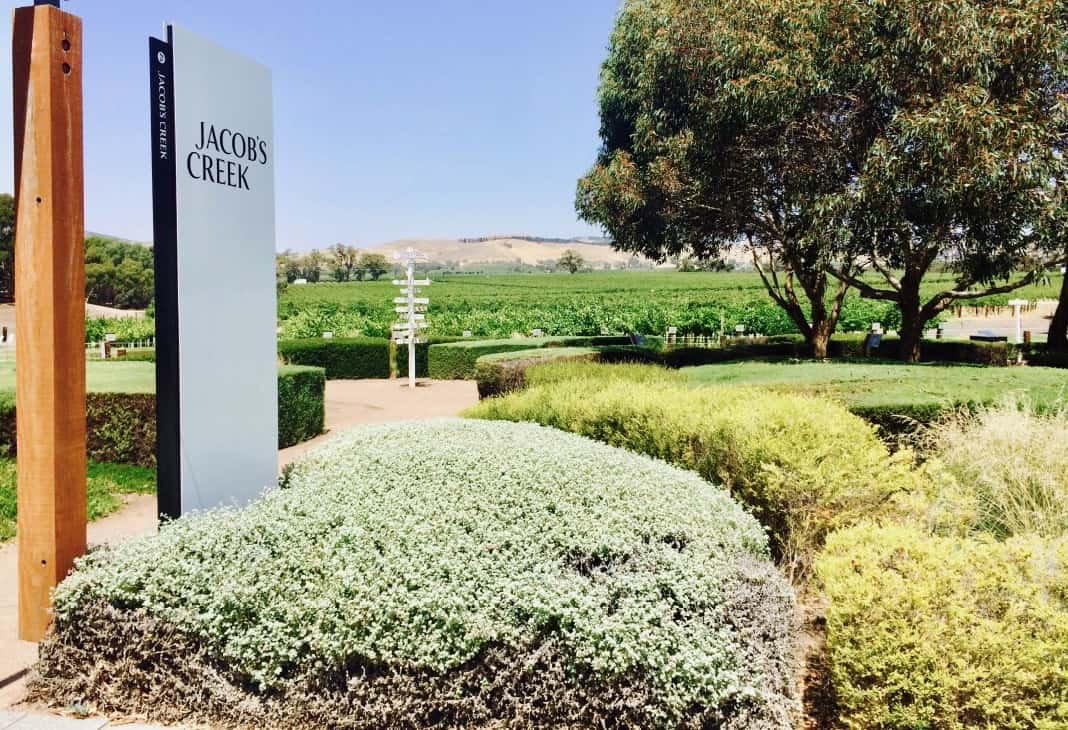 Don't try to squeeze everything into one day because then you'll miss out in other ways. I personally think you should only visit 5 or 6 Barossa Valley wineries at most in one day.
Jacob's Creek is one winery that is worth visiting for a short time.
21. Eat at one of the finest restaurants in the Barossa Valley
There are quite a few Barossa Valley restaurants worth eating at, and one of them is called fermentAsian. This restaurant is a bit different from other Barossa Valley restaurants because it offers Southeast Asian food. It has excellent reviews.
The restaurant is located in a building behind the water feature on Tanunda's Main Street.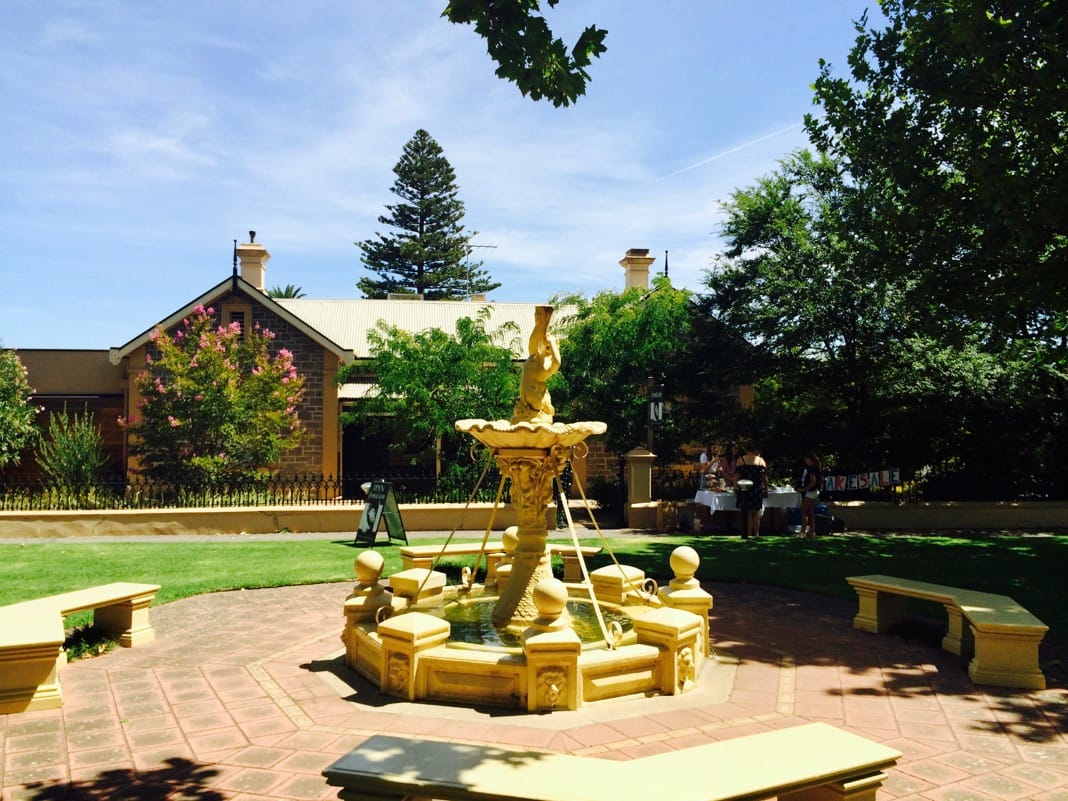 Even Bacchus has a restaurant at the Barossa Motor Lodge.
Some of the Barossa Valley's best dining experiences can be found at Hentley Farm Restaurant and Appellation at The Louise.
It will probably cost you a small fortune, but I'm sure the meals would be absolutely delicious.
22. Stay in the Barossa Valley for a night or two
Here's Barossa House, where I found the Greek flag. Apart from the Greek flag on one side of the driveway, a boxing kangaroo flag and an Australian flag were on the other side.
Even Cupid, the God of love, has his own cottage in the Barossa Valley, aptly named Cupid's Cottage. This is the entranceway to Cupid's cottage, situated in a more private exclusive area next to a watering hole.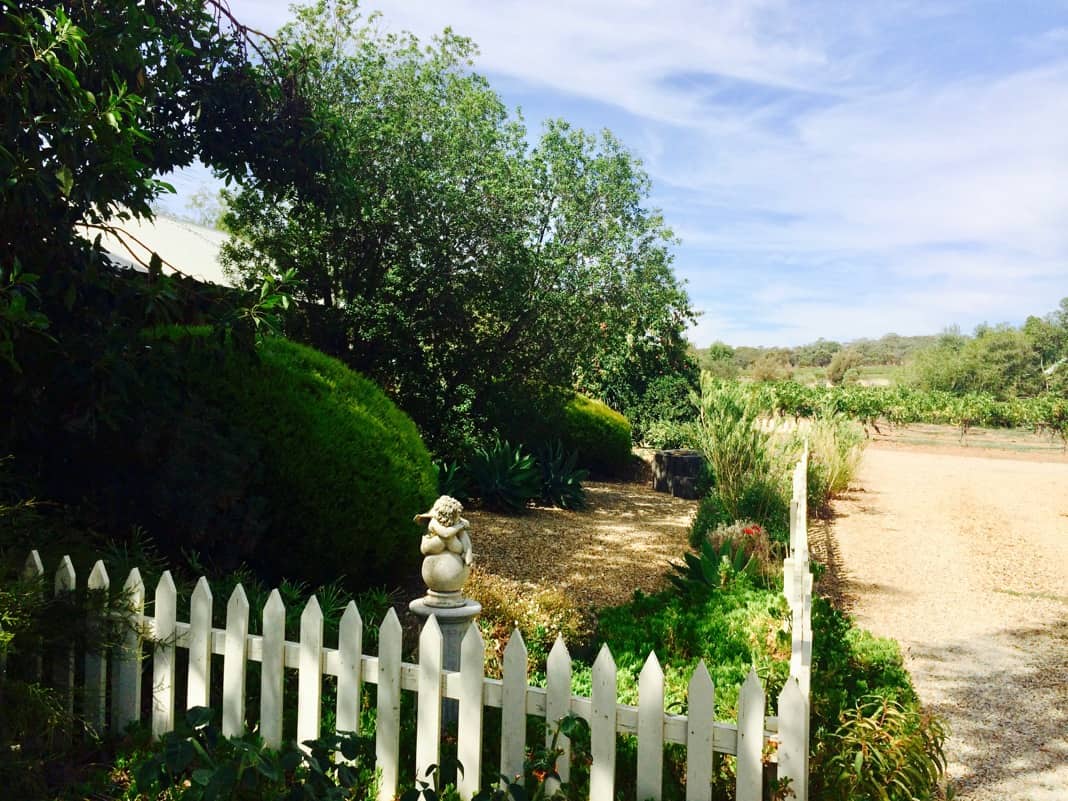 Another favorite Barossa Valley accommodation option is Novotel Barossa Valley Resort.
There are plenty of accommodation providers in the Barossa Valley, so you have plenty of choices.
23. The township of Bethany
Bethany is considered to be the first German settlement in the Barossa Valley area. It is a small village about 2 km south-east of Tanunda.
Head over to Bethany Wines so that you can at least say you've been to Bethany.
24. Lou Maranda Wines
Feeling like Italian in the Barossa Valley? If you do, you have the option of dining at the restaurant at Lou Maranda Wines. The restaurant serves Italian dishes with paired wine.
You can also go for a wine tasting at the cellar door.
25. Lyndoch (Barossa Valley town)
You will pass through Lyndoch when you make your way from Barossa Chateau (Number 1 on this list) to the town of Tanunda.
26. Hemera Estate, Lyndoch
Hemera is the Goddess of the daytime. According to Hesiod, she is the daughter of Erebus and Nyx (Goddess of the night).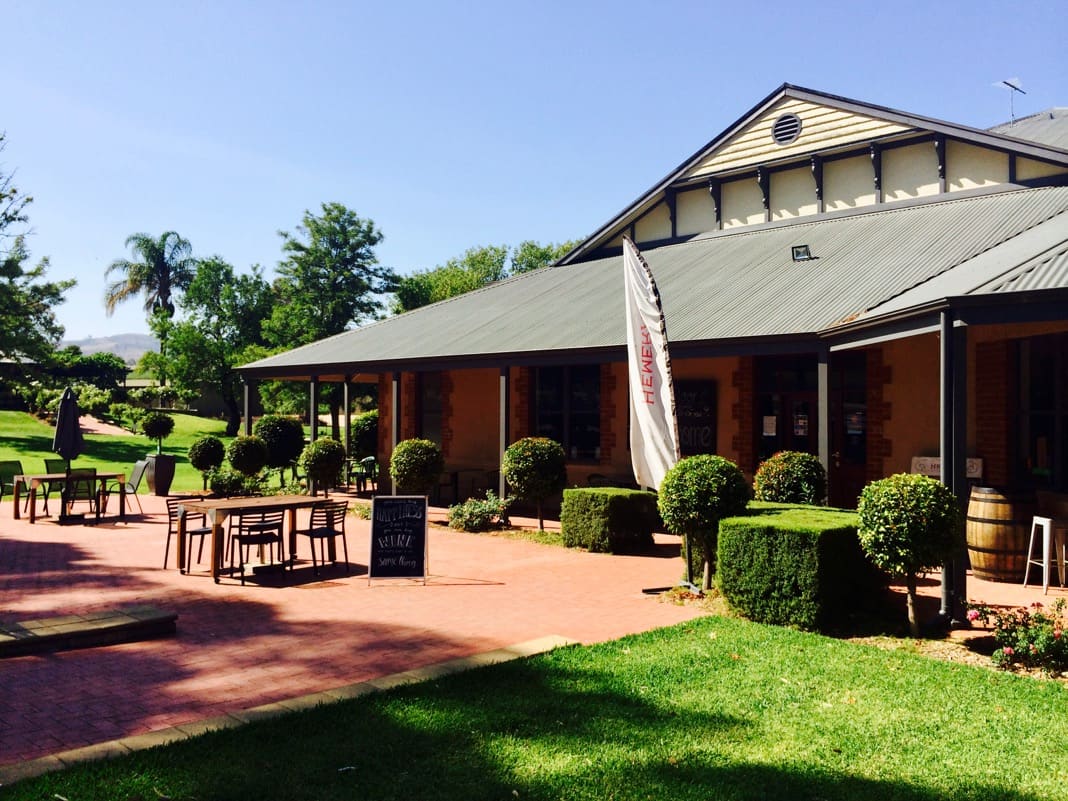 27. Barossa Reservoir Whispering Wall
This wall is absolutely incredible! If you go there with someone, one of you can stand on one side of the wall and the other on the furthest side of the dam wall.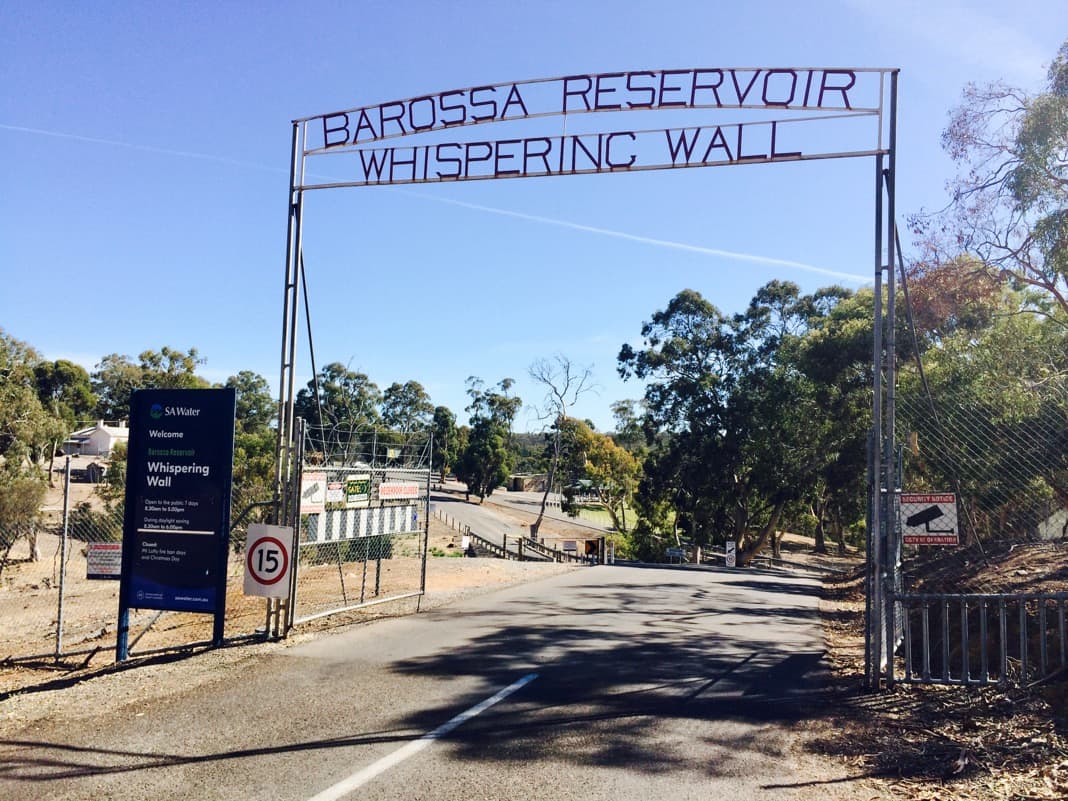 You can then speak to each other even though you're over 140m away from each other. All you have to do is talk into the wall.
More Things to do in Barossa Valley
28. Hot air balloon ride over Barossa Valley
29. Barossa Valley wine tour
30. Barossa Farmers Market (Saturday morning)
Where is the Barossa Valley?
The Barossa Valley is only an hour's drive from the Adelaide CBD.
This fabulous wine region in South Australia is considered Australia's most famous wine region, and for a good reason. It is the biggest producer of wines in the country.
Even if you aren't a wine drinker, there are still plenty of beautiful sights to see in the Barossa Valley, as you've found out.
I also classify the Barossa Valley as one of the 10 best things to do in Adelaide generally. You may want to read about it in this post.
How long should you stay in the Barossa Valley?
A day trip to the Barossa Valley won't give you as much time as you really need to appreciate the Barossa fully.
This wine region really deserves more than just one day to explore, but you can still have an awesome day out if you only have one day to play with.
Spending one day in the Barossa will allow you to see and do quite a few different things. Spending two, three, or four days in the Barossa Valley is even better.
I think a two-day trip to the Barossa Valley is perfect because then you can go on a weekend. Staying there on a Saturday night is the icing on the cake.
Other wine regions in Adelaide
Adelaide has a few other wine regions quite close to the city. All of them are great attractions.
The other main wine regions include the McLaren Vale wine region, Clare Valley, and the Adelaide Hills.
The Barossa Valley is hands down the best of them. There you have it, thirty things to do in Barossa Valley and the most beautiful attractions.