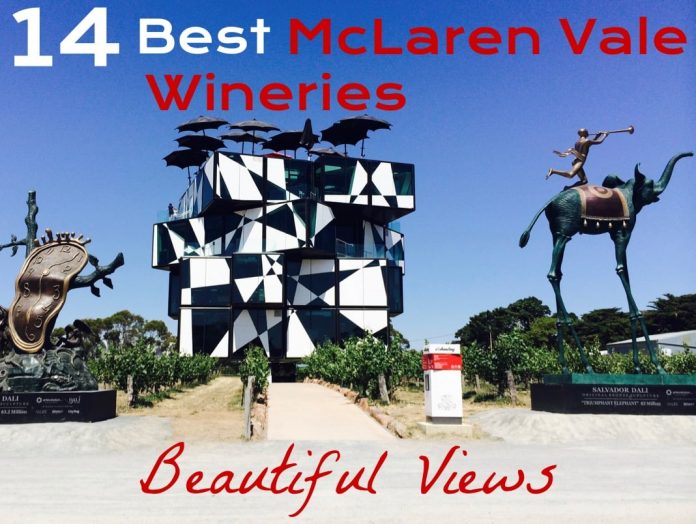 Here I show you the 14 of the best McLaren Vale wineries and cellar doors with beautiful views to match.
There are over 70 wineries in McLaren Vale so there are quite a few cellar doors to choose from.
McLaren Vale if you didn't know is both a town and a wine region on the Fleurieu Peninsula in South Australia.
This wine region is best known for its Shiraz but there's also Grenache, Cabernet Sauvignon, Chardonnay and plenty of Mediterranean wines to taste.
All of these 14 great McLaren Vale Wineries should be high up on your list when thinking about the best wineries to visit in McLaren Vale. You can't go wrong if you visit a few of these wineries.
McLaren Vale is only a short 40 minute scenic drive from Adelaide, the capital city in South Australia.
The McLaren Vale wine region is located on the south side of the city, whereas Adelaide's more famous wine region the Barossa Valley is located on the northern side.
If you only have one day to explore a wine region near Adelaide I highly recommend choosing McLaren Vale over the Barossa. It has so much more to offer.
Don't try and squeeze in visiting McLaren Vale and the Barossa on the same day because it would be a very long day and most of your time would be spent on the road. What a waste.
I personally think the McLaren Vale wine region is much more beautiful and I think you would agree if you visit both wine regions. You definitely require at least two days if you would like to enjoy both places.
The added beauty with McLaren Vale is that you will also be close to the magical beaches of the Fleurieu Peninsula such as Port Willunga – famous for the Star of Greece shipwreck.
After a great day of wine tasting in McLaren Vale you can head over to Port Willunga where you can finish off your day by admiring the beautiful sunset.
On a hot summer's day the sunset is often spectacular! Going for a swim should also be on the agenda if it's a nice summer's day. Make sure you don't forget to bring your bathers.
The Best McLaren Vale Wineries
How did I come up with this list of the 14 best McLaren Vale wineries? Well, I visited many of the wineries in the McLaren Vale region and picked those that really stood out for some reason.
I'm sure you will be very pleased if you get to visit a handful of these top wineries. I think visiting 5 or 6 of these wineries is very doable in one day. Choose wisely and enjoy!
1. The d'Arenberg Cube, McLaren Vale
One of the first stops in McLaren Vale everyone should make is to stop by and see the d'Arenberg Cube.
If Willy Wonka had a wine factory then this would be his dream building.
The building with 5 levels looks more like a Rubik's cube and would have to be one of the most unique structures in the entire world.
It even has small balconies where you can stand outside and marvel at the stunning views.
The d'Arenberg Cube is home to their tasting room, restaurant and Alternate Realties Museum.
The feature picture above was taken during a Salvador Dalí exhibition. You can see a warped clock on the left and someone blowing a trumpet while riding an elephant on the right.
Inside the building you'll also be able to see some weird, whacky and interesting art. A trip to the bathroom at one stage is a must. You will have to pay a small fee to enter.
The Cube also houses a fine dining restaurant which is super expensive but if you can afford it, go for it. Dining and wine tasting takes place on the top floor.
The d'Arenberg Cube restaurant would have to be one of South Australia's finest dining experiences.
The restaurant has the accolade of being the first in Australia to create food using a 3D printer which was even shown on the TV show MasterChef Australia.
The winery's original fine dining restaurant overlooking the rolling hills of McLaren Vale remains next to the Cube. It is known as D'Arry's Veranda Restaurant and foodies flock to it for the incredible seasonal menu.
You can see the side of the D'Arry's building in the photo below. The picnic ground next to it is also a great option for budget-minded visitors.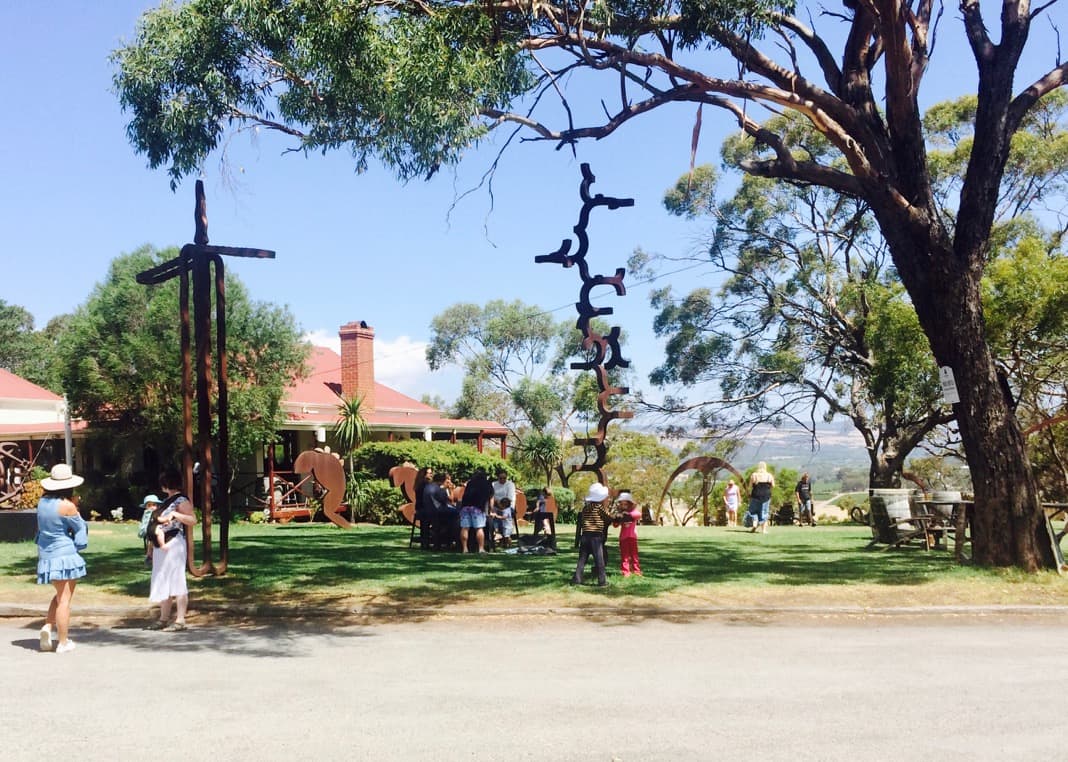 D'Arry's gives you the option of a la carte or degustation dining. Their signature dish for the Entree is the Australian lobster medallion with blue swimmer crab and prawn ravioli lobster bisque. It's a must for seafood lovers.
Keep in mind, when dining on the weekend there is a minimum entree and main per person.
When you enter and leave the winery you will notice a giant copper covered sculpture of two hands by the side of the road.
Fingers represent 4 generations of family members who worked the soil and turned the grapes into wine. The Hands that work the land even possess perspex grapes in the palms which are lit at night. It makes for a great photo stop.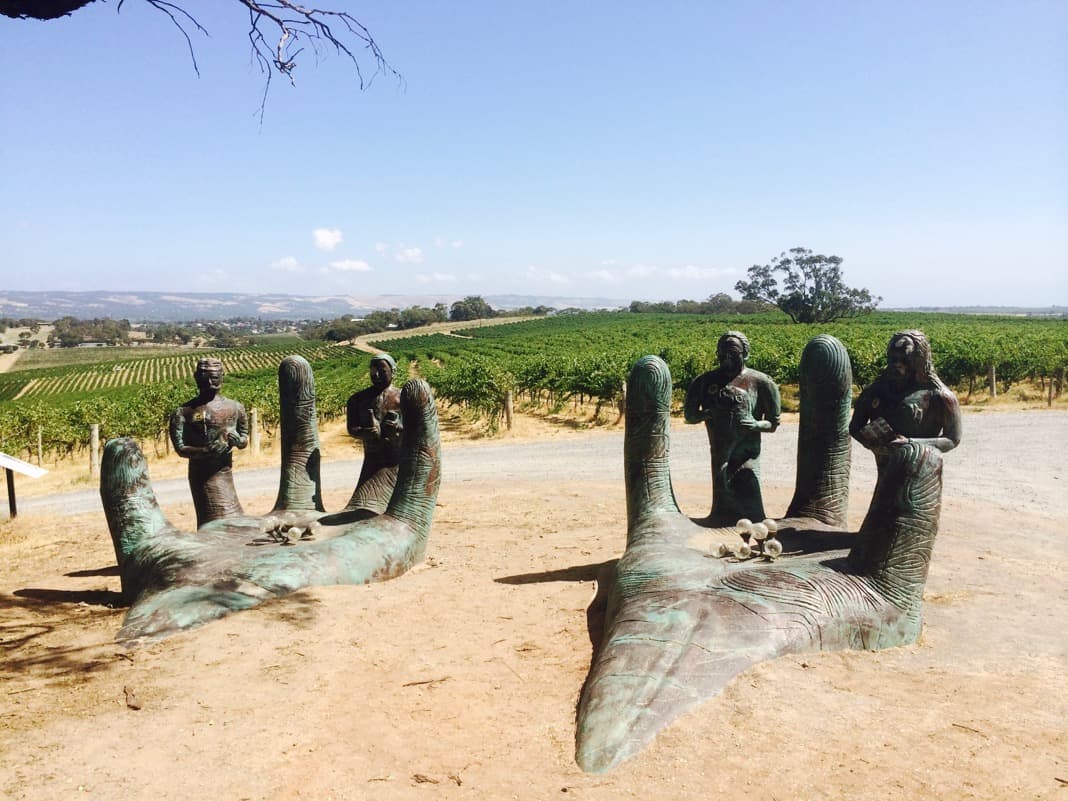 2. Hugh Hamilton Wines, McLaren Vale
The drive up to the Hugh Hamilton's circular cellar door along a lovely tree lined driveway is very memorable.
Along the way you will see a few "sheep dip" signs that warn you of road dips.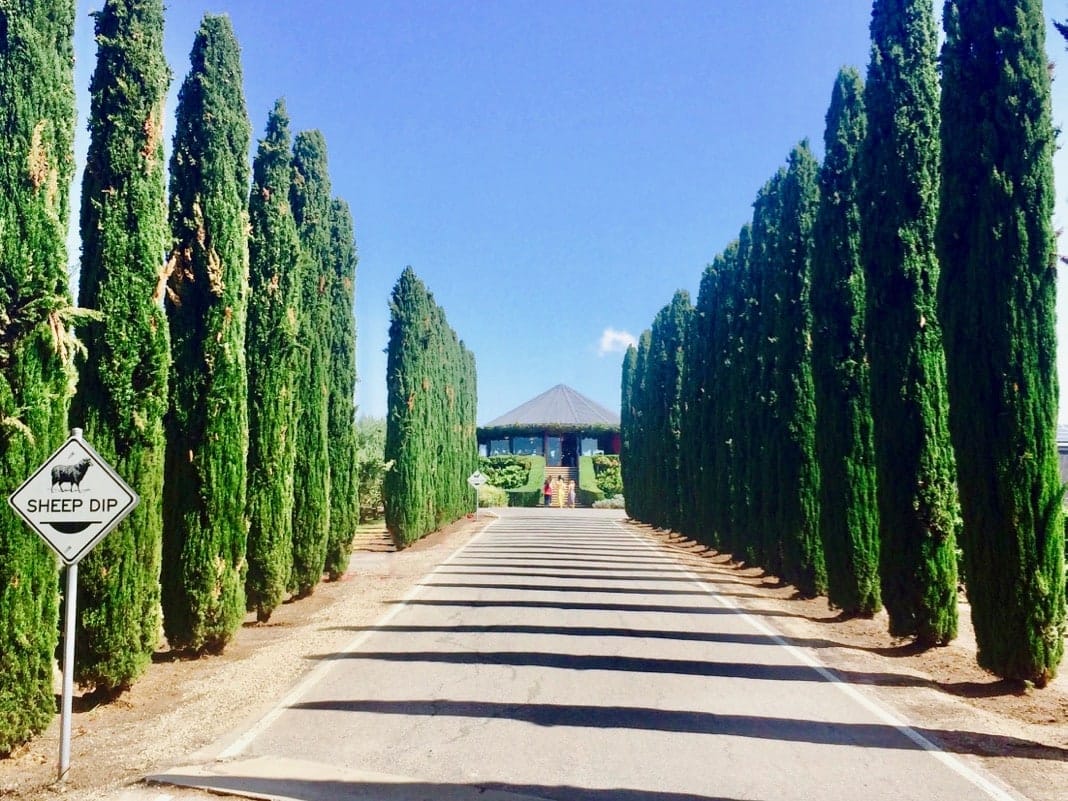 Hugh Hamilton, the owner considered himself the black sheep of the family. When you come across the sheep statue on the short stairway to the cellar door you'll now understand why.
When I went I had no idea why anyone would want to associate sheep with wine. Even now it still seems a bit bizarre.
He also came up with some weird wine names to match his eccentricity including labels such as the Drama Queen, Trickster, Floozie, Villain, Ratbag, Scallywag and Mongrel.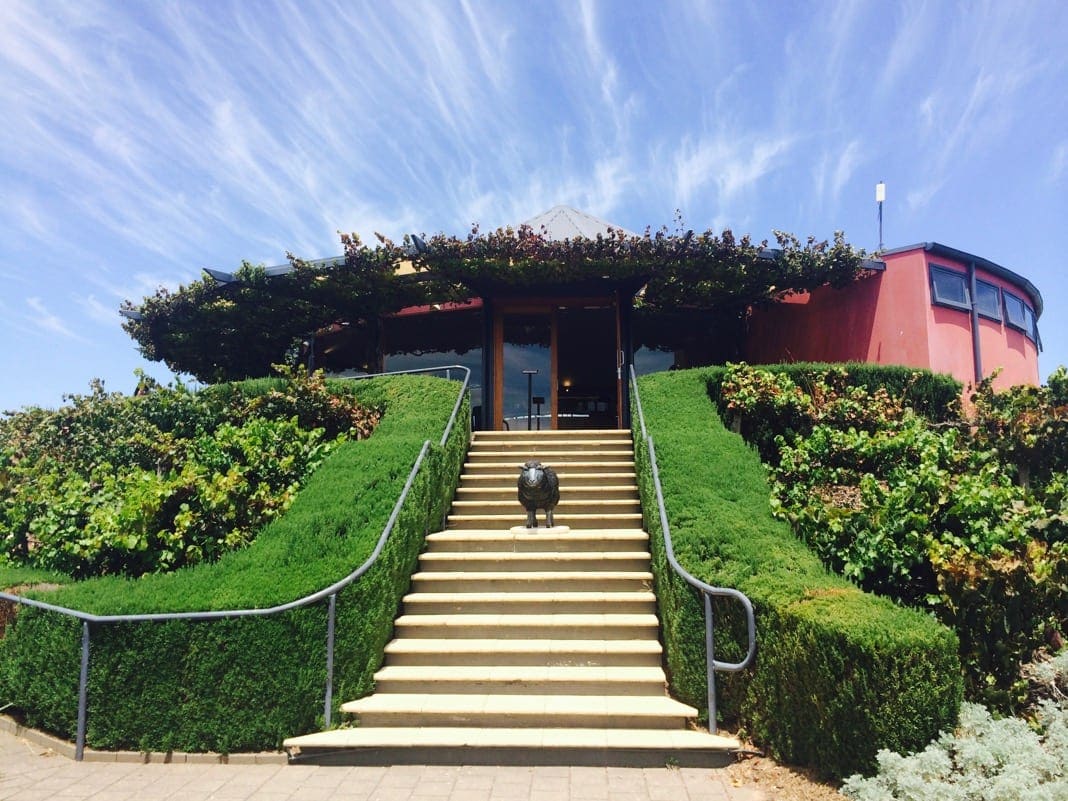 The circular cellar door was constructed on an old water tank. It is covered in vines and has windows nearly all the way around giving visitors very pleasant 270-degree views of the surrounding vineyards.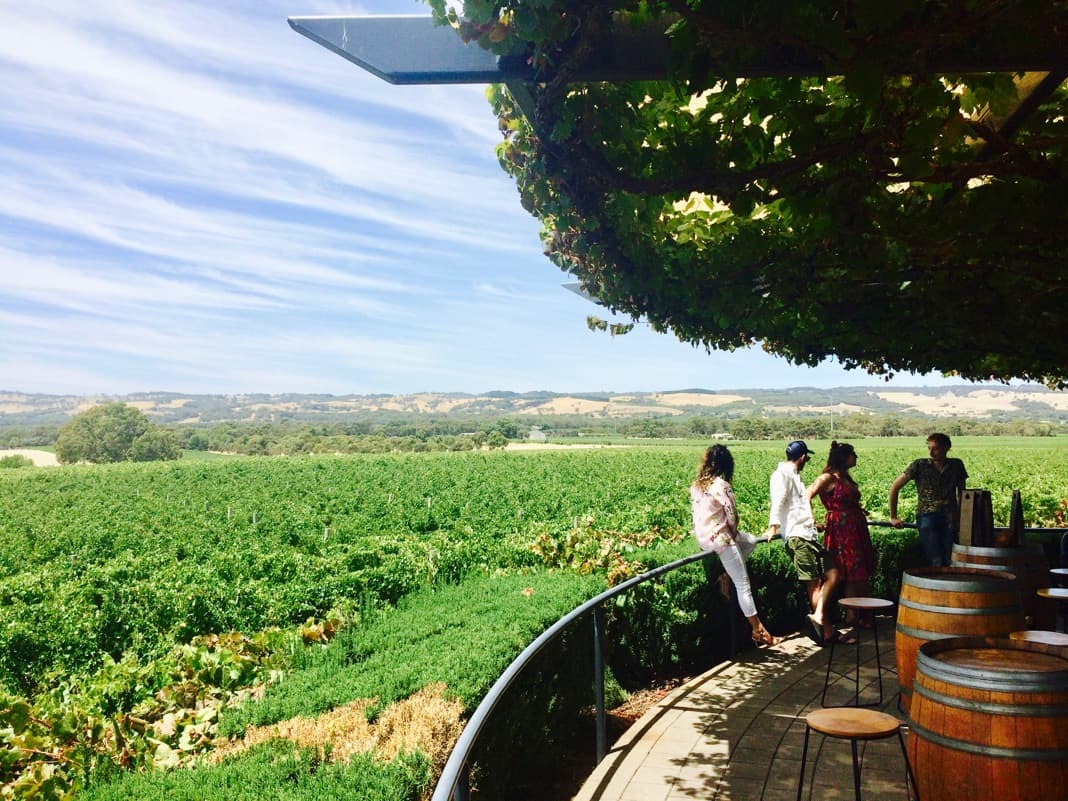 Wine tasting at Hugh Hamilton Wines is quite relaxed because instead of standing up at the bar, you are seated inside the room for the tasting experience.
3. Down the Rabbit Hole Winery, McLaren Vale
One of the most unique regarding Down the Rabbit Hole Winery is that they have converted a light blue double-decker bus into a wine tasting room.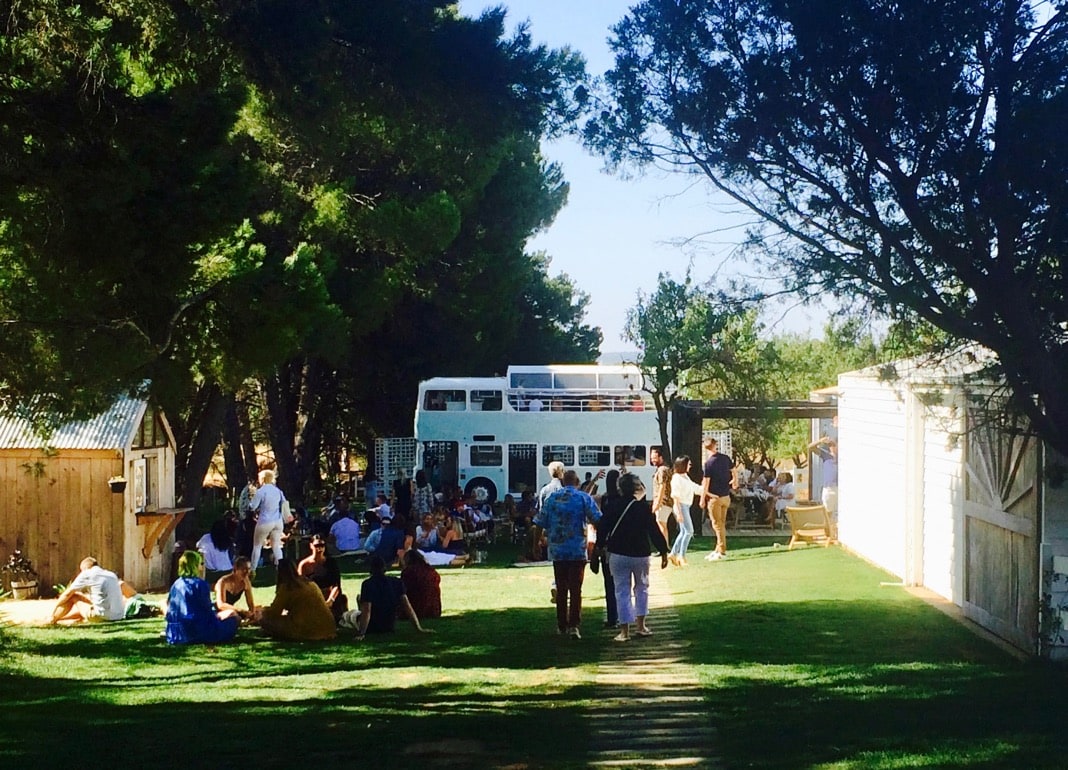 They even have a small wooden coffee hut that sells coffee. This winery seems to attract a cool crowd of visitors.
Down the Rabbit Hole suggests that you're about to enter somewhere magical and I fully agree with that.
The added allure to this winery is that it was created by the cool cats Elise Cook and Domenic Palumbo, who went on an epic adventures around Australia in their VW Kombi named Scout.
On Friday evenings Down The Rabbit Hole is also known of having live music outside. It's worth checking out and from what I hear it is very popular. Hope you like crowds. I was there on a Saturday and the large carpark was pretty much full so I can only imagine.
4. Alpha Box & Dice Winery, McLaren Vale
My own personal favourite wine tasting experience in McLaren Vale would have to be from Alpha Box & Dice Winery.
The hip place is very upbeat and all of the wines included in their tasting menu were to my taste. The Zaptung Prosecco with its smooth bubbles was especially enjoyable.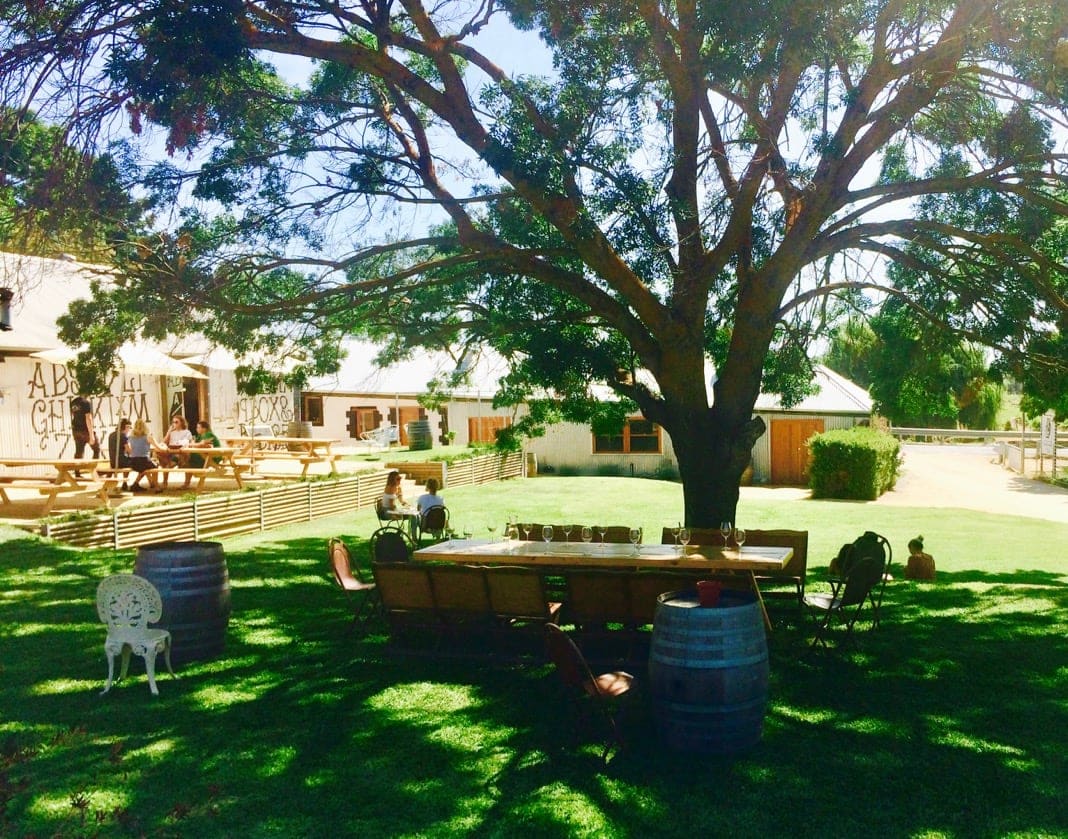 I requested a taste of a premium wine called Hercules which I had the pleasure of tasting at the end of the end of the normal wine tasting which included 7 wines.
Hercules Shiraz is one of their big reds, unrivalled in boldness, strength and power. I enjoyed a small taste of the wine but it was a bit too rich for me at $85 a bottle.
Siren (Nero D'Avola – the most important red wine grape in Sicily) and Blood of Jupiter (Sangiovese 85% / Cabernet Sauvignon 15%) were no longer available at the cellar door when I was there but they still had bottles on display sitting high up on a beam.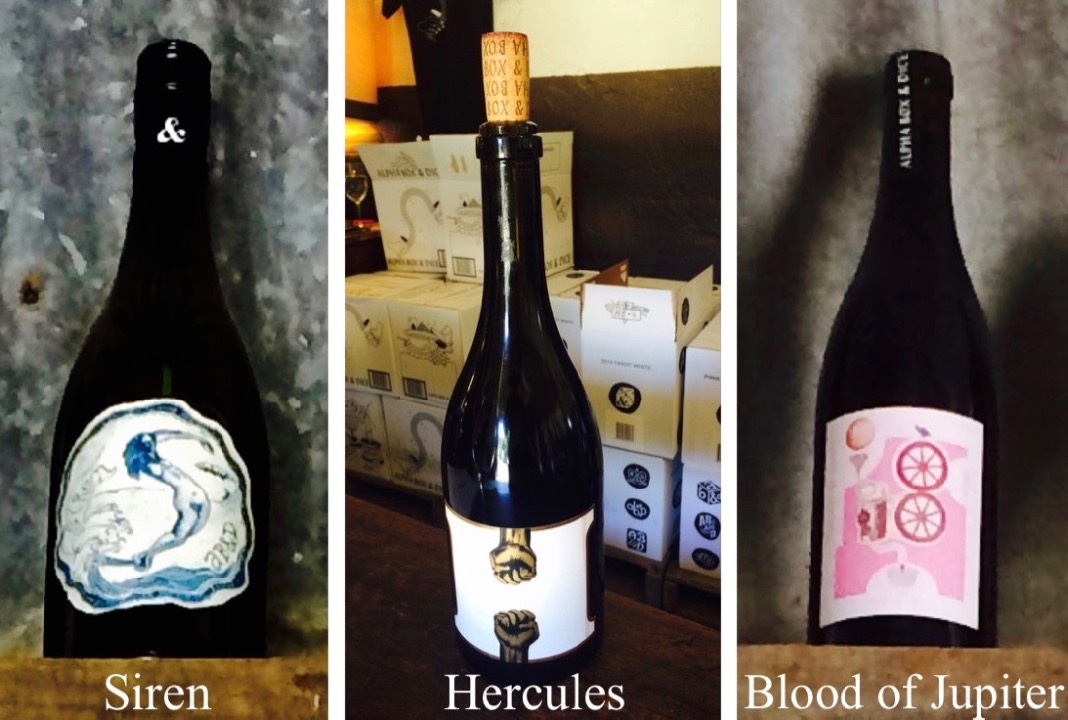 The Siren bottle label is actually a naked woman bent in the shape of the letter "S".
In Greek mythology, Sirens lured nearby sailors with their enchanting singing so they could shipwreck them on the rocky coast of their island.
Sirens were most famously mentioned in Homer's famous poem, The Odyssey. In this epic adventure the hero Odysseus instructed his fellow crew to tie him to the ship's mast. He also made the crew cover their ears with wax which allowed him to safely hear their sweet song. Very smart when you think about it.
Alpha Box & Dice describes Siren as the most elusive and seductive of their wines. How true.
Alpha Box & Dice has been on a mission to create a whole range of wines with names covering every letter in the whole alphabet. When I was there they only needed a handful of wines to complete it.
I'm looking out of the cellar door here. They have a few tables and chairs, and a cosy grass area if you want to relax outside.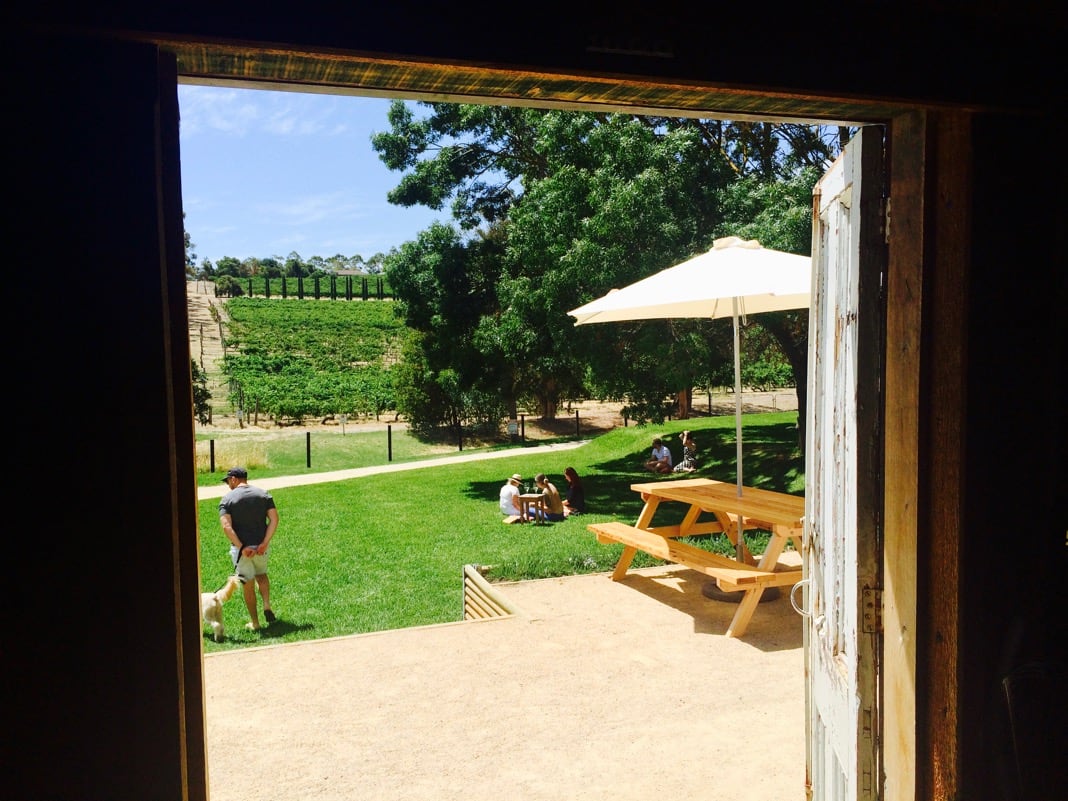 5. Maxwell Winery, McLaren Vale
Maxwell Wines has its own conifer hedge maze. It actually seemed to attract quite a bit of interest from visitors especially kids.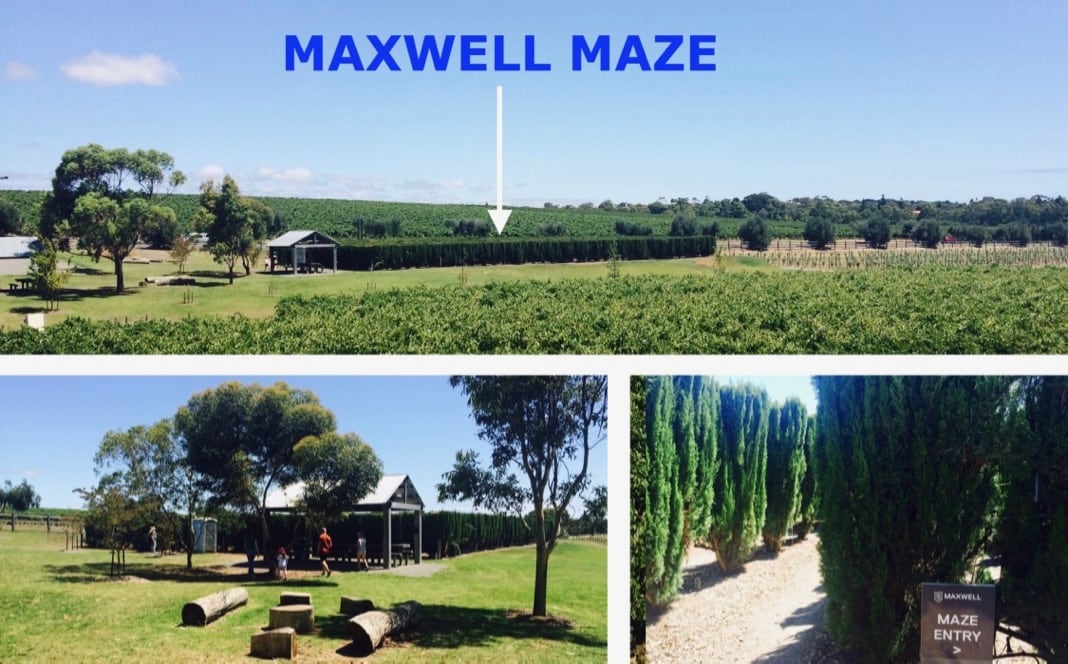 The special tasting at Maxwell Wines for me was the Mead, which is a honey based drink considered to be the world's oldest known alcoholic drink. Yes, mead was drunk before wine.
Maxwell Wines is the southern hemisphere's largest producer of the ancient drink.
The drink is traditionally made by fermenting honey with water and adding fruits and spices
It is thought that this honey based drink goes all the way back to when the Greek Gods and Goddesses enjoying Ambrosia on Mount Olympus. It was nectar to the gods in Greek mythology.
Mead was thought to have a similar taste to Ambrosia. The only difference between mead and Ambrosia being that Ambrosia was supposed to also give immortality upon whomever consumed it.
Many people believe that honey has health benefits so there could be some truth to it.
During the mead tasting I loudly heard a glass break. Someone next to me accidentally broke a wine glass at the exact time when I was being told about the history of mead.
I wonder whether the Greek Gods and Goddesses were reminding me of their immortality.
The tasting included 4 varieties of mead: Sparkling, Honey, Spiced and Liqueur. The spiced mead was gently heated for a very unique taste. My favourite though was the sparkling mead.
Vikings believed honey wine to be an aphrodisiac which is why Maxwell labels its mead with a viking. At one time it was a custom for a Viking bridegroom to drink a goblet of mead on his wedding night.
I also tasted the Minotaur shiraz which was part of a seperate wine tasting. It seems very fitting that Maxwell Wines possesses a labyrinth maze and a Minotaur to go with it.
This winery also has the incredible dining experience where you can dine inside a limestone cave, as you can see from the picture on the left.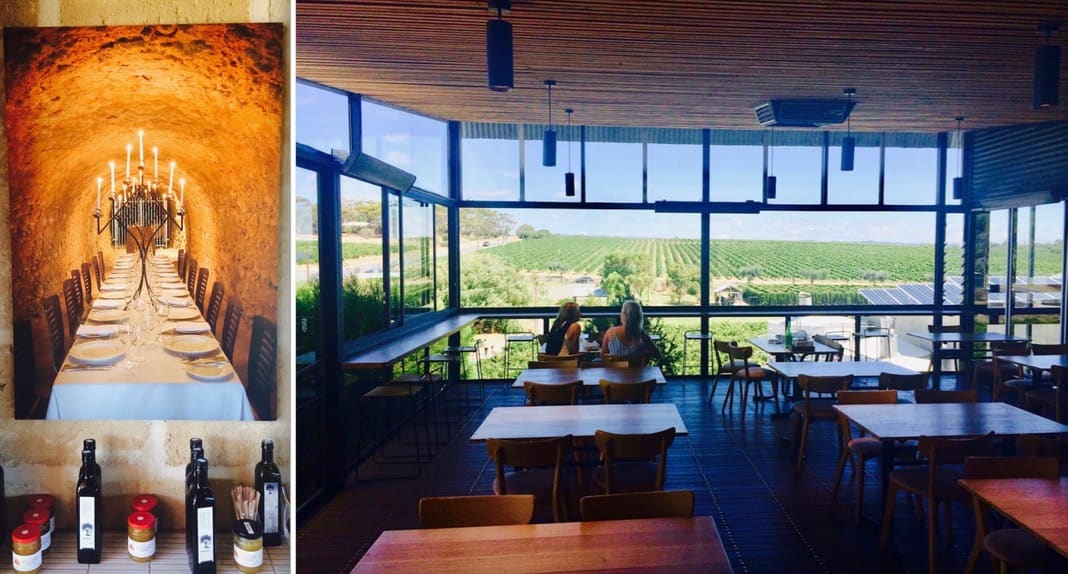 The other option is to just chill out in the casual area with tables and chairs offering great views over the maze and vineyard, which you can be seen on the right.
Maxwell Wines also has a more formal fine dining restaurant which is supposed to be excellent.
6. Lloyd Brothers Winery, McLaren Vale
This winery really impressed me. Someone needs to tell you about this hidden oasis in McLaren Vale, otherwise finding it would be very unlikely.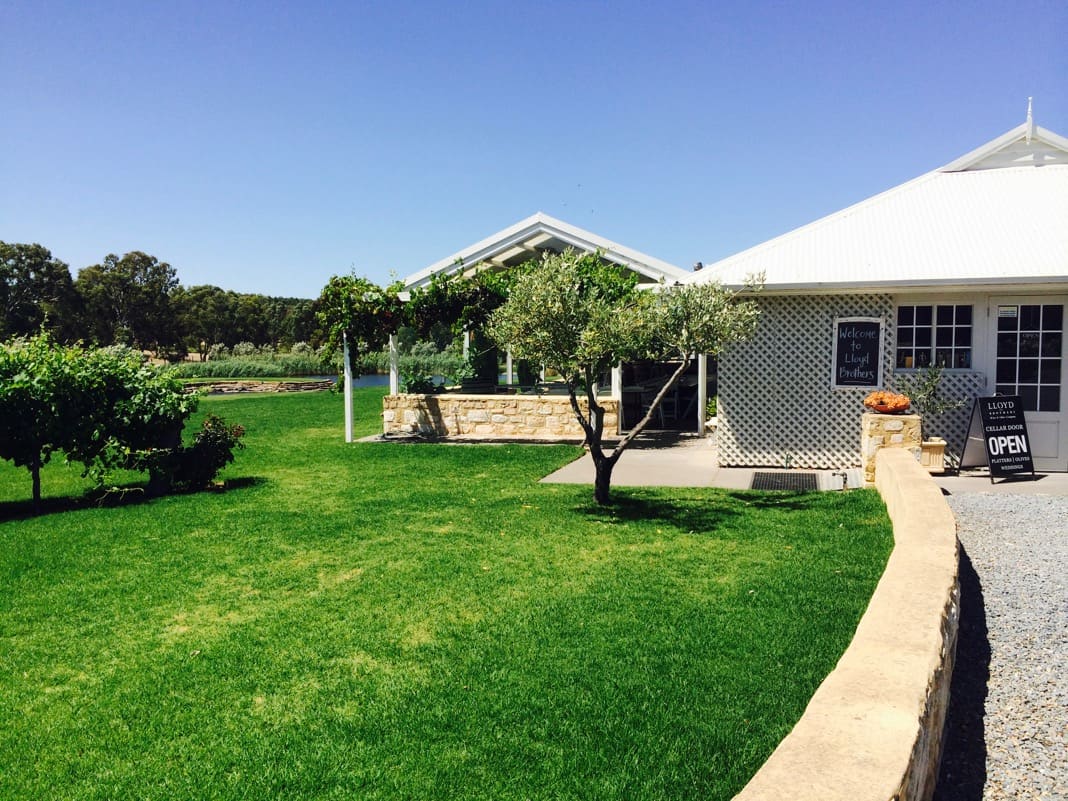 The building has an open veranda area which looks so inviting as does pretty much everywhere in this beautiful winery.
The beauty about this place is that it overlooks a small serene lake. It really makes you feel as if you're in some kind of enchanted spot in the heart of McLaren Vale.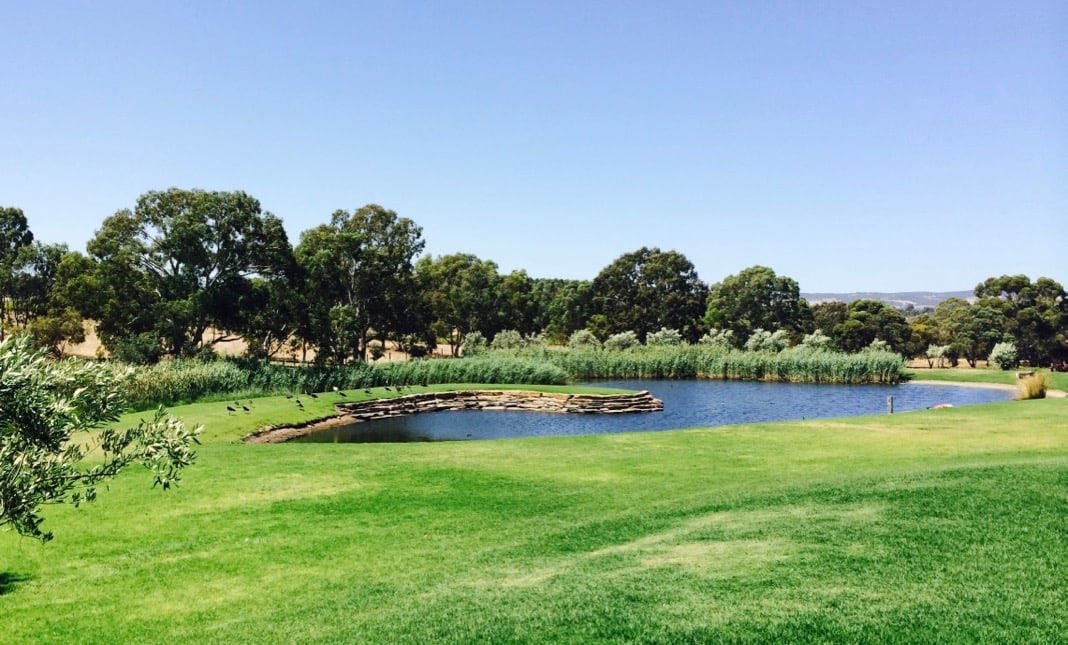 Water and wine, what else do you want? Well, they also produce Kalamata Olives.
7. Serafino Wines, McLaren Vale
The Serafini geese were on their way somewhere when I got there.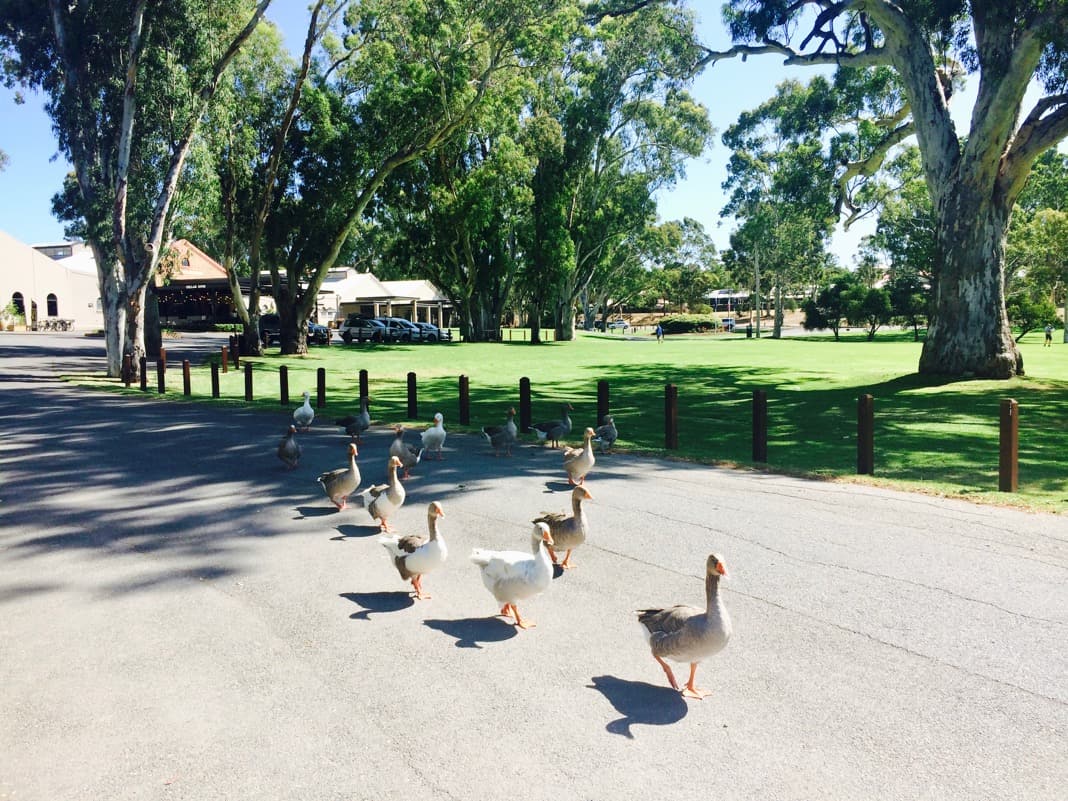 This is another beautiful oasis in McLaren Vale which I'm sure would be very popular for weddings and all sorts of special occasions. Try and find the cute geese when you're there.
The flagship Terremoto Syrah (Italian for 'earthquake') is worth a taste.
Serafino is also a 4-star hotel located in McLaren Vale so if you need somewhere to stay you can stay here.
8. S.C. Pannell Winery, McLaren Vale
This great looking cellar door has a nice balcony with sweeping views over the vines.
S.C. Pannell is located close to Maxwell Wines and Alpha Box & Dice so you can easily squeeze in this winery around the same time.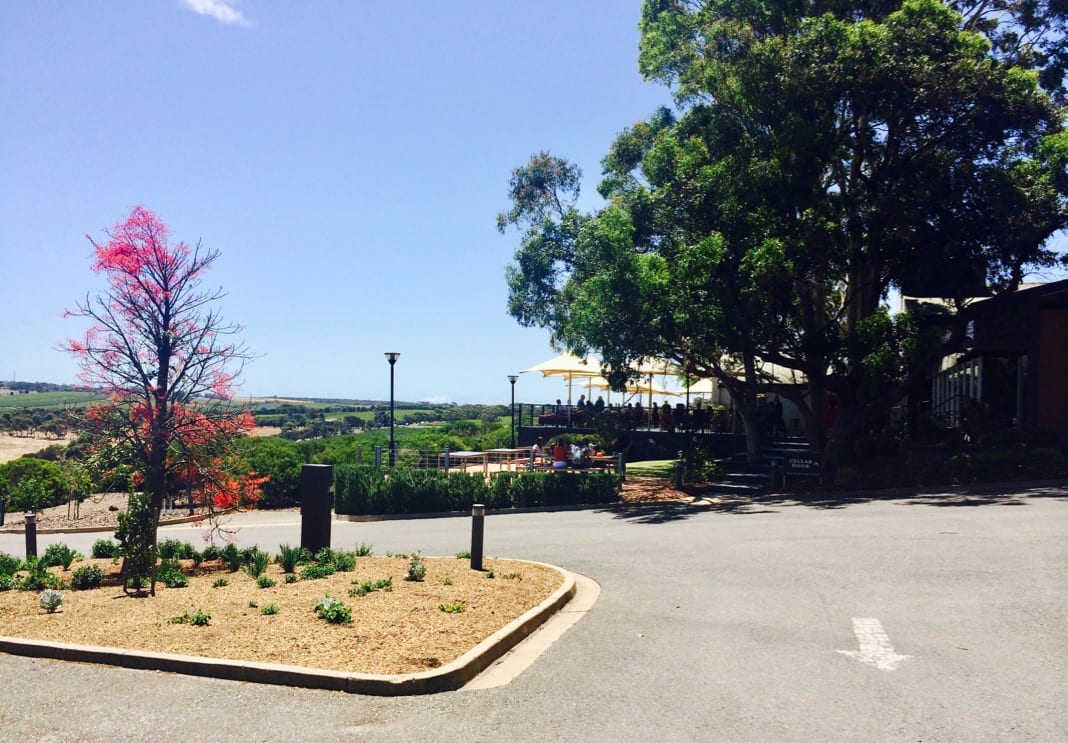 Tip: Relax on the deck and order some delicious tapas off the weekend menu.
9. Coriole Winery, McLaren Vale
Coriole Winery really surprised me. When driving on a pebbly road to the winery it didn't feel as though I would be arriving somewhere so beautiful.
Wow, was I wrong because the place blew me away! This hidden gem winery in McLaren Vale is awesome.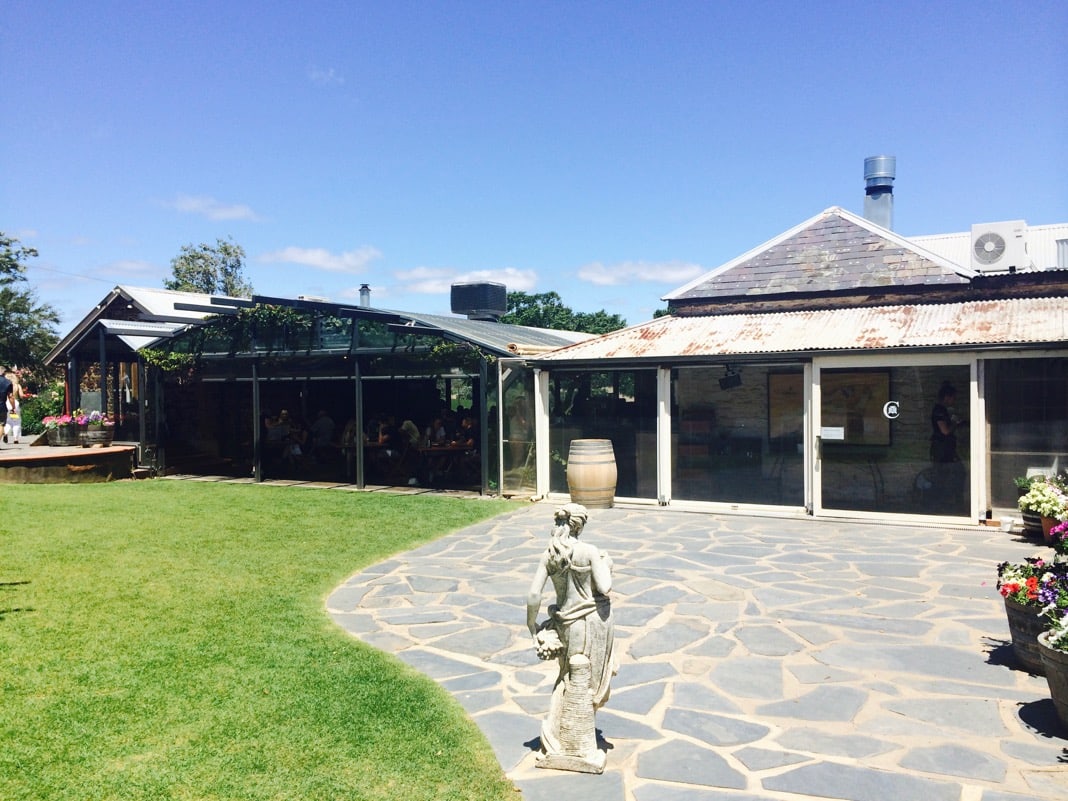 Make sure you don't miss out on this picturesque winery with its Mediterranean vibe. Wine tasting and lunch at Coriole would be a dream foodie experience.
Be sure to taste the Fiano, a white Italian wine grape variety which Coriole first introduced in Australia.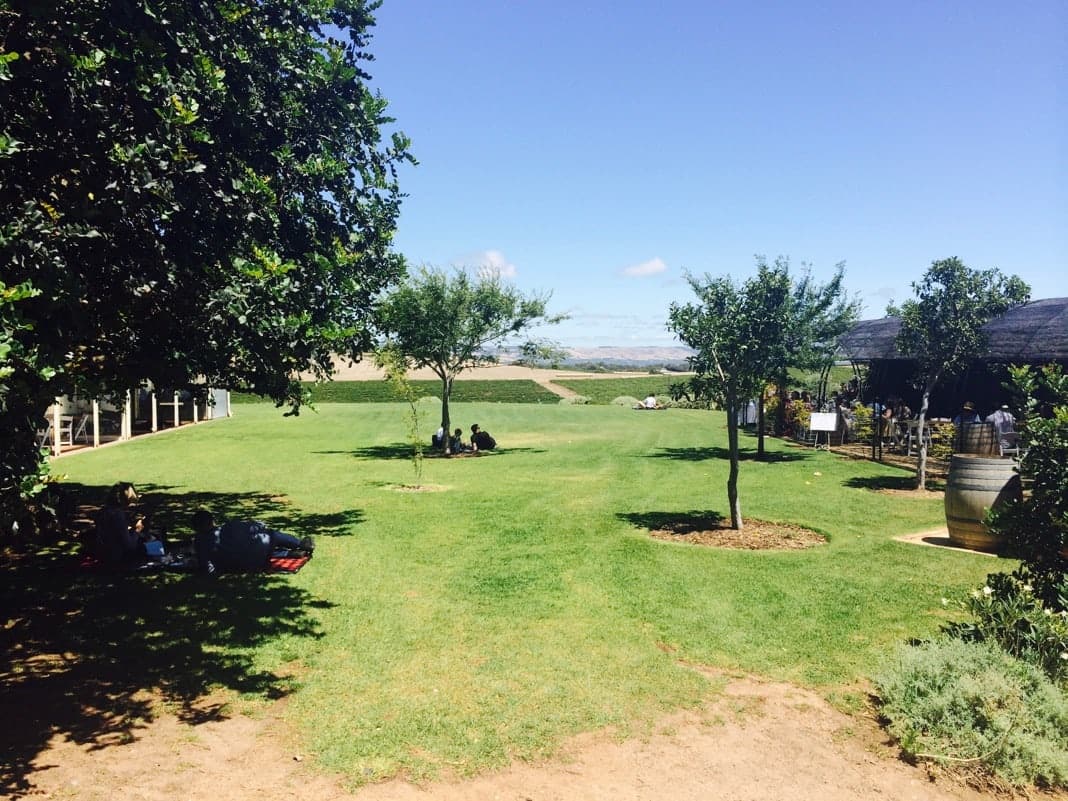 10. Samuel's Gorge, McLaren Vale
This little winery has a bit of a cult following with many fans. The cellar door is housed in an 1850s farm shed overlooking the Onkaparinga National Park.
There are a few tables outside under the shady veranda and in my opinion this is the top place to be at Samuel's Gorge. You will love the relaxed atmosphere.
Try and book a table under the veranda before you visit or get there early if you have to.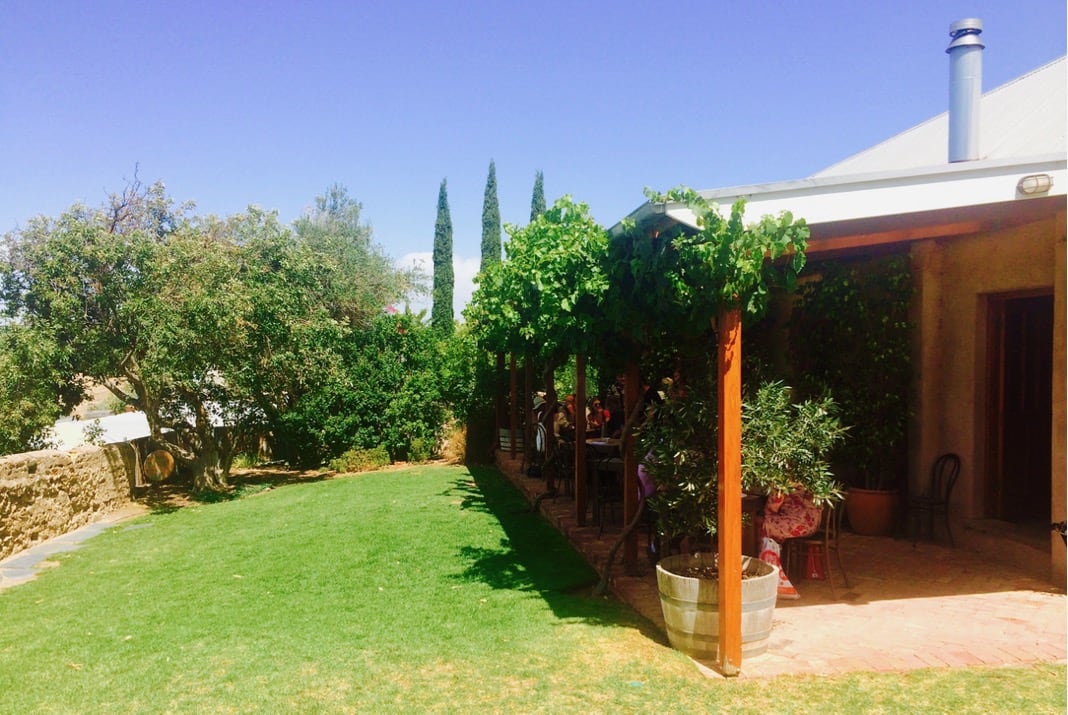 Samuel's Gorge Winery also have a grassy area where you can relax under an umbrella if you prefer. You can also lie out on the lawn under the sun.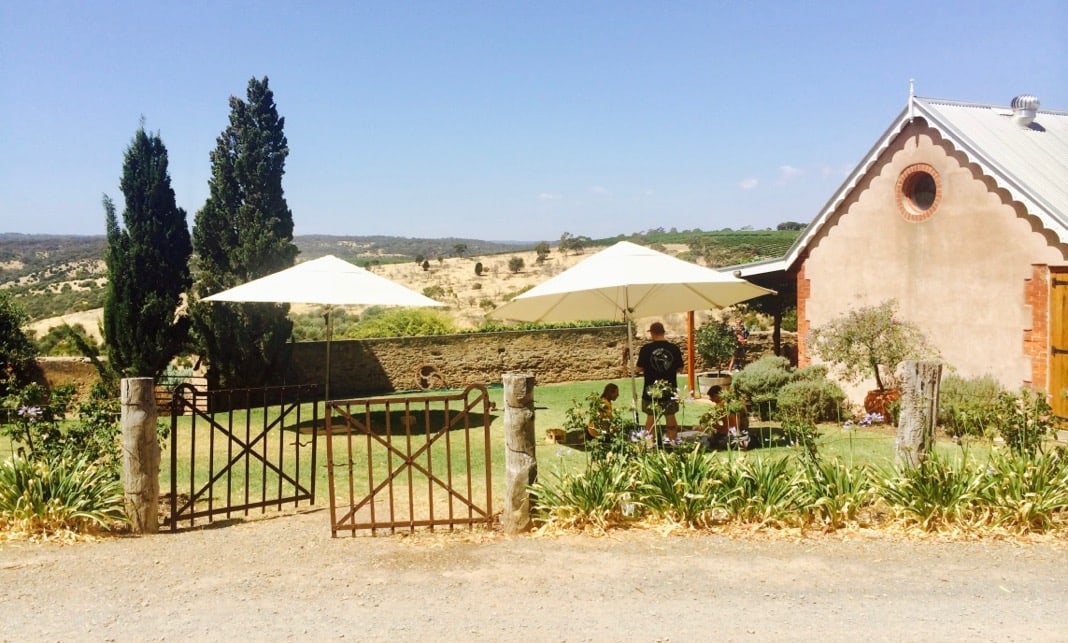 Once you find your spot I'm sure it will be hard to leave. Views look out to the Onkaparinga Gorge.
My own preference would definitely be to relax under the main veranda with vines dangling down and views looking out to the Onkaparinga Gorge. It is Adelaide's own little Tuscany.
Make sure you're into red wines because they have no whites or roses on offer from what I hear.
11. Ekhidna Winery and Restaurant
Ekhidna was a half woman and half serpent from Greek mythology who gave birth to numerous monsters. (Greek: Ἔχιδνα, "She-Viper")
Luckily you won't find this monstrous being at Ekhidna Winery, but surprisingly you will hopefully find the big worded LOVE sign in the backyard. This love sign has become a very popular photo spot.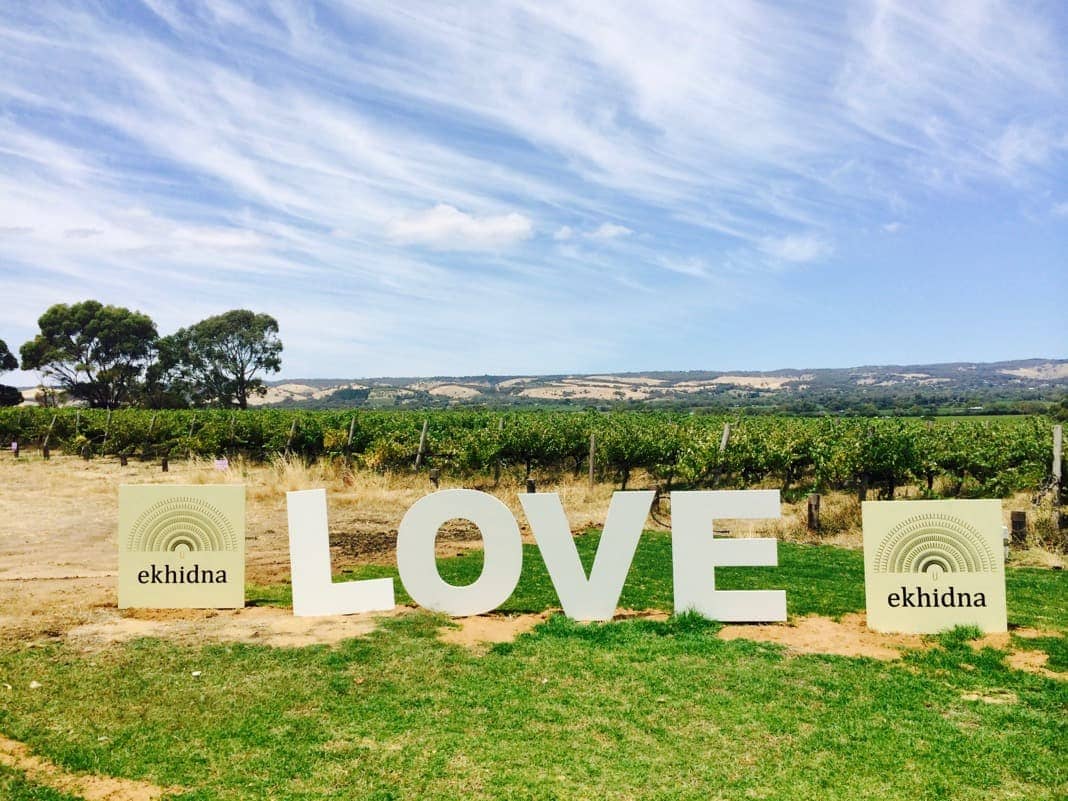 Ekhidna's impressive restaurant looks out to the LOVE sign and vines. The restaurant has floor to ceiling windows so you can be certain of some great views while dining at Ekhidna.
The beauty about this winery is that they also sell their own beer. For something a bit different try their ginger beer cocktail.
12. Mollydooker Wines, McLaren Vale
Mollydooker winery offers incredible views of McLaren Vale surrounds. The cellar door is high up on a hill and you can even see the famous d'Arenberg Cube in the distance.
The d'Arenberg Cube is blown up in the photo below so you can easily see where it is located. It really does stand out when you see it with your own eyes.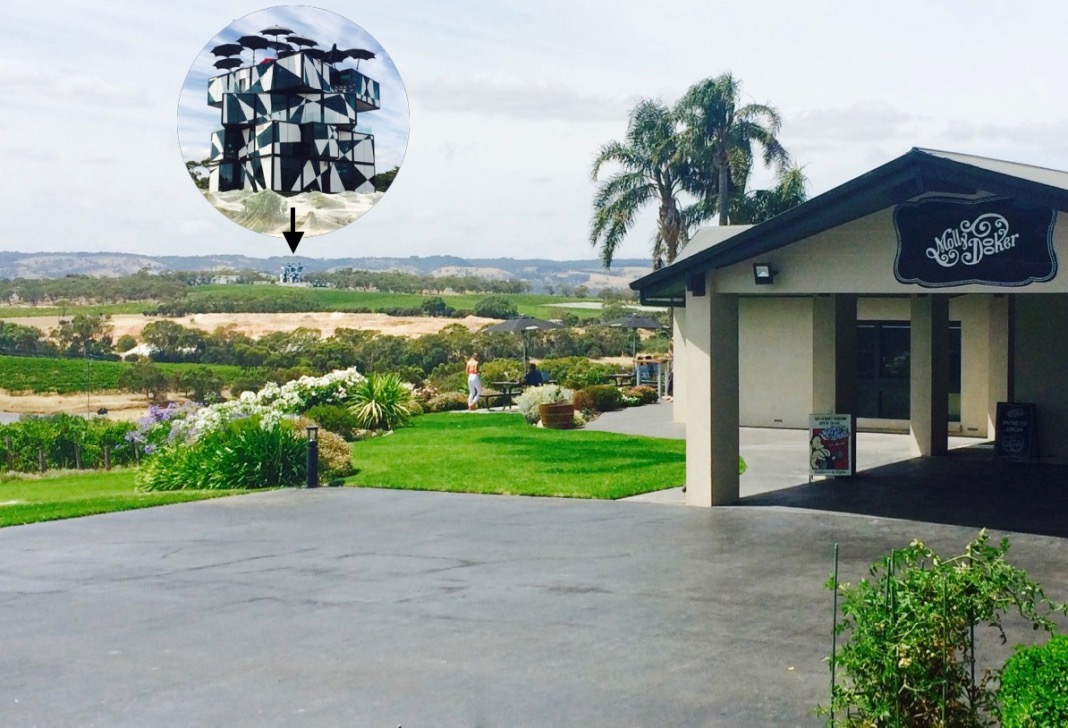 This winery would have to have some of the best views in McLaren Vale if not the best.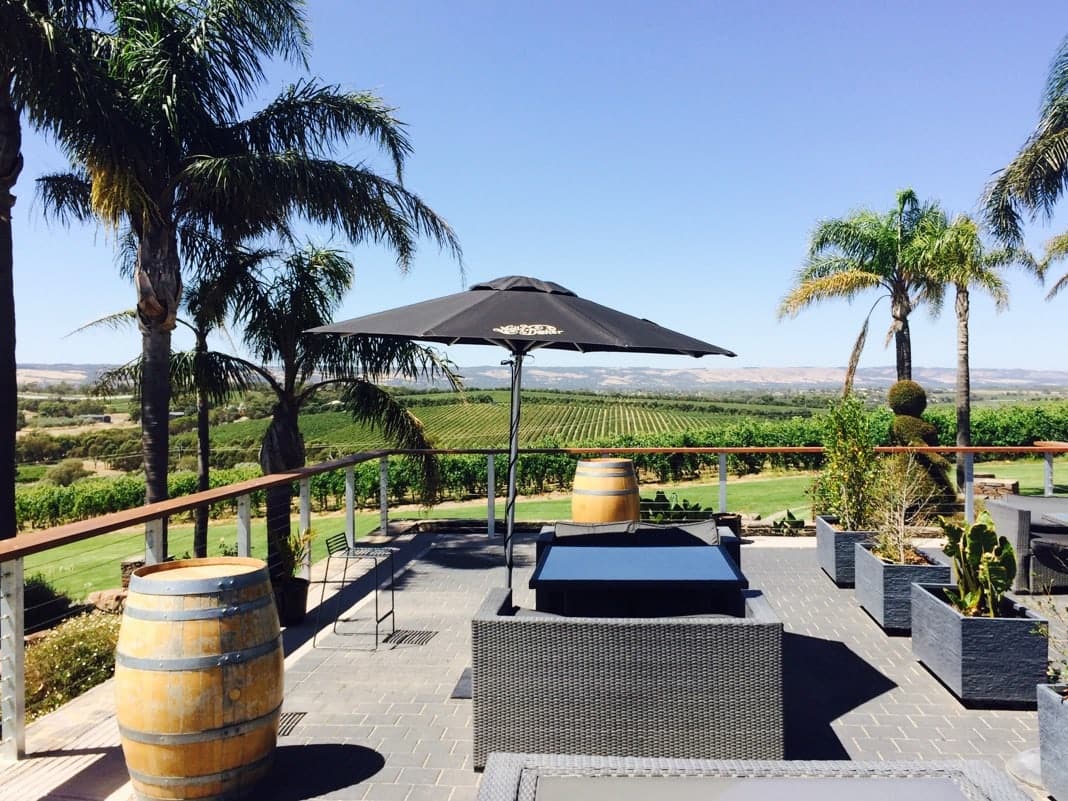 They even have a hedge girl here. Seriously, girls will love this place.
Top Tip: If you're a guy and you want to impress your partner take her to Mollydooker Wines. If you're left-handed especially so, because a mollydooker is slang for a left-handed person.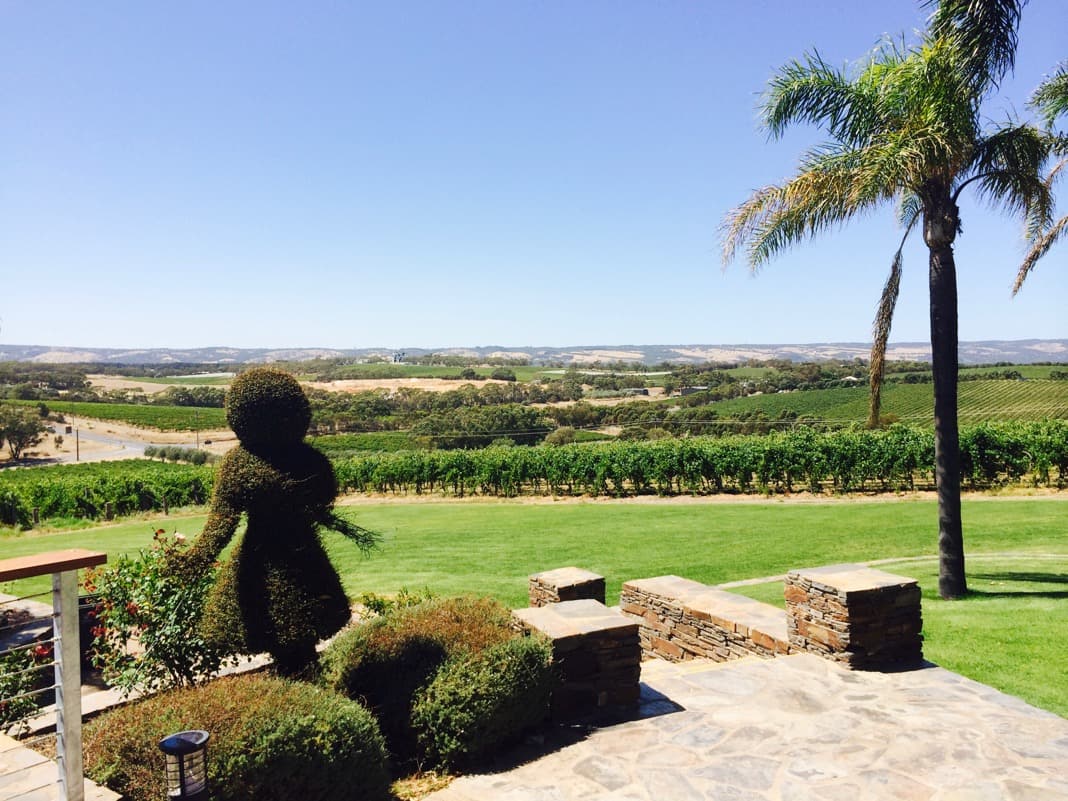 On the other side of the building is a nice large section of green grass with a few shady gum trees. If you prefer a bit of privacy bring a blanket and find some shade to relax under.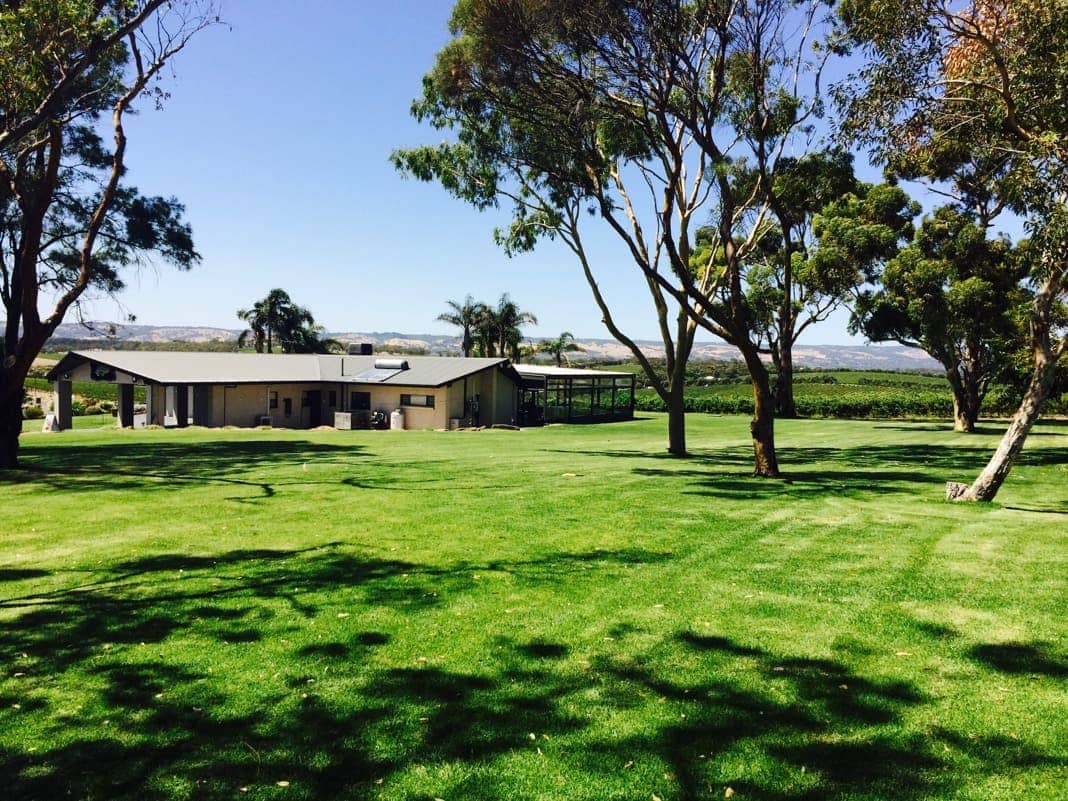 13. Beach Road Winery, McLaren Vale
Including this winery in the 14 best McLaren Vale wineries wasn't an easy pick. This winery was probably my least favourite out of these 14 wineries but one thing stood out from the rest.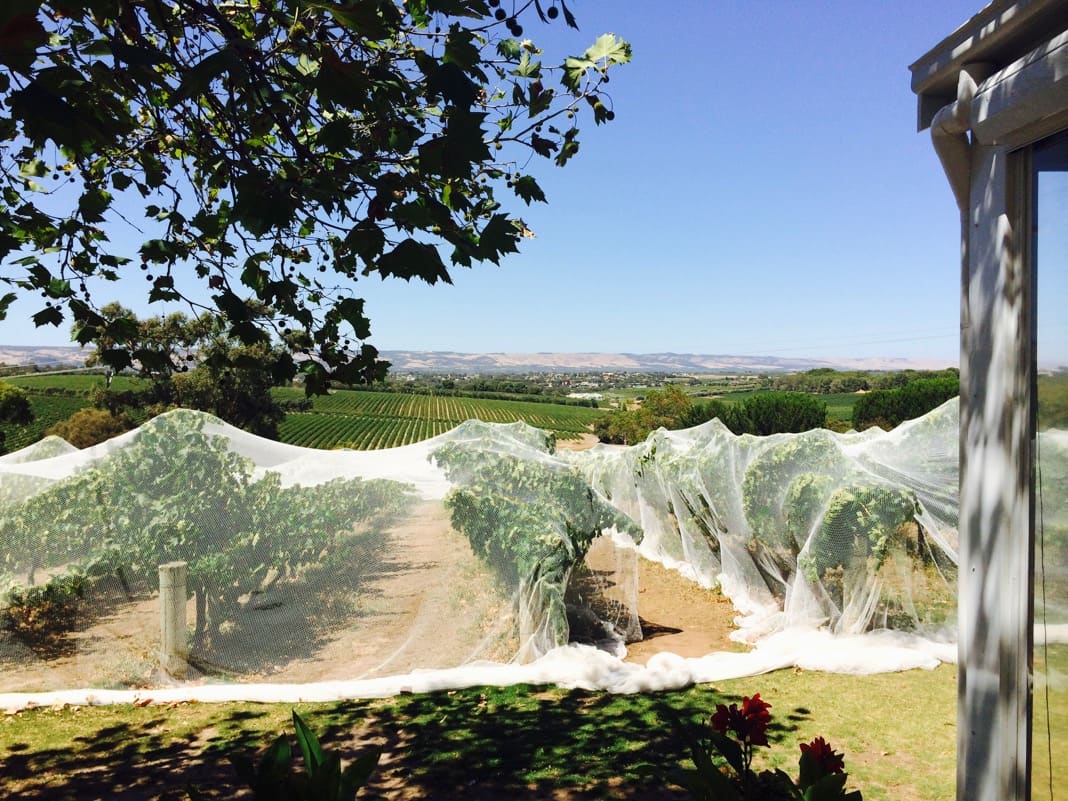 Beach Road Winery are well known for their yummy wood-fired pizzas. I'm sure most of us would love to eat a pizza like this one while enjoying a glass or two of Beach Road wine.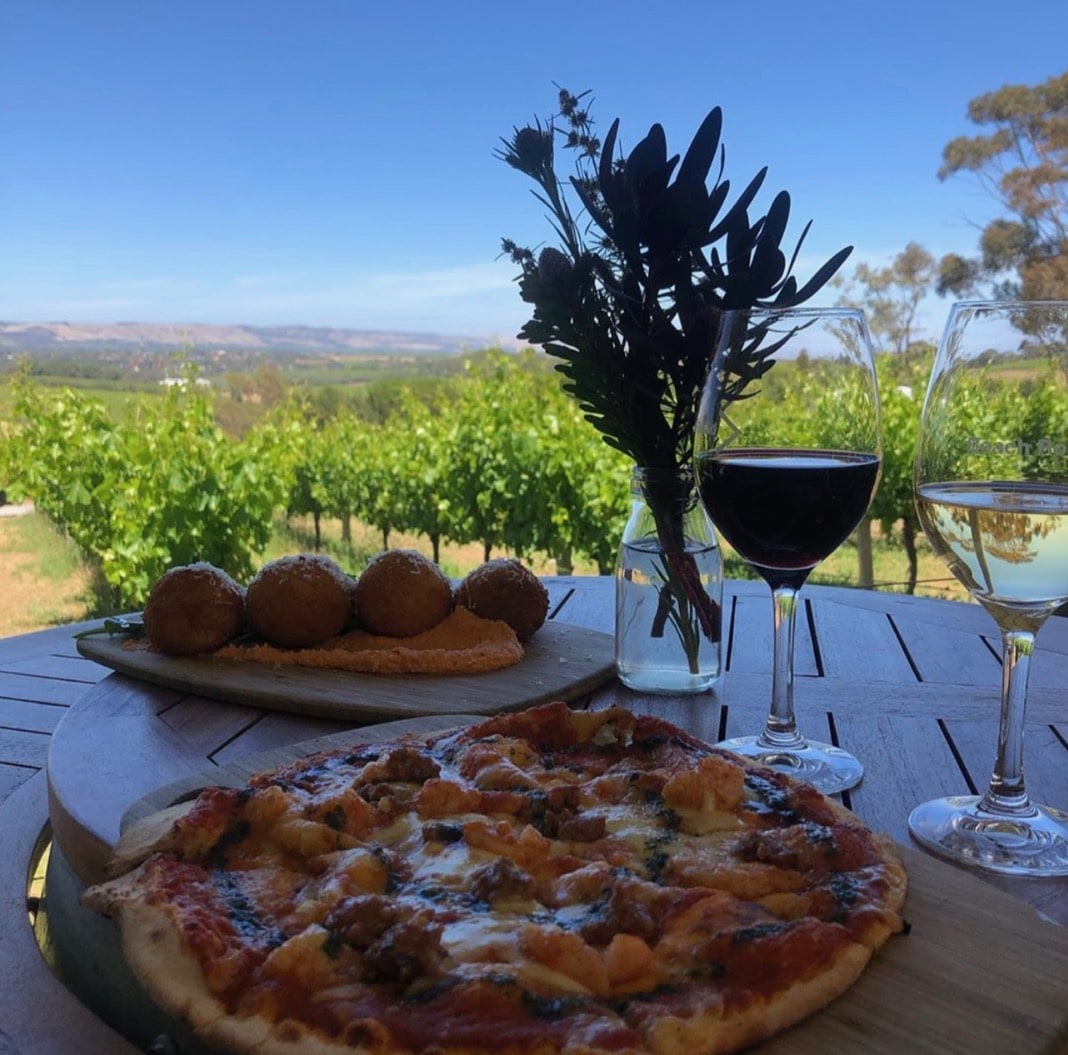 McLaren Vale also has several other places to pop in for a delicious pizza including Pizzateca, as well as Oscars which is located on the Main Street of McLaren Vale.
If you're willing to go for a bit of a drive to satisfy your pizza craving, Russell's Pizza in the nearby town of Willunga is also a top choice.
14. Hardys Tintara Wines, McLaren Vale
Tintara Wines is located in a prime position on the Main Street of McLaren Vale.
The grounds of Tintara are very inviting. Enjoy a bottle of wine with someone and after that go for a stroll along the Main Street. Blessed Cheese, The Chocolate Box and The Almond Train await.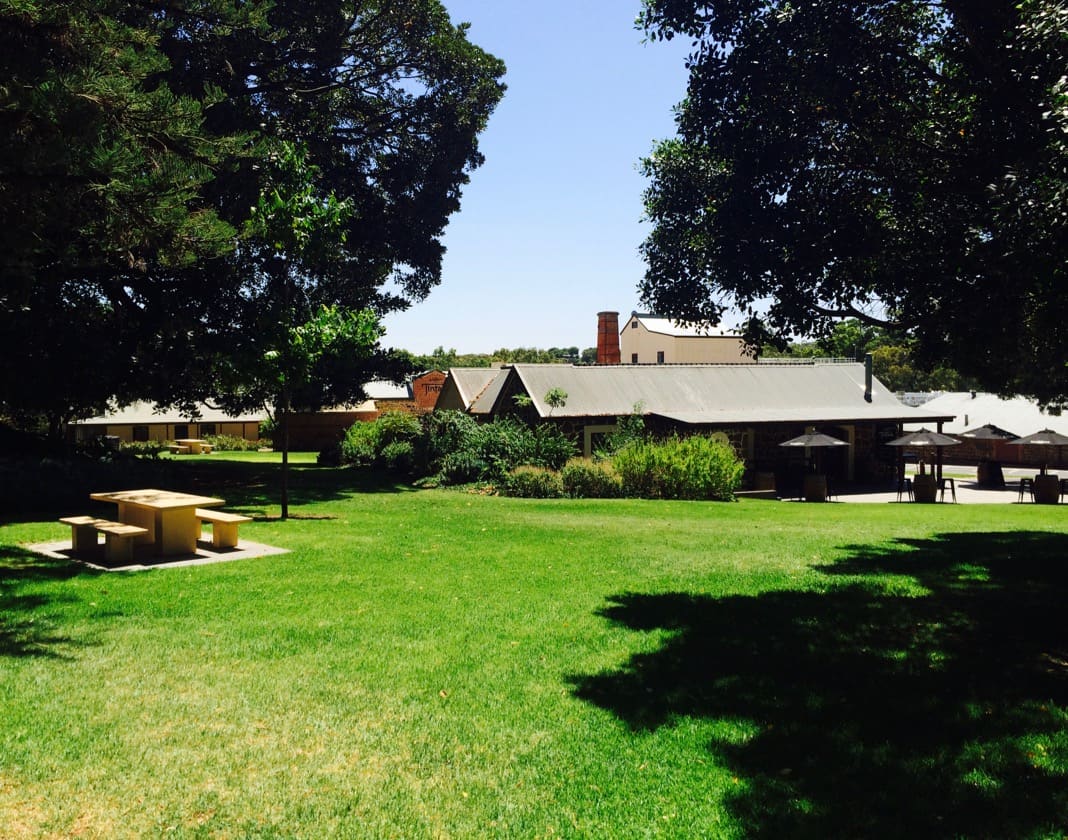 Tintara Winery has strong links with Bacchus, otherwise known as Dionysus, the Greek and Roman God of wine. Always remember it was a Greek God that gave wine to man.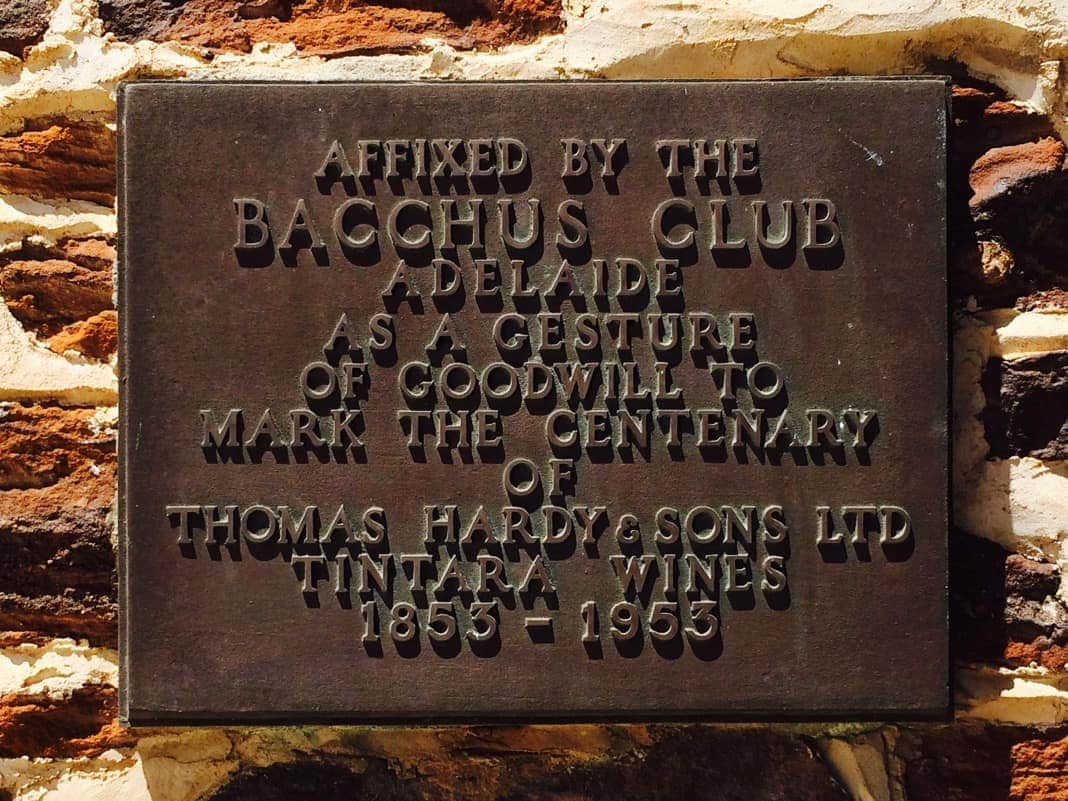 More Wineries in McLaren Vale:
These wineries just missed out on being included in this list of 14 Best McLaren Vale Wineries and Cellar Doors:
Mitolo
Angove Family Winemakers
Primo Estate
Kay Brothers
Paxton Wines
Wirra Wirra
Chapel Hill
Oxenberry Farm
Fox Creek Wines
Final words on my 14 best McLaren Vale wineries and cellar doors
There are over 70 wineries in McLaren Vale so you will no doubt be tempted to stop at a few other places.
The McLaren Vale & Fleurieu Visitor Information Centre is located in the centre of town if you ever need any assistance.
Location: 796 Main Road, McLaren Vale.
It's a great place to call in on when you first arrive so you can get a map of the wine region, which shows where all of the popular wineries are located.
Anyone wanting a bit of exercise can make use of the 8km Shiraz Trail. This trail follows an old railway line between McLaren Vale to Willunga. It starts at the McLaren Vale Visitor Centre.
You can either walk or ride a bike on the Shiraz Trail. Saturday is a great day to go because this is when the Willunga Farmers Market (8am to 12.30pm) is on.
You can hire bikes from the Visitors Centre but the top tip is to get an electric bike. McLaren Vale is quite hilly depending on where you are going. I have seen plenty of people walking there bike up a hill.
It doesn't all have to be about wine in McLaren Vale. You can enjoy a beer at Swell Brewing Co Taphouse or Goodieson Brewery.
I'm sure you would enjoy a trip to McLaren Vale for numerous reasons, the wine, food and beautiful scenery. Visit McLaren Vale and have a delicious lunch. This wine region has it all.