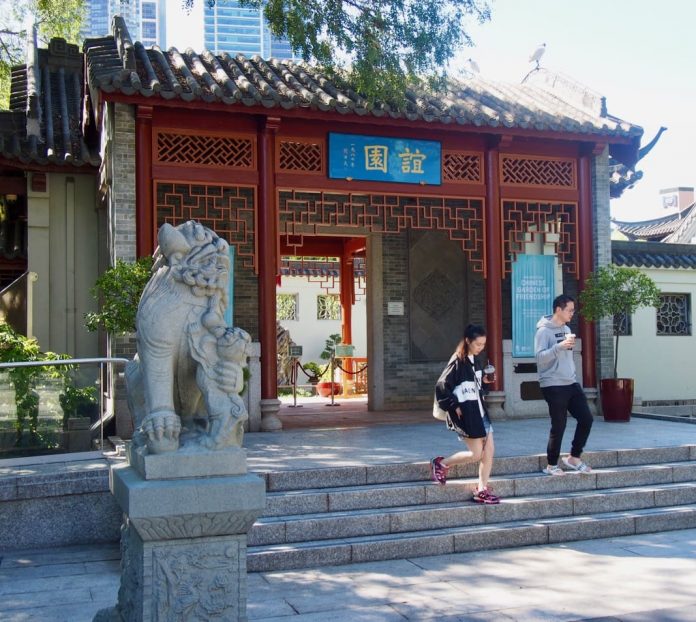 Visiting the Chinese Garden of Friendship in Sydney turned out to be even better than I expected. This hidden paradise in the heart of Sydney has so many things going for it.
One of my all-time favorite things to do is to go for a walk in a beautiful garden, and this beautiful Chinese garden, situated in Sydney's Darling Harbour precinct, fully lived up to its promise.
The excellent online reviews written about the Chinese Garden of Friendship were true.
It really is a wonderful and very serene garden, where you can easily spend a couple of hours forgetting about the outside world.
Someone even told me it was beautiful inside when I asked for directions to the Chinese Garden of Friendship, so my anticipation levels of how good it would be were high.
The incredible thing about the Chinese Garden of Friendship in Sydney is that it's so easy to miss.
Two majestic lions guard the entranceway, but even so, it's still a bit of a mystery as to what you'll find inside if you never knew about the garden in the first place.
The entrance door is hidden away slightly from where visitors generally congregate in Sydney's Darling Harbour. It's also screened off, so it doesn't attract that much attention.
If I didn't know about the Chinese garden and saw the entranceway, I'd probably assume it was a Chinese restaurant, Chinese precinct, or Chinese garden shop.
You're probably not going to see large numbers of people waiting to enter either like you would at other major tourist attractions in and around Sydney. So there's no dead giveaway that makes you want to find out what all the fuss is about. Those in the know however will be rewarded with stunning beauty.
Sea Life Sydney Aquarium, for instance, which is also located within the Sydney Darling Harbour precinct, always seems to be packed with visitors waiting in line to enter.
Top Travel Tip: I highly recommend visiting the Chinese Garden of Friendship over Sea Life Sydney Aquarium in Darling Harbour if you're deciding between the two attractions. Especially if you only have time to visit one of these two attractions while in Sydney.
Entry into the Chinese Garden of Friendship
You do have to pay to enter the Chinese Garden of Friendship, which is the only downside, compared to other free gardens in Sydney.
I suppose it's necessary because otherwise, this extraordinary Chinese garden would most likely get very crowded, and the current tranquility found inside the garden wouldn't be the same.
I paid $8 for an adult ticket, and it was worth every dollar—no feeling of being robbed at all.
The first view that took my breath away appeared to be an Asian-style temple on the other side of a lake. I later learned that this lake is known as the Lake of Brightness.
I also learned that the building structure you can see in the distance is known as the Clear View Pavilion.
The pavilion is more of a place to rest where you can enjoy the views while it also offers shade. It isn't a temple but can be found in Chinese temple complexes.
Large rocks in the Lake of Brightness even have names, such as Dragon Rock, Tortoise Rock, and Pheonix Rock.
Unicorn Rock is found in the smaller Lotus Pond, situated next to the larger Lake of Brightness. You can see it below.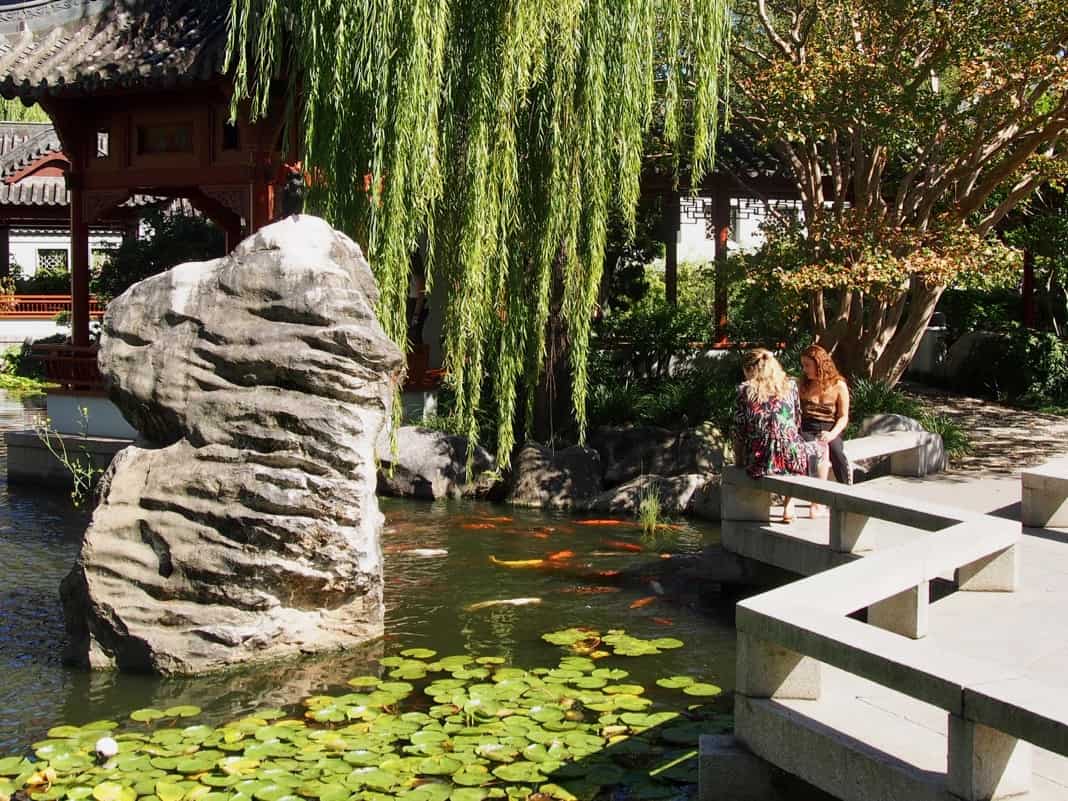 The zig-zag footbridge separates the pond from the lake. It's a great spot to see some of the koi fish.
Fish Feeding time – Chinese Garden of Friendship
A fish feeding session occurs at 11:30 am every day. You should try and be there when it happens as the water swarms with fish at feeding time.
You can see another picture taken at fish feeding time in my one day in Sydney Guide.
The Lake of Brightness
The beauty of the Chinese Garden of Friendship is that you'll make your way around the Lake of Brightness as you walk around the garden. A pathway will lead you around it.
Keep an eye out for turtles and other exotic creatures like the Eastern Water Dragon, which are normally about half a meter long.
Wolverine scene filmed inside the Chinese Garden 
Interestingly, The Wolverine (2013) had a fight scene filmed in the Chinese Garden of Friendship.
This is so opposite to the tranquility of the garden, but I suppose it is good Yin-Yang.
Here you see Wolverine (Hugh Jackman), running along a pathway found inside the garden.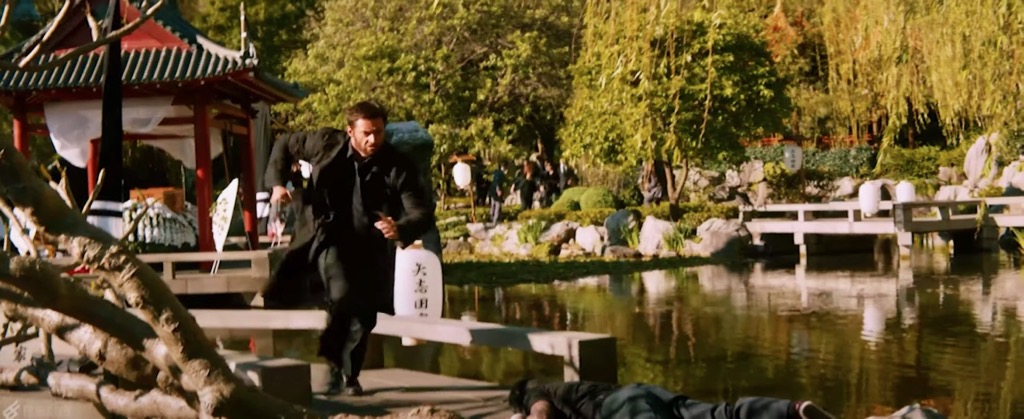 X-Men is one of the best film franchises of all time. I only found out about this interesting fact, which links the movie to the Chinese Garden of Friendship after my visit.
Beautiful Views – Chinese Garden of Friendship
Here's a view from up high, the highest peak in the garden, looking out from the Clear View Pavilion, over the Lake of Brightness.
Another beautiful view inside the Chinese Garden of Friendship.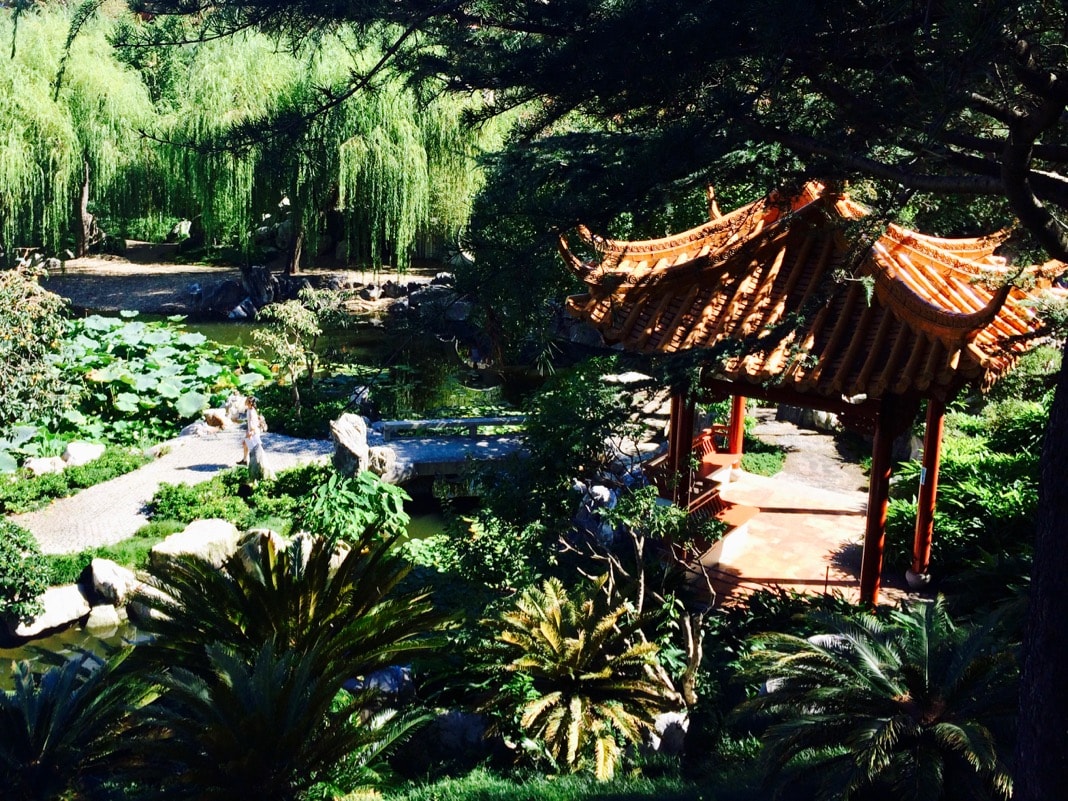 Waterfall – Chinese Garden of Friendship
The waterfall is one of my favorite spots. You can hear the water from far away crashing down as you approach.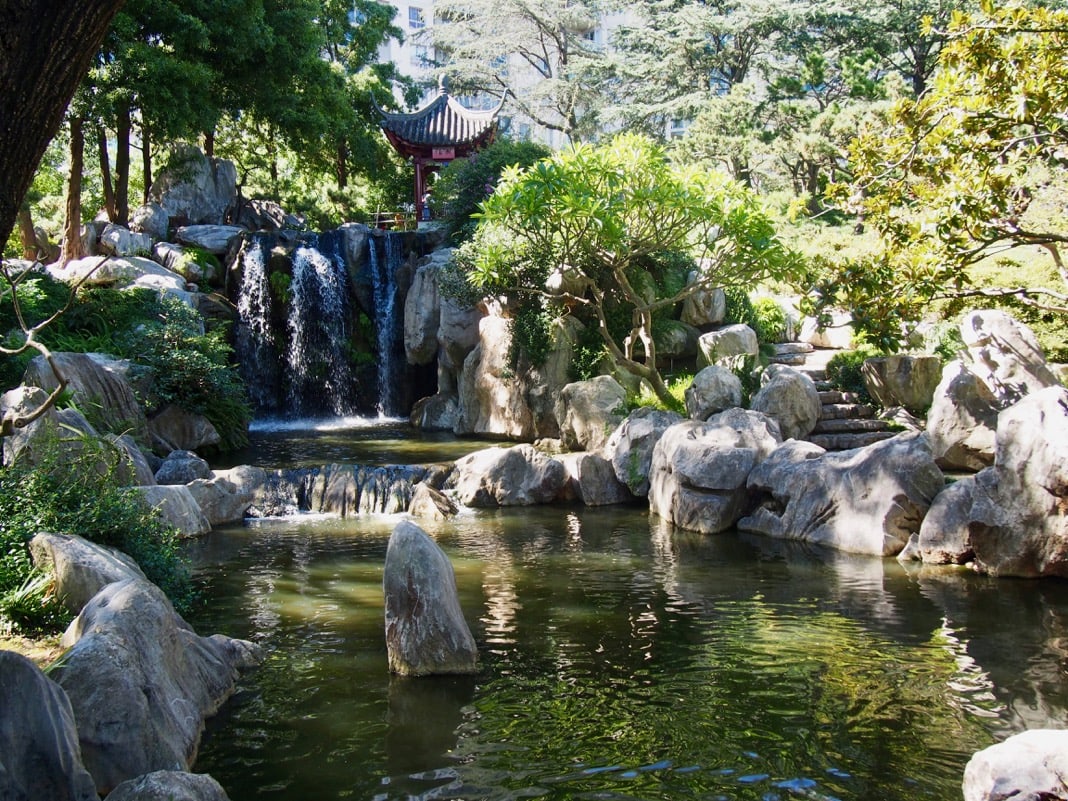 Rinsing Jade Pavilion can be seen next to the waterfall.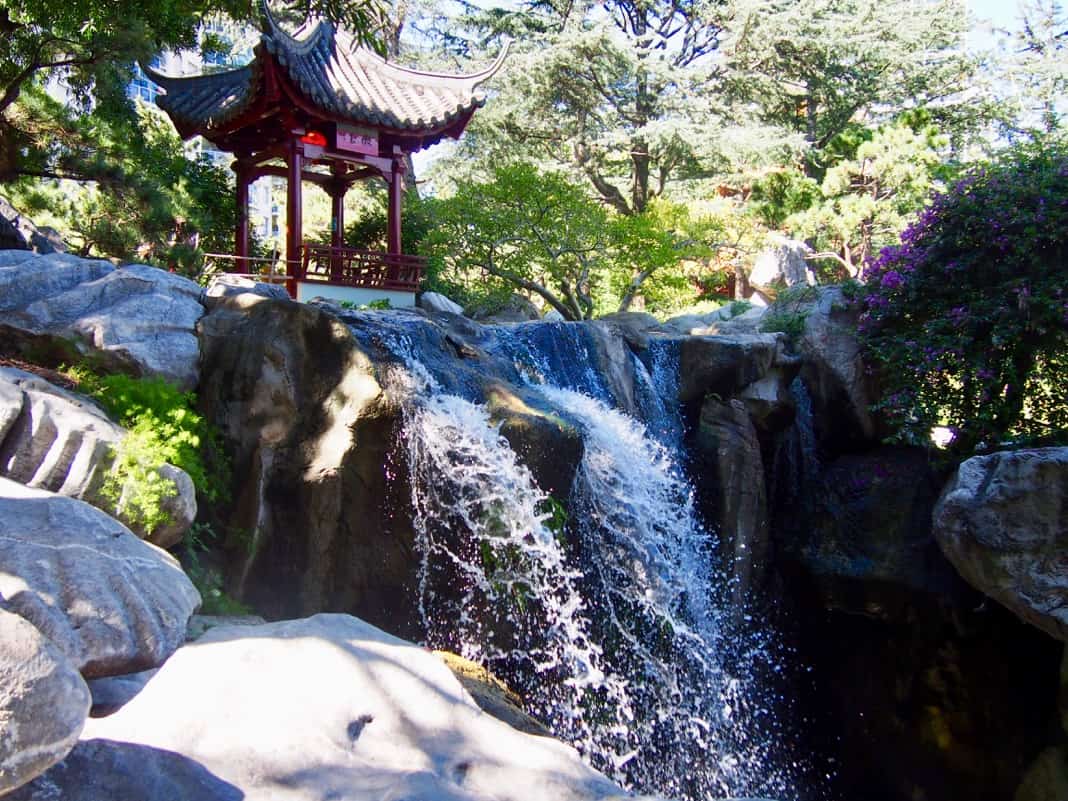 The Moon Gate
As you walk around the waterfall, you will see something that appears to be a circular doorway.
This is known as the Moon Gate. It is one of the most photographed places in the Chinese Garden of Friendship.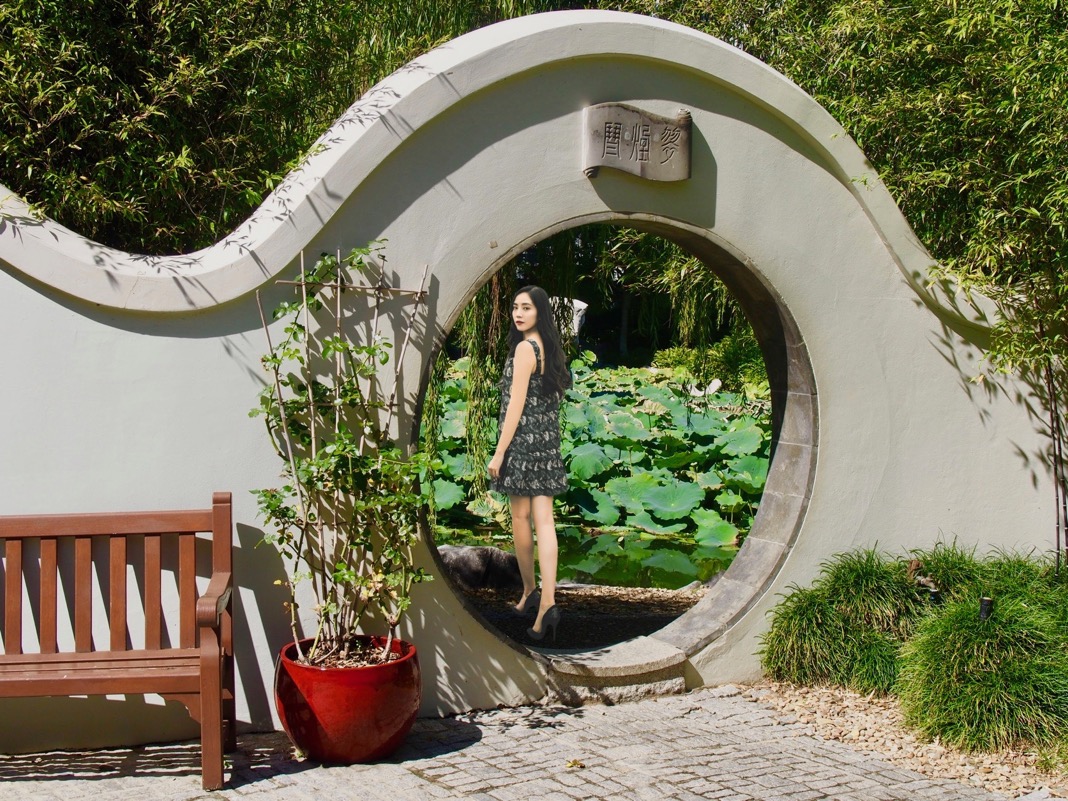 Notice the cloudy pattern above the top of the doorway. This is all about achieving Yin-Yang balance.
The whole garden is designed to balance forces which is central to Yin-Yang philosophy.
The five elements of wood, fire, earth, metal, and water also assist in creating harmony and balance within the Chinese garden.
Tourists in the Chinese Garden of Friendship
Close to the end of my walk, I noticed a group of visitors huddled together, looking out into one of the side streams leading back to the entry/exit. There were fish everywhere.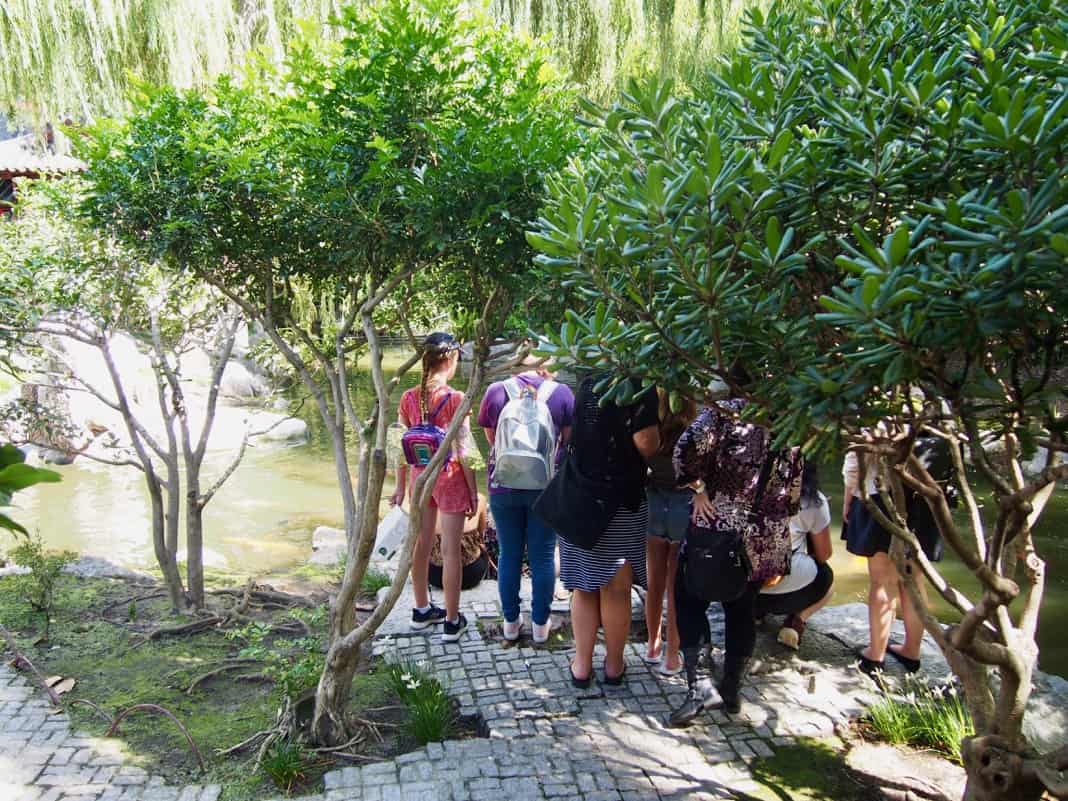 I had nearly done a full circle of the Chinese Garden of Friendship by this point.
One of the things I neglected to do when walking around was to take more photos of the artwork and symbolism on display. Things like small Buddhas and monkeys.
Dragon Wall
This is the only photo I took of artwork other than the lions guarding the entrance to the Chinese Garden of Friendship. It's a photo of the Dragon Wall.
This one really stood out to me. It's made up of two dragons facing each other, but you can only see one of them in this pic.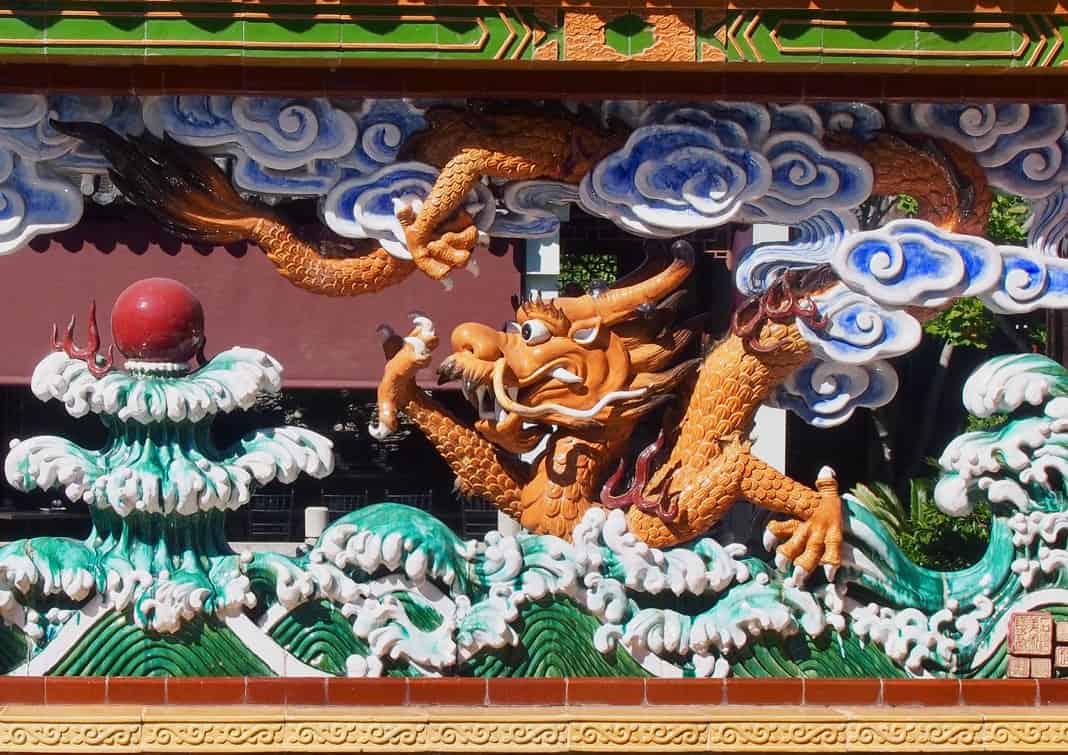 The orange/gold dragon you see above represents Guangdong, a city in China. The other blue dragon on the left side (which you can't see) represents New South Wales.
Tea inside the Chinese Garden
I didn't have enough time to enjoy a drink of tea inside the garden, but I would have enjoyed one.
You can also get something to eat inside the Chinese garden, from Asian food to scones and jam.
Ideally, I suggest spending at least a couple of hours in the garden. One hour is enough to appreciate the garden, but to have a drink and something to eat while sitting down and relaxing would be icing on the cake.
Other Beautiful Gardens in Sydney
Sydney also has the impressive Royal Botanical Garden next to the Sydney Opera House. This garden is very popular and rightfully so.
Another beautiful garden in Sydney with awesome views of Sydney Harbour Bridge is known as Wend's Secret Garden at Lavender Bay. I haven't visited this garden yet, but I hope to one day.
In my opinion, the amazing Chinese Garden of Friendship would have to be in a league of its own.
You can't compare apples with pineapples, but I personally believe this is the best secret garden in Sydney.
Another amazing thing about the Chinese Garden of Friendship is the amount of open space that seems to come out of nowhere. It's about 3-acres in size, and it truly is incredible. You will be blown away!
Luckily, I discovered the Chinese Garden of Friendship online, so I knew about the beauty of this place before I visited Sydney. If you want to know more, you can check out the official website.
Official Website: Chinese Garden of Friendship
This reason is why I placed the Chinese Garden of Friendship high on my list of things to do in Sydney, and it didn't disappoint at all.
It's almost like entering another world, similar to the movie Spirited Away. If you're in Sydney, you have to visit this magical Chinese garden. I'm certain you'll love it.
Pin it … Share it