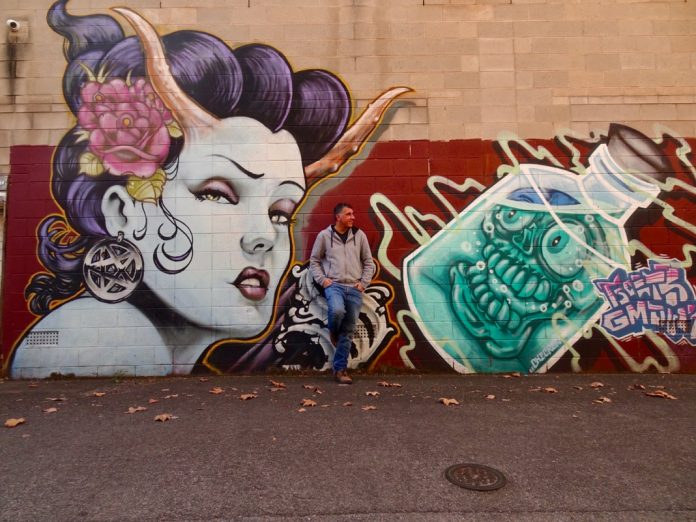 Adelaide street art murals are as good as you'll find in any city in the world. Go for a walk around the Adelaide CBD, near Hindley street and Rundle street, and I'm sure you will come across amazing Adelaide street art murals.
I promise you Adelaide is abounding with creativity, as proven by what you're about to see.
The best street art in the Adelaide CBD pays homage to rock gods, others play on Australian culture, and you also have the bizarre way-out-there street art murals.
I even show you 3D street art in Adelaide of a giant squid, which looks absolutely incredible.
Then there are the wacky street art ideas, quirky graffiti and murals, beautiful street art murals, and so on.
Where to find the best Adelaide street art
Adelaide Street Art Map
The street art on display around Adelaide that you see here may disappear one day, so in a way, I'm immortalizing all of these street art murals on this site.
This Adelaide street art map will help you find your way around. It doesn't show you exactly where to go because half the fun is in finding them.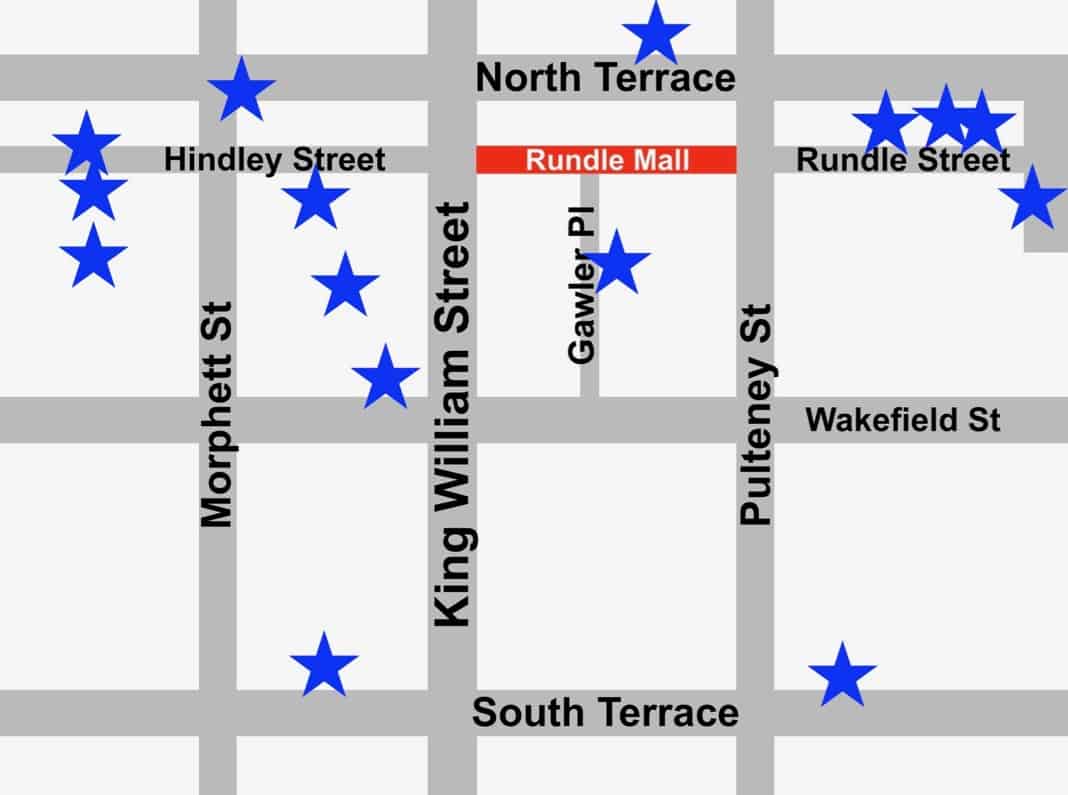 Once I've convinced you that Adelaide street art is great, you may want to check them out for yourself. Let's hope most of them stick around for as long as possible.
Hindley Street – Street Art
When it comes to finding the best Adelaide street art, Hindley Street is always a top place to look around.
It's a bit seedy, but that's another reason to visit. Don't worry too much about safety, especially during the day, because the University of South Australia has a campus on the same road.
You can see a Ferrari parked on a side street in the pic below, which is just off Hindley Street in the Adelaide CBD.
This amazing Adelaide street art mural pays homage to the legendary guitarist Jimi Hendrix.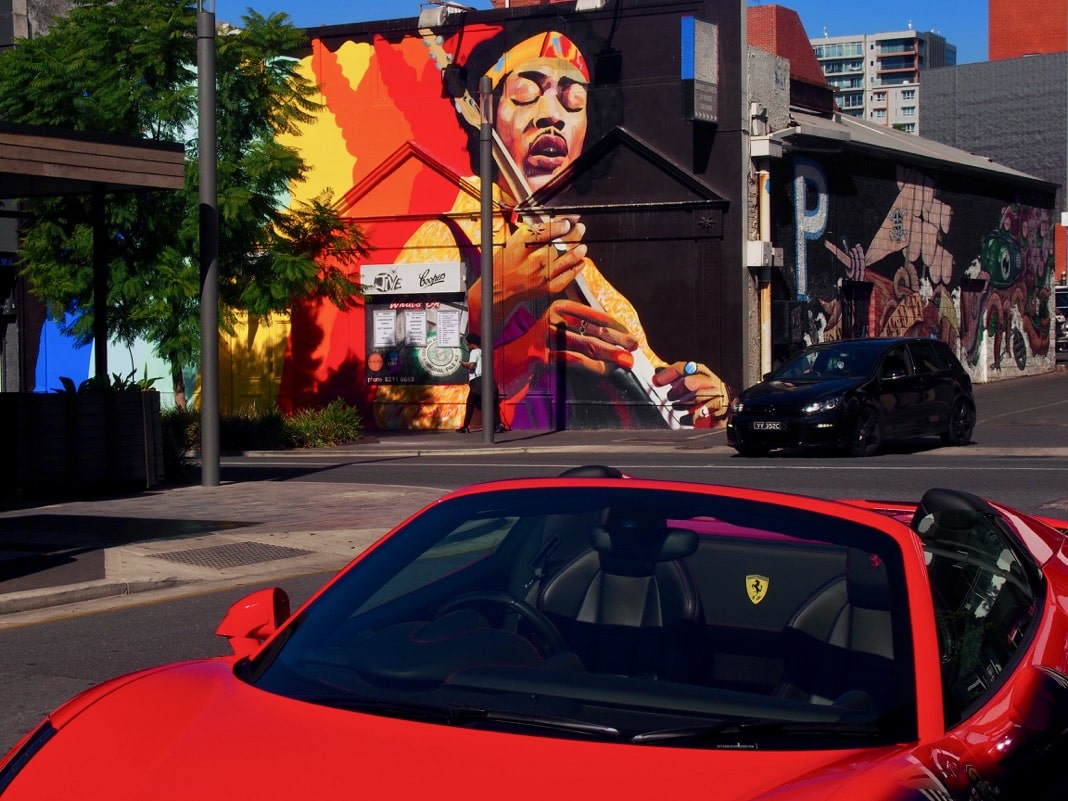 Hindley street will show you the full spectrum of life, from young students and homeless people to the filthy rich.
In stark contrast to the Ferrari is this incredible wall on a car park building, made up of tiny toy cars.
You can only see a small portion of a much larger wall in the pic. There must be thousands of toy cars on the wall. I wonder where they found them all.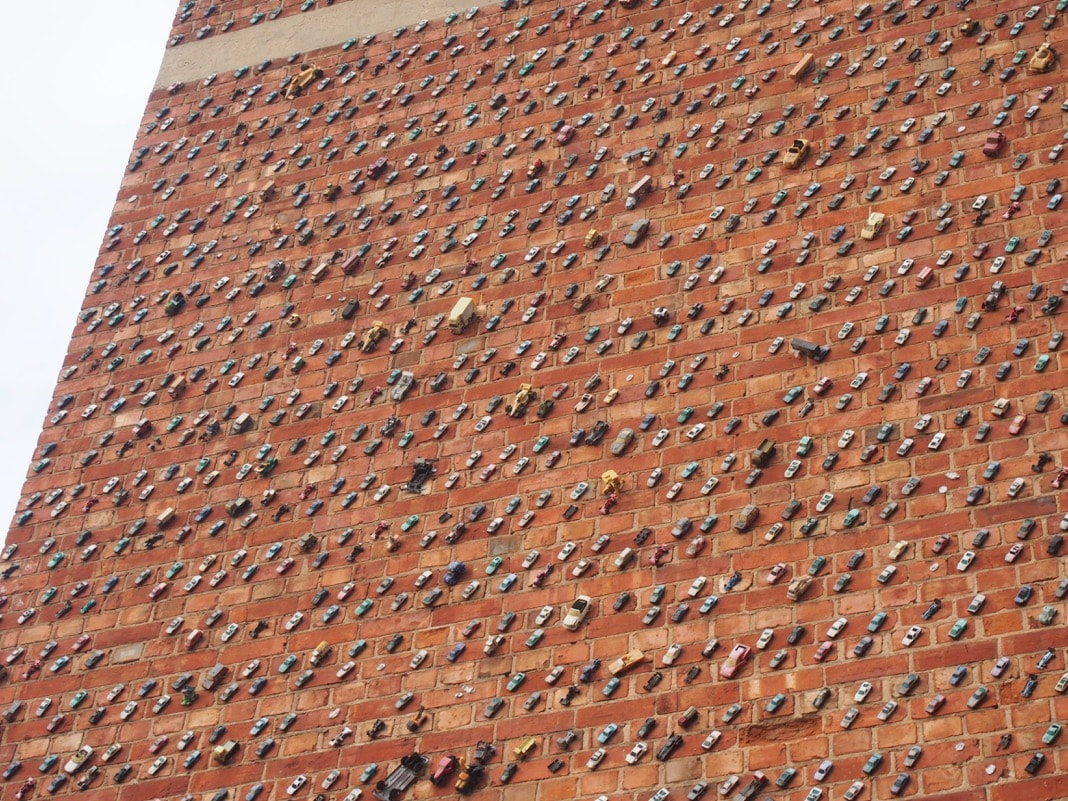 You can find this amazing wall of toy cars in Rosina street, a side street off Hindley street.
Legal Graffiti Spot in Adelaide
This legal graffiti spot is situated under a bridge on North Terrace, situated just off Hindley street.
You will probably end up walking past the Mercury cinema to get to this spot if you're walking from West Terrace towards Rundle Mall.
I talked to the artist Mese (pronounced messy), who I saw working on a mural of Freddie Mercury, the legendary singer from the rock band Queen.
Apparently, he'd been inspired by the film Bohemian Rhapsody which he had just seen.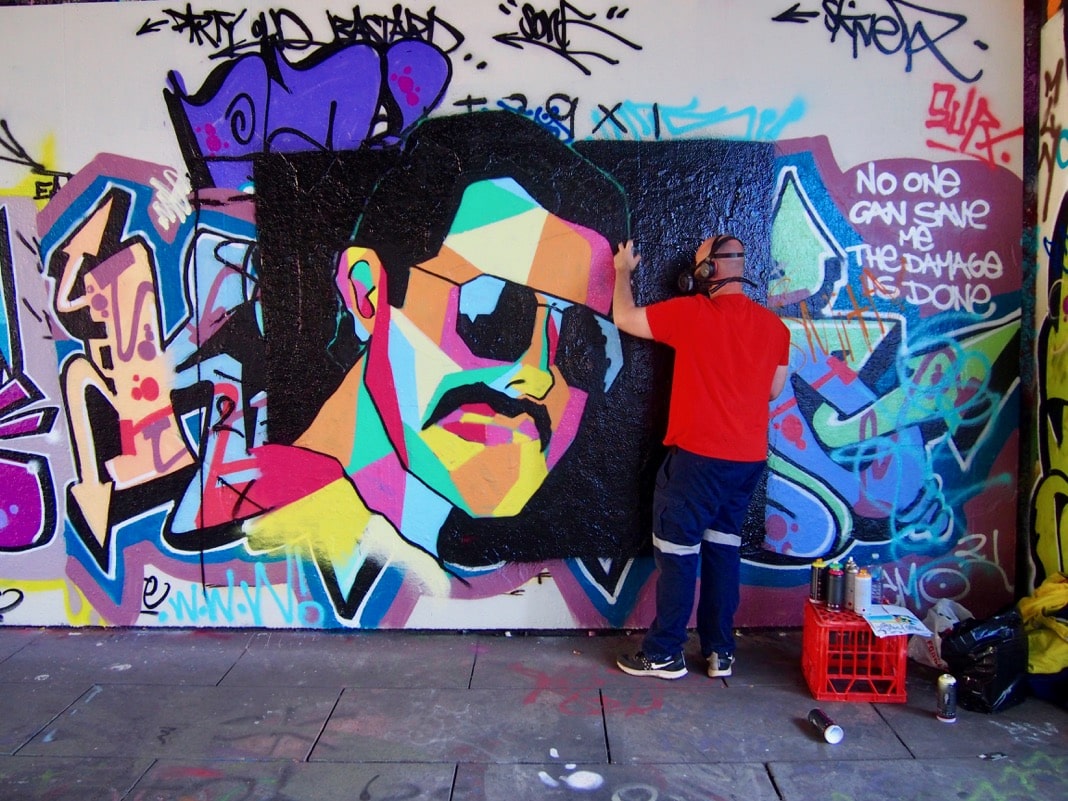 It is one of the coolest street art murals I have seen in Adelaide. Unfortunately, it didn't last for very long on this wall.
A couple of weeks later, I went back to check out the finished mural. I wanted to go back because Mese was still working on it when I was there, but by then, it was gone.
Someone had painted over it with something else that looked like total crap—a combination of graffiti and a picture worthy of a five-year-old.
Many graffiti writers and street artists use this wall for practice since it is the only legal graffiti and street art wall in the Adelaide CBD.
The walls and posts covered in graffiti and street art are ever-changing, so you never really know what you're going to see under the bridge.
This pic of Freddie Mercury is thankfully already immortalized! I was meant to be there.
Mercury (Hermes) is the messenger of the Greek Gods. I sort of wonder whether I attracted the attention of Mercury (Hermes), the Greek God?
Atlantis Adelaide Street Art
At some point, make sure you head over to the Atlantis on Waymouth street to see if it's still there. The Atlantis sign will most likely disappear one day.
This place in the Adelaide CBD brings to mind the ancient mythical island that disappeared in the ocean without a trace.
Around the corner on Mellor street is where you'll find a street art mural of the legendary Atlantis civilization.
How long Atlantis can stay in Adelaide is anyone's guess.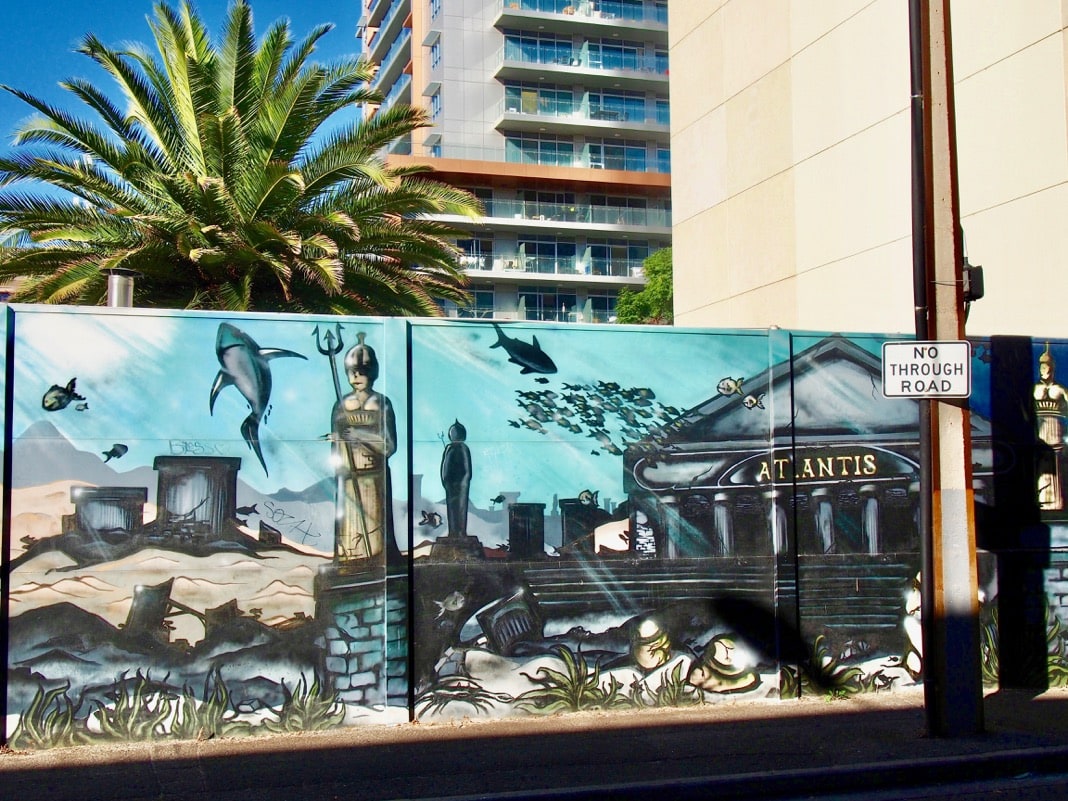 3D Street Art at Adelaide University
My favorite discovery of street art in Adelaide when walking around has to be this one.
Believe it or not, but this giant squid is painted on totally flat ground. It makes for a fantastic 3D illusion.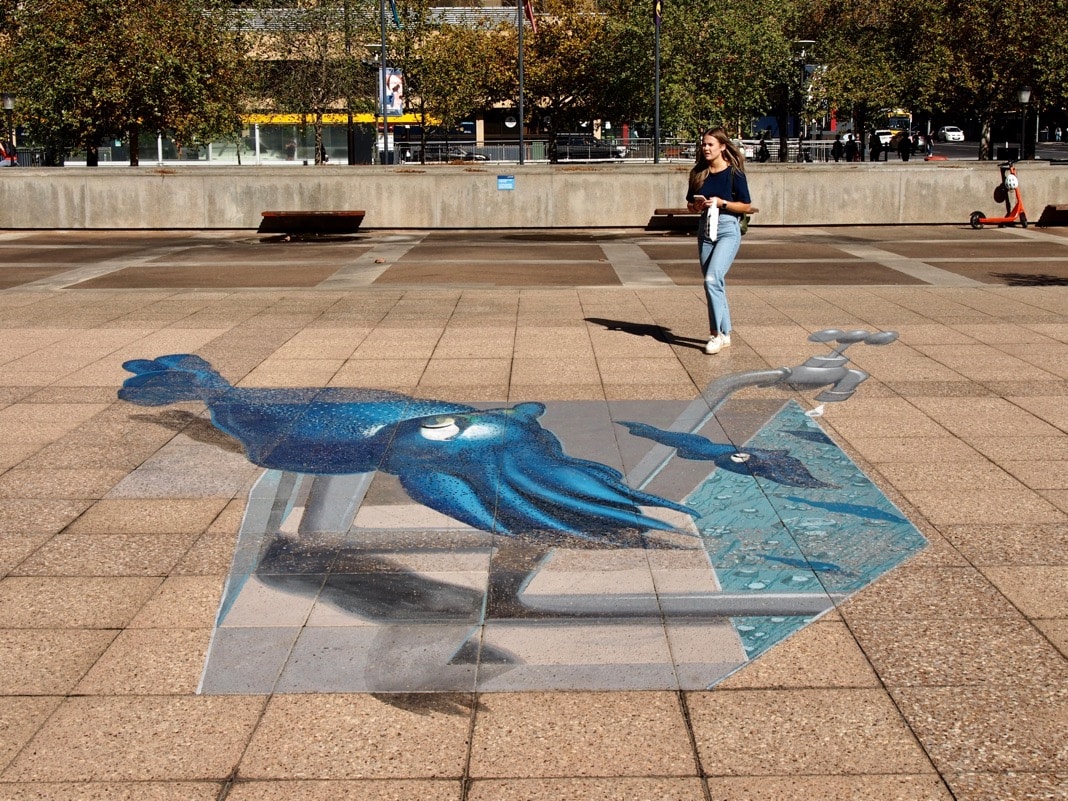 Next to the squid is a 3D mural of a flying bee and also a 3D painting of a satellite. They're also great 3D illusions.
Rundle Street Art
The Hand of God mural is a standout in Rundle street. That's Maradona, the famous football player on the right-hand side.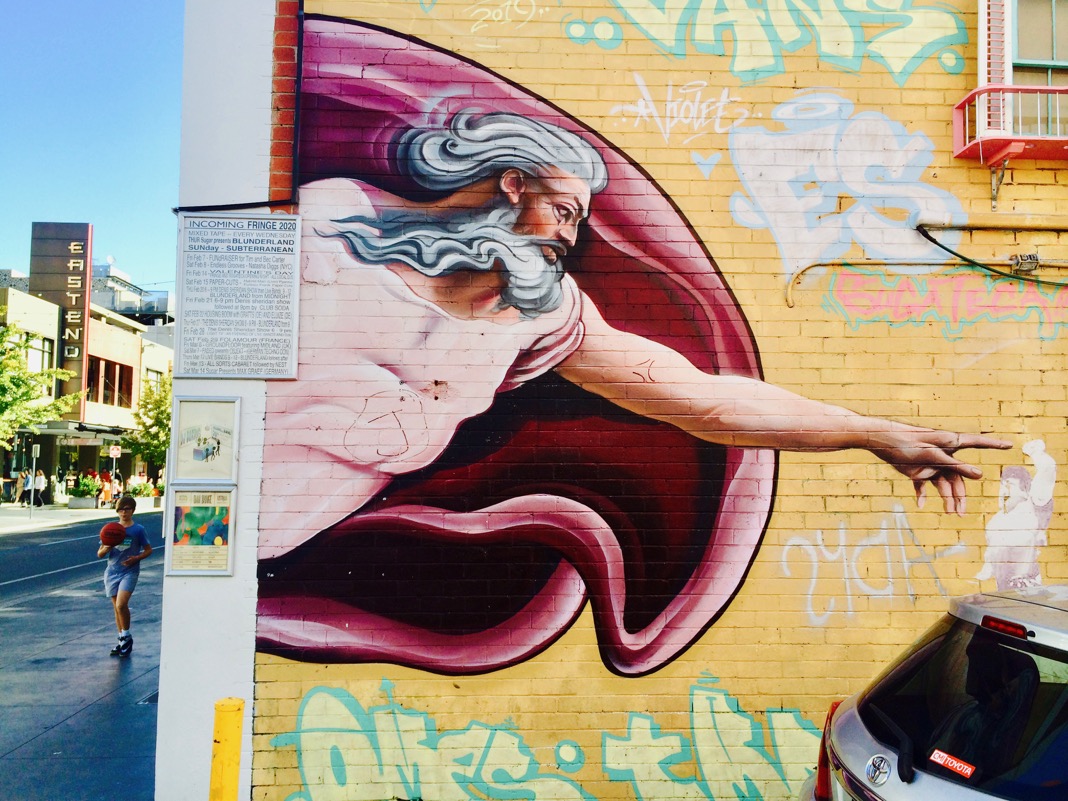 When I took this photo, I could hear a ball bouncing on the street. A kid was bouncing a basketball on the sidewalk. It was perfect timing!
It reminded me of Maradona's famous Hand of God goal in the 1986 World Cup, which is what this mural is all about.
Allegory of Peace Painting on Building Wall
On the other side of the road is this painting which goes by the name Allegory of Peace.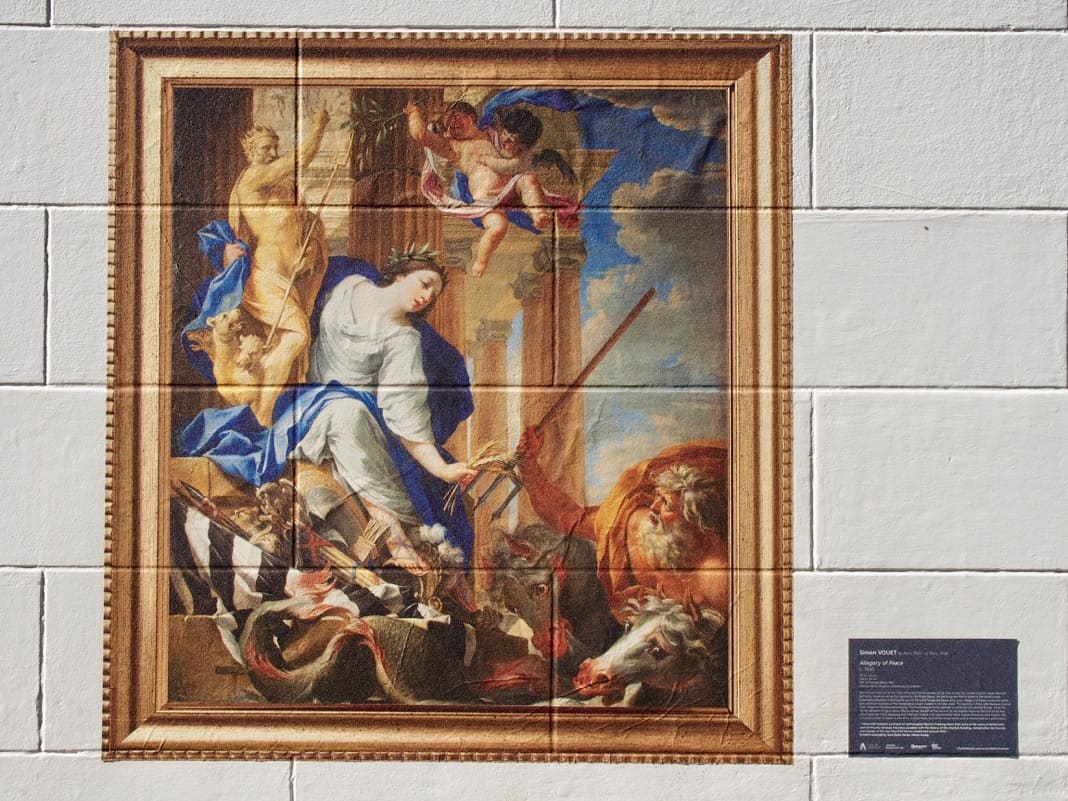 It is on a building wall, just off Rundle Street, and it's relatively close to the Eros cafe.
Alien From E-Street Saturn
One of the most bizarre murals in Adelaide is known as Alien From E-Street Saturn. The name of it is just as weird as the street art.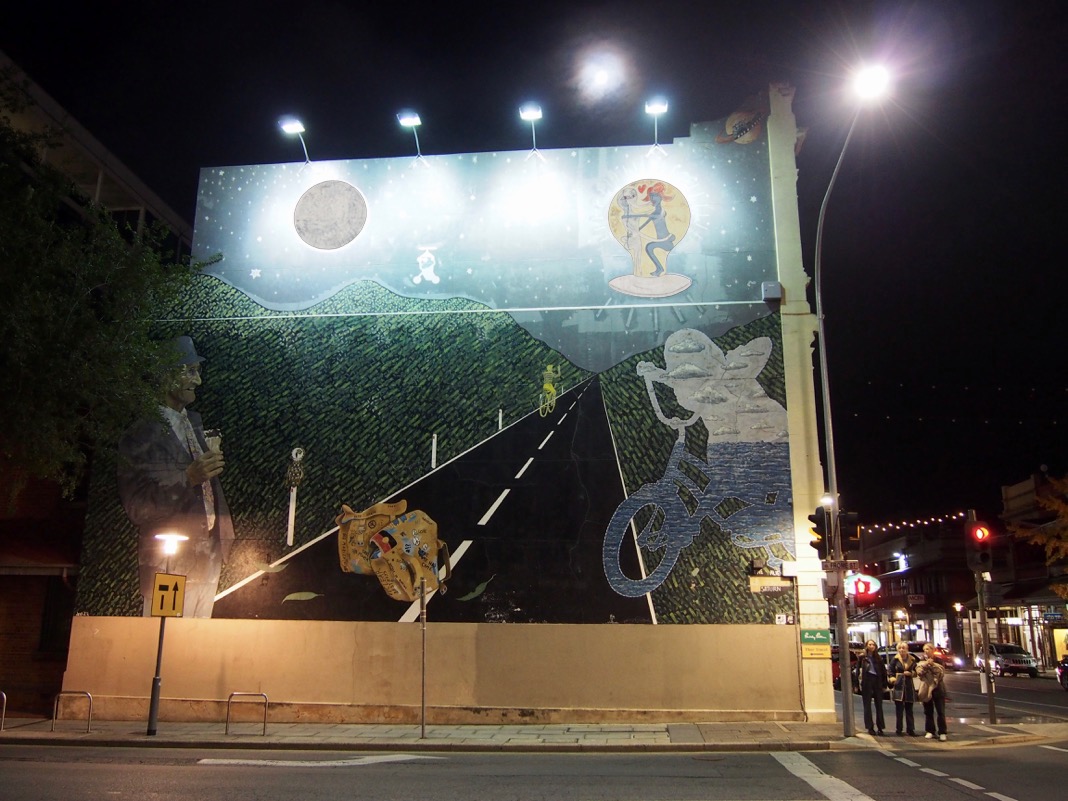 The three-story mural, painted by local artist Driller Jet Armstrong, can be seen on a heritage building. You can see it at the intersection of Rundle Street and Frome street.
It's been around since 1998 but has faded out in that time. Some of the original colors of the mural were very bright indeed.
This mural was made by adding more details to another earlier mural created in 1984.
In this weird Adelaide mural, there's a train that goes around the rings of Saturn, which you can't really see. It's in the top right-hand corner.
There's a helicopter man, aliens kissing inside what looks like a light bulb, and so much more. All of it together pretty much makes the whole artwork incomprehensible.
I wish I had the ability to take better night photos. There was a full moon right above the building mural on this particular night, which is difficult to notice.
You can see the moon as a circular blur of light above the lights on top of the building.
Owl Mural
An owl mural is just off Rundle Street on the side of a building known as The Howling Owl. This venue describes itself as Adelaide's premier gin den.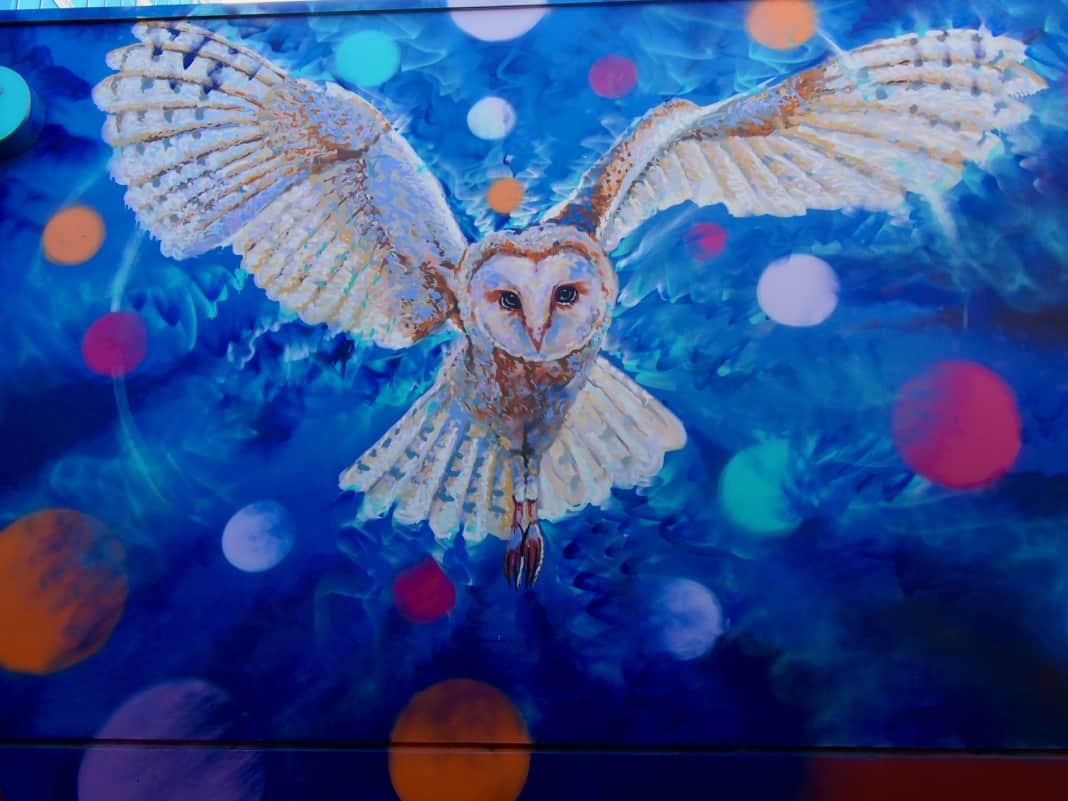 Athena, the Goddess of wisdom, would probably appreciate this mural.
Orphelia
The most beautiful mural in Adelaide would have to be Orphelia in Vardon Avenue.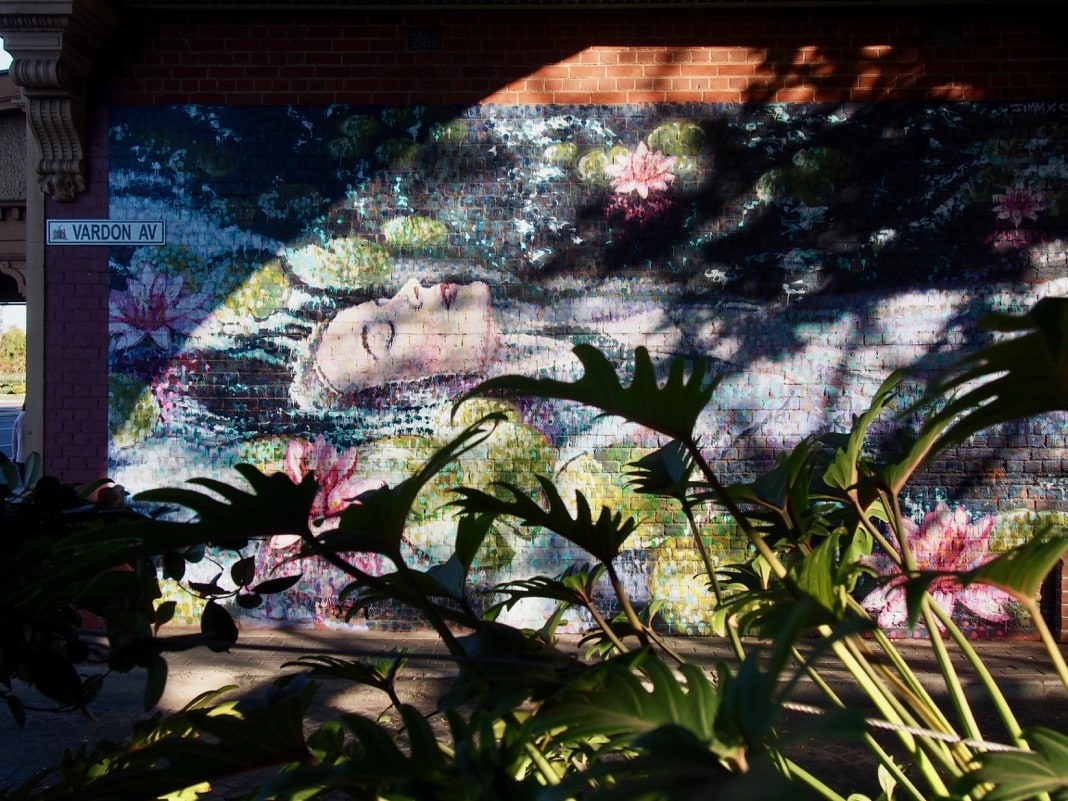 Vardon Avenue and the connecting Ebenezer Place is where you'll find Hey Jupiter. It's a great place to stop for a coffee and something to eat.
Weird Adelaide Street Art
There are plenty of talented street artists who have created weird street art in Adelaide.
This mural would have to be one of them. It reminds me of a futuristic cyclops from Greek mythology.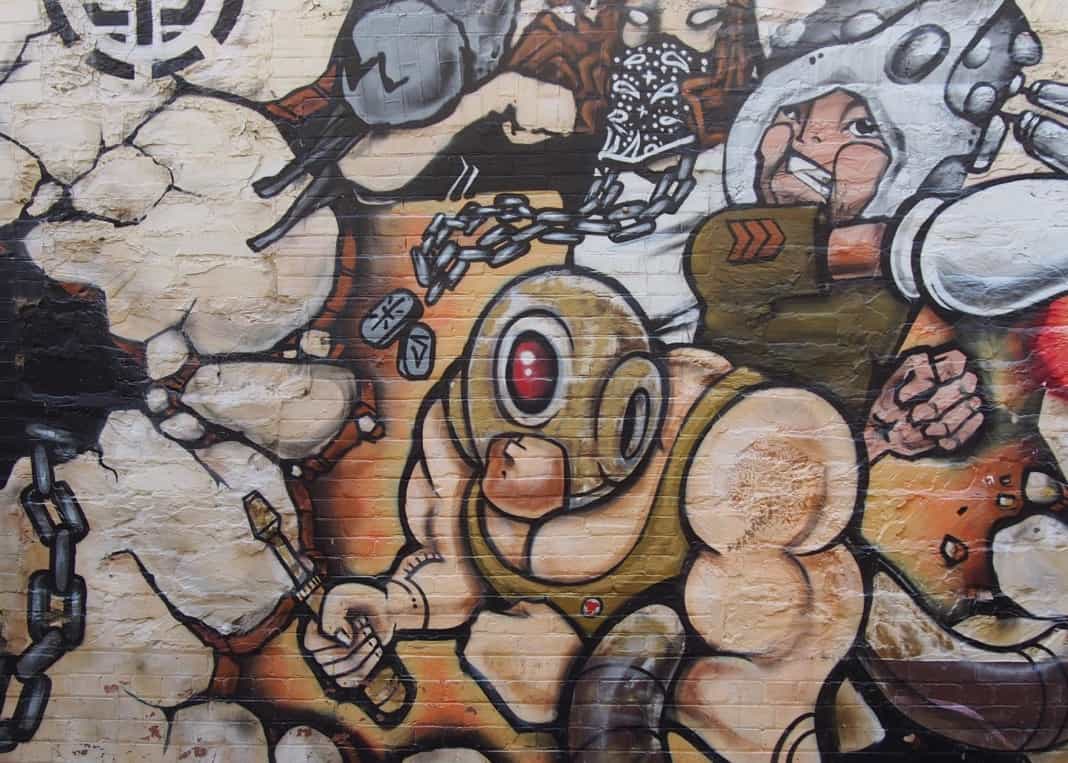 In a car park just off Hindley Street, you will find a wall covered in street art. Walk by the laneway next to Jimmy Hendrix, and you can't miss it.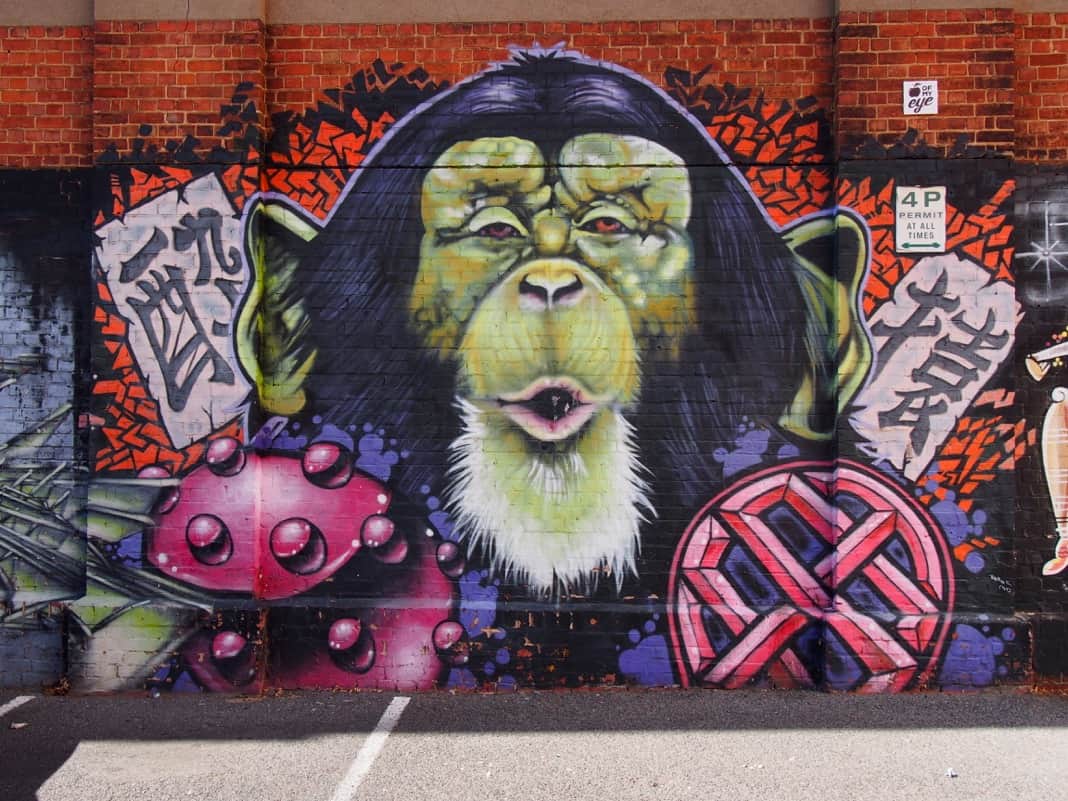 The monkey mural really stands out.
Adelaide CBD Street Art (South Terrace area)
To find more street art on the opposite side of town, head over to South Terrace.
A cool kangaroo mural is perfectly suited for a place like Australia.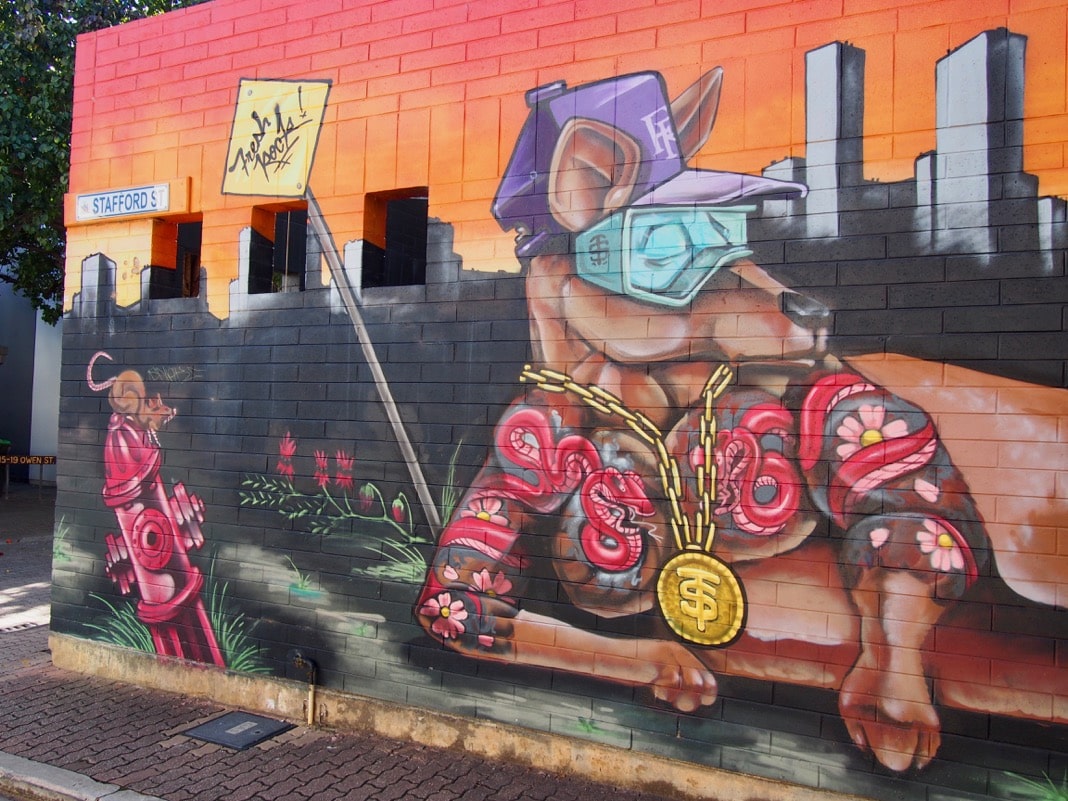 Close to the Adelaide Himeji Japanese Garden on South Terrace is this masterpiece showing another beautiful world from another Universe.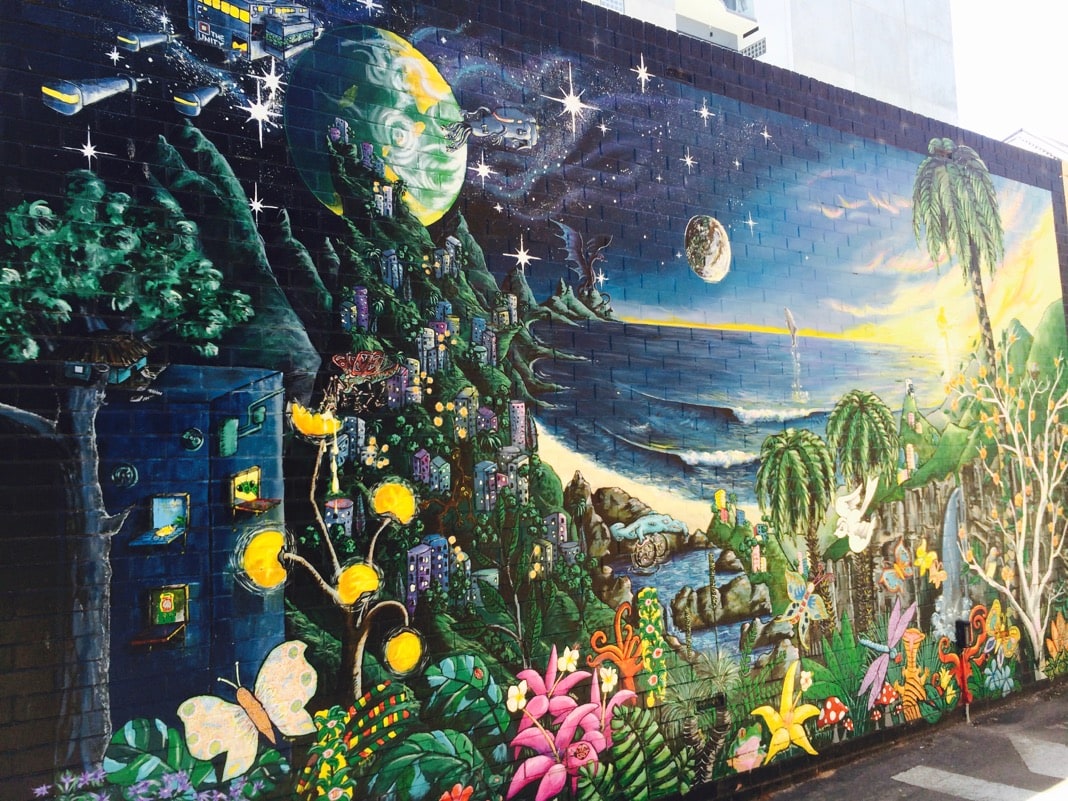 The Dragon Wall Mural
The dragon wall, which rises against a car park wall, is imposing. The beauty about it is that the dragon reflects on the side of another building that has mirrored glass panels.
At a certain angle, it appears as though there are two dragon murals. It's easy to see when you're there, but you can't really tell by looking at this photo.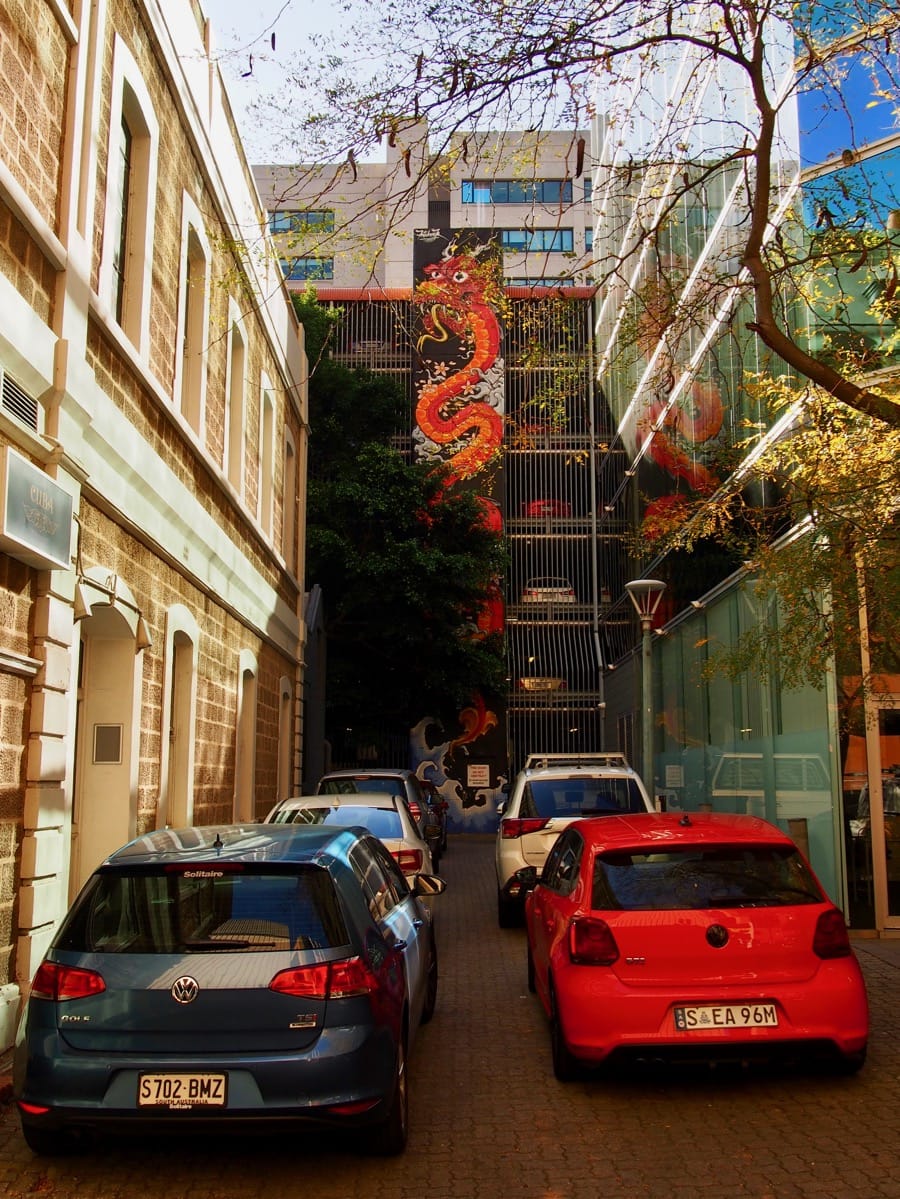 Order 55
This incredible wall mural in Gawler Place is by the Australian street artist "Order 55."
I was waiting for someone to walk past on quite a cold day, and not many people were walking my way. After about five minutes, I could see someone walking towards me.
Later on, when I looked at the photo, I noticed that both of them almost look like opposites, especially with what they're doing with their right and left hands.
Maybe it's a Yin and Yang thing. The girl's blue jacket also matched the blue lady/alien mural color, so to me, it was like the perfect shot.
Kent Town Street Art
Ok, so this street art isn't exactly in the Adelaide CBD. It's a beautiful mural of David Bowie as Ziggy Stardust.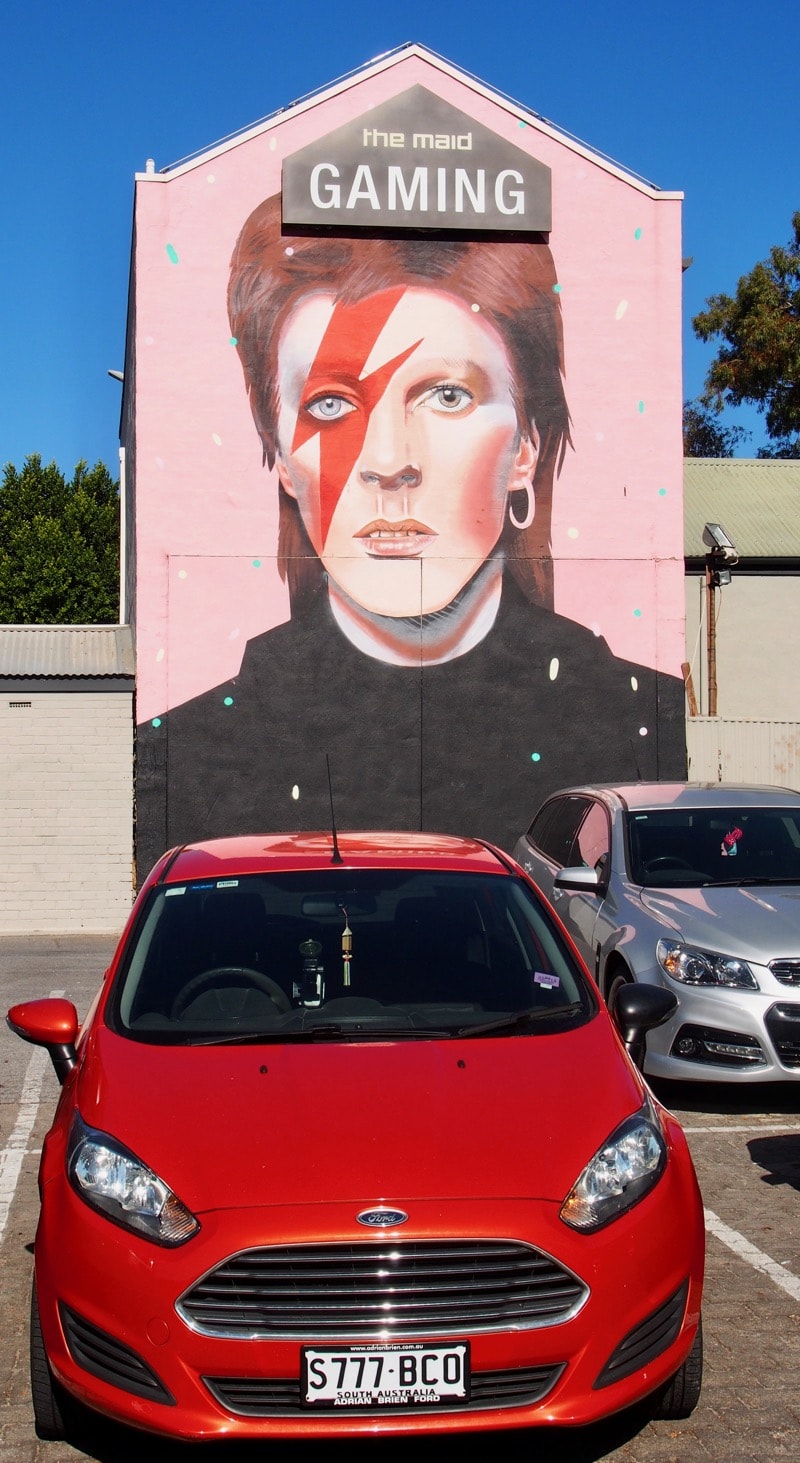 The David Bowie mural is plastered on a wall at The Maid Hotel in the car park, located at 1 Magill Road, Stepney. It's so worth visiting.
You can walk there though it will probably take you around 30 minutes.
It's probably a better idea to drive there or catch a bus to see this fantastic mural of David Bowie.
I recommend it as a great way to end any street art walk in Adelaide. I'll always have fond memories of David Bowie for the movie The Labyrinth. Such a classic!
If you're wondering where the street art in the feature image is located with the blue devil lady next to a skull, it was taken in a rear laneway at the Oxford Hotel in North Adelaide.
If you ever wanted to go to Oxford but couldn't, this is the place for you!
To see more awesome Adelaide street art, make sure you check out the Wonderwalls at Port Adelaide. It's where Cupid, the God of love, is hiding.
Pin it … Share it