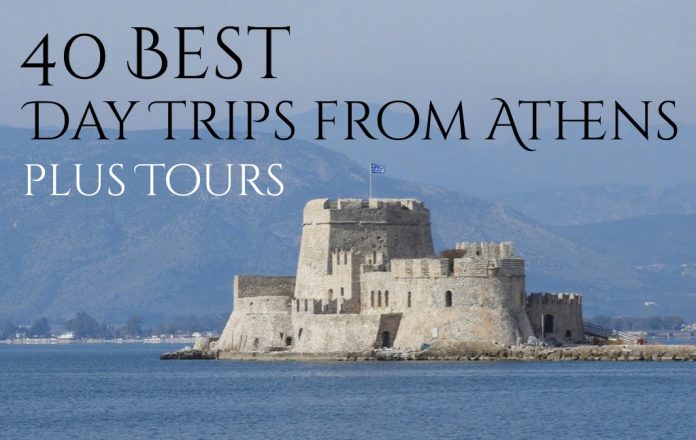 All of these 40 best day trips from Athens are fantastic!
So my recommendation is to make sure you go on one day trip from Athens at the very least if you're lucky enough to be in Greece.
Since there are plenty of great day trips from Athens to choose from, deciding on only one day trip is going to be extremely difficult.
This is where looking at my top recommendations regarding the best day trips from Athens, could help you to pick the best day trip/s for you.
All of these day trips from Athens look great, so any decision you make isn't going to be easy.
It's almost like you need a whole week in Athens just to go on day trips, and after writing this up I'm actually convinced of it.
Planning day trips from Athens
Greece's very best day trips can be done in a couple of different ways, either by planning the trip yourself or going on an organized tour from Athens.
My own preference is to plan day trips independently mainly because organized day tours and half-day tours generally try and pack a lot in, and they often run on tight schedules.
It often means that you don't get much free time to do your own thing at certain places, which I highly value.
However, on occasion, an organized tour from Athens would still be a great option, especially if you don't want to worry about transportation and the logistics of getting to your destination.
Just meet at the place where your tour starts, and off you go, which is super easy.
Even I would prefer to go on an organized day tour for some of these day trips, especially for the longer day trips that cover huge distances.
Full-day tours from Athens (including half-day tours)
There are plenty of enjoyable full-day tours from Athens, as well as half-day tours from Athens to think about.
So I'm confident that one of these day trips from Athens will attract your attention.
You will also find links to a variety of tour operators in Athens in this list, which will show you some of the best day tours available from Athens (Greece), so check them out.
Many of the tours from Athens are highly rated, so I'm confident that if you decide to take a chance and go with one of the organized tours, you will have a great time!
After all, this is a great selection of day trips from Athens. You'll even find a few hidden gems in Athens, Greece. So there is something special for everyone here.
Day Trips from Athens (Rated from Best to Worst)
Most of my attention is focused on the top 20 best day trips from Athens.
However, all forty of these great day trips from Athens on this list have something going for them.
To make things a bit more interesting, I have even arranged the 20 best day trips from Athens from best to worst, based on my preferences.
Consider number 1 as being the ultimate day trip from Athens, followed by number 2 as the second-best day trip from Athens, and so on.
Keep in mind that all of these day trips from Athens are incredible experiences.
No matter what position a day trip occupies on the list of 20 best day trips and tours from Athens, rest assured that all of them are great.
Anyway, it all depends on what interests you most, and how you want to spend your day in Greece at that time. It may be as simple as wanting to visit a beach.
I would visit all of these awesome attractions in Greece given the chance since all of these day trips and day tours from Athens look special to me.
The 20 best day trips from Athens 
Before you look at all of the best day trips from Athens, let me give you some great advice.
Remember, it is better to go on a day trip somewhere than to never go at all.
It happens to many of us. We would love to visit a place for a longer time, so we don't bother going on a day trip, and then we never end up going at all.
Just go, even if it is only for one day.
Let's begin by taking a look at my number one day trip from Athens, a visit to one of the most beautiful cities in Greece, Nafplio, which was once the capital of Greece. It's a dream destination!
1. Nafplio and the Fortress of Palamidi
Visiting Nafplio would have to be one of the best day trips from Athens, if not the best.
From Greek mythology, Nauplius and Amymone, are said to have founded Nafplio.
Amymone was one of the Danaides, and one of the fifty daughters of King Danaus, whereas Nauplius (The Navigator) was the son of the sea-god Poseidon.
That's enough to get me excited!
Nafplio makes for an excellent day trip from Athens. One reason why is that you can get to Nafplio before midday.
It gives you the whole afternoon to visit some of the main attractions in Nafplio.
Visiting the Fortress of Palamidi is a must-do experience. Palamidi Castle, another name it goes by will also provide you with extraordinary views of the surrounding coastline of Nafplio.
The Venetian castle located in the middle of Nafplio harbor is also worth a visit. It is known as the castle of Bourtzi.
History buffs will no doubt want to go for a wander through the Archaeological Museum of Nauplion. So it's going to be pretty hard to get bored in Nafplio.
Athenians love Nafplio, and so do most tourists who have visited this beautiful coastal city.
Nafplio is considered to be one of the most romantic cities in Greece and is often said to be the most beautiful city in Greece.
It was even once the capital of Greece, from 1827 until 1834, so it has that extra historical pulling power.
You can easily spend a few nights in Nafplio. If you do, it's a great place to use as a base for further exploration of the Peloponnese Peninsula.
However, don't pass up an opportunity to visit Naflpio by going on a day trip if you only have a limited number of days available in Greece.
You definitely won't regret it, but chances are you will if you never go.
How to get from Athens to Nafplio:
By car to Nafplio: Nafplio is about a 2-hour drive from Athens since it is approximately 140 km away.
You will have to pay road tolls from Athens to Nafplio. However, the tolls are relatively cheap in Greece. A tollbooth attendant will collect a cash payment. Take cash with you, since they don't take cards.
By bus to Nafplio: The bus from Athens Kifisou (Kifissos) Bus Terminal to Nafplio takes around 2 to 2.5 hours. The bus leaves from Kifissos Bus Terminal (KTEL Bus Station A).
This bus station is situated on a highway in the north-western part of Athens. The closest metro stop is "Agios Antonios." After reaching it, walk for about 15 minutes from the metro stop to get to the bus terminal.
You can also access Kifissos Bus Terminal via a city bus from Omonia Square or by taking a taxi. Note: Bus schedules are fewer on Sundays and holidays.
By train to Nafplio: The route does NOT have a train connection from Athens.
By ferry to Nafplio: It will take between 3-5 hours if you take a ferry from Piraeus port. However, it isn't a direct route, and it will require other transportation along the way.
Firstly, take a ferry from Piraeus to the towns of Ermioni or Porto Heli. Note: You can get to Piraeus port from central Athens by using the Athens Metro or by taxi.
Once you arrive, you will then need to take a bus to the town of Kranidi. After that, you can catch another bus which will take you to Nafplio.
Nafplio tour recommendations:
2. Hydra
Many artists and writers from all over the world have based themselves on the island of Hydra at one time.
There must be some magic in the air for the island to have attracted them. I guess the only way to find out why is to visit Hydra for yourself.
No cars are allowed on the island, so it is extra peaceful. What this means is that you'll have to explore Hydra on foot or by getting a ride on a donkey.
Hydra island became well known after the adventure/romance movie Boy on a Dolphin, which starred Sophia Loren in 1957.
It is one of the most famous movies filmed in Greece. You can even visit a statue showing a boy on a dolphin on the slopes of the island.
Visiting Hydra makes for a perfect day trip from Athens.
Hydra is a fabulous Greek island to visit since it is relatively close to Athens. It is one of Greece's most popular destinations for this reason.
You can get a good taste of Hydra in one day, so you'd be crazy not to visit Hydra if you're in Athens and you have the time available.
How to get from Athen to Hydra:
By ferry to Hydra: The ferry to Hydra will take approximately 1 hour 30 minutes from Athens (Piraeus port). The first ferry from Athens to Hydra leaves at about 8 am.
Hydra tour recommendations:
3. Cape Sounion and the Temple of Poseidon
Also called Sounio.
The bonus is that by making your way to the ancient Greek temple of Poseidon at Sounio, you will get to see the Athens Riviera along the way.
The incredible temple of Poseidon was made entirely from white marble. It overlooks the sea at the end of Cape Sounion, situated about 70 km (43 miles) southeast of Athens on the southernmost point of Attica.
If you visit the temple of Poseidon, don't leave Cape Sounion before sunset to really enhance the experience. The sunsets are supposed to be truly magical at this spot.
In my opinion, this would have to be the best half-day trip from Athens. I'd go there in the afternoon, in readiness to take a few photos while the sun sets later in the evening.
You can also visit the organized beach of Aegeon hotel with beach umbrellas underneath the temple. So beach lovers can make the most of a day trip.
You will have to pay a small fee to enter the archaeological site, which includes the temple of Poseidon. Keep in mind, last entry is about 20-30 minutes before sunset.
Beaches at Sounio
Cape Sounio beach – only has one beach canteen
Grecotel Beach Cape Sounio – Beach club
The Grecotel has two beaches. The most beautiful is the one facing southeast.
How to get to Cape Sounion from Athens:
By bus to Cape Sounion: The bus from KTEL Attika Buses station located in Pedion Areos can take you to Sounio. It will take about 2 hours.
By car (or taxi) to Cape Sounion: It will take a good hour's drive from the center of Athens since it is a 70 km drive.
From Athens, follow the road of Apollo along the Saronic Gulf leading to Cape Sounion, which is dominated by the temple of Poseidon.
Cape Sounion & Temple of Poseidon tour recommendations:
4. Mount Olympus And Dion Full-Day Tour
Climbing Mount Olympus in Greece is one of the best things I have ever done in Greece.
If you want to climb Mount Olympus and reach Greece's highest peak, the biggest problem you'll face is that you need at least a minimum of 2 days to do it.
The reason why is that you need half a day to get from Athens to Litochoro (about 5 hours), a town situated at the foot of Mount Olympus, and a gateway town to climbing the highest peak.
Once you arrive, you could set straight off to climb Mount Olympus, but you will only be able to reach one of the high altitude refuges (places to stay) on Mount Olympus.
The next day you could ascend to the very top of Mount Olympus and theoretically make it back down to Litochoro.
Once you do that, you can then catch a train back to Athens in the late afternoon.
I don't recommend this plan, though, mainly because it would feel way too rushed. In my opinion, you need at least three days in the Mount Olympus area to fully appreciate it.
That said, if you're not fussed about climbing Mount Olympus, why not consider going on a 13-hour tour of Mount Olympus and Dion instead.
Your full-day train trip to Olympus from Athens begins at the Athens Railway Station, also known as Larissa Station, at 9:30 am.
You board the morning train to Katerini and enjoy a memorable day trip! Make sure that you arrive at least 30 minutes before departure.
Prepare to spend most of your time on the train during the day trip, but at least you'll have a few hours around the Mount Olympus region, exploring fascinating places such as Dion and the Platamonas Castle.
Note: Entrance fees are required for Dion Archaeological Site & Platamonas Castle.
Getting to the Mount Olympus region:
You could organize your own day trip. Just catch the train and then make your way to Litochoro, Dion, or Platamonas Castle. Catch taxis around to other places to make things a bit easier once there. However, going on a tour would probably be a better option.
Mount Olympus tour recommendations:
5. Delphi
Visiting Delphi is easily one of the very best day trips from Athens.
There are so many things to see and do in Delphi, but one day in Delphi will allow you to cram a lot in.
I would personally recommend staying for at least one night in Delphi, but don't let that stop you from visiting Delphi if you only have one day available.
You will get to see key sites such as the Temple of Apollo, the Ancient Theater and Stadium of Delphi, as well as the Sanctuary of Athena Pronea, including the Tholos of Delphi.
You will also get a chance to visit the Archaeological Museum, and you'll be able to walk through the main street of Delphi town and window shop.
Going on a day trip to Delphi is a winning move if you haven't been there before.
You can also combine a trip to Delphi to include a quick visit to the Sanctuary of Eleusis and the Archeological Museum of Thebes.
How to get to Delphi from Athens:
By car to Delphi: Athens to Delphi is about 164 km away. The drive there will take between 2.5 to 3 hours.
Private car transfer from Athens to Delphi: Why not hire a driver to take you there in their private vehicle? It sounds like a good option. Consider using Mydaytrip for a private transfer.
By bus to Delphi: The bus will take about 3 hours to reach Delphi. I have visited Delphi by bus, and it was ok. Buses run about five times daily.
The bus from Athens to Delphi leaves from KTEL Bus Station B in Liosion, situated in the northern part of Athens. It takes about a ten-minute walk from the "Agios Nikolaos" stop when using the Athens metro.
Delphi tour recommendations:
6. Aegina
Aegina is another Saronic island, the same as Hydra, Spetses, Agistri, and Poros.
The Greek island is extremely popular as a weekend getaway, plus there are a couple of fascinating ancient sites on the island to explore.
The Temple of Apollo in Aegina is only a short 10-minute walk from the main port of Aegina in Aegina town. You can even see it when you arrive at the port.
You also have to visit the delightful Doric Temple of Aphaia, one of the main attractions in Aegina. It is of great interest to many tourists.
How to get to Aegina Island:
By ferry to Aegina – There are about 15 daily ferry crossings from the port of Piraeus in Athens to Aegina. Ferry rides to Aegina take about 40 minutes to just over an hour.
Aegina tour recommendations:
7. Mycenae
Mycenae is associated with the Greek king Agamemnon, who played a significant part in the Trojan war.
The Lion Gate marks the entrance to the fortified citadel of Mycenae. Walking through this impressive gate alone would have to make this one of the best day trips from Athens.
How to get to Mycenae from Athens:
Driving a car to Mycenae: The distance between Athens and Mycenae is about 130 km.
To get to Mycenae from Athens, follow the Greek National Road from Corinth to Tripolis. It will take about 1 hour 30 minutes to get there.
After the Corinth canal, follow the route towards Nafplion and Mycenae.
Bus trip to Mycenae: Buses link Mycenae with Nafplion, Argos, and Athens. The bus will take about the same time as driving from Athens to Mycenae.
Mycenae tour recommendations:
8. Meteora
I have included Meteora in the top 10 best day trips from Athens because I think taking one glimpse of Meteora is all you need to be glad you went.
Visiting Meteora, a land filled with incredible rocky mountain formations will feel quite rushed.
It doesn't matter though because I'm sure a day trip to Meteora would be worth it.
Imagine taking in some of the incredible views on offer, as well as the photo opportunities arising from being in such a beautiful part of Greece.
How to get to Meteora from Athens:
Driving to Meteora from Athens: Meteora is approximately 360 km (222 miles) from Athens. It will take you about 4-5 hours to reach by car. It's a long drive to go on, and it could take you even longer if you are a tourist attempting to do it.
I'd much prefer to go on an organized day tour to Meteora.
If I did drive to Meteora, I'd want to stay for at least three days. The reason for this is that two of those days would involve a large chunk of driving time and really, you probably need five days in Meteora to fully enjoy yourself.
So the next best thing to do would be to go on one extremely tiring day tour of Meteora.
I'm sure you'll be exhausted by the end of it, but it should turn out to be a very memorable experience. Odds are you'll probably want to go back to Meteora one day.
Train to Meteora: Direct trains from Athens to Meteora run frequently. Some trains, though, may require two changes.
Kalambaka is the closest town to Meteora and the last train station, so remember it. From there a taxi can take you to Meteora for a few Euro.
Meteora tour recommendations:
9. Astir Beach Club
The beaches in the Greek Islands are the main drawcard for most tourists.
So why not spend an afternoon at one of the most exclusive beach clubs along the Athenian Riviera? It seems like a no-brainer to me.
And the bonus is that you may find yourself in the company of a Greek celebrity.
When you see them, you probably won't know who they are, but you may get an inkling of their celebrity status while relaxing under your beach umbrella.
How to get to Astis Beach Club: The beach club is situated about 30 minutes from the center of Athens along the Athenian Riviera.
10. Spetses
Athenians love to visit Spetses island on the weekend, particularly during summertime.
The old port in Spetses has bars and clubs that stay open all night. This makes it the most popular nightlife spot on the island.
Some beaches in Spetses worth checking out include Agia Paraskevi and Zogeria.
Agioi Anargyroi is the largest and probably the most popular beach on the island.
Also, don't forget to visit the beautiful cave of Bekiri. It is referred to as the cave of filmmakers and lovers due to its beautiful interior. A pathway from Agioi Anargyroi beach will lead you to the cave.
Some visitors to Spetses won't be able to resist staying for at least one night in Spetses. If that's the case, consider staying at the Poseidonion Grand Hotel. It's a top choice to make.
How to get to Spetses from Athens:
By ferry: Take a dolphin from Piraeus port in Athens. Trip time is about 3 hours.
You can also get to Spetses from Hydra and Poros and some locations on the eastern coast of Peloponnese, such as Ermioni and Porto Heli.
By car from Athens to Porto Heli: Takes about 2 hours 30 minutes by car, followed by a boat (15-minute trip), a water taxi (5-minute trip), or a ferry boat.
Note: Private vehicles are not allowed on the island.
11. Lake Vouliagmeni
Lake Vouliagmeni is a mineral spa. It's the perfect place to unwind after long tiring walks around Athens or after diving at the Blue Hole (number 39 on this list).
Lake Vouliagmeni tour:
How to get to Lake Vouliagmeni:
A taxi can take you from Athens to Lake Vouliagmeni in about 20 minutes.
12. Ancient Olympia
Olympia is the birthplace of the modern Olympic Games, so if you love sport, here's a fantastic destination that should be sky high on your list of things to do in Greece.
The Olympic Games were held every four years from 776 BC to 393 AD.
Olympia was also a place of worship dedicated to the Greek God Zeus from about the 10th century BC. You will even have the opportunity to see the temple of Zeus in Olympia.
One day in Olympia will probably feel super rushed. Even so, I'm sure it would be an incredible experience to have.
How to get to Ancient Olympia:
Ancient Olympia is about 300 km from Athens. So it will take about 4 hours to get there.
You can get there by car, private transfer, bus, or by going on an organized tour.
Ancient Olympia tour recommendations:
13. Porto Heli
Porto Heli is a summer resort town on the eastern side of Peloponnese.
This summer hotspot has been called "the Hamptons of Greece."
Top Tip: If you can afford it, stay at the modern-day Mount Olympus of glowing marble that is Amanzoe. Or see if you can't, see if you can go there for a drink.
How To Get To Porto Heli:
By Car: You can drive to Porto Heli in approximately 2 hours and 30 minutes.
By Private Transfer: Athens Premier Transfers has Mercedes Benz cars/vans and Audi sedans offering comfortable and quick transfer from Athens in under three hours.
By Boat: You can reach the marina at Porto Heli via ferry from Piraeus Port in Athens. You can also reach Porto Heli via ferry with Hydra and Spetses. Another option is a private water transfer from Athens, Hydra, or Spetses arranged through Spetses Cruising.
By Helicopter: If you are exceptionally well off, you may even want to reach Amanzoe by a 20-minute helicopter via the on-site heliport.
14. Marathon
Key places to visit around Marathon include:
Marathon Archeological Museum
Marathon Battlefield
Marathon Lake
Thermopylae's Battlefield.
If you didn't know this already, the name given to the modern marathon running race came about due to a legend of an ancient Greek messenger who raced from Marathon to Athens, a distance of about 40 km (nearly 25 miles).
The messenger did so because of news regarding a crucial Greek victory over an invading army of Persians in 490 BC. Tragically, the messenger fell dead after announcing the message. Thus the Marathon was born.
Going on a guided tour to learn about the historical aspects of Marathon and Thermopylae would be awesome!
How to get to Lake Marathon:
Lake Marathon is situated 33 km northeast of Athens. You can get there by train, car, bus, or taxi.
Marathon and Thermopylae tour:
15. The Ancient Theater of Epidaurus
You can easily fit in a visit to Epidaurus when you visit Mycenae.
But why not go to the theater of Epidaurus to see a concert or a play? It would magnify the experience tenfold.
Tour: Mycenae and Epidaurus: Full-Day Tour from Athens
16. Tolo
Only 11 km from Nafplio. This is the place to go if you want some beach time.
17. Volos
One of the best things to do in Volos is to visit Mount Pelion, a place steeped in myth and legend. You have to go there.
18. Steni Evia (the most beautiful village of Evia)
Evia is the second-largest island in Greece. Including a visit to a thriving tourist town on the second biggest island in Greece sounds good to me.
Driving to Steni would be my preferred option.
If you want to go for a great walk, head over to the forest near the village. It's supposed to be very scenic.
The village is found at the foot of Evia's highest point, Mt Dirfys (1,740 m / 5,709 ft).
If you prefer, you could go on a four-hour walk to the summit, where you will get incredible views over the island, the Aegean, and back over the mainland.
Make sure you bring a map with you, to make things easier.
19. Mystras and Mani
The ancient city of Mystras is an incredible Byzantine city built into a towering mountain.
The UNESCO World Heritage List described the city as a splendid complex of palaces.
A visit to Sparta to see an ancient citadel and the statue of King Leonidas is a must.
And don't forget to visit the Archeological Museum of Sparta.
Sparta tour:
Tour: Ancient Sparta & Mystras Private Day Tour from Athens
20. Eleusis (Ancient cult mysteries)
My last pick to enter that has made it into the top 20 day trips from Athens is Eleusis.
Eleusis is only 21 km from the center of Athens. You could even walk there if you want to.
Top 10 Greek Islands within 2 hours of Athens 
If you have visited all of the islands in the top 20, including Hydra, Aegina, and Spetses, then here are a few more Greek Islands to visit for day trips.
You can never get enough of the Greek Islands, even if you only get to visit the Greek island for one day.
21. Santorini
Yes, you can fly this dreamy Santorini by going on a 45-minute plane flight from Athens.
That still leaves you a decent amount of time to enjoy Santorini's stunning clifftop views.
Here are some of the best things to do in Santorini. You may want to visit just to do one particular thing on Santorini.
22. Andros
Visit the Pithara waterfalls or one of the fabulous beaches for the day.
23. Sifnos
Visit Sifnos if you want to taste some yummy food and for the breathtaking scenery!
24. Evia Island
Evia is the second-largest island in Greece, so there must be lots of interesting things to see and do in Evia.
Drive there and go exploring.
25. Moni
Moni is covered in lush forests and populated by wild deer, peacocks, and goats.
The animals are supposed to be friendly, so don't be surprised if they want a snack.
26. Poros
Poros is an island in the heart of the Saronic Gulf, close to Aegina and Agistri.
27. Agistri
Agistri is the smallest of the Saronic Islands. It's still great for a day trip from Athens!
28. Salamina Island (Salamis)
Salamis is where the naval battle of Salamis took place in 480 BC between ancient Greek city-states and the Persian empire.
Salamis is the closest island to Athens, situated just 20 km from the small port of Perama, which is very close to the main Athenian port of Piraeus.
Ferry: Get there by ferry from the small port of Perama. Ferry time is 15 minutes.
29. Trizonia
One of Greece's hidden gems is the island of Trizonia. I have to admit that I have never heard of this small island before, but it is supposed to be an under-the-radar paradise!
Onassis, the legendary Greek shipping magnate, wanted to buy the island, so it must be pretty good.
30. Kea 
Kea is still untouched by mass tourism. So it could end up being your ultimate relaxing getaway.
There are four ancient cities in Kea to explore, including Ioulis, Korissia, Poiessa, and Karthaia.
Other places to visit near Athens
Here are the rest of the day trips from Athens that didn't make it in the top 20 list.
It doesn't matter because I'd still love to spend time at all of these places.
31. Piraeus
Most people think of Piraeus as a port, where you catch ferries to the Greek Islands. But many consider it to be a great place where you could easily spend half a day exploring the charming town.
One of the town's biggest attractions is the Archaeological Museum of Piraeus. It is where you can see brilliant bronze statues of Apollo and Athena.
32. Ancient Corinth
You have the town of Corinth, the Corinth Canal, the Acrocorinth castle, Loutraki, and the legendary Cave of Lakes to think about seeing.
Paying tribute to Hera at the temple of Hera and pondering over Apollo at the temple of Apollo, is a must.
You also may want to see Malagavi Lighthouse, one of the oldest stone lighthouses in Greece.
I'm not sure why I didn't include this in the top 20 day trips from Athens because a day trip to places in and around Corinth seems like it would be an incredible day trip to experience.
Corinth tour recommendations:
33. Sail around the Athenian coastline
A private yacht cruise close to the Athens Riviera sounds like it would be a divine experience. The only problem is that it could cost you a small fortune.
Tip: Try and make some rich friends if you can.
34. Arachova
Probably the most famous ski resort town in all of Greece, so if you're thinking about a day trip from Athens in wintertime, this is the place to go.
35. The Mycenean Tholos Tomb of Acharnes, Attica, Greece
For history lovers.
36. Nemea (for wine lovers)
Wine-lovers rejoice! Before visiting this famous Greek wine region, or any wine region for that matter, I highly recommend watching some excellent wine movies dedicated to Dionysus, the God of wine.
It will get you in the mood for some good wine.
Though, Nemea isn't all about wine as you can see in this great video.
37. Pan's Cave Hike at Mount Parnitha
Who wouldn't want to go on a trek to the Pan's cave?
38. Valanari Waterfall
If you want to see a beautiful waterfall close to Athens, then Valanari Waterfall is probably the best place to go.
39. Scuba diving at the Blue Hole in Athens
Certified scuba divers may want to dive the Blue Hole as a great day trip from Athens.
The Blue Hole is relatively close to Lake Vouliagmeni.
It's a sea cave that goes down about 30 meters (98 feet) into the ocean floor.
The Blue Hole even opens up to a network of caves that apparently link to Lake Vouliagmeni.
Blue Hole scuba diving tour:
40. Botanical Gardens of Athens – The Botanic Garden of Diomedes
Lastly, this is for everyone who loves walking through beautiful gardens.
You can count me in.
There you have it, everyone, the 40 best day trips from Athens.
Pin it … Share it