Jennifer Barclay is the author of Falling in Honey and several other books set in Greece, including An Octopus in my Ouzo, Wild Abandon, and Taverna by the Sea.
Jennifer, who calls Greece home is a very interesting lady and highly intelligent confirmed by the fact that she's a graduate of Oxford University, so I couldn't believe my luck when she accepted my interview request.
All four of her books mentioned here are based on her wonderful experiences living on and exploring dreamy Greek islands.
This gives the books that authentic Greek feel like you're there splashing around on a Greek beach with her making them very enjoyable to read.
Seriously, I haven't read a book that has made me want to move to a Greek island more so than Falling in Honey, apart from maybe My Family and Other Animals written by the famous British naturalist Gerald Durrell.
Many people outside of Greece dream about living on a Greek island, but few do, so Jennifer Barclay is an extraordinary woman because she's done it and lived her dream! Fortunately, for the rest of us dreamers, we can read all about it.
In this interview with Jennifer Barclay, we will learn more about her life, how she became a writer, her love of the Greek islands, and more interesting things about her superb books set in Greece.
Interview with Jennifer Barclay
Jennifer, it is a pleasure to interview one of my favourite book authors. Falling in Honey is a fantastic read and I'm very excited to get to know 
you better. Can you begin by telling everyone a few things about yourself, where you're from originally and how you ended up in Greece?
Thanks for inviting me to your site, John!
I was born in Manchester in northern England and grew up with my parents and my brother (and our dog and cat) in a village on the edge of the Pennine hills, surrounded by countryside.
I think I was a fairly geeky kid, didn't quite fit in, but I always liked reading and did well at school, and I got into the grammar school in the nearby town, where from the age of twelve or so I studied Ancient Greek with a teacher who was very passionate about the subject and about Greece itself. That combined with family holidays to Greek islands gave me a deep connection with the country.
After university I spent a year in Greece, then moved to Canada and France and back to England – but I always dreamed of living on a Greek island. And in my early forties, when I felt a need to make a change in my life, that's what I ended up doing.
Visiting Greece – Family Holidays
Jennifer, when growing up you were lucky to enjoy some family holidays in Greece. 

Can you tell us about these trips to Greece and do you have a photo you can share?
My parents weren't well off but both worked hard and it was important to them to take us on affordable family holidays to Europe for the cultural experience and the sunshine, and from the 1970s, cheap package holidays were available to Greece. As I wrote in Falling in Honey, my dad says his happiest memories are of family holidays we took when my brother and I were young.
We went to Corfu (Kerkyra) in 1980 when I was eleven. I don't have access to any photos at the moment as they're at my mum's house in England, but when I was writing Falling in Honey I found a diary I kept during the holiday. I was clearly very excited about the whole thing, including the flight. On arrival I wrote about the heat, the drive through quaint villages; Greek folk songs, olive trees, whitewashed houses; the beach, the lemonade, the sweets… and the Greek dancing. My mum was clearing out the house last year and found some old vinyl LPs, including the one of the Greek music we brought back from holiday and used to dance around the house to.
We also went to Rhodes when I was about fourteen, and I was able to visit the acropolis of Lindos; the following year we went to Cephalonia, and had a trip to Ithaka, and I was fascinated by the museum.
I also remember as my teens progressed meeting Greek boys, and how nice it was to spend time with them at an ancient amphitheatre or on a beach with the moon rising over the sea…
Jennifer Barclay's Family
Jen, it would be great to know a few interesting things about your family. I'm especially curious to know if the writer in you runs in the family.

 Tell us about some of your family, the kind of people they are, and anything interesting about them. I'm also wondering about your mother and any similarities you may have.
My parents met in the city where my mum was born, Manchester, when my dad moved there for work. My dad grew up in Scotland and every year we'd combine a visit to his family with a couple of weeks' holiday in a remote cottage in the Highlands. My dad's father was Hungarian, and he had a brother in Bermuda and a half-sister in Botswana and a half-brother in northern Canada, so I grew up fairly captivated by the idea of travel to exotic places.
My dad travelled for his work as a football journalist and would always bring back postcards which also fuelled that enthusiasm for travel. So yes, writing is in the family. Over the course of his career he wrote for many of the major newspapers, and has written four very good biographies of important football managers, and now he's retired (though he still has 123K followers on Twitter!), is much more relaxed, travels for pleasure and reads a lot.
His dad, Guy Deghy, was an actor in film and TV – as a portly Hungarian with a moustache and beard, he tended to be cast as a villain – and also wrote a couple of books. And I only found out fairly recently that my dad's mother, Patricia, also wrote a newspaper column.
My mum is always busy and loves trying new things, which is something I get from her. When we went on family holidays to Europe, she would take me on walks to discover the area. When my brother and I were growing up she ran the household, started her own catering company, ran a playgroup for kids with special needs, helped run a crafts shop and café, worked for a travel company, and then helped run various offices before becoming information officer for Mercedes Benz. She loves walking and sunshine; I never thought I'd inherit her interest in gardening, but it seems I have.
My mum's mum, who looked after me a lot when I was a child, was also an energetic, funny, strong woman who enjoyed living life to the full. And there's writing on my mum's side of the family too – my mum's cousin, who's the same age as me, is a fiction author. We spent Christmas and New Year with my mum's family and everyone had to do 'a turn' – recite a poem or sing a song or some kind of entertainment – and my second cousin and I made up plays and acted them out together.
All that said, I never thought of myself as growing up in a literary family!
Jennifer Barclay at Oxford University
How did you orchestrate a life as a writer and editor of books? Take us on a journey to your time studying at Oxford 
University.

 How difficult was it to be accepted into Oxford and how hard was your degree? What did you graduate in?
After spending so long immersed in Ancient Greek at school, I decided that I would study Modern Greek at Birmingham University. But my teachers and parents advised me that I had a chance of getting into Oxford to study English and that it would be better in the long run. So I studied hard, passed the exams and interview and was accepted by St Hilda's College, Oxford, amazingly.
My parents were very proud of me for passing the Oxford entrance exams and encouraged me to enjoy the university experience, which I did – I acted in plays, modelled in a charity fashion show, helped set up a high-profile art exhibition and run an art society, wrote art reviews and author interviews, distributed posters for music and dance performances, met clever people from different parts of the world, and partied a lot… Academically I felt I was barely scraping by, a bit of an imposter, not really understanding half of the lectures.
But in the second year I switched to a course that gave more scope for studying more deeply in chosen subjects such as Old English, the history of the language, and Shakespeare, I got some good tutors and started to be more inspired and feel privileged to be able to sit in the historic Bodleian Library with a stack of amazing books.
In my third year, I moved as far away from my college as possible, to a little house on a canal shared with normal people, not just students going crazy with the pressure of finals, and I worked hard and came out of it with a 2.1 in English Language and Literature – and no real idea of what to do next.
Fun times at Oxford University
When thinking about writers at Oxford University, I have this vision of them meeting at the bar frequented by J. R. R. Tolkien, author of Lord of the Rings. Drinking beers, talking about great novels, and having great conversations with friends from Oxford seems to be a thing that writers would do. 

Can you validate this dreamy world in any way based on your own experiences at Oxford? Please mention any bars you often visited and some friends you made.

 I'm very envious of Oxford Alumni.
My all-girls' grammar school had a connection with St Hilda's College, then one of two remaining girls-only colleges at Oxford, and they'd advised me to apply there. But because girls' colleges only came into being relatively recently, in the late nineteenth century, St Hilda's didn't have the dreamy beauty of the really old colleges. Luckily, I soon acquired a boyfriend from Corpus Christi and started spending more time there with his friends.
We mis-spent a lot of afternoons and evenings at a wonderful old pub nearby called The Bear, which had very low ceilings and an odd collection of ties on the walls, and served very good beer. I love real English ale and quirky old pubs, and since socialising in pubs is part of the whole history and experience of Oxford, I spent as much time as possible drinking in pubs with some people I stayed friends with for years, though most of my friends weren't students of English and I don't remember talking much about novels.
One of the best things about Oxford was meeting people from different backgrounds – I had friends from the US and Argentina and Nigeria, people who knew how to play jazz piano or climb mountains.
Jennifer Barclay: Teaching in Athens
Straight after university, you went to Athens to teach English. Tell us about this time of your life and how long you were teaching for. Where did you teach and how did you get the job?
After university, I'd had enough of the academic world and was keen to get started on the world of work. I interviewed for several jobs including one or two in journalism and performed appallingly badly, ending up in tears. So when I saw an ad in the newspaper for 'Teachers in Greece', I leapt at it. I got an interview, got the job and by October I living in a shared flat in an apartment building on a busy road in the Galatsi district of Athens, with a job teaching English at two schools nearby.
Everything was on strike, I'd left my boyfriend behind and at first thought I'd made a big mistake. But I stuck with it, and soon started to enjoy it. Within a month I was travelling to islands – on a Saturday morning I'd go down to Piraeus and hop on a ferry – and life back in England started to feel very distant. I didn't have much money as the pay was low but I spent time falling in love with statues in museums, and going to cheap tavernas and dancing all night in bars with my flatmate, who had a Greek boyfriend, and with other English teachers scattered around the city. I also acquired a Greek friend whose parents had a little hidden taverna that opened late, and he'd drive me around the city. I made another Greek friend who was a sculptor. I met lots of people, went to lots of islands, fell in love every now and then, had adventures.
In the summer, I went to Santorini and talked my way into a job cleaning rooms in one of the most spectacular places in the world. I did more travelling in September and then decided I needed to leave because I didn't want to continue teaching English – I wanted to find my way into another career. I returned to England for an interview for a place on an arts administration course, but realised it didn't interest me enough. So I worked three jobs for a few months – teaching, cleaning, working in a shop – until I had enough money to go to South America with a man I'd met in Greece.
Falling in Honey and meeting Fans
Reading the book Falling in Honey makes people dream about moving to a beautiful Greek island for a variety of reasons.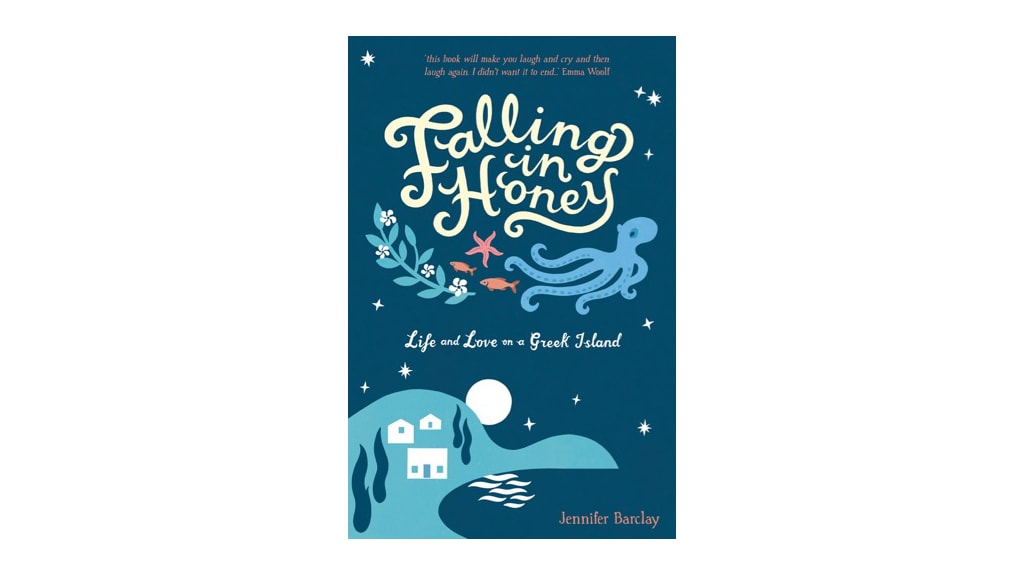 Do you think your main motivation for writing the book was to inspire other people to move to a Greek island or was it for some other reason? 

Also, can you tell us if you've had any enthusiastic encounters with fans while living in Tilos?
Falling in Honey is a book about taking responsibility for your own happiness, life being too short not to reach out for what makes you happy. I certainly didn't want to suggest that moving to a Greek island is right for everyone, but that's what I needed at that time of my life. And of course it is bound to appeal to people who love Greece.
In fact, I've encountered quite a few people on Tilos who've told me: I came here because I read your book/books. And thankfully they've all been lovely people. Just recently I met an Australian couple who had read my book Wild Abandon because it was recommended to them by the owner of the hotel where they stayed in Astypalea – who had heard about it from a Greek man who found the book on Tilos – and now the Australians have recommended it to a friend on Halki. Anytime I hear of people recommending one of my books to others, I feel very happy because it means I'm doing something right.
Jennifer Barclay: Life on Tilos
Can you tell us more about your life on the Greek island of Tilos? Things like where you lived, the street name and even the house number if you are willing to share it. I'm sure many of your fans would also like to know your favourite place to go swimming on Tilos.
I first rented a house on Tilos in 2011 and the address was… Tilos. We don't have street names or house numbers here. Your address is your name and the island! When I first had my belongings shipped from the UK, I had been told the house was at the 'Honey Factory' in Megalo Horio, but when I arrived I realised that lots of people made honey in Megalo Horio; and the man who transports goods in his truck just rang around a few people and asked who I was and where I was living.
A couple of years later I moved into a house in the middle of the village. There were several beaches within an hour's walk from where I lived. I try to be a little discreet about my favourite places because I usually like to be alone – I don't like busy places. But I've written about many special places in my books.
My favourite kind of beach is a wild, natural one with no houses or roads around it – and thankfully for now, you can still find that kind of place.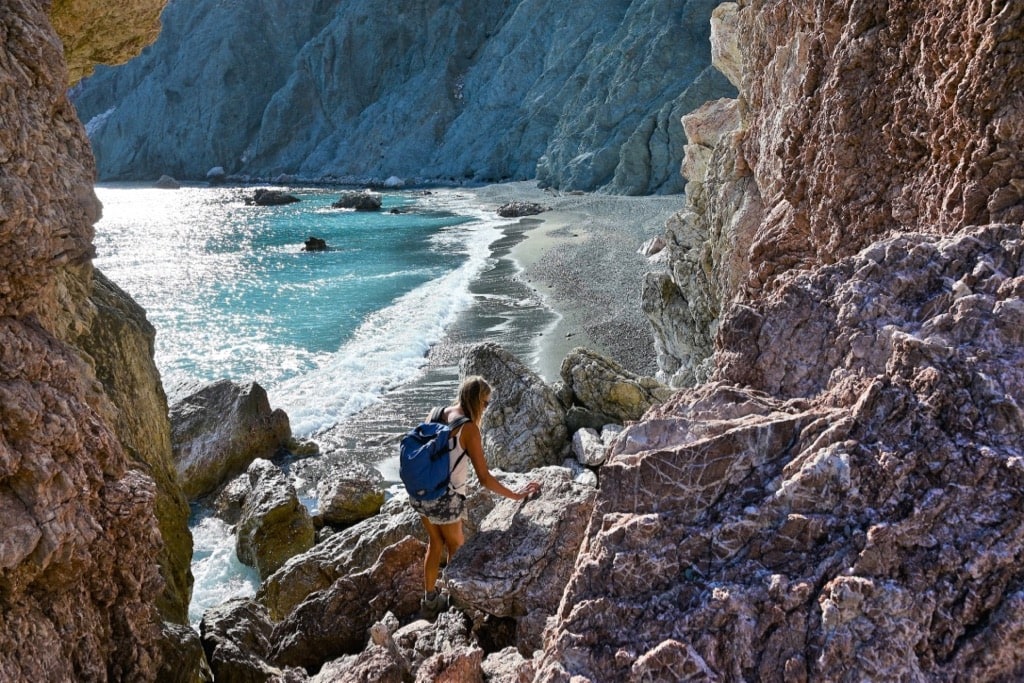 Falling in Honey: The Movie
By the way, how come no one has made Falling in Honey into a movie? Your story has everything in it to make a fantastic romantic comedy-drama. The film Shirley Valentine (1989) turned out to be a major success, so I'm sure Falling in Honey would be a smash hit.
Falling in Honey is the true story of a woman who, during one sad winter, after her boyfriend left her just before her fortieth birthday, decides on three gifts to herself – one of them being a month alone on a tiny Greek island. She has lots of adventures, including underwater encounters with octopus and starfish thanks to a new friend, and realises she wants to try to move there. It's a bumpy journey as something happens to cause a big twist in the story… But there's a happy ending, of course. I've always thought Falling in Honey would make a great movie. If you have any ideas of how to make it happen, let me know…!
Jennifer, one thing is for sure, Greek filmmakers aren't smart enough to make your book into a movie. Greek weird wave films prove that. Hopefully, a VIP from the movie business in England will read this one day and make a movie deal with you. It will be a classic! If only the famous British actress Jacqueline Bisset was in her prime. She would have been perfect for the role.
Ha ha, nice idea!
Greek islands – Kos and Rhodes
Tilos is situated roughly midway between Kos and Rhodes. Can you tell us about some of your experiences on these two islands? How often have you visited Kos and Rhodes?
Rhodes and Kos are each a few hours away by ferry, though there isn't a ferry every day and the times aren't always the most convenient. I go several times a year – to see a doctor, or buy something I need for the house, or get to the airport – and I love shopping in Rhodes and Kos towns, but I much prefer to visit outside of the busy tourist season. They're beautiful places in the winter and spring with lots of interesting archaeological sites and architecture. Both are big islands with lots to see.
I've spent a fair amount of time exploring Rhodes – I write about it in my books An Octopus in my Ouzo and Wild Abandon – and particularly love the villages up in the mountains such as Psinthos, Embona and Kritinia. Embona has great wine and other local produce and some excellent hiking. I spent a few weeks in the mountain village of Pyli on Kos in winter while researching the deserted places of the Dodecanese, and last autumn went to buy organic wine and loved exploring the far west of the island towards Kefalos.
Jennifer Barclay and her dog Lisa


How did your cute dog Lisa enter your life and can you tell us more about her?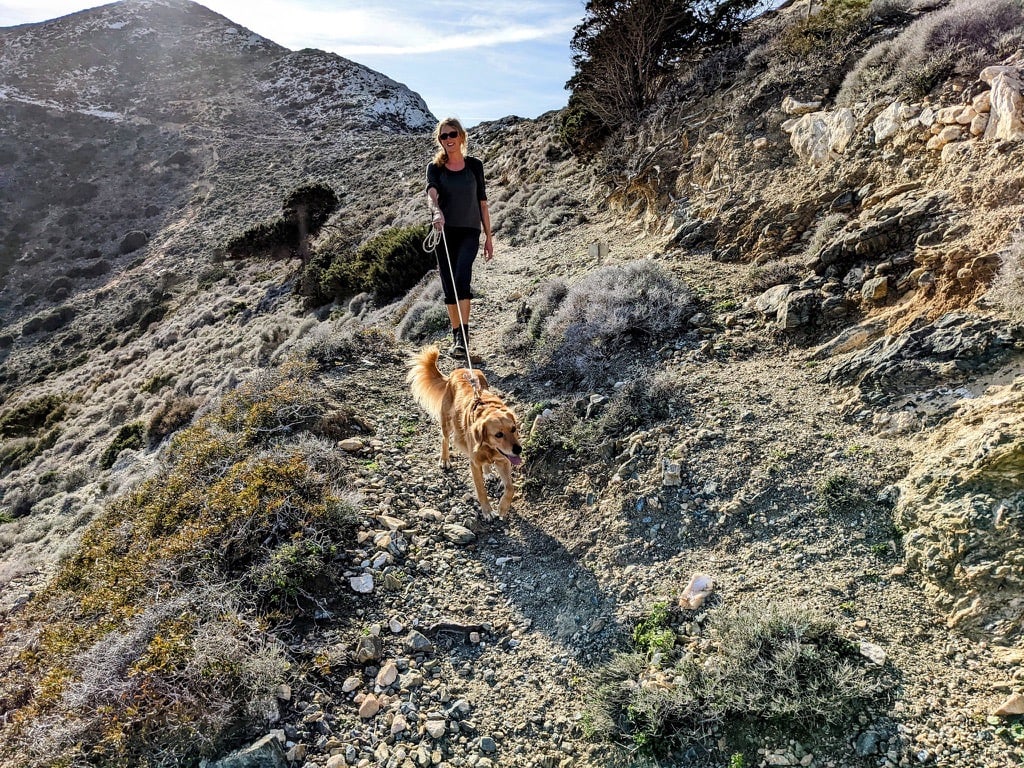 I was on Rhodes almost ten years ago with my then partner Stelios, getting the car fixed. While he discussed the car with the mechanic, I wandered off and inadvertently came back with a two-month-old puppy. I'd been thinking of getting a dog for a while, and this one told me she was The One.
Apart from a few times when I've had to go away and leave her with pet-sitters – when I went to Australia, leaving her behind was very hard – we've been pretty much together ever since. Having a dog sometimes makes life trickier – I can't just go away for a week or two for Christmas to see family – but she's a very affectionate and funny companion and I love her to bits.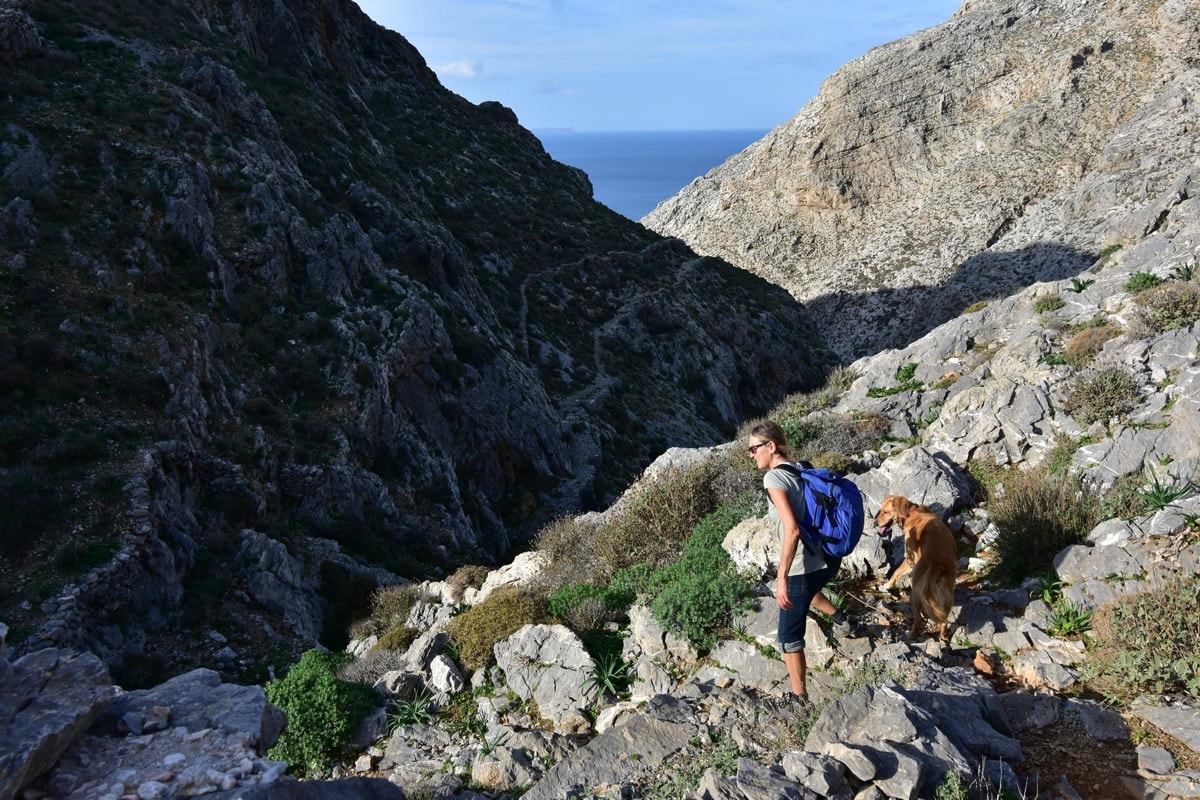 Jennifer Barclay and Greek Mythology
Jennifer, when growing up did any movies or books with Greek mythology themes inspire your fascination with Greece in any way? For me, movies such as Jason and the Argonauts, Clash of the Titans, and Hercules films were big inspirations. I also found the Minotaur and labyrinth myth absolutely incredible.
It would be interesting to know from a female perspective if Greek mythology had an impact on you when growing up and where it came from during your time. Maybe you had a fantastic Greek mythology book. Please tell.
I don't remember having a Greek mythology book or seeing any films based on Greek mythology – we didn't live near a cinema or watch much TV. But I did study Ancient Greek, so I read Homer in the original language and was very inspired by Odysseus, and found stories such as those of Agamemnon and Medea very powerful – Agamemnon who sacrificed his daughter so that he could go to war, Medea who takes terrible vengeance on her husband when he leaves her. It was the storytelling itself in the tragic plays that really drew me in when I was studying them, as well as seeing imagery in the ancient artwork, such as the golden mask of Agamemnon. I also loved those minor characters such as the priestess Cassandra, doomed to utter true prophecies and never be believed.
I agree that the minotaur myth is also fascinating to think about, and I like the idea of being a warrior-like princess – not in the sense of going to war but of being strong. I think I mentioned that in Falling in Honey when my simple decisions to take care of my own happiness gave me some kind of super-powers…! But I'd most like to be Odysseus.
An Octopus in my Ouzo
Your second book set in Greece was called An Octopus in my Ouzo and you also have a blog with the same name. Can you tell us how the name came about? Another thing, do you enjoy eating octopus and drinking ouzo?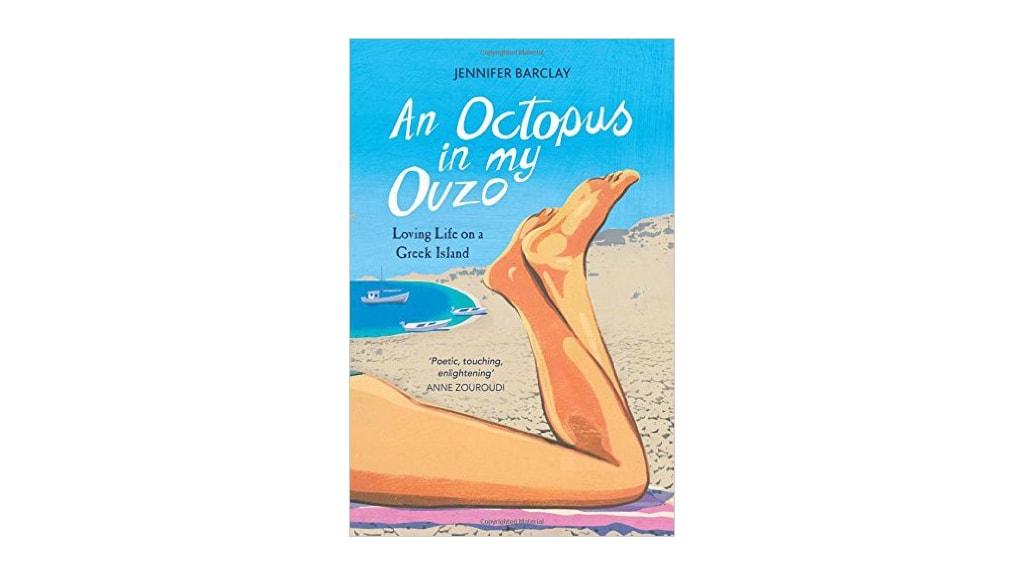 I started writing a blog when I first arrived to live in Greece, and didn't think too much about the title. An Octopus in my Ouzo just seemed to conjure up Greece. When I wrote a second book about my life on the island of Tilos, the publisher suggested An Octopus in my Ouzo as the title. I wasn't sure how appropriate it was, as the book deals with some serious things, but as I wrote in the prologue: 'This is a book about breaking the normal rules of life, and muddling along in a culture you half-understand.' So the image of putting an octopus in ouzo seemed to fit that.
A friend of mine in the book used to catch and cook a lot of octopus… I used to like it but now I prefer to see octopus alive when I'm snorkelling. And for different reasons, I like ouzo but also treat it with respect.
Wild Abandon: A Journey to the Deserted Places of the Dodecanese
Your third book set in Greece is called Wild Abandon. It is about you discovering deserted places in the Dodecanese. It sounds fascinating! Did your explorations ever lead you to ancient sites dedicated to the Greek Gods and Goddesses?
Given that I've always been interested in ancient things and culture and archaeology, I've always loved exploring ancient sites, especially those that you find in out-of-the-way places, not fenced in and commercialised, but places where you can wander and absorb the atmosphere. For example, the spring when I was hiking around Embona, I found myself alone at the top of the mountain in the ruins of a temple of Zeus. And there are so many places like that on the Greek islands.
I started seeing, though, during my wanderings, how the ancient sites were built over and incorporated into early Christian sites, and the lines blurred over the centuries, so what was built during the days when people believed in Zeus and Apollo and Athina looked not so different from what was built a hundred years ago. Things were built from what people had – rock and sometimes wood and plants and lime made from burning limestone – but they were built strongly and beautifully because people had skills and knowledge passed through generations, perhaps unchanged since ancient times in places that had been continuously occupied, and people worked together to grow and make what they needed.
So those were the places that began to fascinate me: where an extraordinary way of life continued for centuries, maybe millennia, and then stopped abruptly in the last hundred years when people left. And many of these places are less accessible now that people mostly get around by cars rather than donkeys, so they're often untouched, wild places where you're alone in an extraordinary landscape. And that's what inspires me.
Taverna by the Sea: One Greek Island Summer
You eventually moved away from Tilos to the Greek island of Karpathos, which obviously inspired you to write Taverna by the Sea.

 Can you tell us about Karpathos, how long you lived there and your way of life on the island? What message will people get from reading Taverna by the Sea?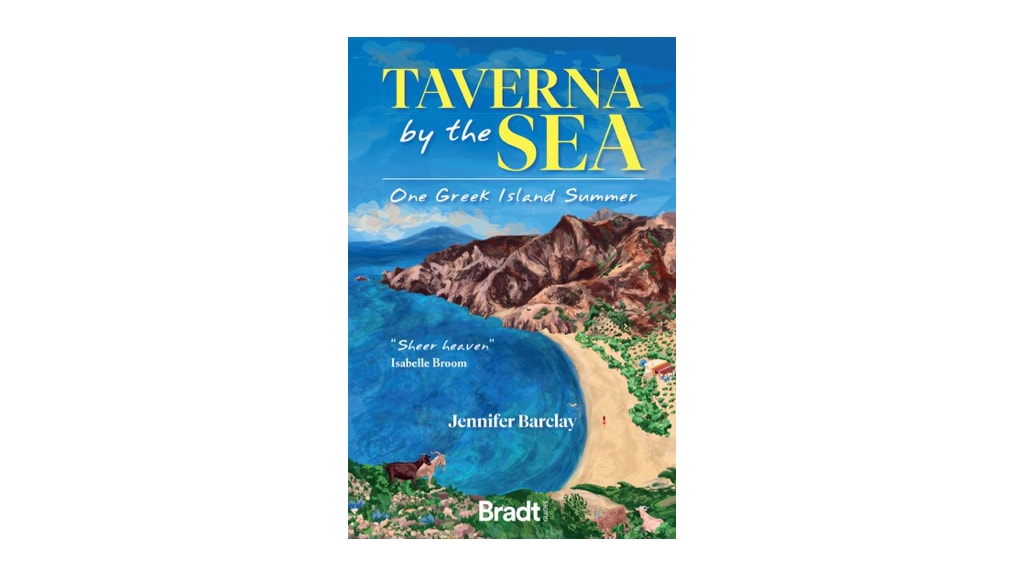 In spring 2016 I went on a trip to Karpathos, a large island between Rhodes and Crete, to do some walking and get to know the village of Olympos in the sparsely inhabited north, which clings on to traditions lost elsewhere in the Dodecanese. The landscape was mesmerising and I loved the village and the community. When I was offered a chance to come back for the summer to help out at a taverna in a remote, pristine bay, I couldn't resist.
The summer was busy but I felt more and more at home in that mountainous, rugged, unspoiled place; I was by then in a relationship with the taverna owner and we lived there for the winter and into the following summer. In the end, being involved with a local business was difficult in unexpected ways and I decided to leave and return to Tilos.
I felt it would be both funny and eye-opening to show what happens behind the scenes of an apparently idyllic paradise, but I also hope Taverna by the Sea shows what a wonderful experience it was and what a unique place.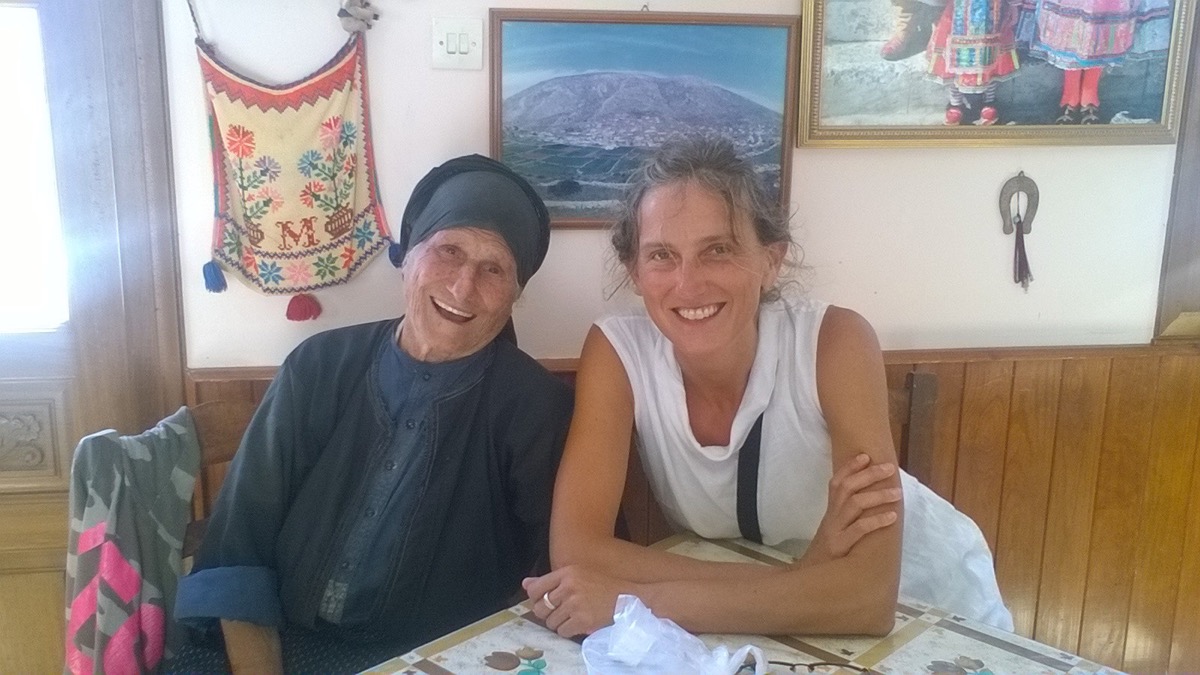 Jennifer Barclay Books
I was surprised to find out that not only do you work on writing your own books, but you also work on books written by other authors. How did this venture of yours start and can you give us a couple of excellent book recommendations?
I've worked in book publishing since the early 1990s, as a literary agent with Westwood Creative Artists in Canada and an editorial director with Summersdale Publishers in England, as well as a few shorter-term jobs. Almost ten years ago I went freelance and set up Jennifer Barclay Books, which gave me more scope to choose my projects and how I work, and I love it.
It's hard to recommend books because everyone likes different styles, but I have edited a couple of Greece-based books that can be found at www.jenniferbarclaybooks.com!
Learning Greek
Greek seems to be a difficult language to learn so I'm keen to know a few things. How did you manage to learn to speak Greek? How did you learn to read and write in Greek? Tell us about your path to understanding the Greek language.
I'd studied Ancient Greek for five years or so at school with the same teacher, Miss Hatch, who was passionate about Greece. For the final two years as I studied for A Level, I was the only student in the class, and sometimes got extra tuition. She often taught me modern Greek words and bits of Greek culture, and so along with the occasional holiday to Greece, including a few weeks backpacking around the Peloponnese during a university vacation, it gave me a decent grounding in the language.
When I arrived to teach English for a year after university, of course my language skills developed a bit – especially when I travelled alone to different islands where I didn't know anyone. Then in the spring, I met a local biker who didn't speak English, fell in love and learned a lot of Greek. I got my heart broken just before the summer, went to Santorini and knew enough Greek to convince a hotel owner to take me on for summer work.
After that year I lived away from Greece for a long time, but the love of the language was always there buried somewhere inside, and in my last years living in Toronto, I lived in the Greek neighbourhood and loved hearing the language being spoken. When I moved back to England, it was easy to start travelling to Greece again.
So when I finally moved to Tilos around the age of forty, I already knew a fair bit of Greek. That increased through interaction with my neighbours and then my partner for the first few years. I'd love to go to classes to improve my Greek or find a really good online course or textbook. For now I just pick up what I can – I find travelling alone outside of the tourist season a great time to chat with people. I'm fine with conversational Greek but I still need to get to a more advanced level. I find technical or formal language painstaking to read. I'm working my way through a Greek novel a couple of pages at a time…
Wisdom from Greece
Jennifer, to finish this interview off, can you please share some wisdom from Greece you have gained?
Don't worry too much. Health above everything. Be kind, look after your family, enjoy life.
Jennifer Barclay: Interview Conclusion
Thanks Jennifer! We all know you much better now.
To everyone who has just read this interview, I highly recommend reading at least one book written by Jennifer Barclay if you haven't already.
My top recommendation is Falling in Honey. It is a fantastic beach read and if you're longing to visit a Greek island, reading this book can take you there like nothing else. It's one of the cheapest ways to go to Greece without having to book accommodation.
What makes Falling in Honey so special compared to many other romantic books set in Greece is that her story is real. I have read a wide variety of books set in Greece but this one really sticks in your mind in a good way.
Jennifer's book Wild Abandon also sounds great and it has fantastic reviews, so this could be the best book for you, especially when you know that more than four years of research went into it.
If you would like to follow or find out more about Jennifer Barclay and her books, you can click on these links:
Jennifer Barclay's Blog: An Octopus in my Ouzo
Jennifer Barclay on Instagram: @tilosjen
Jennifer Barclay on Twitter: @JenBarclayBooks
Jennifer Barclay Books Website: https://www.jenniferbarclaybooks.com/
Books on Amazon: Jennifer Barclay – Amazon Page
Pin it … Share it