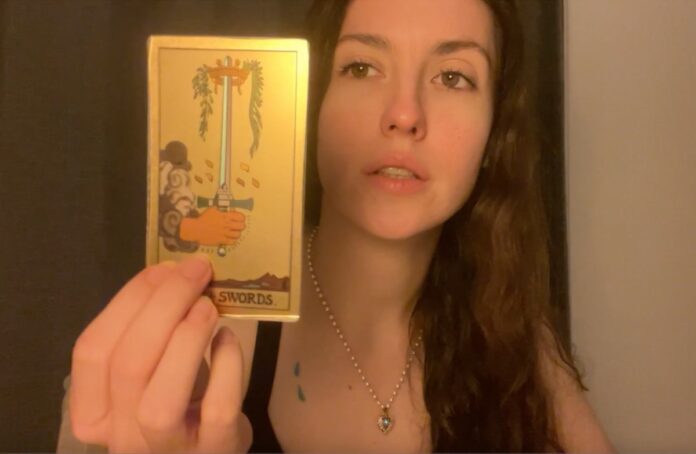 Holy Hera, the notion of a psychic tarot card reading is fascinating for many reasons! So, when I stumbled upon Darina, a tantalizing tarot card reader with mystical psychic ability, I couldn't resist the opportunity!
Her advertisement read like an alluring teaser: "I will do a video recorded psychic tarot reading that is insightful and deep." But wait, there's more! Darina agreed to let me share the video on my website — it's like I hit the celestial jackpot!
I was curious to learn about the future impact of my beloved website, Greek Gods Paradise. Please, Zeus, make it thrive!
Lo and behold! Like a celestial bolt from the heavens, I chanced upon Darina's enigmatic energy. In the blink of an eye, the oracle was revealed, and I was hooked on every scintillating sentence that came from her lips.
So, if you want to know what Greek Gods Paradise will do to the world, hit play on the 10-minute video of Darina's spellbinding psychic tarot reading below.
The best part? I didn't restrict Darina on what she could say or do, so it was like a psychic free-for-all in the best way possible, of course!
Get ready for something unique! I paid for one question to be answered by Darina and wow, she truly delivered an awesome reading!
Darina is very wise and a wonderful communicator, so I highly encourage you to watch her psychic tarot card reading video. You won't want to miss out on the inside scoop!
Psychic Tarot Reading given by Darina
The question I asked Darina:
What impact will the website Greek Gods Paradise have on the world?
Psychic Tarot Reading: The Beginning
When doing the Tarot reading, Darina needed to know my question, so her standard request for information was as follows:
Please describe your situation and questions below. You can provide your photo if you wish so I can better read your energy, but it is not required.
Since I only paid for one question, I quickly settled on asking the following question:
What impact will the website Greek Gods Paradise have on the world?
I also gave Darina a few details to assist in her psychic tarot reading as follows:
Note: My name is John, and I am the owner who runs the website. A photo of me is attached, taken in my younger days when I visited Delphi in Greece.
You can see the photo I gave Darina in About – Greek Gods Paradise at the bottom of the page. I didn't ask her to check out my website or anything, but I assume she did at some point.
Actually, I did tell her something else to convince her to allow me to use the video for this site before proceeding with the order. Darina first wanted to know what my website was about. Here's what I told her.
The site focusses on travel like Greece and the Greek Islands, talks about Greek mythology, Greek Gods and Goddesses. It has Greek lessons on how to speak Greek reviewed by a blogger from Athens, and also has interviews with book authors, artists, and travel bloggers who appreciate Greek culture.
I am extremely glad that she agreed to allow me to use the video because she is incredible!
Psychic Tarot Card Reading Review 
All right then, let's dive right into this fabulous tarot card reading by the one and only Darina!
I gotta say, she really knows how to impress a guy. And boy, oh boy, did she get me thinking about all the juicy details of creating Greek Gods Paradise. It's like she had access to a secret vault in my brain, full of wild ideas and dreams.
But hold your horses, because covering this entire tarot reading is gonna take me some time. So, for now, let's scratch the surface and get the ball rolling.
Tarot Reading: The Intention of Greek Gods Paradise
The first thing I want to mention is that Darina hit the nail on the head when she talked about the importance of intention.
You see, one of the main aims in creating this website was not just to conquer the art of website building (which, by the way, turned out to be a maze of confusion). No, no, my friends, there was a crazy plan.
My grand vision was to spread some epic knowledge about those legendary Greek Gods and Goddesses. And as you're probably already aware, this website is jam-packed with all sorts of exciting stuff about them.
Posts on this website about Greek Gods and Goddesses include 12 Greek Myths that Prove the Bible is Fake. I also try to figure out if some stunning actresses are actually goddesses in disguise in 14 Beautiful Actresses or Goddesses?
As you can see, this isn't your average Greek mythology website, that's for sure.
The other thing I wanted to do with Greek Gods Paradise was to share my travel adventures including climbing Mount Olympus in Greece. Plus I wanted to create interesting travel guides.
But here's where things get really bizarre — brace yourselves! I had this crazy out-of-the-box idea to create a Greek Myth Underwater Trinity. Yeah, you heard that right — placing underwater sculptures with Greek mythology themes in three different zones around the world.
Crazy? Maybe. But hey, this is what my brain first came up with for my very first post on Greek Gods Paradise. Who knows? Maybe it was inspired by Apollo, the God of Prophesy. Anyway, will it happen in my lifetime? Can't say…
The Future
So, everyone, that's all I will spill for now. But rest assured, I shall return with more things to say about the rest of Darina's mind-blowing psychic tarot reading. Or maybe I should keep it to myself. Not sure yet.
Darina: Psychic Tarot Reader 
If you want Darina to give you a psychic tarot reading or want to follow her on social media or YouTube, click on this link to find her: Tarot Readings by Darina.
Darina, many thanks for your excellent psychic tarot reading. Your gift of intuition and your insights were truly remarkable. I highly recommend your psychic tarot reading service to anyone who may need your guidance in the future. All the best!
Pin it … Share it