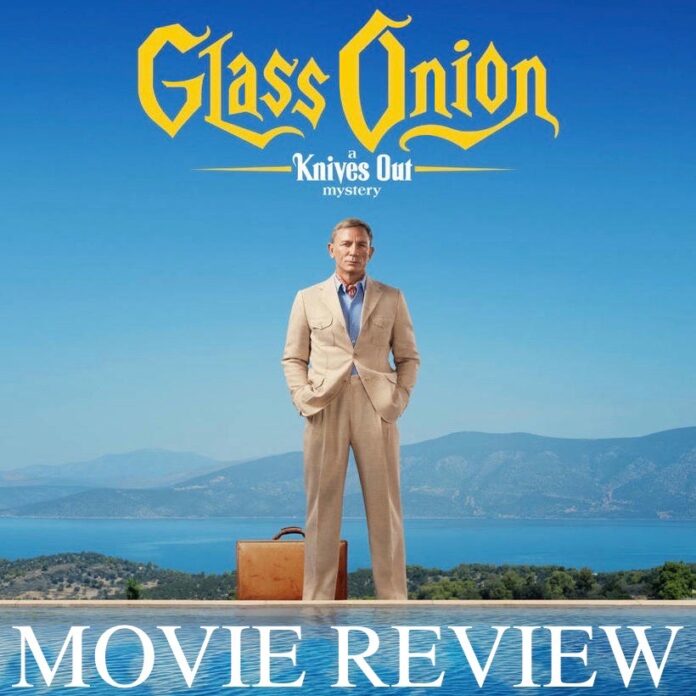 Glass Onion: A Knives Out Mystery is a movie about the world's best detective who gets invited to solve a murder mystery on a private Greek island owned by a tech billionaire.
That might sound strange, but let me confirm that Detective Benoit Blanc, played by Daniel Craig (who also plays James Bond), gets invited to help solve the billionaire's death before it happens.
The Tech Titan is still alive when the world's best detective arrives on the private Greek island fit for a king.
It's a big mystery, so I don't want to spoil the story if you haven't seen the movie.
In any case, this should be enough to get you curious.
Thor: Love and Thunder and a Wog Boys Forever movie review essentially started these movie reviews.
Now I want to continue doing movie reviews on occasion soon after seeing films at the cinema and elsewhere.
Movie reviews will be mainly for movies filmed in Greece or movies associated with Greek mythology in some way.
My Glass Onion movie review will discuss some of the Greek influences in the film to get you thinking about hidden Greek symbolism. So let's see where it goes.
Glass Onion: A Knives Out Mystery Movie Review
I enjoyed watching Knives Out (2019), so when the sequel, Glass Onion: A Knives Out Mystery (2022), started showing at the cinema, I wanted to go and see it.
Glass Onion played at the cinema starting November 23, 2022, for only one week.
Of course, you could also wait to watch the film on the Netflix streaming platform from December 23, 2022. But I was way too eager to see the movie.
I'm glad I went to see the film at the cinema because I liked watching it even more than the first Knives Out movie.
The movie was a feast for the eyes, with plenty of things to take in and some beautiful scenery to see.
I found the movie lived up to its name because it was a very mysterious story that kept my interest and attention throughout the film.
Glass Onion is quite long, at 2 hours and 20 minutes. Even so, I found it to be a good length.
I won't give any spoilers in this Glass Onion movie review. Instead, I'll mainly mention the Greek influences in the film to give you something extra to think about.
Film Locations in Greece
Glass Onion: A Knives Out Mystery, the second film in the movie franchise, had more appeal on this occasion because of the film's location setting in Greece.
Before seeing it, I didn't know much about Glass Onion: Knives Out 2. However, I knew the story was set on a Greek island.
From what I heard, Glass Onion filming had taken place on the Greek island of Spetses, but that wasn't totally correct, from what I learned later on.
Most of the filming seems to have taken place at Villa 20, Amanzoe, in Porto Heli on Greece's Peloponnese peninsula.
Amanzoe is a top-class luxury resort and hotel in Greece, proven by the fact that you probably need the wealth of a Greek God or Goddess to stay there.
I think the cheapest room in 2022 if you want to stay at Amanzoe is €750 a night in low season and €1500 in high season.
You can tell that the filmmakers used extra movie magic to help create the magnificent dreamy building in the movie, which included an impressive-looking glass onion dome at the top, hence the film's name.
If it had been real, it would have been truly mind-boggling!
Here's a video of Amanzoe that will give you a good feel for the place.
Glass Onion: Mystery Puzzle
I won't tell you what happens in the film, but Daedelus sprang to mind when watching the movie.
Daedelus was the greatest inventor of Ancient Greece. He's the genius who designed the labyrinth where the Minotaur was imprisoned.
You will understand what I'm talking about when you see the film. Keep an eye out for a mysterious box.
The Evil Eye in Glass Onion
Another thing, keep a lookout for the Evil Eye. The Evil Eye is a curse from Greek culture and also a protector.
That's why you can find blue evil eye pendants all over Greece.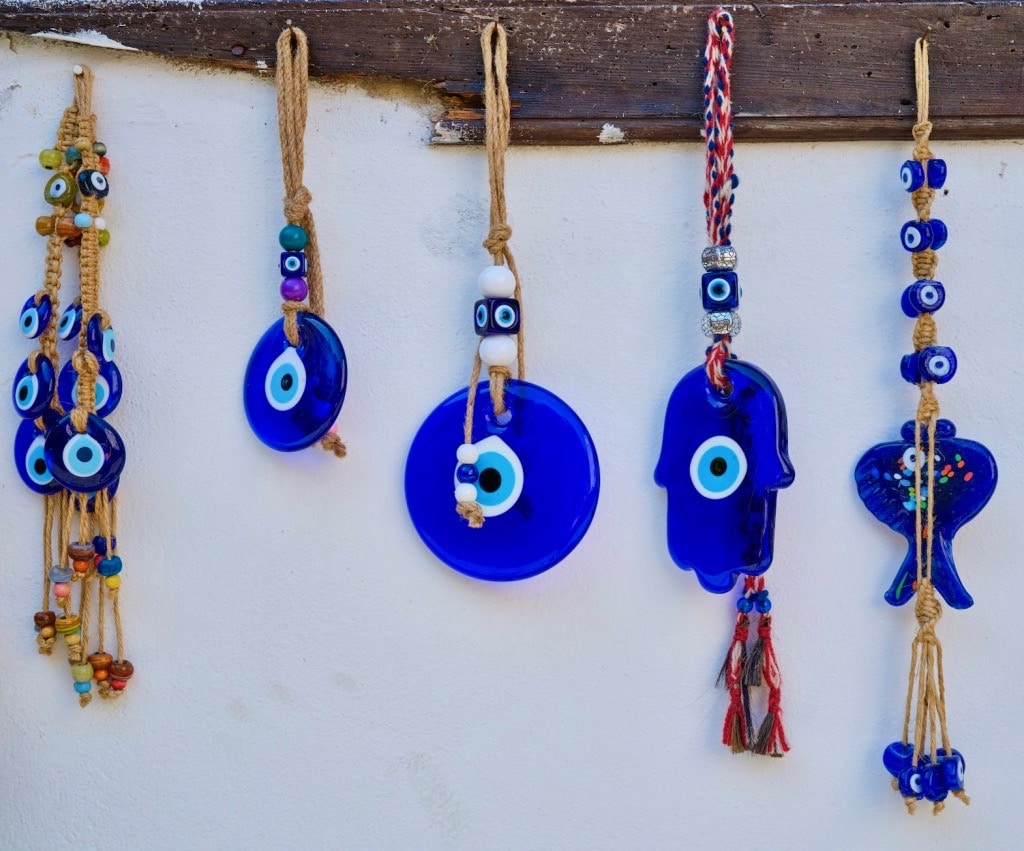 Greek Symbolism in the Film
There were numerous Greek influences in Glass Onion: A Knives Out Mystery.
Daniel Craig wears a blue and white striped suit in the film. Another character in the movie also wears a blue and white striped tracksuit. These are the colors of Greece!
You will also see some classic Zorba, the Greek plate smashing! One of the best scenes in Glass Onion has to be when this happens.
Greek Mythology in Glass Onion: Knives Out Movie
Subtle Greek mythology symbolism found its way into the movie, with several links to the Greek myths in Glass Onion.
Cassandra is the name of one of the characters in the film. She's the prophetess who wasn't believed during the Trojan War due to a curse given by Apollo.
Then someone with the name Helen appeared in the film, a strategic match because of Helen of Troy.
Both Cassandra and Helen of Troy played a big part in the Trojan War myth.
Achilles' heel is also mentioned in the film not once but twice!
Achilles was the Greek warrior who upset Apollo in the Trojan War myth. He's the warrior who got shot in the heel with an arrow in his only weak spot that ended up killing him.
So there you go. Now you know some Greek mythology symbolism in Glass Onion: A Knives Out Mystery.
I enjoyed watching Glass Onion and look forward to seeing the next movie made in the film franchise.
If you like mysteries and trying to figure out what is going on in a brilliant whodunit mystery, then I think you'll like this film.
Here's my Glass Onion movie review rating: 8/10
Pin it … Share it