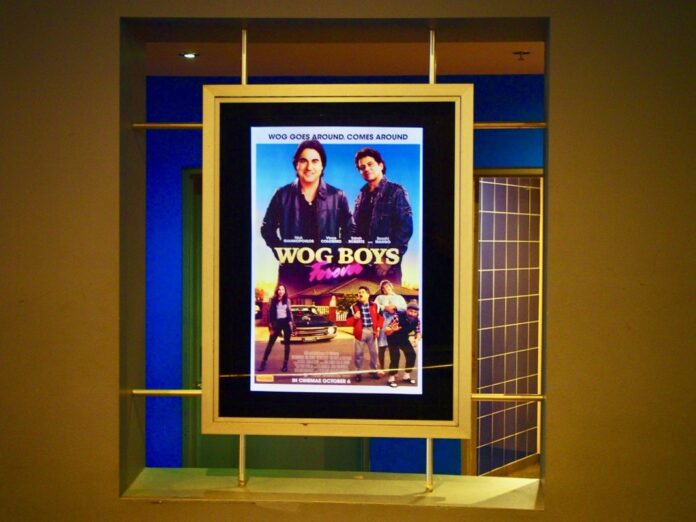 I am a massive fan of the Wog Boy movie franchise, so I wanted to go and see Wog Boys Forever at the cinema, especially since Wog Boy 3 had reached the classic trilogy stage.
To be able to write a Wog Boys Forever movie review was another big motivation to see the film.
If I liked the comedy movie Wog Boy 3, there was always the possibility that I could help get a few more bums on seats for Nick Giannopoulos, the main star and producer of Wog Boys Forever.
Wog Boys Forever Movie Review
Writing a Wog Boys Forever movie review could persuade someone to go and see the film at the cinema or even make a person not want to go.
I did a Thor: Love and Thunder movie review not too long ago.
That article reached over 10,000 visitors in a few weeks, which astounded me. It also made me curious to see whether writing a Wog Boys Forever movie review would increase the number of visitors to my website.
Wog Boy is no Thor, but there is a Superwog, so you never know what can happen when you write a review about something.
Who knows, maybe even Nick Giannopoulos will end up reading this Wog Boys Forever movie review.
Nick, one thing — I have to be truthful.
Anyway, the idea was to do this movie review of Wog Boys Forever on the same night straight after seeing the movie so that it would be on my website several days before the film's release in cinemas on October 6, 2022.
I'm also hoping that Google gets off its ass and indexes this web page asap so that more eyeballs can find this Wog Bog 3 movie review.
Update: Over 1000 visitors have read this Wog Boy movie review in just one week. It isn't as popular as my Thor movie review, but even getting this number of web page hits has surprised me.
Wog Boys Forever and Nick Giannopoulos
Writing a movie review before the movie's release date was possible due to the awesome producer of the movie, Nick Giannopoulos.
Nick arranged for some early special advanced screenings of Wog Boys Forever to be shown around Australia for the benefit of his biggest fans.
You had to pay more for a ticket, a lot more. Still, as a bonus, you'd get to see Nick Giannopoulos, a legendary Greek Australian comedian, perform live on stage before the Wog Boys Forever movie.
The thing is, I almost left it too late. At one point, I thought I had missed the chance to see an early screening of Wog Boy 3.
One of Nick's Instagram posts stated that Wog Boys Forever had sold out in the city where I wanted to watch the film.
However, after checking online, four seats were still available, so I got lucky!
Only individual seats were left, so you couldn't buy two tickets and have someone sit next to you. The other issue was that three seats were situated on the extreme edge of the cinema, which didn't look like a great spot to sit.
But luckily, one of the cinema seats looked great, only a few rows back from the screen and the stage in a pretty central position. So I immediately booked it.
I ended up booking the ticket to see Wog Boys Forever a couple of nights before the advanced screening, so things flew by quickly.
Nick Giannopoulos at the Cinema
At the cinema complex, I wanted to take a picture of Nick Giannopoulos with my Olympus camera, so I went there a couple of hours before the film started just in case he was there.
I waited patiently by the escalators until five minutes before the show's start time, and then I gave up. Instead, I went into the theatre and sat down.
A little while later, Nick arrived on stage with big cheers from the crowd. He gave a brief performance for what felt like around 20 minutes — lots of wog talk, like always.
I have to say the guy looks great for his age. It's all that wog DNA, as Nick likes to say.
The only photo of Nick Giannopoulos I'd get would be inside the cinema while he was on stage. You can see Nick in this picture below between all of the movie goer heads.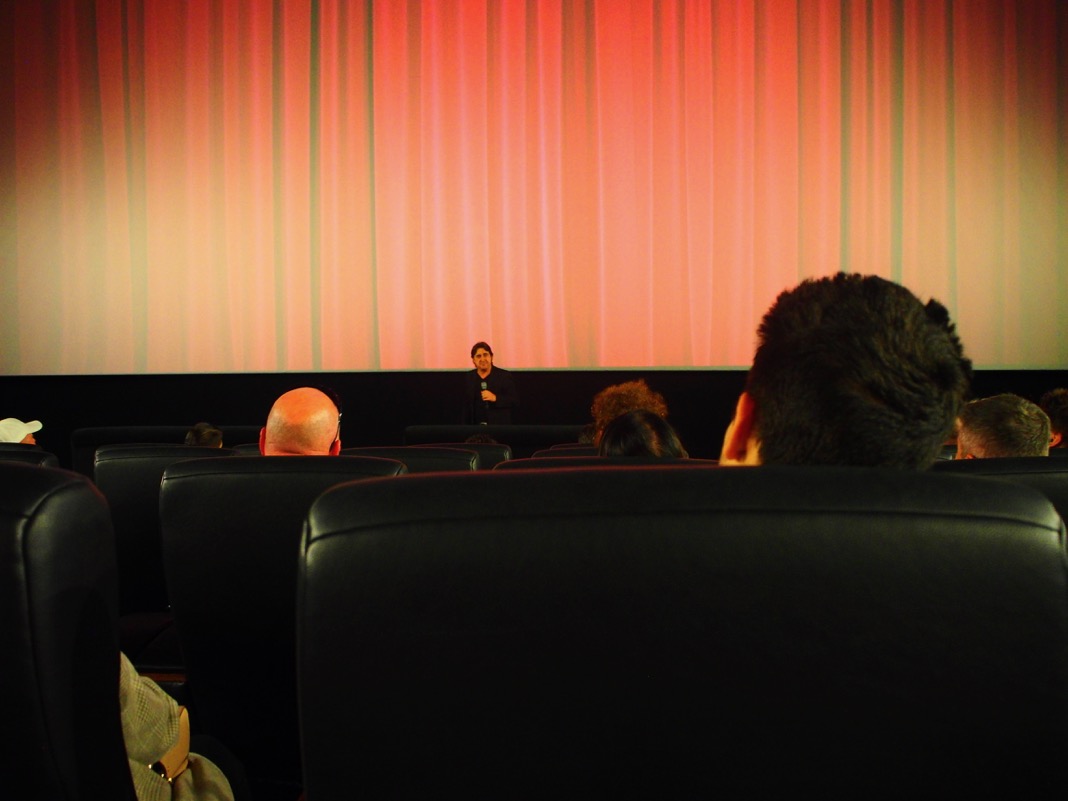 It did cross my mind that maybe I'd have an opportunity to meet Nick Giannopoulos when the film finished if he stuck around, but that seemed very unlikely.
You should have been there farken! I was waiting for you. (Side note: Nick likes the word farken!)
Wog Boys Forever (2022)
Wog Boys Forever is the sequel to a favorite film of mine, Wog Boys 2: The Kings of Mykonos (2010).
Because I'm a massive fan of this film, Wog Boys Forever could have been a colossal letdown.
As you can see, I even own a special edition DVD of The Kings of Mykonos, which came with a fury dice jacket cover.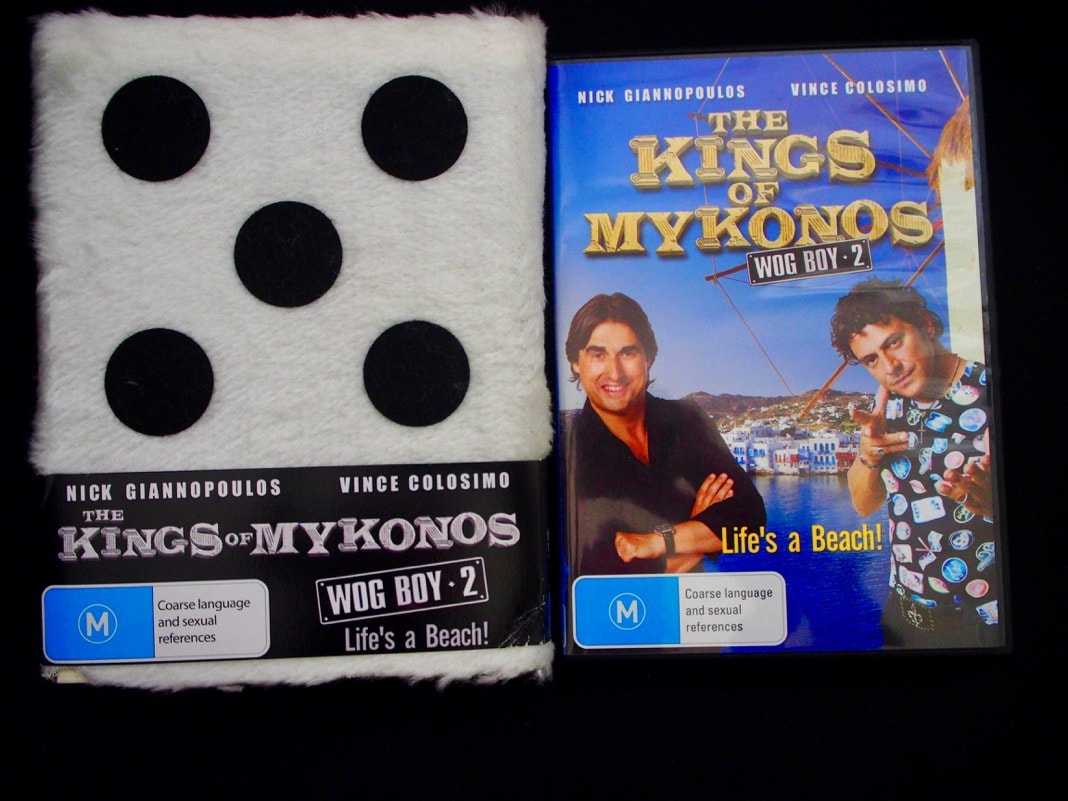 How could another Wog Boy movie get any better than this comedy classic?
The two previous smash-hit Wog Boy comedy movies were entertaining, so I wondered where the storyline would go.
I'll tell you right now that Wog Boys Forever isn't as good as the second Wog Boy film, but it's still a great film to watch.
The number of laughs I heard in the audience was phenomenal.
Wog Boys Forever Storyline
Here's a brief rundown of Wog Boys Forever without giving any big spoilers.
The film is about Greek Wog Boy Steve, who now drives a taxi for a living.
Wog Boy has broken up with his girlfriend he met in Greece and has been living the life of a bachelor ever since.
Additionally, Steve hasn't seen his good friend Frank in 8 years after a falling out, and he's also lost his mojo.
Then one day, while driving his taxi cab, he picks up an attractive girl he had gone out with for only a week many years ago. So the film has a catchy storyline.
Funny Scenes in Wog Boys Forever
Sooshi Mango (not spelled as Sushi Mango) is an Australian comedy troupe.
In the film, two guys play a husband and wife as part of a crazy Italian family.
One guy dresses up as an Italian wife, while another plays the husband. A third guy plays a grandpa-type character.
They have many amusing scenes in the film, and most of the big laughs seem to have come from their roles in Wog Boys Forever.
Nick Giannopoulos in Wog Boys Forever
Nick, who plays the character Steve Karamitsis in every Wog Boy movie, has matured quite a bit in this third Wog Boy film.
You barrack for Nick in this movie, like always, but I wouldn't say it is his best comedic performance in a Wog Boy film.
The karate (Taekwondo) chops didn't seem to have the same enthusiasm, but it was still great to see. I would have liked to have seen a more frightened bouncer or something. Or maybe even a wacky fight scene.
Vince Colosimo in Wog Boys Forever
In Wog Boys Forever, Vince plays Frank (Steve's close mate), the same as in previous Wog Boy movies.
Vince's performance in the film was exceptional, and Wog Boys Forever started improving as soon as Vince appeared on the screen.
Best remembered for telling Steve the memorable line, "Where there's a Wog, there's always a Way!"
Love Interest in Wog Boys Forever
Nick's love interest in Wog Boys Forever was a great casting choice, with Sarah Roberts playing Cleo.
She is Steve's previous Egyptian girlfriend, with whom he only spent one week 18 years ago.
Sarah Roberts has a Sri Lankan heritage but can easily pass as a European or Egyptian.
The Australian television and film actress is well-known for her role in Home and Away, an iconic Australian television series.
Home and Away is the same TV series Ada Nikodemou, a Greek Australian actress, is best known for starring in. Ada also had a minor but significant role in The Matrix.
I like Sarah Roberts, but how cool would it have been if Ada Nikodemou played Steve's love interest in Wog Boys Forever?
In Wog Boys Forever, some great chemistry existed between Steve (Nick) and Cleo (Sarah), but it should have gone a bit further.
Even in Kings of Mykonos, Nick had a funny bedroom scene, so I'm not sure what happened in this movie.
If you like romantic comedies, check out 20 Romantic Movies for Greek Mythology Fans.
Even Nick Giannopoulos could have learned a thing or two by watching some of these classic romantic movies with Greek mythology themes.
Anyway, it doesn't matter since Wog Boys Forever ended in a great way.
Wog Boys and Greek Mythology
One thing I tried to spot in Wog Boys Forever was any Greek myth association.
The first Wog Boy film had Vince Colosimo wearing a t-shirt with a figure that looked like the Titan Atlas, who held the world on his shoulder.
In Wog Boy 2: Kings of Mykonos, Steve calls the beaches on his property Apollo and Super Apollo, a massive Greek God association.
However, I couldn't find any association with Greek mythology in Wog Boys Forever.
They did have an evil eye protector in the film, which had a surprising role to play in the movie.
Someone also mentioned that Cleo came from Cleopatra. She's the famous Queen of the Ptolemaic Kingdom of Egypt during the Hellenistic Period.
I am pretty sure there is some Greek mythology link to Wog Boys Forever because Nick did sneak them into the other two Wog Boy films.
Maybe I'll spot a Greek myth association with Wog Boy 3 another time.
Wait a second, now that I think of it, Medusa appeared in Wog Boys Forever. Ah, yes, Nick is a very clever guy.
The fashion brand Versace uses the head of Medusa, the snake-haired Gorgon, as its logo.
Versace is easily among the 30 best brands with Greek mythology logos and names.
Nick Giannopoulos must be a big Greek myth fan. He has to be.
Should you go and see Wog Boys Forever?
Yes, yes, farken, for sure! Go and see Wog Boys Forever. It opens in cinemas on October 6.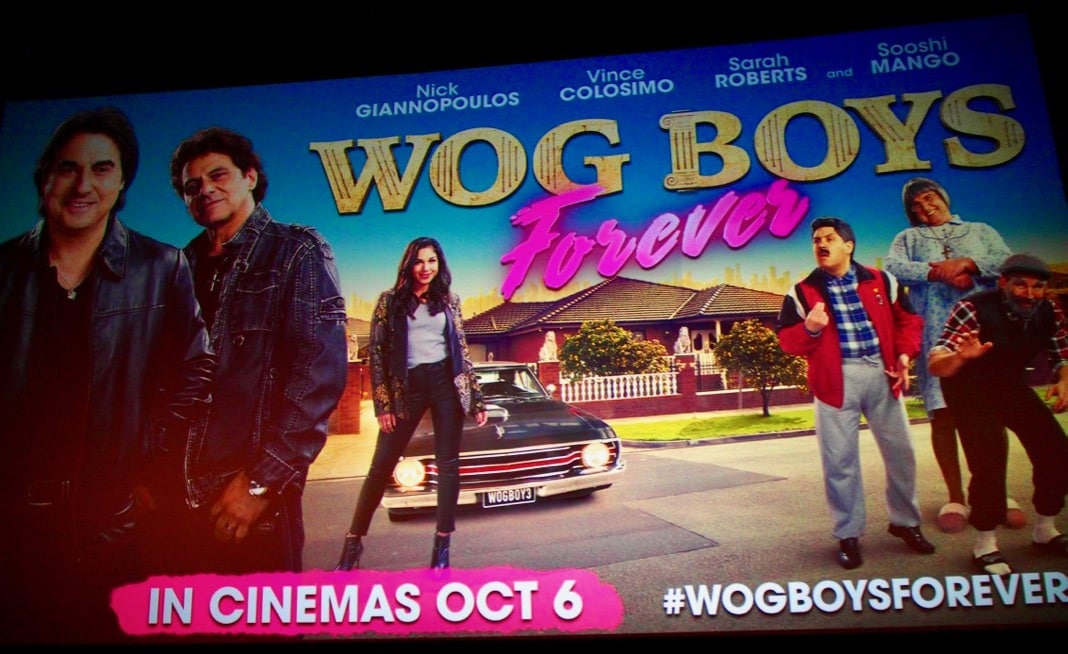 If you're a fan of the Wog Boy films, then Wog Boys Forever is a movie you must see.
You'll most likely enjoy the movie even if you haven't seen the other Wog Boy films.
As I was leaving the cinema, I can even recall someone behind me saying, what a movie!
I'm not sure if Nick will ever make another Wog Boy film, but it doesn't matter because Wog Boys Forever has ended things in a good way.
All the best, Nick, and see you in Greek Gods Paradise!
Pin it … Share it