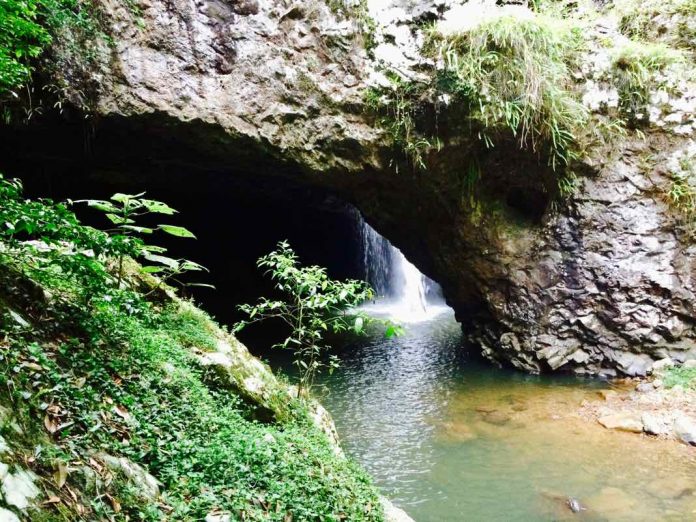 The best waterfalls in Queensland would have to include many of these wonders. Check them out.
Waterfalls in Queensland – Gold Coast and surrounds
1. Natural Bridge
Location: Springbrook National Park, Gold Coast
Springbrook National Park is a World Heritage listed area. It's also a great area at night to see glow worms. Natural Bridge (also known as Natural Arch) is probably the most well known waterfall in Queensland.
2. Purling Brook Falls
Location: Springbrook National Park, Gold Coast
You can even walk under this huge waterfall. This photo was taken from the lookout which is quite close to the entry point of the walking track.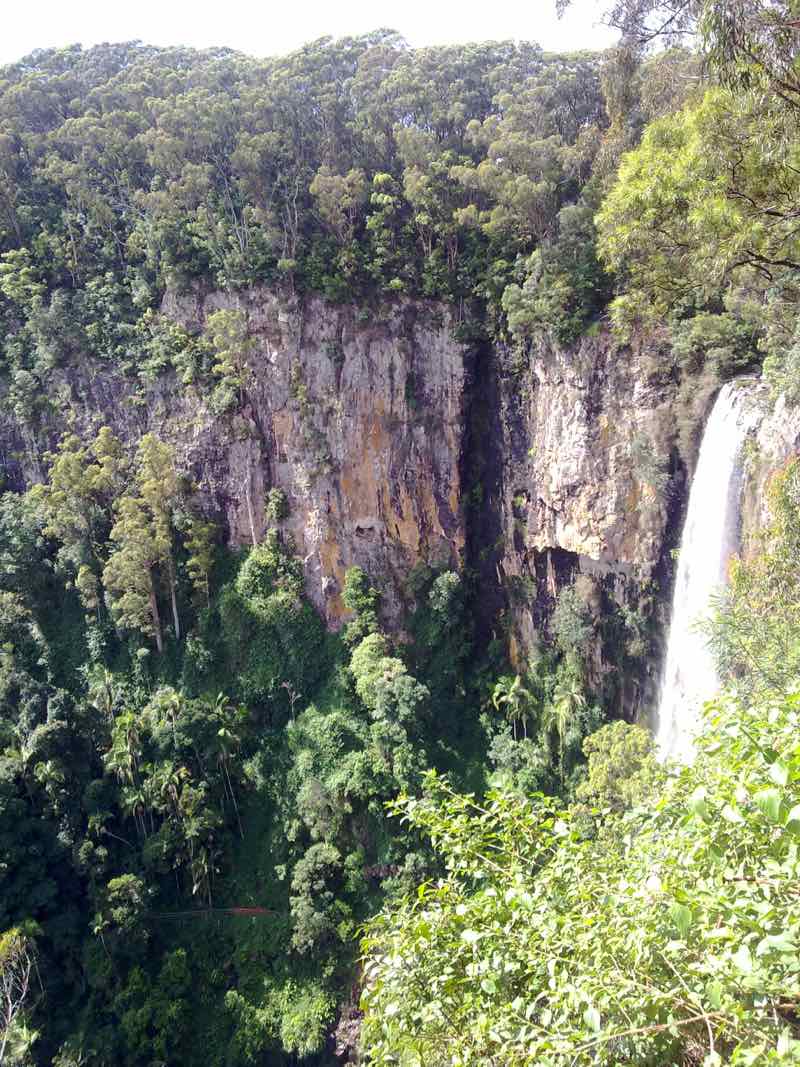 The Purlingbrook track circuit is a 4km round trip. It's a really great walk. Just watch out for leaches if you're forced to step into some wet muddy patches. I must have pealed off at least a dozen leaches from my legs when I went. Had to take my socks to get them all off. Which Greek God came up with the idea of leaches?

3. Twin Falls Circuit
Location: Springbrook National Park, Gold Coast
Duration: 4 km return. Moderate-grade walk. Allow 2-3 hours.
The pool of water below the waterfall is quite popular for taking a dip.
4. Elebana Falls
Location: Lamington National Park, Gold Coast
5. Chalahn Falls
Location: Lamington National Park, Gold Coast
Chalahn Falls is one of the star attractions within Lamington National Park. The beautiful waterfall can be found around halfway on the Toolona Creek circuit. The circuit is 17.5 km long and starts from O'Reilly's Rainforest Retreat.
6. Cedar Creek Falls
Location: Tamborine Mountain, Gold Coast hinterland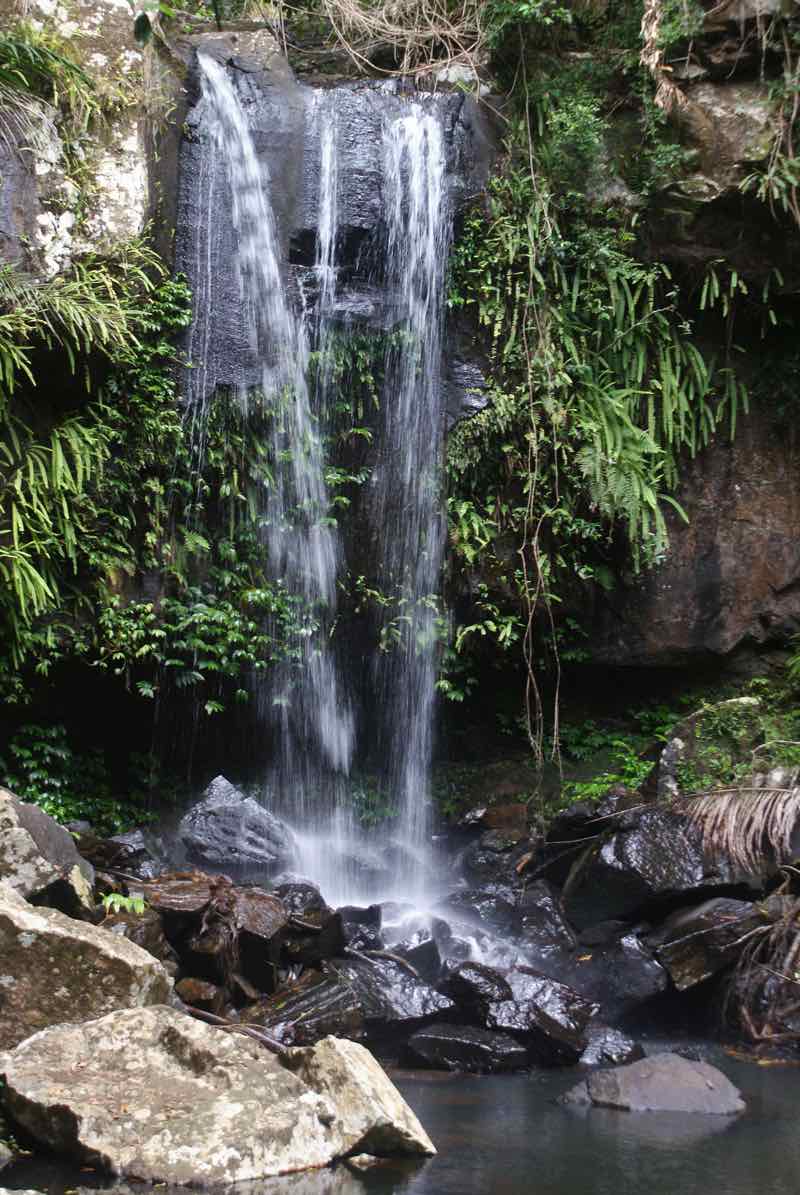 Waterfalls in Queensland – Cairns and the top end
7. Millaa Millaa Falls
Location: Millaa Millaa Falls – Atherton Tablelands (via The Waterfalls Circuit)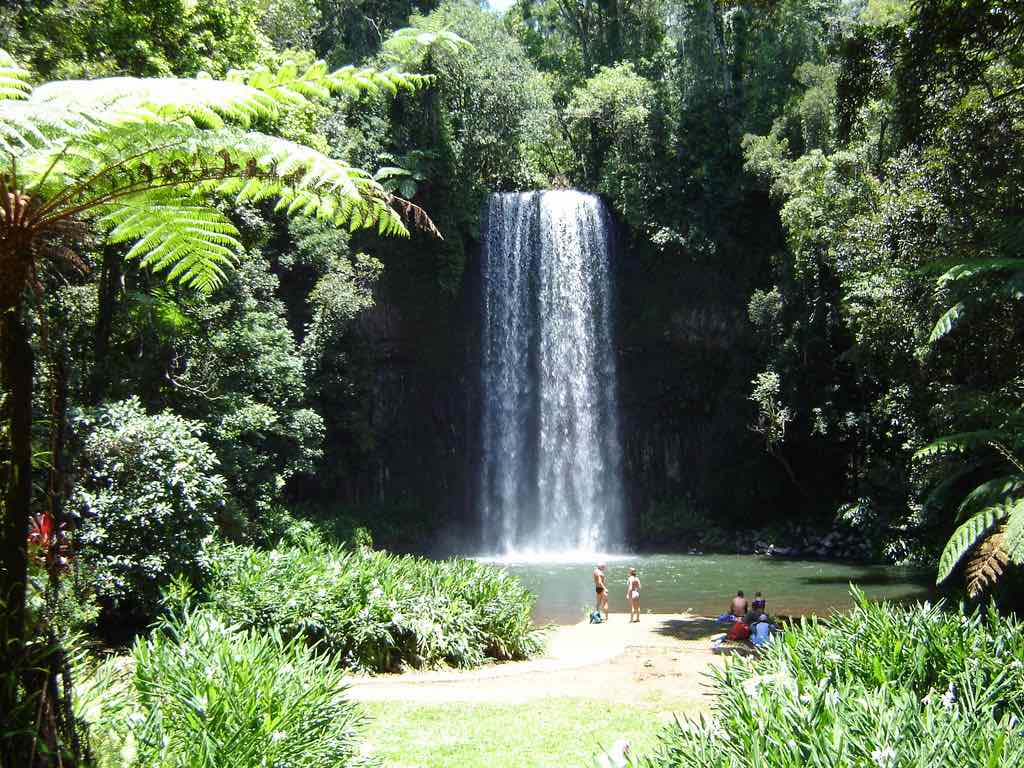 Spend the day slowly driving inland from Cairns to see 3 waterfalls including Milaa Milaa Falls, Zillie Falls and Ellinjaa Falls.
A popular 17 km loop road off the Palmerston Highway makes it easy to see all of these three waterfalls one after the other.
Millaa Millaa Falls looks amazing. The pristine waterhole looks like a fabulous to go for a swim. Keep a lookout for any platypus.
This is a well known picnic hot spot because of the grassy area around the waterfall. Millaa Millaa is one of the most photographed waterfalls in Queensland for good reason.
Zillie Falls has a viewing platform at the base of the falls.
Ellinjaa Falls has a nice pool making for an enjoyable swim. Platypus and turtles can be found here. There's also a hidden ledge behind the waterfall. It's only a 15 minute walk from the carpark down a dense rainforest staircase to the waterfall.
8. Barron Falls
Location: Close to Kuranda.
This is located in a Wet Tropics World Heritage Listed Area.
Take the Kuranda Scenic railway from Cairns, which goes over a bridge near the waterfall on the way to Kuranda.
While in Kuranda, you can take a ride on the Skyrail Rainforest Cableway, which will have you floating above the rainforest. It was the longest gondola cableway (7.5 km long) in the world when it was completed in 1995. A one-way trip takes about 1.5 hours and a return trip approximately 2.5 hours. This is another way to get a view of Barron Falls.
9. Josephine Falls
Location: At the foot of the southern face of Bartle Frere, 60 minutes south of Cairns
Fed by rains falling on Queensland's highest peak.
A popular picnic area with gorgeous deep green water in the pool. It even has a natural rock waterslide (nicknamed 'Slide Rock'). Access to the waterfall is pretty easy, via a short 700-metre walk from the car park.
10. Mena Creek Falls
Location: Innisfail, Tropical North Queensland – Paronella Park
A beautiful spot with an interesting history and a castle nearby. Spanish settlers Jose and Margarita Paronella planted over 7000 trees in the area during the 1920s and 1930s. This beautiful spot is now a major tourist attraction.
11. Behana Gorge Waterfall
Location: 30 minutes south of Cairns
A very popular waterfall and swimming hole tucked in at the base of the iconic Pyramid mountain.
Waterfall Canyoning tours are available with abseiling and river tubing.
12. Fairy Falls
Location: Crystal Cascades
Hard to find on a slightly secret path, but once there it's magical.