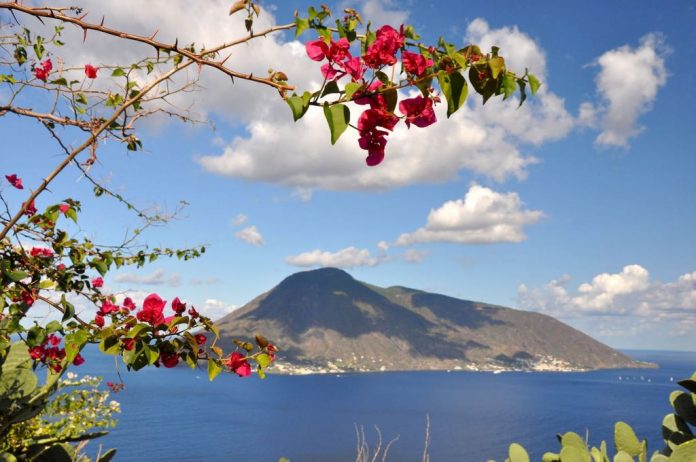 The Aeolian islands (Isole Eolie in Italian) are a group of 7 islands on the northeastern coast of Sicily in the Tyrrhenian Sea.
If you want to visit the magical Aeolian islands, think about visiting the islands of Lipari, Stromboli, Salina, Panarea, Filicudi, Alicudi, and Vulcano.
In addition to these seven main islands, another five small islands form part of the Aeolian archipelago. One of them included the uninhabited Basiluzzo.
The Aeolian archipelago obtained its name from Aeolus, keeper of the winds, who the ancient Greeks and Romans believed resided there.
Homer's Odyssey portrays this mysterious island destination as having cliffs rising "sheer from the sea."
It's where Odysseus (Ulysses in Latin) found himself stranded for some time after the Trojan war.
Odysseus received the winds of the world in a wineskin bag from Aeolus to ensure his safe sea-voyage home in this area.
Here are some movies based on The Odyssey if you are interested.
Centuries later, in 2000, these seven pearls of Sicily were declared a World Heritage Site by UNESCO for their volcanic phenomena and natural beauty.
Aeolian Island Itinerary
If you're considering visiting the Aeolian Islands for the first time, this itinerary is for you.
Time: 6 days (7 nights)
One week of your life for a lifetime of memories. The only factor stopping you is time and money.
Greek Gods don't make it easy to visit mythological destinations, and the Aeolian islands are kept hush-hush for a good reason.
Four nights on one island
Three nights somewhere else
Lipari (half day) and Vulcano (half day)
Panarea (day 2)
Salina (day 3)
Stromboli (possibly staying one night on the island with a day bag only)
Filicudi and Alicudi (1-day boat cruise excursion)
Free time on Lipari or another favored Aeolian island (day 6)
Vulcano – the Volcanic Aeolian Island
Let's first have a look at the island of Vulcano. Ancient Greeks called this island Therassia.
Hephaestus, the God of fire, was thought to reside there.
Romans later renamed the island Vulcano and believed it to be the chimney of Vulcan's workshop.
Vulcan is the Roman name for Hephaestus, and as you probably can guess, this island introduced the modern word used for Volcanoes.
Here's a fantastic photo opportunity not to be missed when visiting Vulcano.
Stand close to the island's volcanic crater, with the islands of Lipari and Salina in the background. You will see this marvelous view.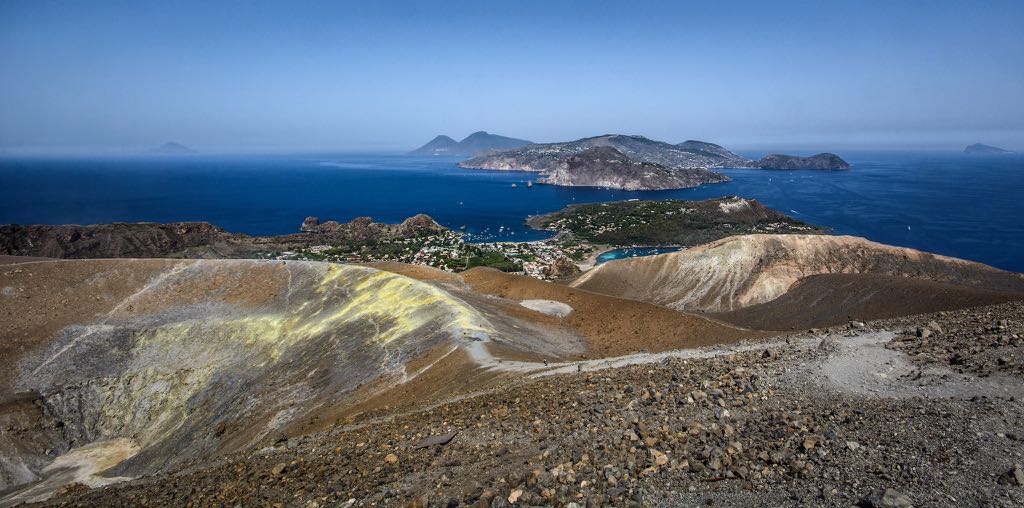 Vulcano Attractions
Seeing the volcano would have to be the biggest drawcard to the island.
Fossa di Vulcano, or Gran Cratere (Large Crater), are the remnants of an old volcano that towers over the island's northeastern shores.
The crater has been peacefully steaming away quietly ever since. The last eruption occurred between 1888 to 1890. Hopefully, it won't explode again.
It takes approximately an hour each way to get to the peak. So hopefully, you won't mind the pungent smell of sulfur too much.
Other attractions on this island include mud baths and thermal springs. Keep in mind some of them are mildly radioactive.
They have time-limit recommendations, like 10 minutes or so, displayed on signs that you should take seriously, especially if you're pregnant.
The pool of Aphrodite is also worth a visit. She bathed in it to remain beautiful, so they say.
She was married to Hephaestus (Vulcan), so I suppose it could be true.
Make sure you take notice of the Valley of Monsters on the way to the golden crater.
It is where you'll see strange animal-shaped lava formations.
For anyone wanting to stay the night on the island of Vulcano, a great place to stay would have to be at the Therasia Resort.
This resort offers fantastic views across the sea to Lipari. The other option is to go there for drinks at some stage.
The photo below shows a magical view of Vulcano from the island of Lipari.
Vulcan's Workshop
Vulcano definitely has that mystical feel about it.
Imagine seeing this island centuries ago and someone telling you it was Vulcan's workshop.
You probably wouldn't have dared to step foot on the island. There's no point in making a Greek God angry. Oh, how things have changed.
Lipari
Lipari is the most populous of all the Aeolian islands. It is the main island of the Aeolian archipelago, so it is a popular place for summer tourists.
It is where most tourists base themselves when exploring the Aeolian islands.
If you base yourself here, it's easy to go on day trips to the other Aeolian islands.
Expect lively bars, plenty of touristy restaurants, and souvenir stands.
The bonus for staying at Lipari is that it is probably the easiest place to find accommodation.
Lipari Attractions (Things to Do)
Here's a great view of Lipari from Salina with Vulcano, the furthest island in the picture.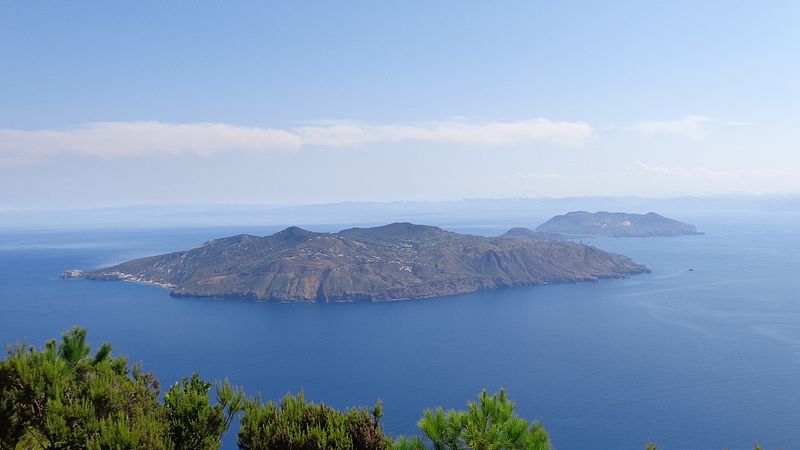 There's a Greek Acropolis on Lipari and a fascinating Aeolian Archaeological Museum situated in the Castle of Lipari.
A Roman sauna cave and spa baths are also on the island.
A fantastic hike along the west coast leads from the ancient Roman baths of Terme di San Calógero to the kaolin quarry just outside the village of Quattropiani.
Visiting White Beach (Spiaggia Bianca) should also be on your list of things to do in Lipari.
You won't want to miss out on this spectacular photo opportunity. It showcases a beautiful section of Lipari's coastline with Vulcano in the distance.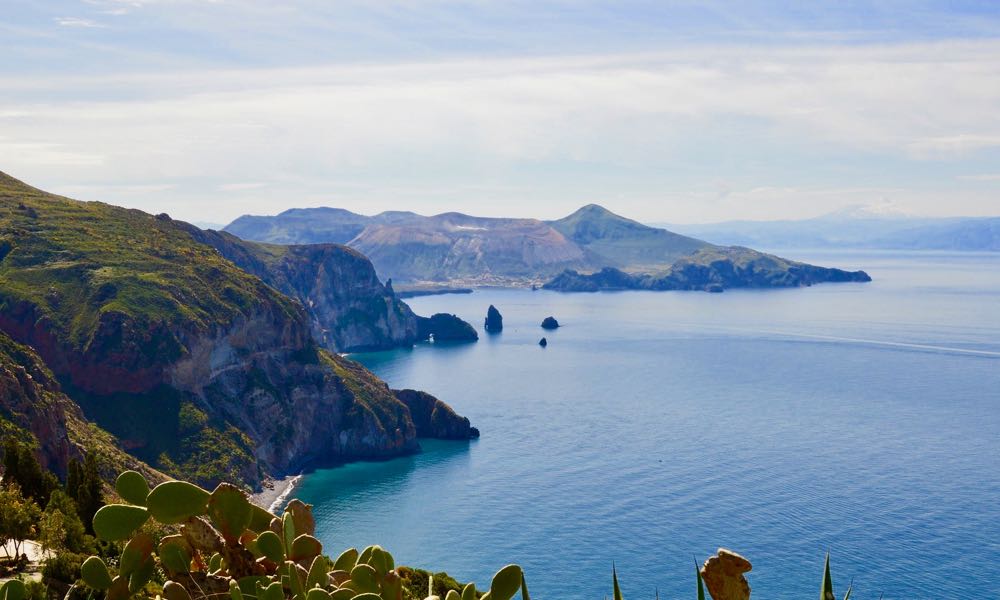 Lipari looks like a great Aeolian island base to me.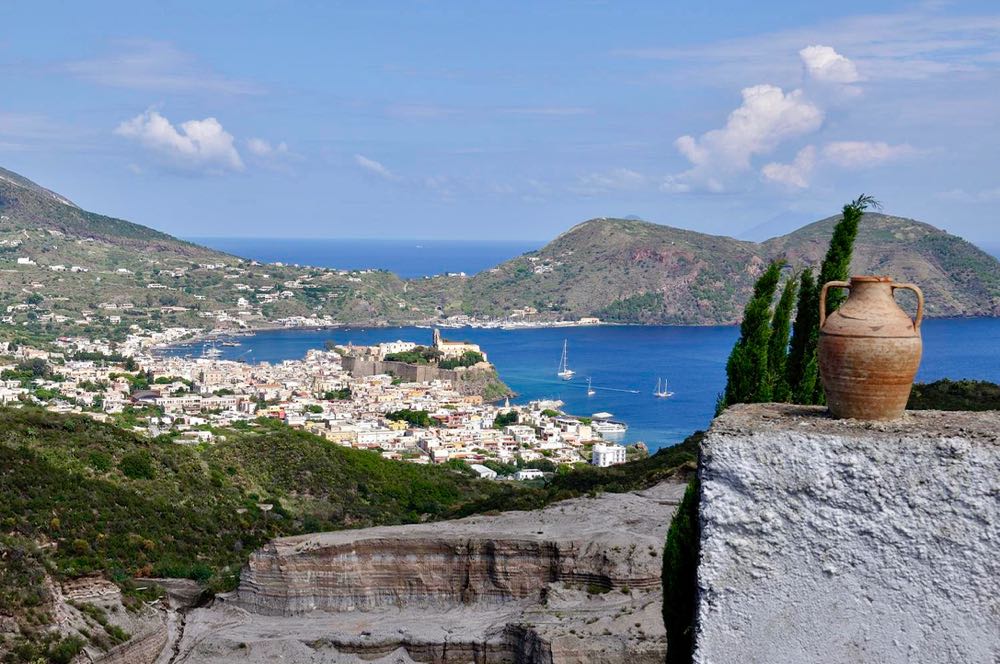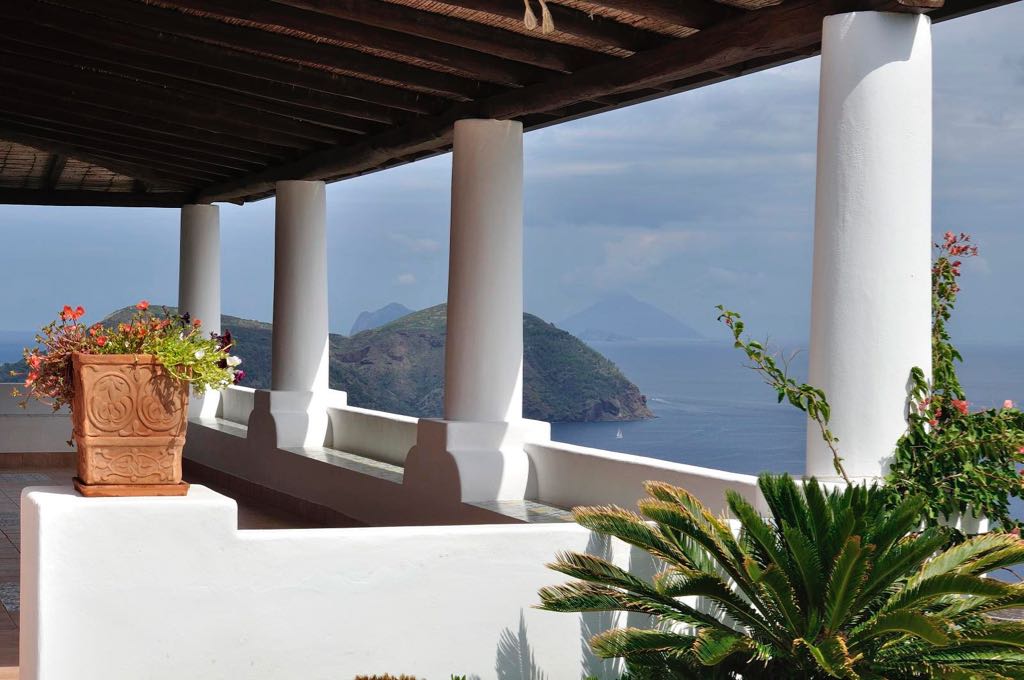 Looks like a beautiful spot.
Panarea
Panarea is the smallest as well as the most fashionable Aeolian island.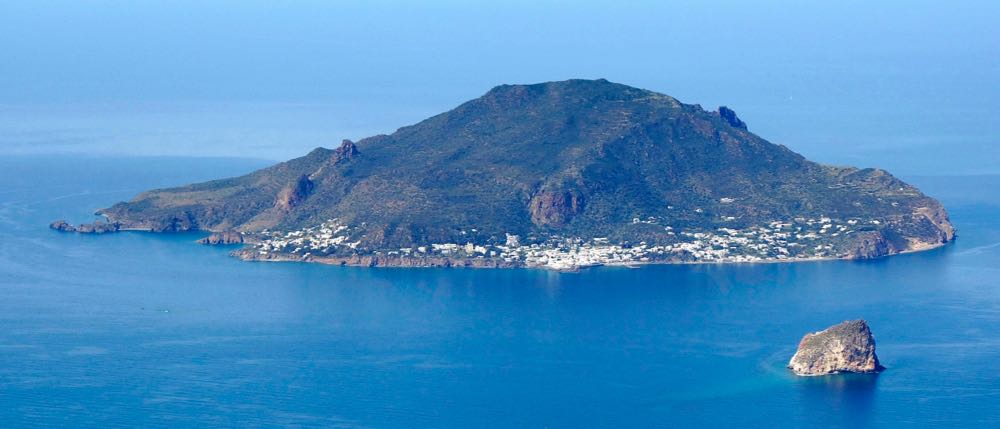 It is very popular with the international jet-set (more aptly yacht-set). It's exclusive, expensive, and stunning.
This island also has the best nightlife for the rich and beautiful.
That said, it's smaller than Capri, and that's what they say about that island gem.
If you can find a place to stay on the island, go for it.
During summer, the marina gets crowded with yachts.
Many tourists stroll through the traffic-free pedestrian streets around the village of San Pietro.
The beautiful island of Panarea has beautiful blue water and excellent diving spots, making it very popular with scuba divers and snorkelers.
However, the only sandy beach on the island is Zimmari beach, which gets very crowded in August.
A short boat trip can take you to Lisca Bianca and Lisca Nera, two fascinating coves of the islets of Panarea.
These were once ancient volcanic vents that were probably once united but later swallowed by the sea.
Panarea has intense activity from underwater fumaroles due to the emission of volcanic gases that push under the Earth's crust, which is very common in many volcanic areas.
Panarea Views
You can see some dreamy views of Stromboli from Panarea, such as this one next to the villa's round white column.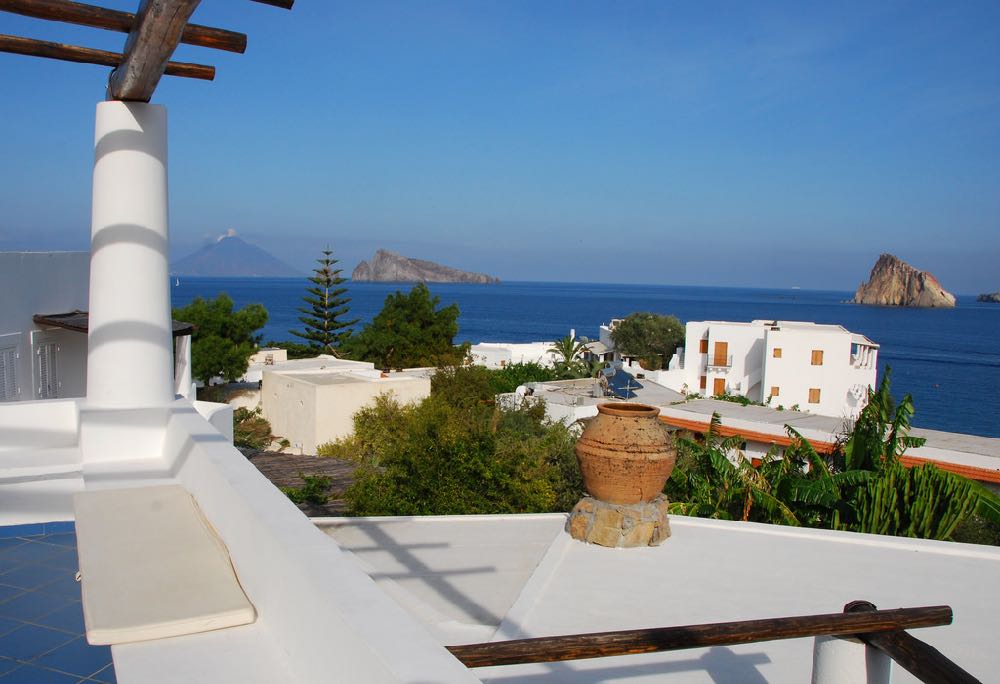 Staying somewhere like this is why you may have to be rich and famous to stay on Panarea. But, maybe you can drop in to take in the view.
Boating around Panarea would be sensational.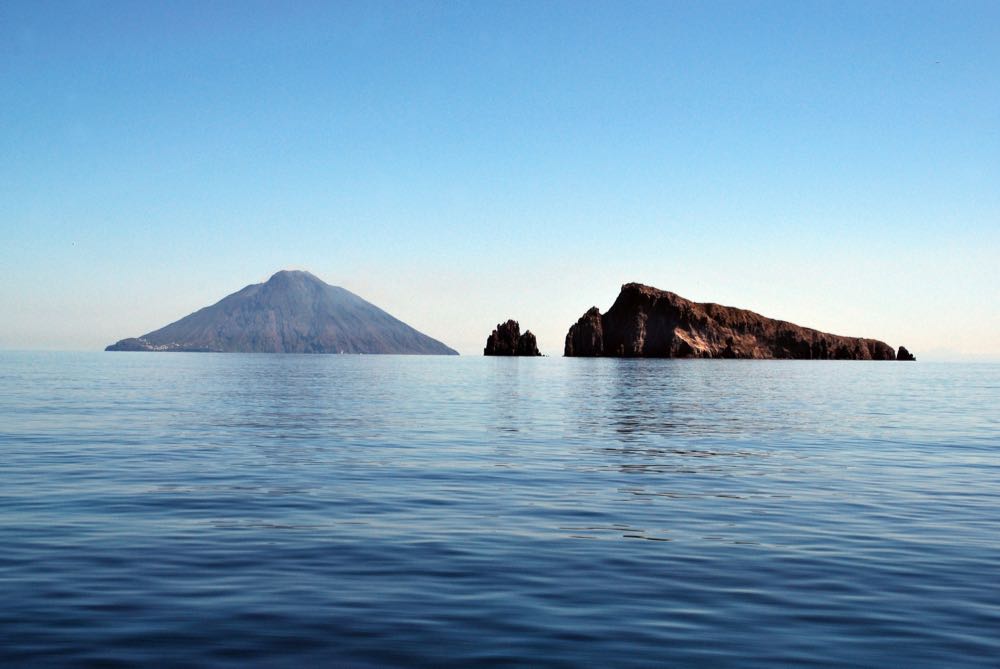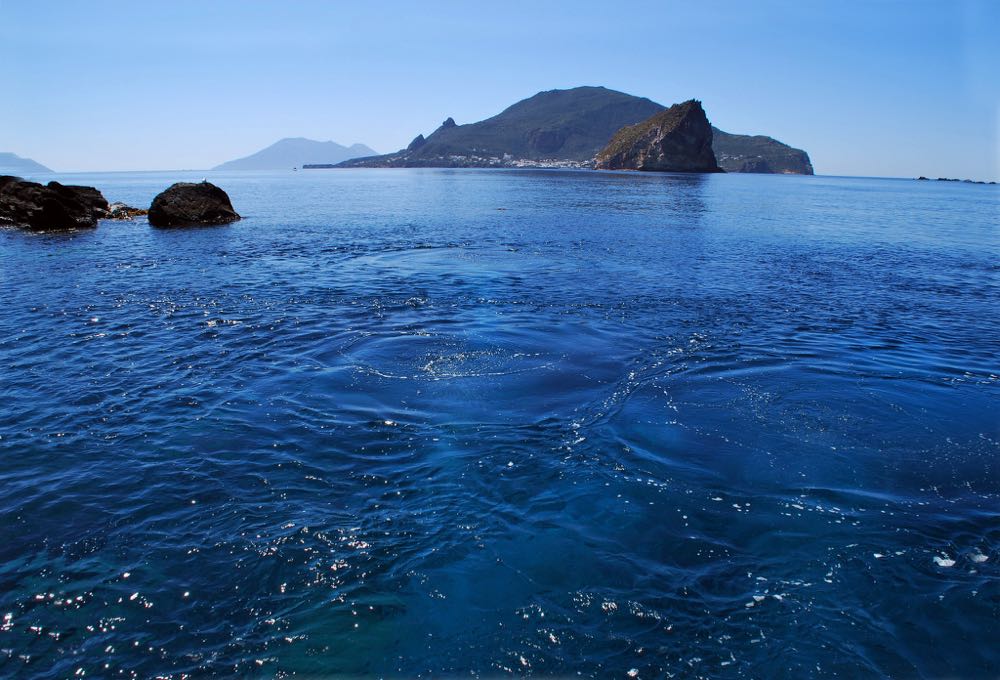 You'll want to spend a bit of time at Cala Giunco. It is probably the best beach in Panarea.
The beach is situated near the prehistoric village to the south and is accessible by a staircase leading down to the magnificent inlet filled with pebbles.
A hiker took the dreamy photo below on their way to the summit of Punta del Corvo on the island of Panarea. Wow!
Who wouldn't want to go to Panarea after watching this video?
Stromboli
Many first-time tourists to Stromboli consider the island's active volcano as their trip highlight during their time in the Aeolian islands.
Having seen a volcano myself, I admit seeing one up close is impressive.
The classic Jules Verne science fiction novel "Journey to the Centre of the Earth" ends in Stromboli. That's enough to convince me that this volcano is extraordinary.
Be prepared for a smoky eruption every 15 minutes or so.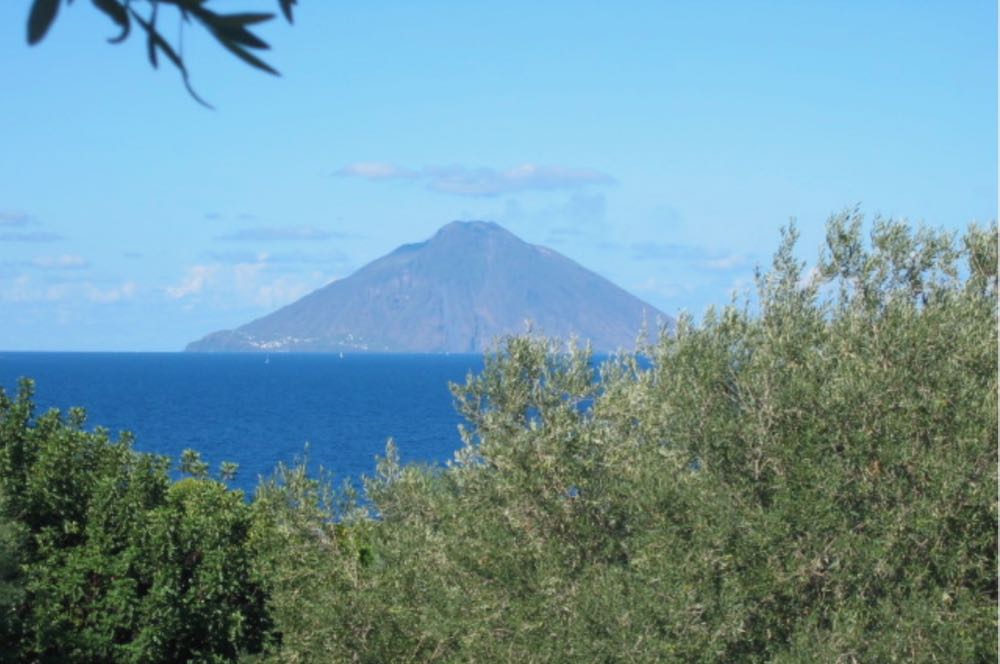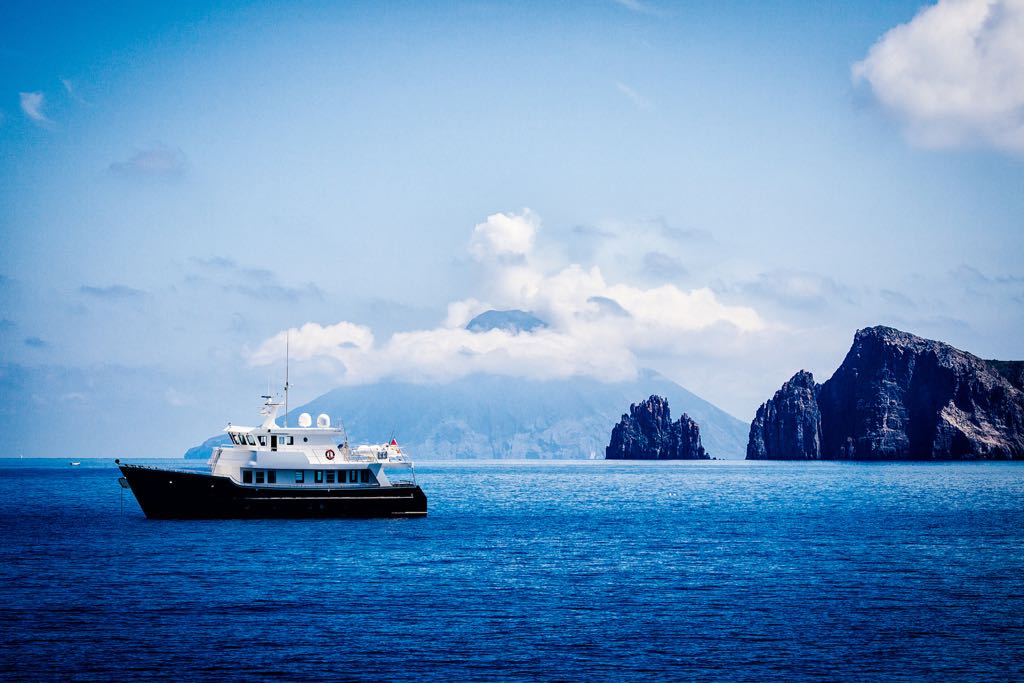 Strombolicchio
Off the coast of Stromboli is a rocky isle with a lighthouse.
The name of this volcanic sea stack is Strombolicchio. It is located 2 km (1.2 miles) on the northeast side of the island of Stromboli.
The name in the Sicilian language means Little Stromboli.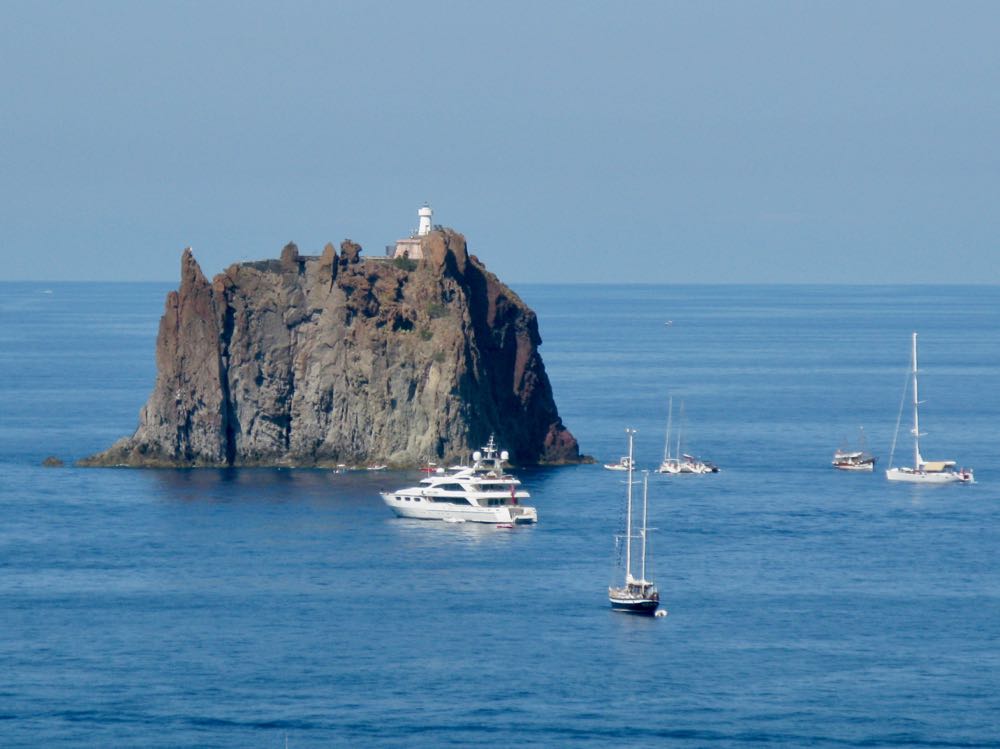 Stromboli Volcano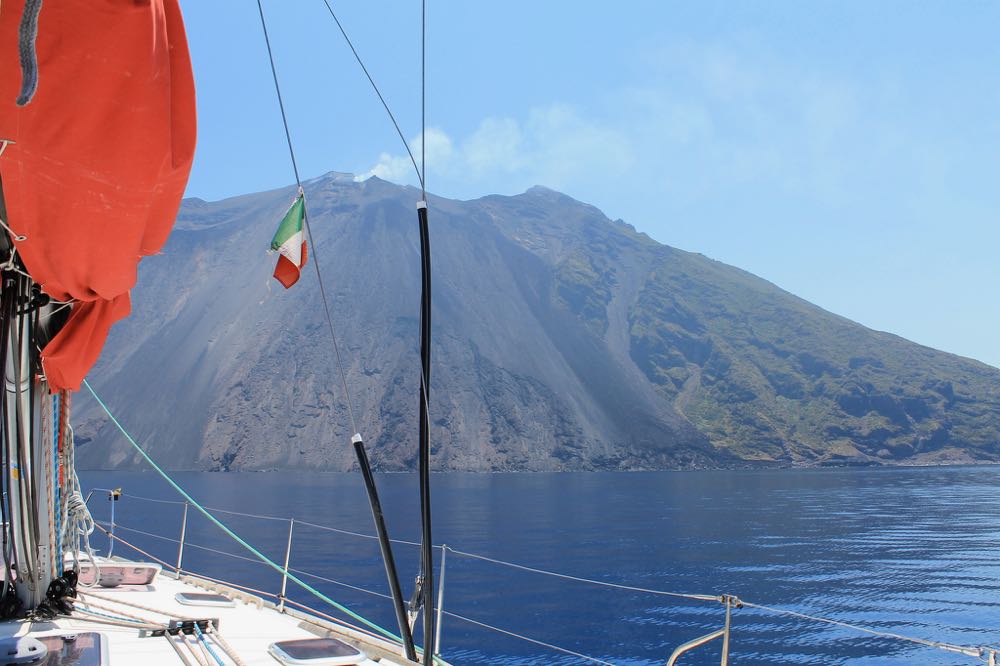 Want to climb Stromboli's active volcano? Bianca will show you how to do it.
You can also watch the eruption from the sea on one of the tourist boats.
Roberto Rossellini's 1950 film "Stromboli," starring Ingrid Bergman, gave the island international appeal.
You may never get to visit Stromboli, but you can always watch the movie.
Salina
The second largest Aeolian island is very different from the other islands.
This island pearl is green and lush in appearance, whereas the other islands are generally more volcanic.
Salina is the only island to enjoy natural freshwater springs and has a beautiful forest of ferns.
The Postman Film
Salina is where the famous movie "Il Postino – The Postman" was filmed. I highly recommend watching this movie if you haven't seen it before. The movie is so poetic.
You need to watch The Postman at least once. The beautiful bay of Pollara is where you'll want to go after seeing this magical film.
Salina Foodie Experience
Islanders from Salina think they make the best granita in and around Sicily.
With that belief, you'll want to taste this delicious soft semi-frozen desert on Salina. Try a mulberry granita with cream.
If you haven't already, check out the best desserts in Italy to learn more about granita.
Large mulberry trees can be found in the courtyards of many Eolian country houses. Fresh and delicious, you can't go wrong.
Wine tasting is also very popular in Salina. Be sure to taste the Aeolians' famous sweet Malvasia passito wine.
The capers on Salina are believed to be the best in the world. Salina even puts on a Caper Festival every year in Pollara.
Top Salina Views
Here's a fantastic view of Salina from the air. Salina's town is positioned in a valley between twin volcanic peaks that look like camel humps.
Stromboli is in the distance, another incredible sight.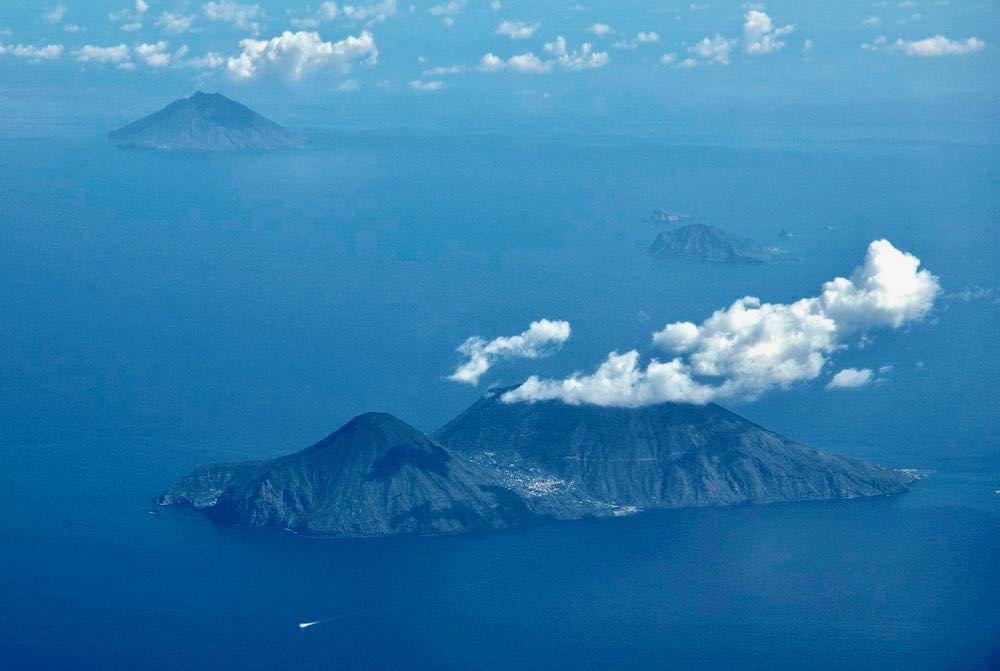 Here's a view of Salina from Lipari, similar to the feature image in this post. I wonder if anyone ever swims across to the other island.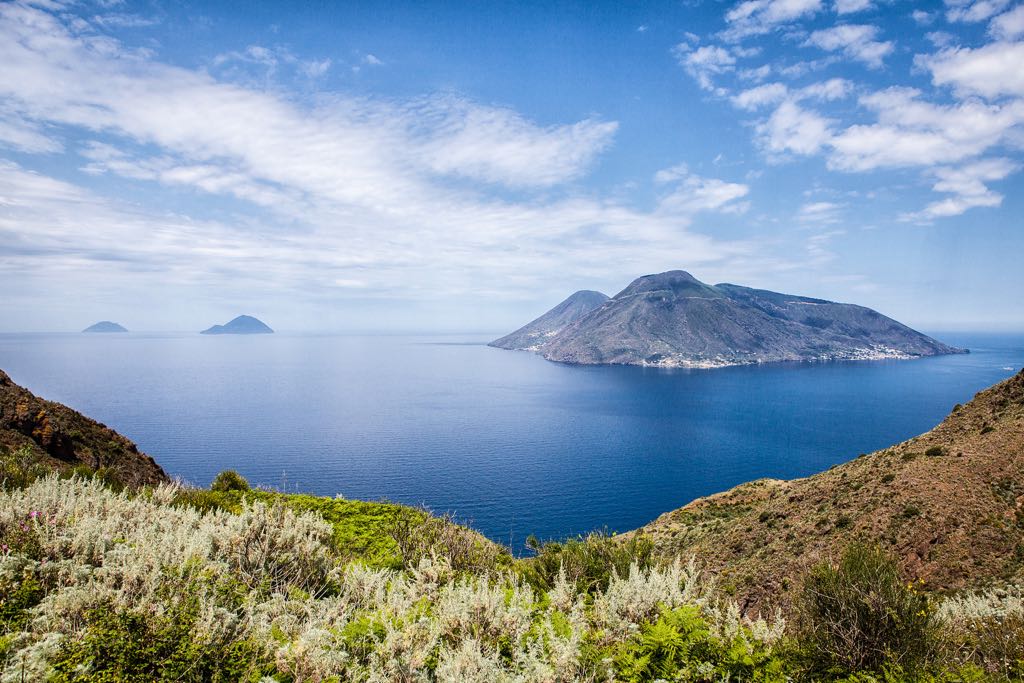 The Aeolians' highest point, Monte Fossa delle Felci (962m), can be hiked to see this beautiful view.
You can also see the islands of Filicudi and a distant Alicudi towards the west.
On the southeast side, you can look down over the Lingua salt lagoon to Lipari and Vulcano.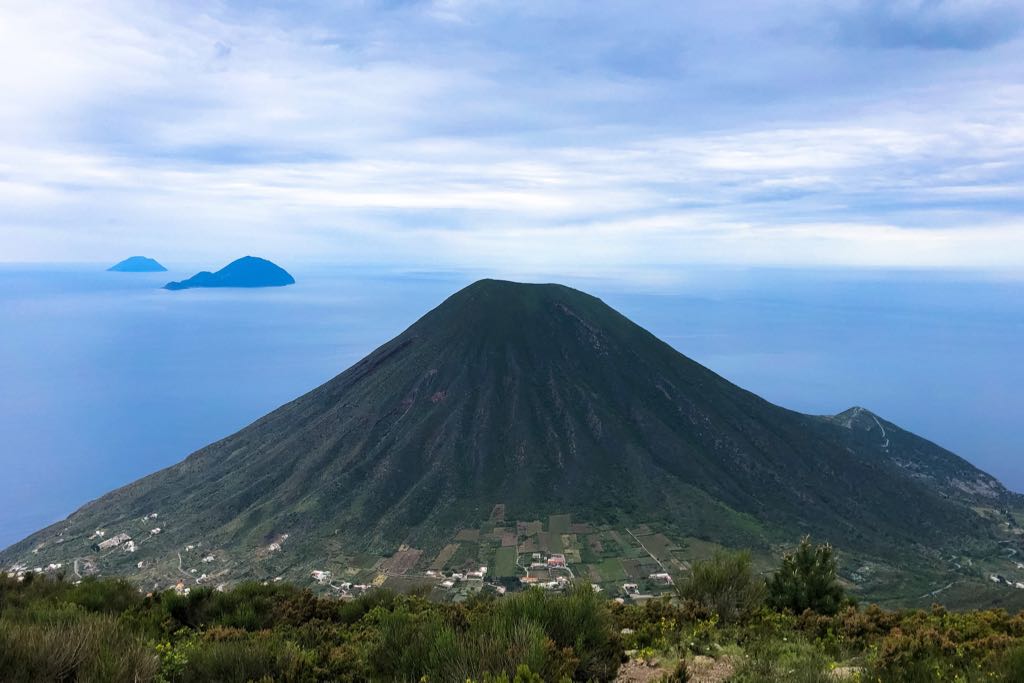 Filicudi
Imagine approaching the island of Filicudi by boat for the first time. I wonder if Odysseus ever made it out this far.
La Canna is the tall volcanic rock next to the island that rises about 74 m (243 ft) above sea level — a magnificent sight.
There's a mysterious August festival called "Filicudi, between myths and legend," which brings tourists and local islanders together.
A decorated boat parade heads towards the Bue Marino grotto. There's even a sculpture depicting Aeolus.
Concerts entertain everyone, and it finishes with fireworks. I wonder what Aeolus looks like. It sounds fascinating.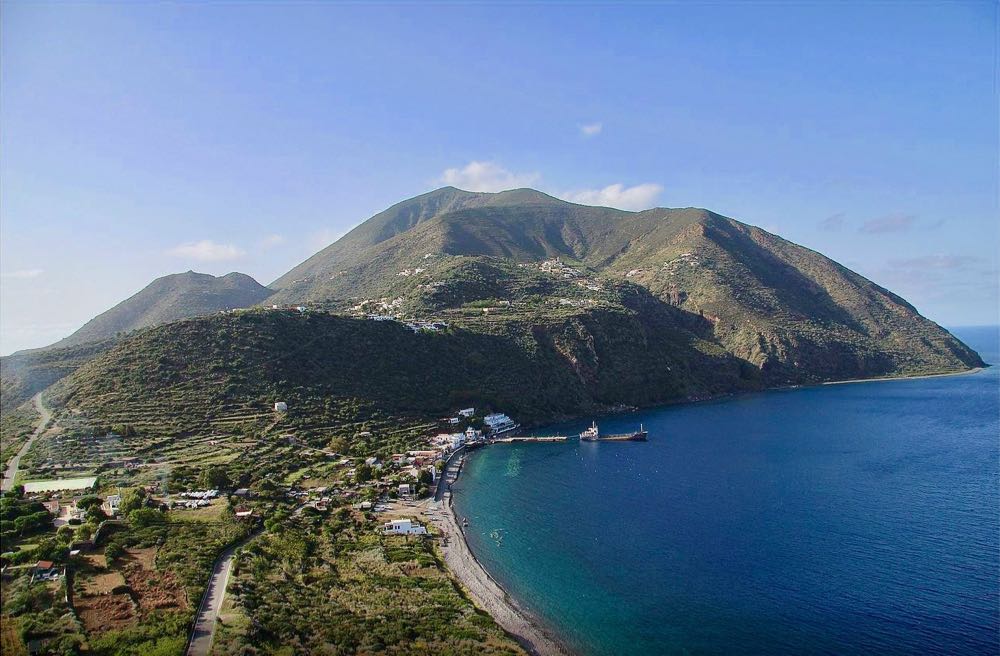 Alicudi
Alicudi is the most isolated island in the Aeolian island group.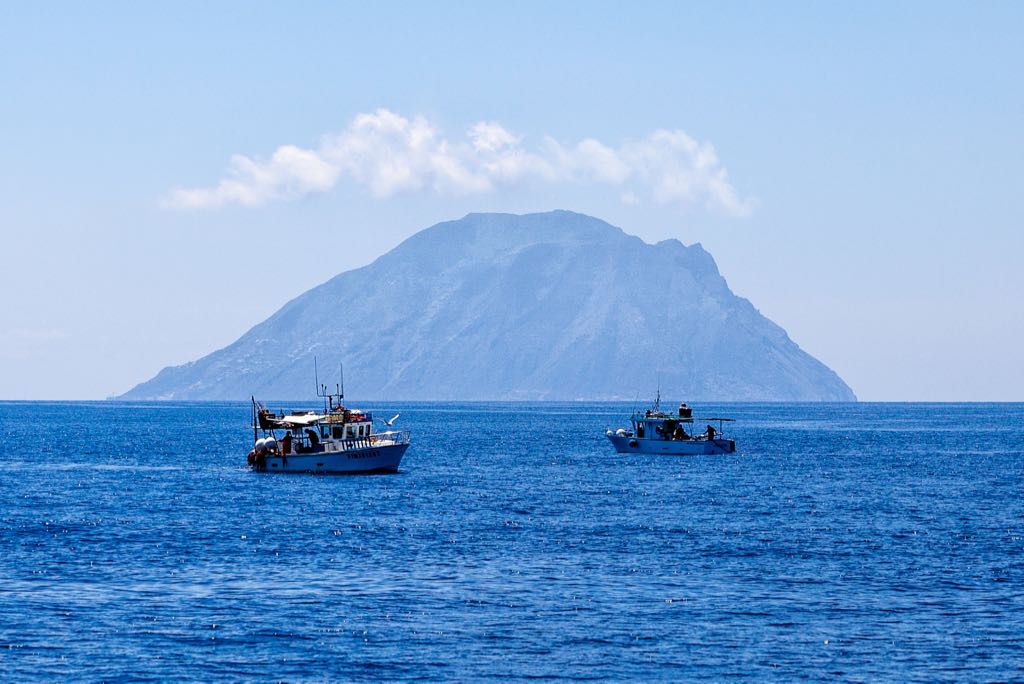 There are no roads or cars on this rugged secluded island, just dusty mule paths and stone steps.
Alicudi is a fantastic island to escape away from the modern world.
Saracen pirates once used Alicudi as a hideout. Minimal accommodation exists on the island. That said, a few of the residents and property owners do rent out their homes as summer retreats.
Here are a couple of awesome views on Alicudi facing the island of Filicudi.
The ultimate way to experience the Aeolian islands would have to be to sail around them like Odysseus (Ulysses) did. Whether Aeolus will offer you favorable winds is another story.
How to get to the Aeolian Islands?
The best way to reach the Aeolian islands for non-yacht owners is probably by hydrofoil or ferry from Milazzo, the closest land point in Sicily.
You can catch a faster train into Milazzo from other Sicily towns, which will save you on the much slower ocean travel time.
If you don't mind a more extended sea voyage, the other option is to catch a ferry from Palermo, Cefalù, or Messina in the top part of Sicily.
Ferry Guide to the Aeolian Islands
Hydrofoil/Ferry from Milazzo in Sicily
The ferries from Milazzo can drop you off in Lipari or Salina in about 1.5 hours, but it could take anywhere between one to three hours, depending on the ferry service.
Ferry rides to the island of Lipari are most frequent, with other direct ferry services to other Aeolian islands also available from Milazzo.
Hydrofoil/Ferry from Naples in summer (August)
During summer, you can also get a hydrofoil/ferry ride to take you to the Aeolian islands from Italy's mainland city of Naples.
The quickest hydrofoil ride can take you to Lipari in about 5-7 hours. However, depending on the ferry service, it may take quite a bit longer.
Train ride from Naples to Milazzo, followed by a hydrofoil/ferry ride from Milazzo
The other way to get there from Naples is to catch a train from Naples to Milazzo, which takes around 6-7 hours. The train then goes on a ferry for the short crossing from Italy's mainland to Sicily.
I can't say I have ever heard of a train on a ferry before. It sounds like a unique experience. Once you arrive at the Milazzo train station, you'll also have to catch a bus or taxi to the port.
Watching this last entertaining video of the Aeolian Islands and Panarea is worth it. The granita dessert looks delicious.
If you want to know more about the Aeolian Islands, check out the interesting details shown on Wikipedia.
Italy Dream Vacations
Anyone wanting to visit other fantastic places on the mainland of Italy or closer to it can check out these guides:
Pin it … Share it