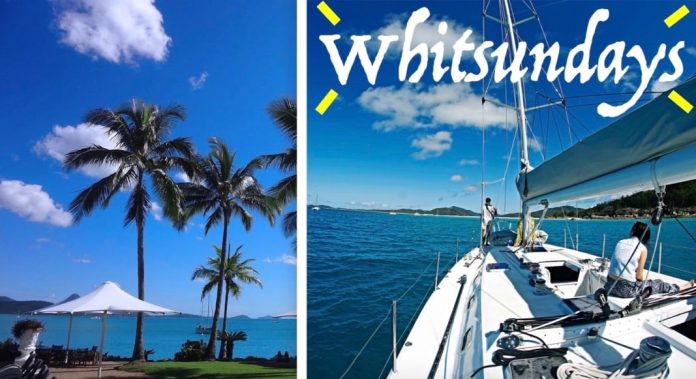 The Whitsunday region in Queensland is truly an awesome island holiday destination where you'll find paradise in Australia. The 20 best things to do in the Whitsundays shown here should easily convince you of that.
The Whitsundays (Whitsunday Islands) are a dream destination located on the central east coast of Queensland, Australia. It's made up of the resort town of Airlie Beach on the mainland and 74 islands with a few standout islands that get most of the attention. The iconic Great Barrier Reef is right next door.
Australia's premier islands such as Hamilton Island and Hayman Island are found here making it the perfect paradise for honeymooners, romantic couples, friends and everyone really.
To my surprise I also found the Whitsundays to be a top place for backpackers and budget travellers especially when you're based at Airlie Beach. Solo travellers will love the place.
My own experience of the Whitsundays was amazing and from that dreamy experience forever ingrained in my memory as one of my treasured memories I'm able to share and recommend the very best experiences the Whitsundays has to offer.
The only thing that would have made my trip a little bit better is if I had known about some of these top suggestions when I was there.
20 Best things to do in the Whitsundays
If you're able to fit in the majority of these fantastic experiences into your Whitsunday Island holiday itinerary, then you're one of the lucky ones. It's very doable in a 7-10 day trip.
I would suggest staying for 7 days in the Whitsundays at the very least. This is paradise everyone, so why leave early?
Here are some of the amazing things to see and do in the Whitsundays:
1. Take a picture of the 3 Mermaids at Mermaid Beach on Daydream Island
You have to take a picture of the three mermaids at Daydream if they show up. I was extremely lucky to have seen them on a beautiful day. The mermaids are named Serenity, Aphrodesia and Infinity.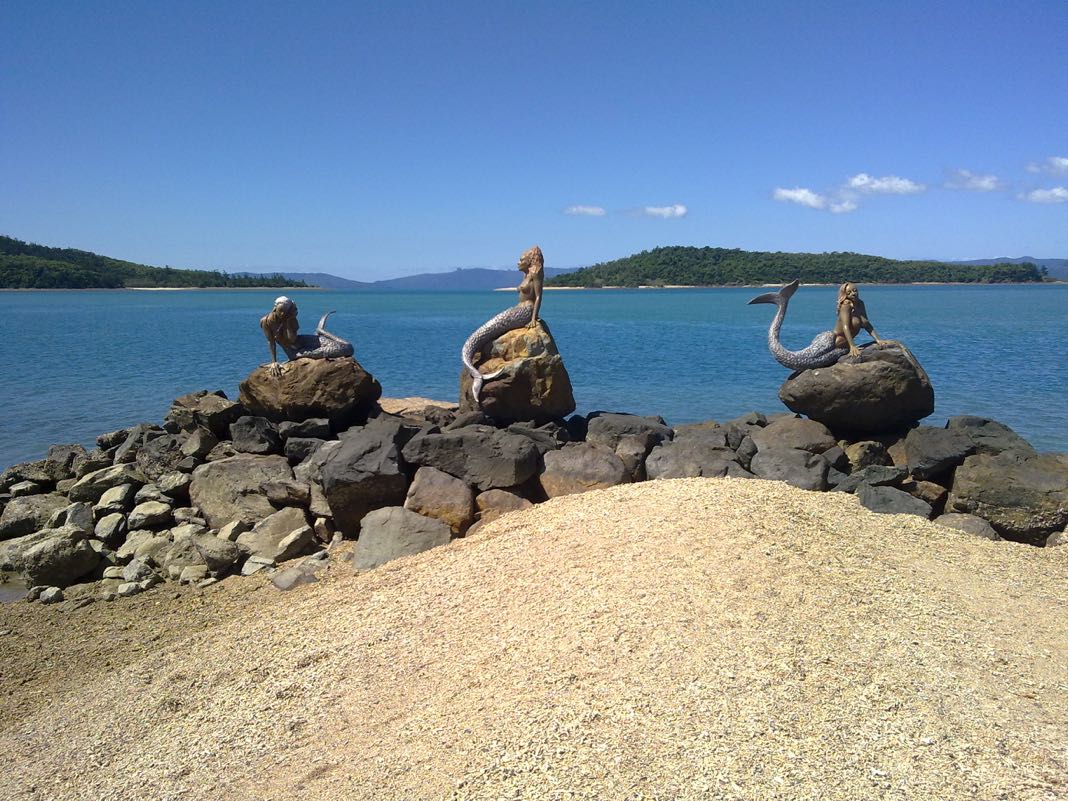 2. Snorkel at Lovers Cove – Daydream Island
I found out about Lovers Cove when I asked someone in a store at Airlie Beach on where to go to find a good snorkelling spot. Lovers Cove on Daydream Island was the recommendation.
It turned out to be a pretty good spot as there were plenty of fish in the crystal clear water.
https://www.instagram.com/p/BpgsvJFFIrZ/
Getting there was also half the fun via the rainforest walk. I somehow went on this beautiful walk to reach Lovers Cove without even knowing about it at the time.
This secluded coral beach also has a deck area where you can sit back and relax.
3. Lounge around the pools at Daydream Island
The pools at Daydream Island are dreamy. It's as good as you can get in my opinion.
Daydream is quite a small island, only 1 km (0.6 miles) long and 400 m at its widest point. It is easy enough to walk around everywhere. I would have loved to have stayed at Daydream Island Resort for a couple of nights. Daydream is my favourite island in the Whitsundays.

Below is a picture of the south end pool. This pool is away from the more popular pools at the other end of the island. It's still a great place to chill out.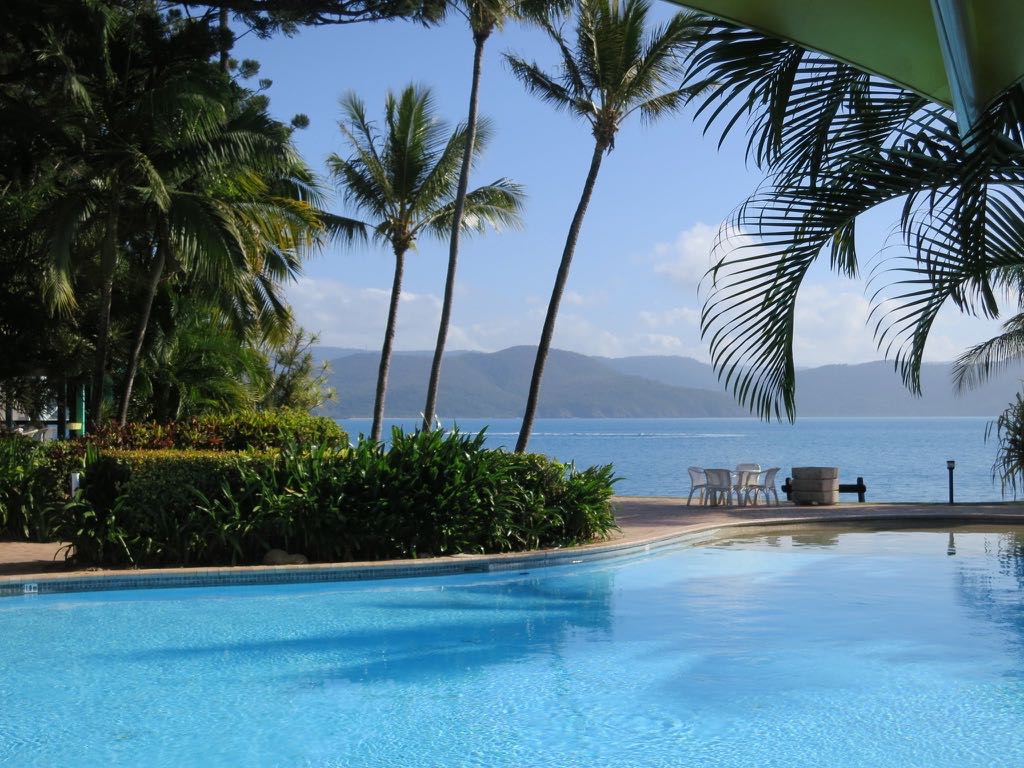 4. Scenic flight over Whitsundays – Heart Reef, Whitehaven Beach, Hill Inlet and Hardy Reef
Out of all the things I did in the Whitsundays, the scenic flight was my biggest highlight. The amazing views were way better than I could have ever imagined. I didn't think it would be that awesome but it really exceeded all of my expectations ten fold.
I highly recommend going on a scenic flight that includes Heart Reef, Whitehaven Beach/Hill Inlet, and Hardy Reef. Don't skip this amazing experience.
You can take a scenic flight from Proserpine Airport, named after the Goddess of the Underworld. It's Persephone's Latin name. This airport is also known as the Whitsunday Coast Airport. I think it's a bit cheaper to go on a scenic flight from this airport. The airport is about 40 km away from Airlie Beach.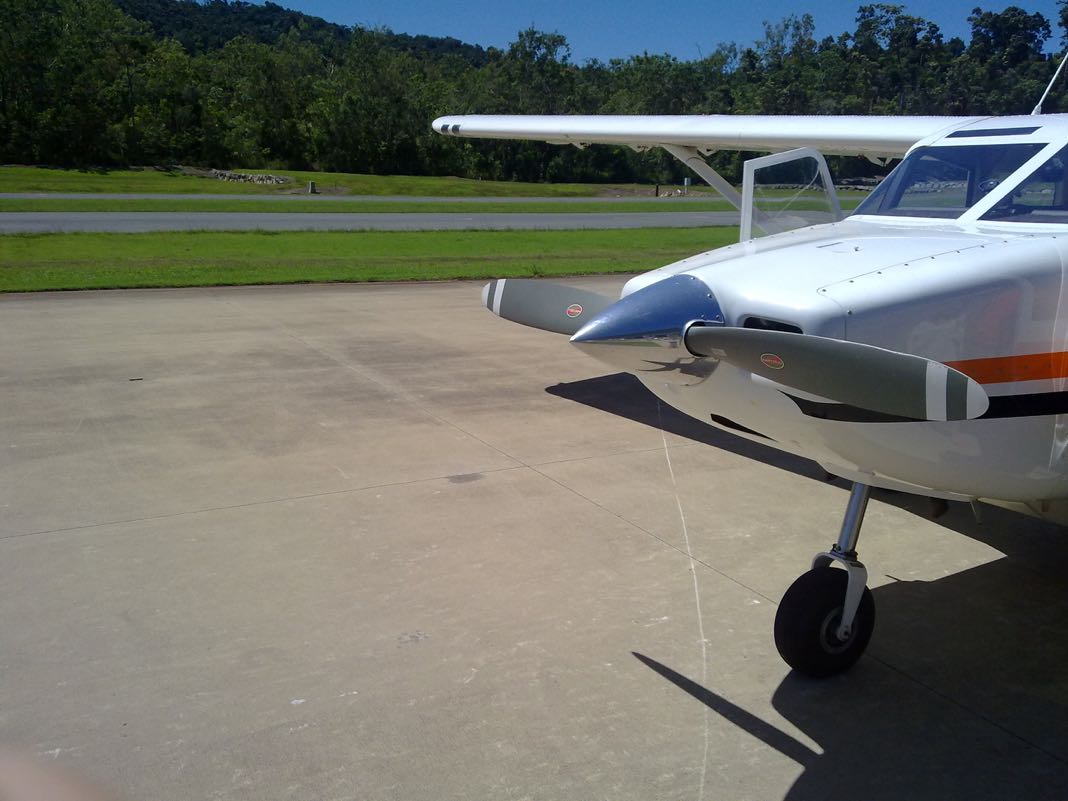 You can also take a seaplane for the scenic flight, though I think it is more expensive.
Hamilton Island also has an airport strip, one of the two in the Whitsundays area, so I'm pretty sure this is another viable option. You can make out the Hamilton Island airstrip in the photo below as we fly past shortly after takeoff from Proserpine Airport.
The World Heritage-listed Great Barrier Reef is the only living structure visible from space.
Heart Reef is tiny (only 17m in diameter) however it is one of the big tourist attractions of the Great Barrier Reef. It's a small coral reef shaped like a heart that you won't want to miss. Make sure you have your camera ready because you only have a few seconds before you pass it by.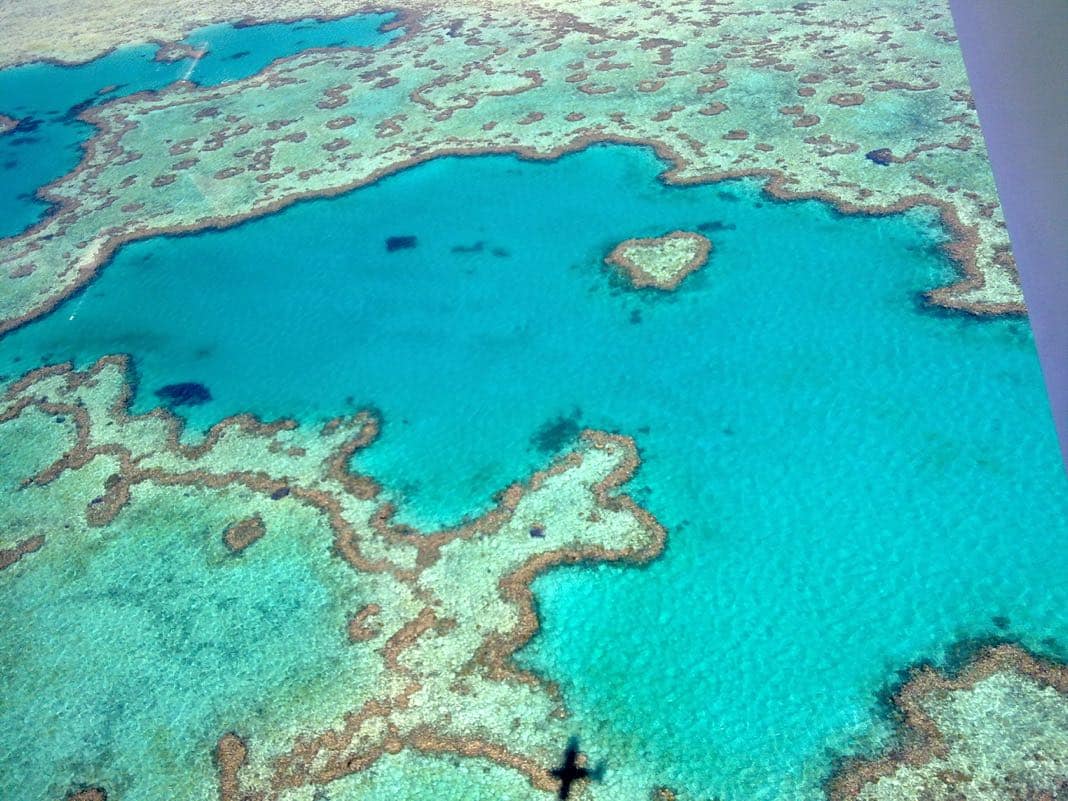 Seeing Hill Inlet and Whitehaven Beach on Whitsunday Island from the air is one of the most beautiful sights I have ever seen. If I were in a sea plane and I didn't know about this place I would have demanded that the pilot land the plane immediately.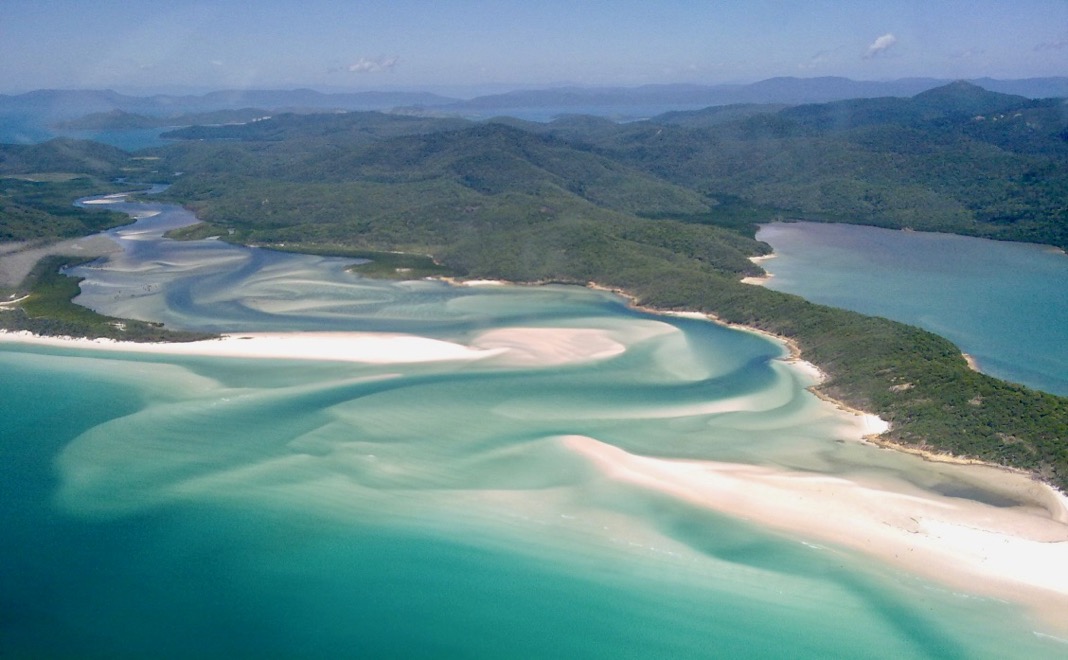 The different shades of aqua blue at Hardy Reef were breathtaking. Believe me a scenic flight over the Whitsundays is worth every penny. I can't show you the beauty in a photo because it is everywhere. It's a feast for the eyes!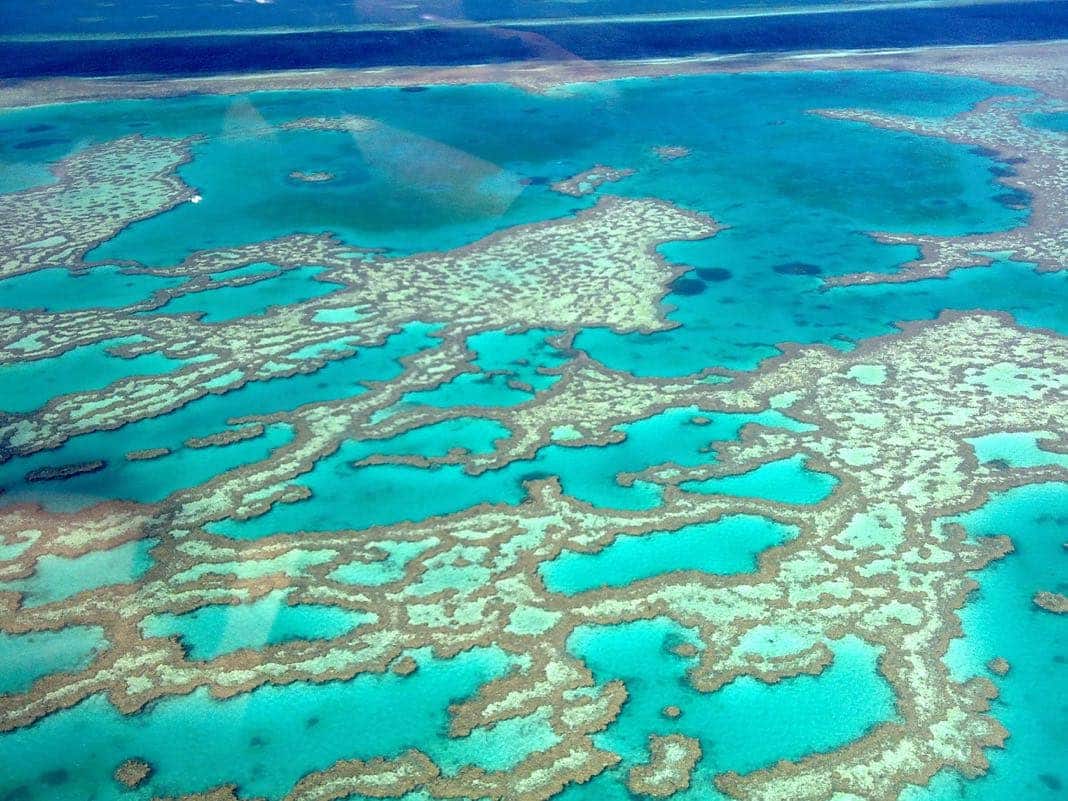 5. Whitehaven Beach & Hill Inlet
My top tip is to spend the whole day in this beautiful paradise as Whitehaven Beach offers up 7km of shore to explore. Some of the tours don't give you enough time so make sure you get to spend a decent amount of time at the beach, like the whole day.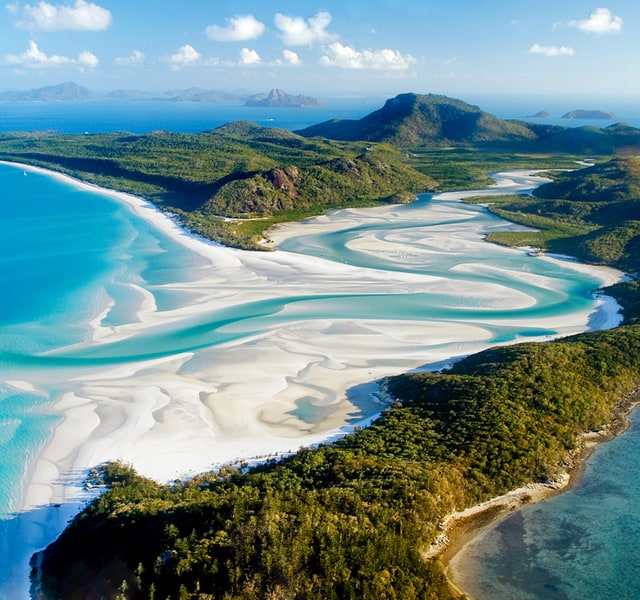 Whitehaven Beach is a dream and is easily the best beach in Australia in my opinion.
The sand is so pure that you can comfortably walk barefoot along the beach no matter how hot the weather. This is because the fine sand is made up of 98% pure silica, so it doesn't retain the heat. Wow, I never thought about it at the time, but I think I remember asking myself why my feet weren't burning.
Walking on this magical sand and splashing around a pristine paradise like this is one of those heaven on earth experiences you will never forget. Best beach in Australia everyone, if not the world.
Hill Inlet offers some great views. It has a viewing platform where many visitors go to gasp at the beauty of the place. Make sure any guided tour you go on also includes this as well. The amazing photo below is from the Hills Inlet perspective.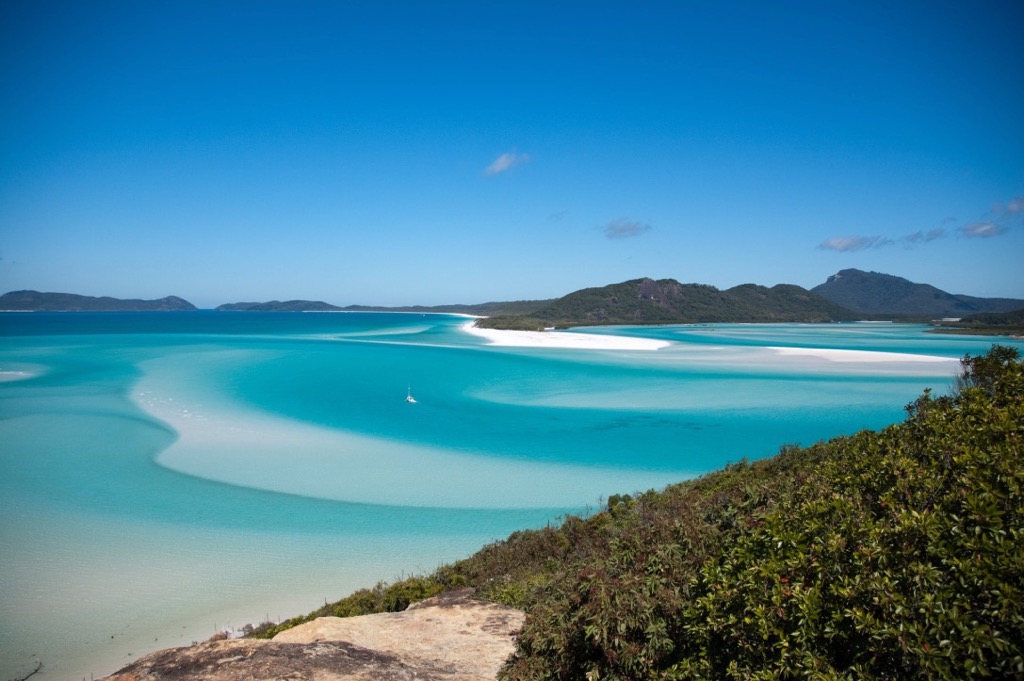 Whitehaven Beach and Hill Inlet will simply astound you. You will never want to leave.
Top Tip: On the southern end of the beach there is a small camp site.
6. Turtle Bay (Whitsunday Island)
Turtle Bay is often forgotten about by visitors when compared to Whitehaven Beach even though they are both situated on Whitsunday Island. The aptly named Turtle Bay offers wonderful snorkelling and as the name suggests you have a great chance of swimming next to friendly turtles.
The bay is made up of 5 beaches with four of them accessible during low tide. Tour operators don't seem to go here so you may have to charter your own boat to get there. All the better for you if you get to see some turtles.
7. Explore Hamilton Island by golf buggy
Hamilton Island is probably the most popular island in the Whitsundays. Cars are not allowed on the island, so the main way to get around is by walking and golf buggy. Stop by a few of the resorts and taste test a poolside Pina Colada.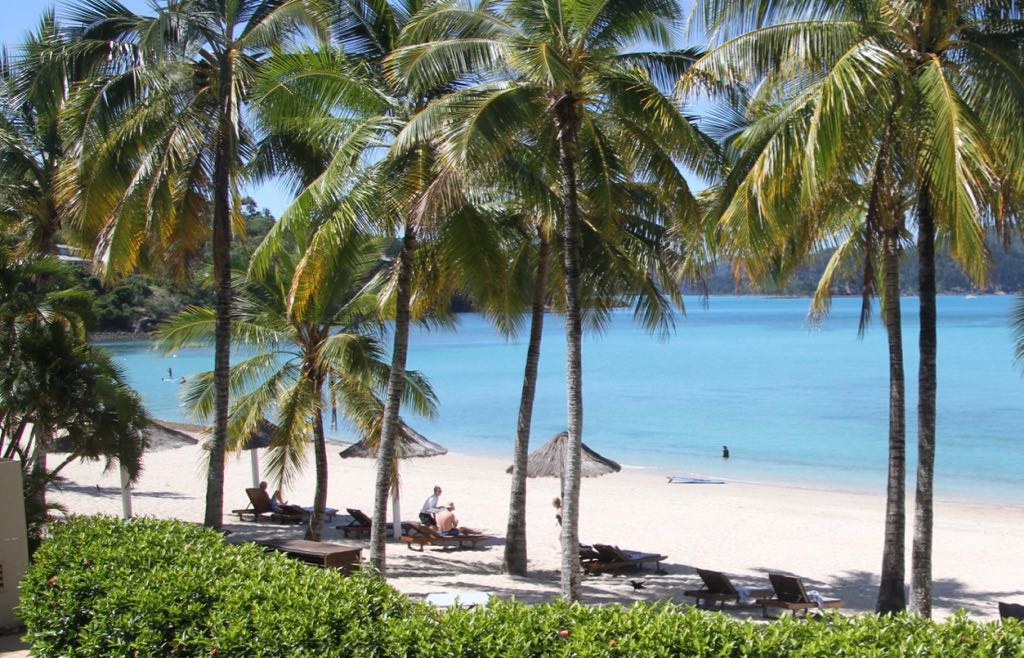 Why not hike your way to Coral Cove, a hidden bay fringed by reef and surrounded by tall pines on a 4.5km round trip. Be sure to take some dips into the sparkling blue ocean along the way.
Anyone interested in water based activities should make their way to Catseye Beach.
Qualia on Hamilton Island is the top resort on Hamilton island. It has been rated the number one resort by Conde Nast Traveler. If you're able to stay here for a night or two then you've done really well.
8. Hike to the top of Passage Peak
Passage Peak is the highest point on Hamilton Island, although it's only 234 m above sea level. Your reward will obviously be some grand 360-degree views. It takes about 45 minutes to reach the top.

9. Sunset drinks at One Tree Hill in Hamilton Island
At this stage of the day you might be totally exhausted so definitely make use of the golf buggy and drive to the top of One Tree Hill. One Tree Hill offers amazing views and overlooks Qualia, the island's premier resort.
Apparently there's no better place on the island to be at sunset than One Tree Hill, so grab a drink and some nibbles and see if it's true. A green apple mojito and cheese platter seems to be desirable choices.
Make sure you get there early if you want to secure a table inside the building. Around 4:30 pm seems to be a good suggestion.
There's also a grassy verge where you can enjoy the sunset for free. Bring a towel or a blanket with you, a bottle of wine or other preferred drinks, some glasses, then wait and hopefully the sunset will be as beautiful as this one. Wow!
https://www.instagram.com/p/B1oU5ILgVWS/
10. Play a round of Golf on Dent Island
If you're into golf then you won't want to miss out on a playing a round of golf on this very unique golf course. Hamilton Island Golf Club was designed by British Open winner Peter Thomson, on its very own island (Dent Island) just a short boat ride from Hamilton.
Hopefully the stunning views won't distract you too much when navigating this par 71, 18-hole championship course. Maybe pack a few extra golf balls since you'll probably lose a few more golf balls than expected.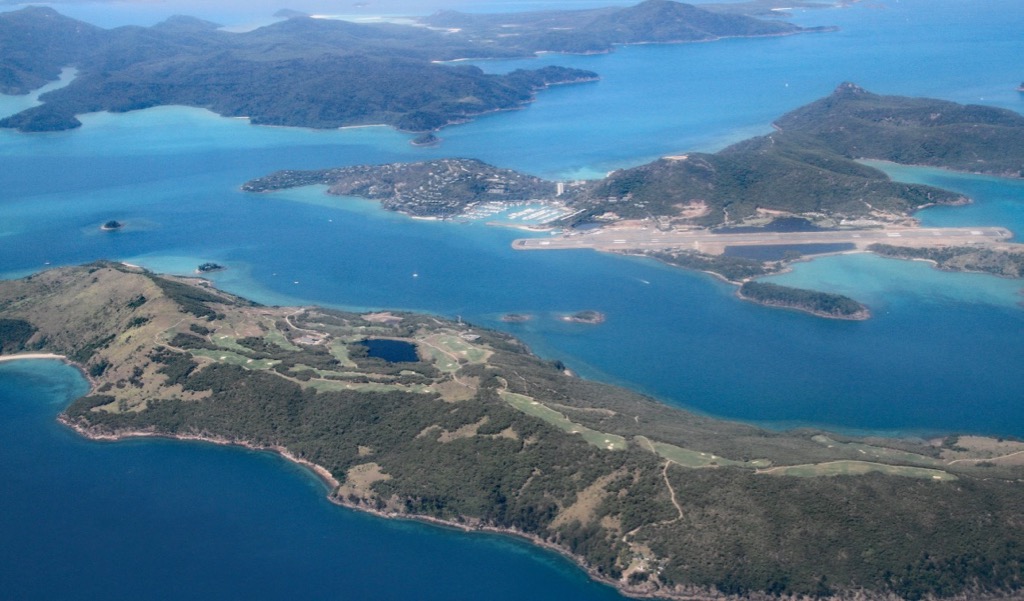 11. Relax at Airlie Beach Lagoon
Airlie Beach is known as the gateway to the spectacular Whitsunday Islands. I can highly recommend staying in Airlie Beach, especially for backpackers and those of you who want to have access to small town convenience. It's a very lively spot that buzzes day and night.
Airlie Beach also has some great accomodation options. Consider these places with an infinity pool: Peppers Airlie Beach, Pinnacles Resort, or Martinique Whitsunday.
The highlight for me at Airlie Beach was definitely Airlie Beach Lagoon. It's a great place to relax, read a book, take a dip in the water, and for people watching.
https://www.instagram.com/p/Be2Xw2Sg8GG/
Think of it like a beautiful oasis.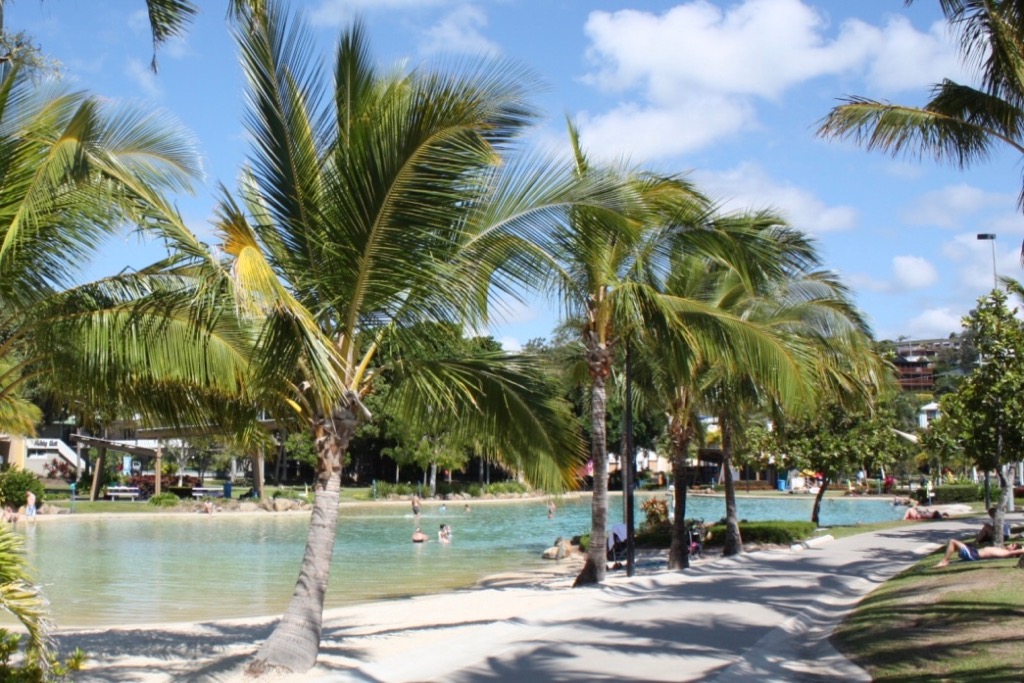 12. Hayman Island
For the lucky few there is Hayman Island. The One&Only Hayman Island Resort is one of Australia's most luxurious and glamorous resorts. It is an exclusive five-star nature resort with a price per night to frighten off every budget traveller.
Anyone lucky enough to be able to afford it will surely be in earthly paradise if you choose to stay on this island.
They used to allow paid day trips to Hayman Island for pool visits though I think that has all changed. You can always ask again. Maybe you can bribe someone.
The other option is to take an authorised tour to Blue Pearl Bay, a popular snorkelling & diving spot, found on the north-western side of Hayman Island. At least you can say you've been to Hayman Island after that.
13. Cedar Creek Falls
For a memorable half-day outing, head out to Cedar Creek Falls. This waterfall is located about 30 kilometres from Airlie Beach. The falls can be reached by a short walk from the parking area.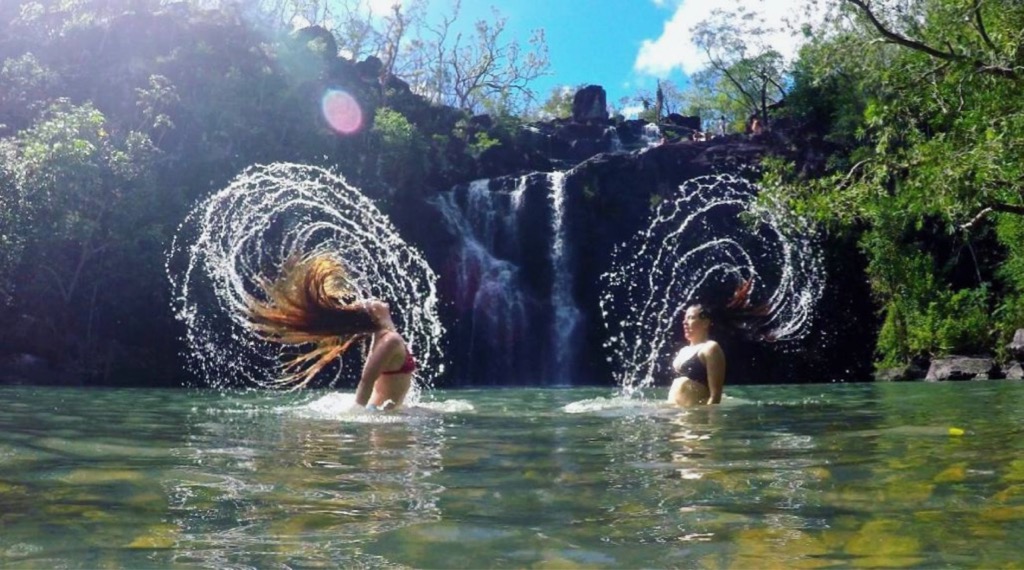 Instagram: @hannnc

Cedar Creek Falls are one of the hidden wonders of the Whitsunday region. This secluded waterfall offers a fantastic natural swimming hole to be enjoyed all year round.
14. Snorkel or scuba dive at Hardy Reef
A boat tour to Hardy Reef is a great outing for snorkelers and scuba divers. I went scuba diving however I'm sure I would have had just as much fun snorkelling. Either way this is an amazing experience.
15. Jet ski to Paradise Cove Resort
Scout around for some jet ski tours. A jet ski tour to Paradise Cove on Long Island seems like it would be a fantastic adventure when the ocean is silky smooth.
16. Long Island
This island was recommended to me by a local, the same person who recommended Lover's Cove to me. I was told that this is where the locals like to go. I had never heard of it before but I'm so glad I went.
The ferry will drop you off at the jetty and from there it leads to Happy Bay. You will be happy at Happy Bay. No need to go anywhere else, though if I had more time available I would have loved to explore more of the island. There are supposed to be some great walking tracks on the island.
Long Island is 9 km long while no more than 2 km wide at its widest point. It is mostly national park with some beautiful sandy coves.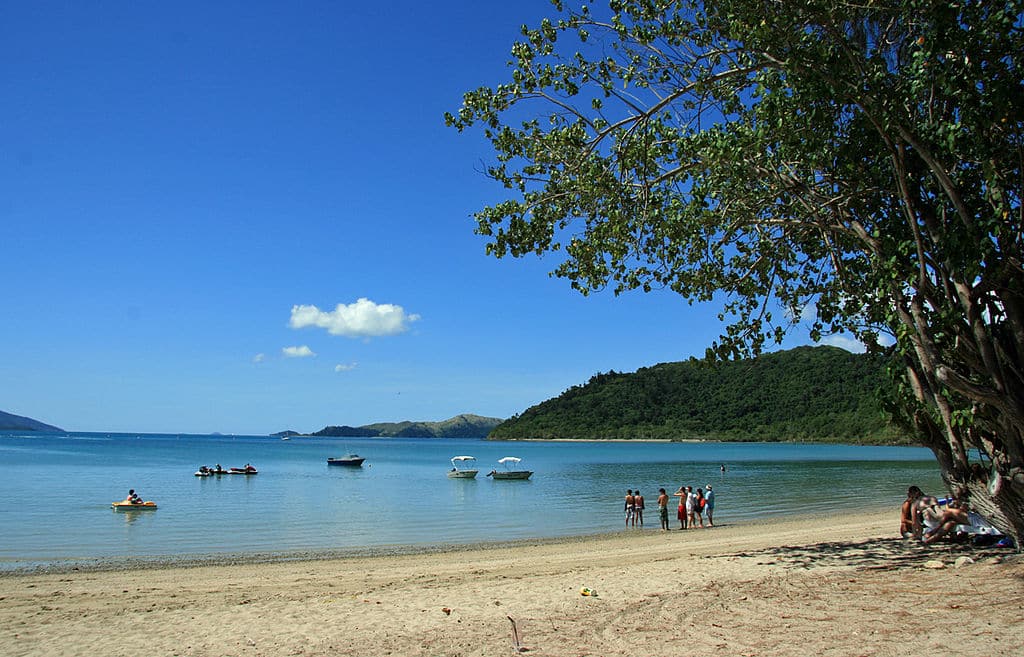 17. Sail the Whitsundays
The number of different sailing tours on offer around the Whitsundays is mind blowing. I always thought sailing was an exclusive thing but I was totally wrong.
Airlie Beach and Shute Harbour are the main launching points for Whitsunday adventures and you will definitely be able to find a suitable option depending on how much time you have available. You can arrange overnight trips, a couple of nights on all sorts of boats, or whatever you want really.
Most Whitsundays sailing trips are about 3 days which seems ideal to me. It's something not to miss on your big trip to Australia now that you know about it.
If you're extra adventurous maybe you want to explore the possibility of bareboating. All you need is a car driver's licence, and you can hire your own boat to take out.
Whatever you decide to do, going on a sailing trip should be at the top of your agenda.
Top Tip: Females love sailing around the Whitsundays. If you're a guy keep this in mind. I couldn't believe my eyes.
This could be the perfect opportunity to checkout the coves of Hook Island.
18. Langford Island – Disappearing beach 
Go for a walk along the thin strip of sand that stretches out from the tiny island at low tide. You can then continue on and walk up to the scenic lookout on the island. It's a 300m gentle slope up to the lookout. It will take about 20 minutes to reach it.
As a backdrop you'll be able to take in Black and Hook Islands, and the sand spit of Langford Island itself.
Due to the island's low elevation, the sandbar is only accessible at certain times of day when the tide is right. It is forever changing shape.
https://www.instagram.com/p/BnF9ZAqHnZC/
19. Honeyeater Lookout
The 8 km return Honeyeater walk will take you uphill through the heart of the rainforest to a spectacular lookout for a great photo opportunity.
https://www.instagram.com/p/BPyz-40j4Hx/
20. Whitsundays Great Walk (Conway Circuit)
If you're fit and adventurous then the Conway Circuit (previously known as the Whitsundays Great Walk) would have to be very tempting. It is possible to complete in about 8-12 hours in one day, though it is recommended as a multi-day walk.
This great walk will take you on a 28km journey through Conway State Forest starting at Brandy Creek (10 minute drive from Airlie Beach) and ending in Airlie Beach.
Note: The circuit is closed annually from 1 February to 31 March and is subject to other closures throughout the year. Check the Conway Circuit (Whitsunday Great Walk) website before you decide to go.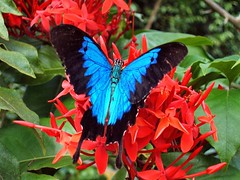 Keep your eyes on the lookout for a majestic blue Ulysses butterfly. This butterfly is even used as an emblem for tourism in Queensland, Australia.
Ulysses is the Latin name of Odysseus, the hero from Greek Mythology who took 10 years to return to Ithaca.
Map of the Whitsundays
The spectacular Whitsundays are around 900 kilometres (560 miles) north of Brisbane, the capital of Queensland. Here's a map of the Whitsundays to get a better appreciation of the area.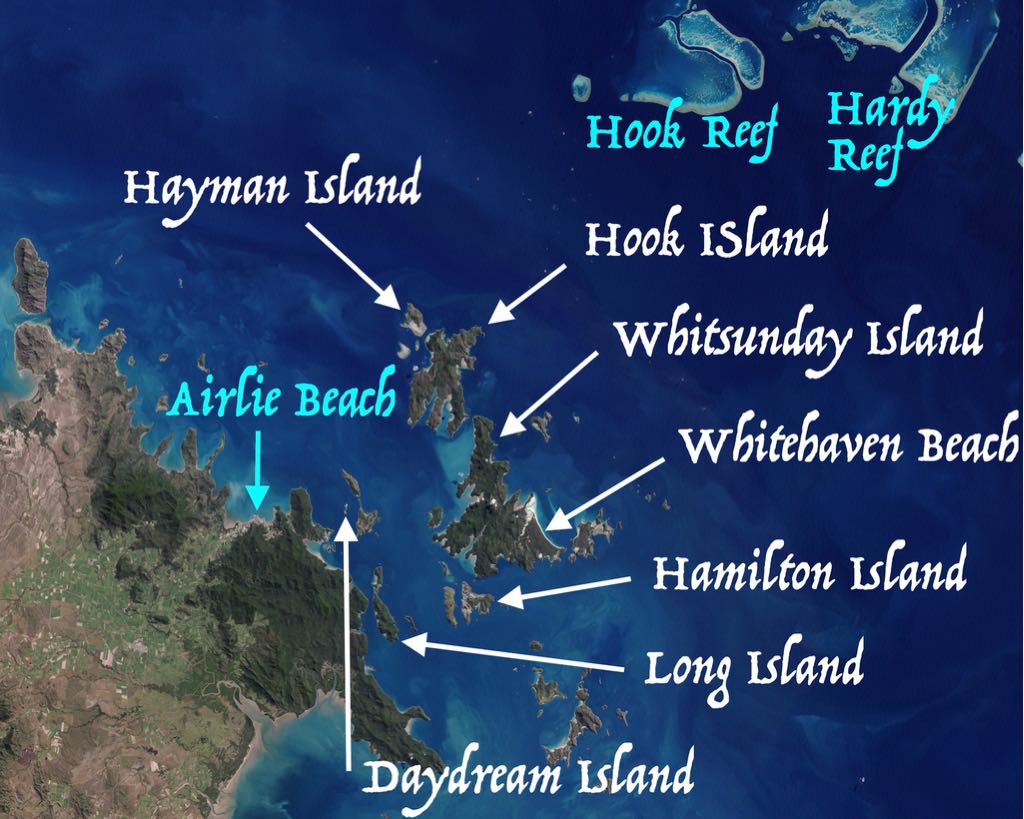 Even if you're able to see all of these wonders, I'm sure you will still desire to return to the Australian paradise of the Whitsundays one day.
Pin it … Share it