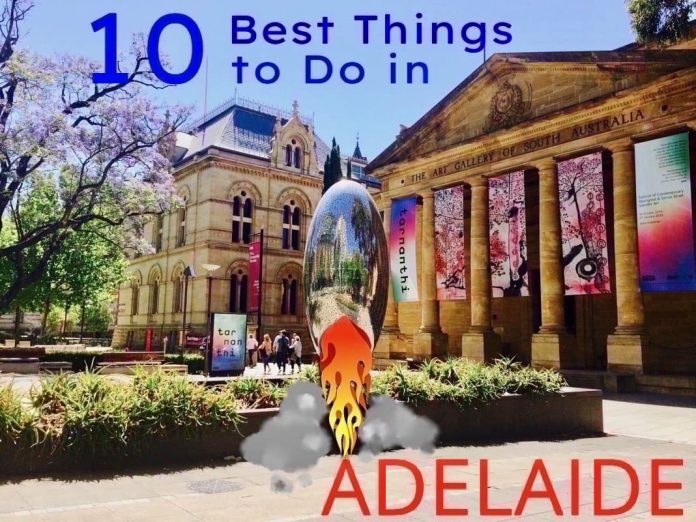 The best things to do in Adelaide shown here will hopefully convince you that Adelaide is a great place to spend a few days.
Adelaide isn't even on the radar for most international tourists, so hopefully this post will give you something to think about if you ever plan a trip to Australia.
Interstate tourists should also give Adelaide a go if you've never visited Adelaide before.
Adelaide has a bit of a small town vibe and it doesn't help that Adelaide is known as the City of Churches, but like many under-the-radar cities, there are some great things to experience if you know about them.
Adelaide locals have no excuse, after all you live in Adelaide, so you can easily do all of these great activities on weekends and holidays. How many of them have you done?
A little bit about Adelaide
Adelaide is the capital city of South Australia and is situated approximately at the bottom part of Australia's central region on the coast.
The city is situated about 730km (454 miles) north-east of Melbourne at a higher altitude.
The town has a Mediterranean climate with mostly fine weather, however in winter it can get a bit chilly.
Melbourne loves to bag Adelaide given the chance but when it comes to the weather, Adelaide's weather is generally way better than Melbourne's weather.
Adelaide once held the Australian Grand Prix from 1985–1995. At the time it was the last event in the Formula One calendar, but Adelaide lost the major motor sporting event to Melbourne.
The rivalry between Adelaide and Melbourne has always been high but that would have to take the cake.
Let's see what other great things Adelaide has to offer tourists and those lucky enough to live in Adelaide.
The Best Things to Do in Adelaide
This list of best things to do in Adelaide will appeal to individuals, friends, couples and families.
Pick a few of them and I'm sure your time in Adelaide will be well spent.
1. Adelaide Botanic Gardens
When you walk through the main entrance of the Adelaide Botanic Gardens from North Terrace, if you keep walking straight you'll soon come across Venus, the Goddess of Love.
Venus is seen on the left and Diana (Artemis) on the right.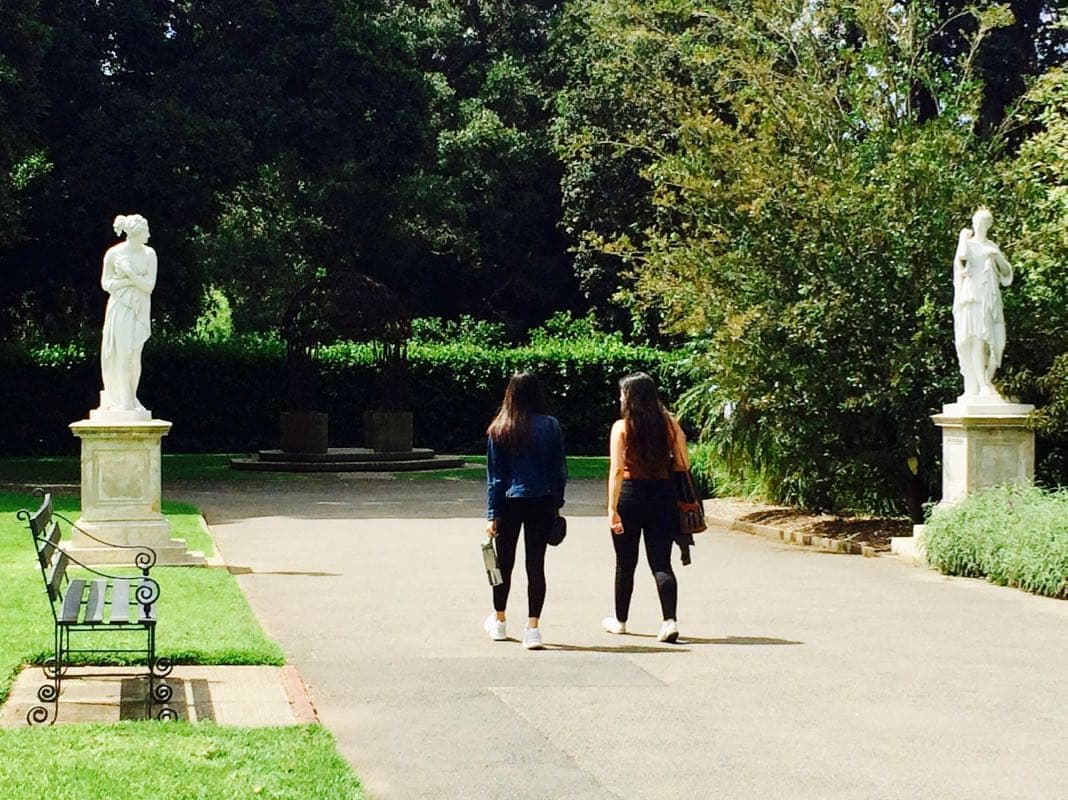 Venus rising from the sea was even featured in a lily pond inside the Adelaide Botanic Gardens at one time.
The statue of Venus with a couple of cupids riding dolphins was installed in 1881 and removed in 1971/2.
The pond (known as the aquarium) next to the main lake was supposedly filled in at the same time as her removal.
The big mystery is what happened to the Venus rising from the sea sculpture after that because its whereabouts is unknown. I wonder what happened.
You can actually see another copy of the Venus fountain sculpture in the Royal Botanic Garden Sydney as both were identical replicas.
Top Tip: There is a free guided walk at 10:30am every day (excluding Christmas and Good Friday), which departs from the Visitor Information Centre. I highly recommend going on this very enjoyable free tour.
Boy on a swan statue
This boy on a swan statue may have taken the place of Venus rising from the sea. The beautiful sacred pink lotus flower is best seen in January when the Nelumbo Pond springs to life under the summer sun.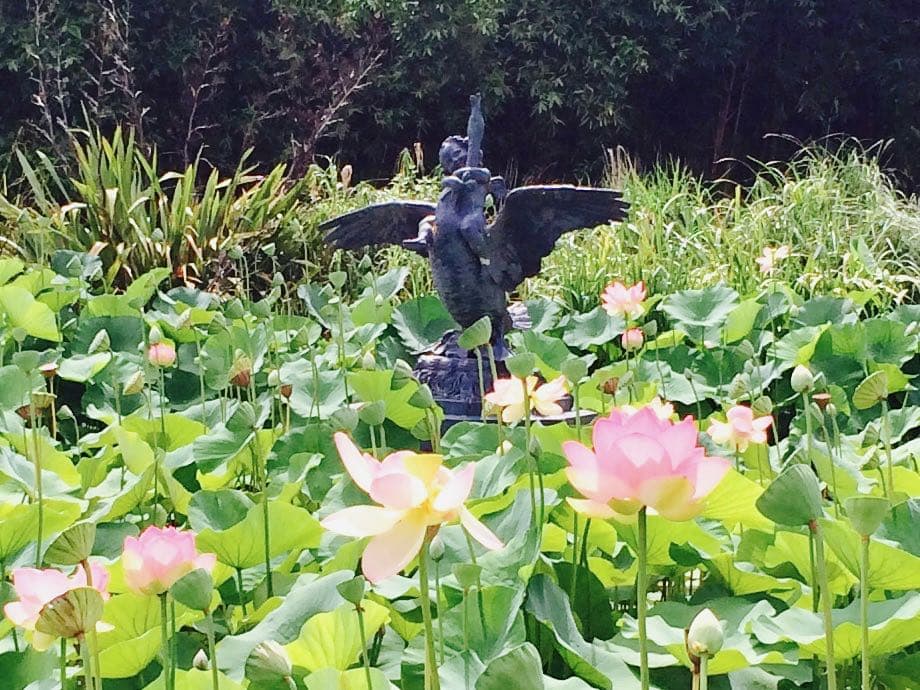 Amalthea Goat statue
Amalthea took care of Zeus when he was growing up. You can find her in front of a lush green lawn section of the Botanical Gardens.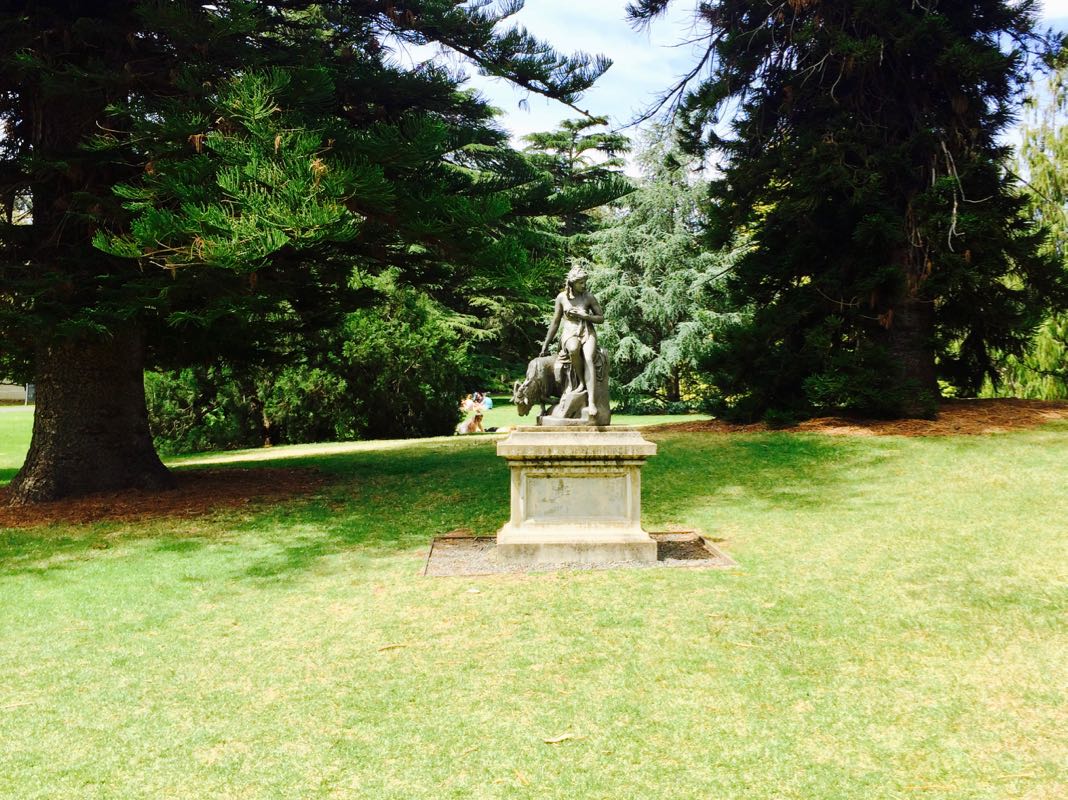 Beautiful places in the Adelaide Botanic Gardens
Spending time around the lake is very soothing to the soul.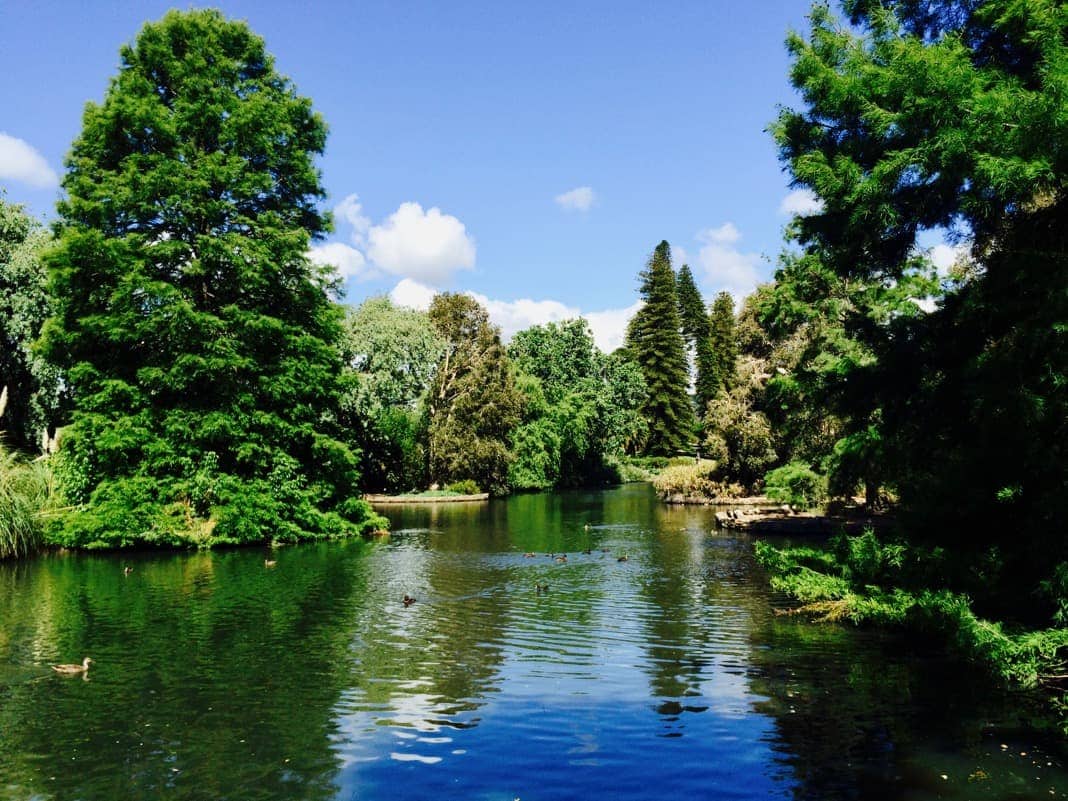 In the photo below, there's a cafe located on the left side in a prime spot where you can grab a coffee and relax.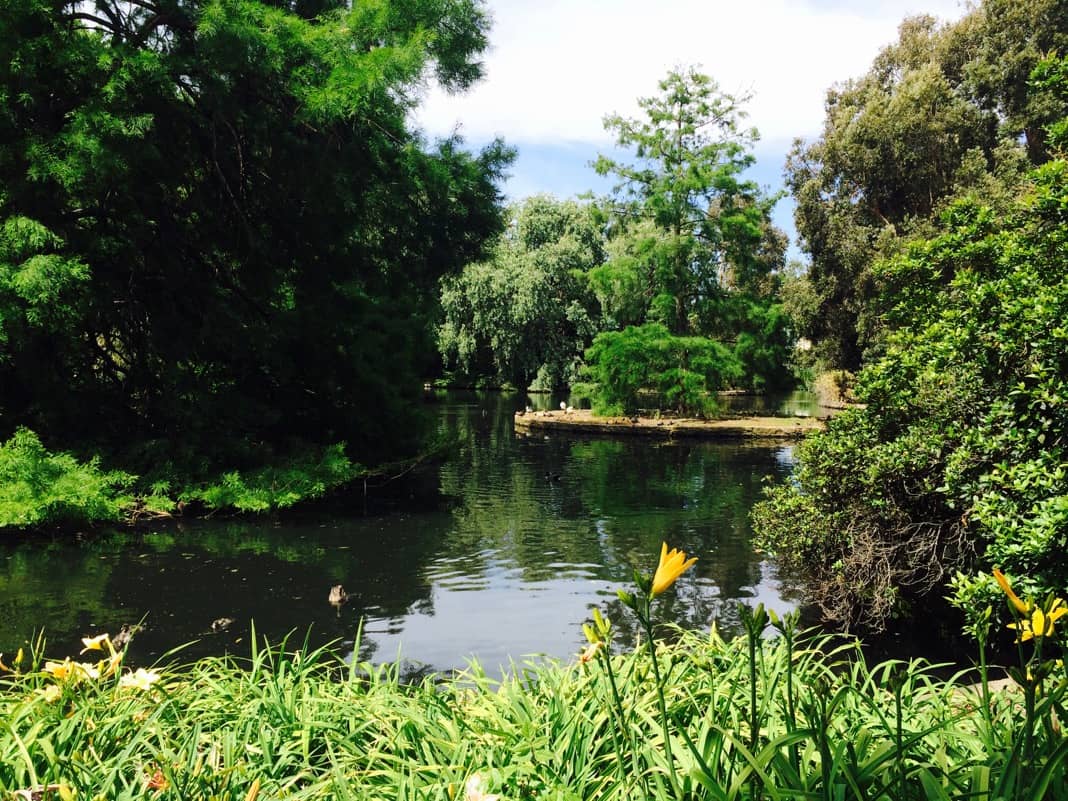 The Adelaide Botanic Gardens also has an award winning restaurant if you want to spoil yourself for lunch or dinner.
There is plenty of beauty to admire in the Adelaide Botanic Gardens like this Wisteria tunnel leading to a fountain.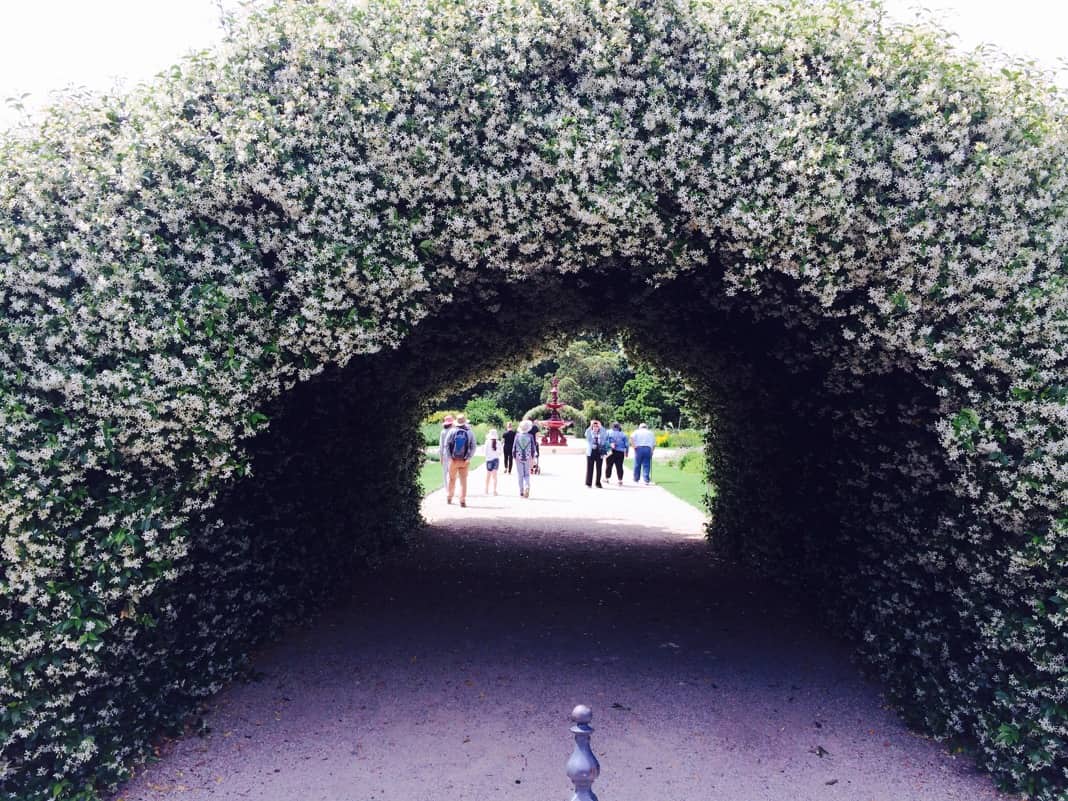 Graffiti carvings can be seen covering the majority of a bamboo grove in the gardens. All kinds of initials and messages have been scratched onto the bamboo over many decades.
I'm not sure what would happen if you get caught doing the same thing because there are so many carvings on the bamboo already.
I'm pretty sure they won't send you to jail, but be careful you don't get busted.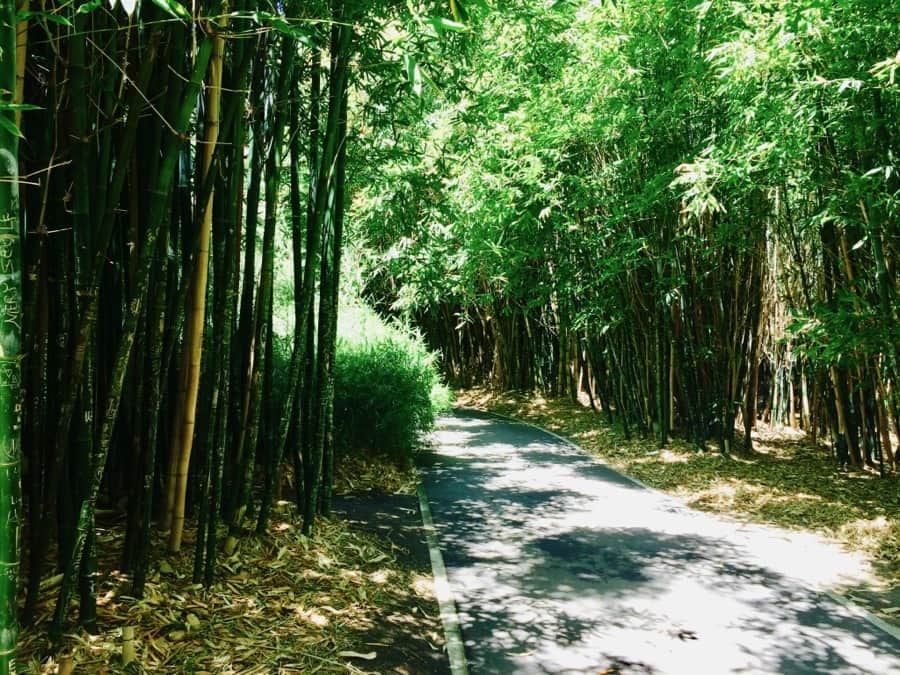 A walk down Australia's oldest avenue of Morton Bay Fig trees is a big highlight. Walk all the way down Murdoch Avenue to the end and then turn around and walk back again.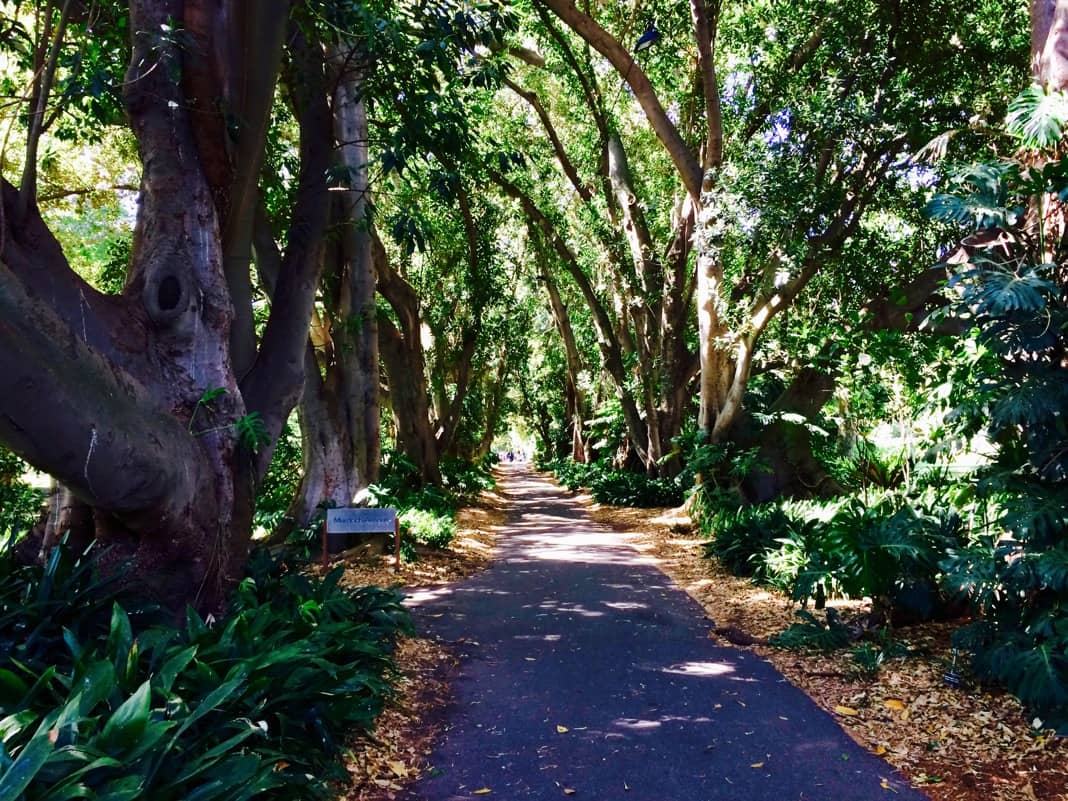 I'm sure a walk through the Adelaide Botanic Hardens will stay with you forever.
2. Mall's Balls to Venus
After visiting the Adelaide Botanic Gardens, if you still have some energy walk down Rundle street and then Rundle Mall. You can also leave this for after lunch or leave it for another day.
The Mall's Balls are an iconic sight in Adelaide. This is a 4m tall structure made up of two chrome balls, one on top of the other. It's a standout landmark in the city's main retail strip Rundle Mall.
You will want to take a photo here to capture the start of your walk to Venus, the Goddess of Love.
I was lucky enough to capture a symbol of Nike, the Goddess of Victory when I was there.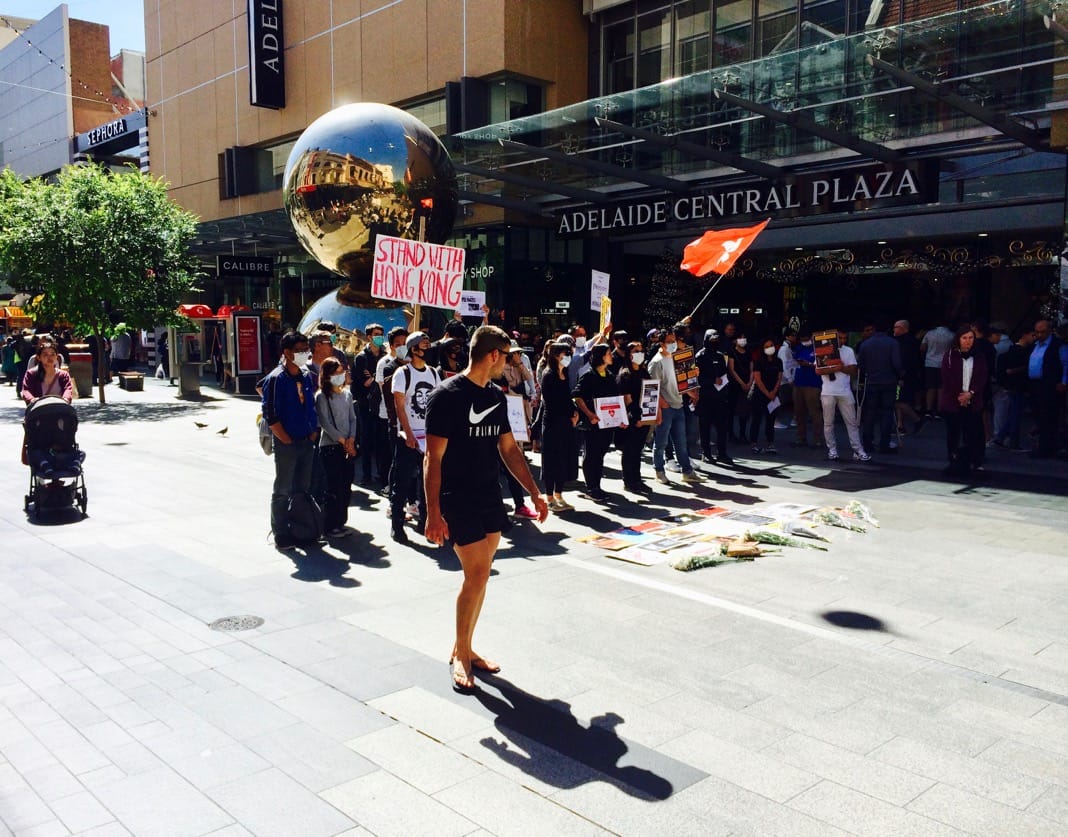 After seeing the Mall's Balls continue your walk towards Hindley Street, past the bronze life-sized pigs, officially known as 'A Day Out'. This walk is going to be a bit of an odyssey, so take note.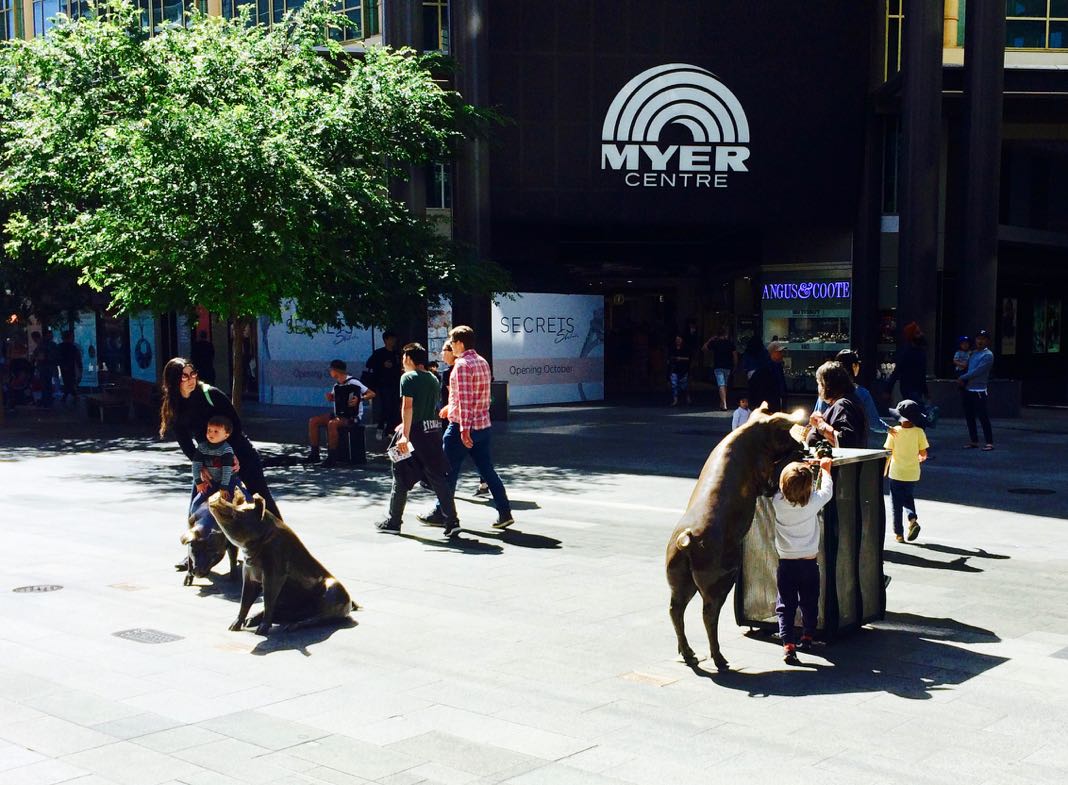 At the end of Rundle Mall on the right corner at the end of Rundle mall you will see Haigh's Chocolates in a stylish building known as Beehive Corner.
The original "Beehive" corner was owned by John Rundle in 1849, which is how the name Rundle Mall came about. The building as you see it today was constructed in 1895.
Keep an eye out for the large bee gilded with gold at very top of the ornamental turret high up on the corner of the Gothic Revival style building.
You should pop in and buy some chocolates. Haigh's Chocolates is a family run South Australian chocolate company known for its top quality chocolates. Incredibly Haigh's flagship store has been here since 1915.
Haigh's will even give you a small tasting when you buy some chocolate which is great for sweet tooths. This is going to be one very sweet walk to Venus.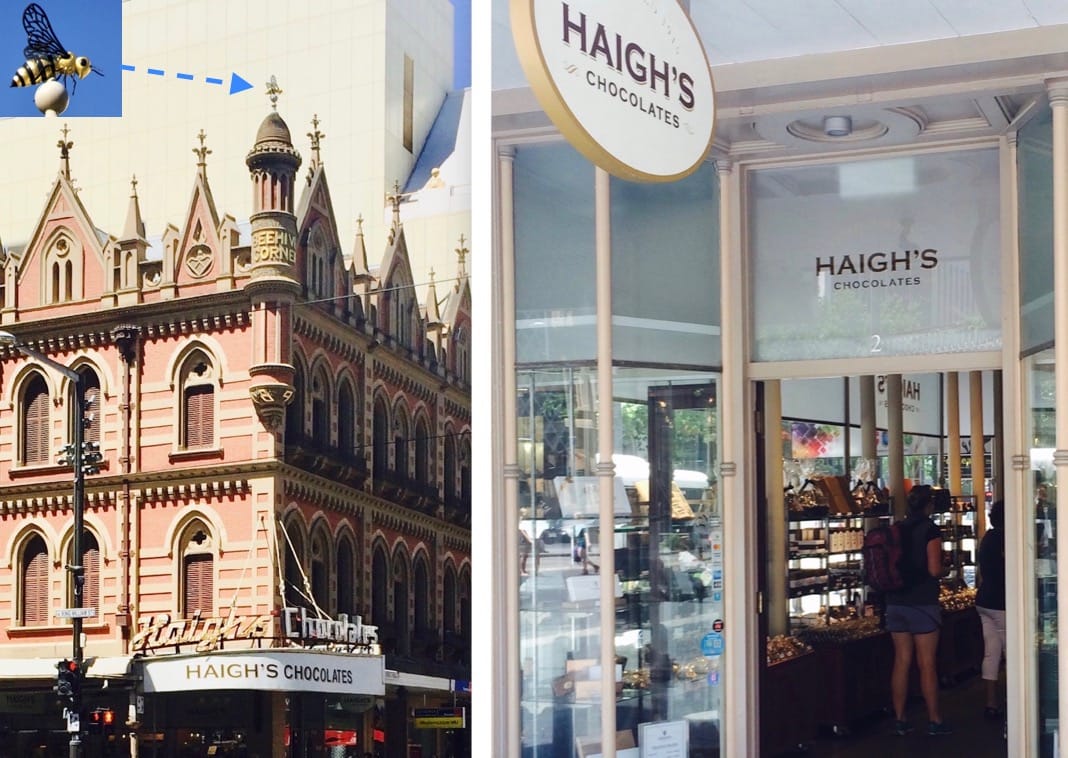 Not many people know this but Beehive Corner is backed by Apollo Place which is just around the corner.
Links to Apollo go way back when Adelaide opened the Apollo Stadium in 1969, the same year as the Apollo moon landing. Apollo Stadium closed in 1991 when the Adelaide Entertainment Centre opened.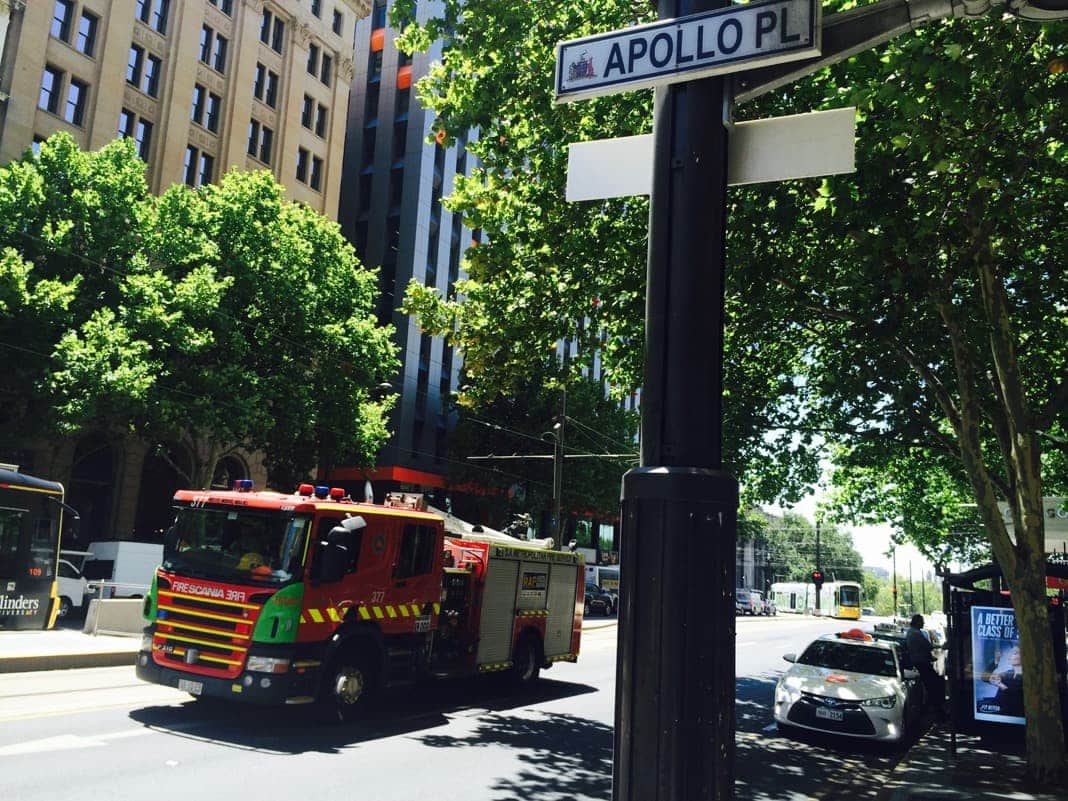 The Beehive Corner building has another claim to fame because the first motion pictures in South Australia were screened here in 1896.
Twelve years later in 1908 Adelaide's first permanent theatre, Wests Olympia, opened its doors. This building was later demolished to build a more modern building in its place. The new Wests Cinema reopened on 1 December 1939 with the popular British film "Pygmalion".
Opening film credits prologue: PYGMALION WAS A MYTHOLOGICAL CHARACTER WHO DABBLED IN SCULPTURE. HE MADE A STATUE OF HIS IDEAL WOMAN-GALATEA. IT WAS SO BEAUTIFUL THAT HE PRAYED THE GODS TO GIVE IT LIFE. HIS WISH WAS GRANTED.
In Greek Mythology, it's generally accepted that Venus the Goddess of love granted Pygmalion's wish.
After visiting Haigh's Chocolates cross King William Street and make your way to Hindley street, which continues straight ahead from Rundle Mall.
The first narrow side street on the left side of the Hindley street (13 Gilbert Place) will take you to Adelaide's famous pancake eatery known as The Original Pancake Kitchen.
Eating a yummy pancake with maple syrup at The Original Pancake Kitchen is an absolute must in Adelaide. You will never eat a better pancake in your life, I promise you!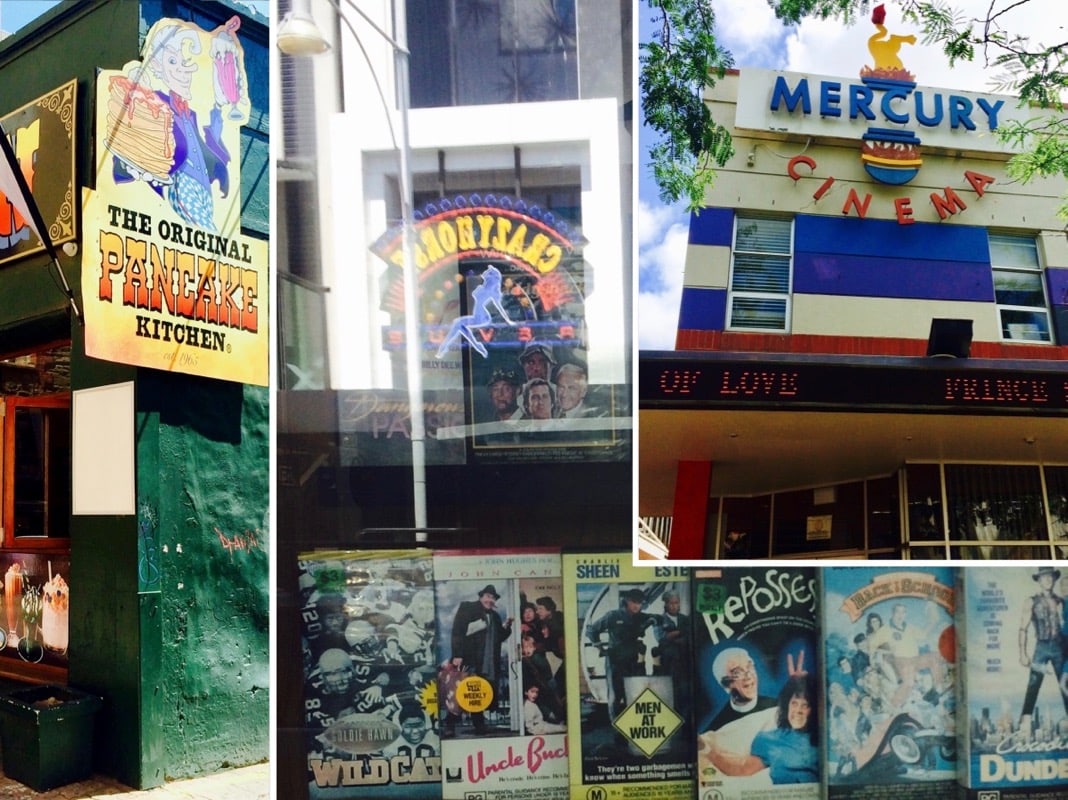 Pancake order recommendation: Short stack (two pancakes) with cream or ice-cream covered in plenty of maple syrup.
After your energy levels have been boosted to superhuman levels, continue your walk along Hindley Street. By the way Hindley Street is the seediest street in Adelaide.
You will probably notice a few strip clubs on the way to Morphett Street which is where the Mercury cinema is located (shown on the right in the photo above).
When you come to Morphett Street, cross the road and pass by the Mercury cinema which is situated next to the Jam Factory. After that make your way to North Terrace by walking under the bridge.
Next, head over to the Convention Centre on North Terrace and walk across the footbridge to Adelaide's main sporting stadium. This is where AFL football and cricket games are played.
Adelaide Oval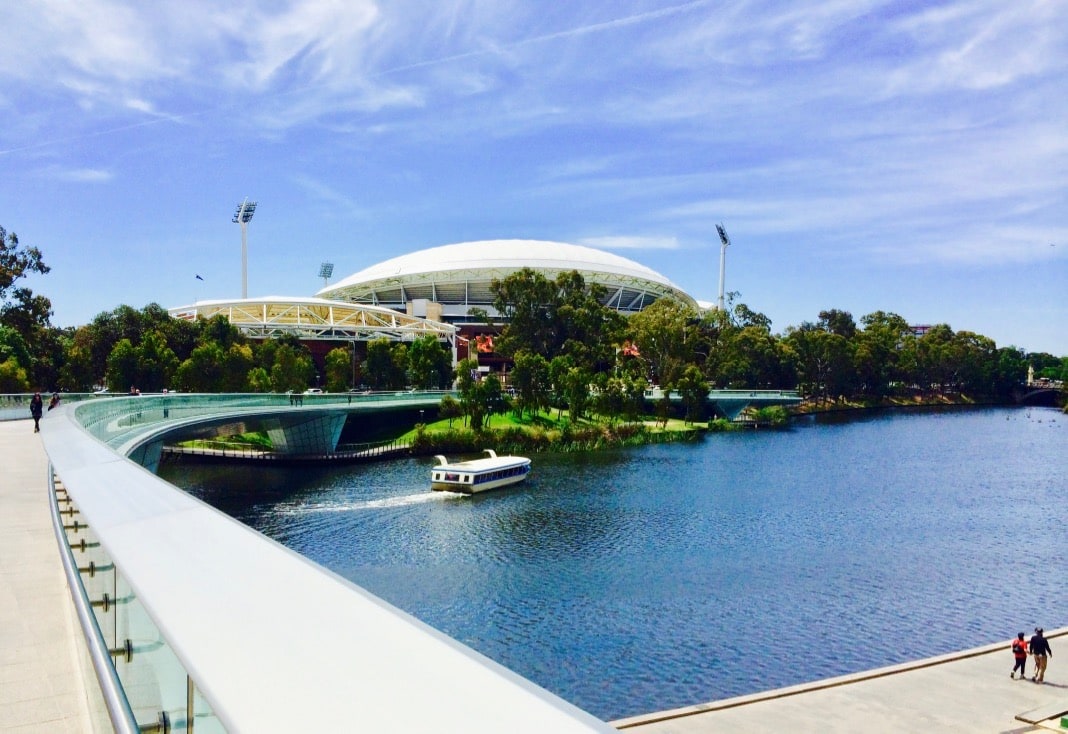 Top Tip: A Popeye boat cruise on the River Torrens is great fun especially for kids.
On the other side of Adelaide Oval you will find Hercules, the demigod from Greek Mythology renowned for his awesome strength. I wonder who would win a fight Hercules or Popeye?
Statue of Hercules
The Hercules statue is a copy of the ancient Farnese Hercules. This statue was located in Victoria Square from 1895, and eventually made its way in 1930 to Pennington Gardens in North Adelaide.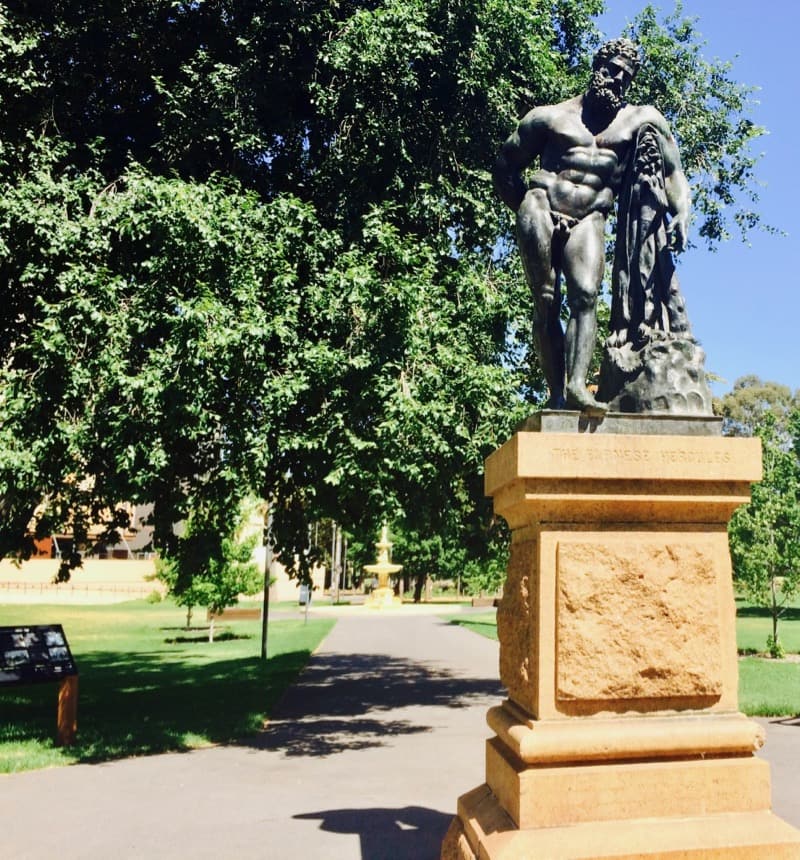 Adelaide University footbridge
After you've seen Hercules head over to the Adelaide University footbridge.
The bridge was well known spot for having hundreds of love locks with lover's initials attached to the sides of the bridge, however all of them were removed in 2019.
Who would do such a despicable thing?
Some of the locks made it onto the new Riverbank Love Knots public art piece located on the northern side of the bridge, but many didn't.
What happened to all of the original love locks is a bit of a mystery, as they obviously didn't all make it onto the the new artwork. I wonder what Venus, the Goddess of Love would think about it?
After you cross the bridge and the road, you can either walk through the University of Adelaide grounds until you get to North Terrace.
The other option is to turn right and walk for a little while until you arrive at the first street. You can then turn left and walk up the sidewalk to North Terrace.
Either way, I want you to walk to the Art Gallery of South Australia on North Terrace.
The Art Gallery of South Australia
Artworks regularly change so you won't know what to expect when you visit. A famous sculpture of Anteros was located in the Elder Wing, however he has since been hidden away. He may return one day.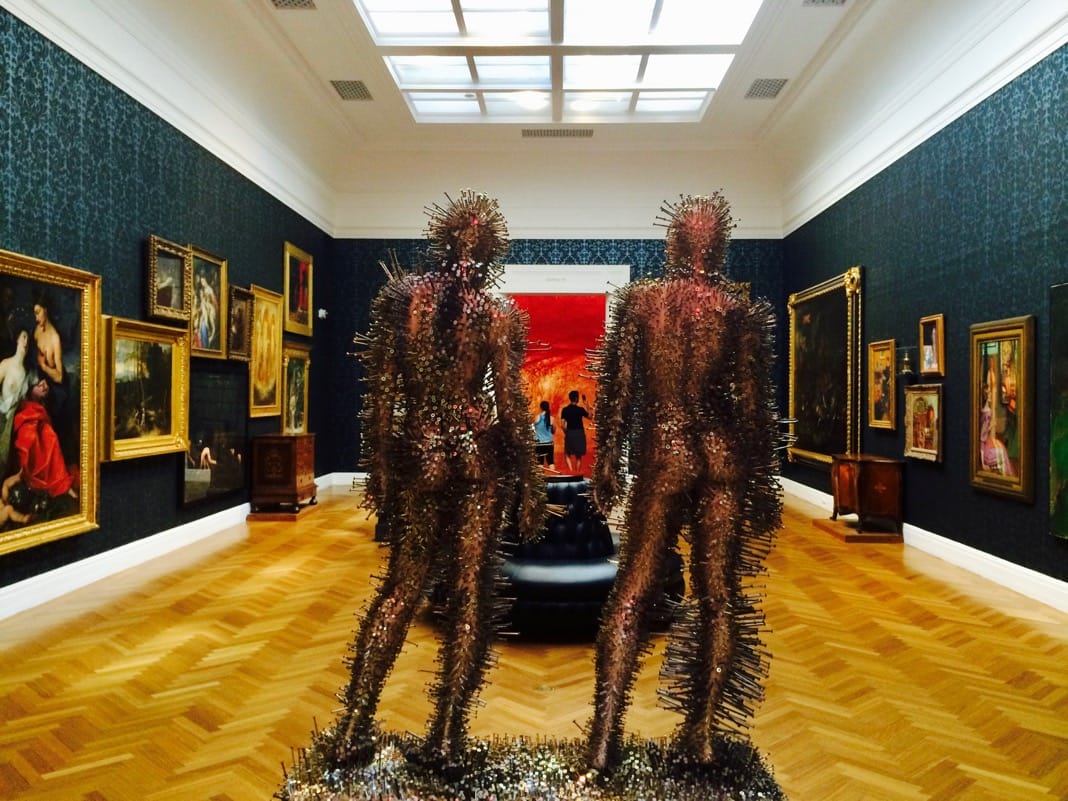 This red tangled web reminds me of Athena, the Goddess of Wisdom. In Greek Mythology, Athena created the first spider and hence the first spider web, so she would probably like this kind of artwork.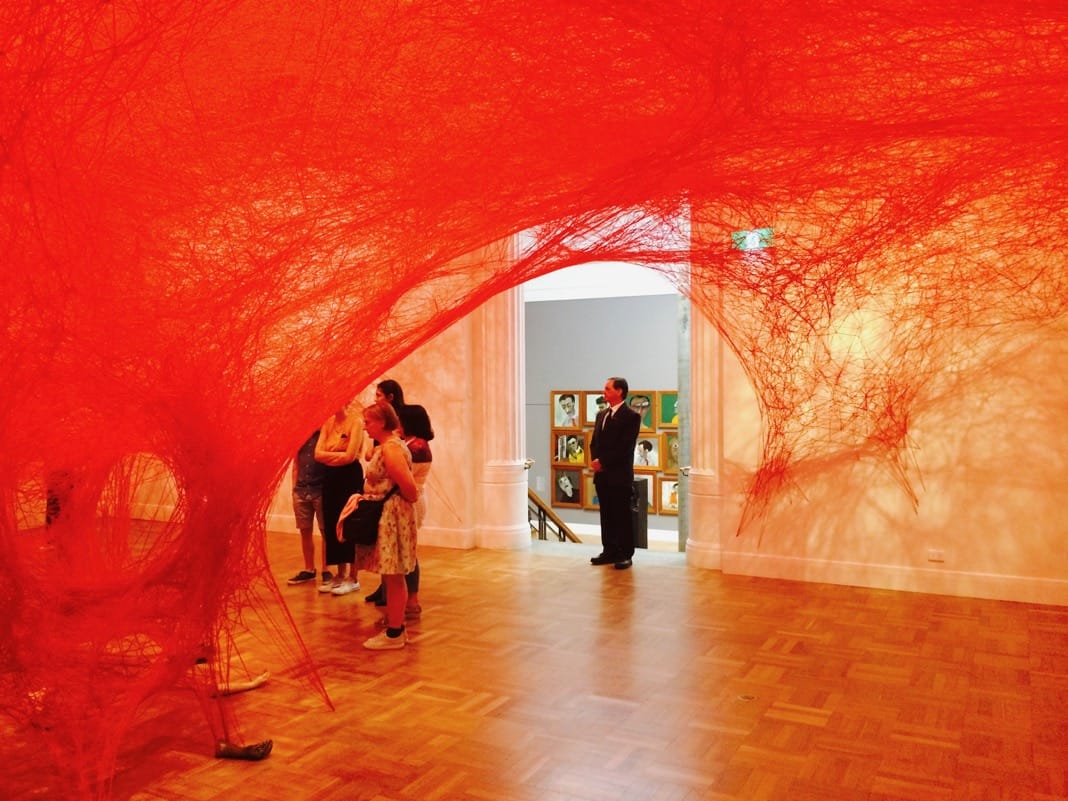 Top Tip: Free tours are available at 11am and 2pm daily (Open 364 days a year). The Art Gallery has a great on-sight cafe where you can grab a coffee or something to eat.
Venus, Goddess of Love
After all of this you really do need to see Venus (Aphrodite), the Goddess of love. The Goddess can be found in front of Government House on North Terrace, the cultural precinct of Adelaide.
Going on this walking odyssey will give you some bragging rights in that you can say you've done the Mall's Balls to Venus walk.
I'm pretty sure you can't do anything like this anywhere else in the world. If you love eating pancakes you'll really love going on this enjoyable walk.
Top Tip: If you're in Adelaide on Friday or Saturday night you should go for a walk down Rundle Street, which starts at the eastern side of Rundle Mall. This is where you can find the Eros Kafe.
3. Picnic with Pan in Veale Gardens
On the south-side of the city right along side South Terrace is one of Adelaide's hidden gems. Here you'll find Pan, the nature God from Greek Mythology.
This is a great spot for a picnic. You can find a fab place either on the green grass, at a table or at one of the many benches.
Pan Fountain
Pan can be seen playing his Pan pipes with water spurting out of them.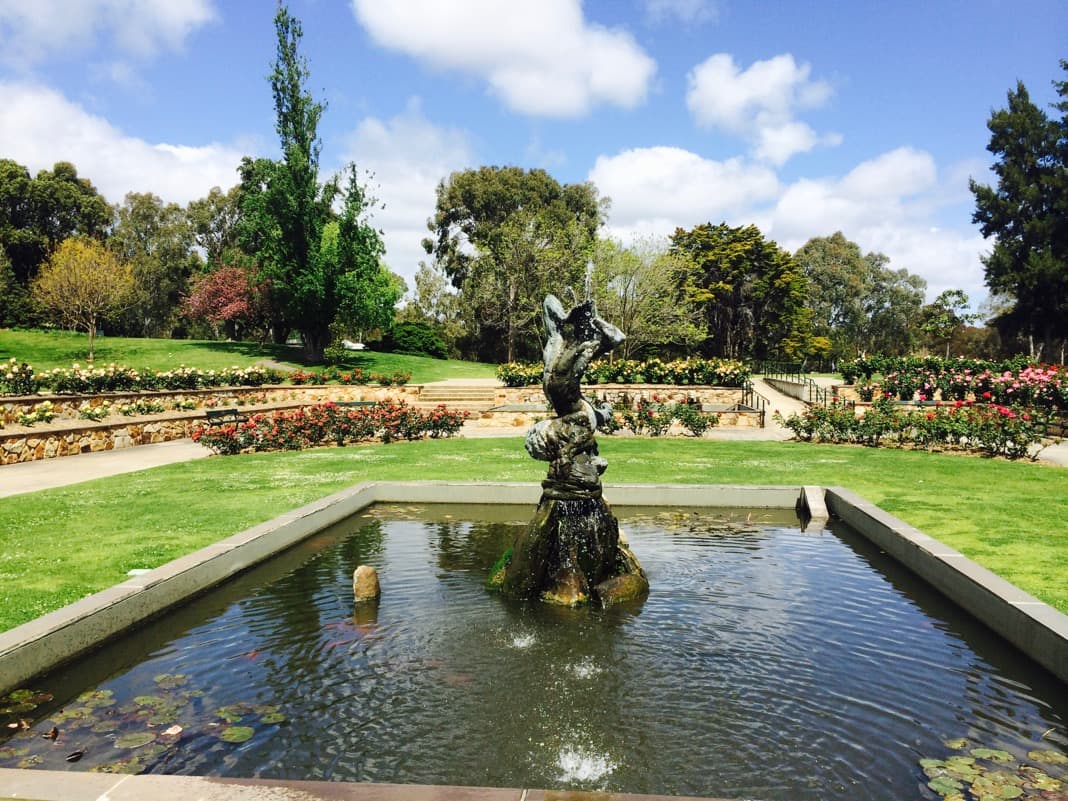 The city tram stops right beside the gardens (free from the city), and there is normally easy parking available on South Terrace. It's also not too far to walk from the city centre.
Song of the Wind
The Song of the Wind sculpture is located in the Adelaide-Qingdao Rose Garden, just a few steps away from Pan. If you're facing Pan, only a few steps to the right.
Finding the perfect picnic spot in Veale Gardens or the beautiful surrounding gardens won't be easy.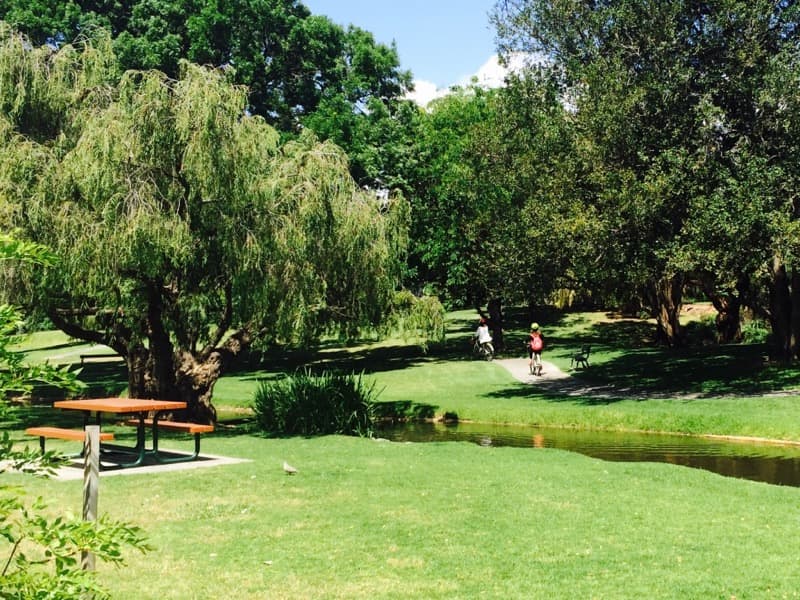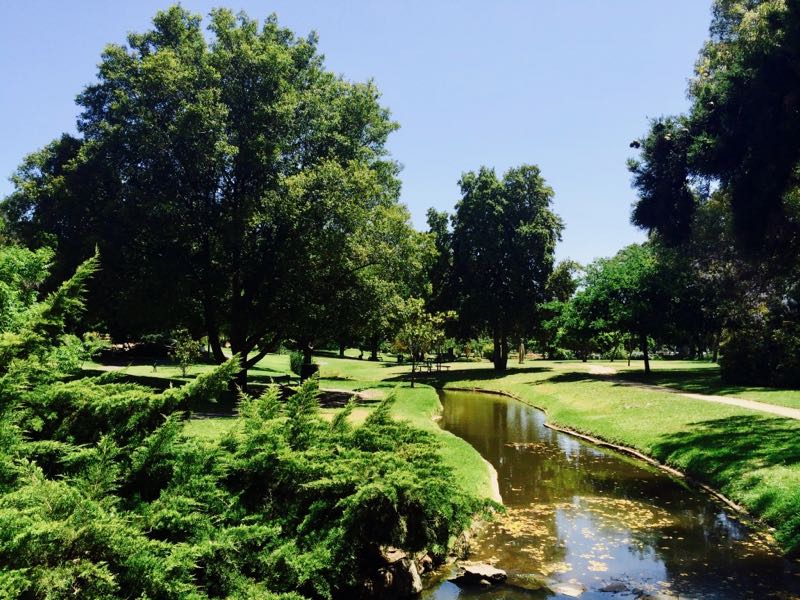 Top Tip: Actually if I tell you the truth, it may be better to eat your picnic lunch inside Adelaide Himeji Garden. Spend a bit of time with Pan but save your picnic lunch for this beautiful Japanese Garden.
Adelaide Himeji Garden
Adelaide Himeji Garden (Japanese Garden of Imagination) is Adelaide's secret oasis. If you don't know about it, you will never find it. It's another hidden gem in Adelaide.
Here's the entrance to the beautiful small Japanese Garden in Adelaide.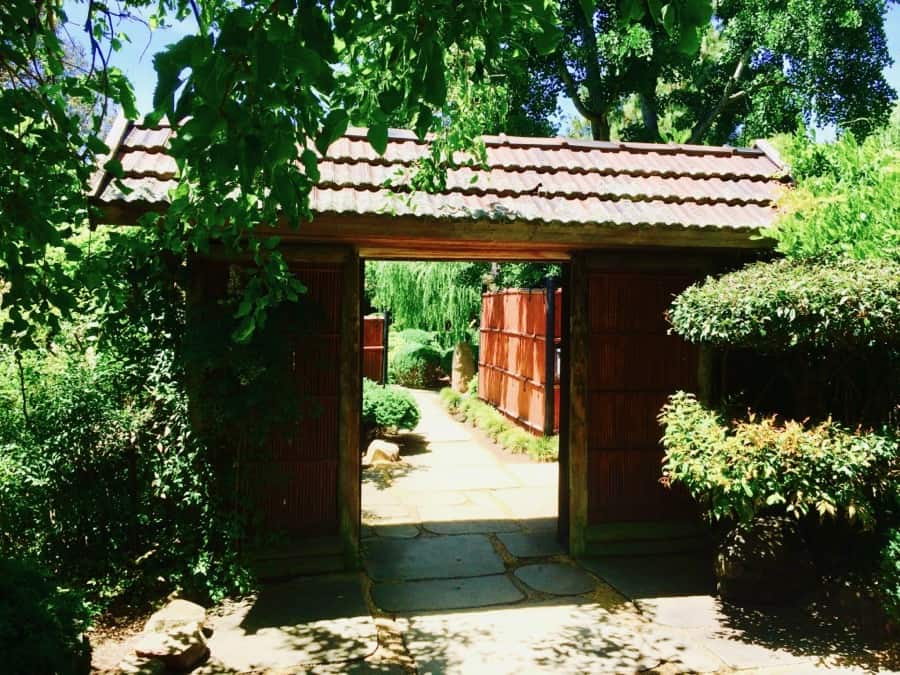 The enchanted garden will only take about 20 minutes to explore but it's a perfect spot to read a book or for a bit of R&R, so you can easily stay in the garden for an hour or so. It's free so enjoy!
You can park your car outside on the road quite easily on South Terrace between Pulteney and Hutt Streets, with free parking available for a couple of hours.
Walking to Adelaide Himeji Garden after you've visited Pan is also easy enough. It's about a 15 minute walk from the South Terrace tram stop.
Remember, tram rides between the Adelaide Entertainment Centre and South Terrace are completely free!
The Himeji Gardens will lift your spirits. It's also a great place for some meditation or yoga if you're into that sort of thing. You may even get to see other people doing it. It's a great place to find some tranquility.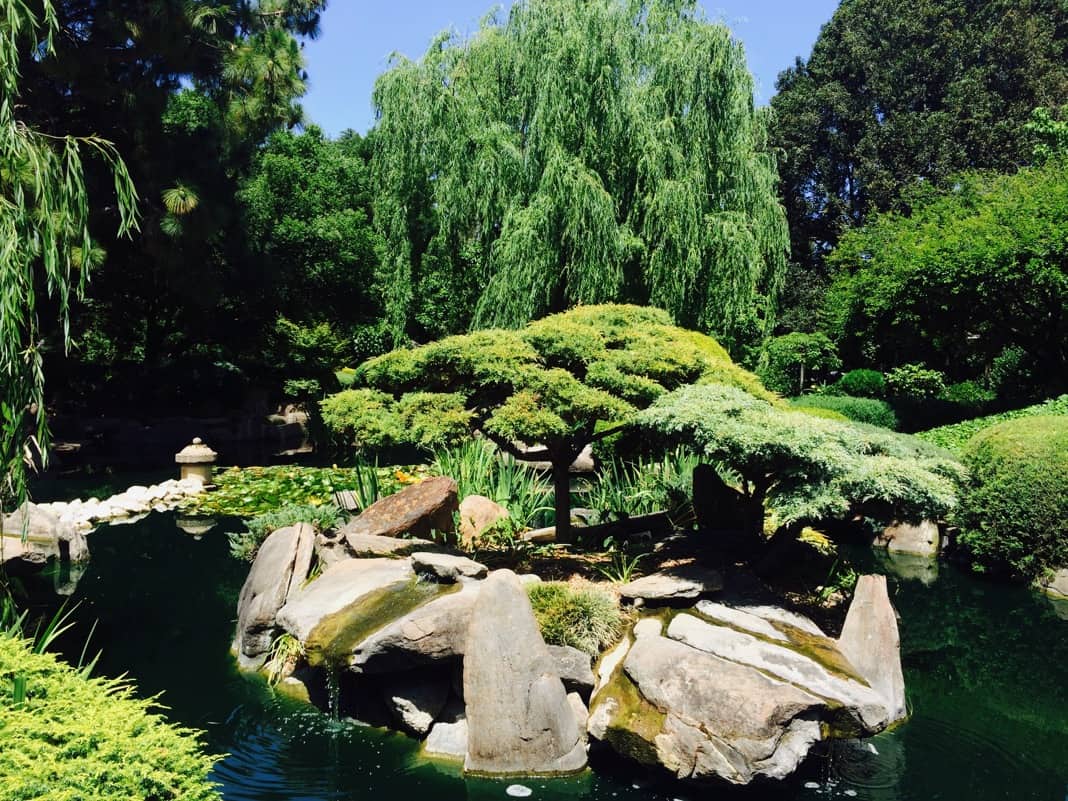 This garden is named after Himeji, a historic city in Japan. The garden's design was given as a gift to Adelaide because of a sister city relationship.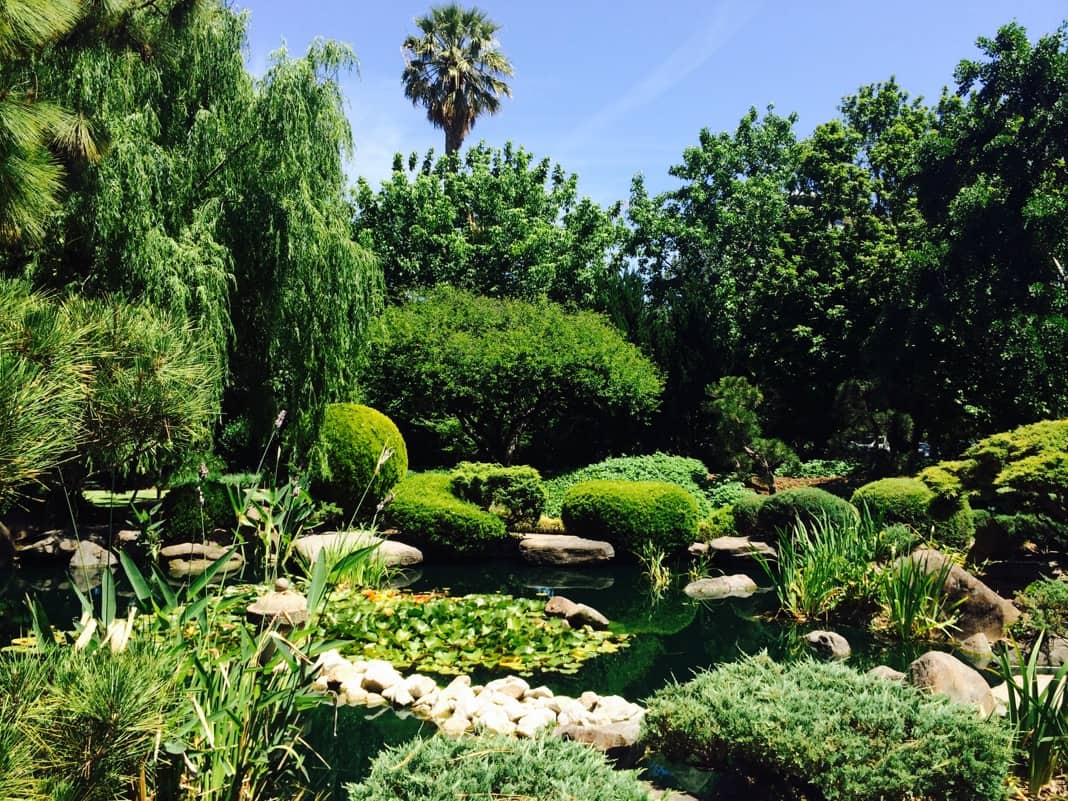 The garden opened in 1982 and has been cultivated ever since. The gentle waterfalls and the beautiful pond with fish and turtles swimming around is magical.
Himeji and is open every day from 8am to 5.30pm seven days a week. During daylight saving it can close at 7:30pm or 8:30pm, but it can also close a bit earlier at say 4:30pm.
If you're going to leave it for later in the day, check the closing times before you go.
Top Tip: Guided group tours are available via bookings.
4. Glenelg, Adelaide's coolest beachside suburb
Glenelg is Adelaide's premier beach. Jetty Road in Glenelg has a huge number of shops, restaurants and cafes. Being close to the beach is the biggest drawcard though.
Glenelg has a jetty like most of the popular beaches in Adelaide. Walking on the jetty to the very end and back with an ice-cream in hand is an age-old tradition.
Small kids love the free playground next to the foreshore. They also like running in the water fountain in Moseley Square on a warm day.
Kids will also enjoy visiting The Beach House, with mini golf, arcade games, waterslides and more to keep them entertained.
If you're staying in the city centre the easiest way to get to Glenelg is to catch the tram.
It's only a short 30-minute ride from the city centre to Moseley Square which is the closest stop to Glenelg beach.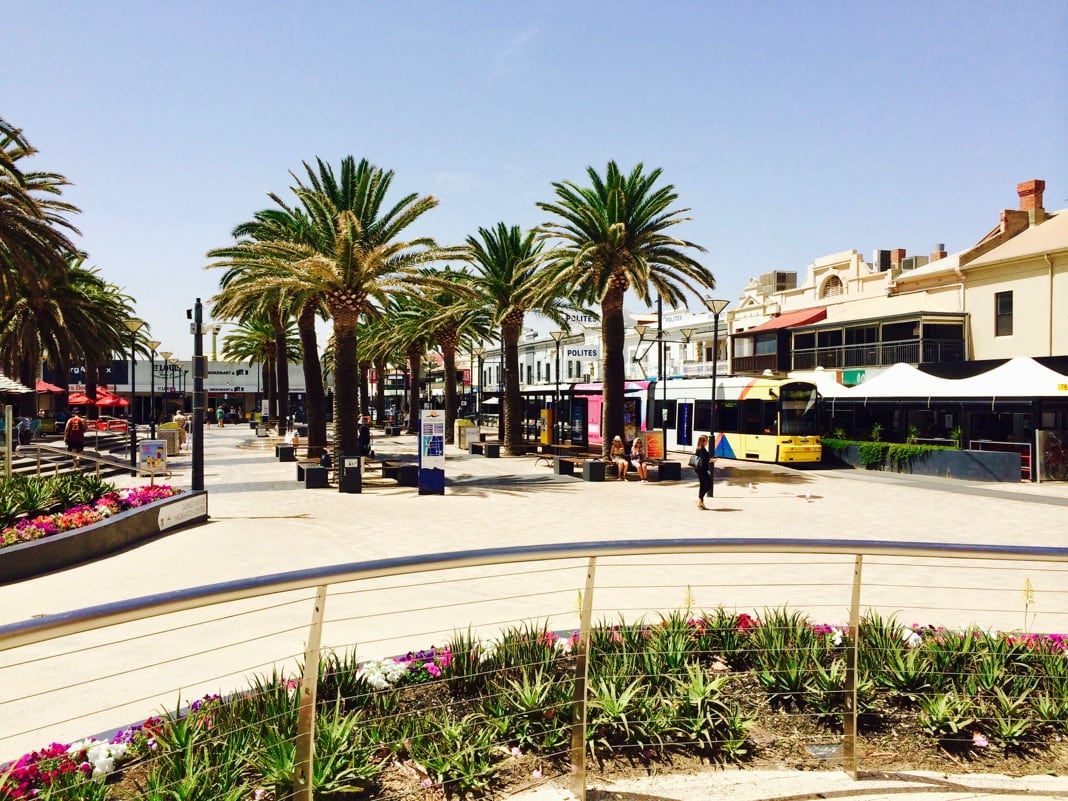 When you're in Adelaide you'll notice some strange blue and white signs around the place. The Polites sign can be seen everywhere.
This is actually a Greek family name. They own lots of prime real estate in Adelaide and they obviously want everyone to know it. You can see a Polites sign in the photo above on the right next to the tram.
Glenelg Beach
A love heart sculpture at Glenelg Beach has become a top photo spot in Glenelg.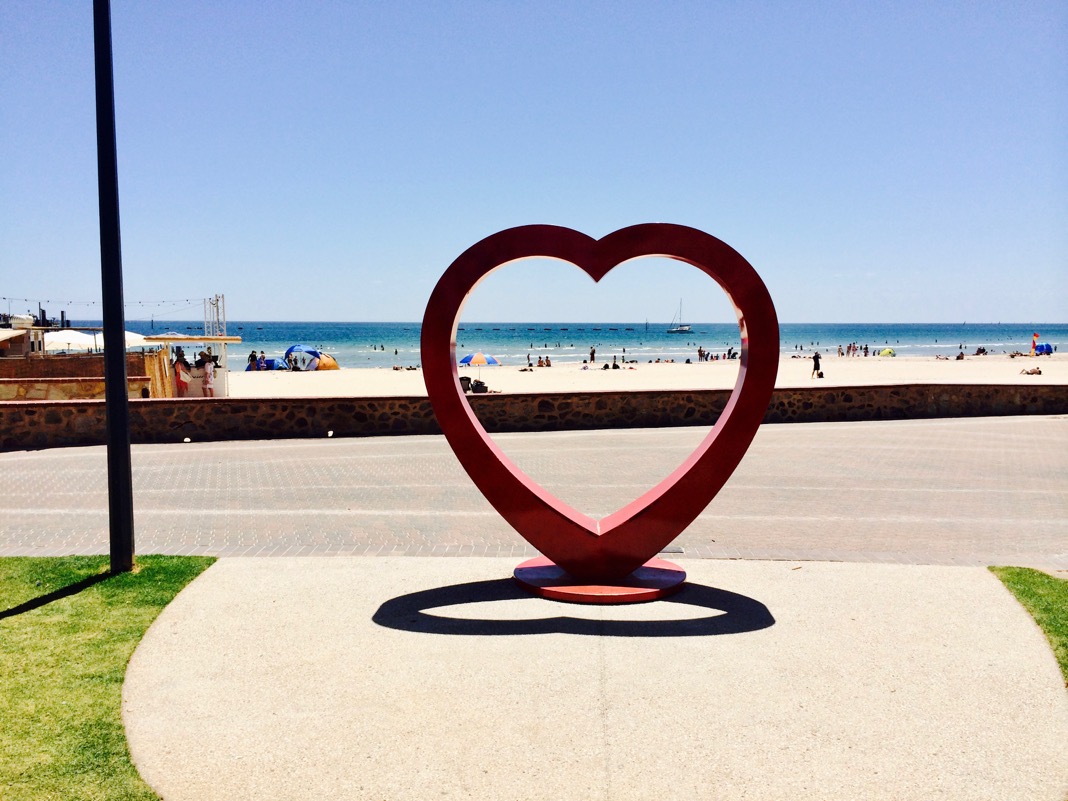 Loads of people take photos at the red love heart during the day and it's almost non-stop during summer.
During summer Glenelg beach normally only has gentle waves if any, so it's relatively safe which is a big bonus compared to some of the beaches on the eastern coast of Australia.
Top Tip: In summer the Moseley Beach Club sets up. This is a bar on the beach with umbrellas similar to what you find in Europe. It's next to Glenelg jetty on the northern (right) side. You can normally go to the Moseley Beach Club by the second week of December.
Here's a view of the beach from the jetty looking out to the southern (left) side of the beach so you don't to worry, there's plenty of free sand available for everyone.
Looking back at Glenelg jetty from a distance. The Moseley Beach Club is on the other side of the jetty.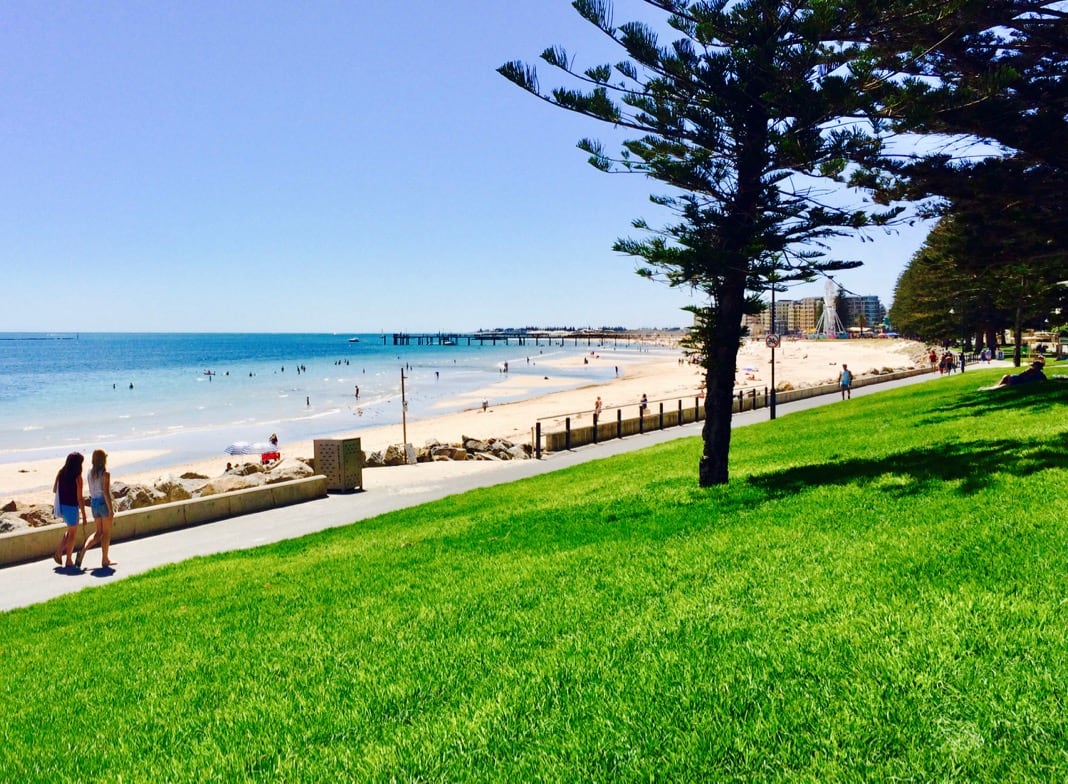 During summer you may even have the opportunity to ride a Ferris wheel located in front of the jetty for some spectacular views of Glenelg.
Marina Pier at Holdfast Shores
A walk to Marina Pier at Holdfast Shores in Glenelg is also something you have to do. It's only a short walk away from Moseley Square and the jetty to Marin Pier.
The restaurants around the marina are some of the classier eateries in Glenelg. On a warm night you may even want to have dinner here yourself.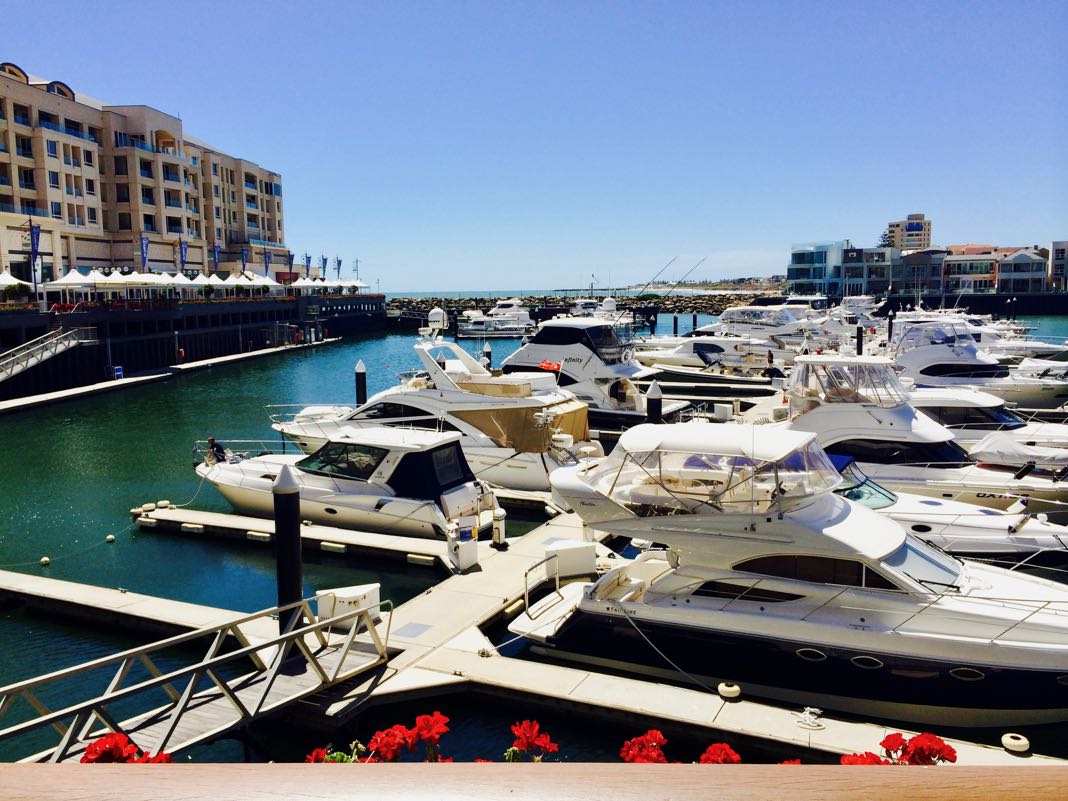 Top Tip: The Orange Bakery on Anzac Highway is a huge award winner. If you want a relatively cheap lunch then this is a great option. Cross the road and eat your lunch in the lush green park.
5. Walk from Glenelg to Brighton
The walk between Glenelg and Brighton can be done on a pathway all the way along the coastline or you can walk on the sandy beach.
There is a cool cafe next to the beach not too far away from here if you want to stop for a coffee. It is known as The Broadway Kiosk.
The walk from Glenelg to Brighton is about 5km (3.2 miles) so you will need between 2-4 hours to walk up to Brighton, spend a bit of time there and for the walk back.
Brighton beach has a large tower at the very end of the jetty so you'll easily know when you're getting close.
A great time to visit Brighton is during the annual Brighton Jetty Classic Sculptures event held in late January/early February. Numerous sculptures line the beach which makes Brighton even more interesting.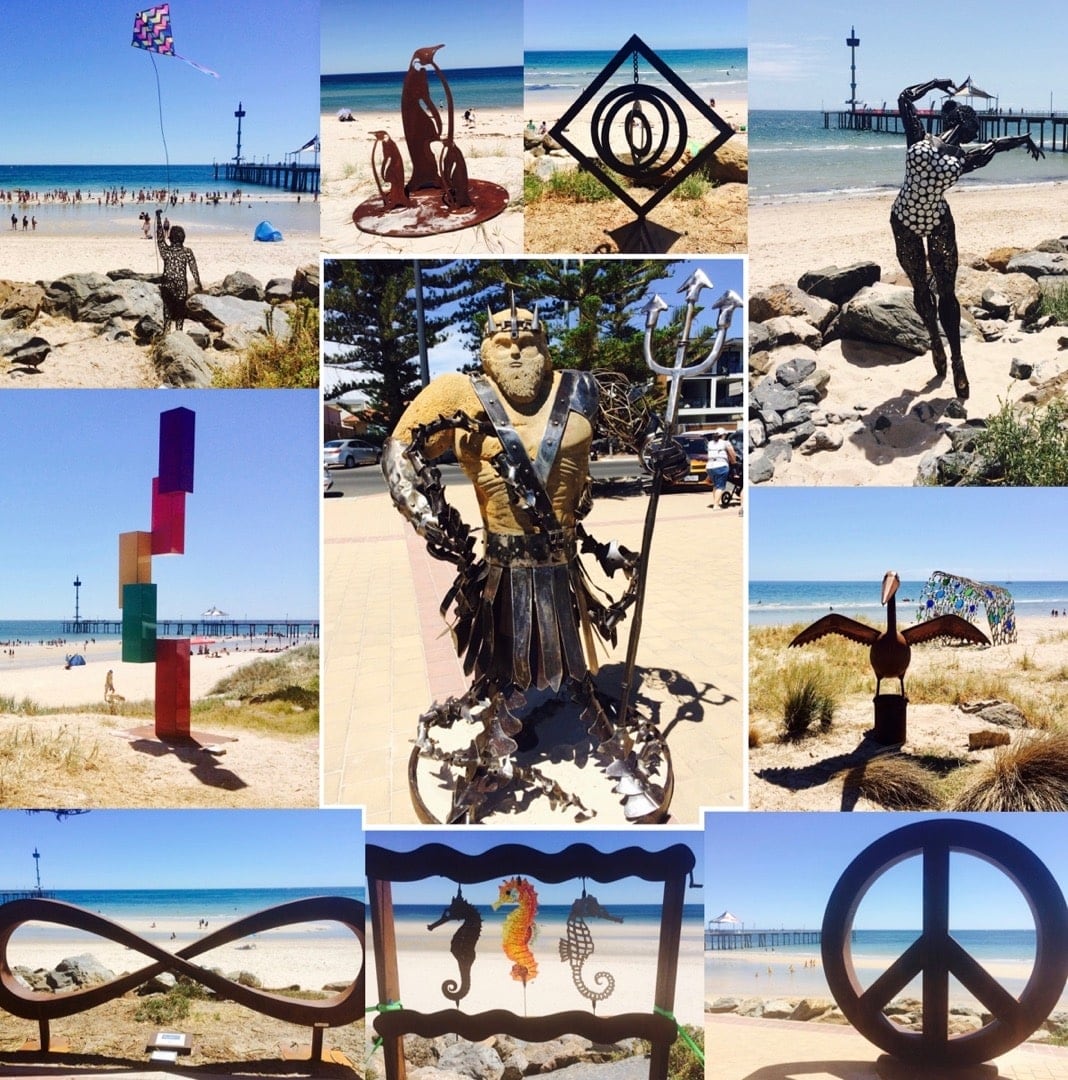 Top Tip: If you walk to Brighton on the pathway and boardwalk you can always walk back to Glenelg on the sand or vice versa. Walking on the sand while splashing your feet through water every now and then is hard to beat though.
6. Ride a bike to Henley Beach along the River Torrens
One big bonus of going on a bike ride from the city to Henley Square along the River Torrens is that it will keep you fit.
The ride along the River Torrens Linear Trail to Henley beach is about 11km (7 miles) but it's relatively easy going.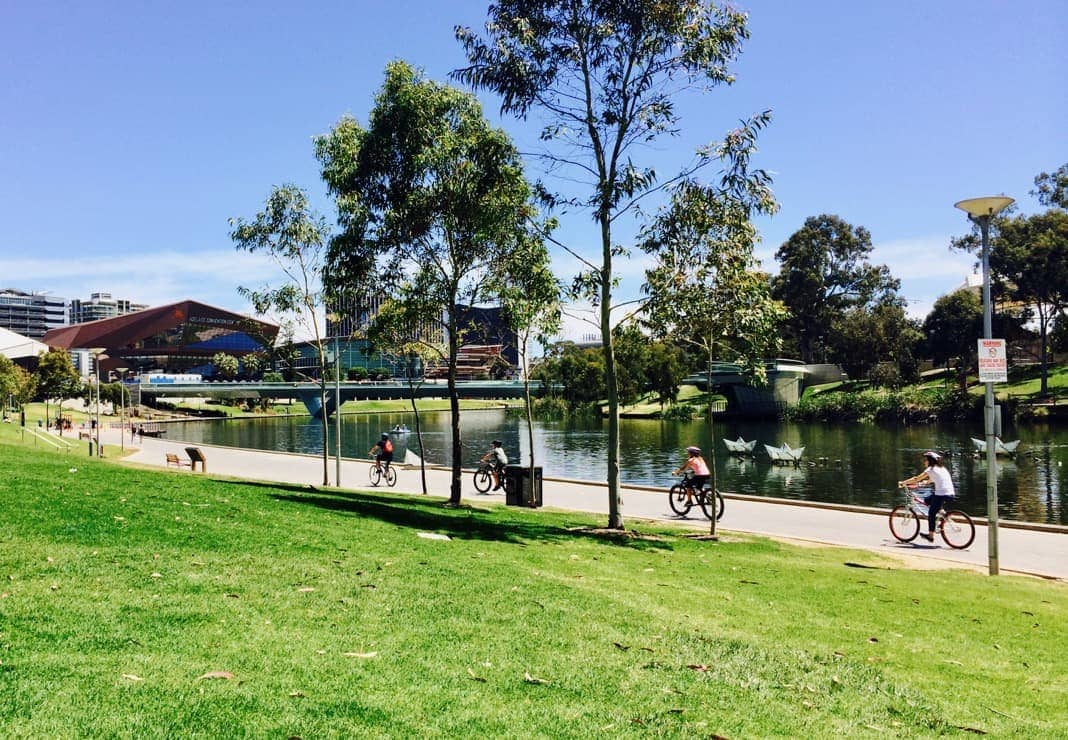 While riding along the river Torrens you will pass by Vulcan, the God of fire. He can be seen working away inside a volcano beside the grassy riverbank of the West End Brewery.
Vulcan has been around since 1962 and has played an important role during a popular light show held annually around Christmas time.
Hephaestus (Vulcan) is permanently based on the riverbank so you should be able to get a little glimpse of him in the shadow of the cave during the day, but it's no where as impressive as seeing him at night when everything explodes with light during the Christmas period.
At this time you'll be able to see him strike his anvil, while the volcano rumbles, sparks fly and the volcano explodes with lava. This is a picture of Vulcan taken during the day.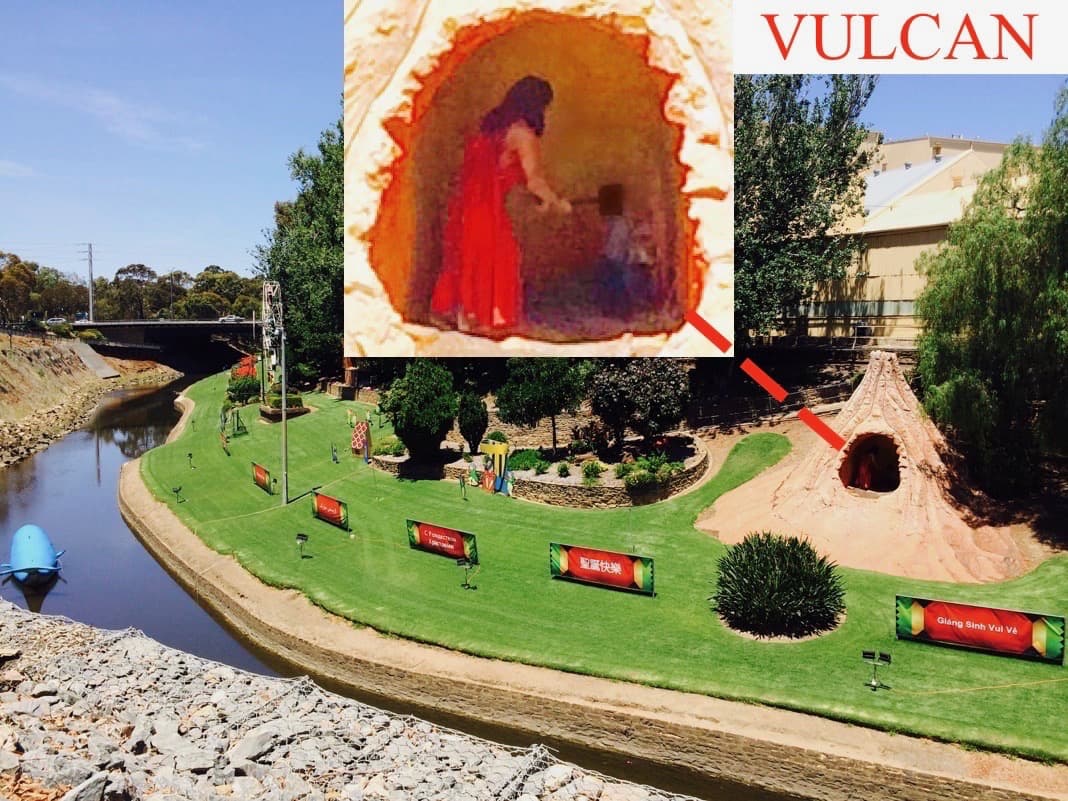 When you reach the mouth of the River Torrens at the beach, you'll have to turn right and ride for a little while longer until you reach Henley Square.
You can ride your bike on the footpath next to the beach all the way to Henley Square. The sight of Henley jetty will let you know when you're getting close.
Not too far away from Henley jetty is a blue toilet block with a mermaid mosaic on the ladies side. You'll never guess who makes an appearance on the other side.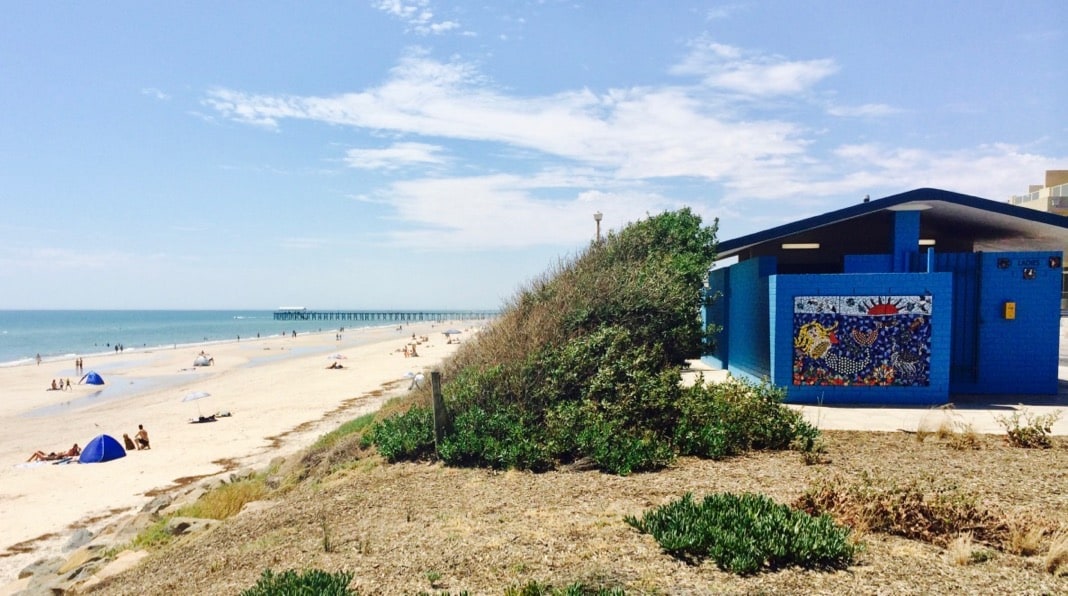 It's none other than Poseidon (Neptune), God of the sea. He appears on the men's side, over on the other side of the blue brick building.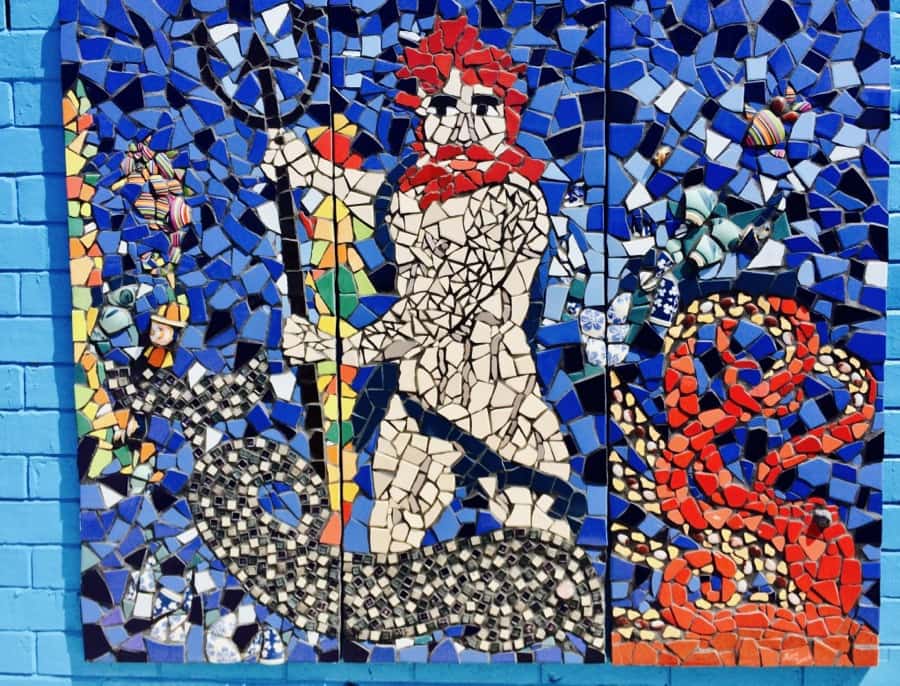 When you think about it, this could be the only toilet block in the world to honour a Greek God. I'm not sure whether he'd be too thrilled with the honour but you never know.
Henley Square
Reaching the grassy area means you have arrived at Henley Square. You have made it!
This cool little beachside square is filled with hip cafes, restaurants and bars.
Henley Beach is located in the western suburbs of Adelaide, which is home to the largest concentration of Greeks and Italians in Adelaide, so expect more of a multicultural feel.
Here's the view of Henley Square and the jetty from the road in front of it. Don't let all of this space fool you, it can get packed out on a hot summer's day.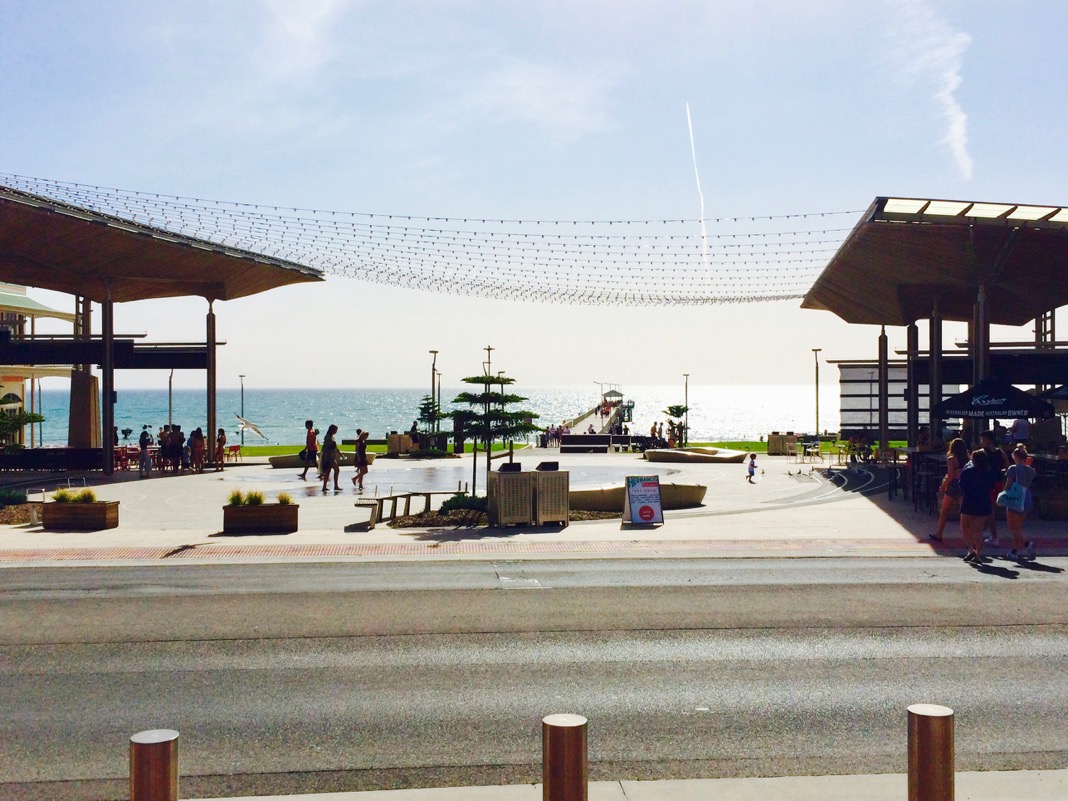 Estia restaurant in Henley Square is highly recommended for delicious Greek food.
For a cheaper and equally delicious meal in Henley Square, eating fish and chips while relaxing on the lawn or on the seats around the square is hard to beat.
One other thing, you can't leave Henley Square without having an ice-cream or gelato.
7. Port Willunga Beach
Port Willunga beach is as close as you can to a Greek beach in Adelaide.
It is well known for the Star of Greece restaurant, which was named after the Star of Greece shipwreck just off the beach in Port Willunga.
If you're lucky when you visit this great beach the water will be like glass which is often the case in summer.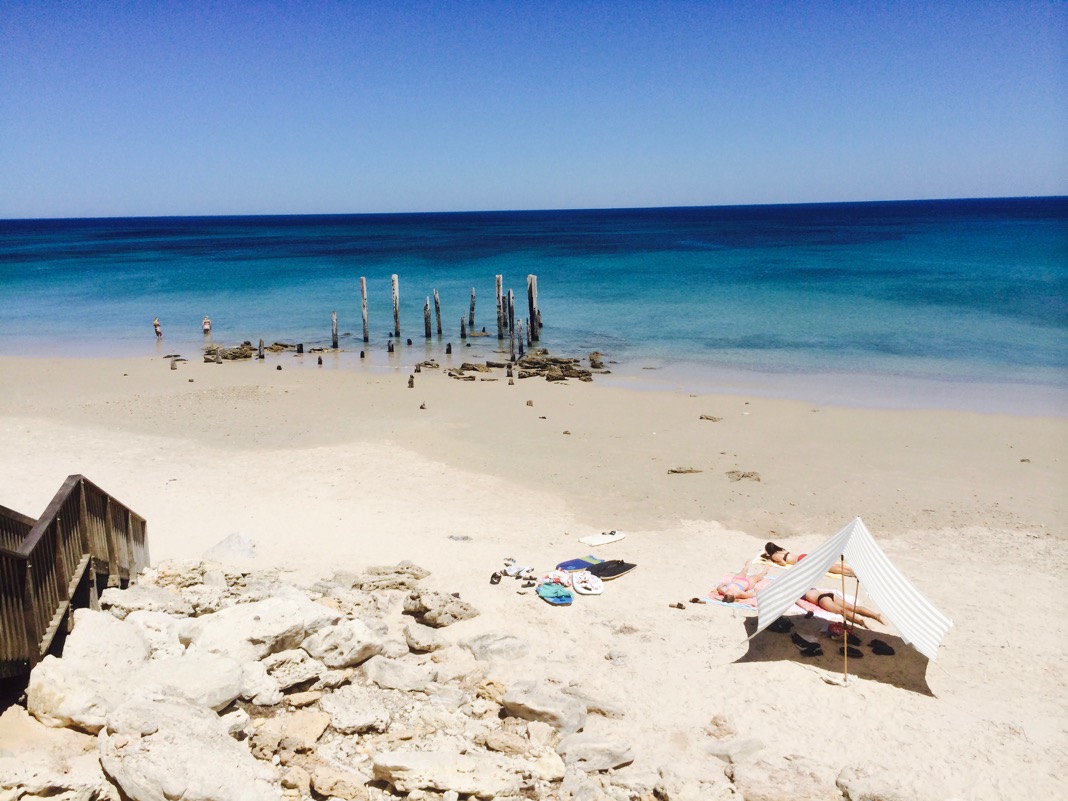 Port Willunga is located approximately 35km south of Adelaide. Check out my Guide to the Star of Greece and Port Willinga Beach for more details.
8. Chinatown and nearby Adelaide Central Market
If you're feeling hungry here's where you need to go. Walk along Gouger street and you'll pass by many tempting Asian restaurants on the way to Chinatown's main entrance.
You may not make it all the way as you will probably want to stop somewhere before you make it to this point. If you can resist the flavoursome aromas spilling out, you can walk through this Chinatown gateway on the way to the main food hall.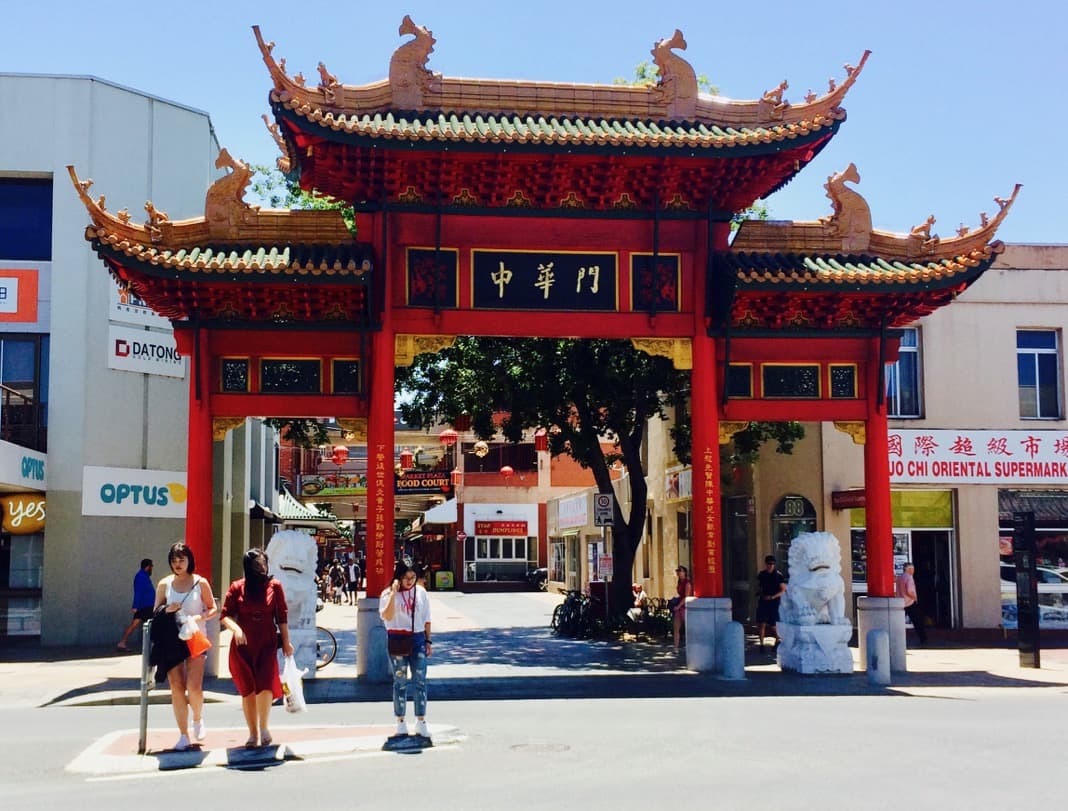 Expect to see a massive crowd of hungry people eating and ordering their meal at the many food stalls. Foodies will be spoilt for choice.
Get something to eat once you've had a good look around. You may want to backtrack to your favourite place.
On Friday and Saturday evenings Gouger street is buzzing with people dining out on the street.
Adelaide Central Market on Gouger Street is another foodie heaven.
9. Barossa Valley
The Barossa Valley is the most famous wine region in Australia. This world class wine region is only about 70km (44 miles) away from the city and will take about an hour to get there by car.
There is something like over 150 wineries in Barossa so you will have to do a bit of research before you go. One winery I highly recommend visiting is Chateau Yaldara 1847 Wines.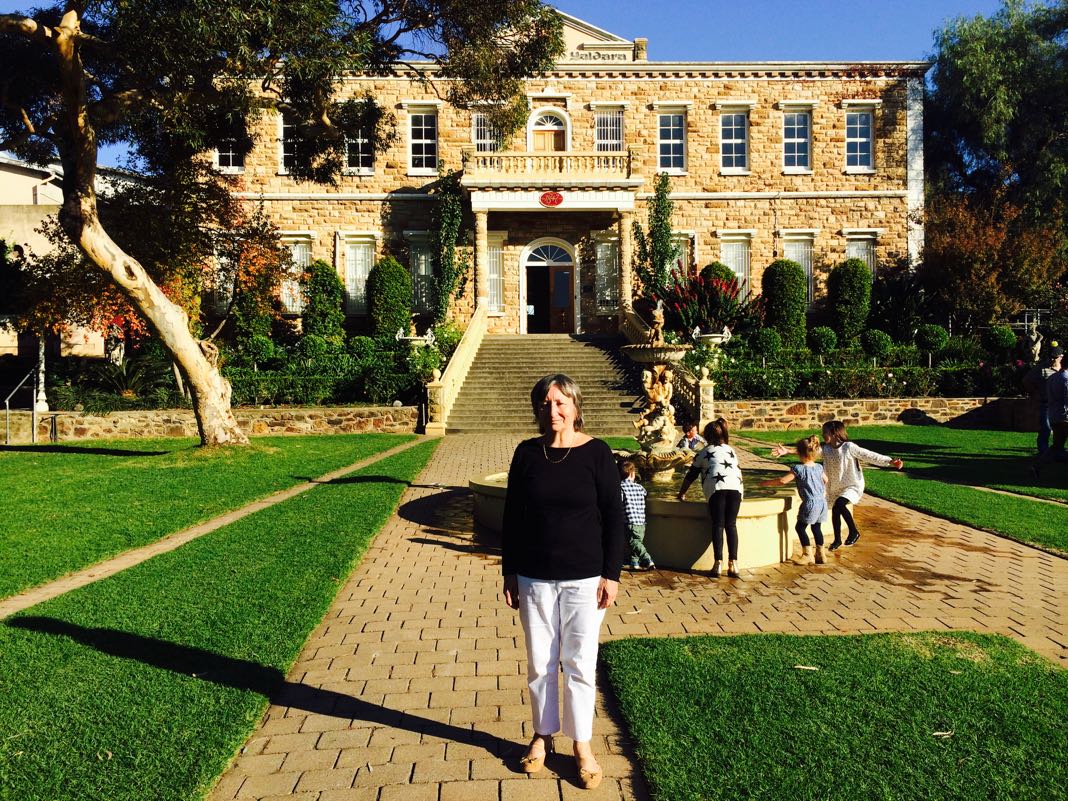 Address: 159 Hermann Thumm Dr, Lyndoch
A few other choice pick Barossa wineries worth visiting include:
Chateau Tanunda, Charles Melton Winery, Rockford Wines, St Hugo Wines and Seppeltsfield.
Top Things to Do in the Barossa Valley
The Whispering Wall at Williamstown is amazing. You will need to be with someone else to truly experience its magic.
Kids and even adults will be in awe of being able to talk to someone else over 100m away as if they were standing right next to the person. The acoustic effects of the dam wall are mind blowing!
The Barossa Valley is also a great place to go Hot Air Ballooning. There are a range of different hot air balloon packages on offer so keep this in mind especially if you want to do something romantic.
10. Drive through the Adelaide Hills (Stirling, Bridgewater and Hahndorf)
This great drive will take you though the 500m-long Heysen tunnels on your way to town of Stirling. From Stirling you will drive to Bridgewater, and from Bridgewater to Hahndorf.
Hahndorf is the oldest-surviving German settlement in Australia. It was settled in 1839 by Lutheran migrants from Prussia who were bravely seeking religious freedom on the other side of the world.
It is located about 45 minutes from Adelaide. It's a great place to spend the afternoon.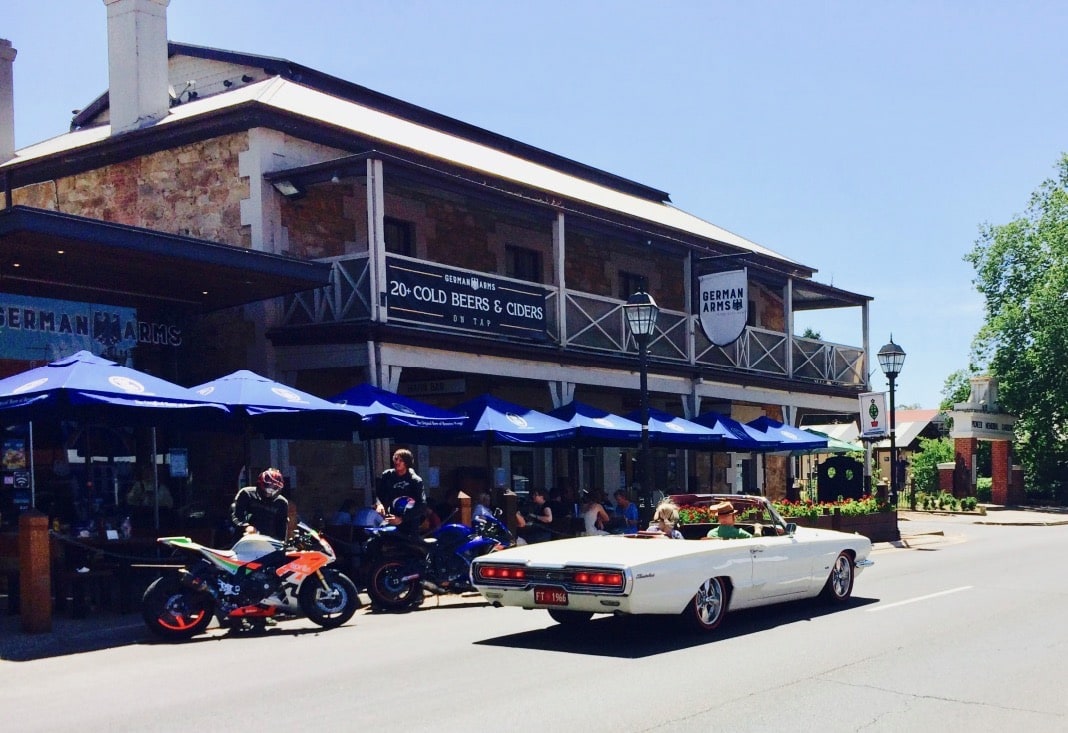 Why not pick your own fresh fruit in the Adelaide Hills?
Strawberries: November to April at Beerenberg Family Farm in Hahndorf. This is a very popular outing and a bit of an institution.
Figs: February until early April in the beautiful terraced orchards at Glen Ewin Estate.
Cherries: December and January, Visit the Cherries SA website to download a cherry map for some great orchards to visit.
Pink Lady apples: Harrisville and Mahnew orchards during their annual open weekend in May (exact dates can vary depending on the season).
There you have it, the 10 best things to do in Adelaide. I'm sure you will have found few of these sights enticing enough to want to visit Adelaide.
When is the best time to visit Adelaide?
November: Things are starting to warm up. The beaches can be hit and miss though.
December: Good time
January: Best time for beaches (can get very hot). Lots of people on holidays.
February: Great time
March: Known as Mad March due to all of the festivals taking place in March.
April: Weather is mostly fine but the beaches are much quieter.
If you found this post interesting you may also like: