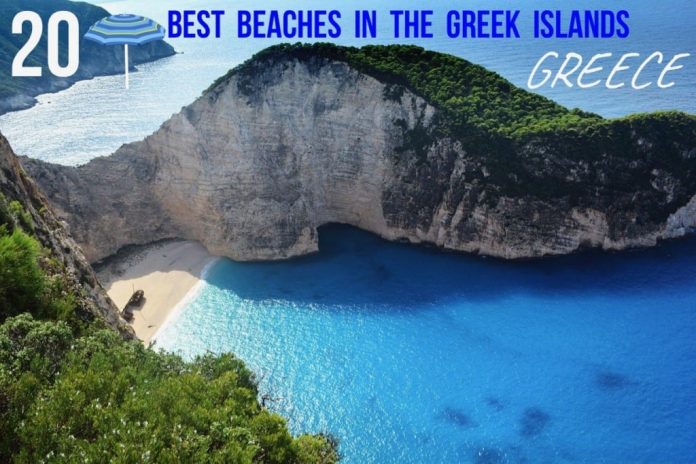 The best beaches in the Greek Islands will no doubt amaze you with incredible crystal clear blue waters. The top beautiful beaches in Greece will simply astound you!
I am sure you'll be very happy to know about all of these 20 beautiful Greek beaches, especially if you're lucky enough to be planning a trip to the Greek Islands.
Squeezing in at least one or two of these awesome Greek beaches is an absolute must. In actual fact, planning a holiday around a particular Greek Island beach is a very wise move to make.
These beautiful Greek Island beach paradises are out there waiting for you so keep them in mind.
The 20 Beat Beaches in the Greek Islands (Greece)
All of these 20 best beaches in the Greek Islands have enormous pulling power so you may find yourself dreaming about visiting the Greek Islands sooner rather than later.
There is something here for everyone – from the famous Shipwreck Beach in Zakynthos (Zante) to the otherworldly moonscape beach of Milos, plus a few hidden gems.
Many of these Greek Island beaches attract lots and lots of beach lovers for good reason. They are fantastic!
The Greek beaches listed here are in alphabetical order with the Greek Island name where they're located first. That way if you have a Greek Island in mind, you can quickly find it.
1. Andros: Tis Grias To Pidima Beach – Best Beaches in the Greek Islands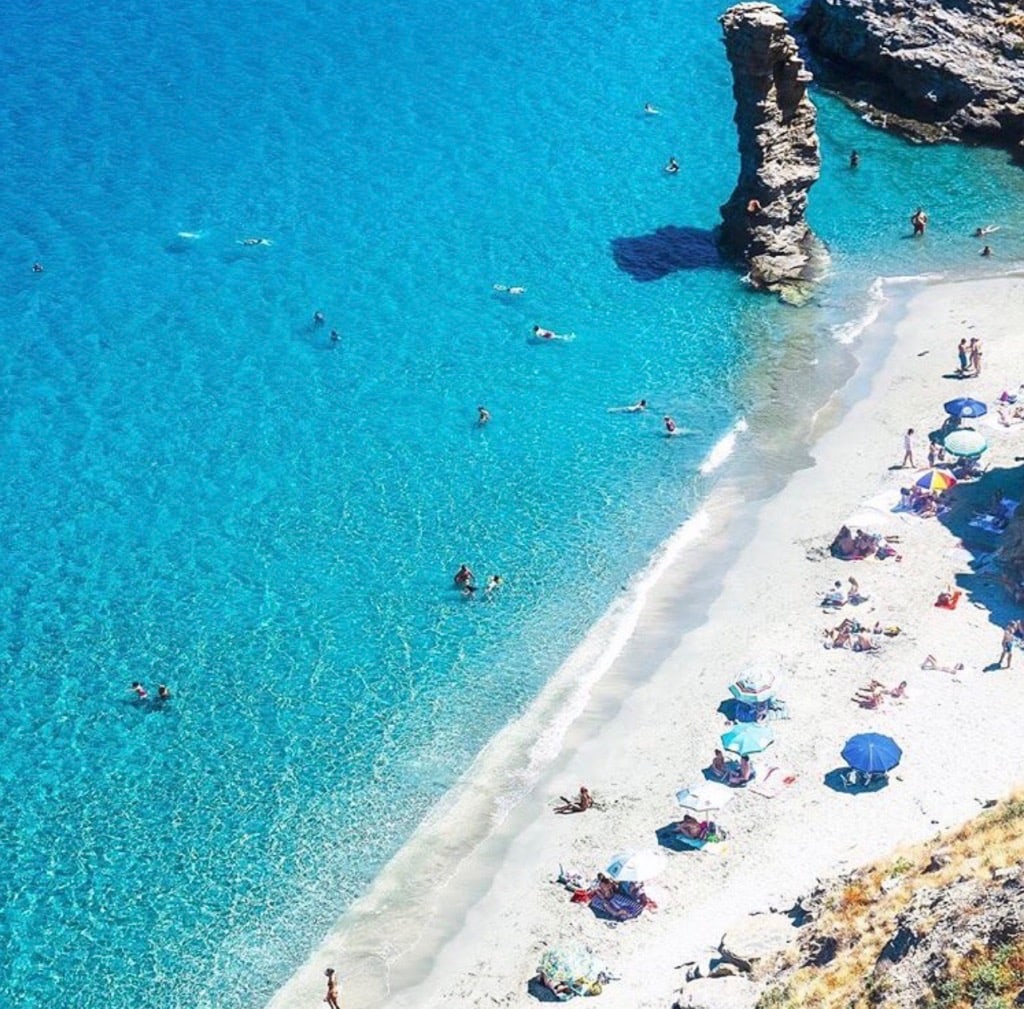 2. Antipaxos Island: Voutoumi Beach – Best Beaches in the Greek Islands
Voutoumi is located on the eastern coast of Antipaxos island and is easily accessible from nearby Paxos Island.
The beach is located in a small sheltered bay and has a beautiful azure colour and is a must for beach lovers who enjoy snorkeling, swimming and diving.
The added beauty of this international praised beach is the lush vegetation surrounding the area.
You can get a great view of Voutoumi up the 200 or so steps from the Bella Vista taverna.
Since you're on Paxos Island, don't forget to visit the other stunning beach on Antipaxos called Vrika Beach. These two beaches are the most famous on the island.
3. Corfu: Paleokastritsa – Best Beaches in the Greek Islands
Paleokastritsa has six sandy and pebbled beaches close together. These fabulous beaches are found in popular and secluded coves which beach lovers will adore, and the dream destination is only 25km northwest of Corfu Town.
I have to say swimming in Corfu is absolutely amazing. I still remember swimming at a dreamy beach thinking that it couldn't get much better than this and I was right.
When I think of dreamy beaches, Corfu beaches still pop up in my mind.
While you're in Corfu, you won't want to miss out on Canal D'Amour Beach between Sidari and Peroulades.
This is one of the most Instagrammable beaches in Corfu. It is also one of the most romantic places in Corfu because of its connection to finding eternal love if you swim in it.
4. Crete: Balos Beach and Lagoon – Best Beaches in the Greek Islands
Crete is one of the largest islands in the Mediterranean so you can assume correctly that it has to have some awesome beaches.
In actual fact if you're wanting to go on a beach holiday in the Greek Islands then Crete should be high up on your list of places to go.
The beauty of Balos beach and lagoon would most likely be an unforgettable heavenly experience. Let the picture do the talking.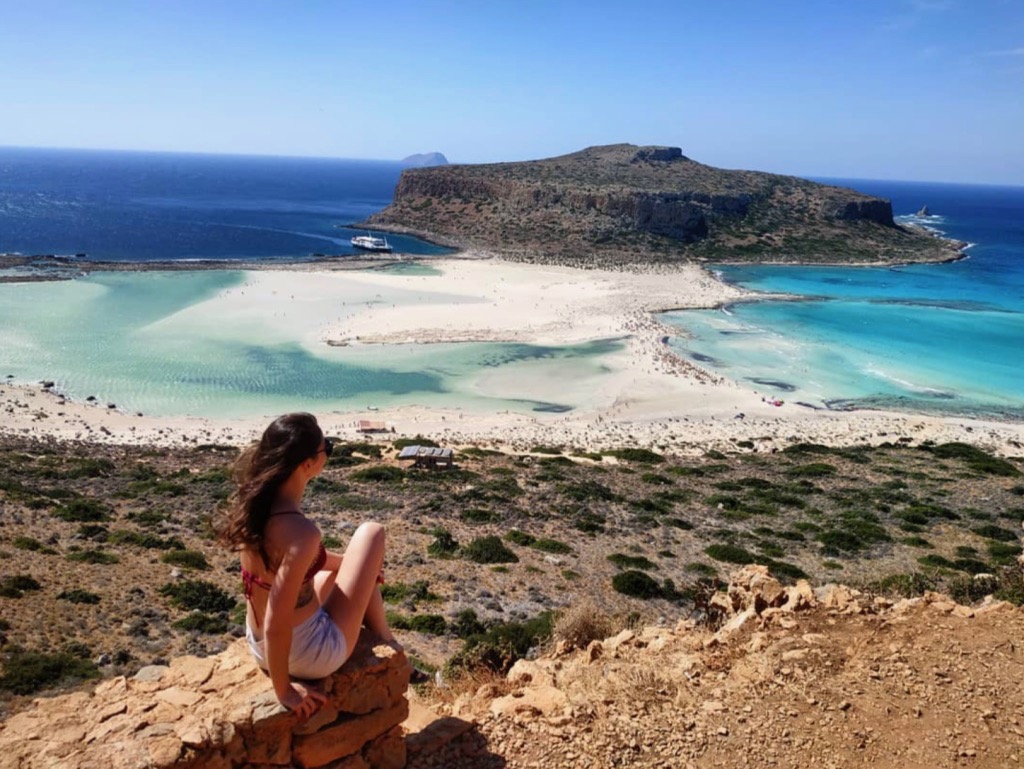 Who wouldn't want to visit this beach?
5. Crete: Elafonisi Beach – Best Beaches in the Greek Islands
Here's another fabulous beach in Crete. Whereas Balos is located in the northwestern corner of Crete, you'll find Elafonisi Beach in a relatively isolated area in southwestern Crete.
This amazing beach has won many awards and is a must visit beach for everyone who visits Crete.
Elafonisi is somewhat similar to Balos in that there is a lagoon of warm turquoise water and pink sand.
A small low lying islet (a protected nature reserve) is attached to mainland by a thin strip of sand. You can walk or wade across to it, depending on the tide.
If you're planning a trip to Crete you will want to know about the 12 Best Beaches in Crete.
All of these amazing beaches will have you thinking that Crete has the best beaches in Greece and it actually might be true.
The other great thing about Crete is that many foodies and Greeks believe it to have the best food in Greece.
Who wouldn't want too visit Crete after knowing all of this? Even Zeus, the king of the Gods is associated with Crete, Greece's largest island.
6. Ikaria: Seychelles Beach – Best Beaches in the Greek Islands
Seychelles is one of the most beautiful beaches in Ikaria and Greece for that matter.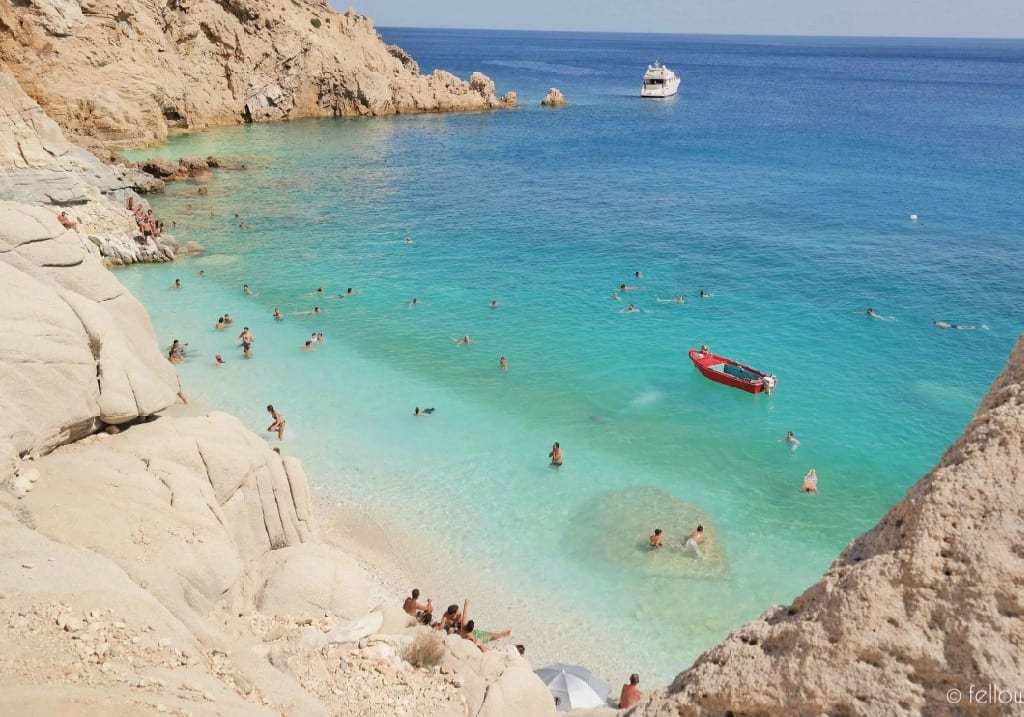 To get to this amazing beach, you have to walk for 10-15 minutes through the mountain.
7. Kefalonia: Myrtos Beach – Best Beaches in the Greek Islands
Myrtos beach is one of the most famous beaches in Greece, Europe and the world for that matter. The dazzling colours of Myrtos will probably leave you speechless.
One of the biggest highlights will be walking down to the beach itself taking in the amazing views on the way down. The beach itself is composed of millions of pure white small pebbles with some course white sand.
The dazzling blue water will have you jumping into the sea in no time. The colour of the sea can change from turquoise to dark blue which will keep you in awe of its beauty.
This beach is easily the most famous and biggest attraction of Kefalonia island. You can easily understand why by looking at photos of the beach. The place looks awesome!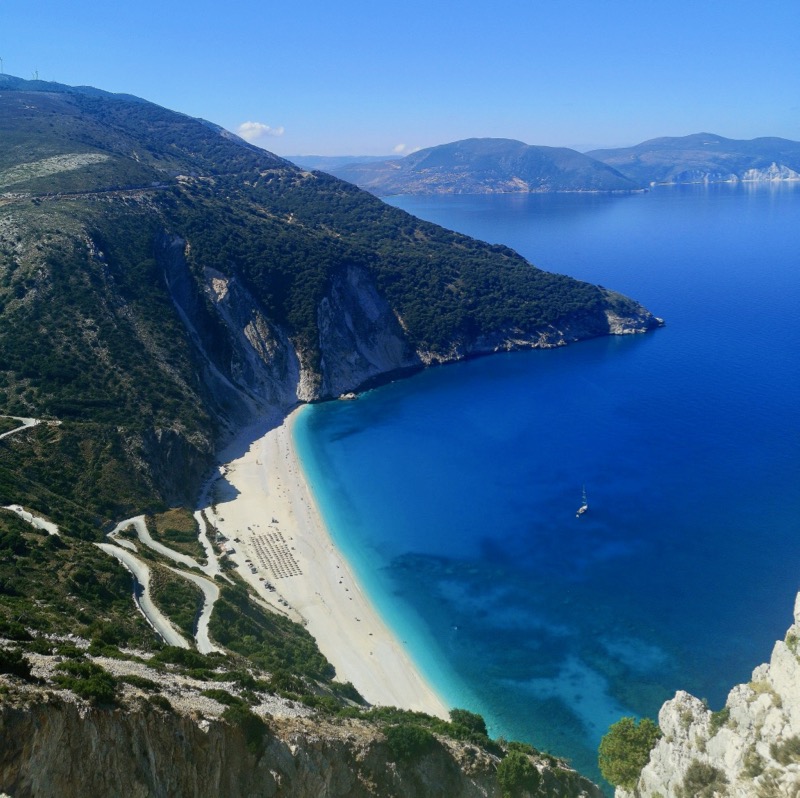 This is the beach from the film Captain Corelli's Mandolin in the scene where the mine washed up and was detonated as islanders watched on.
You will also want to hike to a perch on the northern headland for some awesome views of Myrtos beach.
Kefalonia has some of the best beaches in Greece including Horgota beach, Antisamos and Petani beach.
Then again you you'll probably be happy enough to spend all your time relaxing at Myrtos beach.
8. Koufonisia: Platia Pounda – Best Beaches in the Greek Islands
The two main islands that compose Koufonisia are Ano (Upper) Koufonisi and Kato (Lower) Koufonisi, which are separated by a 200-metre sea channel.
The deserted Keros islet is the third island in the group. Keros is a protected archaeological site where famous statuettes of the harp player and the flute player were unearthed, and many more finds.
Many of these artefacts can be seen in the National Archaeological Museum in Athens.
The best and most popular beach in Koufonisi is probably Italida beach (meaning "Italian Lady" from an Italian woman who lived close by), also known as Platia Pounda.
This fabulous beach is unorganised (meaning no deckchairs, rows of umbrellas or beach bars anywhere) so come prepared.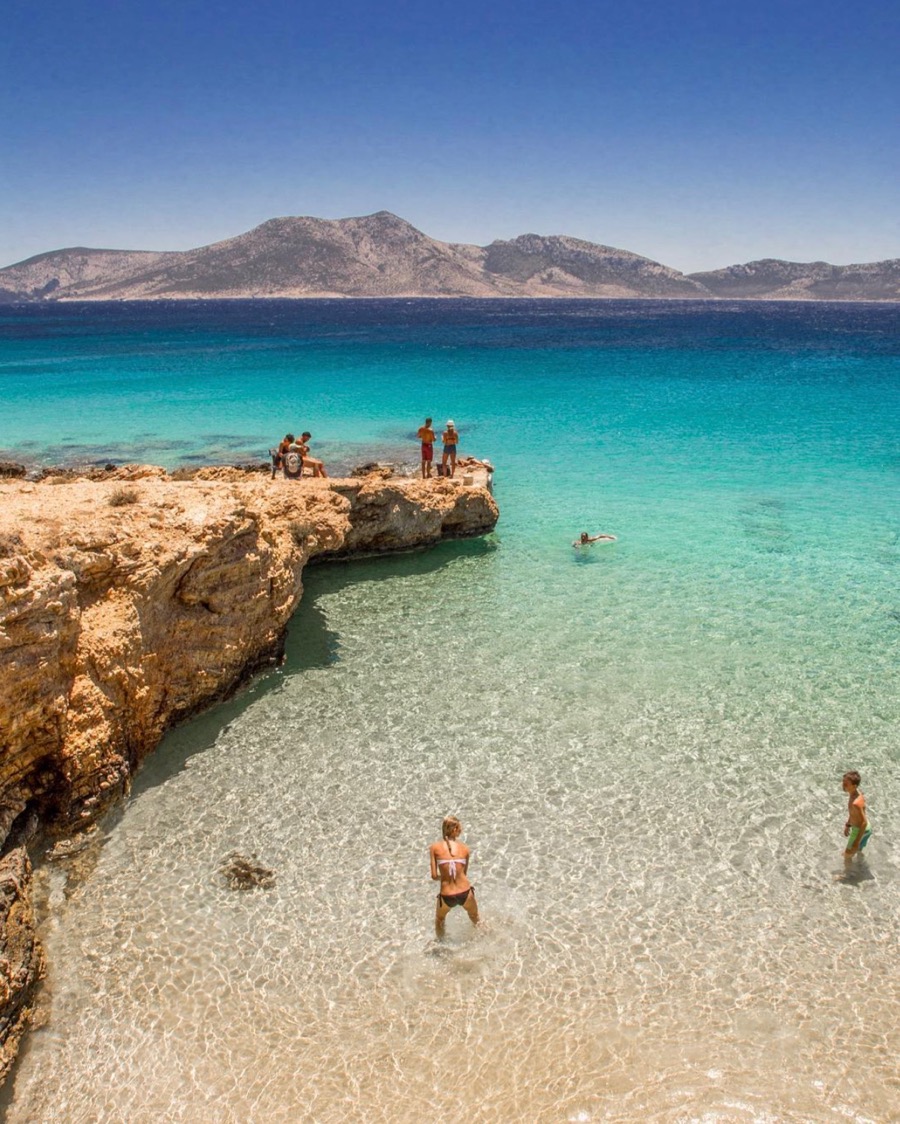 When Greeks says they're going to Koufonisia they usually mean Ano (Upper) Koufonisi.
There are plenty of charming accomodation options available on Ano Koufonisi, but make sure you book in well in advance especially if you're planning to visit during peak season.
Ano Koufonisi Beach Walk
Go for a walk from the main town of Hora and marvel at the amazing beaches on the north eastern shores of Koufonisia.
On the way east you will see Finikas (1km east of Hora) which has a great tavern called the "Foinikas tavern", a great place to enjoy lunch. Fanos beach is 1.5km east of Hora.
Italida (Platia Pounda) (1.5km north east of Chora) is probably the most famous beach on the island.
Piscina (the Greek word for "pool") is a small natural rock pool, also known as the Eye of the Devil. You can find it after Italida beach, if you continue to walk along the seashore.
This natural swimming pool is very popular with tourists who love jumping into the shining emerald waters.
Even though the impressive natural swimming pool is commonly known by both names, the Devil's Eye (To Mati Tou Diavolou) is really a cave (hole in the rocks) very close to Piscina, where sea water enters and floods the rim of a cave.
It is difficult to find as its entrance is not visible from the main path so you may need some local help to pinpoint it.
If you're standing on Pori beach, facing the sea, the cave is on the right hand end of the cove. Walk about 250m past Piscina, until Pori beach comes into sight. Keep in mind that the cave is low and you must stoop down to enter.
After that you can relax at Port Beach, which is another contender for the best beach in Koufonisia.
Pori is located 3.5km north east of Hora (the main and only village in Koufonisia).
The walk from the Hora to Pori beach will take about an hour. Also be sure to visit Gala (milk) cave nearby.
Fun fact: Koufonisia means Hollow islands which came about due to the huge caves giving the impression from a distance that the islands were hollow.
Getting to Koufonisi
Koufonisia is often visited for a day trip from Naxos or Amorgos. Visitors generally arrive in Hora (the town with the port) unless of course you have your own boat.
The ferry from Naxos to Koufonisia takes about 1-2 hours. If you arrive from Amorgos Island it will take about half an hour.
You can also take the ferry from Piraeus port in Athens to Koufonisia in summer which will take about 4 to 7.5 hours depending on your boat choice.
To explore Ano Koufonisia you will probably be happy enough to walk everywhere. Renting a bike is another good option.
The beauty about Koufonisia is that you can discover every corner of the island by walking in less than 3 hours!
Small boats also offer transport to the beaches and you also have the option to take a municipal bus or van when available.
Kato Koufonisi can be reached by boat from Ano Koufonisi and is uninhabited apart from one tavern. It's well known for its free-camping.
August is the busiest time to visit, while during the months of June, July, and September, it is much quieter and more serene.
Keep in mind that many of the beaches in Koufonisia are naturist beaches including Fanos and Pori. Platia Pounda is also nudism friendly.
Many believe that the beaches get better and better the further away from the town of Hora, so you will definitely want to see them all.
Top Tip: Try and take a strong umbrella with you, because the sun is very harsh and there is limited shade if any. An umbrella with lines (ropes) is perfect because it can get very windy in July, August.
9. Kythira: Kaladi Beach – Best Beaches in the Greek Islands
Aphrodite, the Goddess of Love was born in Kythira and sometime later drifted to Cyprus in a seashell.
If the island is good enough for Aphrodite it would have to be an awesome beach destination.
Kaladi beach is probably the place to be.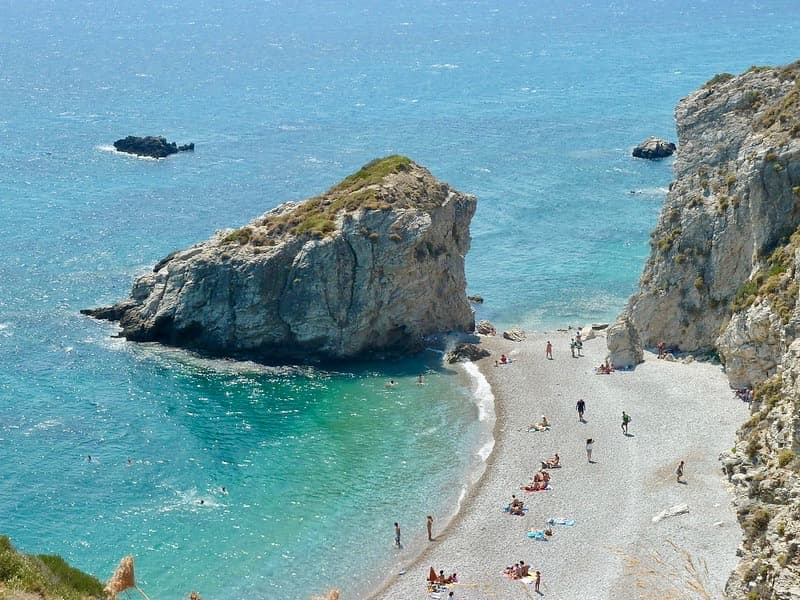 Where to stay: Pelagia Aphrodite Hotel
10. Lefkada: Porto Katsiki Beach – Best Beaches in the Greek Islands
Lefkada (also known as Lefkas) is connected to the mainland by a causeway and is one of the few Greek islands that is easily accessible by car.
The famous Porto Katsiki beach with its tall white cliffs and brilliant blue waters is the biggest drawcard to the island.
You will need to descend the 347 steps down to the beach if you arrive by land but this will allow you to get some awesome views from the top.
There's also a stairway to an outcrop on the north side for even greater views of the beach.
Large groups of tourists also arrive at this beach by boats.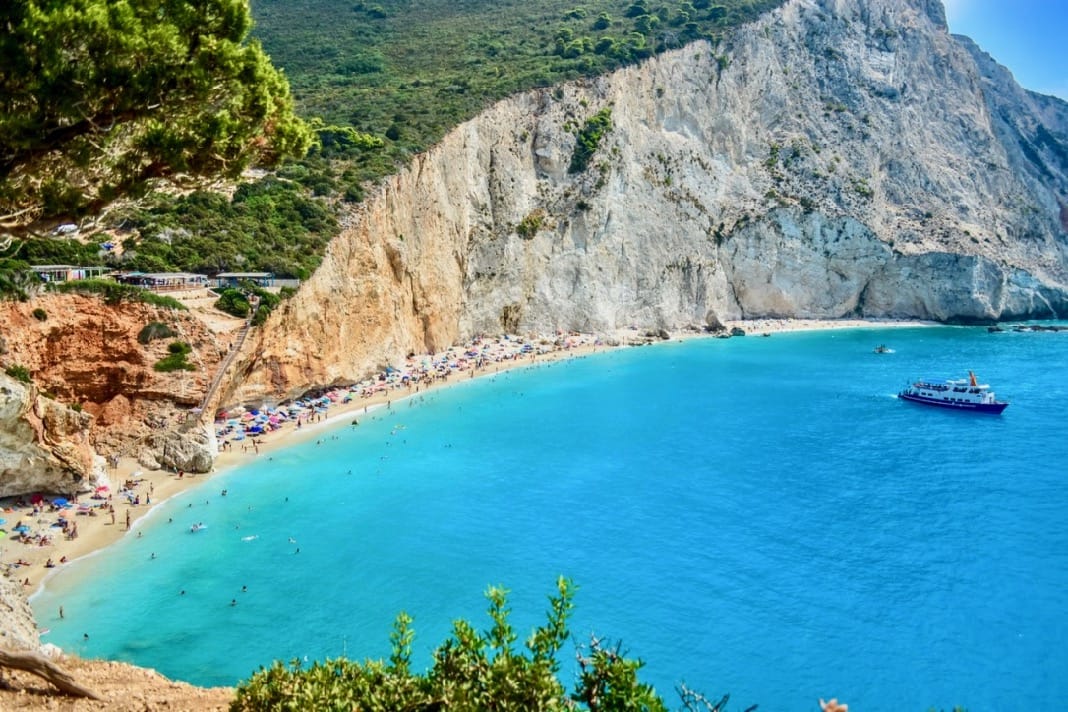 Egremnoi beach (which means "steep cliffs" in Greek) is another great beach in Lefkada.
11. Milos Island: Sarakíniko – Best Beaches in the Greek Islands
Sarakíniko in Milos is legendary for its unique landscape which resembles something moonlike.
The smooth volcanic rock offers beach lovers something different to marvel at when compared to traditional sandy beaches.
You won't be lying on the sand but the smooth moonlike rock surface which is supposed to be comfortable enough.
This fabulous beach is shown beautifully in one of the songs shown in a list of best Greek songs which inspire travel. It is the number 1 Greek song in the list called Ella, meaning Come here.
The beauty about Sarakíniko is that you can leap into the turquoise waters from your own diving platform.
It is said to have taken its name from the Saracens pirates who took shelter here.
12. Mykonos: Super Paradise Beach – Best Beaches in the Greek Islands
The name alone will intrigue most beach lovers. Mykonos has Paradise beach and Super Paradise beach but my pick would have to be Super Paradise.
Super Paradise is a party beach like Paradise beach. Either way you'll be in paradise for as long as you stay.
Music plays loudly all day long and at night as well so if you're after some peace and quiet it may not be for you. You can expect to see a lot of dancing around the main bar area.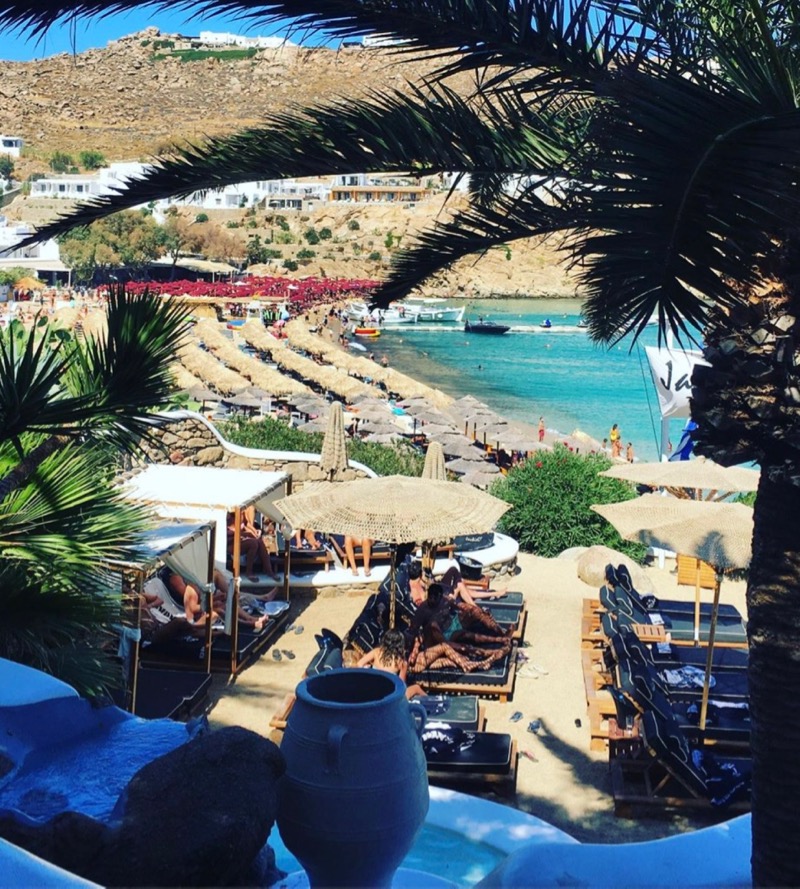 Mykonos has a reputation for glitz and glamor, but it also remains charmingly down to earth.
The main town is full of tiny restaurants and bars, chic galleries and a variety of beaches from secluded to party hard.
Mykonos also has the island of Delos close by, which makes for a great day trip. The island of Apollo is one of the most important archaeological sites in Greece.
A couple of other beaches worth visiting include Platis Gialos and Psarou.
13. Naxos: Agios Prokopios – Best Beaches in the Greek Islands
Agios Prokopios has been voted among the best 10 in the Mediterranean a few times.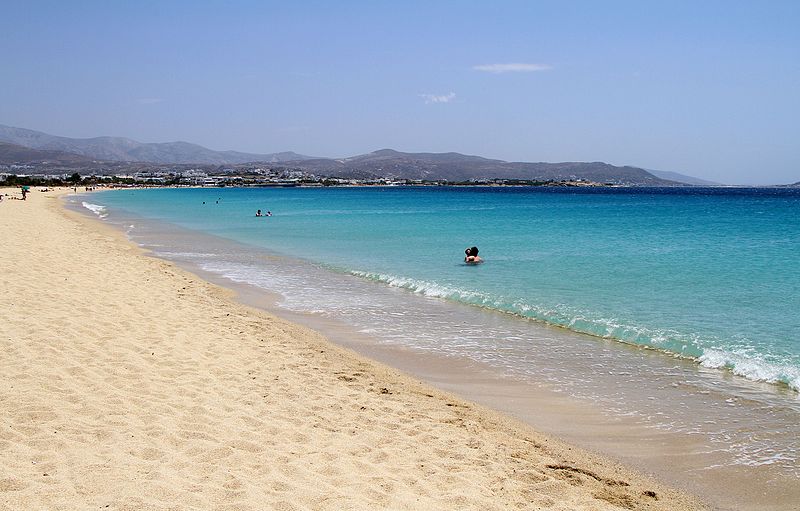 Another great beach in Naxos is Plaka. The best beach in Naxos is most likely either Agios Prokopios or Plaka. All of the beaches along the west coast are excellent though.
A great walk to go on is from Agios Prokopios to Agia Anna, followed by Maragas and on to Plaka.
This enjoyable walk will allow you to determine the best beach on the day which depends on the wind and how many other beach goers are there.
14. Paros: Kolimbithres beach – Best Beaches in the Greek Islands
Kolimbithres beach in Paros is one of the island's most famous beaches and is nicely tucked into Naoussa (Plastira) bay.
This amazing beach has large granite rocks which have been carved over the centuries to create beautiful golden sandy bays.
Kolimbithres means "small pools" in Greek. Due to its popularity, it's unlikely you'll find yourself alone but if you're lucky and present at the right time who knows.
If you're looking for an alternative to the big crowds of Mykonos and Santorini then Paros may be the place for you.
15. Rhodes: Lindos Beach – Best Beaches in the Greek Islands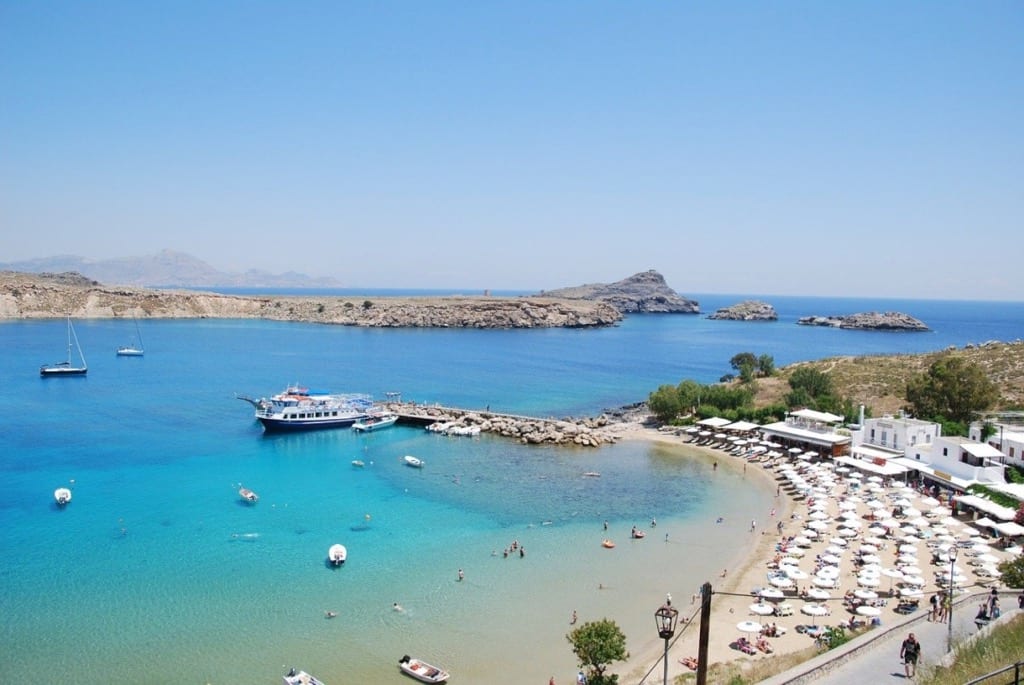 The added beauty about Lindos beach is the castle in the background.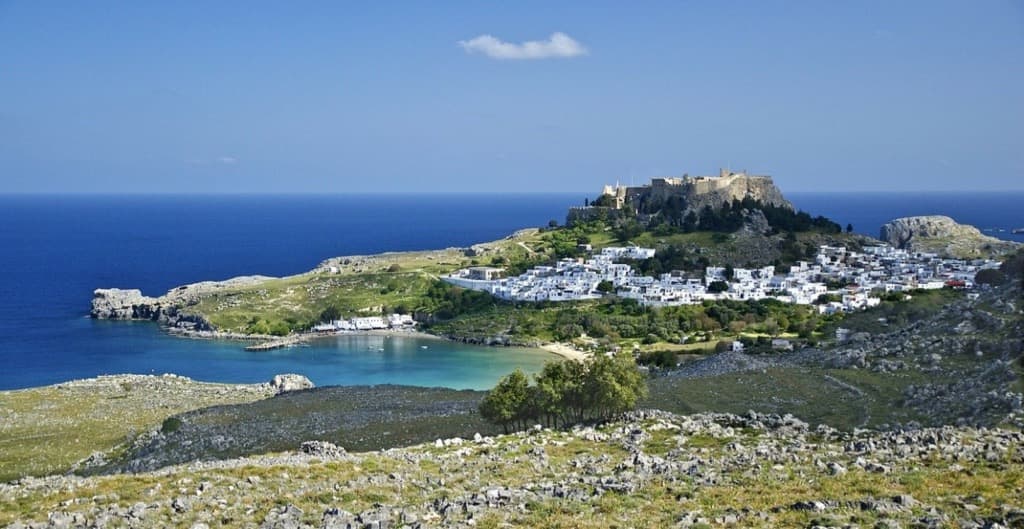 16. Rhodes: Saint Paul Beach (Agios Pavlos Beach) – Best Beaches in the Greek Islands
Saint Paul or Agios Pavlos is located in Lindos. It's a great beach on a nearly fully enclosed bay.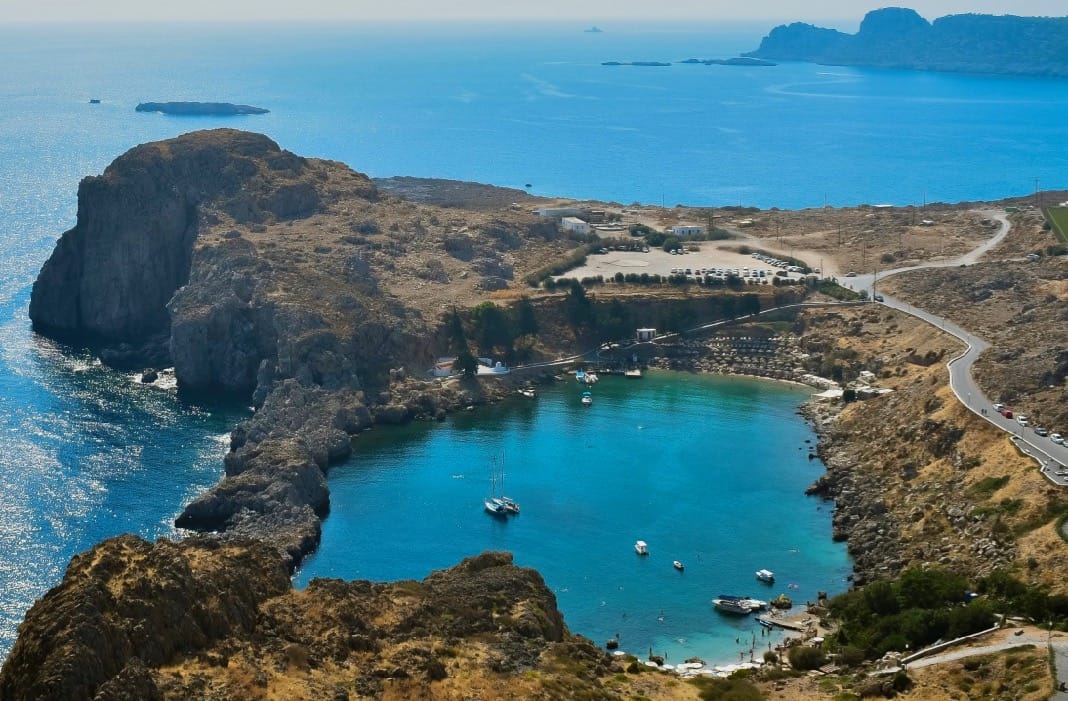 This beach is a great place to visit after the ancient Acropolis of Lindos in Rhodes.
During high season you will want to get here early to get a choice spot.
There are also a few beach bars surrounding the bay where you can reenergise. It's recommended to book in advance for the beach restaurant if you want to be sure of a tasty Greek meal.
Another great beach to visit in Rhodes is Anthony Quinn Bay surrounded by cliffs and pines. The beautiful bay is very popular with day-trippers.
Yes, the famous actor who starred in Zorba the Greek has a beach in Rhodes named after him. He also starred in The Guns in Naverone, and as Zeus in Hercules and the Legendary Journeys TV series, so it's well earned.
Anthony Quinn filmed part of 'The Guns of Navarone' on this island which helped put Rhodes on the map of international tourist destinations.
17. Skiathos Island: Lalaria Beach – Best Beaches in the Greek Islands
This great looking beach is most famous for the natural rock arch of Tripia Petra (Hole Stone). Some of you can probably recognise it as a film location of the movie Mamma Mia.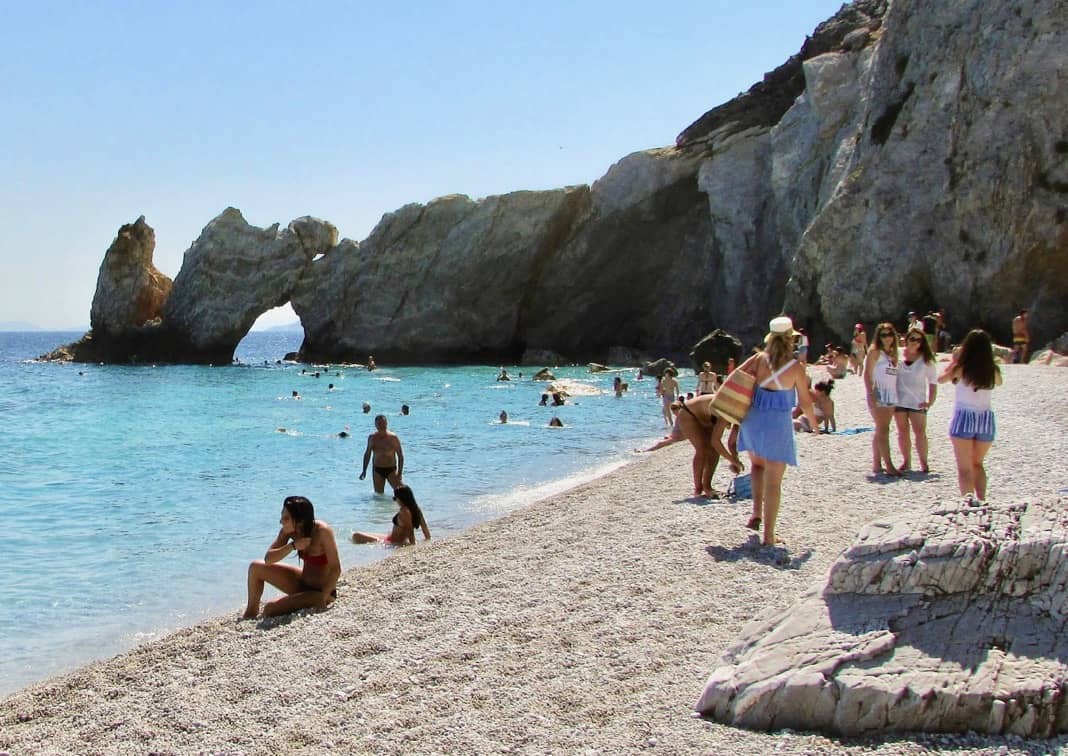 Lalaria Beach is only accessible by sea which is dependant on the weather, because northerly winds can create high waves in bad weather.
Boats and sea taxis depart from Skiathos Town whenever the waves are calm enough for visitors.
More Great Beaches in Skyathos
Koukounaries – a golden crescent beach and one of the most beautiful in the Aegean. 'Koukounari' means 'pine cone' in Greek, which is how the name of the beach came about, because of the large number of pine cones that surround the cove.
Don't forget to go for a walk around the freshwater lake and the nature reserve.
Banana Beach – for watersports, beach bars and cool sun beds.
All of the beaches in Skiathos that I have visited have been great. This island is truly a Greek Island paradise.
18. Skopelos Island: Panormos Beach – Best Beaches in the Greek Islands
Skorpolos Island has some amazing beaches to choose from but Panormous beach would be my pick and locals seem to favour it as well.
You can see many of the island's great beaches in the video below which includes Panormous beach. Wow! I didn't realise they were this good.
The island of Skopelos was also used as a film location for the movie Mamma Mia. Many of the scenes were filmed around Kastani beach so you won't want to miss this beach either.
Other popular beaches in Skopelos include Stafylos Beach, Milia beach, Hovolo Beach and Perivoli.
19. Thassos: You can pick of the best beach in Thassos – Best Beaches in the Greek Islands
Many tourists haven't heard of Thassos, but this island in the Northern Aegean is home to some of the most stunning beaches in Greece.
I'm not sure which beach in Thassos would be the best because they all look superb.
https://www.youtube.com/watch?v=l5HzjtqZQlc
If you're on the island you will have to visit all of these great beaches including: Aliki Beach, Golden Beach, Metalia Beach, Paradise Beach, Saliara Beach, Psili Ammos Beach, and Marble Beach.
Golden beach and Paradise beach sound like they could be two of the best beaches on the island, and Marble Beach looks fantastic.
Greece's famous Navagio Beach (Shipwreck Beach) is sheltered by steep limestone cliffs and has a rusted wrecked boat on the sandy shore.
Navagio means 'shipwreck' in Greek, which came about due to a shipwreck on the sandy beach.
The beach owes its name to MV Panagiotis, a Greek cargo boat that ran aground in 1980, after hiding in the cove from the Coast Guard not wanting to get caught with smuggled cigarettes onboard.
The boat was deserted by the smugglers and unbelievably from that misfortune came the legendary Shipwreck Beach.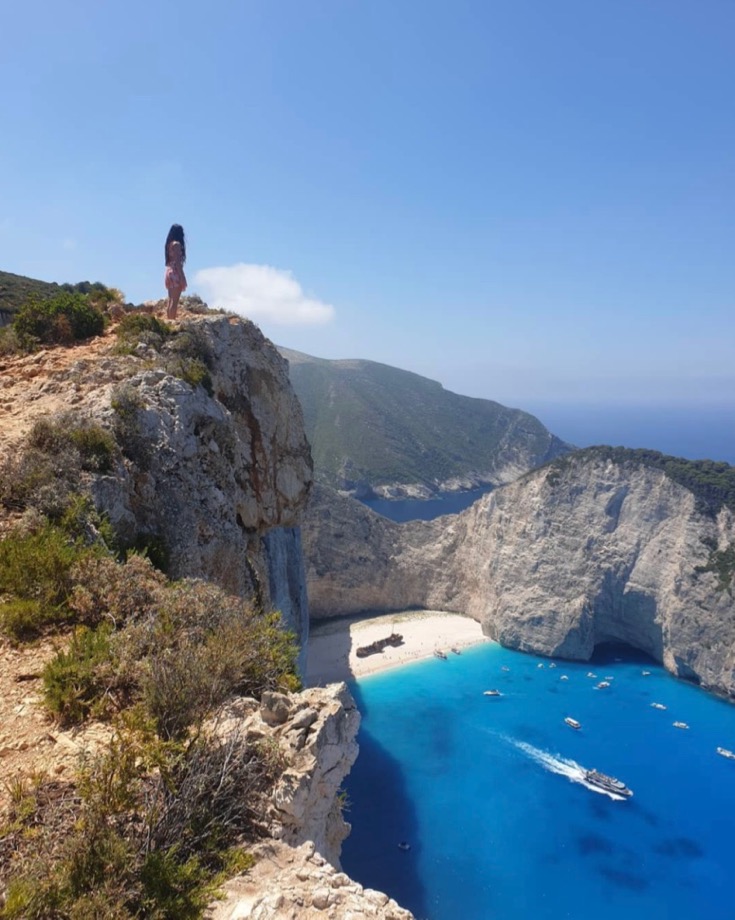 Navagio would have to be the most photographed beach in Greece. Popular Greek singers even use this amazing Greek beach as a setting in their music videos.
The spectacular views of the beach can be admired from a lookout point above on the cliffs, near the village of Anafonitria.
If you want to take in the marvellous views and take some great photos from the clifftop you will need to rent a car. The views from the top are epic so it's probably best to do both, go by land and sea.
The other way to get there is by taking a small boat from the ports of Porto Vromi, Agios Nikolaos, or Cape Skinari.
A couple of great things about the boat trip to Shipwreck beach is that you'll be able to swim in the turquoise waters and get close to the wrecked boat.
The beach can get very crowded in high season although the beach is quite small so nobody really stays for too long.
While you're on the beautiful Greek Island of Zante, make sure you visit the Venetian Castle and Keri Lighthouse. Stop by at Bochali lookout point for some great views as well.
More Popular Beaches in Zante
Some other popular beaches in Zante include Agios Nikolaos, Tsilivi and Vassilikos, Banana Beach and Alykes. Party people should head to busy Laganas.
A boat trip to the incredible Turtle Island (Marathonisi islet) with its sandy spit should also be high on your list of things to do.
Fun fact: Zakynthos (Zante) is mostly known for two things: the spectacular Navagio (Shipwreck Beach) and the presence of Caretta Caretta loggerhead turtles.
Interesting fact: Greece ranks 12th in coastline length in the world which comes out to about 13,700 kilometres of coastline.
The Archipelago of almost 6,000 Greek Islands has some of the best beaches in the world. To prove it Greece has been awarded 2nd place in the Blue Flags global eco-program, which is the gold standard when it comes to clean beaches.
I'm sure one of these 20 beautiful beaches in the Greek Islands would fulfil your beach dream.