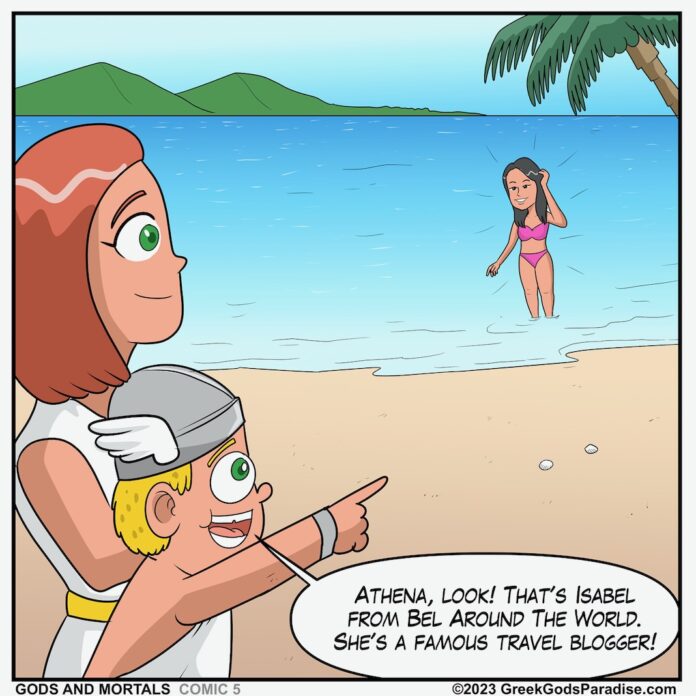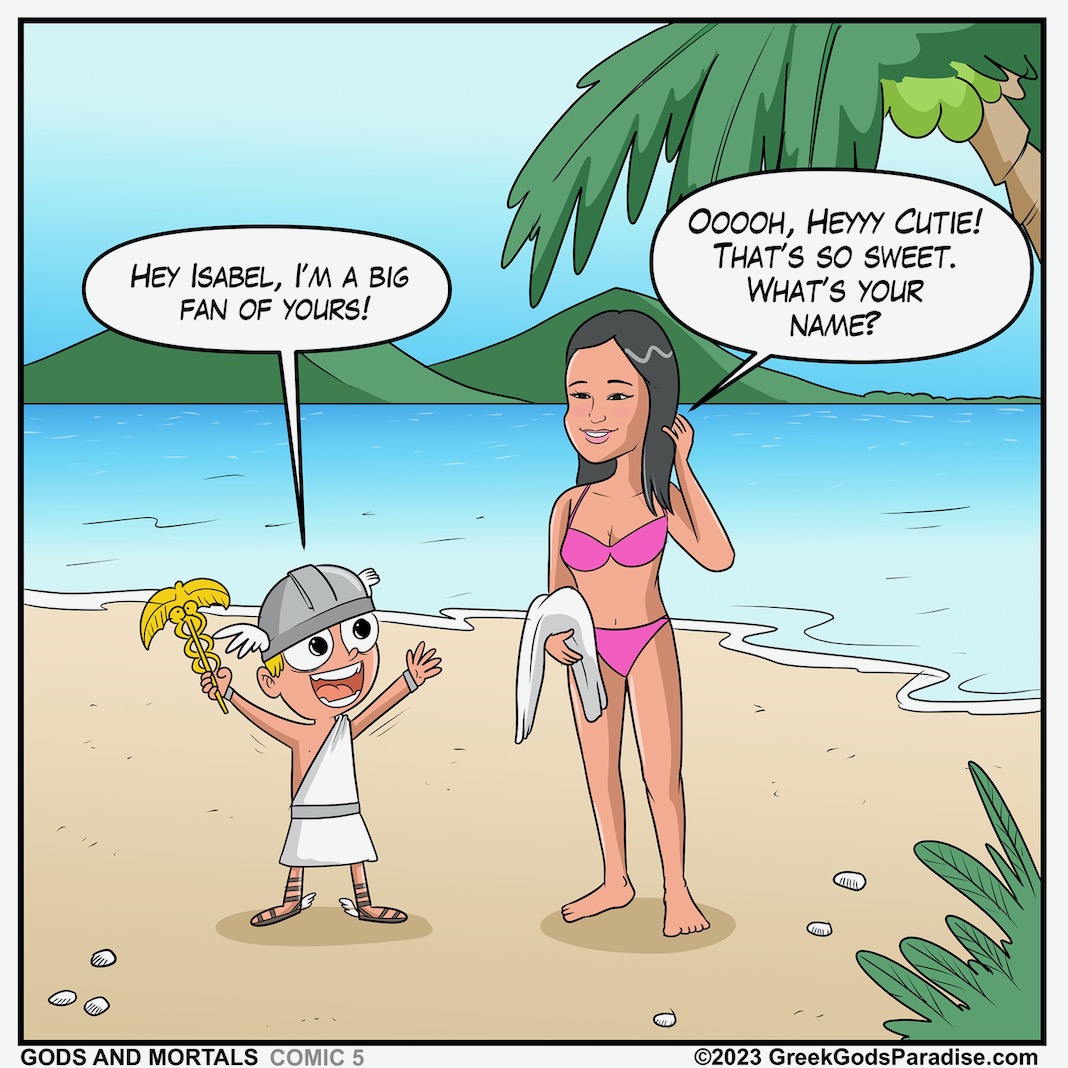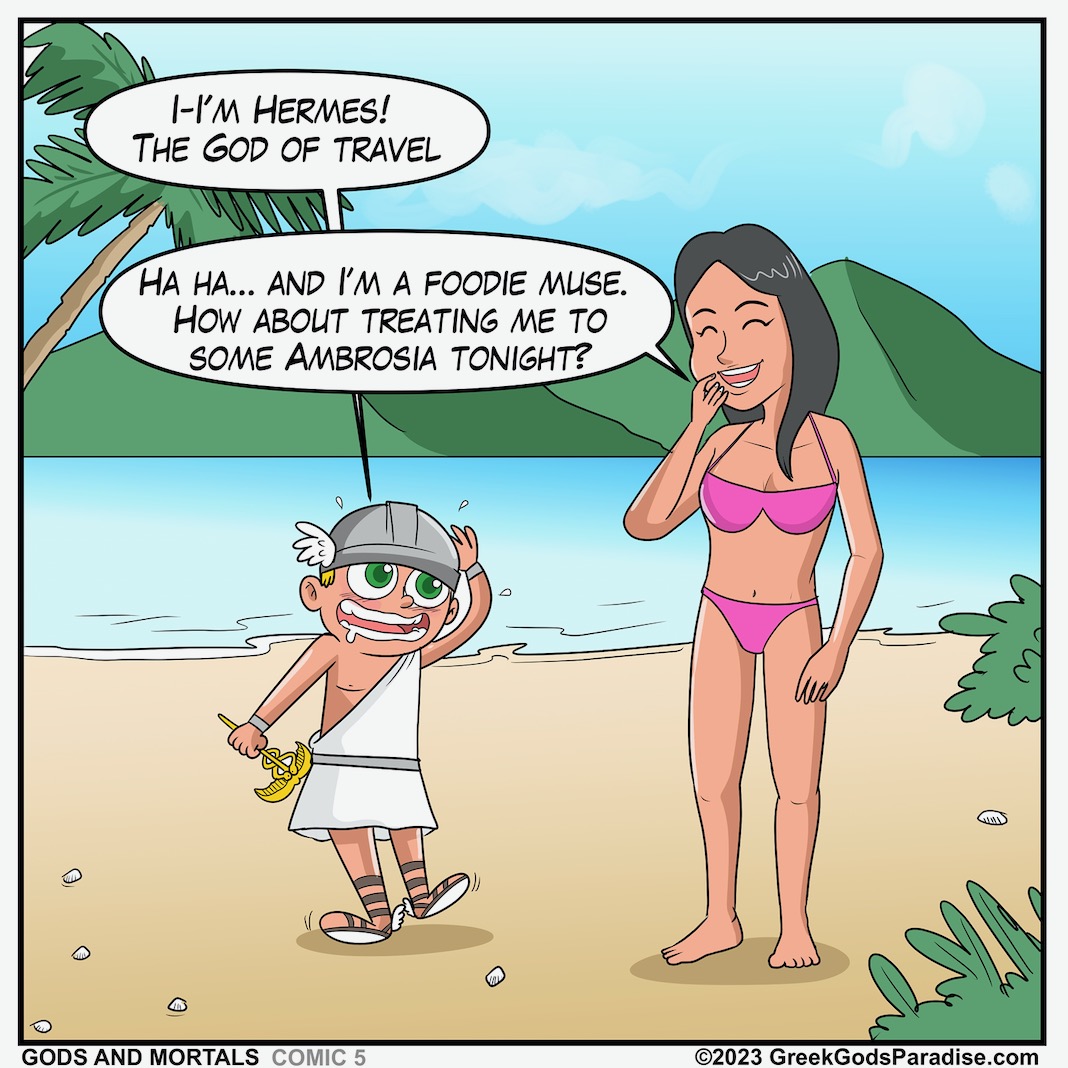 Bel Around The World Comic: Travel Blogger
Oh boy, Hermes, the God of Travel, has stumbled upon a real gem at the beach in Gods and Mortals comic number 5. Isabel, the travel blogger behind Bel Around The World, is soaking up the sun on a glorious tropical beach.
Hermes spots her in the distance and likes what he sees… Naturally, he's thinking, "God, I would 100% be down for some travel adventures with this nymph by my side!"
But little does Hermes know that Isabel isn't afraid to speak her mind. In the last comic panel, she unleashes a quick-witted response that has Hermes probably questioning whether he should ask her out. One can only guess what happened after.
Maybe Hermes and Isabel hit up a beachside bar for fancy cocktails and a plate of nachos. Or did he take her back to Mount Olympus for some Ambrosia? Maybe he whisked her off to a Greek island for a whirlwind romance. Or maybe Hermes flew off into the sunset, realizing that Isabel was a bit too hot for him to handle. We may never know!
One thing is for sure — Isabel certainly knows how to keep a God on his toes.
Travel Blogger Comic
This Bel Around The World comic is a tribute to the one and only Isabel Leong, a Singaporean travel blogger whose website is an ode to wanderlust. She's a unicorn in the travel blogging world, gracing us with her one-of-a-kind mix of quirkiness and a never-ending thirst for adventure.
But wait, there's more! She also loves to shred some waves while surfing and conquer mountains with her rock climbing skills. Clearly, she's an adventurous chick who's anything but ordinary!
Isabel is a master storyteller, capable of whisking her readers and Instagram followers away to dreamy places, igniting a burning desire to join her on her globe-trotting escapades. So I highly recommend checking out her travel blog, Bel Around The World, and her drool-worthy Instagram page, belaroundtheworld_. Trust me, few will be able to resist the siren call of embarking on a digital adventure with Isabel!
Bel Around The World Interview
You can also get to know Isabel from Bel Around The World on Greek Gods Paradise. Simply indulge in my sensational interview with Isabel Leong, and you'll be left spellbound.
Not only will you be delighted by this interview, but you'll also discover Isabel's zodiac sign. Take your wildest guess now and see if you hit the bullseye.
So what are you waiting for? After reading this post, make sure you check out this fascinating interview with Bel Around The World, and let her contagious energy and passion for travel inspire your wanderlust.
Isabel's Song to the Greek God of Travel
Hey, Isabel! Guess what? I found the perfect song for this travel blogger comic starring you! You may not know this, but I like to include great music videos in posts where I can in Greek Gods Paradise, especially if I enjoy listening to the song and think it suits the topic.
I also have several posts containing numerous music videos on this website, like 20 Great Songs related to Greek Mythology and Top 15 Greek Songs that Inspire Travel to Greece.
The great tune I chose to associate with your Bel Around The World comic is none other than a classic song by The Pointer Sisters — Jump (For My Love)!
Hermes and Isabel leave us entranced in this Bel Around the World comic, making you wonder what could be going through their minds. Their on-screen chemistry is palpable, which is further accentuated by the lyrics of this magical song.
Jump (For My Love)
It's showtime, Isabel! As the star of this fabulous travel blogger comic, let this upbeat melody electrify your soul and bring a radiant smile to your face.

Several other songs did come to mind, including David Bowie's "China Girl," Weezer's "Island in the Sun," and Murray Head's "One Night in Bangkok." However, I decided not to go with any of these songs because I didn't want to come across as creepy.
"Jump (For My Love)" claimed the top spot for good reason. This gem of a song by The Pointer Sisters most likely reveals Isabel's emotional state in the comic when she first locked eyes with Hermes.
The song's catchy melody and suggestive words blend perfectly with the playful dialogue and flirtatious banter between the characters.
Another point I must make is that Hermes, the God of travel, owns a pair of slick flying shoes. That means Hermes (Roman name: Mercury) can leap tall buildings with a single bound! So when you think about it, Hermes can jump like no one else. Check out that epic Athena statue scene in the first Percy Jackson and the Lightning Thief movie for further proof.
Overall, I think this song complements the Bel Around The World comic exceptionally well, so I hope you like it.
Travel Blogger Comic: Isabel's Response?
Oh, the suspense is killing me! What could Isabel possibly have to say after laying her eyes on this amusing Bel Around the World comic? Will her mind be blown? Will she be utterly speechless? Stay tuned, Argonauts, because I promise to spill the beans as soon as I hear back from her!
Isabel's Opinion: The comic was v cute!
Pin it … Share it