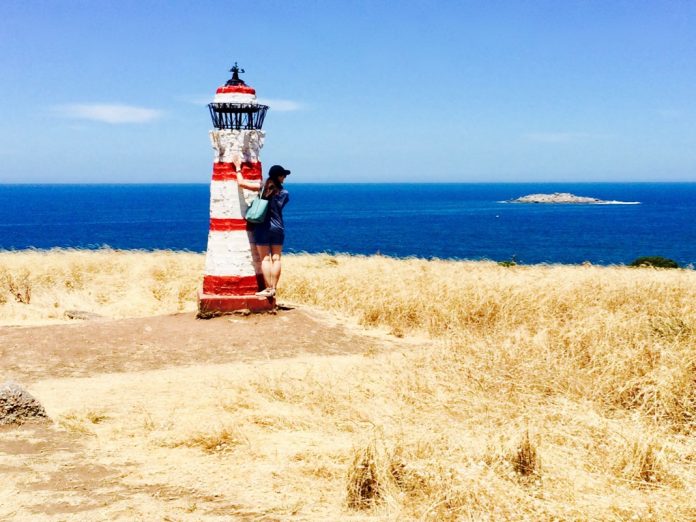 The sad news is that you won't find all of these Granite Island attractions and sculptures on this small island anymore.
Never mind, because other Granite Island attractions will hopefully rise to take their place.
For now, you can enjoy a walk in the past on Granite Island as I once saw these interesting sculptures on this gem of an island in South Australia.
To me, the sculptures on Granite Island offered a bit more variety to the island's scenery, and I really feel as if they added to the island's mystique.
Plenty of people appreciated the sculptures, but the problem was that many people also hated the Granite Island sculptures.
Some felt very strongly that it took away some of the island's natural beauty, so in April 2021, most of the sculptures were removed.
Luckily, I have taken some great photos of the Granite Island sculptures on the island from 2017 to 2021 as a memento.
This post will help assist in preserving some of Granite Island's history and memory regarding these sculptures.
In addition, it will also give you a good appreciation of how these artworks transformed a fairly desolate island for the better.
Things to Do on Granite Island
Visiting Granite Island has always been one of the best day trips from Adelaide, even before the sculptures appeared on the rocky island.
So there are still plenty of interesting things to see and do on Granite Island.
The biggest Granite Island attractions would have to include the horse-drawn tram.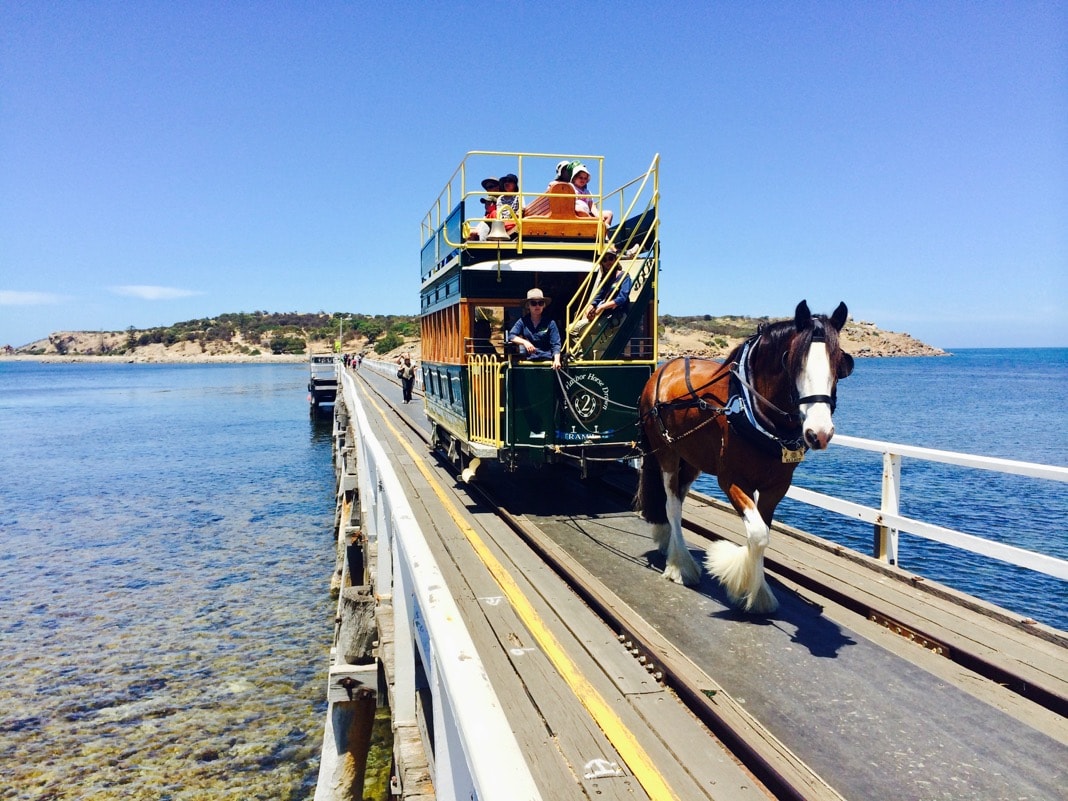 The other big attraction is going for a walk around the island (Kaiki trail – 3.3 km circuit).
The walk around Granite Island is great because it's not too far and not too short. It's just right.
Another drawcard when visiting the island is trying to get a glimpse of the Granite Island penguins.
While walking around this tiny isle, one memory of mine that sticks out is watching a dolphin play in the waters close to the shore of Granite Island.
If the time of year is right (May to October), you may even get lucky enough to see a whale in the ocean.
I'm sure you'll find something of interest on Granite Island if you decide to visit.
How to Get to Granite Island
All you need to do is drive to the coastal town of Victor Harbor, which is only about 84 km (miles) from Adelaide. This is the capital city in South Australia. It will take about an hour to reach Victor Harbor by car.
This is where you'll find a long 650-meter causeway that connects Victor Harbour to Granite Island. You can't miss it.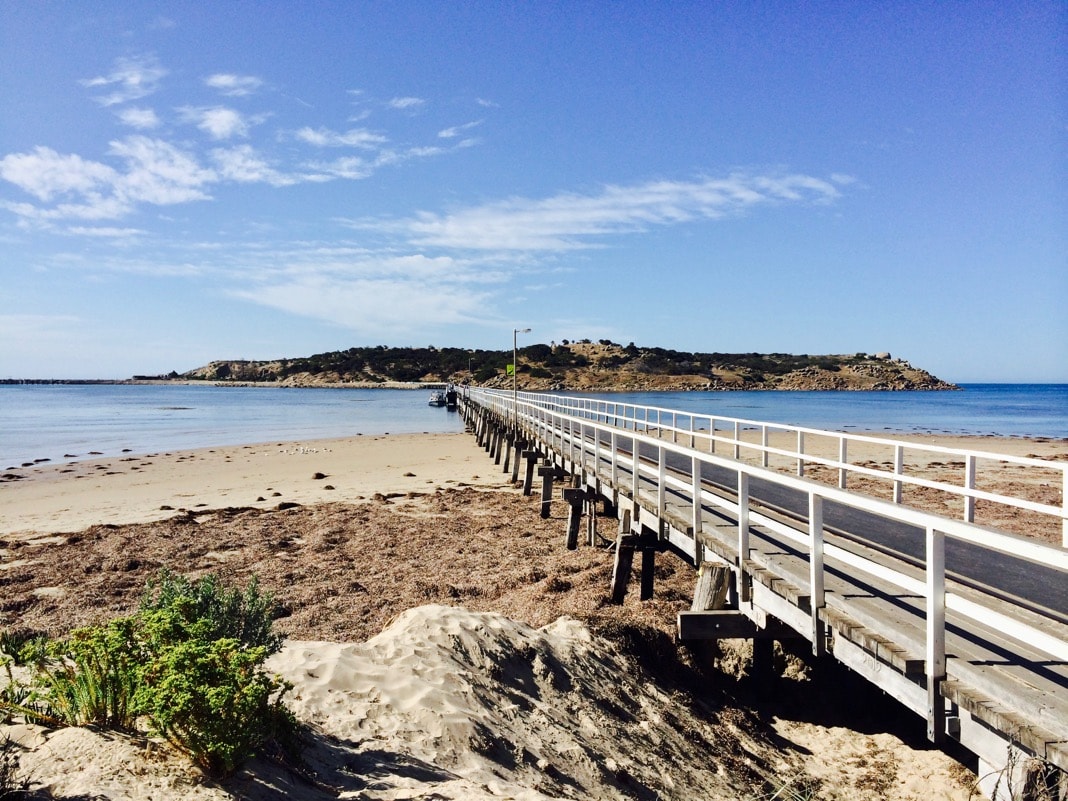 The two most common ways to get to Granite Island are walking along the causeway or taking a horse-drawn carriage to the other side.
Walking to Granite Island is great because you can wander over the water at your own pace.
Kids will most likely want to go for a ride on the horse-drawn tram for obvious reasons.
Trams depart approximately every 45 minutes. You can take it both ways, or you can take the tram just one way.
A great option is to go for a walk to Granite Island first and then return by tram later in the day.
Penguins on the Island
One of the first things you'll probably notice on Granite Island if you take a careful look is a life-size sculpture of Penguins.
The penguin colony that has made Granite Island their home is the fairy penguin type. They even have penguin tours in the evenings where you can see.
During one particular visit, I did ask about a guided tour. Sadly I was informed that they weren't doing them because of lowish penguin numbers.
Apparently, many of them had been killed by wild animals such as foxes.
The person was hopeful that the population would recover down the track—let's hope so.
Granite Island Sculptures – Sculpture Encounters
One of the most misplaced sculptures on Granite Island that I've seen is this giant hamburger sculpture.
The name of the sculpture is What a Tasty Looking Hamburger, by artist James Dive.
Initially, I wasn't a big fan of the sculpture because I thought it cheapened the place.
After seeing it, the first thing that came to my mind was McDonald's, which is not a great thing to be thinking about when you want a nature escape.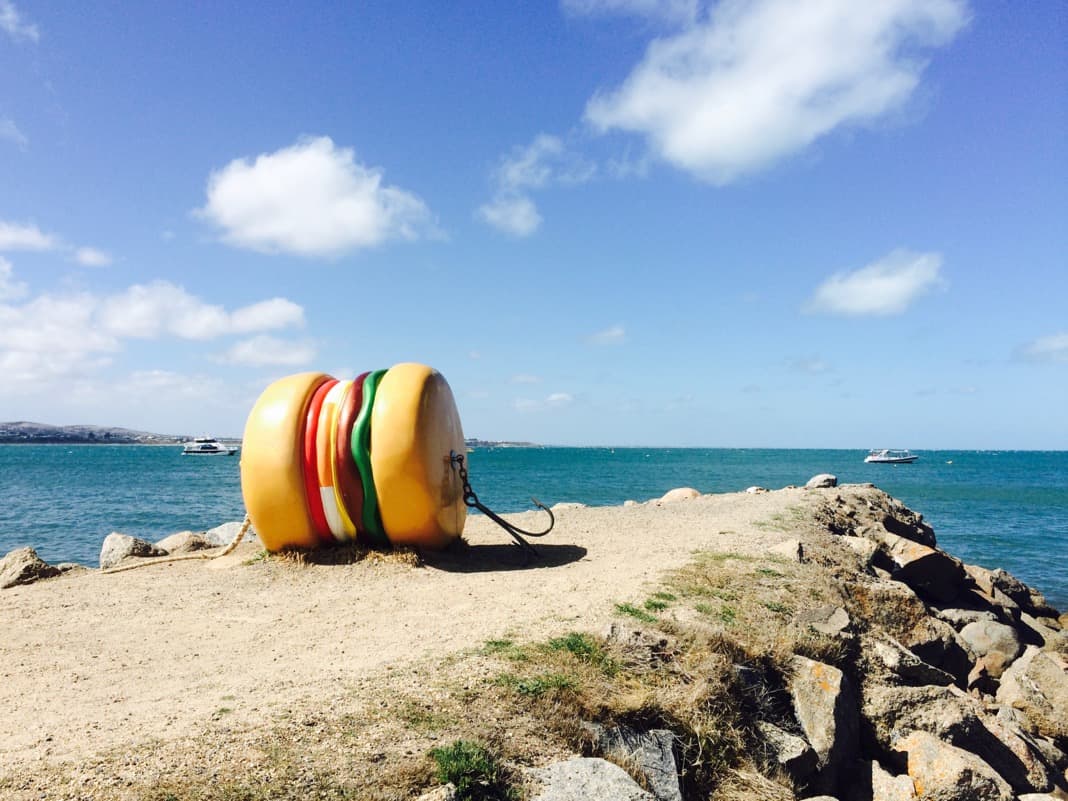 It was kind of tacky, but later on, when I realized it was also a lure, I changed my mind. It isn't too bad.
The sculpture of a seal in one of the rocks close to the shoreline is by artist Silvio Apponyi.
I'm pretty sure this sculpture will stay on the island for the long term. It would be crazy to try and remove it.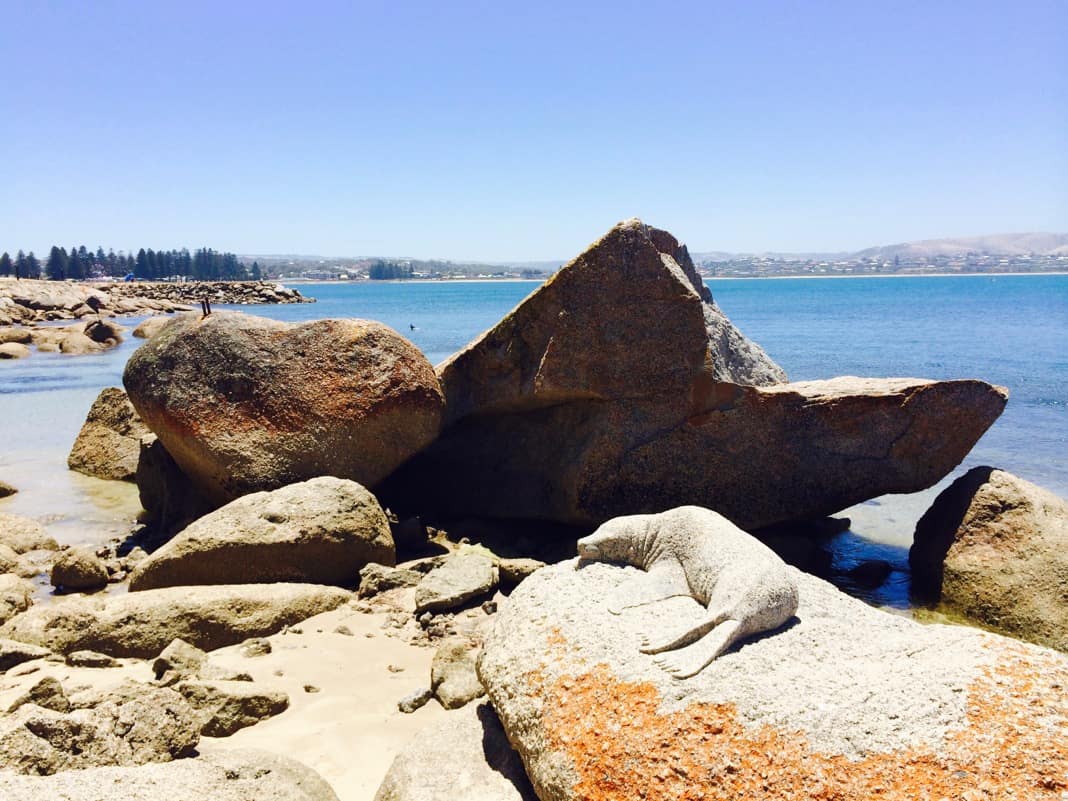 We can also thank this creative artist for the beautiful Whale Tail fountain sculpture in Victor Harbor.
In Awe is the round fan-like sculpture you see below. I'm sad to see this sculpture go.
The Granite Island Cafe is behind the sculpture. This is the only place to get something to eat and drink on the island, so keep that in mind.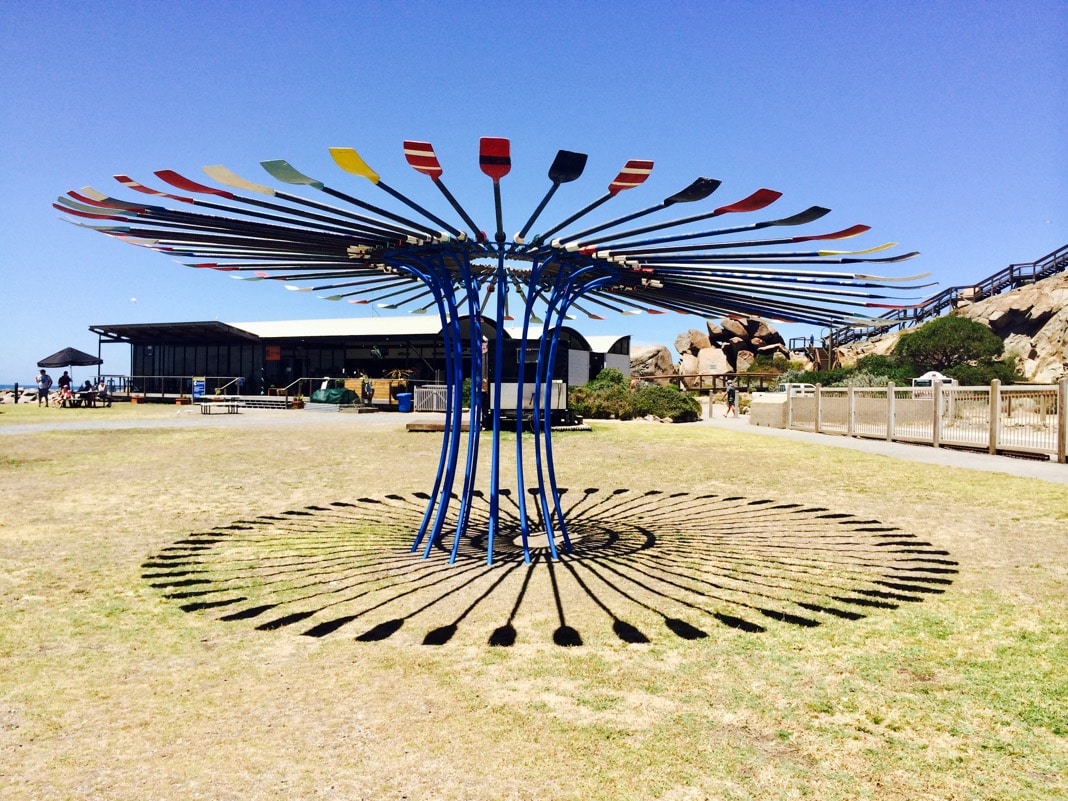 Next to the cafe is a staircase that leads to the top of Granite Island. This is where things start to get interesting.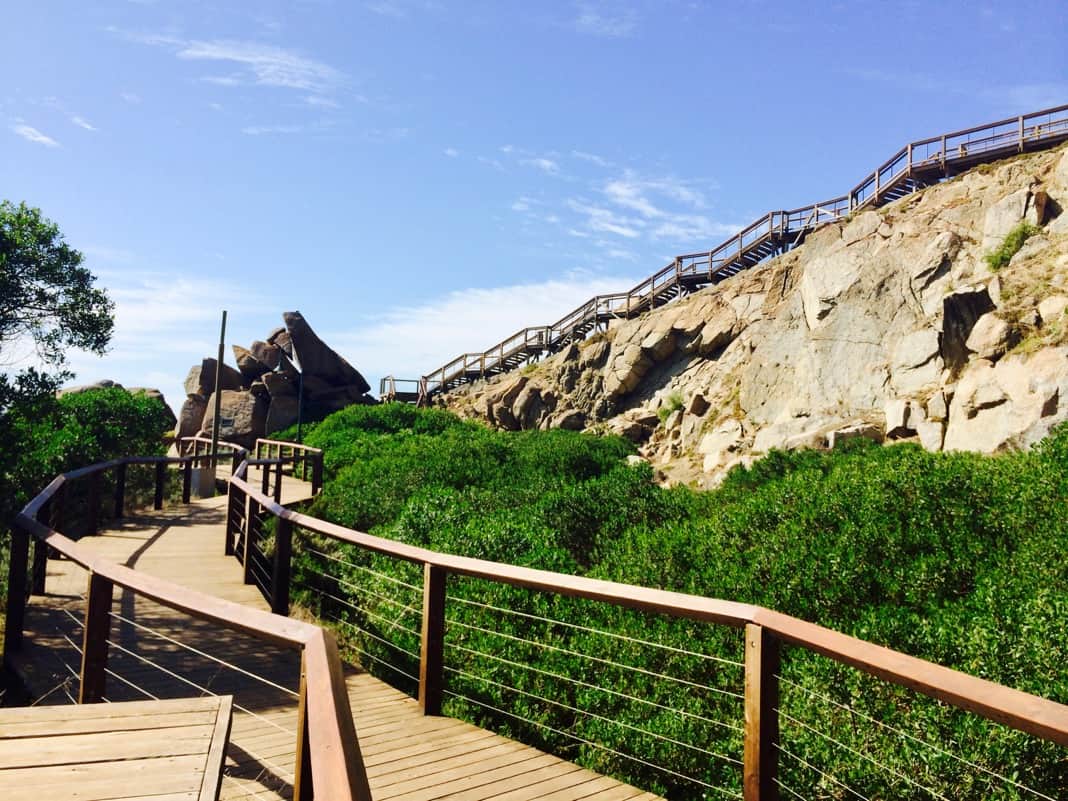 You can get some great views from the Granite Island staircase.
The pic below is pointing in the direction where the staircase is situated.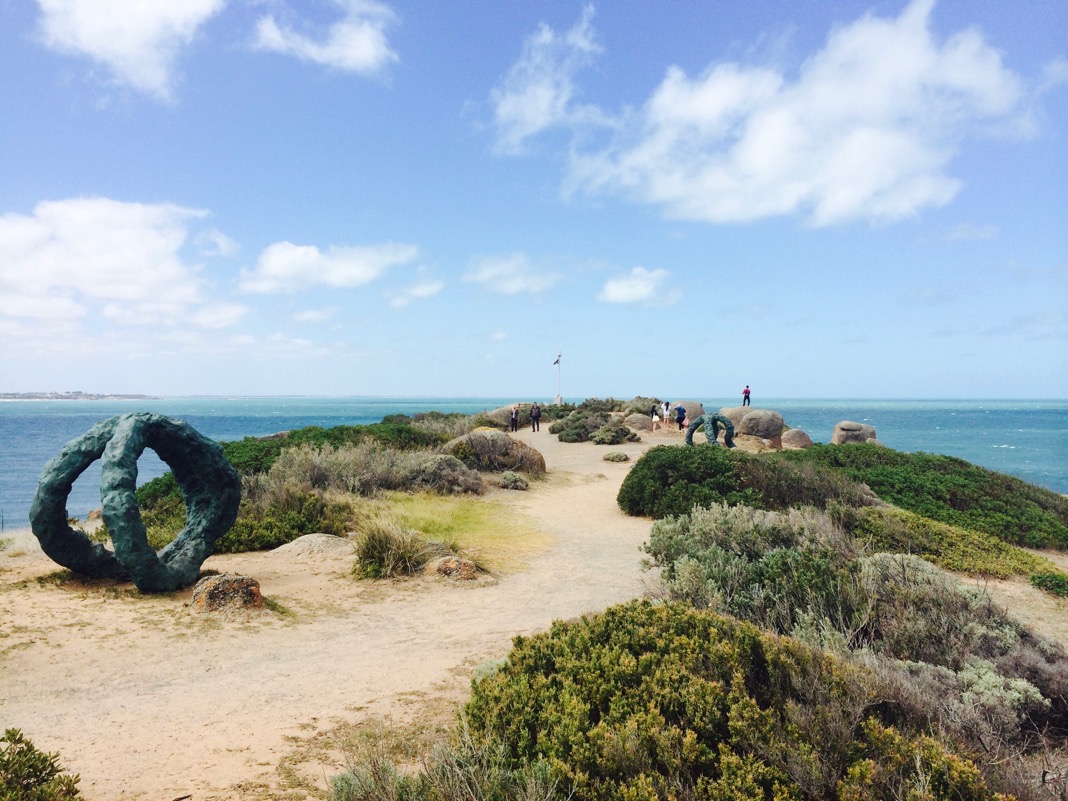 The Adam and Eve Sculpture on Granite Island
I couldn't find a Greek God or Goddess statue on the island, which was a bit disappointing.
Instead, the island had one dedicated to Adam and Eve.
You can see Oceanic Victor through the two giant bronze rings. This is an aquarium where you can swim with Southern Bluefin Tuna.
The screwpile jetty at Granite Island is a top spot to go fishing. You can see it on the right.
I've even seen squid being caught off the Granite Island rocks close to where the hamburger lure had been placed.
The incredible sculpture you see below was situated close to Adam and Eve.
It's known as Element 0. To me, it looks like an alien spacecraft. My head almost looks like one of the wheels.
The red and white Lighthouse sculpture is another beauty. I can't see why they ever wanted to get rid of this one. It was situated in a central position on Granite Island.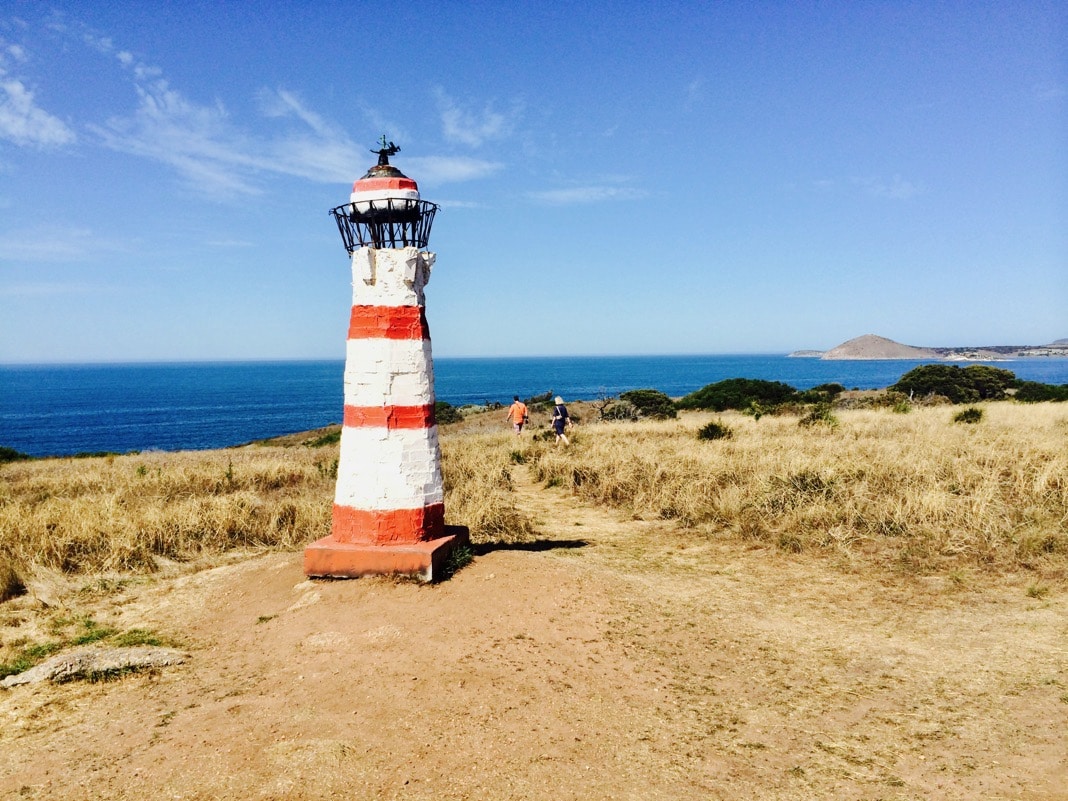 Here's another sculpture on Granite Island that beautified the view out towards the ocean.
That tiny island in the distance is known as Seal Island.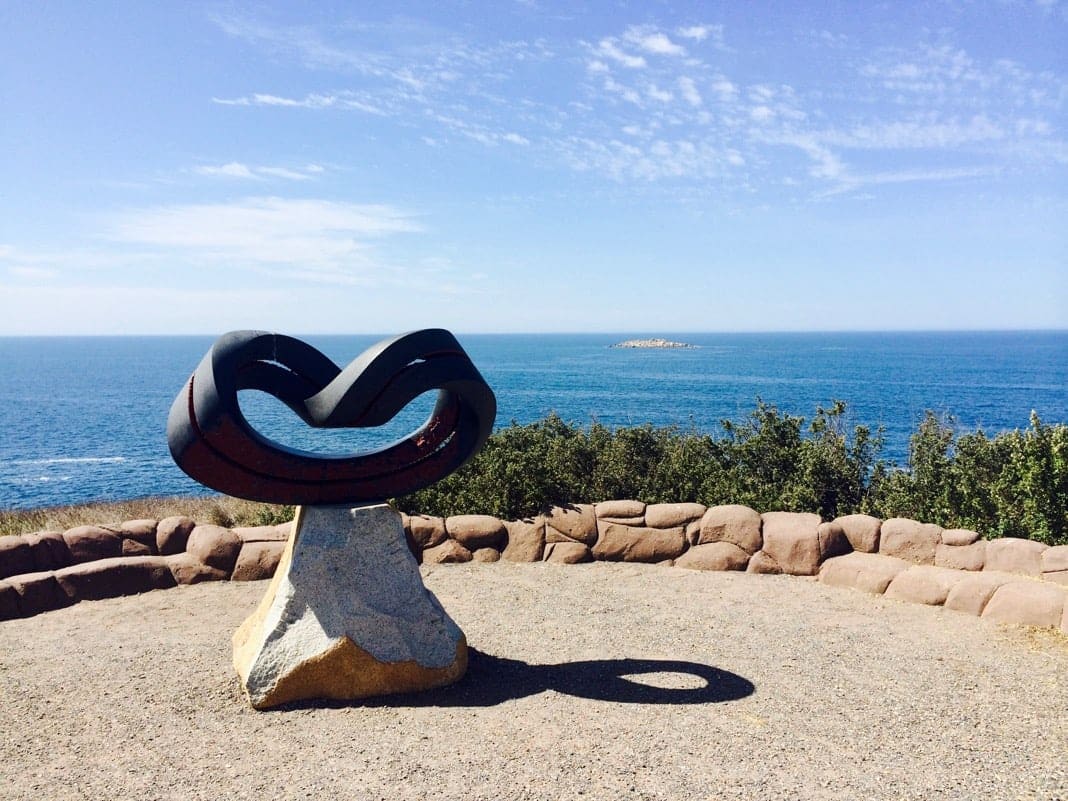 Big Duck Boat Tours can take you to Seal Island and other places of interest in Encounter Bay if you wish.
Kaiki Walking Trail
The walking trail around Granite Island is mostly made of dirt tracks.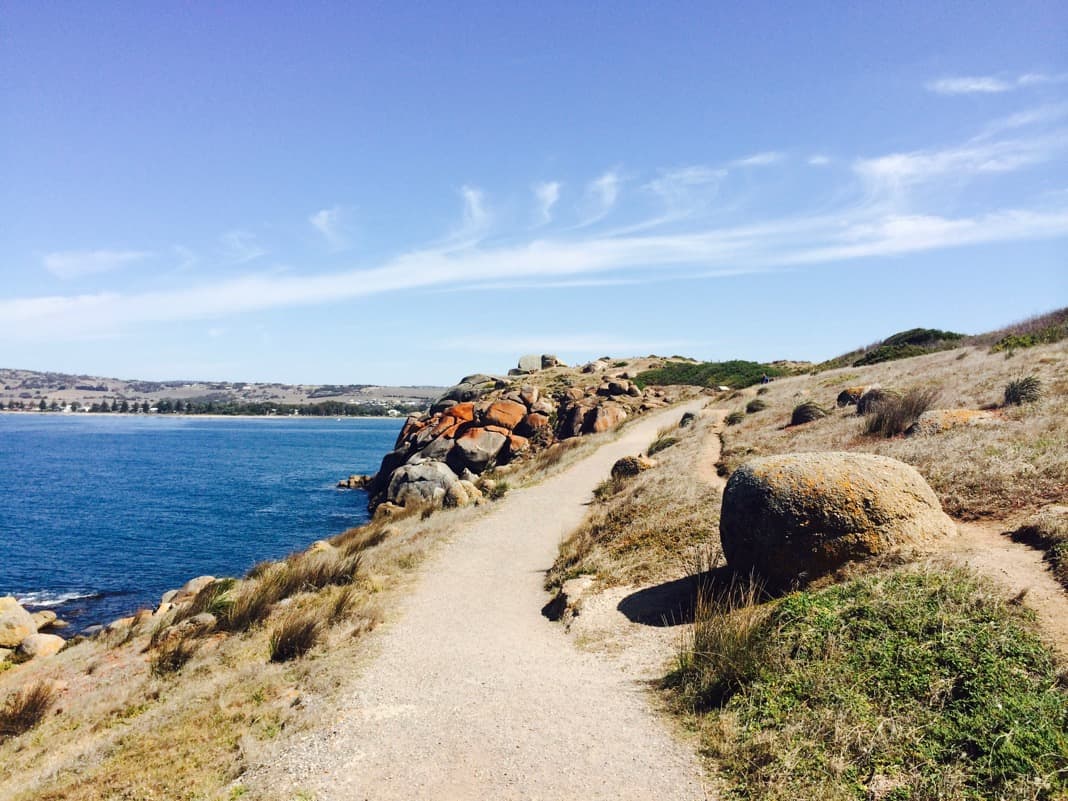 One of the biggest rocks on Granite Island is Elephant Rock. Here you can see a climber attempting to reach the top of the rock.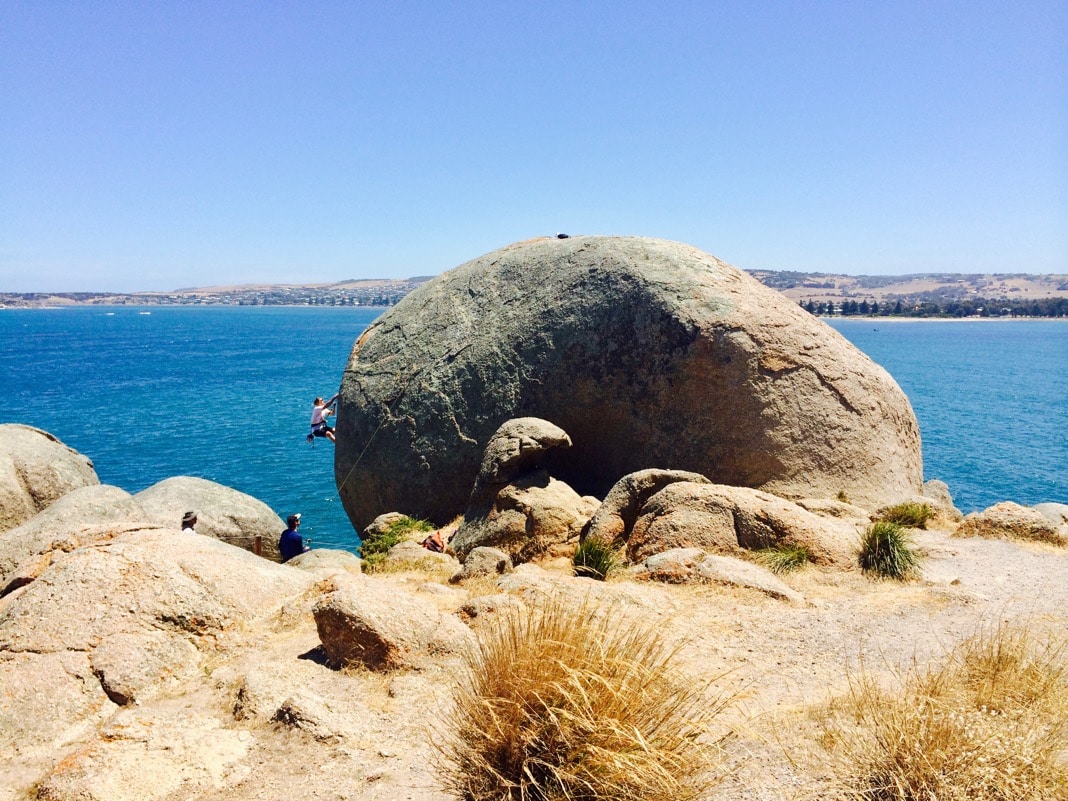 Probably the most famous rock on Granite Island is Umbrella Rock. It has been used for shelter in the past probably due to the fact that the island is very barren.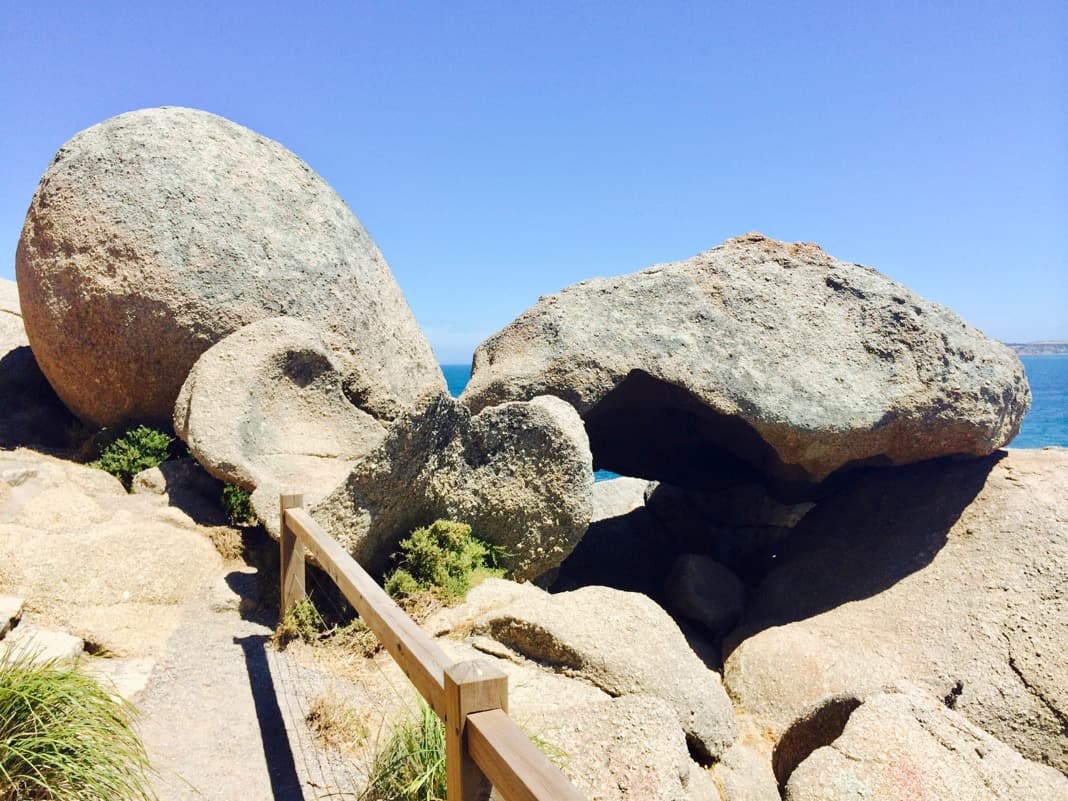 Signs on Granite Island
When walking around Granite Island, I'd often stumble upon a weird sign.
Here's a sign indicating you are here with no reference to where you actually are.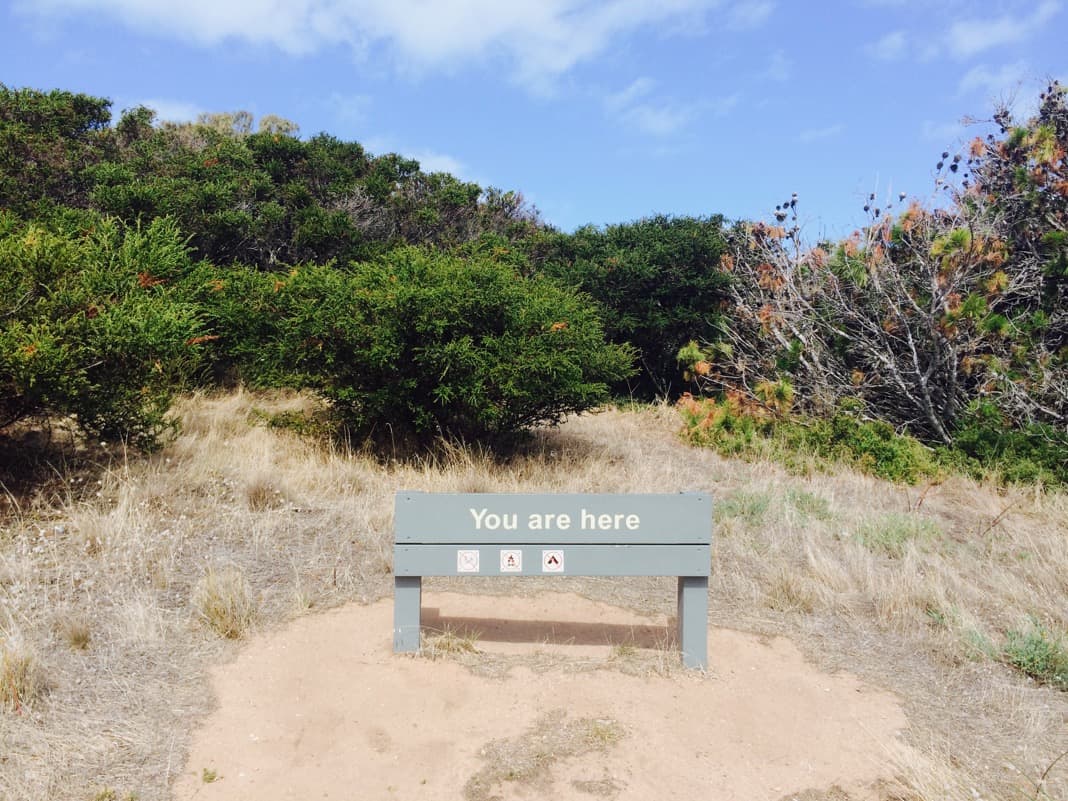 Another sign on Granite Island points to the future and the past.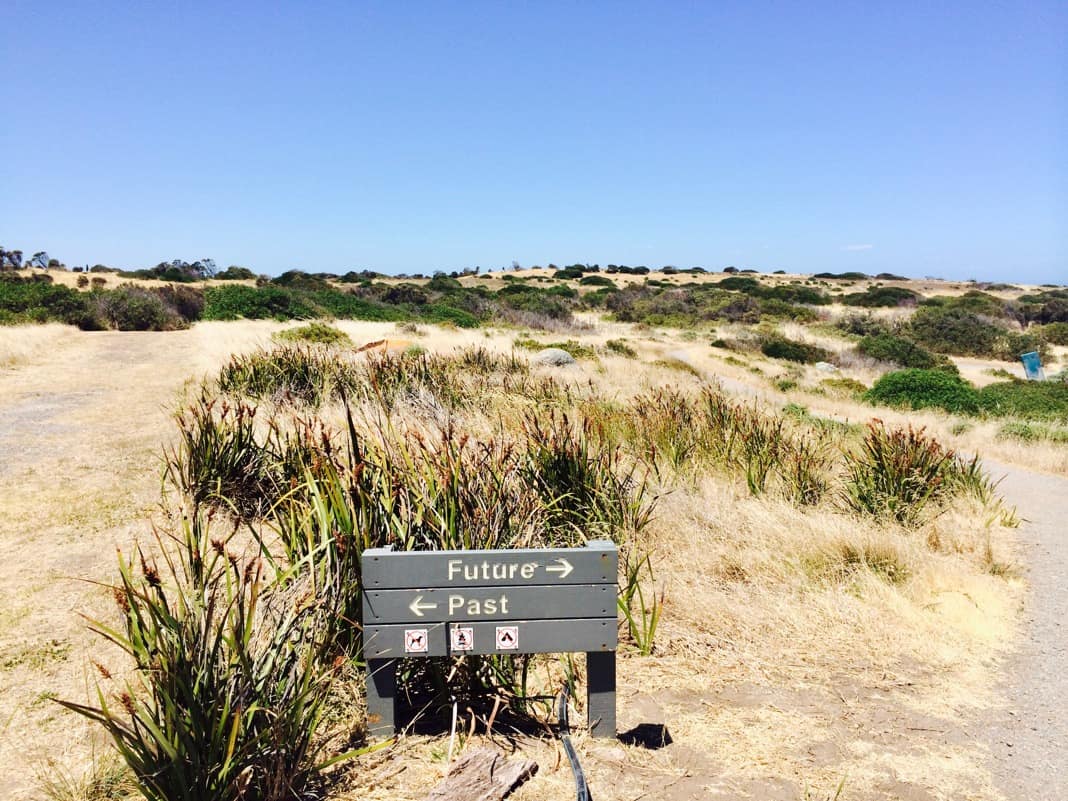 Don't worry. It's highly unlikely that you'll get lost in a time warp on the island.
Artwork on Granite Island
Another one of the many sculptures on Granite Island which has been removed.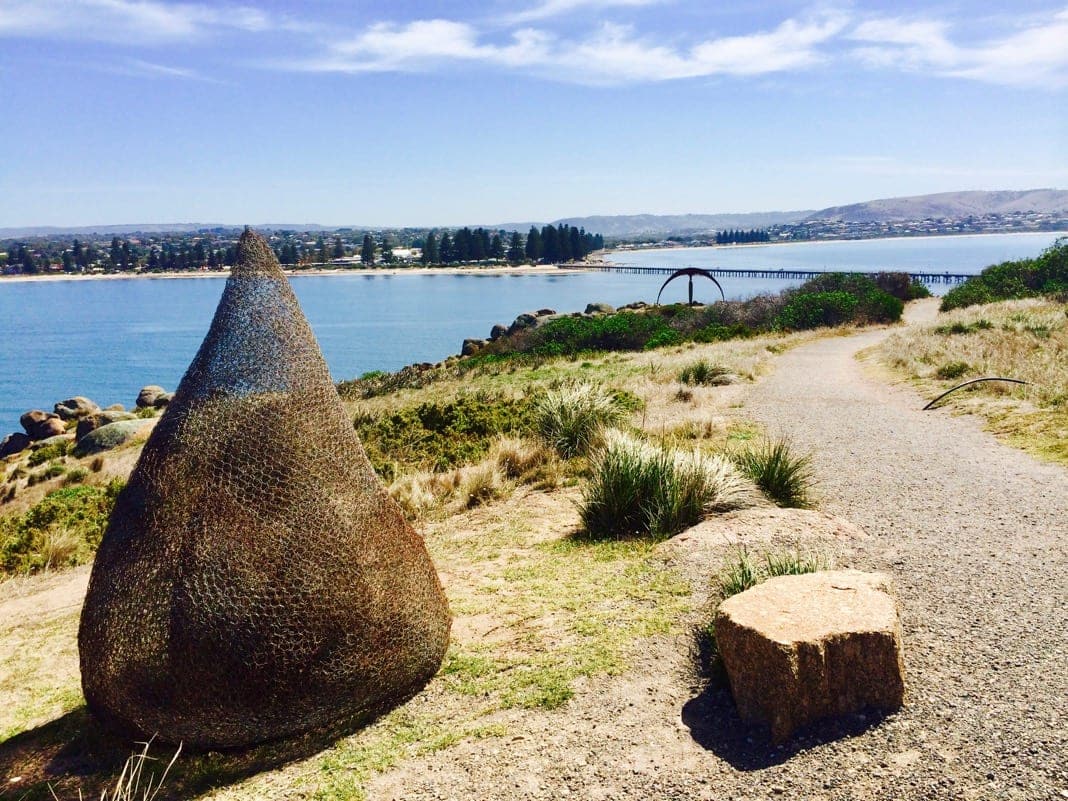 This Horizon Figure by Greg Johns really stood out. This sculpture greeted you when you nearly finished the circuit walk on Granite Island.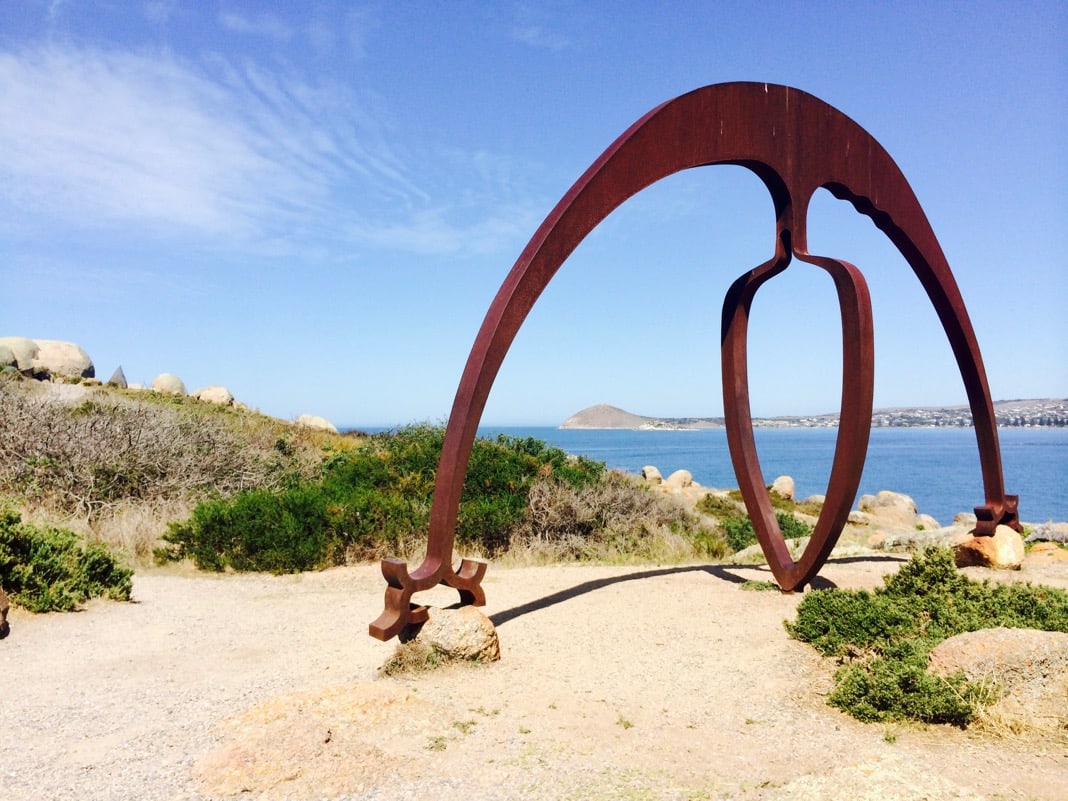 As you walked around Granite Island, one of the weirdest artistic displays had to be the painted rocks with orange facial features.
This artwork under an old tree went by the name Walking Looking Talking.
Granite Island attractions will surely have nose-dived with the removal of some of these weird and wacky art pieces.
Who knows what the future will hold for this tiny island in South Australia.
Is it going to get better or worse? Only time will tell.
Granite Island is one of the best attractions in the Fleurieu Peninsula. If you want to discover more things to do in and around Granite Island, you can find them in this post.
This will help you to plan a wonderful day trip from Adelaide. Then again, maybe the only thing you want to do is go for a walk around Granite Island.
Pin it … Share it