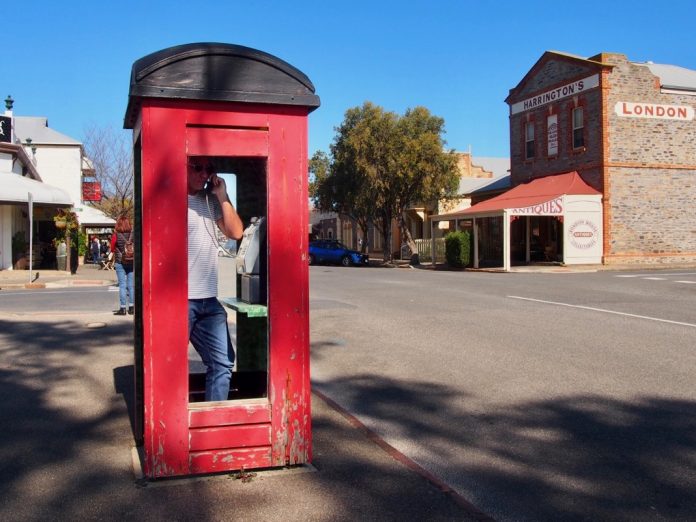 I discovered the best things to do in Strathalbyn only by accident.
You see, the town of Strathalbyn is best known for having antique shops.
So one day, I decided to visit Strathalbyn to see if I could find myself a legendary Polaroid SX-70 camera.
One of the antique stores in Strathalbyn would hopefully have one, so I thought.
You may have already read about my first time Polaroid SX-70 camera experience.
The thing is, I had to find the vintage camera first, and Strathalbyn seemed like a genuine place to go in my quest to find it.
What I discovered was way more than I expected.
Things to do in Strathalbyn
I really didn't think there'd be many things to do in Strathalbyn apart from browsing through some antique stores. However, I was pleasantly surprised.
Shopping for antiques in Strathalbyn can definitely keep you busy. It can easily fill an entire morning or afternoon, for sure, though it shouldn't be the only thing on your agenda during a day trip to Strathalbyn.
This list of best things to do in Strathalbyn will hopefully prove that.
In actual fact, you'll soon realize that you don't even need to have any interest in antiques at all for you to enjoy a visit to this charming town.
1. Antique Stores on High Street
Browsing through a couple of antique stores in Strathalbyn is still something I highly recommend doing for at least a little bit of time.
Even though I was looking around for an old camera, I also kept an eye out for other things, especially Greek-related antiques.
Here I am inside the antique store known as All In Good Time Antiques.
This is where I spotted a gold medallion-looking piece that made me very curious.
It attracted me mainly because of the goddess-like figure in the middle holding a three-pronged trident, the same as that belonging to Poseidon.
The lady store owner told me that it came off a safe and that the figure on it was Britannia. She held it up for me.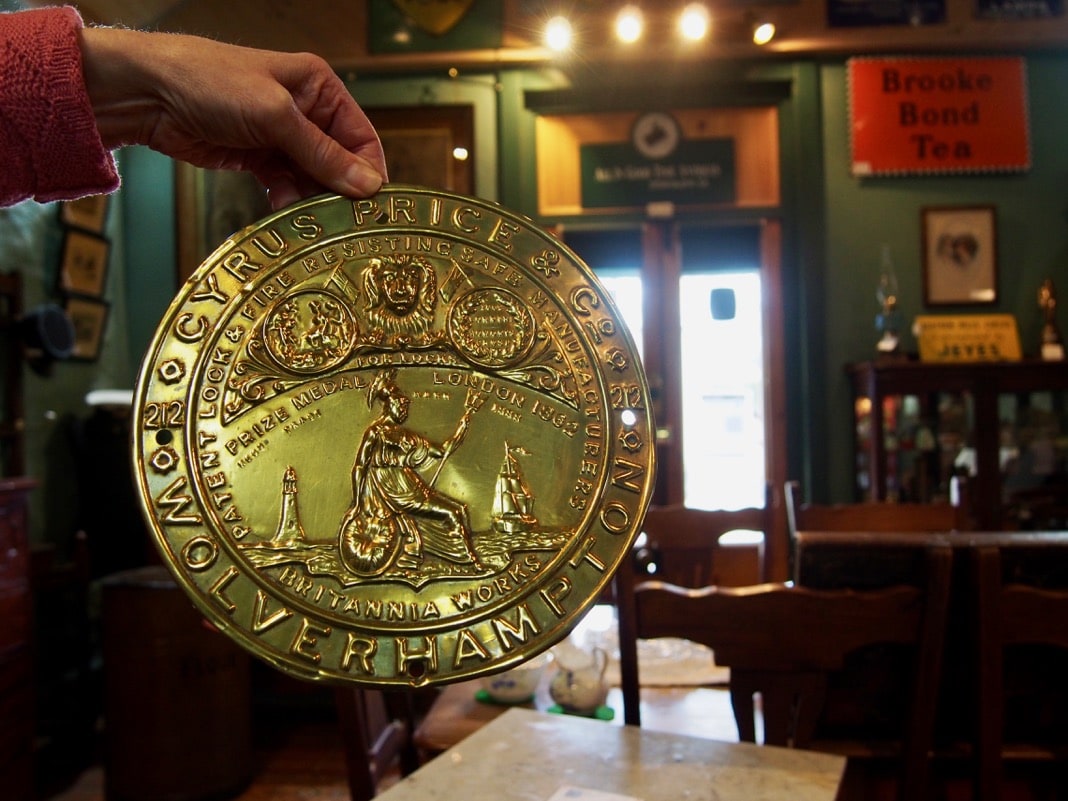 In another shop known as Antique Bazaar of Strathalbyn, I spotted this interesting tea container.
Interestingly, it almost looks as if the lady at All in Good Time Antiques is placing the gold medallion inside a Greek tea container.
Most of the antique stores in Strathalbyn are located on High Street. This is where you will want to spend most of your time when shopping for antiques in Strathalbyn.
Antique stores include Antique Bazaar of Strathalbyn, Bowerbird Antiques and Collectables, London House Antiques (Harrington's), and All In Good Time Antiques.
Antique Cameras in Strathalbyn
One antique store located just off High Street was named Cottage Collectables.
I started talking to the old gentleman owner about my search for a Polaroid SX-70 camera.
He didn't have one in the store, but he did have an old Kodak instant camera, and he told me the interesting story behind it.
How all Kodak instant cameras had to be recalled after Polaroid sued Kodak for patent infringement.
He even owned one himself at that time. His thoughts were that the Kodak instant cameras had to be just as desirable or even better for collectors than Polaroid instant cameras.
In the end, I never did find a Polaroid SX-70 camera at one of the antique shops in Strathalbyn, though I did eventually find one in another town close by.
2. The Children's Bridge over Angus River
The thing is you don't want to be spending all your time indoors when in Strathalbyn, because it is such a beautiful town to explore, especially by the Angus River.
The Children's bridge, as it is known, will eventually lead you over the Angus river. This is definitely the most beautiful area in Strathalbyn.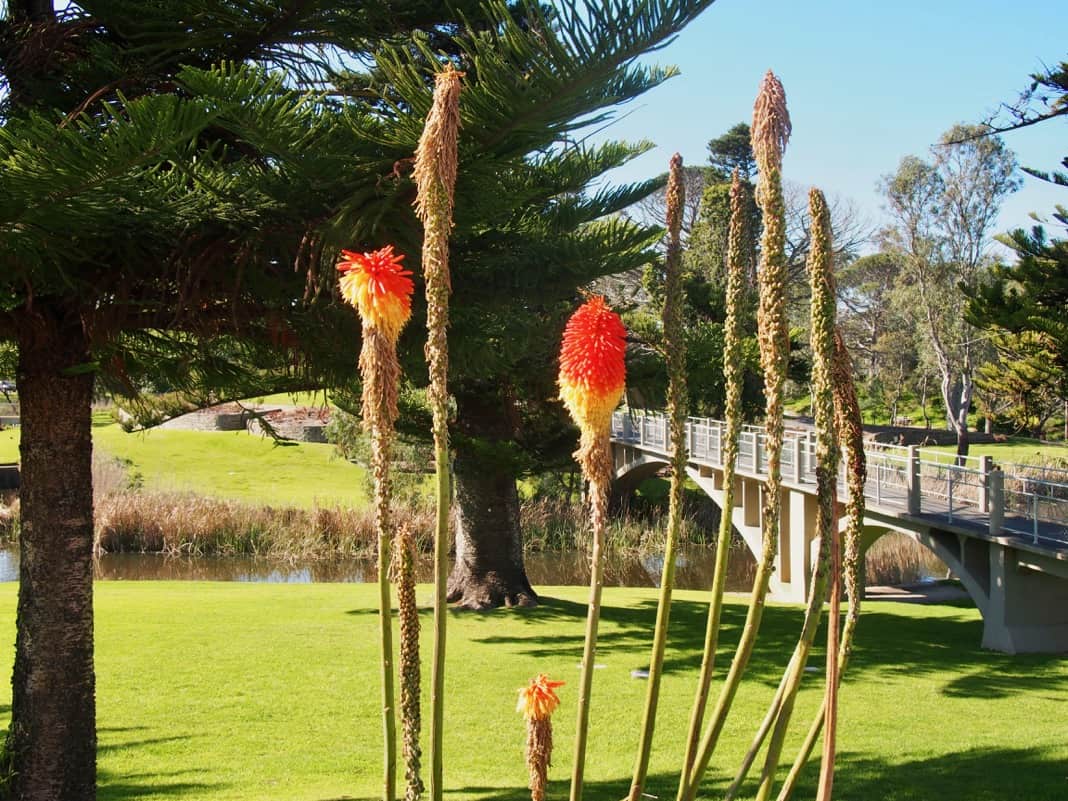 The green lawn is so inviting. It's the perfect spot to have a picnic lunch. There are a few tables and benches on the grass as well.
The only problem is that they could be hard to get, especially on a nice sunny day on the weekend.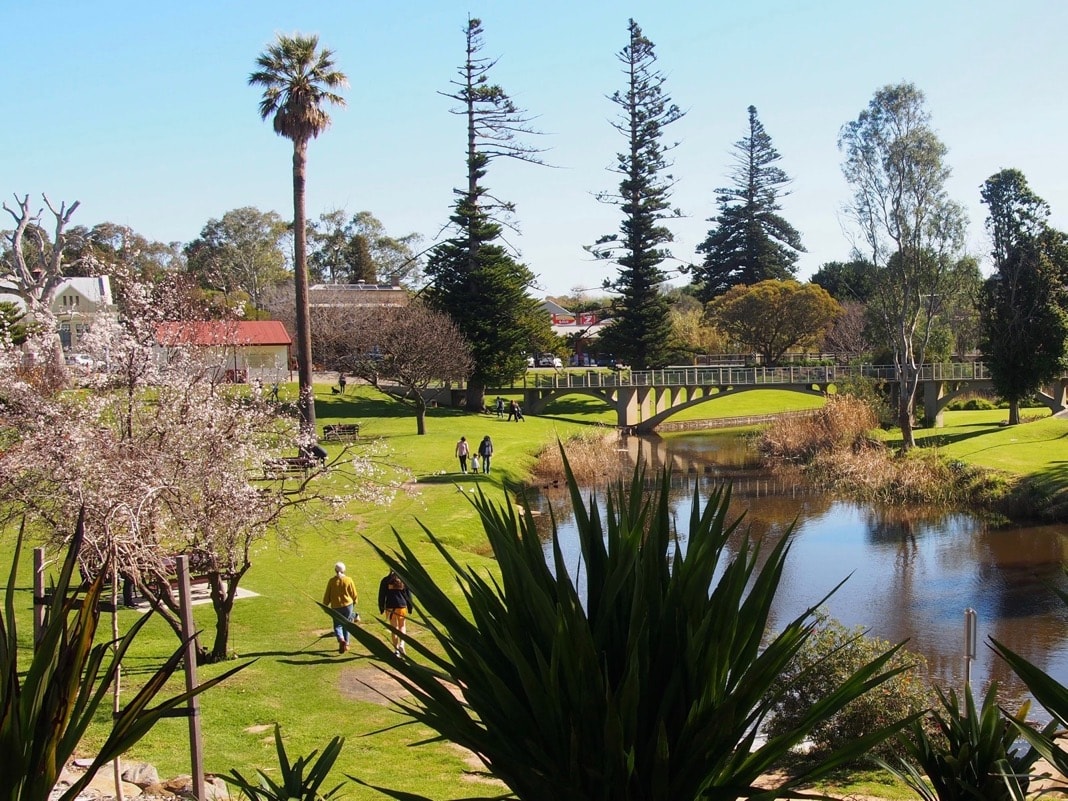 The gardens next to the Angus River include the Soldier's Memorial Garden. You can even see a memorial with the words "REMEMBER THE ANZACS" made from trimmed hedges.
Tip: If you want to see the words "REMEMBER THE ANZACS" from the best spot, make sure you look at the wording while standing on the nearby road bridge.
3. Gilbert's Motor Museum
Visiting Gilbert's motor museum is easily one of the best things to do in Strathalbyn.
After I entered the museum, I could see a guy walking around. It seemed like he worked at the car museum, so I asked him to show me around.
He obliged, and I'm so glad I went around with someone knowledgeable about all of the cars on show.
The classic car collection in Gilbert's Motor Museum is outstanding. I also appreciated coming across a few brands using Greek mythology symbols and names.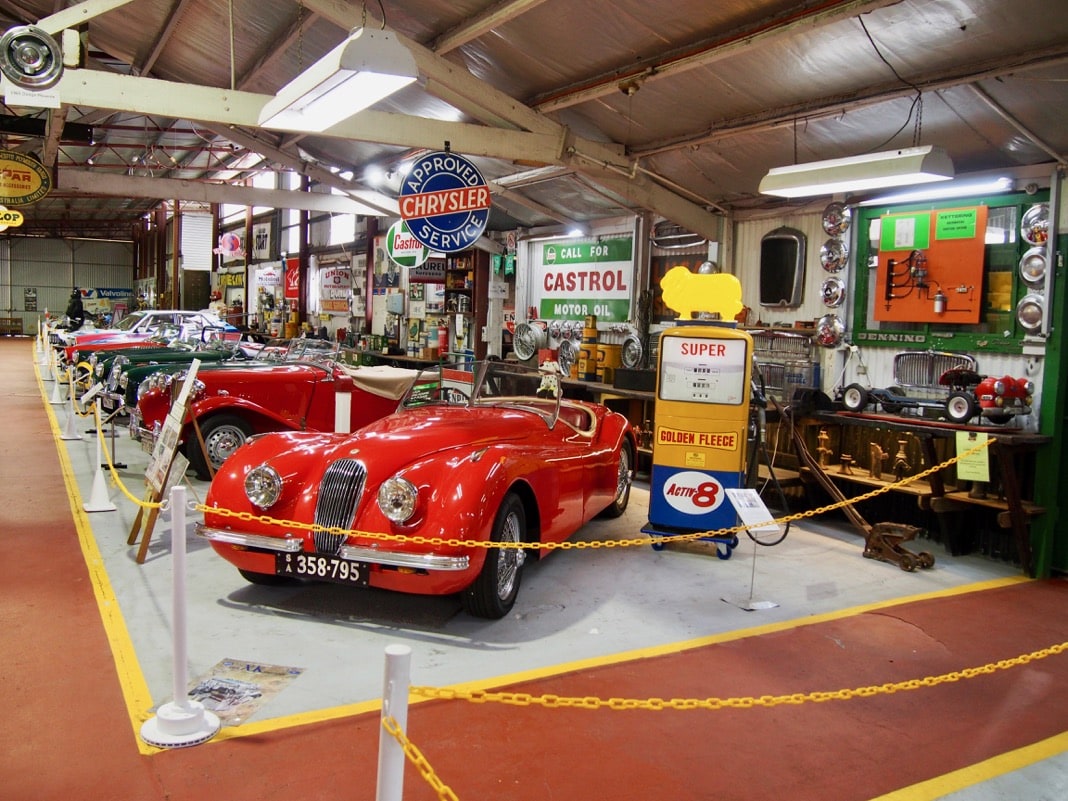 I saw a 1966 Sunbeam Tiger vehicle like the one driven by Maxwell Smart "Agent 86" in the TV comedy sitcom "Get Smart." Not the one you can clearly see in the above photo, but a car further down in the same aisle.
There were vintage classic cars on show that looked like they belonged in a film like "Mary Poppins," or better yet, the classic 1965 car race film "The Great Race."
The car museum even had a 1930 Cadillac 353 7 Passenger Touring Sedan on display that actually made an appearance in "The Great Gatsby," starring Leonardo DiCaprio.
The car museum also had a red Indian motorbike similar to the one seen in the film "The World's Fastest Indian."
Plus a Lotus racing car to admire and so much more.
You have to visit Gilbert's Motor Museum if you are in Strathalbyn. And make sure you go on a guided tour!
One more tip, if you're really interested in classic cars, and you haven't done so already, make sure you've read the best cars for Greek Gods.
4. Heritage Walk around Town
I ended up taking the photo below during another visit to Strathalbyn when the Antique Fair was on.
The Strathalbyn Antique Fair is normally held every year at around the same time, generally in August and on the weekend.
You will probably see some classic cars on the road, but I never thought I'd see two soldier-type guys riding horses around town.
The guy on the horse looking in my direction said "G'day" or "How's it going" to me, one or the other.
The heritage-listed Angas Mill (1849) building can be seen in the background. This was the first flour mill in Strathalbyn.
Going for a relaxing walk around town is easy, and it will only take half an hour or so.
5. Victoria Hotel
If you want to have some lunch in town, consider eating at the Victoria Hotel.
This establishment is in a prime location, and it looks as if it is the best hotel in town.
You will find the hotel just across the road to the Children's Bridge and the Angus River.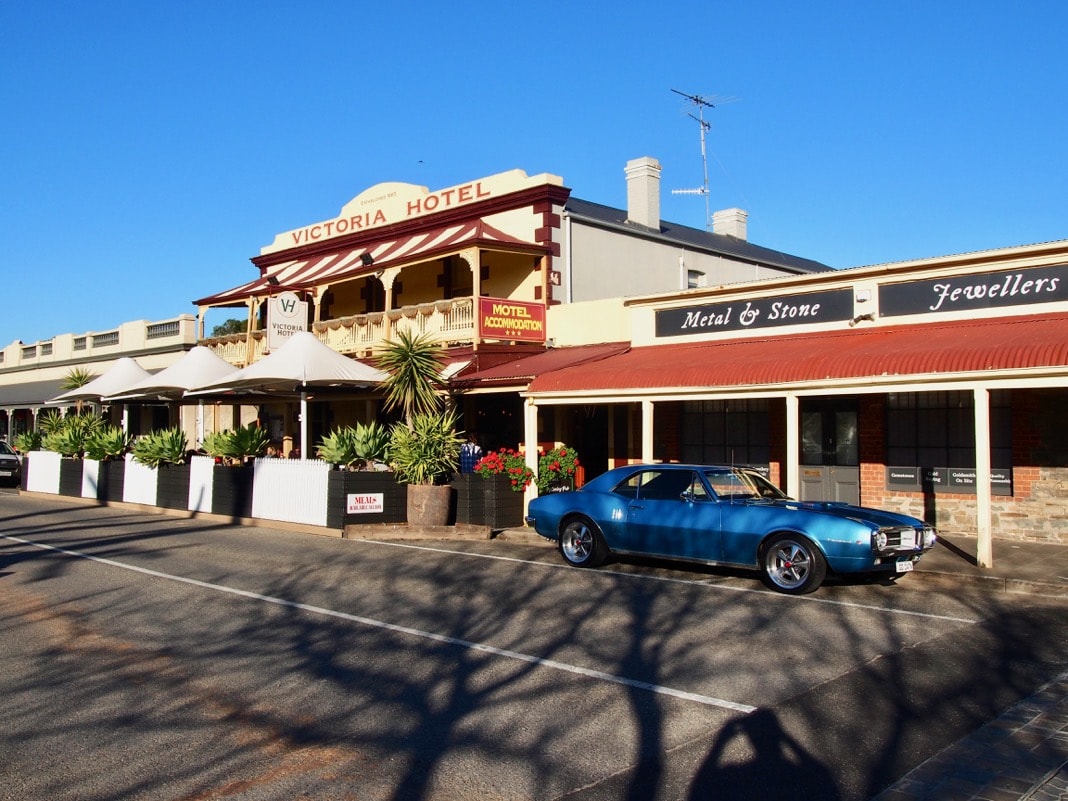 I loved spotting the blue classic car parked next to the Victoria Hotel. It's a Firebird!
You can expect to eat delicious food from burgers to Schnitzel at this classic 1865 bluestone building, the Victoria Hotel in Strathalbyn.
Or if you prefer, maybe you'd like to go there for a drink.
6. Collectable Classics Strathalbyn
Another place to see some classic cars is at Collectable Classics Strathalbyn. The beauty of this place is that you can actually buy the cars on display.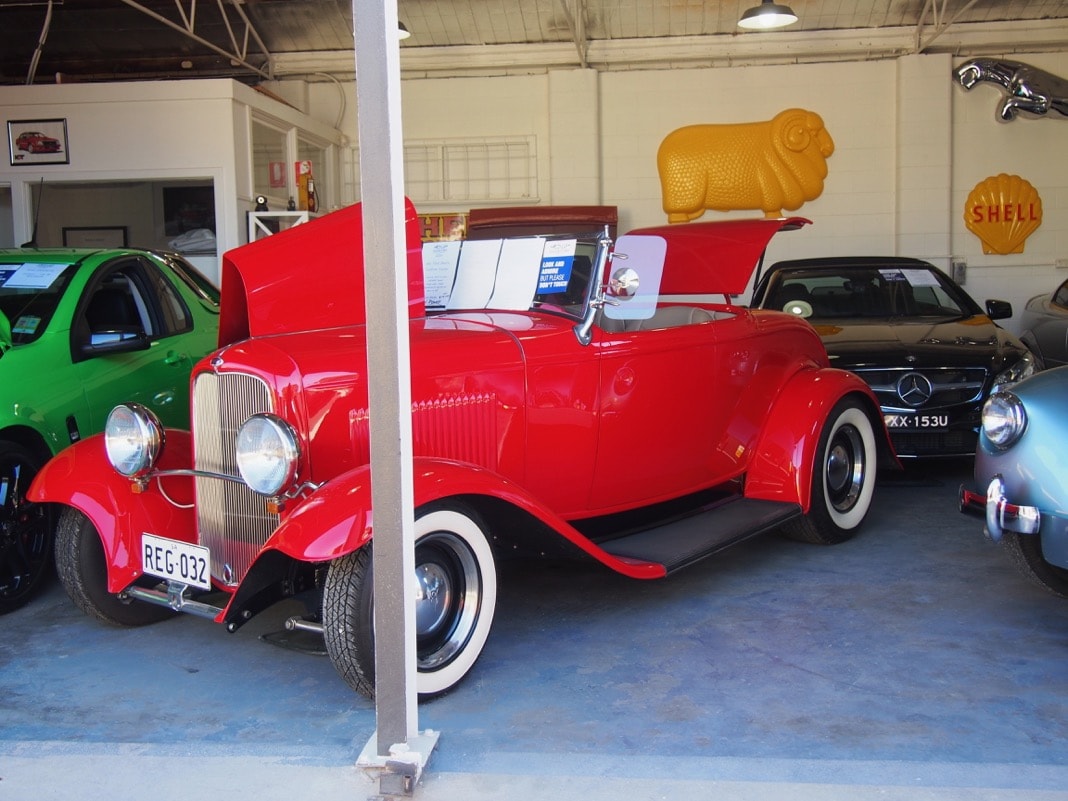 They offer a wide variety of cars to choose from, so if you want to buy a classic car, it's a great place to visit.
It's also another good place to visit in Strathalbyn if you are a car enthusiast.
7. Argus House
This historic building once housed the Southern Argus Newspaper.
Argus is the hundred-eyed giant from Greek mythology, who kept his eye on things, just as newspapers do.
Today, the building is split in two. On one side, you have a shop selling various art, crafts, and clothing. On the other side is a food outlet, where the blue umbrella can be seen.
Argus House has to be one of the most beautiful historic buildings in Strathalbyn.
8. Strathalbyn Book Shop
If you love books, you will be in book heaven in Strathalbyn. The book shop below is known as The Book Keeper. You can find it opposite the Strathalbyn railway station.
The peacock between the two book shop signs immediately stood out to me because it's a sign associated with Hera, the Greek Goddess.
The book shop I highly recommend visiting is Jeff's Books.
It has a great collection of classic books and hard-to-find books. You can find this book shop on the opposite side of the road to Collectable Classics.
Inside Jeff's Books, I overheard a lady talking about one of Robert Louis Stevenson's earliest published works known as Travels with a Donkey in the Cévennes. She seemed so happy to have found the book.
I asked the book store attendant if they had any books on Greek mythology or ancient Greece. She went to the shelf and found a book on ancient Rome that looked good, though the book on ancient Greece she was looking for seemed to have sold.
I'm not sure why I still keep looking for books on Greek mythology and ancient Greece because I own plenty already.
The well-kept classic book I thought about buying was Kon-Tiki by Thor Heyerdahl.
But I own plenty of books already that I still haven't read, so I decided against it.
Even so, I still hope to read this classic book one day. Rafting from South America to the Polynesian islands seems so adventurous, and I loved the movie.
9. Kenny Blake Memorial Statue
The Kenny Blake Memorial Statue is dedicated to the motorbike racing champion Kenny Blake (1945 -1981). The monument to Ken Blake was unveiled in Strathalbyn in 2018.
Ken Blake was born in Strathalbyn in 1945. He ended up becoming one of Australia's most celebrated riders due to winning 11 national championships.
This memorial shows Kenny Blake on his 1976 Suzuki RG500 bike.
Kenny raced in the Isle of Man Tourist Trophy race in 1981. It was supposed to be his final race before retirement, but on the fifth lap, his motorbike aquaplaned.
It caused him to hit a concrete post after sliding off the bike, and tragically it killed him instantly.
Many motorbike riders seem to congregate around the memorial, especially at the Robin Hood Hotel on the other side of the street.
10. Milang (Lake Alexandrina)
Milang is a small town located next to Lake Alexandrina, and it is only a short drive from Strathalbyn.
It will only take about a 15-minute drive from Strathalbyn, so you don't want to miss it.
In Milang, you'll see a bunch of lakeside shacks situated close to the edge of Lake Alexandrina. The other thing you'll see on the lake are several jetties, including Milang Jetty.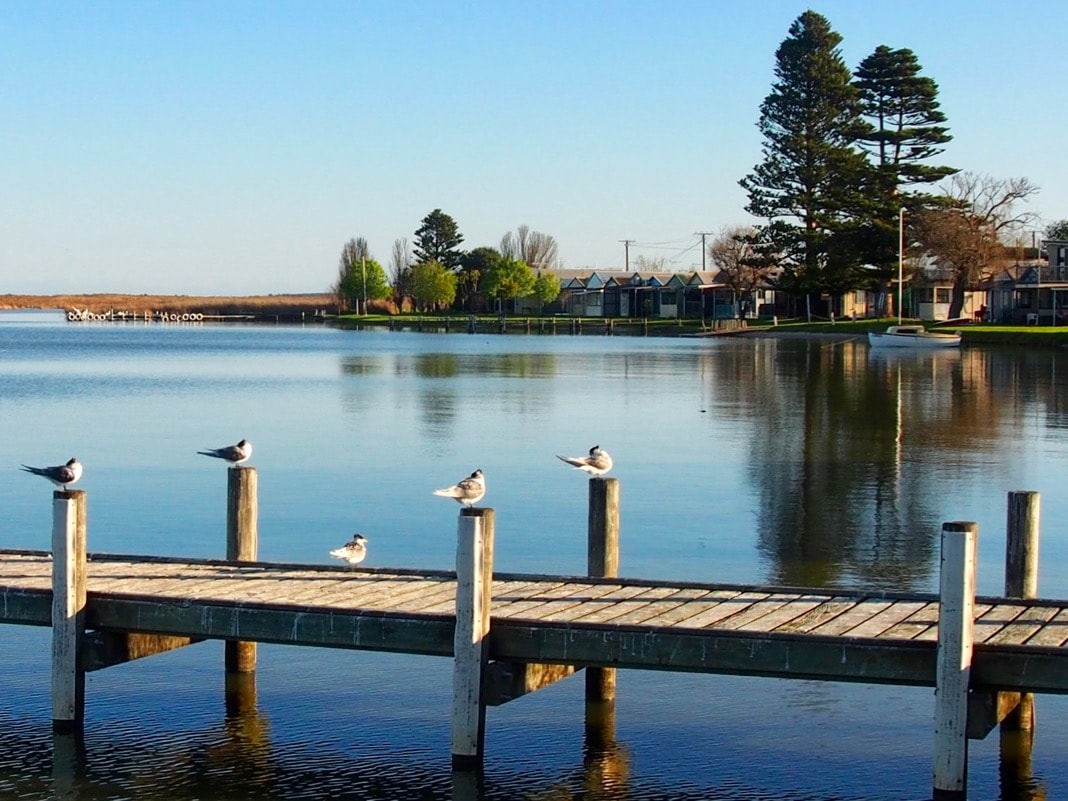 On reflection, a funny exchange of words took place when I walked around to the lake-side shacks. See that small boat in the picture above. When I got closer to that boat, I stopped to take a photo.
A couple of guys were standing between the shacks, and one of them called out to me.
Guy 1 – "It will cost you $5 for a photo."
Me – "Do you own the boat?"
Guys 2 – "Leave him alone, mate. He probably doesn't understand English."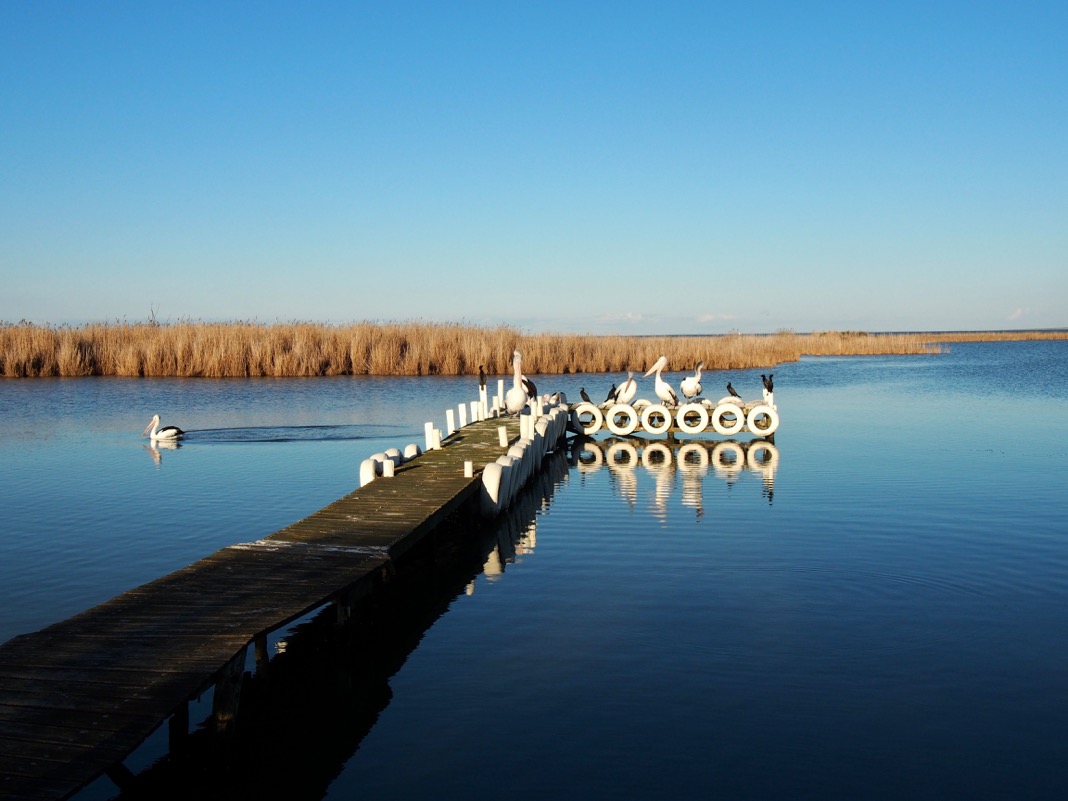 This narrower jetty was situated a bit further away. The beauty about this private jetty had to be the pelican birds who enjoyed it all to themselves. It looked so serene.
Tip: If you are in Strathalbyn, I recommend driving to Milang at least a couple of hours before it gets totally dark. You can then drive back to Adelaide in the last hour before night hits. Your day trip to Strathalbyn will then end perfectly.
There you have it, the ten best things to do in Strathalbyn.
Where to find Strathalbyn
Some of you may have thought that Strathalbyn is a country town in England, due to "London" appearing on one of the heritage buildings. Also, the old red phone booth probably confused some of you as well.
But no, Strathalbyn is in South Australia.
The town is situated 55 km (34 miles) from Adelaide, the capital of South Australia, so visiting Strathalbyn makes for a great day trip.
I wouldn't say it is one of the best things to do in Adelaide, but I'm sure visiting Strathalbyn would be very enjoyable for everyone, especially if you love antiques or classic cars.
The town really is a hidden gem in South Australia.
Pin it … Share it