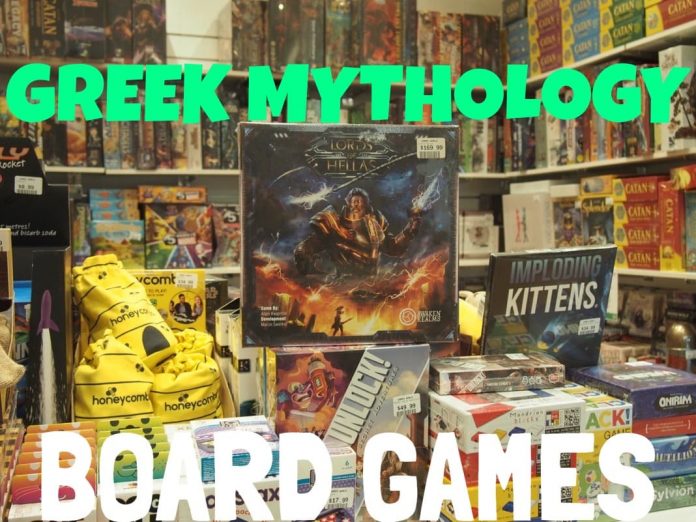 Greek mythology board games are plentiful, so it wasn't easy picking the best board games based on Greek mythology.
Even so, I have attempted to select the 20 best Greek mythology board games based on various reasons – some silly and some based on in-depth research.
It could be as simple as the excellent board game box design, which offers an unbelievable first impression.
I'm a sucker for great artwork, so it makes me want to play the game.
Other reasons include fantastic Greek mythology playing cards, top-rated reviews, game popularity, and curiosity.
Whatever you may think, these Greek mythology board games stand out for a reason.
The 20 Best Greek Mythology Board Games
You will also see several more Greek myth-related board game lists after the 20 best Greek mythology board games.
It will give you a good idea of just how many board games about Greek mythology and Ancient Greece are out there. And there are heaps of them!
You may even prefer to play one of those board games rather than a board game that appears in the list of the 20 best Greek mythology board games.
It all depends on what interests you most, so go for whatever board game you prefer.
1. Cyclades board game
The Cyclades board game is one of the most well-known Greek mythology board games out there. You can also get many expansions for the game.
The Titans expansion is a good choice for your next purchase if you enjoy playing the Cyclades game by itself.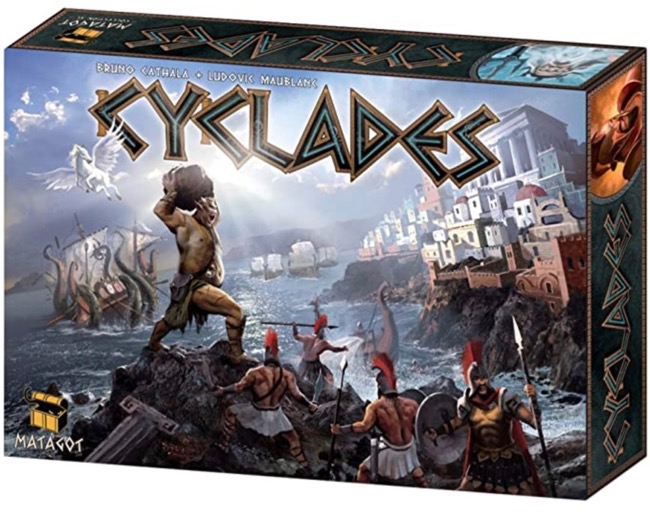 You can also get other expansions, including Hades and Monuments, plus a few more.
2. The Oracle of Delphi
Any board game referring to Apollo is a must.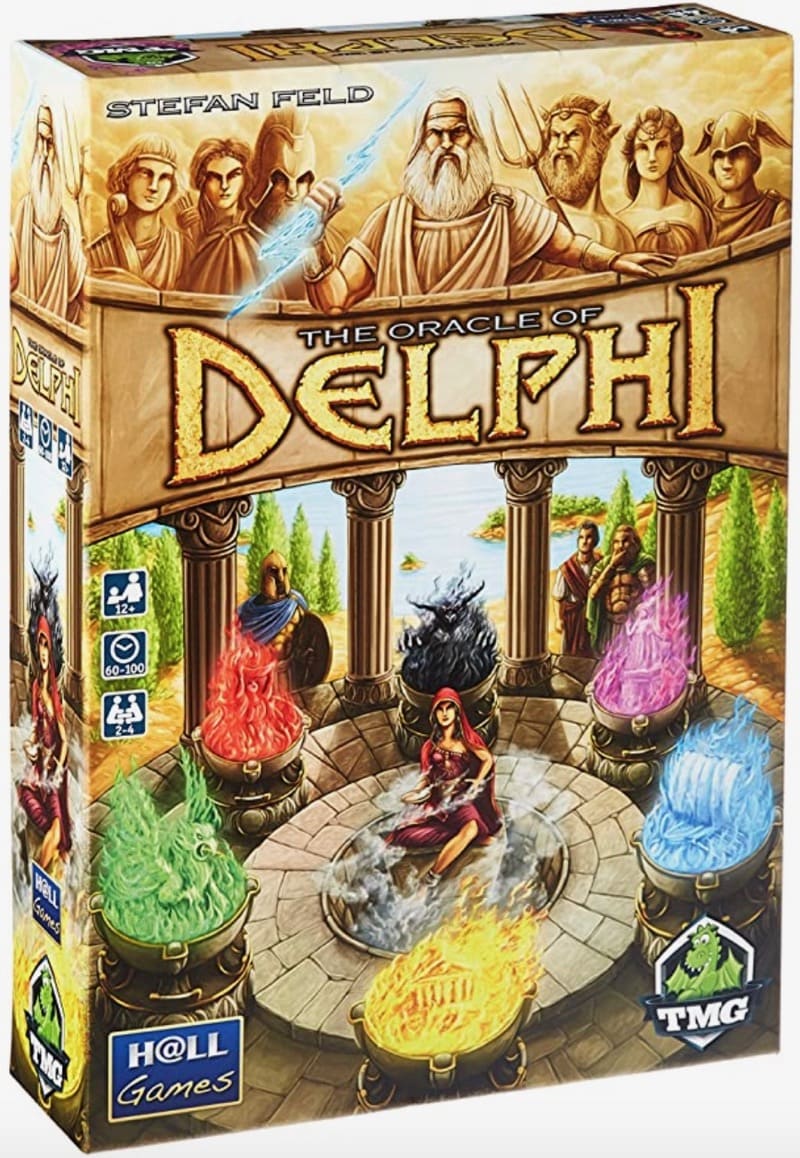 3. Mythalix
4. Argonauts
A board game based around the story of Jason and the Golden Fleece.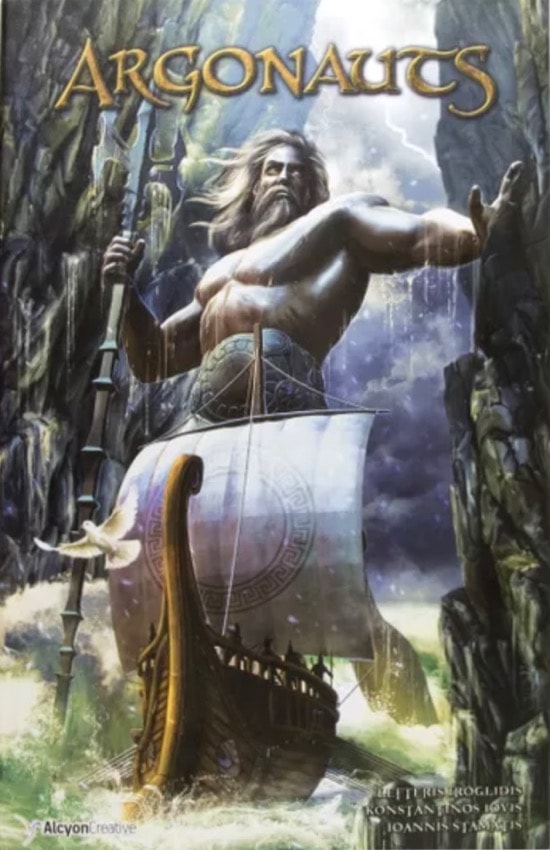 5. 7 Fortunes
6. Elysium board game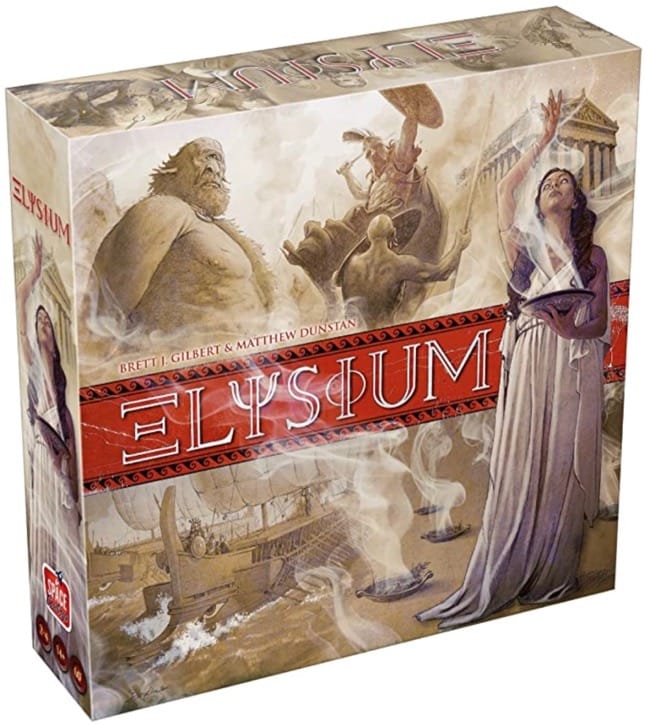 7. Chess with Greek Gods
Playing a chess game with Apollo as the king will always be a good board game.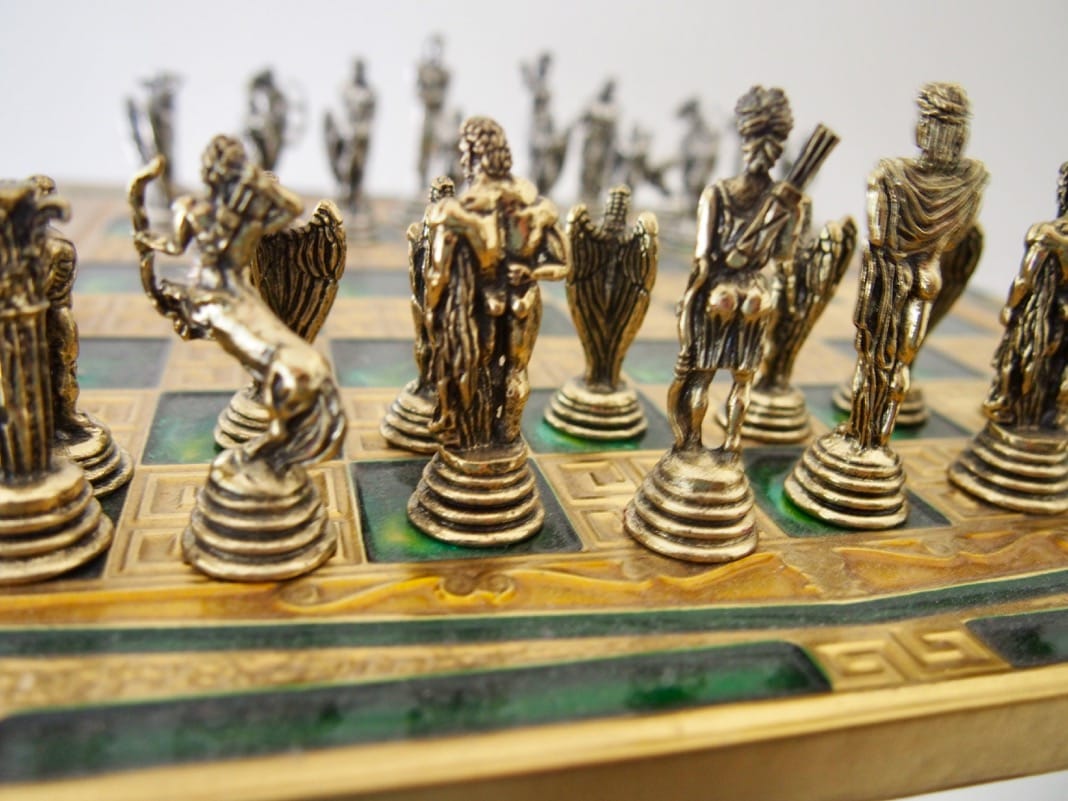 8. Monstrous – The Game by Mythic Mayhem
The Monstrous board game box cover is fantastic!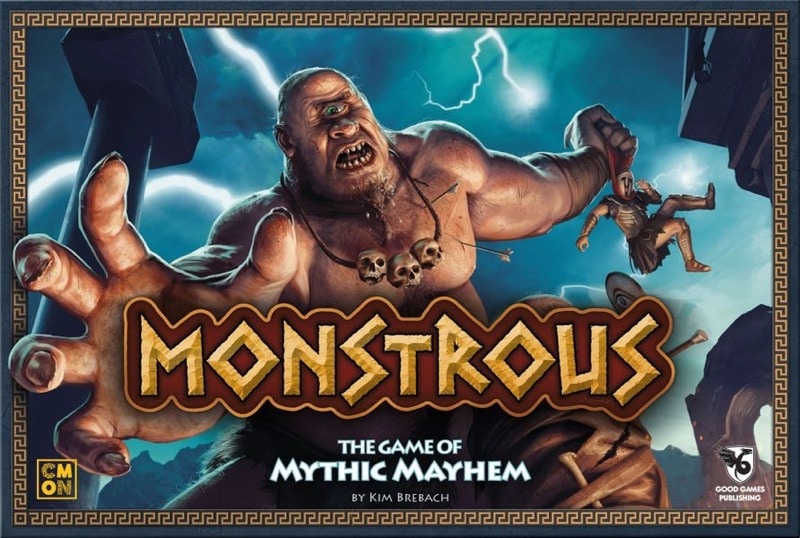 9. Mythic Battles: Pantheon
The Greek Gods battle it out to the death!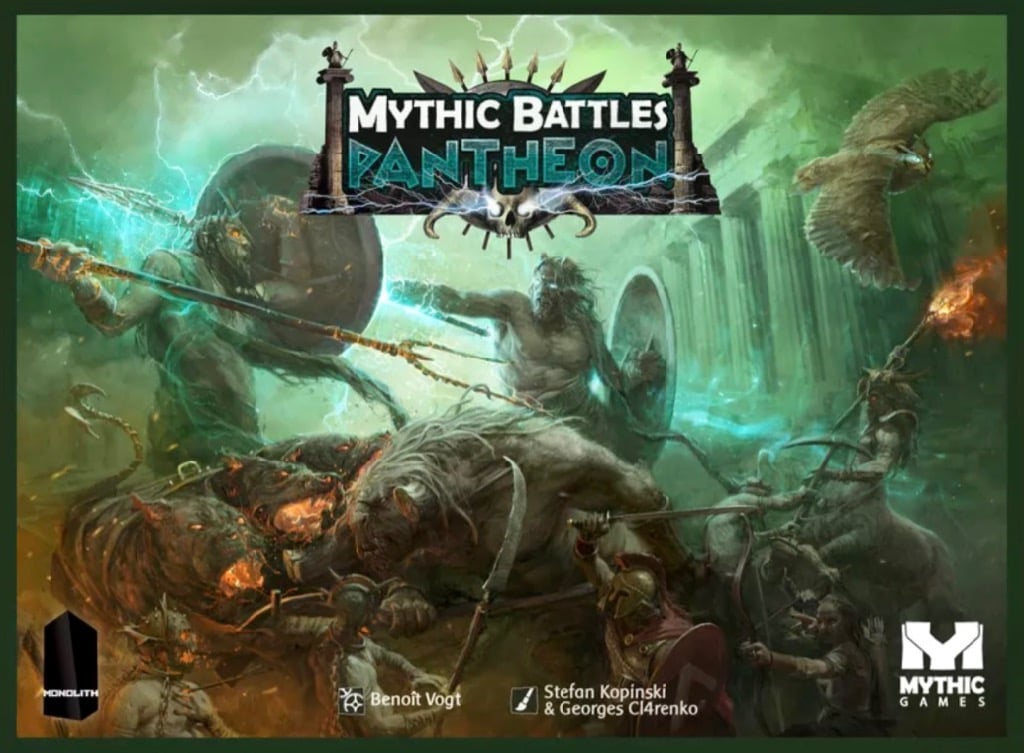 Expansions include Hera, Hephaistos, and Poseidon.
10. Santorini board game
Lots of board game enthusiasts seem to love Santorini.
11. Above
12. Olympos
13. 7 Wonders Duel with 7 Wonders Duel: Pantheon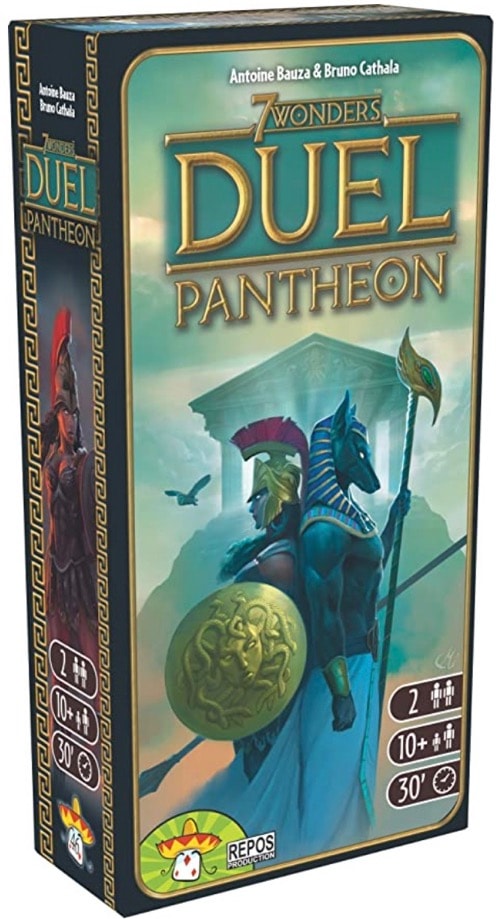 Note: 7 Wonders Duel is also needed to play 7 Wonders Duel Pantheon.
14. High Heavens
Greek Gods versus Norse Gods.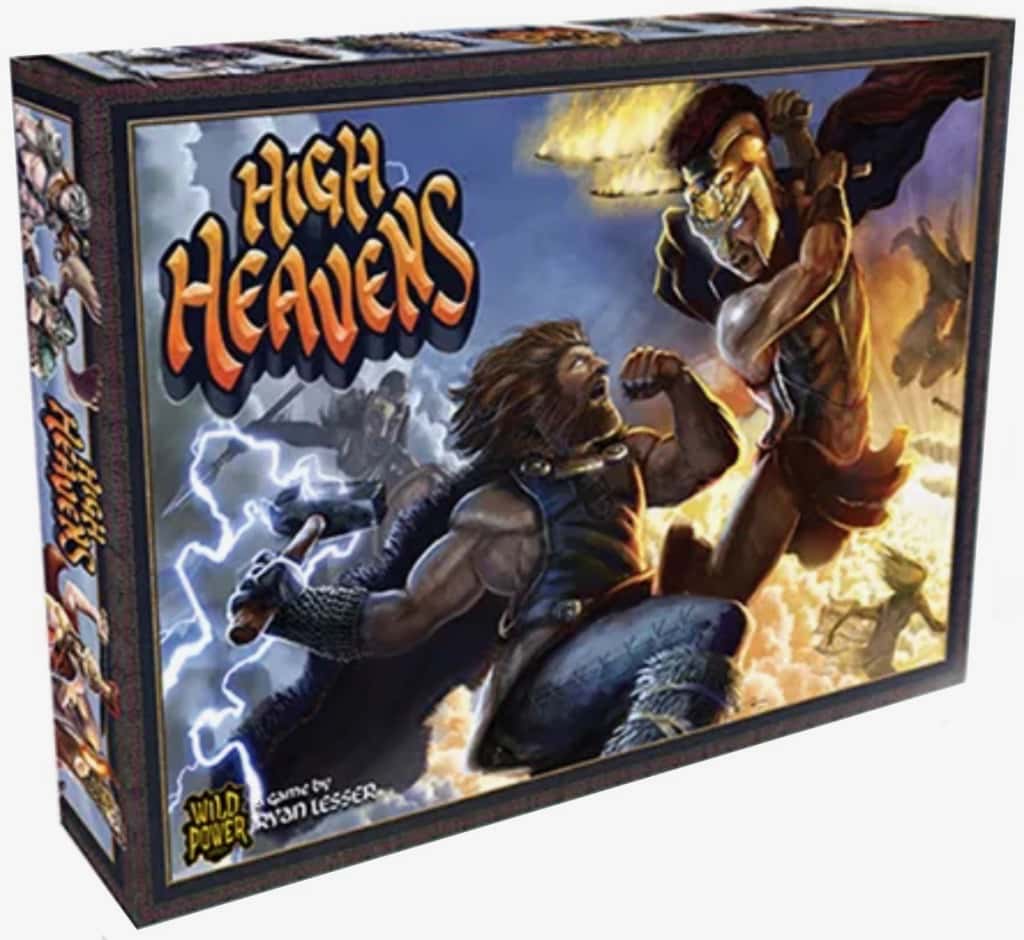 15. Mythopoly
Instead of playing Monopoly, play Mythopoly.
I'm sure you will find it just as fun.
16. Labyrinth (Ravensburger)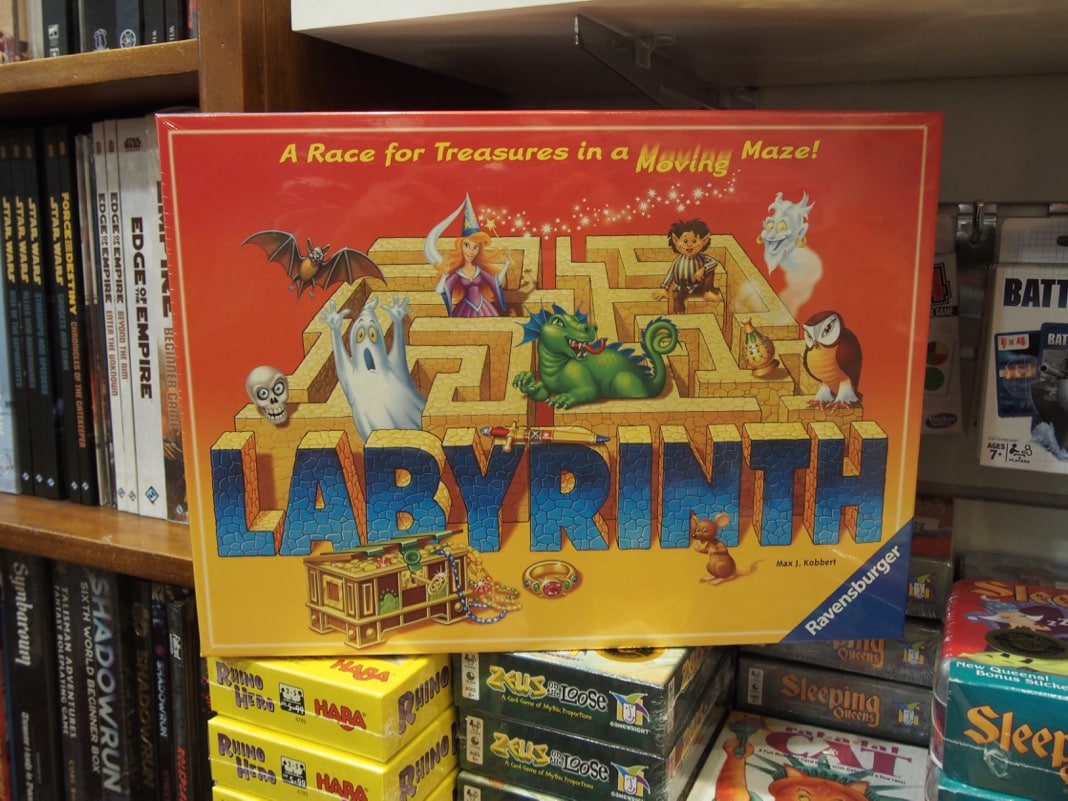 17. Labyrinthos (English Edition)
18. The Heavens of Olympus
I think this box cover beats them all.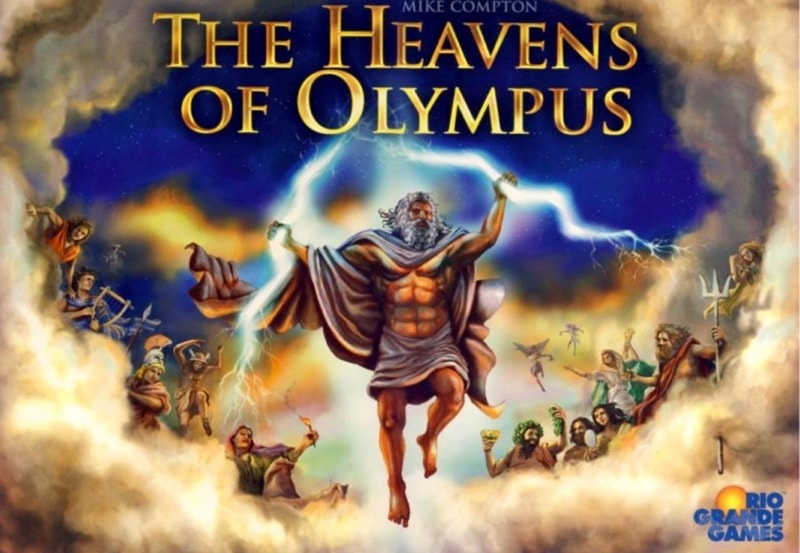 19. Prometheus
Prometheus is a board game that has a chess-like feel to it. So if you enjoy playing chess, you'll likely enjoy playing Prometheus.
20. Lords of Hellas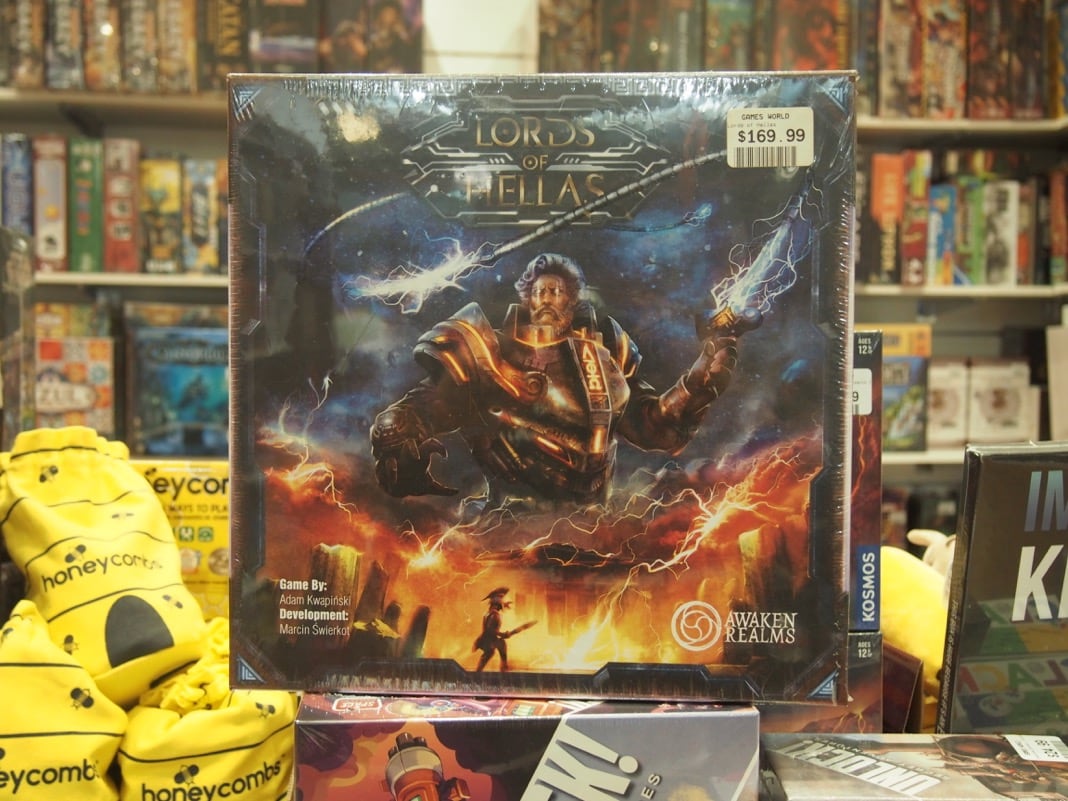 List of Board Games
The following board games in each list are all in alphabetical order. There are seven additional lists: Ancient Greek Board Games, Strategy War Board Games, extra Greek mythology board games, Greek myth board games with minor influences, hero board games involving Hercules, Atlantis board games, and Greek board games for kids.
Ancient Greek Board Games
7 Wonders
Acropolis of Athens: Following the Steps of Pausanias
Agora
Akrotiri
Athens
Attika – Construct a classical Greek city.
Corinth
Hellenica: Story of Greece
Hexemonia
Kreta
Parthenon Rise of the Aegean
Peloponnes
Philosophia: Dare to be wise
Strategy War Board Games
1821 the battle! – Greek War of Independence board game.
300: Earth & Water – distributed by Ares Games.
300: The Board Game
Alexander the Great
Alexandros – As a general of Alexander the Great, conquer Asia.
Athens & Sparta
Capture Greece
Commands & Colors: Ancients – Expansion Pack No. 1: Greece & Eastern Kingdoms
Egemonia – Simulates the Peloponnesian War between Sparta and Athens in ancient Greece.
Freedom!
Hellas – by Kosmos
Hellenes: Campaigns of the Peloponnesian War
Khora: Rise of an empire
Perikles – A game from Martin Wallace.
Pericles: The Peloponnesian Wars
Polis – Between Athens and Sparta
Polis: Fight for the Hegemony
The Peloponnesian War, 431-404 BC
Sparta
Troia – A board game inspired by the Trojan War.
Greek Mythology Board Games (50+ extra games)
Aeon Trespass: Odyssey
Agamemnon
Age of Mythology
By Jove
Capture Greece
Cerberus – Also has an expansion called Cerberus: Treasures of the Underworld.
Clash of the Titans Game
Concordia
Concordia Venus – Standalone Version.
Constellations – Did you know that 48 traditional constellations are all Greek?
Chronos Conquest 
Deukalion – Also has an expansion: Theseus – Conqueror of the Minotaur.
Deus Ex Machina
Divinus – Greek and Norse gods clash.
Fight for Olympus
Fleecing Olympus
Go For Broke Greek Mythology – Vintage 80s board game.
Gorgon Quest
Greece Lightning
Hector and Achilles – 2 player game.
Helden in der Unterwelt (Heroes of the Underworld)
Helios
Iliad: The Siege of Troy
ILIOS
Kronia
Mare Nostrum – with Mare Nostrum: Greek Mythology Expansion
Mortal Gods: Skirmish Games in Ancient Greece
Mortals: Descent of the Gods
Muse
Mythology: A Game of Adventure in the Age of Heros
Mythology: The Game
Neptun – by Queen Games
Odysseus
Odysseus – Jumbo Dutch Edition
Odyssey
Odyssey: The Gods Clash
Odyssey: Wrath of Poseidon
Oh My Gods!
Olympus – Board Game by Fantasy Flight Games.
Omen: Tales of the Ancients
Poseidon
Poseidon's Kingdom
Rise of the Amazons – Kickstarter
Risk: Godstorm – Win as a Greek, Babylonian, Egyptian, Norse, or Celtic.
RPGQuest: Greek Mythology
Tales Of Ulysse – A French board game (with English instructions) based on The Odyssey.
Titan – First published in 1980 by Gorgonstar.
Troia
Ulysses
Voyage Home: An Odyssey
War – Batalhas Mitológicas
Wonderwoman: Challenge of the Amazons
Board Games – Greek mythology (minor influence)
Aeon Trespass: Odyssey
Age of Gods
Ancient World – Second edition.
Apollo – Inspired by the NASA moon missions.
Arena: for The Gods!
Dungeons & Dragons: Mythic Odysseys of Theros Pre-Painted Plastic Figures Booster
Ethnos
Minerva
Sleeping Gods
Smash Up: It's Your Fault!
Terraforming Mars: Hellas & Elysium – The expansion to Terraforming Mars
Unmatched: Battle of Legends, Volume One – Play as Medusa
Escape from Atlantis & other Atlantis Board Games
Atlantis – A wide variety of different board games available over the years.
Atlantis Escape
Atlantis Rising
Atlantis Rising (Second Edition)
Atlas and Zeus
Escape from Atlantis
LOAD: League of Ancient Defenders
Survive: Escape from Atlantis
The Age of Atlantis
Heroes Board Games (Hercules)
Disney Hercules: Save Mt. Olympus
Hercules: The Legendary Journeys
The Labours of Hercules
The Mighty Hercules Game
Greek Games for Kids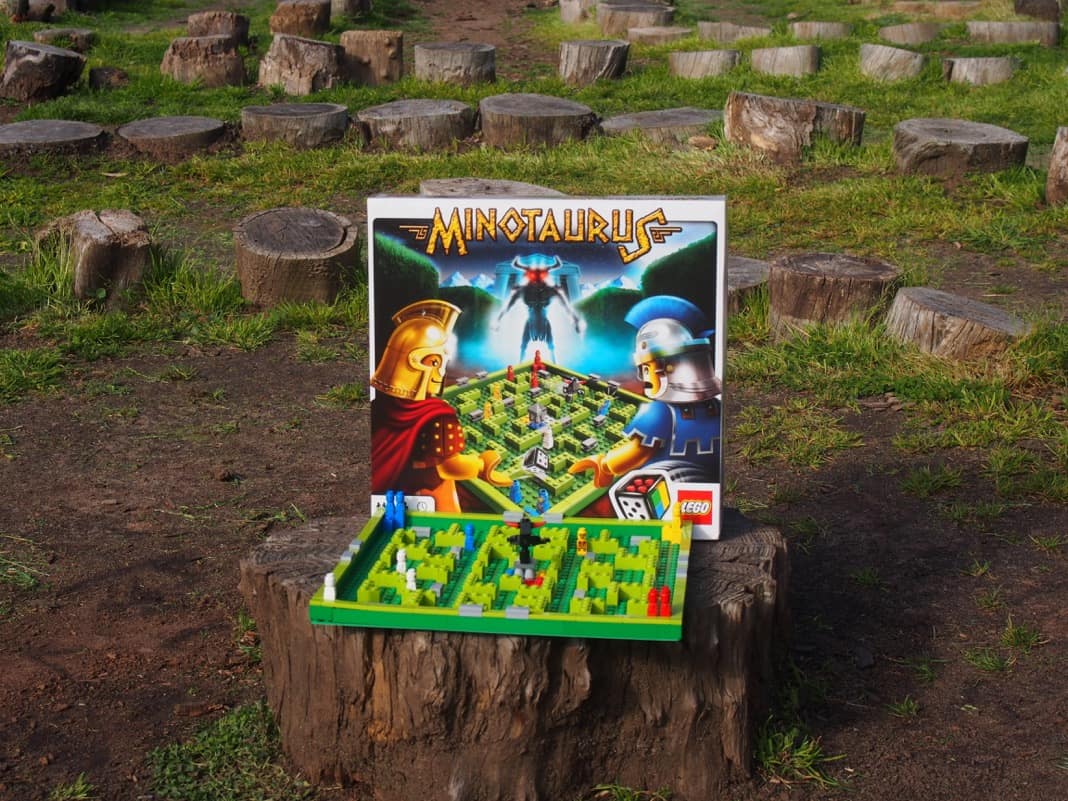 LEGO Minotaurus Game
Monopoly Spongebob Greek Edition
Nous – Memory Game.
Odyssey – A snakes and ladders game.
The Book Of Greek Myths Pop-Up Board Games
The Game of Greek Mythology – DocMonty Games
The Mythical Odyssey – Puzzle 160 pieces
More Greek Mythology Games to Play
Board games can be great fun to play, but remember there are also Greek mythology video games and Greek mythology card games. So don't forget to play some of them.
Playing a Greek mythology board game would be a fun experience to have. So make sure you pick your favorite board game on one of these lists and play it!
Pin it … Share it