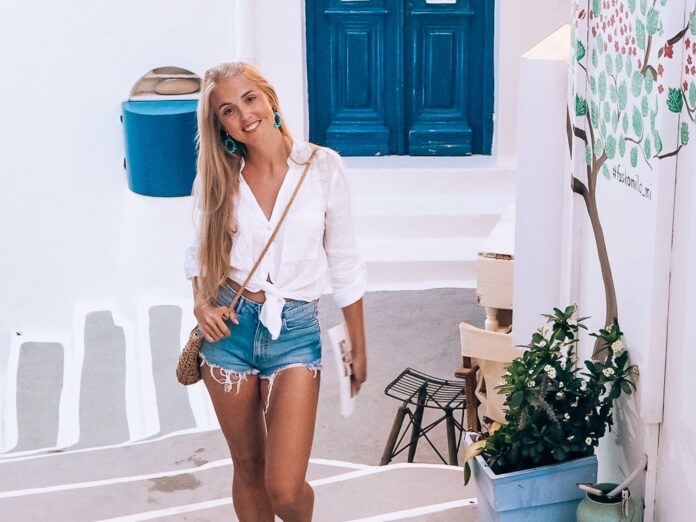 An interview with The Smooth Escape came about after I stumbled upon a web page about the Greek island of Milos.
Initially, the awesome pictures taken in Milos on The Smooth Escape drew my attention.
Then my admiration grew as I began reading more and more posts about Greece.
So I took a chance and contacted the creator of The Smooth Escape to see if I could do an interview.
Thankfully, Marjut, the blogger behind The Smooth Escape, happily agreed. And the rest, as they say, is history.
In this interview, Marjut generously shares her knowledge and opinions about Greece.
We are also given top tips based on her fantastic experiences on the mainland and the Greek islands.
As a result, many travelers who read this inspiring interview with The Smooth Escape will almost certainly want to add a few more sensational destinations in Greece to their already overflowing travel bucket list.
I know I have, so I wonder if The Smooth Escape can inspire you to visit an epic location in Greece.
Interview with Marjut from The Smooth Escape
Hi Marjut, can you first tell us about yourself and your love for travel.
From your website, I know that you have been lucky enough to have enjoyed the wonders of travel from a young age. What are some of your earliest and best travel memories?
Why do you think people would enjoy following The Smooth Escape?
The Smooth Escape Interview Reply:
I was born and raised in a small town in Estonia but after high school I wanted to experience what it's like to live in a different country so I moved to Denmark where I am now based.
I've been a true fan of traveling for as long as I can remember. Some of my earliest travel memories are from trips to southern Europe with my family when I was a kid. Every summer we took a road trip from Estonia all the way to the Mediterranean and explored France, Italy, Croatia, Slovenia and other countries along the way.
I still remember wandering around the bustling Dubrovnik Old Town, swimming in the crystal clear Adriatic Sea, visiting the Vatican Square and seeing the impressive mega-yachts in Monaco. These trips definitely sparked my curiosity to see more of the world.
I think people enjoy following my blog because they find my posts both inspirational and useful for planning their own trips. Through my blog, I'm sharing my passion for exploring our beautiful planet in the hope of inspiring others to travel and experience the wonders of our world as well.
The Smooth Escape Travel Blog Name
Marjut, let me give you a big high five because The Smooth Escape is an excellent name for a travel blog.
Can you explain how and why you chose The Smooth Escape to be the name of your travel blog?
The Smooth Escape Interview Reply:
To be honest, it was quite random! I came up with it when I was in the process of setting up my blog, which was a few years before I quit my corporate job and became a full-time travel blogger.
I simply started brainstorming ideas for the name – I wanted it to convey the feelings of freedom and excitement that come from traveling to new places and escaping the everyday routine. And I also needed to find a name that wasn't already taken, which can nowadays be pretty tricky!
Quitting your job to travel the world
Marjut, you set off on your adventure to see the world with your boyfriend, Fernando.
Did you have any difficulty trying to convince him to travel around the world with you? Also, you decided to quit your job to travel the world. I'm wondering whether Fernando had to do something similar?
The Smooth Escape Interview Reply:
Going traveling for a year was something that my boyfriend and I had been dreaming about for a long time before we actually made it happen. I really didn't need to do much convincing to get him to join me since it was a mutual wish. He loves traveling just as much as I do.
Before we set off on our adventure, he was working a corporate job but he decided to take a year-long career break to explore the world with me. It was the best decision ever!
Milos, the Greek Island Paradise
Two travel posts about Milos shown on The Smooth Escape are stunning.
Both of them make me want to visit the spectacular Greek island of Milos like nothing else I have ever read before.
The two posts I am talking about are the Best things to do in Milos and also the Best Beaches in Milos, a paradise island in the Cyclades.
It would be fantastic to learn more from The Smooth Escape about the very best things to do in Milos (Greece).
For something different, can you imagine writing an email to your good friend Sophie, who has asked you for some advice about the best things to do in Milos?
She would like to know your recommendations for an incredible 3-day itinerary to Milos, as well as suggestions for a fantastic 5-day itinerary to Milos.
The Smooth Escape Interview Reply:
Hi Sophie,
To make the most out of your 3-day trip to Milos, here's what I recommend that you do:
On your first day, after getting settled in your hotel, head out to explore some charming little towns and villages of Milos. Visit the picturesque fishing village Klima to see the traditional fishermen's houses. Stroll along the whitewashed streets of the lively port town Adamas and round off your day by watching the sunset from the hilltop town Plaka.
On your second day, rent an ATV or a scooter and go beach-hopping around Milos. There are many gorgeous beaches to choose from and they are all special in their own way – imagine colorful cliffs, rock formations and irresistible turquoise sea. In my opinion, the most beautiful beaches in Milos are Firiplaka, Sarakiniko and Firopotamos but the tiny Tsigrado beach and Papafragas beach are definitely also worth a visit!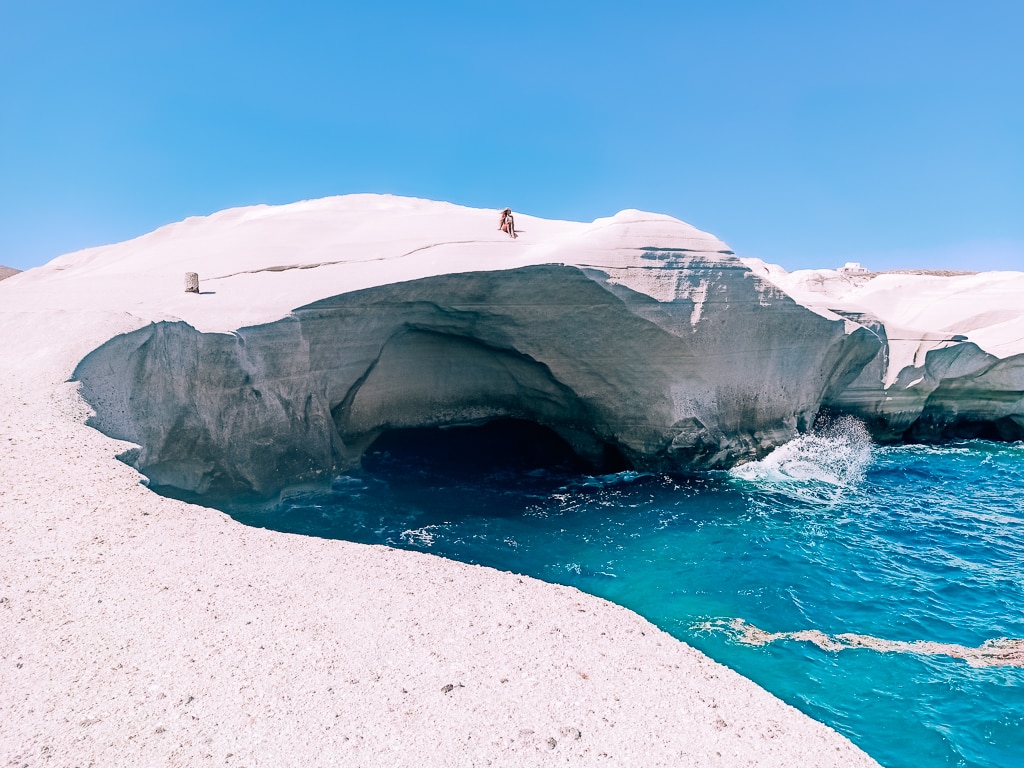 On your third day, take a full-day boat tour around the island. You'll get to visit some amazing remote places that are not accessible by land and snorkel in the most beautiful sapphire blue waters full of fish. It's definitely one of the best things to do in Milos and an experience that you shouldn't miss!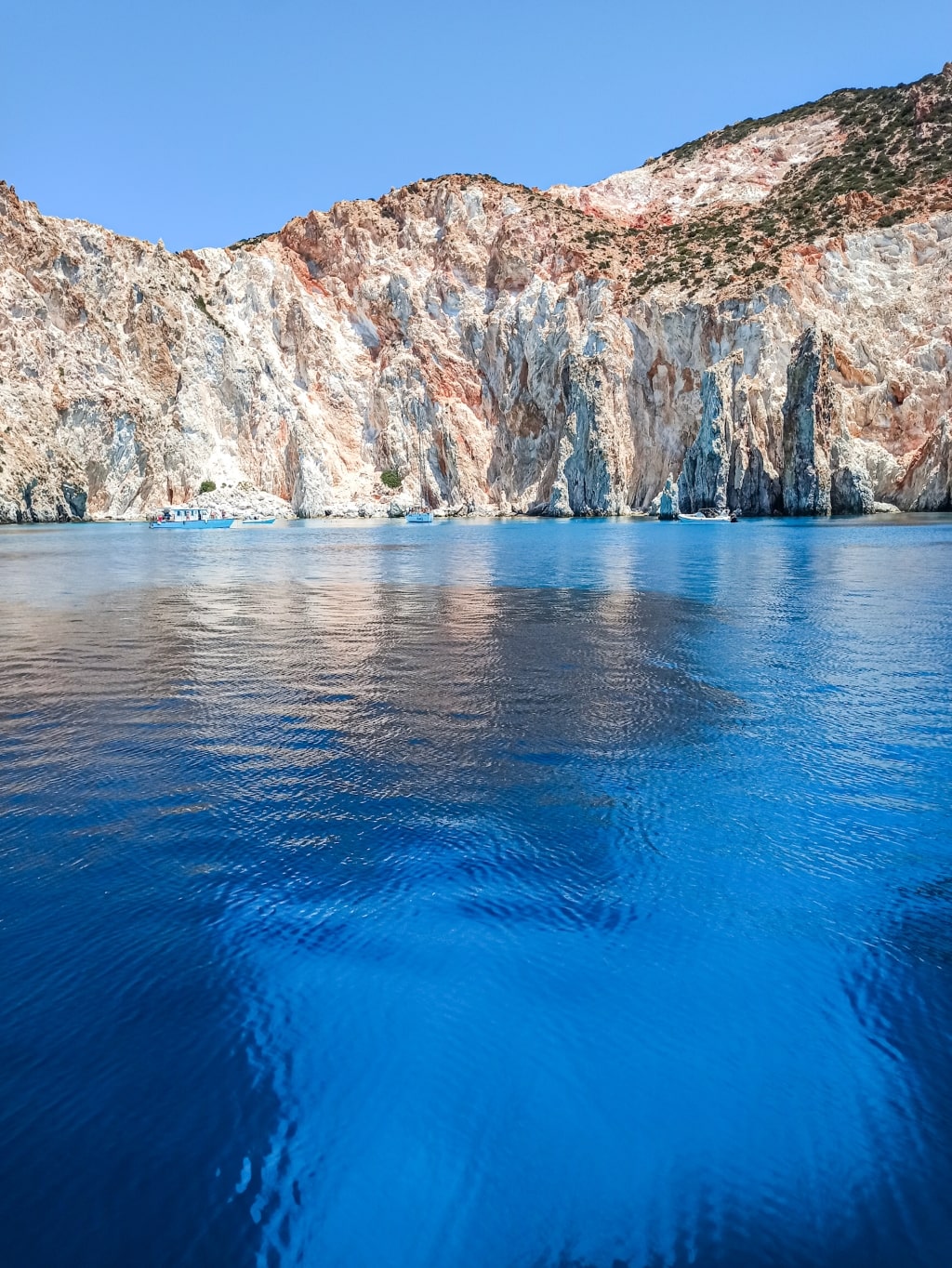 If you can spend 5 days in Milos, that's even better as you can have a more relaxed pace and get to know the island on a deeper level. On day 4 and 5, consider visiting the Catacombs and the Ancient Theatre of Milos, the old sulphur mines at Paliorema or explore some more beaches like Paleochori or Kastanas.
I hope you'll have a great time! Marjut
Heavenly Song featuring Milos
Marjut, I know of a sweet-sounding Greek song with a beautiful music video set in Milos.
I have it down as the number 1 Greek song of all time in a post showing the top 15 Greek Songs (Music Videos) that inspire travel to Greece.
The song is called Ela by Despina Vandi. Please listen to it (the music video is at the bottom of the page).
I am wondering, have you ever heard this Greek song before? I am interested to know your opinion of the song. Maybe I have bad taste in music?
The Smooth Escape Interview Reply:
I've never heard this song before. It's not the type of music I usually listen to but I don't think it's a bad song!
The video is beautiful and definitely makes me nostalgic about my Milos trip – I was walking on the exact same cliffs of Sarakiniko and saw similar fishermen villages as they show in the video. It makes me miss Milos a lot actually!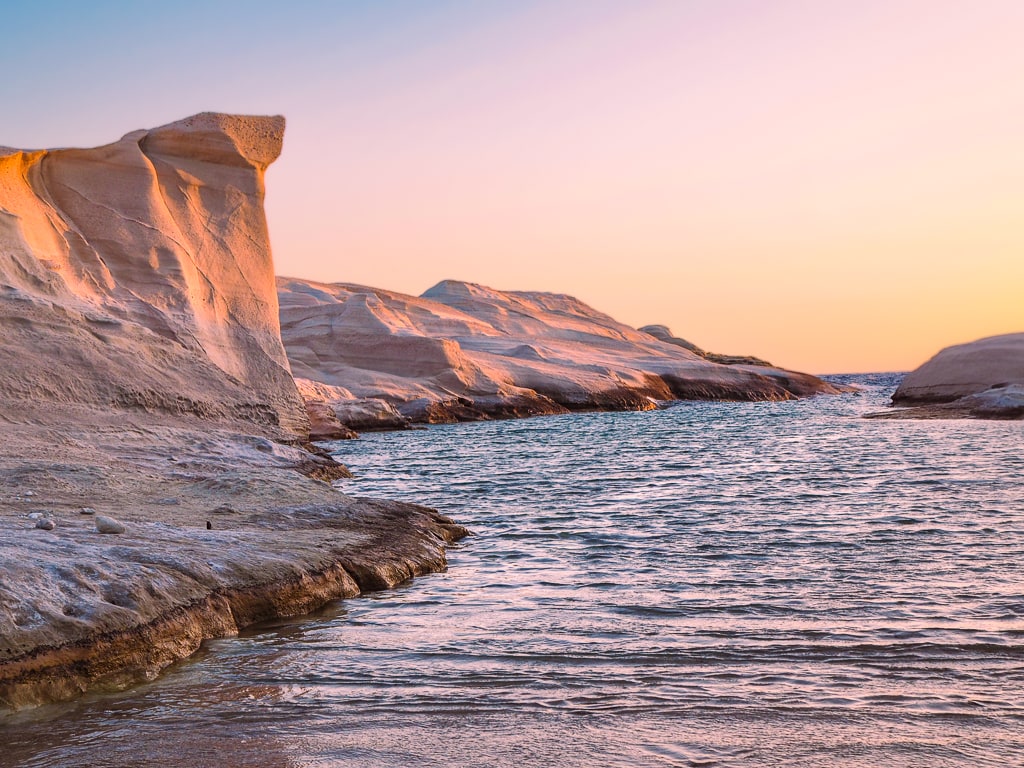 The Greek Islands and The Smooth Escape
So far, you have been lucky enough to have visited eight Greek islands. Can you tell us the name of all of the Greek islands you have visited?
I know that you regard Milos as the most beautiful Greek island you have visited – with Santorini being a very close second.
That makes me want to go to Milos even more. Do you think I would feel the same way about Milos?
I love Santorini, though I have to say the beaches are pretty ordinary. You really do have to stay somewhere in Santorini with a great pool, preferably a top hotel with an infinity pool.
The Smooth Escape Interview Reply:
I have been to Milos, Naxos, Antiparos, Santorini, Aegina, Hydra, Spetses and Poros. Technically I've also been to Paros but only in the port area when I took a boat to go to the idyllic Antiparos.
Yes, I think Milos is the most beautiful of them all! If you like to visit scenic beaches, see colorful landscapes and swim in crystal clear sea, and you don't care much about luxury resorts, posh boutiques or big parties, then there's a pretty good chance that you would feel the same way about Milos.
I agree with your comment about Santorini – the beaches aren't very impressive. But I really enjoyed visiting the gorgeous whitewashed towns of Santorini and watching the amazing sunsets over the caldera.
Hiking in Greece with The Smooth Escape
It is great to see that you have experienced several fantastic hikes in Greece.
One hike that stands out to me is when you went on the Mount Zeus hike in Naxos. That is fantastic, so I want to know more.
How did you find out about the Mount Zeus hike? And was the Mount Zeus hike the main reason you visited the Greek island of Naxos in the first place?
How did the Mount Zeus hike compare to other hikes you have done in Greece?
Anyone interested can read about your fantastic hike to Mount Zeus in your awesome post about the best hikes in Greece.
The Smooth Escape Interview Reply:
I spent one week in Naxos. There were several reasons why I decided to visit the island – I wanted to see the Temple of Apollo and the picturesque old town of Naxos, relax on the beautiful beaches and also do some hiking. When I started doing research about the hiking trails on the island and found out that Mount Zeus is the highest peak in the Cyclades, I knew that I wanted to hike to the top of it.
Although the Mount Zeus hike is pretty short compared to the other hikes I've done in Greece, the route that we took was very steep and strenuous.
We also hiked it in the middle of the summer around midday and there was no shade from the sun. You can only imagine how hot it was! But once we made it to the top and saw the spectacular 360-degree views of Naxos, it was all worth the effort.
There's also another route to the top which is not nearly as steep, so if you're not into challenging hikes, you should take that one instead.
Hiking Vikos Gorge
Vikos Gorge, known as the Grand Canyon of Greece, looks absolutely incredible!
The Centaurs' Path hike in the Pelion region also grabbed my attention when reading about the best hikes in Greece on your travel blog.
You seem to love hiking. Do you plan your trips around having hiking adventures?
How did you find out about this hike, and how much time did you spend in Vikos Gorge?
The Smooth Escape Interview reply:
That's true, I really love hiking and spending time in nature. A lot of my trips are planned around hikes since it's one of my favorite things to do when traveling.
This was also the case with Vikos Gorge. I found it while doing research about hikes in Greece and instantly knew that I had to see this wonder of nature with my own eyes. Even though Vikos Gorge is located in quite a remote place, I was certain that it was going to be worth the journey – and it definitely was.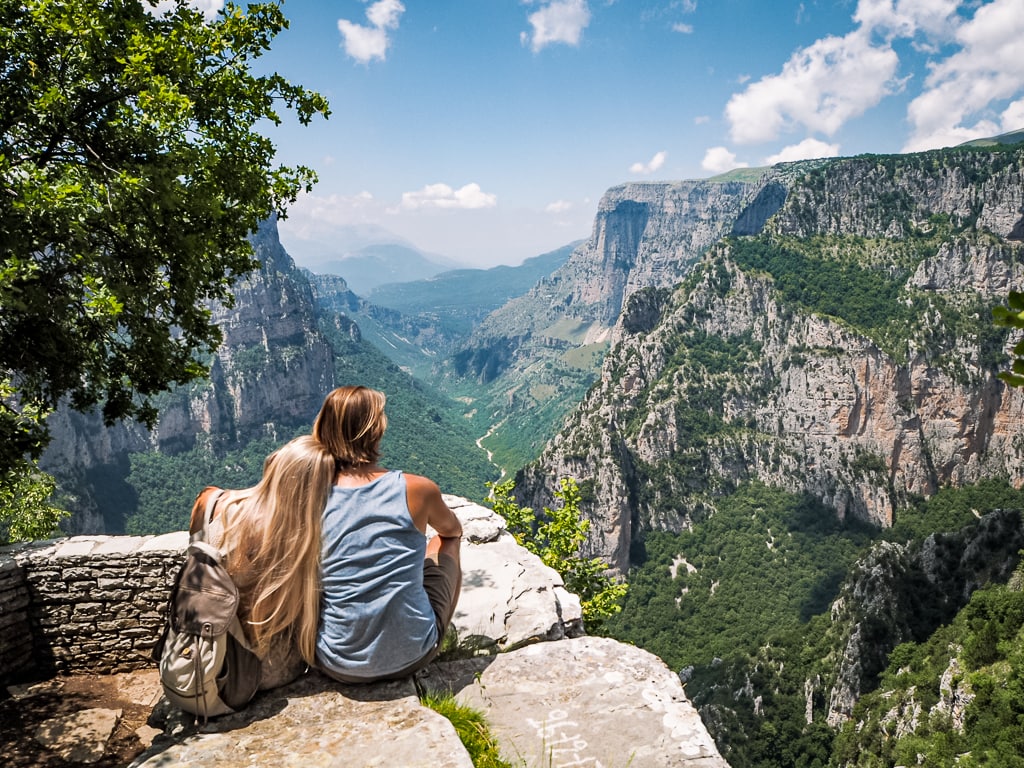 Besides its stunning natural beauty, what captivated me about the gorge was that it's so little known outside of Greece – it felt like we had discovered a hidden gem.
We spent around 4 days in the region, visiting different viewpoints, exploring the lovely local villages and the countryside, and felt that it was just the right amount of time. The Vikos Gorge hike took us about 5 and a half hours.
Five best things to do in Greece according to The Smooth Escape
Based on your opinion, I am keen to find out the five best things to do in Greece that you have done so far, with number 1 being the best.
The Smooth Escape Interview Reply:
This is not an easy task because there are so many amazing things to do in Greece! But if I had to rank them, here's what it would look like:
1) Hiking through the mountains of Meteora
2) Taking a boat tour around the island of Milos
3) Hiking through Vikos Gorge
4) Watching the sunset in Fira in Santorini
5) Relaxing on the quiet beaches of Antiparos
The Smooth Escape Budget for Traveling the World
Money is one of the biggest hurdles people face when traveling the world.
How much money (I'm snoopy) did you reserve as a travel budget for traveling around the world? I am especially interested in Greece.
Can you discuss your travel budget and whether it was sufficient.
The Smooth Escape Interview Reply:
We planned to take a year-long trip, which besides Greece also included Portugal and several countries in Central and South America. We expected to spend on average 1500 euros per person per month. This ended up being a pretty comfortable budget for our traveling style and we managed to stick to it.
With a budget like this, you obviously can't splurge on luxury resorts and eat at gourmet restaurants but we didn't feel restricted by it and could still afford all the experiences that we wanted. To keep our costs within our budget, we stayed at simple accommodations, sometimes cooked our own meals and used public transport when it was convenient.
With regards to Greece, I found the islands to be more expensive than the mainland. The cheapest places I've been to in Greece are probably Athens and the Vikos Gorge region and the most expensive one is Santorini.
Besides the higher accommodation and restaurant prices on the islands, taking ferries to get from one island to another can also add up to a significant cost.
Visiting Greece in the future
I assume that The Smooth Escape would love to revisit Greece at some stage and create more content.
Where can you realistically see yourself next time when visiting Greece?
Are there any Greek islands or other places in Greece you would like to visit? 
You seem to enjoy hiking, so would climbing Mount Olympus be something you would like to do?
The Smooth Escape Interview Reply:
I would love to visit Greece again – it's one of my favorite countries in Europe after all!
I'm dying to visit Zakynthos, Corfu and Crete, which all look like amazing islands with beautiful nature and stunning blue water.
I would definitely also like to hike to the top of Mount Olympus one day. How cool would it be to say that you've hiked to the home of the Greek Gods!? I've heard it's a tough hike over several days but I'm sure the views are absolutely worth it.
Venus de Milo sculpture
As you already know, the famous Venue de Milo sculpture was removed from the island of Milos.
The Venus de Milo masterpiece is currently located in the Louvre Museum in Paris.
Many more people get to see the Venus de Milo sculpture by keeping it in Paris. After all, the Louvre Museum is one of the most visited museums in the world.
So my question to you is this, where do you think the best place for the Venus de Milo sculpture is and why? Have you ever seen the statue for yourself?
The Smooth Escape Interview Reply:
I've never seen Venus de Milo myself. I think it would make sense to return the sculpture to its homeland and display it in the Acropolis Museum.
Although it's a lovely idea to have the sculpture returned to the island of Milos, where it's originally from, I believe that a museum as large and acclaimed as the Acropolis Museum would be a better place to display it. This way a lot more people would get to admire this iconic statue.
Inspiration for visiting Greece
Marjut, I have to ask you a question about something that has inspired you to visit Greece.
Some fantastic movies are set in Greece, including movies based on Greek mythology. Ancient artwork, Greek temples, Greek Gods and Goddesses, delicious Greek food all inspire people to visit Greece.
As a guy, I am not ashamed to say that watching The Sisterhood of the Traveling Pants was a big motivator for me to visit Santorini. The beautiful scenery of Santorini in the film looked fantastic!
I have also visited the Greek islands of Skiathos and Skopelos purely due to the brilliant film Mamma Mia!
Can you tell us about any movies filmed in Greece, or anything in particular that has made you want to visit Greece?
The Smooth Escape Interview Reply:
I have to admit I've never been a huge fan of watching movies. I think I actually haven't seen any movies set in Greece, not even the famous Mamma Mia that everyone's talking about! When I'm looking for inspiration for my trips, I'd rather watch a documentary or perhaps a relevant vlog on YouTube.
I would say though that my biggest inspiration for visiting Greece came from reading travel blogs and seeing all the amazing photos of Greece on social media.
Greek Gods Paradise Interview Reply:
Marjut, promise me that you will at least watch Mamma Mia!
For something a bit different, I recommend watching the Greek movie Suntan. I can also highly recommend My Family and other Animals (2005), set in Corfu. It is a beautiful movie for nature lovers. It is based on one of the best books I have ever read.
The Smooth Escape Interview Reply: 
Thank you for these tips! I'll definitely add these to my list of movies to watch. I'd especially like to see My Family and other Animals because I'm a big fan of nature and also because I want to visit Corfu.
Greek Mythology and The Smooth Escape
Greek Gods Paradise is about travel and Greek mythology, so as the blogger behind The Smooth Escape, I have to ask you something about Greek myths.
Do you have one or two favorite Greek myths? Who is your favorite Greek God or Goddess? Or do you hate them all?
The Smooth Escape Interview Reply:
I'm sorry John but I have to admit I don't know much about Greek myths. My expertise is travel, nature and adventure! 🙂
Greek Gods Paradise Interview Reply:
Marjut, I think the Greek Goddess for you is Artemis. You would probably enjoy being in her company (minus the hunting part). She is the Goddess of the wilderness and the twin sister of Apollo.
Can you ask Fernando for me whether he has a favorite movie based on Greek mythology? Maybe he has a favorite Greek myth, hero, or Greek God.
The Smooth Escape Interview Reply:
I just did a quick Google search about Artemis and I think you're right. She really seems like my kind of goddess, except for the hunting part haha!
Unfortunately Fernando doesn't know anything about Greek myths either. He is from Brazil so this topic is even more distant for him than it is for me.
Visiting Meteora in Greece
You have visited Meteora in Greece, the other-worldly realm with gigantic pillars of rock that rise sky-high.
How long did you spend in Meteora, and which medieval monasteries did you visit, if any?
Do you think a visit to Meteora would still be worth it as a day trip from Athens?
I know you recommend spending at least 2-3 days in Meteora, but what if you only have a minimal amount of time to play with when holidaying in Greece.
Also, can you please mention three of the best things to do in Meteora based on your own experiences and knowledge of Meteora?
The Smooth Escape Interview Reply:
I spent two and a half days in Meteora, hiking and biking around the fantastic mountainous landscapes and marveling at the impressive monasteries perched on the rock pillars.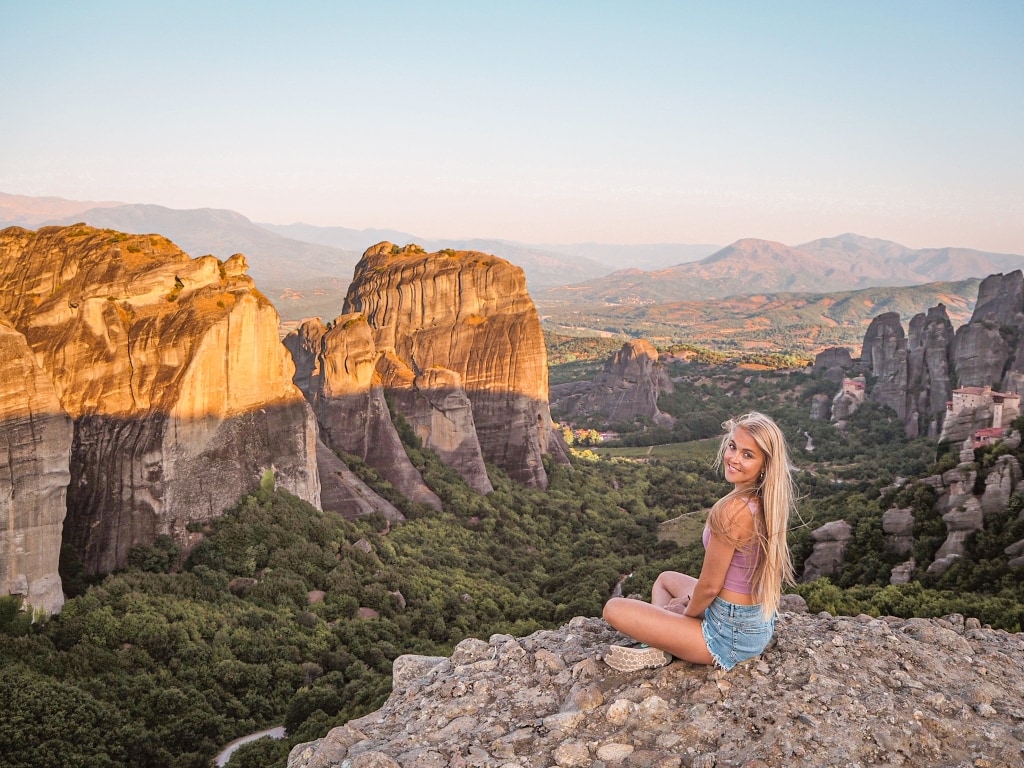 I saw all of the six monasteries from the outside but I decided to enter only the two largest ones – The Grand Meteoron and Varlaam.
If you're really short on time and there's no way you could spend a night in Meteora, I think it's still worth visiting on a day trip from Athens. You'll just have a more rushed experience and won't get to explore this magical landscape to the same extent but you'll still get to see the main viewpoints and visit some monasteries.
My top three things to do in Meteora are:
– Watching the sunrise from the main observation deck of Meteora
– Visiting the Varlaam monastery
– Hiking to the Adrachti rock pillar
Make sure to check out my blog post on the best things to do in Meteora for more inspiration for fun activities and details on what to expect from visiting the monasteries.
Future trips planned for The Smooth Escape
Finally, where can we expect to see The Smooth Escape visiting in the next couple of years?
You have been to so many dream destinations already. Destinations like the Algarve in Portugal, Morocco, Madeira in the Atlantic Ocean, the Galapagos Islands, Sicily… I'm starting to get envious.
I might as well stay home and just read The Smooth Escape from now on.
The Smooth Escape Interview Reply:
Hahaha please don't stay home! There's so much beauty to be seen in the world. 🙂
I really have visited many places which I would consider 'dream destinations'. I'm super grateful for these opportunities and all the unforgettable memories I've made while traveling.
I never make travel plans several years ahead so I'm not really sure about such a distant future but within the next 6 months I plan to visit Malta, Jordan and Spain. And perhaps somewhere in Asia as well.
I'll of course share all my adventures through my blog and Instagram so you can follow along if you wish!
The Smooth Escape Interview Conclusion
Thanks, Marjut. I will definitely be following you. I'm not really an Instagram user, but I will continue reading your fabulous travel blog.
Hopefully, I'll get to see some more posts about Greece from you in the future as well.
You have 100% inspired me to visit Milos one day, so hopefully, fingers crossed, I get to go.
The Smooth Escape interview is only the second interview on this website so far, so I hope you take that as a big compliment.
I can highly recommend The Smooth Escape as a top resource to anyone who is interested in world travel. The information provided on the website is first class.
You can visit The Smooth Escape website via this link, so check it out.
Another option is to follow Marjut on Instagram @TheSmoothEscape.
Thanks again Marjut, Fernando, and The Smooth Escape. All the best, John
Pin it … Share it