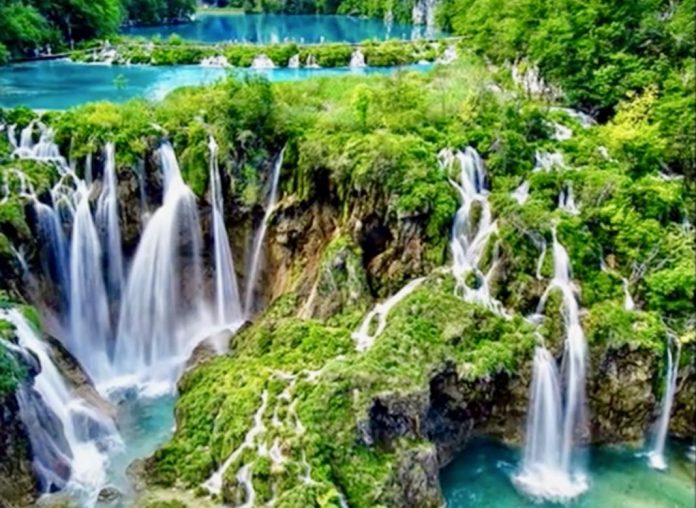 There are so many beautiful waterfalls in the world. This should always be on your radar when travelling somewhere new. One of the most beautiful sights you can behold could be close by. Some waterfalls are even worth planning a trip around themselves. They are star attractions.
Check out these beautiful waterfalls the Greek Gods and Goddesses have gifted to the world.
1. Cheonjeyeon Waterfall – Seogwipo City, Jeju Island, South Korea
The waterfall's name has the soothing meaning "Pond of Heaven's Emperor".
Legend tells the story of seven beautiful nymphs who came down from heaven at night to bathe in the pool of the waterfall.
Today, there's a bridge known as the "Seven Nymphs Bridge" which spans the gorge. The nymphs can now be seen enjoying themselves playing musical instruments on both sides of the bridge.
This beautiful waterfall is one of three famous waterfalls on this remarkable island, which includes Jeongbang Waterfall, another star attraction.
Jeju Island attracts many tourists from around Korea. The island has many attractions and is known as Korea's "Honeymoon Island".
Sounds like it could be a well kept secret.
2. Plitvice Lakes – Croatia
Sixteen pristine lakes interlinked with beautiful waterfalls.
Known as the Devil's Garden, probably because it can't get any better than this on earth. The Greek Gods and Goddesses are cruel, there's no denying that.
3. Krka Falls – Croatia
After being stunned by Plitvice Lakes, the next thing to do would be to visit Krka Falls and Skradinski Buk. Greed is good in this case.
4. Dunn's River Falls – Ocho Rios, Jamaica
This is Jamaica's number one tourist attraction. The brilliant thing about this waterfall is that it is possible to climb to the top of it through the rushing water by using the rocky ledges as stepping stones. This is nature at its best.
A popular picnic spot is located at the foot of the falls. Who wouldn't want to have a picnic next to these stunning falls? Next stop after this would have to be YS Falls.
5. Monte Gelato Waterfalls – Valle del Treja park, Mazzano Romano, Italy
Address: 00060 Mazzano Romano Metropolitan City of Rome, Italy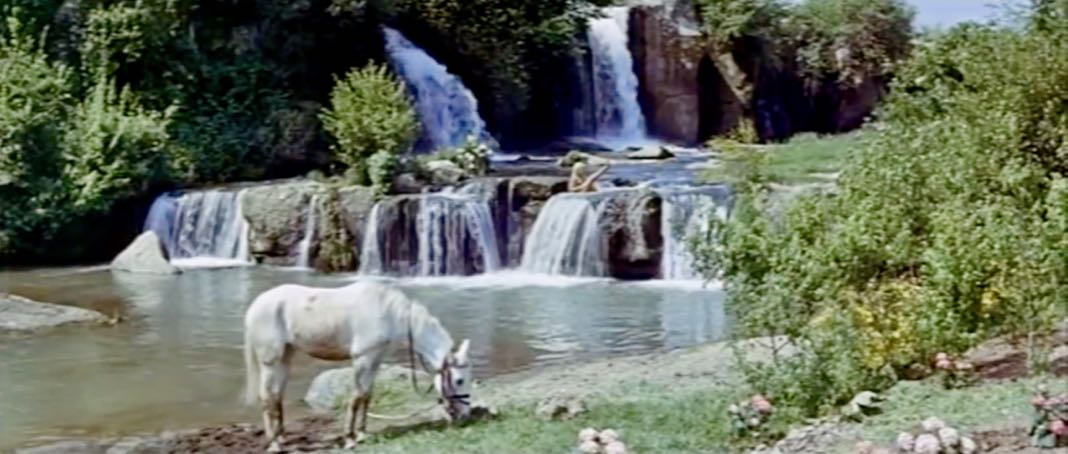 Old Italian peplum (sword & sandal) movies made during the late 50s and 60s used this magical waterfall as a back drop. You can see a nymph on top of the cascade with a leg in the air in this scene.
6. Cascades Waterfall (Evergreen) – Port Vila, Vanuatu
The walk is brilliant.
The waterfall is amazing.
The natural swimming pool is a dream.
This has paradise written all over it.
You'll want to see Lololima Waterfalls after Cascade Waterfalls.
7. Sutherland Falls – Milford Track, South Island, New Zealand
Sutherland Falls cascades 580 metres (1,904 feet) from Lake Quill into a pool of water at the very bottom of a tall cliff that feeds Arthur River. The waterfall is generally regarded as the fifth highest waterfall in the world. It has three distinct tiers.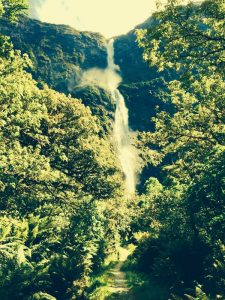 Water lovers who're confident swimmers can take a dip in the beautiful pool at the bottom but keep in mind the water is freezing cold. The added attraction is a slippery narrow path right behind the waterfall, between the cliff-face and the waterfall, however you'll still get drenched with water droplets and mist spraying all over the place, which is why tour guides recommend wearing a raincoat. On the Ultimate Hikes Milford Track guided walk, raincoats are handed out at a private cabin, prior to anyone heading off on this fabulous side excursion.
I remember seeing a blonde nymph guide from Ultimate Hikes watching over everyone like a Goddess. Waterfall heaven awaits on a nice sunny day in this spectacular spot.
The hike to Sutherland Falls is 3.2 km (2 miles) away from the base of the Milford Track and the relaxing walk there passes through some superb forest scenery.
Walking the 54 km (34 miles) Milford Track has the added advantage of seeing many other beautiful waterfalls along the way. Your favourite waterfall could even turn out to be another beauty along the Milford Track.
8. Thailand – So many beautiful waterfalls
Watch the movie "The Beach" and consider visiting Haew Suwat Waterfall in Khao Yai National Park. Or can you find an even better waterfall in Thailand? Many think Thi Lo Su Waterfall on the Burma-Thailand border is the biggest and best waterfall in Thailand.
9. Natural Bridge (Natural Arch) – Queensland, Australia
This waterfall is located in Springbrook National Park, which is about a one-hour drive away from Brisbane. Its even closer to the Gold Coast. Combined with another attraction it makes for a great day trip.
Queensland is an absolute mecca for nymphs. For more beautiful waterfalls in Queensland click here.
10. Niagra Falls – New York State, U.S.A./Ontario, Canada
A few gorgeous nymphs from Greek mythology must have visited Niagra Falls.
You can't make this stuff up randomly. Nymphs and waterfalls are the perfect match.
11. Detian-Ban Gioc Waterfall – Vietnam
This incredible waterfall marks the border between Vietnam and China. Magic!
https://youtu.be/xgt-HvfXSns
12. Neda Waterfalls – Greece
Located in the South Peloponnese, this is one of those hidden gems in Greece worth extending your holiday for.
It is a a three and a half to four hour drive by car from Athens. so it's probably a good idea to stay for a couple of nights in the area, so that you can enjoy a full day outing.
The Neda river has a great walking hike route to discover as well. The Neda river is 32 km long but you will be able to cover a good section within 5 or 6 hours.
The main attraction is this beautiful waterfall named after the nymph Neda who took care of Zeus in Greek mythology. It looks simply divine!
13. Kawasan Falls – Cebu Island Phillippines
14. Kravice Waterfalls – Bosnia and Herzegovina
Kravice (or Kravica) Waterfalls can be found near Mostar in Bosnia and Herzegovina. You can also plan a day trip from Dubrovnik (Croatia), Kotor (Montenegro), or Sarajevo (Capital of Bosnia and Herzegovina).
15. Terme di Saturnia – Italy
16. Wailua Falls – Kauai Island, Hawaii
The 70s and 80s TV show "Fantasy Island" used this waterfall in the opening footage. For the show to choose this one out of all the waterfalls in Hawaii leads me to concur that it has to be one of the most beautiful in Hawaii.
17. Iguazu Falls – Waterfall Trail, Brazil
This spectacular waterfall is shared by Brazil and Argentina. The 3 km wide cascade has over 250 waterfalls, some 80 metres high. On the Brazilian side the walking trail leads to viewpoint below the Devil's Throat (Garganta do Diabo). Nymphs would definitely want to come here.
Peak visitor period is in the dry months from April to July, however if you want to see the waterfall in its full power then visit during the wet season, which is from December to February.
Greek Gods and Goddesses, these beautiful waterfalls from around the world are simply breathtaking. You've given the world a good glimpse into eternal paradise.
Pin it … Share it