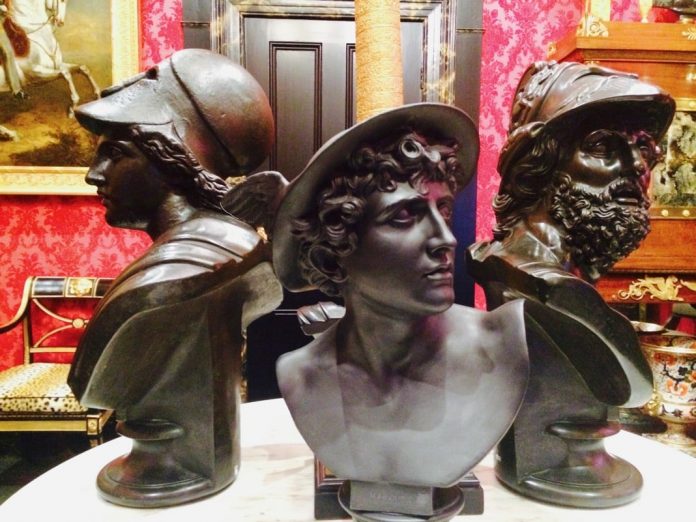 This is a guide to the best galleries, museums, and places in Adelaide with Greek and Roman mythology Art on display.
Anyone interested in Greek mythology who finds themselves in Adelaide must visit at least one of these twelve awesome attractions.
One of Adelaide's big secrets is that it not only has one Venus but three Venus (Aphrodite) sculptures. Yes, three of them, and they're all in beautiful locations.
Venus can be found on North Terrace, in the Adelaide Botanic Gardens, and also in Belair National Park at Old Government House.
In addition to Venus, you can also find Hercules, Apollo, and Hermes hiding around Adelaide.
Most of the other Greek Gods and Goddesses can also be found in secluded parts of Adelaide, which I reveal in other posts.
By visiting these Greek myth attractions, the bonus is that you'll discover even more artwork and beauties at the galleries and museums, and gardens in and around Adelaide.
My first recommendation would have to be a visit to the Art Gallery of South Australia.
1. The Art Gallery of South Australia
There's a small collection of Greek myth art within the Art Gallery of South Australia.
Circe Invidiosa is the painting seen on the left with a strong greenish element to it. It is a painting by John William Waterhouse. This memorable painting is one of the most interesting and most famous paintings within the collection.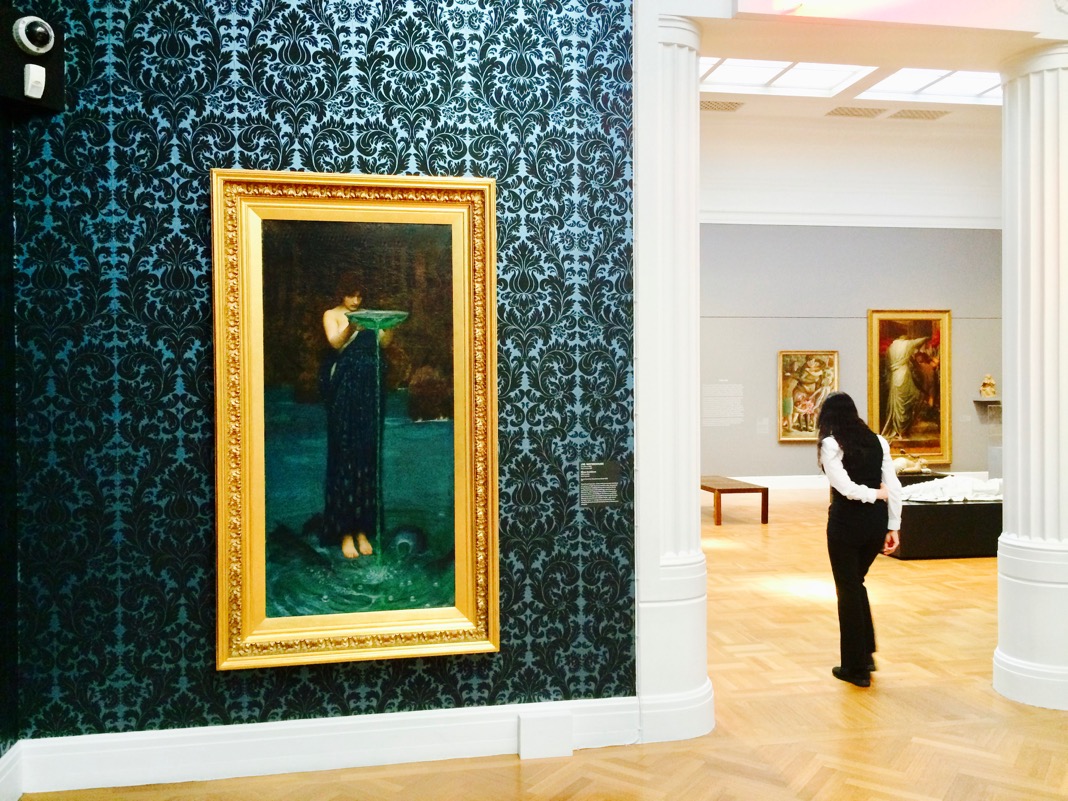 Circe, the enchantress from Greek and Roman mythology, is shown poisoning the water to turn Scylla, her rival, into a hideous sea monster. Sadly, Scylla was once a beautiful nymph, which is often forgotten about.
In Latin, invidia is a feeling of envy and is also associated with the evil eye. Invidia also happens to be the Roman name given to the ancient Greek Goddess, Nemesis.
The Birth of Pegasus by Rayner Hoff is a plaster sculpture from 1925 that occupies a position where a large sculpture of Eros was once erected.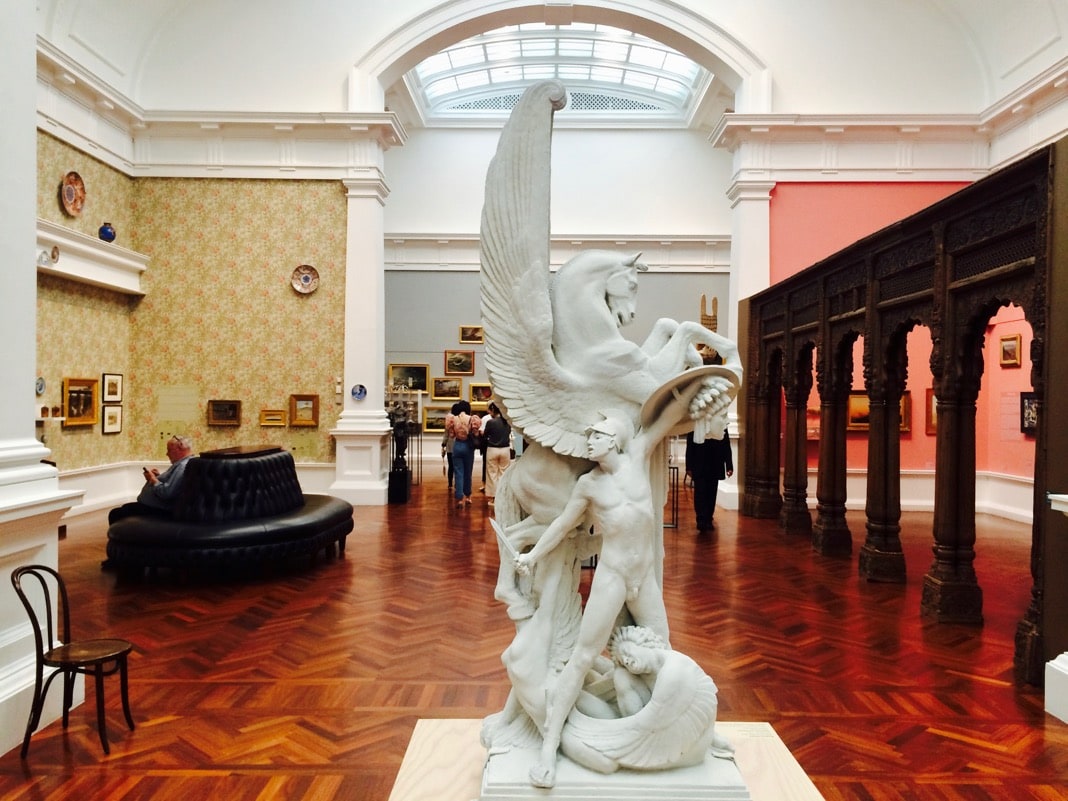 The sculpture of Pegasus is just as fascinating. Perseus is shown on one side of Pegasus while holding up the head of Medusa. On the other side of Pegasus is the princess, Andromeda.
You can also see sirens from Greek mythology on both sides of the sculpture, the half-bird women who were made famous in The Odyssey, a book by Homer.
The Eros sculpture that was once situated in this position was actually made from a casting of the famous sculpture found in Piccadilly Circus in London.
Eros may return one day from storage, and let's hope so. One thing I have to mention is that it really isn't Eros, the God of love. You can learn more about the truth in this post.
Greek Myth Artworks inside the Art Gallery of South Australia
There are several other paintings in the Art Gallery of South Australia of special interest concerning Greek mythology.
You can see The Riches of the Sea with Neptune, which shows the sea God with tritons and two nereids. It comes from Naples in Italy. This painting almost looks as if it belongs inside the Uffizi Gallery in Italy, a museum filled with many artworks depicting Greek myths.
Then there is Olympus on Ida, aka The Judgement of Paris, which shows three Goddesses in a very different light to what one would normally envision. In this painting, they're shown as golden-haired Goddesses, with a weird androgynous look about them.
Love and Death is a painting showing Cupid battling against the Grim Reaper (Death). You can see a glimpse of the painting through the doorway in the photo above on the right side of Circe Invidiosa.
I also saw a painting of the Priestess of Delphi on the same wall.
One thing I recommend doing is a tour. I did a tour of the Art of Gallery of South Australia at about 2 pm, though you can also do one at about 11 am.
When we finished the tour, the lady tour guide told me that she didn't know who learned more, her or me. That's because I took her around to all of the Greek myth art in the Art Gallery of South Australia and tried to get her thoughts on the subject. Luckily, it was just me and her on the tour.
2. The David Roche Foundation House Museum 
One of the great surprises in Adelaide was this fascinating museum. This is a private museum in North Adelaide and it really is a fantastic hidden gem.
It's where you'll find plenty of amazing art pieces with associations to Greek mythology.
There are more than 3500 decorative art pieces in the collection. Inside the house museum, which at one David Roche lived in, you'll see a wide variety of art, ranging from paintings of dogs to paintings of Greek Gods.
One of the first things to strike your eyes when you entering the grounds is a golden statue of Apollo, the Greek God of light. You will see the Greek God as you look through a window.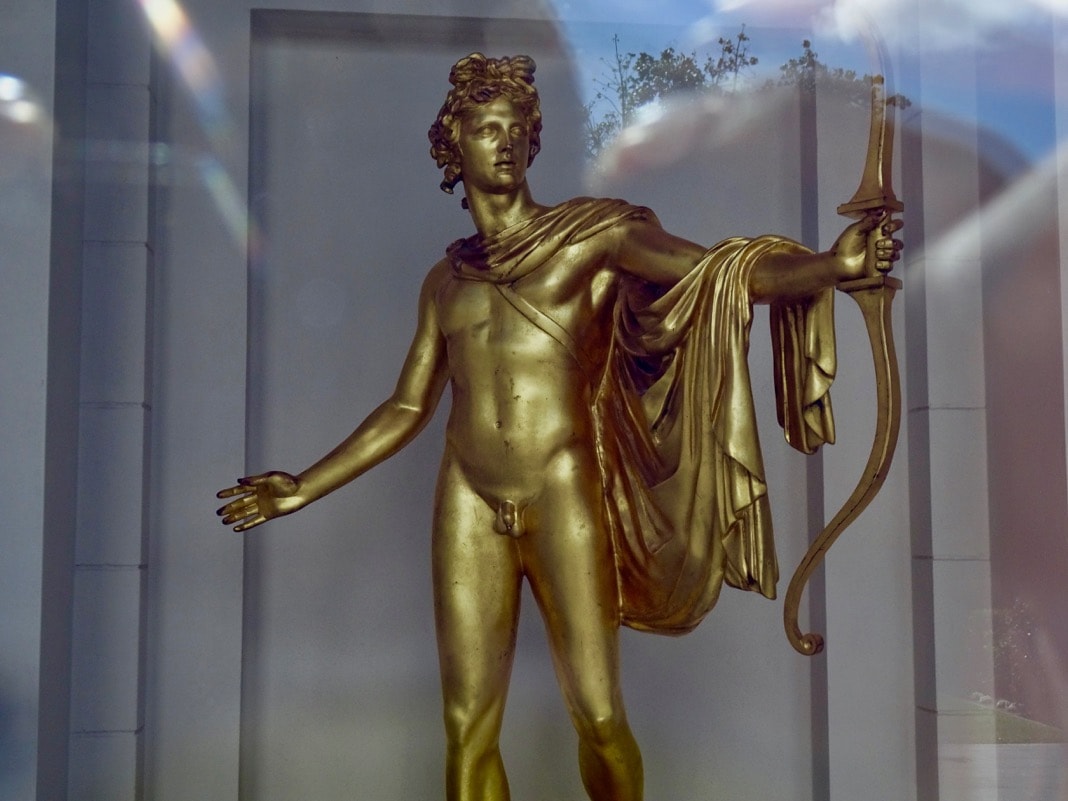 To get this photo I had to put my hand on the window to cover the reflection of sunlight. Seems appropriate now.
You can also see a golden sculpture of Hermes next to the golden sculpture of Apollo. For some reason, they don't allow access to this hallway filled with statues on the inside, where Apollo and Hermes are located.
As you enter the house museum, you will pass through an entranceway guarded by Artemis (Diana), the huntress.
The David Roche house museum reminded me a little bit of the classic French movie Beauty and the Beast (1946). I immediately thought of this masterpiece when I observed the hand on the wall holding up the candlestick.
While walking through the house, I noticed the head of Medusa in one of the hallways.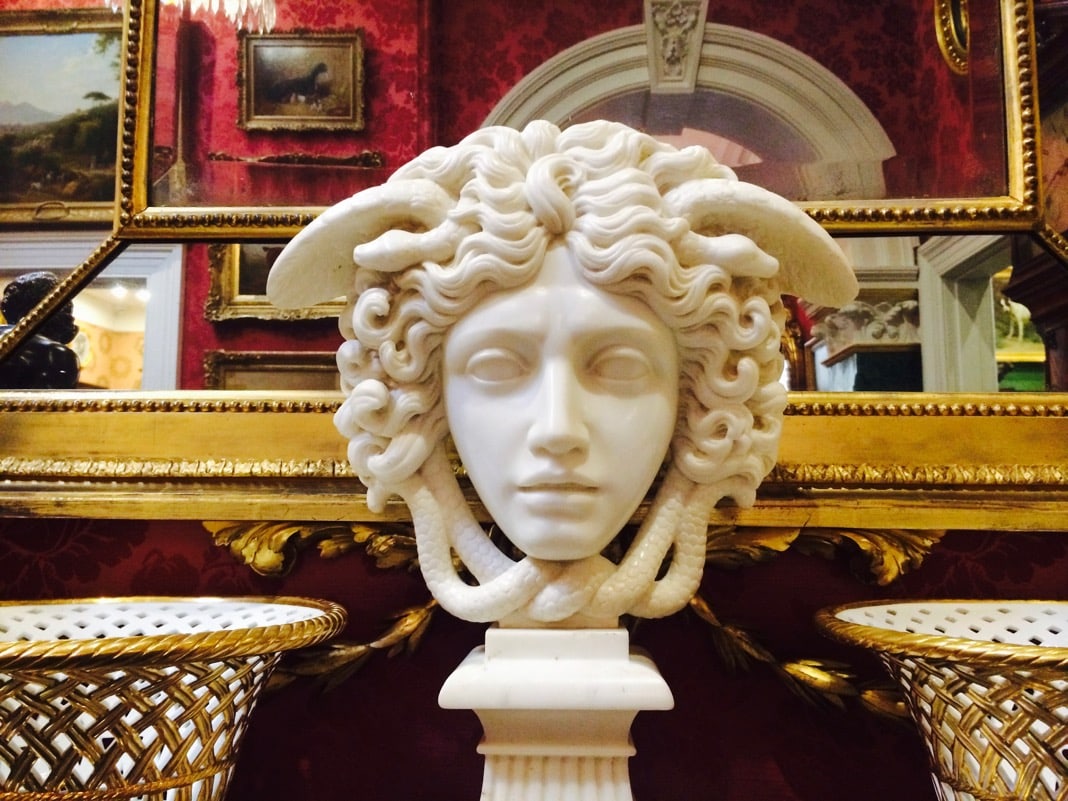 You will get to see the head and bust of numerous Greek Gods inside the house, including Hermes, wearing his winged helmet. You can see a picture of the Greek God in the feature image of this post.
David Roche collected a large number of ornamental clocks. One of the most interesting clocks in the collection is known as the baptism of Achilles mantel clock (France, ca. 1815).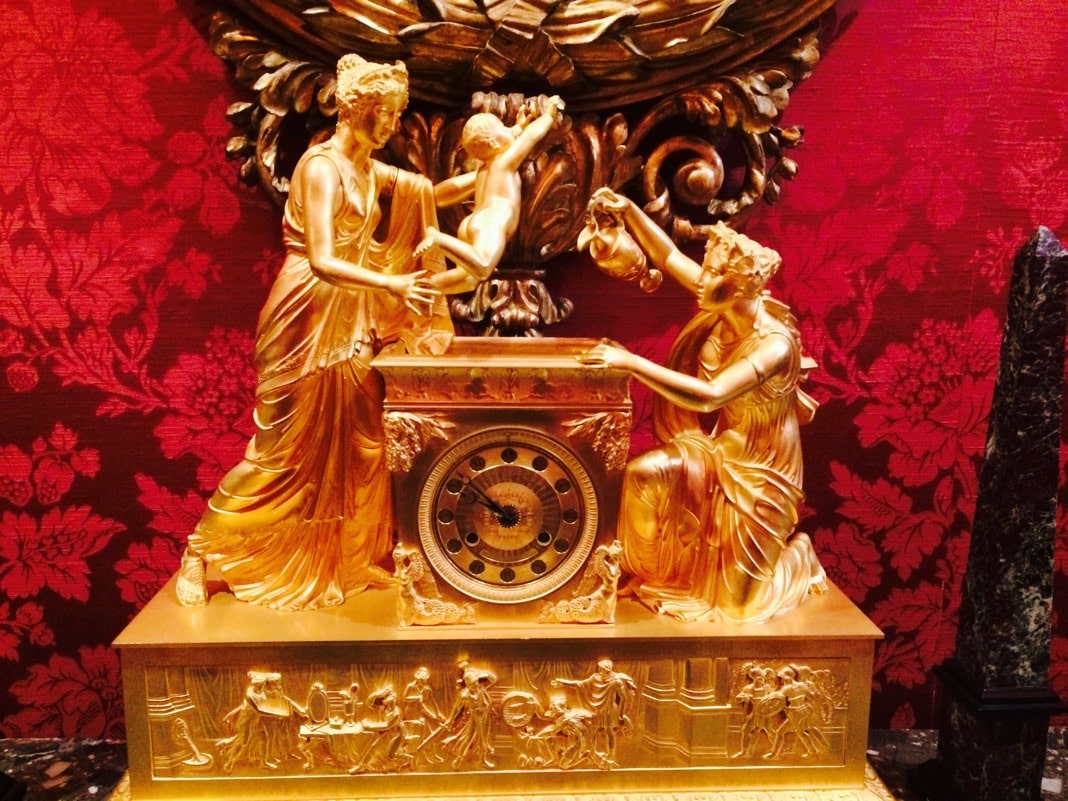 You can see centaurs, Cupid, Ares, Venus, Dionysus, Athena, and so much more inside this museum. The David Roche Foundation House Museum is definitely worth a visit. I highly recommend it.
3. Mortlock Wing – State Library of South Australia
This library has been voted one of the most beautiful libraries in the world.
Many visitors also associate this library wing with Harry Potter, since it has that medieval feel about it.
If you're a book lover, you won't want to miss it. There must be some awesome Greek mythology art buried inside some of the old books on those shelves.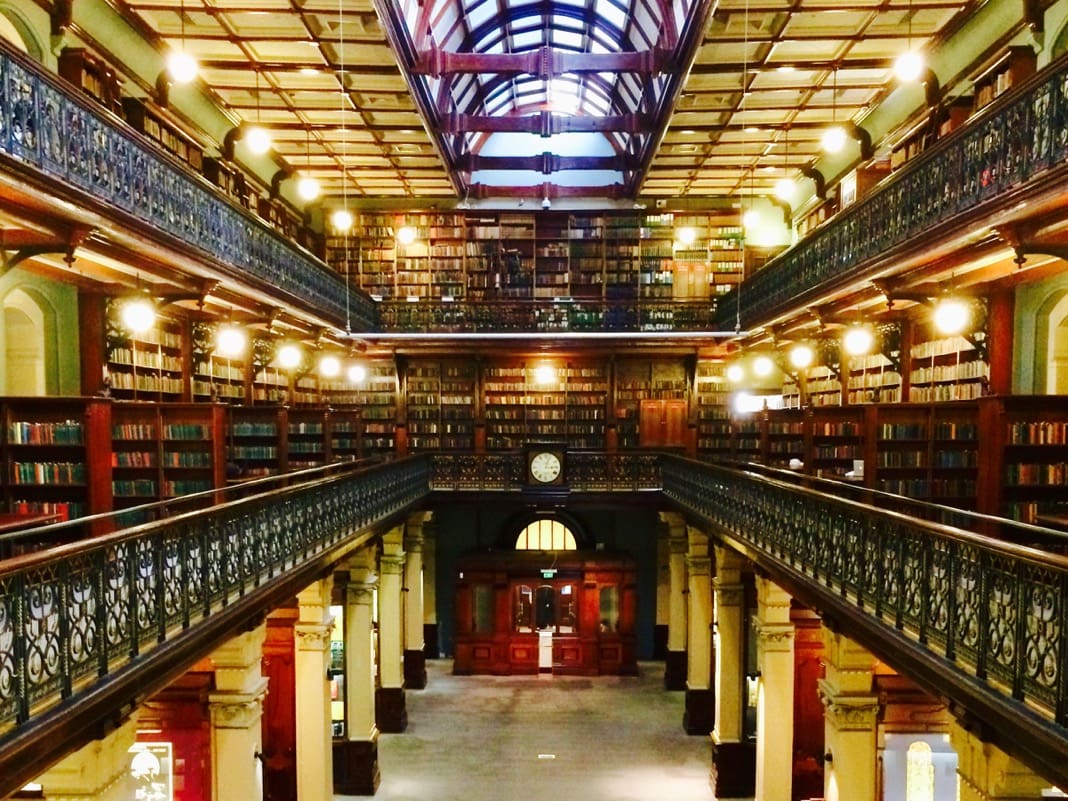 What I find interesting about this library wing is that on the ground floor there's an interesting museum.
You will see all sorts of interesting things from the past, including comics, newspaper reports, and other special books behind the glass cabinet windows.
Here's a fascinating book called The Golden Bacchus, which was once a dinner celebration held at the Alphutte Restaurant in 1989.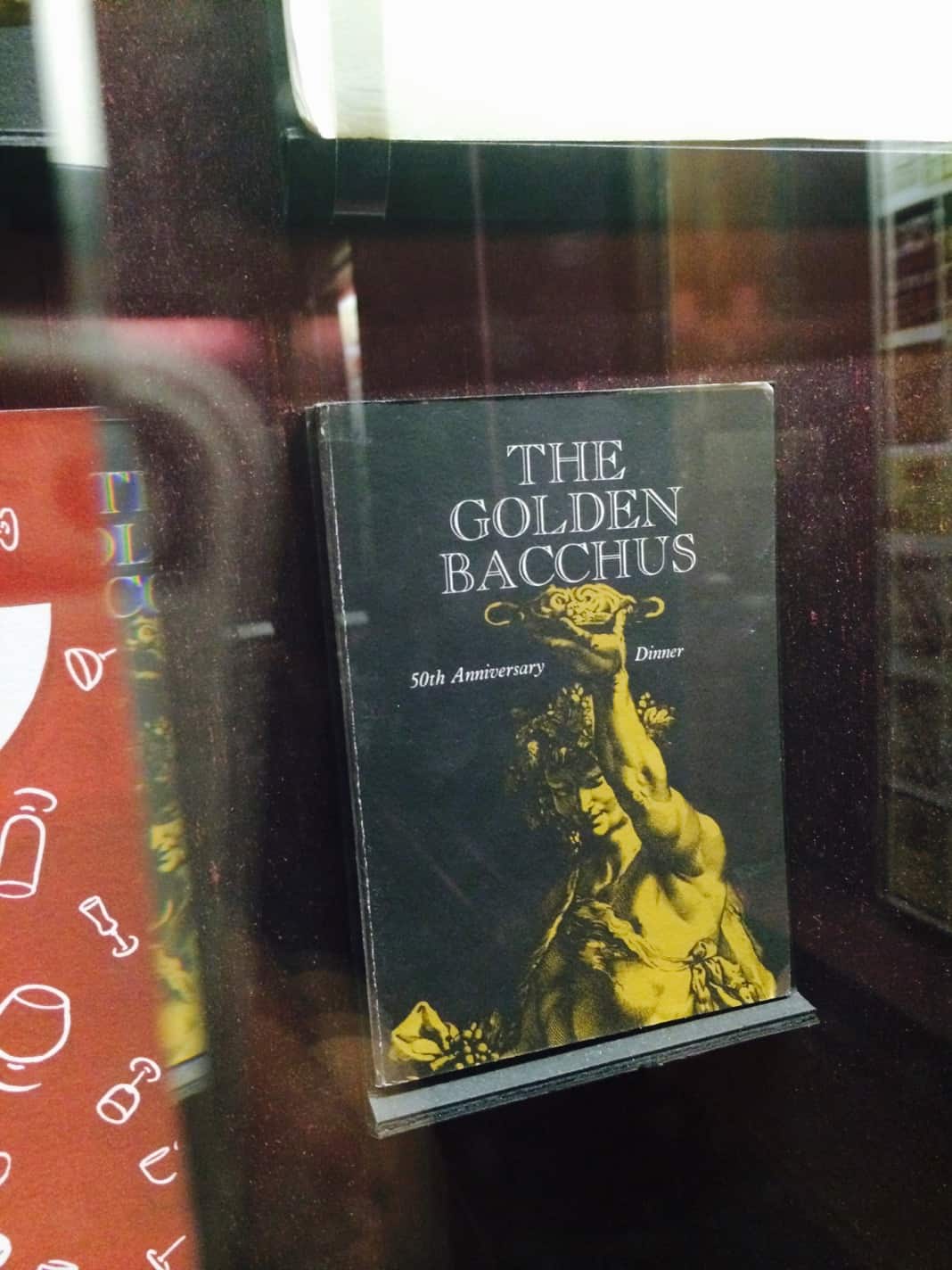 I have seen Bacchus Club metal plaques at Seppeltsfield Winery in the Barossa Valley and Hardys Wines in McLaren Vale. This must be a very exclusive club.
Being a member of the Bacchus Club seems to offer some nice perks. It's great to know that at least some people are aware of who the one true Wine God is in this world.
4. The Hermann Thumm Collection – Barossa Chateau
The Barossa Chateau has a very beautiful water fountain located in the garden at the back. For this reason alone, it is a great place to visit.
However, it also has an amazing collection of porcelain in a museum inside the chateau, known as the Hermann Thumm Collection.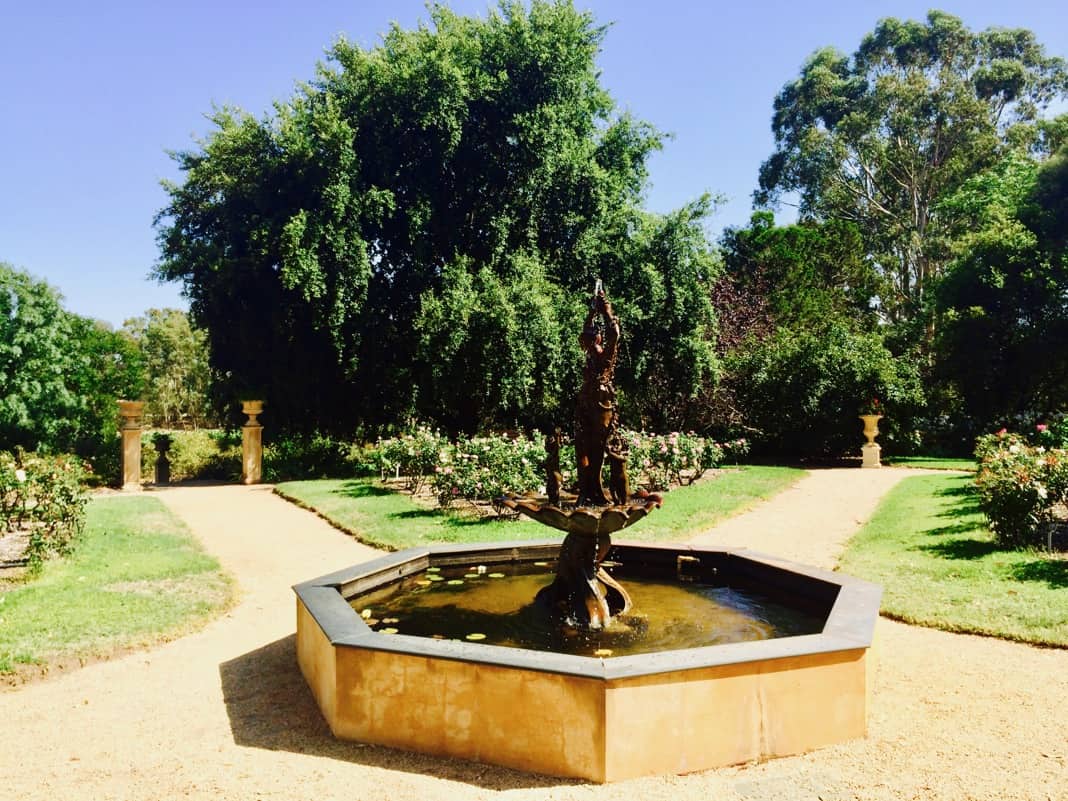 The piece to keep an eye out for is Helios, God of the sun. This special porcelain piece of Helios driving his chariot is supposed to have been Herman Thumm's favorite piece in the collection.
Interestingly, you can see a winged Cupid riding next to the Greek God.
Only two of these porcelain statuettes were ever made. The other one can be found in Saint Petersburg in Russia. When I asked how much it was worth, the answer was it had to be in the millions.
In Greek mythology, Helios is the Sun God, whereas Apollo is the God of light, though they often seem to job share for some bizarre reason. Greek mythology can get very confusing sometimes.
5. National Motor Museum
The town of Birdwood is located in the Adelaide Hills and is home to the National Motor Museum.
I visited the National Motor Museum on a quest to find a Mercury model vehicle in honor of Hermes (Mercury). No such luck, but I was still very surprised by what I did find.
Hermes (Mercury) is the God of travel, so I assume you'll be in Greek myth heaven if you visit, or you love cars, motorbikes, or both.
The vehicle you see below in the National Motor Museum is known as Mystic Fantasy. It is a Bedford with interesting Greek myth art painted on the side of the vehicle. 
It shows a warrior centaur facing Pegasus, the flying horse from Greek mythology. Not sure if this is supposed to be a friendly encounter or not.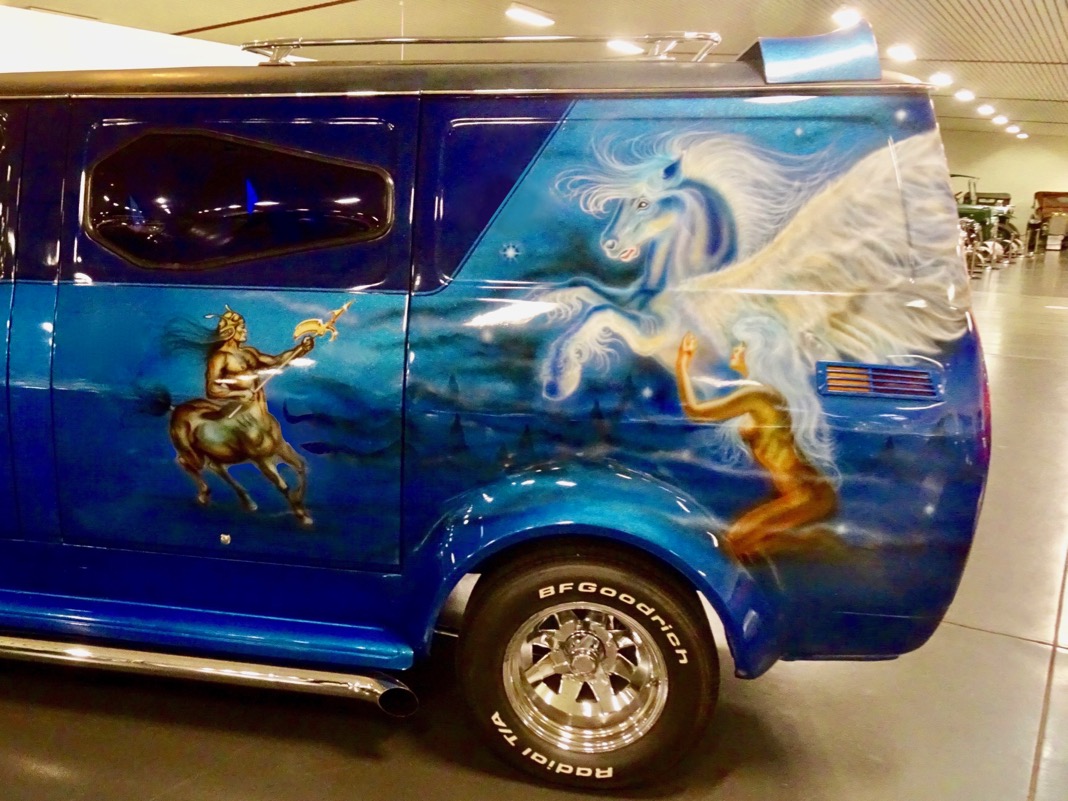 The reflections of light on the blue vehicle almost make it look as if Pegasus is shooting the centaur with some type of laser beam. The woman on her knees next to Pegasus is possibly in pray to the Greek Gods.
Could it be that Pegasus was sent to save her from the clutches of an evil centaur?
One type of vehicle in Australia well known for artwork is the Holden Sandman. This classic vehicle often had artistic drawings on different parts of the vehicle's body. Art could be on both sides of the body, on the car bonnet, the roof, or anywhere really.
The artistic drawings were often used to attract attention, especially from the ladies.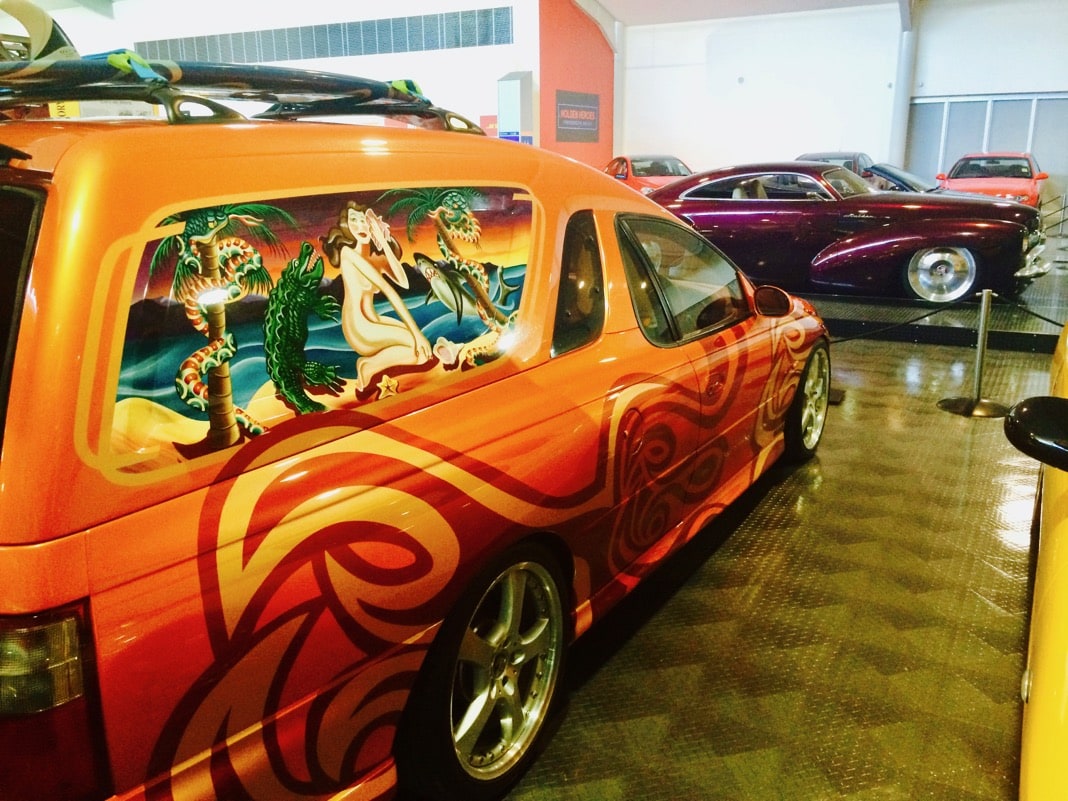 The museum has a collection of around 400 motor vehicles and has the prestige of being Australia's largest motor museum.
What surprised me most in the motor museum was the large collection of motorcycles on display. Here's a 1904 Minerva, which is the Roman name given to Athena. In the early years, motors were simply added to pedal bicycles.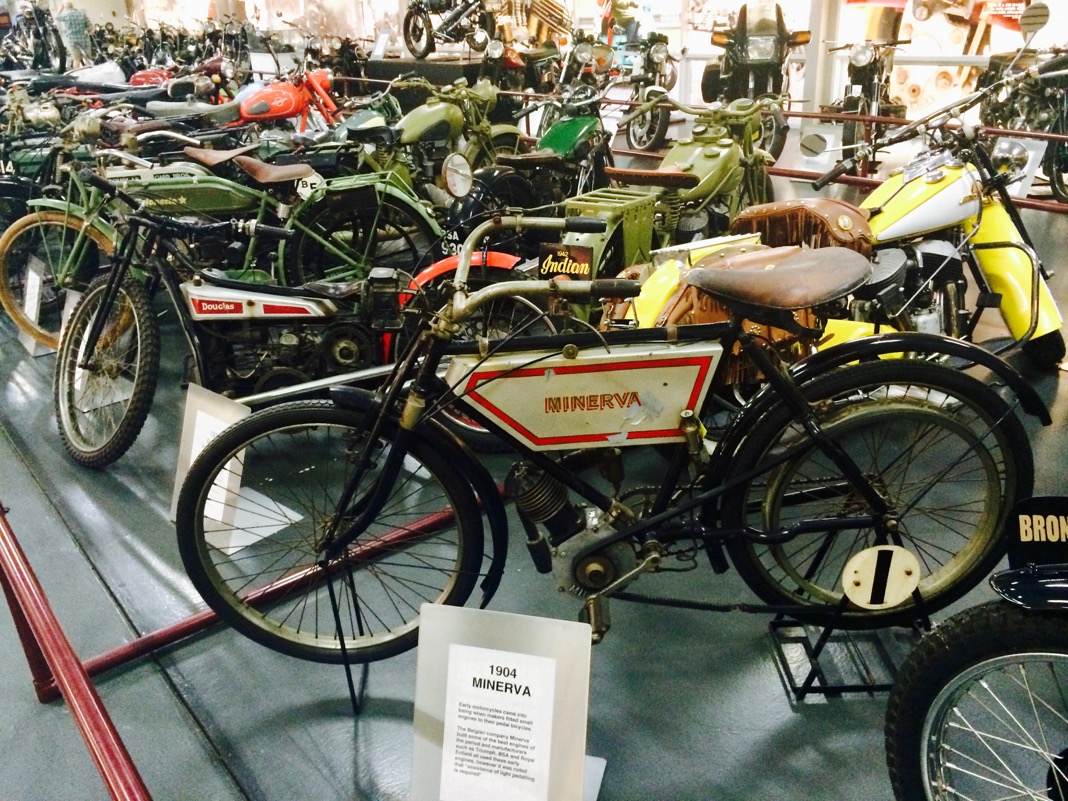 The National Motor Museum has a large range of Holden automobiles on show. There is a classic Holden Monaro on display, which many Aussies consider to be one the most iconic cars of all time.
Holden was founded in Australia in 1856 as a saddle maker and closed in 2017 after producing its last car. Today, some of these Holden cars sell for a fortune.
If you're a motoring enthusiast, you should have a read of my post on the best cars for Greek Gods, which is a bit of an eye-opener.
In the ancient past, the Greek Gods were associated with chariots, but no doubt, they've all been converted to using motor vehicles in modern times.
6. Ayers House Museum
Ayers house was once the home of Sir Henry Ayers, who lived there from 1855 to 1897.
This is the guy who had his name given to Ayers Rock, the famous red rock situated in the middle of Australia in the Northern Territory. Today, the red rock is normally referred to as Uluru in respect to what the First Australians call it.
I found this Greek or Roman-inspired vase in a tiny storage room inside Ayers House Museum.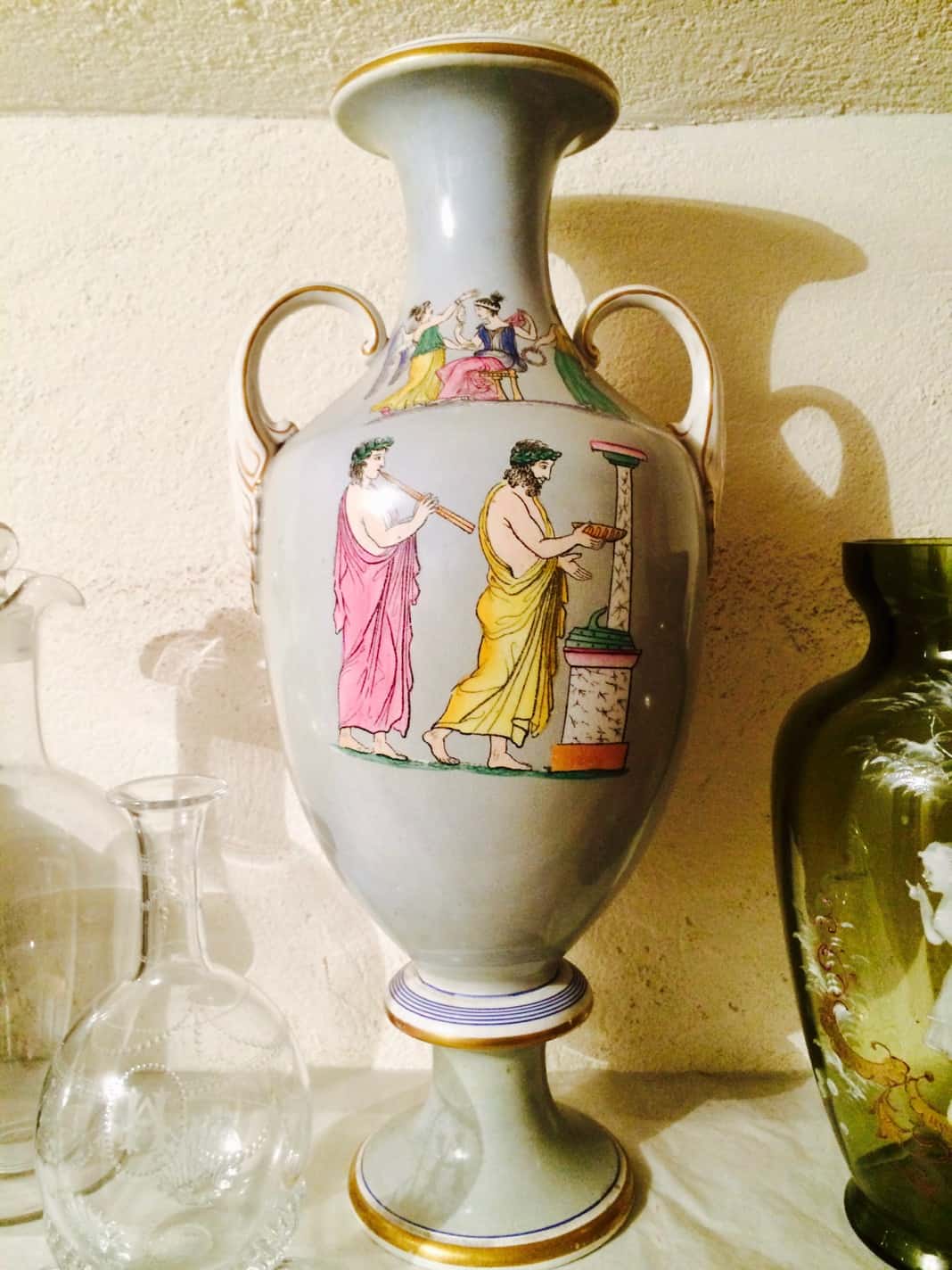 When I visited Ayers House, I did a private tour of the house with a guide and was lucky enough to be the only person on tour.
What fascinated me most were the stories of how ships once delivered ice around the world. This was the practice before refrigerators were invented and before ice could be made.
Prometheus from Greek mythology is supposed to have given fire to the people, so I suppose Poseidon (Neptune), God of the sea, must have wanted to give ice to the people.
7. Greek Myth Sculptures in the Adelaide Parklands
You don't have to visit an art gallery or a museum in Adelaide to see some Greek myth art in the form of sculptures.
For instance, you can visit Veale Gardens, which is located just off South Terrace, to see a sculpture of Pan, the nature God.
Here you can watch the Goat god playing the Pan pipes while water is flowing through them. It makes for a very beautiful water fountain. There are even goldfish in the pond.
Not sure how many Pan water fountains are out there in the world, but this one seems kind of special.
8. Port Adelaide Street Art and Adelaide City Murals
Go for a walk around the streets of Adelaide and see if you can spot a Greek God.
This is Cupid (Eros), the Greek God of love in Port Adelaide, shooting one of his famous arrows.
There are many great street murals in Adelaide, especially in Port Adelaide, where they're often referred to as the Wonderwalls of Port Adelaide. I have a dedicated post showing you many of the wonderful street murals in Port Adelaide if you want to check them out.
9. South Australian Maritime Museum
The Star of the Greece ship figurehead is found inside the South Australian Maritime Museum. Anyone who loves maritime history should check her out.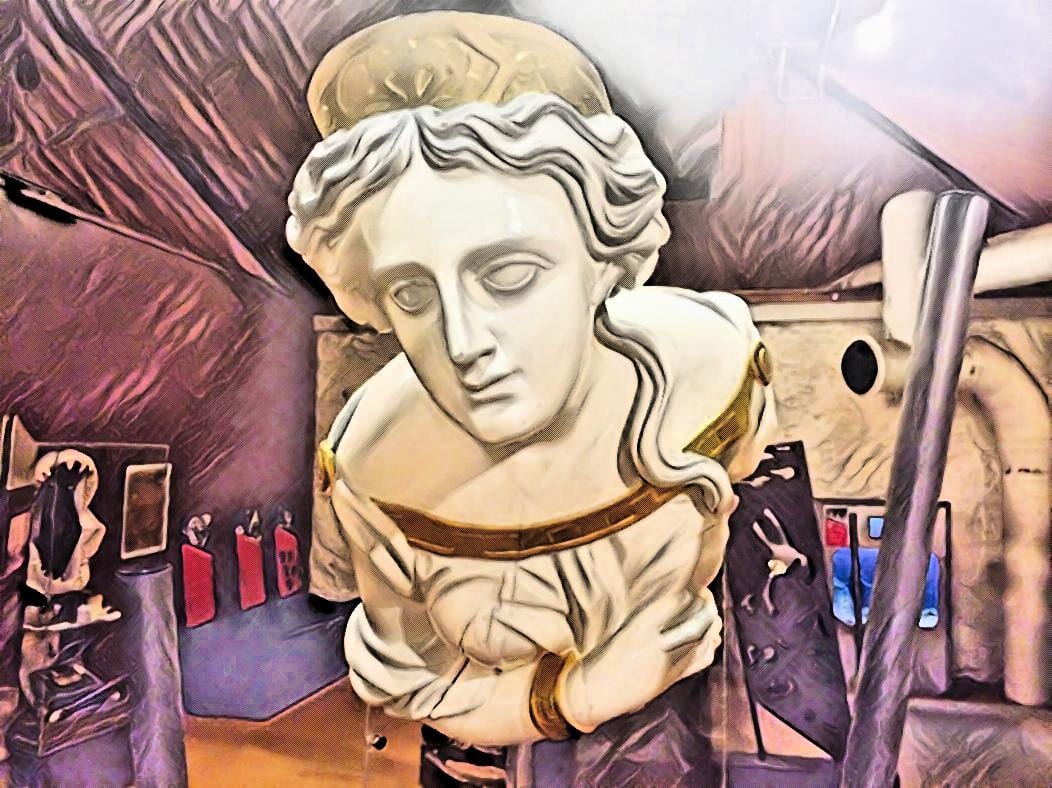 The Star of Greece shipwreck is located off the coast of Port Willunga Beach. You can even go snorkeling over it.
Port Willunga Beach is one of Adelaide's best beaches, and I highly recommend you visit during a hot summer's day when you'll find the beach at its finest. Visiting this beach actually makes you feel as if you are in Greece.
Another thing that could interest you is a visit to the South Australian Maritime Museum. This museum is one of the best things to do in Port Adelaide, especially if you love boating.
10. Venus – Government House
Aphrodite (Venus), the Goddess of love, is located outside of South Australia's Government House.
You can find her on a strip of green grass between the outside stone wall and North Terrace, a road where you'll find many of Adelaide's cultural institutions.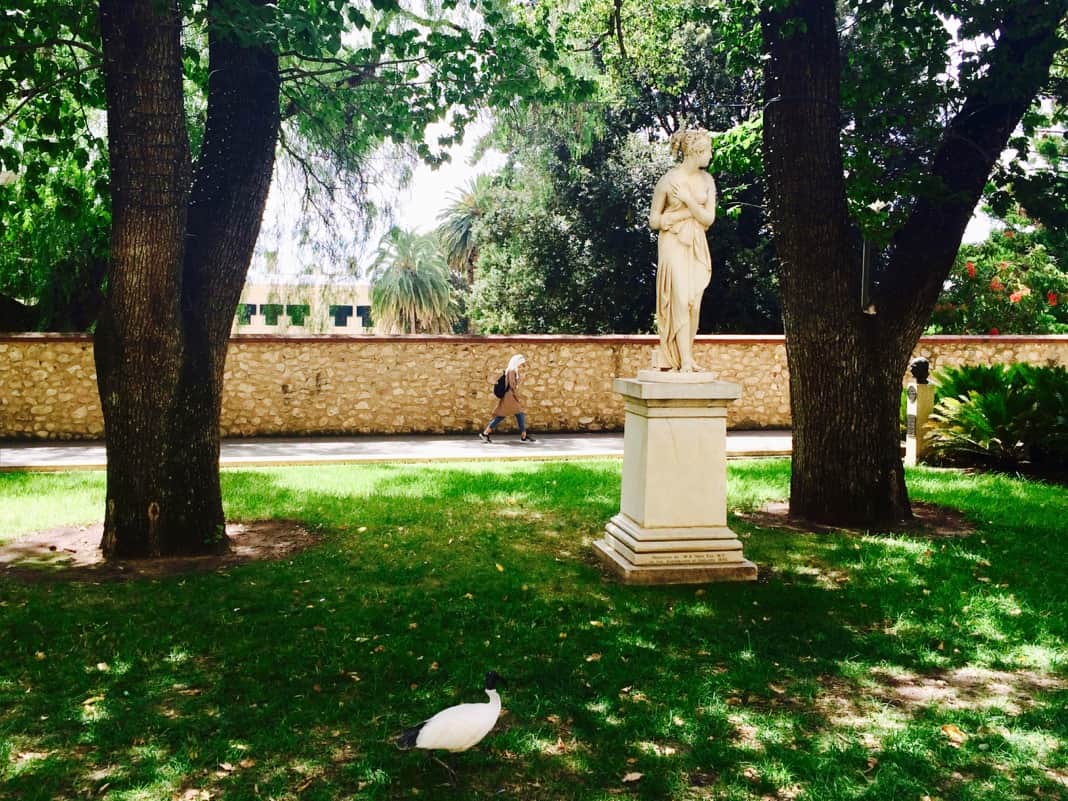 Government House is typically open for only one or two days per year for the general public. Entry is free of charge.
At this time, you'll be able to walk through the grounds and the house and enjoy some of the many artworks on display inside the building.
Otherwise, you'll have to be content enough with having met Venus. You can also get a glimpse of Government House from over the fence.
If you walk towards the Art Gallery of South Australia and turn left at the first street (Kintore Avenue), you can easily see inside the grounds of Government House. This is because the fence on the side is a bar-type fence that lets you see through it.
I once received a divine sign from Venus. You can read all about it in a post revealing the 35 best walks in Adelaide. You never know what could happen to you when visiting Venus, the Goddess of love.
The second Venus greets you as you walk down the northern entranceway inside the Adelaide Botanic Garden.
11. Museum of Classical Archaeology – University of Adelaide
This museum is said to have the largest collection of ancient Greek and Roman artifacts in Adelaide, with over 1700 items.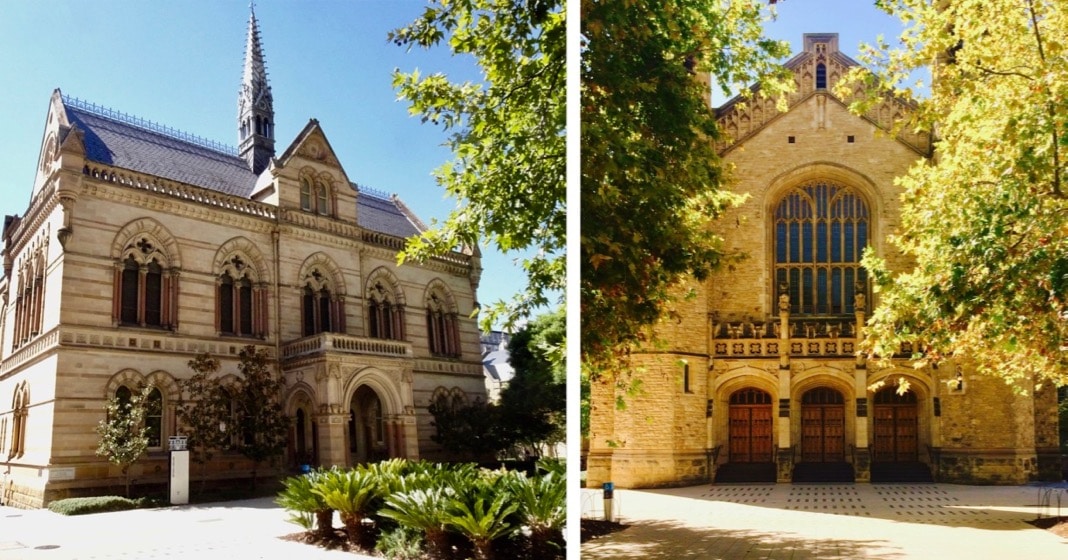 The hard part is getting inside. It is normally only open to groups of students.
12. South Australian Museum
Another thing to do in Adelaide is to go for a walk through the South Australian Museum. Here you'll find some interesting natural history to wonder about.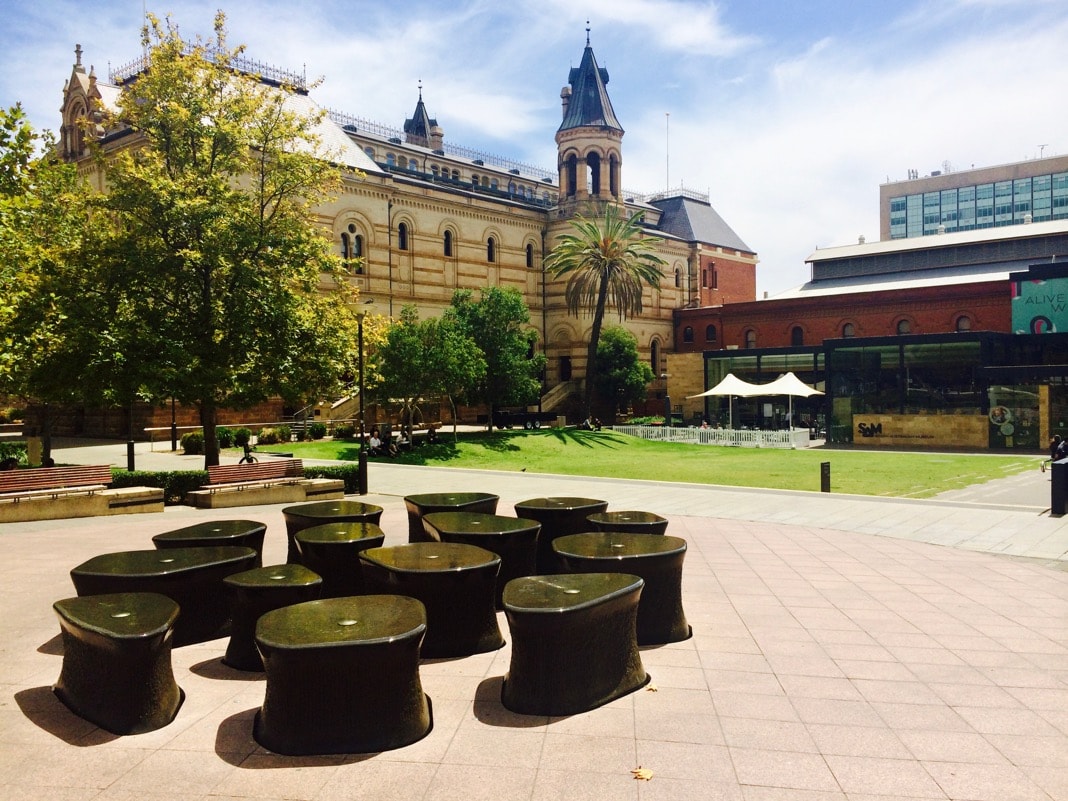 This fountain in front of the North Wing of the South Australian Museum is known as 14 Pieces. It is based on the vertebrae of an extinct marine reptile similar to a beast of a dolphin.
One of the things that stands out inside the museum is the giant 11 m long pink squid.
You can see it occupying an old disused lift shaft over four floors. It is actually a model based on the largest squid ever recorded in New Zealand waters.
You can also see some impressive dinosaur models and other wild animals in the museum. As well as some interesting marine life like the awesome sunfish.
Reminders of Greek mythology can be seen all over Adelaide, and now you know where to go to find it. I hope it helps someone out.
If you'd like to know more about Adelaide, I recommend reading my post about the 10 best things to do in Adelaide. This post will also show you a few more attractions related to Greek mythology in Adelaide.
Pin it … Share it