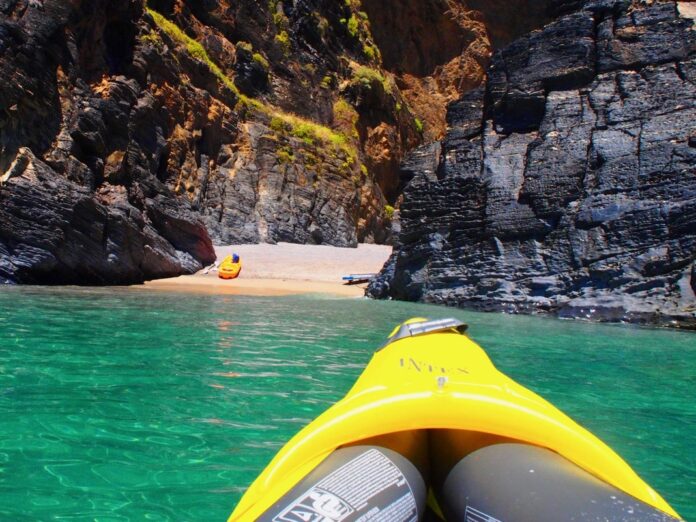 Kayaking from Rapid Bay to Second Valley has been on my list of things to do in South Australia for ages.
My inflatable kayak hadn't been used in a while. So when summer came around, it seemed like a great way to start the summer season.
My inflatable kayak has served me well at the Adelaide Dolphin Sanctuary. Still, going on this kayak trip to Rapid Bay would be an extra-level adventure. That's because I'd be kayaking in the open ocean instead of a sheltered river.
On the day I went, the temperature forecast was 33 degrees Celcius, with little wind. The day was supposed to be beautiful with a bright blue sky, so everything lined up nicely.
I drove to Rapid Bay from Adelaide, leaving Adelaide at about 11:00 am and arriving at Rapid Bay by about 12:30 pm, taking me about 90 minutes to get there.
After I parked my car, I had to get my stuff out of the car and onto the beach. After that, I had to inflate the kayak. I also took a few photos before entering the water at 1:30 pm.
So all up, it took around an hour to get ready to start kayaking from Rapid Bay to Second Valley after I arrived at Rapid Bay.
While on the beach I asked another guy who was kayaking if he could take a photo of me before I left. Here I am looking in the direction where I'd be kayaking toward Second Valley.
Kayaking on a beautiful day like this was always going to be awesome!
Kayaking Rapid Bay
Rapid Bay cave is easily accessible by normal beachgoers who visit Rapid Bay beach. You can walk inside the large cave to have a look around just by walking there on the sand if you want.
The cave is quite impressive, but I've been there before, so I didn't feel a need to go there this time.
During this trip to Rapid Bay, I was happy enough to cruise along Rapid Bay beach past the cave in my kayak.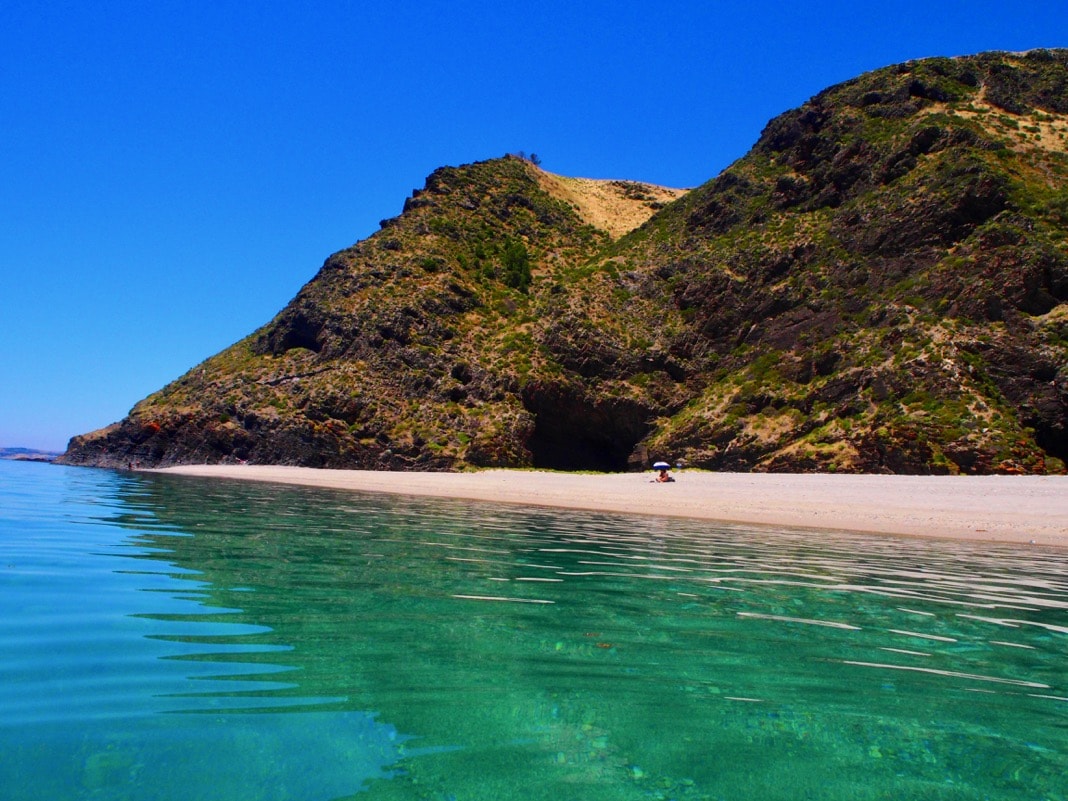 The water was perfect, an emerald green color that reminded me of Greece's sublime sea.
Kayaking Rapid Bay almost felt like being in Corfu because the sea was fantastic.
People expect to find beautiful secluded beaches, hidden coves, stunning cliff scenery, and impressive caves in Greece, but here we are in South Australia.
The day was magical, and the weather was as perfect as you could hope to have, especially for water activities like kayaking.
Hidden Beaches at Rapid Bay
Here is the first hidden beach at Rapid Bay that attracted my attention. It wasn't too far around the corner from the main Rapid Bay beach that has the big cave at the end.
If you wanted, you could probably also easily swim to the beach from the main beach at Rapid Bay.
Most people don't know about this hidden beach in Rapid Bay because it is out of sight to the normal beachgoer. That's one awesome thing about this secluded beach.
There were only a few people around at the time I landed there.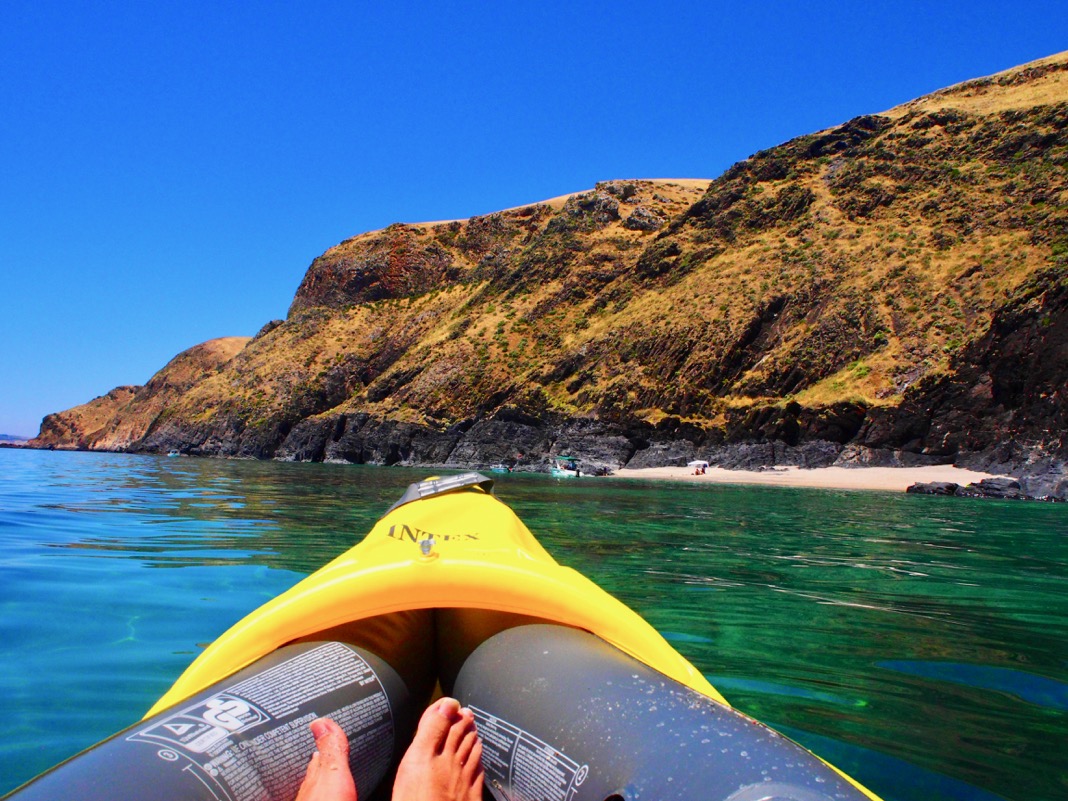 After I landed on the beach with my kayak, I went to one end and took this photo, which looks out in the direction where I would have to continue to kayak to reach Second Valley.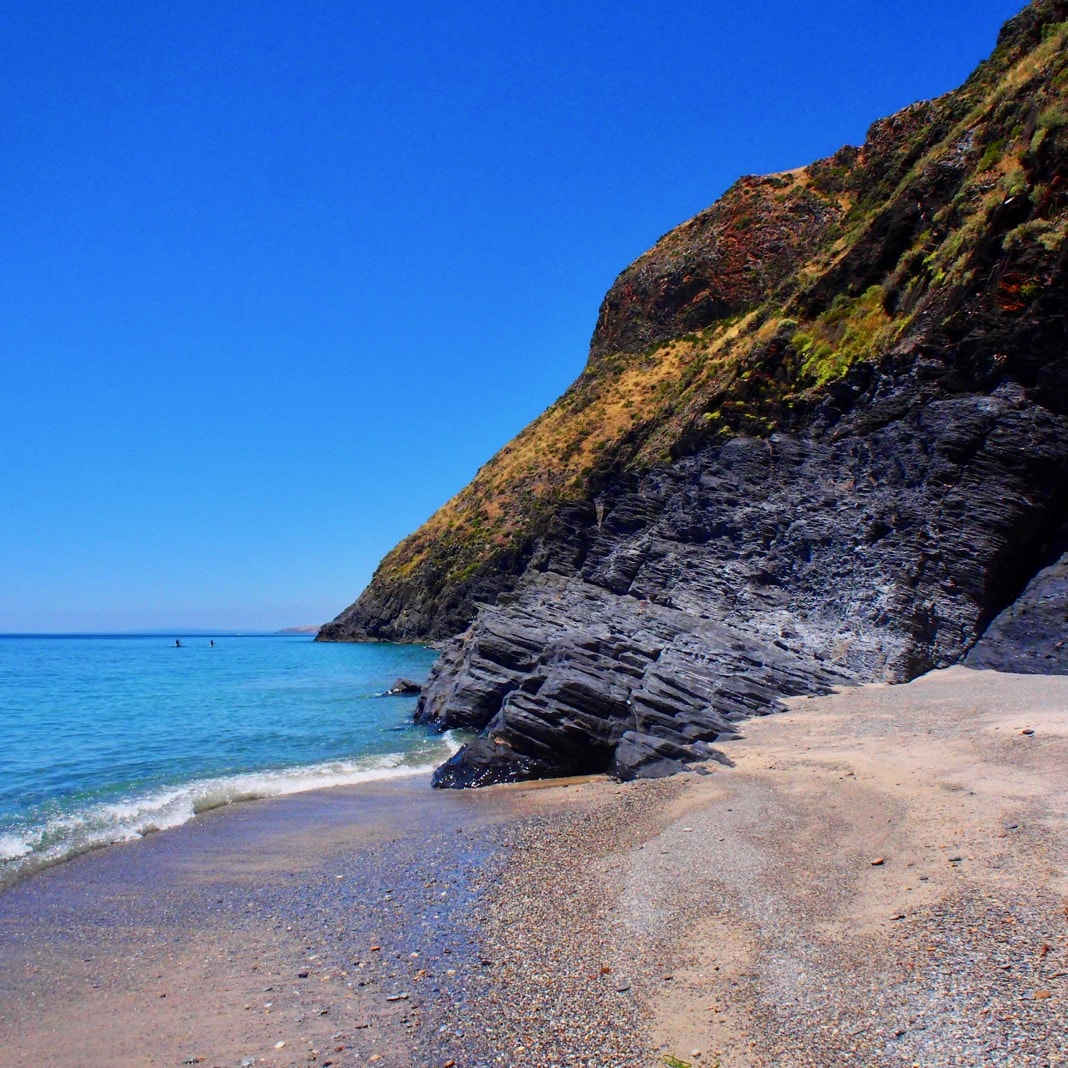 The beach had plenty of space and it turned out to be the largest secluded beach between Rapid Bay and Second Valley. Most of the other beaches were relatively tiny in comparison.
Tiny Beach
As I started kayaking again on the way to Second Valley, I spotted another much smaller beach that looked superb.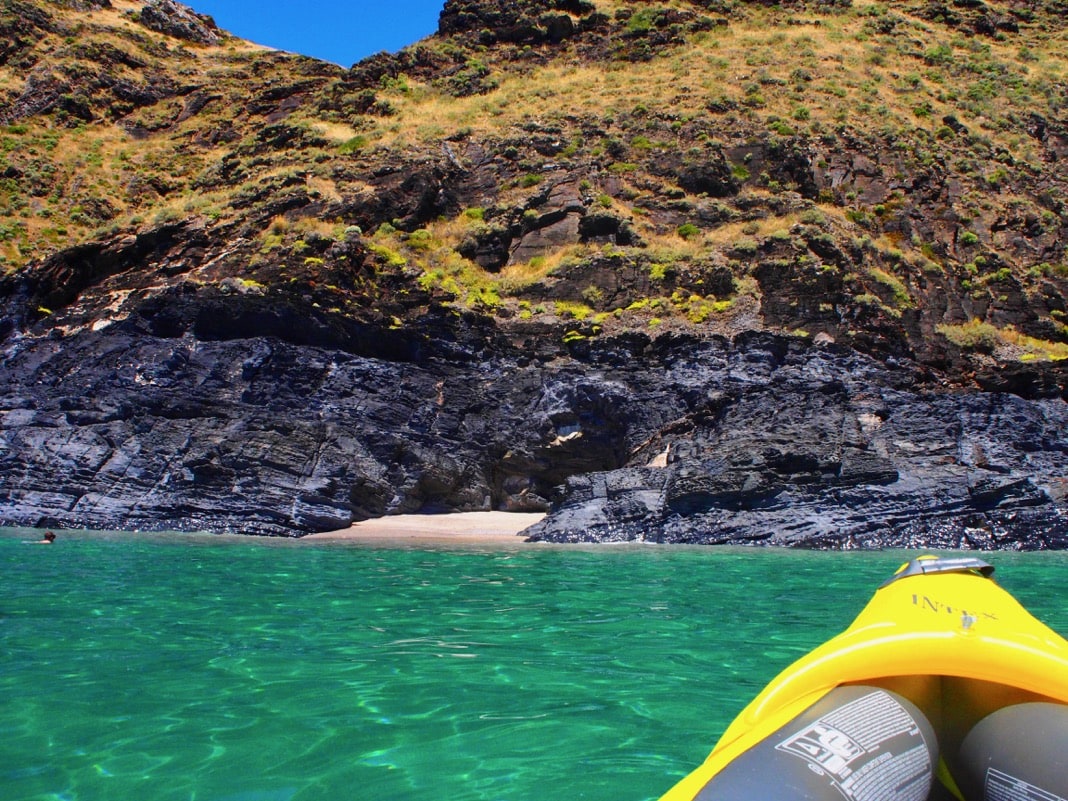 I didn't stop on this beach because a spear fisherman was making his way to the island, as you can see on the left side of the picture.
After I took this photo, I saw another guy, probably the spear fisherman's friend, who was already on the sandy beach.
It seemed like it would be a bit crowded with the three of us on it, so I decided to skip this one.
I was sure there would be at least one more secluded beach along the shore between Rapid Bay and Second Valley, so it didn't bother me much.
Rapid Bay Sea Cliffs
Soon after, while kayaking from Rapid Bay to Second Valley, I spotted this cave-like entrance to what seemed like another sandy beach on the other side.
I didn't go through the tunnel, but I'm sure I could have if I wanted to try.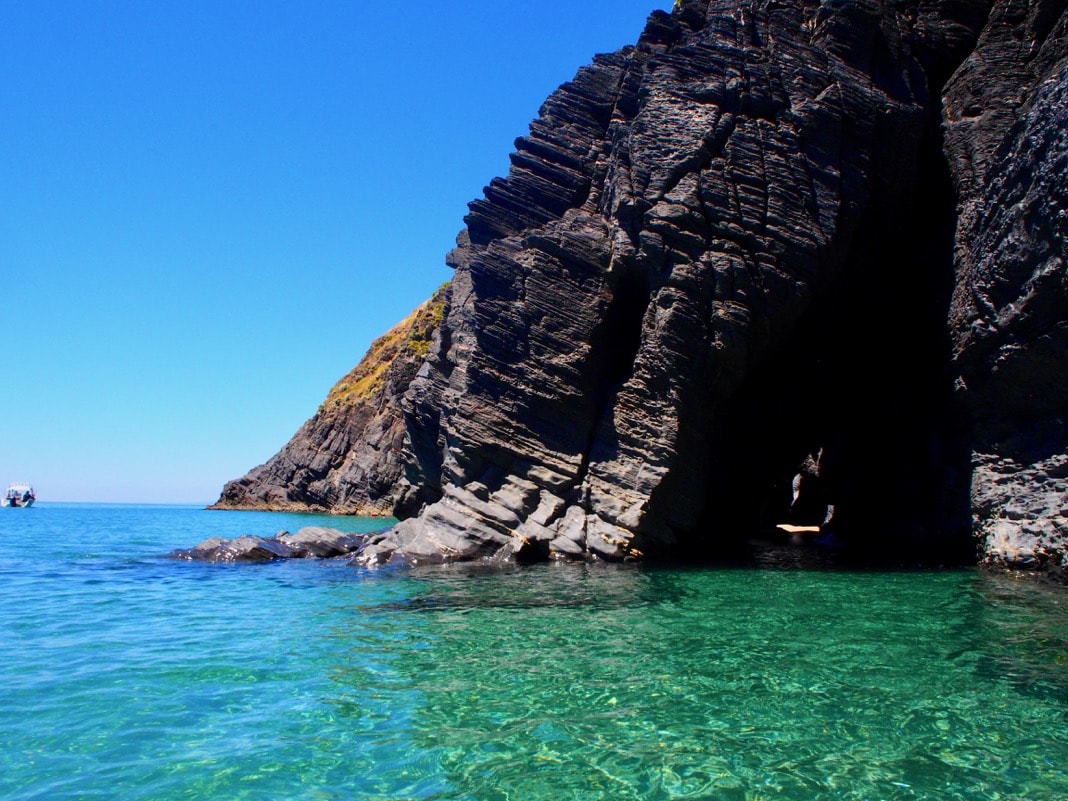 Hidden Cave and Beach at Rapid Bay
Then around the corner and out of nowhere, this spectacular hidden beach popped into view.
The beautiful thing about this hidden beach close to Rapid Bay is that there is a cave in the middle.
Making my way to the beach felt like I had discovered a small piece of paradise in South Australia, which few people see for real.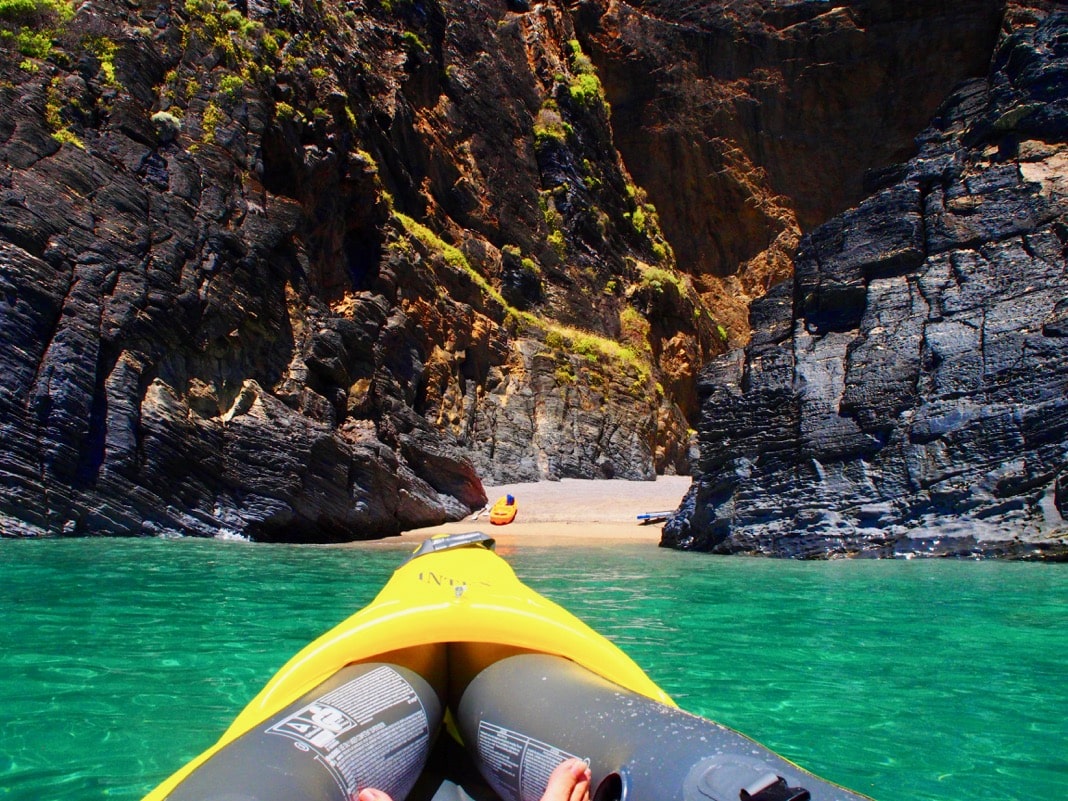 As I got closer to the secret beach, the hidden cave came into view.
There were also a few kayaks lying around on the beach already. I could see a couple swimming in the sea who were out of sight in these pictures, but when I arrived, I couldn't see anyone else.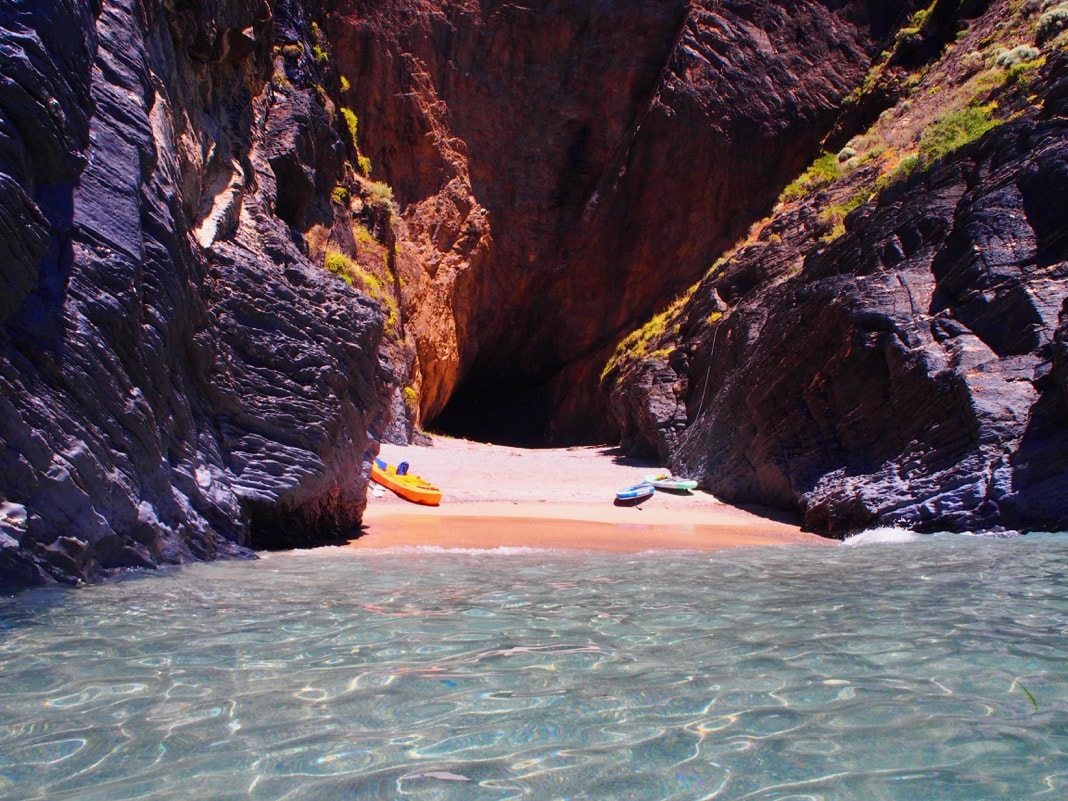 After I landed my kayak on the beach, I walked to the hidden cave. A couple of girls were walking out as I was walking toward the cave.
I walked inside the cave and found that the cave wasn't that deep since it was only a few meters long. Here's what the back of the cave wall looks like.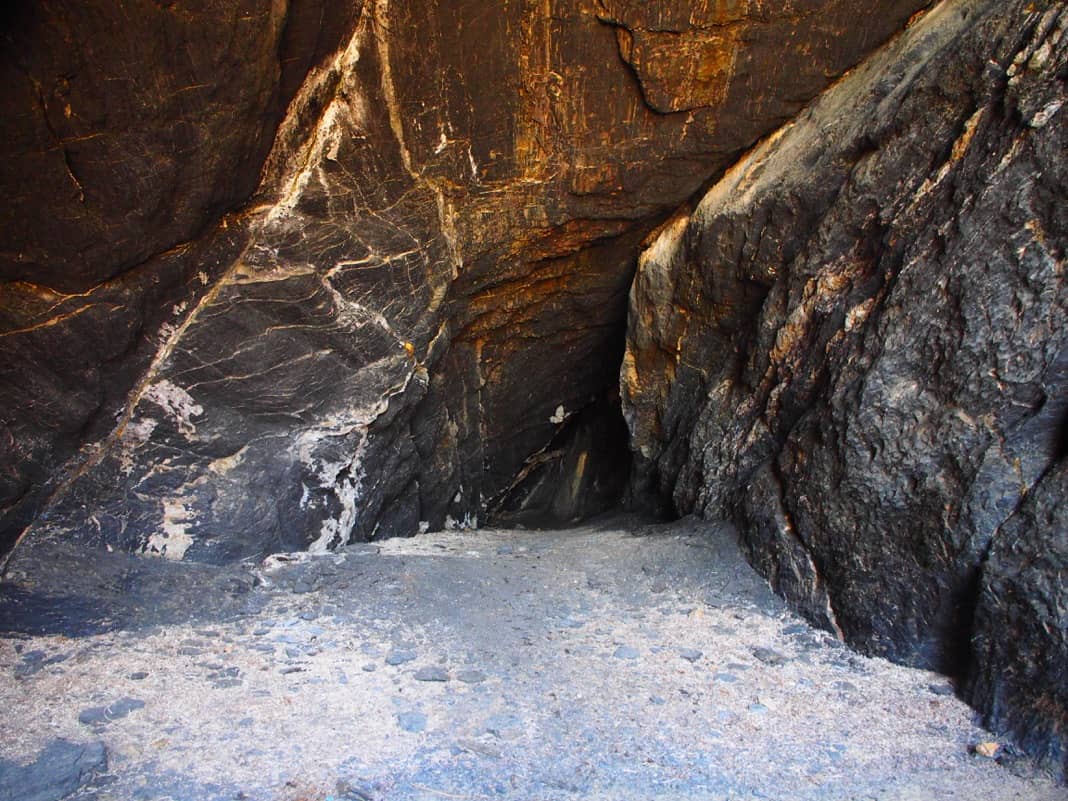 Below, you can see the two girls taking photos at the shoreline.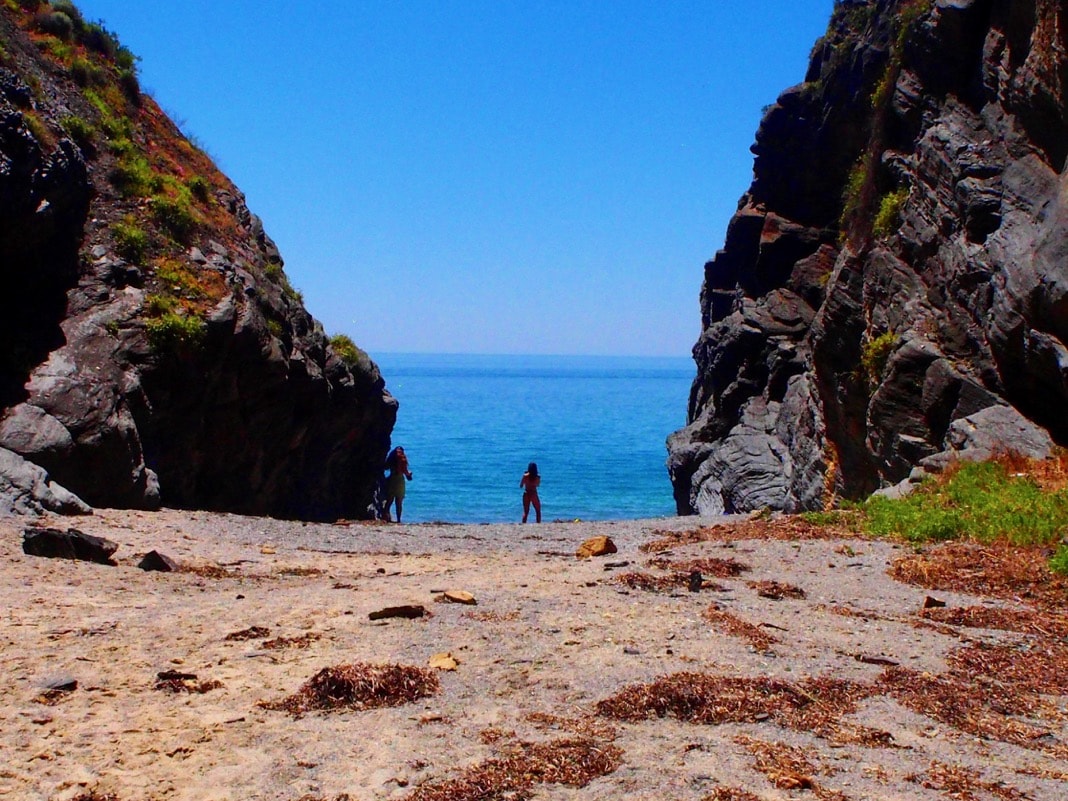 Secluded Beaches at Rapid Bay
Seeing this secluded beach made me want to land my kayak there, but I noticed some rocky ground near the shoreline, which seemed a bit risky, especially when you have an inflatable kayak, so I decided against it.
I could also see this bright red umbrella on the beach, so I knew some people were already enjoying the secluded beach all to themselves, so I decided not to intrude.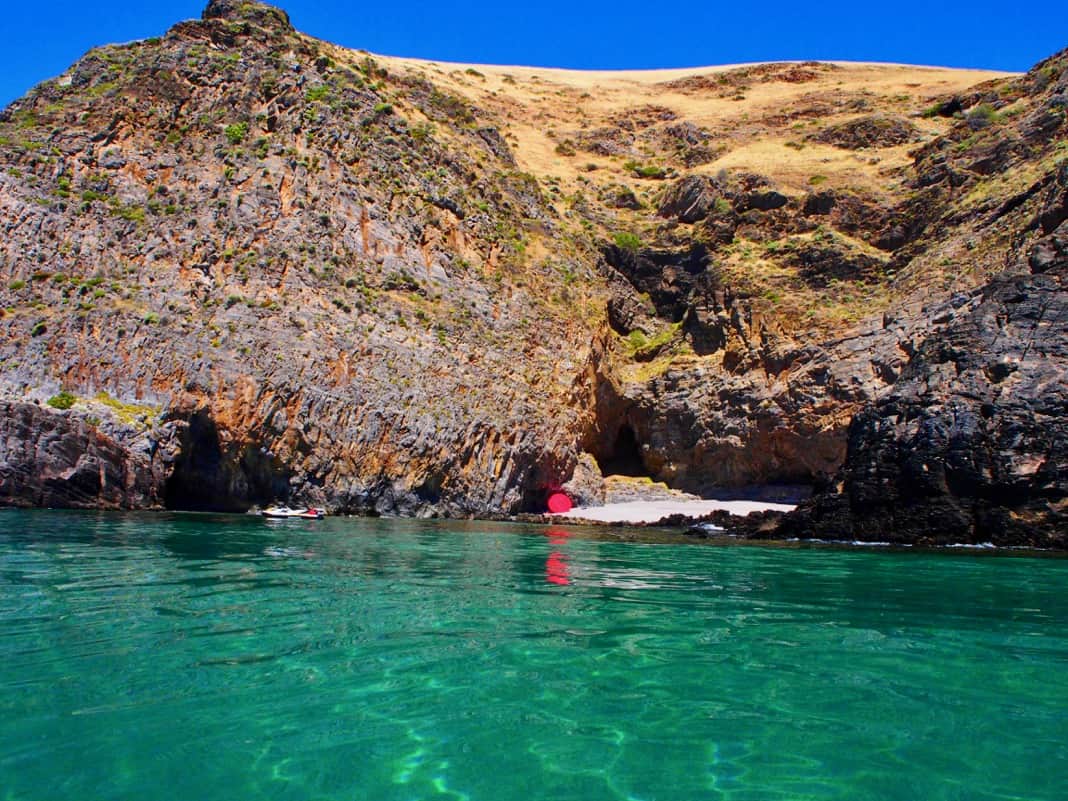 Now that I have looked at the above picture more closely, I should have attempted a landing. The beach looks incredible! Maybe another time.
Secret Cove Rapid Bay
The name of this cove in Rapid Bay may be nicknamed Secret Cove. Well, it is either this one or another secret cove along the coastline between Rapid Bay and Second Valley.
The beach in the secret cove looked very inviting, so there was no way I was going to miss stepping foot on this beautiful small beach.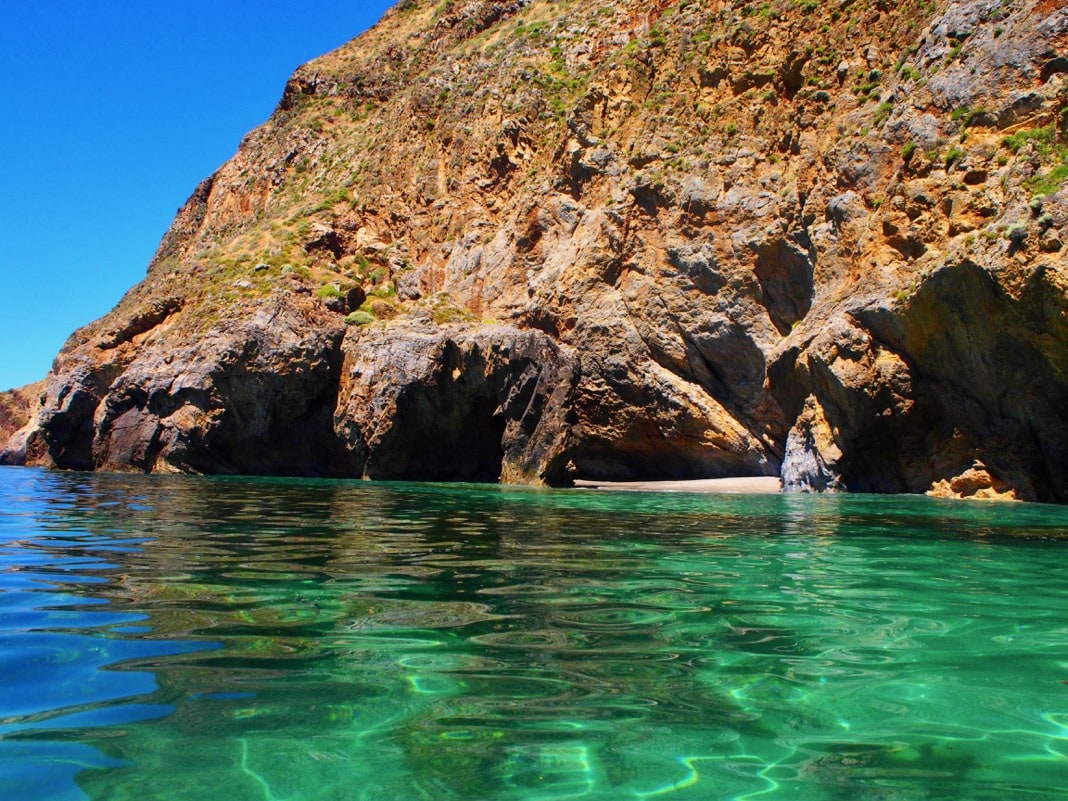 After I landed, I pulled my yellow Intex kayak onto the beach and looked around. The beach is tiny, but even so, it impressed me greatly.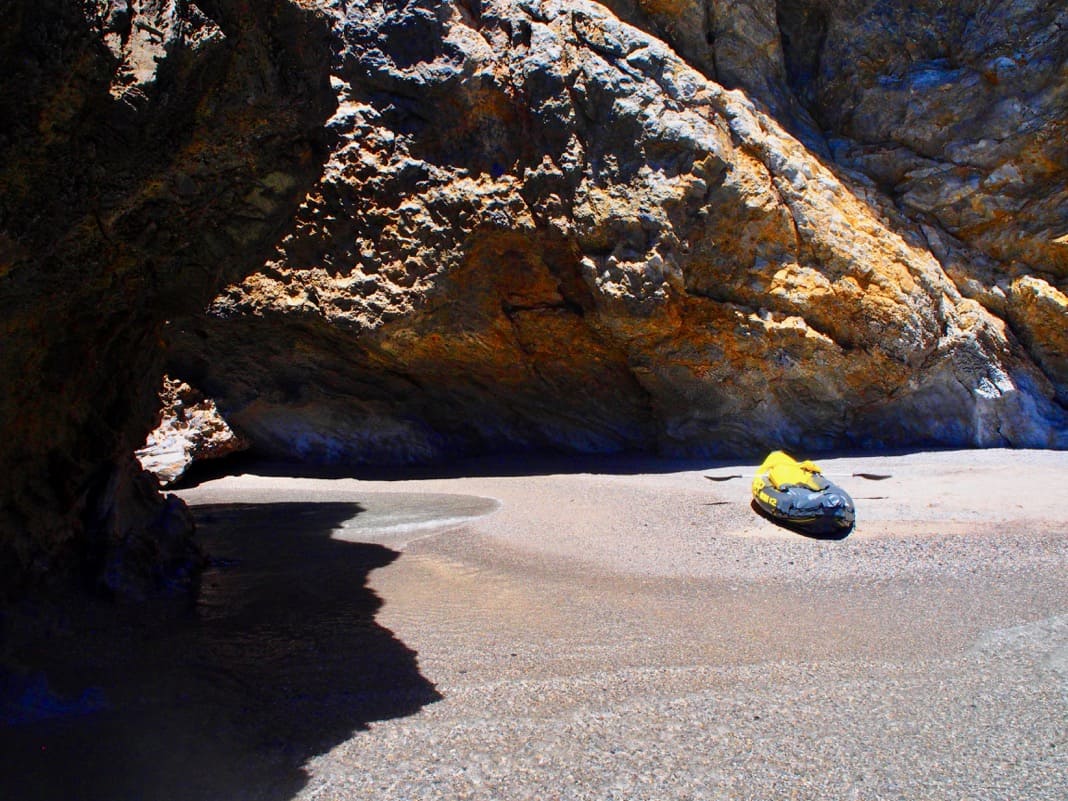 I'm not sure why I didn't go for a swim at this secluded beach. The thing is, I didn't end up going for a swim at all when kayaking from Rapid Bay to Second Valley. I only thought about it when I returned to my car at the end of the day.
It just slipped my mind completely, even though I saw several other people swimming at various spots between Rapid Bay and Second Valley.
Here's a view taken looking out to the left side, the direction I had already kayaked that took me to this stunning beach.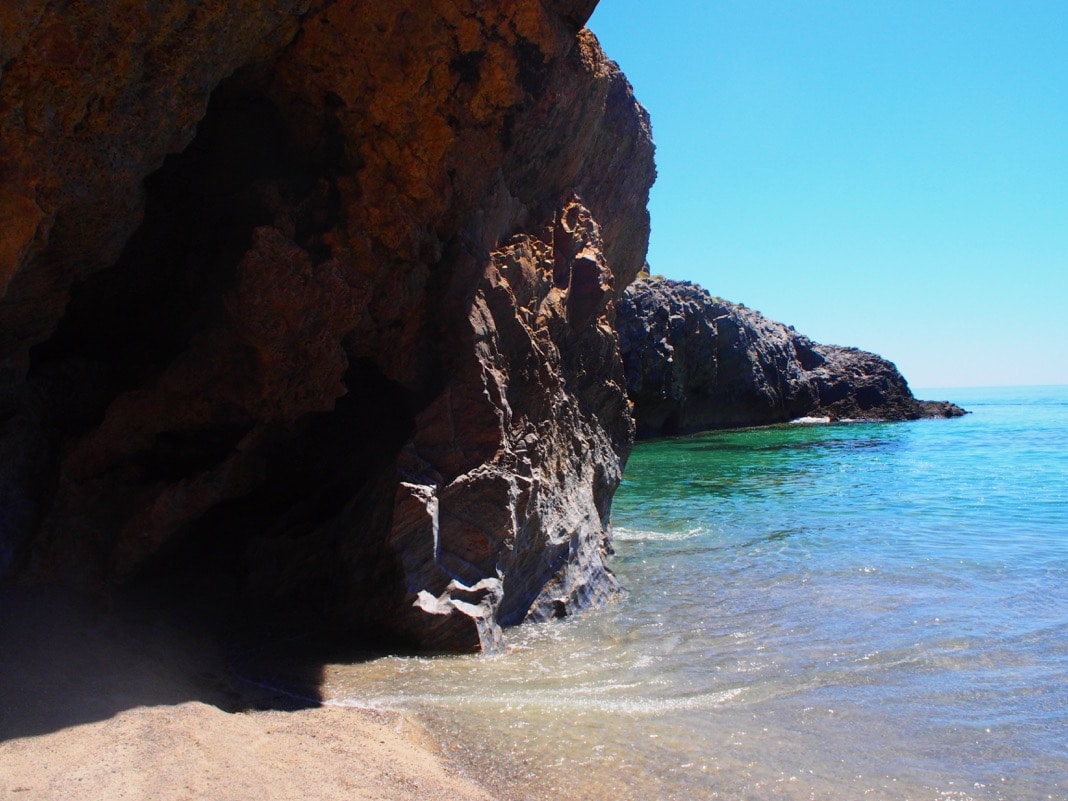 At this marvelous beach, you'll see an unusual gap on one side between the rocky cliffs which has created a unique view through the cliff walls. I took this picture as a jet skier was cruising past.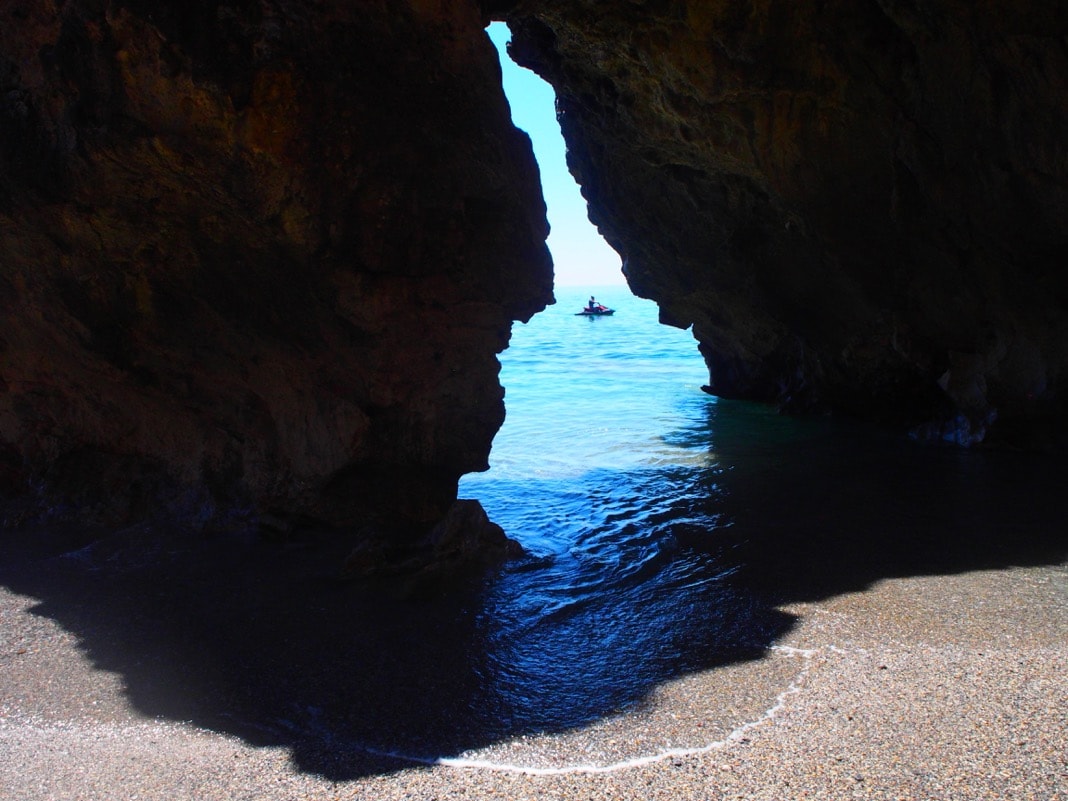 Below is a view of the secret cove beach taken as I left. You can see the gap in the rock formation on the left side.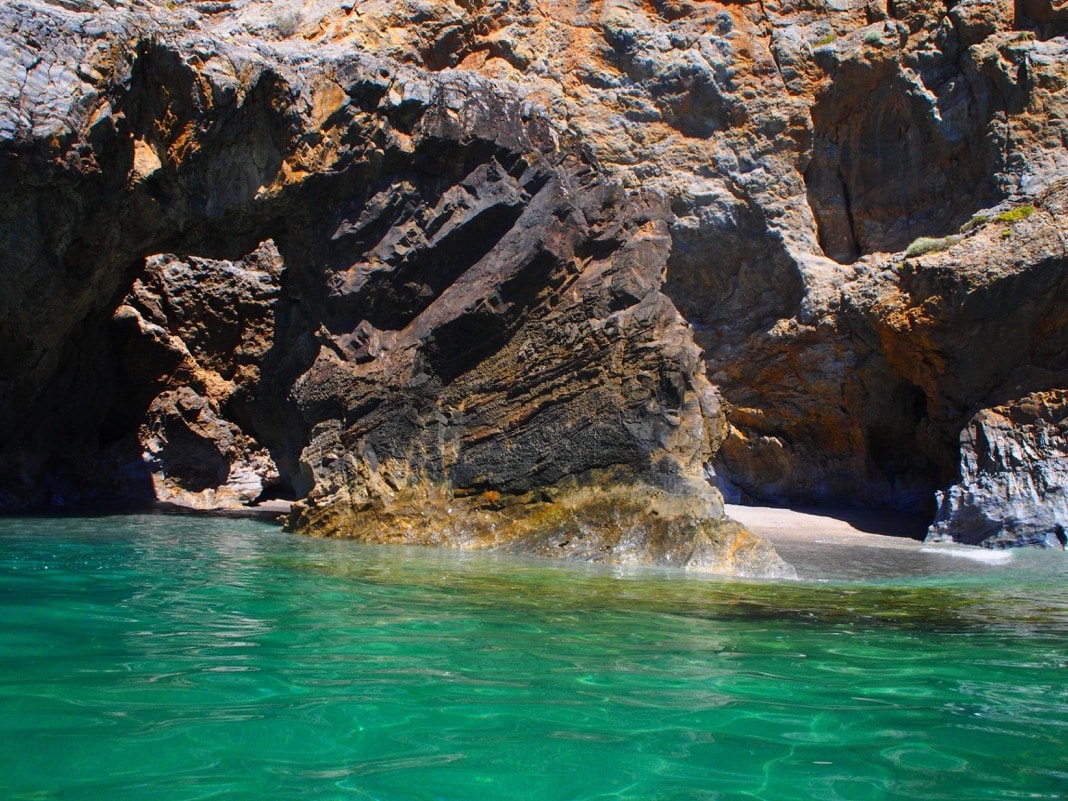 Kayaking Second Valley
On the way to Second Valley, I saw some young people on the cliffs. Second Valley is a popular spot for cliff jumpers, and it also seems to be a hang-out spot for teenagers. A few of them were swimming around as well.
After that, it didn't take me long to reach the Second Valley jetty. A few people were fishing at the end, and I'm sure some of them were trying to catch squid.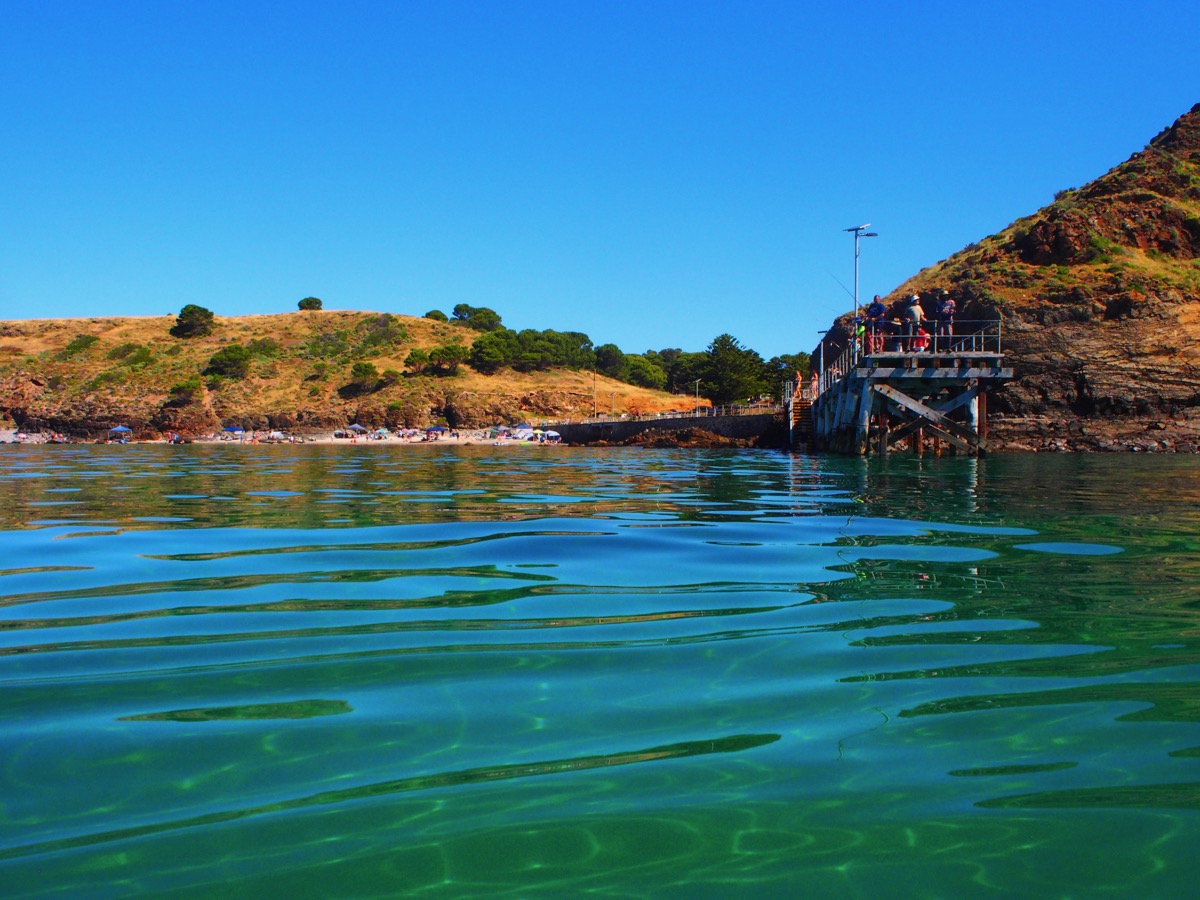 Here I am, kayaking alongside the walkway that continues to Second Valley jetty.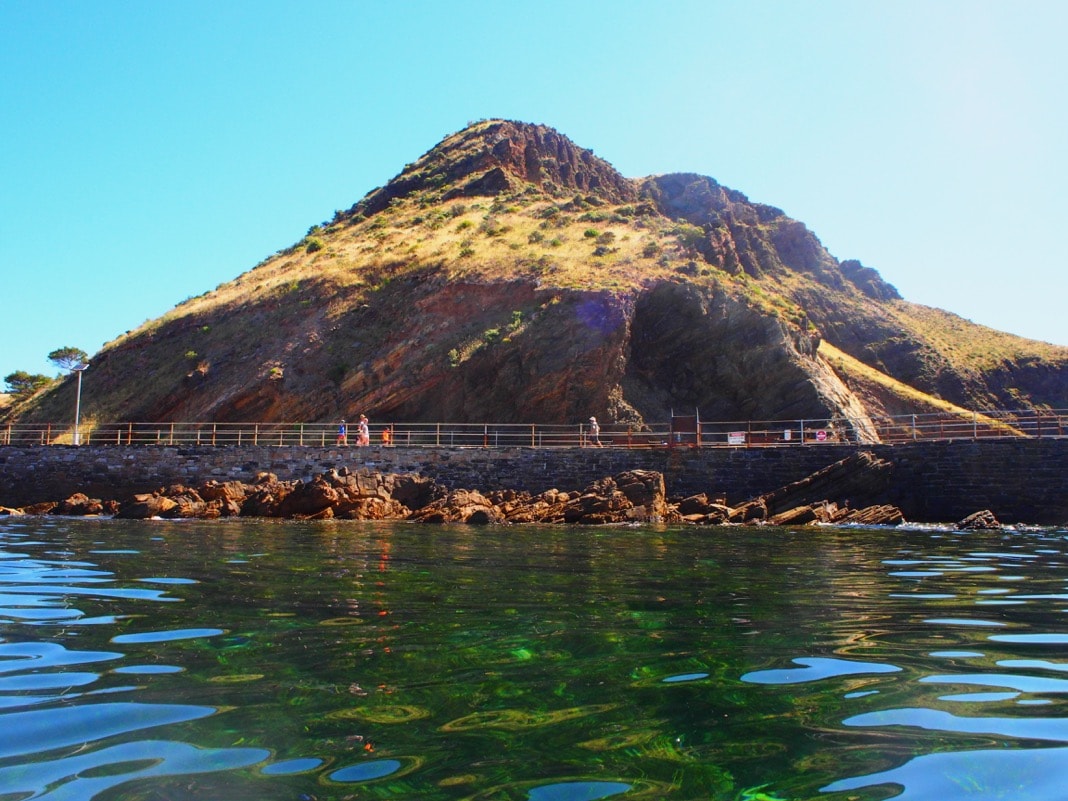 Second Valley Beach
At this point, my kayaking adventure to Second Valley was nearly complete. All I had to do was land on Second Valley beach, one of the best beaches in the Fleurieu Peninsula.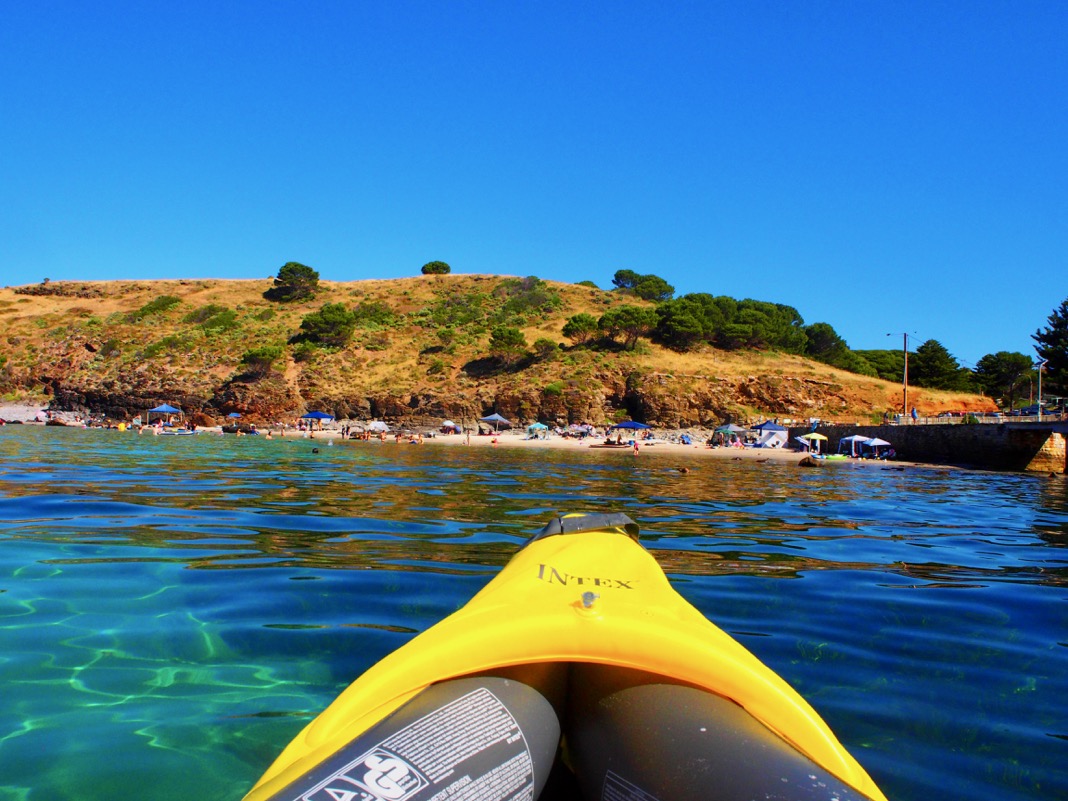 When I reached Second Valley beach, I got my sunscreen bottle out of my bag and walked to the cement area just above the beach, where a few tables and chairs were situated.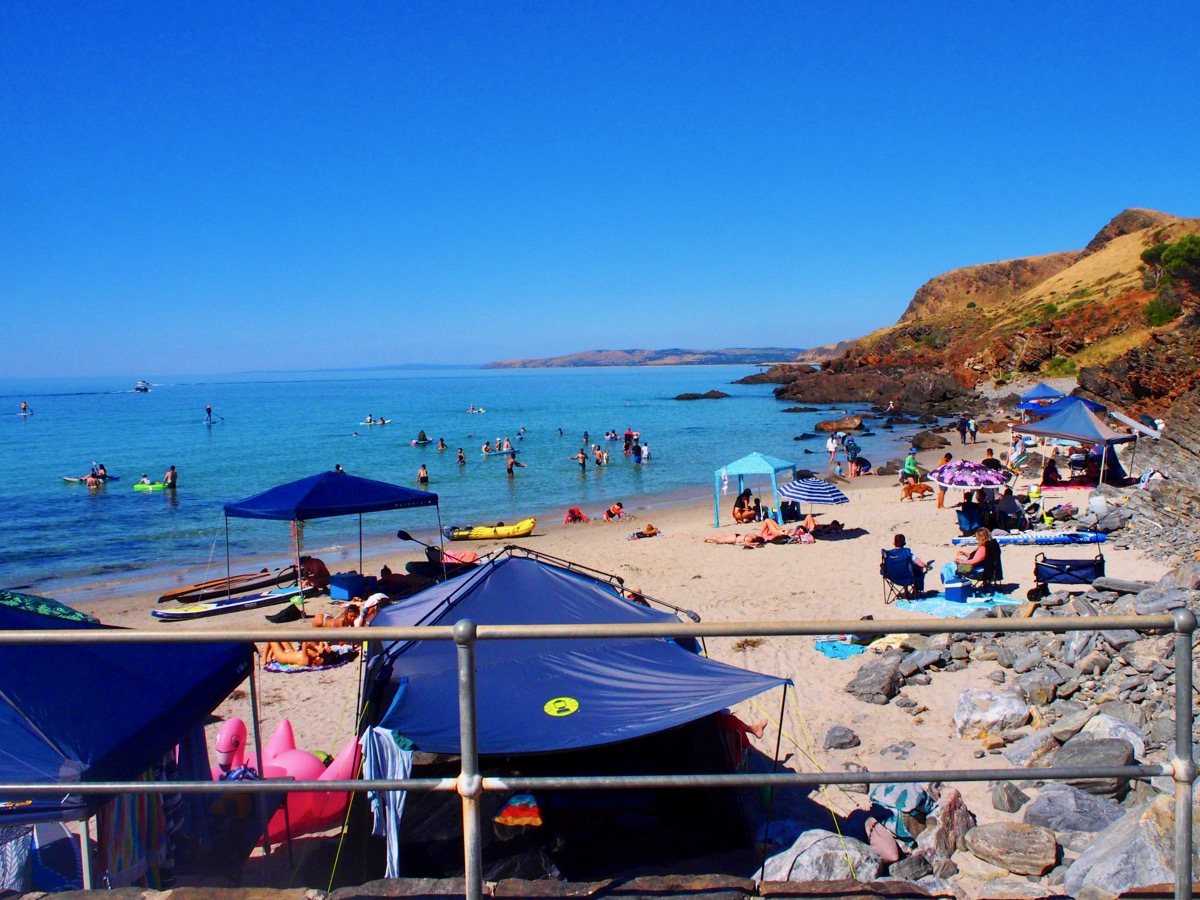 I put on loads of sunscreen since I wasn't sure if I was getting sunburnt.
I didn't walk to the end of the jetty because, after a few steps, my feet were getting burnt from the super hot pavement. My flip-flops (thongs) were in my bag in the kayak. I couldn't be bothered returning to my yellow kayak to get them. You can see the yellow kayak in the distance.
By that stage, my energy levels were low and I wanted to conserve energy for the return kayak trip back to Rapid Bay. I arrived at Second Valley beach at 4:30 pm, so I had already been exploring the Rapid Bay to Second Valley coastline for around 3 hours.
When I returned to the water, I cruised past the cliff jumpers at Second Valley again.
There seemed to be fewer people in the vicinity this time, even though it wasn't that long when I first cruised past.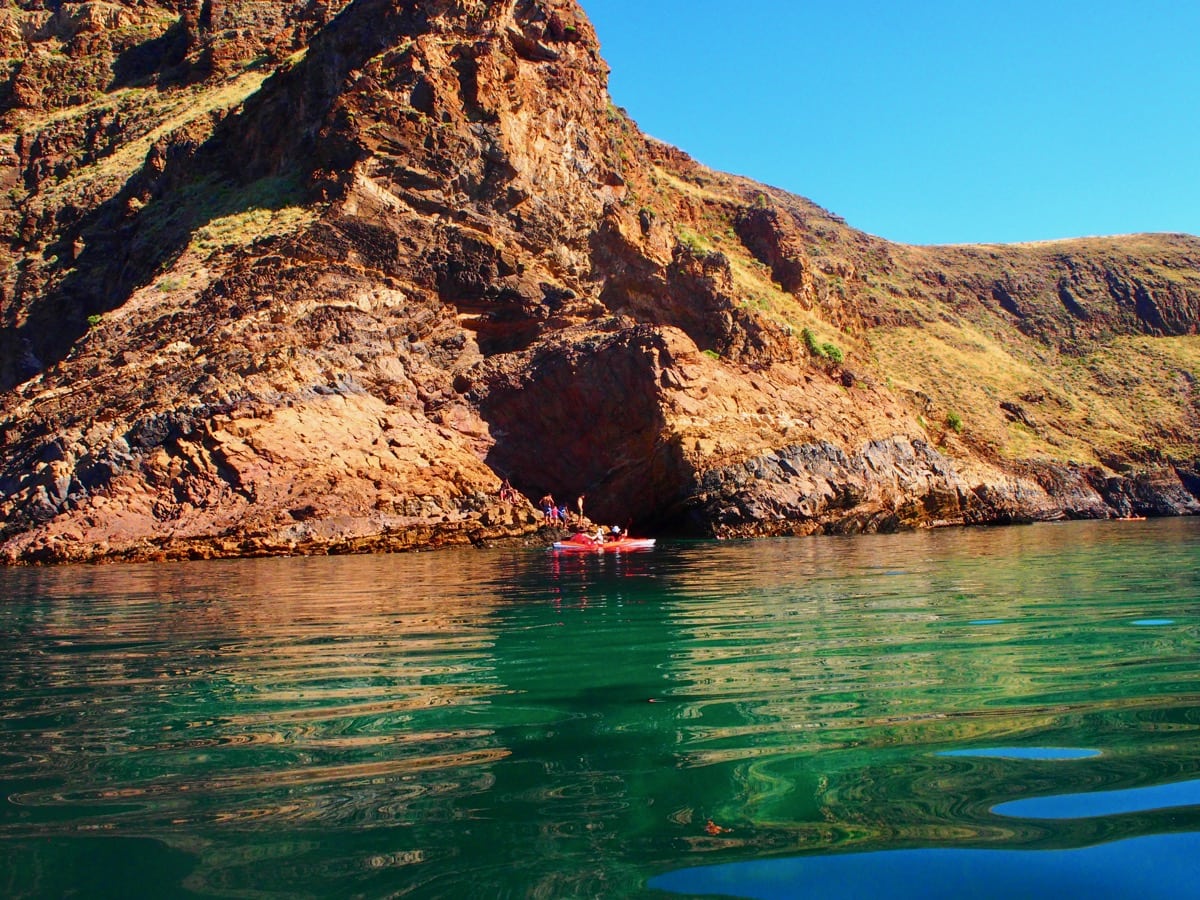 Sea Cave Second Valley
There is a sea cave at Second Valley where you can enter with your kayak.
As I was making my way around the cliff section, one girl standing on the cliff ledge called out to me, asking if I was going inside the cave.
After looking at it from afar, I told her, Nah, I'm just going to have a close look. It seemed pretty dark and spooky inside.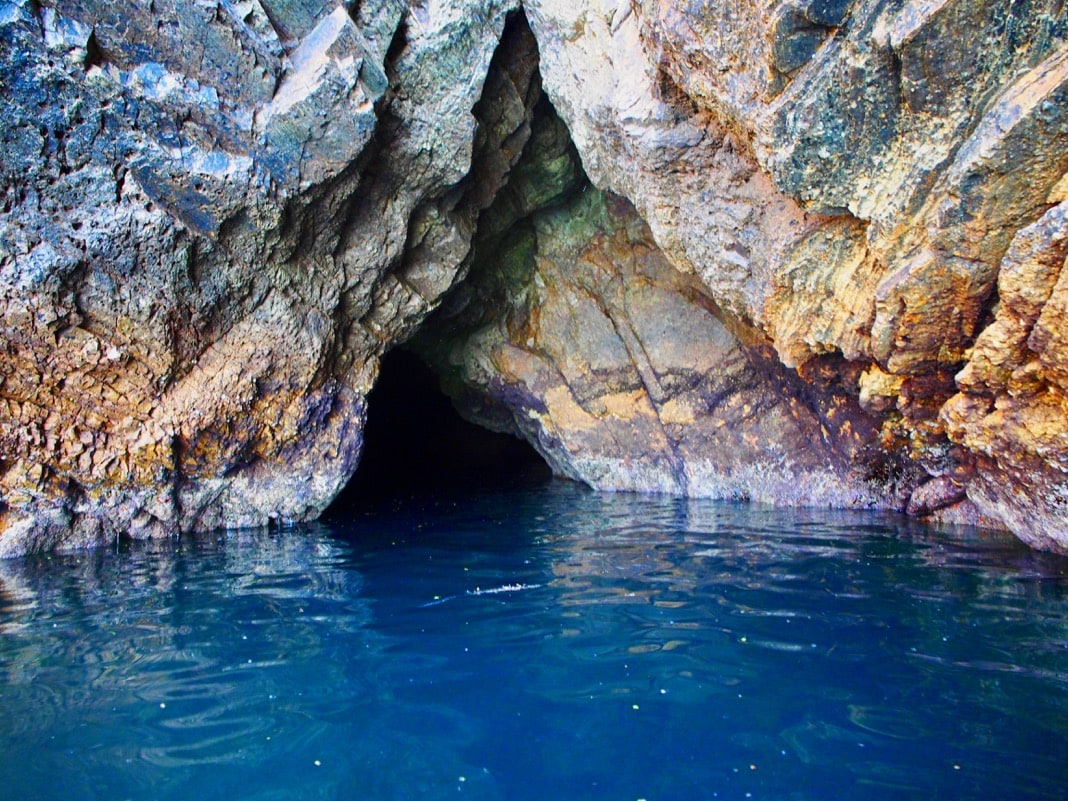 Some kayakers do enter the Second Valley cave from photos I've seen, but I didn't want to go inside alone. So this is as far as I went.
Kayaking Second Valley to Rapid Bay
On my way back to Rapid Bay, I saw a massive school of fish cruise past my kayak. They looked like salmon to me. But, by the time I got my camera ready, all I could see was this school of fish, which looked half as big as the fish that stunned me.
Those other fish were like torpedoes, all swimming in one direction. In this school, the fish seem to be all over the place.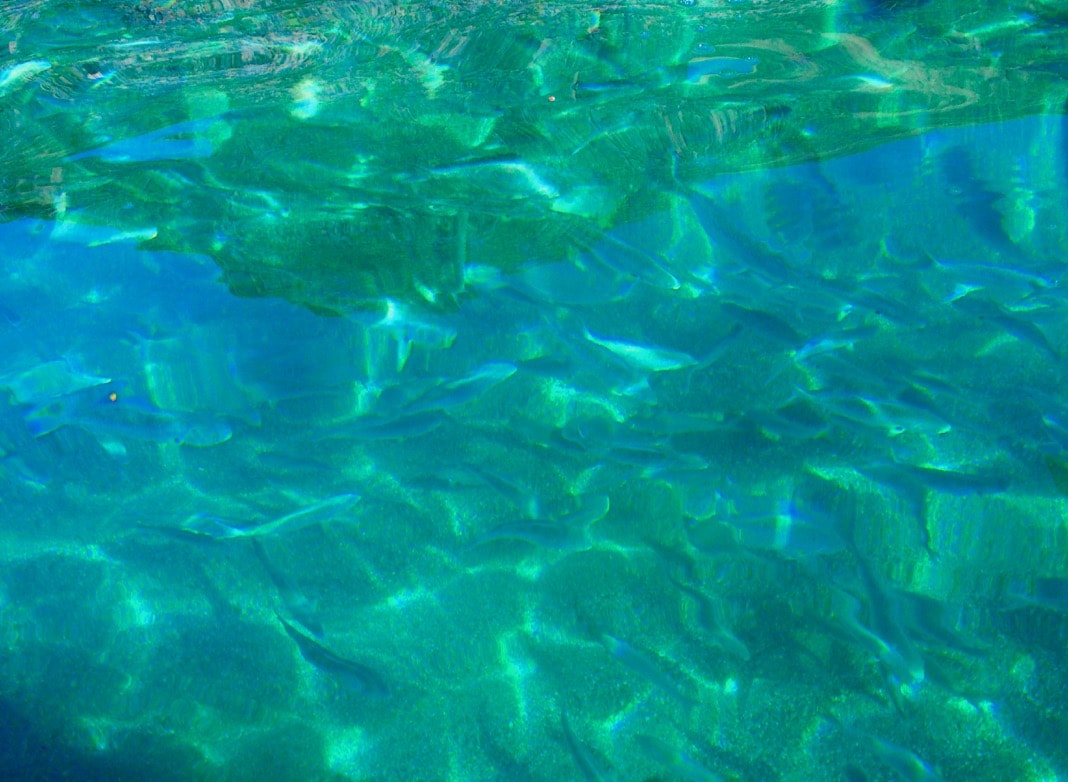 I took this photo on the final stretch of secluded beaches when kayaking back from Second Valley to Rapid Bay.
The beach in the middle is the first beach I landed on at the start of my kayaking adventure. There was a little beach before that one, but I never landed there. The tiny beach on the left seems to be where I saw the spear-fishing guy.
Kayakers at Rapid Bay
On the way back when I paddled past Rapid Bay cave again. I saw a whole group of kayakers close to the shoreline.
When I went kayaking, I saw a few kayakers here and there, but this was the largest group of kayakers I had seen all day near each other.
By the time I made it back to where I had started, the time was about 6:00 pm, so it took me about an hour and a half to get back from Second Valley to Rapid Bay, probably half the time compared to what it took me to reach Second Valley.
Going back was heaps quicker for some reason. Maybe I stayed at some of the secluded beaches longer than it felt and maybe I didn't notice the time fly by.
It took me about three hours to reach Second Valley from Rapid Bay, so the relatively short time it took me to get back surprised me greatly.
Old Rapid Bay Jetty
I didn't land at the beach where I started but instead continued paddling toward the two jetties at Rapid Bay, which were situated approximately 200m away from where I first entered the ocean.
Two jetties are located side by side at Rapid Bay, a new jetty and an old broken jetty. Here I am under the pylons of the old Rapid Bay jetty.
You can see a glimpse of the new jetty on the left side. Everyone who fishes goes on the new jetty since the old jetty is closed.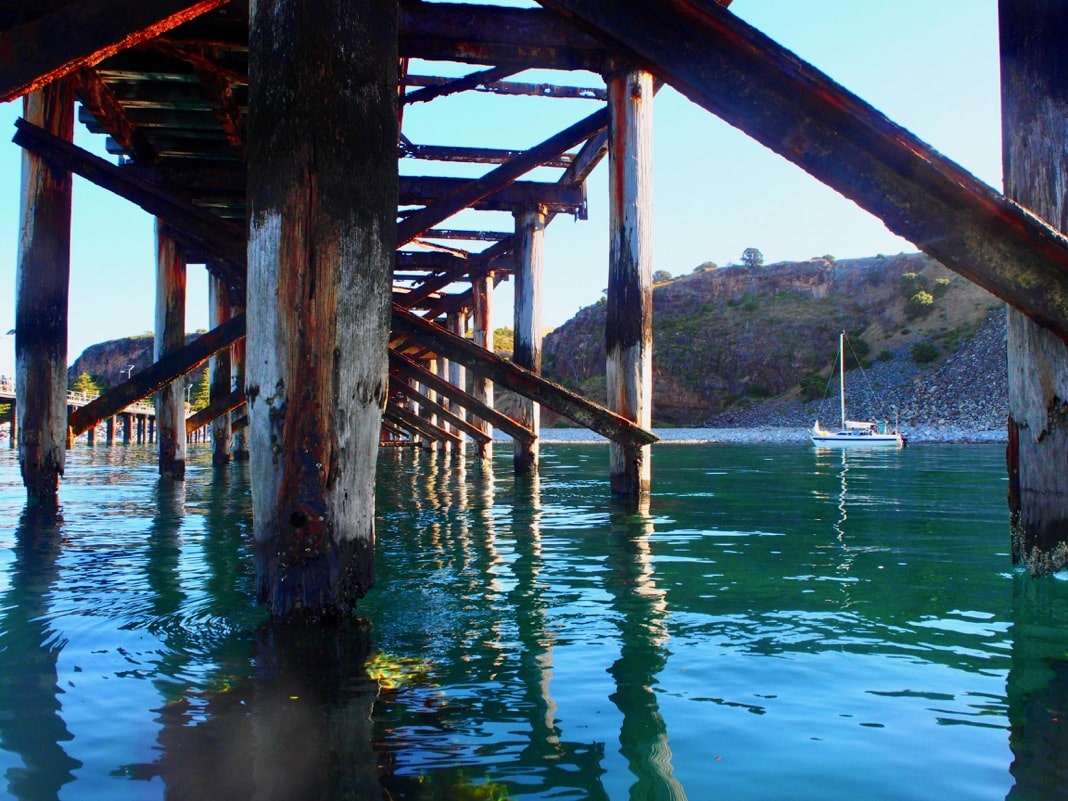 I wanted to have a few casts with my fishing rod to see if I could catch a squid.
Going for squid at Rapid Bay is a popular pastime for many, but I found it very uncomfortable to fish in my kayak. I only had a few casts before deciding it was time to leave.
You can see the broken section of the old jetty, with a big chunk of the jetty completely missing in the picture below.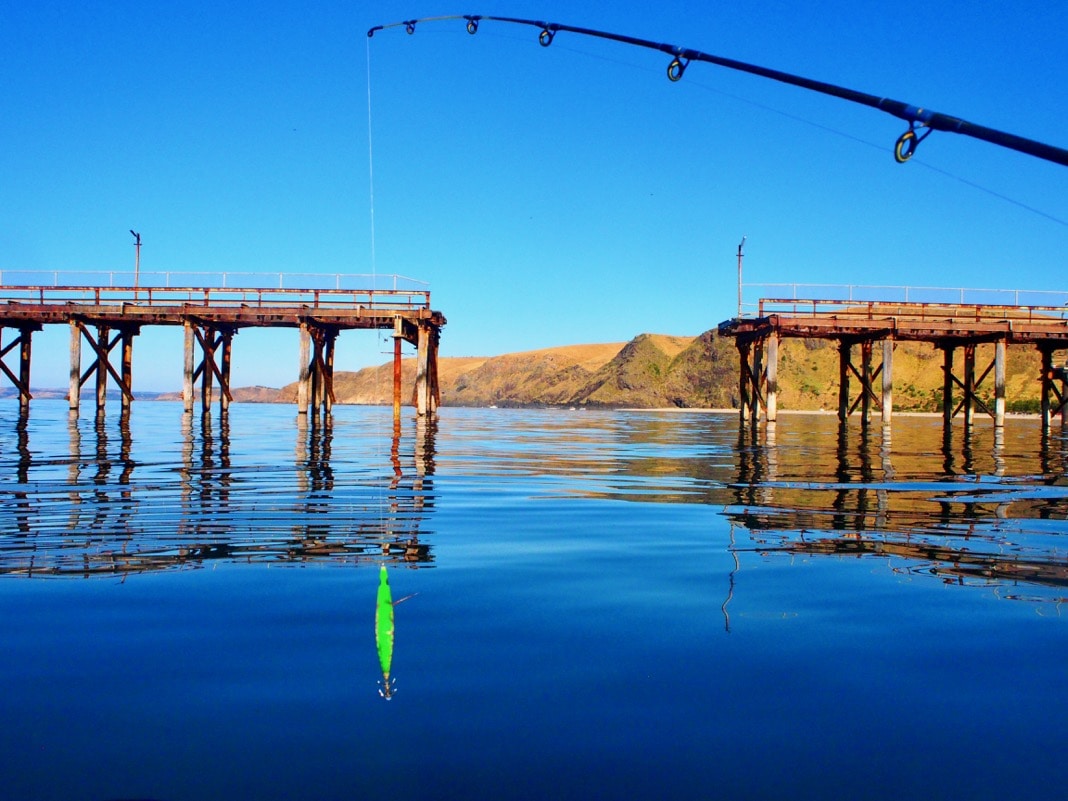 The area on the left is not accessible by walking alone. The only way to get on top of the old jetty on the left side would be to climb up one of the pylons or a staircase if there is one, which I can't see why anyone would want to do anyway.
Here is the rest of the broken old Rapid Bay jetty.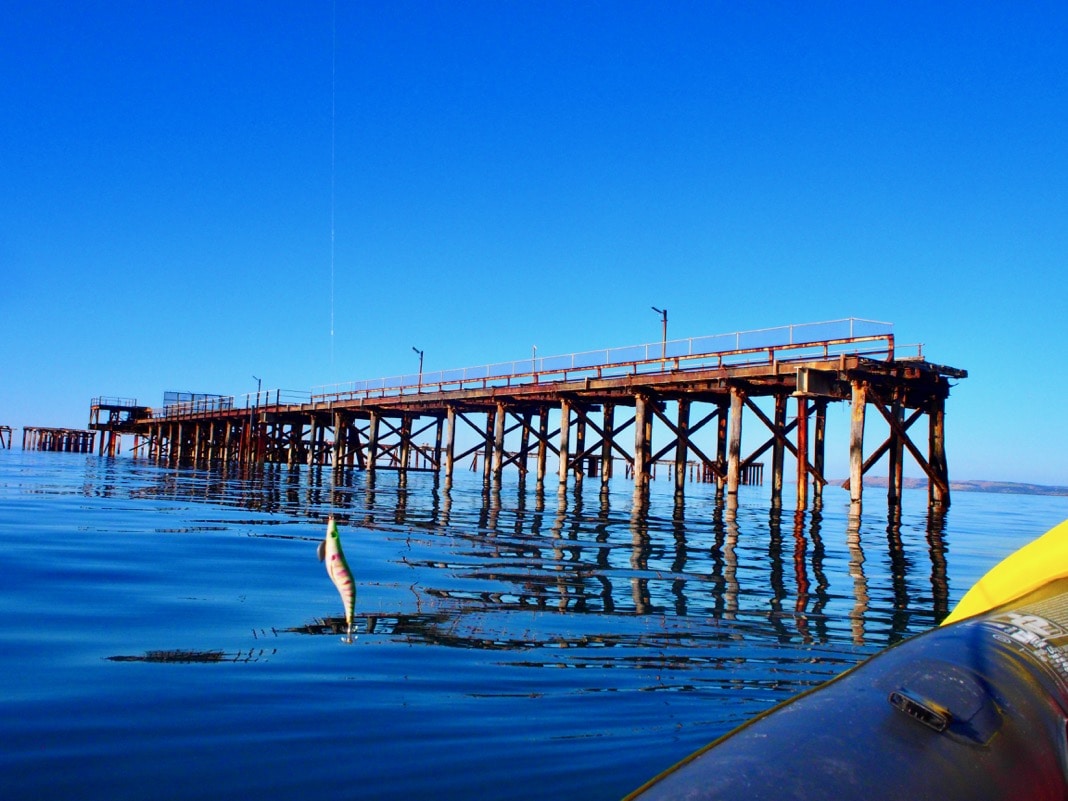 Tip: Another kayaking trip you could do at Rapid Bay is to go and kayak the other side of the coastline, which will take you to Cap Sevinge. It is supposed to be a sea lion hotspot, so I'm thinking I have to go and check it out one day.
Kayaking to Cap Sevinge is probably only about half the distance if you compare it to kayaking to Second Valley. You may also want to visit this spot during the same kayaking trip after you've kayaked from Rapid Bay to Second Valley if you're fit and keen enough.
Going Home
As I was about to leave, I noticed the time was 6:20 pm. It would still take me a while to kayak to the sand at Rapid bay beach, and from there, I still had to carry all of my gear including the kayak back to the car.
Kayaking from Rapid Bay to Second Valley was a great day out.
By the time I got back to the car, it was 7:00 pm, meaning I'd get back to Adelaide by about 8:30 pm.
The sun was still out because of daylight saving, but I was glad to give my skin some respite from the scorching heat.
Luckily I didn't get too burnt, but my upper arms did turn slightly red near the t-shirt sleeves and at the bottom of my legs, but nothing too bad.
Kayaking Rapid Bay and Second Valley turned out to be fantastic!
If you are into water sports and you're in Adelaide, you have to give it a go. But one bit of advice, go on a fabulous day. That way, you can't go wrong.
I arrived back in Adelaide by 8:40 pm, just as it was getting dark, so the day turned out perfect.
How to get to Rapid Bay from Adelaide
The best and most scenic way to get to Rapid Bay from Adelaide is to make your way to the seaside suburb of Glenelg.
From Glenelg, you can drive straight down Brighton road. Keep following the road leading you to Commercial street, Old Coach road, and then later make your way onto Main South Road.
Once on Main South Road, follow the green street signs until you make it to Rapid Bay.
Glenelg to Rapid Bay distance: 100 km (62 miles)
Kayaking Tips
During my Rapid Bay kayaking trip, I put plenty of sunscreen lotion on and wore a hat.
The sun was blazing away, and if kayaking has taught me anything is that spending significant time on the water can cook you like a lobster if you don't bother wearing any.
I wanted to plan things properly so it would be a fantastic kayaking trip. Perfect weather conditions were the most important criteria for me when kayaking in the Fleurieu Peninsula, where Rapid Bay and Second Valley can be found.
Firstly, I had to make sure the sea had a very slow-moving tide (dodge tide). Secondly, the weather had to be fabulous. Thirdly, I wanted hardly any wind, which is a must when you have an inflatable kayak. Try and do the same if you go. The calmer the sea, the better.
Rapid Bay Map
Here is a useful Rapid Bay map I drew up quickly that shows you some of the key places in Rapid Bay and Second Valley.
Places like Rapid Bay beach, old Rapid Bay jetty, Second Valley sea cave, Second Valley jetty, and Second Valley beach are shown to give you an idea of their location.
The distance of the coastline between Rapid Bay and Second Valley is approximately 3 to 4 km.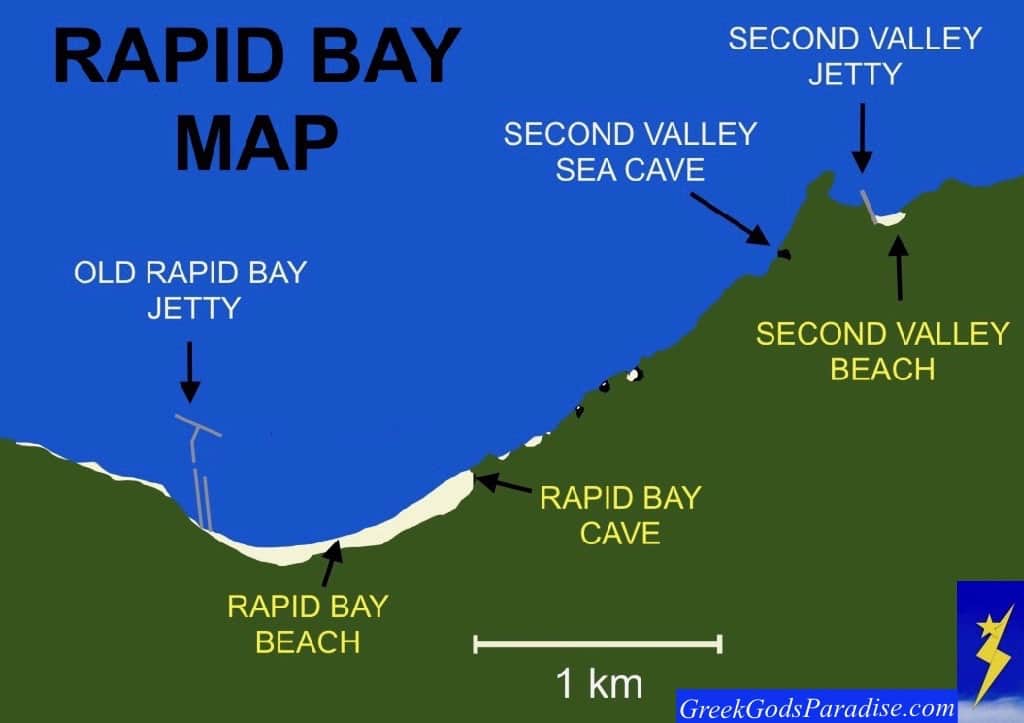 Tip: Park your car in the public car park next to the caravan park on the side closest to Rapid Bay cave. Then you'll have easy access to the middle of Rapid Bay beach.
Day trip to Rapid Bay
If you'd like to go on one of the best road trips in Australia, visiting Rapid Bay would be an excellent side trip. All of these twelve road trips in Australia are named after Greek Gods and Goddesses or Greek mythology in some way to make them extra special.
The road trip in South Australia, which will take you close to Rapid Bay, is called Star of Greece versus the Devil. Check it out.
It takes about an hour and a half to reach Rapid Bay from Adelaide, which isn't too far away, so visiting this relaxing seaside destination also makes for a great day trip.
Kayak Hire and Jet Ski Hire
Exploring the Rapid Bay and Second Valley will be extra enjoyable if you either kayak or jet ski the magnificent coastline.
If you don't have access to a kayak, jet ski, or a boat to explore the coastline from Rapid Bay to Second Valley, then I'd probably recommend spending your day next to the Star of Greece in Port Willunga.
Hiring a kayak at Second Valley is possible. The other option is to go on an organized kayak tour of the Rapid Bay coastline, which would also include Second Valley.
For the ultimate experience, my top suggestion is to have access to a jet ski. Riding a jet ski along the Rapid Bay coastline would be extra awesome, but kayaking from Rapid Bay to Second Valley is still very enjoyable.
If the day is beautiful, I'm sure you will love it!
Kayaking South Australia
One of the best kayaking experiences in South Australia would have to include kayaking the Adelaide Dolphin Sanctuary.
Now, after my experience of kayaking Rapid Bay to Second Valley, I'm not sure which one I'd recommend as being the best kayaking experience out of the two.
Seeing dolphins is fantastic, but kayaking from Rapid Bay to Second Valley will let you see some amazing beaches that very few people know about, even if they're from Adelaide.
If you love beaches, I'm sure you will love kayaking the coastline between Rapid Bay and Second Valley.
Do both, and if you do, you'll get to experience two of the best kayaking adventures in South Australia.
Pin it … Share it