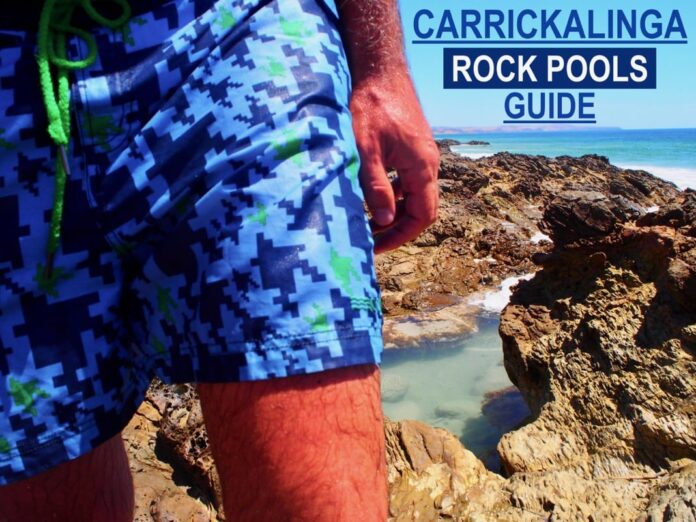 My guide to Carrickalinga rock pools is quite extensive after four days of exploration when trying to find the best rock pool in Carrickalinga — a beautiful hidden gem rock pool that seems to be a well-kept secret.
This ultimate guide to rock pools in Carrickalinga will show you some fantastic rock pools since I did cover a lot of the Carrickalinga coastline during my search.
As a bonus, in this Carrickalinga rock pools guide, I even include a map to help you easily find the best rock pool in Carrickalinga. The Carrickalinga rock pool map will show you exactly where to find the best rock pool in Carrickalinga, plus other points of interest located along this marvelous stretch of coastline.
The main attraction in Carrickalinga is the beach and the rock pools. My desire to see the rock pools at Carrickalinga started after seeing a great photo of a fabulous Carrickalinga rock pool on Instagram which looked incredible!
The number one rock pool in Carrickalinga has to be the star attraction. I had never seen this rock pool in Carrickalinga before in real life. After doing a little bit of online research, I realized that hardly any information pinpointing the exact location where you could find this super cool rock pool in Carrickalinga existed.
So one day, I decided to visit Carrickalinga to see if I could find the beautiful rock pool myself. It became an obsession because I failed to find it on my first day in Carrickalinga.
It took me four days to enter the emerald water filling this incredible rock pool in Carrickalings. After that, I had to return on another glorious day.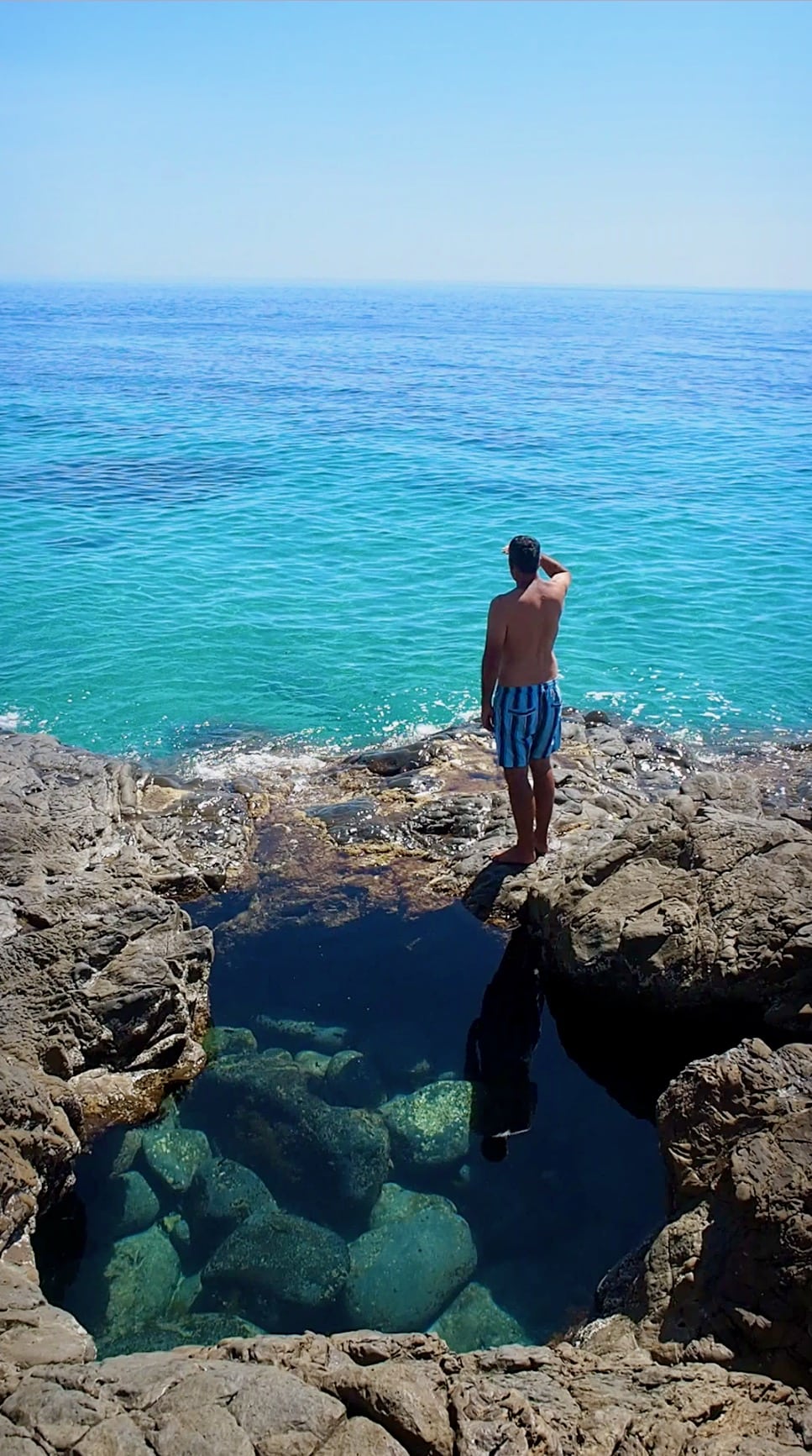 Carrickalinga Rock Pools
I spent four days in Carrickalina exploring rock pools along the coastline in search of the best rock pool. During that time, a few memorable things happened to me.
One day I scraped my foot and drew some blood after nearly slipping over and killing myself when walking in a shallow rock pool.
On another day, I saw a live tiny sea horse, which seemed like an omen from Poseidon (Neptune), the God of the sea.
I also met two cool guys from Victoria who were holidaying in the Fleurieu Peninsula region, which to outsiders is a relatively unknown top beach destination in South Australia.
So quite a lot happened during my time in Carrickalinga.
The most magical memory was seeing the hidden secret rock pool in Carrickalinga on the fourth day. It also happened to be the very first day of 2023 (January 1), so it was a fantastic start to the new year.
As I have said already, on my first day in Carrickalinga, I couldn't find the top rock pool in Carrickalinga I'd been searching for. I couldn't find the rock pool anywhere even though I looked long and hard for it.
Here's the closest rock pool I could find to the amazing rock pool. But it was not comparable to the unbelievable Carrickalinga rock pool shown on Instagram.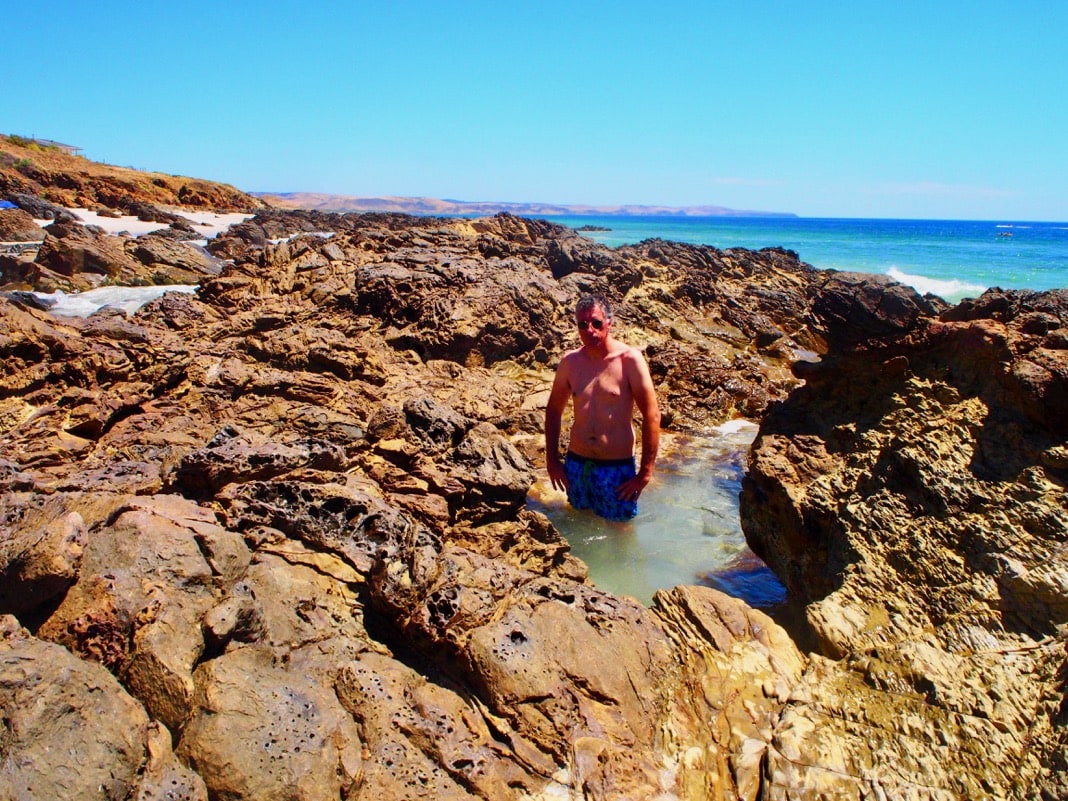 Carrickalinga has a wide variety of rock pools of all shapes and sizes. Here's a rock pool in the shape of a love heart.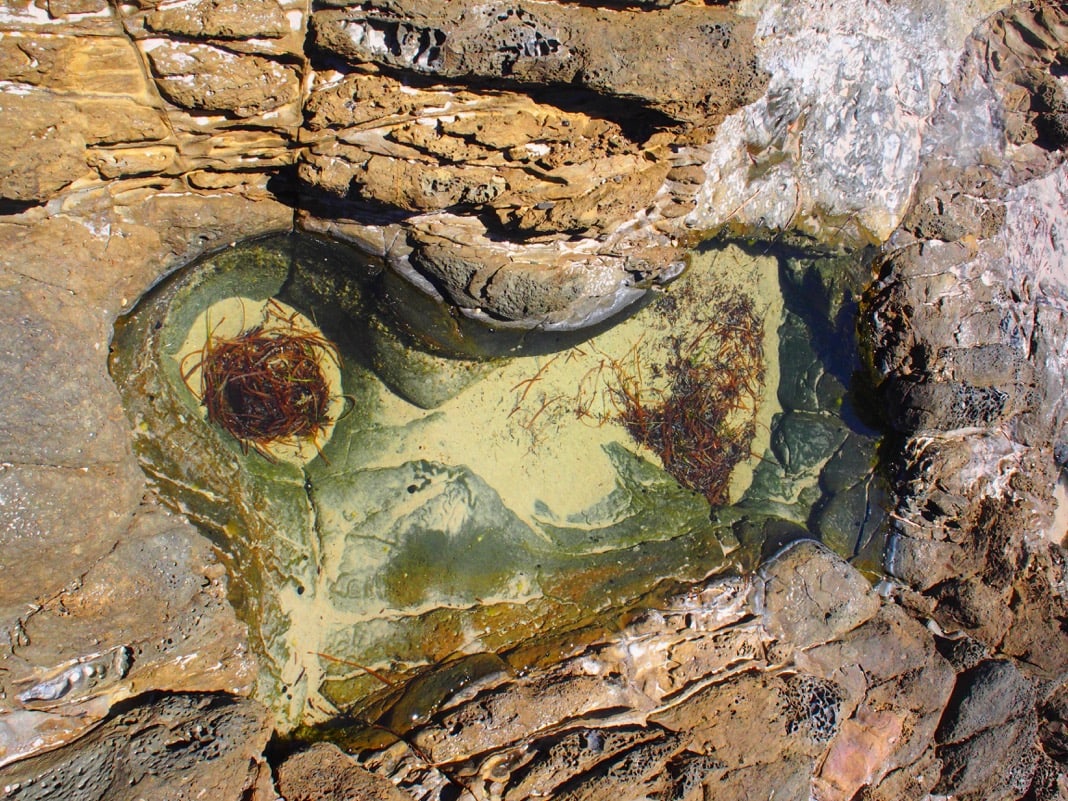 Carrickalinga has large rock pools, small rock pools, long rock pools, and so on, but there's one rock pool that is extra special.
I'm sure you'll find at least one great-looking rock pool no matter what, but the star rock pool attraction in Carrickalinga has to be the rock pool shown below.
Best Carrickalinga Rock Pool
I got to see this fantastic Carrickalinga rock pool on day four. Yep, I still can't believe it took me four days to get to this magical spot. But I have to say, it was worth it.
Getting to this spot wasn't easy because it took me a while to figure out exactly where to go to find the best rock pool in Carrickalinga.
These two cool guys next to the rock pool were holidaying from Victoria. I first talked to them when they were sitting on some other rocks on the mainland not too far away from this rock.
I asked them if they'd been to the rock pool and they were surprised to hear about it.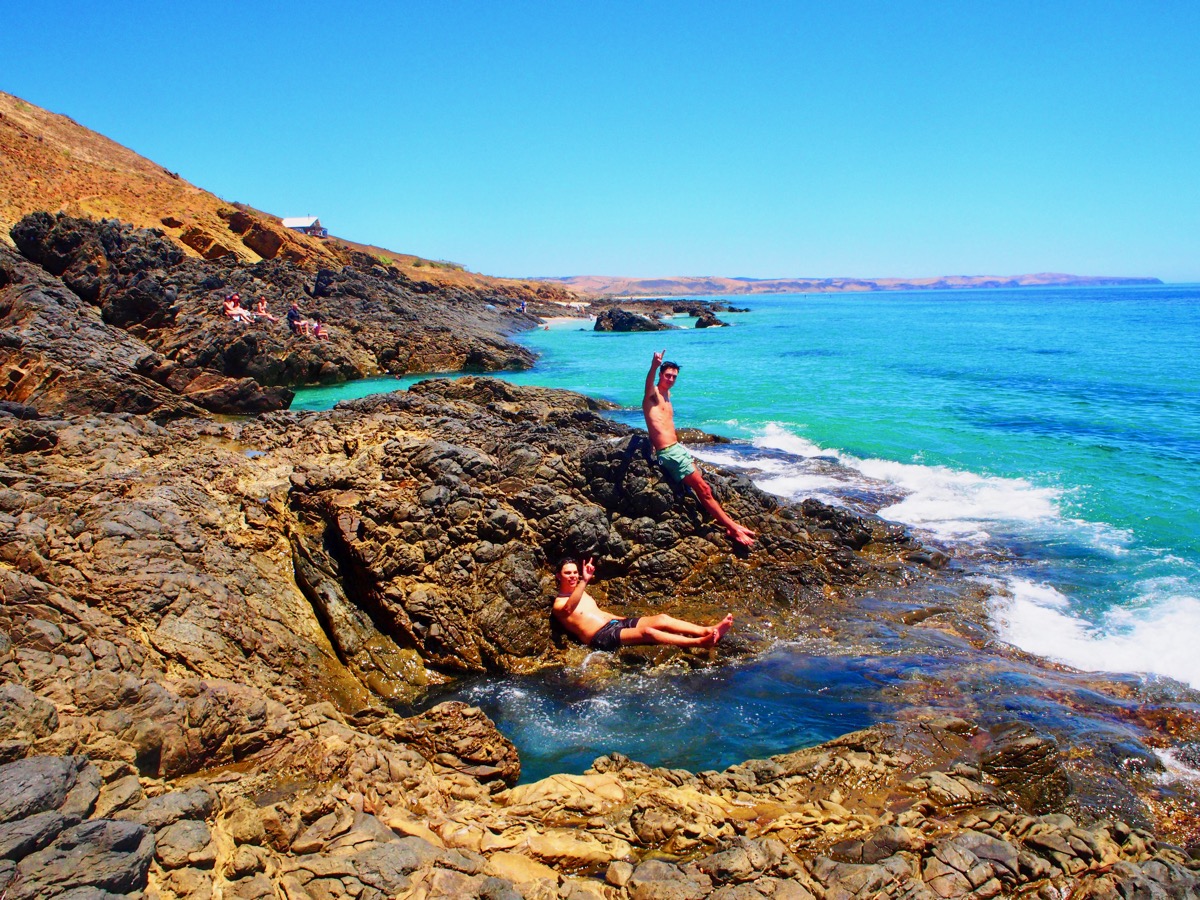 They didn't know anything about the rock pool. It's easy to understand why because the rock pool is mainly hidden away from plain sight. After they knew about it, they obviously wanted to see the rock pool as well.
They must have been delighted to have seen and experienced this rock pool paradise in Carrickalinga. I'm sure it will be a story they'll tell their friends and family.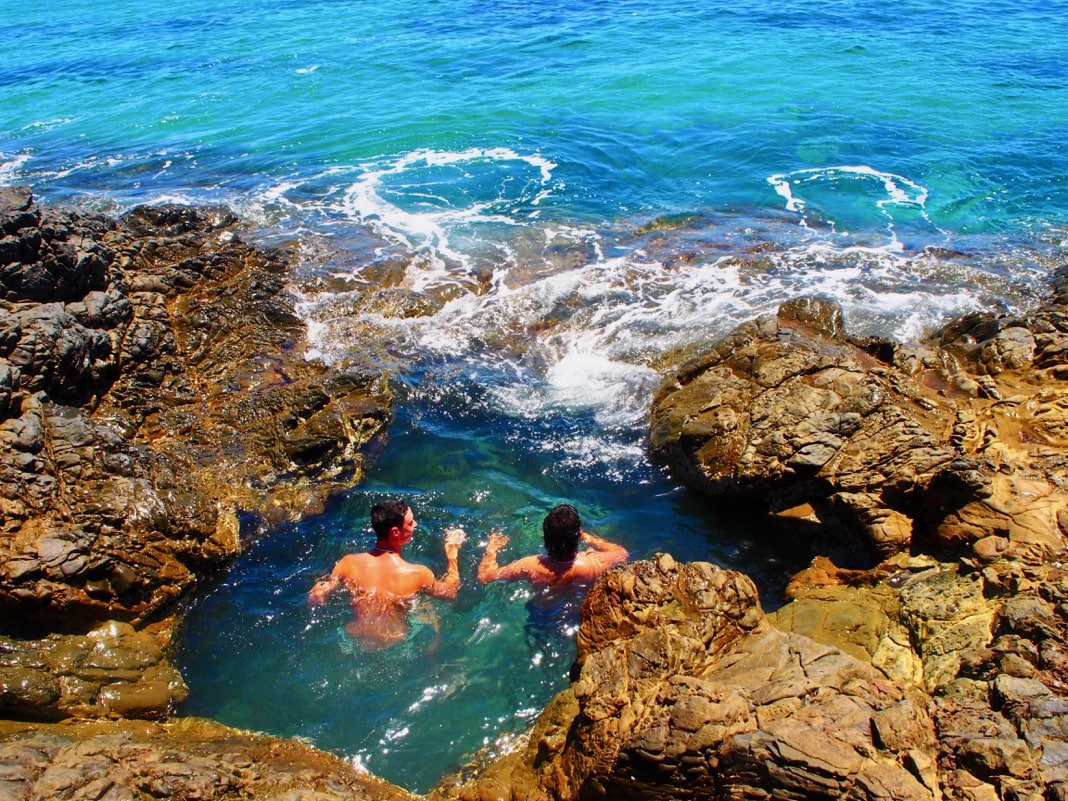 It has to be the best rock pool in Carrickalinga. It's a deep rock pool, but in some places, you can stand on rocks at the bottom.
Depending on the wind and tide, some water may splash over one side of the rock pool wall, but that adds to the fun.
Carrickalinga Beach Guide
Carrickalinga rock pools are mainly situated at the northern end of Carrickalinga beach, also referred to as Carrickalinga North Bay.
On the right side, you can see the start of the rocky area, where you'll find a variety of rock pools that stretch along the northern coastline of Carrickalinga.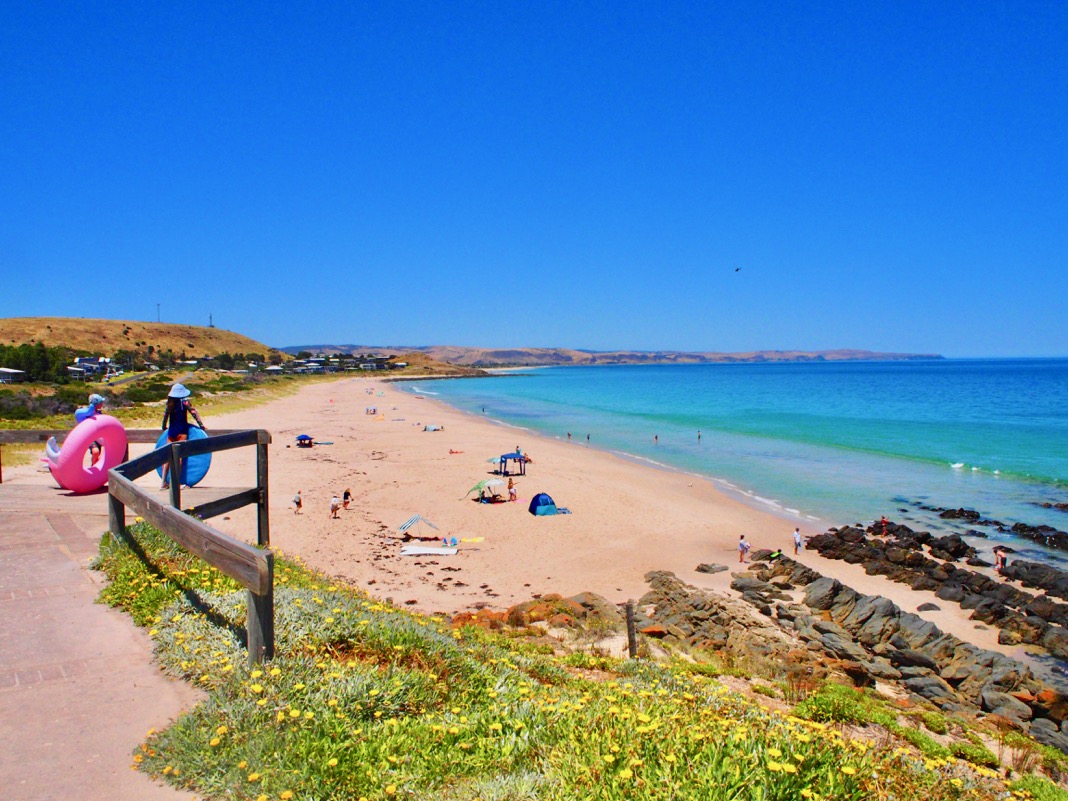 Most people swim in the sandy beach area, but some of the sheltered rocky areas can also be great swimming spots, depending on sea conditions.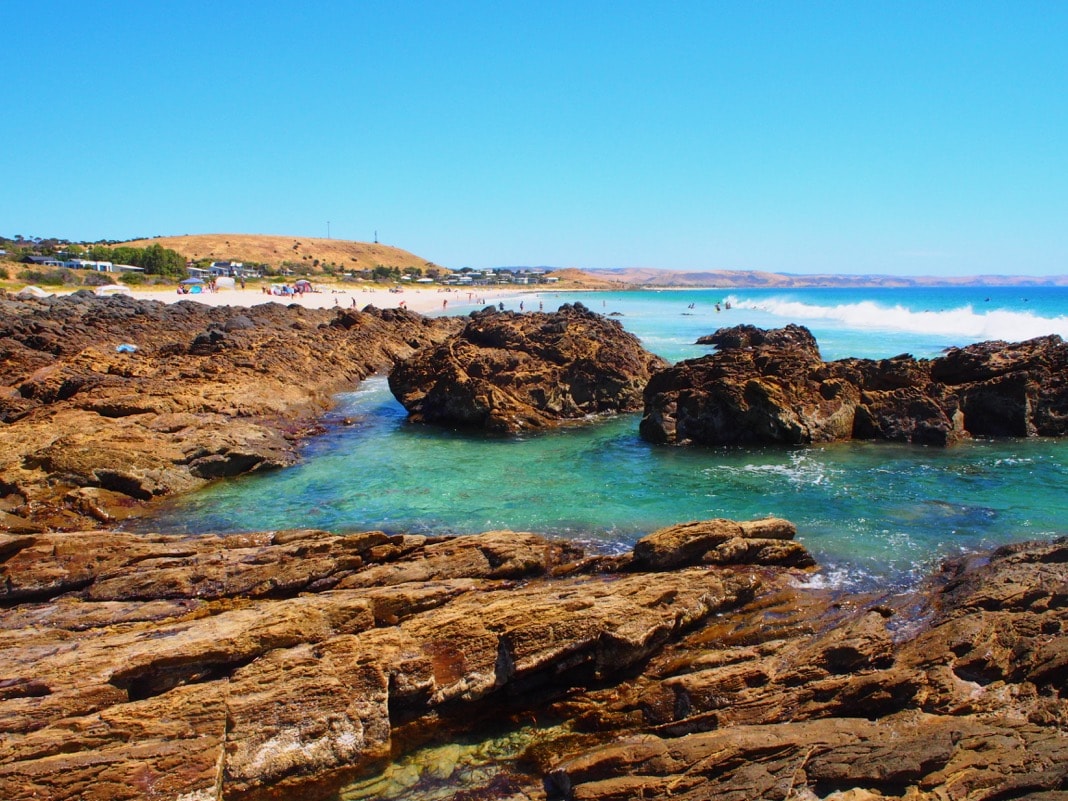 Here's a beautiful rock pool I spotted on the first day of my rock pool exploration in Carrickalinga. You can even clearly see smooth roundish rocks at the bottom of the water.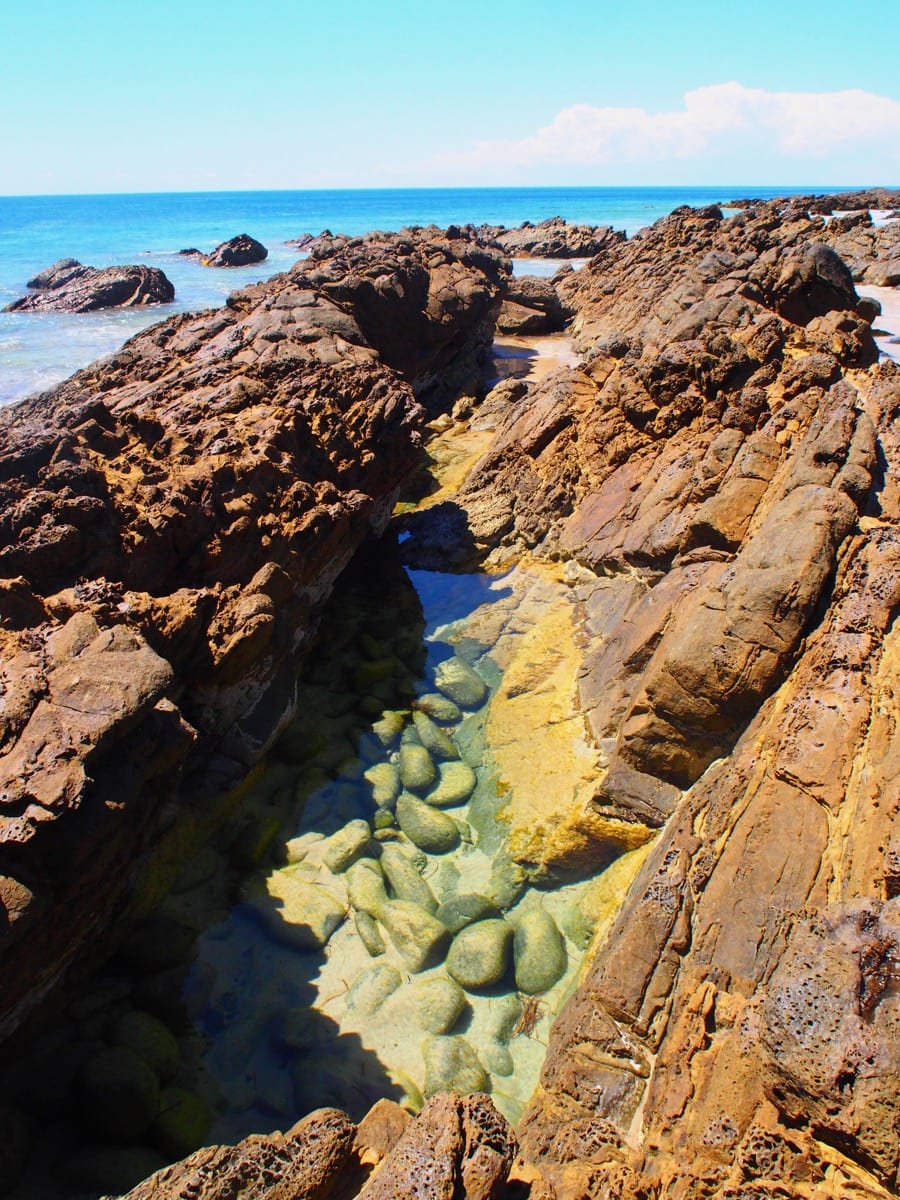 Walking along this dirt track leads to the best rock pool in Carrickalinga. You can also walk along the beach and rocks if you prefer that eventually leads to Secret Cove.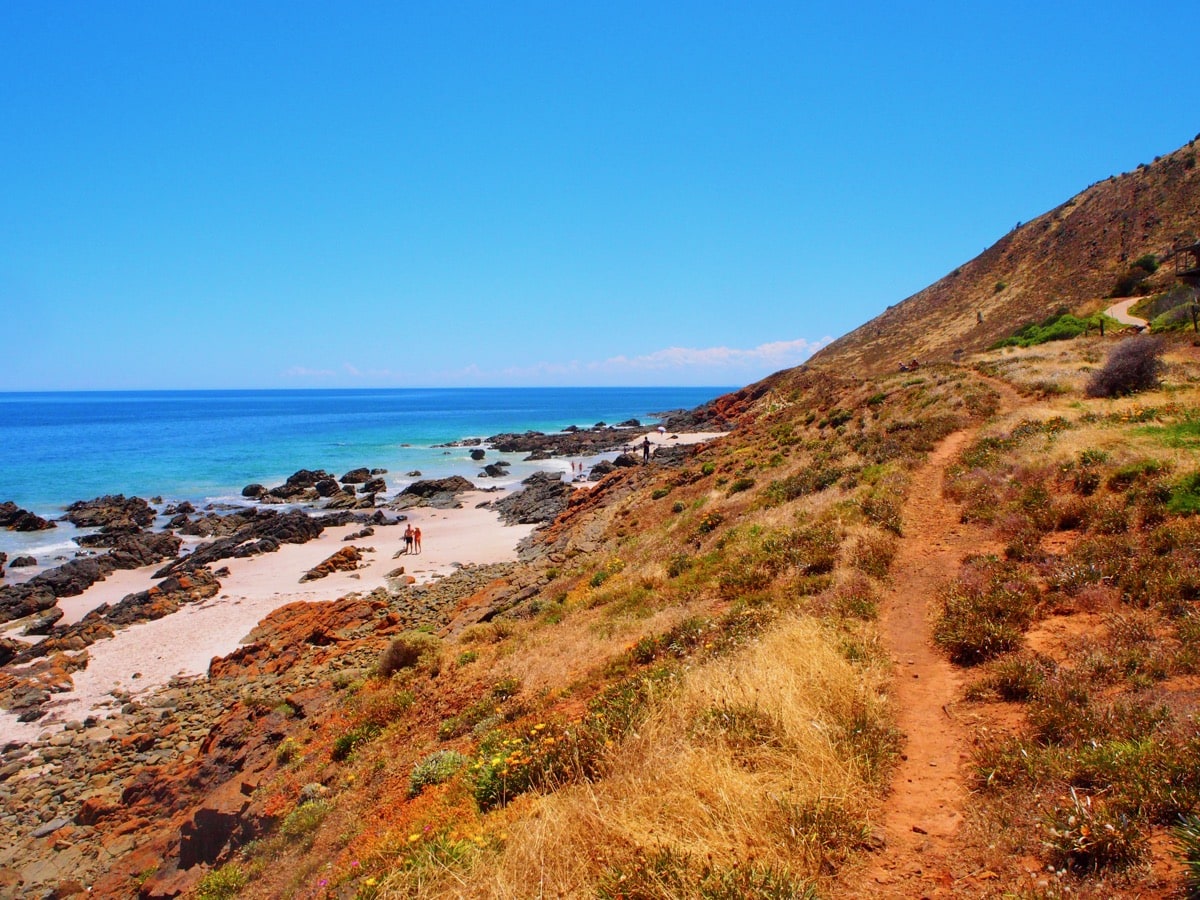 Secret Cove Carrickalinga
On my first day visiting Carricklainga, I thought I'd hike to Secret Cove — a hidden beach away from the crowds.
Here I am in a position just before making it to Carrickalinga's secret beach. I found these orangy rocks very peculiar. Along the way, I was trying to spot the fantastic rock pool when walking but didn't have any luck.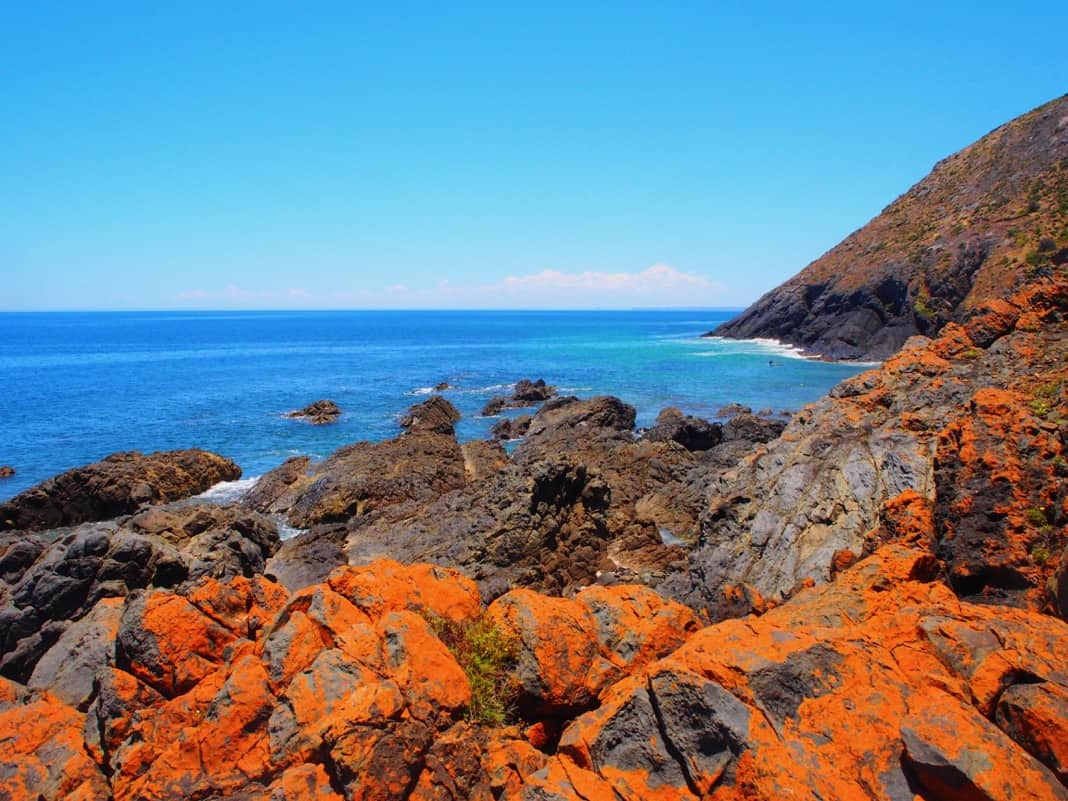 I wasn't sure if the stunning rook pool I had seen on social media was located before or after Secret Cove because I hadn't spotted the rock pool on my way to the secret beach. It made me wonder whether the rock pool was past Secret Cove.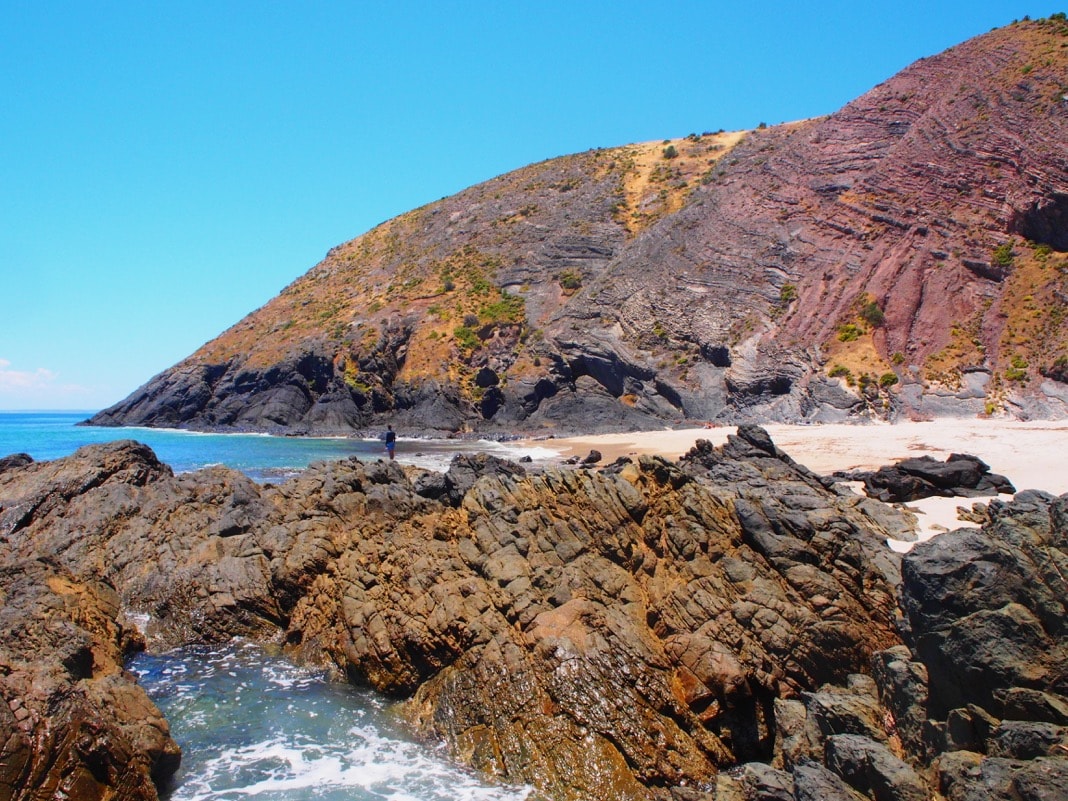 A great-looking sand spot exists just before reaching Carrickalinga's Secret Cove.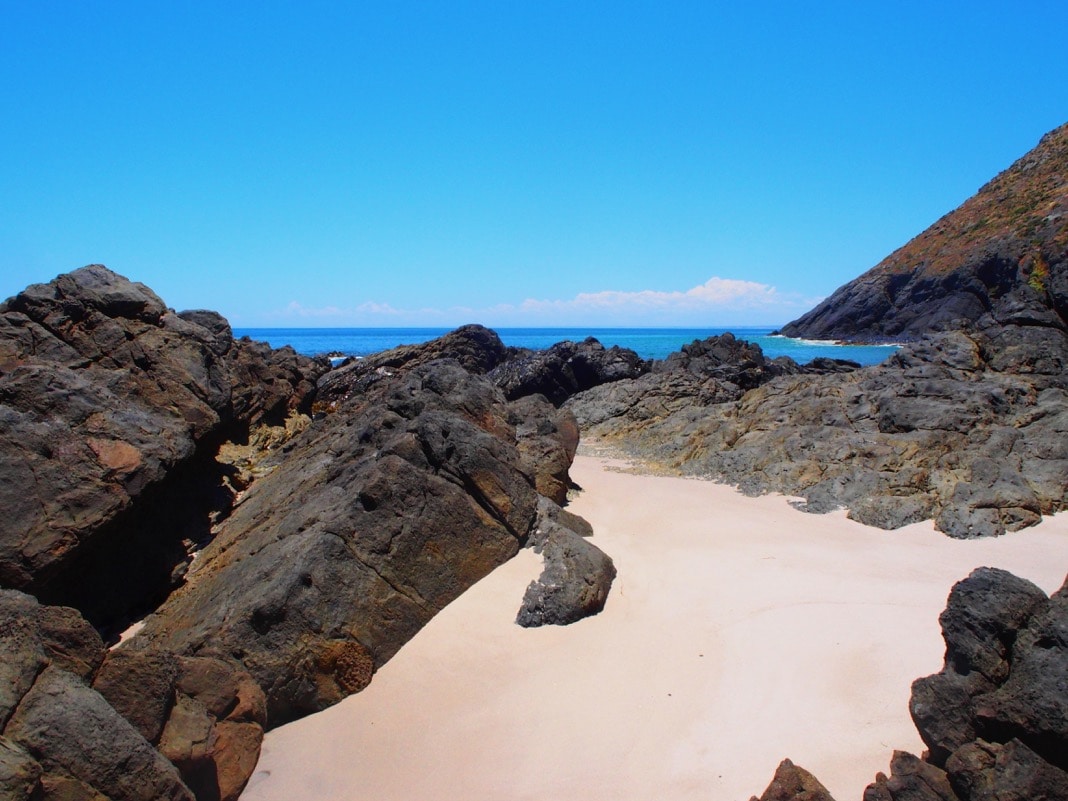 After making it to Secret Cove, I walked to the other side of the beach, where some more unusual rocks could be seen. These rocks really looked like they were formed by lava flow.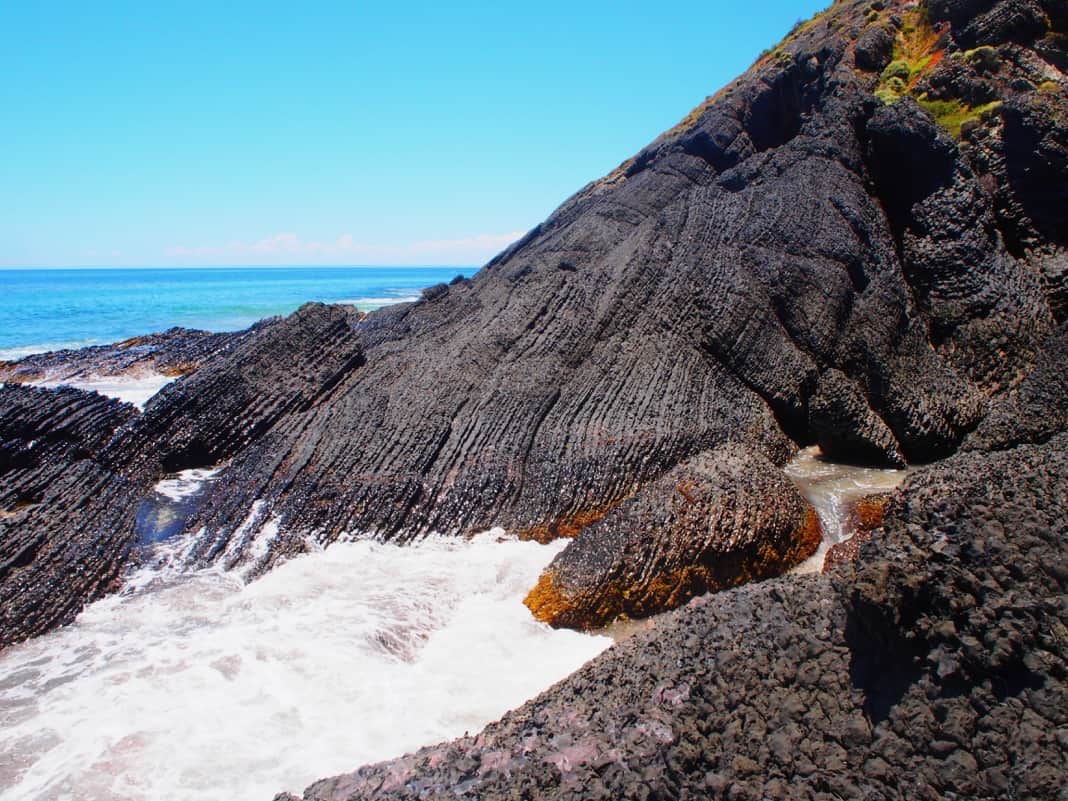 I started jumping over these rocks to see if I could find the rock pool I was looking for.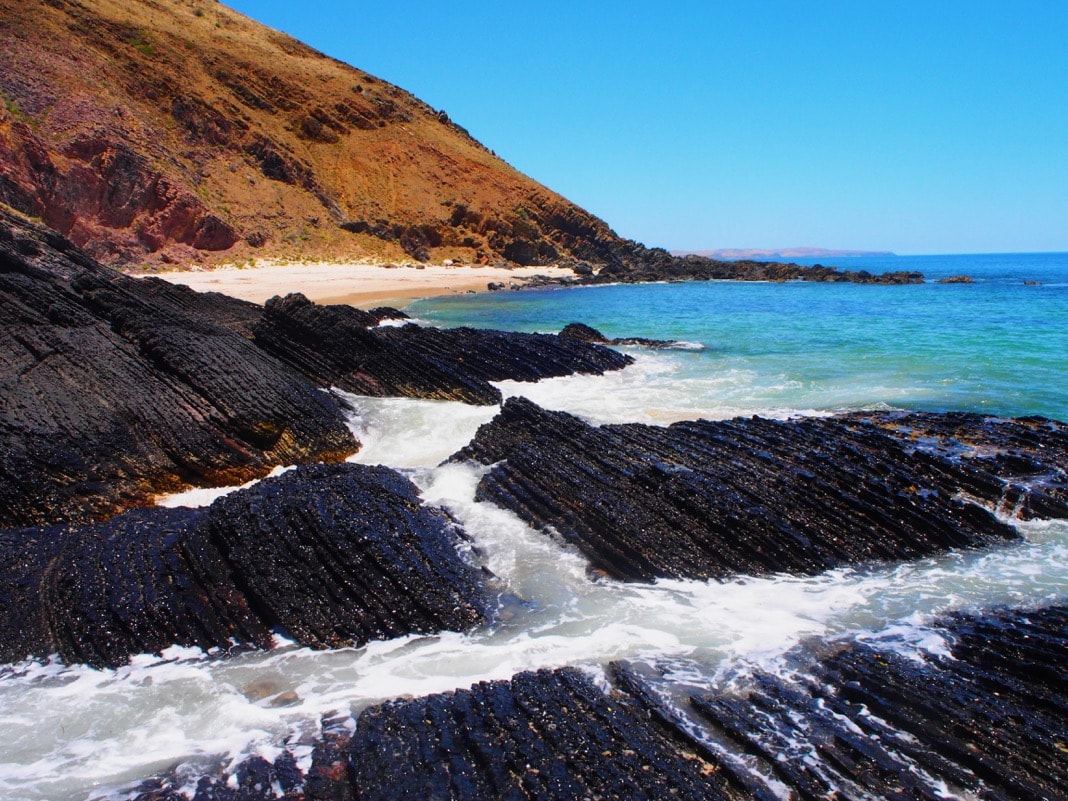 The only rock pool I could find on this side of Secret Cove was something like this.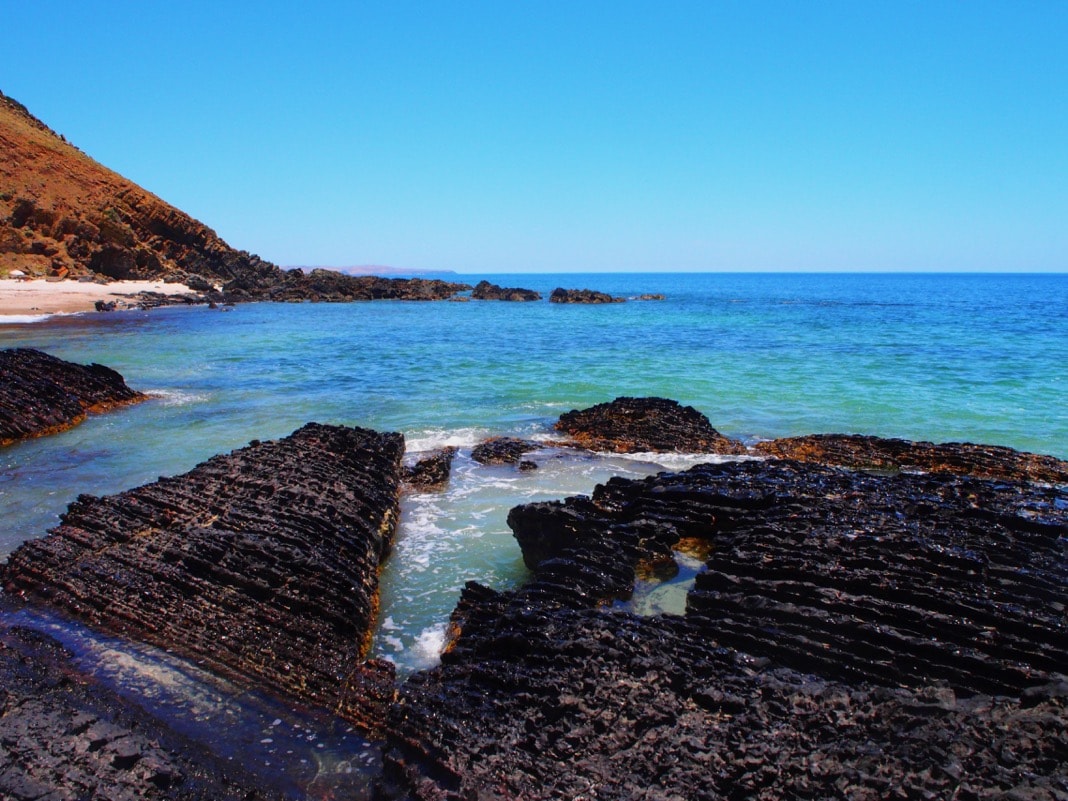 Instinctively, I knew I had gone too far, so I turned around and went back.
Secret Rock Pool Talk
When I was on the beach at the secret beach, I saw a couple of kayakers paddling their way to the shore.
I started talking to one of the kayakers and asked if he knew the whereabouts of the top rock pool in Carrickalinga shown on Instagram.
By this time we were on the other side of Secret Cove where I first entered the sandy beach area.
His response was that he only knew about one a couple of hundred meters away around the corner back in the direction of the car park.
He told me he was from Carrickalinga, so I was surprised that he didn't seem to know anything about it. But in my mind, I wondered whether he maybe didn't want to tell me.
How could a Carrickalinga local who is into kayaking not know about the best rock pool in Carrickalinga?
It just didn't add up. Anyway, I didn't find the rock pool that day. But luckily I took this photo during my rook pool hunting adventure. When I viewed it later at night, I had a small hunch that the could be the special rock pool I was looking for.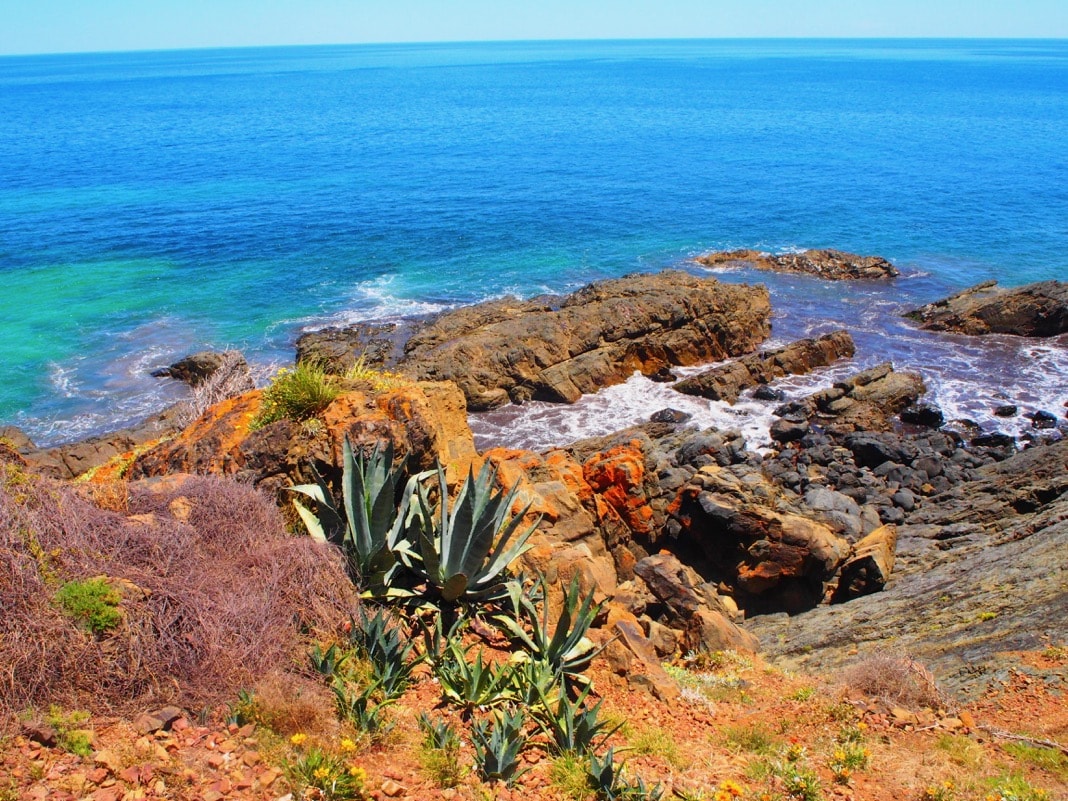 On the way back I noticed a whole group of swimmers enjoying themselves on this rocky slope. Then again maybe it was on one of these rocks.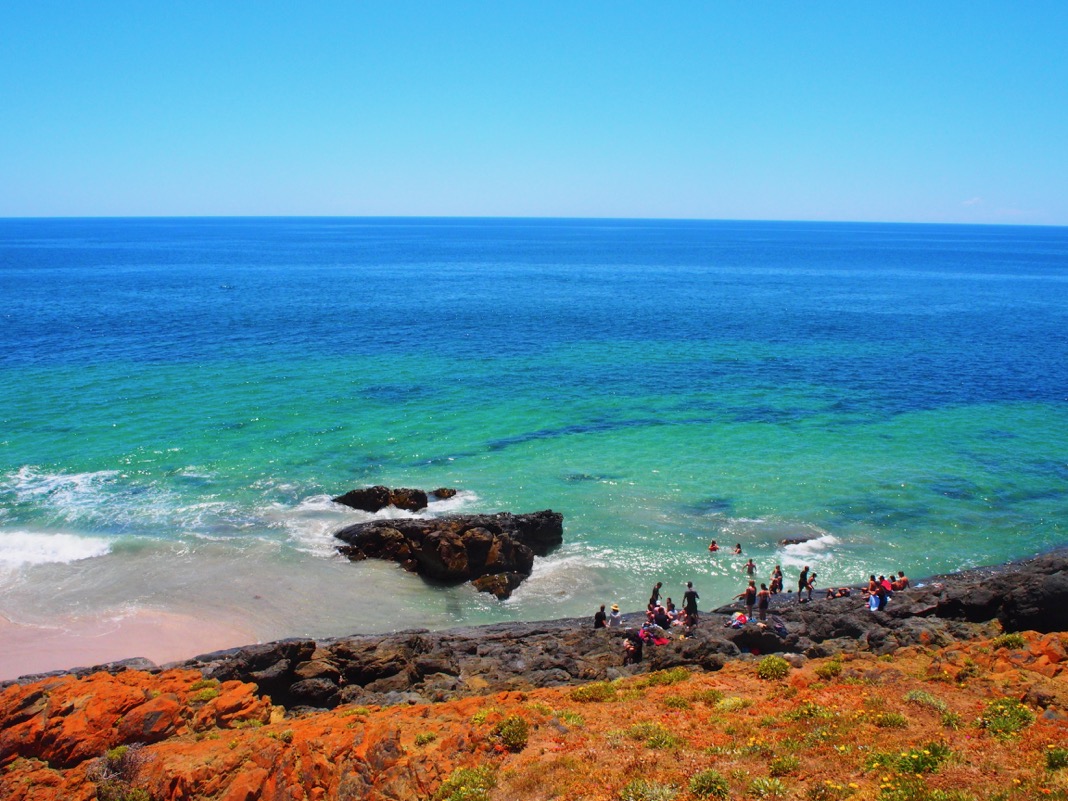 Rocky coastline at Carrickalinga
The northern side of Carrickalinga is loaded with rocks of all shapes and sizes. All up the rocky coastline probably stretches for 1-2 kilometres.
You will find many rock pools between the main popular sandy beach area of Carrickalinga and Secret Cove. In this spot, I'm back again at the start of the rock pools close to the car park and the popular swimming area on the sandy beach.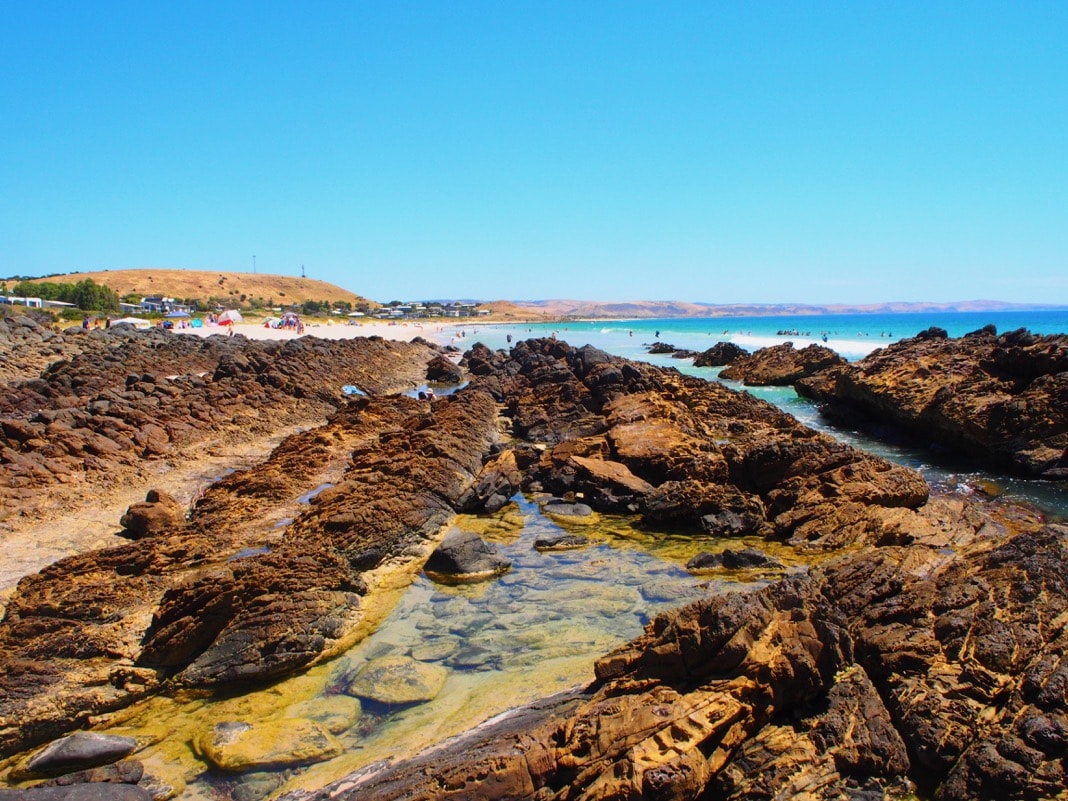 Depending on the tide, seawater can fill a variety of different areas between the rocks, so what you see one day can look very different on another depending on the tides, waves and sea conditions.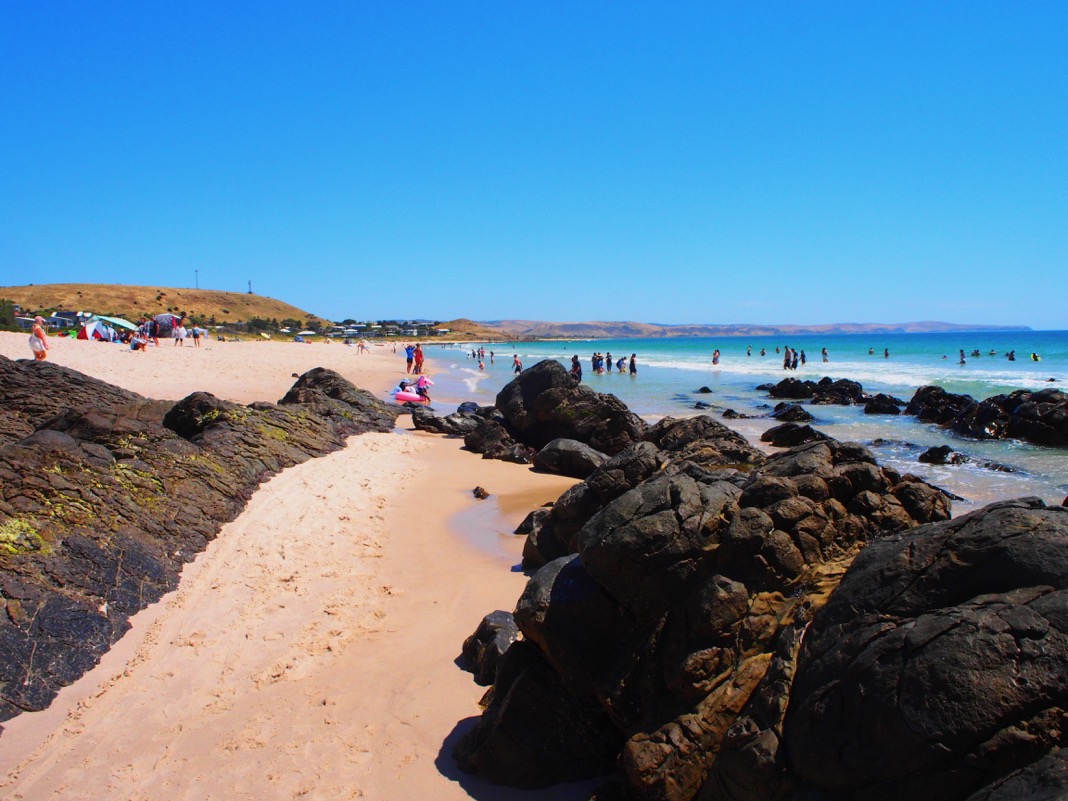 Carrickalinga Beach from Haycock Point Lookout
On my second day in Carrickalinga, I decided to hike to the top of a small hill, which is known as Haycock Point Lookout. The picture below shows Carrickalinga South Beach.
In the picture below you can see Carrickalinga North Beach.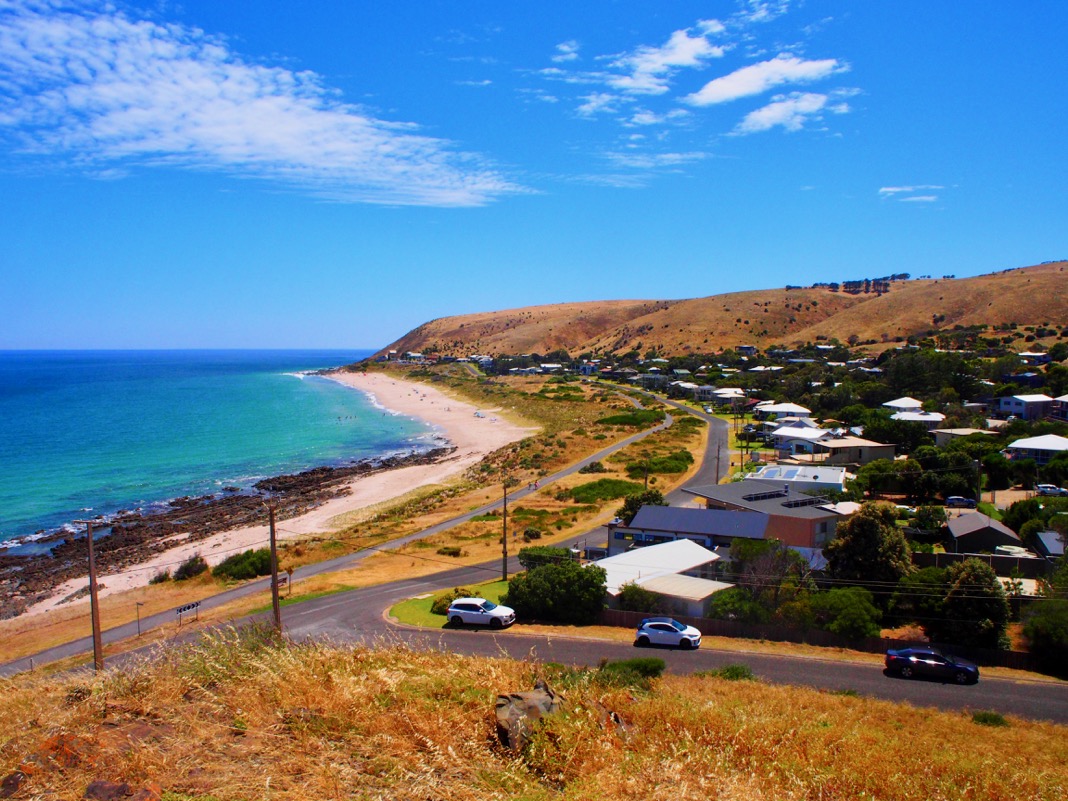 In the middle are some more Carrickalinga rock pools but these aren't that great compared to other rock pools you can find along Carrickalinga's superb stretch of coastline.
Walking along the beach in Carrickalinga
Straight after, I drove to the car park at the northern end of Carrickalinga Beach and this time I decided to walk along the beach toward Secret Cove.
I was quite sure about the rock pool location at this stage. So I had high hopes I'd get to see it on my second day in Carrickalinga.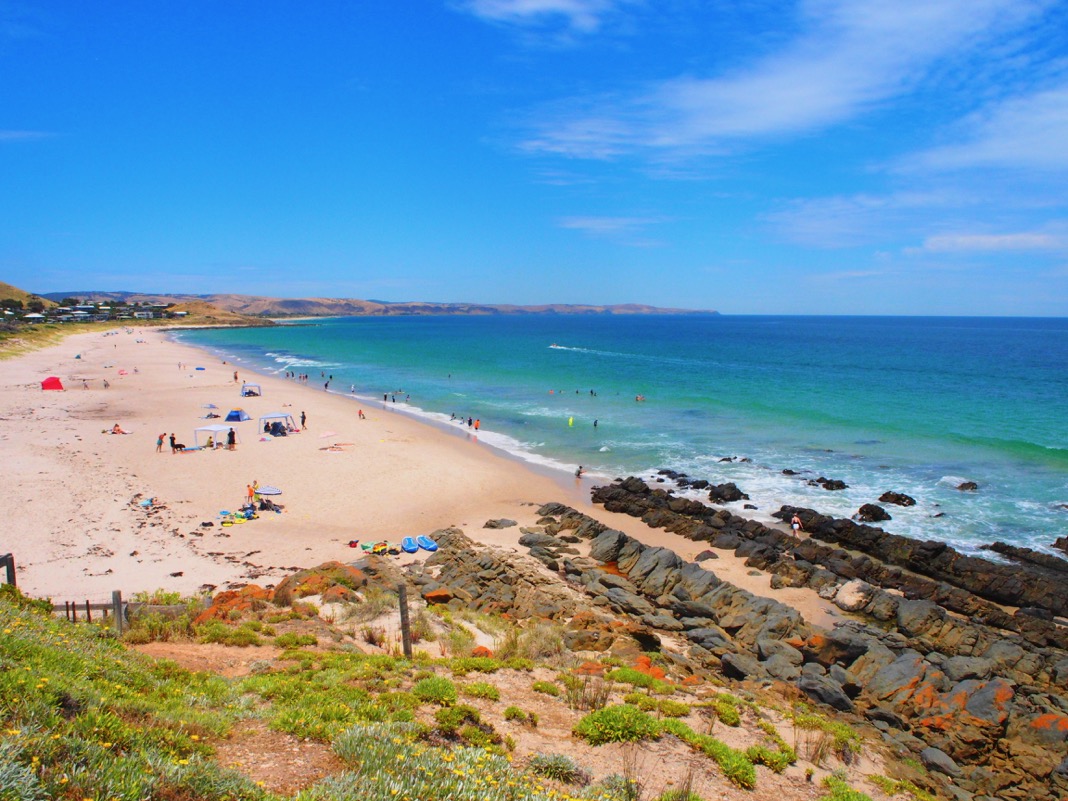 The Carrickalinga Rock Pool photo below almost makes you think it has to be man-made.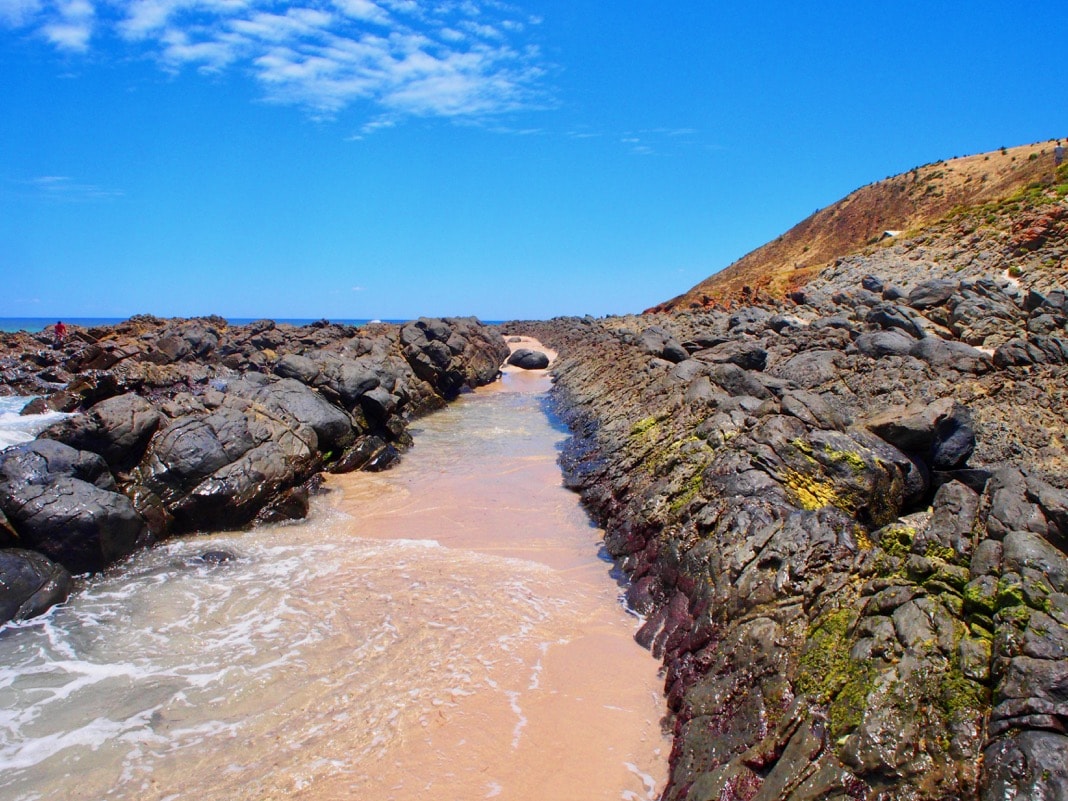 I walked mainly along the beach through the gaps in the rocks, stepping over rocks on occasion when the need arose.
You can see Cliffs End Beach House on Gold Coast Drive in the photo below. This is also the beach shack you walk past on the dirt track. The sandy beach is just at a lower level than the dirt track.
Carrickalinga Beach Cave
One thing I never expected to see at the beach was a secret cave. It's not deep, and it makes for a great spot to get some shade.
There are some really good-looking beach coves in Carrickalinga. You'll see most of them between the beach shack high up on the cliff and Secret Cove.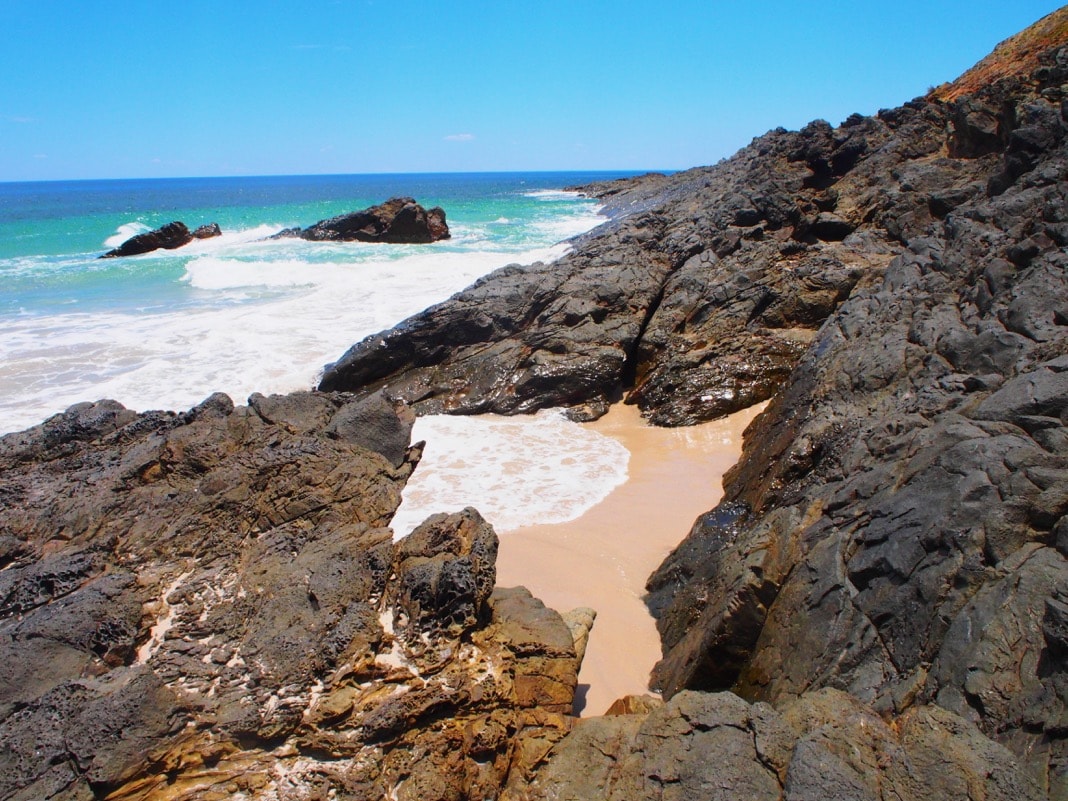 Searching for the famous Rock Pool on Instagram
At one point I climbed back up to the Carrickalinga cliff dirt track which leads to Secret Cove. Here I am looking in the direction that leads back to the main sandy northern beach in Carrickalinga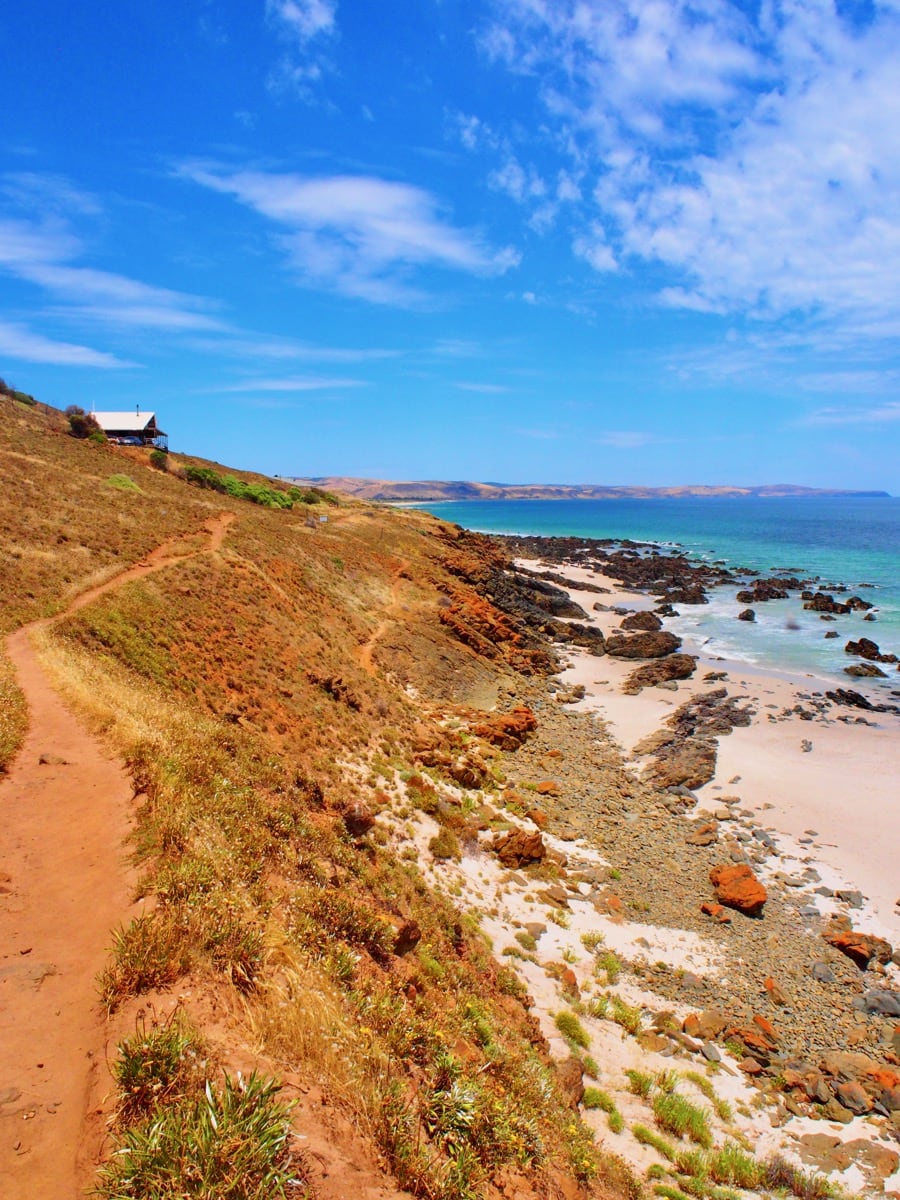 Believe it or not, even though I had a big hunch about where to find the best rock pool in Carrickalinga, I never made it there even on my second day exploring the region. Don't ask me why because I don't have an answer.
The hidden rock pool I had seen on Instagram had to be on this large rock close to the mainland. I only came to that conclusion on the second night.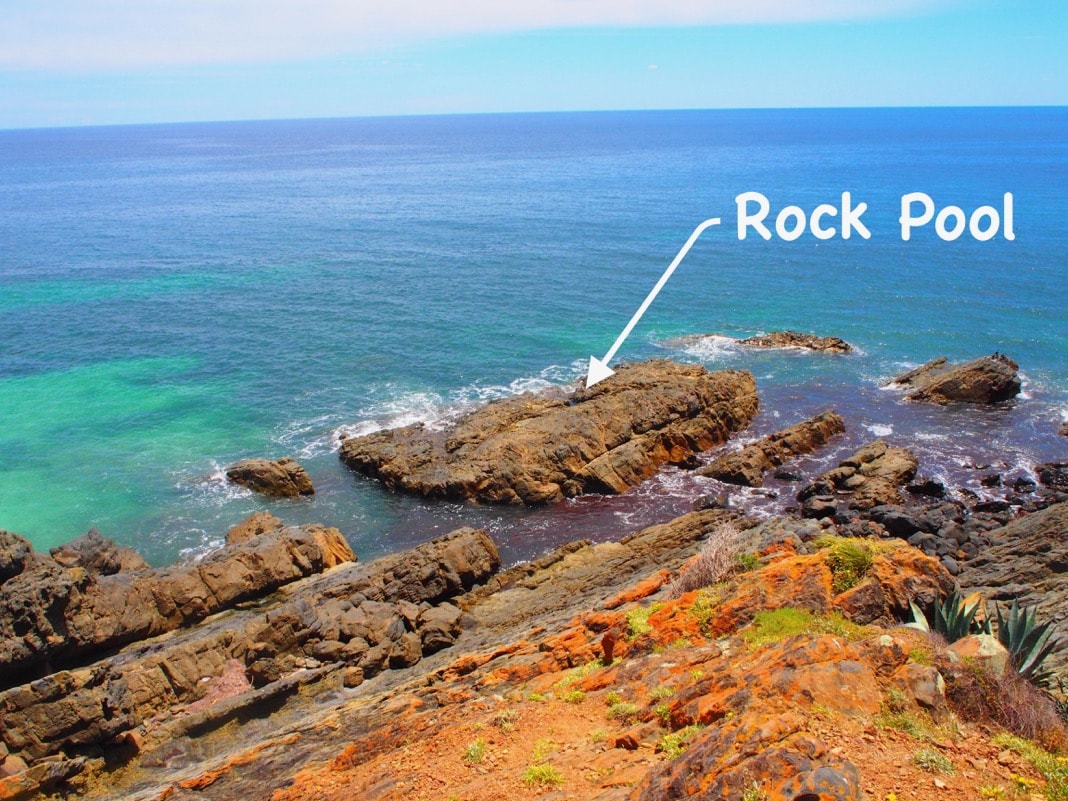 Here's a closeup of when I zoomed onto one of the photos I had taken. I could tell there was a rock pool of some quality on this rock, but from the picture, it didn't look that great.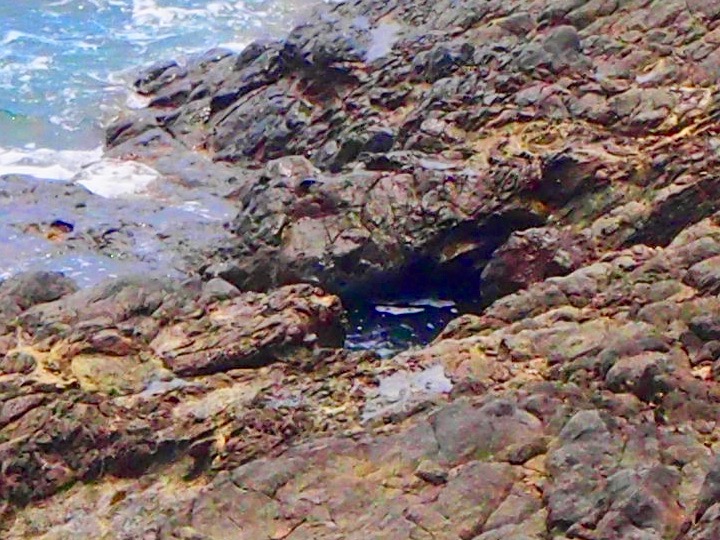 Unbelievably, when I took this photo when I was almost level with the rock, a pigeon flew by almost exactly where I thought the best rock pool in Carrickalinga was positioned.
But the weather turned slightly bad by this time. So that's why another day was gone!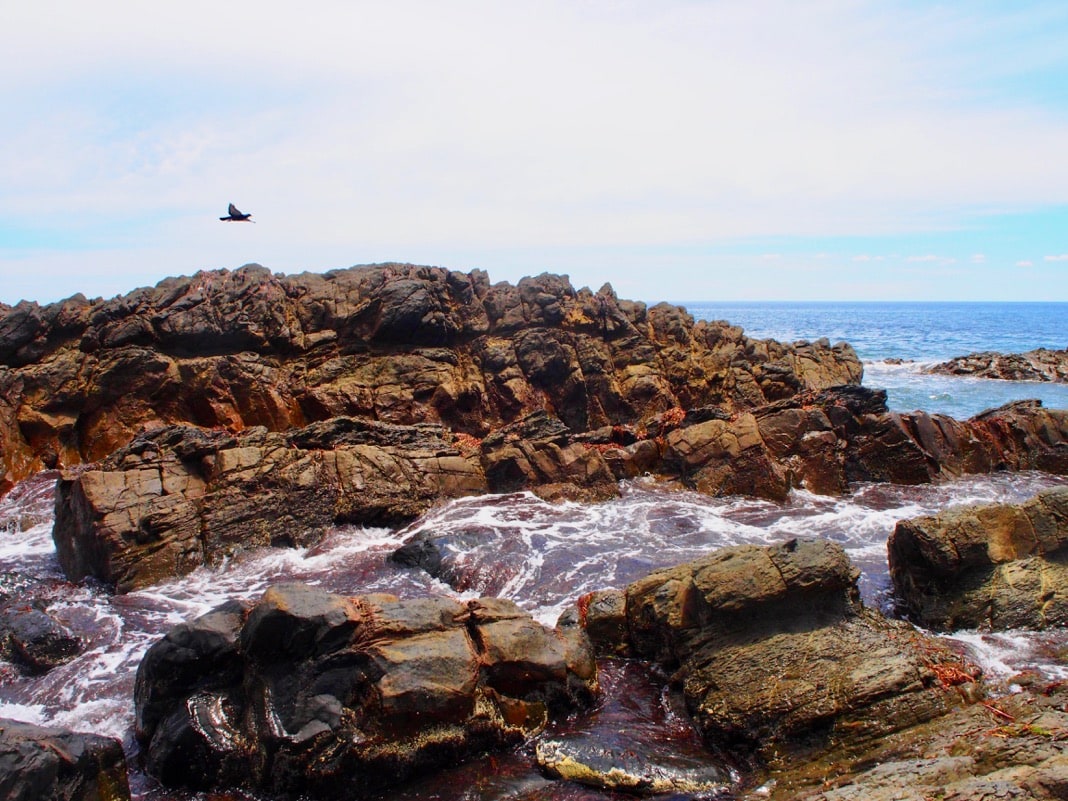 Getting to the tiny rocky island on the other side seemed a bit treacherous, so I decided to leave it for another day.
More Rock Pools in Carrickalinga
After returning to Carrickalinga North Bay, I walked down to the beach via the beach-ramp staircase. By this time the weather looked a bit better again.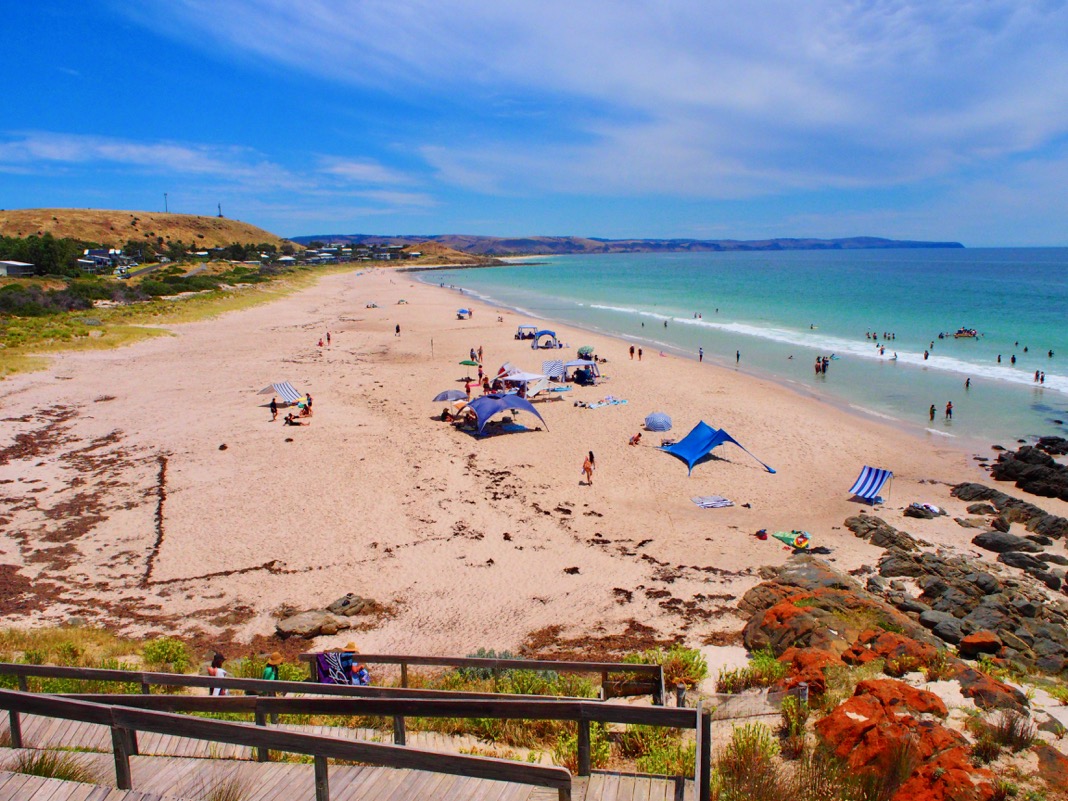 I saw a large rock pool there and wanted to take a photo as a reminder that I'd be back on another day.
There was an Asian girl at the beach close to me so I asked her if she could take my photo.
We talked a bit and guess what, she was looking for the exact same rock pool that she'd seen on Instagram as well. She thought it was around this area, but she was way off.
I gave her some directions to help her find the rock pool, but this probably wasn't the best day to go there.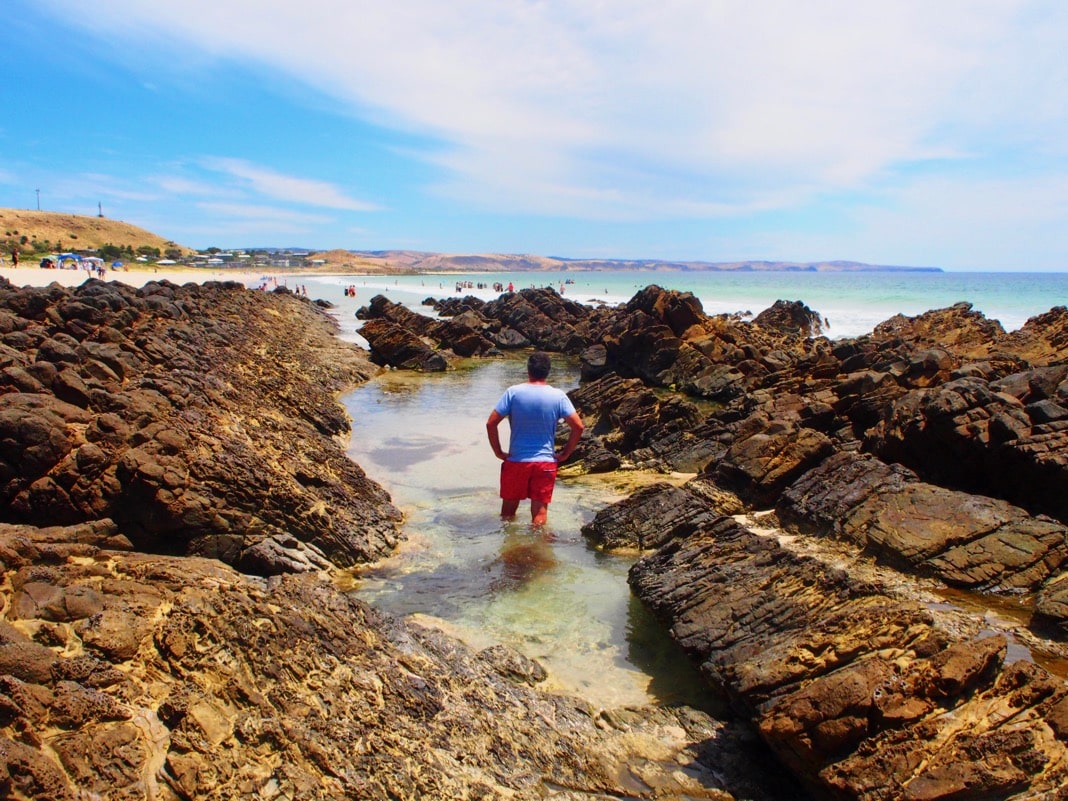 On day three I'm not sure what happened, but again I didn't make it to the rock pool I had been dreaming about seeing. I took some photos of a few other rock pools but nothing spectacular.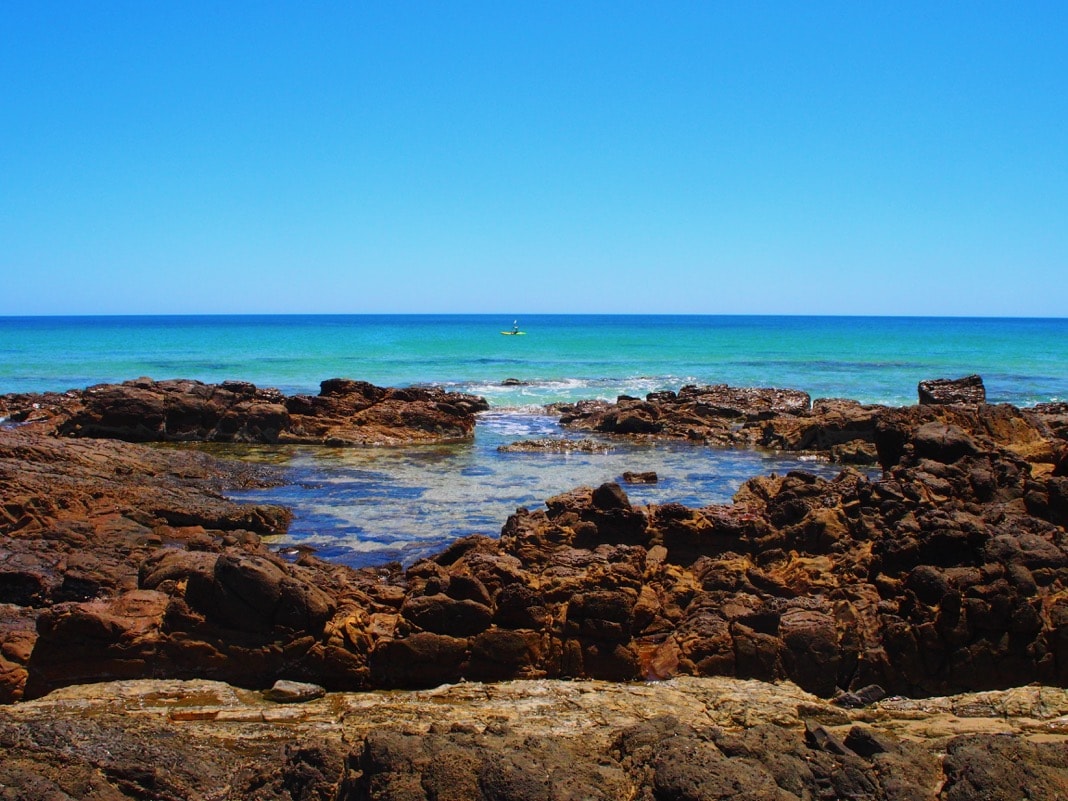 Here's a large shallow rock pool. Both rock pools were located between Haycock Point Lookout and the car park at the northern end of Carrickalinga Beach.
Welcome Carrickalinga Sign
Before driving into Carrickalinga, you'll find this tourist sign welcoming tourists where people stop to take photos.
So before I left on my third day in Carrickalinga, I stopped by to take a photo.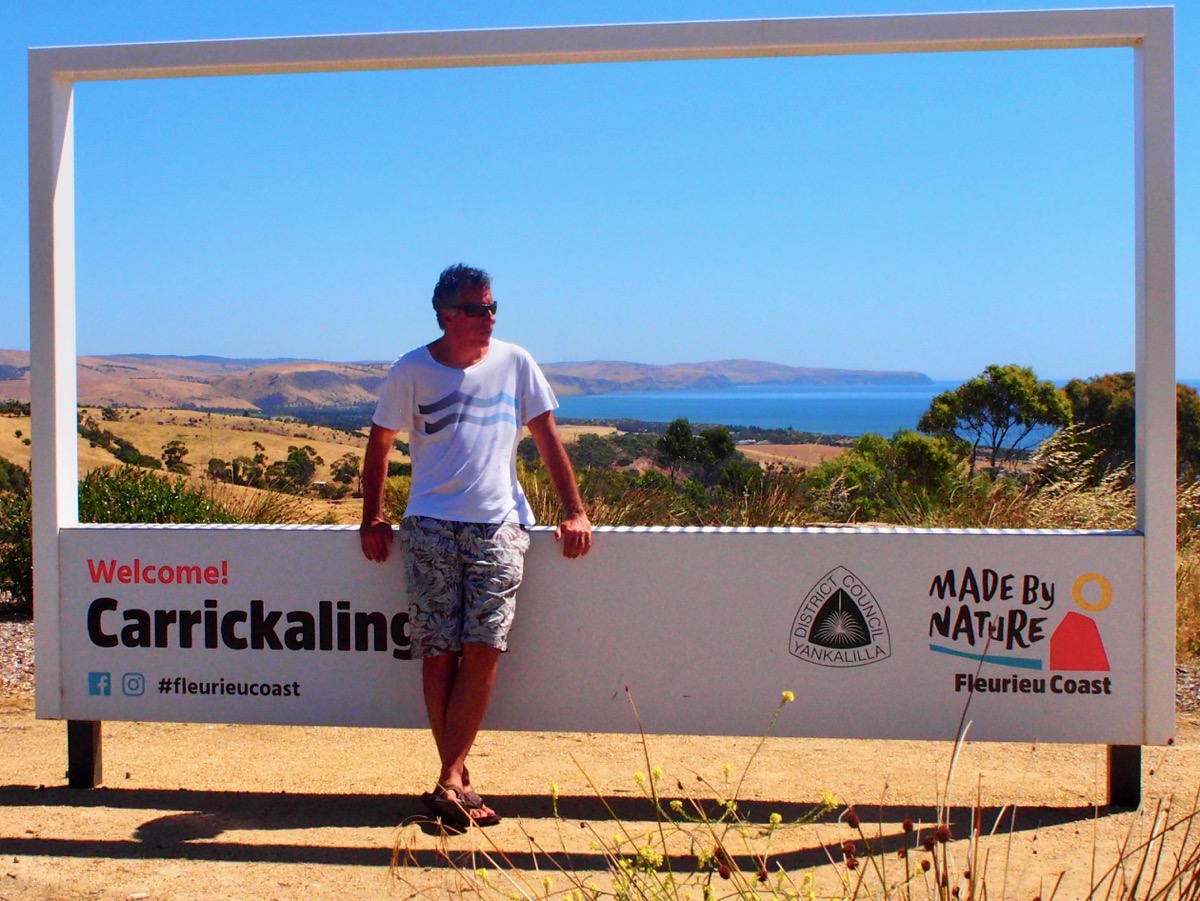 Seahorse – Fleurieu Peninsula
January 1, 2023, turned out to be a magic date. Things finally happened for me in Carrickalinga.
Seeing a seahorse on this day was a good sign (omen), as seahorses are associated with Poseidon, the God of the sea.
As I was standing around I could hear a young girl screaming out, I found a baby seahorse!
Her father went over and so did I because who doesn't want to see a seahorse?
The incredible thing about this seahorse is that it was a baby, probably between 1-2 cm in size. What you see here is a zoom-in of one of the photos I took. It even seemed alive because it was wiggling around in a very shallow pool of seawater close to some rocks.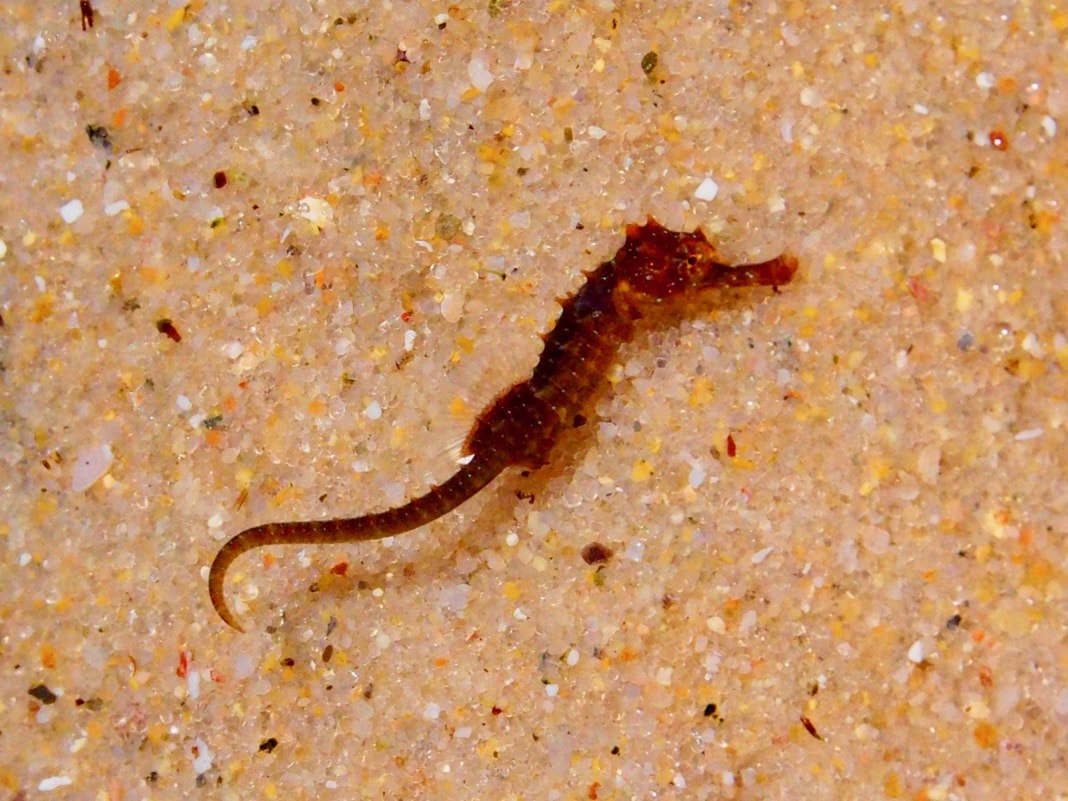 Best Attraction in Carrickalinga
But the best thing about this day was seeing Carrickalinga's best rock pool for the first time in real life.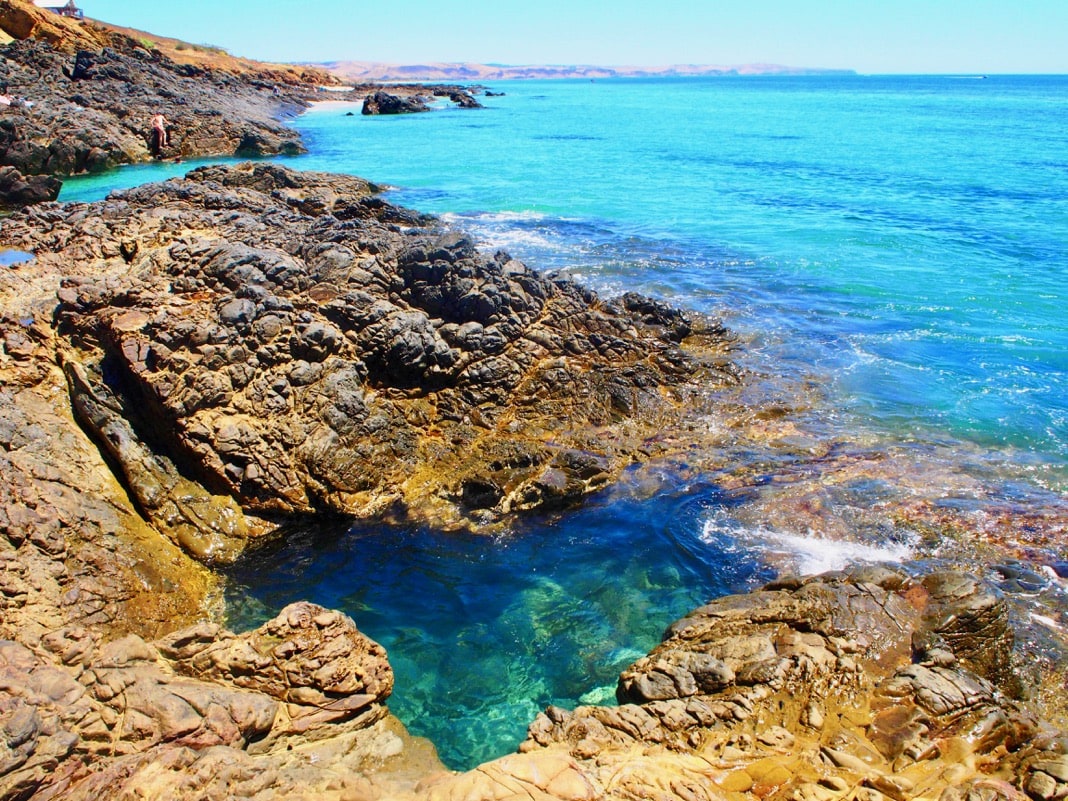 Out of all the rock pools in Carrickalinga, if you only see this beautiful Carrickalinga rock pool and no other, you'll be thrilled because the rock pool is amazing!
It took me four days in Carrickalinga to find and reach this top-secret rock pool spot in Carrickalinga. I'm glad I persisted because it's a magical pool to jump into.
The emerald green water in the rock pool looks amazing and looking out into the horizon as water splashes inside is an incredible experience.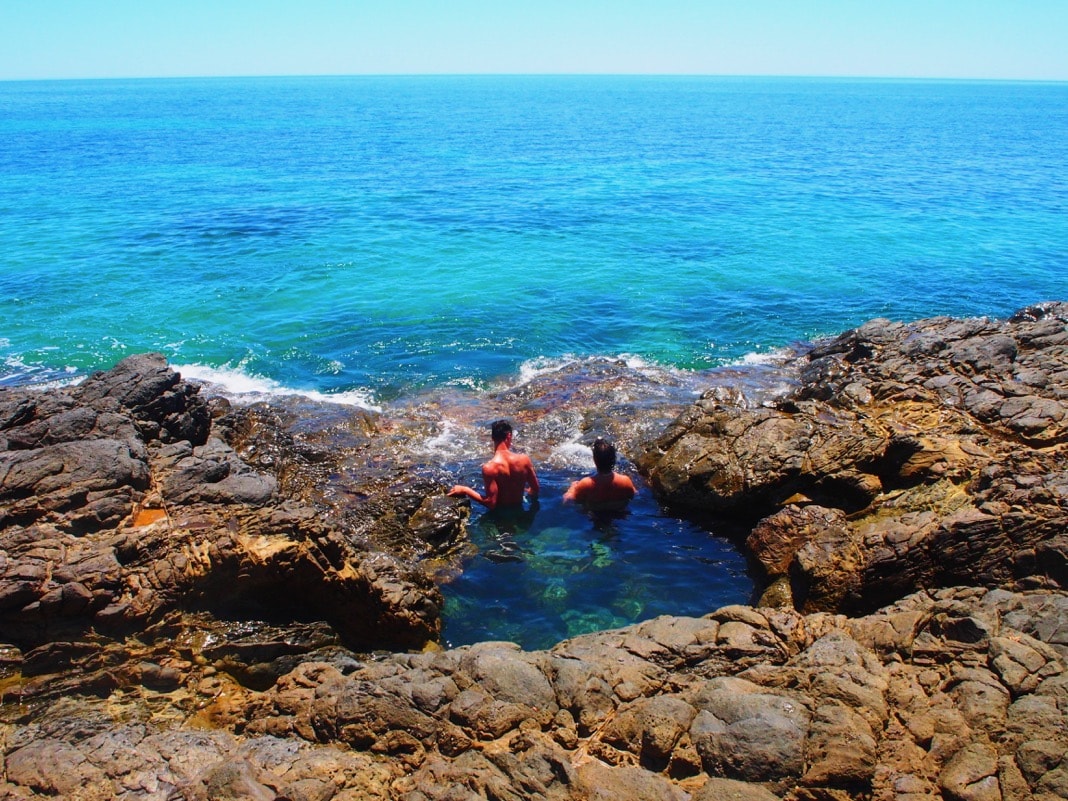 How to Get to the Hidden Carrickalinga Rock Pool
Here's how to get to the hidden Carrickalinga rock pool. From the northernmost car park at Carrickalinga, walk toward the beach. Then turn right and follow the dirt track along the coastline. Walk past the large beach shack close to the cliff's edge on the right-hand side and keep going until you almost reach the secret cove.
When you spot a large rock in the ocean close to the mainland, that's the one with the hidden rock pool — the best rock pool in Carrickalinga.
Follow the path down and scramble down via the rocky ledge. It will take you about 15 minutes to walk the large rock from the car park.
Carickalinga Rock Pool Map
Here's a map showing where to find the best Carrickalinga rock pool.
From the map, between Carrickalinga North Bay and Secret Cove, there's a range of different Carrickalinga rock pools to discover.
As you can see the hidden rock pool is located just before reaching Secret Cove (hidden beach).
Not many people go to Secret Cove. It is way quieter than the main beaches in Carrickalinga. if privacy is your thing, you may want to relax at secret cove beach but be aware it isn't as good as Carrickalinga's northern or southern beaches.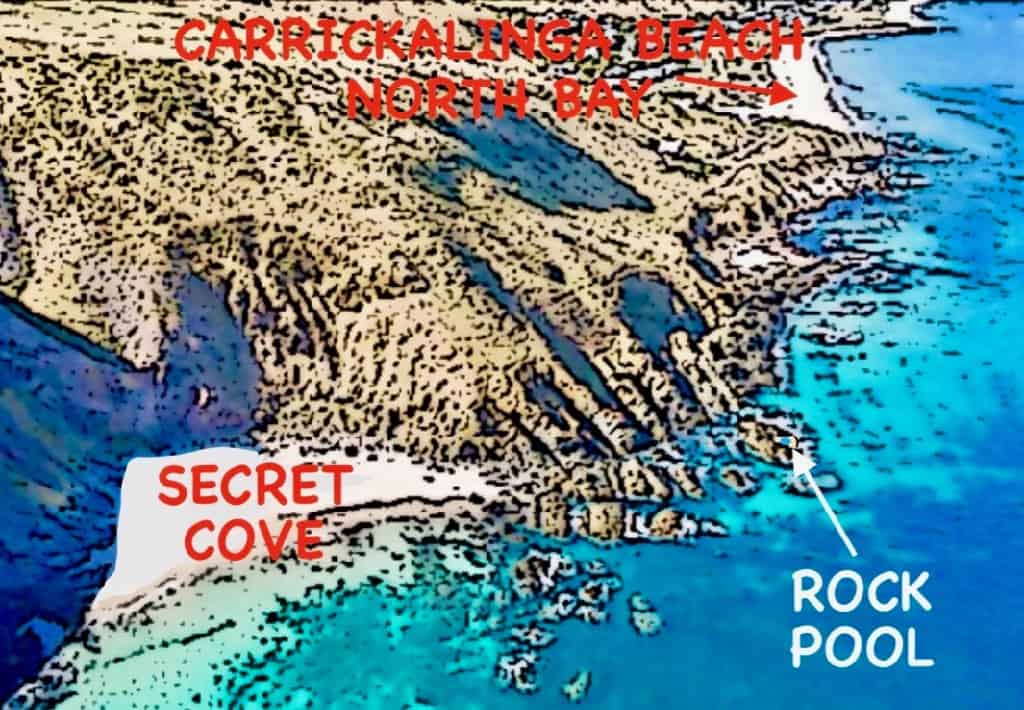 Memorising this basic map of the Carrickalinga coastline should make it easier for you to get your bearings.
The dirt track eventually goes downward at one point just before Secret Cove. Follow it down, then you'll need to scramble down a rock face to get to the bottom.
The best way to tackle it is by walking in a zig-zag motion until you reach the bottom. In this picture, I am looking back up from the bottom since I'm standing close to the shoreline.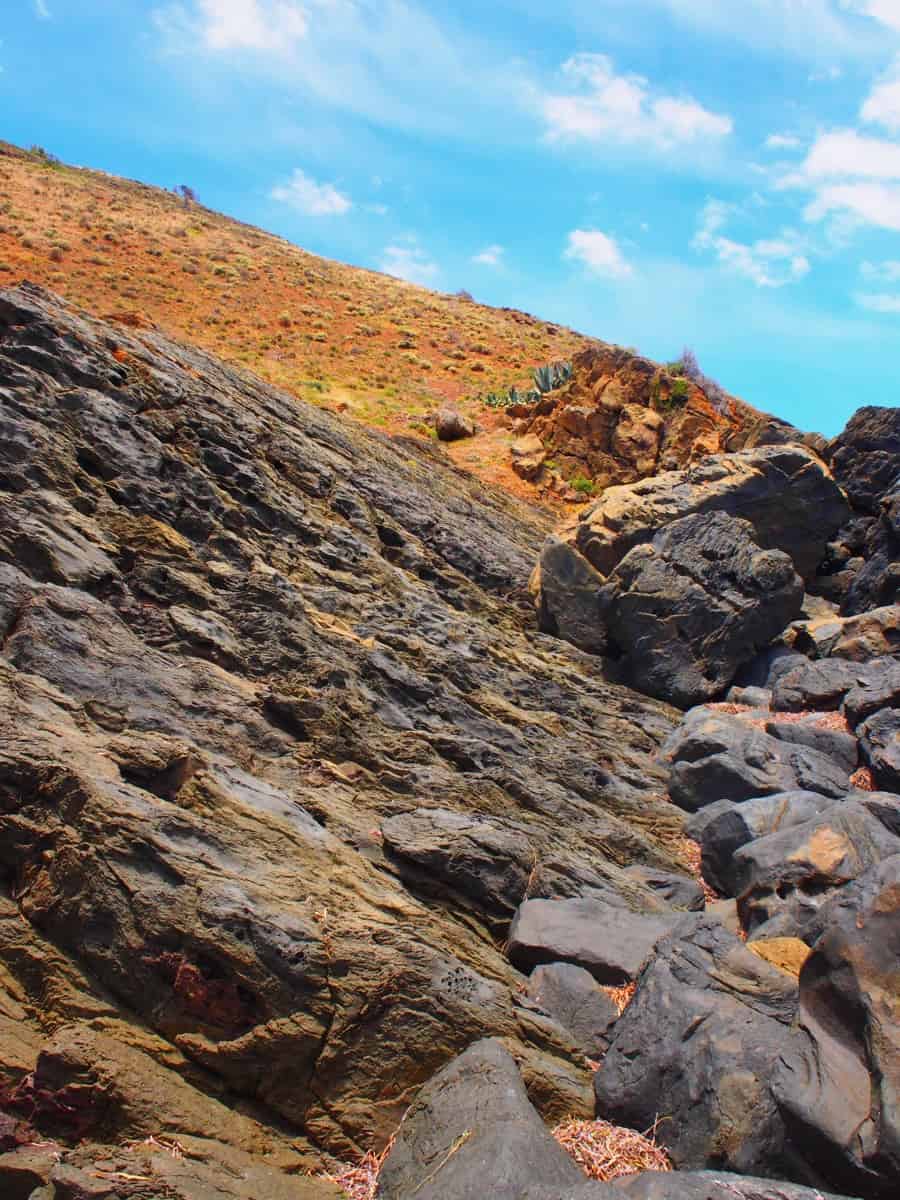 Once you're at the bottom, you'll have to make your way a little further around to the left side.
That's so you can reach the closest point on the mainland to the large rock with the superb rock pool waiting for you.
Ways to Reach the Hidden Rock Pool in Carrickalinga
There are two main options to get to the hidden rock pool in Carrickalinga which attracts attention on social media.
You can either lunge across rocks, or you can also slowly wade across if you don't mind getting wet.
The other option is to swim across! But if your camera gear isn't waterproof, then that may not be an option for you.
On a good day, swimming over is fine and if you have a waterproof GoPro camera, then beautiful, no problem.
If you're ok with getting slightly wet below the knees or possibly from the waist down, then go to the closest point between the mainland and the small rocky island which hides the awesome rock pool.
Below I show you how to get to the best Carrickalinga rock pool in a step-by-step guide.
The first thing is to pick a good starting point. Then take three steps quickly until you reach the middle rock.
That's because you may have seawater rushing past and you'll want to avoid getting caught in a forceful flow of water over the rocks you'll be stepping on
If you're right-footed, I recommend taking your first step with your left foot first.
Take your second step with your right foot and land on position number two. From there, leap out immediately and make sure you land on the middle rock at the position shown as position number three.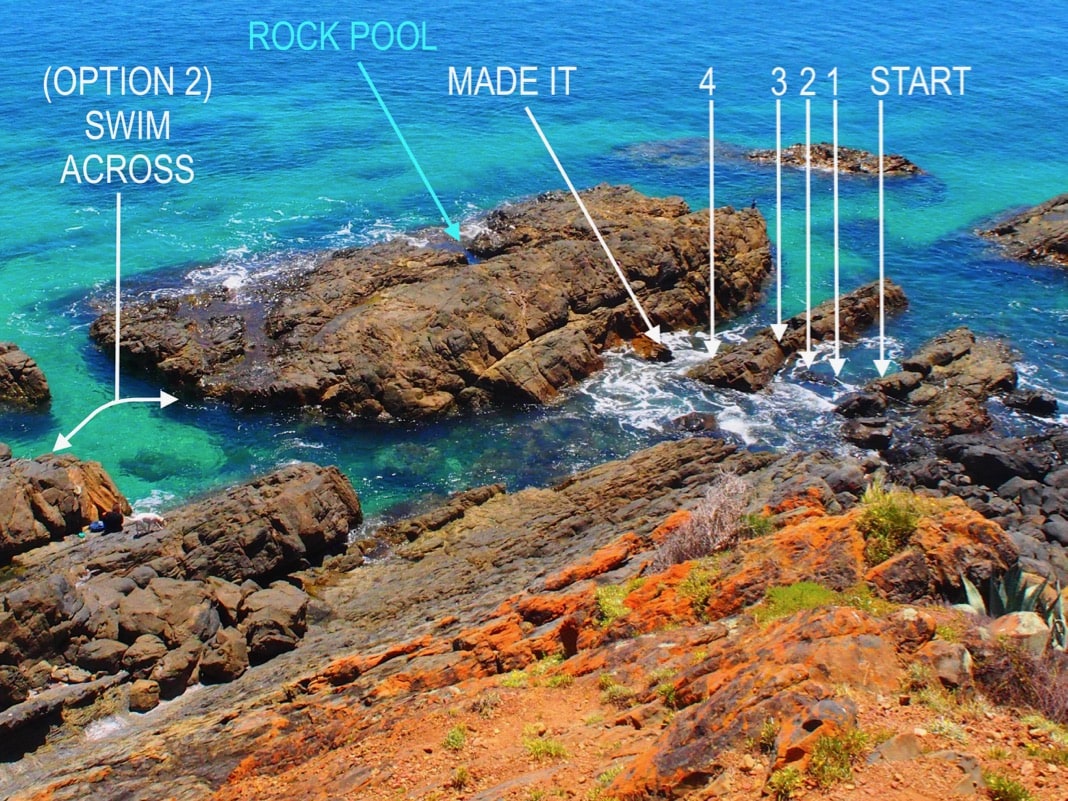 From the middle rock, you can move into a good position (position number 4) where you can then take one giant leap and hopefully make it onto the large rock where the rock pool can be found. But all that said, one slip and things could turn out very different.
Tips for getting to the best Rock Pool in Carrickalinga
Top Tip: The very first step I took was a doozy. I nearly slipped and fell over but luckily quickly regained my balance. Believe me, it is quite challenging to get across with seawater rushing through every so often. I was also wearing wet suit shoes which have a bit of grip on them. Going barefoot would be way harder, and I assume heaps more slippery, so I don't recommend attempting this barefoot.
Also, ensure you go to the hidden rock pool around low tide for the best experience.
In the photo below you can see what the crossing looks like from the other side. This picture was taken on the large rock where the hidden rock pool is located as I was returning back to the mainland.
The way to cross over doesn't look too bad when looking at this photo. I have to say going back was a hell of a lot easier than getting to the rock pool in the first place. I think the tide was a bit lower at this point as well plus things were way calmer.
It took me about 20 minutes to work up the courage to lunge my way across to the large rock. Going back it felt like it took me less than a minute.
My big worry was my Olympus camera. If my camera got wet, it would have been a costly disaster. I had it dangling around my neck with a strap, so if I slipped into the water, it could have been a goner.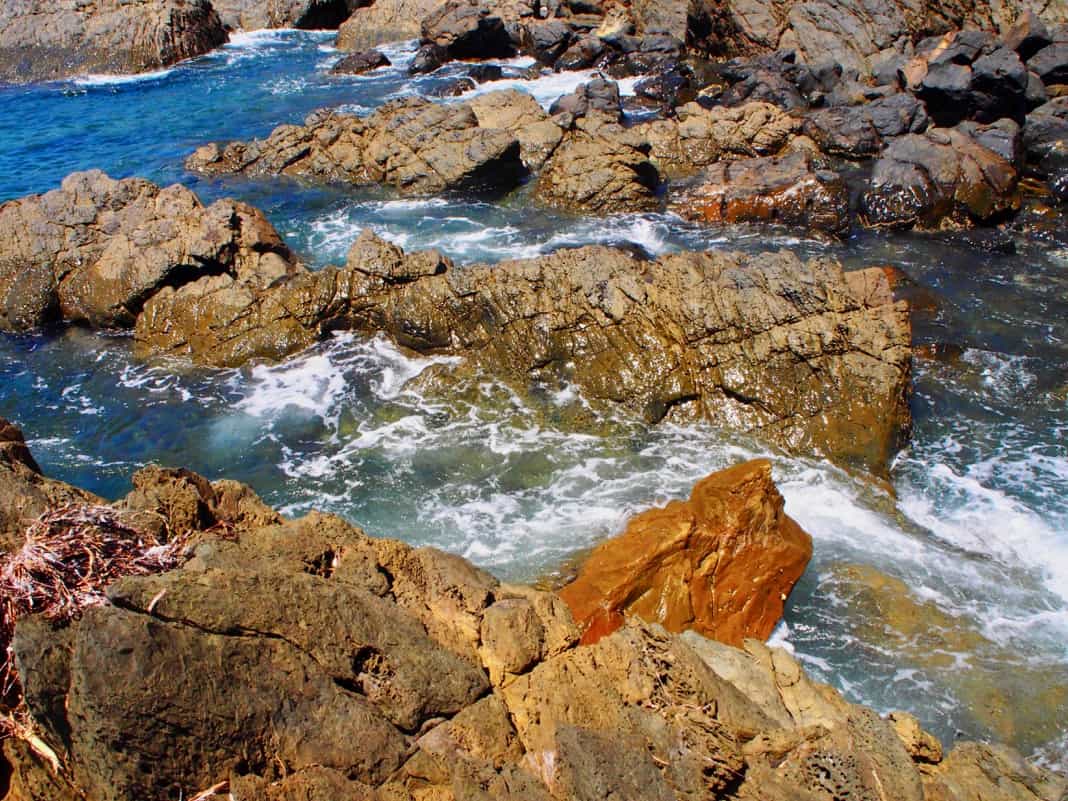 Carrickalinga Rock Pools Video
Watching this video will give you a good feel of where the best rock pool in Carrickalinga is located.
You will easily find the rock pool by watching this video since it gives you a 360-degree view of the area.
How to get to Carrickalinga Rock Pools
From Adelaide, the capital of South Australia, make your way to Glenelg and drive down Brighton Road. The drive there will only take about an hour. Make sure you take the scenic road via Myponga Dam Lookout. Then head to Carrickalinga North Bay car park. When walking to the beach, turn right and head along the dirt track. Spot the large rock close to the mainland and get onto it. The best rock pool in Carrickalinga is there relatively close to Secret Cove.
Other Top Destinations Near Carrickalinga
There are plenty of other great beaches on the Fleurieu Peninsula to visit.
For instance, the beach town next to Carrickalinga called Normanville is a great place to get a bite to eat. There are plenty of great eateries at Normanville to choose from.
At Normanville beach, there is a small jetty, which most beachgoers seem to stick relatively close to when going for a swim. There's also a small floating pontoon in the ocean not too far away from the end of the jetty. People swim to it and rest on it.
Driving from Carrickalinga to Normanville is only a 3-minute drive away as both towns are only 2.5 km apart.
Second Valley is another great place to visit on the Fleurieu Peninsula coastline. It is only a 15-minute drive (20 km) further up the coast from Carrickalinga. If you like cliff jumping or watching it, Second Valley is an awesome place to visit on a hot summer day. The relatively small beach is also great for R&R and other fun beach activities.
One of the best things to do on the Fleurieu coast would be to go kayaking from Second Valley to Rapid Bay or vice versa.
Another great thing on the Fleurieu Peninsula to do is to visit Port Willunga beach (Star of Greece) on the way back to Adelaide from Carrickalinga. Port Willunga beach is easily one of the best beaches in South Australia, so you won't want to miss it.
How long to stay at Carrickalinga Rock Pools
Carrickaling rock pools attract more and more tourists as word gets out. If you love rock pools, you'll need to spend at least 2-3 hours in Carrickalinga to check them out properly. Stick to Carrickalinga north beach, and you'll have a great time.
If you can, I highly recommend visiting the best rock pool in Carrickalinga. It's hard to beat!
Pin it … Share it