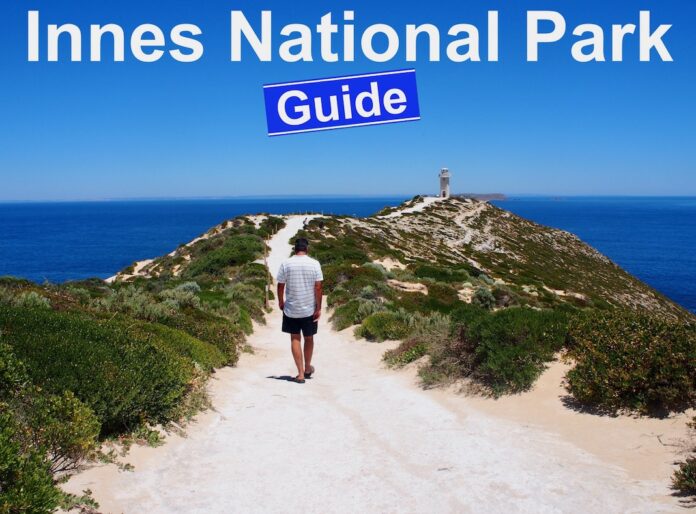 Innes National Park camping is great, but let's face it, camping isn't for everyone.
If you don't enjoy camping, another great option is to visit the beautiful seaside destination Dhilba Guuranda-Innes National Park on a day trip from Adelaide.
That's precisely what I did and from my experience, I can tell you that going on a day trip to Innes National Park from Adelaide is very doable and enjoyable!
My fast-paced Innes National Park one-day itinerary will prove to you that you can see most of the highlights within this fantastic national park in one day.
Reading about my one-day experience in Innes National Park will give you a good idea of how long you may want to stay when exploring this fabulous beach destination in South Australia.
Planning a relaxing Innes National Park camping trip is still a great option and by going camping you'll get some big perks if you stay multiple days.
If you stay longer than one day at Innes National Park, you'll have much more time to soak in all of the best beaches and scenic places. It will also give you the time to go on more walks. Plus, your time there will be way more relaxed.
A one-day trip to Innes National Park is still one of the best day trips from Adelaide, so choosing the best thing to do will require some thought.
Innes National Park Camping
I highly encourage you to at least think about going on an Innes National Park camping trip without ruling out staying for a night or two altogether.
A day trip to Innes National Park is an incredible experience, but spending a few days in the national park would have to beat a day trip.
You don't need to have access to a caravan, motorhome, or even a tent to stay at Innes National Park.
That's because you can stay at one of the relatively cheap lodges within Innes National Park. Lodges and cottages are few in number though, so remember to book accommodation well in advance to avoid disappointment.
Another option is to stay in one of the towns close to Innes National Park. For example, you may want to stay in the small town of Marion Bay. This small town is located very close and sits on the national park's edge.
If you love camping, my first preference would be to stay at Shell Beach campsite because to me it looked like the best campground.
Arranging a great Innes National Park camping trip during summer may be difficult to do because everything seems to get booked out rather fast, especially in January, which is peak summertime in South Australia.
That's why you should book way-way in advance if you would like to go camping in Innes National Park during summer.
Cost of Entry to Innes National Park
If you just want to go on a day trip to Innes National Park, you have to pay a vehicle entry fee to enter the national park.
When I went I paid $12.50 online before I visited Innes National Park.
You can also pay at the visitor center at Innes National Park, but then you'd have to be sure that it would be open.
The best option is to pay online. Here is the Government website run by the National Parks and Wildlife Service (South Australia) where you can make the payment. You can also book the campgrounds through this site.
SA National Parks Official Website: Dhilba Guuranda-Innes National Park
I also worked out the fuel cost for my day trip. It took 50 liters of petrol and because I filled up at $1.63 per liter when I returned, the fuel cost for my day trip to Innes National Park and nearby attractions came to $82.
Innes National Park Campgrounds
The campgrounds in Innes National Park include Stenhouse Bay Campground, Cable Bay Beach Campground, Pondalowie Bay Caravan Trailer Campground, Pondalowie Bay Bush Campground, Shell Beach Campground, Browns Beach Campground, and Gym Beach Campground.
Campground fees were about double the vehicle day entry fee, so nothing too costly.
The lodges and cottages are obviously more expensive.
Innes National Park campsites seem to open and shut depending on their condition. A particular campground may be closed, which you'll probably find out soon enough when trying to make a booking.
To my surprise, I found all of the campgrounds in Innes Nationa Park fully booked when I was looking for a place to stay in January.
You may think that such a beautiful place would get swamped with loads of tourists, but there were very few people around even in peak summer.
Best Attractions in Innes National Park
Top attractions in Innes National Park include Ethel Beach, where you can find fragments of the Ethel Shipwreck; Browns Beach, which is famous for its salmon fishing; and Shell Beach, where you can take a dip inside a fabulous rock pool.
If you're into fishing or surfing or want more beach time, I highly recommend staying two to three days in Innes National Park. However, I also think a five-day stay in Innes National Park would be a very enjoyable experience.
But if you're like me and you want to taste the beauty of Innes National Park, arranging a fantastic day trip from Adelaide is the perfect thing to do.
How to get to Innes National Park
The drive from Adelaide to Innes National Park is about 300 km (186 miles) and takes about 3 hours by car.
I actually tested it out with the distance (km) gauge in the dashboard of the vehicle I drove when making my way back to Adelaide. The distance ended up being 280 km from Port Road in Adelaide to the visitor center in Innes National Park.
So for a round trip starting in Adelaide, you will probably drive approximately 700 km in total.
Most people will drive from Adelaide to Port Wakefield, then to Ardrossan, and from there to Marion Bay. The entrance to Innes National Park is very close to Marion Bay.
Some of you may want to go on a tour from Adelaide, but I am not aware of any.
In any case, the best option is to have your own transport so you can explore the national park properly.
Innes National Park Day Trip Guide
I didn't really have an Innes National Park itinerary when I went, but I did have a few places of interest I wanted to check out. Here is what I saw with the times shown when I was at certain places to give you an appreciation of how long I stayed.
It was a very early start for me when driving to Innes National Park. I left at 6:30 am in the morning and then drove to the nearest petrol station to fill up.
By the time I reached Port Road and South Road intersection, the time was 7:00 am.
I arrived in the town of Port Wakefield at 7:50 am and approximately half an hour later to Ardrossan (8:25 am).
My first stop in the Yorke Peninsula was in the town of Minlaton at 8:55 am.
Minlaton – Red Devil
Minlaton's claim to fame is the Red Devil. I stopped to take a few quick pictures at the Red Devil sign, which greets drivers as they enter the town of Minlaton.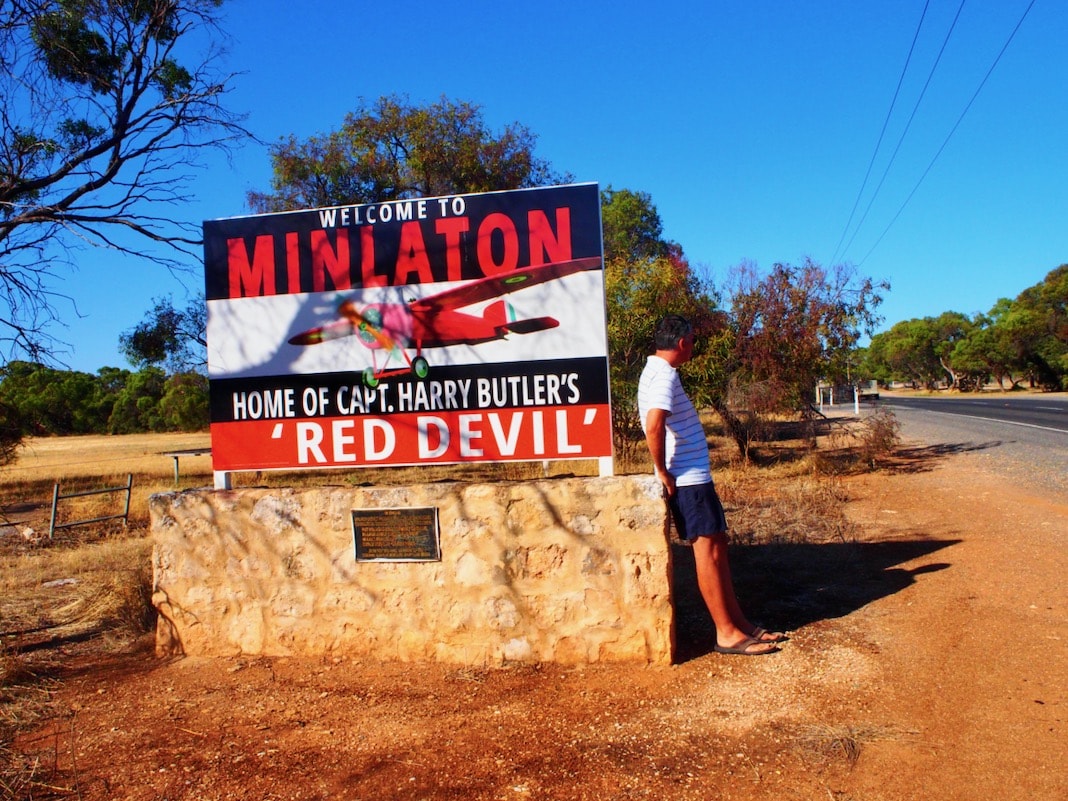 On the other side of the road was a fenced-off area, some kind of reserve for native Australian bush animals, including emus and kangaroos/wallabies.
In the town of Minlaton, you will find a small glass hanger that is home to the Red Devil plane and here it is.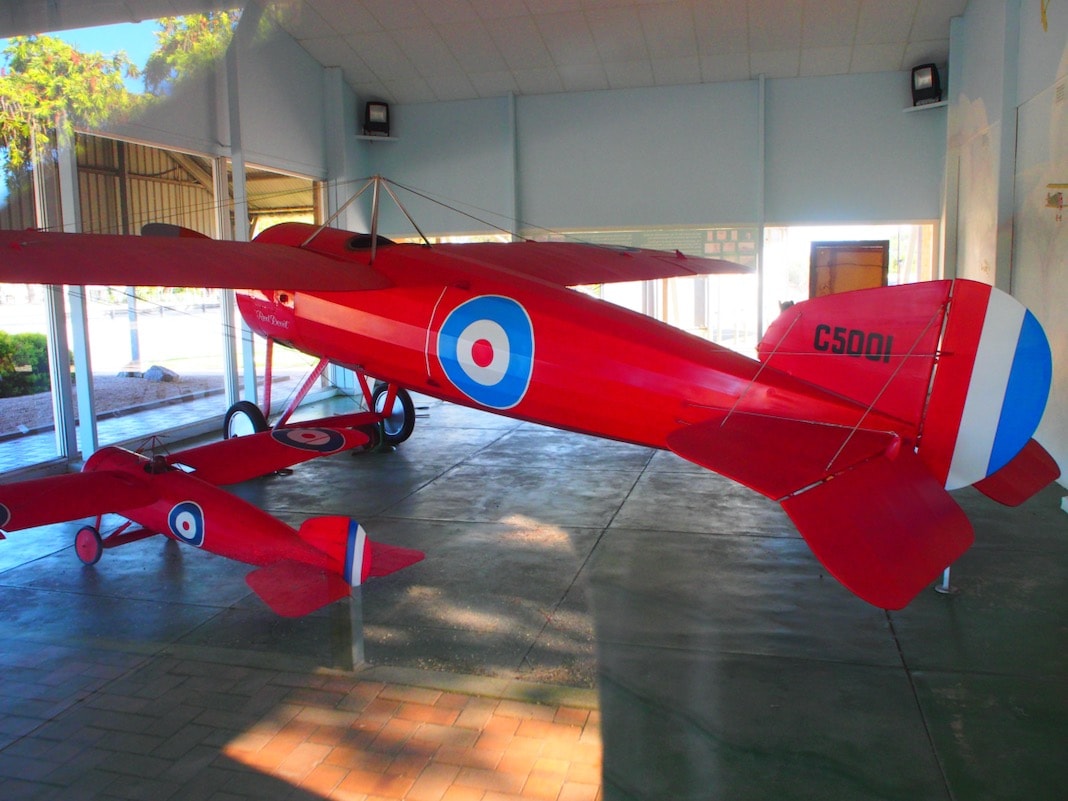 It's a great stop-off point for a few photos before you enter Innes National Park.
History of the Red Devil
Captain Harry Butler flew this aircraft and it is believed to be the only remaining Bristol MC1 fighter plane in existence today.
It was made in England during World War 1, and only about 130 of them were made. The small plane next to it is a scale model of the Red Devil.
I left the museum at 9:25 am after a bit of time with the Red Devil and then headed to Hardwicke Bay.
Hardwicke Bay
I arrived in Hardwicke Bay at 9:38 am. However, I only spent a tiny amount of time at this beach and left soon after at 9:50 am. Then I drove to Magazine Bay at Point Turton.
Magazine Bay Beach
I can see why they call it Magazine Bay because the beach was stunning! Magazine Bay looks to be a great snorkeling spot as well.
The main reason why I wanted to visit this place was to see the Magazine Bay caves, which I luckily stumbled across on the Internet when researching my trip to Innes National Park.
I even met a Greek guy who was caravaning with his wife at the top of the cliff where I parked my car. He was sitting by the side of his caravan.
We started talking, and he told me he had been staying there for a few days.
His name was Yanni, and he was from Normanville though he was originally from Adelaide.
He had spent his youth holidaying at the fantastic Fleurieu Peninsula beaches. Now at the age of 40, he decided to explore and see what the Yorke Peninsula in South Australia had to offer.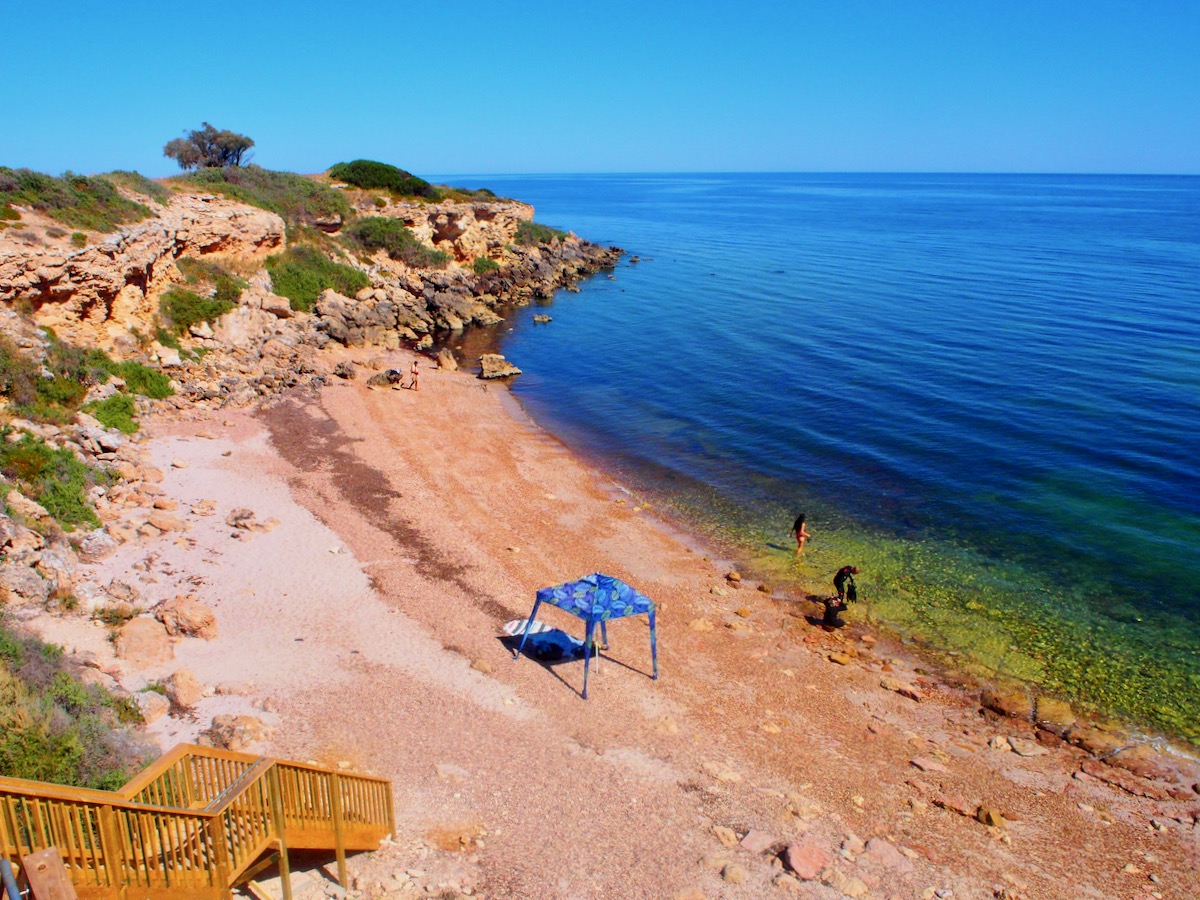 We started talking about fishing with me telling him about Browns Beach in Innes National Park and how great the place is for salmon fishing. In my younger days, I cleaned up with salmon at Browns.
Yanni then started talking about catching sweep and tommies with cockles in Magazine Bay. He had also seen some big schools of garfish but didn't have any gents for bait to catch them with.
Magazine Bay Caves
One of the caves at Magazine Bay is worth entering to have a closer look. It even had some old green carpet inside when I was there.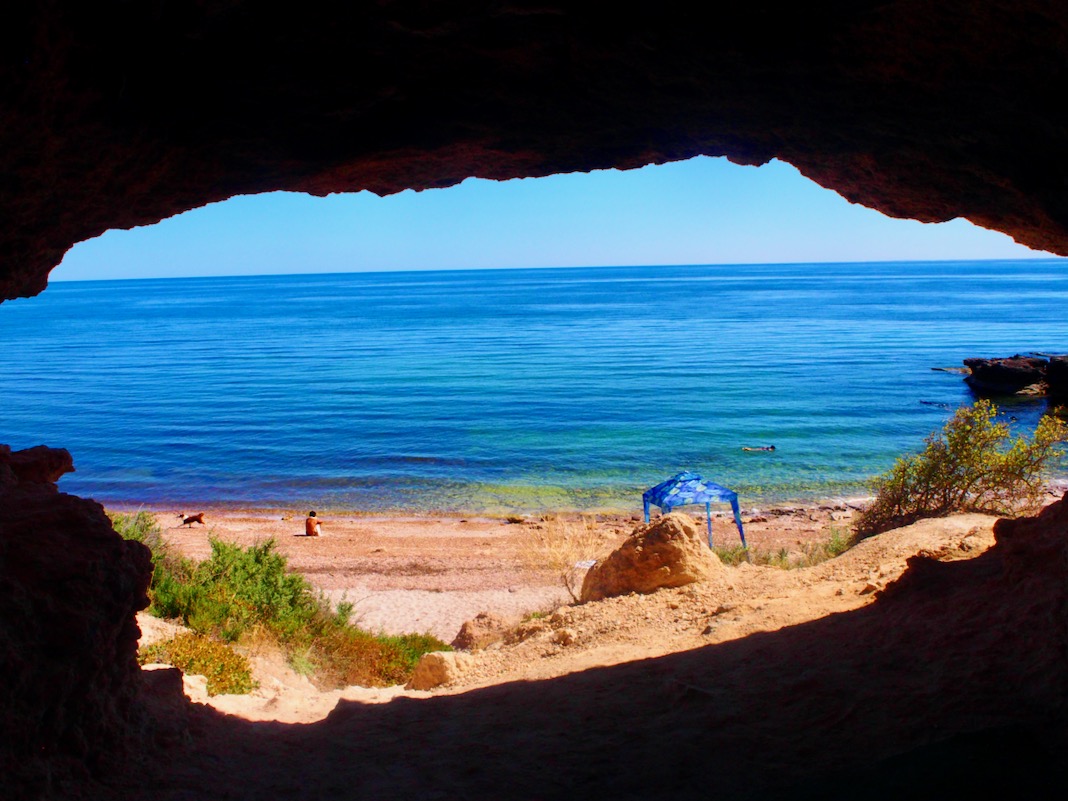 After saying goodbye to Yanni, I left Magazine Bay. By this time, it was 10:50 am, and I still hadn't entered Innes National Park.
Marion Bay on the edge of Innes National Park
Marion Bay is the town on the edge of Innes National Park. The first place I visited was Marion bay Penguin Point because it sounded super interesting.
I arrived in Marion Bay at 11:30 am, which meant that it took me five hours to reach the town from Adelaide, due to taking a few leisurely stops along the way.
My drive to Innes National Park would probably have only taken 3 hours if I just drove straight to Marion Bay without stopping anywhere else.
Visiting Magazine Bay is a place you won't want to miss especially if you love a great view, so I can't say I regret taking a few detours.
From Marion Bay, it doesn't take that long to drive to the Innes National Park visitor center since it will only take about 10 minutes.
I first arrived at Innes National Park at 11:40 am so I still had the whole afternoon to enjoy the place.
Innes National Park Map
You might as well stop at the visitor center to pick up a free paper Innes National park map, which clearly shows you the best sights, beaches, places of interest, and lookouts within the national park.
There is even a giant map of Innes National Park on the wall at the visitor center.
Zoom in, and you can see most of the key attractions inside Innes National Park from this photo. You can even take a picture of it and use this as your Innes National Park map.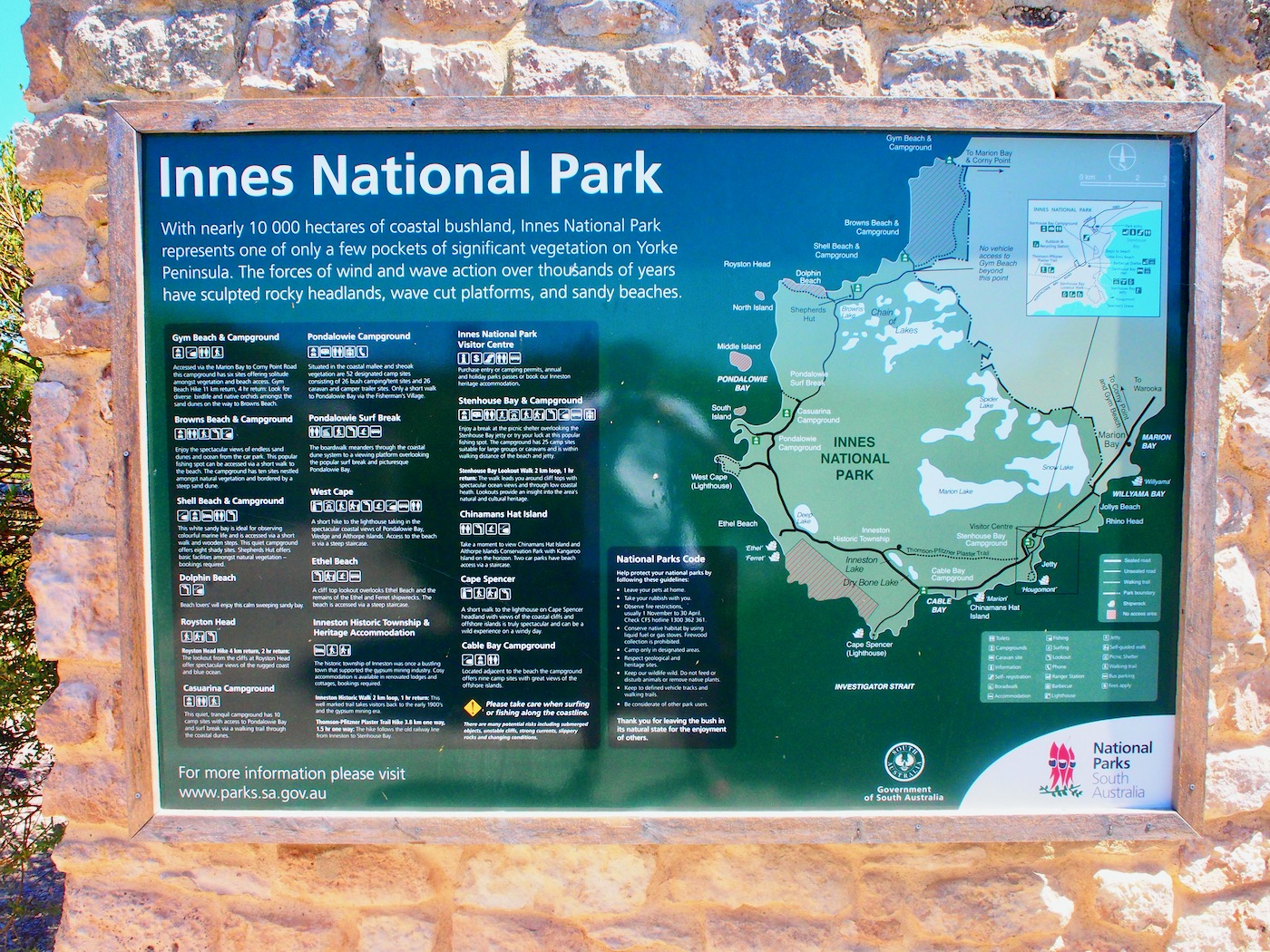 Stenhouse Bay, Innes National Park
Before going to Stenhouse Bay, I went to Jolly Beach but only stayed 5 minutes.
I got onto the Stenhouse Bay jetty at about 12:20 pm, saw a few people fishing, and left soon after at 12:35 pm.
Honestly, I wouldn't spend too much time in this area unless you plan to go fishing at Stenhouse Bay jetty. Going for a quick walk on Stenhouse Bay jetty has to be done.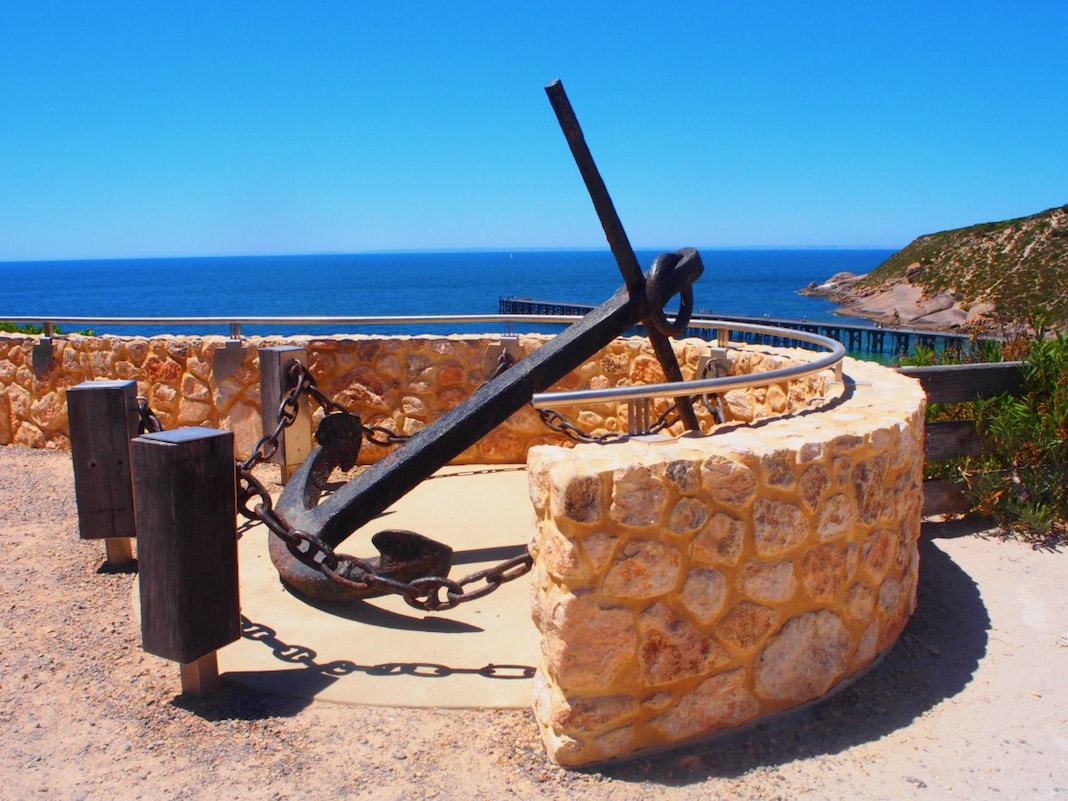 Popular Instagram Spot on Pondalowie Bay Road
Believe it or not, but for some reason, this is probably the most popular spot for Instagrammers visiting Innes National Park.
Most of the Instagram photos on Pondalowie Bay Road I have noticed are taken showing a person's back, often with their hand or hands flung up in the air.
I was going to take a picture myself, but I couldn't be bothered.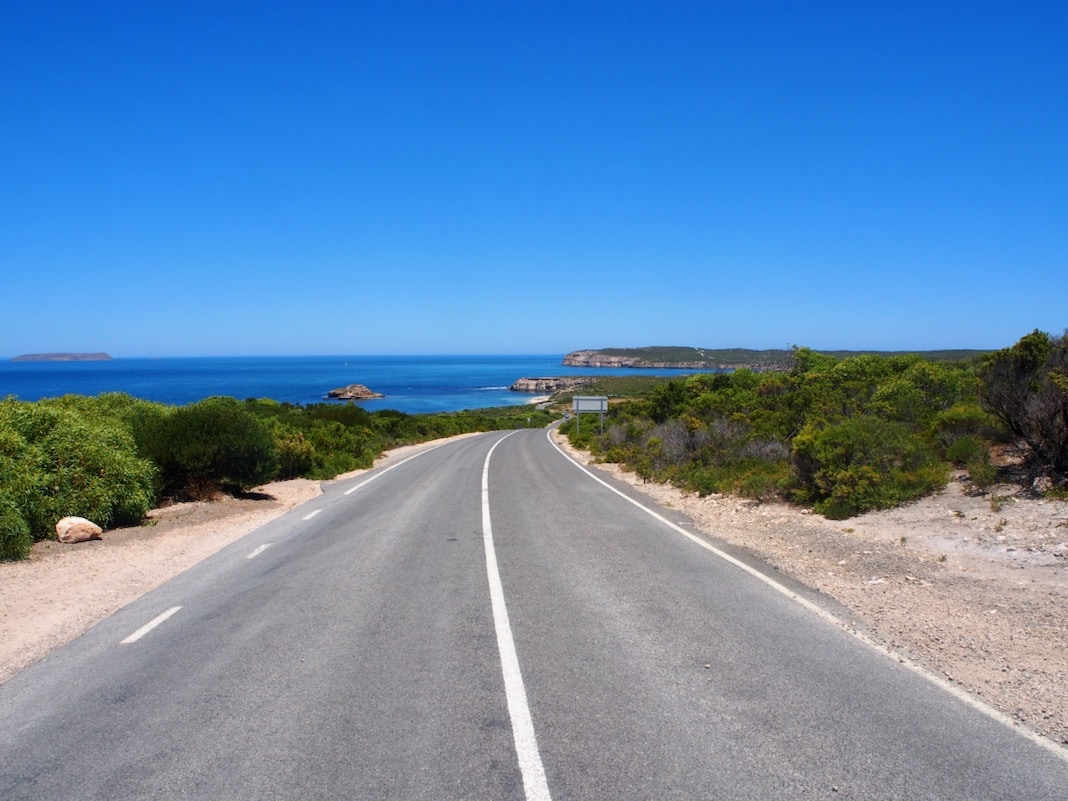 There is a lookout on the side of the road a bit further down. It was crazy!
At that spot, I got eaten alive by sandflies (or march flies or whatever the hell they were). The flies were the size of bees and they were humongous! Never seen flies that big before in my life.
Top Tip: Make sure you bring strong insect repellant so you can smother your legs with it. These super annoying sandflies love to bite legs for some reason. This is the biggest tip I can give anyone visiting Innes National Park especially if you go during summer.
Chinamans Hat Beach
The first massive highlight in Innes National park was getting a glimpse of Chinamans Hat Beach.
Not sure who named it as such, but wow, what a beach! The sand is like nothing I have felt before. It is incredibly soft, meaning you sink into the sand when in the water.
If you visit Innes National Park and spend your entire day at this beach, I'm sure you'll be very happy.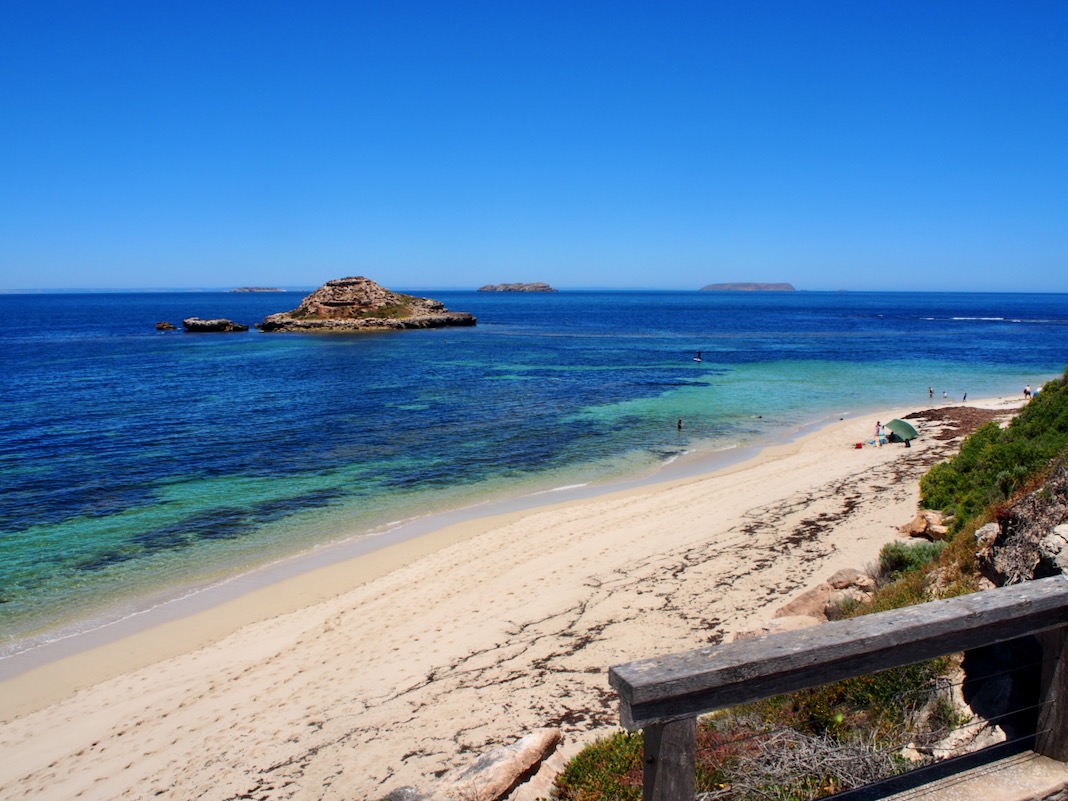 Chinamans Hat Island
The island you see in the distance is Chinamans Hat island. The beach was tranquil and I could see a few paddleboarders enjoying themselves.
My idea of heaven would be to spend the whole day here. Chinamans Hat beach is easily one of the best beaches in Innes National Park.
I arrived at Chinamans Hat at 1:05 pm and left at 1:35 pm, so all up, I only spent half an hour at this stunning spot. Loved all of my time there.
Going for a quick swim and relaxing on the beach was probably the trip highlight for me in Innes National Park.
Cape Spencer Lighthouse
The lighthouse at Cape Spencer is one of the most memorable and beautiful sights I saw when exploring Innes National Park.
I arrived at the Cape Spencer Lighthouse lookout at 1:50 pm.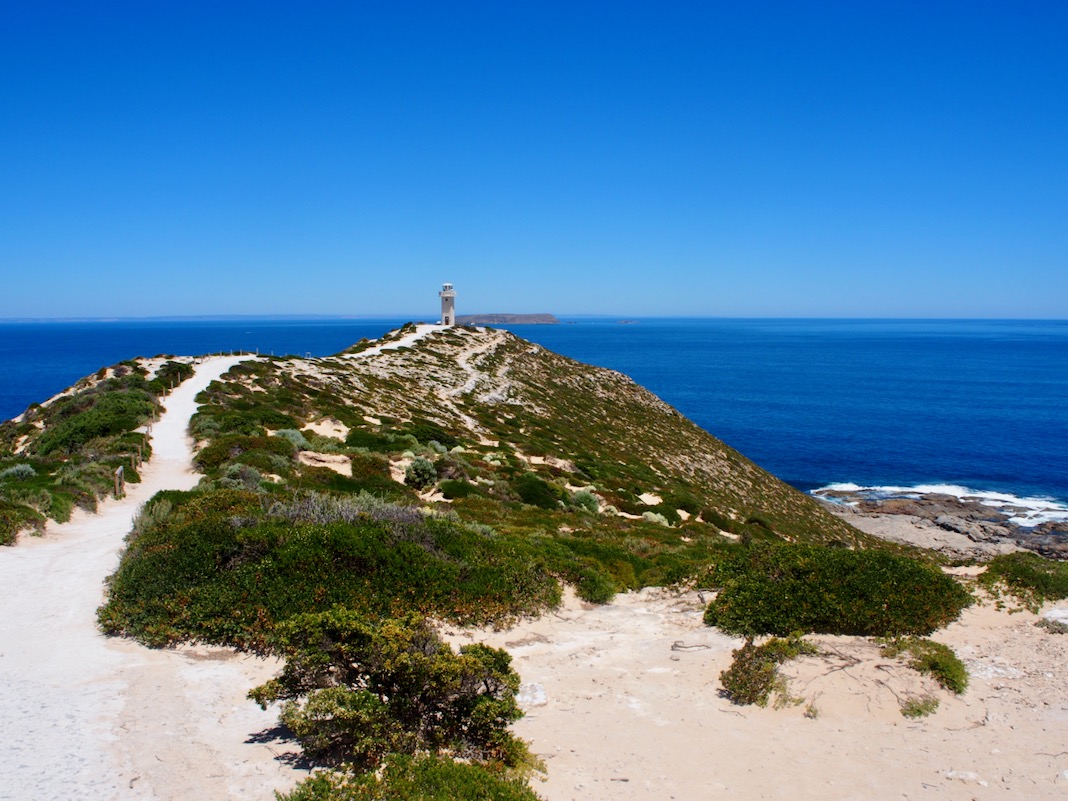 Some spectacular seacliffs are on the left side of the pathway leading to Cape Spencer Lighthouse.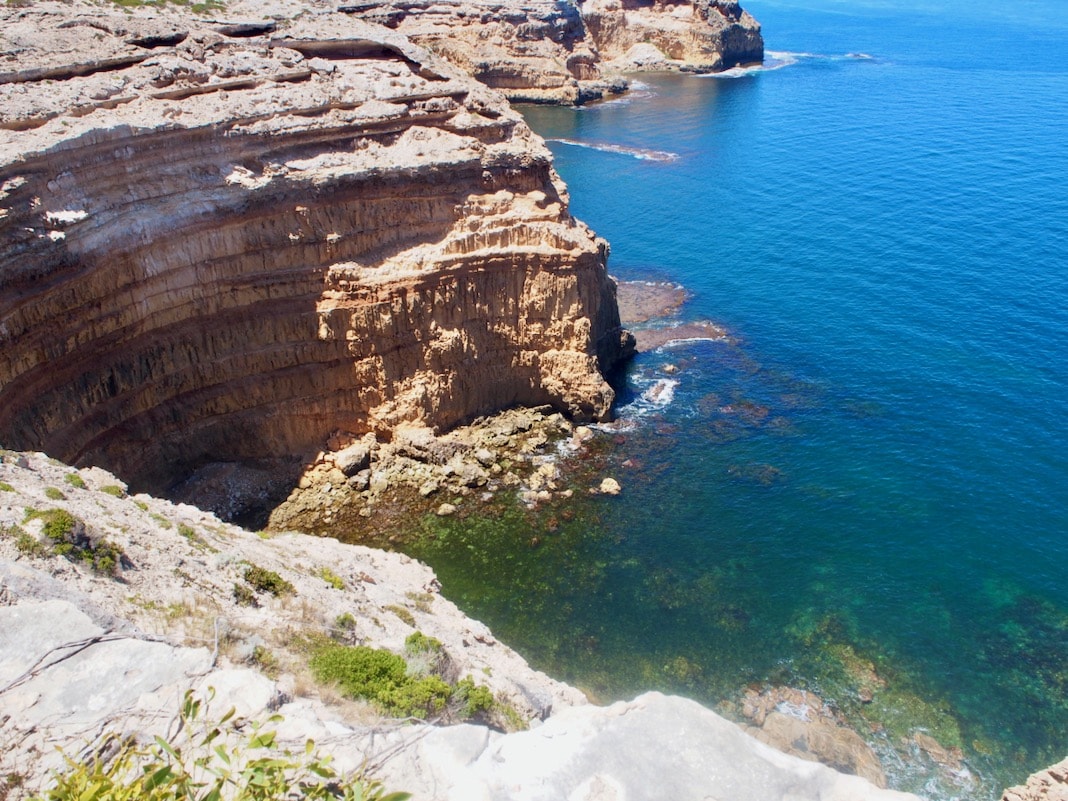 You will also see this amazing beach on the right side of the sandy pathway that leads to Cape Spencer Lighthouse.
The thing is that it wasn't easy to get down to, but I couldn't resist giving it a go.
Cape Spencer Beach
The only way to get to the beach at Cape Spencer was to scramble down a steep hill zigzagging along any path or dirt track that showed itself through the small scrub and rocky terrain.
It took me quite a while to reach the bottom, but eventually, I ended up at the stunning beach below the lighthouse. The sandy beach and water looked and felt fantastic!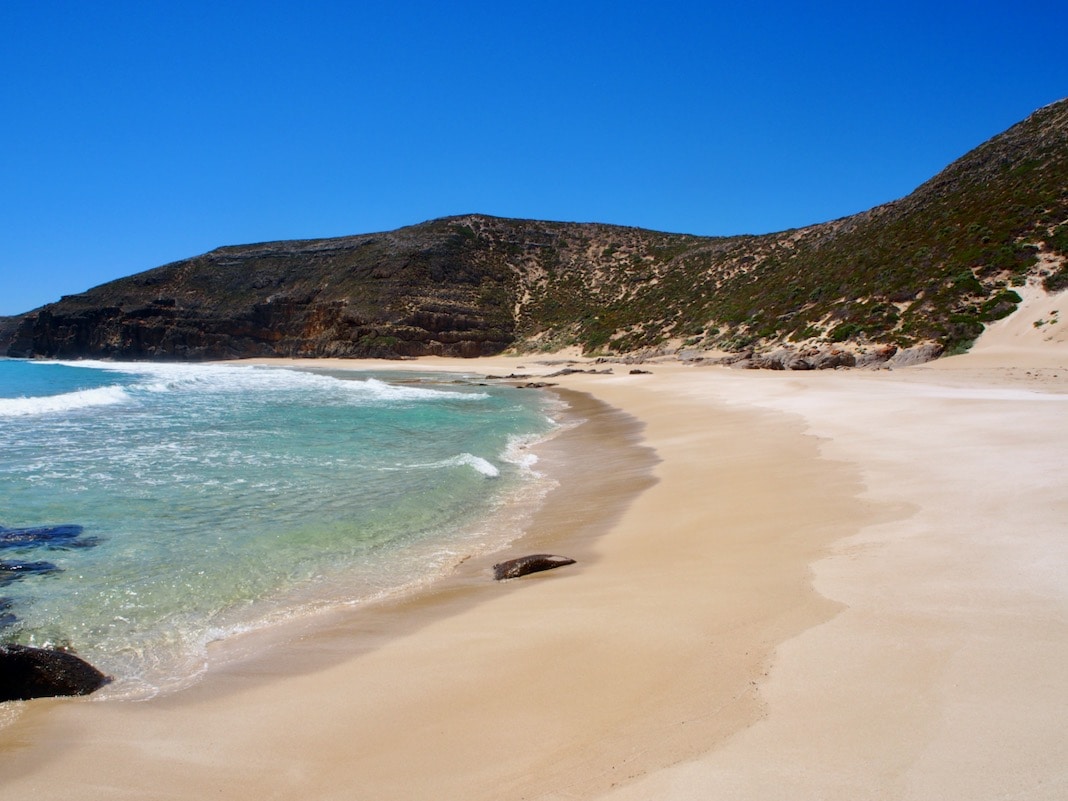 Some gentle waves possessed a bit of force, so it wasn't perfect for swimming.
I left the beach and headed back up to the top of the cliff at 3:05 pm. On the way up, I ended up seeing a fisherman returning to the top as well.
I could see him carrying one of the biggest gaffs for hooking and landing fish I had ever seen. It looked like it was made for sharks, but when I talked to him, he told me that he was going for kingfish.
It took me 25 minutes to get back to the car park and by that time it was 3:30 pm.
The adventure of getting to this beach took a fair chunk of time out of my day at Innes National Park, and I was pretty tired by the end of it.
Most of the time was spent getting down to the beach and up again. All up, I spent 1 hour and 40 minutes in Cape Spencer.
I probably wouldn't spend so much time there again, but that's mainly because there are plenty of more accessible, excellent beaches in Innes National Park.
Historic Inneston Walk
I did attempt to go on the Innestion Historical Walk (a 2 km return walk), but I was madly being eaten alive by giant sandflies, so I desperately had to turn back.
This was the worst spot for sandflies in the whole of Innes National Park.
Let me give you an idea of how bad it was. Place 100 large flies in a room without food or water for a week. Then in a week, enter that same room with the flies inside and shut the door. Seriously, you would do almost anything to escape.
I stripped a tree of a branch with some leaves on it and shook it around whacking my whole body with it. Even so, it still didn't seem to concern the flies too much.
I departed the Inneston car park at 3:45 pm and was thrilled to do so.
Ethel Beach
Ethel beach is where the Ethel shipwreck can be found. I arrived there at 3:55 pm.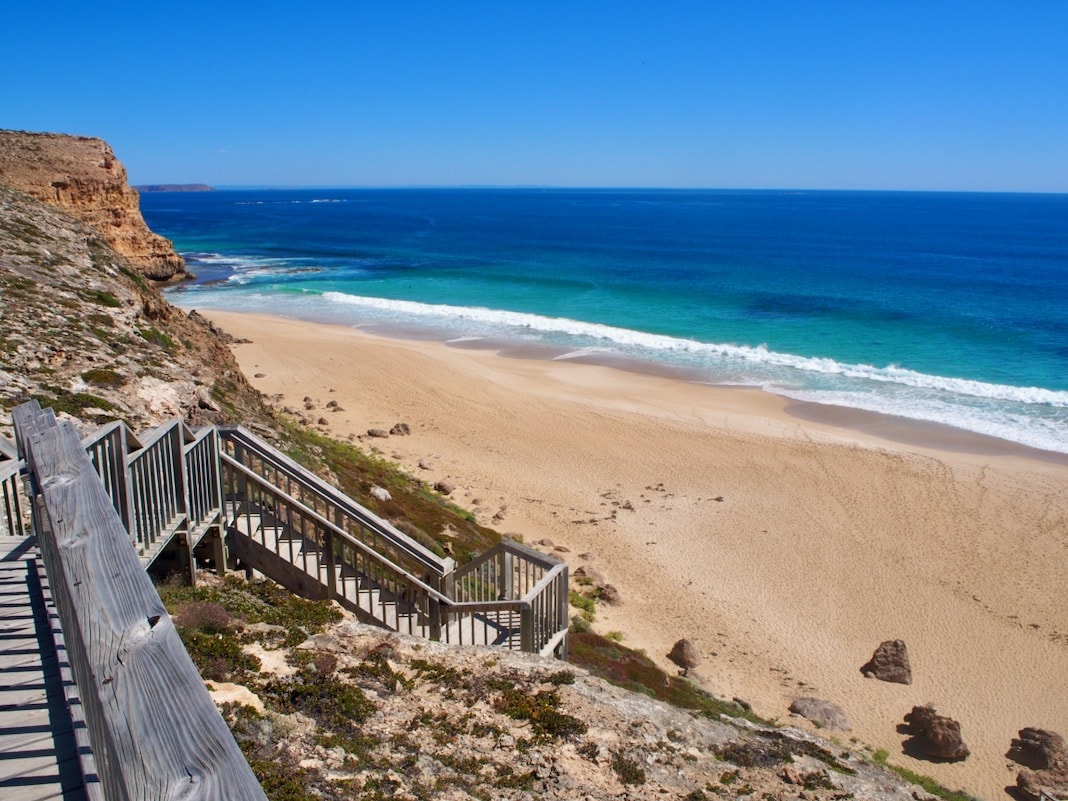 A vast staircase leads down to Ethel Beach. Unfortunately, it isn't a great place to go for a swim due to the strong waves crashing in, but I assume it is a top surfing spot.
I saw a few surfers returning when I was checking out the fragments of the Ethel wreck.
Before going down to the beach, I decided to eat lunch. I had some chicken leftovers and a bit of bread with me, which went down fast. Eating took me about 10 minutes and by the time I finished, it was 4:05 pm.
After that, I went down to the beach where the Ethel wreck can be found.
Ethel Shipwreck
The wreck at Ethel Beach comes from the Ethel, a 711-tonne, three-masted iron ship built in 1876 that ran aground during a storm on its way to South Africa in 1904.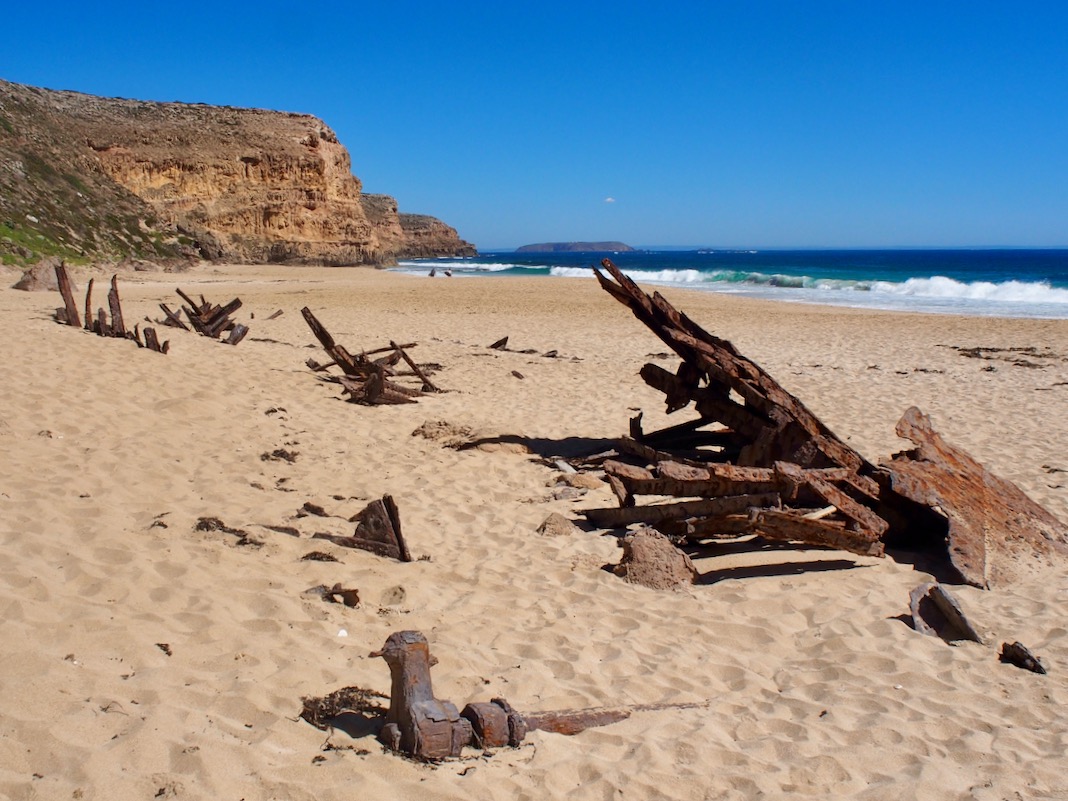 Cliff at Ethel Beach
The cliffs on one side of Ethel Beach closest to the wreck are worth walking to so you can have a closer look.
I left the clifftop car park overlooking Ethel Beach at 4:45 pm.
West Cape
West Cape Lighthouse seemed to be the main attraction in this area. But first, I could see a sign suggesting a nearby picnic area, which made me want to check it out.
You can see the picnic shelter at West Cape in the picture below. The beach furthest away in the image is Pondalowie Bay.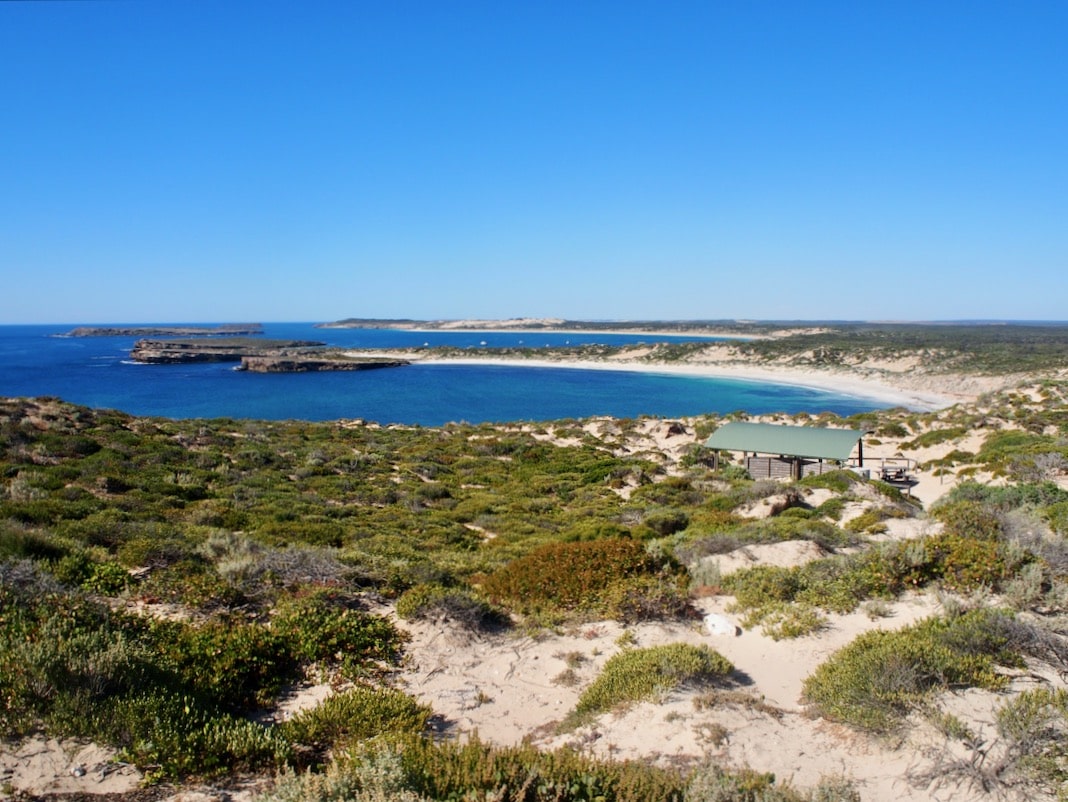 I'm not sure how you could enjoy the beach shelter for a picnic lunch because the sandflies are so bad that they'll spoil it for sure.
If you have insect repellant, you may be alright, but that's your only hope!
Maybe sandflies are seasonal, but watch out during summer.
Pondalowie Bay View from West Cape
As I got closer to the cliff's edge, I saw a yacht moored in a calm, sheltered spot in a secluded bay.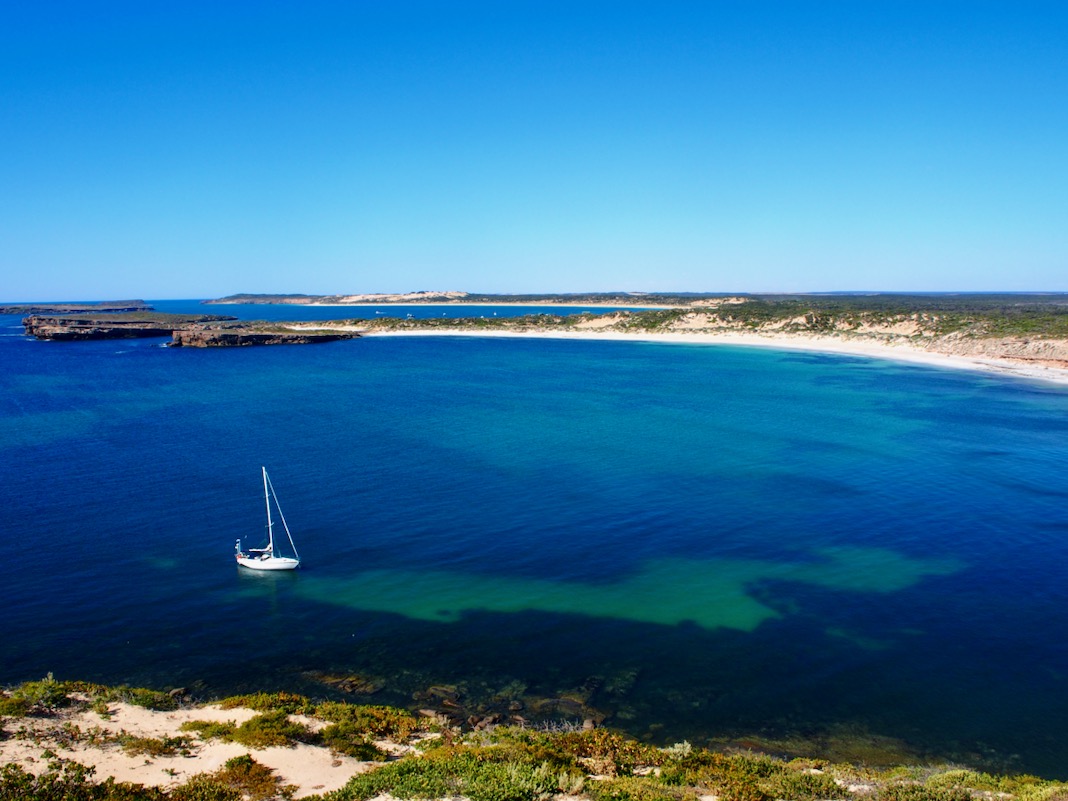 West Cape Lighthouse
The West Cape Lighthouse doesn't look like much, but I didn't want to miss seeing it. All I had to do was follow the cliff's edge all the way around.
West Cape Beach
I didn't go down to this beach at West Cape because it looked similar to Ethel Beach.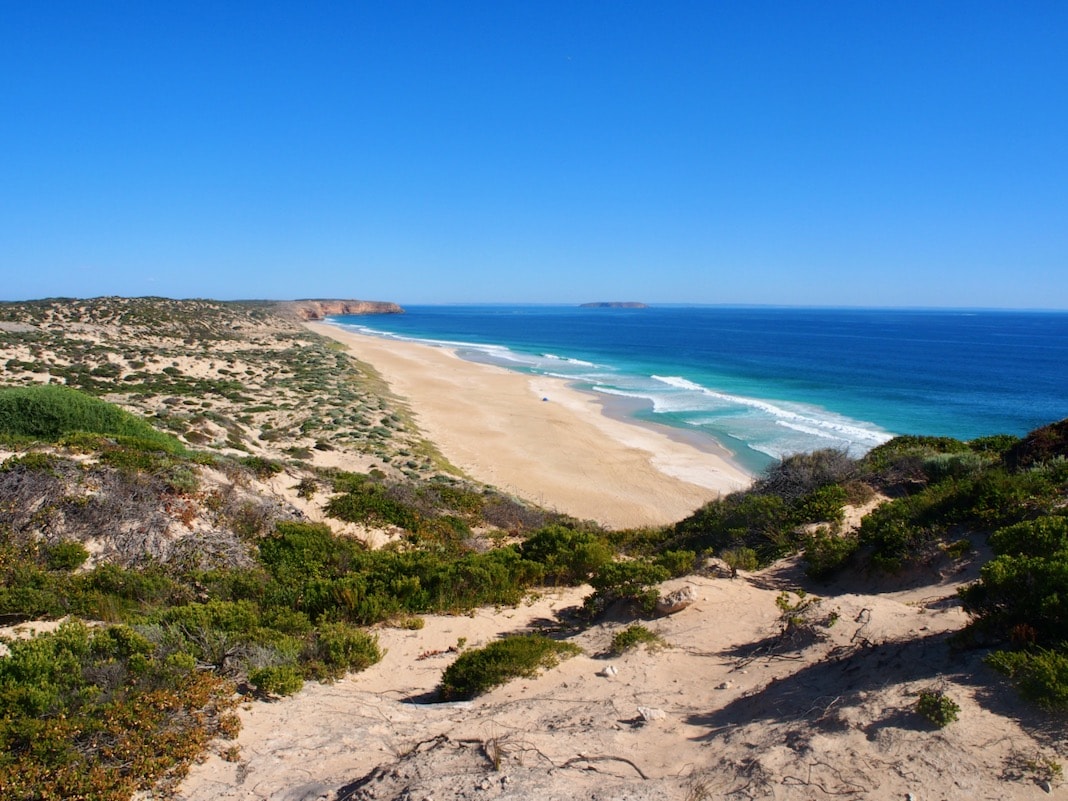 After my walk exploring the area around West Cape, I arrived back in the car park at 5:30 pm.
Pondalowie Cliffs
Getting to the Pondalowie car park took me about 15 minutes to reach, so the time was 5:45 pm at this stage.
I didn't spend much time in the Pondalowie Bay area mainly due to the fact that my time was running out.
Fortunately, after straddling a fence, I did get to look out over the Pondalowie Cliffs.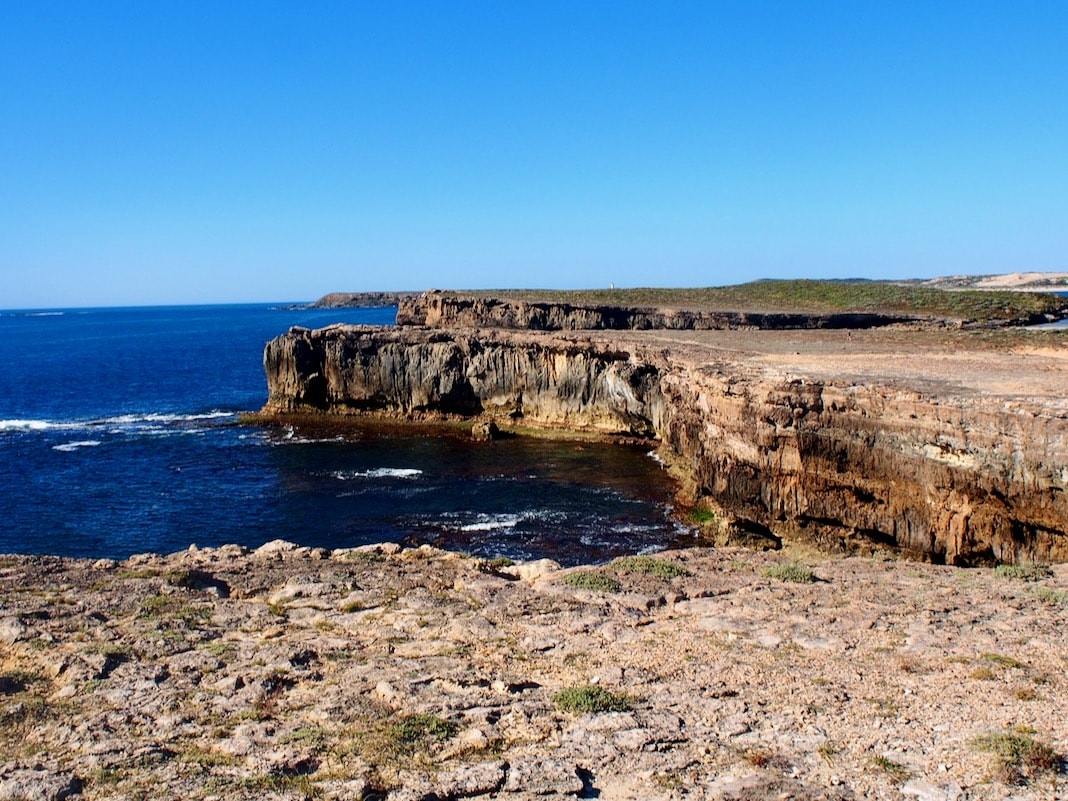 I ended up leaving Pondalowie Cliffs at 6:10 pm. Time was flying by and I still had a few special places I wanted to see in Innes National Park before I left.
Shell Beach
Arriving at Shell Beach at 6:30 pm was probably my biggest mistake. I should have gone there way sooner because the beach looked awesome!
Shell Beach Rock Pool
The main attraction for me was Shell beach rock pool, another very popular spot with Instagrammers visiting Innes National Park.
Because I left it a bit too late in the day, everyone had left by then. By that time in the day shadows were being cast over the rock pool, so it would have looked much more beautiful if I had been there earlier in the day.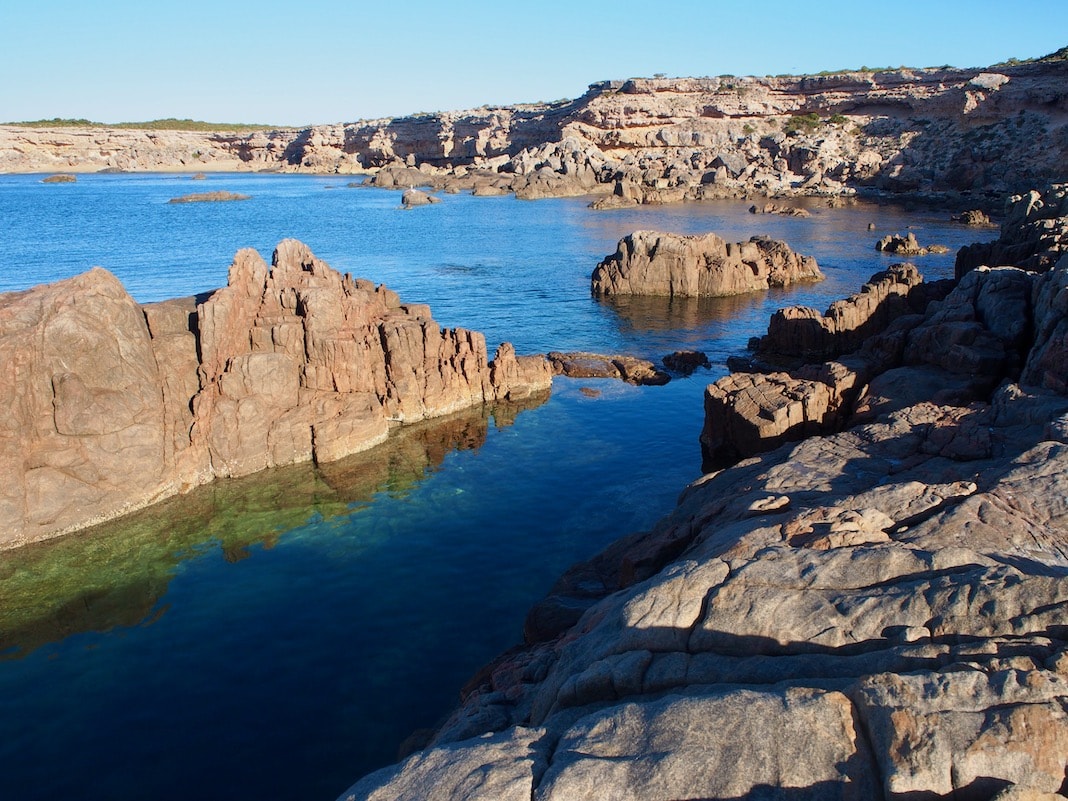 Visiting the rock pool at Shell Beach was a great way to end my day trip to Innes National Park.
Here is a short video of me diving into the Shell beach rock pool.
In hindsight, I'd probably recommend visiting Shell beach rock pool between 12 pm and 3 pm, to ensure the sun is almost directly above the rock pool.
South Australia has a few great rock pools including Carrickalinga rock pools, so if you love rock pools, here's another one you won't want to miss if you're in South Australia.
When I left Shell beach rock pool the time was 7:10 pm. I departed from Shell Beach car park and drove away at 7:30 pm.
Dolphin Beach
One more place I had to see was Dolphin Beach. I went there at 7:35 pm, and this is another beach I should have visited earlier in the day.
Large shadows were cast on the sand from the tall cliffs on one side of Dolphin Beach.
Dolphin Beach gets its name because dolphins have often been seen in the water at this beach.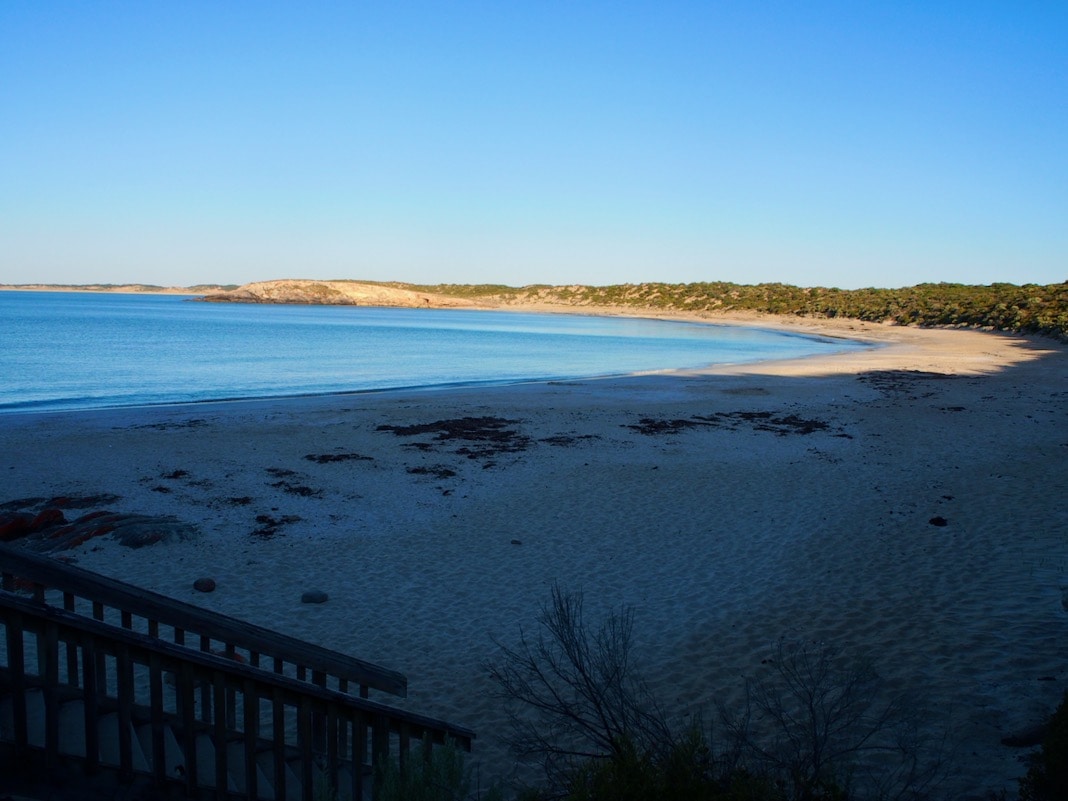 I didn't stay long and left Dolphin Beach at 7:45 pm, another slight disappointment of mine for not going there earlier.
There is also a rock pool at Dolphin Beach, so you should try and squeeze that in as well.
Royston Head
Many visitors say Royston Head is the best walk to do in Innes National Park.
It didn't take me long to reach Royston Head car park from Dolphin Bay, but time didn't seem to be on my side. There was probably just enough daylight left for me to have done the walk to Royston Head, but the sandflies were killing me.
Walking the Roston Head trail would have taken me about 90-120 minutes since it was a 5 km (3 miles) hike. But seriously, I was done by then. Maybe another time.
If I didn't waste time at a couple of other spots, I probably could have done the Royston Head hike easily enough.
I suggest cutting time at Stenhouse Bay and Cape West if you want to go on this hike while on a day trip from Adelaide.
If you choose to go on an Innestion National Park camping trip then you can do all these things without a problem. So maybe now you can see the benefit of going on a camping trip to Innes National Park.
It's a tough question to answer, but would you like to plan an Innes National Park camping trip or would you prefer to plan a day trip to Innes National Park?
Once you have your answer you can plan a great trip.
Returning to Adelaide
It was a long drive back to Adelaide after visiting Innes National Park. I drove past the visitor center at 8:25 pm in the evening and even at that time there still seemed to be plenty of daylight left.
Keep in mind, when driving through the national park the speed limit is generally 40 km per hour. So getting from one end of the national park to the other takes time.
When I drove past Port Road in Adelaide, the time was 11:40 pm. So it took me 3 hours and 15 minutes to drive back to Adelaide.
I finally made it back to my place and walked through the door a minute or two before midnight. It was a long day out, that's for sure.
Would I do it again? Hell yeah!
But next time, I'll make sure I have a bottle of sandfly repellent with me.
Pin it … Share it