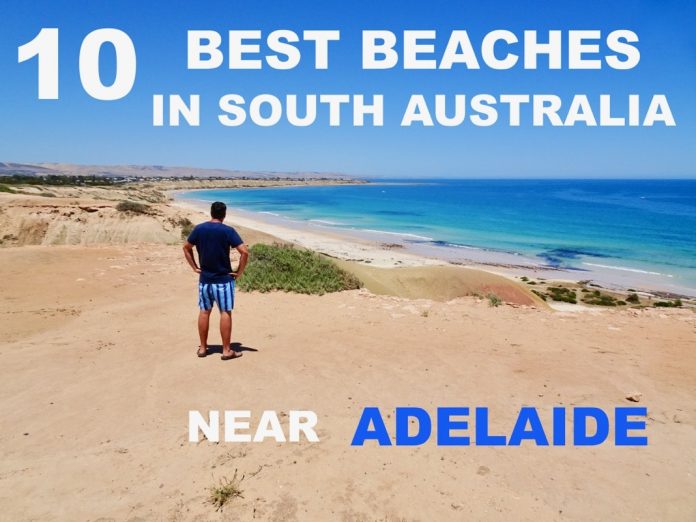 Here are the best beaches in South Australia near Adelaide, within 50 km of the Adelaide CBD. This makes them all quite easy to get to, especially if you have your own wheels.
Most tourists who visit Adelaide head straight to Glenelg, the most famous beach in Adelaide – which is a must-do experience. However, there are even better beaches in Adelaide waiting for you.
Once you know about all of these beaches, it will be quite hard to choose only one, so I'll try and help you out with some tips about the best beach in Adelaide to visit, depending on what each one has to offer.
All of these 10 beaches are great, so you'll probably want to visit all of them if you can, which is awesome if you have the time.
Best Beaches in Adelaide
Before we begin, let me tell you that the Adelaide beaches shown here are in random order.
Even I can't decide on the best beach in Adelaide, but I do have my favorites. Let's begin.
1. Port Willunga Beach
This is easily one of the best beaches in Adelaide and the whole of South Australia, for that matter. It is famous for a shipwreck known as the Star of Greece.
There is also a cafe on a cliff overlooking the stunning beach, also known as the Star of Greece, named after the wrecked ship lying in waters off the coast.
If you want to have a Greek vacation in Australia, then this is the beach to visit. On a beautiful day, nothing beats a day out at this fabulous beach in Adelaide.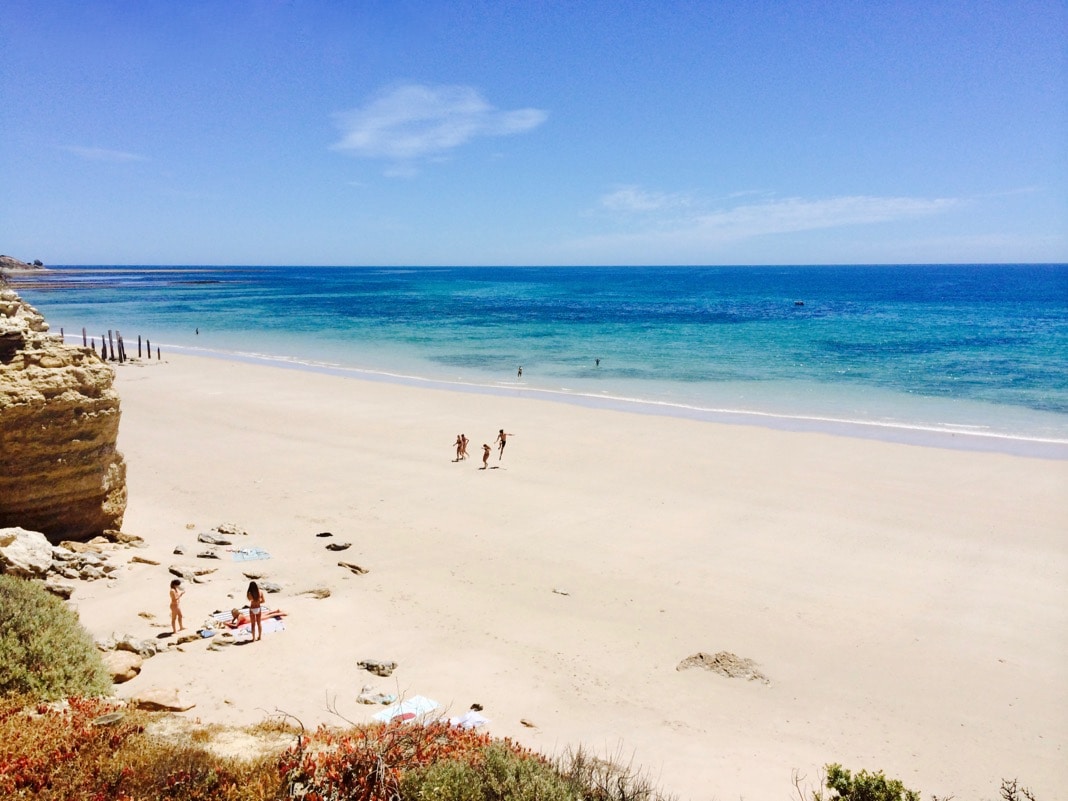 Old jetty pylons can be seen sticking out of the sand. It's a photographer's dream, especially for Instagrammers.
You can also find caves by the beach, which have been dug into the side of the cliffs, where fishers once stored their boats. Now bathers use them as shelter from the hot sun.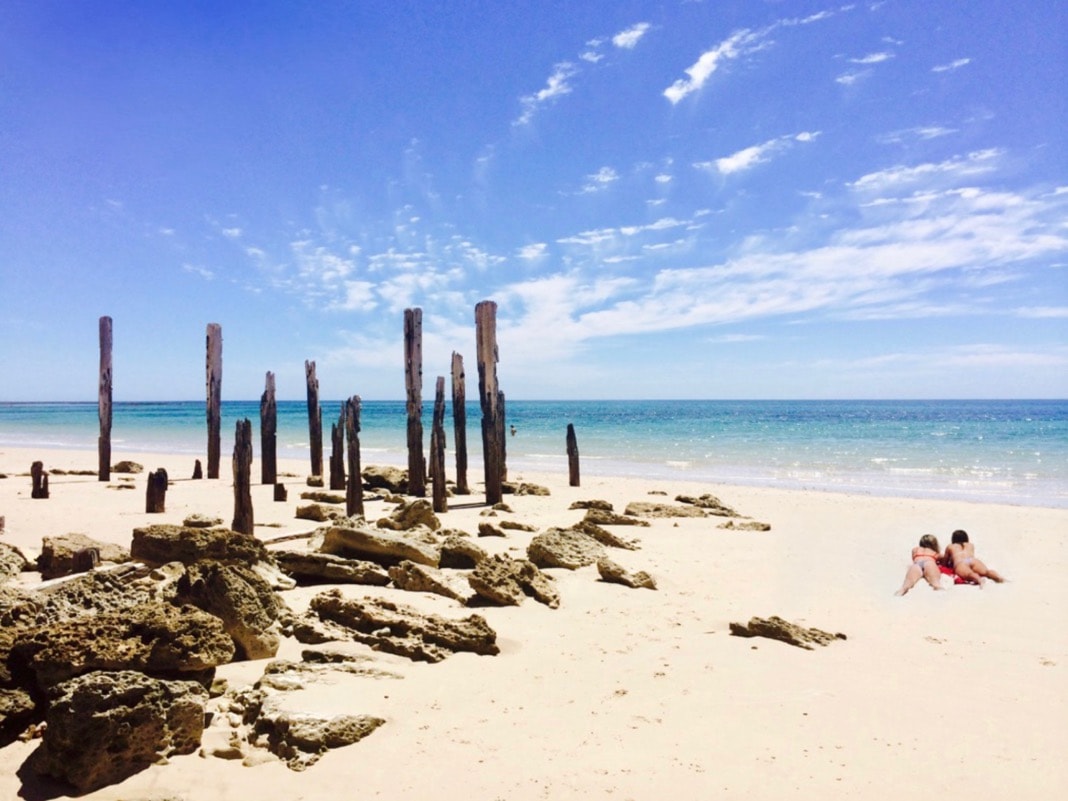 If you want to go for a swim, around the old pylons can be a bit too rocky. The best place to go for a swim is closer to the Star of Greece cafe where it's nice and sandy.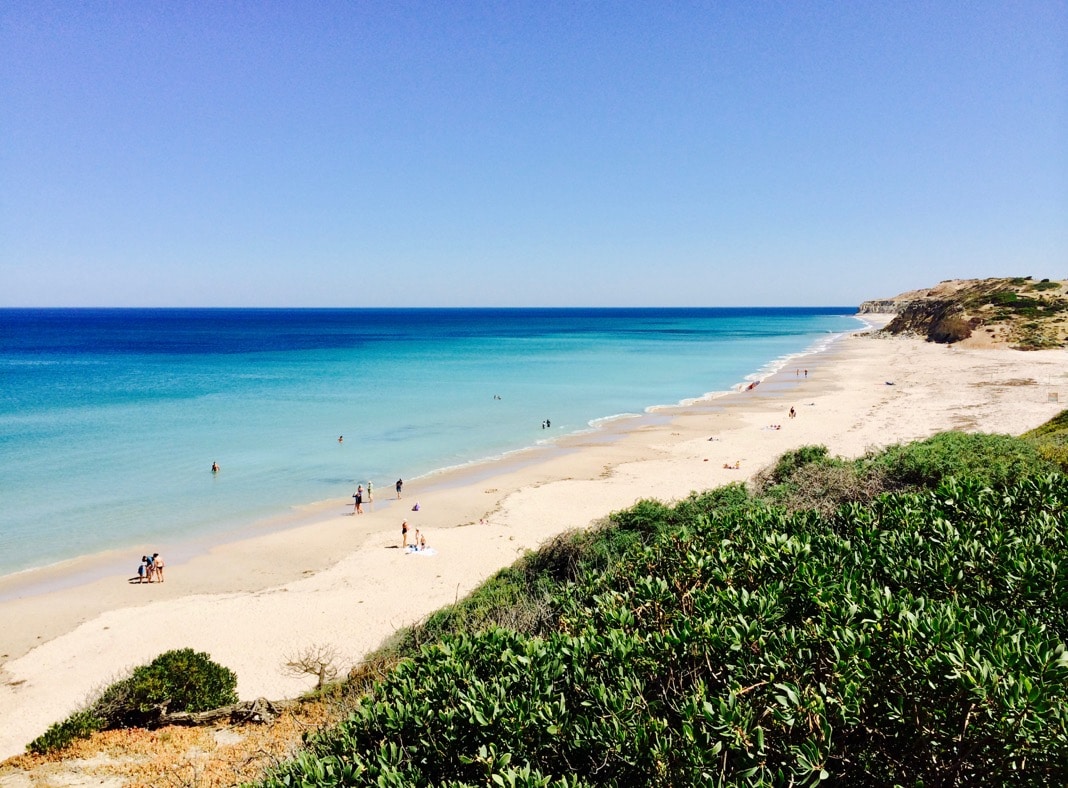 Why Port Willunga is one of the best beaches in South Australia: Visit Port Willunga for sunbaking, the Star of Greece cafe, the awesome views at the top of the cliffs, and the beautiful blue serene waters.
You can take stunning photos of the old jetty pylons and of the small caves that go inside the cliffs. Sunset watching is spectacular at Port Willunga, and it is so worth staying for.
You can also go snorkeling at the Star of Greece shipwreck, which is quite close to shore.
I have another post where you can find out a lot more about Port Willunga and the Star of Greece shipwreck. I'm sure that this post will persuade you to visit this spectacular beach in Adelaide should you ever be in town.
2. Port Noarlunga
This is one of my favorite beaches in Adelaide. I always park my car at the top of the hill and walk down to the jetty. It never ceases to amaze me on a nice warm or hot day.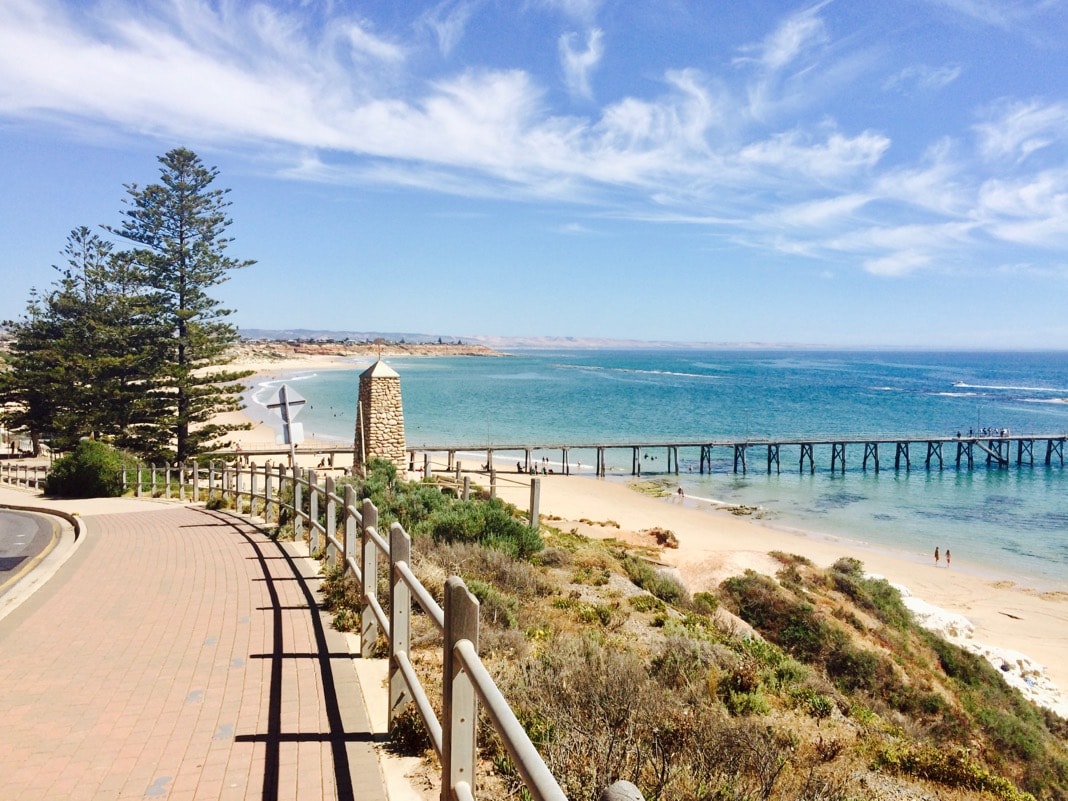 Port Noarlunga Beach is protected by a reef that extends perpendicular to the jetty.
Another thing I always do at Port Noarlunga is to go for a walk on the long jetty. On a summer's day, you will find many people on the jetty, some going for a walk, others jumping off the jetty, and even fishing.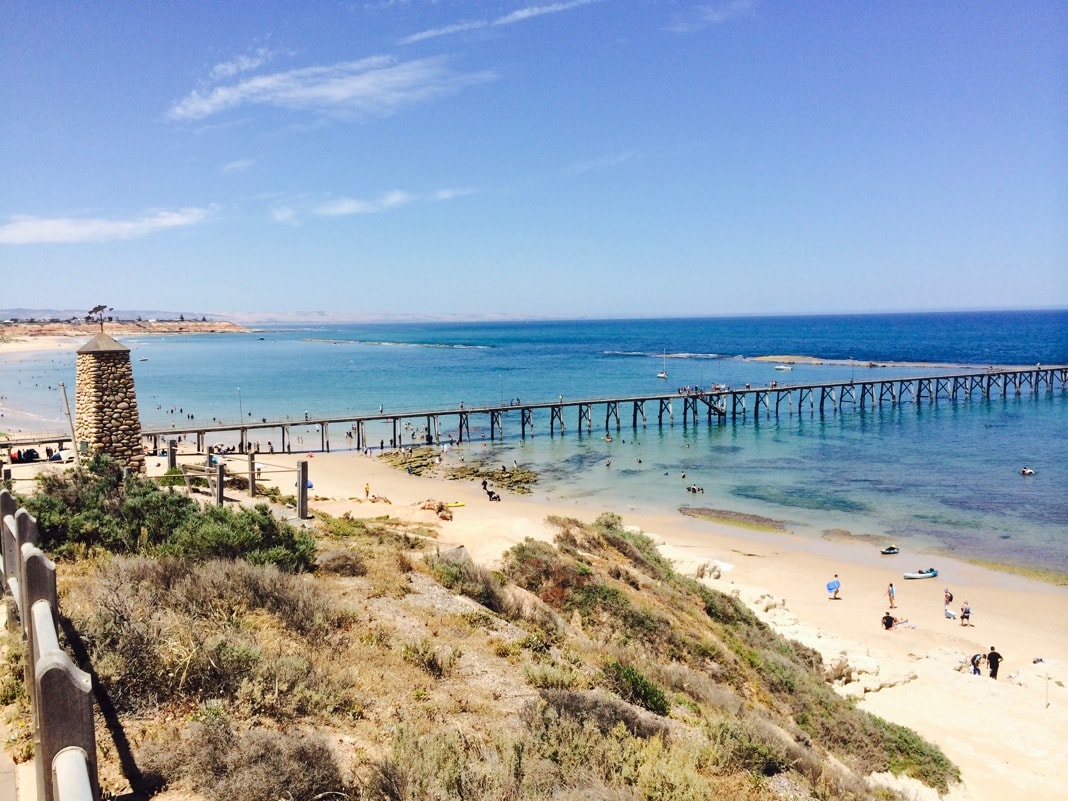 Scuba divers and snorkelers are also fond of this gorgeous beach due to the calm sheltered waters and abundant marine life.
The vibe of Port Noarlunga is one of tranquility. After leaving, you will feel very refreshed. I would have to put this Adelaide beach as my favorite beach to go for a stroll.
This beach is a bit closer to Adelaide than Port Willunga, and many a time, even though I wanted to go to Port Willunga (only 12 km away) – I found myself spending my time at this beach instead.
Why Port Noarlunga is one of the best beaches in South Australia: The walk down the hill to the jetty is spectacular. There are loads of different water activities you can do in summer. You can watch everyone enjoy themselves and have a great time.
3. Southport
Southport is only 1 km away from Port Noarlunga, so you can walk there if you want. You can also drive there so that you can take in this incredible view.
This is where the Onkaparinga River enters the ocean. The river's mouth can be crossed on occasion depending on the tide, though you will get wet. Sometimes the depth can be deceiving, and the water can be deeper than you think.
There is a car park at the top of the cliff. The staircase to the beach below is only a short walk away if you prefer to take in the great views without walking/swimming through the river mouth. Sometimes you can even see surfers at this beach when the waves are big enough.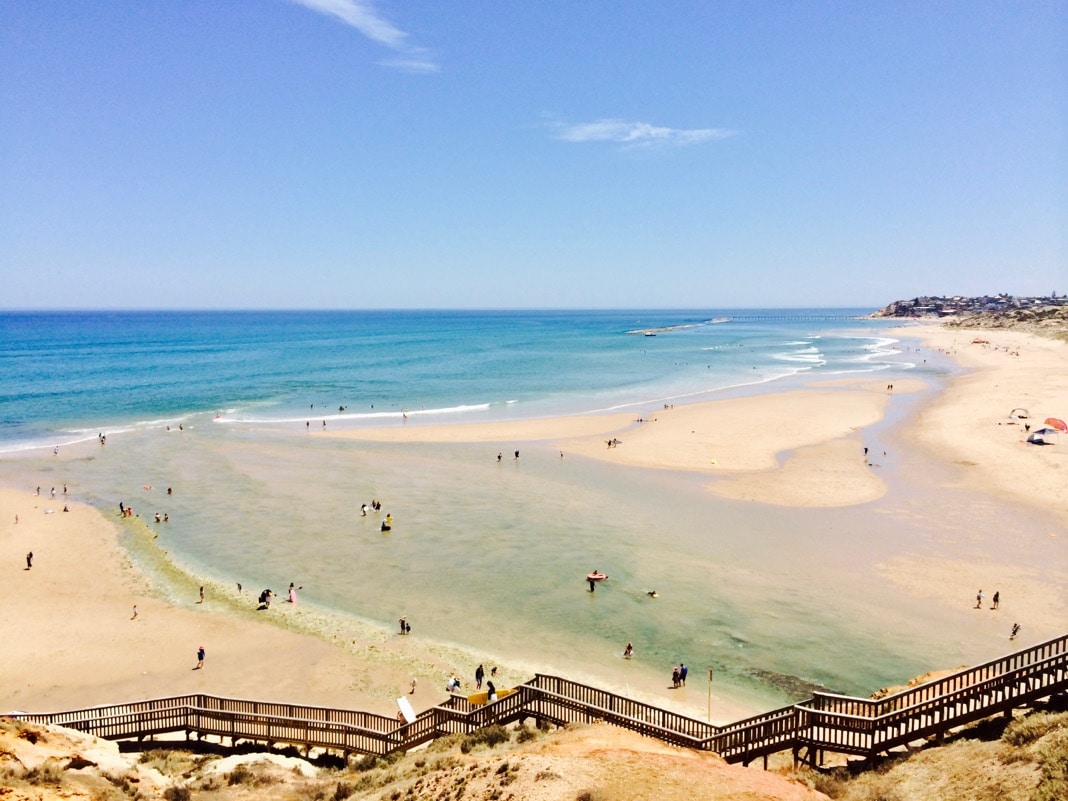 The swimming isn't that great here. In my opinion, it's more for the views. I have only been once, but I prefer the other beaches in Adelaide shown on this list when going for a swim.
The main reason I love this beach so much is because of the incredible views.
Southport is one of Adelaide's best beaches: It just looks so exotic, and the views are suburb. This is a top-rated beach for bodyboarding.
4. Glenelg
Glenelg is the most famous beach in Adelaide. If you have heard of Bondi Beach in Sydney, think of this beach as the Bondi of Adelaide.
There are plenty of shops, restaurants, and places to get something to eat. You won't go hungry at Glenelg.
The red love heart at Glenelg has become one of the most photographed spots in Adelaide.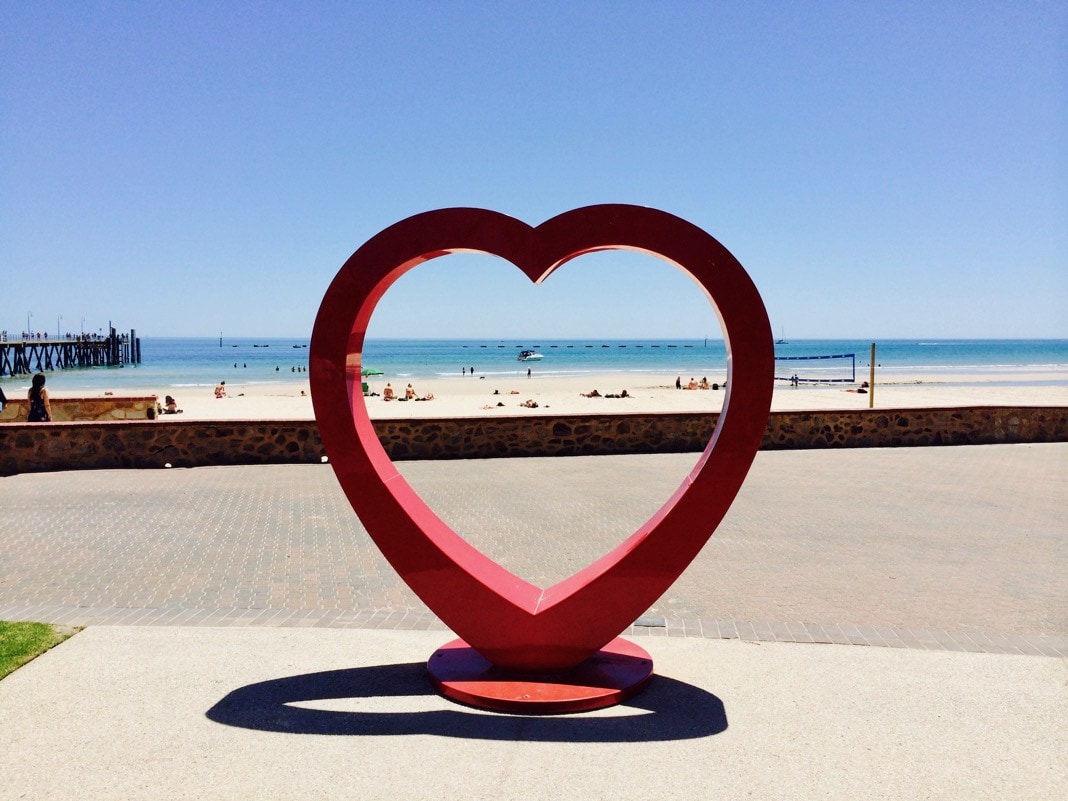 You will notice that many of the beaches in Adelaide have a jetty (pier). Walking above water seems to be an enjoyable pastime for many people in Adelaide, especially with an ice-cream in hand.
During summertime, you can also find a Ferris wheel at Glenelg on the foreshore.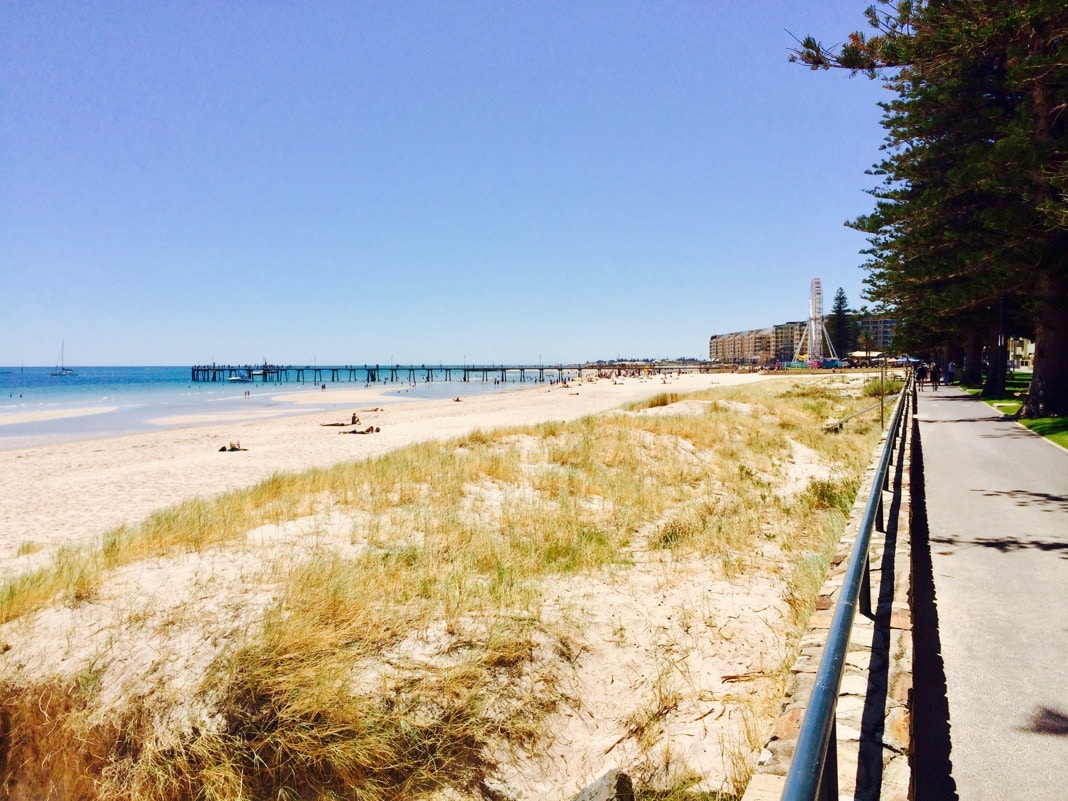 The beauty of Glenelg is that you can easily find your own patch of sand even though it's a very popular beach. The sand gets more congested the closer you are to the jetty.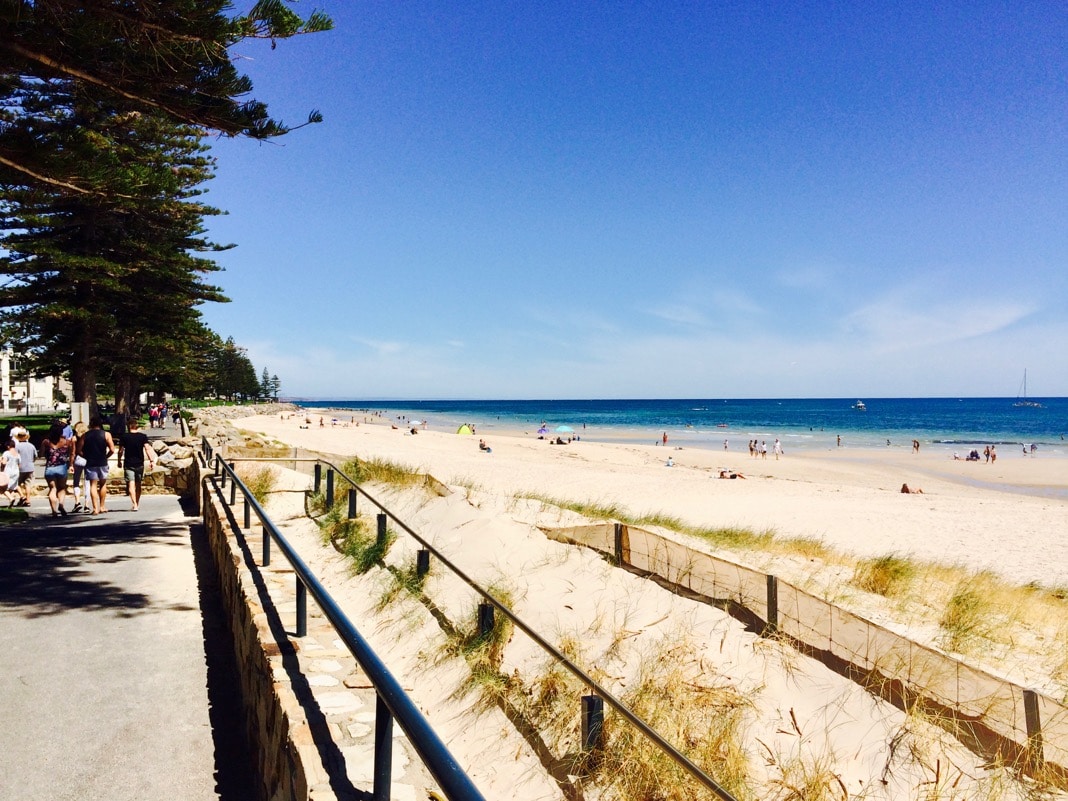 Why Glenelg is one of the best beaches in South Australia: Glenelg has it all. You can even stay at a hotel next to the beach, known as the Stamford Grand.
If you're a tourist in Adelaide, this is one of the first beaches I recommend visiting in Adelaide.
Kids love the place as well because there is a free playground near the foreshore. There's also the Glenelg Beachhouse with waterslides, mini-golf, and plenty of other activities youngsters will enjoy.
5. Brighton Beach
Brighton Beach is a better place to swim that beats Glenelg, in my opinion, and that's probably the reason why Poseidon (King Neptune), God of the sea, was once there.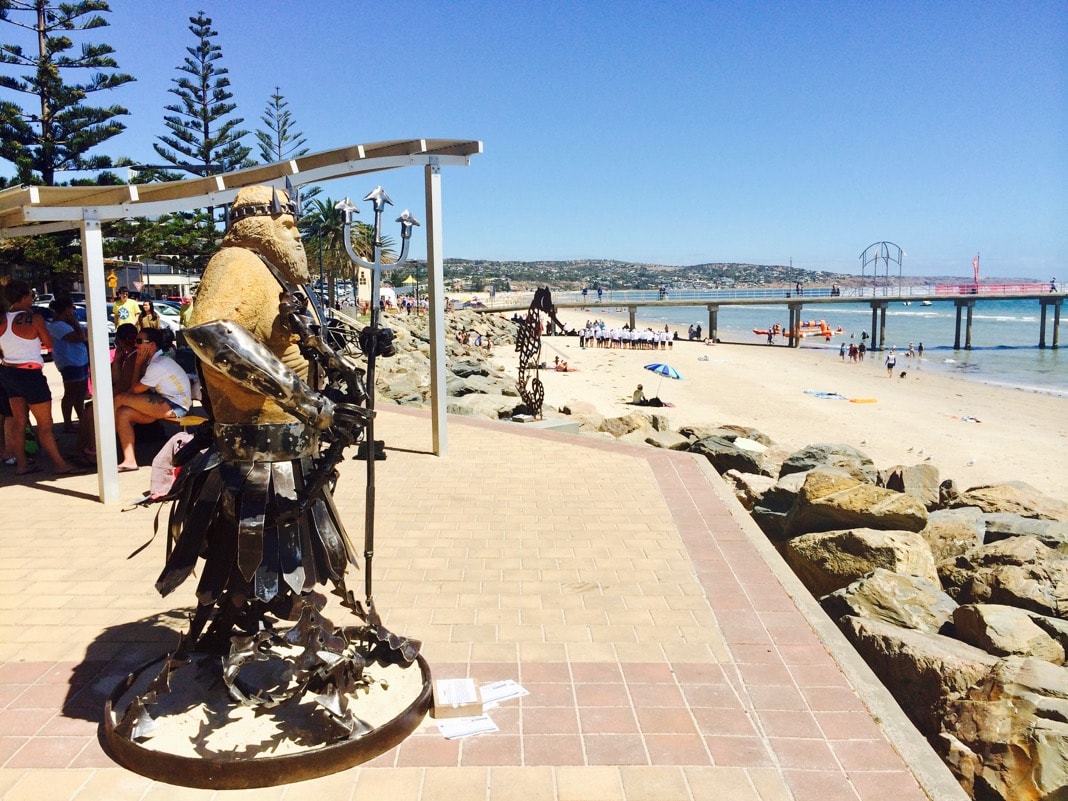 This is one of the best beaches in Adelaide to walk to from Glenelg. You can read all about it in the best walks in Adelaide post.
When you walk from Glenelg to Brighton, as you get closer to Brighton Jetty, you'll see a significant improvement that makes you want to swim in these waters over Glenelg. You really do need to see it for yourself to know what I'm talking about.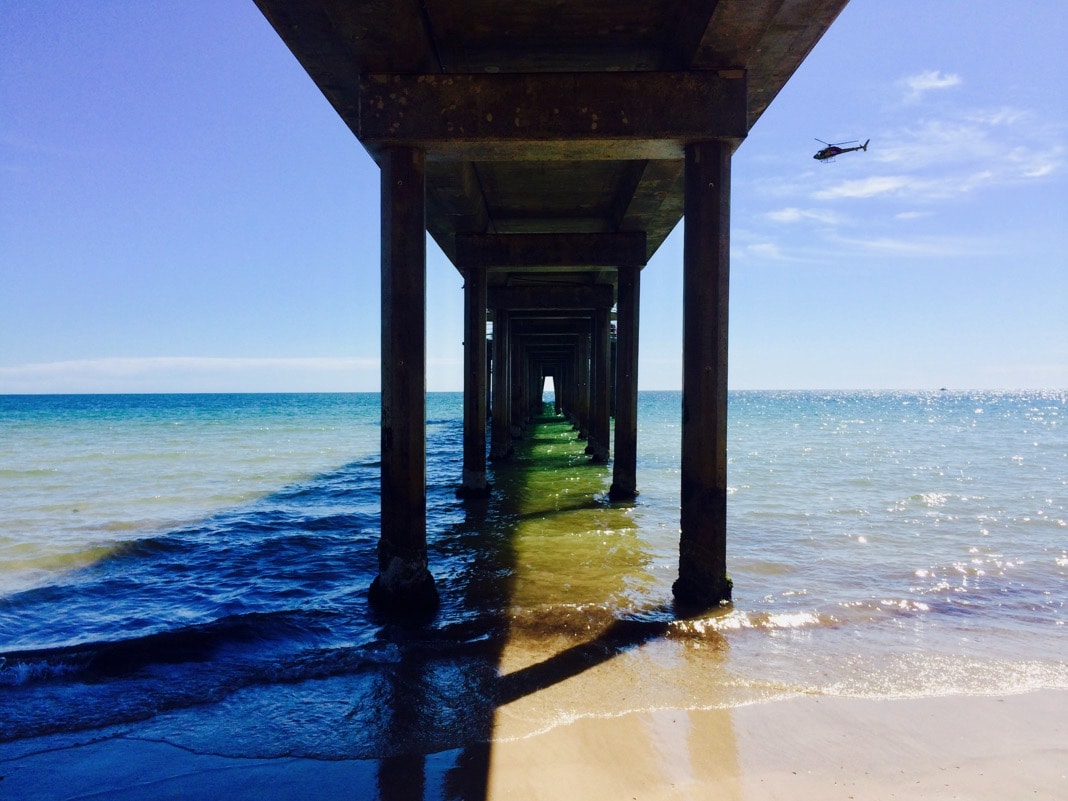 Why Brighton Beach is one of the best beaches in Adelaide: The ocean at Brighton is better for some reason. It's like magic. Trust me on this.
I wouldn't skip Glenelg if I were a tourist just so I could visit this beach, but it's a great beach to add as a combo deal.
The distance between Glenelg and Brighton is 5 km. It's definitely worth the walk.
6. Moana
The best thing about Moana is that you can drive your car on the beach. In the distance, further back from the tree on the left, is where the cars are parked.
This beach has crystal clear water. If you want to visit one of Adelaide's cleanest beaches, then Moana is the place to be. The sand as you stand in the water is the best. So comfy!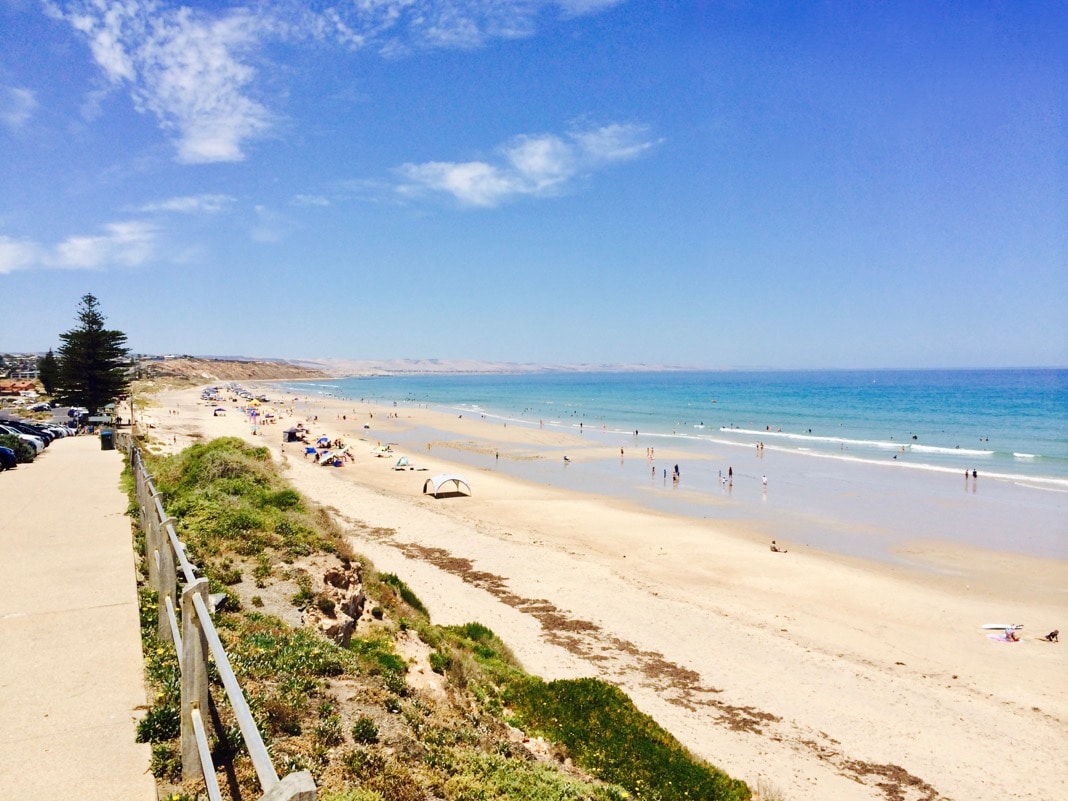 You can't drive all the way to the end as there are posts in the sand that stop vehicles going all the way to the end. One of the posts has a very philosophical marking: LIFE'S A BEACH.
Why Moana is one of the best beaches in Adelaide: If you're lazy enough, you can drive and park your vehicle right at the water's edge. The beach is incredible for swimming. It's a 10/10 for swimming.
The gently rolling waves make it a fun place to be. It's a great beach for bodyboarders.
7. Maslin Beach
Maslin Beach was the first beach in Australia to allow nude swimming. That has scared many people off now. These days though, this beach is normal.
You can still go nude if you want, but the nudist beach area is far from the main beach. As you can see from the pic below, the beach is perfectly normal.
The water is amazing. I haven't been for a swim here, but I want to go one day.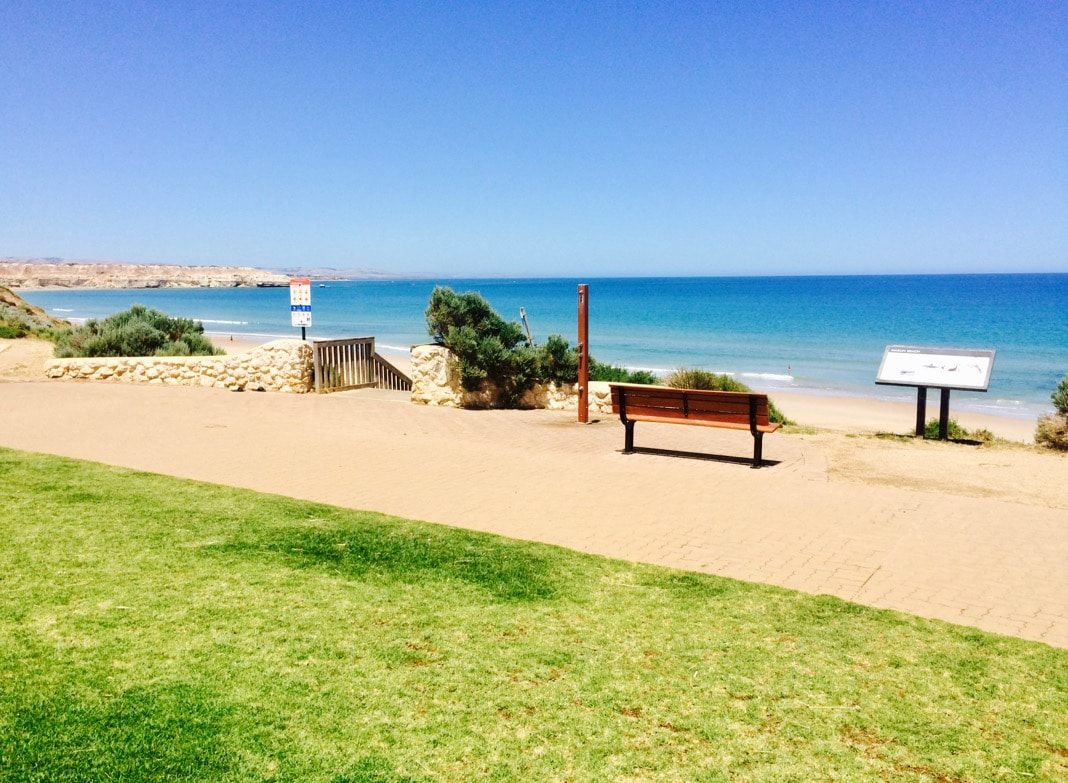 Why Maslin Beach is one of the best beaches in Adelaide: It has the X factor. This is one of the beaches in the Fleurieu Peninsula not to miss.
8. Henley Beach
Henley Beach is a favored beach by many. You can relax at Henley Square, surrounded by tables and chairs where you can eat and drink.
Kids have fun playing in the shallow fountain in the middle of the square.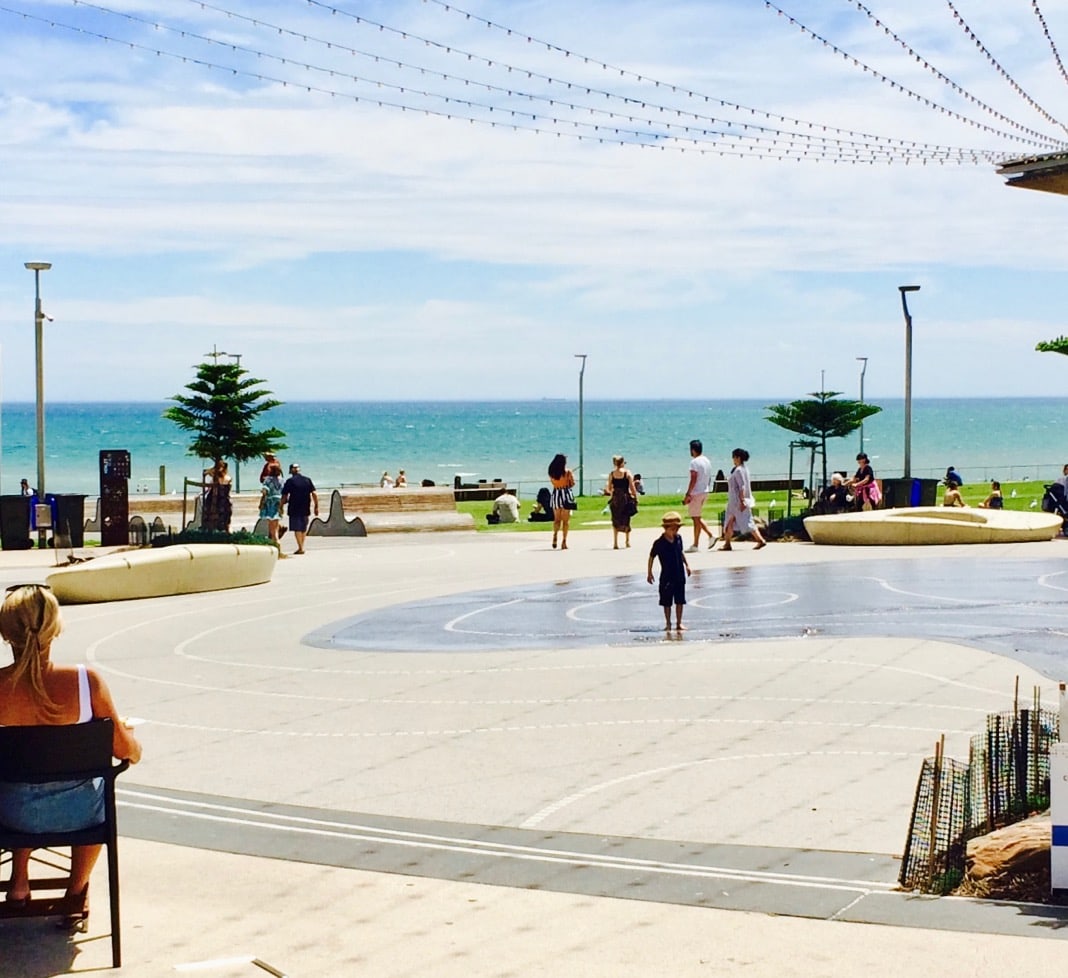 You can also find a large grassy area on the foreshore where you can sit and pleasantly pass the time away. It's a great place to eat some fish and chips. Just watch those annoying seagulls.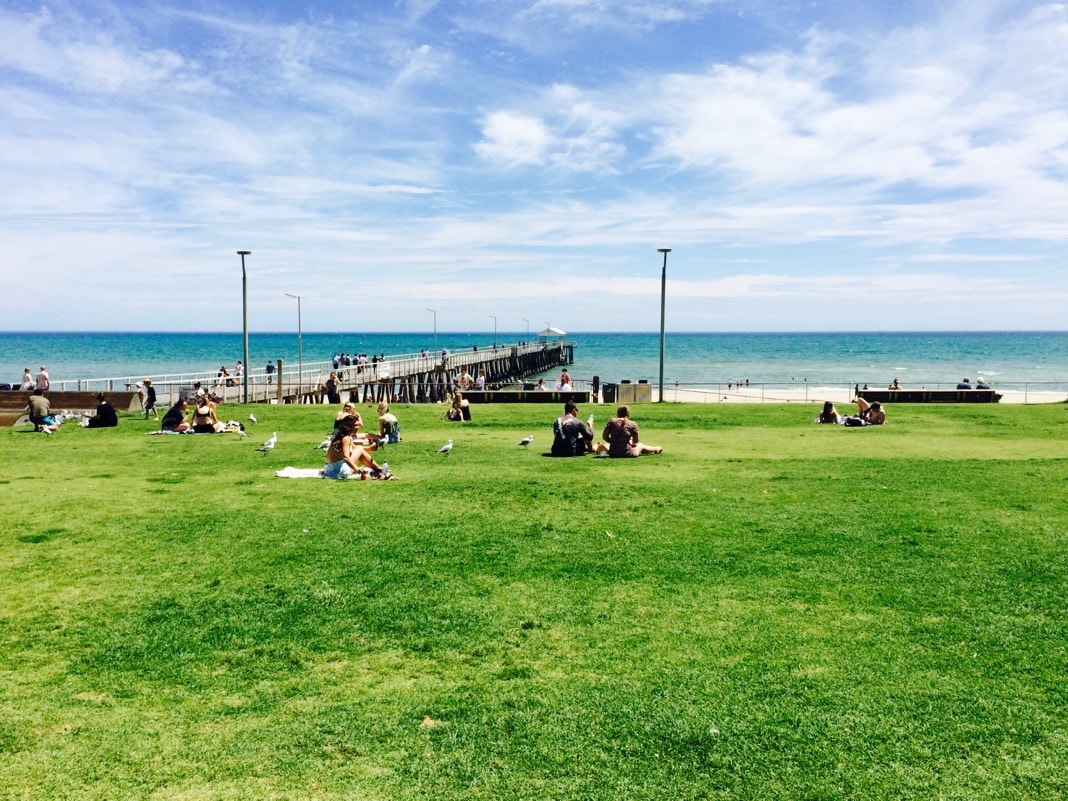 Why Henley Beach is one of Adelaide's best beaches: It's a cool beach to visit.
9. Semaphore Beach
If one beach were to give Glenelg a run for its money, it would have to be Semaphore.
There are plenty of things to do in Semaphore, and you can read all about it in another post of mine about Port Adelaide and Semaphore.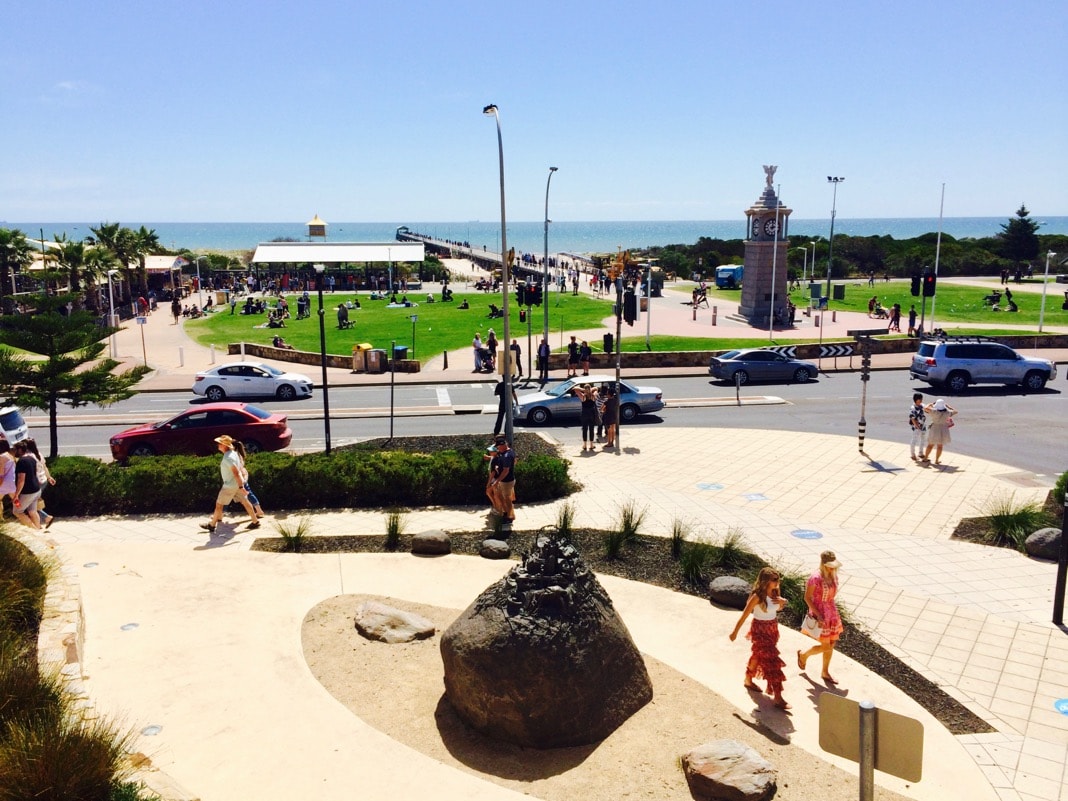 Why Semaphore is one of the best beaches in Adelaide: People love the place. If crowds are an indication of how great a beach destination is, then Semaphore is a winner.
The beach at Semaphore isn't that great, and I personally wouldn't visit the beach to go for a swim, but if you're in Adelaide, you need to check it out in summer. It's a top beach destination.
10. Seacliff Beach
Just a bit further up from Brighton Beach is Seacliff. This beach makes the final cut for the 10 best beaches in South Australia near Adelaide.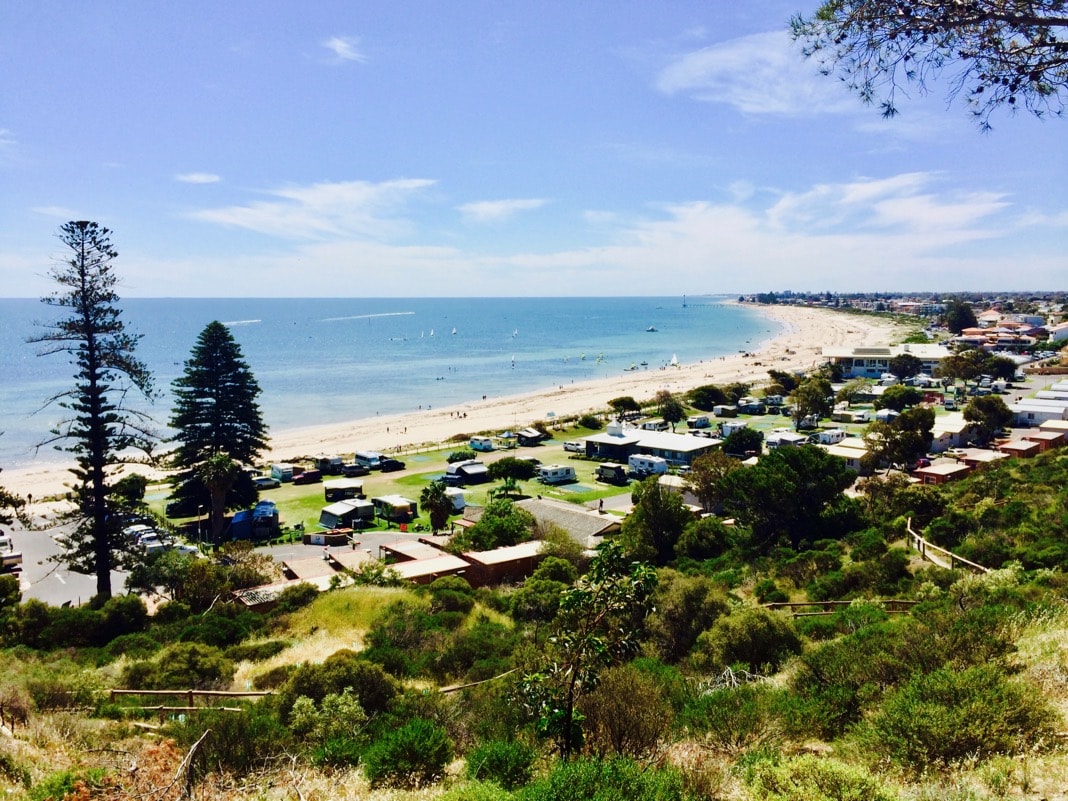 While you're at Seacliff, walk up the stairs until you reach this interesting monument.
The Tjilbruke Monument in Kingston Park commemorates the Tjilbruke myth and the Kaurna people in a peaceful setting.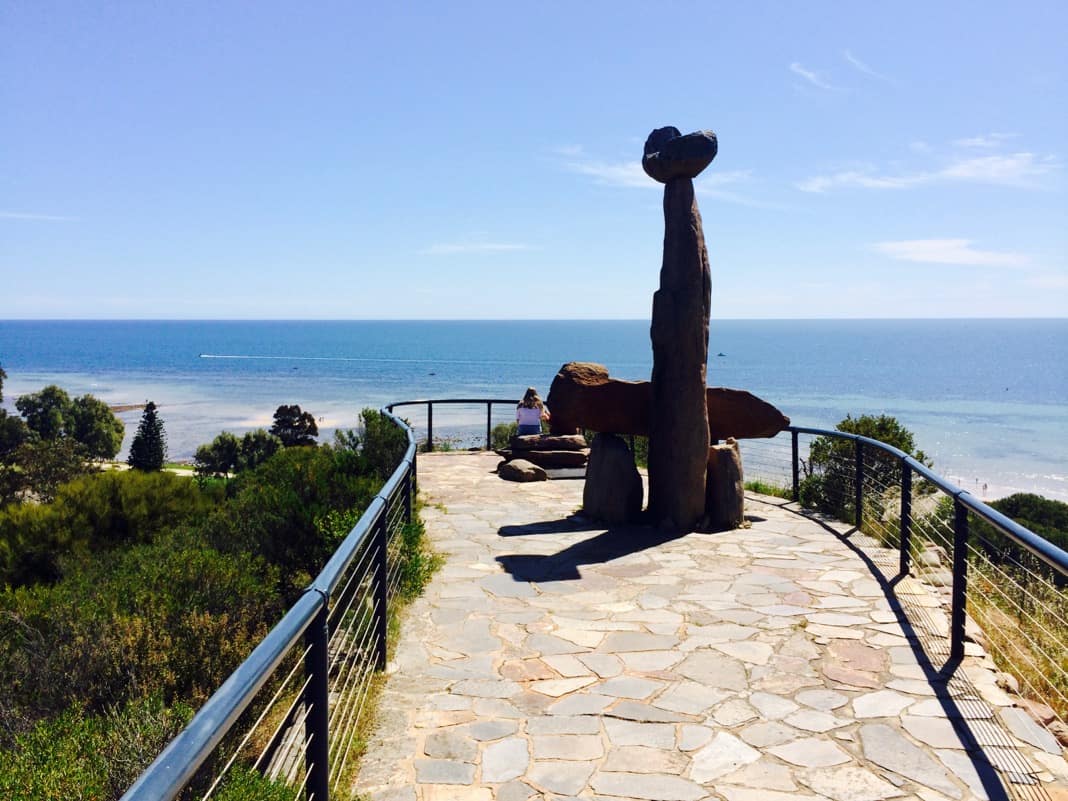 Map of Adelaide Beaches
The map below shows you the best beaches in Adelaide (with the best beaches shown in white text). This should give you a better idea of their location.
All of these beaches are within 50 km of the CBD. If you have a car, you can visit all of them in one day, though you'll find it very hard to leave one beach at some point.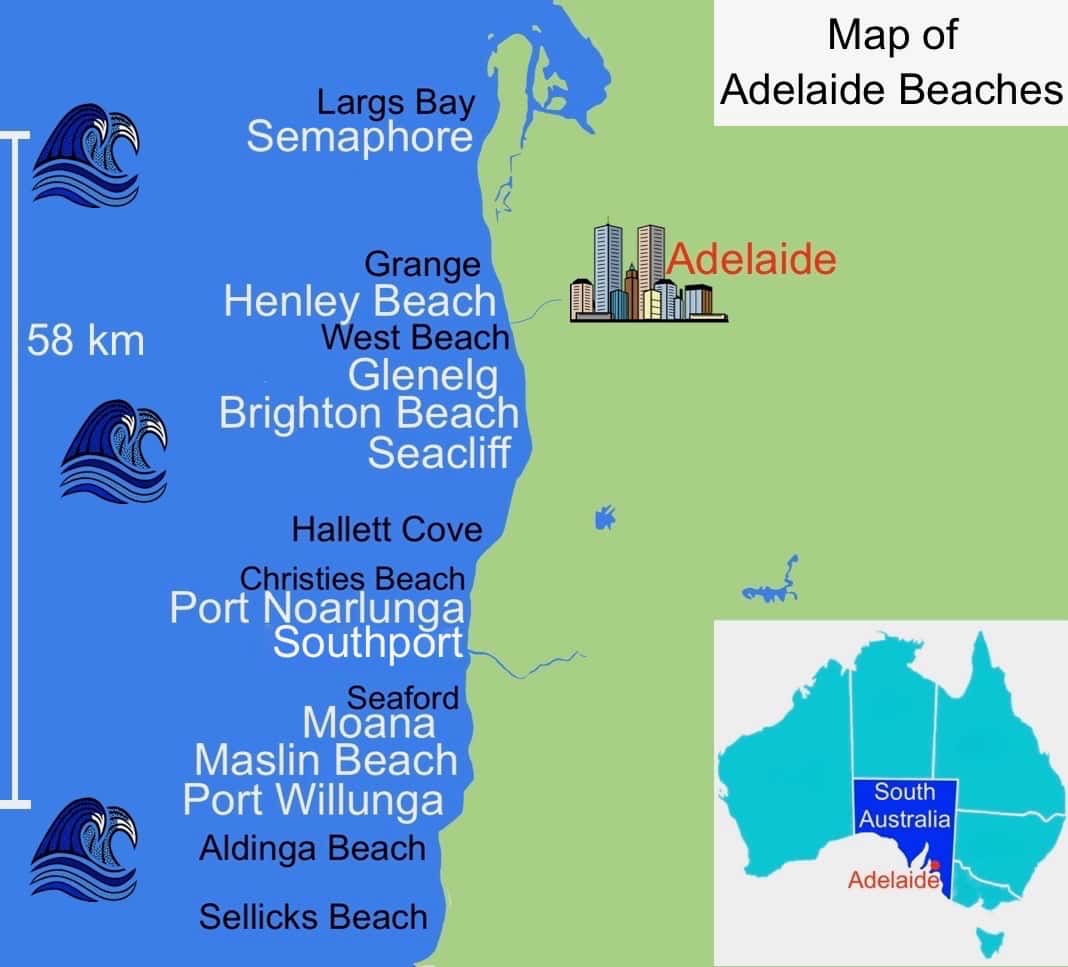 From this list of the best beaches near Adelaide, the furthest beach in Port Willunga, about 46 km away.
A great one day trip would be to combine a trip to Port Willunga with a visit to the McLaren Vale Wine region, which you can read about in another post. In this post, I reveal 14 of the best wineries in McLaren Vale.
One of the closest beaches to visit in Adelaide is Henley Beach when staying in the CBD. This cosmopolitan beach is about 11.5 km away.
Another easy option is to catch the tram to the tourist mecca of Glenelg, which is also about 11.5 km from the city.
Whichever of these 10 best beaches in South Australia near Adelaide you decide to visit, I'm sure you'll be delighted to be there. Remember, LIFE'S A BEACH.
Pin it … Share it