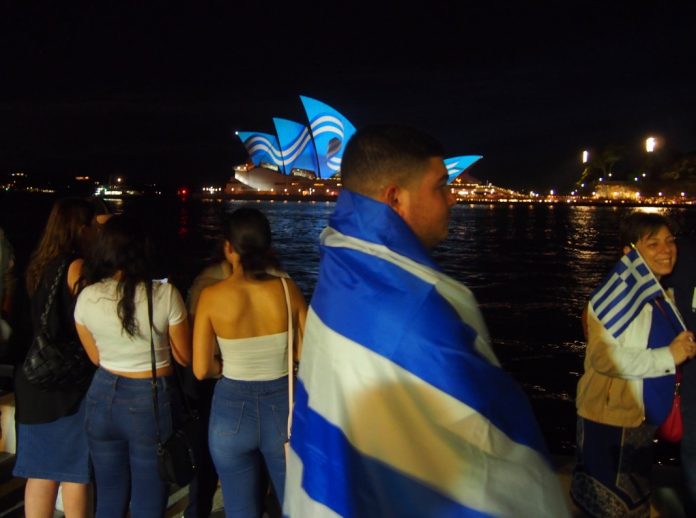 One day in Sydney is all you need if you would like to see some of the most beautiful attractions in the city center and the touristy part of Sydney Harbour.
Two days is even better. You can definitely see a lot if you're only able to spend one day in Sydney, especially with this travel guide's assistance.
The beauty of this itinerary in the heart of Sydney is that it will help you in packing in as much as humanly possible when sightseeing.
And if you love all things Greek-related, then this guide to Sydney will be a Godsend.
One Day in Sydney Itinerary
The following one-day Sydney itinerary came about after I heard that the Sydney Opera House would be lit in the blue and white colors of the Greek flag for Greece's Bicentennial celebrations.
On the 25th of March, 2021, this special day was a day of celebration worldwide, marked as the 200th anniversary of the Greek War of Independence from Ottoman rule.
The Sydney Opera House would look spectacular on this occasion, and I wanted to go there and see it for myself.
I also had a few other things I wanted to do in Sydney during my visit, including a day trip to the Blue Mountains.
The plan was to be in Sydney for three days in total.
I was going to arrive early in the morning on the 25th of March and then spend the entire day exploring the city.
I would then go to the Opera House in the evening and see it shining in blue and white colors.
During the day, I wanted to see Venus, Cupid, Neptune, and Hermes. The Greek Gods are in Sydney, so it seemed like the perfect opportunity to meet with them.
On the second day, I wanted to visit the Blue Mountains. The main attraction for me was Norman Lindsay's house, where the movie Sirens was filmed, with strong Greek myth overtones.
On my third day, I wanted to squeeze in anything I may have missed due to not having enough time during my first day in Sydney.
This is how I have come up with this fantastic itinerary for a great one day in Sydney.
Walking Guide – One Day in Sydney
The itinerary I suggest requires you to go on a long walk, but it's easily doable if you're reasonably fit.
You will soon see that this walk around Sydney is perfect for anyone short on time who wants to maximize their time in Sydney.
I also provide you with an easy-to-follow walking map of Sydney at the end of this post to help you get your bearings. It will show you all of the key attractions in Sydney listed here.
I headed straight to Circular Quay after arriving in Sydney early in the day for the Greek Bicentennial.
Circular Quay is where you'll find the Sydney Harbour Bridge and the Sydney Opera House if you don't know.
I think this is a great starting point for your Greek odyssey around Sydney.
Travel Tip: When traveling around Sydney, use the excellent train networks as much as possible. Start by catching the train from the airport to the city. It's great value for money.
Royal Botanic Gardens, Sydney
After taking in the Sydney Opera House and Sydney Harbour Bridge's magical views, I suggest going for a walk around the Royal Botanic Gardens.
This was my first walk in the beautiful Botanic Gardens. You can find it just around the corner from the Opera House.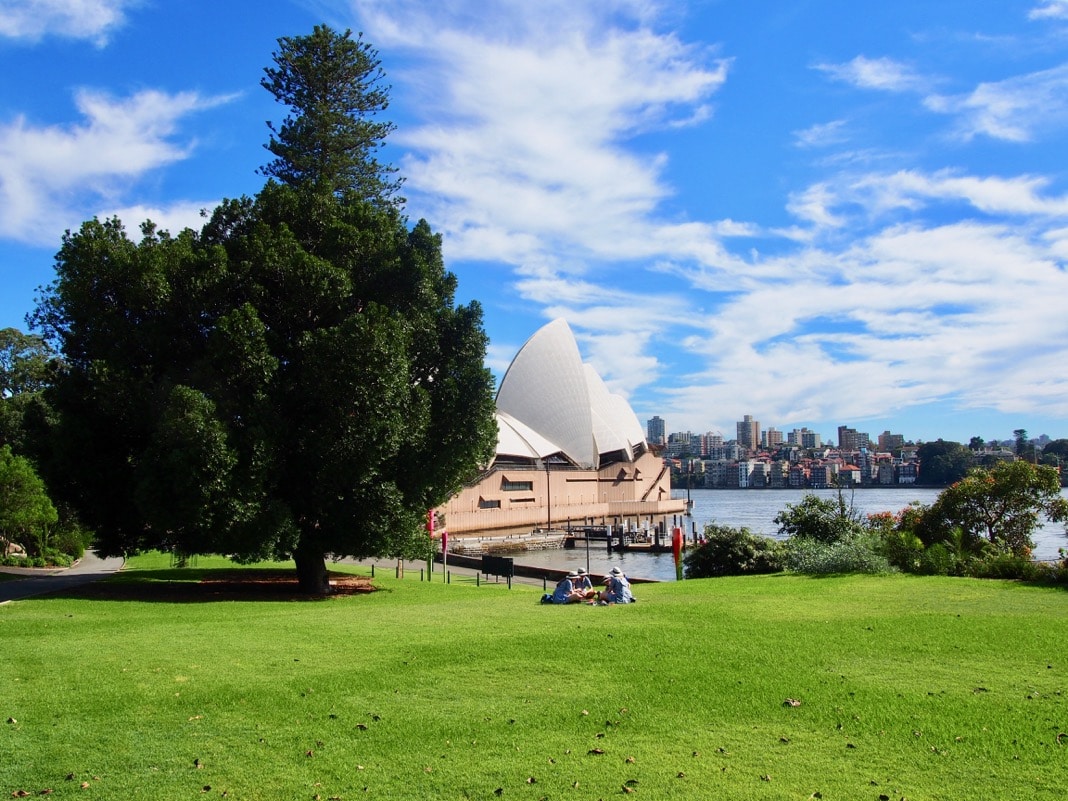 There are vast amounts of lush lawns on gently flowing hills, huge shady trees, plenty of flowers, calm ponds, interesting statues, and many other places to appreciate relatively close to the edge of Sydney Harbour.
Neptune – Governor Phillip Fountain
Neptune (Poseidon), God of the sea, was one of the first impressionable sights I came across in the garden.
The God of the sea is seen reclining in a position next to Governor Phillips while holding up his three-pronged trident.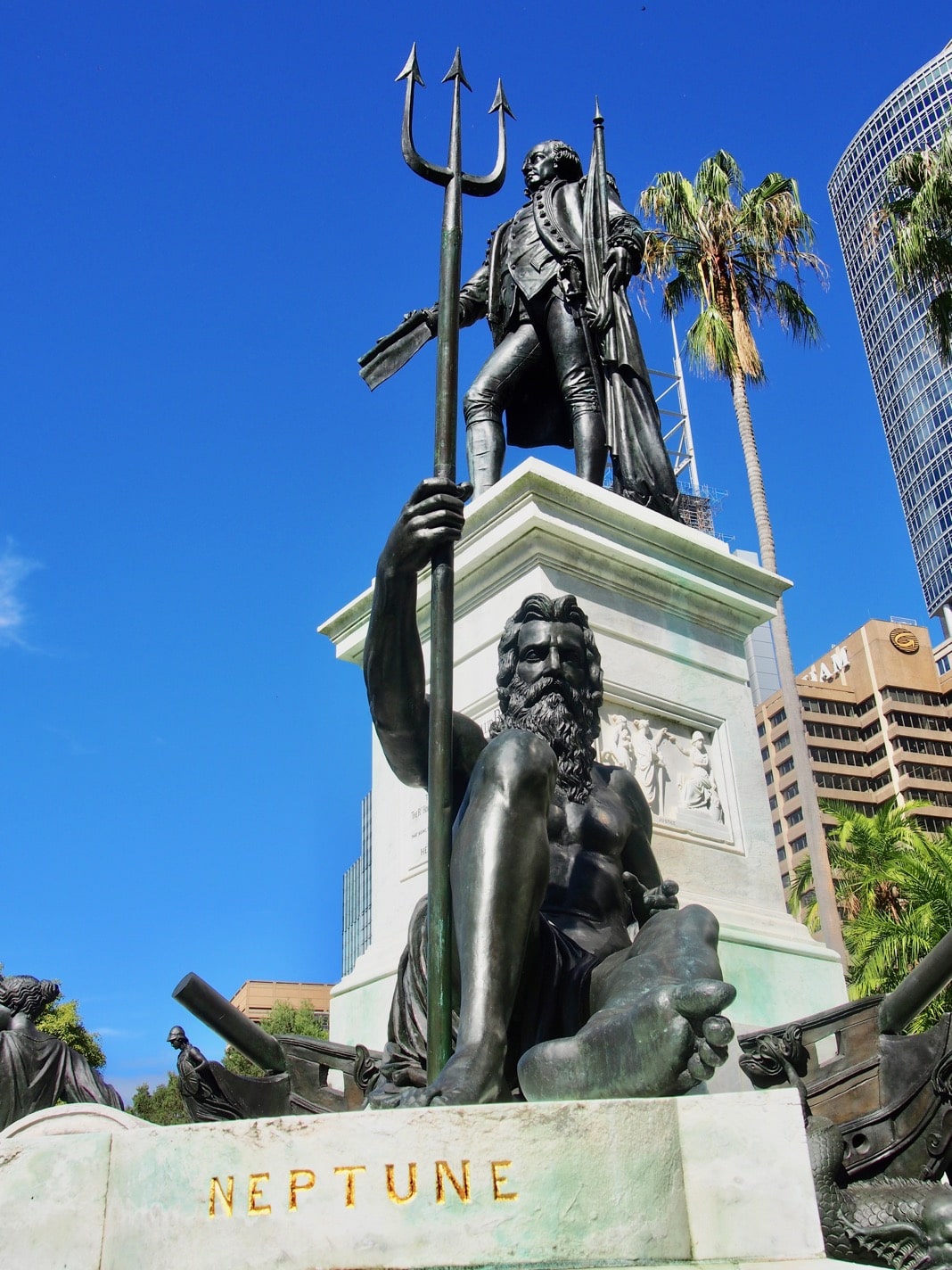 Governor Phillips was the first governor in New South Wales from 1788 until 1792. He was also a captain in the Royal British Navy.
Not sure what the idea behind the creation of this fountain is because it seems as if the Governor considers himself to be above a Greek and Roman God.
Or maybe the symbolism behind it is more to do with the belief that the governor did everything with Neptune's divine support.
Cupid – Love Led Them Sculpture
Cupid was tough to find. I knew Cupid was in the Royal Botanic Gardens somewhere, but I couldn't find the Love God for ages.
I asked a couple of gardeners, and I was surprised that they didn't even know where to look. I was taken aback when one of them told me that they never noticed the statues.
After covering a lot of ground and still not finding Cupid, I decided to ask someone at the Botanic Garden's information office. The ladies didn't know where Cupid was. One of the ladies asked me whether it was a sculpture of a boy with a thorn in his foot.
The ladies did some searching for me on their computer and marked Cupid's possible location on a map, but I still couldn't find the Greek God.
I asked another gardener, and he sent me somewhere else in the opposite direction. I still couldn't find him, so I asked another gardener, and finally, I found Cupid!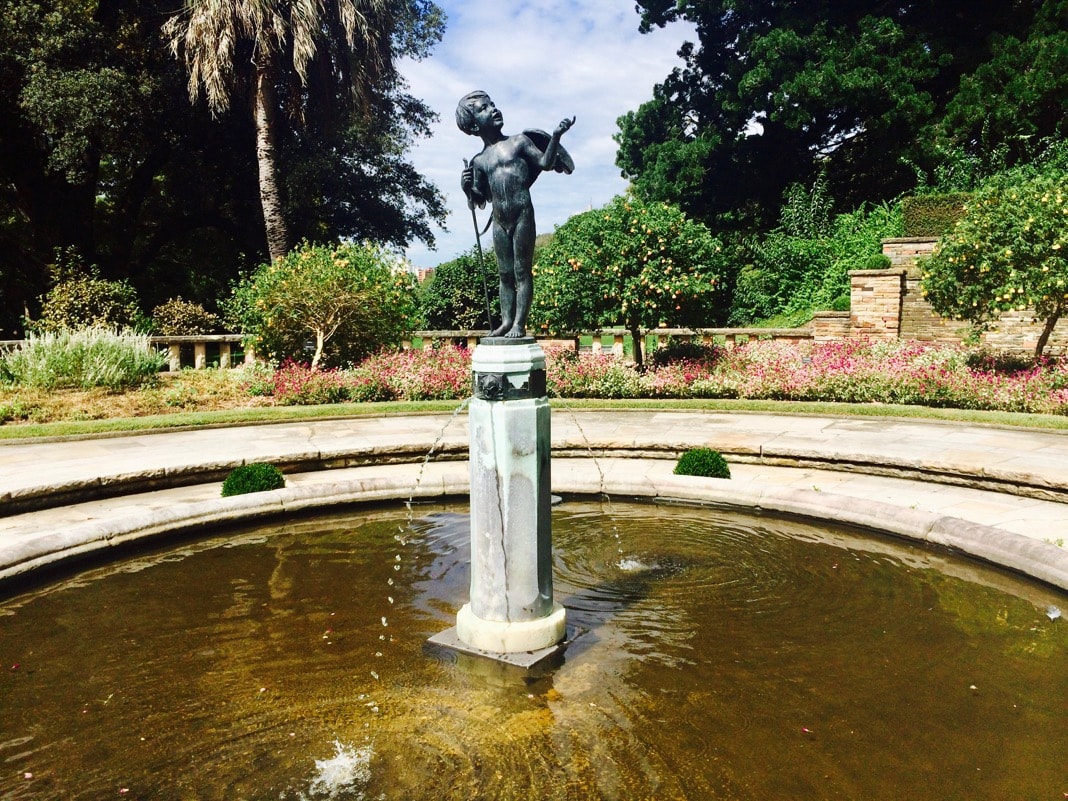 The small bronze statue of Cupid is seen holding a bow and arrow on a marble plinth.
Cupid actually marks the exact spot where the central dome of the Garden Palace once stood.
Here's an attractive lady in blue walking past Cupid. It reminded me that I would see the Sydney Opera House in similar bluish Greek colors in the evening.
This statue of Cupid is also known as Love Led Them. It is located in the Pioneer Memorial Garden's central pond, which is quite close to Neptune but is easily missed if you don't know where to go.
You can find Cupid inline with the white boxer statues on a higher level, which requires you to walk up a few steps. This is why Cupid is so easy to miss.
Venus Fountain
Venus (Aphrodite), the Goddess of love, is much easier to find. You'll find her in the water of a large pond, so you won't be able to touch the beauty. This is the main pond of the Royal Botanic Gardens.
The original Venus sculpture was erected before 1880 on a base surrounded by weathered rocks and large clam shells, which is different from today, as you can see.
In the background (of the photo above), you can also see a Greek-style monument. This is known as the Choragic Monument of Lysicrates. It is a replica of a monument erected in Athens in 334 BC, which still stands today.
Lysicrates was a wealthy ancient patron of musical performances in the Theater of Dionysus, who used it to commemorate an artistic prize.
Other Attractions in the Sydney Royal Botanic Gardens
The Satyr was another sculpture I couldn't find for the life of me. I asked the gardener who pointed me correctly toward where Cupid was located if he also knew where the Satyr was, the half-goat half-man.
He referred to the Satyr as the 'Little Devil' pointing me towards the Opera House Gate.
I explained to him that he wasn't a devil but a character from Greek mythology. This proves my point when I say that Greek mythology and Bible stories have been twisted in the most unholy way.
The Satyr is located next to the entrance gate under a tree just inside the Royal Botanic Gardens, so you can easily miss it. You may need to backtrack a few meters towards the corner of the garden to see him.
The Calyx is another place of interest. This is a fine-looking white building surrounded by many narrow columns in a circular border that often showcases beautiful flowery displays. You can also relax here at one of the tables outside.
There are plenty of places to relax in the Royal Botanic Gardens. The cafe looks great as well.
Mrs. Macquarie's Chair
Continue your walk to Mrs. Macquarie's Chair around the bay. I asked someone if there was a chair there, and they told me that many people get confused. The chair is located further around the corner and is carved into a rock face.
This is the view of the Sydney Opera House and Sydney Harbour Bridge you get before you head around the corner where Mrs. Macquarie's chair is located.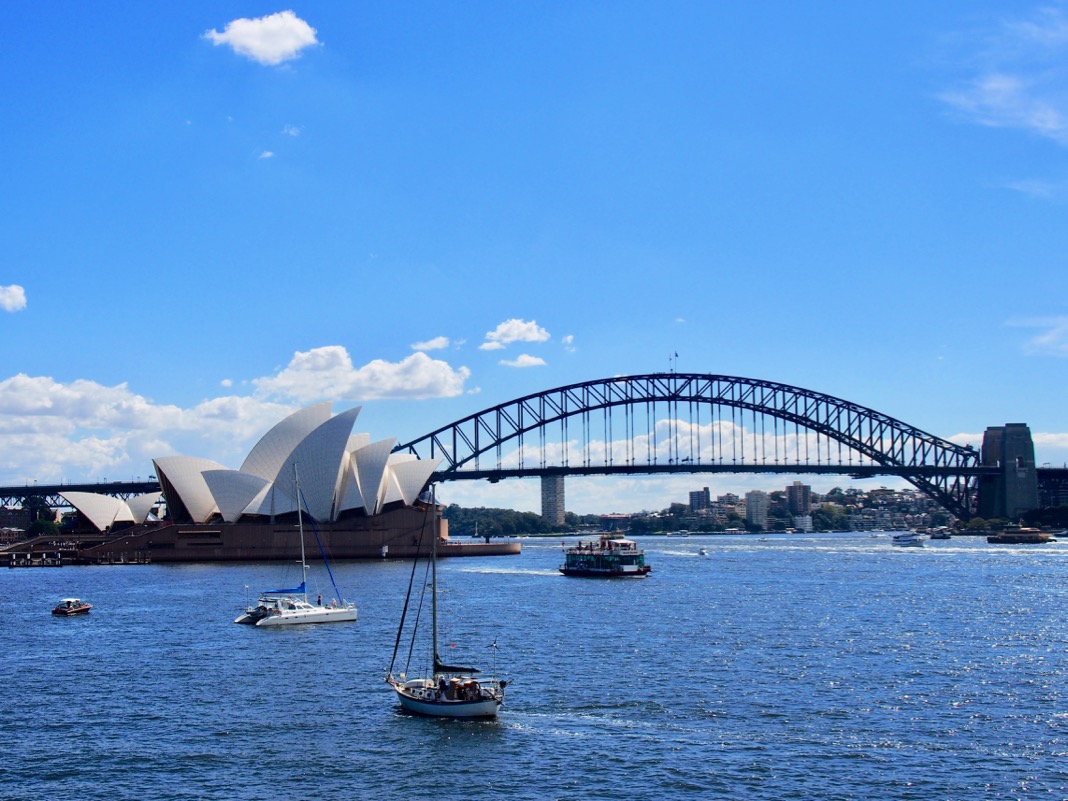 From her chair carved in rock, you get a different view of Sydney Harbour. You can't see the Sydney Opera House from there.
On my first day in Sydney, as soon as I reached Mrs. Macquarie's Chair, I heard the clap of thunder. As I walked around the corner to face the Sydney Opera House once again, it started to pour down with rain.
I took shelter under one of the large trees, but I was still getting wet. Luckily, I had an umbrella in my bag, so I wasn't stranded there for too long.
The Art Gallery of New South Wales
The next stop I suggest visiting during your one day in Sydney is the Art Gallery of NSW for a quick look around.
Circe (c.1893) is a statuette version of Bertram Mackennal's 'Circe.' She's the sorceress from Greek mythology and a central figure in Homer's epic, the Odyssey.
The statue of Circe looks large in this pic, but the truth is that it's quite small with a height of only 58 cm.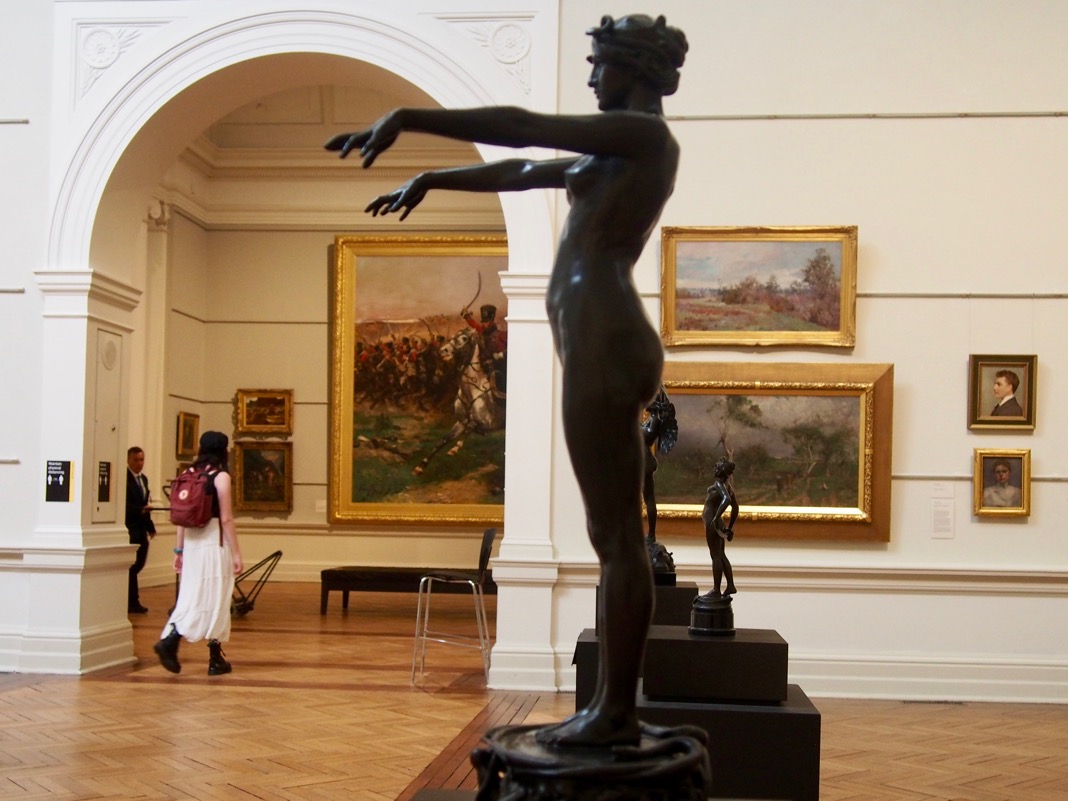 Circe can be found in many forms in art galleries around the world. Take a look at Circe Invidiosa in the Art Gallery of South Australia.
Apollo – The Archibald Memorial Fountain
Apollo, the God of light, is situated in Hyde Park. Diana, the huntress, Apollo's twin sister, can be found beside him.
Unbelievably on my way to Apollo, I crossed paths with Costa Georgiadis, the legendary Australian television presenter of Gardening Australia. I knew it was him straight away with his famous shaggy beard.
As we approached each other on the footpath, I gave him my usual 'how-are-ya' mumble as a greeting normally reserved for someone who doesn't know me.
He responded with a squeaky 'Hey' followed up with a smile as if he could know me but wasn't sure. In George's mind, he must have been thinking, do I know this guy from somewhere?
Soon after seeing the Greek God of gardening, I saw Apollo, the God of light, pointing towards me.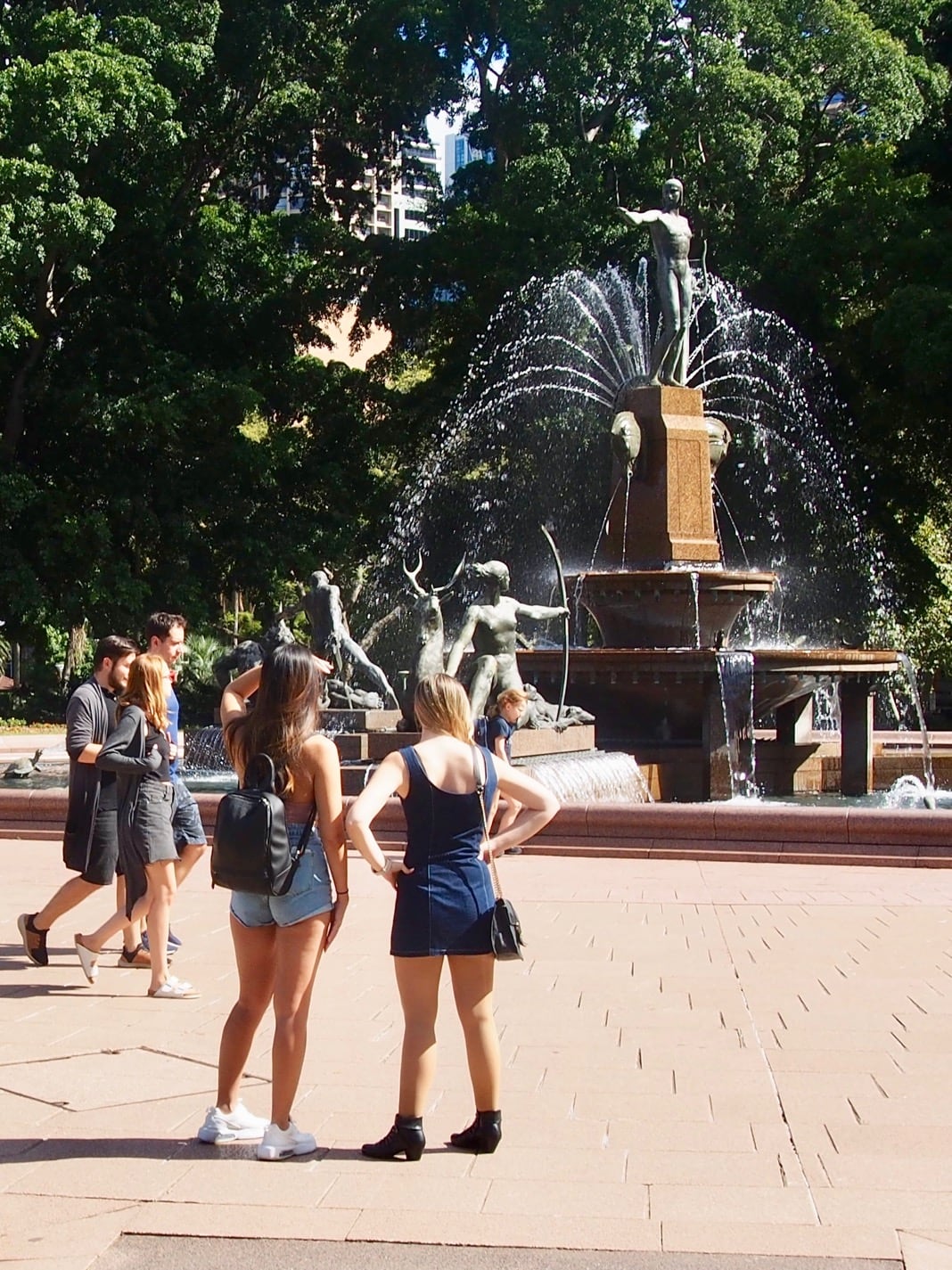 It was an extraordinary sight to behold. The sun god is the best!
In my opinion, this has to be one of the best Greek myth fountains in the world. It is known as the Archibald Memorial Fountain and is easily the best water fountain in Australia.
Darling Harbour
After seeing Apollo make your way to Darling Harbour. Sea Life Sydney Aquarium and the Chinese Garden of Friendship. are located in the Darling Harbour area.
I would personally choose to visit the Chinese Garden of Friendship over the Aquarium. It is a naturally beautiful place. You will have to pay a small fee to enter the garden, but even so, it is definitely worth it. There are beautiful waterfalls, ponds, and impressive Chinese structures throughout the peaceful garden.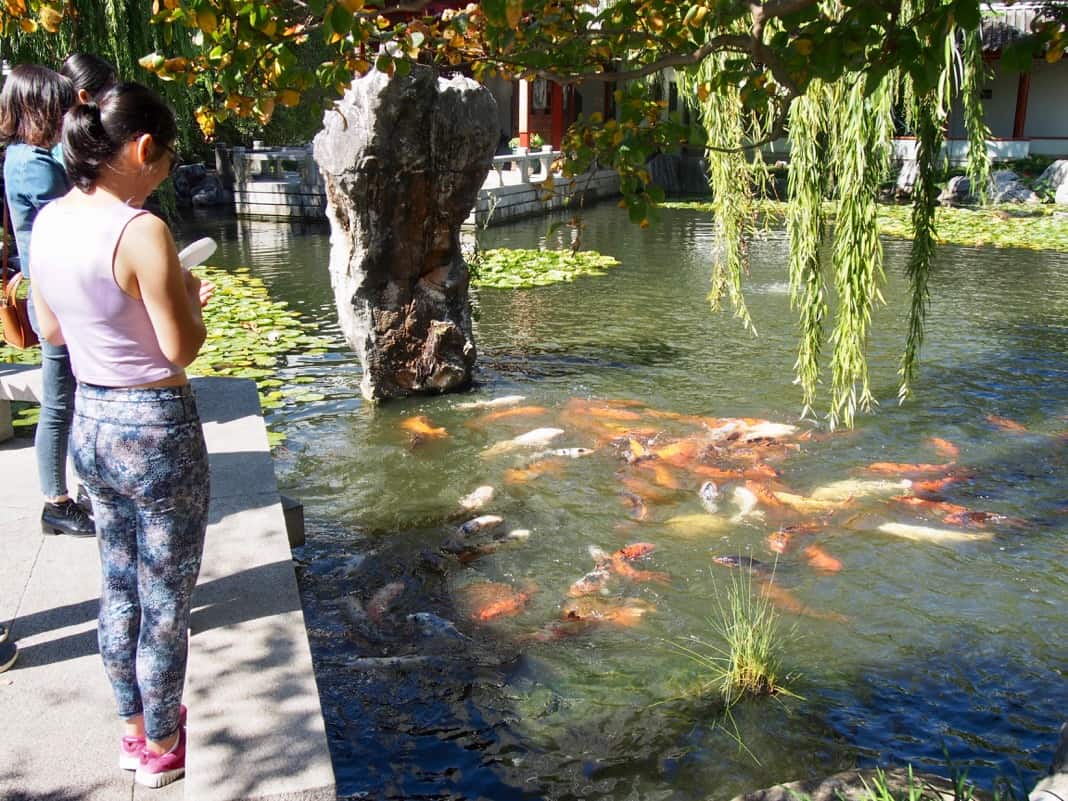 This is what fish feeding time in one of the large ponds looks like.
There are plenty of cafes and fountains in the Darling Harbour area as well. I refreshed myself with a delicious cold chocolate drink from the Lindt Chocolate Cafe in Darling Harbour.
You're going to need some serious sugar hits to give you some much-needed energy along the way. Eating ice cream is another good choice to make.
Athena Statue – Barrack Street
This statue of Athena was a gift from the Mayor of Athens to Sydney's Lord Mayor for the Sydney 2000 Olympic Games.
The Goddess Athena can be found on Barrack Street, just off George Street. You won't want to miss her. You can even see the face of Medusa on the sculpture.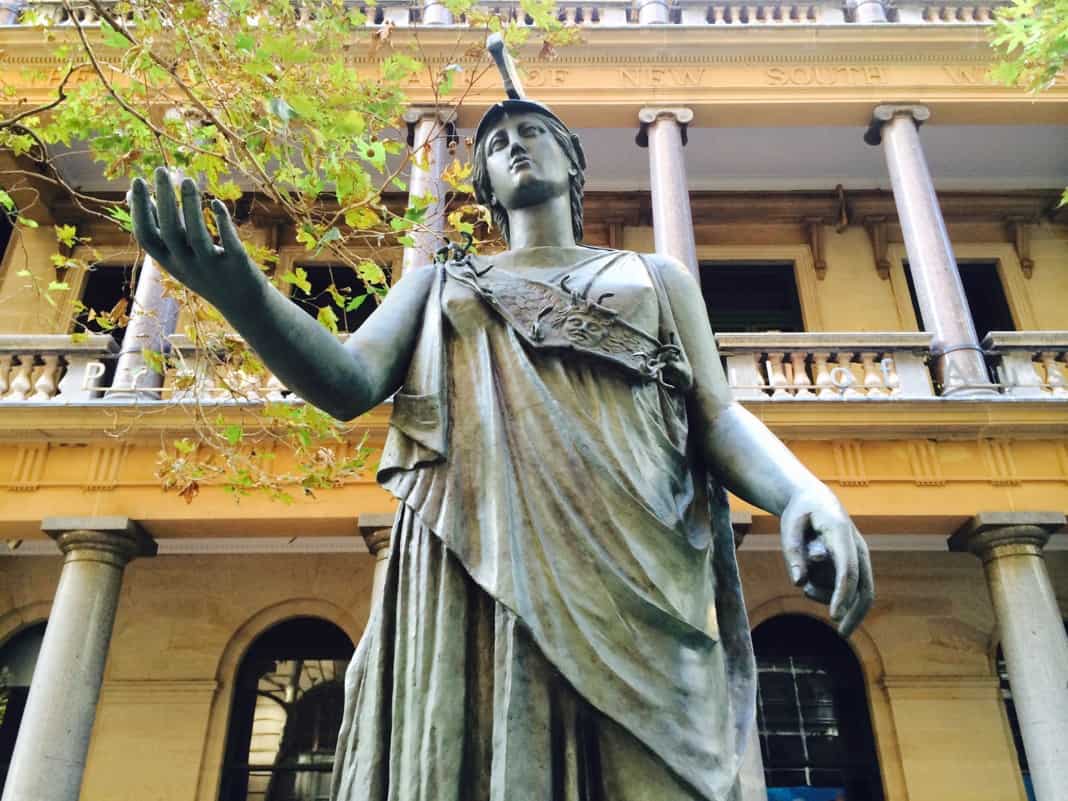 George Street – The Main Street in Sydney
George Street is the main street in Sydney. I noticed Johnson's Corner on the other side of the street when walking along the right side of George street, close to Circular Quay, during my final day in Sydney.
As I was walking across the road, a head-turning blue Maserati appeared before me. It was probably a sign from Neptune that he doesn't like me at all.
Sydney Opera House – Greek Bicentennial
The Greek Bicentennial celebration was in full swing on the evening of the 25th of March, 2021.
There were crowds of people around the place, mainly Greeks, from what I could tell. I heard the Premier of New South Wales give a stirring speech as well. Then there was the singing and chanting.
It all felt like something significant was taking place. Then the Sydney Opera House lighted up in blue, which was the main event for me.
I had brought along my Olympus EM-5 camera to capture a few snapshots of the Sydney Opera House and had a tripod with me.
During this visit, night photography was pretty new to me, so I wasn't confident taking any great images. My main hope was that I'd at least get a few usable images for Greek Gods Paradise.
I even contacted George from Letters to Barbara for some night photography tips before visiting Sydney.
He gave me some great tips, but it all went out the window because my Olympus didn't seem to be operating as expected. I couldn't figure out what was going on. It was like going into an exam and forgetting everything, even the most basic concepts.
I was glad to have my Sony HX90V compact camera and my iPhone camera with me as backups.
One of them would have to give me a good picture. I started shooting pictures with all of them, hoping that I would get at least one good shot.
The Olympus camera seemed to show fluorescent blue colors on the Opera House. I think this threw me completely. All of the Olympus images came out looking like this one for some reason.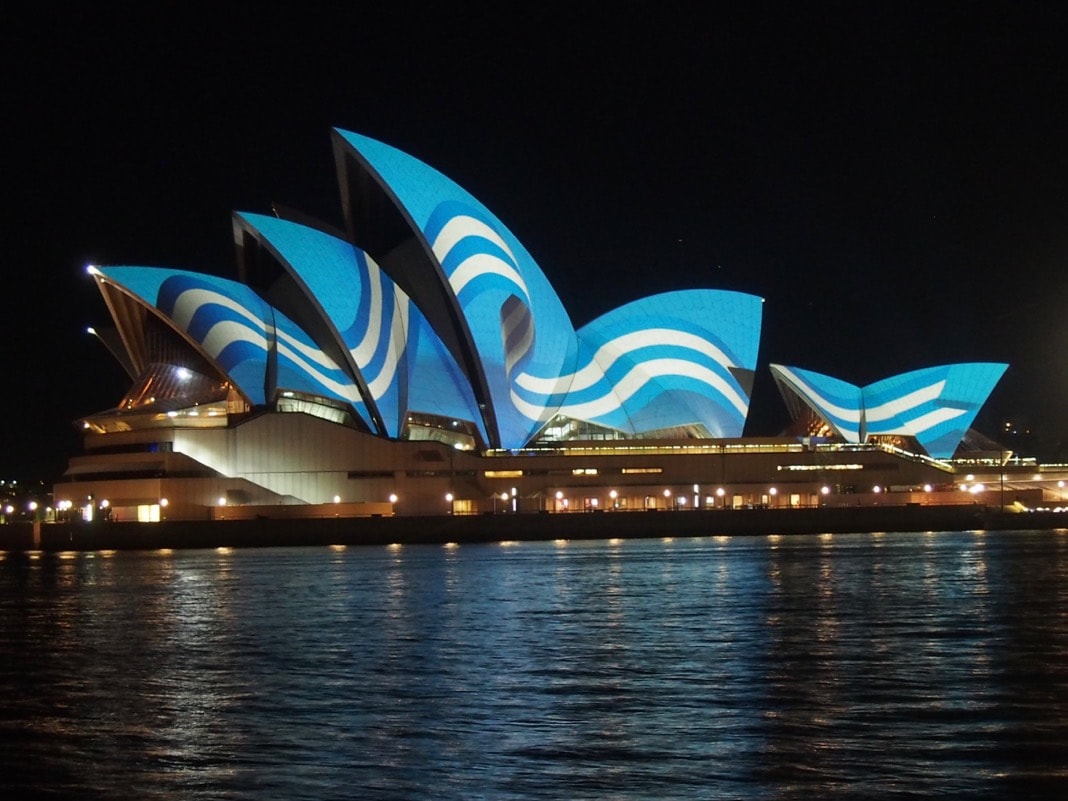 Here's another shot of the Sydney Opera House from higher ground.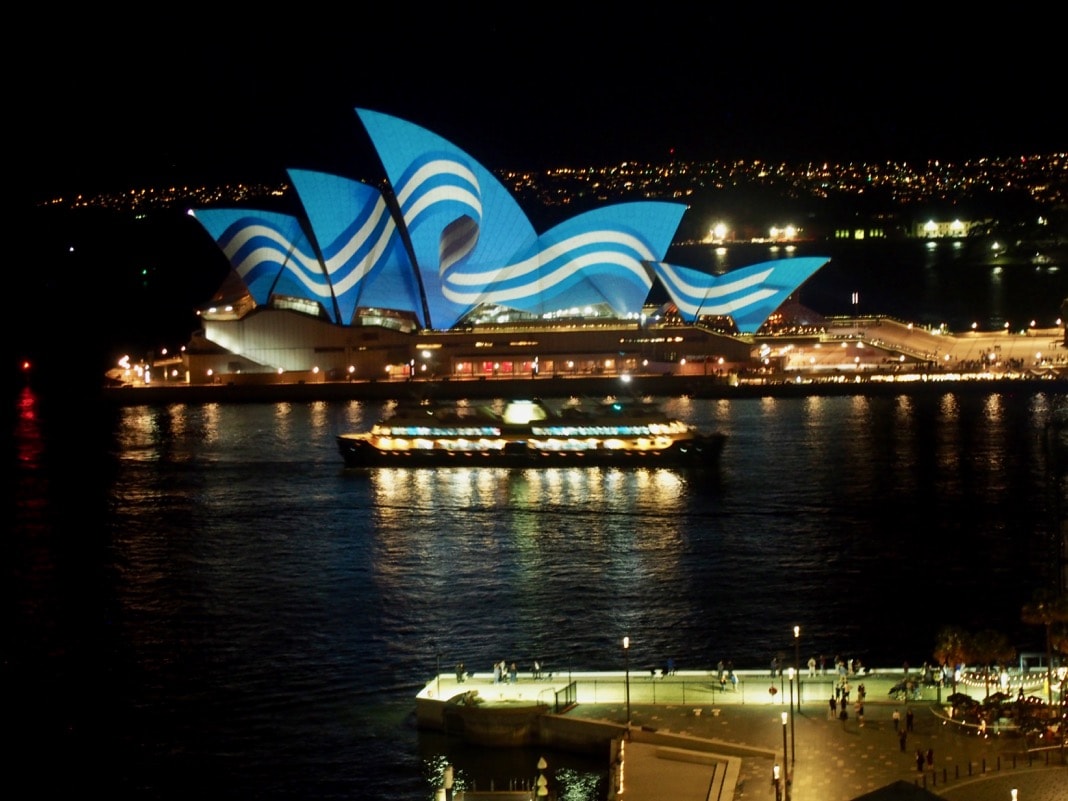 Sydney Opera House from Sydney Harbour Bridge
The image below was taken from the top of the Sydney Harbour Bridge, taken with my Sony camera in Auto.
To me, it resembles more of what the bluish colors on the Opera House actually looked like at night. My iPhone took similar pictures.
So WTF happened with my Olympus camera? I really have no idea at the time of writing this post.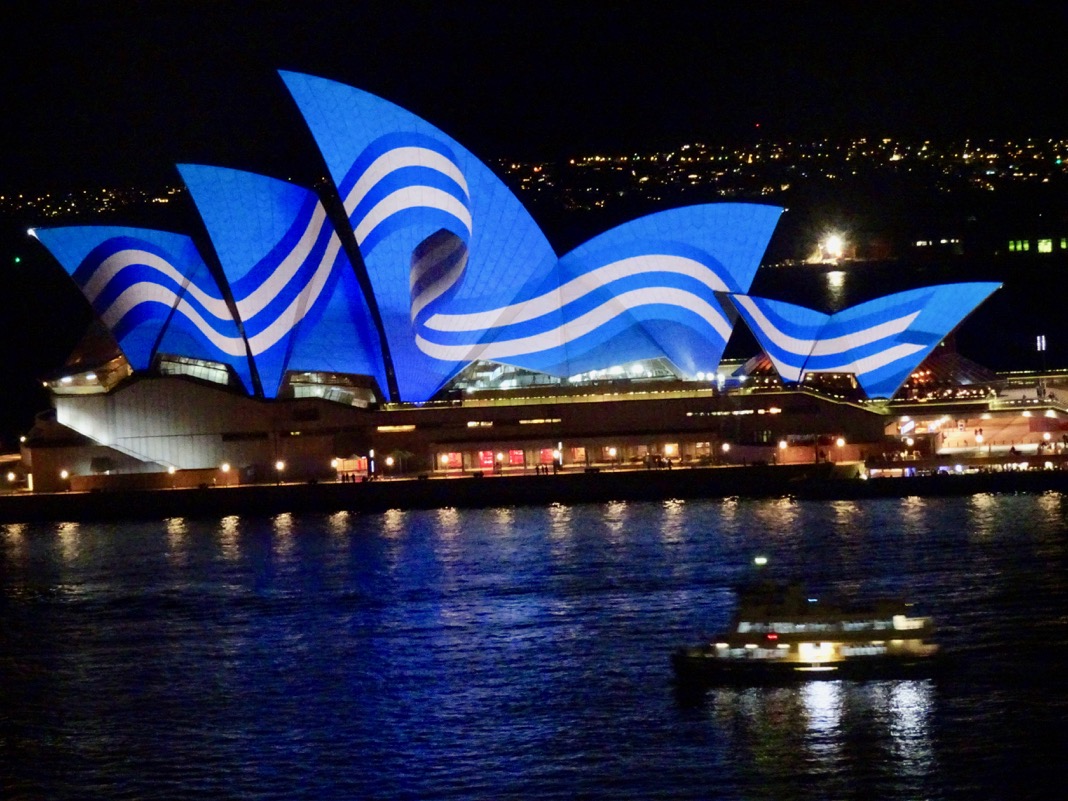 As I walked back down from the bridge onto land closer to the water's edge, I saw a few people fishing. I talked to one of them and found out that they catch bream, flathead, and on occasion, even jewfish.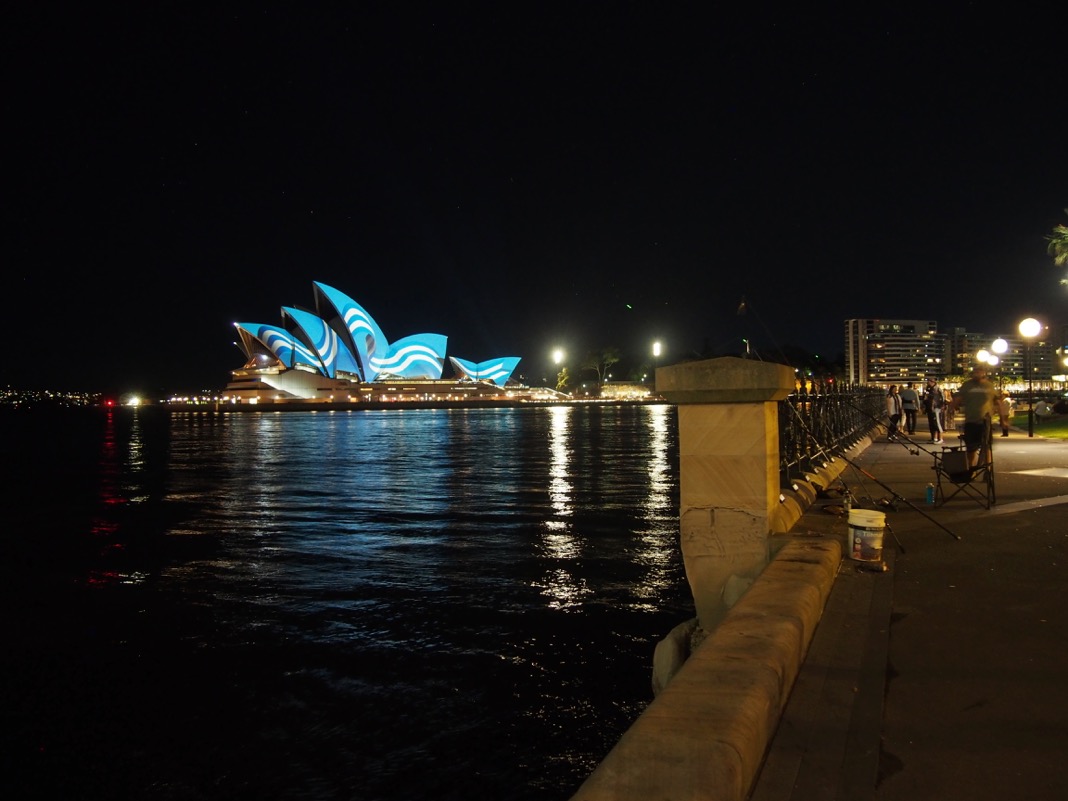 I saw one of them catch a large bream. The big bonus of fishing during the Greek Bicentennial celebration had to be the fantastic blue-colored Sydney Opera House. It was magical!
All of the photos shown in this post of the Sydney Opera House in blue were taken with my Olympus camera, apart from one.
The big mystery is that there are quite a few other pictures on the Internet with the same fluorescent bluish tones as my Olympus images, even from professional photographers.
The photo I took of a guy standing in front of the Sydney Opera House with a blue-colored flag wrapped around him has the correct blue for the flag, but even that Olympus image shows a fluorescent blue Sydney Opera House.
Well, I can't go back in time and do it again, so I guess I'll have to be happy with these snapshots. Live and learn.
Sydney Walking Map
The map of Sydney below shows you all of the major attractions worth visiting if you only have one day in Sydney to play with.
This great walk will probably take you most of the day if you take things easy. It also depends on how many photos you want to take along the way.
You could probably even do the walk within a few hours. If you're super rushed, why not just finish things at Apollo?
You can start the walk anywhere on the red trail, but I personally think the best place to start the walk is in Circular Quay, near the Sydney Opera House.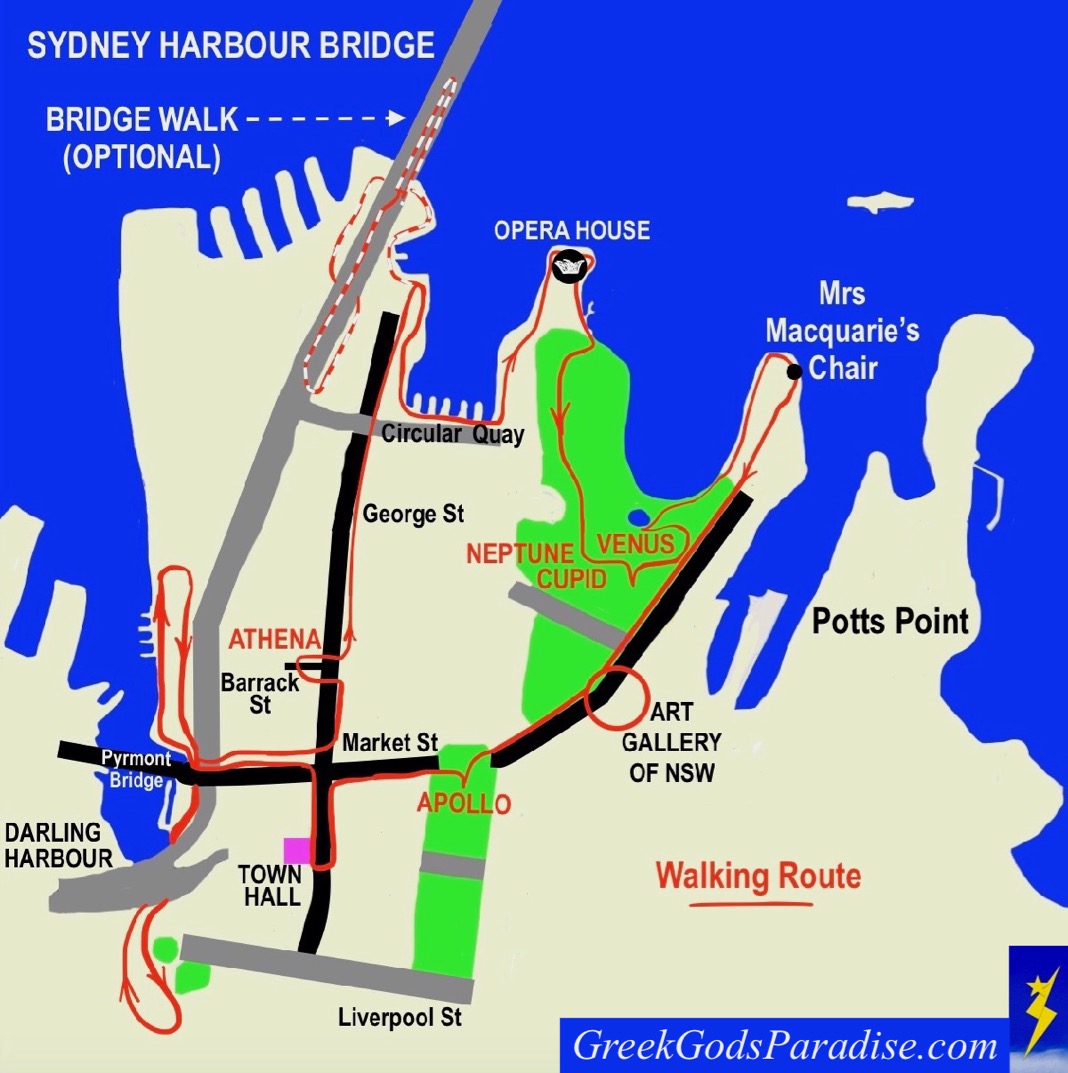 Walking on the Sydney Harbour Bridge is optional. Even though I've done the very expensive Sydney Harbour Bridge climb myself, looking back, I think I would've been just as happy to have walked along the bridge for free. It will save you a lot of money.
If you walk on Sydney Harbour Bridge, I suggest walking about mid-way along the bridge before turning around. However, you can also walk all the way across if you want.
Where to Stay in Sydney
I stayed at Sydney Base for $25 a night, which saved me a lot of cash. You can spend a fortune in Sydney for accommodation, and you can also stay there relatively cheaply. It's up to you.
Unfortunately, I didn't get to visit Hermes in Sydney, but there's always next time.
Pin it … Share it