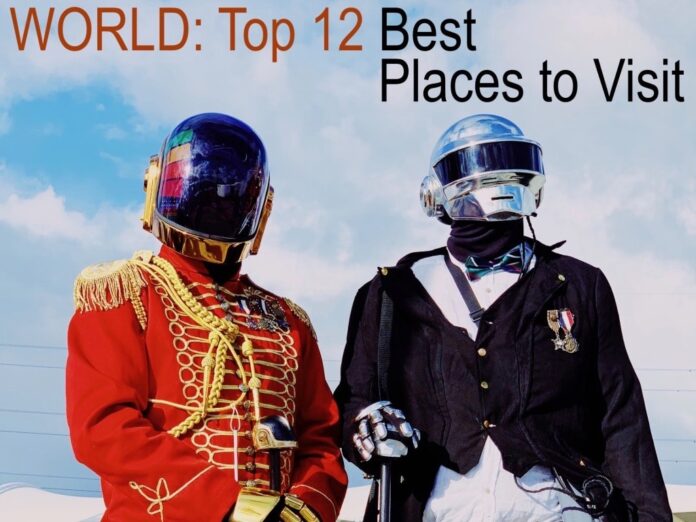 Here are the top 12 best places in the world to visit before you die.
I can highly recommend visiting all of these top 12 places in the world for anyone wanting to see the world's wonders.
Luckily I have visited nine of them, but I still have three left, if I want to see them all.
The world is full of spectacular beaches, adventure playgrounds, stunning scenery, paradise islands, great culture, unbelievable beauty, Greek magic, wondrous mystery, etc.
But there isn't enough time for most people to see it all.
So to make it simpler, I have created this list of fantastic places as a top guide to the best attractions in the world.
Top 12 Places to Visit in the World
I genuinely believe that by visiting all of these twelve fabulous places in the world as a tourist, any wanderlust you possess will be extremely satisfied.
So let's see what made it into my list of the top 12 places to visit in the world.
12. Lagos, Portugal
I love Lagos, most probably due to the fabulous beaches and the great food.
Portugal isn't as busy as Spain, so I find it much more relaxing, another big bonus.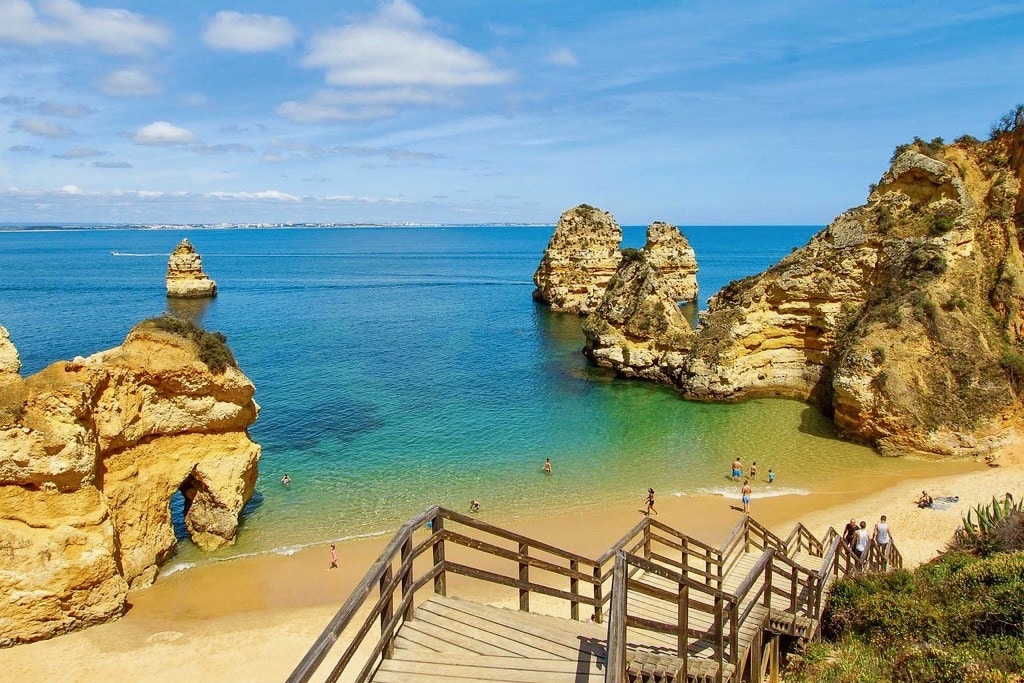 Lagos is easily one of the best tourist destinations in the world.
The seaside town is very charming, so including Lagos as one of the top 12 places to visit in the world was a pretty easy decision to make.
If you want to know about the top 5 places to visit in Portugal, you can find them here.
While you're in Lisbon, the capital of Portugal, you have to go on a day trip to Sintra because Sintra is unbelievable, incredible, and spectacular!
Now that I'm thinking about it, Sintra may even be better than Lagos.
But since Lagos has fantastic beaches, I'll settle on Lagos in this list of the world's best places to visit.
11. Queenstown, New Zealand
Queenstown is known as the adventure capital of the world.
Whatever adventure activity you want to do, you can probably do it in Queenstown or somewhere close by.
One top thing to do in Queenstown is to take the gondola ride up one of its mountains to Bob's Peak, where you'll see excellent views all over Queenstown and its surrounds.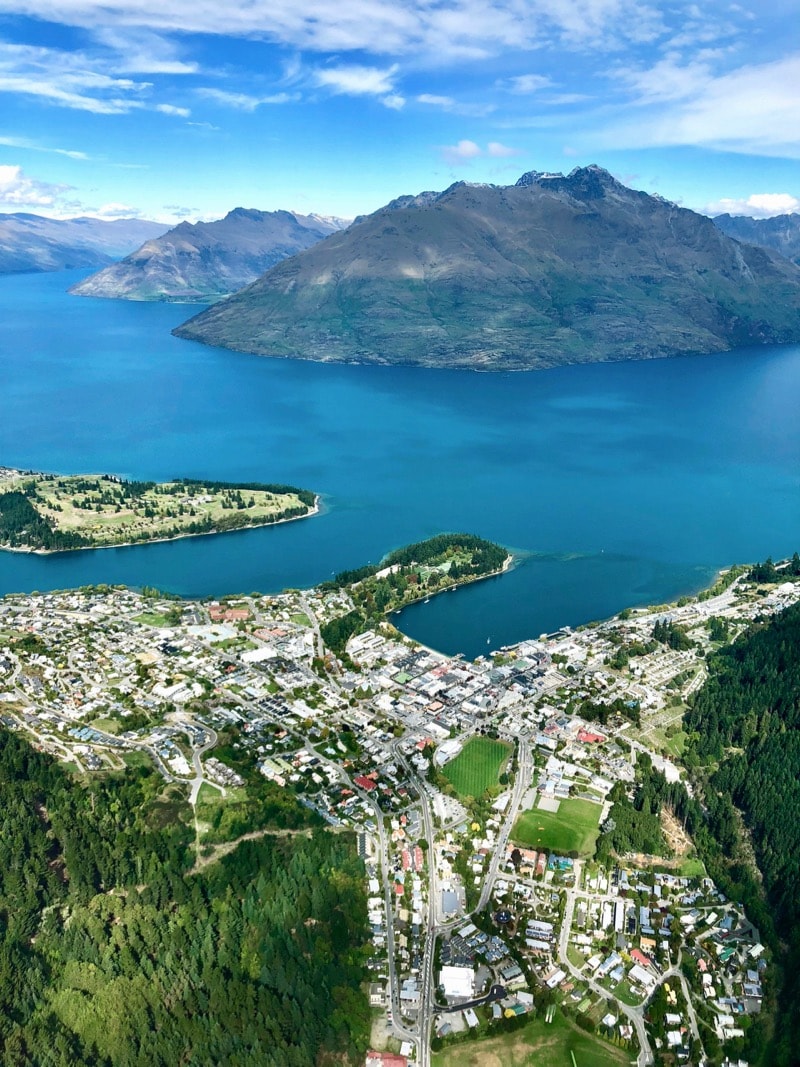 Queenstown has everything from thrilling speed boat rides on twisting rivers, including the famous Shotover Jet Boat ride, to gravity-fed luge rides down mountain slopes.
The Remarkables is a big mountain 24 km away from Queenstown.
You can enjoy snowboarding in Queenstown at The Remarkables during winter or close to it.
Another option is to go to Coronet Peak, New Zealand's first commercial ski area.
Queenstown is also a great starting point for the Milford Track hike, which is often considered to be the most beautiful walk in the world.
10. Sydney, Australia
Sydney has one of the most beautiful harbors in the world. The only place that could beat it might be Rio de Janeiro.
The thing with Sydney, though, is that you can do many other cool things.
You can climb to the top of the Sydney Harbour Bridge to get fantastic views over Sydney Harbor and the Sydney Opera House.
The most memorable time when I visited Sydney has to be when the Sydney Opera House was illuminated in Greek flag colors to celebrate historic Greek independence celebrations.
At night the Sydney Opera House looked fantastic in blue!
Sydney also has a great vibe.
You have great beaches around Sydney, and the Royal Botanic Garden Sydney is right next to the beautiful harbor.
In Sydney, you can relax on the sand at one of Australia's most famous beaches, Bondi Beach.
One of the best things to do in Sydney would have to include a ferry ride to Manly.
And if you're extra clever, you can visit the Blue Mountains day trip by train, which has secret Greek mythology overtones.
If you're thinking about visiting Sydney, I highly recommend watching the film Emerald City, which stars Nicole Kidman.
I enjoyed watching this Australian film very much. It is a relatively unknown film and will give you a real glimpse into the Australian character.
9. Vanuatu – Paradise on Earth
The main reason I went to Vanuatu in the first place was to learn how to scuba dive.
If you decide to go scuba diving in Vanuatu, I guarantee you will be in a scuba diver's paradise.
First, go to Hideaway Island, which is easy to get to from Port Villa, Vanuatu's capital.
After that, visit Espirito Santo, another top island within Vanuatu's chain of paradise islands.
At some stage, I recommend going scuba diving at the SS President Coolidge and Million Dollar Point in Santo. It can't get much better than that.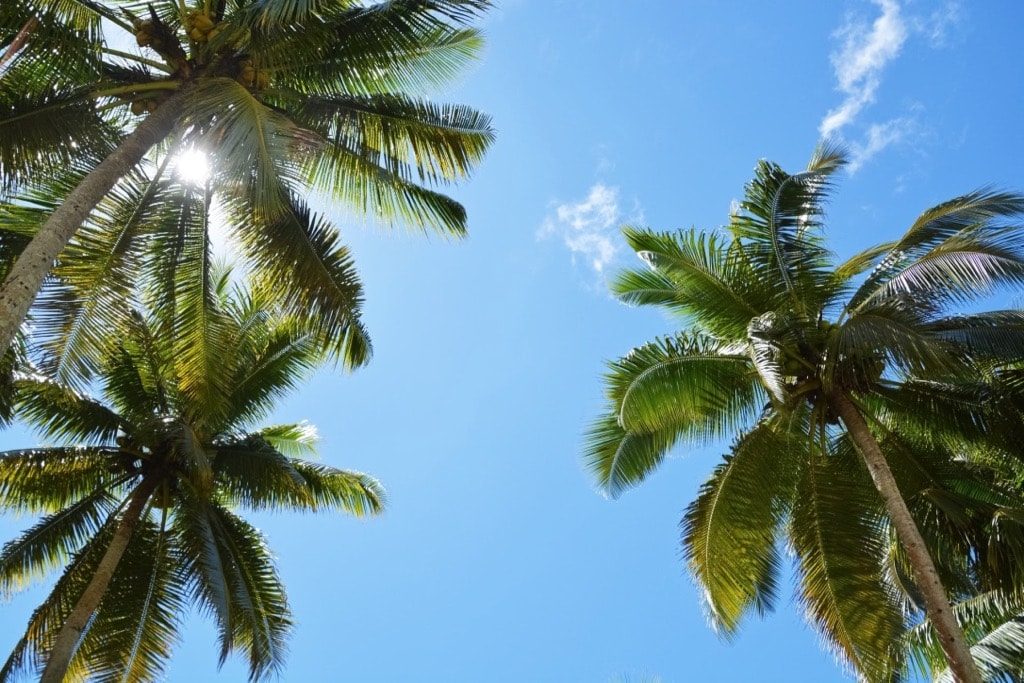 Even if you aren't into scuba diving, Vanuatu has fantastic waterfalls, top beaches, including Champagne beach, and the incredible Tanna island, with its impressive active volcano!
Here are 10 things to do in Vanuatu to enjoy paradise if you decide to visit.
I can tell you that Vanuatu is a paradise on earth from my own extraordinary three-week adventure in Vanuatu.
Confirming my belief that Vanuatu is a paradise on earth happened by sheer coincidence when I visited Murray Bridge to go on a Murray Bridge lunch cruise.
Four guys from Vanuatu were singing a song about Vanuatu in Murray Bridge, which blew my mind because it was in a small Australian country town. It seemed so out of place.
They sang about Vanuatu being paradise, and I couldn't agree more.
8. The French Riviera, France
Nice is a famous city in France situated on the French Riviera. It's a magical place to visit during summer.
The French Riviera comprises a few more cities, but visiting Nice is a great start.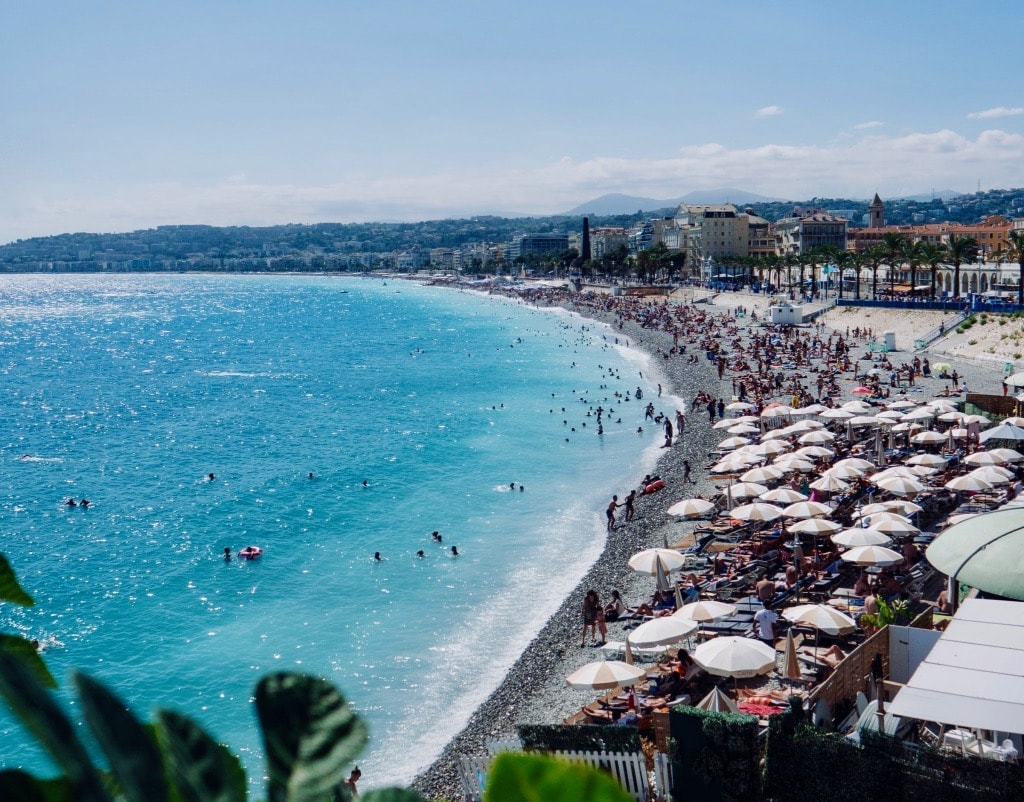 You can find the most beautiful towns in the French Riviera and the 10 best places to visit in the French Riviera here.
Since the French Riviera is good enough for the ultra-wealthy, it's top proof that you'll love exploring the French Riviera.
My time in Nice was short but also super sweet. I found the stone pebble beach in Nice so beautiful.
7. Bora Bora, French Polynesia
Bora Bora is a dream destination for many paradise seekers, and why wouldn't it be?
Here are 7 Paradise Islands in French Polynesia if you want to know more.
6. Phi Phi Islands, Thailand
I love Phi Phi island. But make sure you know that there are two Phi Phi Islands in Thailand worth visiting.
One of them appeared in the movie, The Beach, which starred Leonardo DiCaprio.
I have only been to the Phi Phi Island (in the photo below). However, it left a remarkable impression on my mind.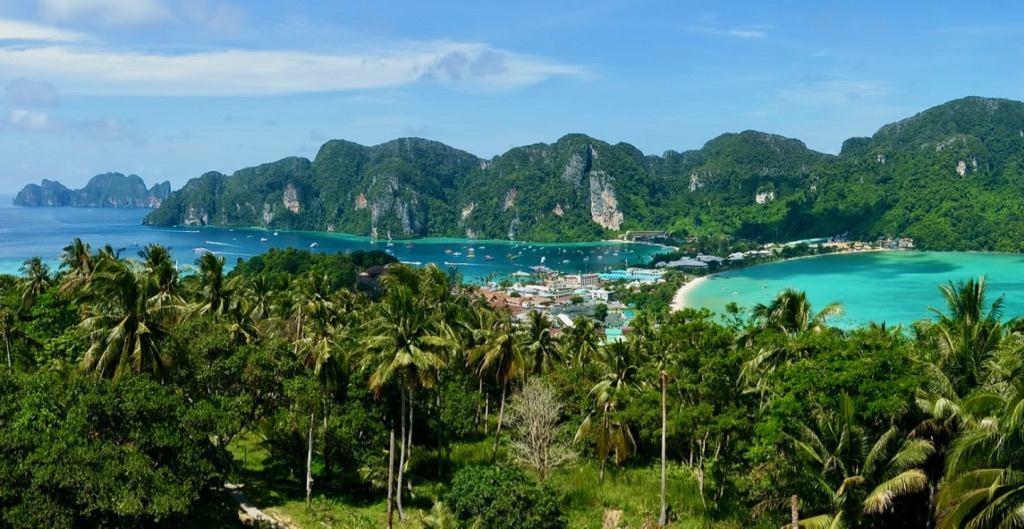 Here are the Top 7 things to do in Thailand based on my own experiences.
5. Maui, Hawaii
The name Hawaii alone conjures up images of paradise. So here is another top paradise destination to visit in the world.
I haven't been to Hawaii, but you can always dream about it.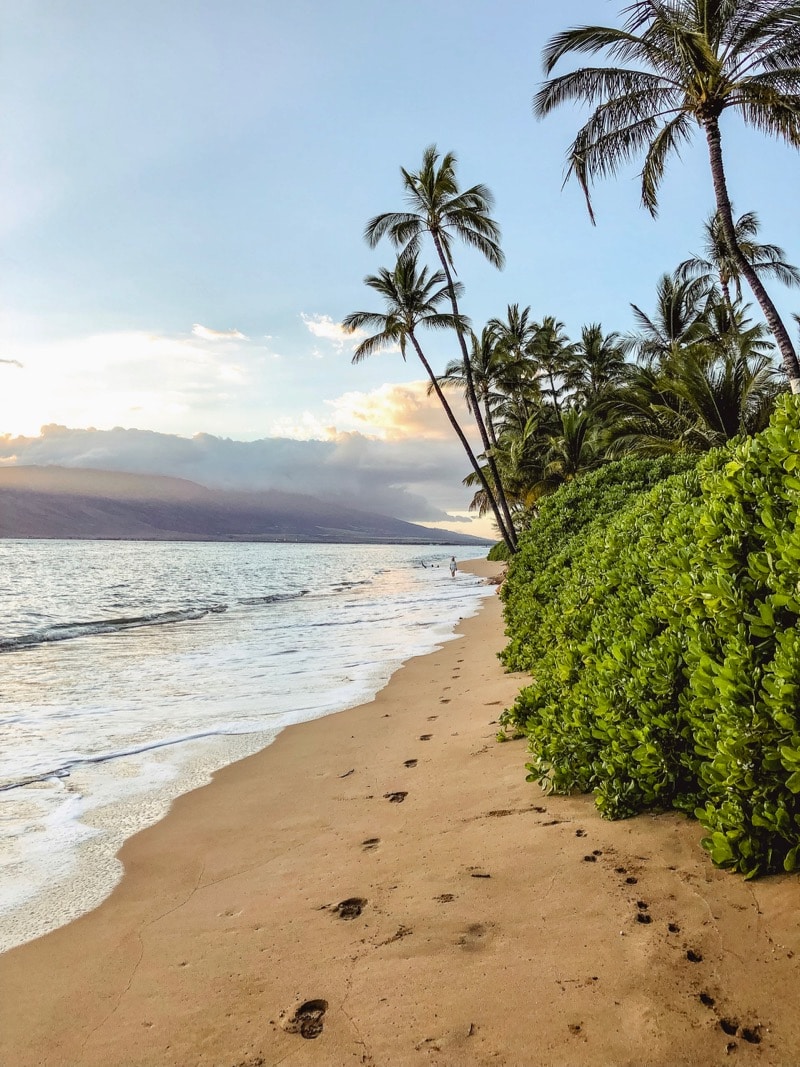 4. Milos, Greece
After doing an Interview with The Smooth Escape about Greece, I am convinced that Milos is the number 1 Greek island in Greece.
I haven't been to Milos, but I can see why it would appeal to me.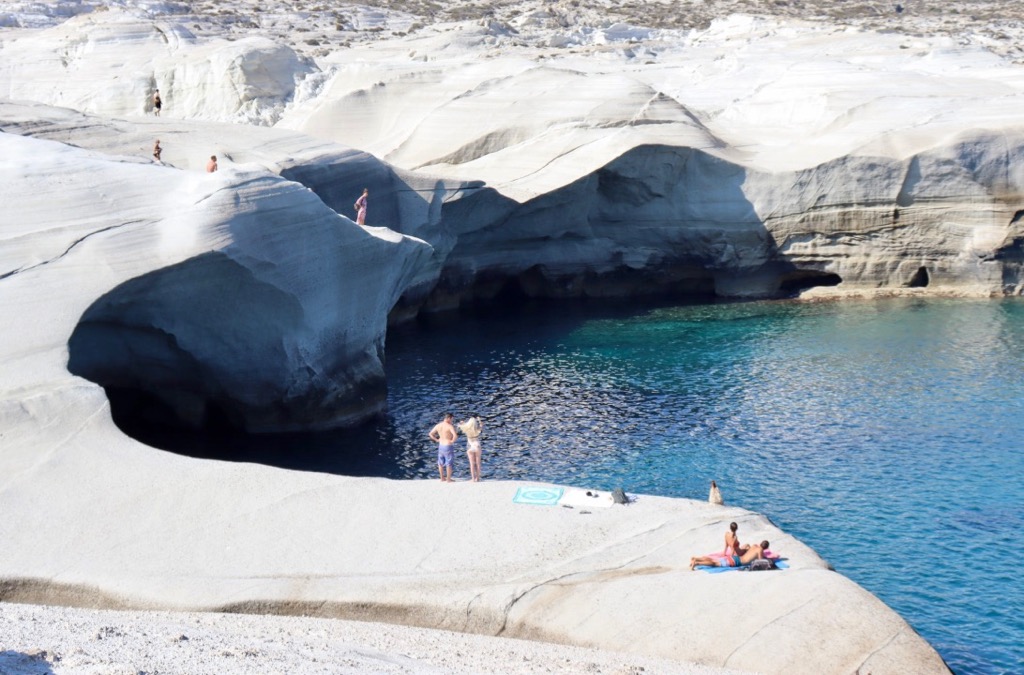 I could have done the safe thing and told you that Santorini is the best Greek island, but you can't be sure unless you've been to Milos.
For this reason, and because Marjut from The Smooth Escape says so, I'll say that Milos belongs in this list of the top 12 best places in the world to visit, more so than Santorini.
I never thought I'd pick a Greek island better than Santorini because I love Santorini.
But here I am telling you that Milos is the best Greek island to visit.
Ok, the most brilliant move you can make is to visit Santorini as well. Just make sure you stay somewhere with a great pool.
3. Pyramids of Egypt
To me, Egypt highlights Greek Goddesses rule. So you have to go there once in your life.
2. The Amalfi Coast, Italy
I could easily live somewhere on the Amalfi Coast.
The Amalfi Coast has so many great places within a relatively short distance from one another.
To learn more about it, you can read my Amalfi Coast Guide for First-Time Visitors.
Just make your way to Capri island. From there, the world is your oyster.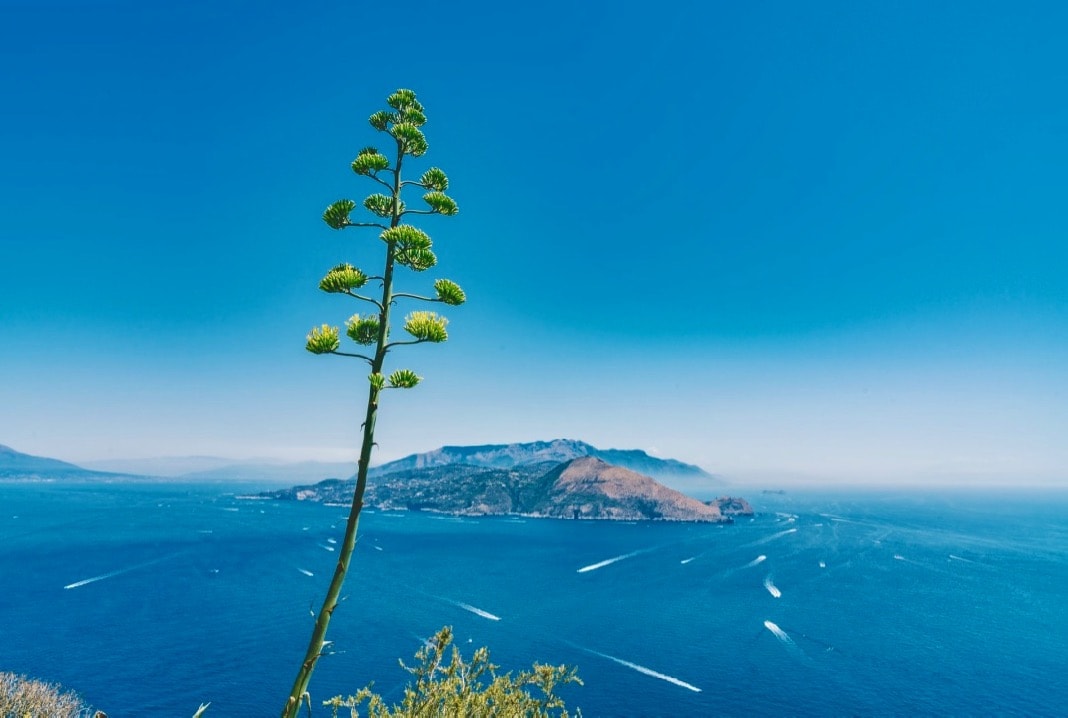 1. Paris, France
And my number 1 pick for the best places to visit in the world goes to, you guessed it, PARIS.
It is a no-brainer because Paris is beautiful.
The Nike sculpture and the Venus De Milo sculpture are located inside the Louvre Museum.
Here are the Top 20 Greek Mythology Paintings in the Louvre and France.
More Top Places in the World to Visit
Other top places to visit in the world that just missed out from being included in this list include:
Plitvice Lakes National Park for its beautiful waterfalls
The Alhambra in Granada, Spain
There you have it, world: top 12 best places to visit.
Around the World
A great way to end this is to watch the music video Around the World by Daft Punk.
Pin it … Share it