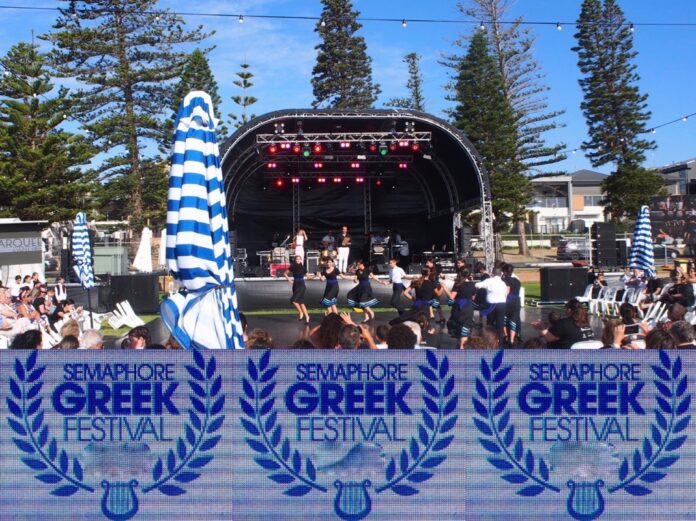 Semaphore Greek Festival is usually held in January every year. It has been around for over 40 years in Adelaide, so the event has a lot of history behind it.
The popular Greek festival is celebrated in the chilled-out seaside suburb of Semaphore.
It takes place in a large grassy area close to the beach within easy walking distance of the Semaphore jetty in Adelaide — the capital of South Australia.
It is one of the top Greek festivals similar to the Blessing of the Waters, where you will find delicious Greek food and plenty of entertainment.
I decided to go there to satisfy my Greek food cravings, to see some Hellenic entertainment, and to create a guide for the Greek event.
Sure, I expected to watch some entertaining Greek dancing, but I never expected other forms of entertainment, including fun competitions like fastest loukoumades eating and plate smashing!
Greek food seems to be the biggest drawcard to this Adelaide Greek event, and I can honestly say the Greek food I ate was superb! It was as if I was eating top-quality Greek food in Greece. My tastebuds were very happy.
The lamb was juicy and tasty, and the loukoumades (honey-covered balls of warm dough) were delicious.
So from my experience, I can't recommend visiting the Semaphore Greek Festival highly enough.
Semaphore Greek Festival Guide
The spirit of Apollo, the Greek God of light, must have been conjured up by the festival organizers for this special occasion.
Take a look at the great-looking invitation to celebrate the Semaphore Greek Festival.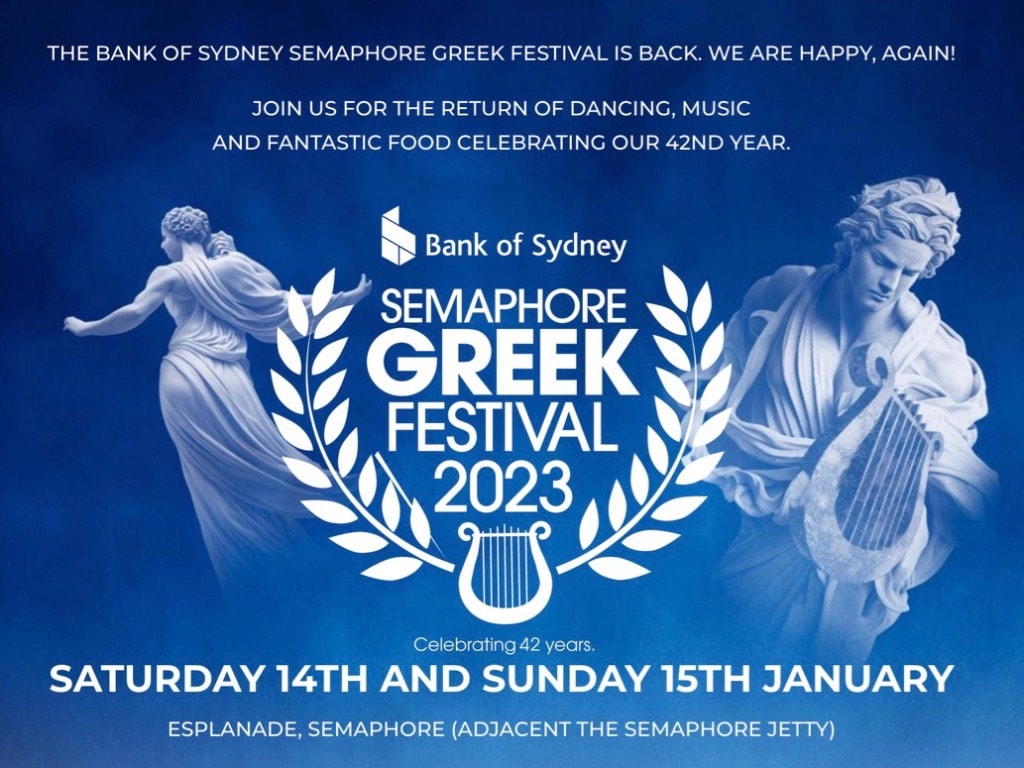 Apollo always loves a good festival. The Greek Festival in Adelaide even uses a couple of Apollo's symbols, including the Greek God's famous lyre and a laurel wreath, as status symbols.
This time the Semaphore Greek Festival was held on Saturday the 14th and Sunday the 15th of January. The dates can vary, but normally it is around mid-January.
I only went on Saturday to the Greek festival. One thing I can tell you is that it was hot! The weather reached pretty much 40 degrees in the afternoon.
Organizers were expecting 35,000 visitors to attend the two-day festival, however on Saturday, due to the extreme heat, there didn't seem to be a huge number of visitors. Still, it was a fun day out.
Semaphore Greek Festival Comperes (MCs)
The two MCs for the Semaphore Greek Festival were pastry chef George Diakomichalis from Kalymnos Pastries and journalist Theodora Maios.
George presents the TV show It's All Greek To Me, which shows him making the best Greek pastries and other delicious Greek food, plus he also talks about other interesting things related to Greek life.
Both of these two Greek comperes were excellent and very enthusiastic. I can see why they have both been presenters at the Semaphore Greek Festival for a number of years. There is no need to change when you have great comperes like these two.
Semaphore Greek Festival Entertainment
One of the best tips I can give is to put your hand up for any competition at the Semaphore Greek Festival. Trust me on this.
The first competition I saw was a pita bread contest where each person had to eat one pita bread in the shape of Australia.
After a short time, the comperes then decided on the winner. I can't remember for sure who won out of these two guys standing up, but I think the guy in the red shorts won this contest.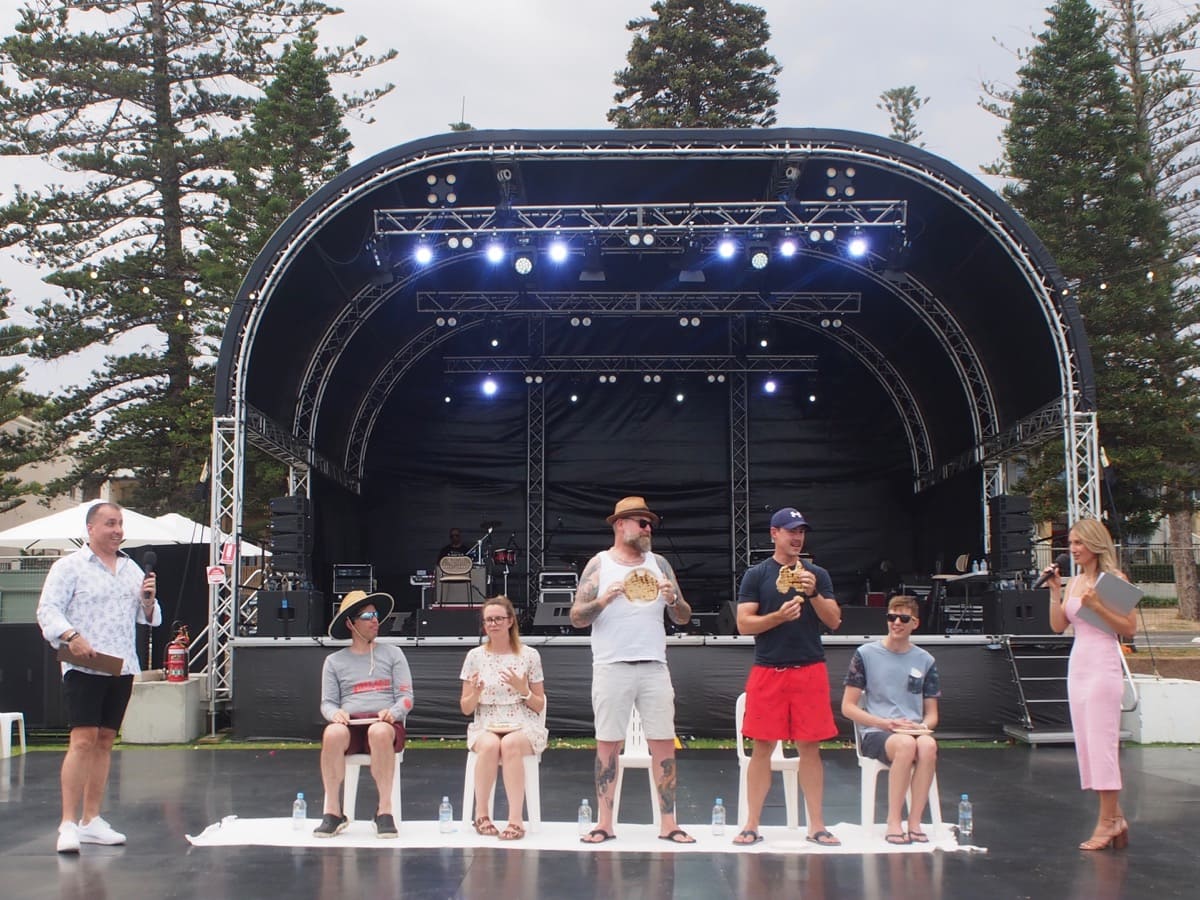 When George Diakomichalis was calling out for volunteers, I could have easily gone up because there was no one around, and it took him a while to find five volunteers.
The winner would win $100, but I didn't feel like going up, mainly because I wanted to take photos.
But then, when the contestants had been picked, he told everyone that each of them would receive a free lunch with a $20 voucher! So that's what I missed out on — a free lunch at the very least.
Belly Dancing at the Semaphore Greek Festival
One thing I never expected to see at the Greek festival was a beautiful belly dancer.
You wouldn't think it possible that a Greek festival would start with a belly dancer rather than Greek dancing, but that's exactly what happened.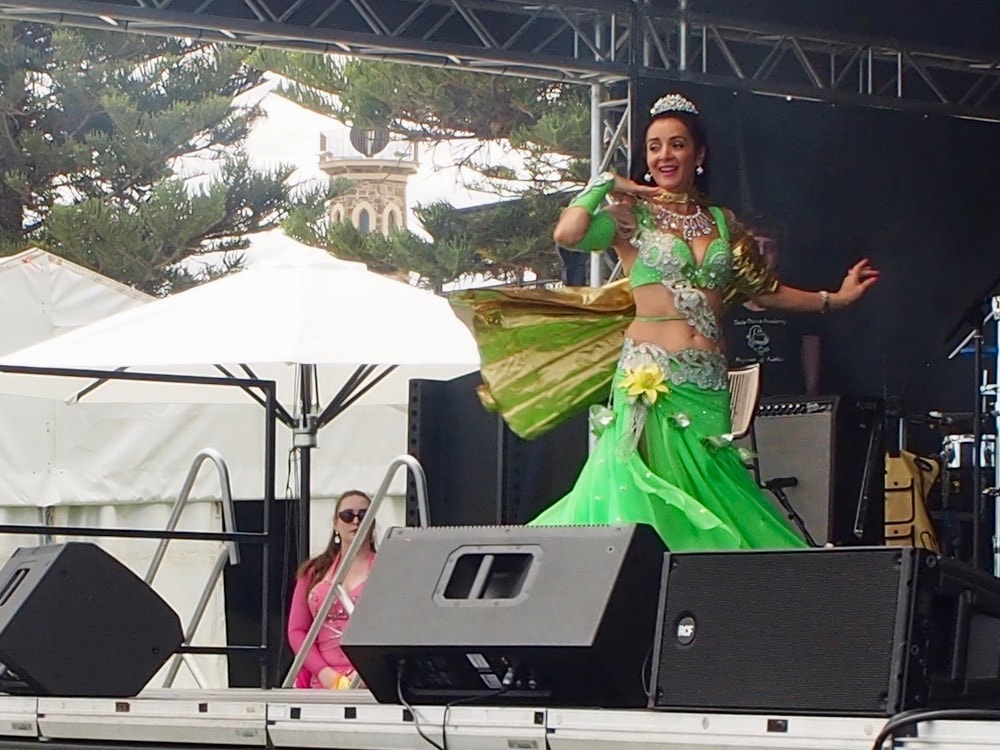 After dancing on the main stage, the lady in green then went onto the floor with her belly-dancing friend in the pink costume. They belly danced around with a few other enthusiastic spectators close to the seating area.
If you were courageous enough to dance with them, you may have even received a voucher for the Nayima Hassan Belly Dance Academy if that's what you wanted.
Semaphore Greek Festival Food
The food was excellent at the festival, which had over 300 volunteers. As you would expect, a lot of work has to be done since they were expecting over 35,000 visitors, which means an enormous amount of food preparation. Here's what they expected to make:
15,000 souvlakia
10,000 yiros
40,000 loukoumades
I was looking forward to tasting the lamb. When lunchtime came around, I couldn't resist eating this delicious-smelling meat.
For a plate with three lamb pieces, it cost $17. The pita bread was $2. It doesn't look like much on my plate, but I can tell you, the meat was delicious.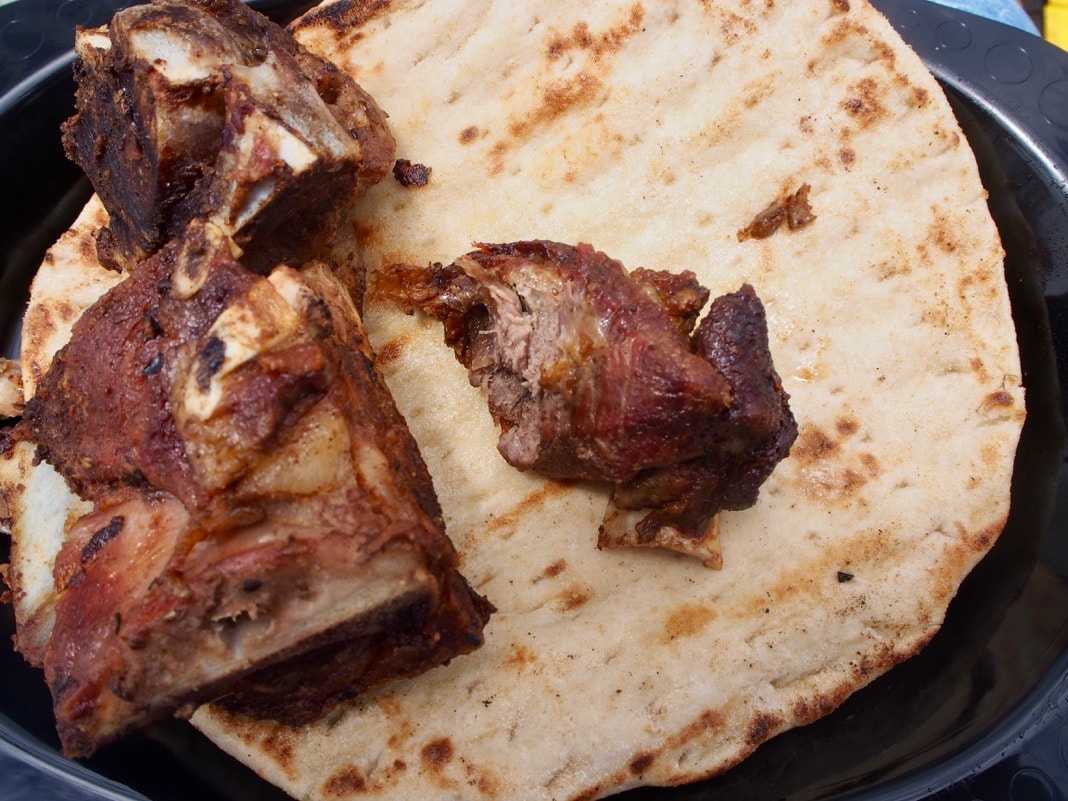 There was definitely more bone than meat so I could have easily gobbled down another piece of meat. Honestly, I could have eaten a whole lamb skewer because the meat was cooked to perfection.
I also had some loukoumades for dessert, a Greek coffee, some Turkish (Greek) delight, and Greek iced tea later in the day to keep cool.
Take my word for it, it's worth visiting the Semaphore Greek Festival for the food alone.
You can eat a tasty yiros, souvlaki, or the same as me — a delicious plate of lamb.
Plate Smashing Competition
Another thing I never expected to see at the Semaphore Greek Festival was a plate-smashing contest.
First, they had a demonstration from a player from the Port Adelaide Football Club, which you can see on the left side of this picture.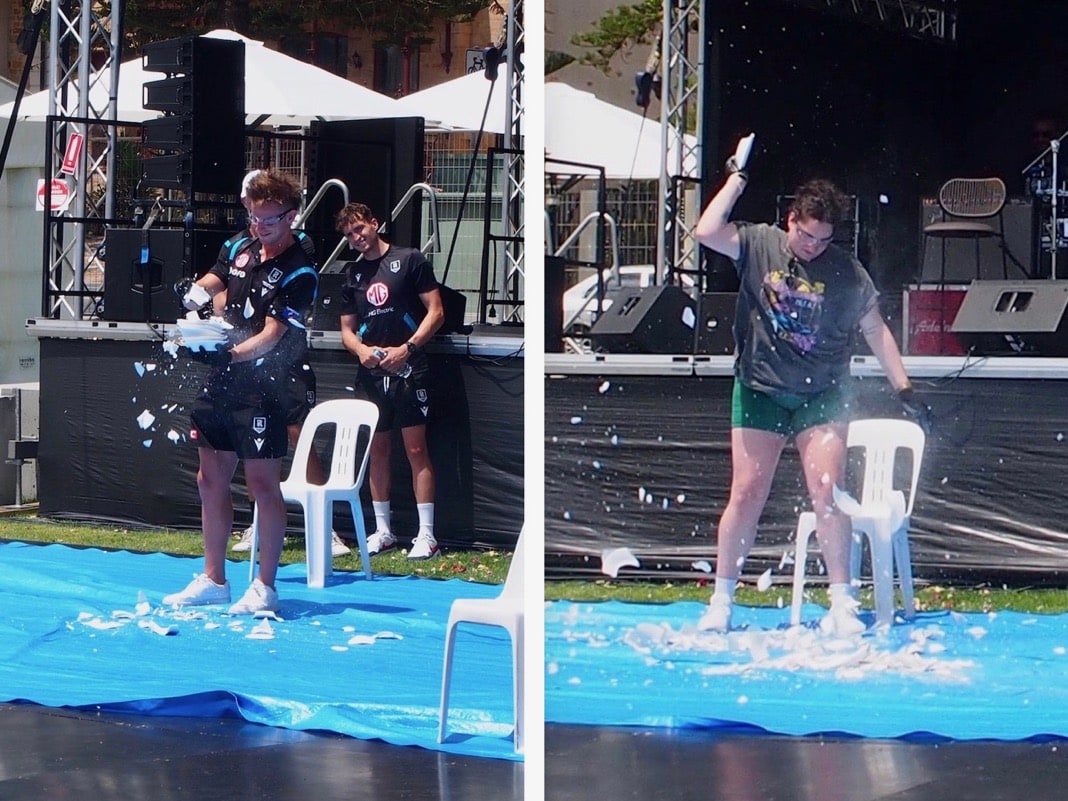 Then they searched for four volunteers to be in the contest. I probably should have run to the stage because they offered a $250 cash prize for the fastest plate smasher.
The girl on the right is one of the contestants in the plate-smashing contest.
Strangely enough, I don't think one Greek entered any of the contests on the first day I was there.
Top Tip: To win at plate smashing, do two powerful strokes and throw the rest of the plates to the ground on the second downward stroke. Make sure there is enough force to break them all when they hit the ground. It will still look as if you broke them. No one will be able to tell. I'm pretty sure that's what the winner did.
The other contestants even won some money. I think they won something like $20-$50 each just for volunteering to be in it. I mustn't be that smart to have passed up a very easy money-making opportunity like that.
Indigenous Greek Dancing
Then things got bizarre as an Indigenous Australian Greek dancer started doing some dance moves at the Semaphore Greek Festival.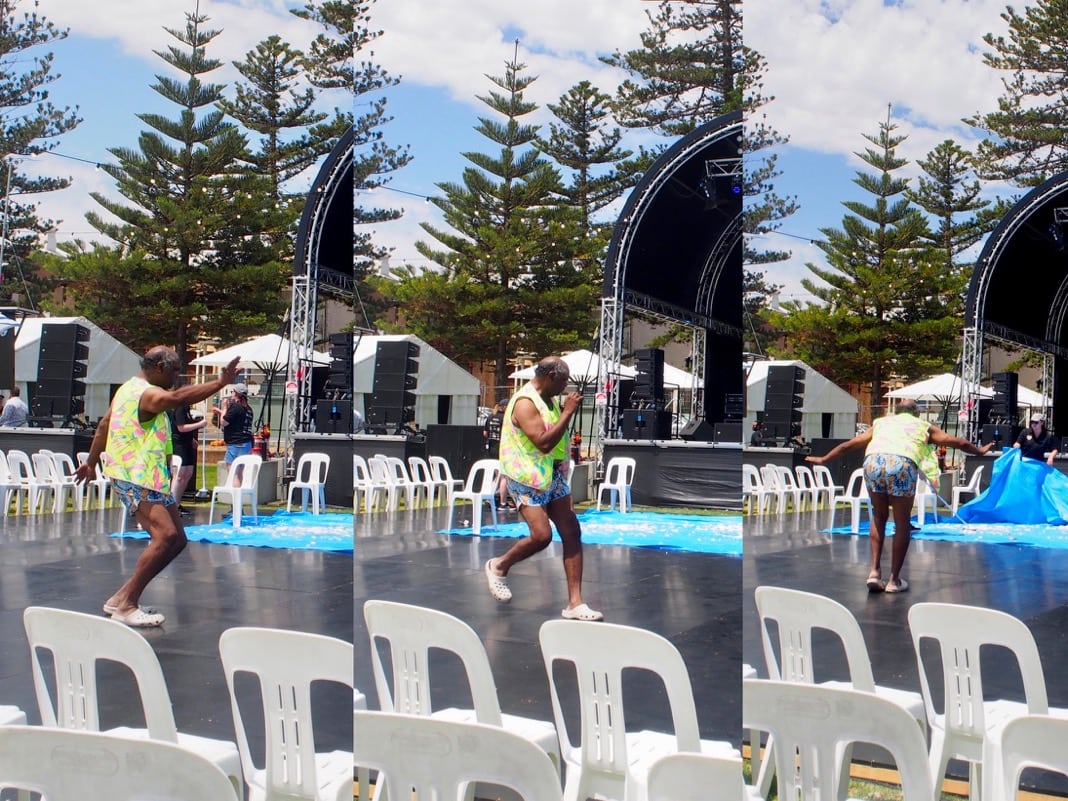 He was dancing on the matted floor straight after the plate-smashing competition, which ended with a bow down to someone.
The Band Zeus at the Greek Festival
Of course, to celebrate a Greek Festival properly, you need Zeus, king of the Gods.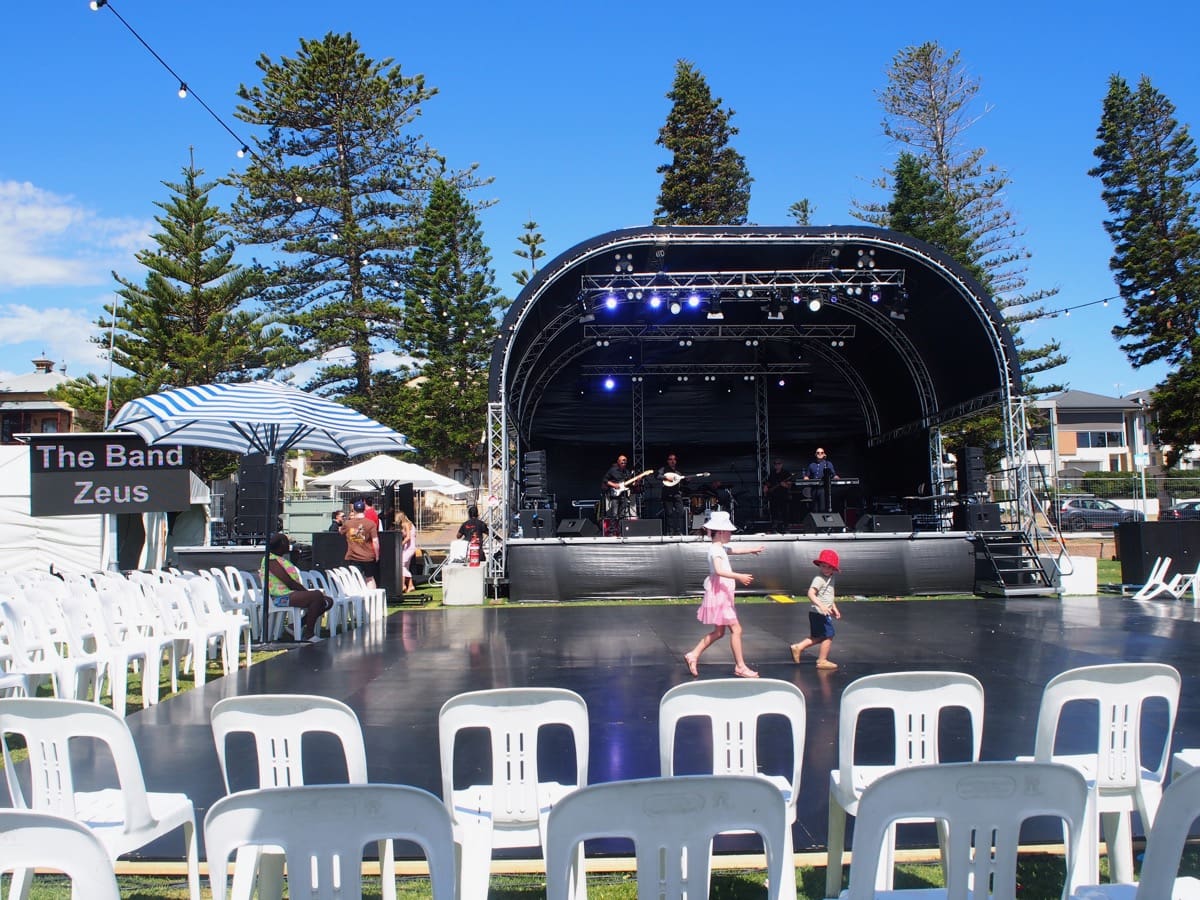 The band Zeus played Greek music, which included the classic song Zorba the Greek.
Around that time, the wind blew extremely strongly, as if a little tornado had hit the place.
Organizers even had to close the umbrellas. The plastic chairs were getting blown over, and the place looked like an absolute mess.
Check out the video when Zeus was playing Zorba the Greek and see how strong the wind was for yourself.
Greek Dancing at Semaphore Greek Festival 
Some youngsters entertained the crowd with Greek dancing for a short time. I think they are from the Port Adelaide Greek School Dance Group.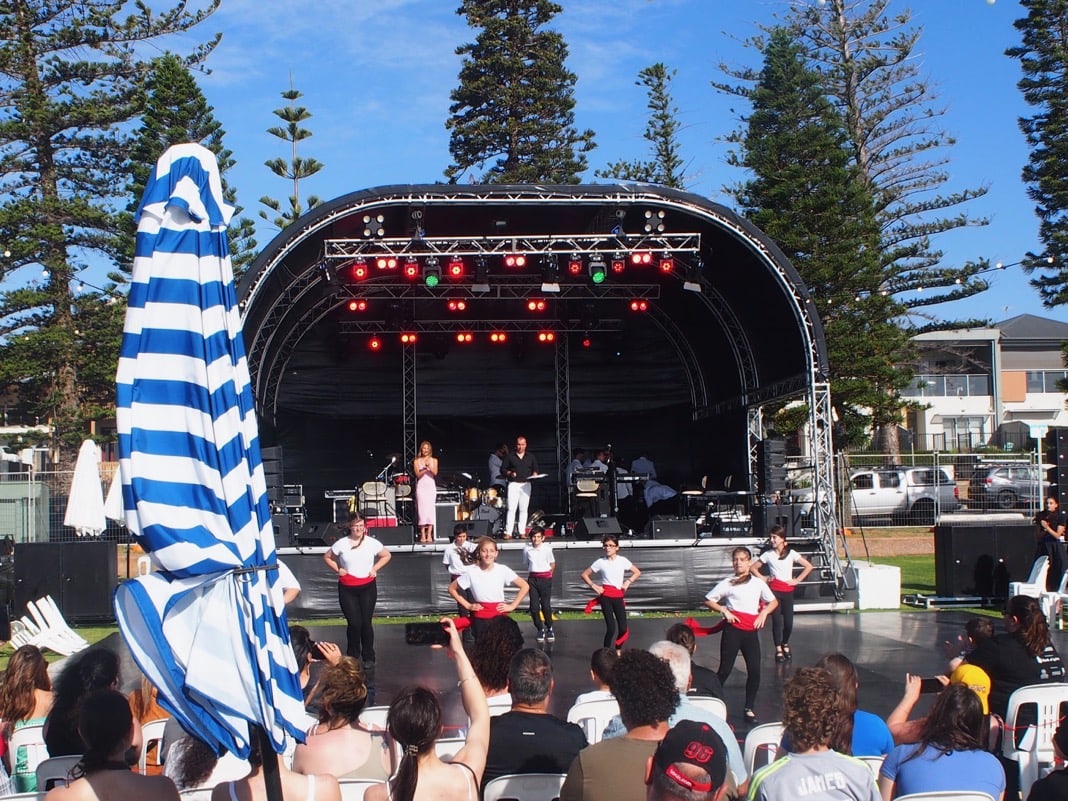 The three girls in the picture below are part of a larger group dancing, as shown in the feature image at the very top.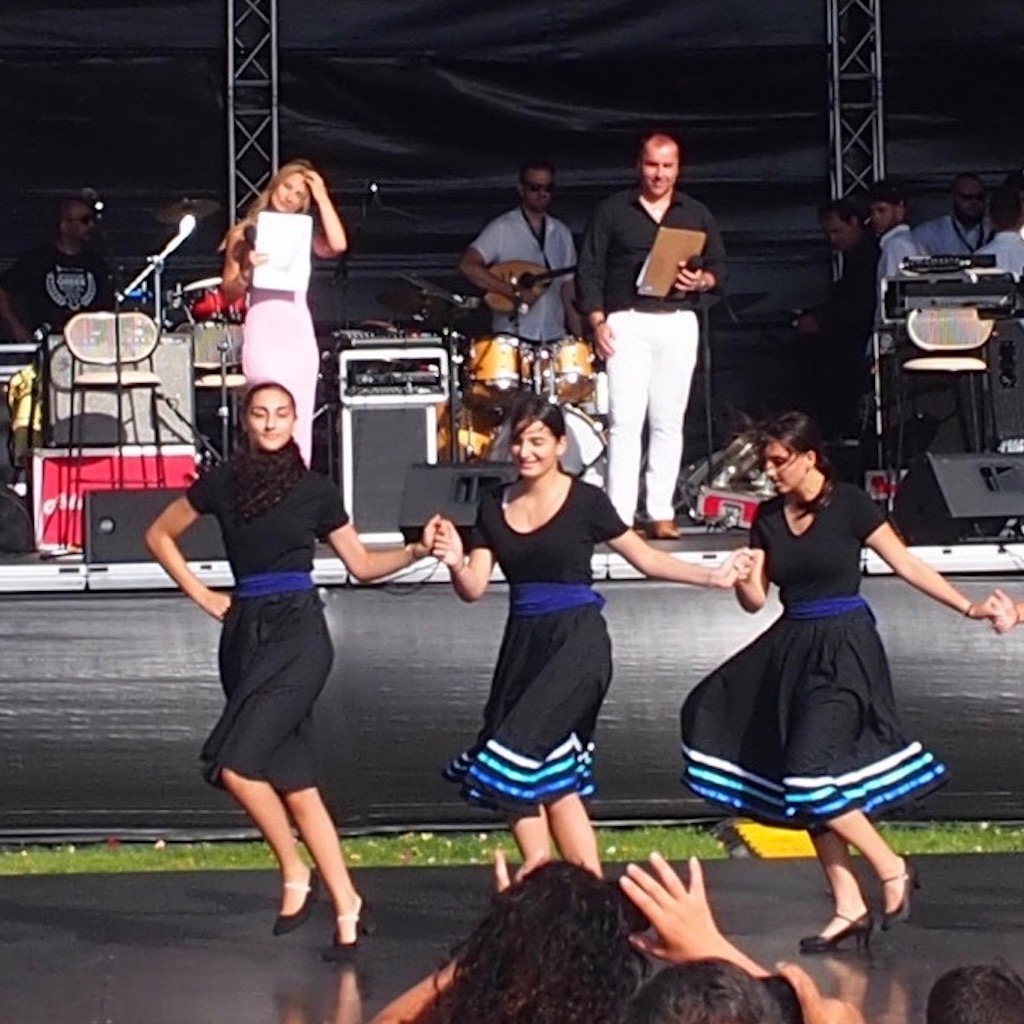 Greek Semaphore Festival Music
Then some Greek bouzouki players came onto the stage to perform for a while.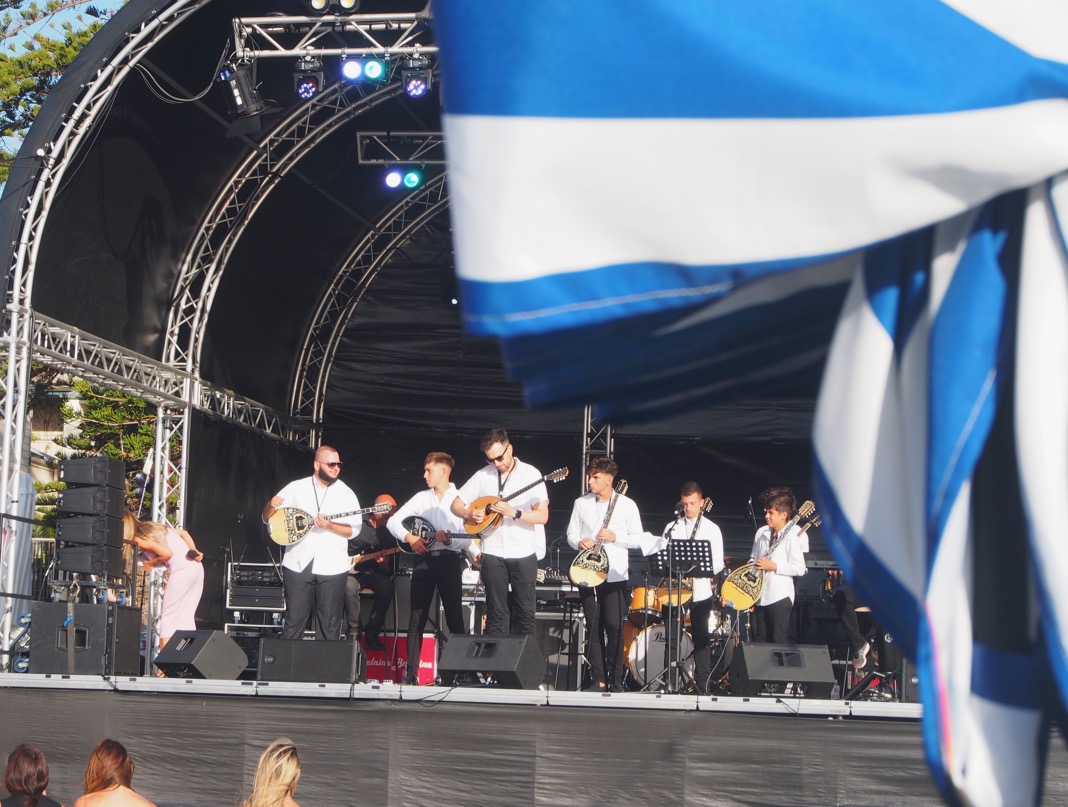 It wasn't that much longer when my day at the Semaphore Greek Festival was nearly over.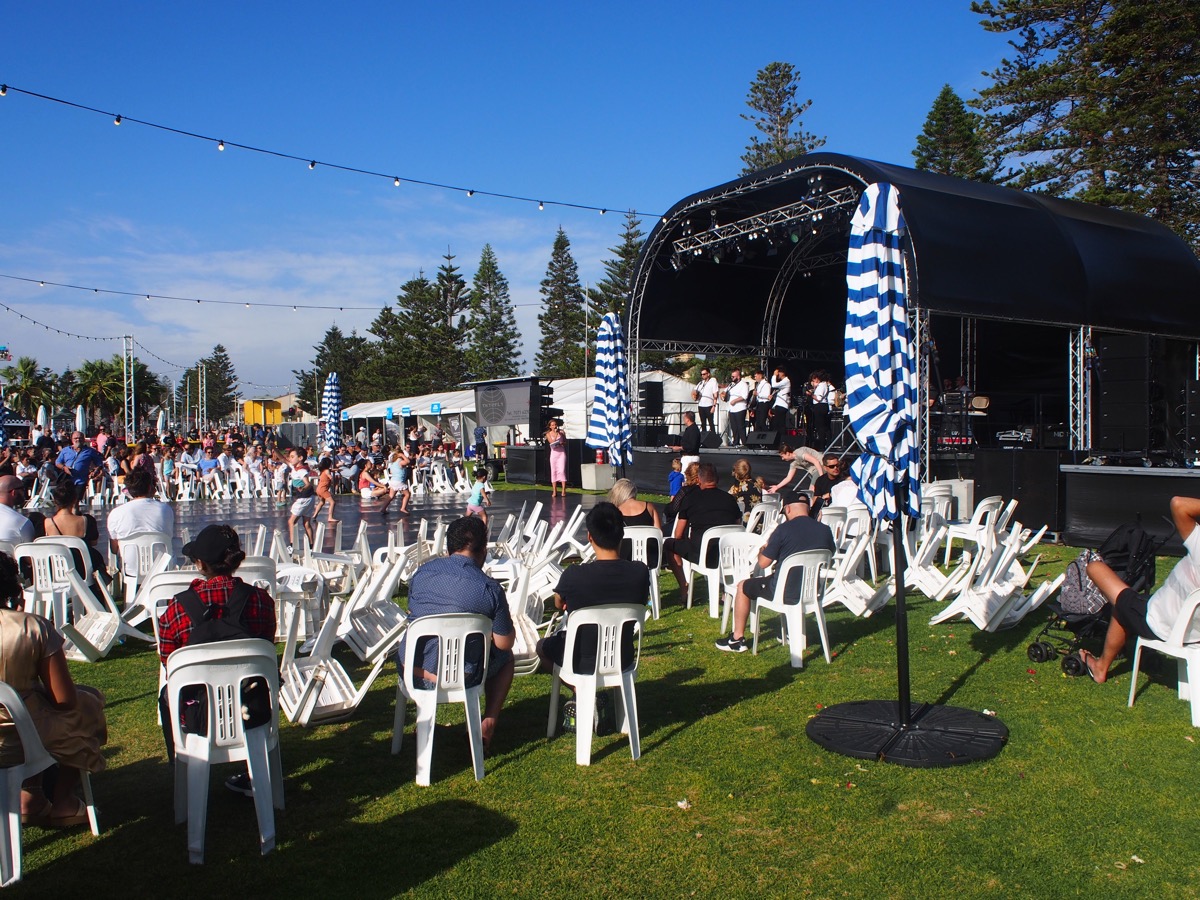 Things to Do in Semaphore and Port Adelaide
The Semaphore Greek Festival is easily one of the best Port Adelaide attractions because Semaphore and Port Adelaide are next to each other. Just make sure you are there at the right time of year.
So will I go back again? …
Pin it … Share it