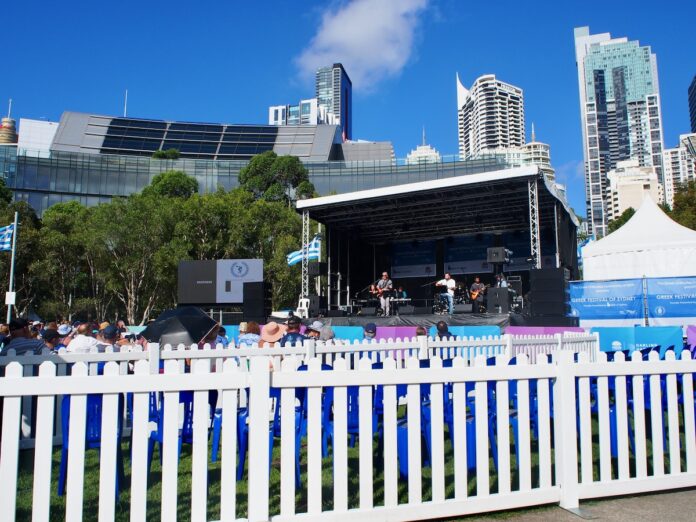 The Greek Festival of Sydney in Darling Harbour was first established in 1980, and since then, it has become one of Australia's most prominent Greek festivals.
The best day of the Greek Festival of Sydney fell on Sunday, the 19th of February, in Daring Harbour. Fortunately, I was in Sydney for five nights around that date, so I had to check it out.
It is a popular event based on previous attendance figures, with more than 80,000 visitors attending the Greek festival.
Visiting the Greek Festival of Sydney seemed like a great idea during my trip to Sydney. That way, I could enjoy eating delicious Greek food, plus I'd also get to watch some Greek dancing!
I visited the Greek Festival of Sydney with my mother, who didn't need much convincing to attend. Looking back, it was an enjoyable day out.
Greek Festival of Sydney – Greek Dancing
When we first arrived in Darling Harbour, you could hear what sounded like Greek music in the distance.
Then after walking under the Pyrmont bridge, it didn't take long to see some Greek dancers performing next to the Darling Harbour Woodward Water Feature.
The impressive water feature can be seen behind the Greek dancers in the picture below.
Interestingly, this large spiral fountain is designed so that people can walk along the spiral path all the way down to the centerpiece.
It surprised me to see a lady wearing a hat flicking through a book with a page showing George Dalaras. If you've read my post about climbing Mount Olympus in Greece, you know I have a special connection with George, the famous Greek musician.
The lady wearing the hat was reading the 41st Greek Festival of Sydney guide booklet, which I only realized after getting a copy of my own Greek festival booklet.
So you know, the Sydney Greek Festival doesn't just go for one day only. Numerous Greek-related events make up the festival over several months.
However, the biggest and most important event of the Greek Festival of Sydney has to be this one. It is typically held around mid to late February for one day on the weekend.
Greek Dancing in Darling Harbour
Most of the Greek dancing at the Greek Festival of Sydney took place in this area of Darling Harbour, even though it didn't click with me at the time.
I expected most of the Greek dancing performances to be near the main stage, so I missed seeing a lot of Greek dancing at this festival.
Here is one dance group I stopped to watch for a little while before entering the main Greek festival area, which was around the corner and out of sight.
What I saw impressed me, so it did disappoint me that I never saw more dance groups performing at this particular spot in Darling Harbour.
The Greek dancers didn't have a massive crowd of people watching them, so it never crossed my mind that this had been the main area assigned for Greek dancing at the Greek festival.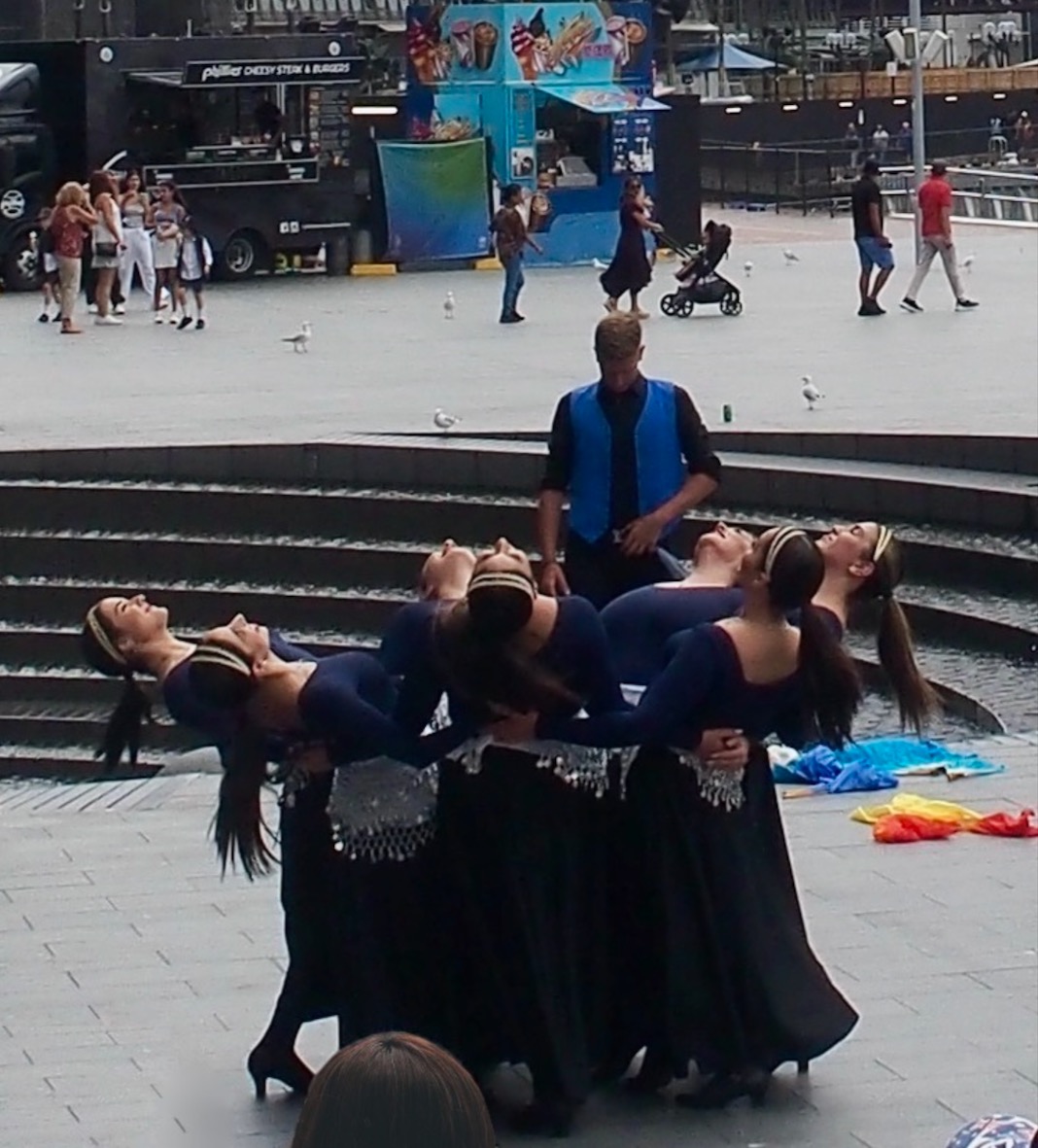 Comparisons to other Greek Festivals in Australia
The Greek Festival of Sydney is very similar to other Greek festivals in Australia, like the Semaphore Greek Festival in Adelaide. However, there were some noticeable differences, which was a big surprise to me.
For instance, you would think you could get gyros at the Sydney Greek Festival. But this wasn't the case, as they only offered chicken and lamb souvlaki.
The Greek festivals in Adelaide offer both types of food. Another thing, Sydney Greek Festival cooked the meat on BBQ metal plates. Whereas other Greek festivals I have visited cook their meat over charcoal, which is much better.
One outstanding thing about the Sydney Greek Festival has to be the stunning location in Darling Harbour. A top touristy place like Darling Harbour for a festival is hard to beat, so for this reason, I have to give the Greek Festival of Sydney a few bonus points.
The biggest difference I noticed was having two different areas for entertainment. I am not a massive fan of this idea because you can't be in two places simultaneously, which means missing out on something.
Organizers could have easily cut some of the time given to other singers and musicians performing on the main stage. If they had done that, they could have squeezed in more Greek dancing in the area in front of the main stage.
I only saw one Greek dance group perform next to the main stage, and that went by in a flash.
Greek Festival of Sydney Food
We arrived at the Greek Festival of Sydney around lunchtime, so getting something to eat didn't take us long.
I got myself a couple of lamb souvlaki, which weren't cheap. My mum ate lamb souvlaki as well. They were $8 each, which was pretty expensive! The chicken souvlaki cost $6 each.
The good news is the lamb backstrap souvlaki was tasty. I do have a gripe, as they were a bit cold. Another thing, one of the meat pieces I was eating on the wooden skewer wasn't cooked properly as blood was still visible.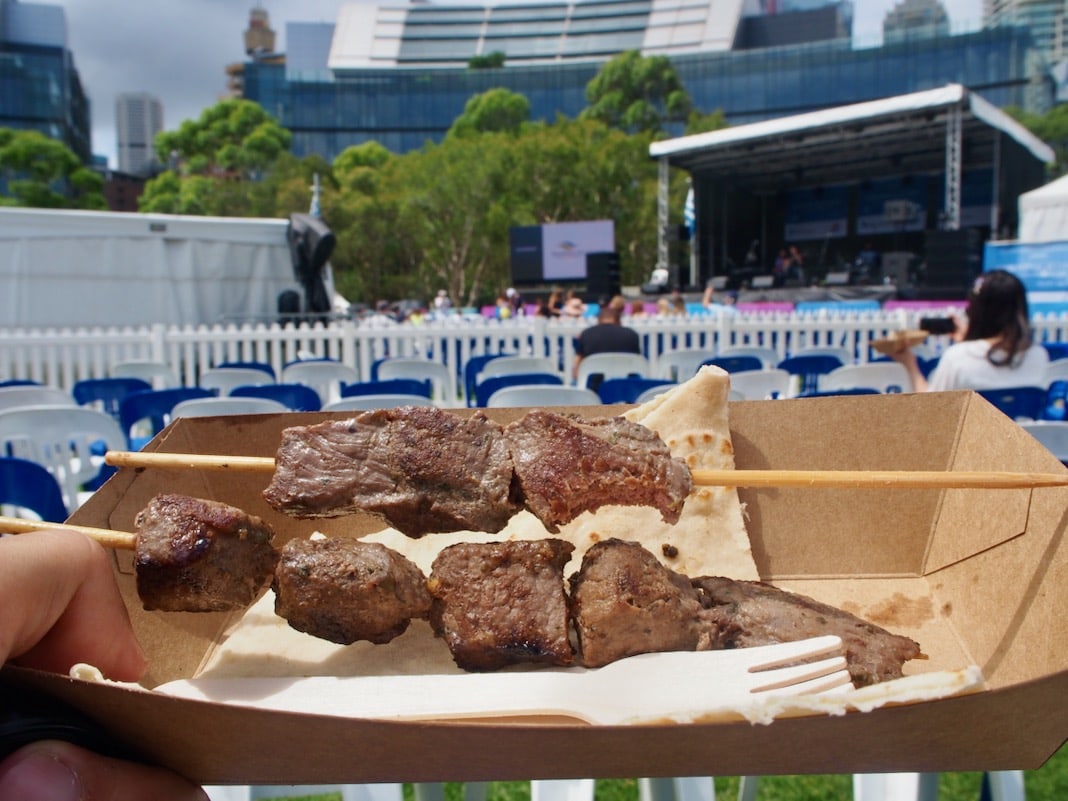 We also got what they called Yia Yia's chips to share, which cost $12. This was the minimum price for chips. Amazingly, later in the evening, I was astonished to learn that the chips had sold out entirely.
We also got a mezze box to share for lunch, which my mum enjoyed the most. The olives were good, which my mum commented on, and she also liked the dips.
The chips were delicious, but they still weren't warm enough, which would have made them even better.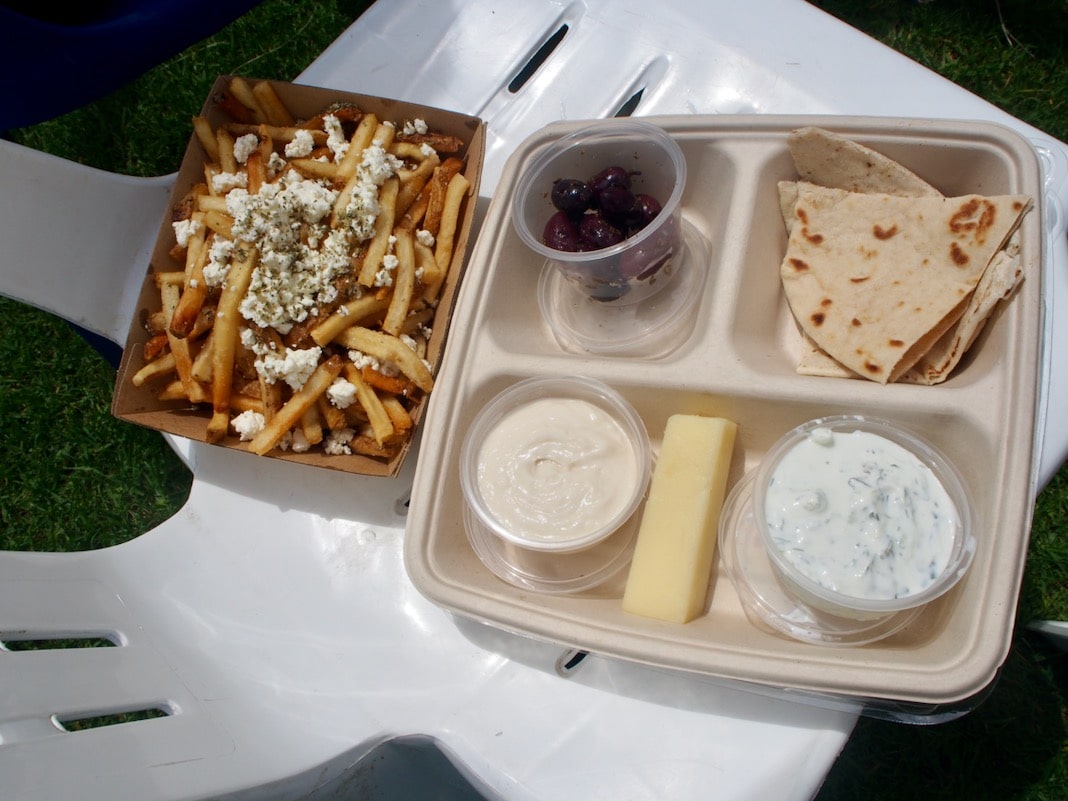 Later on, for dessert, we enjoyed eating some loukoumades. I have to say they were great!
The loukoumades were $15, but they did give a generous serving, enough for two people to enjoy.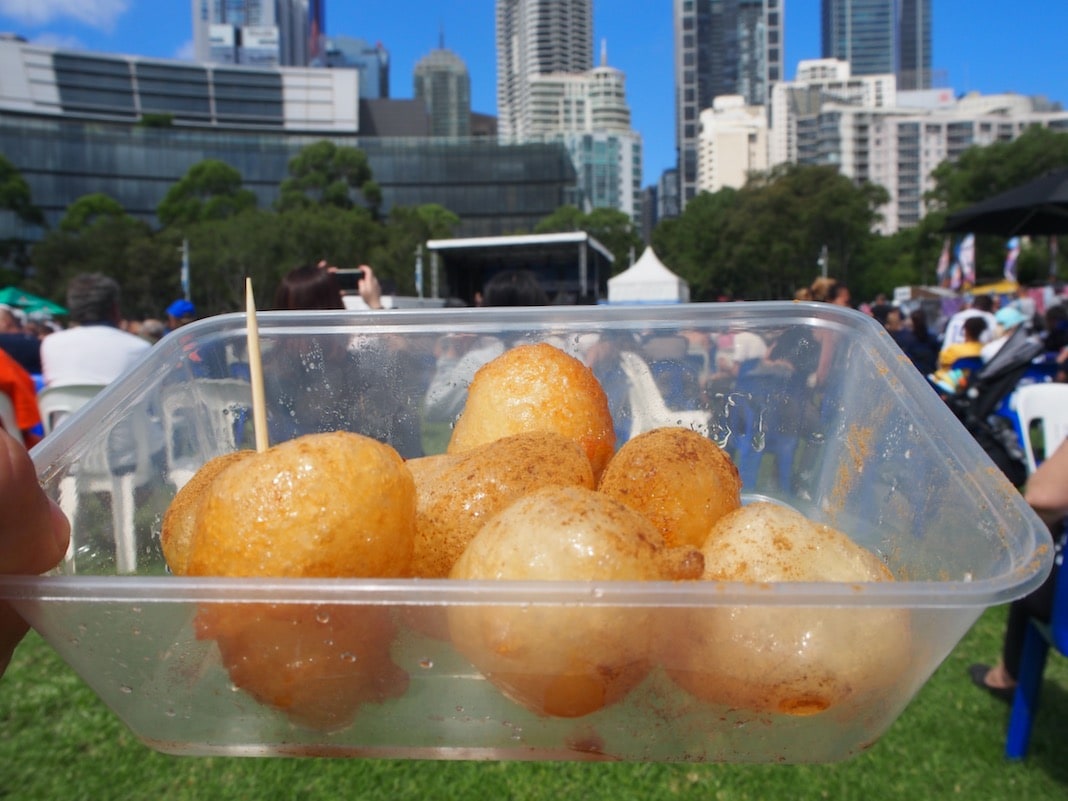 Greek Festival of Sydney Entertainment
I think the best Greek music I heard at the Greek Festival of Sydney had to be from singer Konstantina Touni and clarino player Tryfonas Anastasiou.
They both came from Greece to perform at the Greek festival. The two of them stood out as being top-class. Even my mum said they were the best!
Festival attendees even started Greek dancing for the first time in front of the main stage while the talented singer performed.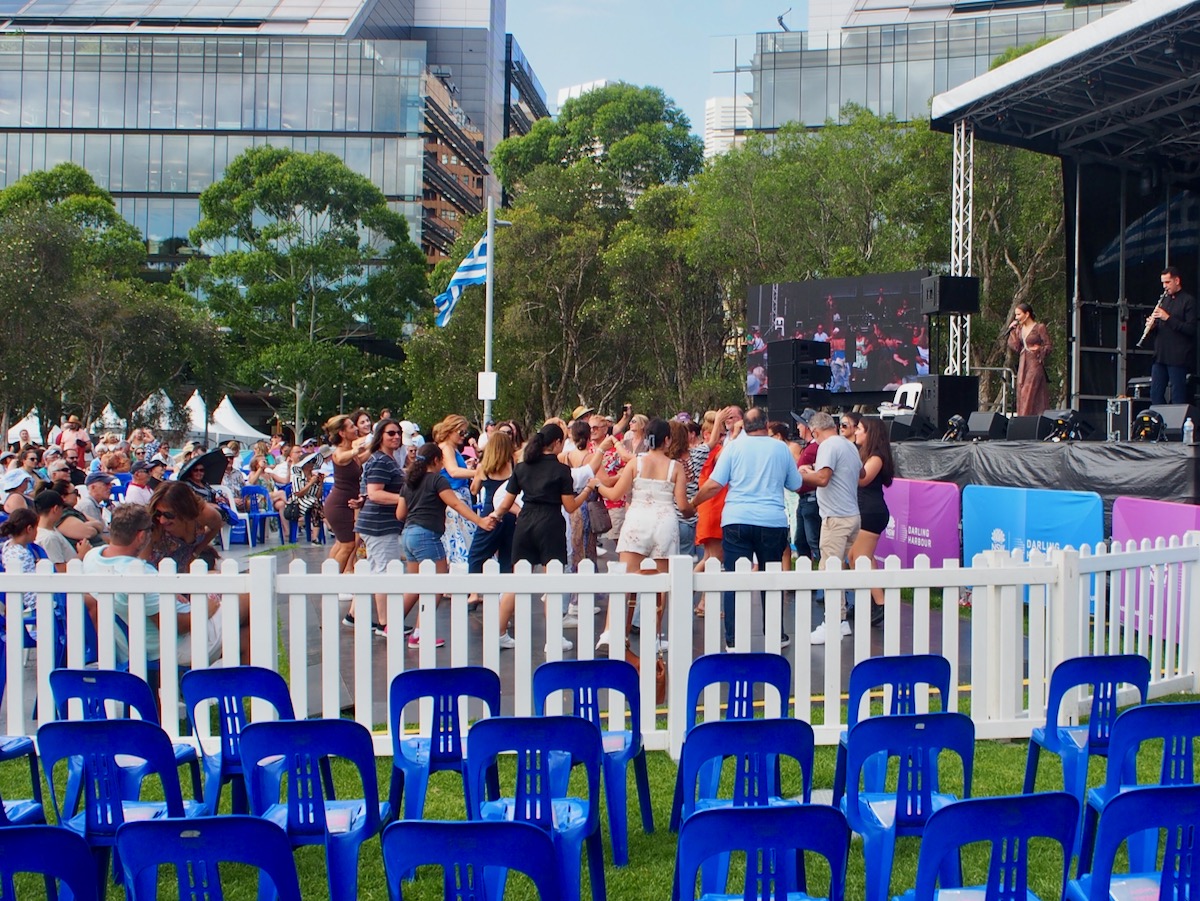 Master of Ceremonies
George Kapiniaris was the master of ceremonies at the Greek Festival of Sydney. He only appeared for about an hour, but during that time, he impressed me.
The Greek-Australian is one of the Aussie TV show Acropolis Now (1989-1992) stars. This classic show also starred legendary actor Nick Giannopolous, who many know from the funny Wog Boy movies.
Melbourne boy George Kapiniaris did a great job at the Greek festival. In this picture, he plays a game with a few kids to decide the winner of a prize, with the kid who best followed his every move winning the prize!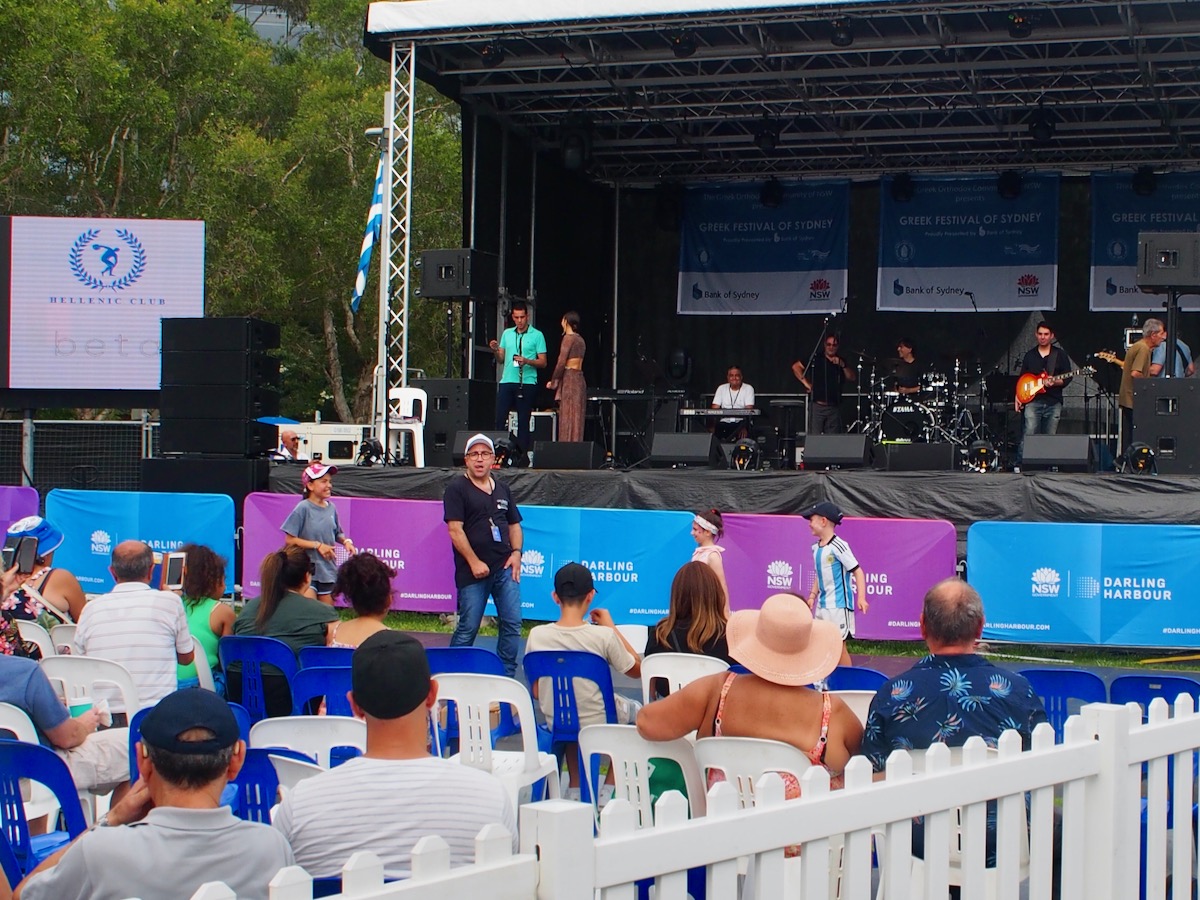 Sydney Greek Festival Location
After a while, to take a little break, my mother and I went for a little walk outside of the Darling Harbor Greek festival event area.
Here's a view of the Greek festival from a higher level floor in a building overlooking the event. The gold-looking futuristic tower on the left side of the picture is the Sydney Tower.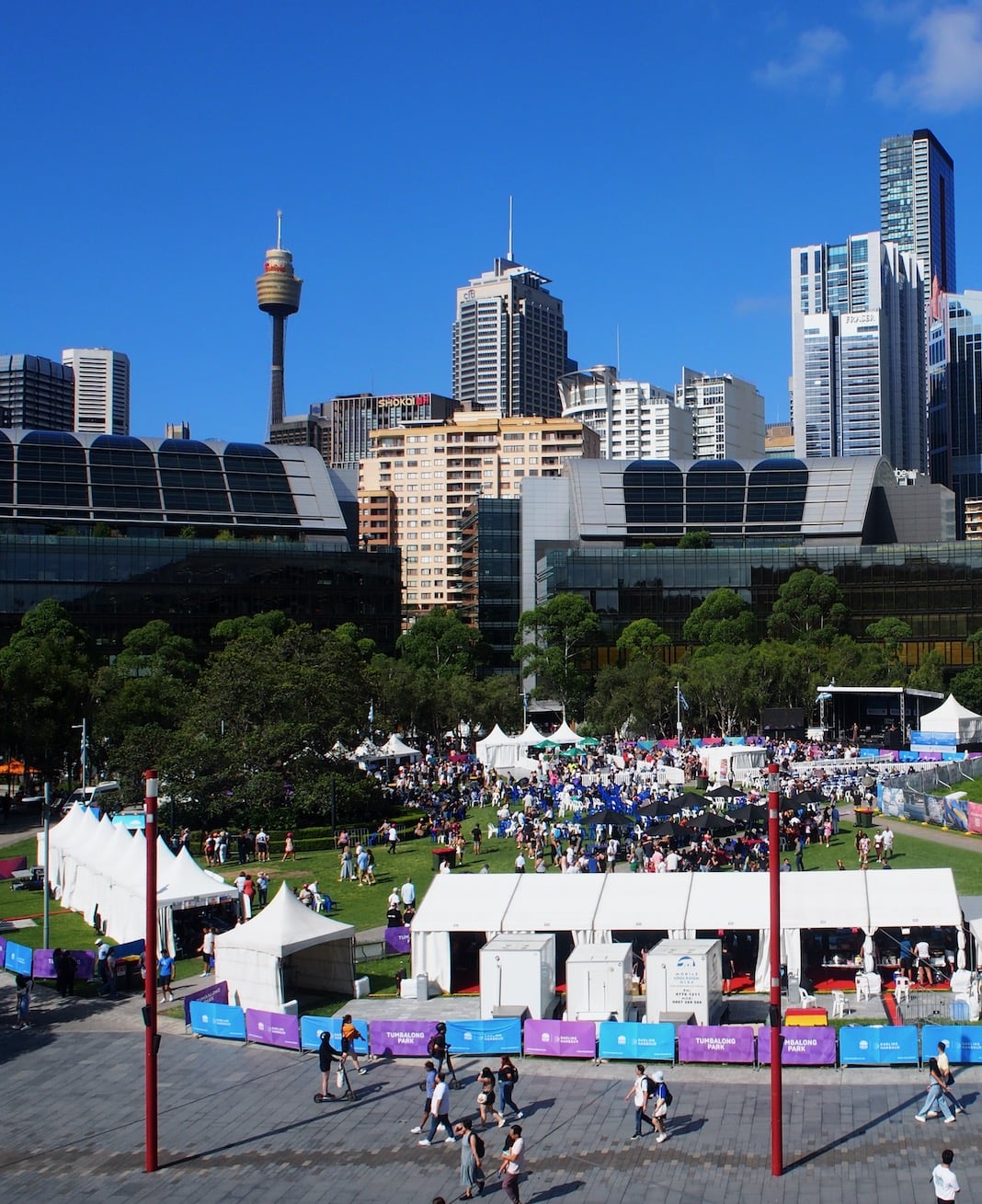 The Chinese Garden of Friendship is on the right side, not too far away. The water from Sydney Harbour is on the left side.
Opening Ceremony
The official opening ceremony started at around 6 pm, which seemed out of sync, but that's when all the politicians turned up.
During this time, people were asked to stand up for the Australian national anthem, which most people seemed to do.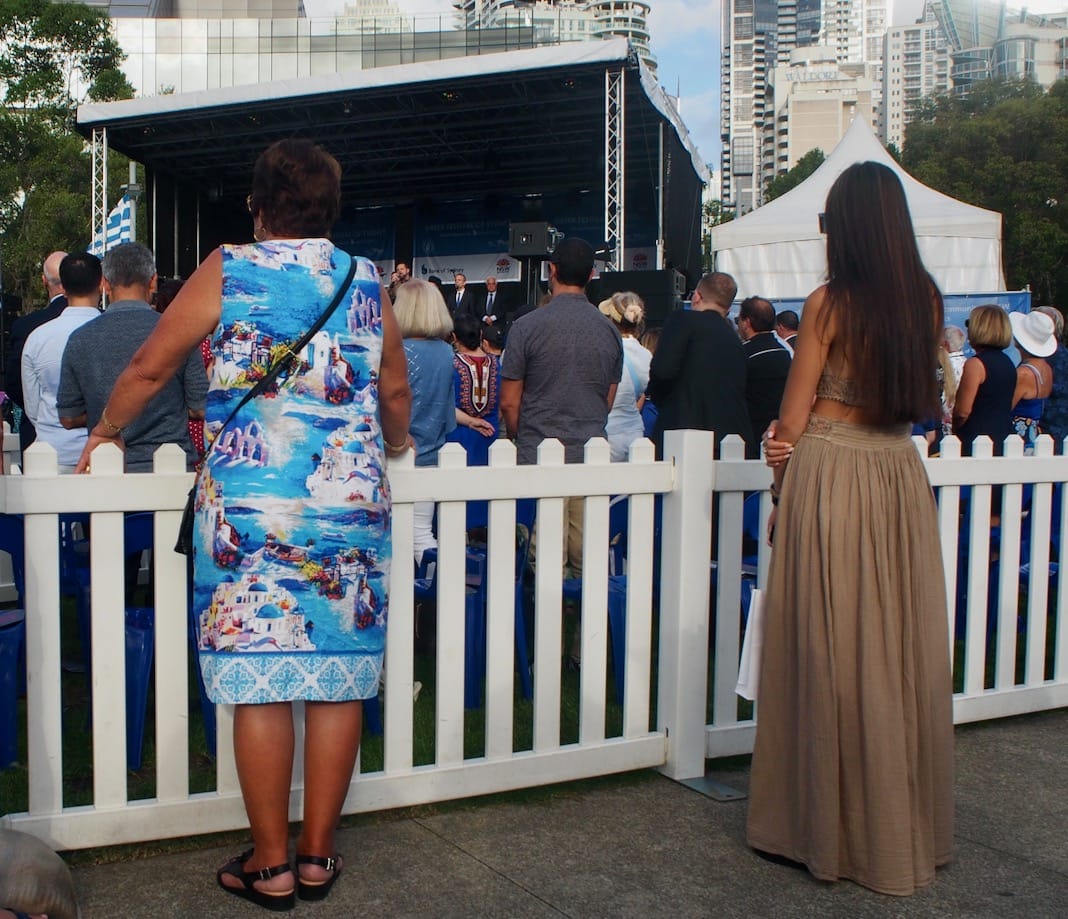 Star Attraction
Later on, a well-known Greek singer performed at the Greek festival. Her name was Alkistis Protopsaltis. I'm not a fan of her type of Greek singing, but others seemed to enjoy it.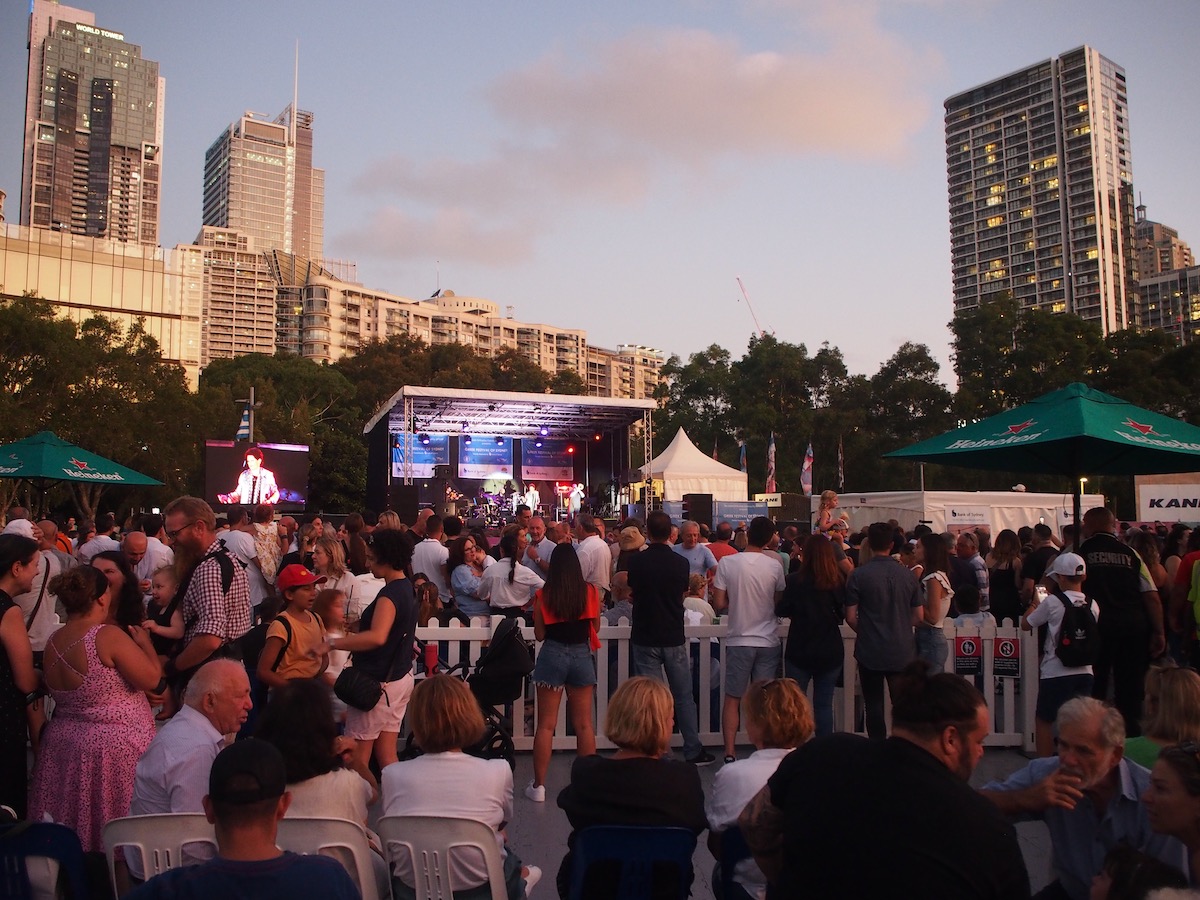 Sydney Greek Festival Guide
Spending a day at the Greek Festival of Sydney is very worthwhile. I highly recommend visiting the festival, even if you only go for an hour to get some Greek food.
Remember, the Greek Festival of Sydney (link to the official website) is much more than a one-day event. If you want to know more, the Greek festival program booklet will tell you what is on and when, so get a copy or read it online.
Pin it … Share it