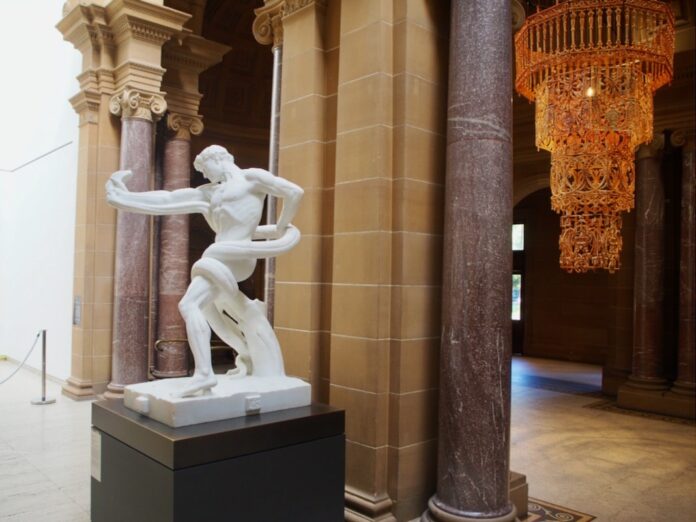 Many of these amazing artworks at the Art Gallery of New South Wales in Sydney have been inspired by Greek and Roman mythology and Australian history.
Art enthusiasts in Australia banded together in 1871 to establish an art society to help support artists. That's how the Art Gallery of New South Wales began.
Another purpose for these art-loving pioneers was to promote the cultural benefits of art to the broader community, including visitors. From what you can see in the art gallery today, it looks as if their vision has been completely fulfilled.
In the first group of artworks at the Art Gallery of NSW shown here, you will see fourteen paintings and sculptures inspired by Greek mythology and ancient Greece. Some inspirations behind these creations include Pan, Venus, and Circe.
Six artworks I show at the end fall into a more general category. A couple of these artworks were inspired by Australian history. One of them being Ned Kelly. He is the famous deceased Australian bushranger, outlaw, and gang leader whose legend continues to survive in Australia. The famous British navigator, Captain James Cook, inspired the other fantastic artwork.
Art inspired by Greek Mythology and Ancient Greece
While walking around the Art Gallery of New South Wales, I had my radar set on seeking to find Greek mythology-themed art.
Any art that remotely looked like it had been inspired by ancient Greece also piqued my interest. I found an excellent variety of artworks with Greek themes at the Art Gallery of New South Wales.
My first visit to the Art Gallery of NSW was in 2021 when I wrote about the Best One Day (GUIDE) to Sydney for Greek Admirers. This was when the Sydney Opera House was covered in the colors of the Greek flag to celebrate Greece's independence. My other visit to Sydney was in February 2023, when I revisited the art gallery again.
I am lucky to have seen some fantastic artwork during those two visits. The presence of Greek Gods and Goddesses was like icing on the cake. Here's what I found.
An Athlete wrestling with a Python
The sculpture of an athlete writing a python immediately made me think about the myth of Apollo defeating the python. Of course, from a distance, you could easily be fooled into thinking it is Apollo, but no, the artwork is called: An Athlete wrestling with a python.
The artwork's inspiration may have been Apollo, but the general public can never be sure if that was what the artist intended.
You will notice that the feature image of an athlete wrestling with a python is shown in a different location inside the art gallery. That's because the sculpture was moved closer to the entrance on my second visit.
This picture shows the white marble sculpture on the other side of an archway in another art gallery room. This is how I saw the statue on my first visit.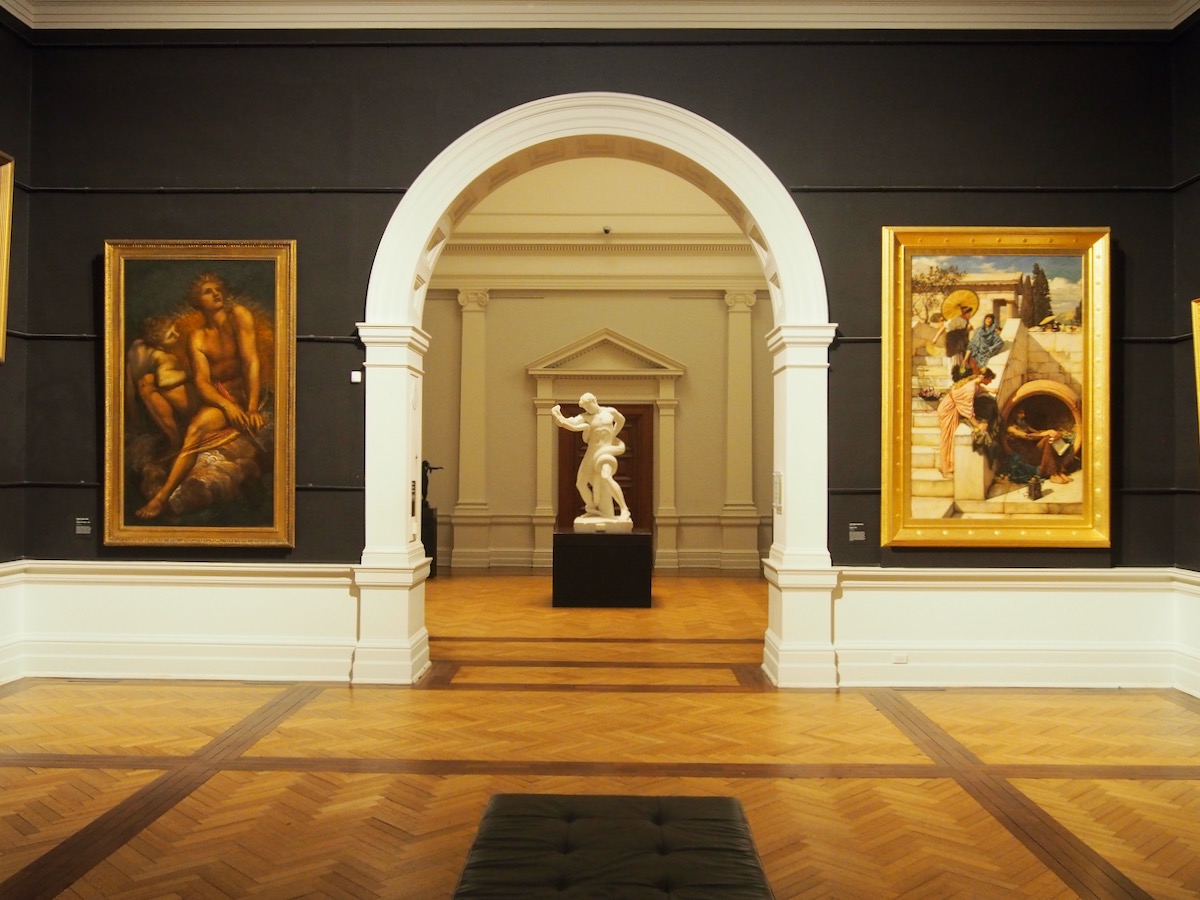 On the left side of the sculpture is a painting called Artemis and Hyperion. Artemis is the Greek Goddess of the hunt. Hyperion is one of the twelve Titan children of Gaia.
On the right side of the sculpture is a painting of Diogenes by John William Waterhouse.
I'm so glad I got to see the marble sculpture of an athlete wrestling with a python when it was framed by two Greek mythology artworks, one on either side.
Artist: Lord Frederic Leighton
Date: 1888-1891
Psyche
The love story of Psyche and Cupid is one of the most famous Greek myth love stories.
This exquisite-looking bronze sculpture of Psyche shows her resting on a rock.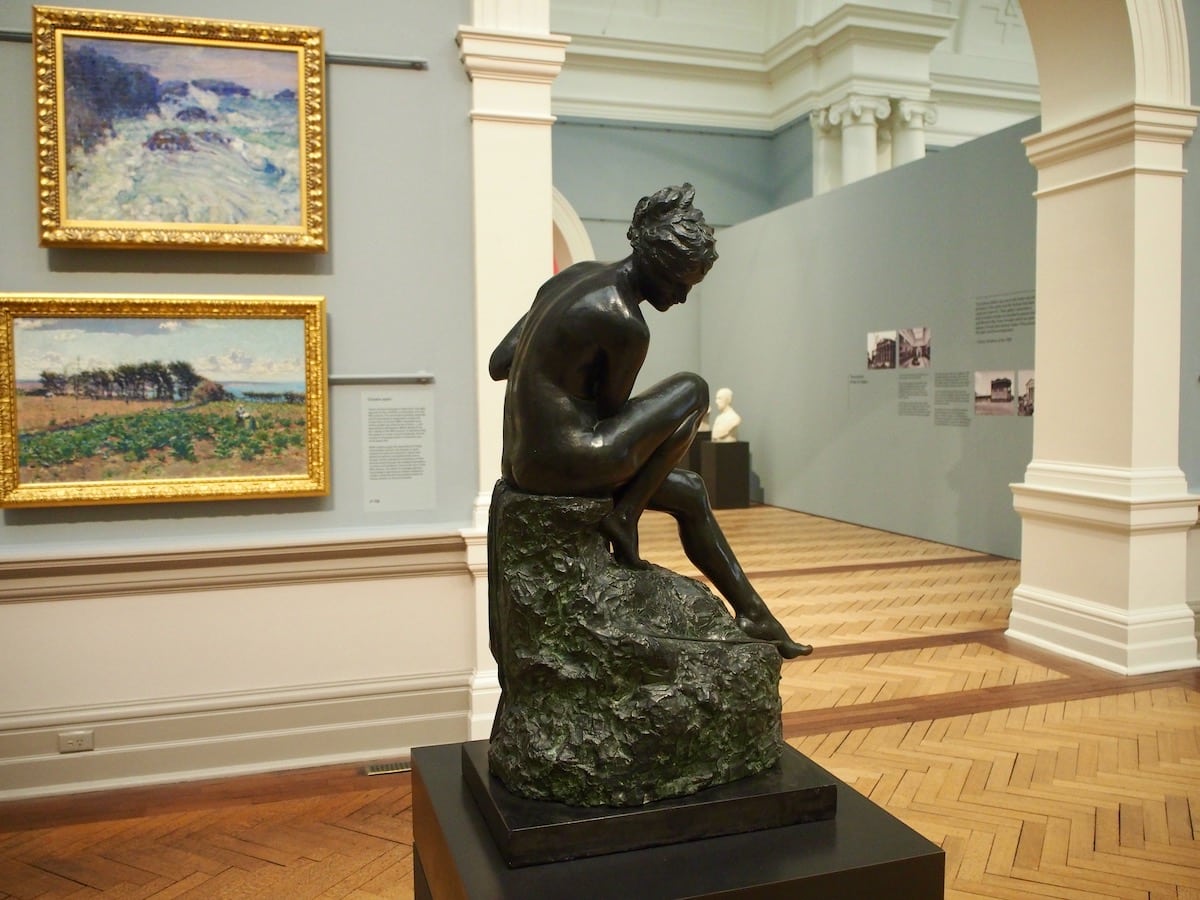 Artist: Eva Benson
Date: circa 1919
Pan
The oil on canvas painting shows Pan, the goat god, playing the flute. Pan is entertaining some nymphs, which can be seen listening and dancing to the pleasurable music. A few of Pan's friends can also be seen dancing with the nymphs.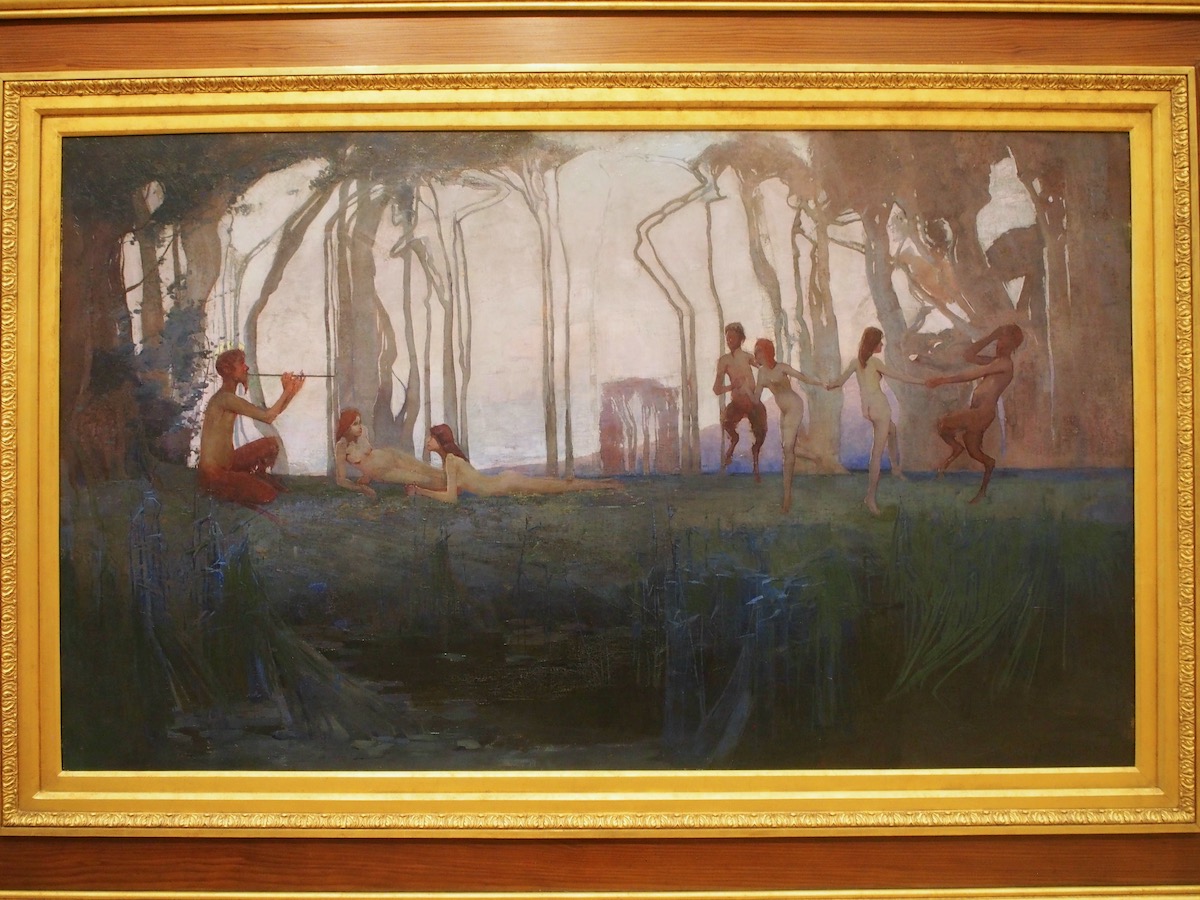 Artist: Sydney Long
Date: 1898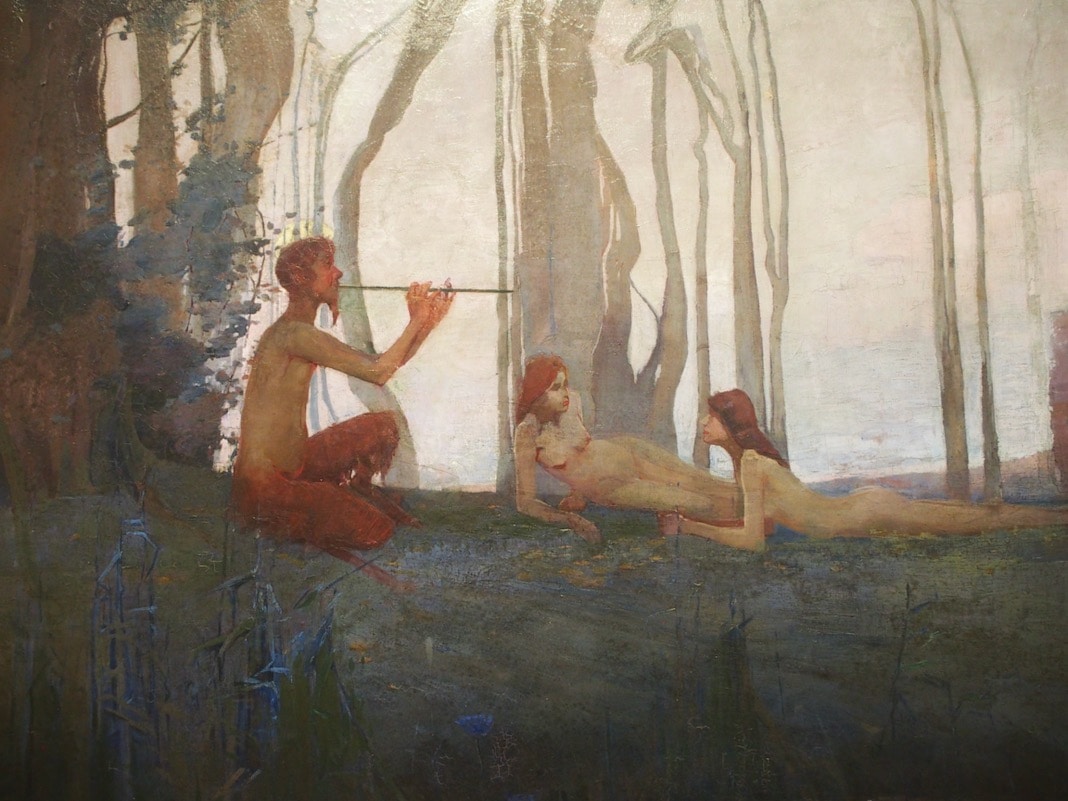 Wild Pan Greek God Symbol (and Powers) should not be underestimated.
Venus statue
A marble sculpture of Venus, the Goddess of love, can be seen in one area at the Art Gallery of New South Wales. It is also known as Tinted Venus.
You'll notice that the sculpture is relatively tiny since it is only 74 cm tall.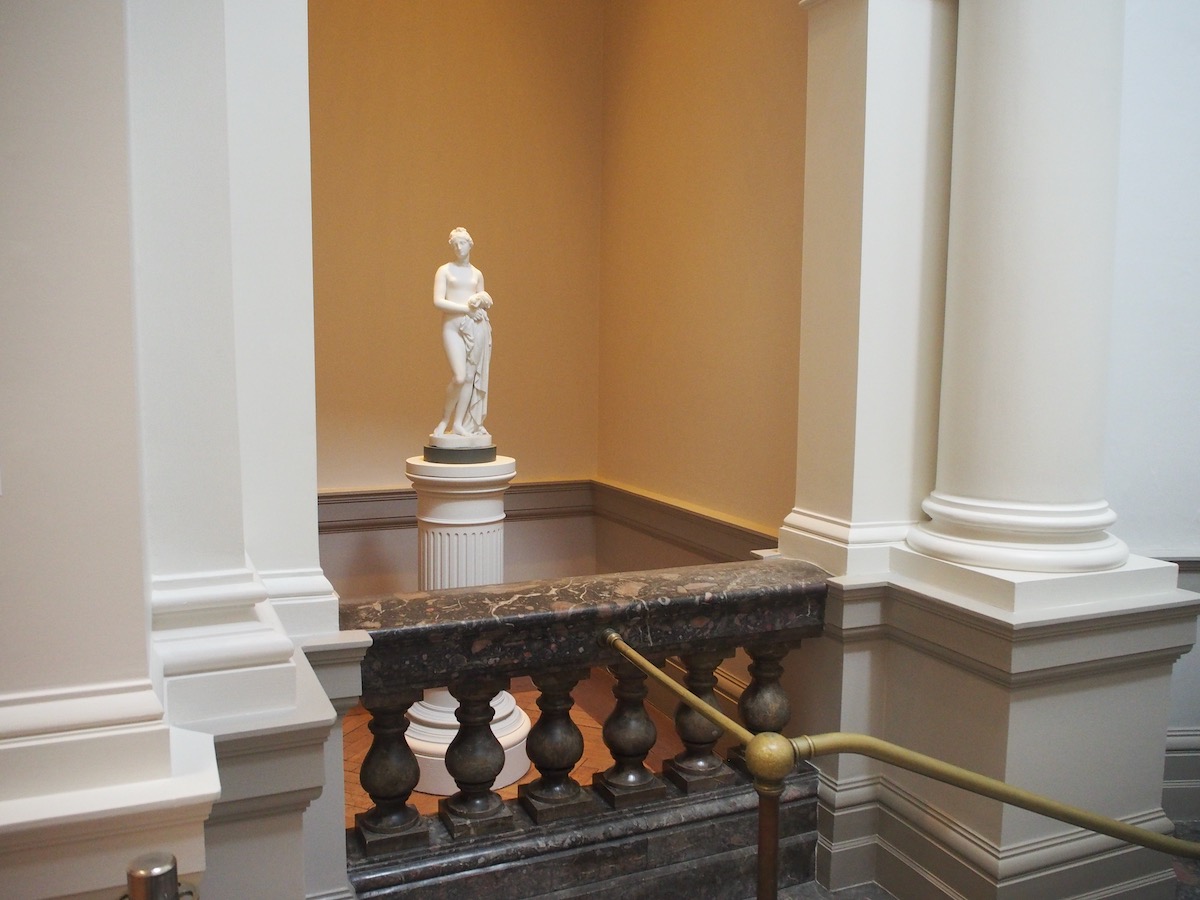 Artist: John Gibson
Date: 1850
An Island Festival
This mysterious artwork is also known as The Island Festival. The painting doesn't make much sense to me, but it does look as if it has Greek themes.
You can see a couple of long Greek columns on the left side of the oil on canvas painting.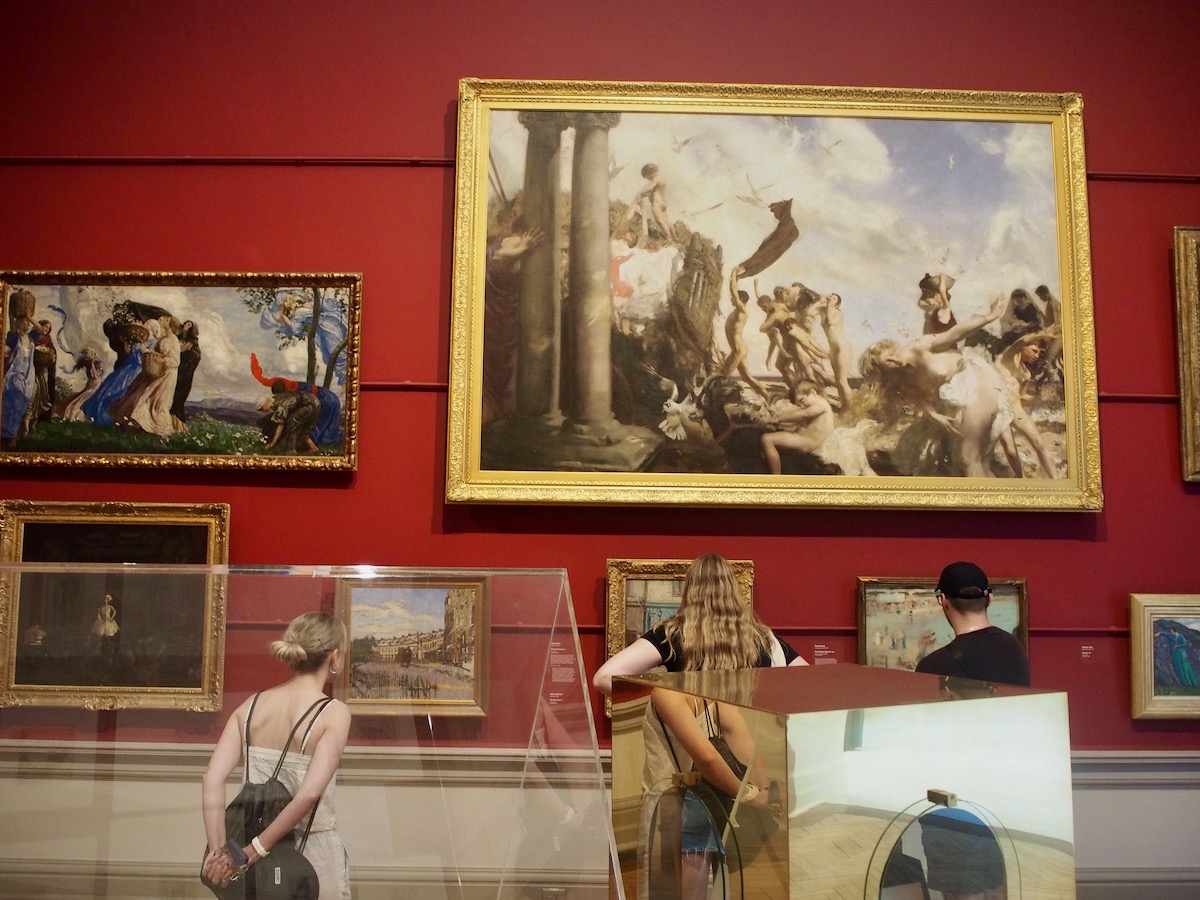 Artist: Charles Sims
Date: 1907
Cymon and Iphigenia
Cymon fell in love with Iphigenia at first sight. He was the most handsome son of the noble Cypriot named Arristippus. The problem was that he was so uncouth and uneducated in his ways that he was known as Cymon (meaning 'Brute').
When he laid eyes on Iphigenia, who was asleep with her slaves in the meadow, he became transfixed with her beauty. This set him on a noble path.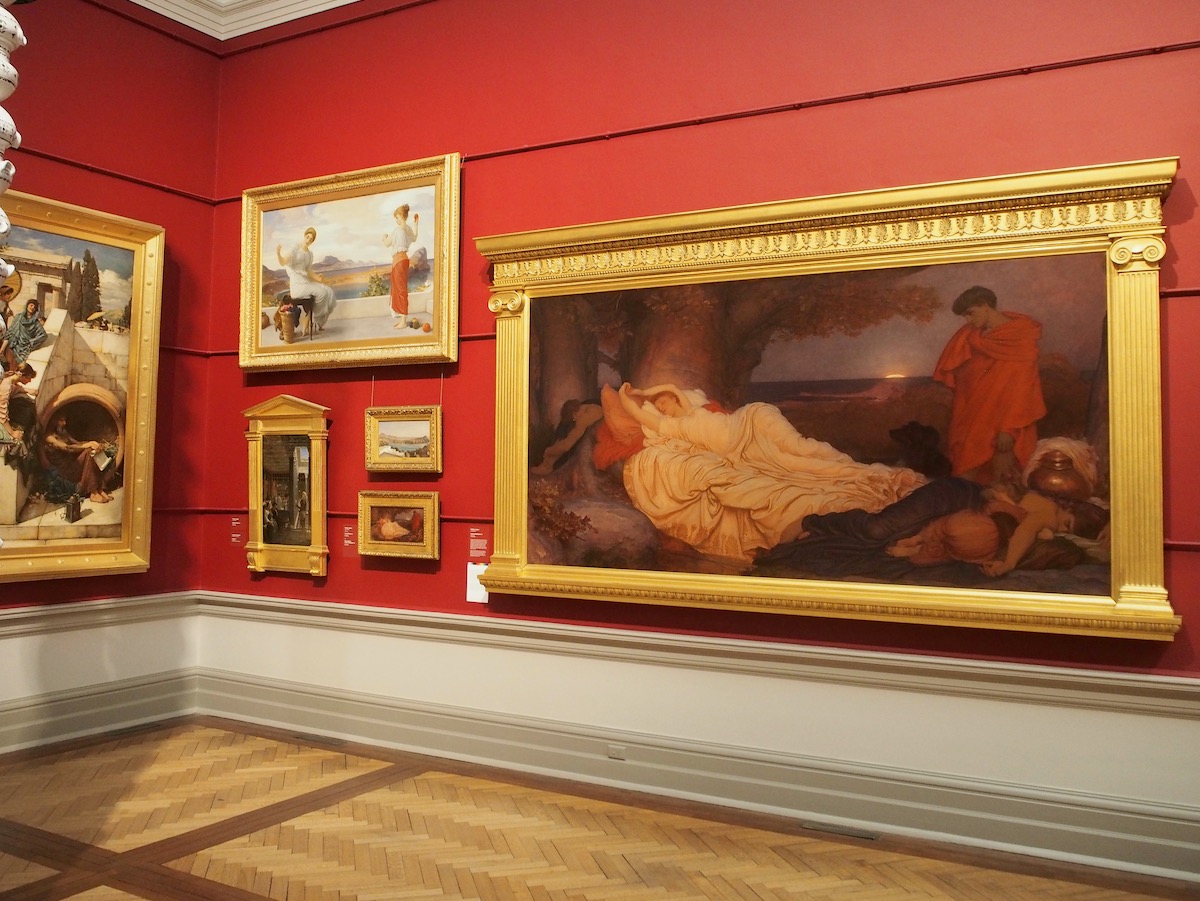 Artist: Lord Frederic Leighton
Date: 1884
Circe
Even though tiny, the 57.5 cm tall bronze statuette stands out because her arms are outstretched, which draws in the eyes.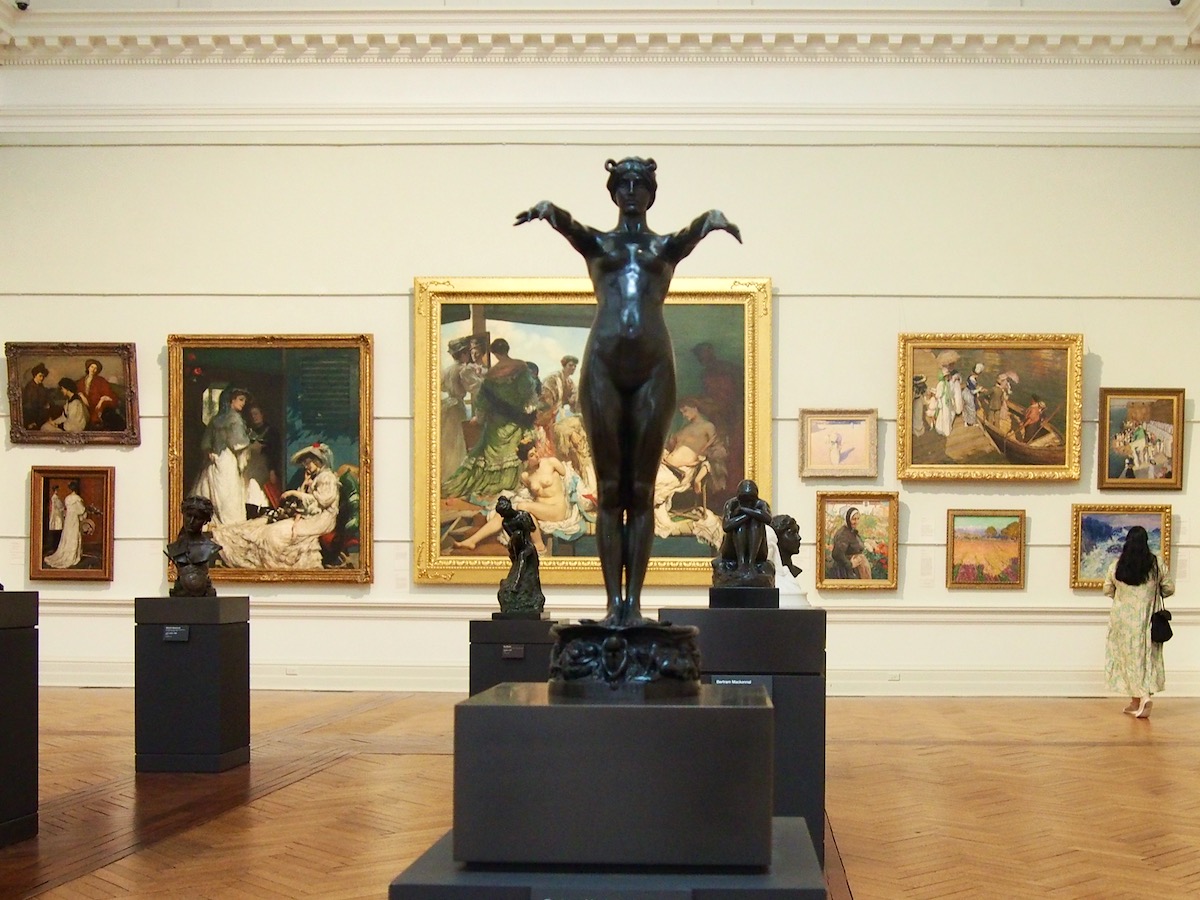 The sorceress Circe turned the companions of the Greek hero Odysseus into swine.
Circe appears in some of these 33 movies based on The Odyssey (and adaptions).
Artist: Bertram Mackennal
Date: circa 1902-1904
The Golden Age
The Golden Age was a period when things were easy and comfortable. It was a time in ancient Greece when peace, harmony, and prosperity flourished.
Artist: William Etty
Date: circa 1835-1840
Atalanta's Eclipse
Atalanta's father wanted his daughter to get married, even though she didn't want to get hitched. Finally, however, she reluctantly agreed to please her father, provided the suitor could beat her in a race. Unfortunately for her suitors, Atalanta was one of the fastest mortals in Greece, so there was little chance of that happening.
Hippomeans wanted Atalanta as his partner but knew he couldn't outrun her, so he needed another plan. After seeing Aphrodite, the Goddess of love, for help, he convinced her to assist him. The Goddess gave him three golden apples. All he had to do was drop them in front of Atalanta during the race. There was no way Atalanta would be able to resist picking them up. That would slow her down, giving Hippomeans the advantage.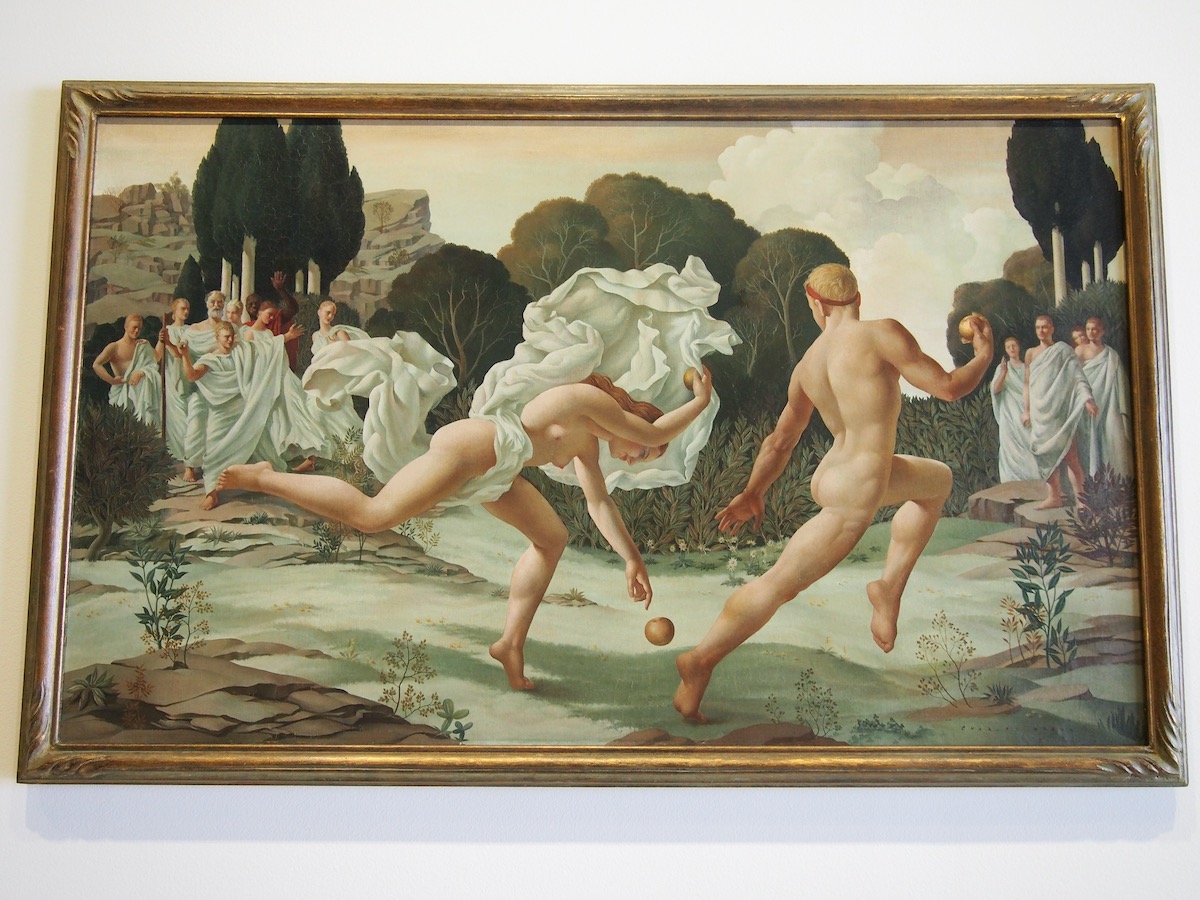 That's how Hippomeans won the heart of Atalanta.
Artist: Charles Meere
Date: 1938
Marble Staircase with Greek slave Sculpture
This grand marble staircase at the Art Gallery of New South Wales was built by prison labor from the Bathurst Gaol. I guess that's why they included a Greek slave girl sculpture as part of the marble staircase.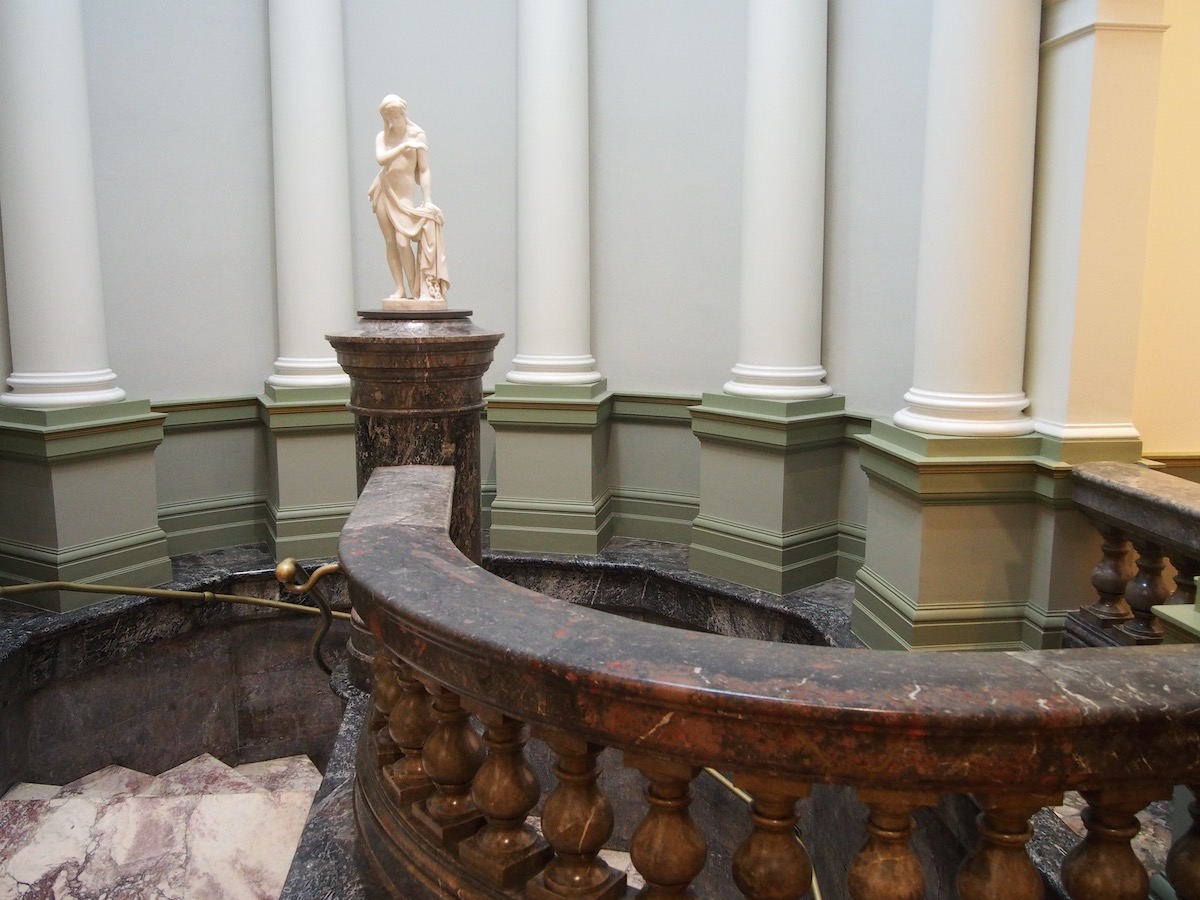 Date: 1904
Diogenes
Diogenes is a Greek philosopher and also one of the founders of Cynicism. He is known for holding a lantern to the faces of citizens in Athens while claiming he was searching for an honest man. Bizarrely, it is said that he lived in a barrel and rejected all norms of civilized behavior.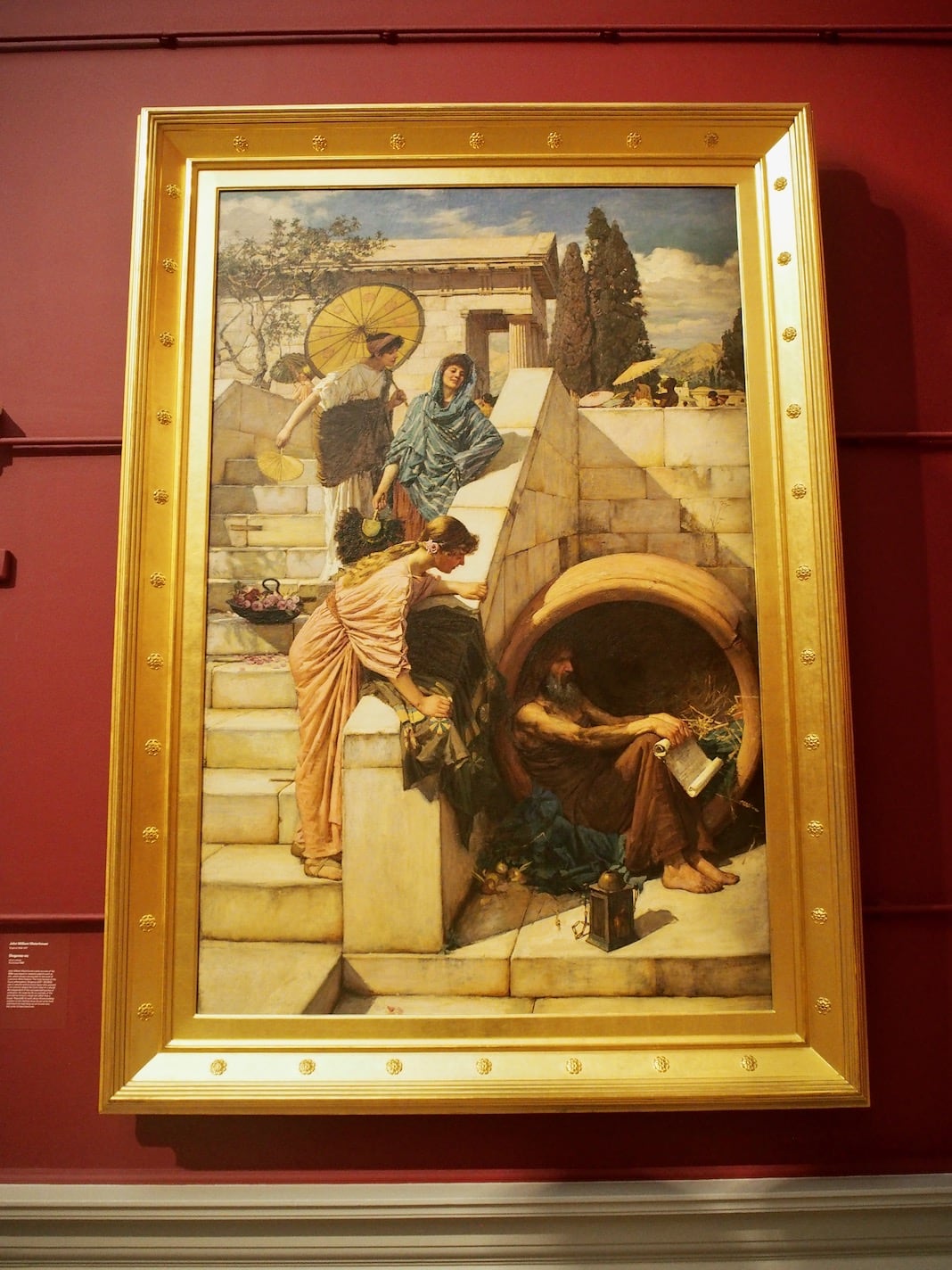 Artist: John William Waterhouse
Date: 1882
Sculptures including Hippolytus
During my first visit to the Art Gallery of New South Wales, I saw Hippolytus and a few other sculptures in one room. The middle sculpture is called Hunter and dog.
The artist who made Hippolytus: Benjamin Spence
Date: 1862
Plates showing Orpheus, Crassus, and Europa 
These plates were on loan from a private collection, so you may not get the chance to see them if you visit.
The top plate shows Orpheus clubbed to death by the frenzied Maenads of Ciconia. It is said that the followers of Bacchus beat Orpheus to death for spurning their love after losing his beloved wife.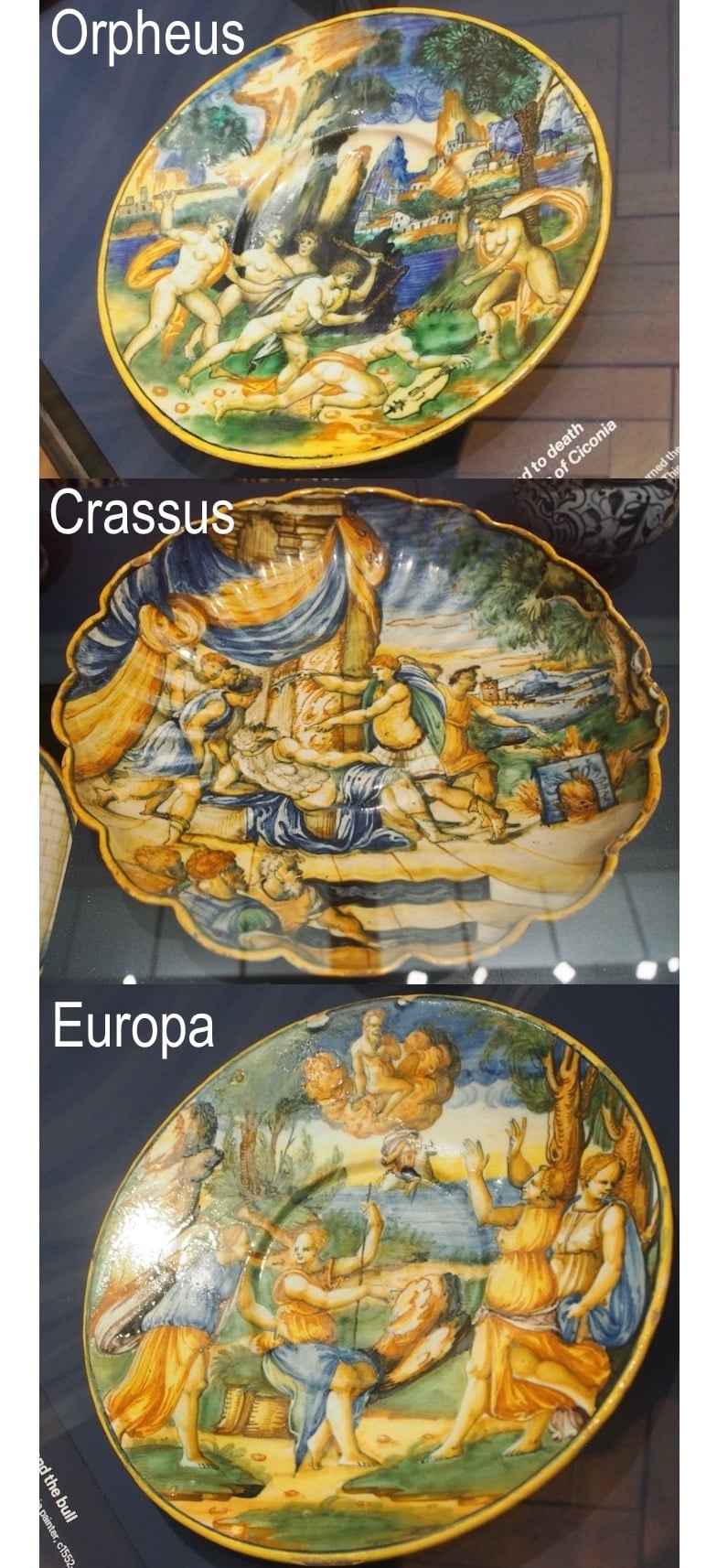 Crassus was a wealthy Roman businessman who loved being rich, but it came back to bite him. He was put to death by pouring molten gold down his throat.
The Europa plate shows Europa being carried away by Zeus in the form of a bull.
Orpheus plate: Pesaro or Urbino (mid 1500s)
Crassus plate: Urbino, possibly workshop of Guido di Merline (circa 1545)
Europa plate: Pesaro, workshop of the Zenobia painter (circa 1552-1560)
Botanic Gardens, Sydney
One of the best attractions in the Royal Botanic Gardens Sydney is seeing the Venus fountain in a large pond. The painting here shows Venus in the form of a white sculpture, but the one currently in the Royal Botanic Gardens Sydney pond is made of bronze with a protective coating of microcrystalline wax.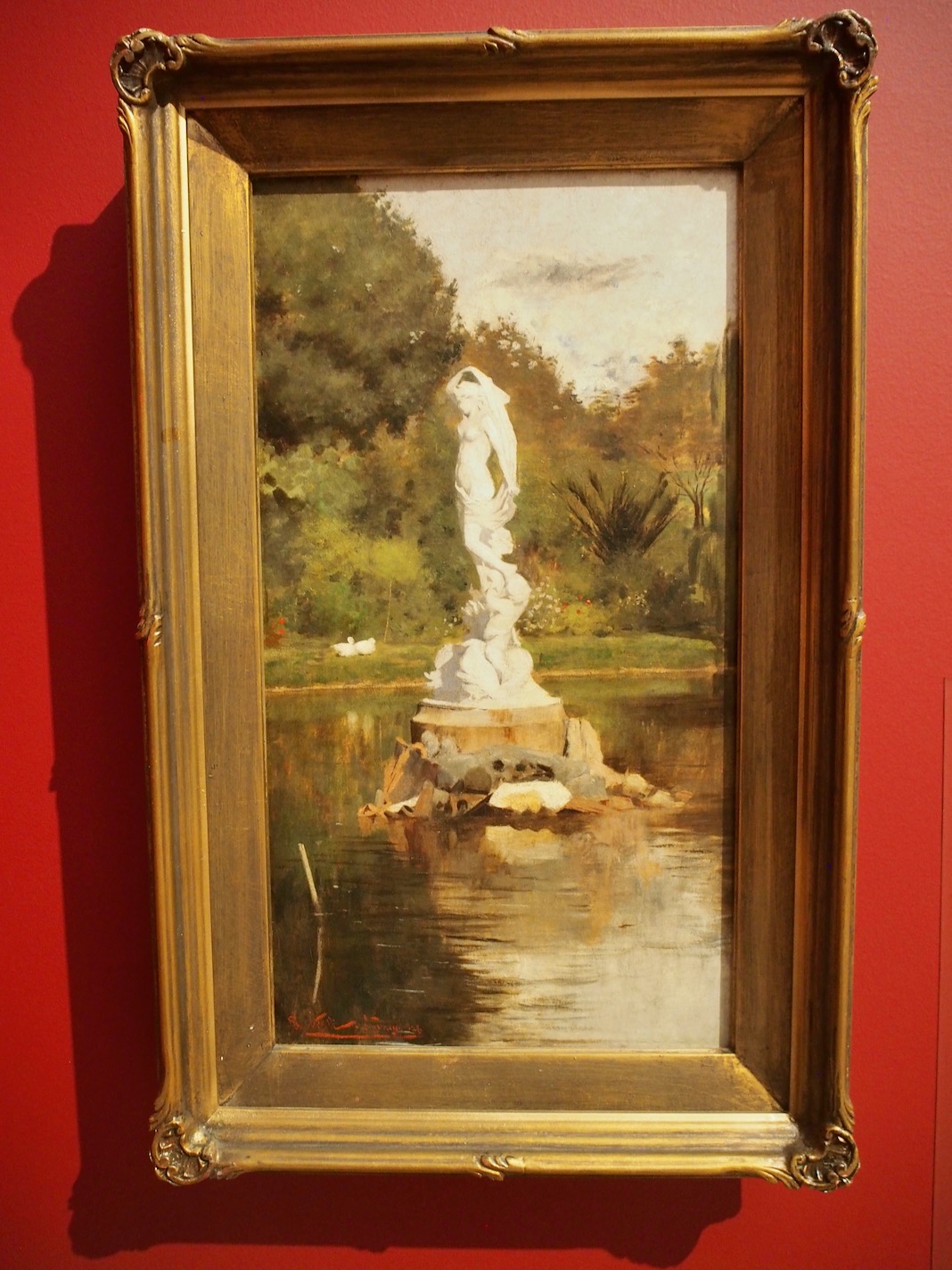 Artist: Girolamo Nerli
Date: 1886
Australian Art at the Art Gallery of New South Wales
In my opinion, the two best artworks with Australian connections include a painting of Ned Kelly and a large shiny metal sculpture of Captain James Cook.
Ned Kelly: First-Class Marksman
Here is a painting showing Ned Kelly wearing black armor while firing a rifle. It stays in your mind, probably due to the simplicity of the painting and those round eyeballs.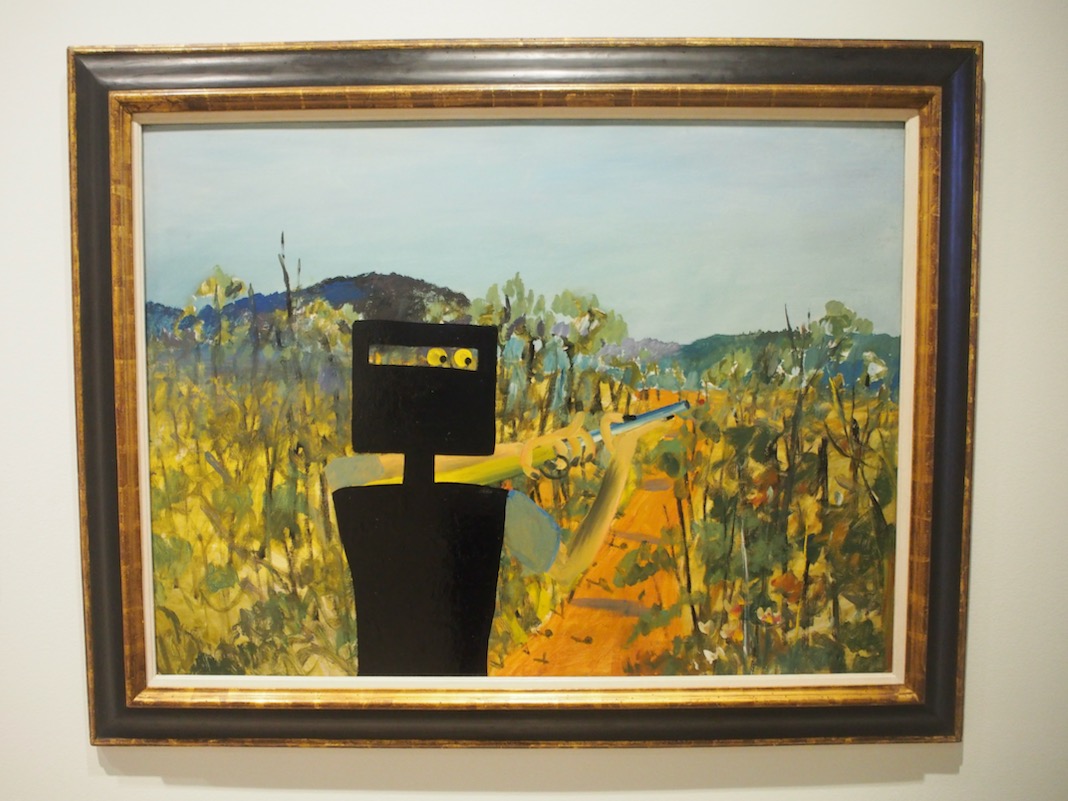 Artist: Sidney Nolan
Date: 1946
Sculpture of Captain James Cook
The English Channel is the proper name for this sculpture showing the navigator Captain James Cook. Here Captain James Cook reflects on his accomplishments, whether good or bad.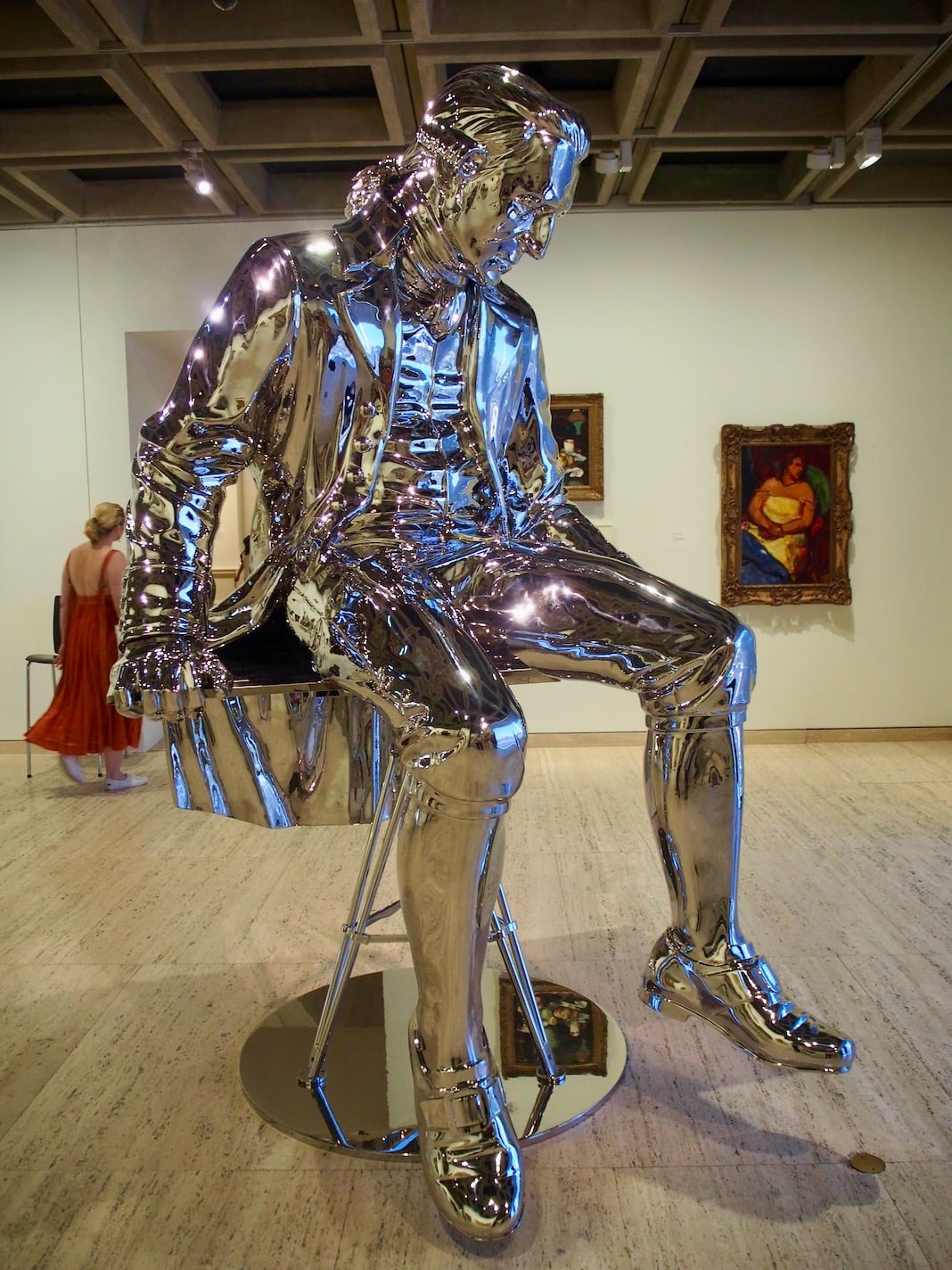 Artist: Michael Parekowhai
Date: 2015
Renaissance Art at the Art Gallery of NSW
The Art Gallery of New South Wales houses some paintings that look like they belong inside the Uffizi Gallery in Florence, Italy.
You will soon see one of the most well-known paintings in the Art Gallery of NSW. When going on a tour of the Art Gallery of New South Wales, our tour guide even stopped at this painting to discuss it further.
Cosimo de Medici in Armour
The painting shows a member of the Medici family who, generally speaking, ruled Florence and then Tuscany between 1434 to 1737. There was a long list of influential family members during that time. Cosimo de Medici is one of them. He's the guy with one hand on his helmet.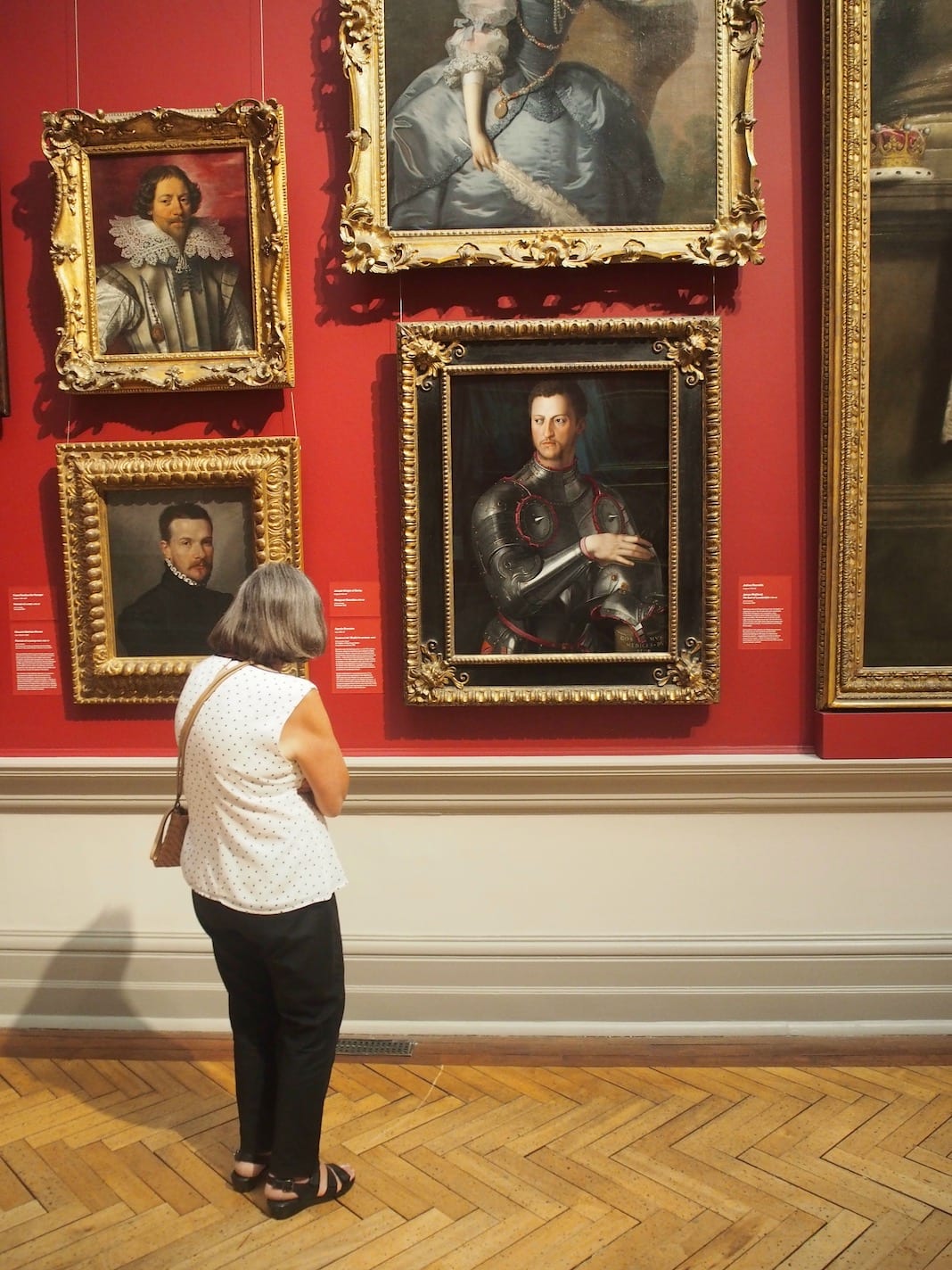 Artist: Agnolo Bronzino
Date: circa 1545
Best Art at the Art Gallery of NSW
The best artwork at the Art Gallery of New South Wales is subjective, but could it be this painting?
Seascape (Port-Goulphar, Belle-lle) 
Famous French painter Claude Monet created this artwork in the Impressionism style.
The artwork was created on a small island off the southern shore of Brittany in northwest France known as Belle-lle. It shows the rocks at Goulphar.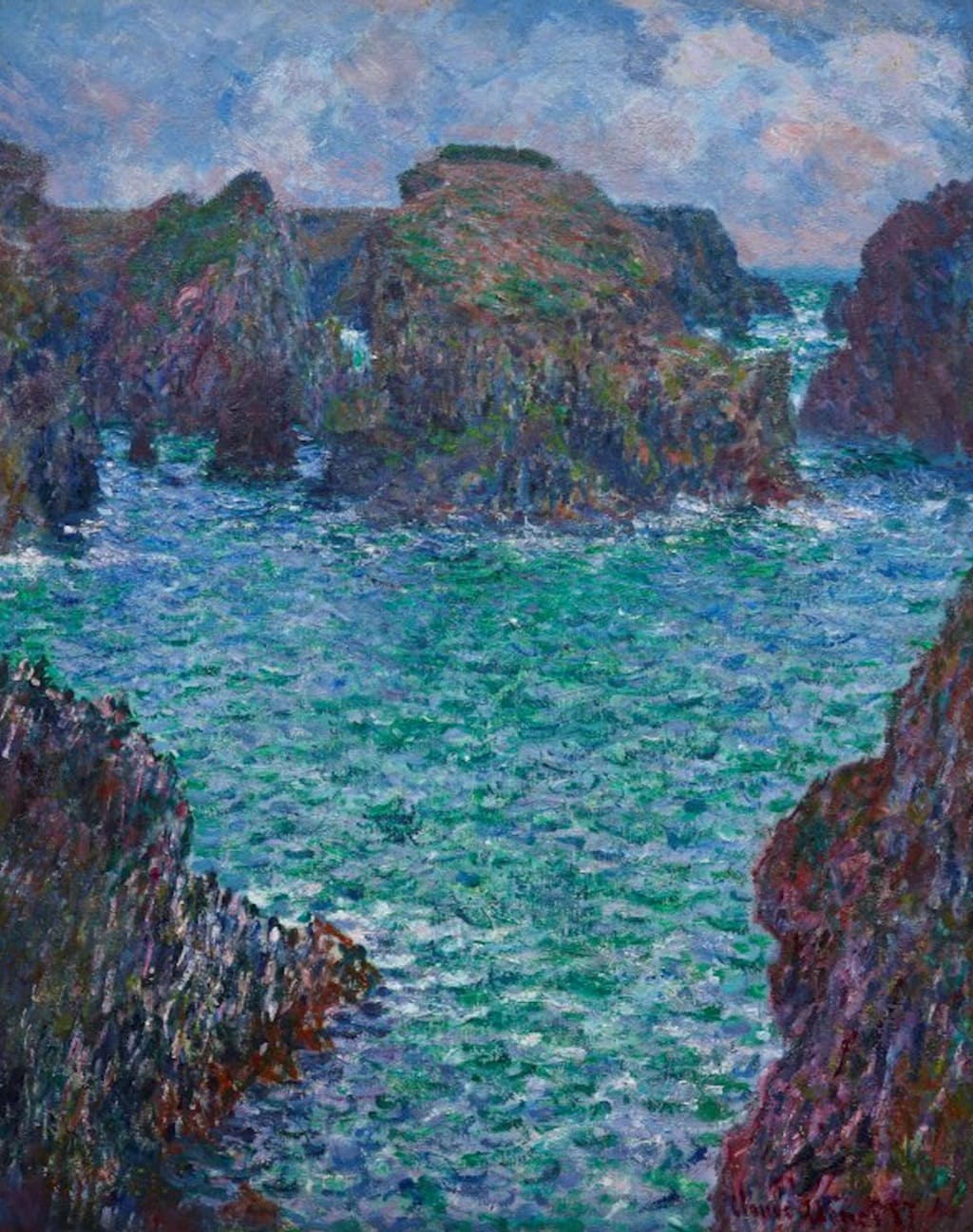 This was the first painting our guide talked about on our guided tour of the Art Gallery of New South Wales. She discussed it in great detail, but to tell you the truth, nothing stuck in my mind. Could looking at this dreamy ocean have washed away all my memories?
Artist: Claude Monet
Date: 1887
Weird Christian Art
During my first visit to the Art Gallery of New South Wales, I noticed a new exhibit being installed near the entrance of the building.
Then later, when leaving, it had been completed. It seems to have a prominent Christian theme due to the cross. Some religious words/names were also visible on signs plastered on the wall, which were part of this weird exhibition. A rope ladder was also dangling from the ceiling, probably symbolizing the hope of reaching heaven.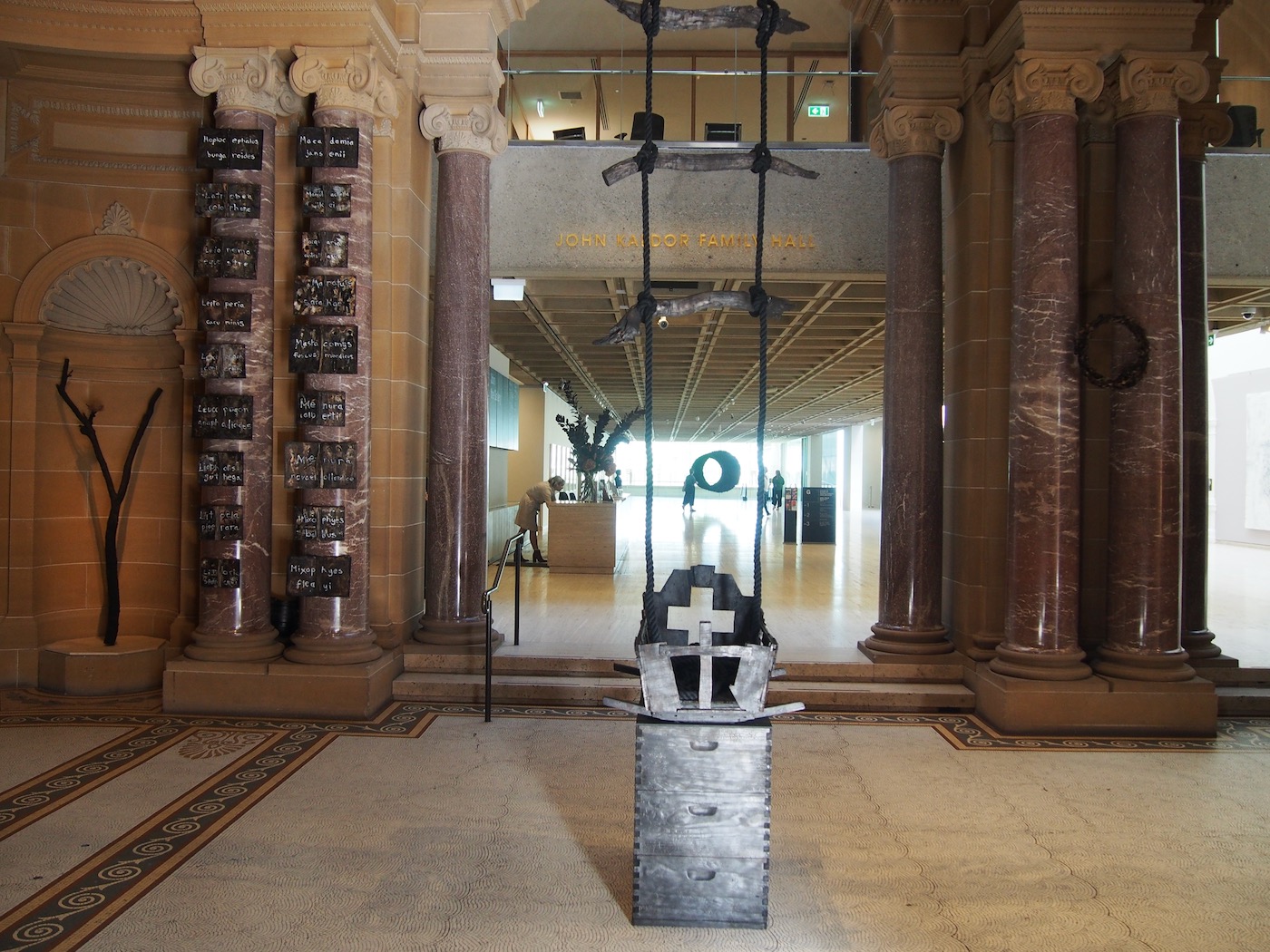 When it comes down to it, I still stand by the 12 Greek myths that prove the Bible is fake. So I'm not entirely sure why the Greek Gods orchestrated for me to visit the Art Gallery of NSW when this mysterious exhibition was held in 2021.
The Offerings of War and Peace
The final artworks I want to show you are of two striking statues that stand guard next to the main entrance of the Art Gallery of New South Wales. These two sculptures show riders on horses with offerings of war and peace.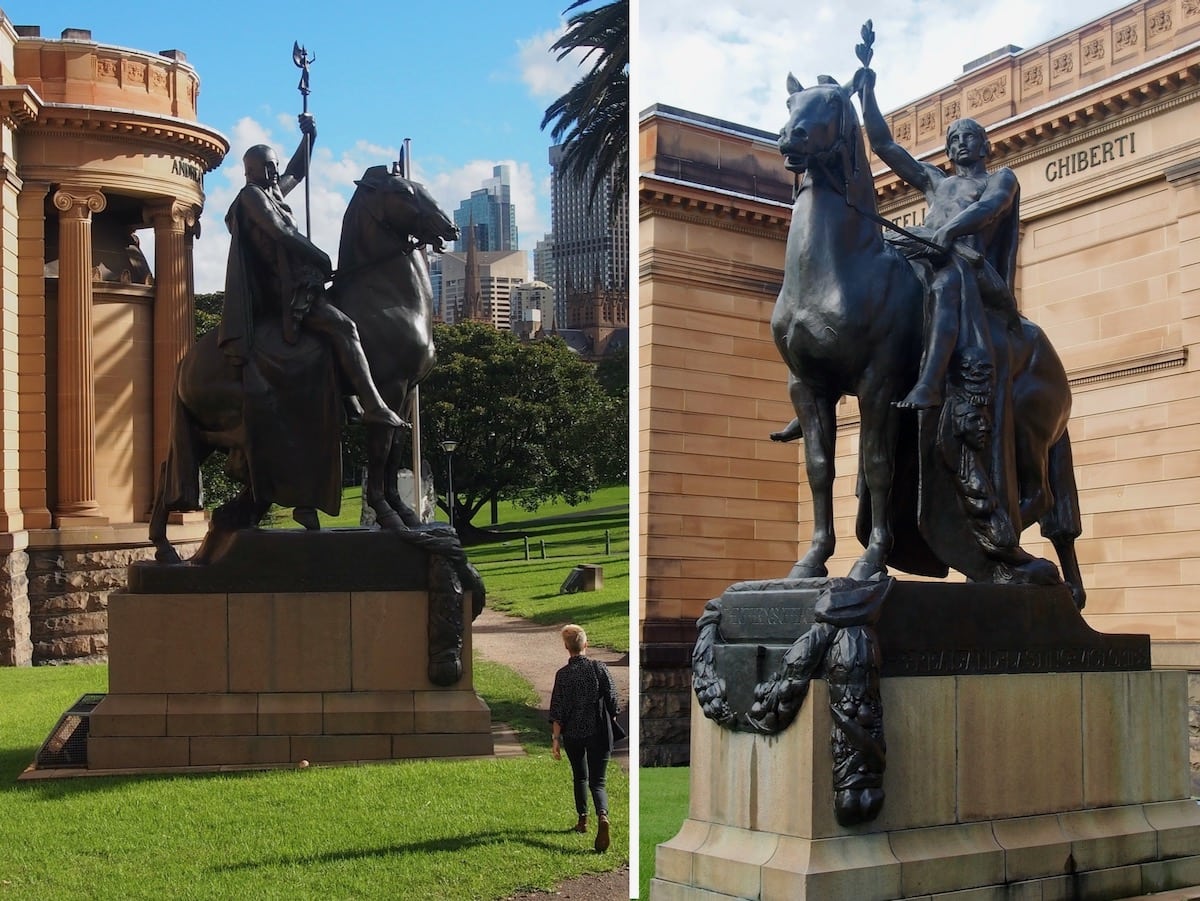 On the left side of this picture, you can see the offerings of war. On the right side, you can see the offerings of peace.
Art Gallery of New South Wales Tips
Make sure you don't forget to visit the Sydney Modern art gallery adjacent to the older art gallery. The modern expansion cost about $344 million. It looks impressive from some of the photos I've seen online. However, you can easily miss it if you don't know about it.
The annual Archibald Prize is a famous Art Gallery of NSW exhibition. This newsworthy prize is awarded for the best portrait painting. Be sure to go if you're in Sydney when this event is on. Exhibition dates for the Archibald Prize can vary yearly, so check the Art Gallery of New South Wales website to see when it's on.
Official Website: Art Gallery of New South Wales
More things to do in Sydney
Sydney offers an enormous amount of things to do. The city has great art, fantastic Sydney harbour views, and excellent nightlife.
Spending one to two hours in the Art Gallery of New South Wales is a great way to spend a small amount of time in Sydney. Here are a few other enjoyable things to do in Sydney.
The Archibald Fountain (Apollo fountain) in Hyde Park is close to the Art Gallery of NSW, so I highly recommend spending time there. Apollo, Diana (Artemis), and Theseus are situated in a beautiful spot in Hyde Park. You can take some excellent photos here.
I also highly recommend visiting the Chinese Garden of Friendship to escape Sydney's hustle and bustle at some point. Spending an hour or two wandering around this magnificent Chinese garden is a great way to pass the time.
The Royal Botanic Gardens Sydney is only a 5-minute walk from the Art Gallery of NSW. Walking around this beautiful botanic garden is another fantastic thing to do in Sydney.
One of the best things to do in Sydney is the Bondi to Coogee walk. Give yourself a few hours to enjoy this walk. Remember, you don't have to walk all the way. Stopping at Bronte beach is good enough.
Seeing amazing art in Sydney is a must. Everyone must visit the Sydney Opera House and the Sydney Harbour Bridge, but don't forget to visit the Art Gallery of NSW.
Once you've finished exploring the Art Gallery of NSW, you may even want to go and visit the Museum of Contemporary Art Australia (MCA). It is located in Sydney Harbour in a prime spot at 140 George St, The Rocks.
Pin it … Share it