Aloha and welcome to Greek Gods Paradise!
I'm John — the creator of Greek Gods Paradise.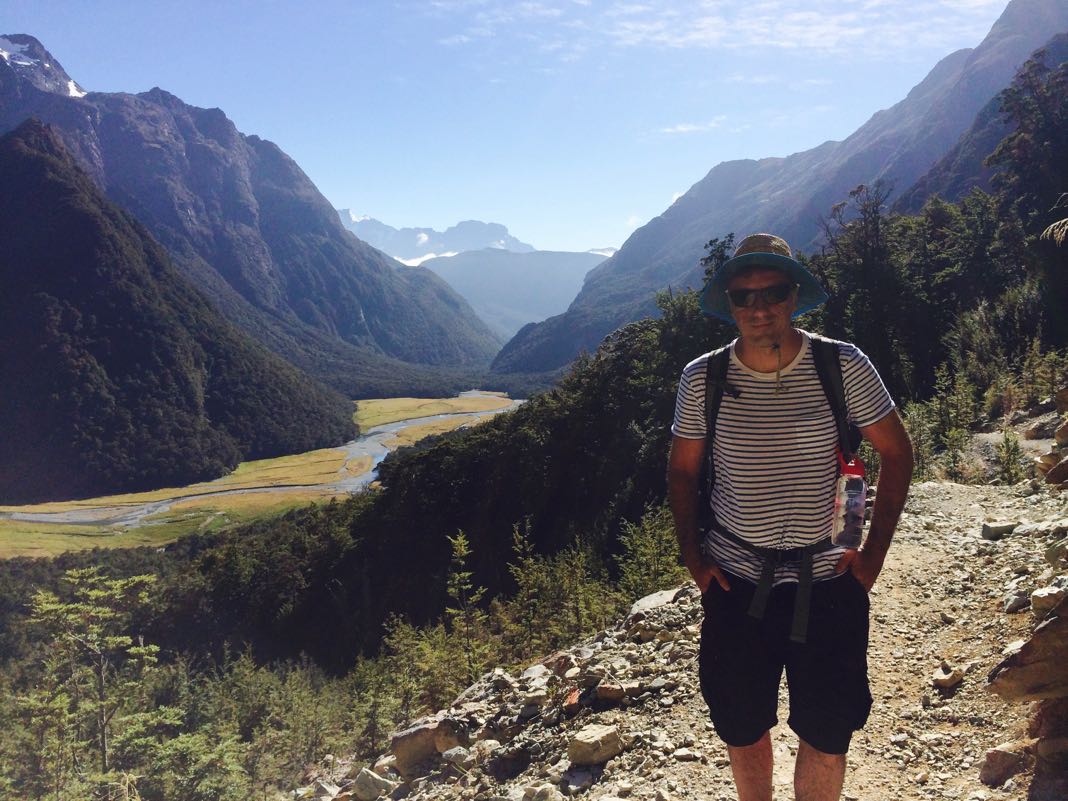 🙂 Glad you've made it here.
Wondering what Greek Gods Paradise is all about?
Well, reading this page will inform you.
I'll also reveal some interesting things about myself.
Why Greek Gods Paradise?
The simple answer is that GreekGods.com wasn't available, and whoever owns that particular web domain name wants a small fortune for it.
Greek Gods are lucky enough to call Paradise (Olympus) home, so to get around it, I combined these three powerful words to form the name Greek Gods Paradise.
Plus, this website isn't purely about the Greek Gods, so I needed something sweet to describe it, like pancakes and maple syrup.
What is Greek Gods Paradise about? 
The two main topics for this website are Travel and Greek mythology.
Greek Gods Paradise focuses on travel and Greek mythology just as some websites focus on travel and fashion, food, photography, or yoga.
That isn't all, so here are the main topics with a brief explanation to give you a better understanding of what this site is all about.
Travel and Adventure
Let me confirm once again that TRAVEL is a massive part of this website, with a strong focus on travel destinations like Greece, Italy, and Australia.
So yes, Greek Gods Paradise is a travel blog among other things.
By the way, have you ever heard of the Path of the Gods?
If you haven't, you should check out my Amalfi Coast Travel Guide. Everyone needs to know about this legendary Italian attraction.
Greek Mythology
You probably guessed it straight away, with a name like Greek Gods Paradise, I often talk about Greek Gods and Goddesses.
You'll hear about Zeus, Aphrodite, Eros (Cupid), Poseidon, Apollo, and all of the other Olympian Gods and Goddesses at some stage, even Hades, the God of the Underworld.
Many different aspects of Greek mythology are covered on this site.
For instance, you'll definitely see some amazing Greek mythology art on this site. Check out the Top 20 Greek mythology paintings in France.
Movies and Entertainment
My love of movies will also shine through where possible.
Here are the 20 best Greek mythology movies to watch. If you enjoy watching movies, you need to know about them.
Plenty of entertainment can be found on this website, including many YouTube videos, from funny comedy videos to great music videos. Truly, some of the videos shown on this website will blow your mind!
For example, I can almost guarantee watching one of these funny videos will make you laugh, especially the hilarious plane flight video. So funny!
If you love listening to music, then check out the music videos in Top Greek songs inspiring travel to Greece or 20 Great Songs related to Greek Mythology.
Legends and Mysteries
You will find fascinating mysteries such as the legend of Atlantis, and other interesting topics like Nasa and the Greek Gods discussed here, plus so much more.
So I promise you can easily spend a minute or so on this site without getting bored.
Greek Speaking Lessons
If you'd like to learn to speak Greek, this website offers the fastest way for beginners to speak Greek confidently. Here are all of the Greek lessons.
George Pavlopoulos, a travel blogger from Athens in Greece, reviews all of the Greek lessons on this site, so they offer excellent insight into Greek speech and how a local would talk.
Start with Greek lesson 1: Greek Greetings. Everyone wanting to visit Greece should learn how to say hello in Greek. Do this lesson and I guarantee you will feel very confident when greeting Greek people in Greece.
Interviews and Travel Blogging Tips
The site also has Interviews and Blogging tips (when I have them).
It crossed my mind that some people may confuse this website as an adult-only site due to a name like Greek Gods Paradise.
My web hosting provider even rang me up to find out what my website was about before I could join.
The guy on the phone told me that none of those sites were allowed on their servers.
I think he breathed a huge sigh of relief over the phone when I told him what Greek Gods Paradise was all about.
Me: It's about Greek Gods, philosophy, and travel.
Web Hosting Guy (in his mind): Who the F**K is this guy?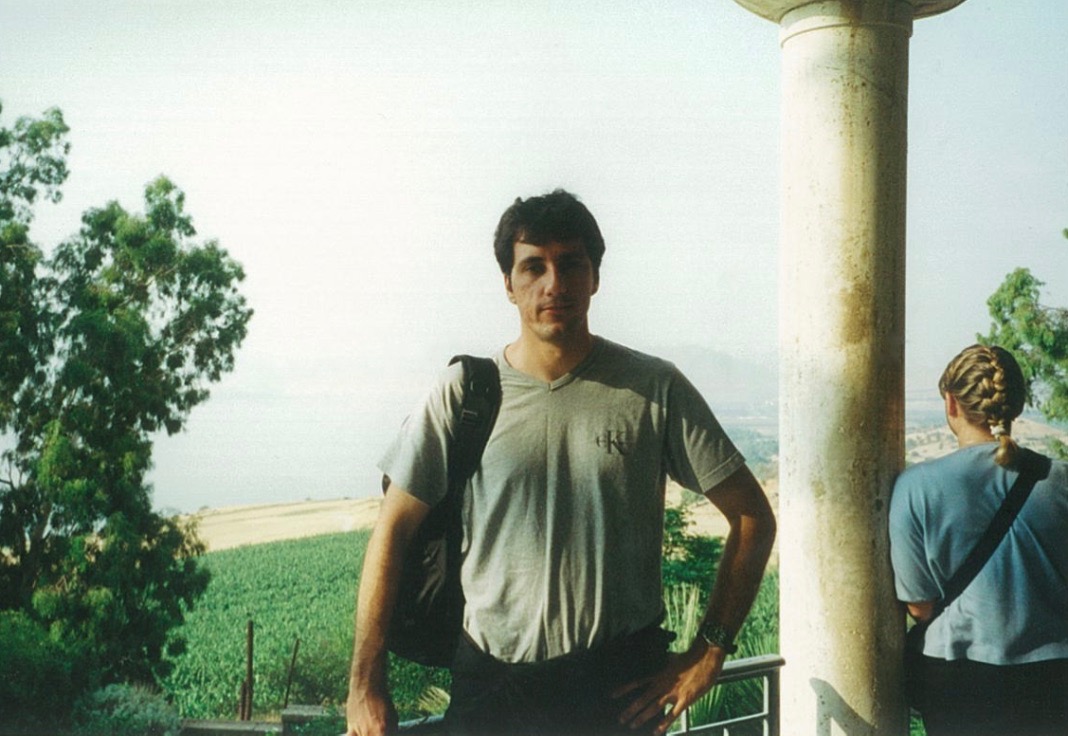 Hermes, the Greek God of Travel
Ha, ha, I got you for a second! My main hope with this endeavor is to gain the attention of Hermes, the Greek God of travel, also known as Mercury, to the Romans.
If I can do that, Hermes may realize that it is in the best interest of the twelve Olympians to guide me to some level of greatness.
Surely at some point, I'll be able to get the Greek God's attention by having a website called Greek Gods Paradise.
I suppose I'll have to wait and see. (Update: Mercury gave me a sign, so he knows what I am doing. Wow! PS: No, I'm not gay.)
12 Interesting Facts About Me
Once I threw a frisbee onto a Russian petrol station roof by accident. You can read about it in

From Russia with Love: Message to the God of War

.
My first overseas trip was technically in Tasmania, where I spent most of my time fishing for trout on a boat called the Tasmanian Devil. It made me feel like a total demon lord.
If you haven't already done so, make sure you read

climbing Mount Olympus in Greece

. Did I meet up with Greek Gods? It still puzzles me to this day.
I love the movie Xanadu which many people seem to hate. All nine Muses are so gorgeous, so I can't understand why more guys don't like the film.
Believe it or not, I outsmarted train robbers while 

backpacking in Thailand

.
A dream vacation of mine would be to visit the

Maldives Islands

before they possibly disappear under the sea forever. But, seriously, Poseidon, God of the sea, this is MADNESS!!!!!
I can count to ten in Italian and German, which could be very useful one day. However, I'm still waiting for that day to come.
My favorite movie has to be The Matrix, The Empire Strikes Back, Excalibur, or the classic masterpiece

Jason and the Argonauts

. I had to say that.
The best comedy TV show of all time would have to be Seinfeld. I proudly own the whole DVD series collection. Kramer is so funny!
On two separate occasions, I have received

Signs from Iris, Goddess of the Rainbow

. Here is one of those special moments that I'll never forget.
I once slept on a public bus because I had no accommodation arranged and woke up an hour or so before sunrise when I heard the bus driver screaming at me in Spanish. Tip: Never try this, even at the Running of the Bulls in Spain. You can read more about it in

10 Best Places to Visit in SPAIN plus Things to Do

.
Finally, I would never go bungee jumping, even though I have tried parachuting and paragliding. It just seems so much scarier. Then again, paragliding in Queenstown scared me to death. Our paraglider tangled up during our walk off the cliff. We had to stop in our final steps just before launching from the cliff's edge. Luckily, the guy taking me shouted to stop in time. One or two seconds later, it may have been too late. I felt so so relieved on the second attempt when everything went smoothly. The good thing is that paragliding is fantastic when you're safely in the air. It is one of the 

20 things to do in Queenstown

I highly recommend doing, or anywhere really with great scenery.
Reason for creating Greek Gods Paradise
Over time, a strong desire arose in me to create a slice of paradise on the Internet with a twist…
It probably happened after being gobsmacked by great travel bloggers and inspirational writers in the cyber world. As a result, I felt compelled to create something interesting myself.
Plenty of websites I greatly admire put my website to shame, but I'd like to believe I'll improve as time goes by.
Who knows, Greek Gods Paradise may even end up like Bill & Ted's Excellent Adventure. As Rufus, the futuristic time traveler who assisted Bill and Ted in the film said:
"They do get better."
Exploring the World
It took me a while to explore other parts of the world. I was 26 years old and stressed out from my engineering job when I took some leave to go on my first overseas trip.
For my first big adventure, I headed to Vanuatu in the South Pacific Ocean for a three-week scuba diving trip. A lady attendant at a dive shop advised me to go there.
After telling her about my dream of learning to scuba dive in a fantastic tropical location, she recommended Vanuatu as being a great place to learn.
That's how I found myself on Hideaway Island in the tropical paradise of Vanuatu.
Ah, the power of a recommendation!
At some stage during that brilliant adventure, I was well and truly bitten by the travel bug, like so many other keen travelers.
Over the years, I have been on some great adventures. One of them would have to be when I went on the most beautiful walk in New Zealand called The Classic.
The best part about this walk was the Routeburn Track guided walk. If you love hiking, you need to know about it, since it has to be the best walk in New Zealand, even better than the famous Milford track hike.
Who is Greek Gods Paradise for?
If you're into travel in any way and you'd like to gain a superior understanding of Greek myths, Greek Gods Paradise is for you!
Greek Gods Paradise is for all nationalities and age groups, and it doesn't matter if you're a guy or a girl.
Spending time on this website will enlighten you in so many ways.
There are heaps of travel tips here and you will gain powerful knowledge of the light arts by reading many of the pages on this site.
I may even inspire you to go on a grand adventure somewhere. What about going on one of the most epic road trips in Australia? I'm sure you'll have fun.
All twelve of these great drives around Australia have been given names associated with Greek mythology, so I'm positive you'll find one of them will be very tempting.
Fans of Aphrodite, Goddess of Love and Beauty
If you really love Aphrodite (Venus), the Goddess of love, you should definitely check out the 10 best places in Cyprus for lovers of Aphrodite, the Greek Island of her birth.
Have you ever wondered who Aphrodite (Venus), the Goddess of love, could be? If you have, then I highly recommend reading 14 Beautiful Actresses or Goddesses.
Want to ponder over Aphrodite when listening to music? Then several songs pay tribute to Venus in 20 Great Songs related to Greek Mythology.
Fans of Dionysus, God of Wine and Festivity
Maybe chilling in a top wine region is more your thing. I'm happy to say that worshippers of Dionysos, the Greek God of Wine, are well catered for at Greek Gods Paradise.
Want to visit a famous wine region? Then you have to read 30 Things to do in the Barossa Valley.
It will give you an excellent idea of what you can do in the best wine region in Australia based on my experiences there. And yes, you'll find plenty of Greek myth inspiration in this top wine region.
If you're more of an armchair traveler, here are my picks for the best wine movies, which I'm sure would be blessed by Dionysus (Bacchus), the God of wine.
Watching one of these wine films could even inspire you to visit a great winery somewhere in the world.
Fans of Apollo, God of Light
Admirers of Apollo can see if they know about all of the Things to do in Delphi: The 23 Best Attractions.
I also reveal Apollo Powers and Symbols on this site. I'm sure many of you will be surprised if you take a look.
Friends of Greek Gods Paradise
Everyone is welcome at Greek Gods Paradise, especially if:
You love to travel or dream about it.
You have a curiosity about Greek mythology or ancient Greece.
You're a film buff.
You are a nerd (possibly even a Revenge of the Nerds type from the classic comedy).
You find great books interesting.
You'd like to learn how to speak Greek (even just the basics).
You think Greece is a great country.
We clearly have something in common if you possess any of the above interests. Maybe you'd like to become friends.
Well, it can happen, especially when I open up for comments. Just say something cool and interesting, and it will be a great start.
Who am I?
I don't want to reveal too much about myself at this stage, though I should tell you I went to University and gained a degree in Electrical Engineering straight after high school.
After surviving the mental torture of studying engineering, I somehow landed a job at a large gold processing plant in a very remote small town in another faraway state.
The reason I'm telling you this is to hopefully make you somewhat confident that I'm not an idiot from Waco, Texas.
Over the years, the hellish work odyssey of mine went on and on with another eight soul-crunching jobs. So yep, I hated all of my jobs.
There was always something I hated about the 9 to 5 prison system.
Bleak cubicles, the strict hours, dumb bosses, getting emailed corporate hierarchy charts constantly, and on it goes.
Would I do it again if the Greek Gods gave me a chance? Oh hell no!
Actually, if I had a time machine I'd probably go back to change things, that's how messed up it turned out.
But then again, it has led to Greek Gods Paradise, so it can't be all bad.
The kid behind Greek Gods Paradise
Here is a little glimpse into my childhood. As a young kid, I loved playing table tennis.
I won a club championship with two other much older guys, my teammates.
After that, I was invited to try out for the state team but got seriously thrashed.
It was a pretty nerdy thing to do, looking back.
I also practiced Shaolin Kung Fu for a while in my teenage years, only getting up to a green sash (belt) level.
Back then, I was a mad Bruce Lee martial arts fan. I even had nunchucks, as well as a blowpipe that I practiced with on my dartboard.
I also loved playing eight-ball and snooker after getting a pool table for the garage.
My biggest pride and joy were my bikes. First off, with my blue Malvern Star bike, which ended up getting stolen. Later on, my cool red dragster, which I built from the frame up. They were the Wonder Years!
Fishing was a big hobby of mine, mainly from my teenage years to my mid-twenties. In one post, you can even see me holding a Queen snapper.
I also loved playing football (soccer). From there, I just got wiser.
What am I trying to do with Greek Gods Paradise?
It is essential to show the Greek Gods and Goddesses that some of us living in this bizarre world still hold them in the highest esteem.
Why so? Well, only those of you who are well-versed in Greek mythology would fully appreciate why.
If you don't know what the hell I'm talking about, you've luckily come to the right place because Greek Gods Paradise will inform you.
I may even make one of the twelve Olympians jealous to get their attention. Cupid (Eros) fell in love with Psyche when Aphrodite, the Goddess of Love, couldn't control her envious feelings.
You can read about it in inspirational Greek myth love stories. Maybe some good will come out of it, who knows?
Gaining knowledge about Greek Mythology
If you don't know much about Greek Mythology or want to know more, then watching movies and enjoying other forms of entertainment has to be one of the best things to do.
Start here:
I encourage you to check to see how many Greek Mythology movies you've seen because some of the films shown are absolute classics.
Younger knowledge seekers (or the young at heart) will find plenty of entertainment on this site. Wander around Greek Gods Paradise, and soon, you'll strike gold!
I even reveal a special list of movies with messages from the Greek Gods.
Ancient Greek Adventure Movies
If you're interested in Greek Gods, heroes from the Hellenic world, ancient civilizations, or films with Greek and Roman themes, you may also want to check out some of the movies shown in these articles.
10,000 Members of Greek Gods Paradise Wanted
The aim is to get at least 10,000 members of Greek Gods Paradise.
I'm hoping Hermes (Mercury), the God of travel, will be on our side in this quest all the way. What can we do with an army of over 10,000 members?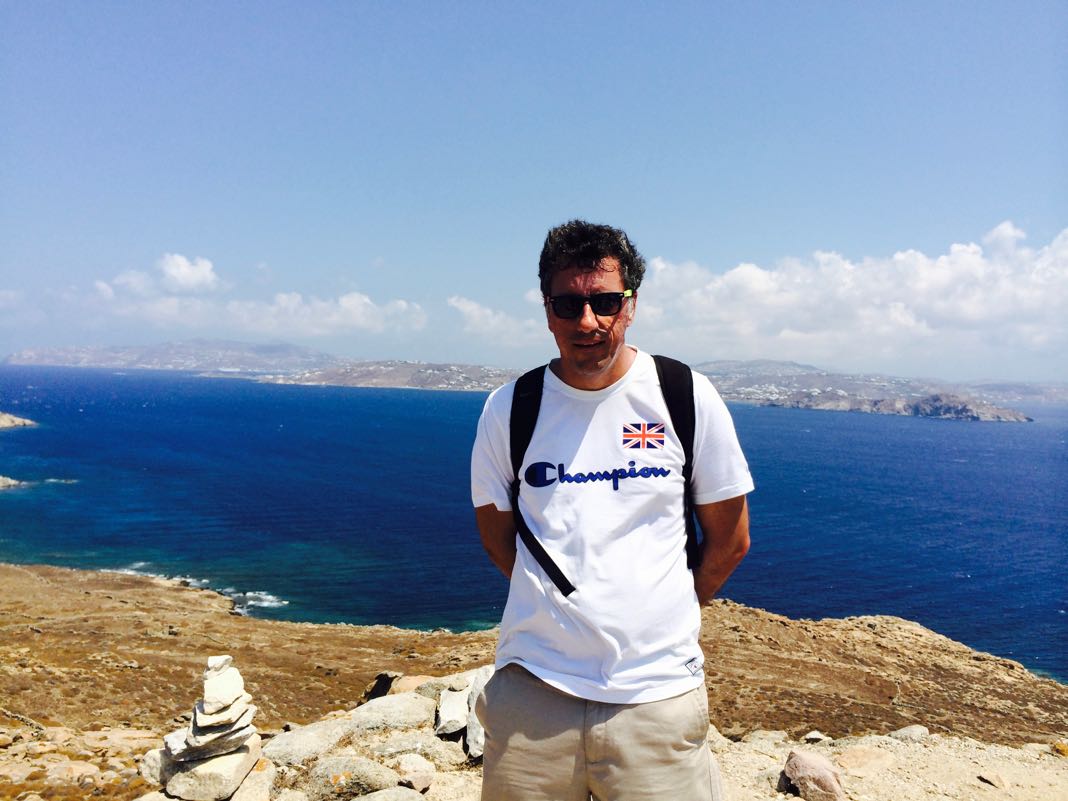 Something extraordinary… What if we fail? Well, …
By the way, yes, I am wearing sunglasses with one yellow band on the Greek Island of Delos, the birthplace of Apollo, God of the sun.
You may think I'm a real "WACKO" by now, but I have a valid explanation.
I crushed my expensive pair of sunglasses at Super Paradise Beach in Mykonos while standing on top of a cliff.
After parking my quad bike at a clifftop car park, I took my helmet off, and that's when it happened.
I don't know how the hell it occurred, but I was devastated by it. Seriously I almost cried!
They were expensive Maui Jim sunglasses, and God did it hurt when I saw my sunnies lying on the sandy dirt ground.
When I picked them up, I saw that one lens had broken. I couldn't believe my eyes!
After moping around at Super Paradise beach for a while, I became desperate for another pair of sunnies as the hot August sun was blazing away, so I bought this cheap pair at the beach kiosk for 20 euros.
The band on the other side is red. It was the best choice I had at the time.
Respect for Travel Bloggers
My respect for travel bloggers and vloggers has gone through the roof after this endeavor. I feel like a new kid in the presence of Travel Gods!
Seriously, blogging is super hard. I'd say it's probably as difficult and challenging as doing a triple somersault from a diving board to give you an idea.
Okay, I can't say for certain because I'll never attempt to do such a dive, but I assume doing a triple somersault is extremely tough and requires years of practice.
Anyway to me, blogging is one Herculean task!
Blogging may seem easy, and many travel bloggers have a knack for making it look easy like The Smooth Escape, but I can tell you wholeheartedly that it is very challenging when you're not a writer.
I only discovered the truth after giving it a go myself. Stupidly, I only have myself to blame for not paying attention in English classes.
Now and then, or probably quite often, you will think my writing and grammar truly sucks.
It may even piss you off, but I'm trying to improve. Anyway, visit my website every so often and see where things go.
I'll be opening up this blog to allow comments in the future, so keep that in mind as well.
You may have something you want to say.
Call to Action – Yes You!
Before you leave Greek Gods Paradise, don't forget to click on the green "MEMBERS" button at the bottom of my sidebar on the right, which expands slightly when you hover over it.
Clicking the green button will take you to the Greek Gods Paradise subscription page.
If you bravely subscribe to my email list, it lets me know that you're at least curious enough to want to keep in touch.
Who knows what you may miss out on otherwise?
It won't make you a full member of Greek Gods Paradise immediately, but Membership can be obtained later on if you are interested.
Now that you've made it all the way down here, I highly encourage you to visit another page on this website.
Reading one of the posts on the sidebar is a great place to start.
There are also a variety of interesting posts on the Greek Gods Paradise home page. Other menu buttons and links (such as category links seen at the bottom of this website in the footer) can also take you somewhere interesting.
To fully appreciate what Greek Gods Paradise is all about, you really do need to explore this site.
If you do, I'm positive you'll discover many fascinating things and treasures along the way. So, expect to be surprised!